Weekly birding round-up: 12 - 18 Dec
The week at a glance
Scilly enjoys a finale flourish for 2018 with a Desert Wheatear on St Agnes
Gloucestershire provides a midwinter twist with a female Black-throated Thrush
While Aberdeenshire is graced, all too briefly, by an Ivory Gull
And the Bufflehead remains in Co.Cork a while longer
Storm Deirdre came barrelling into Britain and Ireland this week, her arrival heralded by strong winds and downpours. Yet before that, cold air came sucking in from the near Continent, enveloping parts of the country in what was, if not the promise of a white Christmas, then certainly a suggestion of it – cold, frosty mornings and hard, clear skies.
I think you were promised an Ivory Gull and a Penduline Tit last week… So did the birding gods duly deliver? Time to park yourself in front of an open fire with the warming drink of your choice because, roast my chestnuts, it's time for the last Rarity Round Up of 2018…
Desert Wheatear
As alluded to in last week's opening salvoes, we should never give up on Scilly. While one or two other counties enjoy a similarly stellar list accumulated down the years (Norfolk, I'm looking at you), perhaps only Shetland can rival Scilly's ability to pull a rabbit out of the hat in the most unlikely and unpromising of months.
While a Desert Wheatear isn't a bird of (to pick a recentish midwinter Shetland example) Mourning Dove (or indeed, wishfully, Nutcracker) calibre, it's still a damn fine bird to find pitching up on your doorstep. Particularly when the year's drawing to a close and the best one might reasonably hope for is a white-winged gull or two.
A first-winter male Desert Wheatear on St Agnes was, then, a welcome sight for sore eyes. Present at Periglis on 15th-18th, this handsome bird wasn't going to draw a crowd – but, had it been on the mainland, it might well have done such is the chutzpah and birder-attraction of a good-looking bird like this.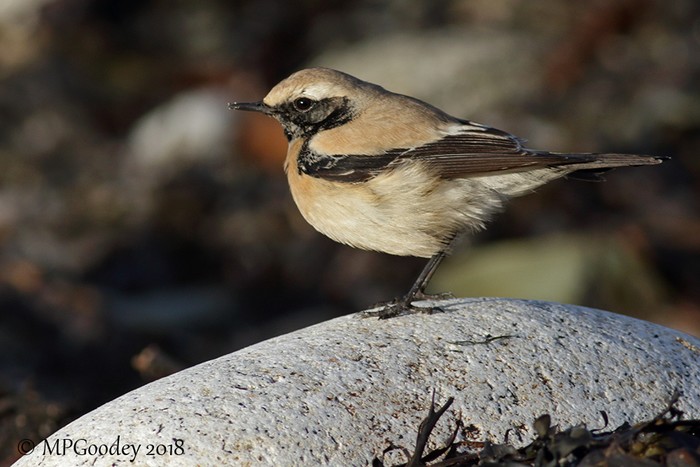 Desert Wheatears are, of course, thought of as a traditionally late autumn / early winter bird on these shores, November enjoying the lion's share of past records by some margin. December birds are far, however, without precedent – of the 150 or so prior accepted British records, nearly 20 of them have been in the last month of the year. Given a favourable tail wind, they can come – and, indeed, they can be found just about anywhere, as the confiding bird in Lerwick (Shetland) in December 2011 could attest. Scilly, however, hadn't hitherto enjoyed a December Dessie… until now.
Black-throated Thrush
Also falling into the category of not being without precedent, but far from guaranteed in any given winter is Black-throated Thrush - I think we may even have spoken recently about how keenly anticipated our next midwinter example would be. There's something of the lottery win about them at this time of year – not a bird one could possibly actively set out to find with any realistic hopes of success, a December Black-throated Thrush is always going to be a fabulous surprise in place of the anticipated Redwings or Fieldfares.
They're fickle things though. It's feast or famine with them – either long-staying birds at this time of year that remain in an area for weeks on end, or gone in the blink of an eye, there one day and long-since departed the next.
Happily, one was found in Wiltshire this week, present and feeding actively near Swindon on 12th. Less happily, it turned out to be one of those blink and you miss 'em birds – a great find, but not one that was going to oblige more widely.
Still, where there's one, there may be more waiting to be found nationwide – look at December 2005, when no fewer than three birds were discovered. With a nation spending more time at home than usual in the coming festive period, there will inevitably be more eyes than usual looking idly into otherwise overlooked gardens. Let's hope someone notices something decent scoffing berries off their cotoneasters…
Ivory Gull
Speaking of brief birds, that description would aptly describe the stay of the Ivory Gull I half-heartedly predicted in the closing remarks of last week's Round Up. The time of year was bob on, but the southerly winds didn't feel conducive – but it turns out you can't keep a good gull down, as a cracking juvenile was seen at Craigbulg (Aberdeenshire) on 12th.
Unfortunately, however, that was the only day it was seen. There's plenty of time yet for more this winter and, while northerly Aberdeenshire feels like a more likely location for a bird of such Arctic origins, past records should give us all cause for optimism – these consummate winter wanderers have been seen right around the British and Irish coastlines in the past, so there's really no telling where the next might hove, gracefully, into view.
Bufflehead
Our closing headline this week involves a rare bird that's not proving to be a brief, ephemeral record - in Ireland at Ballinacarriga Lough (Co.Cork) the female or juvenile drake Bufflehead has remained happily settled for another week, being last reported there on 15th. A bird with a feel-good factor about it, that one.
Our seabirds section this week is, for the most part, looking as bare as Bob Cratchit's larder in the run up to Christmas – as we might reasonably expect, at this time of year, there wasn't a lot going on.
That said, a pre-Christmas cracker reappeared again this week in the form of the adult Pacific Diver once more in Crookhaven harbour (Co.Cork) on 16th. Off Barra (Western Isles), meanwhile, the White-billed Diver was still to be seen on 16th, present there for over a week now.
Returning to Ireland briefly, a possible
Pomarine Skua was noted from Coliemore harbour (Co.Dublin) on 13th; one was seen from Penzance (Cornwall) on 17th; and on 18th singletons were logged off Dungeness (Kent) and Landguard NR (Suffolk), while three were noted from Brixham (Devon).
Sumburgh (Shetland) provides the bulk of this week's Little Auks sightings, though this is all fairly relative – four birds past there on 15th were hardly setting the world on fire, but a better passage kicked off on 18th, with 47 birds noted there that morning in trying viewing conditions. The remainder of the week otherwise featured just single birds off Fair Isle (Shetland) on 12th and South Gare (Cleveland) on 15th.
Our interesting long-legged beasties were similarly thin on the ground this week, with the now predictable exception of our wintering population of
Cattle Egret - a shade under 200 birds were seen, a reduction that perhaps reflected reduced observers out and about and looking rather than a genuine drop in birds themselves. Our peak count came, once more, from Dorset where 35 birds were logged at Abbotsbury on 12th.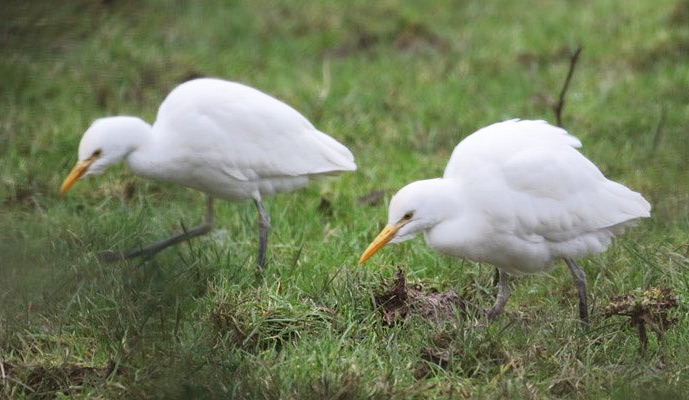 We've three Glossy Ibis to report on this week, the first being the individual at Rosslare (Co.Wexford) still on 15th-16th and then, on 17th, birds seen once more at Fremington Quay (Devon) and near Oath (Somerset).
A White Stork of unknown origin was seen in Norfolk at Welney WWT on 16th; a similarly unattributed sighting came circling over Fen Drayton (Cambridgeshire) on 17th.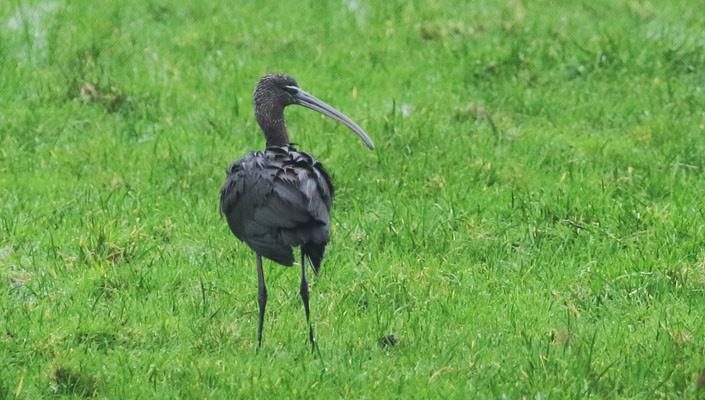 An unconfirmed report of a Night Heron at Pont-ar-gothi (Carmarthenshire) emerged on 18th.
During a week in which the recent breeding success nationally of Common Cranes featured in the news, it was perhaps appropriate that Cambridgeshire returned a fabulously high count of these charismatic birds at Nene Washes RSPB on 12th – a flock of 48 birds were noted there. Meanwhile a single bird was seen in Suffolk at Tinker's Marshes on 12th also.
Once more, we can rely upon our honkers and quackers to provide both variety and some volume at this time of year – including, this week, one or two new faces.
High amongst those fresh faces is one of The Goose Formerly Known As Canada - an interior Todd's Canada Goose was seen on Fair Isle (Shetland) on 16th-17th; unlike the islands off the west of Scotland, Shetland tends not to get many representatives of the various permutations of TGFKAC, so this was a good local sighting. Meanwhile in Cumbria the recent Todd's Canada Goose remained at Cardurnock on 15th still; and the small Canada-type was still present on Barra (Western Isles) on 12th-17th.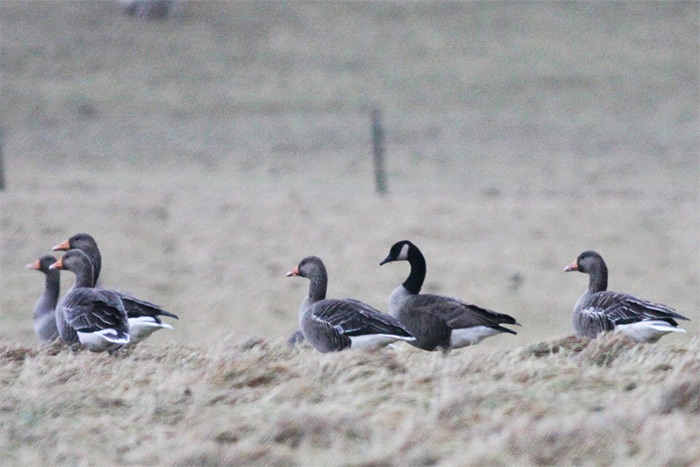 Regular recent adult
Black Brants
were seen once more this week in Dorset at Lytchett Bay on 12th and on the Fleet on 13th, and in Lincolnshire at Donna Nook on 16th still. A further possible bird was noted in Kent at Grain CP on 14th.
Last week's glut of Ring-necked Ducks wasn't sustained this week, though Ireland still had a good few to show for itself – the flock of eight birds remained on Garranes Lake (Co.Cork) on 15th; two drakes were still on Lough Yganavan (Co.Kerry) on 16th; and on 17th three were seen on Lough Morne (Co.Monaghan). Three were still to be seen on Tiree (Argyll & Bute) on 14th, while a further female was seen in Scotland this week on St John's Loch (Highland) on 16th-17th, and a drake was found on Loch Shiel (Highland) on 18th. English birds remained at Pitsford reservoir (Northamptonshire) on 12th-17th; on Abberton reservoir (Essex) on 14th-15th; and at Slapton Ley (Devon) once more on 16th and Bain GPs (Lincolnshire) on 17th.
The drake Lesser Scaup was seen again in Somerset at Chew Valley Lake this week on 14th, while the female bird was still to be seen on Anglesey at Llyn Llygeirian on 12th-14th.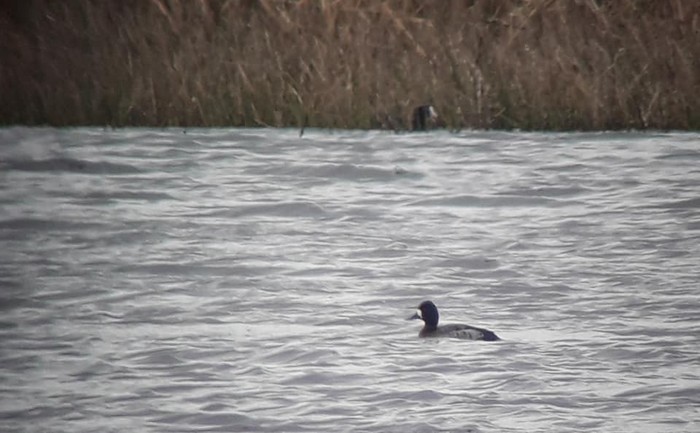 A juvenile Ferruginous Duck was found in Hampshire at Bedhampton on 16th-18th although, by the latter date, an element of doubt was creeping in as suggestions were made that this bird might, in fact, be a hybrid…
Honours were split evenly this week between Scotland and England where American Wigeons were concerned – a new bird was on North Uist (Western Isles) on 16th, while Highland once more boasted drakes at Tain Links on 12th-14th and Loch Eye on 12th-14th; in England, the female was once more seen at Grimley (Worcestershire) on 16th-17th, while drakes were still at Rutland Water (Leicestershire) on 12th-18th and Grindon Lough (Northumberland) again on 16th.
Both of this week's Green-winged Teals were, once more, in Scotland – birds present on 13th still on North Uist (Western Isles) and Wick (Highland).
Making a welcome return to the news this week were both of our recent regular drake Black Scoters - seen, respectively, off Bamburgh (Northumberland) on 14th, and Rossbeigh (Co.Kerry) again on 12th-16th.
Surf Scoters meanwhile were in shorter supply than of late – the juvenile bird remained in Devon's Tor Bay on 14th-17th still, and a further south coast bird was noted from Milford-on-Sea (Hampshire) on 16th. On 17th the two drakes were once more seen off St Andrews (Fife).
Interesting shorebirds? Actually, yes, we had a few this week – kind of a pick and mix feel about them, with one example of each of the interesting things…
In West Sussex the unseasonably late White-rumped Sandpiper remained at Pulborough Brooks RSPB on 12th-13th but not thereafter.
Co.Wexford, meanwhile, held onto the Spotted Sandpiper at Ferrybank on 12th-16th – a bird clearly made of sterner stuff than its West Sussex cousin.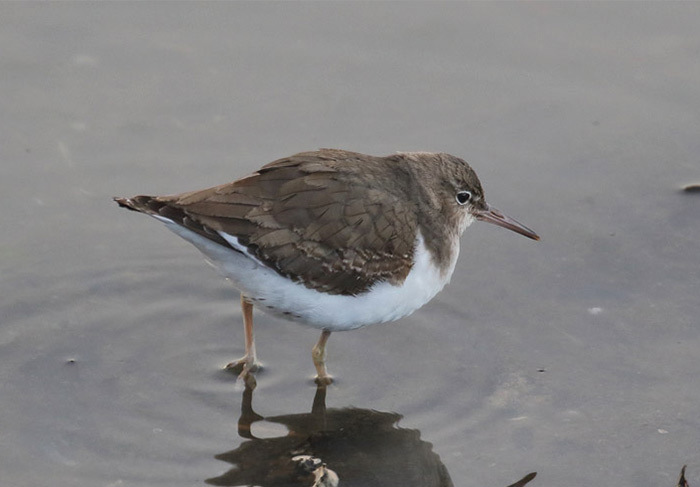 Absent from the news for much of the recent past, the adult Long-billed Dowitcher was once more seen at Frampton Marsh RSPB (Lincolnshire) on 17th.
The Lesser Yellowlegs was once again seen in Somerset on 18th at Steart WWT.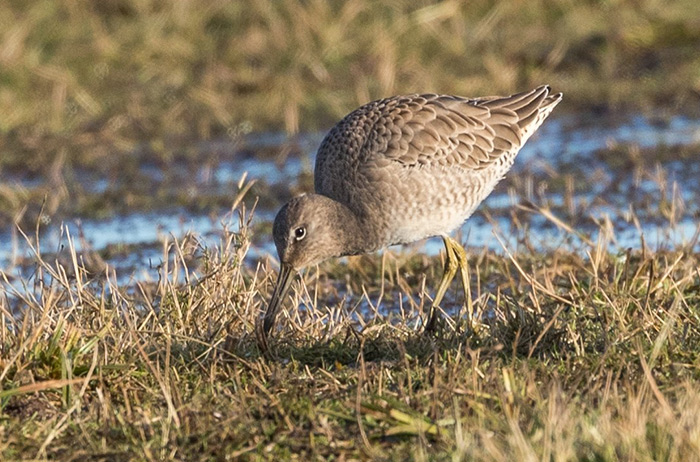 In Cornwall, the juvenile Temminck's Stint was still at Stithians reservoir on 12th-17th. When will this late bird finally get bored and move on? One for the year-listers to get themselves off to a good start if it can cling on into January…
A handful of Grey Phalaropes were seen this week, widely scattered around the British coast. On 12th one was moving up the English Channel and seen off Selsey Bill (West Sussex), followed on 13th by another around the corner into the North Sea at Minsmere RSPB; and on 16th birds were seen further north from Whitburn CP (Co.Durham) and off South Uist (Western Isles).
In the conspicuous absence of a certain tern on Anglesey this week, and Aberdeenshire's Ivory Gull notwithstanding, it was otherwise a quiet week for gulls'n'terns of note.
Are we on for a white(-winged) Christmas this year? The early signs are not particularly encouraging…
Taking the scarcest of their clan first of all, a second-winter Kumlien's Gull was seen in Aberdeenshire on 16th at Girdle Ness. Iceland Gulls, meanwhile, were seen in ever so slightly better numbers than of late, with around 20 birds in all seen nationwide, including lingering individuals in Greater Manchester and Cheshire, amidst a number of new birds – including two together in Highland at Ardmair on 16th.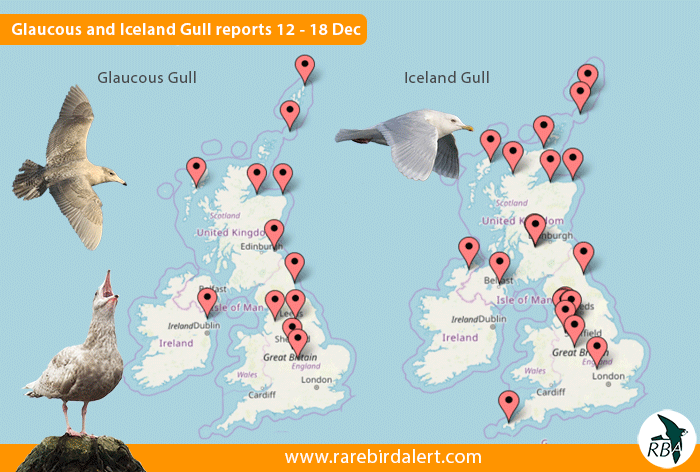 While their daintier brethren might have been, modestly, increasing in numbers this week the same couldn't be said of Glaucous Gulls, with barely double figures tallied through the week. The second-winter bird continued to haunt Burghead (Moray) on 12th-16th, while the recent Yorkshire bird remained at Fairburn Ings RSPB on 13th; further birds were noted at Clogherhead (Co.Louth) on 13th, in Leicestershire in the Shawell area on 13th-15th, in Derbyshire at Foremark reservoir on 14th, in Shetland on Fair Isle on 15th and Unst on 15th also (with three birds at the former site on 16th, and two birds seen at the latter site on 15th), and on Harris (Western Isles) on 15th. On 18th two were seen passing Whitburn CP (Co.Durham).
So I'm saving the best for last if, by best, we mean Ring-billed Gulls. In the Christmas stocking tube of birders' Fruit Pastilles they'd be the nice blackcurrant ones that everybody likes. Glaucous Gulls, clearly, being the green ones… So, Ring-billed Gulls - seen this week in Ireland at Limerick (Co.Limerick) on 12th and Tralee (Co.Kerry) on 14th; in Scotland on Tiree (Argyll & Bute) again on 14th; and in England, at Hayle Estuary RSPB on 15th and again on 17th. A further probable bird (or a hybrid) was reported from Sinfin Moor (Derbyshire) on 14th.
There's no doubt about which raptor was bird of the week in this category of proceedings – with considerable stage presence and conveniently placed for southern English birders, that would have to be the juvenile White-tailed Eagle that was lobbing around the Milkham and Roe Inclosures area of Hampshire on 14th-17th – said to have been present there for a few days beforehand too.
Wandering Continental birds do turn up on our shores from time to time, with the Norwegian population, for example, probably accounting for the sporadic records in Shetland down the years – though, of course, the Scottish population is gradually consolidating itself too, with Orkney recently tentatively recolonized after a great many empty years. So where had this bird come from? Maybe from the more southerly continental population, where they breed as near to us as Holland…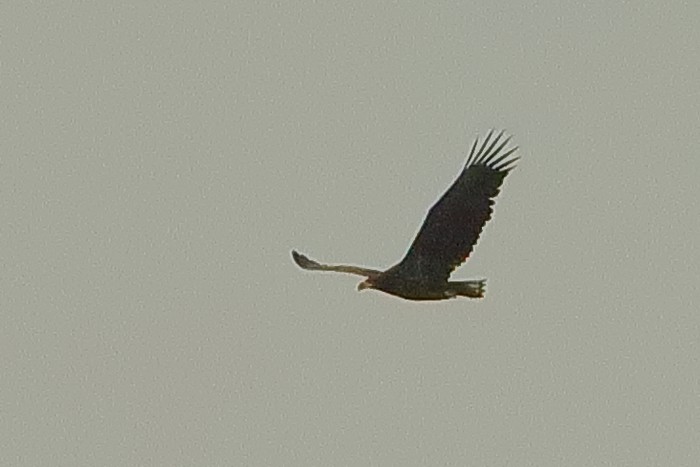 For now, English records remain decidedly uncommon, particularly away from the east coast, and particularly this far south. That this bird in Hampshire appears to be ringed offers some hope that we might yet learn where it's from. In the meantime, it continued to prove popular with a string of admirers this week, relocating on 18th to Blashford Lakes HWT. In Scotland, meanwhile, the juvenile bird was still being seen at Faseny Bridge (Lothian) on 12th.
A promising early winter influx of Rough-legged Buzzards has, by now, dried up somewhat. Norfolk offered one still on Haddiscoe island on 12th-15th, and further sightings from Brancaster Marsh on 12th and Barrow Common on 15th. Elsewhere, birds remained at Orford Ness (Suffolk) on 12th and Holme Fen NNR (Cambridgeshire) on 13th; and new birds were seen on 13th from a train near Manea (Cambridgeshire), on 14th at Denge Marsh (Kent), and on 15th at Wraysbury reservoir (Surrey). Further reports came on 12th from Aberdare (Glamorgan) and on 13th at Timble Ings (North Yorkshire).
Finally, the male Snowy Owl was once more seen this week on Eday (Orkney) on 12th.
Decent winter passerines were, for the most part, getting harder than ever to come by this week, with one notable exception. Predicting we'd have a Penduline Tit this week was the Rarity Round Up writer's equivalent of getting a green triangle in a tub of Quality Street on his first go – yes, that satisfying. But I bet that the finder of the bird seen at Radipole Lake RSPB (Dorset) on 14th and again on 17th was even happier still.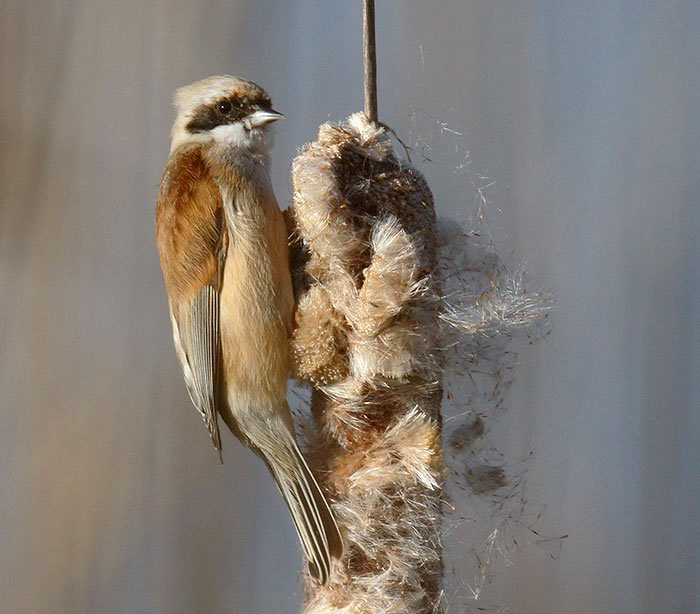 Before we take our leave of Dorset, we head next to nearby East Fleet where the recent Dusky Warbler appeared to have found a friend – there were two birds present there on 13th, with at least one still to be found on 14th.
Back into Weymouth and to Lodmoor RSPB, where a Yellow-browed Warbler was present, on 16th, for its sixth day; a shortish drive inland takes us to Yeovil (Somerset), where another bird remained at Pen Mill sewage works on 16th-17th; elsewhere in the southwest birds were to be found at Shapwick Heath NNR (Somerset) on 17th; Falmouth (Cornwall) still on 12th' Broadsands (Devon) still on 13th-18th; and on St Mary's (Scilly) again on 15th.
One of last week's Red-rumped Swallows was still to be seen this week, in Cornwall at Torpoint on 12th-13th. Further exotica came in the form of a Hoopoe in Ireland at Donaghmore (Co.Tyrone) on 13th.
Only two Richard's Pipits were recorded this week – the bird at South Shields (Co.Durham) found as the prior week closed on 11th remained this week until 17th; and another was noted in flight over Haddington (Lothian) on 14th.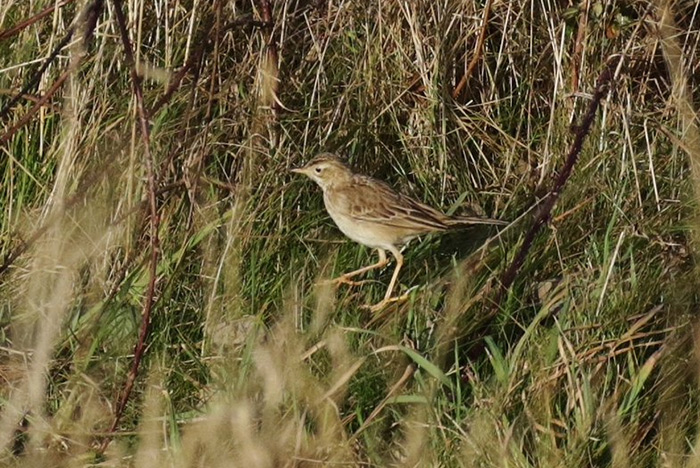 Settled Great Grey Shrikes were still to be found this week at Needingworth Quarry Lakes (Cambridgeshire) on 12th, Cannock Chase (Staffordshire) on 13th-17th, in Langdale Forest (North Yorkshire) on 14th, and in Ashdown Forest (East Sussex) on 16th. Fresh birds were noted near Thirsk (North Yorkshire) on 15th, and on 16th from Crab Tree Bog (Hampshire), Strumpshaw Fen RSPB (Norfolk), Llyn Brenig (Denbighshire) and Bressay (Shetland); the Llyn Brenig bird remained there still on 18th.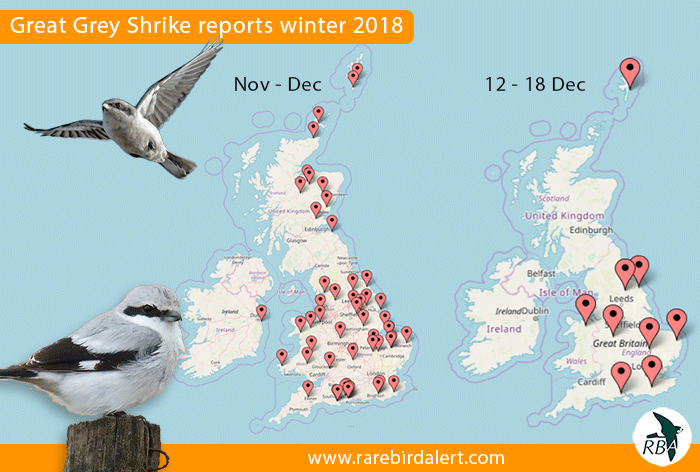 The week appeared to start fairly strongly for Waxwings with some 500 birds in all reported on 12th, including a flock of 150 in Edinburgh (Lothian). That pace wasn't maintained though throughout the week and we ended up with a weekly score of around 700 birds nationally by 16th – the Edinburgh flock peaking with 180 birds at Balgreen on 14th – before Perth (Perth & Kinross) weighed in with a mighty flock of 320 birds on 17th and Dundee (Angus) a further 130 on 17th also. The Perth flock rose to 409 birds on 18th, taking our weekly tally north of 1,200 birds in total.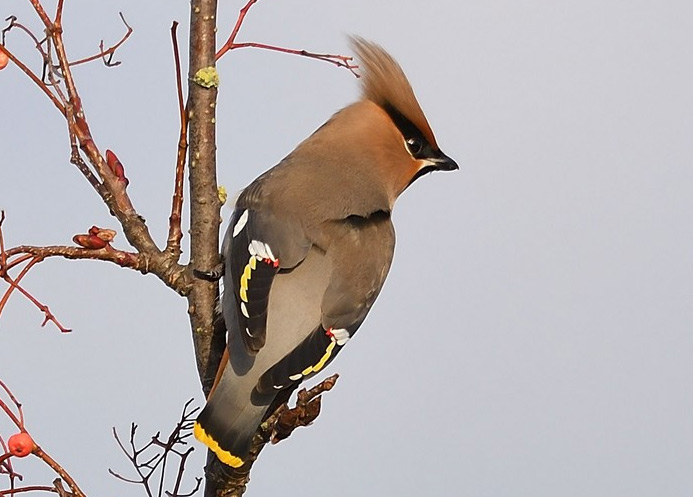 The Pied Crow was once more seen at Flamborough (East Yorkshire) on 17th.
Our weekly tally of Rose-coloured Starlings, well… rose this week, with five birds in all tallied nationwide. Juveniles remained at Kesgrave (Suffolk) until 17th, at Etwall (Derbyshire) until 17th, in North Seaton (Northumberland) still on 12th, and at Llandudno (Conwy) again on 13th. A further bird was seen in North Yorkshire at Throxenby on 14th.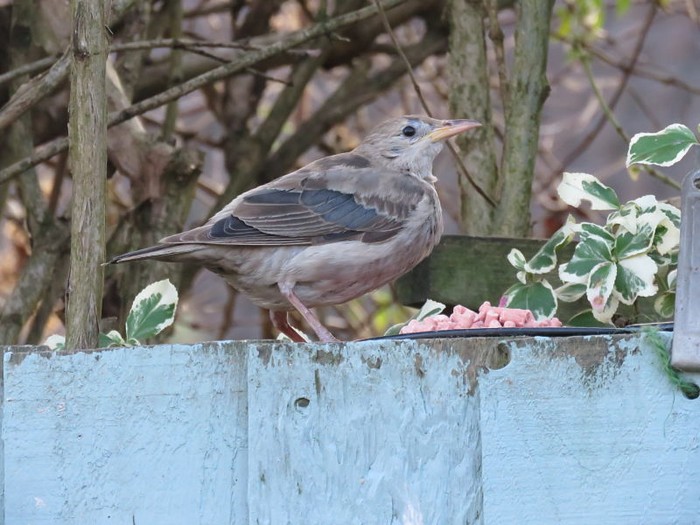 At least one exilipes Coue's Arctic Redpoll remained this week in Norfolk in Wells Woods until 17th; two further single birds were noted on 15th at Thorne Moors NNR (South Yorkshire) and Fontburn reservoir (Northumberland).
A final piece of non-birding news was a report this week of the Beluga still present in the Thames estuary off Gravesend (Kent) on 12th. Now that really would be a white Christmas.
Holland's Nutcracker at Wageningen remained there this week throughout, showing no signs of moving on any time soon.
Similarly settled and not showing any signs of heading to, say, Dungeness RSPB in the near future, the Pygmy Cormorant remained in Belgium at Parc Domaine du Val Duchesse still on 13th.
Reports of Oriental Turtle Doves in Sweden came this week from Styrdal on 12th, Gullbrandstorp on 15th, and Sveg again on 15th-17th also. One of those wintering in a British garden again would be deservedly popular.
As for another Naumann's Thrush… the mind boggles. One was found this week in Finland at Kristiinankaupunki on 13th.
In Spain, the Sociable Plover was still present in Andalucia at La Janda on 16th, while the Steppe Grey Shrike was reported once more from the Ebro Delta at Laguna de la Tancana on 16th also. At least one Ruppell's Vulture was present in the Estrecho Natural Park at Tarifa on 15th.
France claimed a Sociable Plover as the week drew to a close, seen on 17th at Saint-Loup-Lamaire.
The Dwarf Bittern remained on the Canary Islands on Fuerteventura on 16th, while on 13th-18th an Allen's Gallinule was providing yet another good reason to visit the island.
So there we go, folks – that's it for another year. While the RBA newsfeed never sleeps, I'm getting a few days off to try to drown my recent Dusky Thrush sorrows.
(Sorry, that should be, "to celebrate the joy that's Christmas"…)
We'll be back in a fortnight's time with a bumper issue of the Rarity Round Up. So what might we reasonably hope for in the meantime? Ah, it's Christmas. As long as you've been really good this year, you can have whatever you wish for. Even a Nutcracker.
And if one doesn't turn up? Well, you should have behaved better and cleared your toys up when you were told to, shouldn't you?
Happy Christmas, everyone. Here's to a rarity-filled 2019.
Jon Dunn
19 December 2018
Share this story
Tweet