Weekly birding round-up: 5 - 11 Dec
The week at a glance
Shetland delivers a stunning Dusky Thrush to kick the week off
Anglesey brings the week to a close with an American Royal Tern
And the Bufflehead remains in Co.Cork
This was, in many regards, a classic British and Irish early winter week, characterised by a mixture of turbulent spells and cold snaps. A bit like the week in politics, really.
So far, so predictable - and the birding was, for the most part, on the quiet side. Except in Shetland where, early in the week, all hell was set to break unexpectedly loose… and in Anglesey where, as the week drew to a close, a grand finale was in store.
Dusky Thrush
I've been writing Rarity Round Ups for Rare Bird Alert for some five years now. I make no secret of loving doing them – it's a chance to plunge, headlong, into the pool of good birds that Britain and Ireland have hosted in the past week, to reminisce about past rarities, and to daydream about what might yet be.
And in those five years, I've learned a thing or two.
Firstly, any Hooded Merganser is almost certainly going to turn out to be an escapee. Even the ones without tatty wings or leg bling – they've probably just jumped the wire before a wildfowl-fancier can have at them with the scissors or ringing pliers. Secondly, whenever it has a quiet spell, Scilly is emphatically not dead – it's just sleeping. Scilly remains a potent draw for birds and birders alike. And thirdly, it doesn't do to tempt the birding Fates. Cos when you do, they'll bite you.
So you'll recall my glee last week at having correctly predicted an American Herring Gull would be found… and keen-eyed readers may also recall my comments about Shetland having had a fairly quiet autumn, and my concluding remarks that the coming week would be all about the scarce and rare ducks, "barring anything outrageous popping out of the woodwork in the form of a startling thrush or warbler."
"A startling thrush"? Yeah. That went well.
The ink on that Round Up was barely dry on Wednesday 5th before news broke at lunchtime of a Dusky Thrush at Skaw on Whalsay (Shetland). Unfortunately that was too late in the day for anyone in Shetland to get there in time to see the bird before it flew off with a passing Redwing. Much more unfortunately still for me, the bird was just a few hundred yards from my kitchen window. And I was on the Shetland mainland at the time…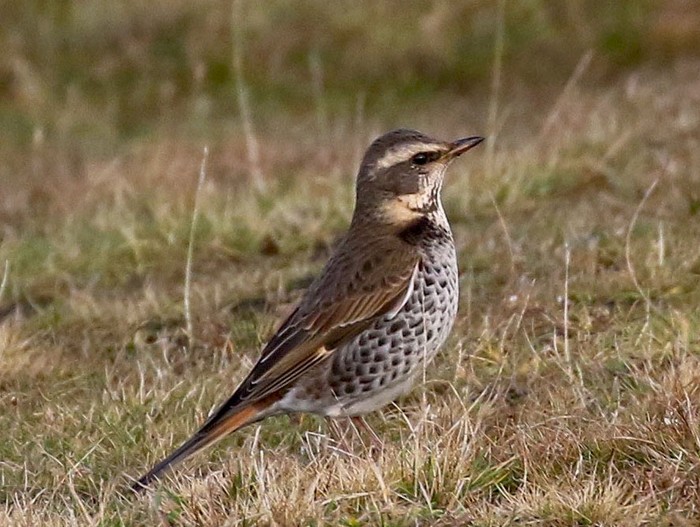 All told, a bit of a kick in the Christmas baubles.
Not a sentiment shared by either of Whalsay's two other resident birders – Brian Marshall, the finder of this, Shetland's fourth Dusky Thrush; and John Lowrie Irvine, grandson of Johnnie Simpson – the finder of Whalsay's first and, at the time, Britain's fourth Dusky Thrush at Skaw on 24th September 1968. John Lowrie may have missed that bird, but he certainly didn't miss this latest outrageously good-looking first-winter male example – his first, back-of-camera, shot of the bird was soon lighting up the internet, and more mouth-watering images were shortly to follow.
Sad to say, the bird wasn't seen again after that.
And I'm fine. Really.
American Royal Tern
After that high octane beginning, the week's news calmed down significantly until, on Monday 10th, that lull in proceedings was rudely interrupted by breaking news from Wales – a Royal Tern, considered mostly likely to be a maximus American Royal Tern, had made an all-too-brief pit stop at Traeth Dulas (Anglesey) in the early afternoon before flying back out of the estuary and then being lost from sight.
Thanks to sightings this summer in Dorset and West Sussex, British birders have been relatively spoiled recently where this chunky tern is concerned – but in the larger picture it definitely remains a drop-everything bird, the sort that sets the pulse (and engines) racing.
In a British and Irish context, we've precious few accepted records of either African or American or unattributed Royal Tern to date. Of the five prior accepted British records, three of them have been in Wales. Though one of those got close, being seen from Llandudno (Conwy) on 20th June 2009, this week's bird is the first for Anglesey.
Interesting to note that two of those three Welsh birds were in November or December – so this latest bird conforms with the developing trend. Clearly Welsh birders can maintain some cautious spirit of optimism even in the dying embers of the year and, if I were a betting man, I'd put a fiver on there being more winter records in the region in the years to come.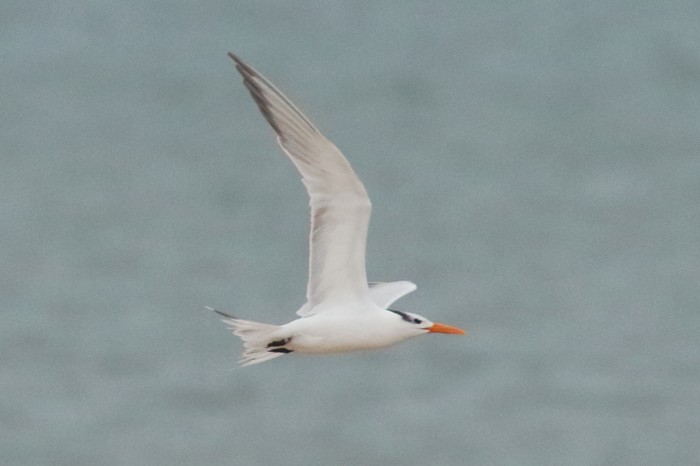 Happily, a couple of hours after it was seen heading out to sea on 10th, the bird was back at Traeth Lligwy. Better views before it flew off again in the late afternoon allowed a more definitive pronouncement that this was a nominate maximus American Royal Tern - and it was metal-ringed too, for good measure. This tends to be a Good and Useful Thing on terns, though rather less so on ducks. Anyone who's been birding in Florida will attest to just how many American Royal Terns bear a bracelet.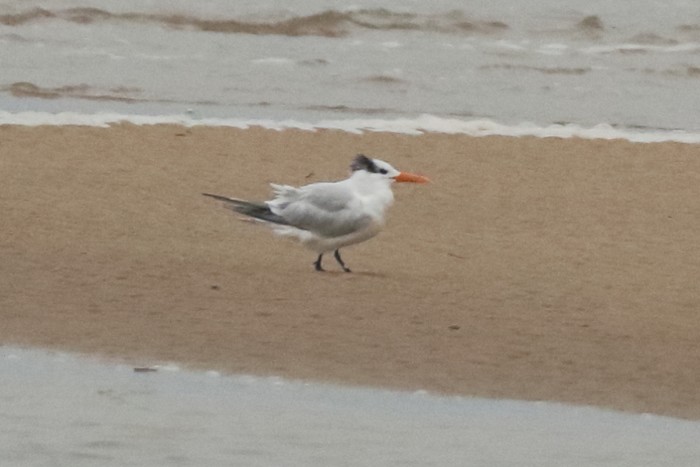 An observation which, obligingly, a few more British birders were able to make on 11th as the bird was back again, back and forth, at Traeth Lligwy and nearby.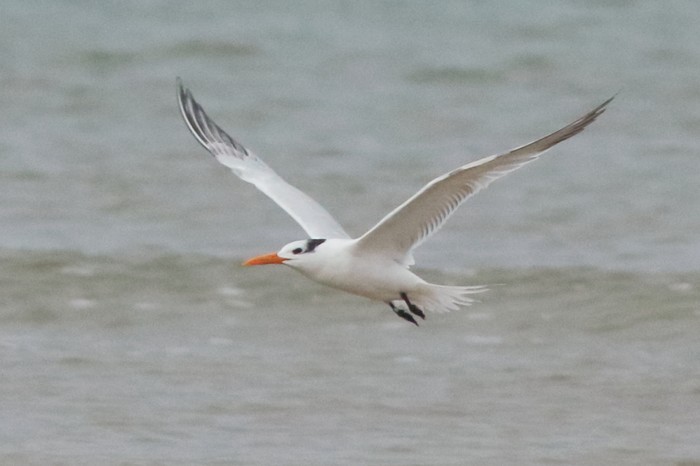 Bufflehead
Our other headline news this week does concern a rare duck, after all, as in Ireland at Ballinacarriga Lough (Co.Cork) the female or juvenile drake Bufflehead remained present until 9th, with four Ring-necked Ducks also present there on 8th-9th lending additional feel-good factor to this bird.
(The same couldn't be said for the escaped female Bufflehead still lobbing around central England at the moment, present this week on Rutland Water (Leicestershire) on 7th-9th).
The previous week's adult White-billed Diver at Bamburgh (Northumberland) was seen once more there this week on 6th; did this bird also account for that seen further south in Northumberland off Druridge Bay on 8th? An additional sighting came this week once more off Barra (Western Isles) on 8th also.
Cornwall provided just a little bit more variety than late amongst our seabirds this week with Balearic Shearwaters seen from Cape Cornwall and St Ives on 7th, the latter site providing two birds to the Cape's singleton; and a probable Leach's Petrel was also seen from St Ives on 9th.
Pomarine Skuas failed for another week to make it into double figures – a blank week is surely imminent shortly. Single birds were logged this week from Cape Cornwall on 7th; Pendeen (Cornwall) on 7th and 8th; at Huntspill and Minehead (Somerset) on 9th; and from Gibraltar Point NNR (Lincolnshire) on 11th. Two birds were noted from Burnham-on-Sea (Somerset) on 8th.
It was a similar story where Little Auks were concerned, with numbers barely creeping into double figures. The week began with one picked up and taken into care well inland at Stapleton (Shropshire) on 6th; two reported from Fort Victoria (Isle of Wight) on 7th were followed by one reported at Dungeness (Kent) on 8th; single Somerset sightings came on 8th from Burnham-on-Sea and on 9th at Huntspill; further single birds were logged on the east coast on 9th from Askam Pier (Cumbria), Flamborough (East Yorkshire) and Holland Haven CP (Essex), while two birds were seen that day at Beadnell (Northumberland). On 10th sightings of a single bird were logged on the north Norfolk coast past Sheringham and Cley.
With a smidgen more sightings this week than of late, we're kicking off our long-legged beasties this week with Glossy Ibises. The individual at Rosslare (Co.Wexford) remained there this week until 9th; meanwhile, in England birds were seen in Somerset at Stathe on 6th-8th and, on 9th, in Hampshire at Pennington Marshes. Finally, on 10th the long-staying bird was once more noted at Fremington Pill (Devon).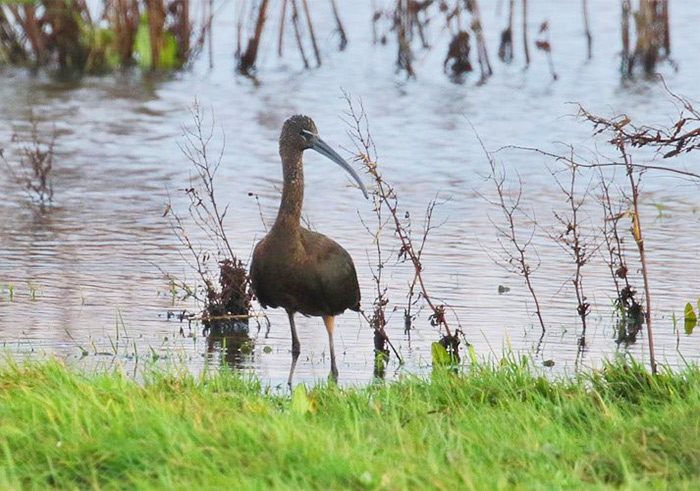 Cattle Egret numbers remained fairly consistent with a shade over 200 birds logged once more in a wide scatter nationwide. Abbotsbury's (Dorset) resident flock peaked on 8th with 38 birds seen there, a peak count for the week closely approached by the flock of 36 seen that day also at Burtle (Somerset).
Away from Norfolk we've just the one Common Crane seen in flight over Grantham (Lincolnshire) on 8th, and a flock of 43 birds at the now reliable Ouse Washes RSPB in Cambridgeshire.
If our Seabirds and – spoiler alert – Shorebirds sections this week were thin on both variety and volume, happily the same can't be said for the honkers and quackers. We've loads to get our teeth into.
Starting as usual with the The Goose Formerly Known As Canada, the small Canada-type remained on Barra (Western Isles) on 6th-8th; in Cumbria, the interior Todd's Canada Goose was still to be seen at Cardurnock on 6th-8th, while another was again seen on Tiree (Argyll & Bute) on 10th; and the hutchinsii Richardson's Cackling Goose was again seen on Oronsay (Argyll & Bute) on 8th.
Regular recent adult Black Brants were once more noted this week at Ferrybridge (Dorset) on 5th and in Essex at West Mersea on 6th-10th; on 10th an adult was again seen in Norfolk at Stiffkey and, on 11th, an adult was present in Lytchett Bay (Dorset).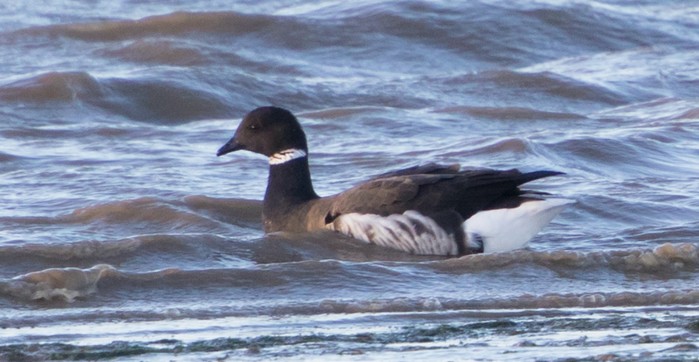 The most notable of the week's duck news remained the high numbers of Ring-necked Ducks present again in Ireland – with the flock of eight birds (three first-winter drakes, and five females) still at Garranes Lake (Co.Cork) on 5th-8th the most notable aggregation. Further Irish sightings came in the form of a female at Lower Cloonee Lough (Co.Kerry) on 5th; at least three birds at Clonakilty (Co.Cork) on 8th firmed up into four birds there the following day; on 9th three drakes remained at Lough Yganavan (Co.Kerry) and two drakes at Inch Island Lake (Co.Donegal); and on 10th a drake was present on Milltown Lake (Co.Cavan).
Away from Ireland, more birds still were seen – the drake was once more noted at Woodhall Spa Airfield LWT (Lincolnshire) on 5th; the drake was again at Pitsford reservoir (Northamptonshire) on 6th-11th; the first-winter drake was still at Radipole Lake RSPB (Dorset) on 9th; a drake was seen once more at Old Hall Marshes RSPB (Essex) on 9th; while in Scotland single birds were noted on Benbecula (Western Isles) on 8th and Loch Watten (Highland) again on 9th-11th; and three birds were logged again on Tiree (Argyll & Bute) on 9th-11th. On 10th the drake was once more seen in Devon on Slapton Ley. I make that 28 Ring-necked Ducks in Britain and Ireland this past week – has there ever been a higher weekly tally, I wonder.
The drake Lesser Scaup was seen again in Somerset at Chew Valley Lake this week on 7th and again on 10th; the female was once more noted on Anglesey at Llyn Llygeirian on 5th-11th.
American Wigeons were also having a good week, with plenty of settled birds at, by now, familiar stations: in England, the female was still present at Grimley (Worcestershire) on 6th-10th, and drakes were again at Rutland Water (Leicestershire) on 6th-11th, Leighton Moss RSPB (Lancashire) on 7th and Hesketh Out Marsh RSPB (Lancashire) on 9th-10th; in Scotland, drakes were again seen in Highland at Tain Links on 8th-9th, Loch Eye on 8th and Loch Watten still on 9th-11th; and in Ireland, a drake was once more seen on the Culdaff estuary (Co.Donegal) on 9th.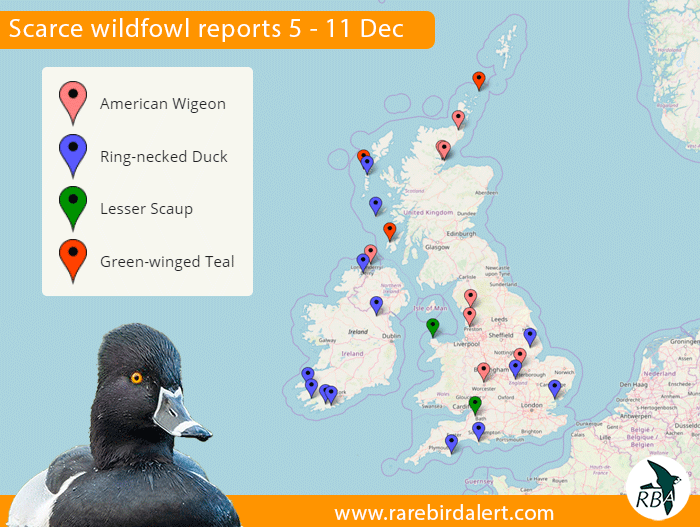 Reining back from that largesse, just three Green-winged Teals were noted this week, all of which were in Scotland – on North Uist (Western Isles) again on 5th, on Tiree (Argyll & Bute) once more on 6th, and still present on North Ronalday (Orkney) on 9th.
With no rarer scoters on offer, we've just some Surf Scoters to sift through – perhaps the most notable of which was a juvenile bird at Goodrington (Devon) on 7th-11th. The remainder were all in Scotland – on 5th at Loch Ryan (Dumfries & Galloway) still, and again on 5th and 10th off Musselburgh (Lothian); and, on 8th, flying past Embo (Highland) and on Tiree (Argyll & Bute) where four birds remained.
Finally, the female King Eider was still present at Ynyslas (Ceredigion) on 8th-11th.
Well, I say finally… not quite, as it happens, as belated news emerged at the end of the week of our honorary waterbird, the Pied-billed Grebe still present in Shetland on Loch of Spiggie on 8th.
<!—Section Title -->
Were it not for one unseasonable bird the shorebirds section this week would approaching dystopian levels of misery. As it was, this wasn't quite Cormac McCarthy country, but compared to the utopian days of just a few weeks ago we were definitely entering some sort of winter wader wasteland.
So thank you, White-rumped Sandpiper at Pulborough Brooks RSPB (West Sussex) on 8th-11th – you made our week. A remarkable bird as it's only our second ever December record. Our first, as you ask, was at Lough Beg (Co.Derry) on 4th-10th December 1995. A year in which, you'll recall, just like 2018 we enjoyed prolonged spells of westerlies throughout the course of the autumn.
Meanwhile, our first Lesser Yellowlegs this week wasn't even seen – just heard at Cahore Marsh (Co.Wexford) again on 9th. On 11th another bird was seen in Somerset at Steart WWT.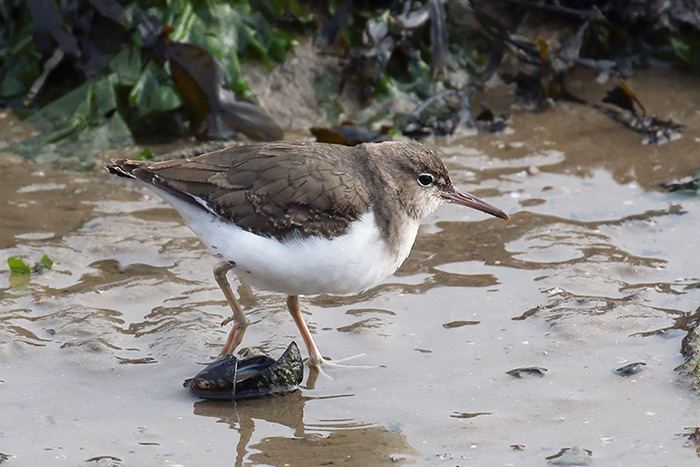 Some much-needed variety came in the form of a Spotted Sandpiper at Ferrybank (Co.Wexford) on 9th-11th. Anyone finding a 'Common Sandpiper' at this time of year is well-advised to give it a second glance, and never more so than after an autumn dominated by westerlies like this one was. I'm betting there may be a few more Spotted Sands lurking quietly in British and Irish tidal creeks…
All of this American exotica aside, back in Cornwall the juvenile Temminck's Stint was still at Stithians reservoir on 6th-11th.
Just a couple of Grey Phalaropes remain between us and the high octane excitement of the week's gulls and terns. Without any further delay then, we've single birds noted on 5th from Dungeness (Kent) and, on 9th, off St Ives (Cornwall).
There's only so long I can extend an American Herring Gull's tenure in the weekly headlines and so it's down to front up the general gulls'n'terns section this week for the first-winter bird noted in Cornwall again this week, on this occasion at Sennen on 7th.
That is, however, pretty much the full extent of the genuinely rare larids this week – the rest fall somewhere on the spectrum of scarce. At the furthest extreme we've a couple of adult Ring-billed Gulls, at Doorly Park (Co.Sligo) again on 9th, and Llys-y-Fran reservoir (Pembrokeshire) again on 9th too and, on 11th, another at Bray (Co.Wicklow) and the second-winter bird once more on Tiree (Argyll & Bute).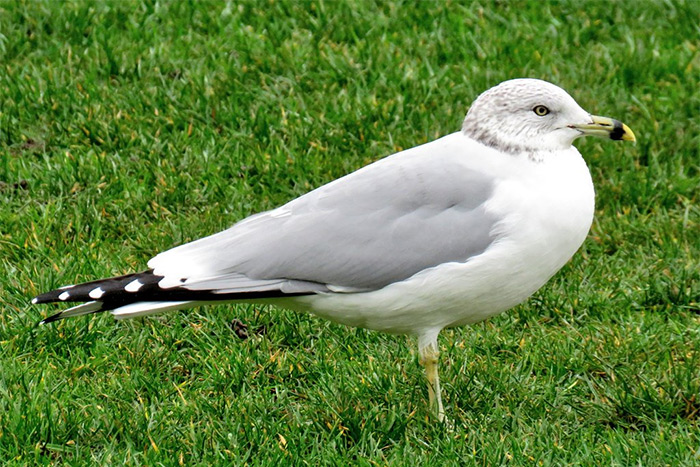 Occupying the middle ground before the rest of the run of the mill white-wingers were the adult Kumlien's Gull once more at Lough Foyle (Co.Donegal) on 9th, and a juvenile individual on Tiree (Argyll & Bute) on 11th.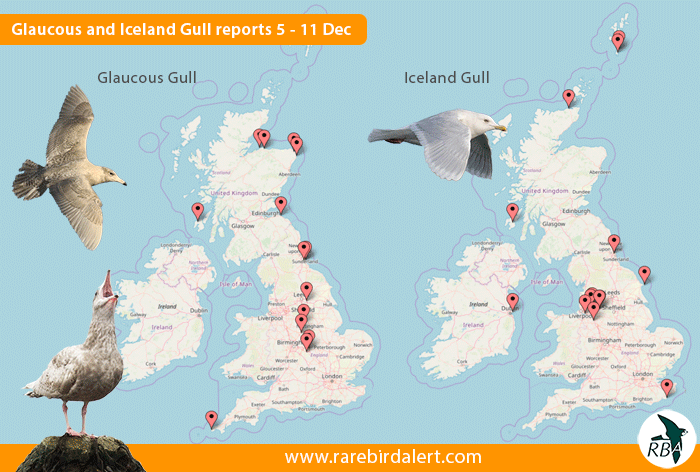 And then we're into those white-wingers. Iceland Gulls continued to be a little bit of a thing in Greater Manchester and the immediate north-west this week – the third-winter bird remained in the Pennington Flash CP area (Greater Manchester) on 5th-10th, while the juvenile individual was seen once more at Gorton and Audenshaw reservoirs on 8th-10th; and in Cheshire, sightings came from Sandbach Flashes where an adult bird was seen again on 6th and 10th, and Hale where a juvenile was seen on 7th. Further English sightings came from Boldon (Co.Durham) on 9th and Lade GPs (Kent) on 9th, and off Flamborough (East Yorkshire) on 10th. Scottish sightings were accounted for by birds at Boddam on the Shetland mainland on 7th and at Scrabster (Highland) on 8th-10th, on Islay (Argyll & Bute) on 10th, and on Shetland at Sandwick on 11th.
Just over a dozen Glaucous Gulls were logged this week – seen again in Derbyshire at Ogston reservoir on 5th and Willington GPs on 6th; at Fairburn Ings RSPB (West Yorkshire) on 5th-8th; on Islay (Argyll & Bute) on 6th; at Seaham (Co.Durham) on 7th; in Cornwall at Sennen on 8th, and at Shawell and Cotesbach landfill (Leicestershire) on 8th also; and on 9th at Loch of Strathbeg RSPB and Peterhead (Aberdeenshire). Two familiar faces emerged again on 9th also – at Loch Spynie (Moray) and Dunbar Quarry (Lothian); and on 11th one was once more seen at Burghead (Moray), with further birds present at Hetton Lyons CP (Co.Durham) and Draycote Water (Warwickshire).
For another week Norfolk remained where it was at for Rough-legged Buzzards, albeit in limited numbers compared with not so very long ago. One again on Haddiscoe island on 9th-11th was preceded by sightings from Sheringham and Thornham on 6th, and Acle on 8th.
Away from Norfolk, Holme Fen NNR (Cambridgeshire) retained a bird on 7th-10th, while one was seen at Great Stukeley on 9th. Further singletons were seen on 9th at Havergate Island RSPB and over Pegwell Bay (Kent); and, on 9th-11th, at Orford Ness (Suffolk). On 11th a final bird was seen between Commondale and Sleddale (North Yorkshire/Cleveland).
A juvenile White-tailed Eagle was seen on 7th at Meltham (West Yorkshire) and, on 10th, the juvenile bird was once more seen in the Lammermuir Hills at Faseny Bridge (Lothian).
An unconfirmed report of a Snowy Owl in Suffolk at Stratford St Mary emerged on 10th; ironically, perhaps, the same day that keen eyes noted a submission in the latest BBRC 'Work in Progress' file of a Tengmalm's Owl present for five days in October in Suffolk at Hollesley. We'll hear in due course how that record plays out…
Heading up our slimmed down winter passerine section this week are the modest arrival of Red-rumped Swallows to southern and eastern England in the past few days. The week kicked off with an adult bird found at Cley (Norfolk) on 5th, remaining there until 9am on 9th; later that day, in the early afternoon, one was seen further around the Norfolk coast at Gorleston-on-Sea. The next bird to be seen was a juvenile down in Cornwall at Torpoint on 9th-11th; with a further individual found at Kessingland (Suffolk) on 10th.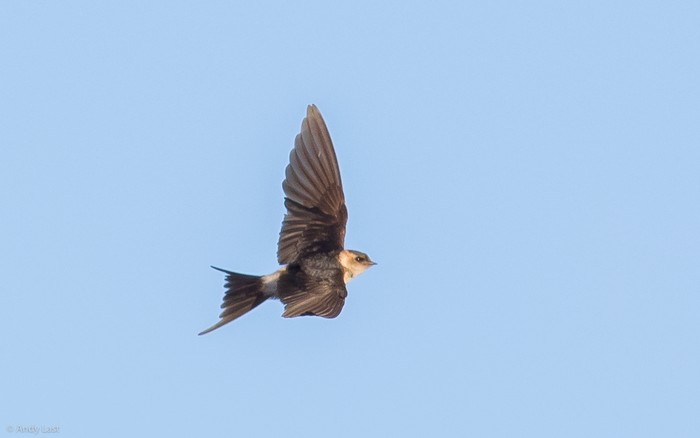 Kessingland was already having a good week with the settled Dusky Warbler still present there on 6th-10th; while in Norfolk, the bird found the previous week remained until 10th though proved elusive at times; and, in Dorset, the recent bird was once more noted at East Fleet on 11th.
The recent Hume's Warbler in Kent at Lade GPs was also seen intermittently this week between 5th-10th.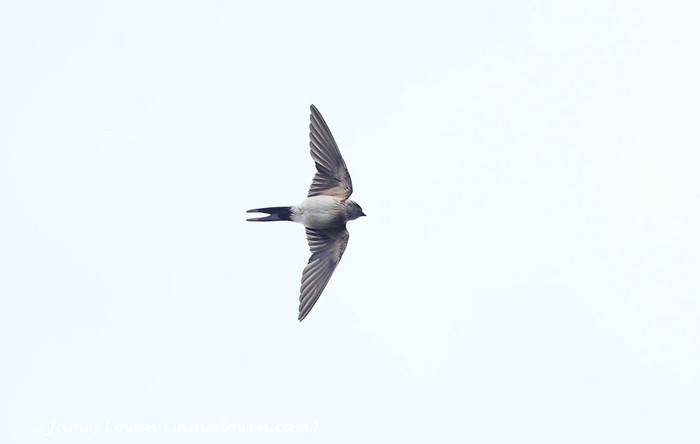 Yellow-browed Warblers continued to pop out of the woodwork in the mild south-west this week – at least two remained on Scilly on St Mary's on 5th-10th, with three birds present on 10th; Cornwall boasted birds at Newlyn on 5th-6th, in Falmouth still on 6th, at Nanjizal and nearby Polgigga on 7th, and in Truro on 8th; the individual remained in Devon at Broadsands on 5th-11th; and a bird was seen in Somerset at Tatworth on 6th-10th.
The probable Eastern Yellow Wagtail was once more noted flying over St Mary's (Scilly) on 10th.
Sightings of Richard's Pipits rose, modestly, this week with five birds reported – the individual at Cowpen Marsh (Cleveland) was seen again on 7th; and then on 9th a trio of sightings came in, with birds noted at Budle Bay (Northumberland), over Stiffkey (Norfolk), and on private land in Devon near Paignton; finally on 11th another bird was seen at South Shields (Co.Durham).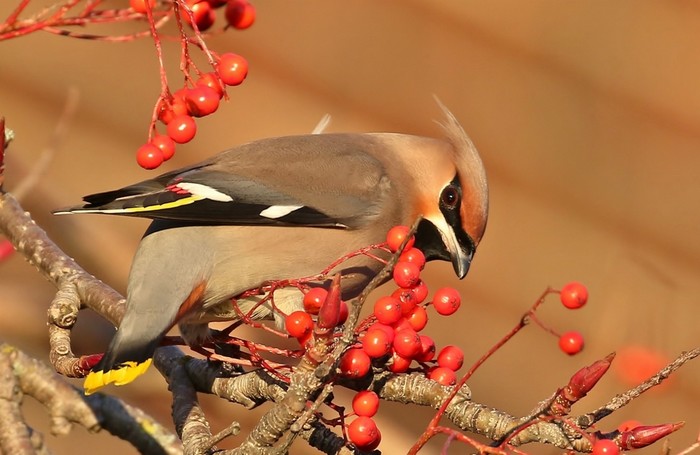 Settled Great Grey Shrikes remained this week at Leighton Moss RSPB (Lancashire) still on 6th, Cannock Chase (Staffordshire) still on 6th-11th, at Brandon (Suffolk) again on 6th-9th, and still in the Ashdown Forest (East Sussex) on 10th. Further sightings were widely scattered – birds were reported from Castletown (Highland) on 5th, Newburgh (Fife) on 6th, and Banbury (Oxfordshire) on 8th; and a bird was seen at Appledore (Kent) on 9th. On 11th final birds were found in Cambridgeshire in a hedge at Needingworth and in North Yorkshire in Langdale Forest.
Waxwings continued to be noted in modest numbers this week with the same northerly and easterly bias of late; around 800 birds were logged, with just one flock exceeding 100 birds seen this week – our highest confirmed tally being a flock of 102 birds in Edinburgh (Lothian) on 11th.
Another week, another putative Italian Sparrow - after last week's mixed up probable hybrid on Shetland, this week provided a report of another possible candidate, this time in Taunton (Somerset) on 9th, the bird in question apparently present in the same garden for around a week beforehand.
Less contentious fare was provided by three juvenile Rose-coloured Starlings – still present at Kesgrave (Suffolk) on 7th, North Seaton (Northumberland) on 7th-8th, and at Etwall (Derbyshire) on 8th-11th.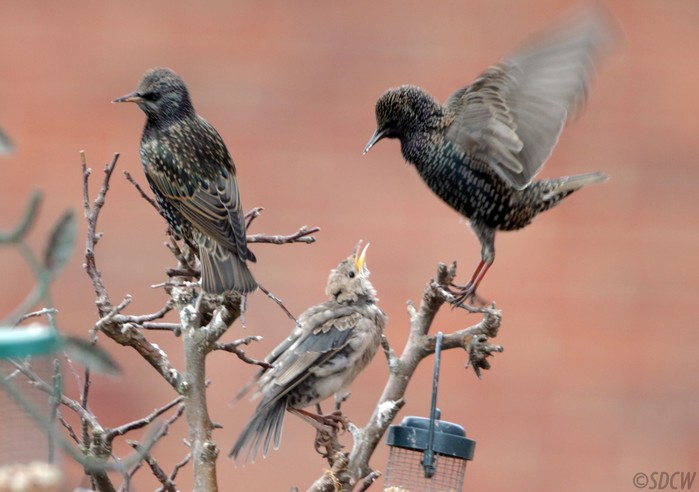 The recent Serin was once again seen on St Mary's (Scilly) on 6th.
Providing an appropriately chilly accent to proceedings, exilipes Coue's Arctic Redpolls were noted at Thorne Moors NNR (South Yorkshire) on 9th and Fontburn reservoir (Northumberland) on 9th also, the latter site enjoying two birds that day and one bird still present there on 10th. An unconfirmed report of further bird came from Strumpshaw Fen RSPB (Norfolk) on 9th. /p>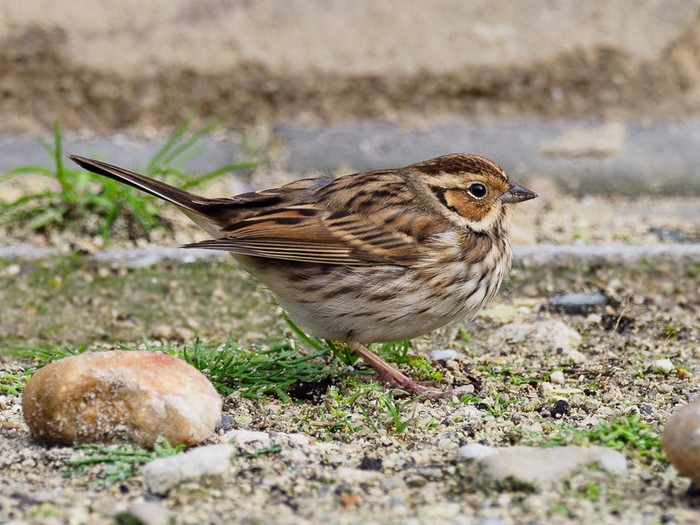 And last, but not least, this week Portland (Dorset) gave us a Little Bunting at Chiswell on 8th-11th.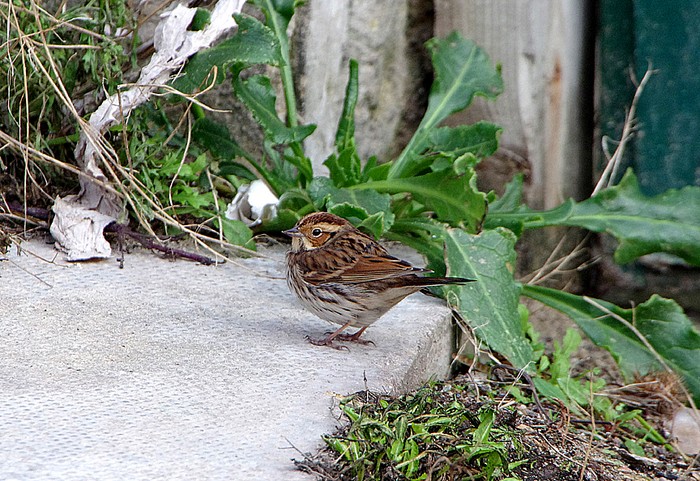 British birders continued to be taunted by thoughts of what might have been in the form of daily news updates this week from Wageningen (Holland) where, on 5th-11th, the photogenic Nutcracker continued to test the limits of credulity as it tootled around birders' feet oblivious of everything going on around it. Staying in Holland, the country's first Eastern Yellow Wagtail was still present at Rhoon on 5th.
Belgium landed a Black-shouldered Kite at Wange on 6th, while the Pygmy Cormorant remained at Parc Domaine du Val Duchesse on 9th.
France, meanwhile, held onto the recent Eastern Imperial Eagle at Saint-Gilles on 5th, with a Wallcreeper found that day at Dinan, in Brittany. Yep, that's practically the north French coast. The stuff of British birder's wildest dreams…
In Sweden, the recent Oriental Turtle Dove remained at Sveg on 6th-10th, with the other recent bird again seen at Degernas on 10th also; and, continuing what's proving to be a good autumn for them in Scandinavia, another was found on 5th in Finland at Hirsikangas.
Spain's Sociable Plover was still present in Andalucia at La Janda on 8th.
The Dwarf Bittern remained on the Canary Islands on Fuerteventura on 10th.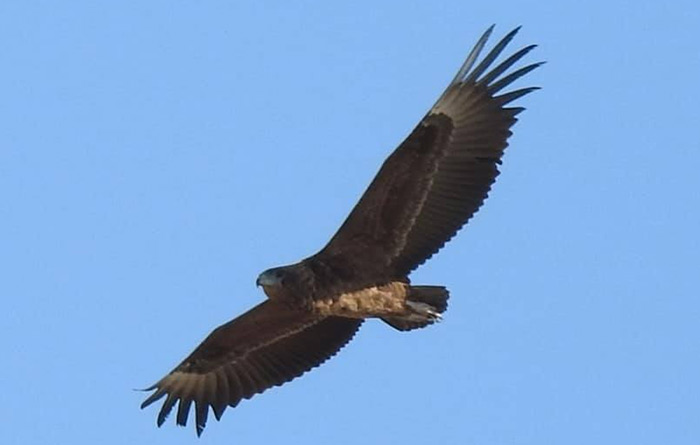 Egypt enjoyed a Bateleur at Sharm El Sheikh on 7th while, even further afield, in the Azores a Green Heron and a Pied-billed Grebe were seen on Sao Jorge on 5th.
As you might imagine, after this week's Dusky Thrush on my doorstep, I'm feeling a touch jaded about the whole prediction game… Still, never daunted, here goes again.
While the coming week is taking us into the time of year when an Ivory Gull starts to become a distinct possibility, with a dozen past records in the coming week alone, instinct tells us that one of those Arctic beauties is more likely on the back of a good northerly blast. And, looking at the charts, that's not what we're going to get…
With a big lump of low pressure parked west of Britain and Ireland, and a high pressure system sitting pretty over Scandinavia, the new week looks to start with the wind blowing up from the south and south-east. Maybe our recent daydreams of Nutcracker or Wallcreeper aren't entirely fanciful after all… if Teresa May could see her way to bring back either of those from Europe this week she'd at least please some of us.
Or maybe we're just in for a few more Red-rumped Swallows; or a Penduline Tit or two…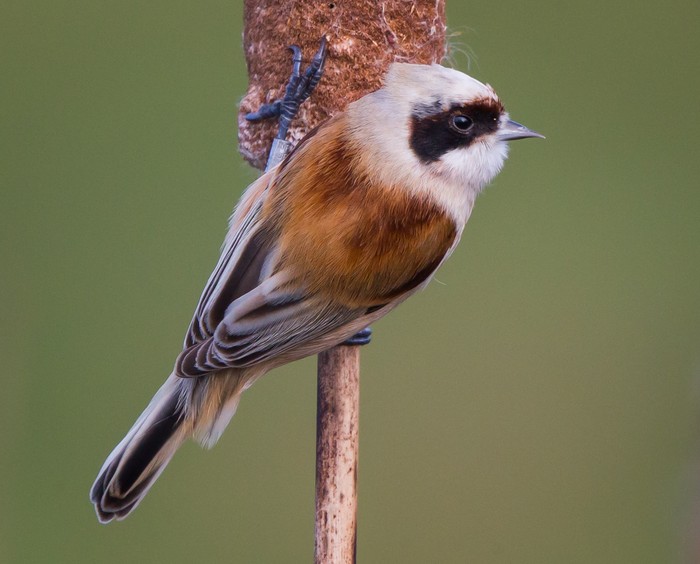 Jon Dunn
12 December 2018
Share this story
Tweet