Weekly birding round-up: 3 - 9 Oct
The week at a glance
Devon scores late and large with a Green Warbler
Lancashire, meanwhile, lands a Black Scoter
And Shetland brings a late Swainson's Thrush to the party
Now this felt a little more like it… A decent spell of easterly winds finally broke through this week and, with them, the birds we've all been waiting for. Granted, in Shetland, they were probably looping out over the Atlantic before being blown back in to the islands, but still they came.
October, finally getting under way, with if not a roar then certainly a growing murmur. We weren't inundated with numbers, but a little quality snuck through. Grab a cuppa and the sweet treat of your choice (Green & Black, anyone?) to accompany this week's news…
Green Warbler
For years, decades even, Green Warbler had assumed an almost mythical status as a British bird. You'd either seen the 1983 bird on St Mary's (Scilly), or you hadn't. And with no further sightings for 30 years, it seemed like one that would never be unblocked again.
Then again, it was perhaps a little easier to shrug the pain off for those of us who'd missed that bird as, for years after a review of the species in question in 1992, Green and Two-barred Greenish Warblers were lumped into Greenish Warbler and, after all, it doesn't take any fledgling birder too long to catch up with one of those.
Still, there was always a nagging doubt in many birders' hearts about that. Both Green and Two-barred Greenish retained a feel-good factor about them. It took until 2008 for Green Warbler to be reinstated as a valid and distinct species by BOURC. In 2010, British Birds published a fabulous paper chronicling the rise and fall of the species alongside the context of the < ahref="https://britishbirds.co.uk/wp-content/uploads/2014/05/V103_N02_P093%E2%80%93099_A.pdf" target="newwindow">first British record on Scilly, but at this point that 1983 record was a distant and fading memory. When would our next come along… if ever?
It fell to Foula in Shetland to deliver Britain's second bird, on 31st May – 4th June 2014 and, shortly afterwards, this was followed by a second Shetland spring record, on Unst on 12th-15th May 2016. That Britain's fourth record was also in Shetland, on Fair Isle last year on 4th-7th July, began to sound like an ominously predictable pattern was being set. Yet another Shetland specialty was in the making…
…or was it? This week, a report of a Greenish Warbler on Lundy (Devon) on 7th rapidly transformed into something more exciting altogether once photos of the bird in question emerged online. If this was indeed a Greenish, it was a strikingly colourful example, sporting a brilliantly yellow throat and upper breast.
Alarm bells were soon ringing online, and rightly so – this was surely Britain's fifth Green Warbler and, this time, back in the south-west. That said, these things aren't destined to be easy – yet another island record, and found too late on Sunday for anyone to get onto Lundy, this was a bird set to test the mettle of Britain's keenest, and the credulity of their bosses when the croaky-voiced "I'm not well enough to come into work today" phone calls were made first thing on Monday morning…
Perhaps not too many of those calls were made in the end as it shortly became apparent as Monday wore on that the bird had done a flit. For now then, Green Warbler will remain an aching void on many a list.
Black Scoter(s)
If Green Warbler was one to fire up the Quattro for, Black Scoter would still, I think, muster at least an XR3i moment if one was anywhere in the vicinity of where one had been seen. To the end of 2016, we've just 13 accepted British records…
These come from Wales, through northern England, and up into eastern Scotland – where scoter flocks gather, there's always a chance of a rarer sea-duck latching onto his or her commoner brethren. Mostly, it has to be said, in Wales and Scotland. For years England was missing Black Scoter until one was picked up, exhausted, in Lancashire on 16th May 2007 and later on released seemingly none the worse for the experience – it showed for about an hour afterwards before drifting out of sight on the ebbing tide. Subsequent English records came in the past decade from Northumberland but, for birders in the north-west, the wait went on for an accessible bird.
The news, then, that emerged on 5th of a drake present off Starr Gate (Lancashire) was doubtless welcome. Better yet, it seemed settled – it had been there since 1st. Game, surely, on. And then again… not so much, as it wasn't seen off there subsequently. The wait for an accessible Black Scoter in north-west England goes on a while yet…
The same can't be said for the north-east, however – since the first record off Bamburgh in 2011, Northumberland (and Cleveland; and in Scotland, Aberdeenshire) have been graced by presumably the same drake returning almost annually. Was it simply a coincidence that a drake was seen this week off Northumberland's Cocklawburn Beach in the afternoon of 8th? Or was this the same bird from Lancashire, swapping coasts?
Swainson's Thrush
Confidently predicted in our concluding remarks in the prior week's Rarity Round Up, it looked as if a Catharus thrush wasn't going to oblige as this week drew to a close.
Happy days then when, as the new week dawned bright and sunny on Shetland on 10th, belated news emerged of a Swainson's Thrush present on Yell for its second day. They're not quite annual on Shetland, but they're not far off – and, if we throw Grey-cheeked Thrush into the mix then barely an autumn passes now without some Catharus action up on Shetland.
That prediction was not, after all, so startling. Now, if only this week's closing thoughts could come to pass…
Things calmed down, considerably, where our seabirds were concerned this past week, though the first White-billed Diver sightings for a long while were a reminder that the seasons were fairly changing. A bird was tracked along the north-east coast on 6th, being noted off Whitburn CP (Co.Durham) and, in Northumberland, off Cullercoats, Tynemouth and St Mary's Island.
Rarer by some margin, the adult Pacific Diver seen there earlier in the year was back at Crookhaven (Co.Cork) on 7th-9th, sporting smart summer plumage… for now.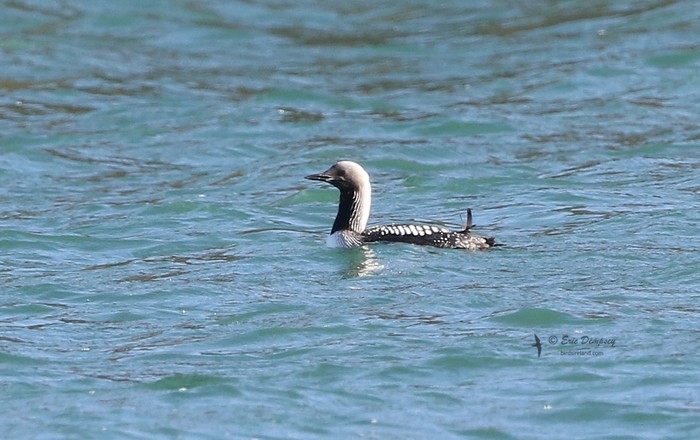 Shearwater sightings, meanwhile, fell away sharply, with all the Great Shearwater action focused in the waters in and around Scilly. Some 380 birds were logged in the course of the week, with the peak count being some 200 birds seen from a pelagic out of Scilly on 4th.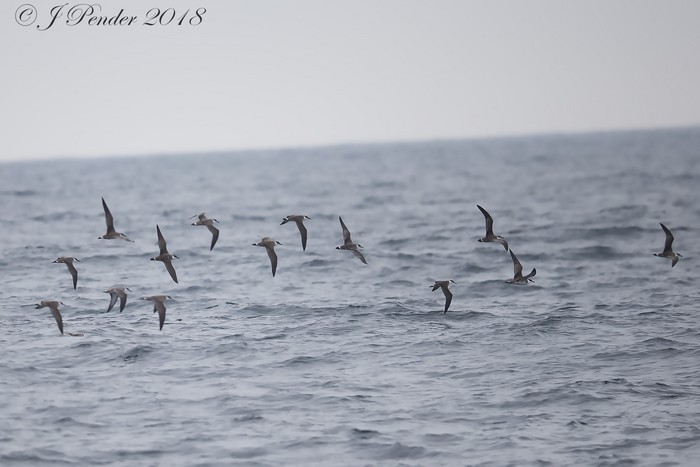 Balearic Shearwaters were similarly denuded, with only around 30 birds tallied in all – with the exception of a single bird noted from Whitburn (Co.Durham) on 7th, these were all in the southwest, where the peak count was a miserly nine birds seen from St Agnes (Scilly) on 5th.
A shade over 20 Leach's Petrels were recorded this week from eastern counties, though that may include some duplication as, on 6th, birds were reported from a number of locations along the Norfolk coast, including our peak count of five seen from Mudesley that day.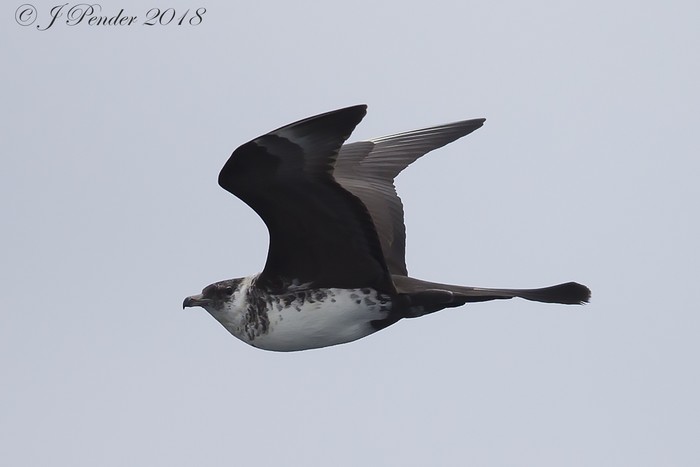 Meanwhile, Pomarine Skuas remained on the move in appreciable numbers, with 100 birds tallied in the course of the week. Counts crept into double figures at two sites, with ten birds apiece noted at Hornsea (East Yorkshire) on 3rd and North Queensferry (Fife) on 5th. Long-tailed Skua sightings amounted to some 17 birds throughout the week, all of them scattered singles down the east coast with the exception of duos noted at Huttoft Bank (Lincolnshire) on 6th and Whitburn CP (Co.Durham) on 7th.
Our resident and wandering population of Cattle Egrets showed little sign of abating this week, with plenty of birds noted nationwide and the general feeling that one could crop up, pretty much, anywhere at any time – even Scilly got in on the act, with six birds arriving on Tresco on 5th. Perhaps over 200 birds were again noted overall, with a peak count of 53 at Tealham Moor (Somerset) on 6th accounting for a quarter of them alone.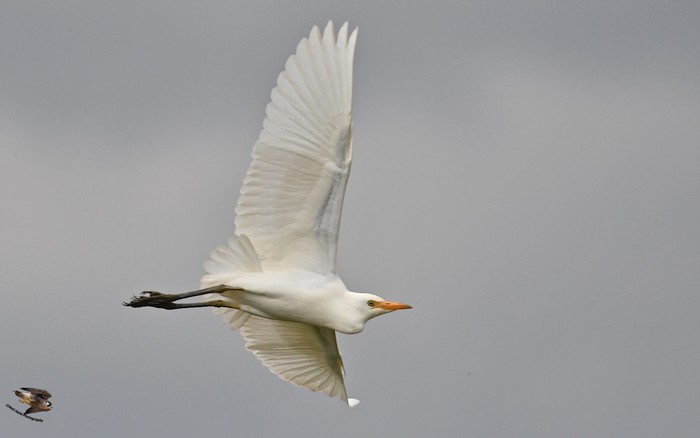 The White Stork in Cambridgeshire was once more noted at Dog-in-a-Doublet on 4th-7th. Any sighting of this species from Sussex automatically makes my heart sink these days as the initiative to reintroduce them there continues – shades of Great Bustard, for me – so who knows where the bird seen on 7th at Bishopstone (East Sussex) was really from. The week concluded with a bird seen in Co.Durham at Crowtrees LNR on 9th.
Glossy Ibises are rather less complicated, happily. One remained this week at Donisthorpe (Leicestershire) on 3rd-4th and at Rutland Water again on 5th-9th; another in Suffolk at Minsmere RSPB on 3rd relocated to Aldeburgh Town Marsh on 4th-6th; one was seen in Somerset at Steart WWT on 4th-9th; and on Scilly, arriving on the same breath of wind that brought the islands half a dozen Cattle Egrets, one was found on St Agnes on 5th. On 8th one was again seen in Devon at Fremington Quay; on 9th another was in Cheshire at Burton Mere Wetlands RSPB./p>
Away from Norfolk, sightings of Common Cranes got a lot thinner on the ground this week. Three were noted in Cambridgeshire at Eldernell on 3rd; and a party of five passed over Shutlanger (Northamptonshire) on 4th.
The adult and juvenile Spotted Crakes remained this week in Buckinghamshire at Willen Lake still on 3rd-9th; a further bird was seen, fleetingly, at Brae (Shetland) on 3rd, and one was again on Gibraltar Point NNR (Lincolnshire) on 8th-9th. A further bird was seen on 8th at Oare Marshes KWT (Kent) and, on 9th, one was present at Chew Valley Lake (Somerset).
Just a couple of Corncrakes were found this week, both on 5th – one on Bryher (Scilly) and the other in Lincolnshire at East Halton Skitter.
Further wintery signs came this week in the form of massing Pink-footed Geese in Scotland and, with them, some rarer fare. A white Snow Goose was found in Aberdeenshire at Meikle Loch on 3rd while, on 3rd-7th, an intermediate morph was present at Findhorn Bay (Moray).
It's with a sinking heart and a sense of due resignation that we see another drake Hooded Merganser bobbing up in the news. With all the usual caveats hanging around it like a wildfowl-fancier's shackle, one was found this week at Kidwelly Quay (Carmarthenshire) on 7th. It vanishing by 8th was probably the best thing it could do to enhance its credibility based on recent events with the species…
In Lothian the drake American White-winged Scoter was still to be seen off Musselburgh Lagoons on 4th-8th, with a drake Surf Scoter there too on 7th. Another of the latter species was a fine seawatching prize off Holy Island (Northumberland) on 6th, while on 8th one was noted in Angus at Scurdie Ness, and on 9th two were again seen off Harris (Western Isles).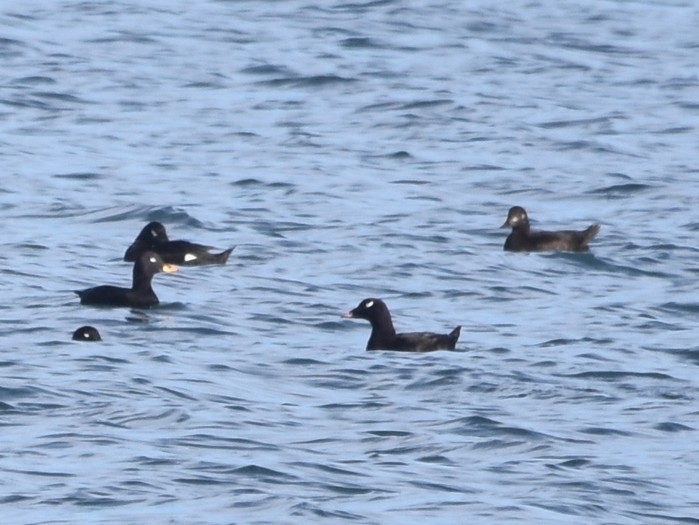 In Scotland the drake Black Duck was seen once more at Strontian (Highland) on 7th; in Ireland the Blue-winged Teal remained at Trabeg (Co.Kerry) on 3rd-8th.
Drake American Wigeons remained this week at Rutland Water (Leicestershire) on 5th-8th and in Lancashire at Hesketh Out Marsh RSPB on 6th-9th, with the possible female there again on 6th also. On 9th a drake was found back at Tain in Highland.
The juvenile Ferruginous Duck at Minsmere RSPB (Suffolk) remained there on 3rd-9th, while the drake was still to be seen Blashford Lakes HWT (Hampshire) on 3rd-7th also. On 9th one was found in Forth at Skinflats Lagoons.
The female Lesser Scaup was still at Chew Valley Lake (Somerset) on 3rd-8th; another possible juvenile was reported from Spiggie Loch (Shetland) on 4th. In Essex the drake Ring-necked Duck was again seen at Abberton reservoir on 4th.
The eclipse drake King Eider was still present this week off Burghead (Moray) on 4th-5th, while a probable female flew by Hartlepool Headland (Cleveland) on 6th.
Finally, a welcome return, this week, for our honorary wildfowl member – the Pied-billed Grebe seen once more on Loch of Spiggie in Shetland this week until 9th at least.
<!—Section Title -->
American Golden Plovers continued to be an omnipresent fixture this week, with a good scatter of new birds and even a multiple sighting – at Tacumshin (Co.Wexford), where on 4th a single bird had risen, by 6th, to three birds present, with two still there on 7th. Staying in Ireland, a juvenile was present at Carrahane Strand (Co.Kerry) on 5th-6th; and adults were logged on 6th at Slyne Head (Co.Galway); on 6th still at Loop Head (Co.Clare); on 6th at Rosslare Back Strand (Co.Wexford); and on 6th-7th at Trabeg (Co.Kerry). Shetland held adults still on Unst on 3rd-5th and Bressay on 3rd-7th, with another bird seen on Foula on 3rd. Orkney claimed an adult on Sanday on 4th-6th, and the Western Isles a juvenile on South Uist on 3rd-8th. Finally, in England an adult was present in Lincolnshire at East Butterwick on 5th-6th.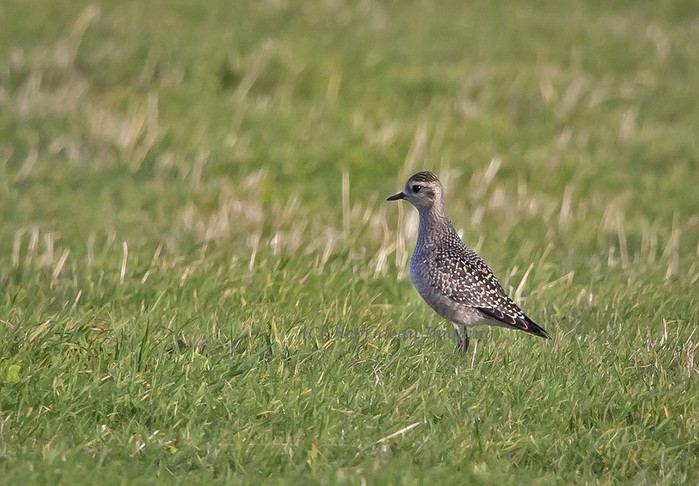 Two juvenile Baird's Sandpipers were logged this week – one seen on 3rd-9th at Findhorn Bay (Moray), and another on 5th in Cornwall at Kingsmill Lake. A White-rumped Sandpiper was found on Inishbofin (Co.Galway) on 8th.
We've just two Buff-breasted Sandpipers seen this week also – one on St Mary's (Scilly) on 4th-7th, and a lingering individual in Co.Clare on Loop Head still on 7th.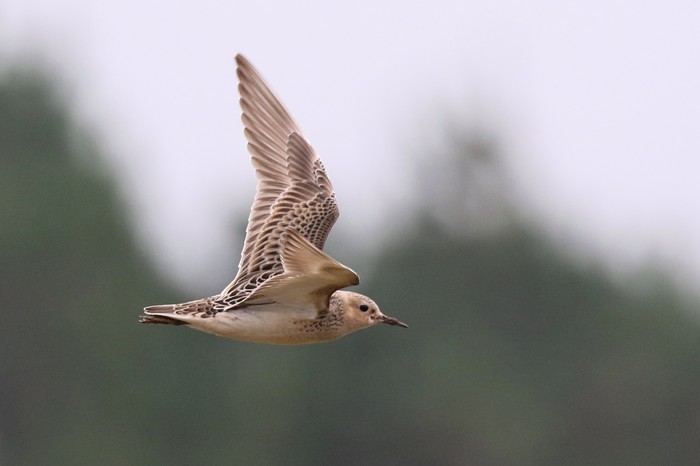 Pectoral Sandpiper numbers also fell away sharply, with a dozen birds in all seen. We'll kick off with the two birds still at Buckenham Marshes RSPB (Norfolk) on 3rd-9th; and single birds remained from the previous week at Drift reservoir (Cornwall) until 7th and The Vyne Watermeadows (Hampshire) until 9th. Elsewhere, birds were logged at Meikle Loch (Aberdeenshire) on 4th-5th; on 5th-6th at Glenmadday Turlough (Co.Galway) and on South Uist (Western Isles) on 5th-8th, with two birds there on the 8th; on 6th at Tacumshin (Co.Wexford), Rahasane Turlough (Co.Galway), Davidstow airfield (Cornwall) and East Chevington (Northumberland); and on 7th-9th at Kilvington Lakes (Nottinghamshire). On 9th one was again seen at The Gearagh (Co.Cork).
The long-staying Temminck's Stint remained at Pennington Marshes (Hampshire) on 3rd-9th.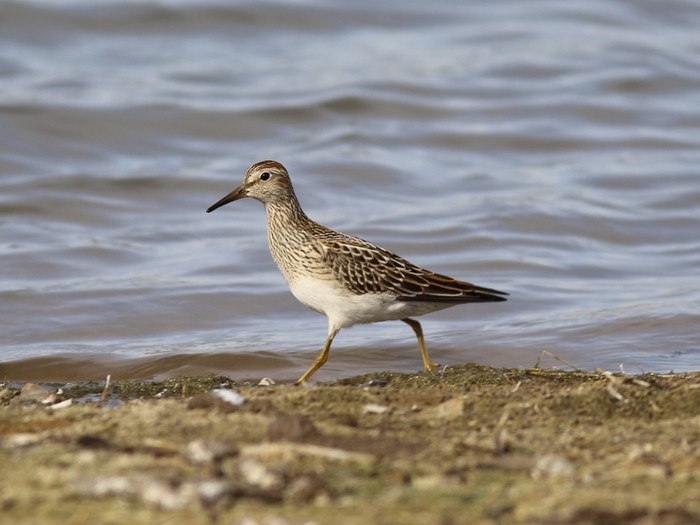 In Lincolnshire, the even longer-staying adult Long-billed Dowitcher was once more at Frampton Marsh RSPB on 5th-9th.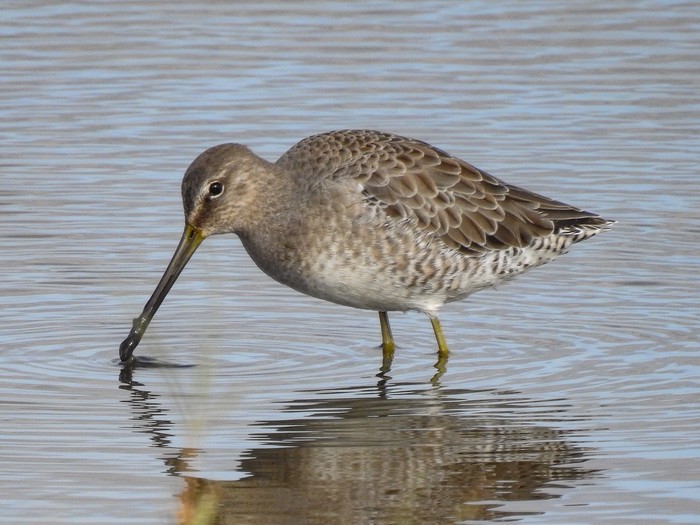 As predicted here last week, but proving predictably tricky to claim with absolute certainty, a possible Wilson's Snipe was seen on St Mary's (Scilly) this week on 4th-8th.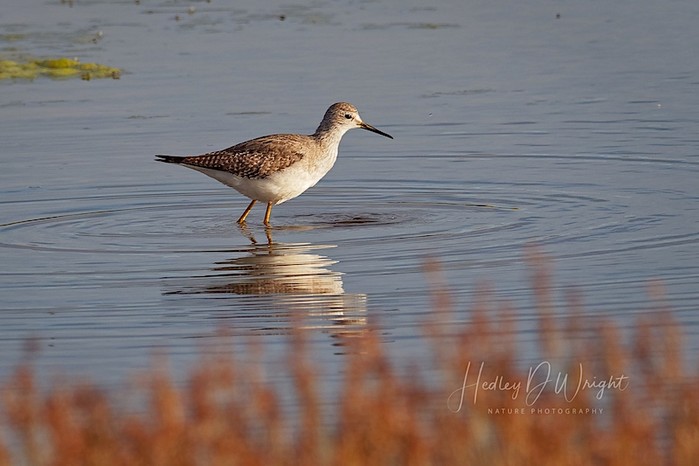 The juvenile Lesser Yellowlegs remained in Cornwall at Devoran Quay until 9th; Dorset's juvenile bird remained at Lodmoor RSPB until 8th; while the bird on South Uist (Western Isles) was once more seen on 4th-6th – it or another was on North Uist on 8th. In Suffolk, a juvenile present at Shingle Street on 3rd-6th relocated to nearby Hollesley Marshes RSPB on 6th-9th.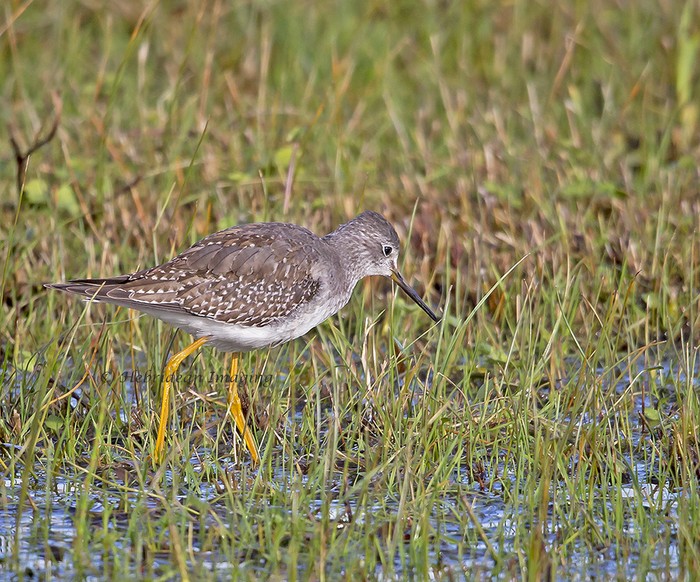 Aberdeenshire, meanwhile, accounted for another sighting of Marsh Sandpiper this week – seen at Meikle Loch on 5th; a further possible bird was seen the day before in Essex at Fingringhoe Wick EWT.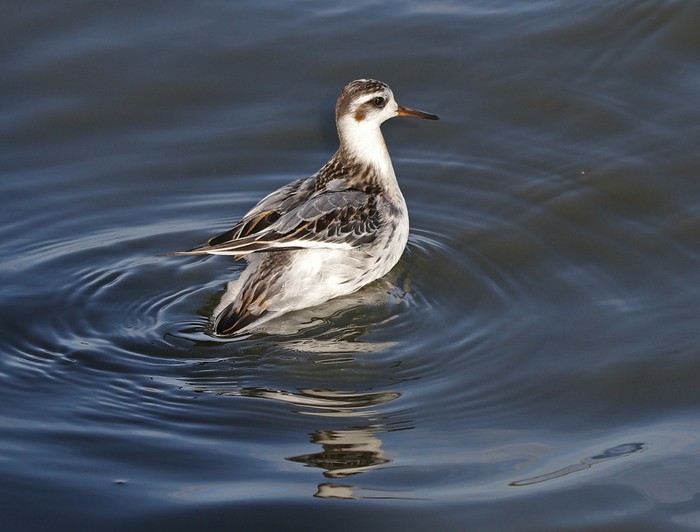 Last week's Red-necked Phalarope remained at Tacumshin (Co.Wexford) on 3rd, while another was seen on 4th at Wells (Norfolk). Numbers of Grey Phalaropes continued to evaporate, with just 16 noted in all over the course of the week, of which a peak count of five birds seen from the Scillonian on 5th was notable.
So with Grey Phalaropes, as with Sabine's Gulls - numbers of these fell too this week, with just three birds recorded. A juvenile was seen from the Isle of May (Fife) on 5th; on 6th an adult was noted from Loop Head (Co.Clare); and on 8th an adult was seen from Spurn (East Yorkshire).
An adult Bonaparte's Gull was seen on 4th-5th at Dunmore East (Co.Waterford).
Eight Glaucous Gulls were logged this week: at Burghead (Moray) still on 3rd-7th, Llandulas (Conwy) still on 4th-7th, and on Skye (Highland) again on 8th-9th; on 3rd on Isle of May (Fife); on 7th in Co.Louth at Cruistown and Clogherhead; on 8th up on Unst (Shetland); and on 9th at Lossiemouth (Moray).
Burghead also accounted for one of this week's Iceland Gulls, seen there on 3rd; others were noted on 4th at Lodmoor RSPB (Dorset) and on 5th at Cruden Bay (Aberdeenshire).
And then there was one – with no positive news from Norfolk, we were left this week with just the single juvenile female Pallid Harrier still at Therfield (Hertfordshire) on 3rd-9th. What we may have lacked in numbers she certainly made up for in appearances – judging by the photos now being posted online, this is a spectacularly showy individual and a real crowd-pleaser.
We've just three Honey Buzzards seen this week – one in Suffolk at Felixstowe on 5th; then, on 7th, one was noted in Highland at Aigas; and on 9th another was seen over Portland (Dorset).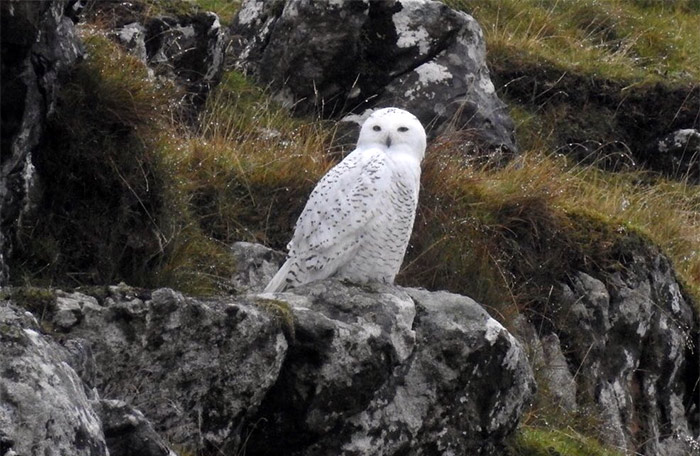 Finally, out on St Kilda (Western Isles), the female Snowy Owl was seen again on 6th; and, in a national context, she had company this week… A male bird was seen on Orkney at Eday on 3rd; on 7th, another was seen in Gwynedd at Llyn Trawsfynydd; and at dusk on 8th and throughout 9th, in that most redolent of locations for the species, an immature male was on Fetlar (Shetland).
The autumn's far from over yet, but you know it's been pretty hard going when you hear an ex Fair Isle Bird Observatory warden quoted this week as describing it as the worst autumn for over 30 years… That said, I'm fairly sure that those putting in the hard hours on Foula would, to some extent, disagree…
Starting there, both the White-crowned and White-throated Sparrows remained this week until 9th, the former having not been seen on the isle since 5th but the latter being reported from there more or less daily.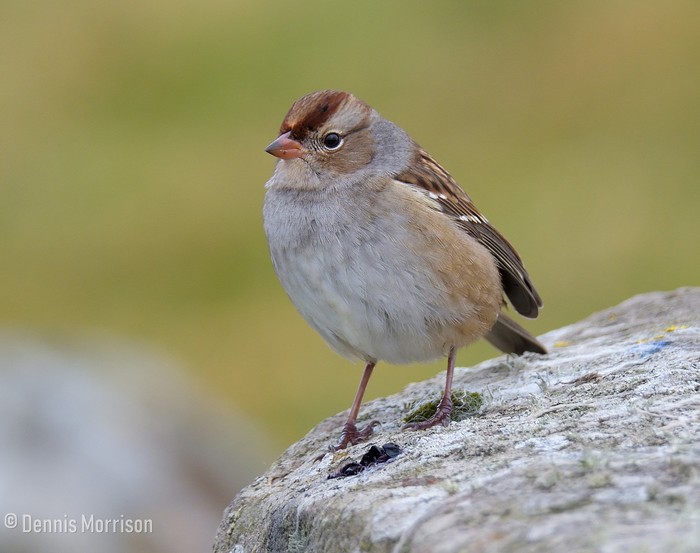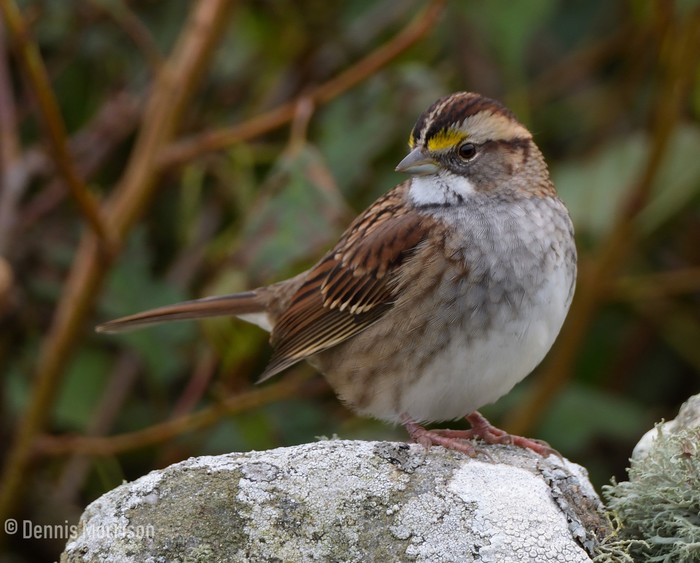 If I was Fair Isle, I'd feeling fairly aggrieved by this point – so far, Foula has enjoyed the lion's share of the autumnal action. The feeling would only have been compounded this week with the discovery of two Fair Isle classics, both elsewhere in the archipelago – a somewhat wilful and uncooperative Pechora Pipit up on Unst on 3rd and again on 6th; and then a Lanceolated Warbler was found on 4th-5th at Quendale on mainland Shetland.
Things just didn't get any better… three Blyth's Reed Warblers were seen in Shetland this week – at Hoswick on mainland on 3rd-6th; in Lerwick on 3rd; and on Unst on 3rd-8th – while, neatly bookending Fair Isle, North Ronaldsay (Orkney) landed two more on 3rd. Further birds were found this week on Barra (Western Isles) on 4th-5th; on Tory Island (Co.Donegal) on 6th; and on Blakeney Point (Norfolk) on 7th-8th. A further possible bird was on St Mary's (Scilly) on 5th.
The Marsh Warbler remained at Sumburgh (Shetland) on 3rd-6th, with another possible at Easington (East Yorkshire) on 7th.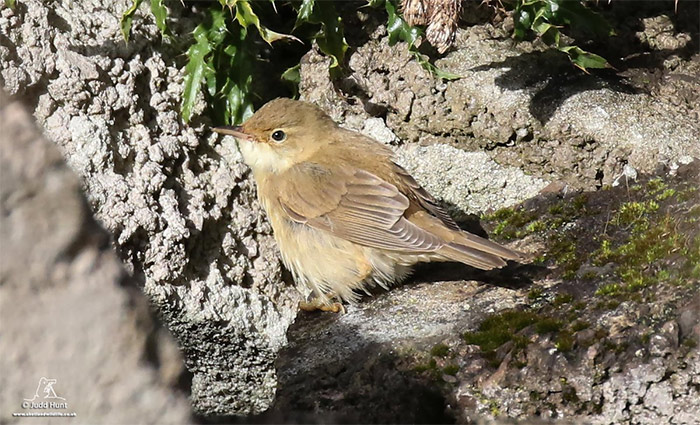 A probable Aquatic Warbler was on St Mary's (Scilly) on 8th, though it proved elusive and defied definitive status.
Back in Shetland, Whalsay landed another decent bird this week – a female Eastern Subalpine Warbler on 6th that, obligingly, showed just enough of its tail in a few photos for a specific identification to be made. How digital photography has helped revolutionise birding in recent years… field views of this active and, at times, elusive bird just weren't yielding that sort of fine detail.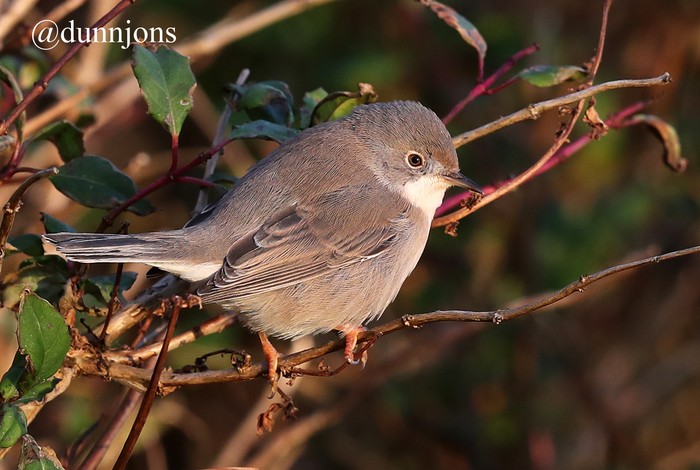 The Melodious Warbler on Lunna (Shetland) also stuck around a while yet, being seen there on 3rd-8th. Further birds were found this week on St Mary's (Scilly) on 3rd and Lundy (Devon) on 5th.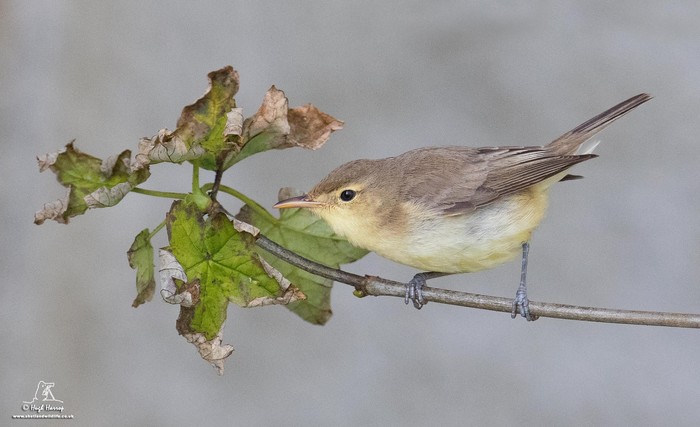 The first Radde's Warbler of the autumn landed on 7th, being seen at Langdon Cliffs NT (Kent).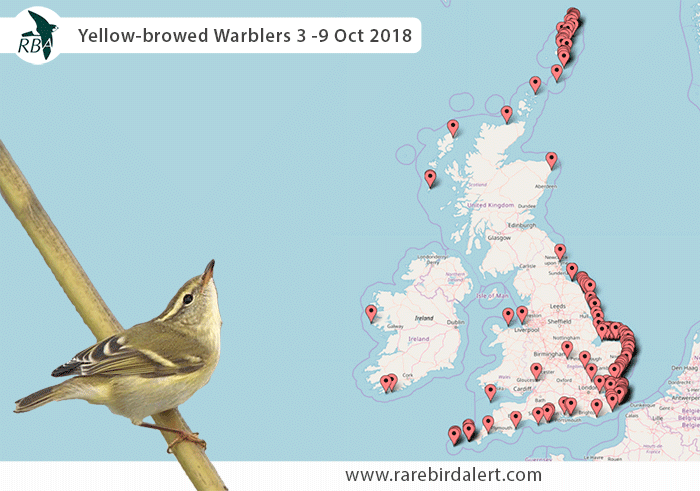 Barred Warblers, finally, had a moment this week, with some 40 birds being seen. Yellow-browed Warblers meanwhile, suddenly started to pour into Britain and, to a much lesser extent, Ireland at the weekend. Some 25 birds on 6th were overshadowed, considerably, by around 240 birds on 7th, including no fewer than 39 in East Yorkshire between Spurn and Easington alone. Overall, some 500 were recorded this week nationwide.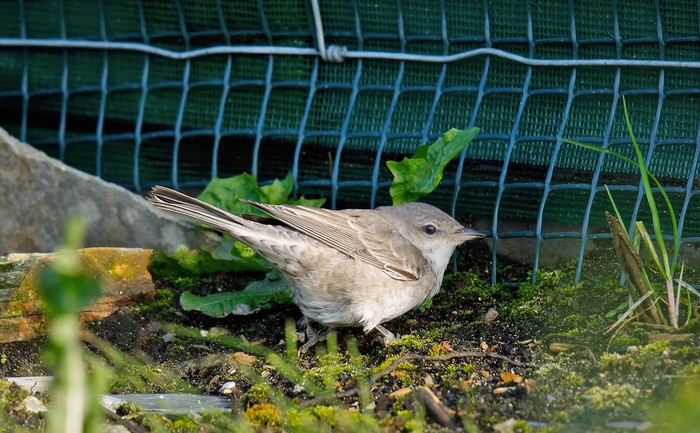 Given events on Lundy the previous days, the finders of the Greenish Warbler on St Agnes (Scilly) on 8th-9th (and the further probable bird on 8th at North Foreland in Kent) could be forgiven for hoping for a little more rarity value!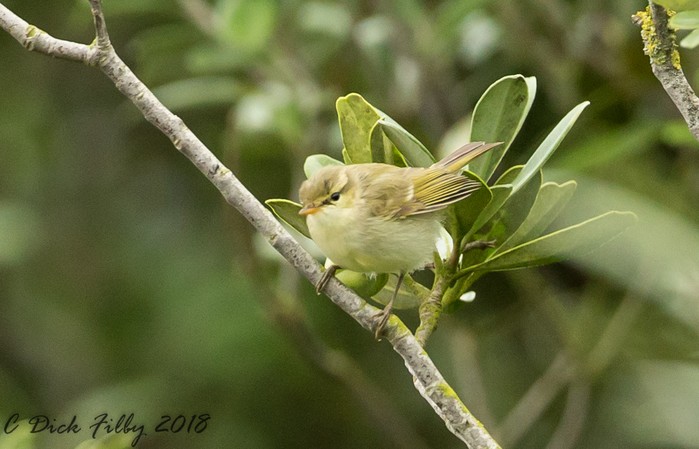 Returning to pipits for a while, Burnham Overy Dunes (Norfolk) hosted a flyby Olive-backed Pipit on 7th, while Bryher (Scilly) held onto a Tawny Pipit until 9th and, on Scilly also, St Agnes scored a Red-throated Pipit on 8th.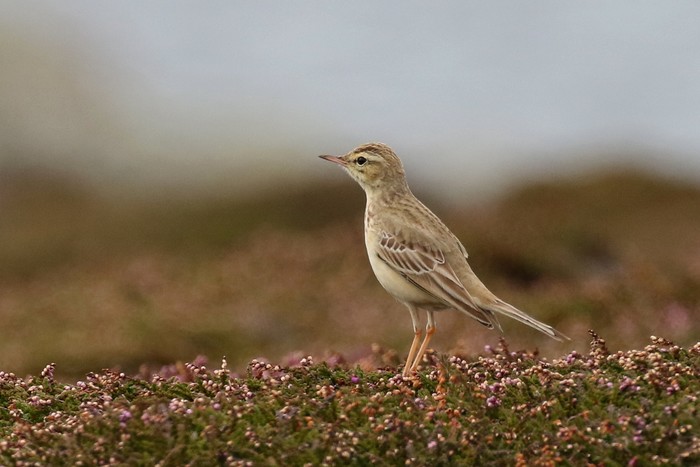 Cornwall played host to a Richard's Pipit at Polgigga on 5th, with further possible sightings coming on 7th from relatively nearby Porthgwarra and Trevescan, and two birds again at Polgigga on 9th. Elsewhere birds were found at Montrose (Angus) and Kilnsea (East Yorkshire) on 6th; and on 7th at Wells Woods (Norfolk) and Gibraltar Point NNR (Lincolnshire) with two birds present at the latter site. On 8th-9th another was at Waxham (Norfolk), while on 9th two flew over Warham Greens; three were present that afternoon at Horsey.
Without DNA or a sound-recording, we'll not be able to be completely definitive about another major Shetland bird this week – the presumed Eastern Yellow Wagtail seen on Unst on 3rd but not thereafter. Fabulously it shared the island with a Citrine Wagtail on 3rd-4th too, with another on Bressay on 3rd-9th; a further Citrine flew over Holland Haven (Essex) on 8th, with a possible bird that day briefly in Lerwick (Shetland). Scilly finished the week with a possible Eastern Yellow Wagtail seen briefly on St Mary's on 9th.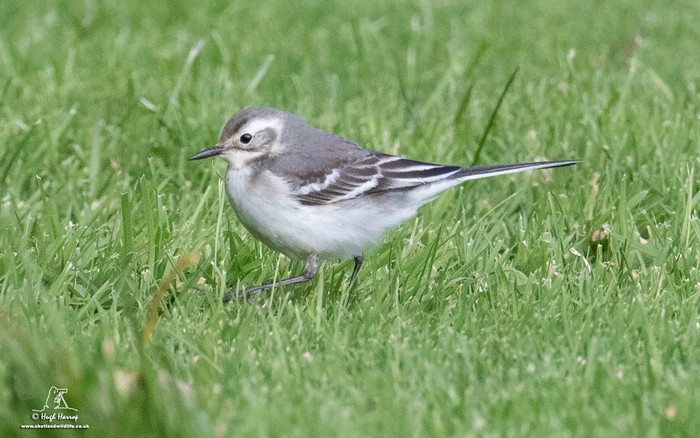 A possible Blue-headed Wagtail was at Slimbridge WWT (Gloucestershire) on 3rd.
That leads us, rather neatly, into a small sidetrack of possibles and maybes… an unconfirmed report of a Stejneger's Stonechat at Cley (Norfolk) on 3rd was followed by a probable eastern Stonechat sp at Bockhill Farm (Kent) on 7th.
In East Yorkshire an unconfirmed report of a Black-throated Thrush at Kilnsea on 6th was followed, on 7th-9th, by something tangible at last – a fine Red-flanked Bluetail. More of the latter, surely, are due in the coming fortnight…
A couple of good shrikes from the previous week hung on into the current period – in Cornwall, the Brown Shrike was still to be seen, off and on, at Kynance Cove on 3rd-4th while, in the Western Isles, the probable Daurian Shrike remained on Barra on 3rd-9th.
Red-backed Shrikes remain in fairly short supply, though – birds were logged this week on Tiree (Argyll & Bute) still on 3rd-9th and on Thorney Island (West Sussex) still on 3rd-7th; and further birds were found at Loch of Benston (Shetland) on 3rd and St Agnes (Scilly) on 5th-9th.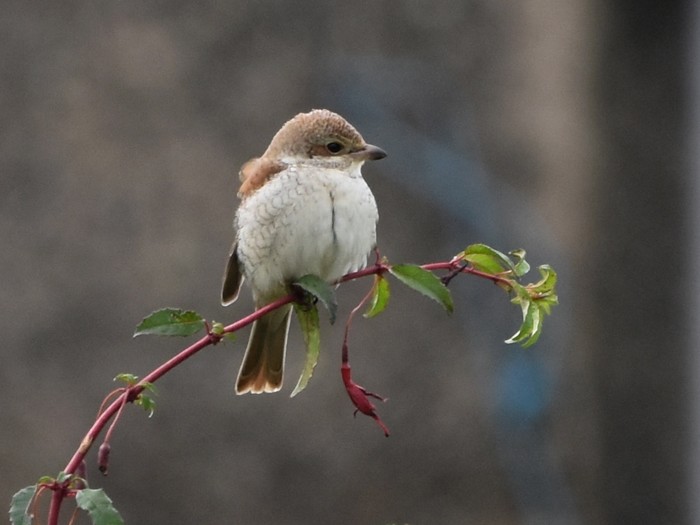 Our shrike tally was completed with a couple of Great Grey Shrikes, seen on 7th at Waxham (Norfolk) and Thorpeness (Suffolk).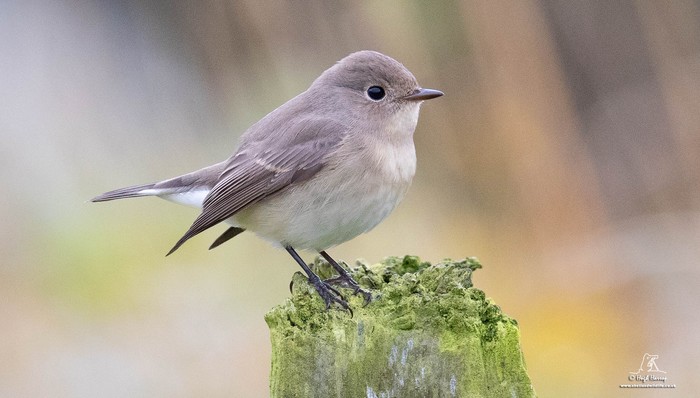 Numbers of Red-breasted Flycatchers picked up a little, with some twelve birds noted this week. One remained on Scilly on Tresco on 3rd-7th, with another probable on nearby St Mary's on 5th. One was reported from Cruden Bay (Aberdeenshire) on 3rd; a great London record came in the form of one trapped and ringed at Ramney Marsh Lake on 4th; another trapped and ringed bird came from Nanjizal valley (Cornwall) on 5th, with one present on Mizen Head (Co.Cork) on 5th-9th; and on 7th birds were discovered at Leysdown (Kent), and in Norfolk at Stiffkey and Trimingham. On 8th one was reported from St Martin's (Scilly); on 9th single birds were present at Exnaboe (Shetland) and on Skomer (Pembrokeshire), with another reported from Frinton-on-Sea (Essex).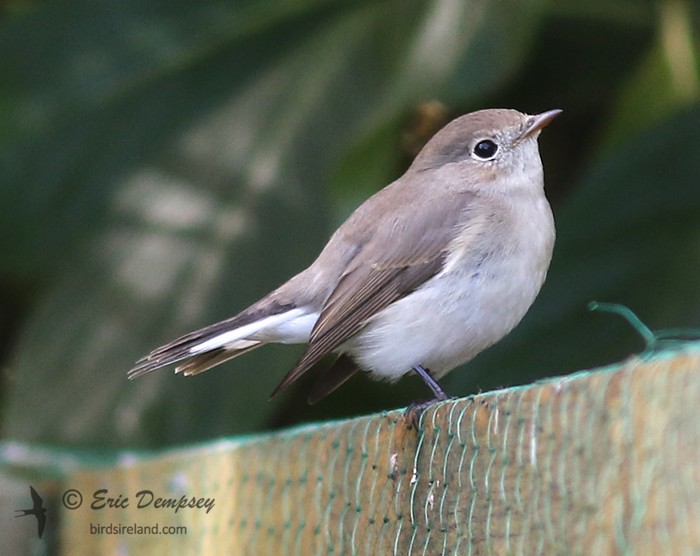 Ten Wrynecks were seen this week, all in Cornwall and Scilly. Portland (Dorset) meanwhile maintained its magnetism for Hoopoes with one seen on there on 3rd-6th; another possible bird was reported from Hillingdon (London) on 7th, with a further report coming from Gillingham (Kent) on 9th.
A Bee-eater was seen in Northumberland on 3rd-9th at Haltwhistle.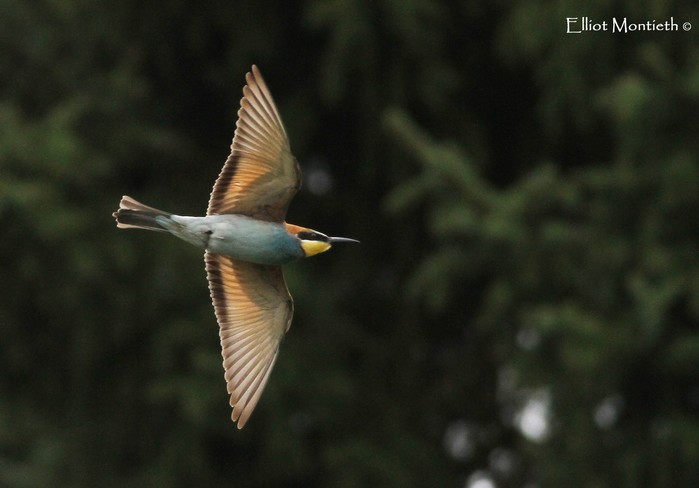 In Co.Cork an Alpine Swift was logged coming in off the sea at Galley Head on 6th.
Black and white too, but far from black and white where provenance is concerned, the Pied Crow remained at Flamborough (East Yorkshire) on 3rd-8th.
Juvenile Rose-coloured Starlings were seen this week at Porthgwarra (Cornwall) on 3rd-9th; on St Martin's on 3rd-9th with two birds present on 6th; at Barns Ness (Lothian) still on 6th; and at Spurn (East Yorkshire) on 7th-9th; on 9th one was in Cornwall at St Gerrans, having been present there for the preceding week or more.
Common Rosefinches were in somewhat shorter supply this week, with some 25 birds in all noted nationwide. On the up, however, were Little Buntings, with seven seen this week: two were trapped and ringed at Nanjizal (Cornwall) on 5th, with two seen at nearby Porthgwarra on 7th-8th; single birds were seen at Lowestoft (Suffolk) and on Unst (Shetland) on 6th, and on St Mary's (Scilly) on 7th with a further possible sighting at the latter site on 9th,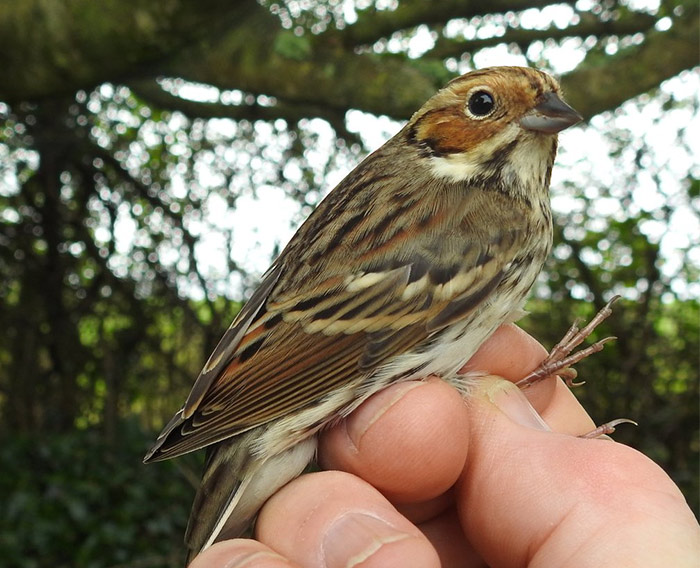 A Ortolan Bunting was at Waxham (Norfolk) on 7th-9th.
But we'll finish this week with a Nearctic warbler – I've been predicting one, of one kind or another, for weeks so it's something of a relief to see a Blackpoll Warbler discovered on Inishbofin (Co.Galway) on 7th-8th.
Top bird this week from overseas is surely the Cape Gull present at Espinho (Portugal) on 5th-6th - a mouth-watering gull and surely, eventually, one that's going to be found on a landfill or a quayside somewhere in Britain or Ireland…
After a good run of sightings in Britain lately, a Fea's-type Petrel had strayed even further east on 3rd, being seen off Kikhavn (Denmark).
Norway, meanwhile, landed a Solitary Sandpiper at Duekletten on 3rd.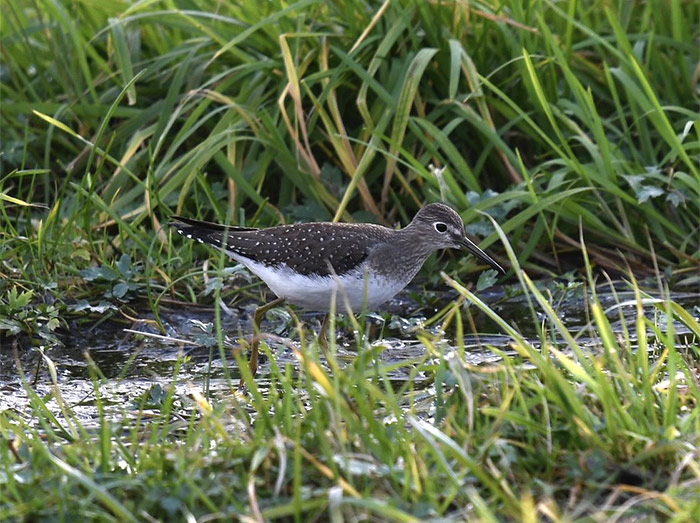 No longer on the British list, a Moustached Warbler was found in Luxembourg at Remerschen on 3rd. Will we ever get one? It doesn't feel likely.
A Red-eyed Vireo was on Iceland in Reykjavik on 3rd; a Swainson's Thrush was seen at Hofn on 5th; and on 9th a Hermit Thrush was found at Hallskot. Meanwhile, out in the mid-Atlantic, the Azores were beginning to turn their engine over…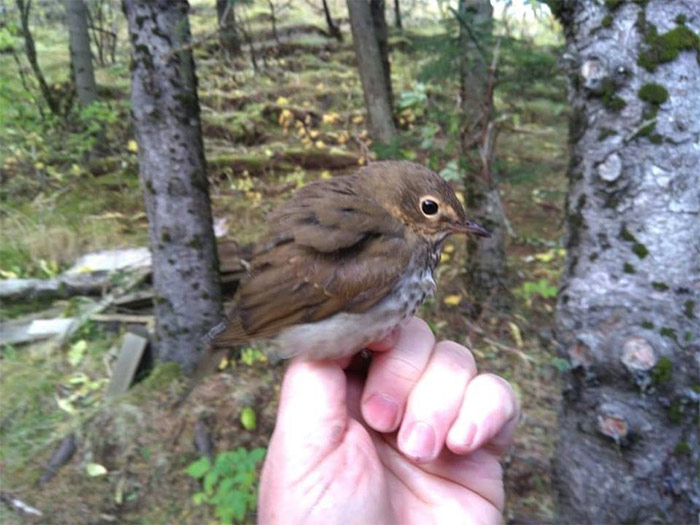 On 4th, a Northern Harrier and a Pectoral Sandpiper were seen on Corvo; and, on Terceira, two Semipalmated Plovers and Lesser Yellowlegs were seen.
Last, but by no means least, the young Beluga remained in the Thames Estuary throughout the week.
The coming week…
Have you seen the forecast? A few days ago we were promised that proper easterlies might finally hit the northern isles, and I was pondering the cornucopia of vagrant birds that might, finally, hit Shetland and, indeed, the British east coast.
Now, though, those easterlies are looking like being southerlies at the start of the week as high pressure over Scandinavia butts up against low pressure out in the Atlantic. I'm genuinely wondering what on earth, if anything, this could all mean. Maybe something from the east, maybe something from the west. We could have it all, or we could have not very much at all.
Picking a species from the pot is an entirely random exercise. I'm going to resort to looking at the historic records for the coming week and simply casting covetous eyes at some past glories…
From the east, we've a trio of cracking buntings in the form of Chestnut-eared, Yellow-browed and Black-faced; and from the west, a host of decent warblers and one bird that feels destined never to be repeated… but one that's said to have been moving in decent numbers lately in the USA – will we ever get another Red-breasted Nuthatch in Britain or Ireland?
Jon Dunn
10 October 2018
Share this story
Tweet