Weekly birding round-up: 4 - 10 Jul 2018
The week at a glance
Is a Sooty Tern on the Farne Islands a portent?
Shropshire lands a Little Bittern
Summer 2018 continued to serve up day after day of scorching fine weather this week, crisping vegetation across the land. But we're birders and, while fine weather is all very well and good, it's red-hot rarities that we all crave. So, did this week deliver?
Sooty Tern
Emphatically bird of the week by a country mile, the Sooty Tern found on Brownsman on the Farne Islands (Northumberland) on the evening of 7th is the stuff midsummer night dreams are made of.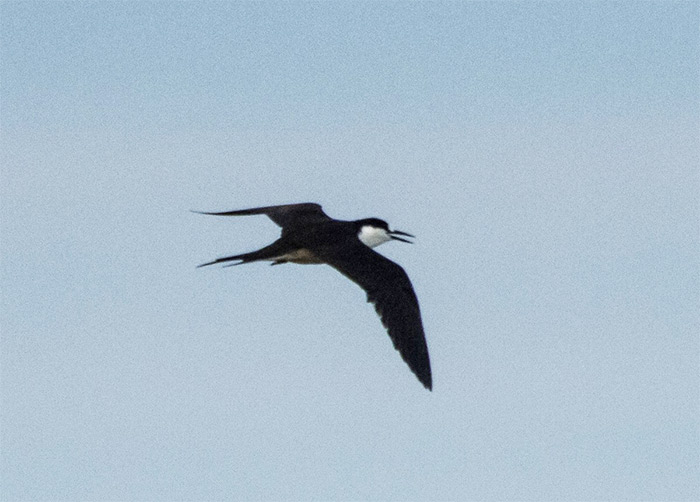 (Though, being as it was both on an island with no general access and, by the following day, long gone, there were shades of the nightmare about it too for anyone who yearns to add the species to their list any time soon).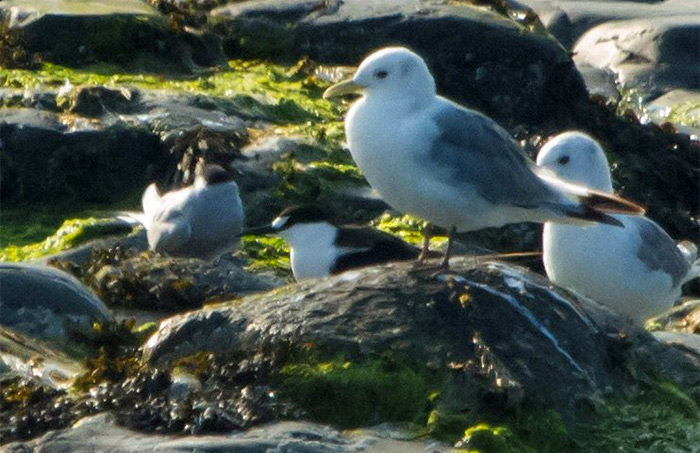 For the last accessible British record we need to spool back to 2005 and the individual that lobbed around Wales (and Ireland) from early July to late August. British birders would be forgiven for hoping this one might do the same… but the stats suggest that this, Britain's latest Sooty Tern, is more likely to prove to be a one-day bird – the species has considerable form in that regard.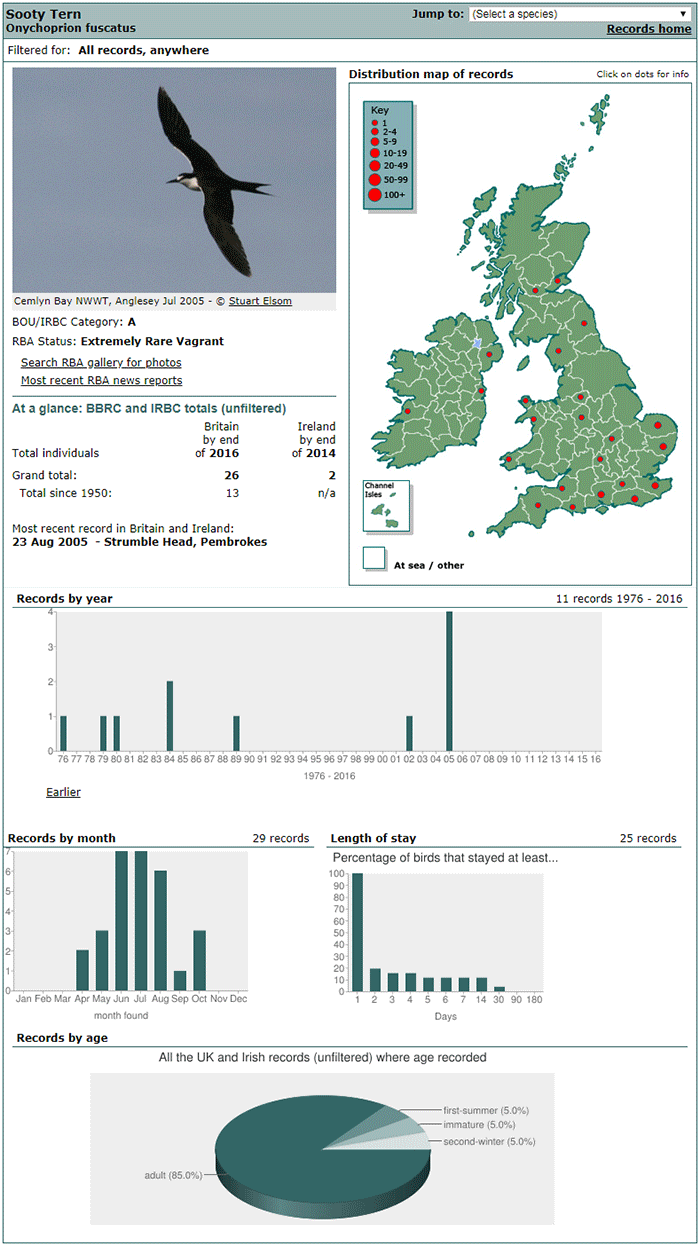 Speaking of form, the Farne Islands have some where Sooty Tern is concerned – Northumberland's only previous record of the species was seen on Inner Farne on 21st June 1966. Which, for anyone interested in auguries and portents this week, may be of passing interest.
After all, we all know what else happened in 1966, don't we?
That's right, Brown Thrasher in Dorset.
Little Bittern
In the usual run of things, a Little Bittern isn't all that remarkable nowadays – we've got over 500 accepted British records up to the end of 2016, and they've even bred here on a few occasions now too.
And yet…
A Little Bittern in Shropshire is a very different kettle of bitterns altogether. A singing male, found at Chelmarsh reservoir on 6th and still present on 10th, isn't a county first, but quite frankly was as good as – for the last one in Shropshire was an adult male shot in September 1897.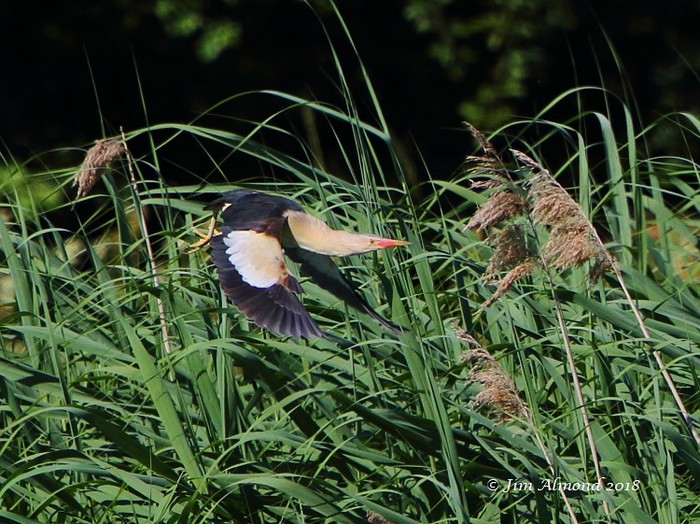 So from the perspective of Shropshire county birders, this would arguably beat our other national headlining bird this week, hands down.
Things remained fairly peaceful where seabirds were concerned for another week, with the merest hints of what's to follow…
Interesting shearwaters were represented by a Cory's off Dunbar (Lothian) on 6th and, on 7th, a Balearic seen from a pelagic trip out of Penzance (Cornwall); another of the latter was noted from the Scillonian on 9th.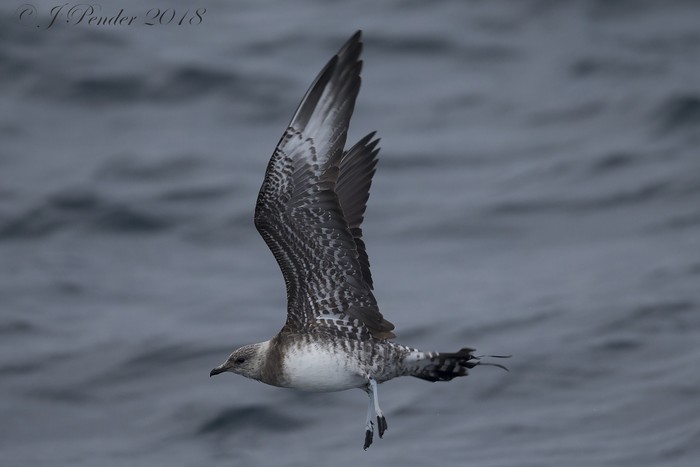 Skuas of note, meanwhile, comprised single Pomarine Skuas off Starr Gate (Lancashire) on 6th, Spurn (East Yorkshire) on 7th and Whitburn CP (Co.Durham) on 9th and 10th; and Long-tailed Skuas from a Scilly pelagic on 5th, off Flamborough (East Yorkshire) on 6th and 8th, and off Barra (Western Isles) on 8th.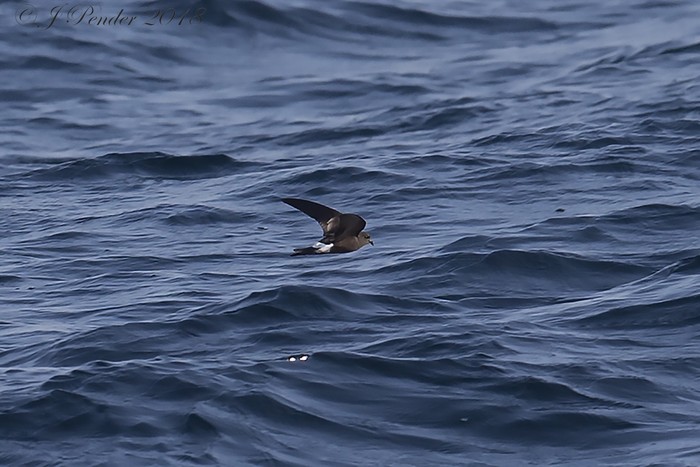 Best of the lot, then, was the Wilson's Petrel seen from the Scilly pelagic in 5th. More of them shortly, no doubt.
We'll start our scan through the Rarity Round Up heronry this week with a Glossy Ibis, seen at Dickleburgh (Norfolk) on 7th-8th, and sharing the site with a Cattle Egret on both days, the latter at least remaining there on 10th. Another Glossy Ibis was reported, belatedly, from Gwent, present on 5th at Chain Bridge on the River Usk.
Further Cattle Egret sightings were dominated by seven birds noted at reliable Catcott Lows NR (Somerset) on 8th-10th, with further single birds reported from Marshside RSPB (Lancashire) on 4th-10th; a probable on Canvey Island (Essex) on 6th; one at March Farmers (Cambridgeshire) on 8th-9th; and an individual still present in Cheshire at Burton Mere Wetlands RSPB on 9th.
A small uplift in numbers of Great White Egrets noted nationally this week, to around 60 birds in all, owed much to the mighty Somerset Levels where no fewer than 22 birds were seen roosting with around 125 Little Egrets at Shapwick Heath NNR on 4th.
A Purple Heron was reported from Brandon Marsh NR (Warwickshire) on the morning of 9th.
Reasonably chunky numbers of Spoonbills were also logged this week, with a flock of 13 at Gibraltar Point NNR (Lincolnshire) on 7th eclipsed on 8th by 26 birds noted at Holkham Freshmarsh (Norfolk). Almost 100 birds were reported nationally throughout the course of the week, though once again that total must be caveated by the wanderings of birds around Norfolk and the east coast in particular.
Speaking of caveats, this week's duo of White Storks seen in Suffolk at Middleton on 7th and Theberton and Hollesley on 8th both bore rings. And, as Forrest Gump wisely said, that's all I have to say about that.
Welney WWT (Norfolk) hosted three Common Cranes on 4th rising to five birds there on 7th-9th. Elsewhere a duo were at Soham (Cambridgeshire) on 5th-6th, and over Wicken Fen NT again on 10th.
Lastly, a singing Corncrake was present at Bubwith Ings (North Yorkshire) on 7th-8th.
The RBA duckpond was a little bit busier this week, though given the time of year that's all relative. Some familiar faces cropped up in some familiar places – and none less scintillating than in the White-headed Duck pen at Washington WWT (Co.Durham) where, on 5th, the drake Ferruginous Duck was to be found once more.
A somewhat better feel-good factor surrounded the rest of the week's quackers, all being found in the wilder surroundings of Scotland.
Starting at Murcar on the Aberdeenshire coast, the drake King Eider was still present on 5th-8th, with a female Surf Scoter offshore there on 7th-9th.
In Highland, meanwhile, the resident drake Black Duck was still plying his trade at Strontian on 8th.
Finally, our regular honorary waterbird in the form of the resident male Pied-billed Grebe was once more noted at Loch Feorlin (Argyll & Bute) on 6th-8th.
This week's shorebird offerings were hugely enlivened by the patter of tiny feet as news broke of two adult Black-winged Stilts at Oare Marshes KWT (Kent) shepherding around a pair of young on 5th-10th. That's definitely good news – and will there be more forthcoming in the next week or two? Still solo at Potter Heigham (Norfolk) meanwhile was the lone male on 5th.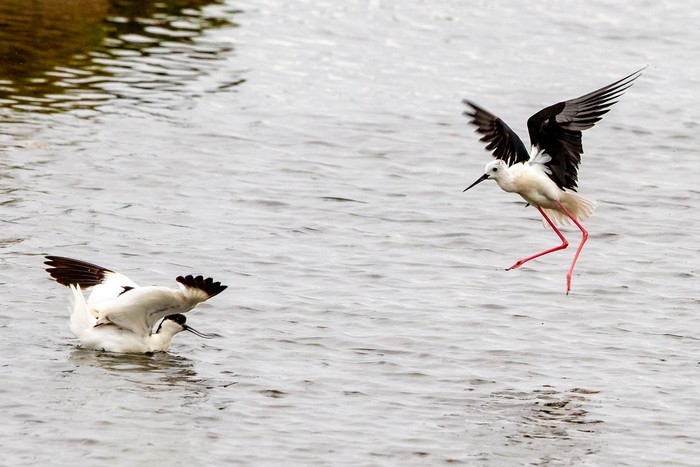 Remaining in Norfolk for a moment, Titchwell RSPB played host to a Temminck's Stint on 9th-10th.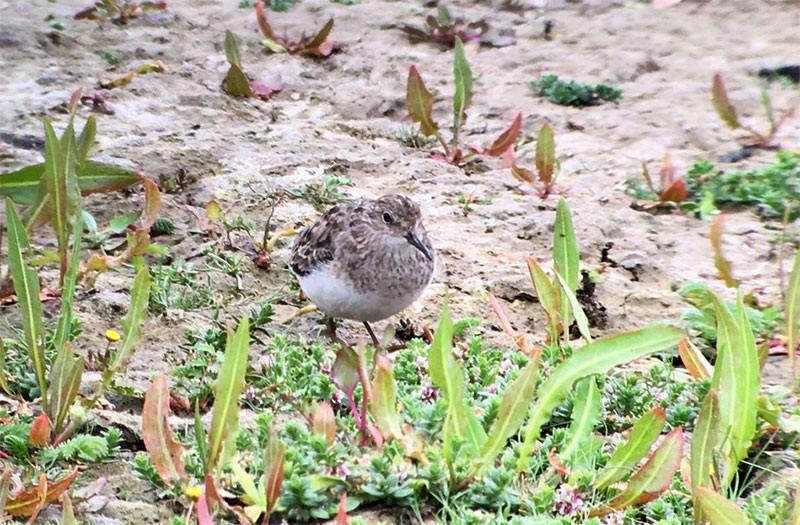 Northumberland provided another early taste of autumn in the form of a Pectoral Sandpiper present at Druridge Pools NR on 4th-10th.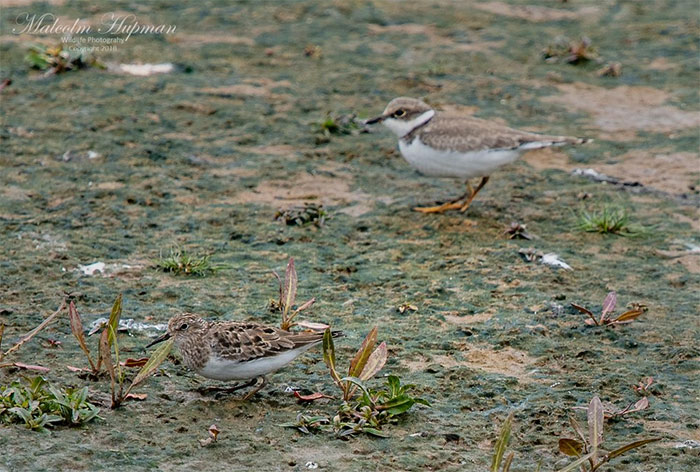 Both of the previous week's Bonaparte's Gulls remained into this week, albeit the first-summer bird at Cross Ness (London) was only seen on 4th but not thereafter; the adult at Oare Marshes KWT (Kent) proved more reliable and settled, remaining there until 10th.
An adult Sabine's Gull was a brief visitor to the beach at Cleat on Barra (Western Isles) on 9th.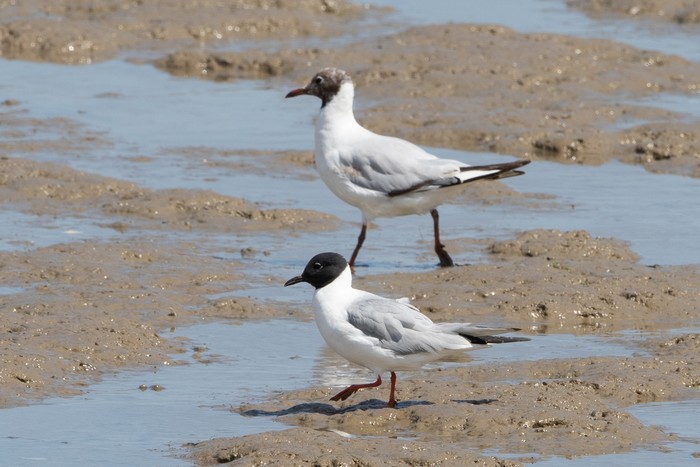 Glaucous Gulls strongly outnumbered their Iceland counterparts, with some half a dozen of the former noted in the course of the week – Orcadian sightings came from Bay of Suckquoy on 4th and Loch of Graemeshall on 6th; Irish birds were at Tralee (Co.Kerry) on 5th still and on Inishbofin (Co.Galway) on 6th; one was noted on North Uist (Western Isles) on 8th-10th still; and Northumbrian sightings came on 9th from St Mary's Island and Whitley Bay and, on 10th, Newbiggin-by-the-Sea.
Just three Iceland Gulls were logged this week – one being seen on Unst (Shetland) on 6th, and two birds on Skye (Highland) on 7th.
Still quietish times for raptors this week, with a couple of notable sightings to precede the usual July serving of Honey Buzzards - a possible Black Kite seen on Exmoor at Tarr Steps (Somerset) on 6th, and a female Red-footed Falcon circling at Witcham (Cambridgeshire) on 7th.
And so to the sweet stuff… Honey Buzzards were noted this week from the reliable raptor viewpoint at Wykeham Forest (North Yorkshire) again, where three birds were noted once more on 5th and 7th-8th; a single bird was seen on 5th and 9th-10th at Swanton Novers (Norfolk), with one noted in off the sea at Cley on 5th also; one was over Dover (Kent) on 6th and, on 7th, another was seen in East Sussex at Ringmer.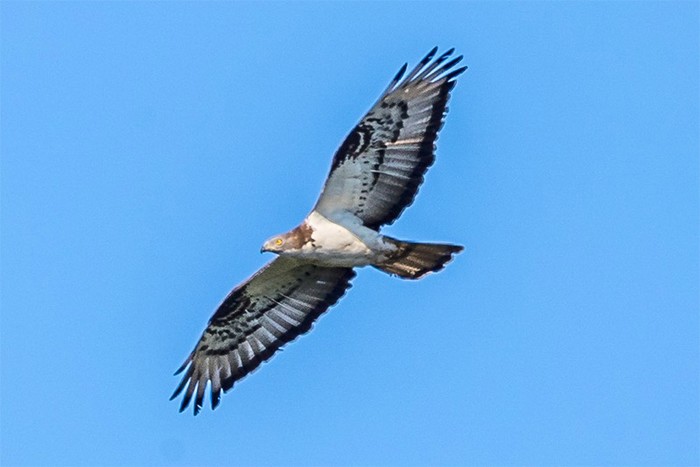 A lingering taste of winter came in the always delicious, cool form of no fewer than three Snowy Owls - two were seen on 7th, one on North Uist (Western Isles) and another, accessible for some, on Anglesey at South Stack RSPB; while on 9th the female was once again noted on St Kilda (Western Isles).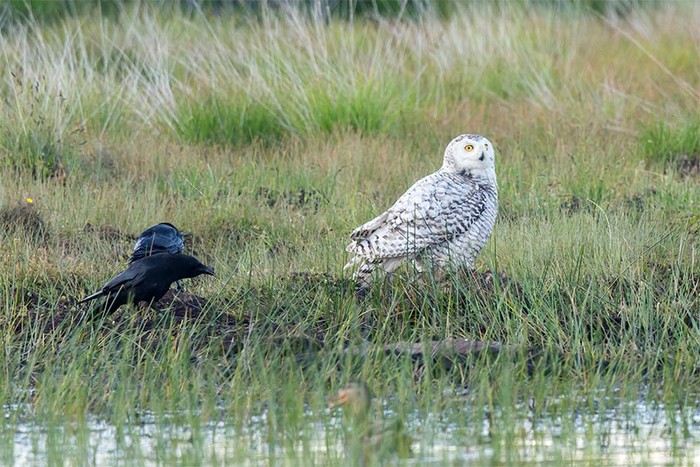 And so we come to the passerines where proceedings this week were about as muted as the Russian team bus on the way home from their quarter final penalty shoot-out with Croatia.
Our spring hangover remained in the form of the male Iberian Chiffchaff still present in Cheshire at Thurstaston on 5th-8th, with another heard at Marazion Marsh RSPB (Cornwall) on 7th; and the female Eastern Subalpine Warbler still present on Fair Isle (Shetland) on 8th.
Returning, late to the party, was the singing Savi's Warbler once more at Minsmere RSPB (Suffolk) on 8th.
Two quartets of Bee-eaters continued to provide welcome colour to their observers' weeks – on 4th, four were seen at Gibraltar Point NNR (Lincolnshire) while, the following day, four were noted at Minsmere RSPB (Suffolk).
Another taste of southern Europe came in the form of a couple of Alpine Swifts - single birds seen on 6th at Trimley St Martin (Suffolk) and, on 8th, Tidworth (Wiltshire).
The male Red-backed Shrike remained on Thursley Common NNR (Surrey) until 10th while, on 4th, a Woodchat Shrike was seen in Derbyshire at Pike Hall but not thereafter.
Rose-coloured Starling sightings were drying up this week, with just a couple of fresh faces, at Trevose Head (Cornwall) on 4th-5th and Sligo (Co.Sligo) on 9th-10th, and two lingering Scottish adults on Barra (Western Isles) and at Bullers of Buchan (Aberdeenshire), both present until 10th.
Our recent wandering Pied Crow got itchy feet again this week, ditching Somerset for the pastures new of Pencarnan in Pembrokeshire. It's clearly a capably mobile bird. Would an escapee be this restless? Or is this behaviour befitting a bird a long way from home and continuing its roving ways?
African Pied Crow at Pencarnan in St Davids this morning. Supposedly mega rare and escaped from somewhere but I know nothing about birds. Here it's pecking at a bone and doing a weird throaty call, maybe for its friends 5000 miles away or perhaps looking for @ChrisGPackham pic.twitter.com/QgYyxIsBCb

— James Rivington (@Rungsberry) July 9, 2018
Another summer week, another Serin - this week's offering being seen passing over Kilnsea (East Yorkshire) on 7th.
And that brings us to the end of this week's birds, a Little Bunting seen on St Kilda on 9th.
Was everyone's attention elsewhere this week? Our news from further afield is down to just the Black-browed Albatross still to be seen from Sylt in Germany this week on 5th and, present in Holland at Megchelen from 6th-10th, a Long-legged Buzzard; while on Fuerteventura (Canary Islands) the Dwarf Bittern was once more seen on 8th at Barranco de Rio Cabras.
Mid July – not a time of year to necessarily set the heart racing, and expectations are probably understandably fairly low on the rare bird front around about now. Still, it's not so very long until shorebirds start to move in earnest and, with a fair and following wind, we might yet land an interesting one.
I'm still quietly convinced that we're due a pratincole of some sort – that wandering Oriental earlier in the summer vanished from the radar just when it appeared on the cusp of crossing the North Sea, and who wouldn't welcome its reappearance over an east coast saltmarsh someday soon? But casting my wishful eyes to past records for some sort of clues as to what might crop up, it's the sandpipers that catch my attention.
The coming week boasts decent past showings of both Broad-billed and , with eight records apiece for both species. Either species are gorgeous birds, and always pull a crowd when found…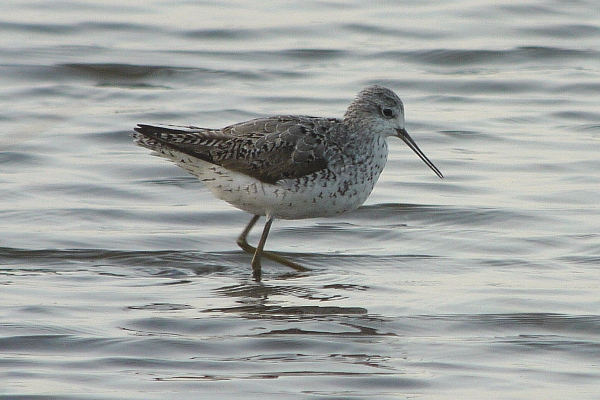 Jon Dunn
11 July 2018
Share this story
Tweet