Weekly birding round-up: 27 Jun - 3 Jul 2018
The week at a glance
Cornwall scores with an adult Pacific Golden Plover…
…and a brief Franklin's Gull
An anticipated Squacco Heron is found in East Yorkshire
While the Black-headed Bunting remains in Shetland
I left you in the last throes of spring a few weeks ago, and I'm back now in the dog-days of high summer. And what a summer it's proving to be… With the mercury rising daily, roads melting in the heat, and the charry smell of barbecues drifting in the air nightly…
…alas that means it's summertime and, for the most part, the birding is measly. At least as far as big ticket rarities are concerned, anyway. Grab yourself a cold drink, and we'll see what the past week served up.
Pacific Golden Plover
With just shy of 100 previous accepted British records, Pacific Golden Plover is, numerically at least, not necessarily one to set the old pulse racing. And yet it would be a stone-cold misery who wasn't moved by a red-hot midsummer adult example of this dapper species, a gilded symphony of black and white.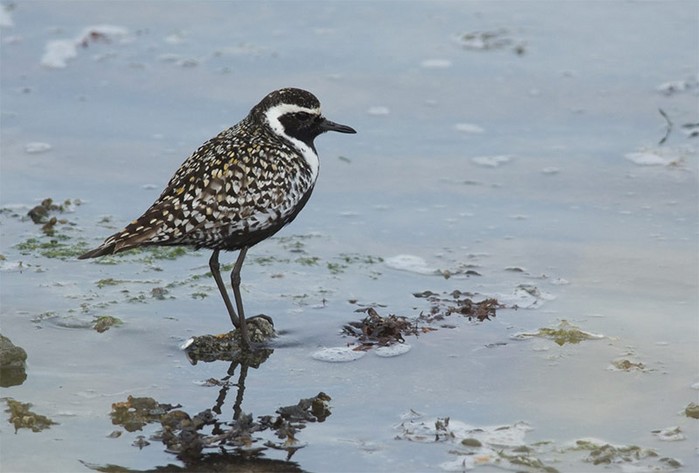 July is absolutely prime time for them too, with a generous spread of previous records across the length and breadth of the country suggesting that any one of us might just be blessed with one on our doorstep. This week it was the turn of Cornwall, for an adult bird was found there on 29th-30th at St Gothian Sands LNR and, latterly, on Hayle Estuary RSPB until 1st. I'm prepared to make a small wager this one won't be the last we see before July is out…
While this latest bird is far from the first for Cornwall – with five accepted prior records under the county's belt – this is exactly my idea of a perfect midsummer rarity: something good-looking, in a lovely part of the country to spend a sunny day or two, and with top quality food in the form of a decent pasty and maybe a local ice cream readily available. Count me in!
Franklin's Gull
What, you may ask, have Pacific Golden Plover and Franklin's Gull got in common? (And no, this isn't the preamble to a really lame joke). Apart from both being seen at Hayle Estuary RSPB in Cornwall this week, more than one might initially think – both have approaching 100 previous accepted records, though Franklin's is a shade rarer, and both have the delightful track record of turning up in a wide variety of counties, both coastal and inland.
However, where Franklin's Gull is concerned a respectful nod must be made to Cornwall, for this magnificent county lays claim to a full dozen of the previous 76 accepted records up to the end of 2016 – so perhaps no surprise then that, if one was to be seen albeit briefly in the evening of 1st this week, it would be in Cornwall. Hayle Estuary RSPB has enjoyed a really very good week indeed.
Squacco Heron
Arguably bird of the week for many this week would be the stunning adult Squacco Heron discovered in East Yorkshire at Kilnsea Wetlands on 29th and still present there until 1st when it flew off strongly to the north and wasn't seen, or refound, subsequently.
We're a funny lot, us birders – fans of the obscure identification challenge that draws on the subtlest of plumage esoterica but, at heart, we all like a stonking pretty bird too. A midsummer Squacco ticks a lot of aesthetic boxes.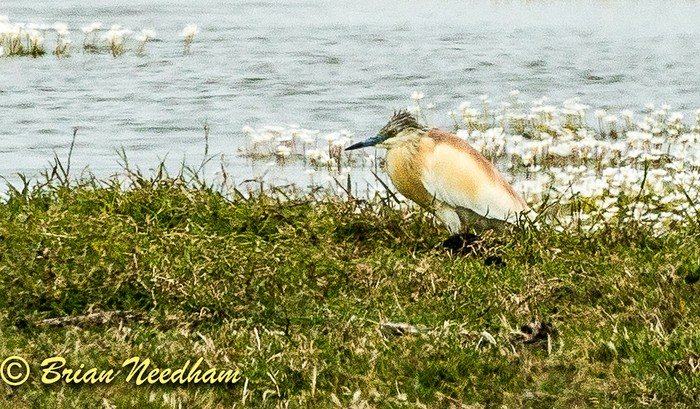 Not least when, from a county perspective, it's a top drawer rare bird. The further north one goes, records of Squacco Heron become decidedly thin on the ground. Yorkshire's first, currently still showing well in the Yorkshire Museum, was shot in the mid 19th century, and was followed some 50 years later by another said to have been picked up alive in February 1902 at Everingham. The county's birders had to wait three-quarters of a century for the next, at Easington in June 1979; and then, after a six-day bird in Doncaster in June 1994 county listers only had a one-day bird to go at in 2010 at Kilnsea. Blink, and you'd miss them.
So really, a three day bird at Kilnsea over the course of a weekend would have proven very welcome indeed for a host of reasons.
Black-headed Bunting
Heading to the opposite end of the country, we find the male Black-headed Bunting of recent days still lurking this week on Unst in the Norwick area, being seen there on 30th-1st at least.
In just a few weeks' time this section of the Rarity Round Up will be as busy of the wake of pelagic trawler drifting in a slick of chum at an uprising on the continental shelf edge but right here, right now, this week… welcome to the doldrums. Really not very much going on whatsoever this week where seabirds were concerned.
So… Pomarine Skuas - just a handful of those this week. On 30th singletons were seen off Ilfracombe (Devon) and at sea near Fair Isle from the MV Good Shepherd, with a duo that day noted off Whitburn CP (Co.Durham); on 1st single birds were logged off Druridge Bay (Northumberland) and at sea off Papa Westray (Orkney). On 3rd one was off Old Nab (North Yorkshire) in the morning.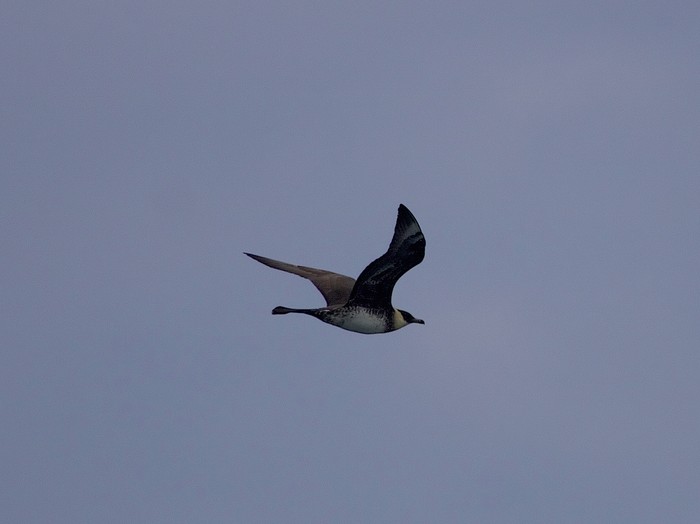 And that was your seabirds.
Squacco Heron aside, even our long-legged beasties were reflecting the summer doldrums this week with not a lot of activity to report, on the whole.
We'll start then with what passes for this week's big-ticket items – a couple of Glossy Ibises seen on 30th, at Hesketh Out Marsh RSPB (Lancashire) and Botany Marshes RSPB (Suffolk); and White Storks noted on 27th when two were seen over Bramley (Surrey) and on 1st, when one was reported near Lawrence Weston, seen from a moving vehicle on the M5; on 2nd one was present at Welney WWT (Norfolk).
Cattle Egrets remain very much under the radar at the moment, though I suspect that may all change in the not too distant future. For this week, however, one lingered at Arne RSPB (Dorset) on 28th-1st, two were reported over Reading (Berkshire) on 1st, one was at March Farmers (Cambridgeshire) on 2nd, and one was in Kent at Stodmarsh NNR on 3rd. A hint of what might be to come came from Somerset on 1st where five were present at Catcott Lows NR.
Their Great White cousins were less retiring, with the usual litany of some 50 birds noted nationwide over the course of the week, varying from single birds to small flocks – peak count coming, predictably, from their Somerset Levels stronghold where six birds were logged at Ham Wall RSPB on 30th.
Spoonbills too remained omnipresent, not least this week at Fairburn Ings RSPB (West Yorkshire) where this year's happy event ensured that the week's single site peak count, of 13th birds on 27th, included four young birds hatched this year. Happy days. As whole, around 70 birds were recorded nationwide this week, though as usual this will have involved a degree of duplication as birds ebbed and flowed and wandered as the days wore on, particularly along the east coast.
Away from their usual stations, a handful of Common Cranes caught the eye – two were seen over Winnersh (Berkshire) on 28th, while one was noted at Wheldrake Ings YWT (North Yorkshire) on 30th and one was reported in the county at Gouthwaite reservoir on 3rd.
Finally, a singing Spotted Crake was heard at Thorne Moors NNR (South Yorkshire) again on 27th.
If the seabirds were quiet this week, the wildfowl were positively deathly. If it wasn't for the female Lesser Scaup seen on 1st at St John's Loch (Highland) and the King Eider noted off Murcar (Aberdeenshire) on 2nd-3rd we'd have nothing whatsoever to say for ourselves…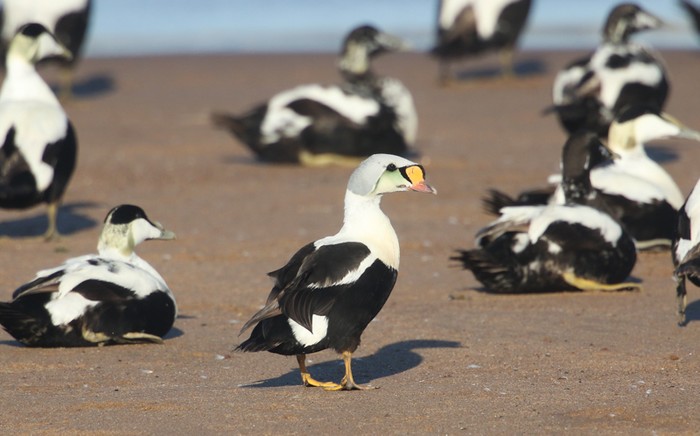 (Apart, of course, from the honorary waterbird in the form of the resident male Pied-billed Grebe still to be seen at Loch Feorlin (Argyll & Bute) on 27th).
One Black-winged Stilt remained on offer this week, being that still present in Norfolk at Potter Heigham on 27th-29th.
This, and a certain Cornish plover aside, were about the extent of it this week where shorebirds were concerned, with the minor exception of Red-necked Phalaropes on North Ronaldsay (Orkney) again on 27th and another that day also in Highland at St John's Loch.
A couple of Bonaparte's Gulls remained in the south-east of England this week, providing welcome midsummer respite for local birders starved of rarer fare – these being the adult once more at Oare Marshes KWT (Kent) on 27th-3rd, and the first-summer bird at Cross Ness (London) on 28th-2nd still.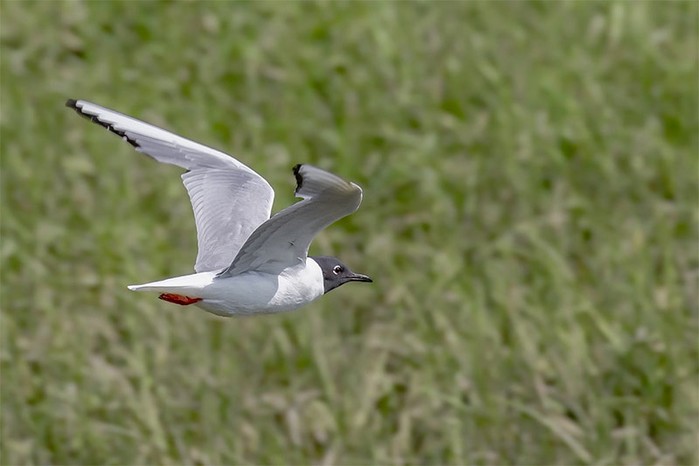 Meanwhile, in a true sign of just how damn summery things have become, we're reached the happy point where white-winged gulls finally ascend the giddy heights where their numbers have dropped to a point where they're individually notable. All of which preamble means that we're looking at a mere four Glaucous Gulls seen this week: at Balranald RSPB on North Uist (Western Isles) on 27th-1st still; at Gibraltar Point NNR (Lincolnshire) again on 27th; at Tralee Bay Wetlands Centre (Co.Kerry) once more on 27th-1st; and on the Orkney mainland at Bay of Suckquoy on 3rd. As for Iceland Gulls, this week provided a similarly denuded showing: on 1st singles on Skye (Highland) and Oronsay (Argyll & Bute); and on 3rd one present in Co.Cork at North Mall.
A smattering of Honey Buzzards were noted this week – the reliable raptor viewpoint at Wykeham Forest (North Yorkshire) accounting for daily sightings of at least one bird, with two noted there on 27th-30th and again on 3rd, while the raptor viewpoint at Swanton Novers in Norfolk logged two birds on 30th also. A probable was seen in Cleveland at Billingham on 27th, with a further possible noted on 28th in London over Hanwell. On 2nd one was seen in Hampshire near Furzley and a dark morph was noted that day over Old Moor RSPB (South Yorkshire). On 3rd one was seen over Minsmere RSPB (Suffolk).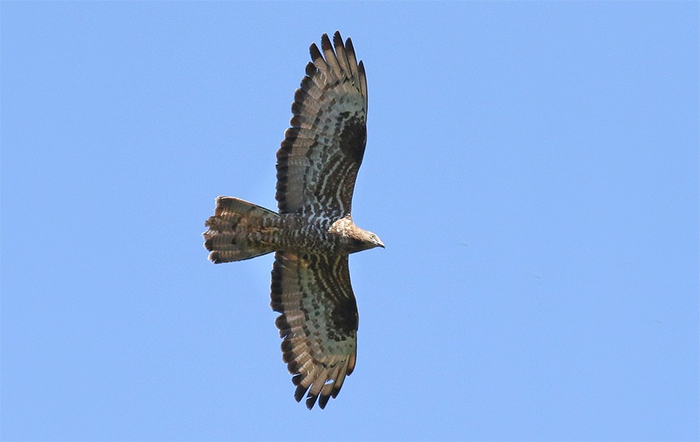 In East Yorkshire the female Montagu's Harrier was once more seen at Blacktoft Sands RSPB on 30th.
Finally, out on St Kilda the female Snowy Owl remained in situ there on 28th.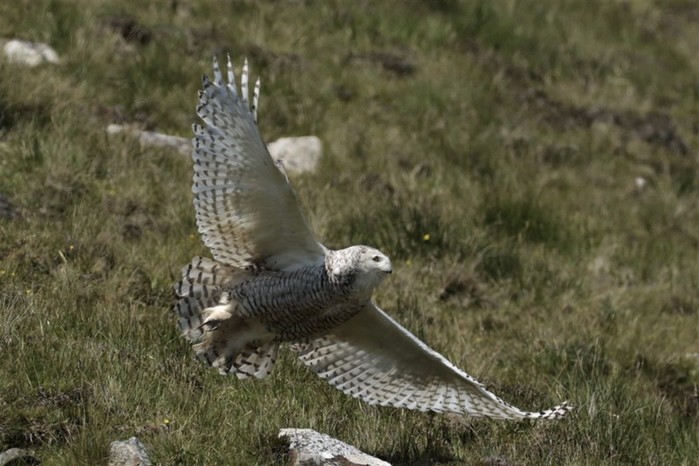 By this point in proceedings it's not going to come as an entirely massive surprise to learn that there wasn't a lot happening where scarce and rare passerines were concerned this week.
Lingering spring arrivals make up the backbone of the interesting warblers, in the form of the singing Iberian Chiffchaff still present in Cheshire at Thurstaston on 30th, and the female Eastern Subalpine Warbler still to be found on Fair Isle (Shetland) on 27th. An unconfirmed report of a singing Subalpine Warbler sp. at Godrevy (Cornwall) on 1st failed to coalesce into anything more substantial.
Considerably more substantive in every way, however, was the Great Reed Warbler heard in song still at Fen Drayton Lakes RSPB (Cambridgeshire) on 29th.
Flashes of more colourful fare punctuated the week, headed by a small number of Bee-eaters - single birds noted on 27th at Kilnsea (East Yorkshire) and Sutton-in-Ashfield (Nottinghamshire); on 28th at Rainham Marshes RSPB (London); and on 1st at Polgigga (Cornwall). On 3rd three were seen at Buckton (East Yorkshire).
Further variety came in the form of a Hoopoe seen briefly in a Cirencester (Gloucestershire) garden, and an Alpine Swift over Broseley (Shropshire) on 29th.
A Blue-headed Wagtail reported on 1st on St Mary's (Scilly) was not seen there subsequently.
A singing Golden Oriole lingered in Gloucestershire at Speech House Woodland in the Forest of Dean on 27th-29th, while a presumably very confused individual remained on 28th still on Fetlar (Shetland), and a further possible bird was reported as present on 27th for its second day in Cornwall at Crackington Haven.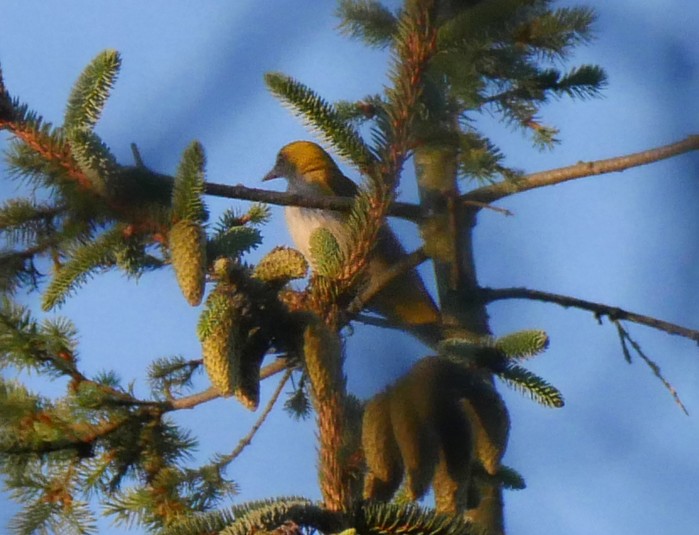 A male Red-backed Shrike present on Thursley Common NNR (Surrey) on 27th-30th was a poignant reminder of what was once a widespread summer sight across southern England… while up in Shetland a male was seen on Fair Isle on 27th-2nd, and a female was on Mainland at Sandwick on 1st also.
The Rose-coloured Starling influx continued to tick along this week, with a few lingerers and some fresh faces too. On 27th one was on North Uist at Callernish (Western Isles), with birds also still present that day at Orphir (Orkney) and Tralee (Co.Kerry); two were seen on 28th in Ireland at Red Strand (Co.Cork), with further sightings on 28th on Fetlar (Shetland), Glenluce (Dumfries & Galloway), and still on Barra (Western Isles) and at Bullers of Buchan (Aberdeenshire), the former still present on 1st and the latter bird remaining there until 2nd. One found on 26th in Cambridgeshire remained this week at Peterborough until 29th; on 30th one was seen at Combwich (Somerset); and on 1st a probable adult was noted in flight in Cornwall at Crantock, with one at Newquay on 2nd.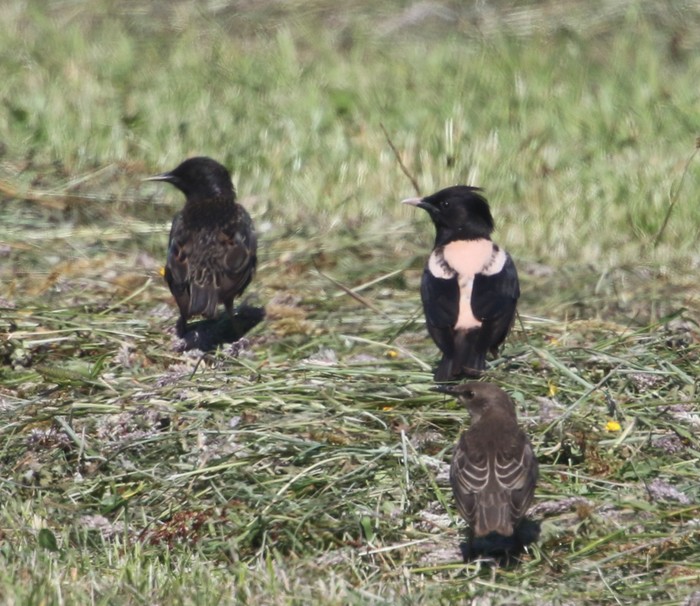 And so to one of the more curious sightings of the summer, but one that we ought not to dismiss wholly out hand… what appears to be the same Pied Crow seen formerly on the east coast had relocated, this week, to Clevedon (Somerset), seen there on 26th-1st. It's easy to scoff at an African corvid on these shores – look at the general apathy that greets the occasional House Crow, after all – and to dismiss them as "obviously" ship-assisted. That said, ships surely have played their part in some of the American sparrows that sit happily on many a British list, and probably some of the large gulls too. Throw in the small arrival into Europe earlier this spring of Pied Crows and we appear to have some evidence of movement, at least. So why not? A classic insurance tick though, one would suspect, not one that's likely to find official sanction by the listing powers that be…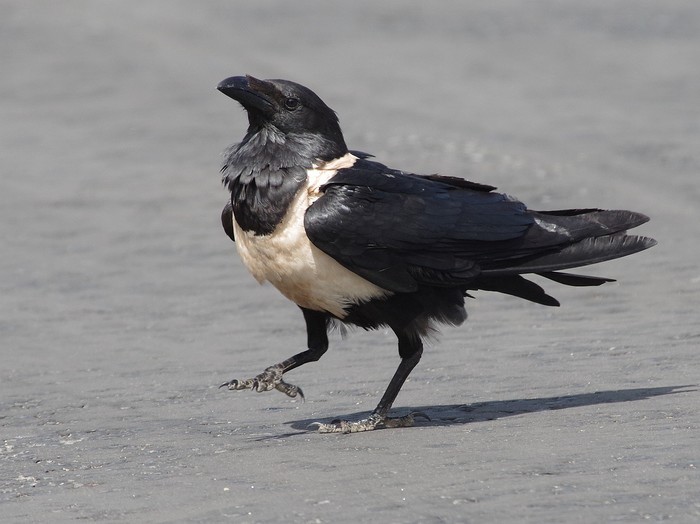 A Serin was at Gibraltar Point NNR (Lincolnshire) on 1st.
We conclude this week with something less controversial - a male Rustic Bunting found on Fair Isle (Sheland) on 2nd.
In many ways it feels like I never went away when I cast a travel-weary eye at the offerings from further afield this week. A number of now very settled and familiar faces remain to the fore…
Starting in Germany, the Black-browed Albatross was once more to be seen on Sylt this week on 27th-2nd.
Meanwhile, in Spain, the Lesser Flamingo was once more noted in Andalucia at Laguna de Fuente de Piedra on 27th.
Out to the Canary Islands next where, on Fuerteventura, the now resident Dwarf Bittern was showing no signs of moving on any time soon on 29th.
In Iceland, a drake American White-winged Scoter was present at Ingalfsfjorour on 1st; a Harlequin was present in Finnmark at Nesseby on 27th.
Finally, in a gentle reminder to British birders that it's coming to that time of year when we should be getting some reports of interesting raptors seen in southern England, a Lesser Spotted Eagle was seen in Belgium at Wijgmaal on 30th.
While this past week has been mostly notable for being a bit, well, peaceful, it's a foolish birder who dismisses July out of hand.
Take seabirds. While the hopeless romantic in me is drawn, irresistibly, to past records of Ascension Frigatebird in the coming week, the pragmatic dreamer looks to past records of Swinhoe's Petrel - given a still evening and a petrel-ringing session on the coast, and I'd not be too surprised if a dark-rumped petrel didn't hove into the news in the coming days – not least on Fair Isle, which has plenty of recent form in this regard.
That's very much right place and right time stuff, but this is also the classic time of year for a pratincole of one kind or another - Collared or Black-winged, either is a possibility over a shimmering coastal marsh near you…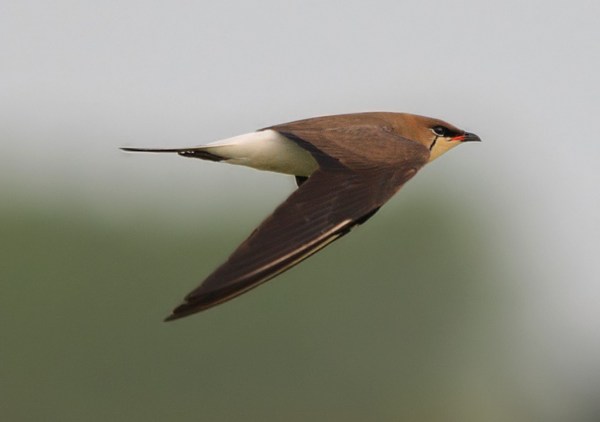 Jon Dunn
4 July 2018
Share this story
Tweet