Weekly birding round-up: 6 - 12 Jun 2018
The week at a glance
A popular Marsh Sandpiper in Hampshire draws the crowds
Yet more Rose-coloured Starlings are discovered and spring arrivals linger on.
So we turned a corner this week, with May now an afterthought and flaming June upon us. That meant a typical summer week of weather, with hot bits and thundery bits and downpours - but all the meantime, those late spring migrants kept trickling through…
Marsh Sandpiper
As spring draws to a close it was not unexpected to see a quieter week than of late although new rarities were still located whilst others lingered. The most well-received bird of the week was an exquisite Marsh Sandpiper in Hampshire at Pennington Marshes on 10th. Present throughout the week and representing the the fifth county and second site record following one there on 27th-28th June 1976.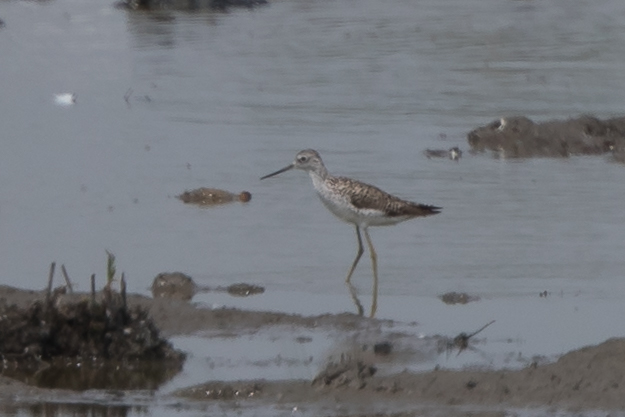 Rose-coloured Starlings
The Rose-coloured Starling influx continued with a further 36 birds discovered this week bring the influx total to 105 across Britain and Ireland since the first on the 9th May. This arrivals this week were:
6th June, Coll, Argyll, Tiree, Argyll, Ynyslas, Ceredigion (2) , Loftus, Cleveland, Hayle, Cornwall, Newquay, Cornwall, West Bexington, Dorset, Saltfleetby, Lincolnshire, Scarborough, North Yorkshire, Whitesands Bay, Pembrokeshire
7th June, Mull, Argyll, Tregony, Cornwall, Spey Estuary, Moray (2) ,
8th June, Llanon, Ceredigion, East Prawle, Devon, Tralee, Kerry, Forres, Moray,
9th June, Rayleigh, Essex, Ventry, Kerry, Milford Haven, Pembrokeshire
10th June, Porthtowan, Cornwall, Walton, Cumbria, Sheskinmore, Donegal (2) , Marloes, Pembrokeshire, Scatness, Shetland Isles, Sand Point, Somerset,
11th June, Ballyheigue, Kerry, Deeping St Nicholas, Lincolnshire, Robin Hood's Bay, North Yorkshire, Unst at Baliasta, Shetland Isles
12th June, Porthtowan, Cornwall, Torridon, Highland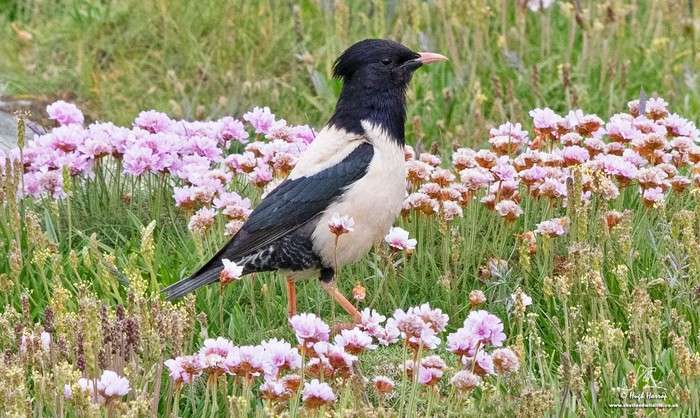 However, although the influx is clearly far from over the pace of the influx has waned slightly with not only the rate of discovery down from the peak of 45 last week but the total of 'bird days' has fallen to 71 to 65. Such a wave of sightings was noted when the influx reached and largely passed Switzerland in early June. Whilst in Bulgaria flocks have now settled there and are breeding.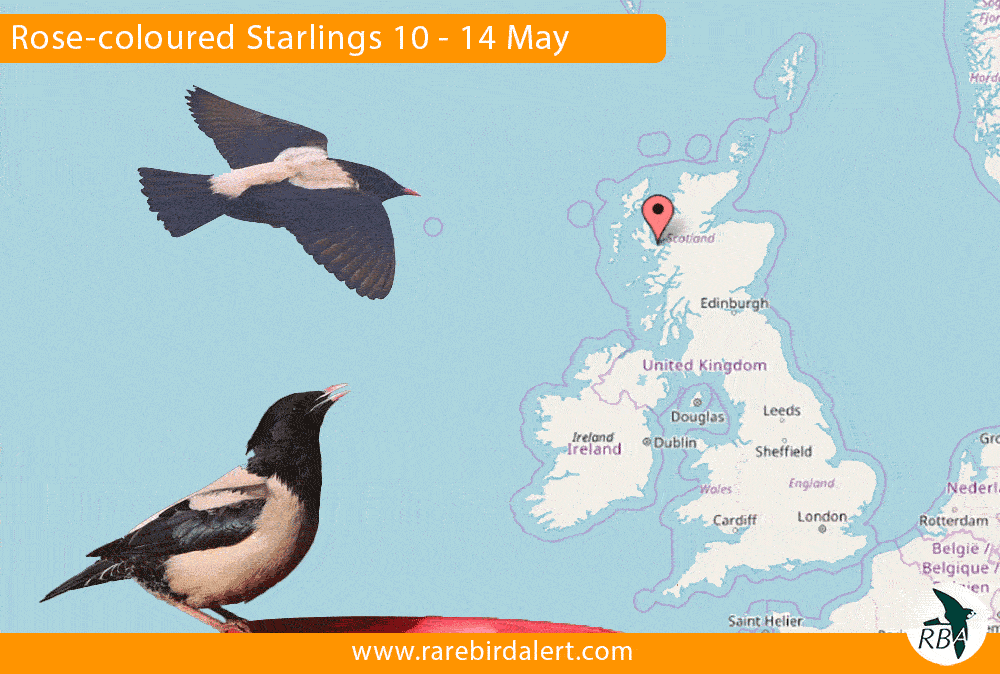 2002 saw the largest ever influx of Rose-coloured Starling to Britain with 128 recorded in June that year alone more than tripling the previous annual record of 36 in 2000. The 2002 influx peaked in Mid June and included up to six together at Gullane, Lothian on 15th June.
Four Wilson's Petrels were logged at sea off west County Cork on 7th from a Shearwater Wildlife Tours Sealife Pelagic.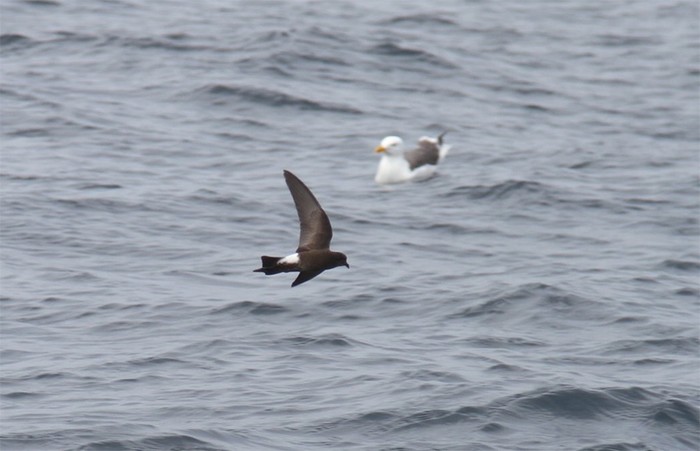 Following a Pomarine Skua at Felixstowe Ferry, Suffolk on 6th the 12th saw singles passing Spurn, East Yorkshire and at sea off Islay, Argyll and the Farne Islands, Northumberland.
The first-winter Glossy Ibis lingered at Druridge Pools, Northumberland throughout with another briefly in Suffolk at Carlton Marshes on 10th.
An adult Night Heron presented a chance nocturnal encounter in Ely, Cardiff, Glamorgan when it was photographed by a civilian under streetlights in the early hours of 10th.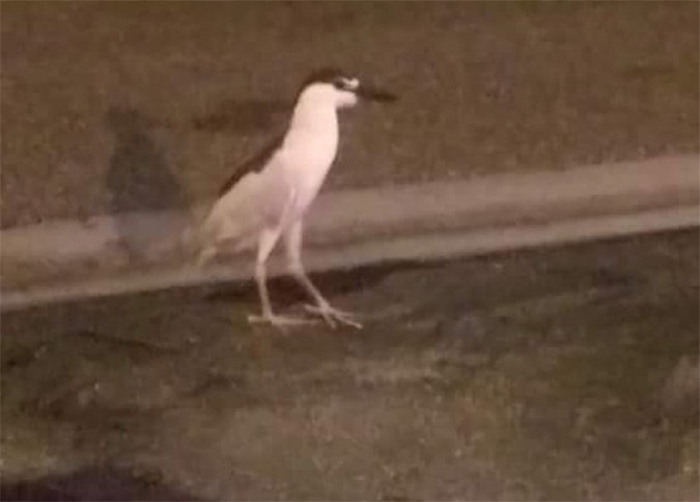 A Purple Heron paid a brief visit to the Nene Washes, Cambridgeshire on 12th where two Cattle Egrets had been present the previous day with further Cattle Egrets logged in Cheshire, Devon, Gloucestershire and Oxfordshire.
Of great significance at county level was a male Corncrake that sang unseen along the Suffolk/Norfolk border at Bungay on 7th-10th. Whether this bird emanates from a wild population or the Corncrake reintroduction projects at either the Nene Washes, Cambridgeshire - where Corncrakes were first released in 2006 - or the Wensum Valley, Norfolk - where 69 were released in 2016 and a further 154 in 2017 - cannot but known but seems quite likely.
The perpetual male Black Duck remained in Highland at Strontian and now approaches its eleventh complete year on-site; it was first noted on the contiguous Loch Sunart on 16th June 2007. Another old faithful the male King Eider in Aberdeenshire was on the Ythan Estuary until at least the 10th although it is soon likely to relocate a short distance along the coast to the traditional seaduck moulting ground at Blackdog; it was there by the 20th June in 2017 and the 2nd July in 2016.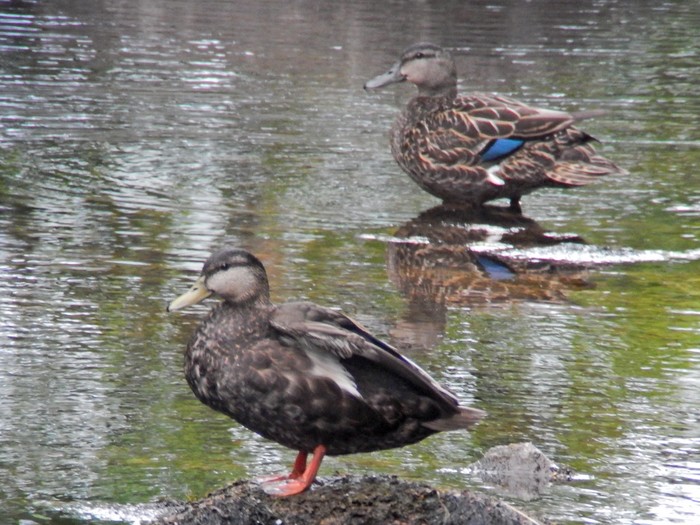 Otherwise, the male Ring-necked Duck in Argyll on Loch Finlaggan was confirmed as present on 11th but this returning bird - seemingly coming back to Islay since 2010 - has never been recorded there into July so it too likely relocates to undertake its complete moult. Another old faithful was the continuing drake American Wigeon in Northumberland at Grindon Lough throughout the period in review having been noted there in September 2015, January-March 2016, November 2016, February-March 2017, December 2017 until March 2018 and then again from 5th May until the present. Another male American Wigeon was noted at Loch of Tankerness, Orkney Isles on 9th.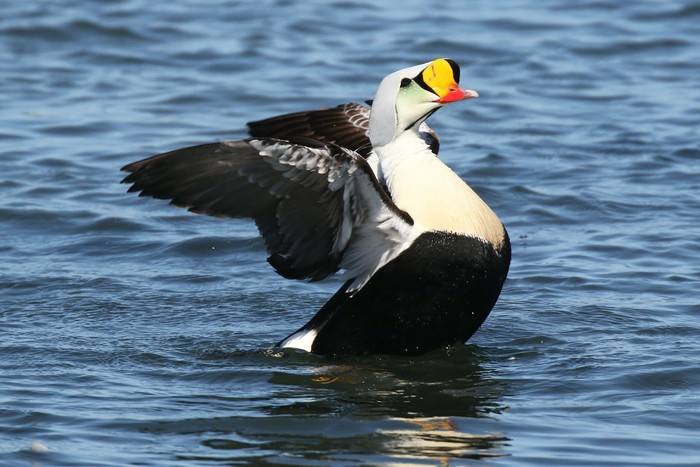 The male Pied-billed Grebe remained in song at Loch Feorlin, Argyll. First seen here on 30th May 2014 it is not clear whether this bird is resident at this locale or just a potential breeding visitor - it hybridised with a Little Grebe in 2017 - although its presence on 7th December 2017 suggests the former the relative remoteness of the loch precludes elucidation.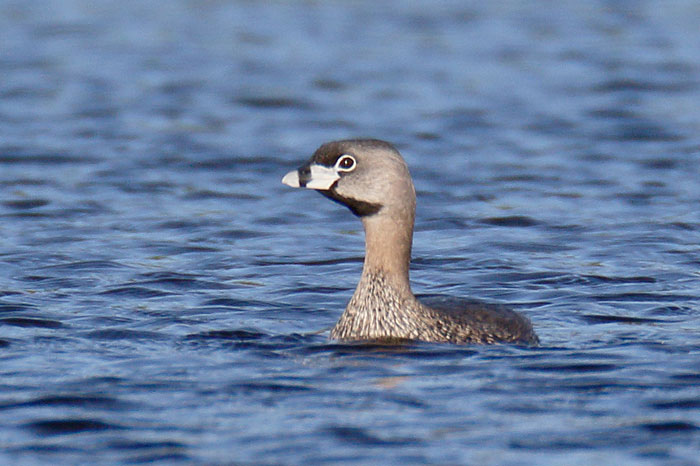 The Baird's Sandpiper was reported again on Marazion Beach, Cornwall on 6th whilst in the same county a Buff-breasted Sandpiper at Davidstow Airfield was at perhaps the best mainland location for this Arctic American wader but on a most unexpected date; it being only the second county record of this species in June following one at Maer Lake, Bude in 1995.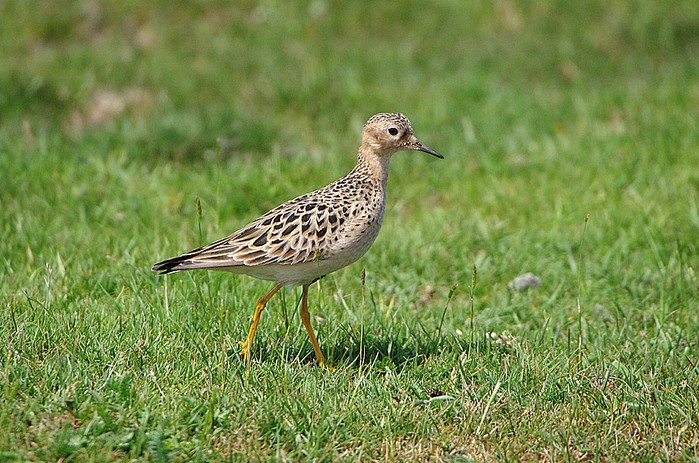 A male Black-winged Stilt at Eldernell, Nene Washes again on 7th was the same male first seen at this site on 28th April and present there intermittently since with prospecting sojourns to at least Frampton Marsh, Lincolnshire on 1st, 9th, 11th, 20th and 28th May and 1st June and nearby Freiston Shore on 29th-31st May, Rutland Water, Leicestershire on 5th-6th, 18th-19th and 27th May and Oare Marshes, Kent on 4th June.
The dapper adult Bonaparte's Gull returned early to Oare Marshes, Kent from 7th June for a fifth summer at the site; previous arrival dates being 17th July 2014, 20th June 2015, 8th July 2016 and 8th July 2017.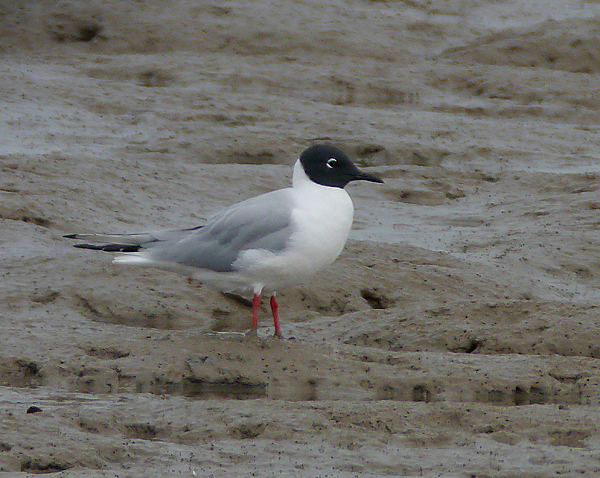 A Sabine's Gull was noted off Calf of Man, Isle of Man on 9th and first-winter Ring-billed Gulls were at Black Rock Strand, County Kerry on 6th-7th and still at Hillwell, Shetland Isles on 8th the latter having been found nearby on 26th May. Non-breeding first-year or second-year Glaucous and Iceland Gulls lingered-on with Glaucous in Conwy, Durham, Kerry, Highland, Orkney Isles, Western Isles and Wicklow and Icelands in Argyll, Dublin, Highland, Shetland Isles and the Western Isles where perhaps up to five were seen.
The veteran Forster's Tern was still fishing Tacumshin, County Wexford on 7th. Away from their current breeding grounds Roseate Terns were seen at Cemlyn, Anglesey on 8th and Isle of May, Fife on 10th (2).
Montagu's Harrier sightings were limited to a male at Lakenheath Fen, Suffolk on 9th, the prospecting adult female still at Blacktoft Sands, East Yorkshire on 10th and a ringtail at Lockwood Beck Reservoir, Cleveland briefly on 12th.
Honey Buzzards showed at their traditional raptor watch points at Acres Down, Hampshire and Wykeham Forest, North Yorkshire whilst transient birds were noted in Derbyshire (Ogston Reservoir on 11th), Kent (2), Northumberland (Gosforth on 7th), Norfolk (2), Somerset 3) and Suffolk (2).
A Black Kite in Suffolk over Minsmere on 9th followed one there on 12th May 2018 and perhaps both sightings relate to the ringed escape first noted in the county on 13th June 2014. Although this bird now typically loiters around the village of Wrentham it was at Beccles on 2nd June and Brampton on 3rd June. Meanwhile the juvenile Black Kite first discovered on the Orkney Isles on the Mainland on 27th November 2017 and then relocated and identified on 15th March as probably being an 'Eastern Black Kite' - the name given to intergrades between the nominate form migrans and the eastern form lineatus (Black-eared Kite) - straggled to North Ronaldsay on 7th before reaching Fair Isle, Shetland Isles on 7th-11th. The poor condition of the plumage of this bird seemingly either indicates previous confinement or the rigor of a Scottish winter. Further Black Kites overflew Havant, Hampshire on 11th and Marazion, Cornwall the following day.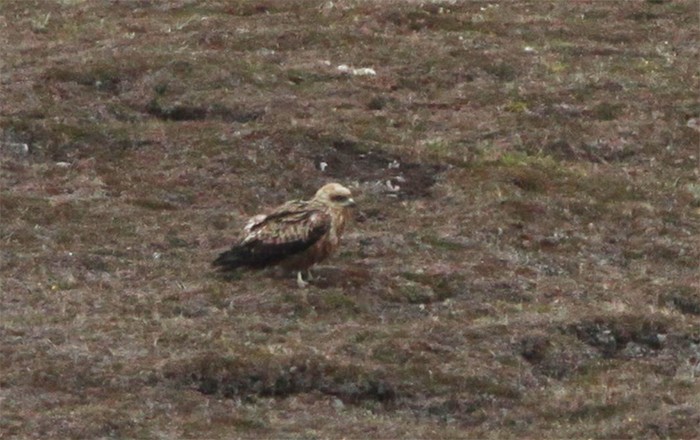 The female Snowy Owl that arrived on St Kilda on 29th April was seen again on 9th.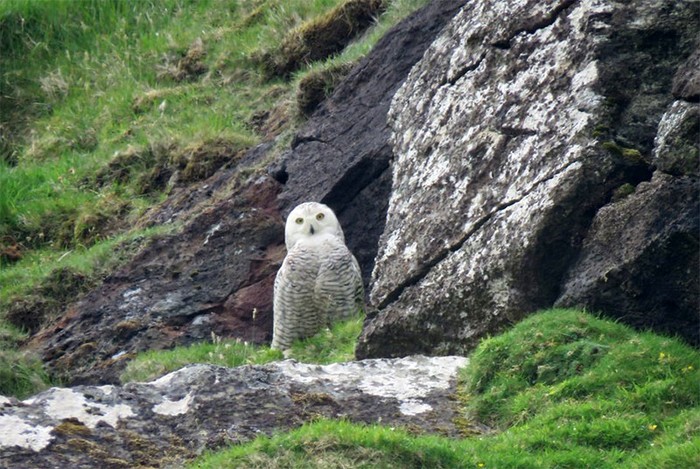 On 6th female Red-footed Falcon were noted at both Morden Bog, Dorset and over Norwich, Norfolk.
The 6th saw three brief encounters with Bee-eaters with at least one was heard at Wolviston, Cleveland, six passing over West Hougham, Kent and three fleetingly at Earls Colne, Essex. On the following day one spent over two hours at Dungeness, Kent.
Following a Hoopoe at Portland, Dorset on 9th one at Arnfield Reservoir, Derbyshire/Greater Manchester the following day was most noteworthy.
A Woodchat Shrike at Scaling Dam Reservoir, Cleveland on 12th followed late news from last week of it or another at Prestwick Carr, Northumberland on 5th June.
A total of twelve Red-backed Shrikes was logged comprising three between Kilnsea and Spurn on 6th-7th and singles at Wyberton, Lincolnshire, Fair Isle, Shetland Isles and Marsh Lane, West Midlands all on 6th, Holy Island, Northumberland on 7th, South Foreland, Kent and Minsmere, Suffolk on 8th, Fladdabister, Shetland Isles on 8th-9th, Salthouse, Norfolk on 9th and Winterton North Dunes, Norfolk on 10th.
A Golden Oriole lingered at Feal, Fetlar, Shetland Isles throughout whilst others were seen or heard briefly at Thorne Moors, East Yorkshire on 9th, Gibraltar Point, Lincolnshire on 10th and Portland Bill, Dorset on 12th.
The Short-toed Lark was still on Blakeney Point, Norfolk 6th where it had been present since at least 25th May and most likely 6th May.
A Red-rumped Swallow flew west at Postling, Kent on 7th.
Both of the territorial male Iberian Chiffchaffs in northern England remained in situ with the bird at Thurstaston Hill, Wirral confirmed as still present on the 9th and that at Norwood Edge, North Yorkshire until 10th and this was to be expected as previous vagrant Iberian Chiffchaffs in Britain have been known to sing throughout July. Similarly the Savi's Warbler was still singing at Strumpshaw Fen, Norfolk on 9th.
Two Icterine Warblers were on the Shetland Isles: on Fair Isle on 5th and at Scatness the following day.
Following last week's notable arrival of over thirty Marsh Warblers at least ten were logged this week with singles at Wheatfen Broad, Norfolk on 6th-8th, Whalsay, Shetland Isles and in Northumberland at both Holy Island and Holywell Dene on 7th, North Ronaldsay, Orkney Isles on 8th and Calf of Man, Isle of Man on 10th with up to four on Fair Isle, Shetland Isles until 11th.
A singing Blyth's Reed Warbler on Bardsey Island, Gwynedd on 6th was the seventh of the spring in Britain and the second of the spring on Bardsey following the first there on 25th-27th May.
Three Subalpine Warblers comprised a female Eastern Subalpine Warbler lingering on Fair Isle, Shetland Isles from 1st June until at least 11th, a female presumed Western trapped and ringed at Portland Bill, Dorset on 8th and another at Cornaigbeg, Tiree, Argyll on 8th.
Single Red-breasted Flycatchers were trapped at Holme, Norfolk 7th and Calf of Man, Isle of Man on 10th.
A suspected first-summer male Black-headed Wagtail at Dawlish, Devon on 6th was well-watched but was never heard to give the characteristic modulated flight call of the 'Southern Yellow Wagtails' - Black-headed, Ashy-headed and Spanish but instead gave more familiar calls. It is known that Black-headed Wagtail can utter flight calls similar to 'Northwestern Yellow Wagtails - British, Blue-headed and Grey-headed - but when it's call is combined with its relatively dull upperparts and underparts (at least not startlingly bright as is typical om Black-headed), and apparent dark markings on the breast the possibility of it being a dark Grey-headed Wagtail seems quite real. Remarkably, a comparison of photographs showed it to be the same wagtail as present on St Kilda, Western Isles on 1st June; an unexpected movement south southeast of 540 miles.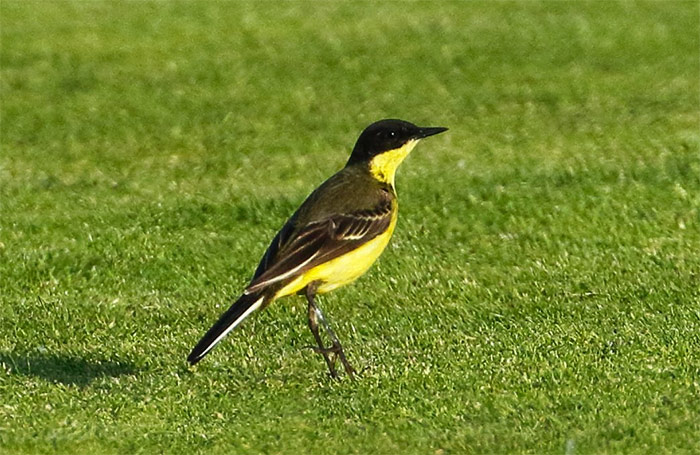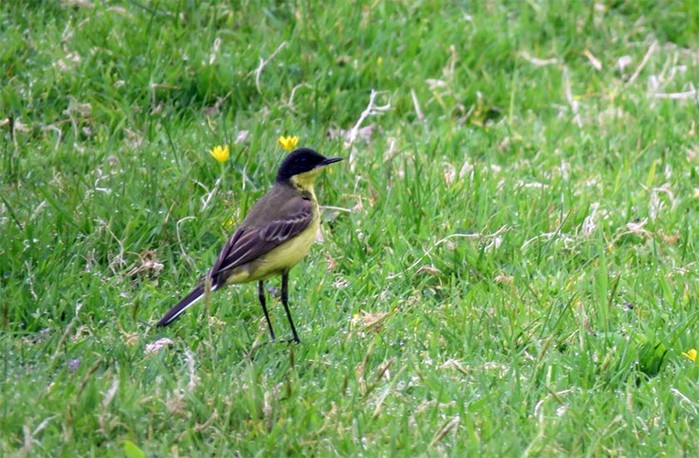 A Grey-headed Wagtail was identified at Doonfoot, Ayrshire on 9th.
A Serin joined the Bee-eater at Dungeness, Kent on the 7th with another at Gibraltar Point, Lincolnshire on 10th. The latter site had earlier hosted a Common Rosefinch on 8th-9th with another on Vatersay, Western Isles on 9th.
A male Black-headed Bunting in a garden at Moylgrove, Pembrokeshire on 6th was a classic record of this species: the fifteenth spring record for Pembrokeshire and the sixth there in June, in a garden and news only available after the bird had departed!
The wandering male Walrus resurfaced again on Out Skerries, Shetland Isles on 6th whilst the Bearded Seal remained nearby in Lerwick on 10th. Killer Whales were noted around the British mainland on 9th with five off Cransdale, Aberdeenshire and two off South Stack, Anglesey. A pelagic off west County Cork on 10th yielded a Humpback Whale and at least 30 Minke Whales.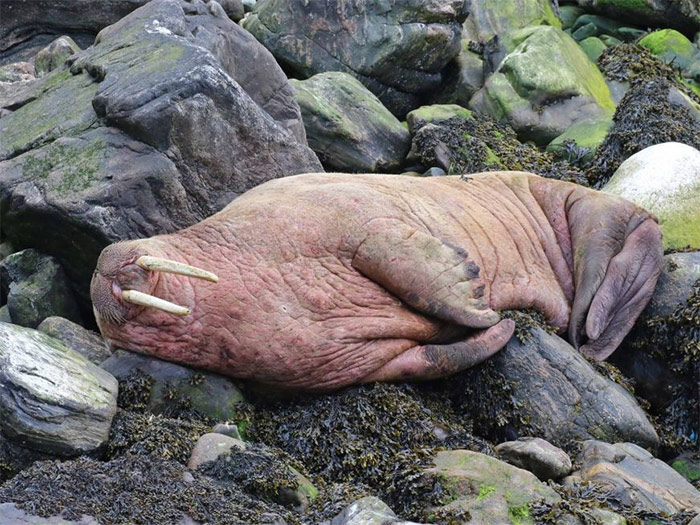 A video of the Bearded Seal in Lerwick Harbour, #Shetland. Still present today after first being seen over a month ago. Around 30 records of this Arctic vagrant in the UK and around half of them have been here in Shetland. @Seasaver @ScottishSeas @PromoteShetland @30DaysWild pic.twitter.com/sfEFmgiRbV

— Shetland Wildlife (@ShetlandWild) June 13, 2018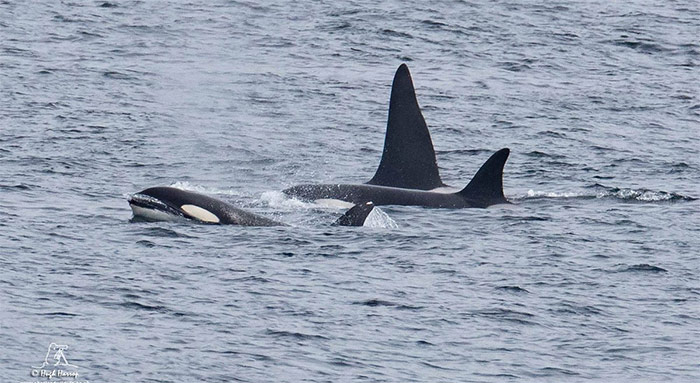 The news from Europe of most relevance to British and Irish birders this week came from Germany where the Black-browed Albatross returned to Rantumbecken, Sylt, Schleswig-Holstein on 10th-12th with elsewhere in Germany an Eastern Imperial Eagle over Suderlugum on 7th and a Sociable Plover in Brandenburg at Lubben at Schlepzig on 11th. In Spain a Red-footed Booby in Asturias passing Punta de la Vaca on 6th before being relocated at La Mofosa on 10th represents the sixth national record whilst an Elegant Tern in Valencia visited Marjal dels Moros on 7th and a Brown Booby flew past Tarragona, Catalonia on 12th. In Belgium the Pygmy Cormorant remained in Brussels until 10th and a Black Vulture accompanied 25 Griffon Vultures at Macon on 9th whilst in Poland the first national Eastern Olivaceous Warbler sang in Pomerania at Kuzinca on 7th. In Norway a Northern Harrier at Rost on 8th was a national first and was followed by both Ross's Gull and Ivory Gull in Finnmark on 12th: at Berlevag and Gamvik respectively. In the Netherlands an Eleonora's Falcon was in Flevoland at Lelystad on 9th.
As high pressure breaks down and with a weather warning in force for gale force westerly winds in northern Britain we can hope for unusual seabirds to be displaced. The first storm of the summer can produced the rarest of seabirds - such as a the first Irish Sooty Tern. that passed the Bridges of Ross, County Clare on 23rd July 2002, whilst both Ascension Frigatebirds were in Argyll; on Tiree on 9th July 1953 and 'on Islay on 5th July 2013.
On calmer nights more night-singers from Continental Europe and Scandinavia could still be located with the increasing Blyth's Reed Warbler a possibility and - although a true rarity - another River Warbler would not be unexpected with 10 of the previous records discovered in late June or July. But will a singing Lanceolated Warbler ever reach here?
Oh and just one more weekly review before the nights start drawing in..
Chris Batty
13 June 2018
Share this story
Tweet