Weekly birding round-up: 21 - 27 Mar 2018
Lothian lands an American White-winged Scoter
A blizzard of Snowy Owls are seen nationwide
The American Herring Gull remains in Co.Clare
And the Horned Lark is still in Surrey
Well, we're officially now into spring, and the clocks have sprung forwards too. Birders across the land can look forward to longer days and some spring migration on the near horizon to fill them with.
Naturally, then, this week's new headline birds had a wintery flavour – a rare sea-duck, and a handful of Arctic owls…
American White-winged Scoter
There's a lingering suspicion that, since the first record in June 2011 off the Aberdeenshire coast, our subsequent records of mainland American White-winged Scoter may well all relate to that same bird. Five years after the first-winter male at Murcar in 2011, back at Murcar, from 25th June to 29th August 2016 an adult drake was lingering offshore for weeks and, last year, he was back again for another spell there between 2nd July and 19th August 2017.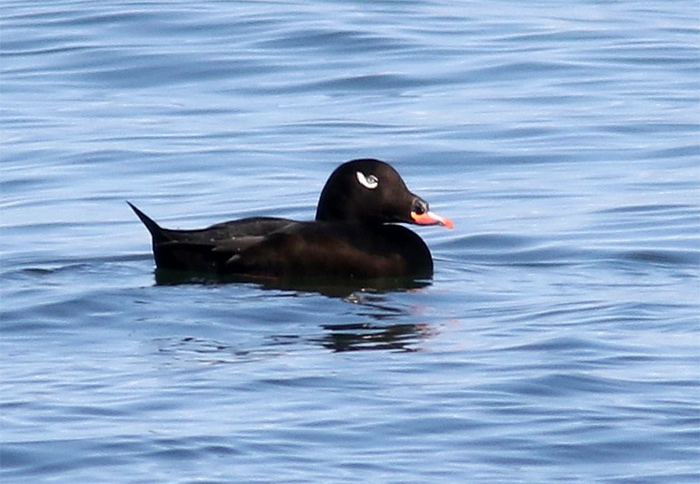 The accepted records to date might show two individuals of deglandi, but there's a fair chance that we're basically talking about just the one bird that's showing some fidelity to the east coast of Scotland. (Though, of course, last year's female or juvenile drake on Unst (Shetland) reminds us that more than one is capable of reaching us).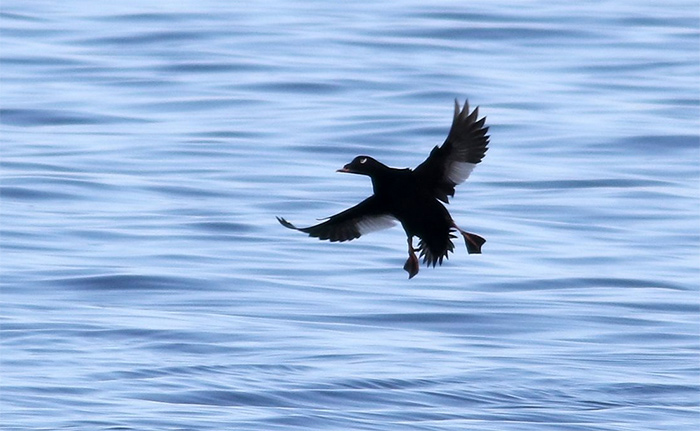 To that roll call of past records, this week served up a further sighting – and one, neatly, at a site that already boasts a record of an extraordinarily rare scoter - a late winter treat for Lothian listers and those from further afield alike, a drake American White-winged Scoter was lingering offshore at Musselburgh on 24th-27th.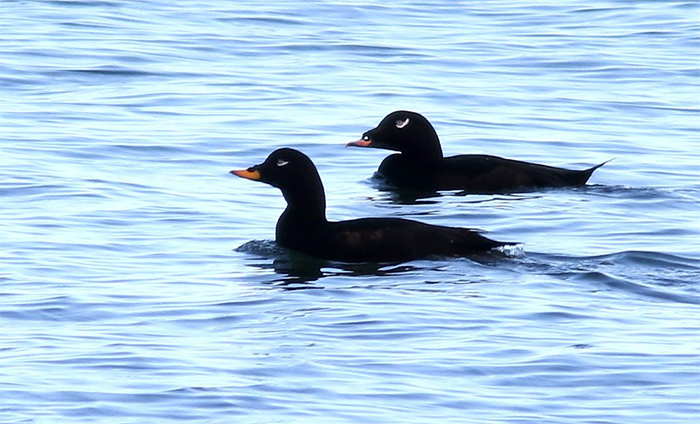 This is, of course, a site with quite the rare scoter track record. Temporary home to many a Surf Scoter down the years, it's most notable for briefly hosting Britain's only Stejneger's Scoter, a drake identified retrospectively from photographs after it was seen on Boxing Day 2013 hanging out with Velvet Scoters. Not wanting to sound churlish here about its most recent offering, but British listers will doubtless be hoping that another Stejneger's sighting is on the near horizon now that American White-winged Scoter has put in such a relatively regular recent showing…
Snowy Owls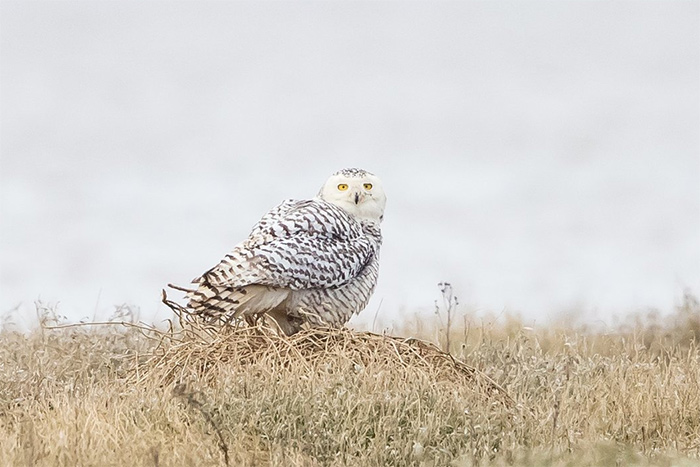 Any week with a Snowy Owl in it is a Good Week. Any week, therefore, with multiple Snowies must qualify as a very good week indeed.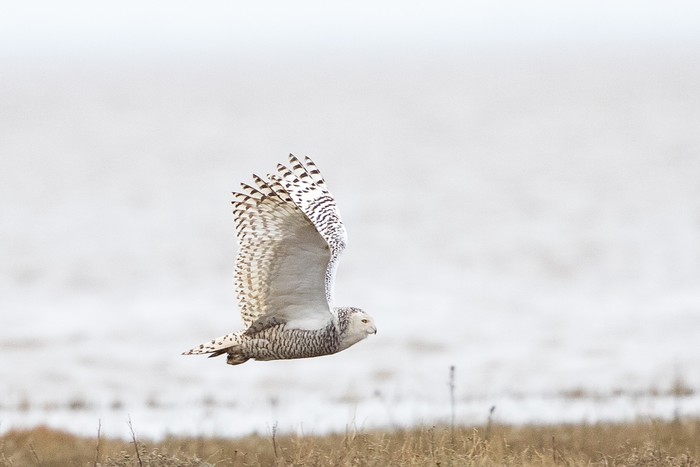 That this week didn't feature the regular recent bird on Tresco (Scilly) makes it all the more remarkable, really. The week kicked off in splendid style with the discovery of the recent first-winter female bird from Norfolk now at Friskney (Lincolnshire) on 21st-22nd, resurrecting happy memories for some of the wintering bird in the same area in the winter of 1990/91.
A second bird flew into the headlines on 22nd, on the opposite side of the country – this time seen in Wales at Twmbarlwm Twmp (Glamorgan) though not latterly. Could this bird also account for the reported sighting on 24th up at South Stack RSPB (Anglesey)?
Recent reports of one in the area coalesced into a confirmed sighting on Papa Westray (Orkney) on 22nd – making this the third bird of that particular day. It or another may or may not account for the reports of one 'recently' on Stronsay…
American Herring Gull
Co.Clare's second American Herring Gull, the juvenile bird found last week at Kilkee, remained this week until 26th, and continued to show well at times.
Horned Lark
Finally, in Surrey, the female alpestris/hoyti/pratincola Horned Lark was still to be found at Staines reservoir until 27th, though reports of her presence began to be a little more intermittent than of late.
Our seabirds this week were dominated by divers and, while they're not the rarer of the two species, it'd be wrong not to start with White-billed Divers and, specifically, the flock of 11 birds seen off Portsoy (Aberdeenshire) on 25th. It's only in recent years that Portsoy has become renowned as a place where numbers of these beautiful banana-bills amass in early spring – not only multiple birds, but often giving superlative views too. I've never been, but perhaps I should…
Further White-billed Divers were seen this week in Orkney in Scapa Flow on 22nd and off Houton Head on 24th-26th; off Newbiggin (Northumberland) on 24th also; off Barra (Western Isles) on 25th; on 26th, two birds were off Lewis (Western Isles).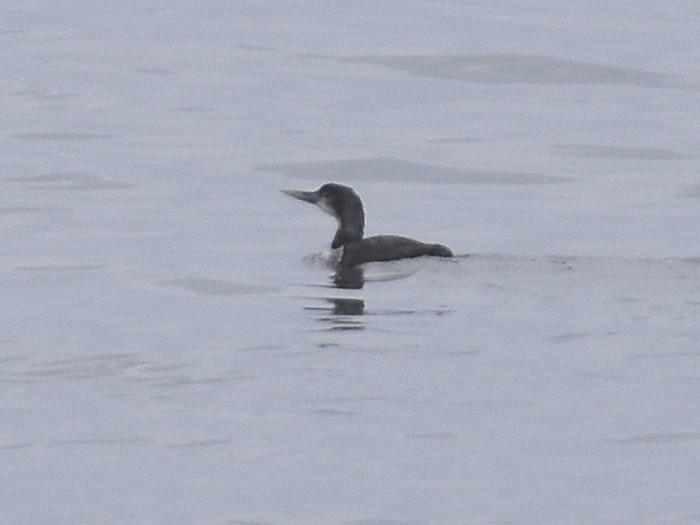 Meanwhile our recent wintering trio of Pacific Divers were all present and correct for another week – both of the Cornish birds were again logged, in Gerrans Bay on 21st-25th and off Penzance on 21st-24th; and the Irish individual was still in Crookhaven Harbour (Co.Cork) on 25th.
Two Pomarine Skuas were seen from The Lizard (Cornwall) on 24th.
Numbers of Cattle Egrets this week fell off a cliff compared with recent weeks and months. I'd like to think this represents them getting down to the serious business of consolidating on their breeding successes of last year… So, this week, we've just two birds noted at Mudgley (Somerset) on 21st, one still at West Bexington (Dorset) on 21st-27th and, at Frampton-on-Severn (Gloucestershire), five birds on 21st with four still present there on 24th and three there on 27th. More reports emerged at the week's end, with three again at Birkdale (Lancashire) and seven once more at Chapel Amble (Cornwall) and one again on 27th at Linford NR (Buckinghamshire).
Around 90 Great White Egrets were recorded again this week, reflecting just what a fixture the species has become across England in particular; for the most part these sightings were once more scattered individuals, with no higher aggregation this week than seven birds, at Ham Wall RSPB (Somerset) on 25th, with six birds at Burton (Cheshire) on 25th and four noted together at Greylake RSPB (Somerset) on 26th.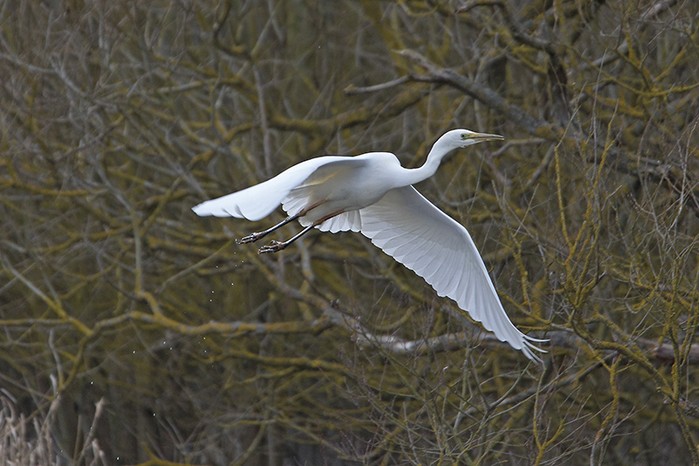 Spoonbills too mainly comprised scattered singles and duos this week, with the highest tally of the approximately 50 birds seen nationwide being five birds in Hampshire at Pennington Marshes on 22nd-23rd, followed closely by a quartet at Arne RSPB (Dorset) on 25th.
Ireland dominated sightings of Glossy Ibises this week, starting with the duo still at East Coast NR (Co.Wicklow) on 22nd-24th, with one remaining there on 27th. Further sightings came from Co.Cork at Kinsale again on 24th-25th and Ballymacoda still on 24th; and at Cahore Marsh (Co.Wexford) still on 25th. In England the settled bird was still at Minsmere RSPB (Suffolk) on 21st-27th; the Lydney (Gloucestershire) bird was seen once more on 21st-27th; and one was again at Fremington (Devon) on 25th-26th.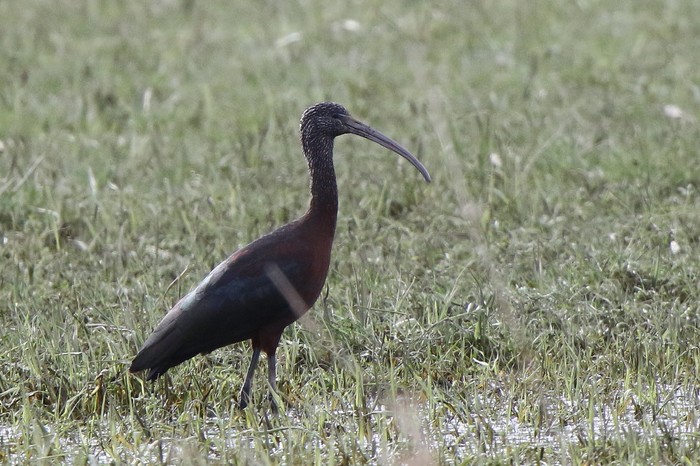 The adult Common Crane remained at Berneray (Western Isles) on 25th; the first-winter was still on Orkney at Deerness on 26th; while the peak count from Nene Washes RSPB was 21st birds again on 21st. On 26th two birds were reported over Chellaston (Derbyshire) in the evening.
A White Stork was seen six miles south of Northampton (Northamptonshire) over the M1 motorway on 23rd; on 25th one was seen heading north-west over Dover (Kent), with further sightings from North Foreland, Broadstairs and Ramsgate the following day. Sightings of all of this species are somewhat clouded nowadays by released as well as wandering captive birds – not least this week in Kent where an individual from the Swedish reintroduction scheme was seen wandering around earlier in the week before the Dover sighting.
In the absence of any of the Goose Formerly Known As Canada, we start our weekly dabble in the murky duckpond rare and scarce wildfowl with the pleasingly non-contentious white Snow Goose still on the Western Isles at Berneray on 25th.
A fairly busy week for Black Brants began once again with sightings in Essex at West Mersea on 22nd and The Naze on 24th, with two birds seen at Brightlingsea on 26th; the adult was once more on Walney Island (Cumbria) on 23rd-25th; one was at Kilnsea (East Yorkshire) on 24th-27th; and an adult was logged in Ireland at Ventry (Co.Kerry) on 25th.
Numbers of American Wigeons contracted sharply this week, with just two drakes to report upon – that in Somerset at Dunster again on 21st-23rd, and the long-staying individual in Highland at Clachnaharry still on 21st-27th.
Green-winged Teals were similarly denuded, with five birds noted at four sites this week – one at Middleton Lakes RSPB (Warwickshire) on 23rd-26th was joined on 25th by a second individual; and single birds were seen again at Saltholme RSPB (Cleveland) on 21st, North Ronaldsay once more on 24th-25th, and Balranald RSPB on North Uist (Western Isles) again on 26th.
In Highland, the drake Black Duck was still present at Strontian on 23rd, and doubtless girding his feathery loins in anticipation of another season of hybrid-generation…
The drake Lesser Scaup was again seen at Dozmary Pool (Cornwall) on 23rd; the drake Ferruginous Duck was once more noted in Powys at Llan Bwch-llyn Lake on 23rd-27th, while the drake was once more seen at Washington WWT (Co.Durham) on 26th.
And so to Ring-necked Ducks where, in contrast to some of their other Nearctic brethren, there was a bit more going on still this week with numbers still nudging double figures in Britain and Ireland. The female remained in Wales at the National Wetlands Centre WWT (Carmarthenshire) on 24th-25th; otherwise our sightings were all drakes again. Birds were seen at Bagmoor (Lincolnshire) again on 21st-26th; on Lewis (Western Isles) once more at Loch an Tiumpan on 22nd-23rd; still in Somerset at Shapwick Heath NNR on 23rd; in Devon at Slapton and Beesands Leys on 24th, with the bird still on Beesands Ley on 25th-27th; at Cotswold Water Park (Gloucestershire) again on 24th; in Cambridgeshire at Ouse Washes RSPB still on 24th-25th; and at Loch Shiel (Highland) once more on 26th. On 27th one was seen on Duddingstone Loch (Lothian). In Ireland, the drake was once more seen at Castle Ward (Co.Down) on 24th.
The first-winter drake King Eider was seen at Flaggy Shore (Co.Clare) still on 21st; and the female remained in Co.Cork at Toormore on 25th.
Staying with Flaggy Shore, the drake Surf Scoter was still present there on 21st-22nd; at Balbriggan (Co.Dublin) one was seen again on 21st with four birds present there on 24th-25th; in Wales, two drakes remained in Colwyn Bay (Conwy) on 24th-25th; in Scotland drakes were seen in Largo Bay (Fife) again on 24th and off Musselburgh (Lothian) on 25th-26th still; and in England the three wintering birds remained at Lower Porthpean (Cornwall) until 26th.
Closing matters with our usual honorary waterbird, the Pied-billed Grebe still present at Spiggie (Shetland) on 22nd-26th; and, though largely absent from the news throughout the winter, the adult male individual was seen once again at Loch Feorlin (Argyll & Bute) on 24th.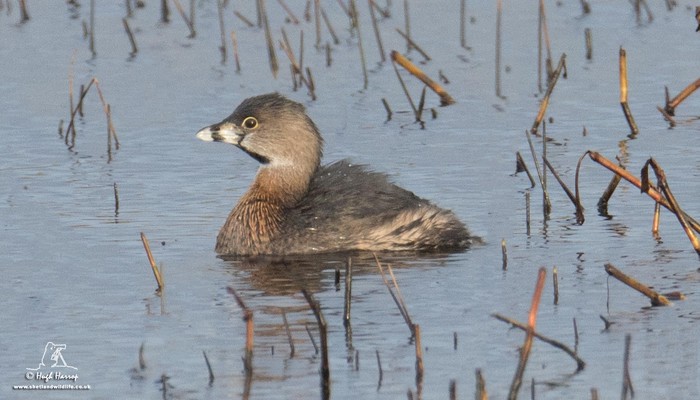 Very quiet times indeed for shorebirds this week, so it's a big thank-you to the adult Long-billed Dowitcher for putting in an appearance once more at Oare Marshes KWT (Kent) on 22nd.
A possible Lesser Yellowlegs was on the lagoon on Hayling Island (Hampshire) on 26th.
A Grey Phalarope was seen from Low Newton-by-the-Sea (Northumberland) on 26th-27th.
After another absent spell, in Devon this week the adult Bonaparte's Gull was once again seen at Exmouth on 22nd; on 26th, an adult bird was found in Dorset at Longham Lakes.
The week belonged, however, once again to Ring-billed Gulls - and in Ireland in particular where they remained present in some numbers, not least at Sandymount (Co.Dublin) where, on 23rd, four birds were seen. Elsewhere adults were logged at Blackrock (Co.Louth) again on 21st-22nd; Carrickfergus harbour (Co.Antrim) on 21st-22nd still; Doorly Park (Co.Sligo) again on 21st; Bray harbour (Co.Wicklow) still on 22nd-27th; Sligo (Co.Sligo) on 25th; and, in Co.Kerry, at Carrahane still on 21st, two birds at Cashan on 22nd, and on 25th at Tralee Bay Wetlands Centre once more, Ballyheigue and Blennerville. On 27th the adult was seen again at Timoleague (Co.Cork). A second-winter bird was in Limerick (Co.Limerick) on 22nd, joined there by an adult on 24th. In England, the regular adult was once again at Blashford Lakes HWT (Hampshire) on 21st-24th; the first-winter was still in Newquay (Cornwall) on 24th-26th; and in London, an adult was an excellent find at Rainham Marshes RSPB on 23rd.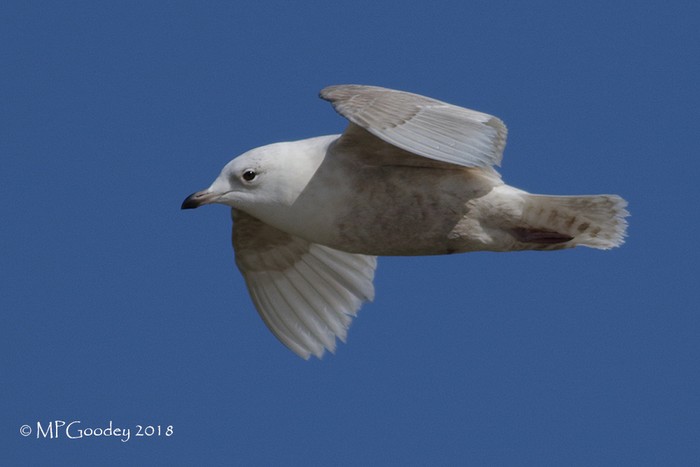 Numbers of white-wingers remained fairly static this week, comprising around 100 Glaucous Gulls once more, with a peak count of 12 birds on Lewis in Stornoway harbour on 25th and eight at Killybegs (Co.Donegal) on 25th also, and a modest drop in Iceland Gulls amounting to some 150 birds logged in total; of these, Lewis again claimed the highest tally with 25 birds present on 22nd, followed by Dingle (Co.Kerry) where 13 birds were noted on 23rd.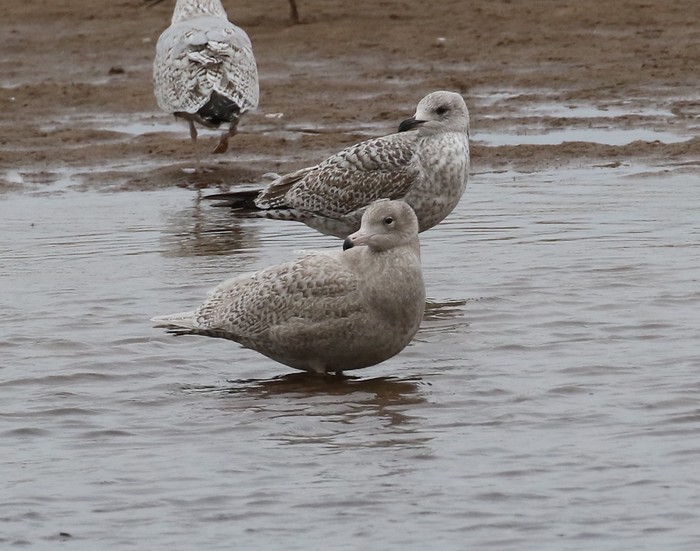 Around 10 Kumlien's Gulls were logged this week predominantly juvenile individuals – in Stornoway on Lewis (Western Isles) on 22nd; at Cashen (Co.Kerry) on 22nd; at Cotham (Nottinghamshire) again on 23rd; on 23rd at Dingle (Co.Kerry), with two birds there on 25th; in Limerick (Co.Limerick) on 23rd; and on 24th-25th in Rosslare Bay (Co.Kerry). A further possible juvenile was reported from Polgigga (Cornwall) on 23rd, and a possible adult was noted at Hayle (Cheshire) that day also. A second-winter was still present on South Uist (Western Isles) at Ardvule on 22nd-27th.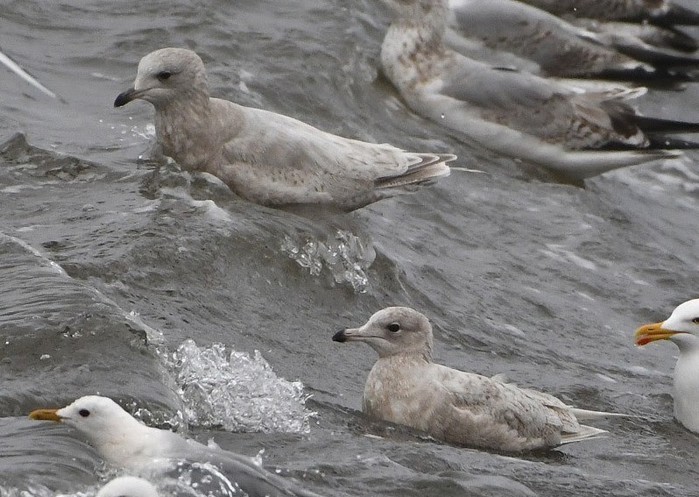 The week closed with an adult Forster's Tern on the border between Co.Galway and Co.Clare between Aughinish Island and Traught beach in the afternoon.
An immature White-tailed Eagle was seen over Penicuik (Lothian) on 21st.
A Black Kite passed over Crayford (London) on 26th, heading southwest.
A few of last week's late, dazzling arrival of Bluethroats remained into the new week – two males were still at Landguard NR (Suffolk) on 21st, with one there on 22nd-23rd; and one male lingered at Dengemarsh (Kent) on 21st-24th. A further resplendent male was an excellent London find at Walthamstow reservoirs on 23rd.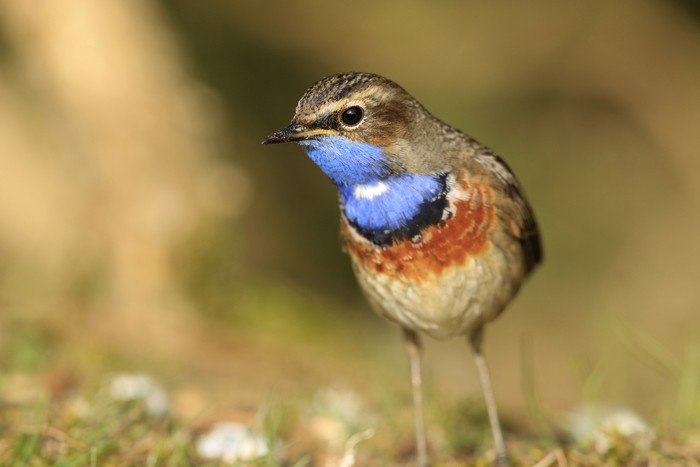 Mooted in these quarters as a likely arrival lately, an Alpine Swift was reported in Lincolnshire at Crowland on 22nd.
The Yellow-browed Warbler was still at Wombwell Ings (South Yorkshire) on 21st, though not latterly.
A flock of 16 Waxwings in Inverness (Highland) on 21st-22nd comprised the lion's share of the week's sightings – further birds comprised the duo still at Longbenton (Northumberland) on 21st-26th and, in South Yorkshire, three in Sheffield on 21st with two at Ecclesall on 22nd. On 26th eight birds were seen in Nairn (Highland).
Great Grey Shrikes were still firmly on various winter territories this week, most notably at Morden Bog NNR (Dorset), where at least one bird was seen daily, and two birds appeared to be present throughout the week. Gloucestershire again accounted for a number of sightings – one remained at Hawling on 21st; on 22nd birds were noted at Acton Turville and Russell's Enclosure, with the Crabtree Hill individual seen again on 22nd-25th. Elsewhere, birds remained at Meall Mor (Highland) on 21st-22nd; Cropwell Bishop (Nottinghamshire) on 21st-26th; in Clocaenog Forest (Denbighshire) on 24th-26th; at Prestwick Carr (Northumberland) on 25th-26th; in Glasfynydd Forest (Powys) on 26th again; and at West Ilsley (Berkshire) on 26th. One was seen in Derbyshire at Sandiacre on 23rd, and another in South Yorkshire at Hatfield Moors NNR in the evening of 26th.
An adult Rose-coloured Starling was in Pembrokeshire at Pembroke Dock on 22nd.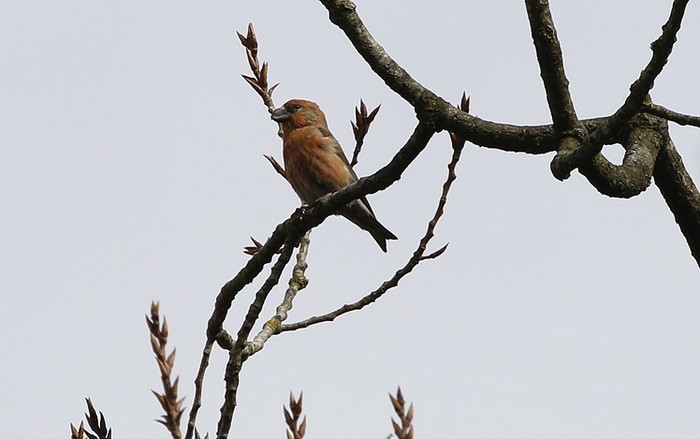 The Norfolk flock of Parrot Crossbills were back in the news this week at Santon Warren on 23rd-24th, with a peak count there of 29 birds on the former date. A probable flew over Cockley Cley (Norfolk) on 21st, where an exilipes Arctic Redpoll was also noted that day. The settled Arctic Redpoll remained at Hazlewood Common (Suffolk) on 21st-27th, and two birds were seen in Moray at Fochabers on 25th, one of which was trapped and ringed.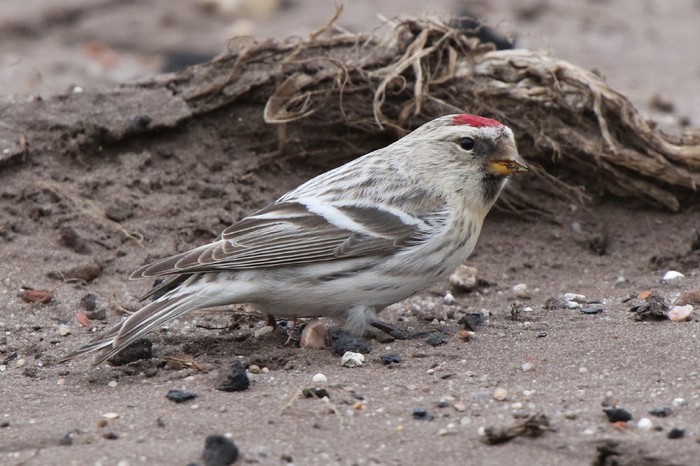 Three Serins provided a more Mediterranean finch flavour this week – one was again in Essex at Shoeburyness on 21st-23rd with one on 26th at Canewdon, while another was found at Gibraltar Point NNR (Lincolnshire) on 22nd.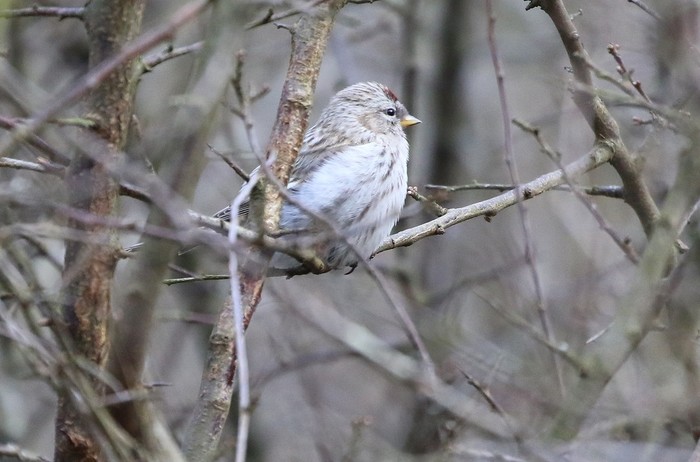 All three recent Little Buntings were seen again throughout the week - at Walthamstow reservoirs (London) on 21st-27th; on the Isle of Wight at Brading on 21st-24th; and in Hampshire at North Baddesley on 24th-25th.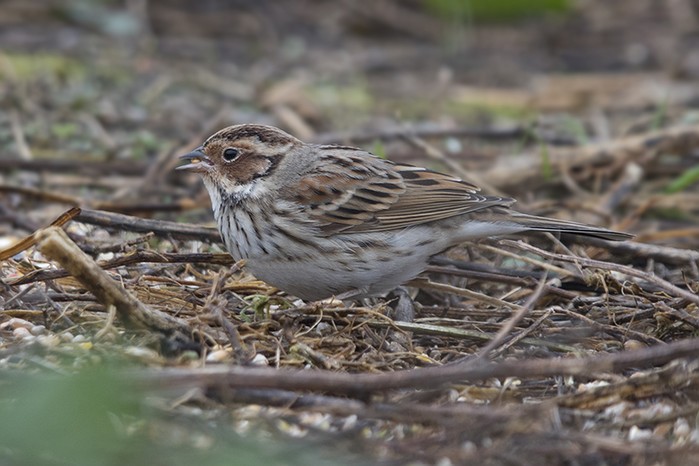 In a week where a rare scoter was the British headline bird, it seems only right that we kick off our quick spin through the best of the overseas news with some more scoters... So, starting in Iceland, American White-winged Scoter sightings came again from Keflavik and Akranes on 25th; while in Sweden the drakeStejneger's Scoter remained at Halland on 26th.
In Faroe a Mandt's Black Guillemot was on Sundi on 25th.
Back now to France where the near-adult form vetula Cape Gull was again seen at Le Mesnil-Aubry landfill, near Paris, on 21st.
In Belgium the Pygmy Cormorant was still at Parc Domaine du val Duchesse on 25th. In Holland the first-winter male Black-throated Thrush was at Scheemda still on 24th, while the female Pine Bunting at Noordwijk was still present on 21st-27th.
Before we spread our wings a little further afield, in Guernsey the American Royal Tern was once more noted on 21st. Surely it's got to cross the Channel eventually?
Moving now to Spain, the Sociable Plover was once more seen at Barahona on 21st; a Ruppell's Vulture was logged over Tarifa on 22nd.
A Cream-coloured Courser was noted on Cyprus at Madria on 23rd.
In Turkey, a male Hooded Wheatear was found at Cenger on 25th.
The Lesser Flamingo remained north of Eilat (Israel) on 24th.
Following last week's birds on Sicily, another Pied Crow was on the Canary Islands this week on Gran Canaria on 22nd.
Finally, the Abyssinian Roller was still to be seen this week in Mauritania at Nouadhibou on 21st.
While, on the basis of this week's avalanche of Snowy Owls and, with the coming week a strong one for historic sightings of this Arctic wanderer, we might well expect some more to be seen in the coming week, another rare owl could also be appearing on our radars with a following wind – this is, of course, the always charming and welcome Scops Owl. The coming week boasts a couple of past records in southern England.
Meanwhile, I'll continue to optimistically plug Alpine Swift or Great Spotted Cuckoo - both classic vagrants for the dying days of March and the opening days of April. You'd fancy one of the mobile former could turn up just about anywhere.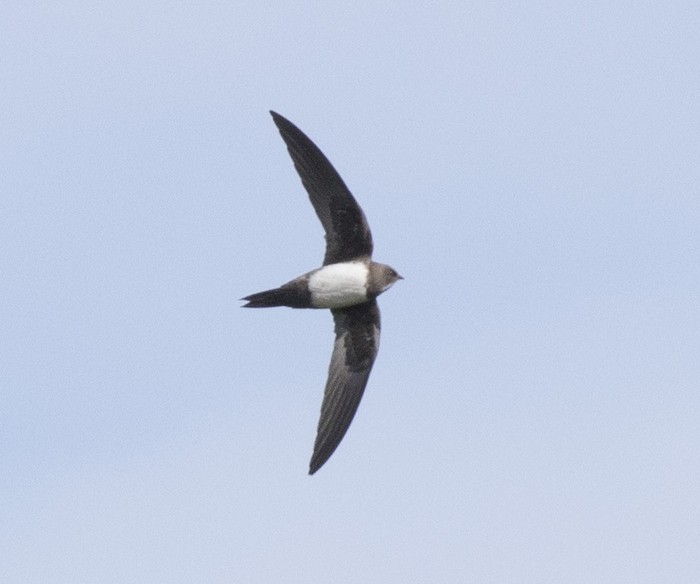 Jom Dunn
28 March 2018
Share this story
Tweet