Weekly birding round-up: 26 July - 1 Aug 2017
The week at a glance
A bonanza of Wilson's Petrel sightings off south-west Ireland and England
The drake American White-winged Scoter remains lurking off the Aberdeenshire coast
Whilst yet another exceptional breeding attempt is confirmed - Night Herons have fledged young in Somerset this summer!
Welcome to another week's Rarity Round-Up - a week that kicked off with some properly strong winds coming into the south-west and the Atlantic coast of Ireland. If only we could predict the rarities with the same sort of certainty we can the weather…
[laughs hollowly, victim of many an entirely inaccurate weather forecast down the years]
This windy spell was, apparently, all because of half a dozen storms making life interesting in the Pacific Ocean. This has, we're told, displaced our traditional 'Azores High' – a late summer lump of high pressure that usually parks over us and deflects the jet-stream towards Iceland – and, sure enough, with the jet-stream coming straight off the Atlantic at us, the wind down below at sea level duly picked up a notch or two.
Wilson's Petrel bonanza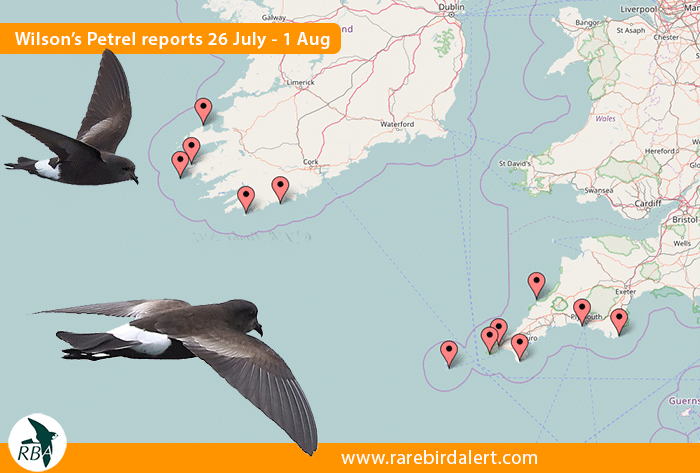 After last week's disclaimer that I wouldn't normally be elevating Wilson's Petrels into the rarefied atmosphere of our headlines, there was a certain inevitability about what they went and did next…
We anticipated that the seawatching conditions might deliver again this week (and, for the record, I think they may continue to do so in the days to come) but this week's records will take an awful lot of beating. For those present, either manning the headlands or, better yet, on either of the notable pelagics, this past week will live long in the memory.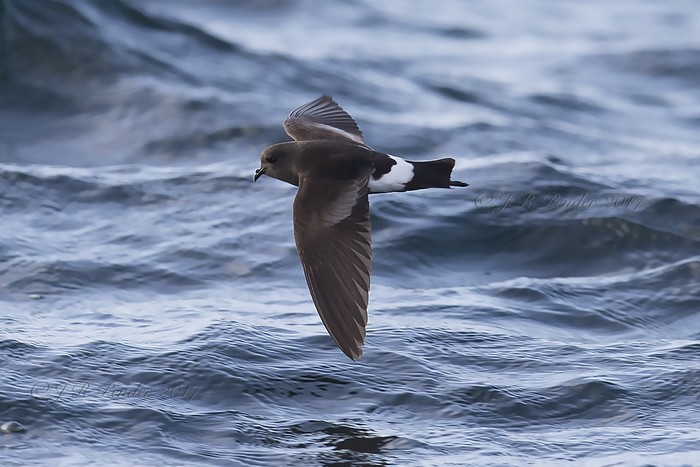 So what happened? The week held its breath on Wednesday, with no sightings reported, before the first wave of Wilson's crashed over us – a land-based record off Valentia Island (Co.Kerry) jockeyed for position with the first at-sea sightings of the week: two seen from a pelagic operating out of Penzance (Cornwall), and a stunning minimum of 20 birds seen from a Scilly pelagic, including a small flock of nine birds together at one point.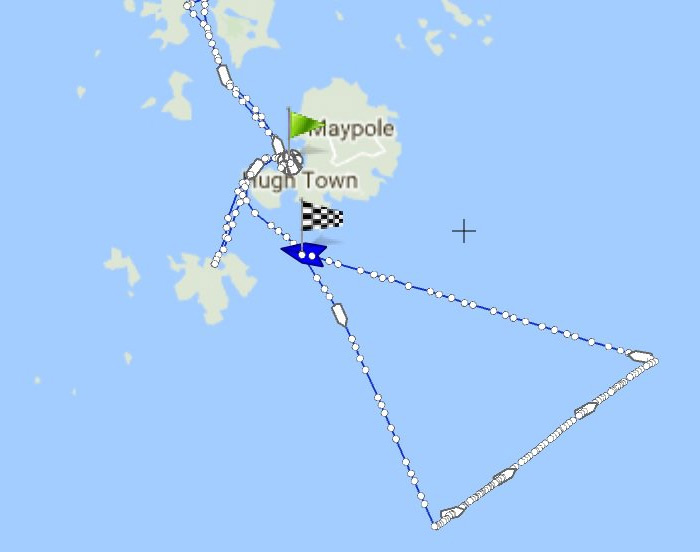 The Penzance pelagic hinted strongly that there were birds closer to the UK mainland than Scilly, and sure enough the following day seawatchers in Cornwall started to find further birds passing their headlands with two apiece for The Lizard and Porthgwarra respectively.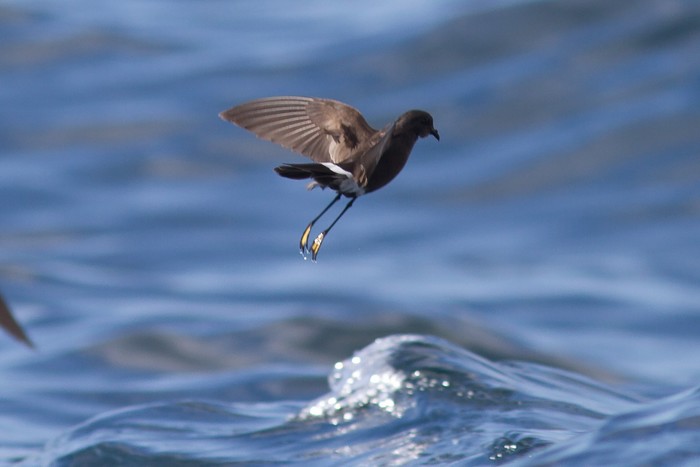 On 29th both sites logged a brace again, while a further bird was reported from Rame Head and another pelagic from Penzance scored four more individuals.
Sunday 30th dawned, and everything went a little crazy on the Wilson's Petrel front… Porthgwarra notched up four birds in the morning, while further singletons were seen off Pentire Point and, in Co.Cork, Galley Head, with a further probable bird seen off Start Point (Devon). But it was at sea off Co.Cork where the real prize lay – birders on a pelagic east of Fastnet Rock saw no fewer than 40 Wilson's Petrels, truly the stuff of pelagic dreams.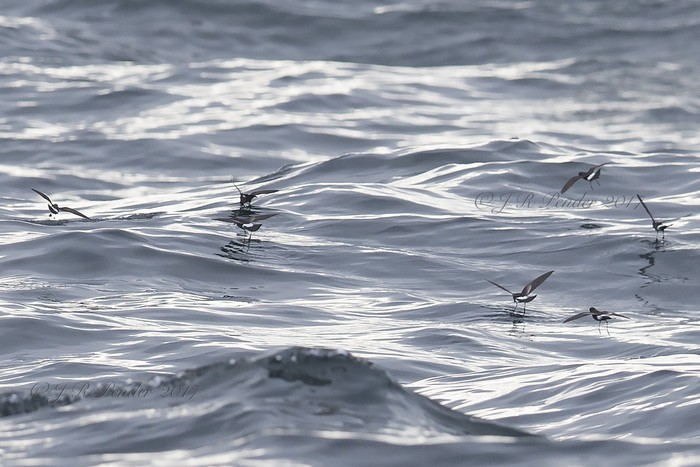 While those dizzy heights weren't scaled again as the week wore on, the sightings kept on coming: on 31st single birds were confirmed off Brandon Point (Co.Kerry) and Cape Clear (Co.Cork), and further pelagic trips off Scilly racked up at least seven more birds on 31st and eight on 1st August respectively; while on 1st August another was seen in Ireland, just south of Skellig Michael (Co.Kerry).
Pelagics on the venerable Scillonian were where many of us cut our teeth with Wilson's in the Western Approaches. That they're out there in the Atlantic in the late northern summer is a given – but it takes a decent spell of wind from the Atlantic heart to push appreciable numbers within touching distance of us, as land-based records from the past fortnight attest. It's the pelagic boat trips, however, that deliver the goods in spades – and it's still a curious thing that we don't have quite the same culture of pelagic birding that, say, North American birders take for granted.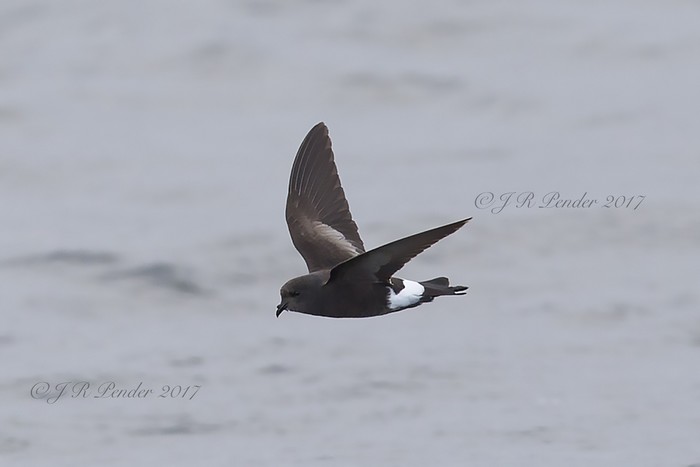 With some really stellar at-sea sightings (and satellite trackings) in recent years, the Wilson's Petrel precedent simply reinforces what we already know – pelagic trips are worth investing in if we want to roll the dice and, just occasionally, hit the jackpot with a truly monster rare seabird.
(That or we play a petrel-mix CD in the dead of night on a promising headland…)
American White-winged Scoter
I think, were the drake American White-winged Scoter on the sea off Blackdog anywhere less remote in the British Isles than Aberdeenshire, we'd be hearing a lot more about him than we have this past week or two. Which is to say, he'd be a lot more popular were he just a little more accessible – that and, fickle creatures that we birders are, the novelty of this mega-rare duck is somewhat dimmed by dint of his relatively recent appearances. This week he was seen once more on 30th – 1st August, still present and correct (and waiting for me shortly…).
Scroll forward ten or twenty years and, unless there've been a slew of subsequent records, we'll look back on this bird with considerable fondness and, for those who didn't see him at the time, no small envy…
Breeding Night Herons
It was only a few weeks ago that I eulogised in these columns about just how brilliant a collective piece of habitat parts of the Somerset Levels were gradually turning into. Now home to regular breeding Little Egrets, with recent breeding efforts by Great White Egret, Cattle Egret and Little Bittern, the Avalon Marshes in particular have transformed in recent years into the most fabulous mosaic of top quality wetland.
News emerged as the week closed that another member of the heron tribe could be added to the Levels' burgeoning roll-call of rare breeding birds – four Night Herons had emerged into the open at Westhay Moor NNR – that is, two adult birds and two newly fledged youngsters. Assumed to have bred either in Westhay Moor NNR itself, or somewhere nearby in the Avalon Marshes, these are the first of their kind known to have bred in Britain. At least one bird was still in the Westhay Moor NNR area in the evening of 1st.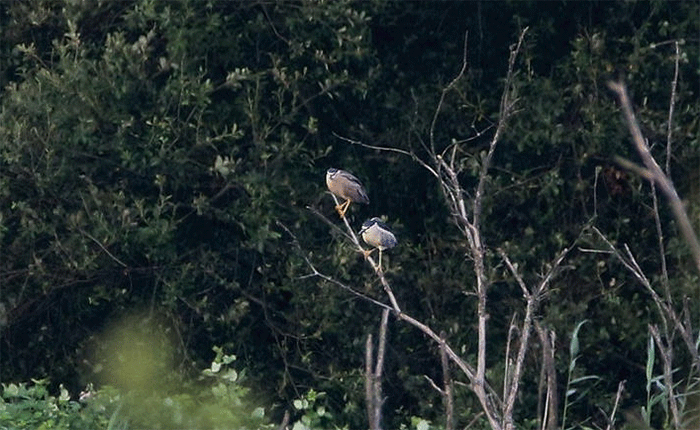 Stephen Moss, President of the Somerset Wildlife Trust, summed up this happy event, saying, "This is incredible news. To put it in perspective, when I was a young birder in the 1970s, just two species of heron bred in Britain - the Grey Heron and the Bittern. These Night Herons are now the seventh member of their family to nest in the Avalon Marshes - a tribute to all the hard work by conservationists and volunteers working together to create the best new wetland habitat in the country. With the Cranes down the road, and several other species - including Glossy Ibis - regular visitors, Somerset is now the place to go to see long-legged waterbirds!"
I spent much of my childhood exploring the Somerset Levels in the 1970s and early 1980s, and can remember the thrill of walking beneath a colony of Grey Herons, the stench of guano and fishy detritus filling my nostrils – back then Bitterns existed only in books and my imagination, and certainly not on the Levels. The thought that young birders now can visit the same area and explore an environment that now boasts seven breeding species of herons, egrets and bitterns is nothing short of miraculous and, as Stephen Moss says, tribute to a considerable body of hard work put in by a small army of people. Long may the changing face of the Levels continue to develop and prosper in their care.
While this week was dominated by now fewer than 90 Wilson's Petrels the much anticipated mega seabird didn't quite materialise – though a probable Barolo Shearwater passing Porthgwarra (Cornwall) in the early afternoon of 29th came very close indeed to ticking that particular box, as did the probable Swinhoe's Petrel heard responding to the playback lure at a petrel-ringing session on Sumburgh Head in the early hours of the morning on 31st. Heard only by one of the handful of birders present, Will Miles, it would be a brave man indeed who didn't consider this a 99.9% certainty for Swinhoe's - Will has considerable form where the species is concerned, having played a pivotal role in the Fair Isle records of the species in recent years.
Fair Isle is, of course, not a million miles away across the water from Sumburgh Head – being clearly visible from Sumburgh on a fine day. One of the past Swinhoe's has already been noted returning to Fair Isle again this year, so it's tempting to presume that this must be that bird. Then again, Fair Isle lays claim to two separate birds in 2013 and subsequently, and there have been a number of different Swinhoe's trapped and ringed elsewhere in northern Europe besides being noted from seawatches – two records from Norway since the turn of the century notably springing to mind. So it may be a little premature to assume this latest individual is one known already to us – it's just as plausible that this is a new Atlantic record of this cryptic species…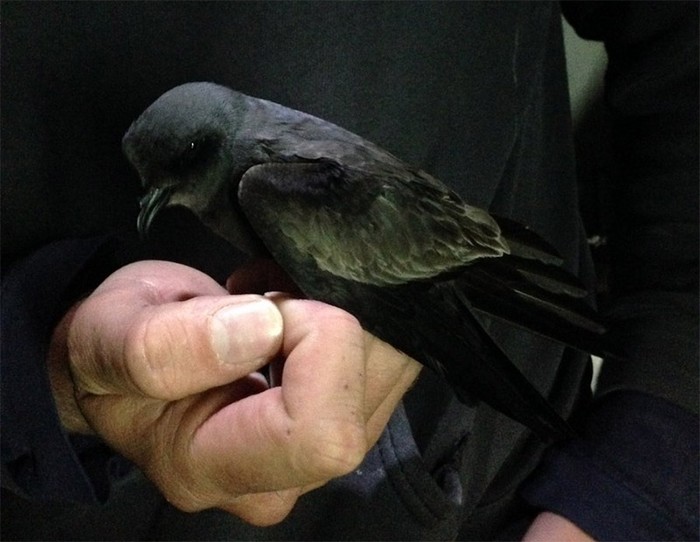 Commoner, larger, shearwaters remained a daily fixture, though numbers were down on the previous week's showing. Starting with Cory's Shearwater, a total of approximately 350 were logged, largely from Cornish and Irish waters with a scattering making it as far east as Devon. A daily fixture from Cornwall's venerable Porthgwarra, the week's highest tally came from here on 28th with 129 birds logged that day.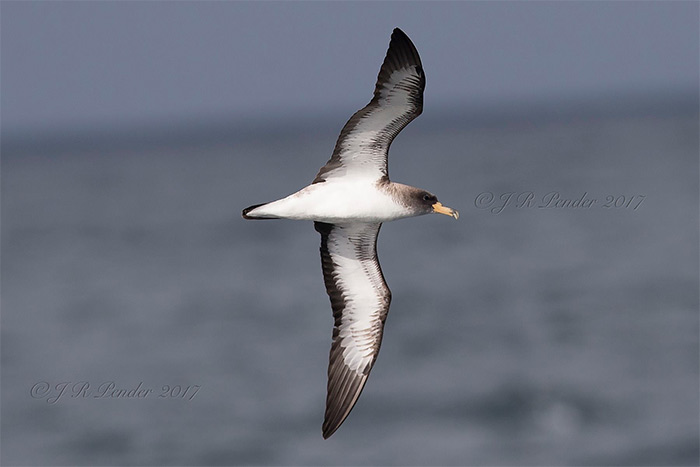 Numbers of Great Shearwaters, however, were a little up on last week's total, with a shade over 400 birds noted from, once again, a mostly south-westerly bias – though Scottish birds were seen on 26th at Lybister (Highland) and 27th from Ardvule on South Uist (Western Isles). One lingered for a few days off Portland Bill (Dorset), being seen there more or less daily until 30th.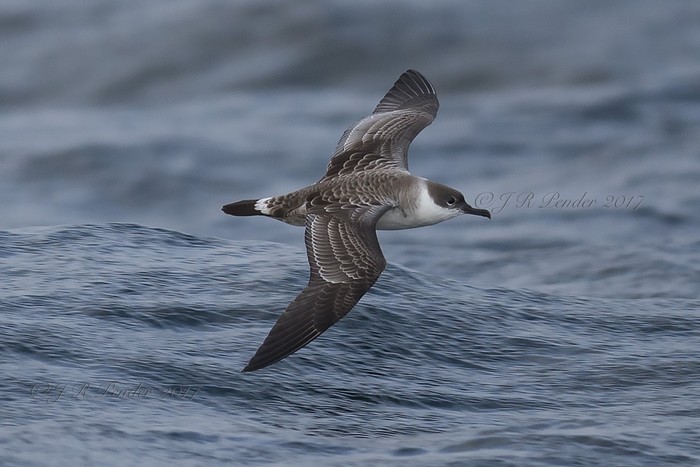 Portland's a traditionally good place to catch up with late-summer Balearic Shearwaters, and this week was to prove no exception with daily sightings peaking with around 35 birds off there on 28th-29th. Overall numbers were definitely up on last week's tally of 100 across the region – this week gave us around 700 records, including a stand-out count of 185 from Start Point (Devon) on 28th. Records were returned right along the English Channel as far east as Kent's Dungeness, with sightings made further north too – singles were noted from Flamborough Head (East Yorkshire) on 26th and 28th, while in Welsh waters singletons were seen from Skokholm (Pembrokeshire) on 27th and Port Eynon (Glamorgan) on 29th.
Numbers of Pomarine Skuas, meanwhile, remained fairly static, with around 30 in all recorded from as far north as Brevig on Barra (Western Isles) where three birds were seen on 28th, and as far east as Cley where a singleton was reported on 28th also.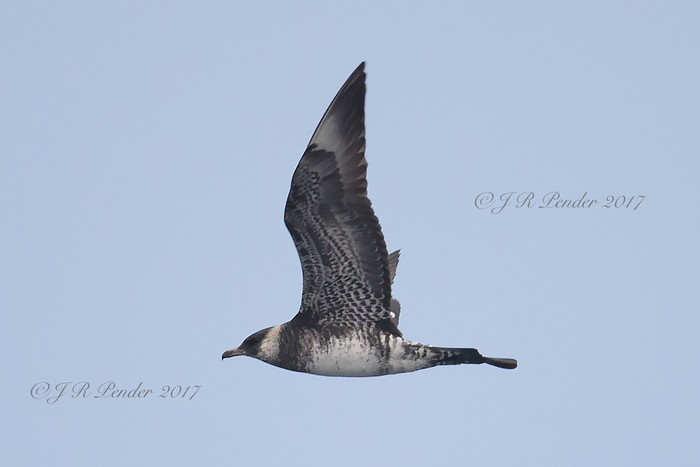 It remained pretty much as-you-were where our various summering long-legged beasties were concerned this week, not least with Cattle Egrets - reports came in from far and wide, with a discernible bias towards the south west of the country, but overall numbers down noticeably on the previous week with approximately half that week's 40 bird tally being logged.
Kicking off in Cornwall, two birds at Amble Marshes on 26th rose to three on 27th, with four noted at Walmsley Sanctuary on 31st – 1st August, a single bird at Egloshayle on 31st also, and four in the morning of 1st near Newquay in a field beside the Gannel Estuary. In Devon two birds remained at South Efford Marsh on 26th-27th, with an adult at South Huish Marsh on 29th – 1st August, two birds at Seaton on 30th-31st, two birds at Colyford Common on 31st also, and three birds at Black Hole Marsh NR on 1st August. Somerset, predictably, accounted for the lion's share of the week's records – two logged at Westhay Moor NNR still on 26th followed by six at Shapwick Heath NNR on 29th rising to eight the following day. Three were seen in Dorset at Abbotsbury on 30th-31st, with a single bird in Gloucestershire at Slimbridge WWT on 29th – 1st August. One remained in Norfolk at Potter Heigham on 27th – 1st August, while one was seen in Staffordshire on 30th at Bramshall. On 1st one was to be found in a field near the wonderfully named Owl Copse at Pagham Harbour (West Sussex).
Numbers of Great White Egrets remained fairly constant, with some 33 birds recorded from 17 counties as far north as Aberdeenshire. Most of these involved single birds, with notable counts being for the most part restricted to trios at best: at Rutland Water (Leicestershire) on 28th, at Shapwick Heath NNR (Somerset) and Dungeness RSPB (Kent) on 29th, and at Connah's Quay (Flintshire) on 30th – numbers rising to four birds at the latter site on 31st, on which day three were seen in Somerset at Ham Wall RSPB.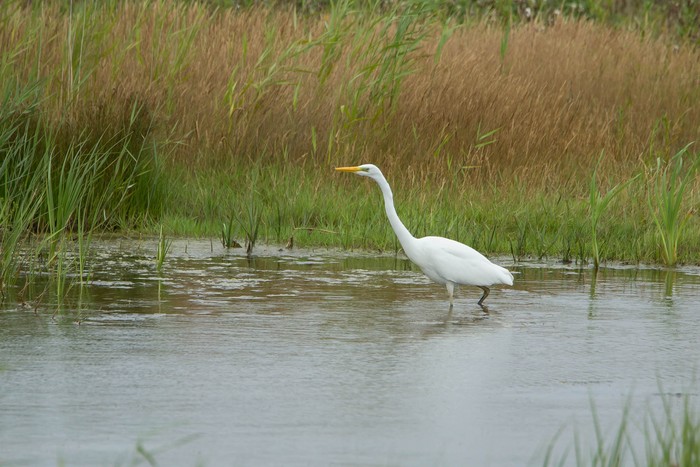 A Purple Heron was seen in flight on Scilly on St.Mary's near Watermill in the late afternoon of 27th; much less flightly was the settled adult American Night Heron still at Dingle Gardens, near Shrewsbury (Shropshire) until 30th at least; a juvenile of the latter species was found in Northumberland on 1st August lurking in conifers at Whittle Dene Reservoir.
The adult male Little Bittern was still in song at Ham Wall RSPB (Somerset) on 26th.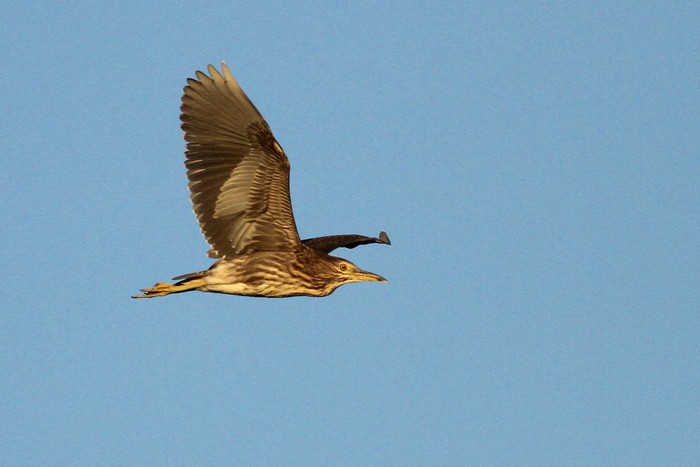 Two Glossy Ibises that are already familiar with Rarity Round Up readers featured again this week – one again at Trimley Marshes SWT (Suffolk) until 1st August; and another again at Ham Wall RSPB and Shapwick Heath NNR (Somerset) on 26th-31st. The week drew to a close with a significant arrival in Cornwall, where a flock of 14 birds pitched down at Walmsley Sanctuary on 31st, remaining there the following day, whilst seven birds were found at lunchtime on 1st August in Devon at Braunton Marsh.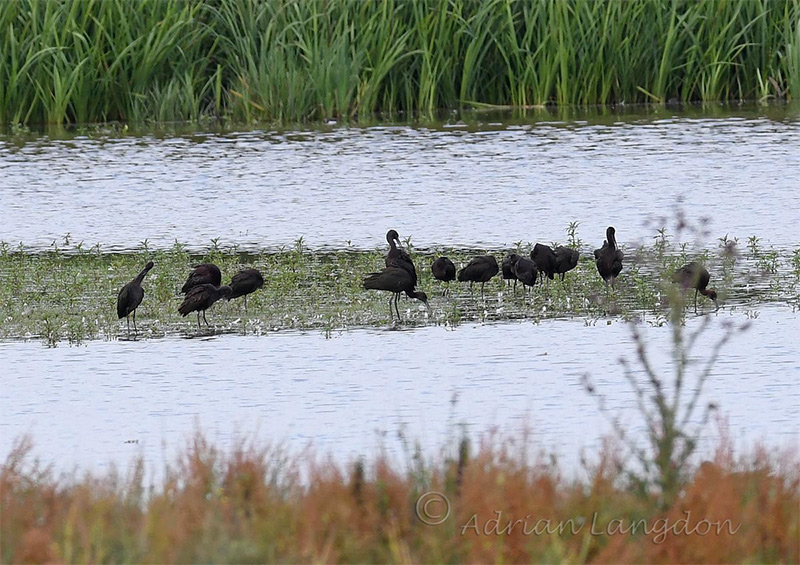 Spoonbills enjoyed another strong showing, with some chunky counts coming in as the week progressed. As usual, it's hard to say precisely how many birds were involved as these mobile birds ebbed and flowed at their regular haunts, but we can certainly say that as many as 120 birds were involved nationwide. Peak counts came from Stiffkey (Norfolk) on 1st August when 36 birds were logged; Havergate Island RSPB (Suffolk) on 29th, with 27 birds present that day; Titchwell RSPB (Norfolk) with 18 birds noted on 27th; and a flock of 16 at Gibraltar Point (Lincolnshire) on 28th.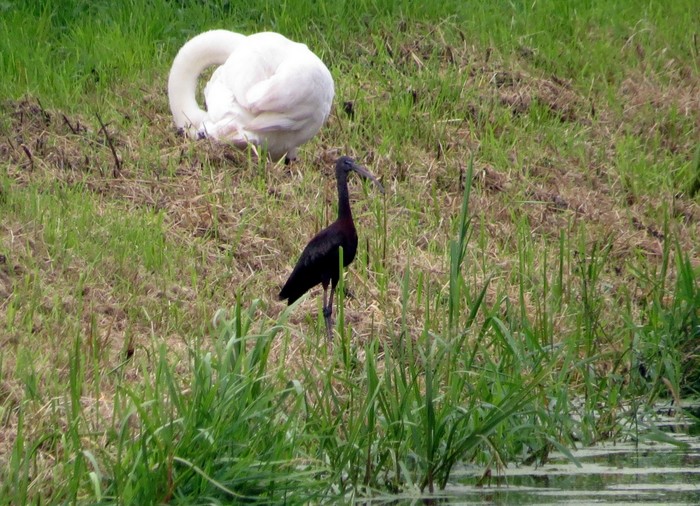 A White Stork was seen on 1st August, over Tangmere (West Sussex); from East Sussex that afternoon came two sightings over East Dene, while in the morning one was discovered in Suffolk in a ploughed field at Helmingham.
Three Common Cranes were found in Shetland mooching through the irises at the edge of the Loch of Hillwell on 29th.
The rarity duck pond remained resolutely calm and unruffled this week, with just a handful of predictable spatula-faces dotting the surface. Starting north of the border, in Scotland the drake Black Duck was once again noted in Highland at Strontian on 26th, while in Aberdeenshire on 30th American White-winged Scoter pilgrims also found one of the regular drake Surf Scoters off the coast at Blackdog; on 1st August a drake and a first-summer drake were noted there.
Moving down to Wales, we conclude this week's duck dabble with the pretty young queen King Eider still present at Ynyslas (Ceredigion) until 30th at least.
Still nothing truly earth-shattering on the shorebird front yet this autumn, but the signs are all there that waders are moving and, give it a while, something of considerable rarity heft may yet come our way.
Both of the recent Marsh Sandpipers put in appearances this week – the Lincolnshire individual seen again, all too briefly, at Freiston Shore RSPB on 28th; and the Kentish individual still a daily fixture at Cliffe Pools RSPB until 1st August.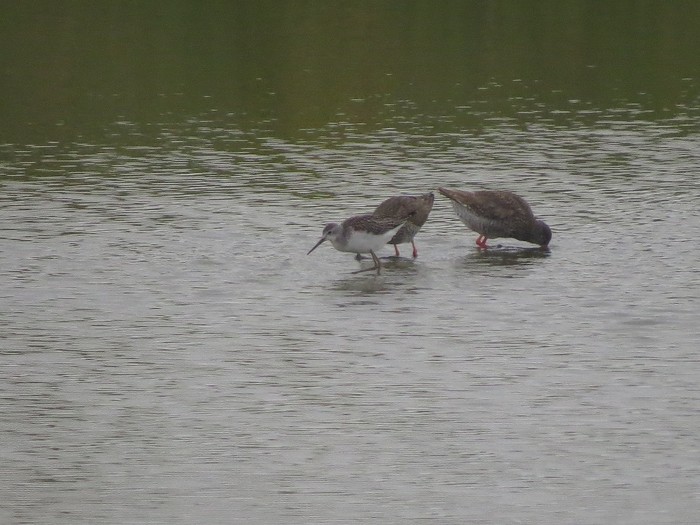 Last week's White-rumped Sandpiper in East Yorkshire was still at Kilnsea on 28th, with a new adult bird found in the Western Isles at Baleshare on North Uist on 29th-30th. A further possible individual was seen flying past Whitburn Coastal Park (Co.Durham) on 30th also. A probable Baird's Sandpiper was seen at Munlochy Bay (Highland) on 28th, with one found on 1st August in the evening at Stanford Reservoir (Northamptonshire).
Five Pectoral Sandpipers included a London bird, at Rainham Marshes RSPB on 29th-30th. Meanwhile, other individuals graced Slimbridge WWT (Gloucestershire) on 26th-27th; Frampton Marsh RSPB (Lincolnshire) on 26th-30th; Skegness (Lincolnshire) on 28th, and Dungeness RSPB (Kent) on 28th-29th.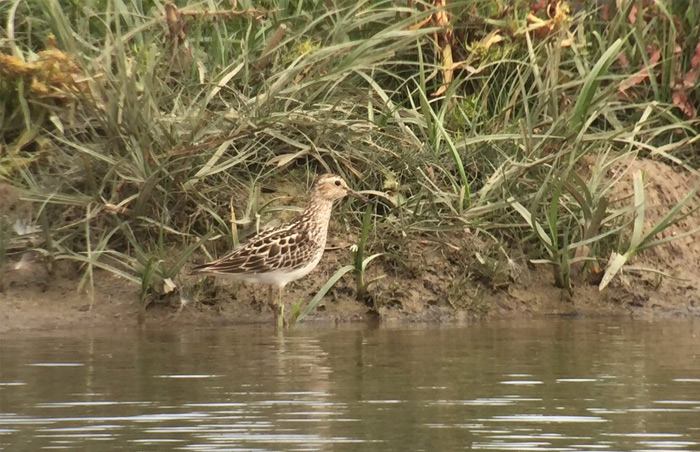 Last week's American Golden Plover in East Yorkshire popped out of the woodwork again on 29th at Kilnsea Wetlands.
We've just the one Temminck's Stint to report this week, seen at Blue House Farm EWT (Essex) on 29th.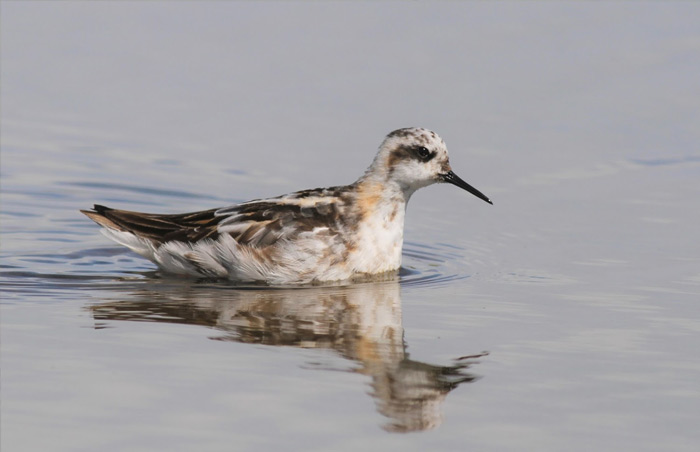 The two Red-necked Phalaropes of late remained on North Ronaldsay's Gretchen Loch until 27th, with one still present on 30th. Elsewhere, individuals were seen at Dunkirk (Cambridgeshire) on 26th-31st and again on 29th, with one also noted in the county at Ouse Washes RSPB on 28th; while a probable flew past Bardsey Island (Gwynedd) on 31st.
No round-up in recent weeks is complete without our breeding contingent of Black-winged Stilts. Extant families remained this week at Potter Heigham (Norfolk) with up to five birds still present; at Ouse Washes RSPB (Cambridgeshire) where two adults and two juveniles continued to pick their dainty way around, with three birds (an adult male and two juveniles) noted at Dunkirk on 29th; and at Cliffe Pools RSPB (Kent) where 11 birds on 27th (three adults and eight juveniles) had slipped back slightly by 30th with 10 birds present that day, and to nine birds on 1st August – in each case losing a juvenile individual.
Top billing in our Gulls & Terns this week must go to the Bonaparte's Gull found (and initially identified as a Little Gull on Brownsea Island on 30th – 1st August. This elegant Larid remains something of a prize in Dorset, with only six previous accepted records to the end of 2015, of which only two come from after the turn of the century – prior to this there had been a considerable hiatus after the last record in 1990.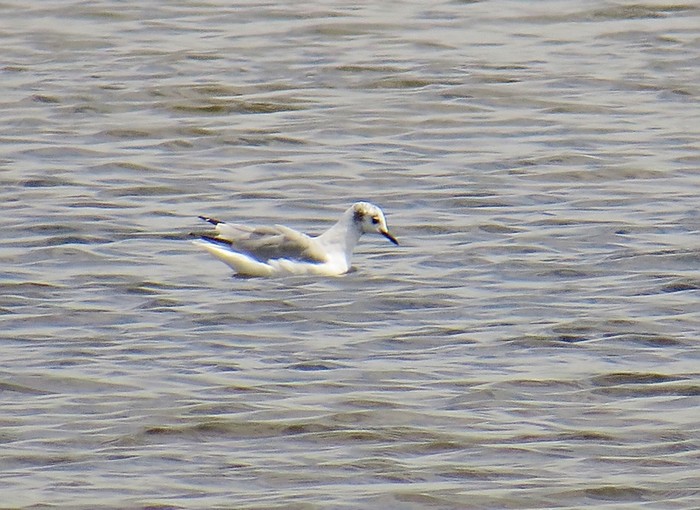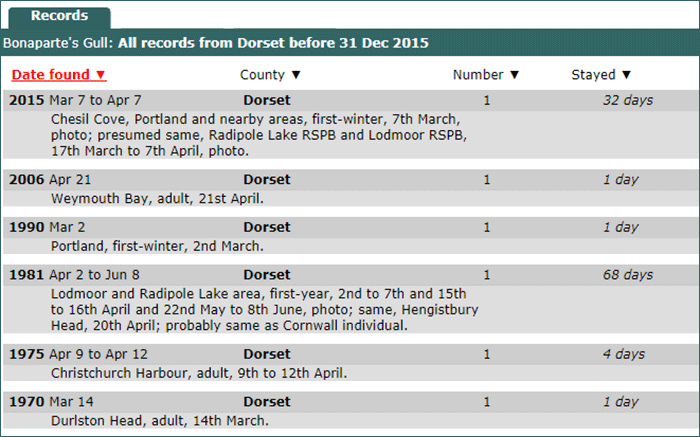 In Kent, meanwhile, the adult Bonaparte's Gull remained faithful to Oare Marshes, present there until 31st.
Given the time of year, it's no great surprise that Ring-billed Gulls remain strangers to these columns of late – but this week was an exception, with a second-summer bird noted in Ireland at Blennerville (Co.Kerry) on 26th and an adult at the species' stalwart site, Nimmo's Pier (Co.Galway).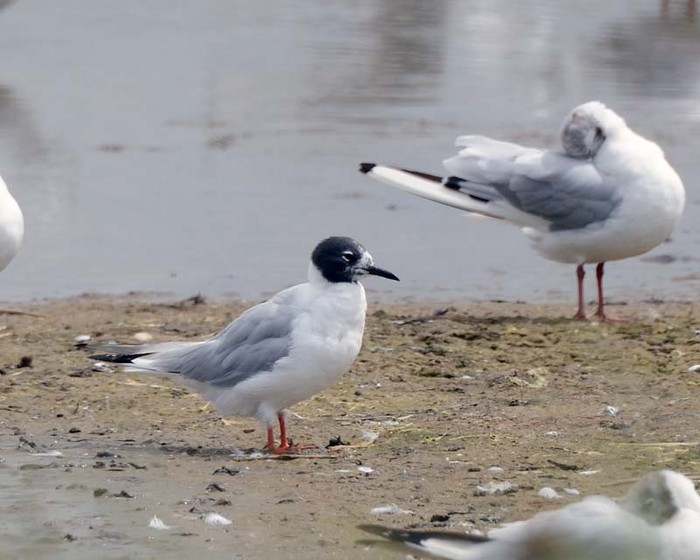 Equally unseasonal white-wingers numbered four Glaucous Gulls and two Icelands - juvenile Glaucous Gulls were seen at Loch Sandary on North Uist on 26th, and along Hendon Promenade (Co.Durham) on 29th, with a possible adult bird noted on 30th at Luce Bay (Dumfries & Galloway), and second-winter bird on North Uist on 31st at Bayhead; while a juvenile Iceland Gull remained at Kildonan on South Uist (Western Isles) on 26th, with a second-summer bird seen on 28th on North Uist at Balranald RSPB.
I'd hoped for more Sabine's Gulls this week, particularly given the notable successes of the Cornish, Scilly and Irish pelagic trips, but we've only a handful of records to go at – a brace seen from Galley Head (Co.Cork) on 29th; a first-summer past Porthgwarra (Cornwall) on 30th; an adult bird past Gorleston-on-Sea (Norfolk) on 31st; and on 1st August, a single bird past Whitburn Coastal Park (Co.Durham).
Meanwhile we enjoyed a triptych of terns this week, starting with a
Gull-billed Tern
on 26th at Martin Mere WWT (Lancashire); and a further probable individual of this species noted flying past Cley on 29th.
The week commenced with the juvenile White-winged Black Tern still at Kilnsea (East Yorkshire) on 26th. On 27th – 1st August a juvenile was at Far Ings NR (Lincolnshire).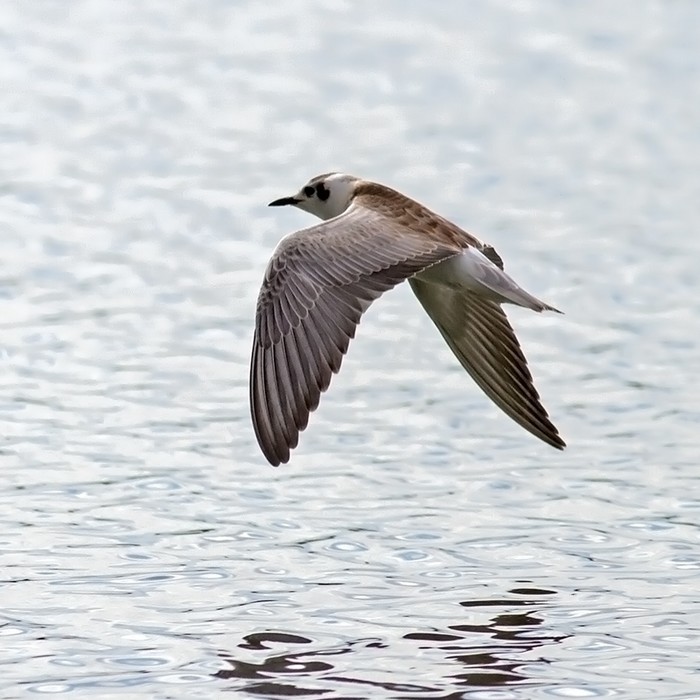 The week's terns wrap up with the summering Forster's Tern still present all week at Soldier's Point (Co.Louth) in Ireland.
Our headlines would have been a (slightly) different place this week had the possible Short-toed Eagle seen distantly in Surrey at Merstham on 30th been closer at hand and confirmed…
…or, for that matter, had the first-summer male harrier seen on 31st near Worlaby Carrs (Lincolnshire) been attributable to one or other of Pallid or Montagu's Harrier. An indisputable juvenile Montagu's Harrier was seen on 31st at Lytchett Fields RSPB in Dorset.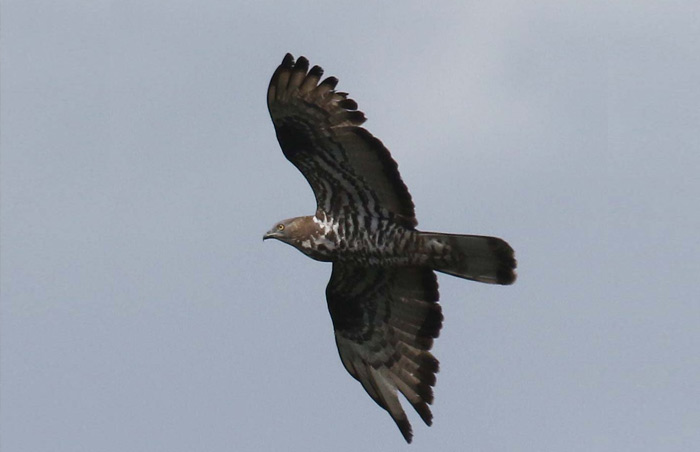 Instead, we'll just make do with a good scattering of Honey Buzzards - ranging from the regular site in Wykeham Forest (North Yorkshire) with a peak count of three birds on 28th, to singles seen across the country: on 26th at Beckley (East Sussex); on 27th in Highland at Hill of Fortrose; on 28th at Crowborough (East Sussex) and near Sandwich (Kent); still in Kent on 30th at Shodoxhurst; and elsewhere on 30th at Chedgrave (Norfolk) and Nosterfield (North Yorkshire). Returning to Shadoxhurst, three birds were reported from here on 31st, with a further sighting of a male on 1st August there. On 1st also one was noted in East Yorkshire at Holmpton.
There was the merest whiff of autumn this week in the passerine news, with two Red-backed Shrikes hinting at things to come – females seen at Filey (North Yorkshire) on 26th – 1st August, and at Spurn (East Yorkshire) on 29th.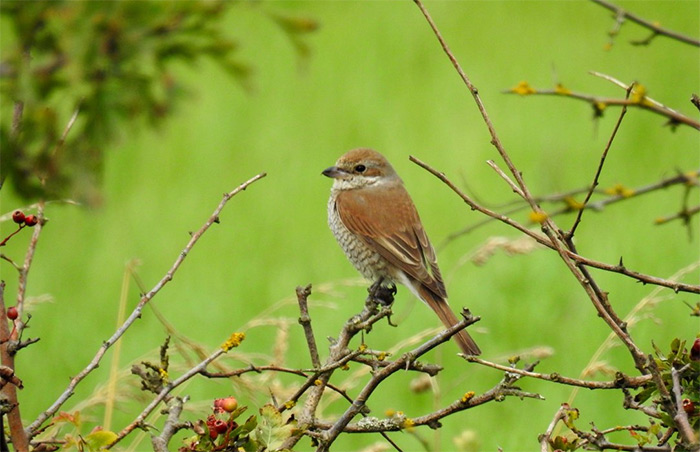 Said shrikes were, however, overshadowed by the bold flavour of late summer – my wishful thinking last week that my house list still had a yawning gap where Two-barred Crossbill was concerned coming agonisingly close to being fulfilled on 29th when two carmine males made a brief appearance in a garden on Whalsay (Shetland) – a birder's garden, but just not mine! The long wait continues…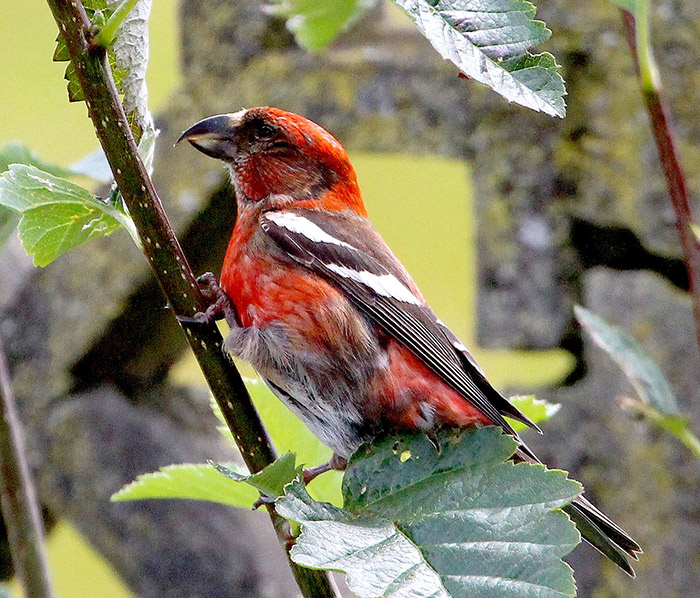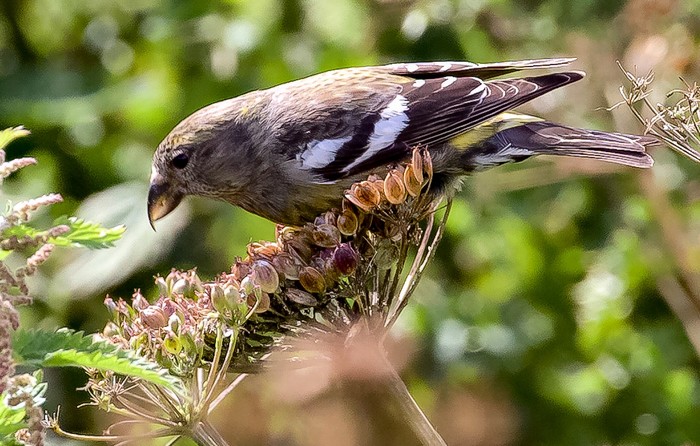 Elsewhere in Shetland last week's duo on Unst at Baltasound was joined on 27th by a second female bird, with the first-summer female alone remaining there until 31st, and a further probable heard flying over the Kveldsro Hotel in the heart of Lerwick's myriad lanes in the morning of 1st August, while a juvenile was found dead on Fetlar at Bealance. Meanwhile on the Isle of May (Fife) the adult female remained present until 29th.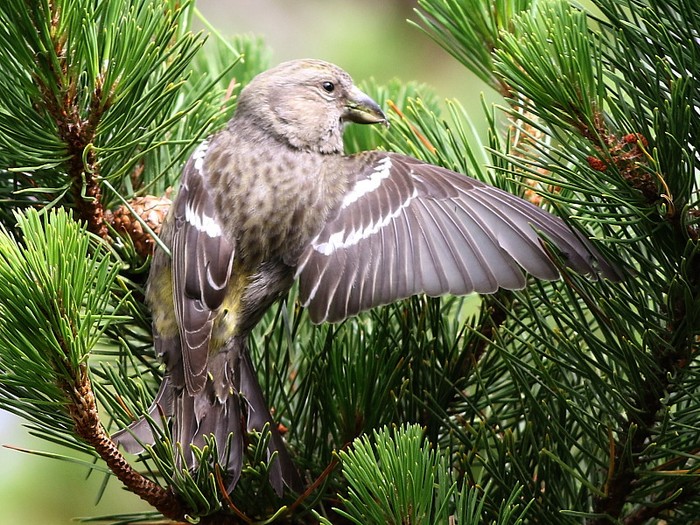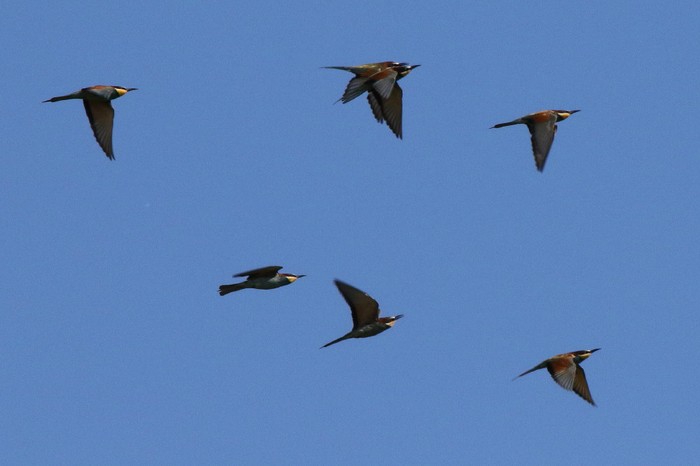 Heading south, we can check in with our breeding Bee-eaters at East Leake (Nottinghamshire) – still present this week with seven birds noted there from day to day.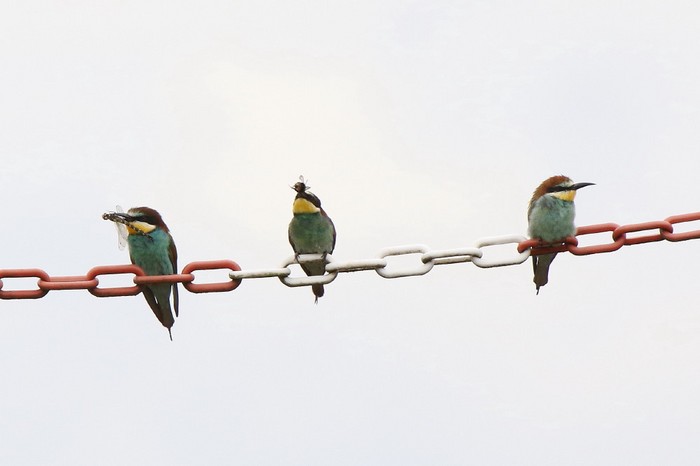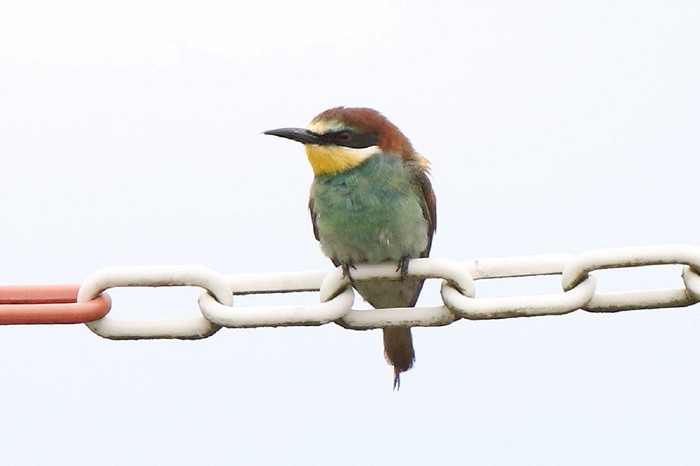 Our brief, colourful, passerine section concludes with the adult Rose-coloured Starlings still present on Fair Isle (Shetland) on 28th and at Embo (Highland) until 1st August, with one noted on a dung heap at Balnakeil (Highland) on 30th – 1st August.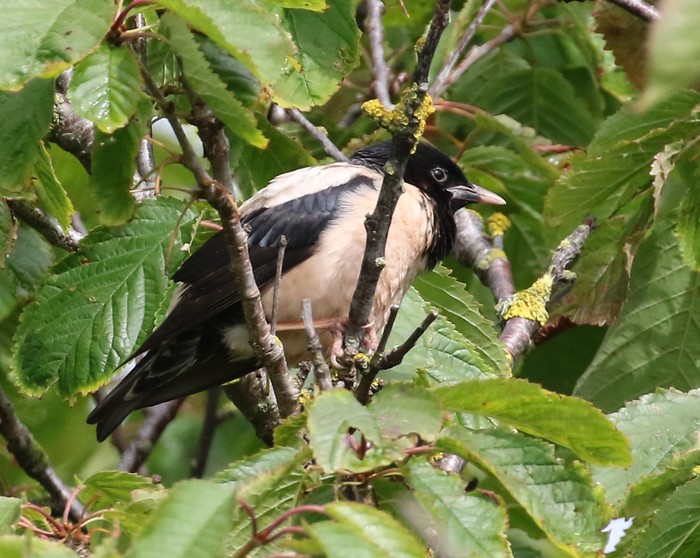 While the visiting Elegant Tern on the English south coast earlier this summer is already a fading memory, the species remains very much a fixture elsewhere in Europe at the moment. A fixture that's busy breeding… Birds were noted this week in Spain, starting on 28th at Bahia de Cadiz in Andalusia where two adults and a juvenile were recorded; on 30th adult birds were logged in Almeira at Roquetas de Mar and in Valencia at Sagunto.
Almost a reliable fixture now, the Black-browed Albatross was still being reported from Germany at Sylt, Schleswig-Holstein, daily until 30th.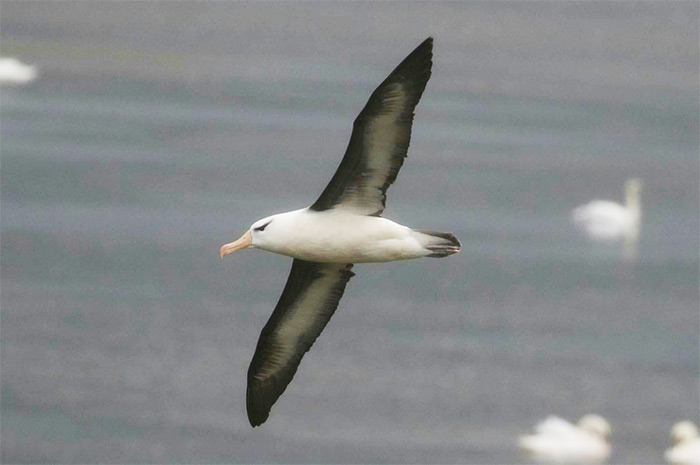 The Whimbrel formerly known as Hudsonian was seen in Spain in Cantabria's Parque natural de las Marismas de Santona on 29th; on 31st a less contentious American wader was found on the Azores – a Solitary Sandpiper on Sao Miguel at Faja de Cima.
A Great Spotted Cuckoo was found in Sweden on 29th on Gotland at Hamra.
In Italy a Western Reef Egret was at Parma on 31st.
And finally, on 26th a Bataleur was seen in Israel at the Golan Heights at G'ilabun River, with a Yellow-billed Stork noted on 30th in the Harod Valley at Kfar Yechezkel.
Well, here we go – it's the first week of August ahead of us, and that either means late summer birding doldrums, a cold lager / G&T (delete as appropriate) in the garden and the smell of next door's barbecue…
…or it means slapping on some sunscreen / waterproofs, getting out there to the coastal fringes, and putting some effort in. Cos somebody's got to find those birds, and it's on the coast that the big one is likely to be a-lurking – either passing by during a seawatch, or pitching down to refuel on an estuary or wetland.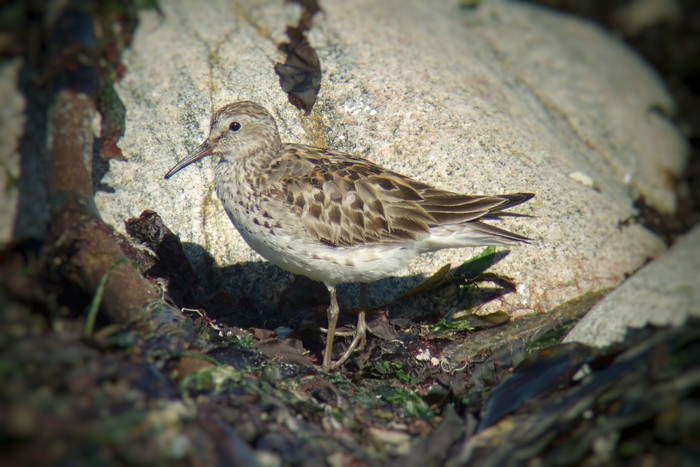 A rheumy-eyed journey into the past provides some food for thought: while it's absolute high season for White-rumped Sandpipers there is richer fare available too, from no fewer than ten records of Pacific Golden Plover to the really choice morsels of the likes of Sharp-tailed and Stilt Sandpipers.
Look out to sea and we're firmly in Fea's Petrel territory or, for the really keen-eyed, an incontrovertible Barolo Shearwater. (After the past couple of weeks, more Wilson's Petrels feel like a given, particularly looking at the seawatching-friendly forecasts at the start of the week…)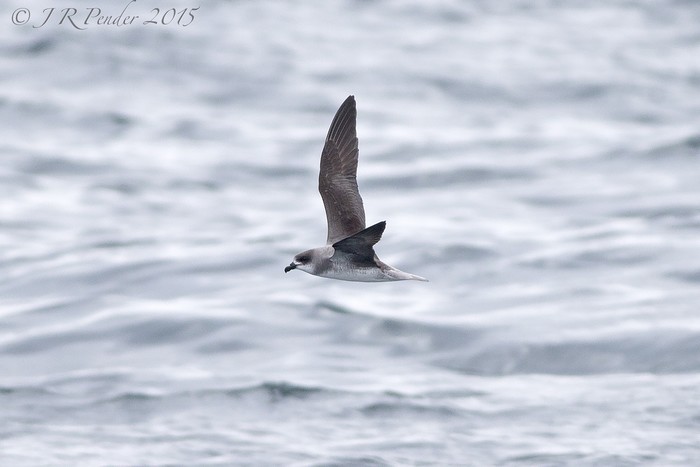 So too, one would assume, are more Two-barred Crossbills. I hear there are "huge numbers" in Sweden at the moment, which is promising news indeed. While traditionally a northern isles speciality, a scattering of past records from mainland Scotland, the north of England and even as far west as Lundy and Belfast suggest that, on their day, the odd one or two might turn up pretty much anywhere.
Any of which would be a lot tastier than a charred sausage or a half-cooked (unchlorinated) chicken thigh off the barbie…
Jon Dunn
2 August 2017
Share this story
Tweet


Many thanks to all contributors for their photos and videos this week.
Joe Pender, Seamus Enright, Graham Hall, Fair Isle Bird Observatory, Mark Johnson, Rob Stonehouse, John Nadin, Richard Doan, Adrian Langdon, Chris Hubbard, Max Hellicar, North Ronaldsay Bird Observatory, Michael Tew, Ian Ballam John Rowland, Colin Scott, Dave Mansell, Colin Bushell, Craig MacInnes, Brian Marshall, David Cooper, Dave Burns, Toby Green, Kris Gibb,