Weekly birding round-up: 19 - 25 July 2017
The week at a glance
Epic sea-watching conditions deliver Wilson's Petrels (and more besides) in south-west England
The drake American White-winged Scoter is seen again off the Aberdeenshire coast
While the Suffolk Collared Pratincole remains lurking in the county
The weather forecasters summarised the past week as 'unsettled' – which is, I think, weather-forecaster-speak for a mixed bag of summer wind, rain and sunshine. In a nutshell, a low pressure system whipped things up at the start of the week before a ridge of high pressure calmed things down as the week drew to a close.
'Unsettled' would also be a handy adjective to describe the emotions of Britain's birders – both those of us who watched, vicariously from afar, events unfolding in the south-west of England, and especially those sea-watchers who'd made a good call and stationed themselves on handy southerly headlands from Cornwall to Dorset. For some, that decision was to pay off handsomely.
For those of us not sat in the heart of the action, it began to feel like we were missing out on something of an Event as a roll-call of iconic seabird rarities began popping up on the pagers…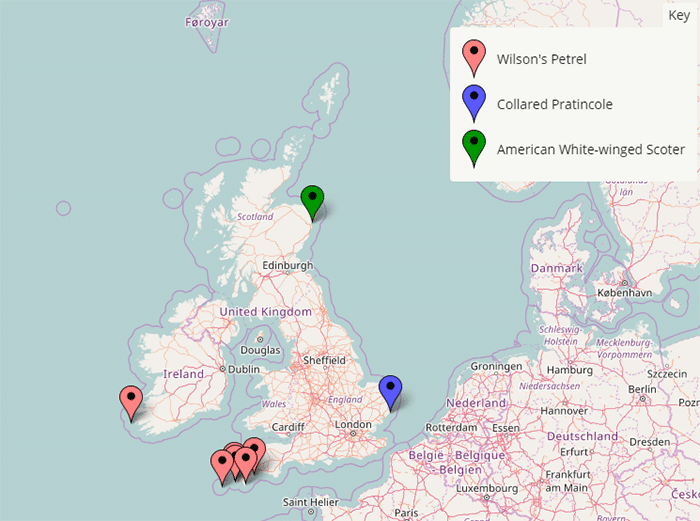 Wilson's (and other) Petrels
In the normal order of things at this time of year I wouldn't be elevating Wilson's Petrels to the giddy heights of the headlines. They are, after all, pretty much a given nowadays from the excellent pelagics that operate out of Scilly.
They are, however, a much rarer proposition from mainland, land-based seawatches and, that alone, would be enough to warrant some warm words. Not least when ten sightings are made in said week. This week, however, they also serve as an hors d'oeuvre for some even tastier affairs altogether…
But first things first, those Wilson's Petrels - and it fell to Cornwall's headlands to provide first blood, with single birds noted on 21st from The Lizard and Porthgwarra. The latter site provided two further individuals the following day, while a fifth bird was seen on 23rd from the vantage point of Cape Cornwall. For all there have been many Wilson's seen down the years off nearby Scilly – including, this week a quartet from a pelagic on 24th - the species remains a genuinely rare prize for the land-based seawatcher, so these Cornish records will have been keenly anticipated and eagerly discovered. (As the week drew to an end, an Irish bird was finally uncovered from the Skellig Islands (Co.Kerry) on 25th).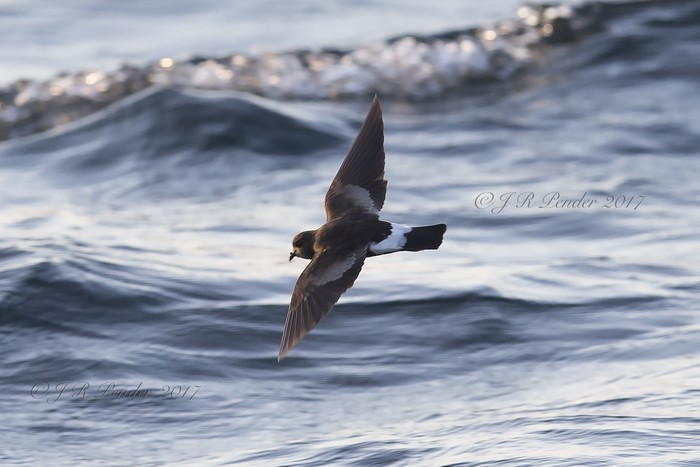 Of course, there was a time a few decades ago when Wilson's Petrel was about the limit of what we dared dream was, barely, possible from land. Then things went all Soft-plumaged Petrel on us and, with sightings of what we came to know as Fea's Petrel (and their ilk) increasing in frequency through the 1990s and beyond, a new bar had been set.
We dreamed bigger still when the first Cape Verde/Madeiran/Monteiro's Petrels passed the finishing post and were accepted for what they were – one at sea 13km SE of Scilly on 28th July 2007 followed shortly afterwards by one seen from land at Pendeen (Cornwall) on 16th September later that year. Pendeen went on to claim further records on 3rd September 2009 and 6th September 2011, while one was claimed off Galley Head (Co.Cork) on 18th July 2010.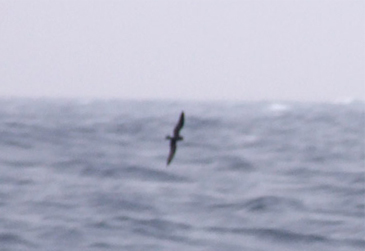 Fast forward to this week and we've another contender – one seen mid-morning on 22nd from Prawle Point (Devon). That alone would, in any normal week, be the icing on ten Wilson's Petrels' cake, but this was no normal week…
One of the most stupendous sightings of the first decade of the new century has to be the White-bellied or Black-bellied Storm Petrel watched for a little while in the morning of 25th November 2009 from Severn Beach in Gloucestershire. A Southern Hemisphere Fregetta, seen from land in Britain? Surely not. But it really was… and, on 21st this week, a report of a possible White-bellied Storm Petrel came from Cornwall's mighty Porthgwarra. Couched with all the caveats in the world, this made your own correspondent come over all Fox Muldery:
I want to believe…
I think I'm guilty of some double standards here – every summer I see reports of dark Booted Eagles and my inner monologue treacherously mutters "Buzzard"... (Oh come on - you're thinking it too!) But show me a report of an eyewateringly rare seabird, say, a probable Scopoli's Shearwater passing aforesaid Porthgwarra on the morning of 22nd July or a possible Bulwer's Petrel going through the same site later that day, and I find myself doing a little rueful shrug and thinking "yeah. That could happen." (And this week, those two reports were also in the news…)
Now is probably a good time to revisit one of the classic British Birds papers of recent(ish) years – Colin Bradshaw's consideration of the probable Herald Petrel seen from Dungeness (Kent) on 4th January 1998 and subsequent discussion about how such records are assessed, and the levels of evidence felt necessary for them to be accepted. What do you think the observers saw that January morning? And was the BBRC's decision the correct one?
American White-winged Scoter
It seems churlish to relegate the likes of American White-winged Scoter to the realms of supporting-cast as, after all, it's still a pukka, genuine, mega with only a handful of records to its name – after the first drake in Ireland off Rossbeigh for 70 days in early 2011, a first-summer drake turned up off the Aberdeenshire coast later that summer and, intermittently, presumably accounts for subsequent sightings from the east coast of Scotland in the years that followed.
He's back again this year, and was reported a few times this past week off the beach at Blackdog (Aberdeenshire) – seen there over the weekend on 22nd-23rd. I'll be passing through Aberdeen in early August and will be taking my scope with me… It'd be rude not to, really.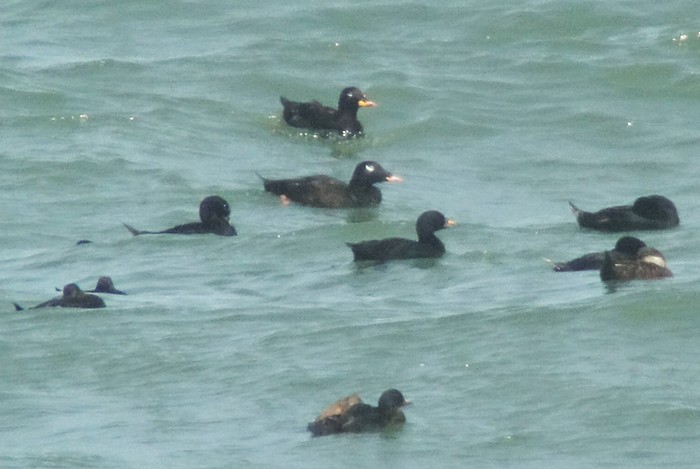 Collared Pratincole
Late to the news-party but present all week in Suffolk was a Collared Pratincole – presumably the same bird that was last seen on 13th at Aldeburgh, this was present at Orford Ness NNR from Wednesday 19th until the weekend.
It's not the most straightforward of sites for access (though it's hardly a moon shot, National Trust…) so this may be one for the Suffolk-listers rather than the casual birder. Then again, it's a flippin' pratincole and they're simply lovely - so maybe, now news is out there, it would attract a few admirers after all should it be seen again.
It's fitting, in a week that featured so many actually and potentially stupendous seabirds, that we kick off our run through the rest of the week's news with their scarcer brethren…
And where better to start than with the large shearwaters? Cory's Shearwater is a perennial crowd-pleaser, and it's great to have some chunky numbers to get our teeth into: around 1,100 were logged over the course of the week, with a noticeable peak occurring on Friday 21st – The Lizard (Cornwall) accounted for 296 birds, while further east in Devon Berry Head returned a respectable 181 individuals and Portland Bill (Dorset) 25 birds. Predictably most of our week's Cory's were seen in the southwest, but as the week drew on individuals had filtered up the English Channel and into the North Sea – singletons were seen in North Yorkshire on 22nd and 24th at Old Nab, while Norfolk got in on the act with a bird passing Sheringham on 24th also.
Great Shearwaters were less numerous, though their pattern of occurrence mirrored that of Cory's, with a southwesterly bias and a spike in sightings on 21st – peak counts came that day from Berry Head with 82 birds and The Lizard with 66 birds noted. In all around 300 birds were logged. Seawatchers will be keeping a keen eye on the weather charts in the coming days – there are surely more large numbers of large shearwaters (and the possibility of further goodies) to come…
Back to this past week, and we move onto Balearic Shearwaters - with around 100 birds reported this was the scarcest of the three notable shearwaters this week, with double figure counts coming only from Portland Bill on 21st and 22nd when 10 or so birds were logged daily. Away from the southwest birds were noted in Wales, with a singleton off Port Eynon (Glamorgan) on 22nd and Strumble Head (Pembrokeshire), the latter accounting for three birds on 23rd; in Scotland, with a single bird noted from Scoughall (Lothian) on 23rd; and North Yorkshire, with one seen from Old Nab, again on 23rd, and Norfolk where four were reported past Sheringham on 24th.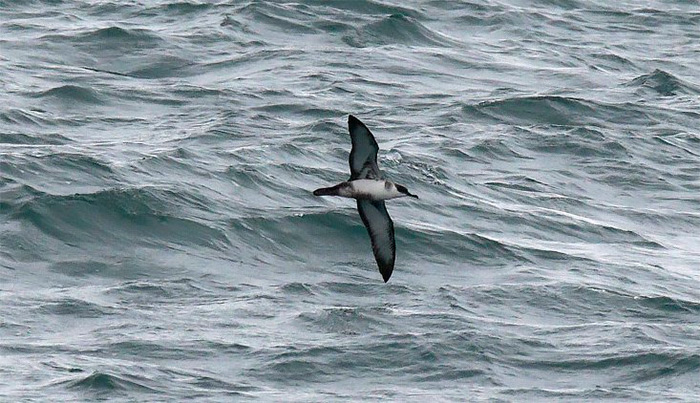 Five Long-tailed Skuas were reported this week – on 21st off The Lizard; on 23rd from Brixham (Devon) and Snab Point (Northumberland); on 24th also in Northumberland at Hadston Carrs; and early on 25th in Co.Durham off Whitburn Coastal Park.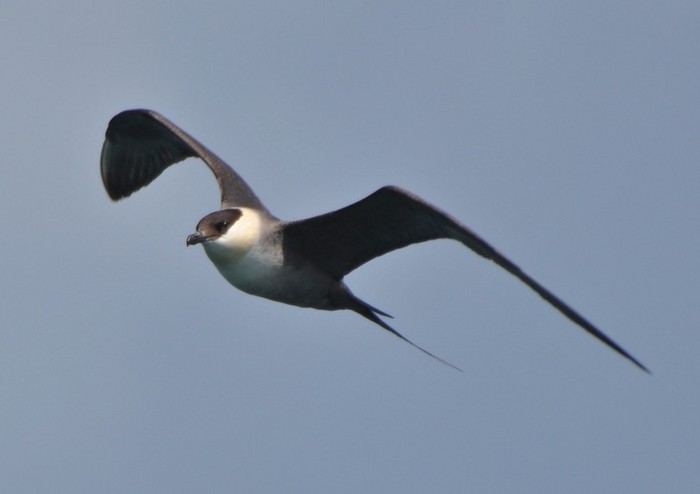 Meanwhile slightly higher numbers Pomarine Skuas were noted, with around 20 birds logged from as far afield as northern Scotland (one seen on 21st from Collieston in Aberdeenshire) down to the very tip of Cornwall, with the northwest also getting in on the act with one noted from Blackpool (Lancashire) on 23rd.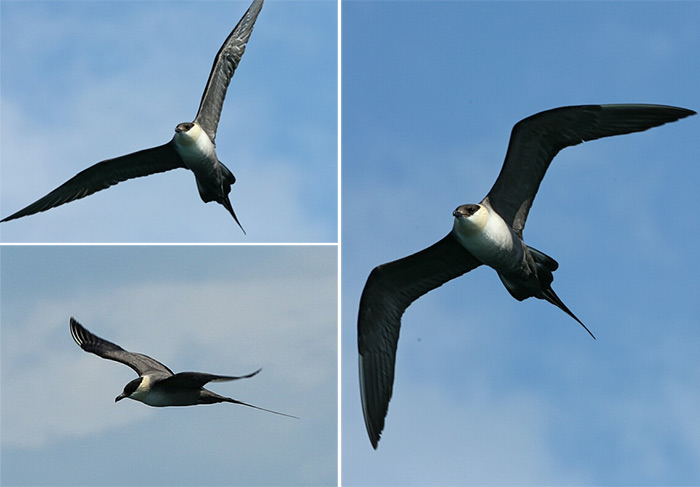 Finally, and unconventionally midsummer, we round the seabirds up with a White-billed Diver seen in Dunnet Bay (Highland) on the morning of 21st.
While I've not made any predictions of forthcoming rarities with quite the uncanny accuracy displayed by Mark 'band-rumped petrel' Golley in these columns lately, I'm quietly pleased that my allusion to breeding Cattle Egrets somewhere in Dorset some weeks ago proved to be a well-founded rumour. Hardly a mega, but a good news story – eight birds, comprising four adults and four youngsters, remained at Burton Bradstock on 22nd.
Elsewhere, at times it seemed like we were knee deep in Cattle Egrets this week, both breeding and wandering birds alike. A peak count of seven came from Somerset's Westhay Moor NNR on 21st, while South Huish Marsh (Devon) held an adult and two juveniles still until 22nd at least. Notable tallies elsewhere amongst the approximately 40 birds recorded across 11 counties included up to three throughout the week in Cornwall at Walmsley Sanctuary peaking with four there on 24th-25th, three at Lodmoor RSPB (Dorset) on 20th, and four at Aveton Gifford (Devon) on 24th. One over Ingrebourne Valley on 22nd was a tremendous London sighting.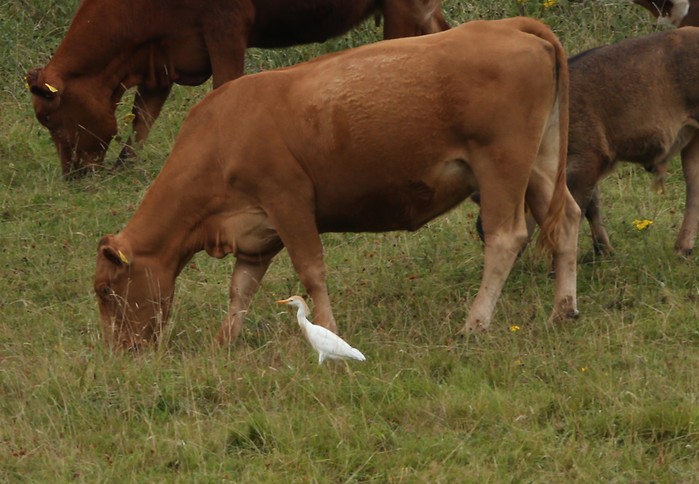 In the absence of any big number counts from the breeding heartland of the Somerset Levels, overall numbers of Great White Egrets were down somewhat this week with 27 birds recorded in 12 counties. Most of these involved singletons or the odd duo, including a Somerset-ringed juvenile dispersing to Kent (seen at Sandwich Bay on 19th-24th), with only a handful of multiple sightings – three over Shotton Steelworks (Flintshire) on 19th, and four noted on Rutland Water (Leicestershire) on 20th and again on 23rd.
A couple of tantalising reports of Purple Heron emerged on 23rd – one reported at Chigborough (Essex) and another in Cheshire at Rostherne Mere.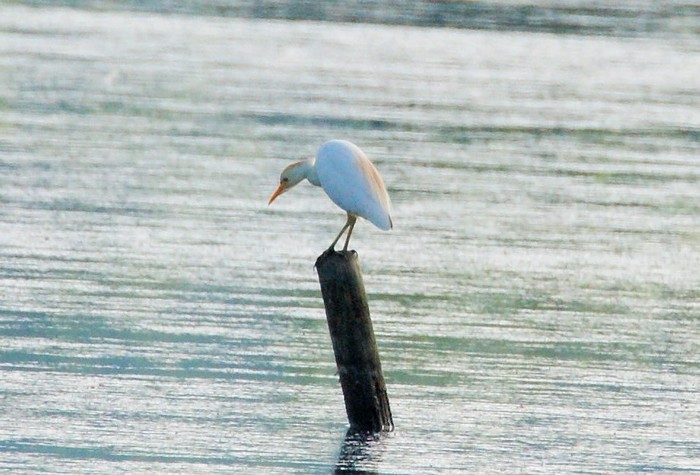 The adult male Little Bittern emerged from his reedbed rootlings early on the morning of 25th at Ham Wall RSPB (Somerset). I like to think we all know what he's getting up to in there.
More concrete was the ongoing stay of the settled adult American Night Heron at Dingle Gardens, near Shrewsbury (Shropshire) until 23rd at least. Were this, say, a Hooded Merganser we'd be feeling somewhat uneasy by this point in such a protracted visit…
Speaking of putative wire-hoppers, reports of White Stork this week in Norfolk were tainted somewhat by the spectre of a free-flying introduced bird that frequented Kelling Quags off and on as the week progressed. What then to make of the sightings in Norwich at Hartford Manor School on 23rd and Hempnall on 24th?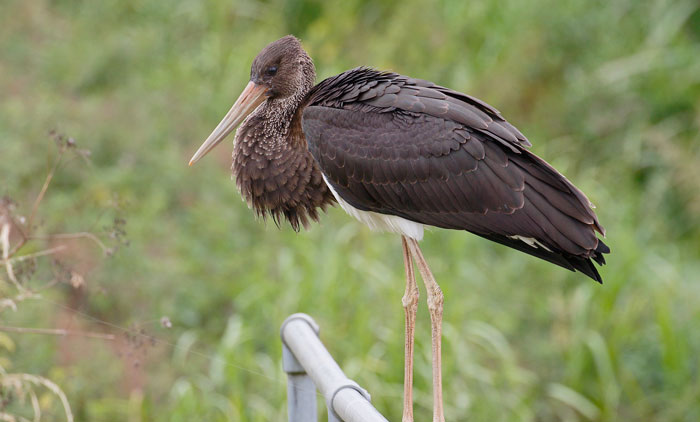 Less contentious altogether were sightings of Black Storks - one lofted over Honey Buzzard Central, aka the Wykeham Forest raptor watchpoint in North Yorkshire on 21st, while on 24th-25th a juvenile gave good views at Dunsby Fen in Lincolnshire before flying south in the late morning of 25th. In presumably not unrelated news one flew south over Woodwalton Fen NNR (Cambridgeshire) in the early afternoon…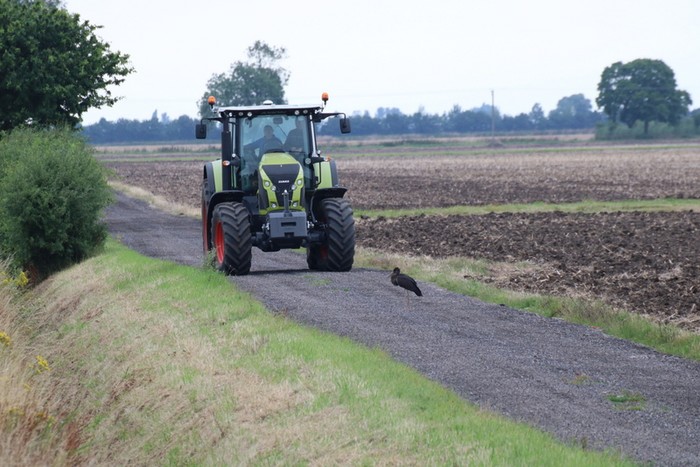 Before we go rattling the cutlery drawer, we'll take a brief diversion with the week's Glossy Ibises - four birds were noted: one at Trimley Marshes SWT (Suffolk) still until 25th; another seen again on Shapwick Heath NNR (Somerset) on 22nd; one in Essex at Old Hall Marshes RSPB on 24th-25th; and one over Dungeness RSPB (Kent) on 25th.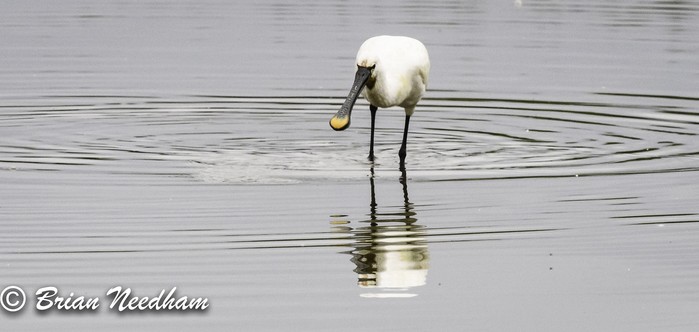 And so to Spoonbills - and where exactly do we begin with them, as they go from strength to strength in the country? Around 140 birds were logged during the week, though it's hard to say where there may have been duplication of records as their numbers were fluid across many sites as the days went by. What we can say with some certainty is that Norfolk remains the locus mirabilis for the species – notable flocks coalesced at Titchwell RSPB with a peak of 20 birds on 23rd, and Stiffkey with 25 birds on 23rd. That said, Lincolnshire and Suffolk weren't looking too shabby either, with a peak count of 15 at Alkborough Flats NR (Lincolnshire) on 19th, and 20 at Havergate Island RSPB (Suffolk) on 21st.
Away from the breeding areas, we had just two records of wandering Common Crane this week – flying through Frampton Marsh RSPB (Lincolnshire) on 21st, and over Melkridge (Northumberland) on 25th.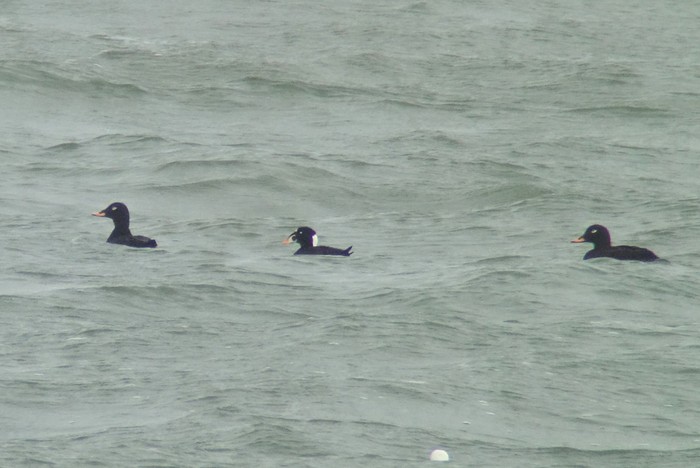 A predictably peaceful midsummer week amongst the wildfowl enlivened, American White-winged Scoter aside, by the continuing presence of the subtly beautiful first-summer female King Eider at Ynyslas (Ceredigion) – the young queen was still there to 24th at least. Meanwhile, accompany said scoter at Blackdog (Aberdeenshire) were three drake Surf Scoters on 22nd; while on 19th an eclipse drake American Wigeon was reported from Hay-a-Park (North Yorkshire).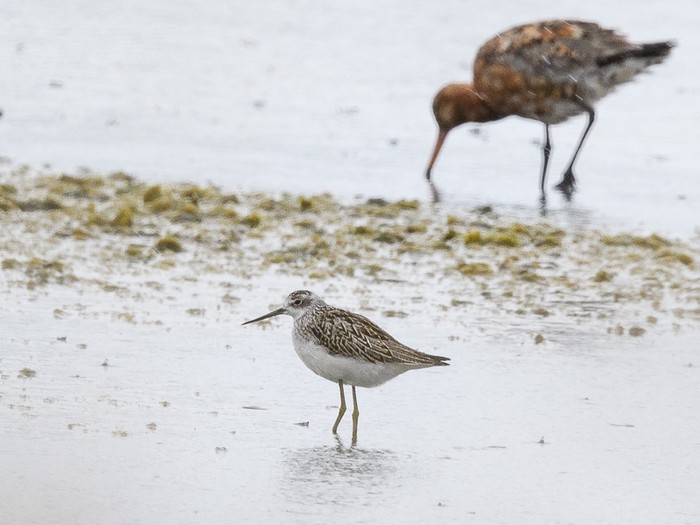 While last week's dainty Marsh Sandpiper continued to delight this week in Kent at Cliffe Pools until 24th, and a new bird scraped in at the week's end on 25th at Freiston Shore RSPB (Lincolnshire), there was generally a somewhat more Nearctic flavour to this week's shorebirds. Autumn is definitely getting under way, and things are beginning to shape up nicely on British and Irish estuaries and wetlands…
The adult Semipalmated Sandpiper found last week at the mighty Tacumshin (Co. Wexford) was still present there on 21st, while a further probable was seen all too briefly in the evening of 24th in Devon at Topsham.
Last week's brief White-rumped Sandpiper in Kent was the first of 2017, but by no means the last – more followed this week, with a settled individual at Kilnsea (East Yorkshire) on 21st-25th, and another brief visitation – this time to Banna Minn on Burra (Shetland) on 23rd. One of these days the latter site, looking straight out across the Atlantic, and blessed with myriad boggy pools, short turf areas and a cracking sandy beach, is going to land an absolutely monster American wader…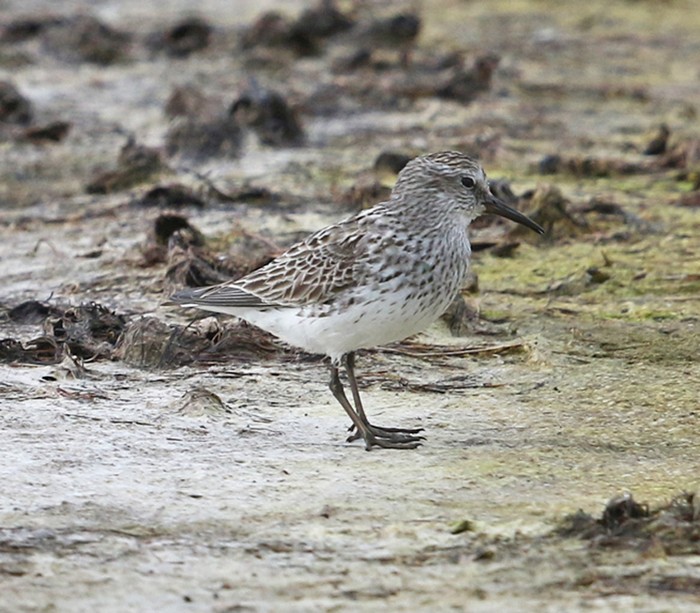 Cheshire's Burton Marsh provided this week's Lesser Yellowlegs on 21st, while a handful of Pectoral Sandpipers hinted at things to come in the next few weeks – in Northumberland one remained on Newton Pool on 19th-20th; Frampton Marsh RSPB (Lincolnshire) hosted one on 20th-25th; Norfolk accounted for sightings at Titchwell RSPB on 19th-25th and Breydon Water on 20th; Pegwell Bay (Kent) held a bird on 20th-22nd; and in Cornwall one was at Walmsley Sanctuary on 21st.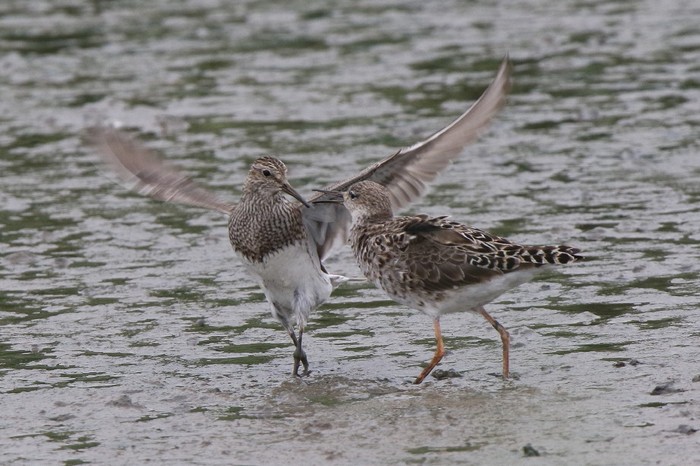 East Yorkshire, meanwhile, hosted both favours of rare golden plover this week on consecutive days – on 21st an adult Pacific Golden Plover graced North Cave Wetlands YWT, while on 22nd an adult American Golden Plover dropped into Spurn on the Humber until pushed off by the rising tide – presumably this latter was the same bird that was found in the late afternoon of 25th on Kilnsea Wetlands – sharing the locale with the White-rumped Sand.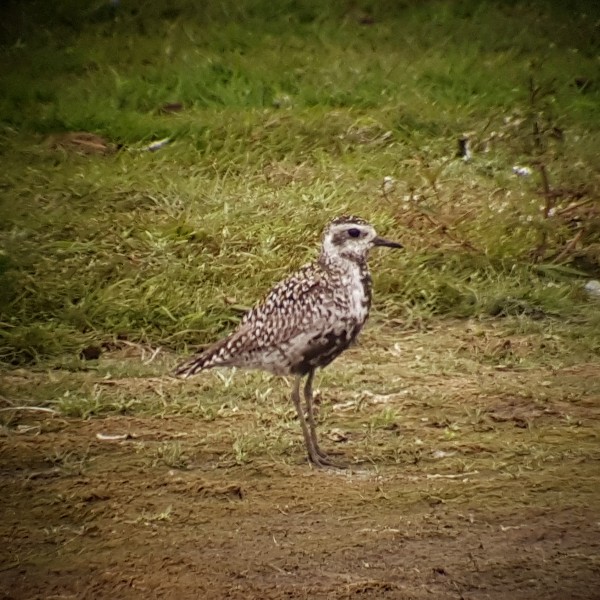 Temminck's Stints proved a little bothersome this week – while confirmed birds were present at Pegwell Bay (Kent) on 20th, New Passage (Gloucestershire) on 19th-22nd and Dungeness RSPB on 25th, birds at Benacre Broad (Suffolk) and Crook of Baldoon (Dumfries & Galloway) on 21st remained probables only.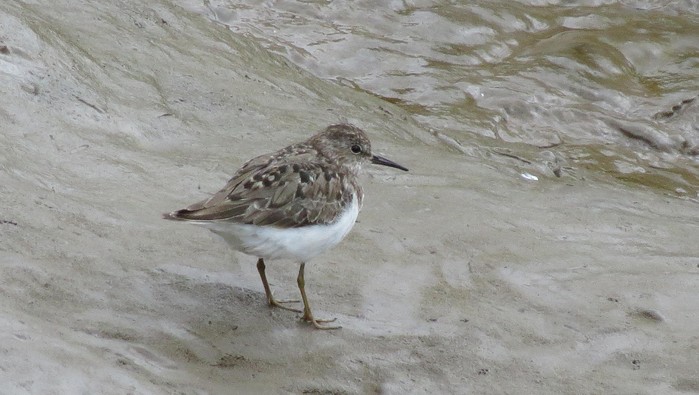 Two Red-necked Phalaropes remained on North Ronaldsay's Gretchen Loch until 23rd, while a single bird found Lincolnshire's Frampton Marsh RSPB very much to its liking – present there on 19th-24th still. Oddly, given the good seawatching situation this week, just the one Grey Phalarope was reported – from Pentire (Cornwall) on 25th.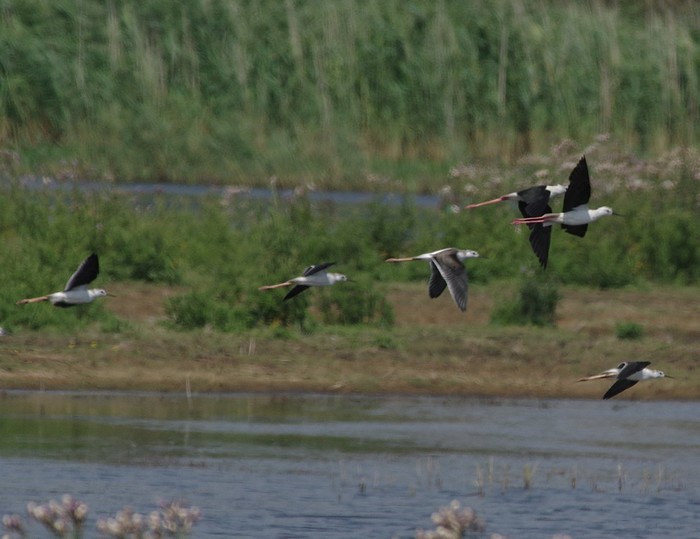 Which brings us to the summer's happiest event (Cattle Egrets and Bee-eaters notwithstanding) – our breeding Black-winged Stilts. Extant families remained this week at Potter Heigham (Norfolk) with six birds still present until 23rd; at Cliffe Pools RSPB (Kent) with 10 birds still there on 23rd; and at Ouse Washes RSPB (Cambridgeshire) where four birds were still going strong on 24th. Elsewhere, three were reported from Kent's Oare Marshes on 23rd.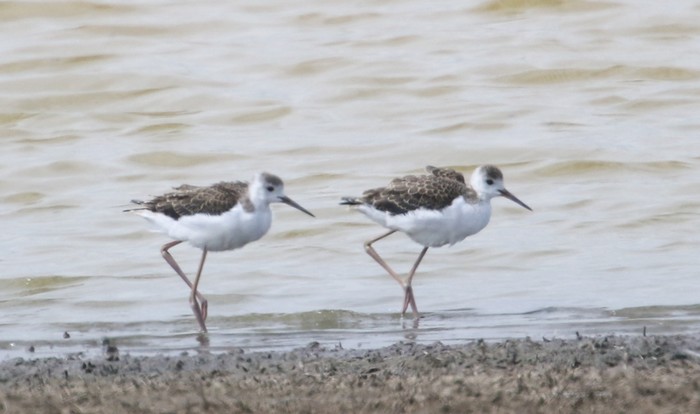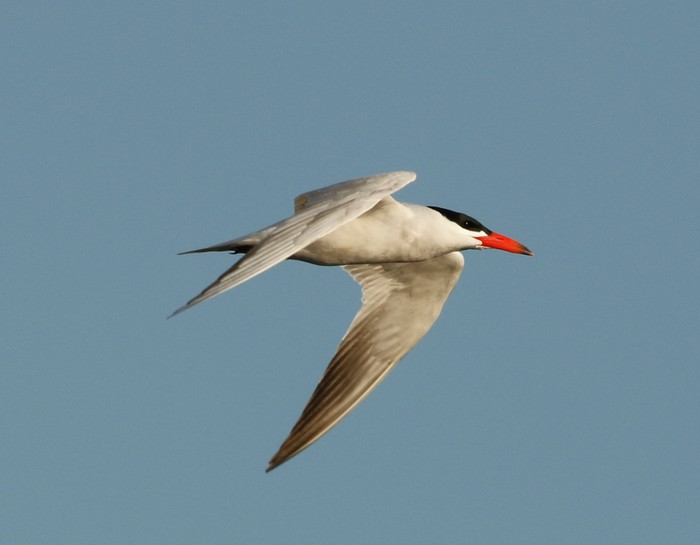 Our wandering Caspian Tern of late continued to do its thing this week, picking up where last week left off at Swillington Ings (West Yorkshire) on 19th-20th before going AWOL for a while... When on 24th one turned up at Kenfig NR (Glamorgan) and the WWT National Wetlands Centre (Carmarthenshire) one would have to assume that this was, most likely, that selfsame indiviudual popping back out of the woodwork. I wonder which inland water body between West Yorkshire and Wales it had been lurking on in the meantime... A lesson, were one needed, that it's always worth persevering with even the most unpromising of inland local patches. You just never know...
Another familiar tern came this week in the delightful form of the White-winged Black Tern still in the Western Isles at Tarbert on Harris on 19th. Shortly afterwards an adult, presumably last week's Orcadian individual, arrived on Fair Isle on 21st. With only seven accepted prior records in Shetland for this south-easterly marsh tern it's an eye-wateringly rare bird up here in the north. This one's Fair Isle's fourth record – and, to put this into perspective, that makes it considerably rarer on the island than Siberian Rubythroat (six prior accepted records to the end of 2015)! A further sighting came, rather more predictably, on 25th from East Yorkshire's balmy Kilnsea Wetlands.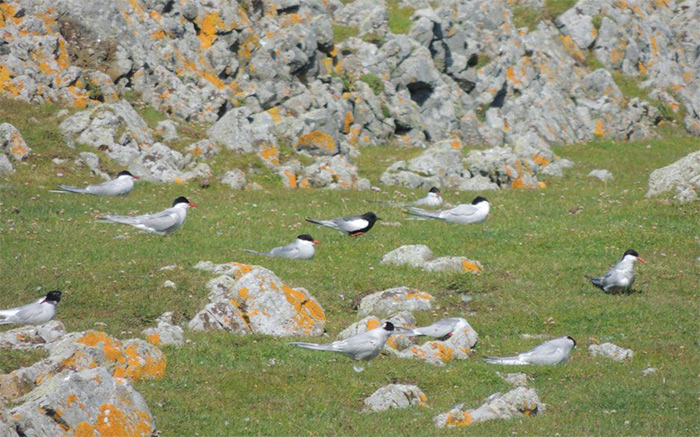 We finish our terns with the adult Forster's Tern settled, for now, in Ireland at Soldier's Point (Co.Louth) on 19th-25th.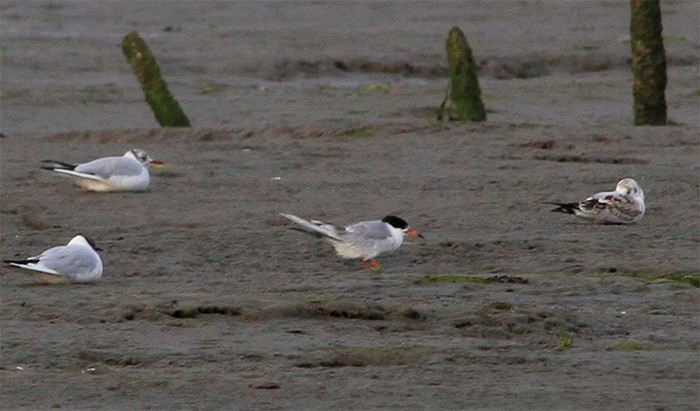 Moving onto gulls but staying, briefly, in Ireland, an adult Bonaparte's Gull was noted at Whitehead (Co.Antrim) on 20th, while in Kent the returning adult remained faithful to Oare Marshes until 25th.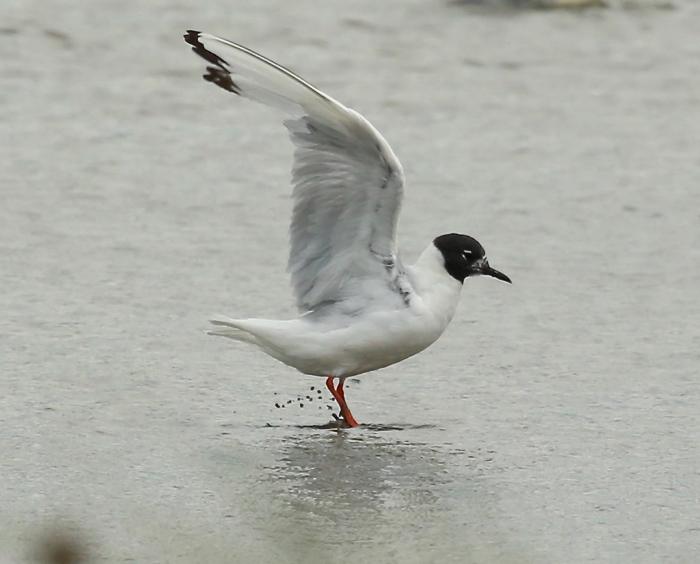 Slim pickings meanwhile for white-wingers, with a mere three Glaucous Gulls and a lonesome juvenile Iceland Gull still on South Uist (Western Isles) until 23rd, with another juvenile of the latter species at Skares Surface Mine (Ayrshire) on 24th-25th.
Happily, though, we don't finish the gulls on such a damp squib – I've saved the very best for last. That'd be the loveliness that's Sabine's Gull - apart from the lingering first-summer at Nosterfield (North Yorkshire) still present until 22nd, the unsettled weather delivered a fine trio of further sightings on 21st: off the The Lizard (Cornwall), Exmouth (Devon) and Charmouth (Dorset).
With a report on 21st of the first-summer female Amur Falcon at St.Buryan (Cornwall) failing to materialise into anything more concrete, we move on to less rich fare altogether – that'd be the week's Black Kites. One over Long Melford (Suffolk) on 22nd was followed by three further reports on subsequent days: at Leighton Moss RSPB (Lancashire) on 23rd, at Ewenny Down (Glamorgan) on 24th, and another at Cuckmere Haven (East Sussex) on the morning of 25th.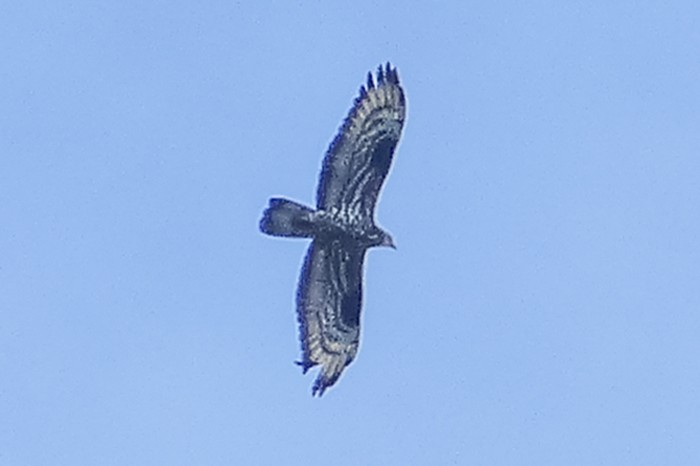 Sightings of the Wykeham Forest (North Yorkshire) Honey Buzzards came pretty much daily this week, but a more notable event for a lucky local patchworker would have been the individual seen on 19th over Regents Park (London).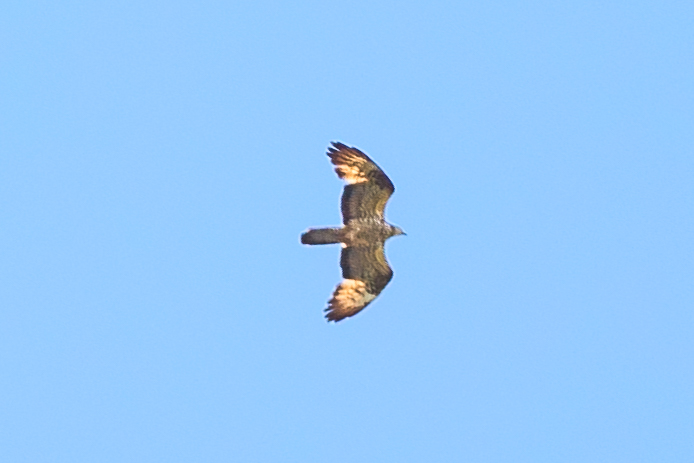 Heading this week's slim passerine pickings are, naturally, the breeding Bee-eaters at East Leake (Nottinghamshire) – five adults remain present at two nest holes, local celebrities with their breeding site now signposted from the main road.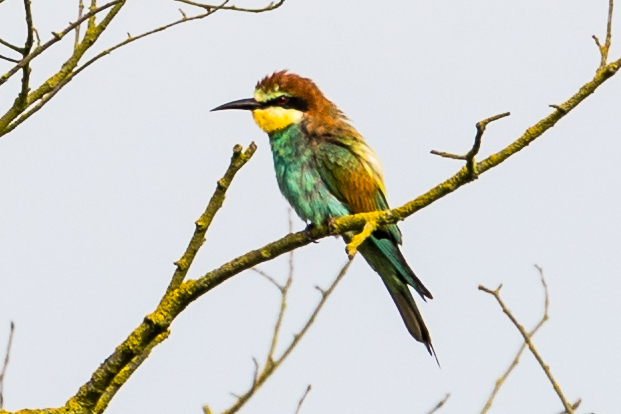 Just as colourful but further off the beaten track were the Hoopoe this week at Crianlarich (Forth) on 21st-23rd, and the adult Rose-coloured Starlings at Embo (Highland) still until 24th and, newly arrived, on Fair Isle on 24th.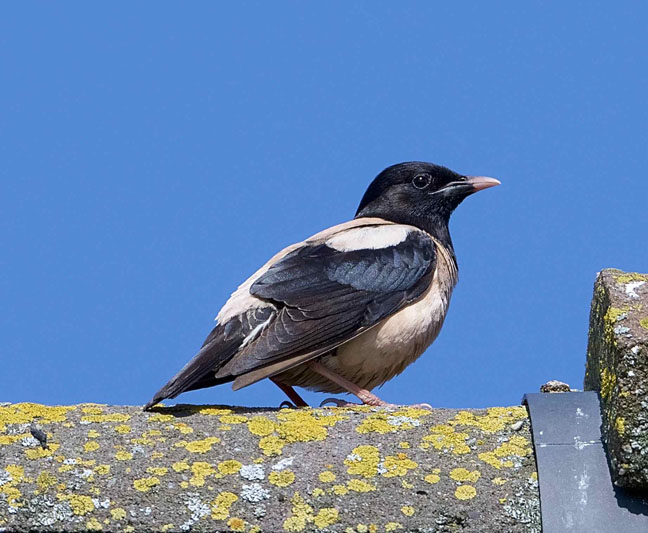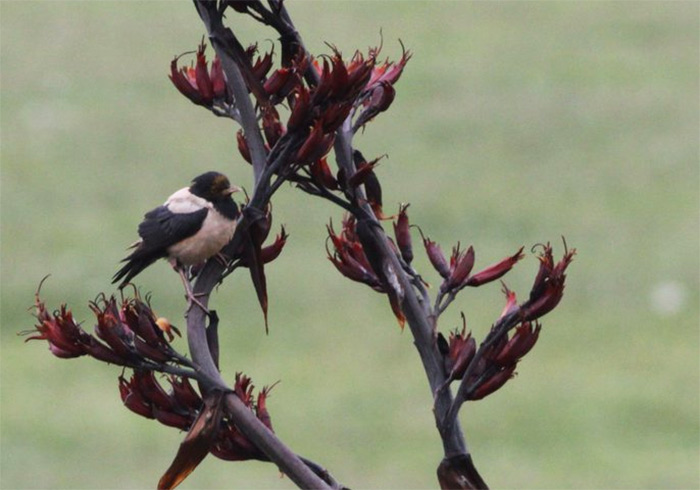 A Blue-headed Wagtail remained this week at Cahore (Co.Wexford) until 22nd.
On 20th a Marsh Warbler was trapped and ringed at Minsmere RSPB (Suffolk).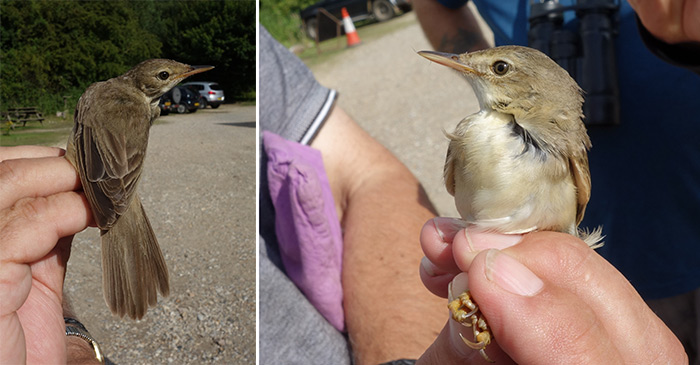 A female Red-backed Shrike was in East Yorkshire at Spurn during the morning of 25th.
Back to Scotland for a Short-toed Lark present at John Muir Country Park (Lothian) on 22nd-24th.
Only a brief diversion now back to Cornwall for an equally brief sighting of a Common Rosefinch at Carn Kenidjack on 23rd, before it's back north of the border for the long-anticipated arrival of Two-barred Crossbills - as Mark said some weeks ago, say it often enough and they'll come… and this week, the trickle began. We're not into irruption territory just yet, but I have everything crossed and a gaping hole on the garden list to fill…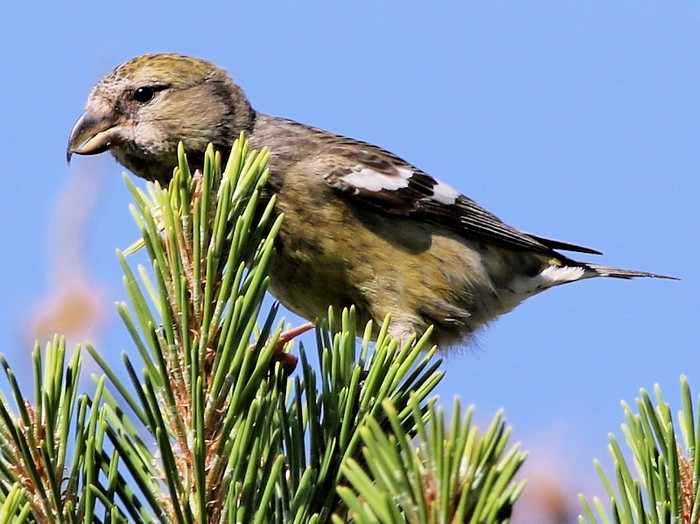 Away from my garden, a female on Unst at Baltasound from 21st was joined by a juvenile bird on 25th. A further female was on Fair Isle on 22nd, while the week's fourth sighting came from the Isle of May (Fife) on 24th-25th.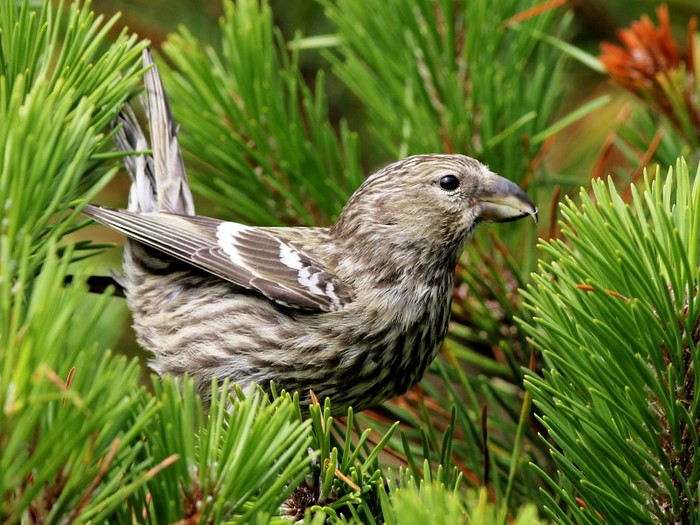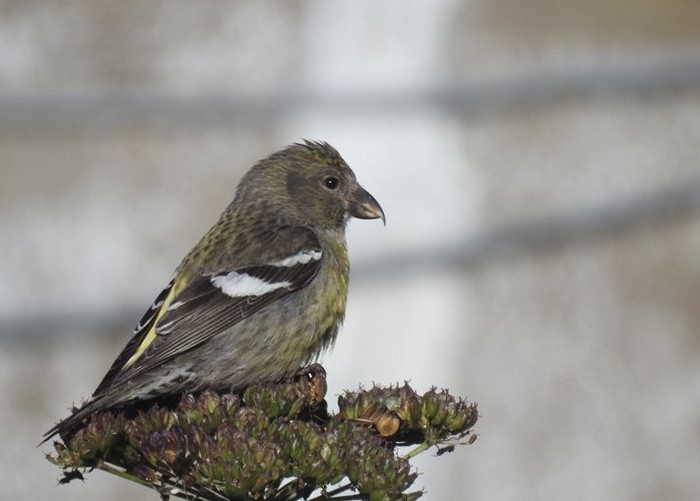 It was something of a case of midsummer doldrums elsewhere in the Western Palearctic this week, with not a whole lot of news to shake our world. That said, the American Royal Tern showed signs again of doing the decent thing and heading north – making it to Alderney on 24th. Just a little bit further…
(It could do with taking notes from the ringed Elegant Tern that's still on the north French coast, noted at Pas-de-Calais on 21st July still, with presumably the same bird accounting for the sighting of a ringed adult male on 25th at Calvados beach in Normandy).
What we'd have to assume is the regular German bird probably accounts for the Black-browed Albatross seen in Brittany off Loctudy on 23rd; the regular bird was again in Germany at Sylt, Schleswig-Holstein, on 24th.
That could be a big assumption, though, as there were clearly some high quality displaced seabird wanderers blown to the Atlantic fringes this week – we need look no further than the Devon and Cornwall coasts for evidence of that, but casting our eyes a little further south and we also find a Brown Booby seen in Portugal on 19th at Berlengas and a Brown / South Polar Skua seen off the Spanish Galician coast at Estaca de Bares on 22nd. Either would be very welcome indeed off Porthgwarra any day soon…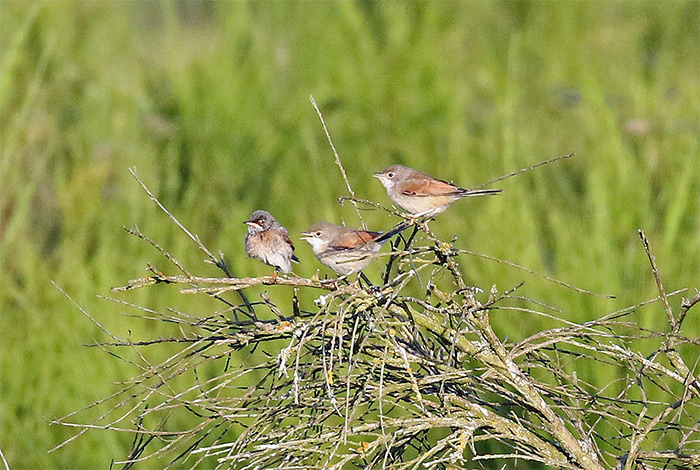 Ditto the Great Black-headed Gull found in Germany on 24th at Mecklenburg-Vorpommen, Greifswald, Wompen. Though for your own corresondents' sake, let's hope it's found somewhere a little easier to spell. Like Cley.
Other news from Germany this week concerned a first breeding record of something as startling as Holland's Pallid Harriers this summer – a pair of Spectacled Warblers have fledged no fewer than five young at the Drieborner Hochflache, Nationalpark Eifel, in Nordrhein-Westfalen.
Elsewhere in Spain on 19th a Masked Shrike was noted at Roquetas de Mar, Almeira whilst, mid Atlantic, the Grey-tailed Tattler remained on the Azores on Terceira until 23rd at least.
So, what of the coming week? We're firmly into rare shorebird territory now, and a covetous glance at past records suggests all manner of wader loveliness - like a kid in a sweetshop, I'd happily pick any one of a number of delicious goodies the likes of Greater Sand Plover, Great Knot, Red-necked Stint or Sharp-tailed Sandpiper.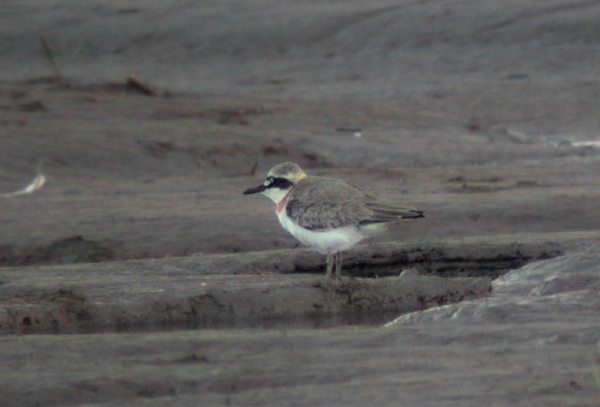 All have past form in the coming week, and are far from alone in that regard where rare shorebirds are concerned.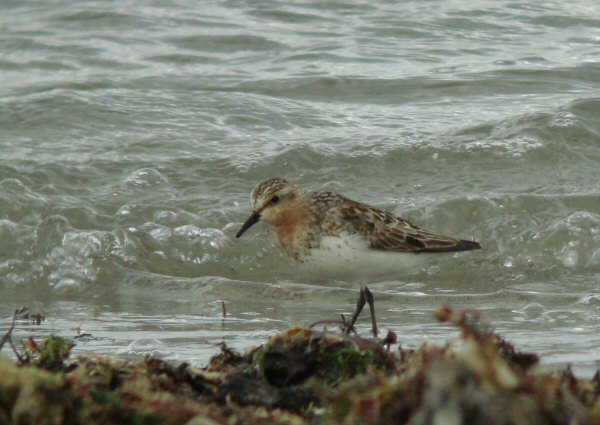 More realistically, there looks like a good chance of the northern isles being kissed by some south-easterlies during the coming week and, if this week's auguries are anything to be believed, I'd hope for a chance of some more Two-barred Crossbills.
But where's the fun in that? What we really want are some eye-watering, gobsmacking rarities and, if last week is any guide whatsoever, I reckon it's time to get yourself onto a headland somewhere in the southwest in the coming days. There's a big fat lump of low pressure anchoring itself over north-west Britain that looks set to bring snorty winds from, variously, the west, the south west, the north west and, even, due south. All coming like a big conveyor belt off various parts of the Atlantic.
Surely a Fea's Petrel this way comes. And maybe another Madeiran and, who knows… Tropicbird, anyone?
Jon Dunn
26 July 2017
Share this story
Tweet


Many thanks to all contributors for their photos and videos this week.
Joe Pender, Kris Gibb, Dave Crawshaw, David Fairhurst, Mike Langman, Martin Cade, Pete Coe, Simon Thurgood, Paul Treen, Robert Hoare, David Williamson, Steve Gantlett, Steve Black, Brian Needham, Chris Waring, Angus Molyneux, Matthew Mellor, Simon Spavin, Dave Burns, David Horsley, Andy Hood, Gary Dayes, Paul Bowerman, David Bryant, Sean Nixon, Ian Higginson, Alan Tremethick, Gerry O Neill, Chris Bond, Magnus Andersson, Ian Bollen, Mike Tew, David Edge, Fair Isle Bird Observatory, David Cooper, David Steel, Arne Torkler, Andrew Warr,