Weekly birding round-up: 10 - 16 May 2017
The week at a glance
Donegal scores Ireland's third Baltimore Oriole ~ the rarest arrival of the week
The much admired female Red-winged Blackbird remains on North Ronaldsay over the weekend but ups stick by Monday
Undertaking the annual day trip to Britain, the adult Black-browed Albatross appears of the Yorkshire coast…twice!
Lancashire's skydancing male Pallid Harrier goes missing for a while in the Forest of Bowland…but he does return…
…and the male Pied-billed Grebe is still in Argyll & Bute
Being that we've edge towards the middle of May there was every hope that, going in to the new week, there'd be a continuing surge of rare birds to keep folk entertained.
Some exceptionally sunny days for much of the country bridged the crossover from one review period to another as skies remained blue and as clear as a bell as temperatures hop, skipped and jumped from the high teens to the low twenties...it was all rather lovely as the mainly easterly breeze gave a little reminder that there was still the potential for a bit of a nip in the air.
As the weekend loomed, a great think clammy clag of weather pushed up from way down through the Iberian peninsula sucking up some humid, muggy southerlies and assorted showers and thunderstorms as the front trundled in to southern England.
Highs and lows faced off across the North Sea as the weekend turned in to the new working week, the winds were mainly south to southwesterly by now and after showers flitted anywhere from the far southwest of England and Ireland, through the north of England and central Scotland an unholy deep blue blob surfaced in the Atlantic and swept merrily across many of us.
Unsettled and muggy at this time of year can often bring a cornucopia of avian treats ~ but did it this time around…?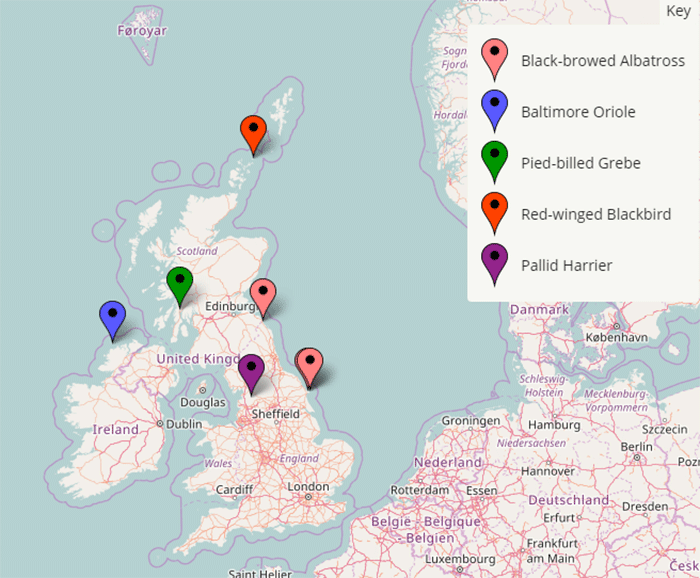 Baltimore Oriole
One mega Nearctic Icterid has replaced at the top of the round-up this week as the first Baltimore Oriole in nearly four years made landfall on Tory Island, off the coast of County Donegal, on 14th, with news making its way to all and sundry the following day, when the presumed 1st summer male was still coming in to garden feeders.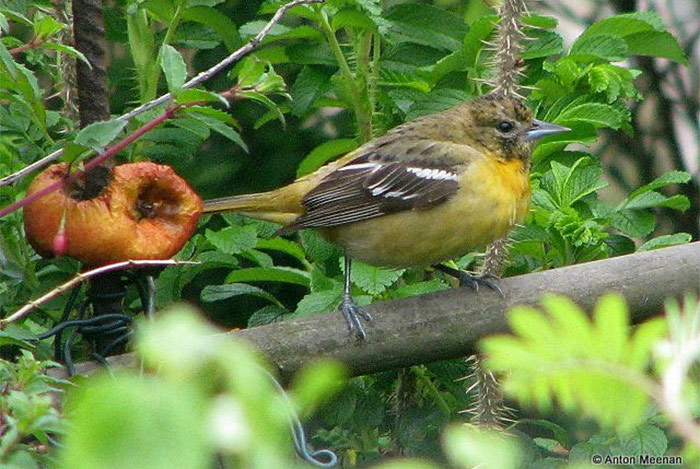 An exceptionally rare bird in Ireland, this was only the third national record, the previous two both appeared in County Cork; the first was found, oh-so-fittingly, in the town of Baltimore on October 7th 2001 (it spent two days on site) with the second coming five years later on Cape Clear Island, seen from October 12th-19th 2006.
This becomes the 27th record of Baltimore Oriole for the combined totals of Britain and Ireland and is only the fourth in the last 10 years ~ a four-day spring male was at John O'Groats from May 24th-27th 2007, a two-day first-winter was on Scilly on September 20th-21st 2011 and the most recent record until this week was found on Unst on September 19th 2013, where it stayed for five days in all.
The Highland bird mentioned above is one of three previous May records for this superb rare ~ the others were a male at Hook, in Pembrokeshire, in May 1970 with a first-winter male two years prior to that, near Bodmin, in Cornwall, from May 11th-13th 1968.
Red-winged Blackbird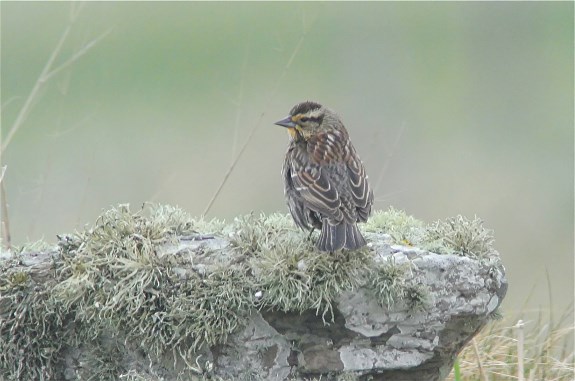 News updates on the first British and Irish Red-winged Blackbird tailed off somewhat this week but there were daily bulletins from North Ronaldsay as a handful of people continued to invest their time and money into paying homage to this exceedingly rare (and rather attractive) vagrant from foreign shores.
Still generally frequenting the favoured iris beds at Garso, Easting, the bird obliged all travellers who journeyed north returned home through until 14th, but after she'd clocked up two weeks on site, time was called and off she went.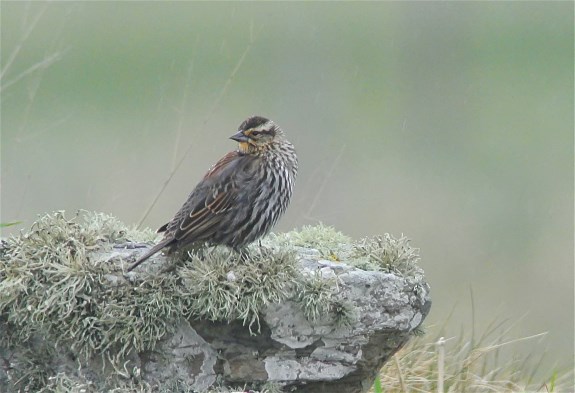 The departure came just as it appeared as though this particular Red-winged Blackbird was about to enter in to a protracted summer stay, but this was a vagrant who had other ideas; pity the poor bods who may have twitched the island on 15th ~ nothing worse than a long haul twitch and coming back without the main event UTB.
Black-browed Albatross
It wasn't that long ago that the usual idle musings regarding just when and where the largely German, occasionally Danish summering Black-browed Albatross would make a move to coast along our shores were relayed here and there wasn't too long to wait since such sage words were laid down and set in stone…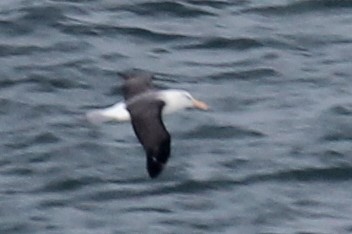 For the second time within eight months a few birders in and around the Bempton Cliffs and Thornwick Bay area of East Yorkshire had the chance to look on in awe as a Black-browed Albatross popped in their sights ~ last year it was that (taxing looking) youngster; this time around, the afternoon of May 13th brought the glorious, resplendent adult along the coastline with a repeat performance on 16th.
This bird is becoming a creature of habit; three summer seasons in the lower reaches of northern Europe, three seasons it has decided to spread its wings and lazily, effortlessly, ride the North Sea waves to nose around our shores.
The debut year in and around Helgoland was 2015 and the headline-maker decided to drop in with the local swans at Minsmere on the stormy day of July 12th. Last year, Fair Isle welcomed this impressive beast on May 28th, so perhaps future Mays are the time to cast a random gaze out to sea…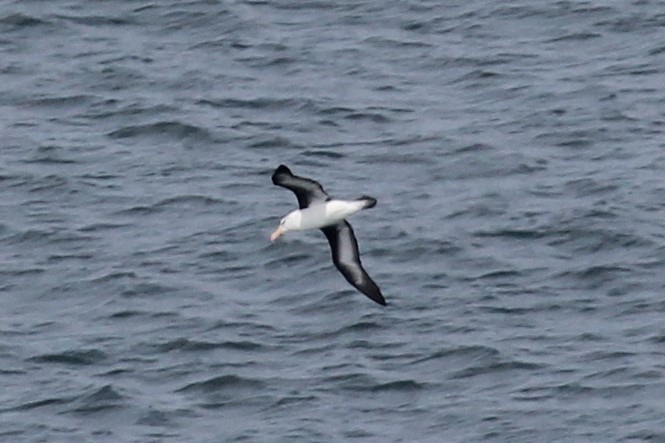 This week's first bit of action was done and dusted within half an hour ~ seen off the Bempton RSPB reserve just before 2.30pm (found a by a super keen 12 year old on a birding day out with his grandparents ~ way to go Joe!) the bird was heading south through Thornwick Bay by 2.50 and wasn't seen again across the rest of the day. The second coming on a sultry Tuesday was quicker than that, the bird flying northwest, close inshore just before 1pm.
At around the same time as this little kerfuffle was unfolding there was a belated report of Black-browed Albatross being seen flying north past Berwick-Upon-Tweed (Northumberland) on May 4th ~ records show that on the consecutive evenings of 3rd and 4th the bird was definitely in German territory, at Rantumbrecken, on Sylt, but a flight across the North Sea in 24 hours is entirely possible for these supreme aviators.
Pallid Harrier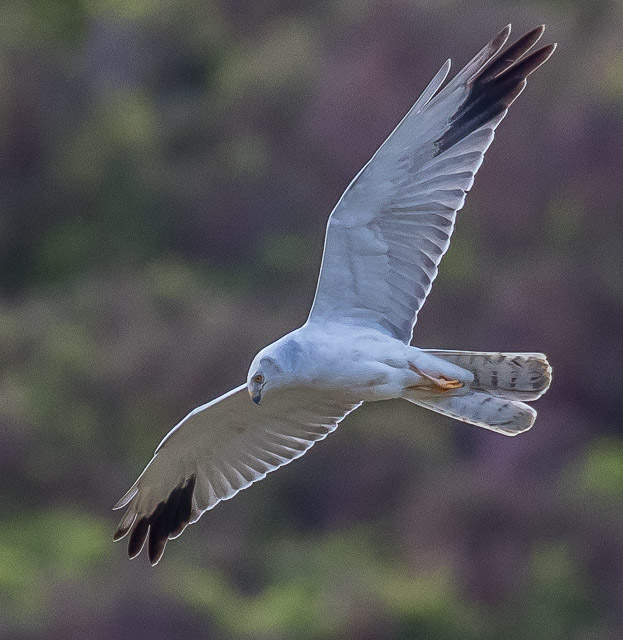 In the Lancashire hills, the adult male Pallid Harrier remained along the Whitendale Valley, near Dunsop Bridge through until at least 14th.
His nest-building exploits have been enjoyed by many ~ some quoting up to four different attempts on the moors ~ but after much skydancing to add to the show, there's no sign of attracting the female he so desires, so it felt at one point on 11th that maybe he'd upped sticks and departed.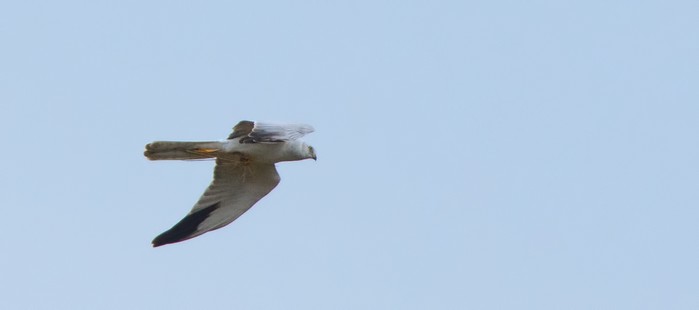 Happily, he's not given up the ghost just yet, long may his strangely zen-like aura that has entranced many continue to entrance many more through the upcoming months.
Long staying rares…
Pied-billed Grebe
Just as I was about to delete this one from the weekly template up pops the news that the male Pied-billed Grebe was still at Loch Feorlin, near Minard (Argyll & Bute) through until 15th.
The start of the new week saw four White-billed Divers being logged at three different sites ~ two were now off Tory Island (Co. Donegal) and lone birds were watched heading north past Ardvule Point, South Uist (Outer Hebrides) and again at Kirkabister, Mainland (Shetland) while the end of the new week saw one head past Lossiemouth (Moray) on 16th.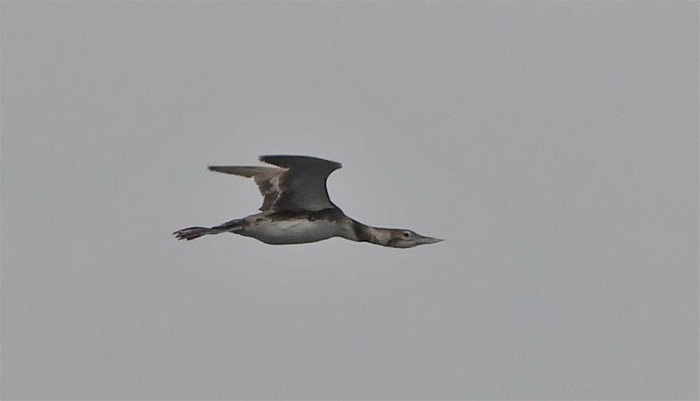 A tiny handful of Long-tailed Skuas moved along the south coast of England on 11th; an adult was seen from Berry Head (Devon) early in the morning and was followed by sightings of an adult along the Hampshire coast at Milford-on-Sea (at 0832), Titchfield Haven NNR (at 0917) and Hayling Island (at 1013) with sightings following in West Sussex, at Selsey Bill (at 1055) and then East Sussex, at Spalsh Point, Seaford (at 1301) and finally Eastbourne (at 1331).
The first spring Hebridean Long-tailed Skua of the year flew past Rubha Ardvule, South Uist on 14th while all-together more surprising was the adult that spent over half an hour offshore from Tacumshin (Co. Wexford) the same day. A second Irish record followed on 15th, seen from Toe Head (Co. Cork) and perhaps the Tacumshin bird was noted offshore from Cahore Marsh on 16th with a low double figure count of Hebridean birds logged the same day, which included 11 over Aird an Runair, North Uist with a further 10 headed by Bowness-on-Solway (Cumbria).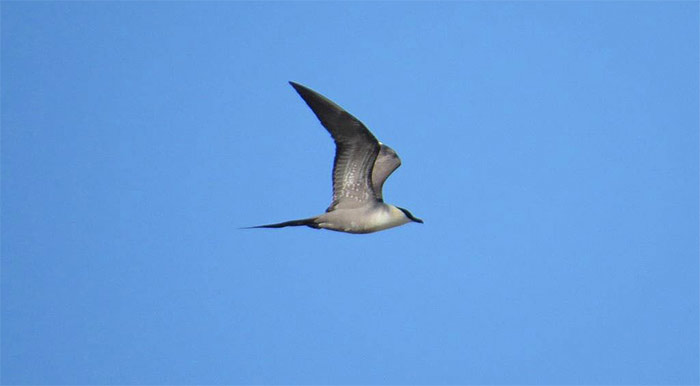 Numbers of Pomarine Skuas was up a bit on last week, in the region of 459 birds were recorded from 16 British and Irish counties, with the English south coast being responsible for most records through the past week. The figure in the mid-400's probably on the hefty side, there's almost certainly some duplication as birds pushed their way through the English Channel.
From west to east, county scores this week were as follows; Cornwall 3; Devon 25+; Dorset 56 (including 16 off Portland Bill on 12th with 13 from Burton Bradstock the same day); Hampshire 41 (16 were seen from Milford-on-Sea on 11th); Isle of Wight 6; West Sussex 35 (a total boosted by 26 off Selsey Bill on 10th); East Sussex 43 (19 of those were off Splash Point on 10th) and Kent 44+ (12 were seen off Dungeness on 10th with 15 the following day).
To confirm the duplication, a group of nine Poms was logged firstly off Seaton (Devon) at 0630 on the morning of 12th and were then seen from the Dorset coast, at both Wyke Regis (at 0739) and Portland Bill (at 0756) before appearing off the Hampshire coast, at Hurst Spit at 0940.
The highest single site counts this week were away from the south coast; 25 flew past Bowness-on-Solway (Cumbria) on 13th (with 17 the following day) and 30 were recorded off Waterford's Helvick Head, also on 13th. Further tidy Irish tallies was the 18 birds seen from Mizen Head (Co. Cork) on both 15th and 16th.
In Ireland, an unseasonal Grey Phalarope flew past Tory Island (Co. Donegal) on 14th while a Leach's Storm-petrel was seen in The Minch, from the Lochboisdale to Mallaig ferry on 16th.
Devon notched up seven Balearic Shearwaters through the week, one was seen from Prawle Point on 13th, two were off Seaton on 11th, three flew by Berry Head on 15th and one was ioff Start Point on 16th.
Quite where a bird as seemingly striking and obvious as this can go is always a mystery but they are famously unobtrusive at times when seen on the British side of the Irish Sea. Surely someone else will see this one though?
A paragraph from the roundup of April 19th-25th this year which related to the photographed Black Stork that had been seen that week in County Mayo ~ it did seem odd how such a striking bird could go to ground but, as mentioned above, this a species that is rather adept at doing just that.
Despite there being no hard and fast evidence to say that that the Irish Black Stork seen heading east over Rathlin Island (Co. Antrim) on 11th was the same bird, it just feels so right for it to be that very individual. There's an awful lot of unwatched space in Ireland from Mayo to Antrim and it seems entirely feasible that this bird has been quietly going about its business in the country for almost a month without being noticed over Rathlin this week. Once accepted it will be either third or fourth for Ireland and the first for the north.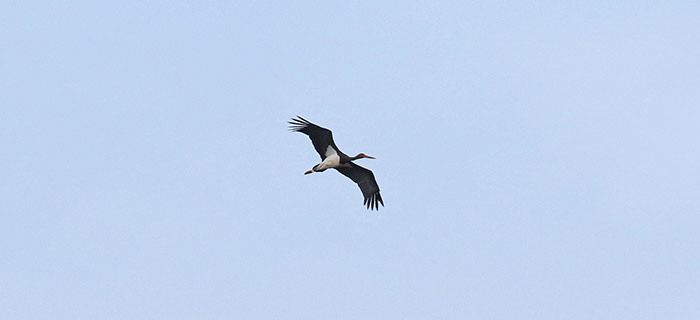 Now whether the Black Stork seen in Highland, at the Kyle of Tongue on 12th was also this same bird was a slightly tougher one to call ~ Rathlin isn't far from the Scottish mainland but it's a fair old schlep to the very far north of the country from there and photo evidence indicates that the Irish and Scottish birds are not related…
There are 12 accepted Highland regions records to date, the most recent of which was an adult at Gruinard Bay in May 2014.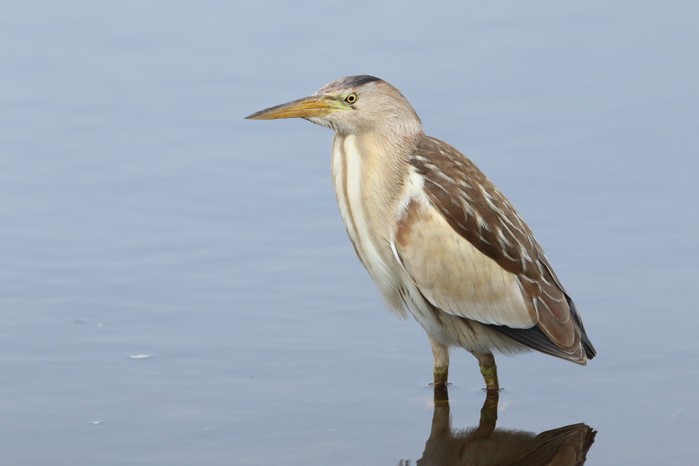 Seemingly finding life on Scilly very much to its liking was the female Little Bittern that remained at Lower Moors, St. Mary's through until at least 16th with a Night Heron not too far away for company (to 11th).
Elsewhere, the exceptionally showy adult Night Heron continued to be a total show-off at the Dingle Gardens, Shrewsbury (Shropshire) through until 16th and there was at least one bird still on Barra until 13th.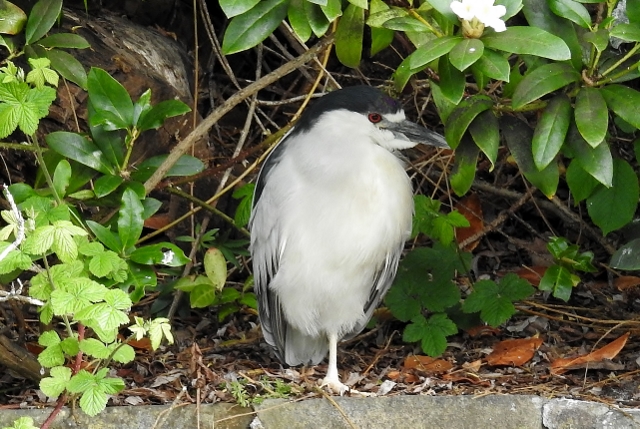 Two Purple Herons were seen in the far southwest of England at the start of the week; one was again at Probus, near Tresillian (Cornwall) on 10th-16th while new was the bird on the marsh at South Huish (Devon). In East Anglia, the third of the week was at Fen Drayton Lakes RSPB (Cambridgeshire) on 10th and number four surfaced at Kenfig Pools NNR (Glamorgan) on the morning of 13th with number five popping up soon afterwards at Netherfield Lagoons (Nottinghamshire). The good run this week continued on 14th with one seen over Boultham Mere (Lincolnshire) bit it could have come directly from Nottinghamshire....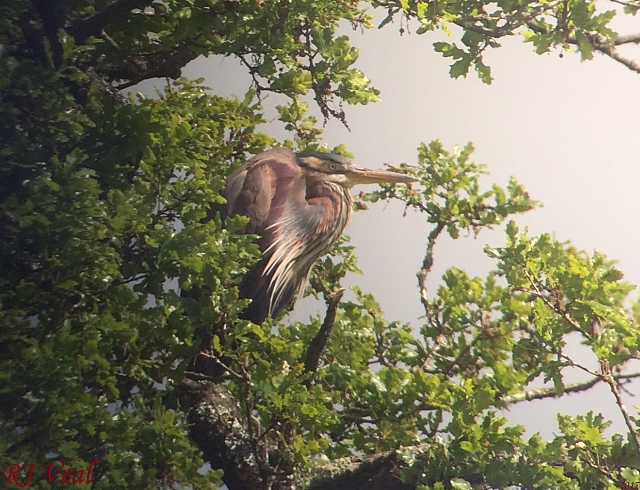 A slight drop again for Cattle Egrets this week but the figures are still pretty remarkable for the second week of May, 51 recorded in 15 counties.
Just under half were still in the southwest of England, 20 in all with 11 of those still at Ham Wall RSPB (Somerset) to 10th at least. Seven of Devon's eight were again at Chivelstone while a lone bird was in Dorset.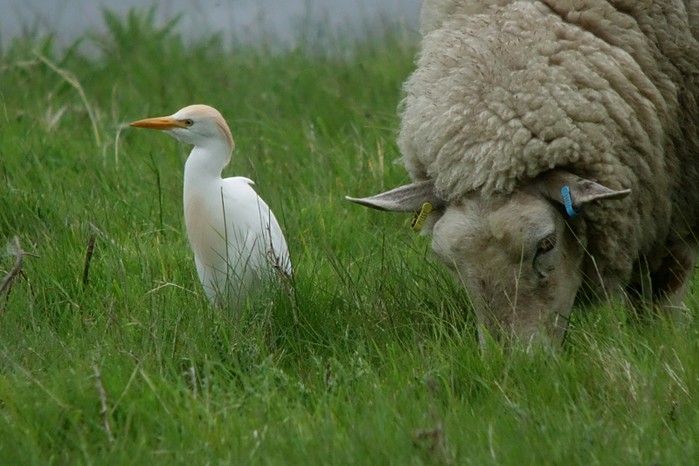 Nine birds remained in Ireland, including six at Tacumshin (Co. Wexford) to 14th, while six of Wales' eight birds remained at Ynyslas (Ceredigion) to 13th. In the Midlands, four of the region's five were at Slimbridge WWT (Gloucestershire) while there were threes for the northwest and southeast (including a seawatch bird off Dungeness on 11th) with two for East Anglia and one for the northeast.
Three of last week's Glossy Ibis began the week in the favoured chosen locations ~ at Cossington Meadows LWT (Leicestershire) to 11th and at both Loch of Kinnordy RSPB (Angus) and Lakenheath Fen RSPB reserve (Suffolk/Norfolk border) to 16th. A fourth (at least) was on the Somerset Levels throughout the week and the fifth was again at Loch of Strathbeg RSPB (Aberdeenshire) on 14th-16th.
Somewhere in the region of 60 Spoonbills were logged countrywide this week and included at least 10 around the Holkham Freshmarsh (Norfolk) ahead of the weekend with at least seven in the Broads, at Potter Heigham Marshes. Groups of twos, threes and fours were dotted around the south coast and singles were right through the spine of England too but aside from the larger gatherings, the most notable record was the trio found at Stinky Dubh, Castletown (Isle of Man) on 12th; the first record on the island since one at the very same site in April 2003.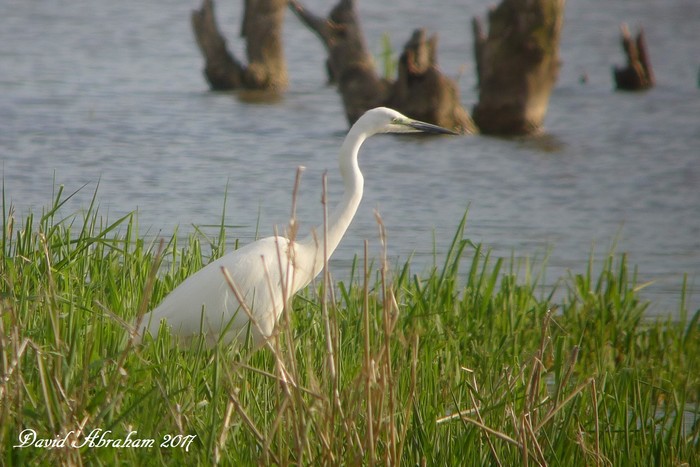 Numbers of Great White Egrets weren't too dissimilar from last week, nudging the 40 mark once again. Two fours were logged, at Romsey (Hampshire) on 10th and Ham Wall RSPB (Somerset) on 14th with many of the other records this week spread through southern England, the Midlands and in to the northwest. Pick of the bunch though were the first records for Clyde since 2009, courtesy of two birds found at Barons Haugh RSPB from 11th.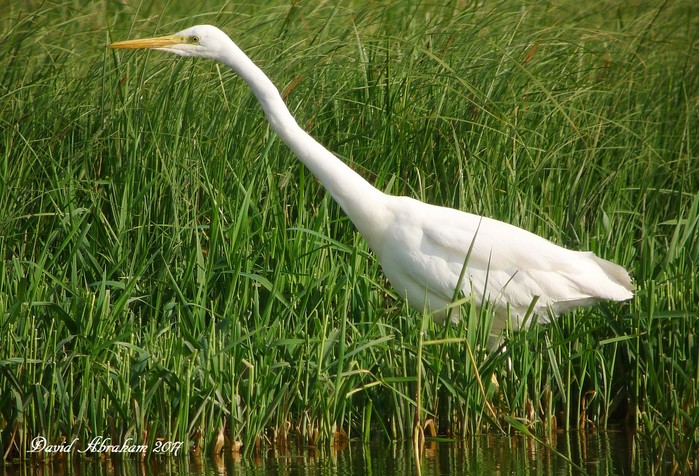 Up to five Common Cranes were in and around the Strumshaw Fen area of the Norfolk Broads at the start of the week and 10th also news of three seen in Suffolk, at Carlton Marshes and then Walberswick, with a tracked single heading over Cleveland and Northumberland the same day (first seen at Cowpen Marsh, last seen Low-Newton-by-the-Sea) and another appeared at Huttoft Bank (Lincolnshire) towards dusk. New on 11th was the singleton seen at Auchinleck (Ayrshire) and Nosterfield (North Yorkshire) ~ a bird which was seen at two others sites in the county to 13th ~ while an unringed (non-introduced) adult was at Slimbridge WWT (Gloucestershire) on 12th. Two were seen in Lothian, at Pyr Shaw the same day.
The 12th also saw a lone Crane nip along Blakeney Point (Norfolk) and there's half a chance that this was the same bird that was seen along the coast at Titchwell the following day while a motorway bird was seen from the M6 in Lancashire, not far from St. Helen's, also on 13th.
White Storks. There's not much to say about a species that has proved nigh-on impossible to get enthused about, simply because of the mess left by the wire-hopping antics of some rehabilitated Poles. A bird of unknown origin was in the Brecks near Elevden for a few days at the start of the week but all the gloom & doom above was alleviated by news of a Cornish bird, at Tregoss, on 14th ~ now that one has a much better feel-good factor about it.
Dorset scored a singing male Spotted Crake at Lodmoor RSPB on the evenings of 12th-14th, a rare event there.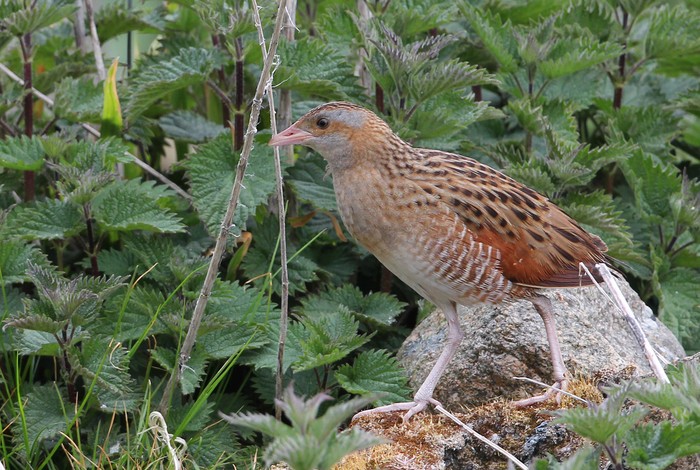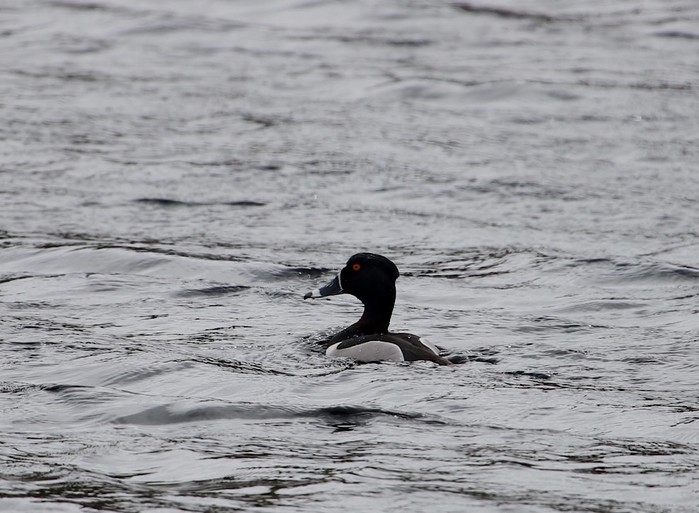 New in the far north of Scotland was the drake Ring-necked Duck found at Strathcanaird, near Drumrunie (Highland) on 10th with a second drake found in the same extensive region, at Balnakeil on 12th. Back again in Essex was the drake at Tollesbury Wick EWT on 16th.
Kicking things off for Green-winged Teal was the drake found at Loch an t-Saile, South Uist (Outer Hebrides) on 10th and that was the sole record this week.
Mr. Reliable was back on the Ythan Estuary in Aberdeenshire this week ~ the drake King Eider seen there on 10th while elsewhere in Scotland, the drake Black Duck surfaced again in Highland on 16th, still at Strontian.
<!—Section Title -->
A huge rarity for the entire island chain of Shetland was the Collared Pratincole that made a surprise appearance on Fair Isle during the morning of 14th ~ only the second record for the island, coming just shy of 46 years since the first (found on June 2nd 1971). The only other Shetland records were a shot bird on Unst in August 1812 and, most recently, the one day bird also seen on Unst on July 2nd 1974. Shetland listers would have been happy to here that the bird roosted near Easter Lowther Water and was still in place early the next morning and on to 16th.
This remains a pretty special and rather charismatic rare bird; to the end of 2016 there were still only 120 accepted records (I really thought it would be higher than that) and over a third have been found in May (49 to the end of last year).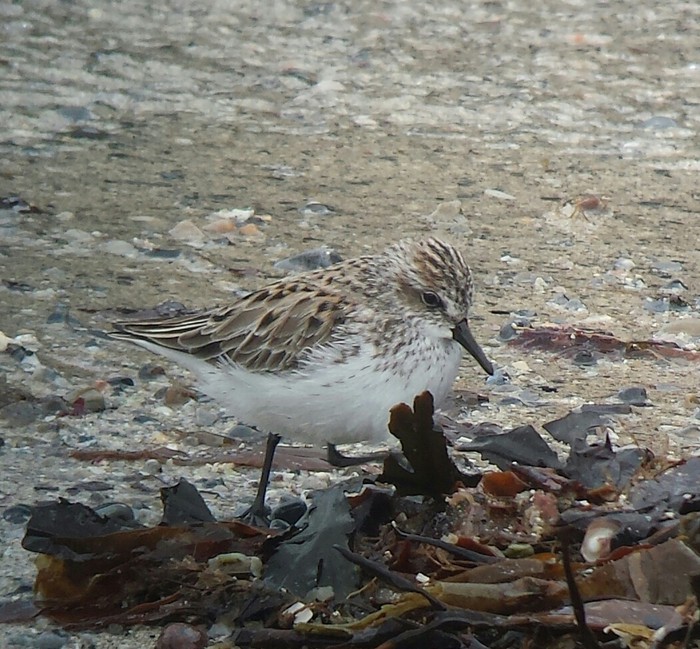 Two Nearctic shorebird species take centre stage next in this little section of this week's blether, and leading the way are the summery adult Semipalmated Sandpipers seen at Balnakeil (Highland) on 13th-14th ~ the second record for this vast region of Scotland, it follows a juvenile at on Skye in September 2012 ~ and at Haroldswick, Unst (Shetland) on 16th ~ the 9th record for the islands and the first since 2011.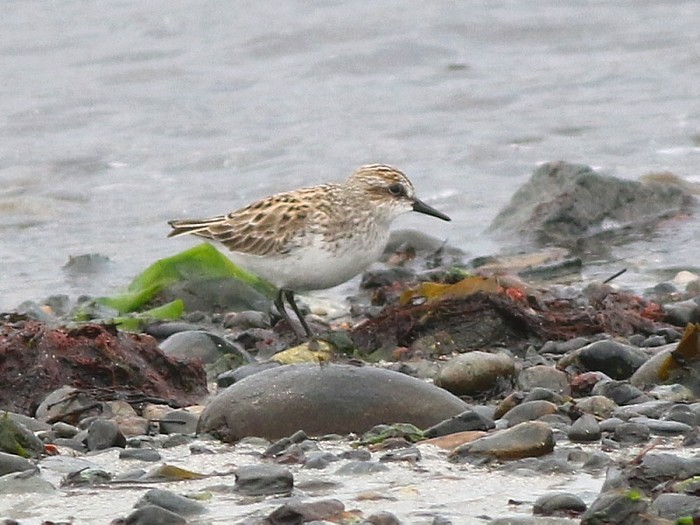 May records of this still-tricky to identify species aren't overly frequent ~ a dozen have been accepted to date, including the 1st for Britain which was trapped on Fair Isle on May 23rd 1956.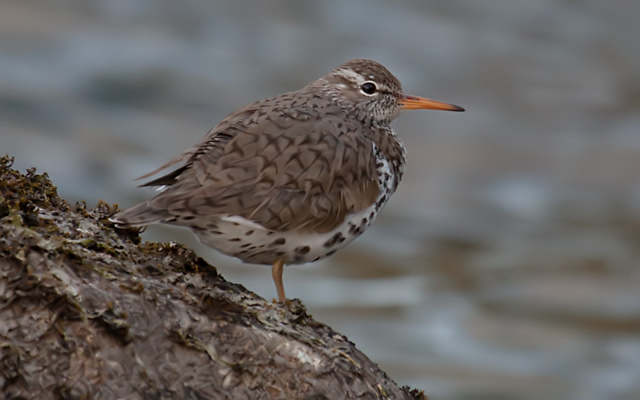 Finding a way through the west side of the country, in a classic May manoeuvre, was the summer attired Spotted Sandpiper that was found at Buttermere (Cumbria) on 13th-16th ~ only the fourth record for the county and the first there since 1998 (others came in 1989-90 and 1986).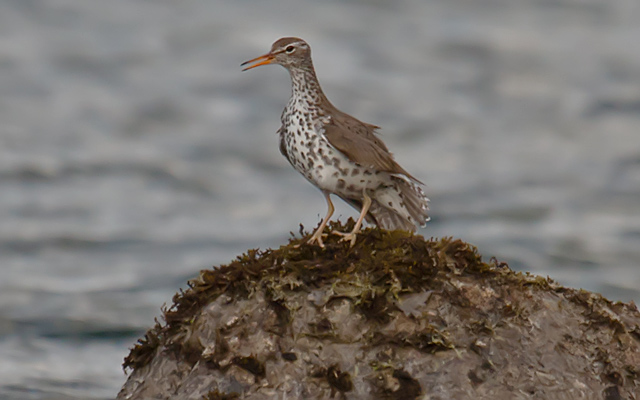 The second spotty Spotted Sandpiper of the week was lurking along the shoreline at Belvide Reservoir (Staffordshire) on 15th-16th ~ the fifth county record and the fourth for the site, all of them coming in May (in 1982, 2005 and 2013).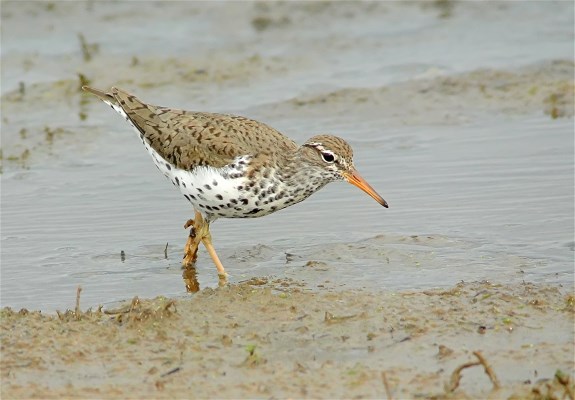 There have been over 260 records of the species and a whopping 47 of those have been found in May, at least 18 of those coming in the last 10 years.
The week's only Broad-billed Sandpiper was seen briefly at Frampton Marshes RSPB (Lincolnshire) on 14th.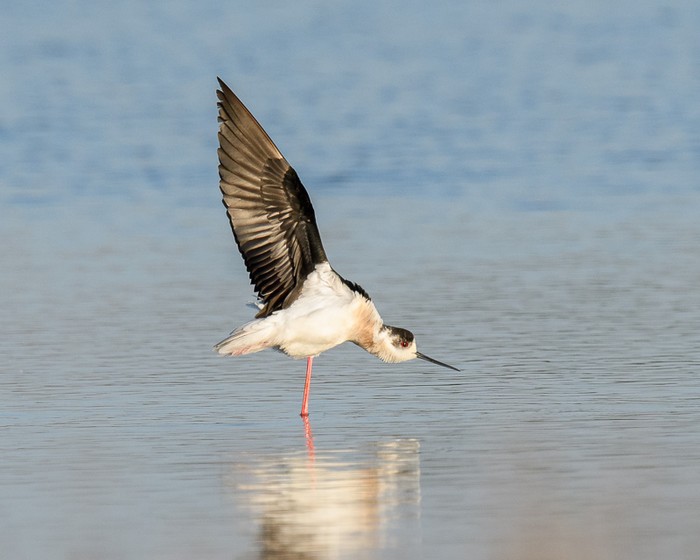 It has almost become impossible to keep tabs on whether any of the Black-winged Stilts that are groovin' around the country are birds that arrived elsewhere and are now just "on tour".
"New" at the start of the week were the single Stilts on Paxton Pits NR (Cambridgeshire) and also again at Pennington Marshes (Hampshire) along with twos for the RSPB reserves at both Blacktoft Sands (East Yorkshire) and also Rainham Marshes (London), all six birds being seen on 10th.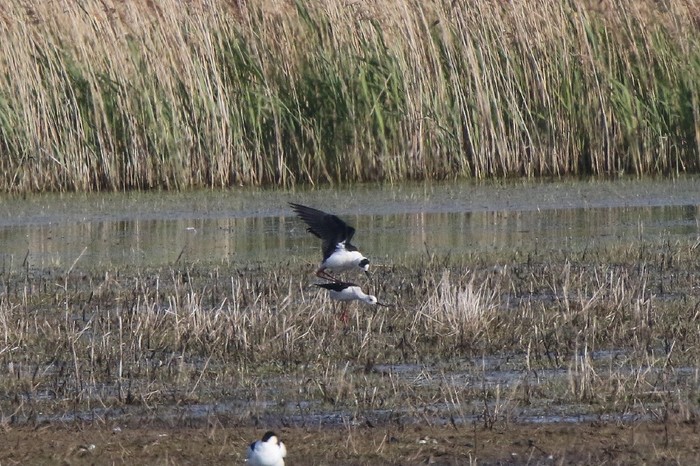 A third bird joined the pair at Potter Heigham Marshes (Norfolk) on 11th and two decided to visit Frampton Marsh RSPB (Lincolnshire) the same day, most likely having dropped down from East Yorkshire, while back in Cambridgeshire, a loner was at Berry Fen, also on 11th. Staying in the county, a pair of Black-winged Stilts arrived at Wicken Fen NT on 12th and then a further duo popped up in Oxfordshire, at Standlake the same evening. There have been four previous records for the county, the first dating to pre-1849 with the next following in 1993 (at two sites, including colour-ringed French birds). The most recent Oxfordshire record was at the same site as this week, at Standlake, on April 12th 2012.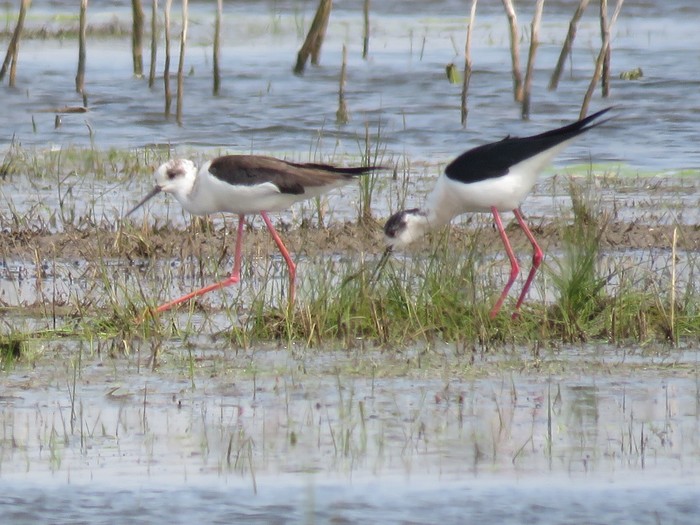 Most likely shifting from Frampton (or Oxfordshire!) to Lakenheath Fen RSPB reserve (Suffolk/Norfolk border) were the two birds that arrived in the Brecks on 13th (no sign in Lincolnshire) but again, its all uninformed guesswork. Ditto the whereabouts of a pair of Stilts that were seen early in the morning at Witcham (Cambridgeshire) also recorded on 13th. It's all very confusing…
A nice beach bird was the female Kentish Plover that spent a bit of time at Sennen Cove before departing towards Lands End while the male seen last month at Tacumshin resurfaced on the Outer Hebrides this week, found at Borve, Berneray on 15th.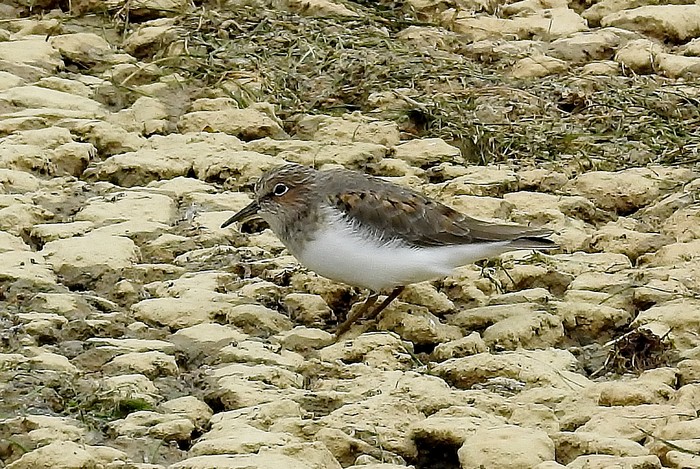 One of the two recent Temminck's Stints seen at Newport Wetlands (Gwent) was on station until 10th (with three appearing on 13th) with a further three noted on the same day; at Carlton Marshes (Suffolk), Pitsford Reservoir (Northamptonshire) and Abberton Reservoir (Essex). A couple of days later came two birds on the scrapes at Blacktoft Sands RSPB and another twosome were found on Stiffkey Fen (Norfolk) on 13th. South Yorkshire hosted a single at Orgreave Lagoons on 14th as did Northumberland, where one was found at Cresswell Pond NWT and also Lincolnshire too, one reported at Frampton Marsh RSPB. Further singles through the same day were at Cley Marshes NWT (Norfolk) and also at Caerlaverock WWT (Dumfries & Galloway) and the following day saw twos noted at Frampton Marsh RSPB and Musselburgh Lagoons (Lothian) with another Lincolnshire bird at Gibraltar Point NNR. Cley saw a further two appear on 16th when a further new one was seen at Martin Mere WWT (Lancashire).
Another week gone and another steady trickle of Dotterels was noted around the country; six remained at Boulmer (Northumberland) on 10th with a further half dozen were at Eaglesham (Clyde) and a half half dozen (that'll be three then…) were at Horse Shoe Point (Lincolnshire) the same day.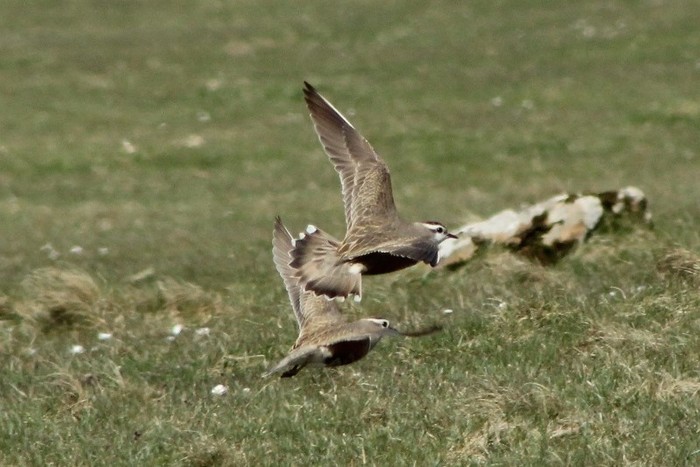 Over 20 Dotterels were mentioned on 11th ~ another group of six was at Garreg Lwyd (Carmarthenshire), two fours were seen at Guisbrough (Cleveland) and on Unst (Shetland) with a new trio at Flamborough Head (East Yorkshire) and three lingering on Papa Westray (Orkney) while two heard-only birds flew over Gibraltar Point NNR (Lincolnshire).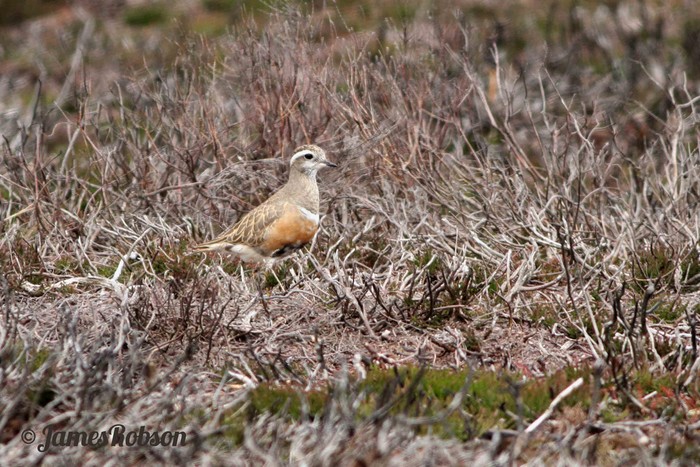 New on 12th were a lone Dotterel at Cairnsmore of Fleet (Dumfries & Galloway), two at Danby Beacon (North Yorkshire), three were on the machair at Balemore, North Uist (Outer Hebrides) and the spring's largest trip to date, 10 in fields at Sunk Island (East Yorkshire) ~ with 11 there the next day. Saturday saw a single drop on to the expansive Orford Ness (Suffolk), two showed up at Colne Point (Essex) and Worlaby (Lincolnshire), four were now at Balemore and six were counted at Danby Beacon while up to seven were at Choseley (Norfolk). The morning of 14th saw another six drop in to fields at Walberswick (Suffolk), with two on Sanday (Orkney), one on the summit at Ingleborough (North Yorkshire), one briefly at Frampton Marsh RSPB and an extra one tuned in to his buddies at Choseley. (Are you bored with Dotterel yet ~ couple more to go)…so to 16th when one was seen over Long Nab, Burniston (North Yorkshire).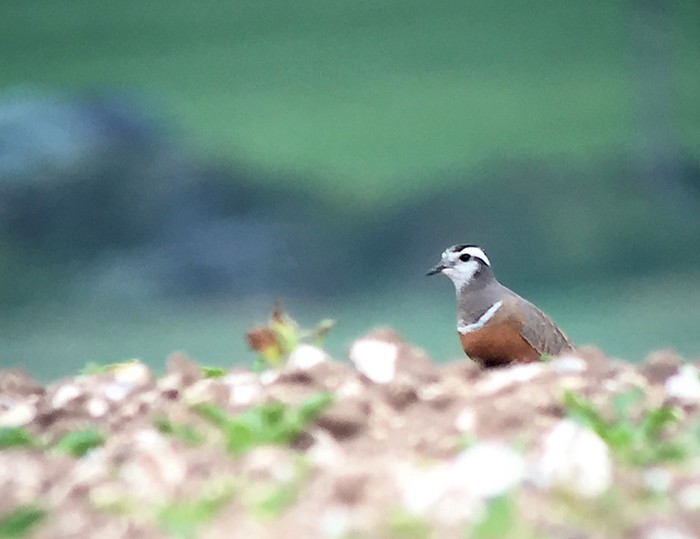 Derry claimed one of two Pectoral Sandpiper for the week, seen at Lough Beg during the afternoon of 10th with the second noted at Musselburgh Lagoons on 15th-16th.
Taking the lead role for this section was the fine county first find of an inland Gull-billed Tern at Ouse Washes RSPB (Cambridgeshire) on 15th, seen on the approach to Welches Dam. It wasn't there for long though but did reappear at Burwell Fen just after noon the same day.
Skirting the border of Antrim and Derry was the White-winged Black Tern found off Mullagh, Lough Beg on 11th-12th ~ only the second record in the north of the country for a decade (another was in Antrim last autumn). The most recent record before these two was another for Antrim, seen at Belfast Lough in June 2006.
The second WWBT of the week was found at Rainham Marshes RSPB (London) on 14th ~ how can they find birds when they're posing for the BBC idents?!?! ~ the first for the capital birding catchment area since a juvenile was reported at the same site in August 2011.
After a little further spurt in records as last week wound down, we appeared to be nestled back at two 1st summer Bonaparte's Gulls again, south coast singles still at Longham Lakes (Dorset) and Blashford Lakes HWT (Hampshire) to 11th (though the Dorset bird resurfaced on 16th). A "new" 1st summer was found at Barking Bay, not far from Cross Ness (London) on 14th-16th (a site that is already familiar with the species).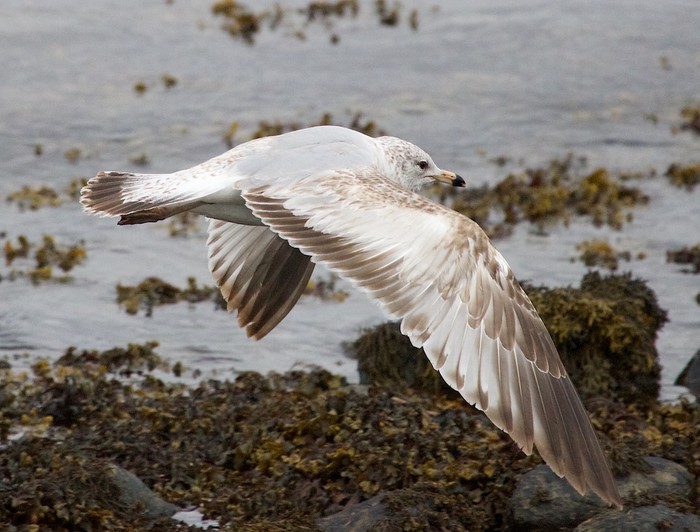 Two young Ring-billed Gulls remained in place at the start of the new week, the first-winter/summer was still at Ullapool (Highland) until 11th while the first-summers at Loch of Hillwell, Mainland (Shetland) and Tralee Bay Wetlands (Co. Kerry) remained to 12th with the Welsh 2cy bird again at Ynyslas (Cerdigion) on 13th.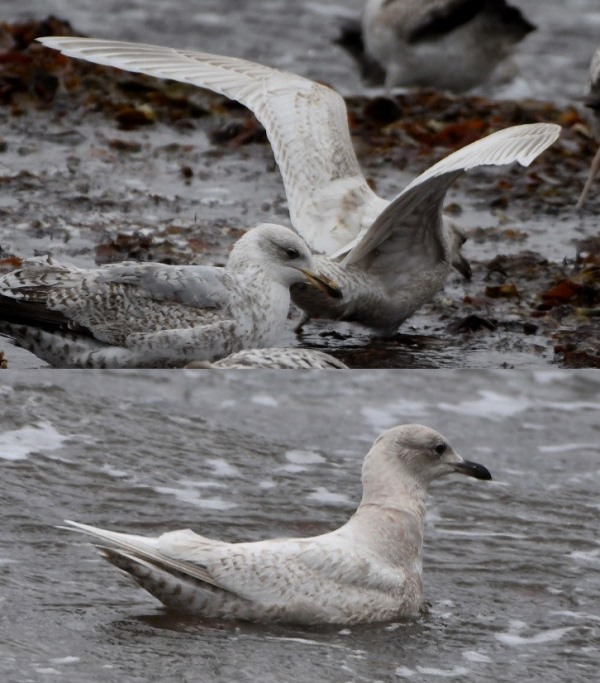 Present for at least four days this week was the late Kumlien's Gull seen around Rubha Ardvule, South Uist (Outer Hebrides) from 13th-16th with a second found on Tory Island (Co. Donegal) on 16th.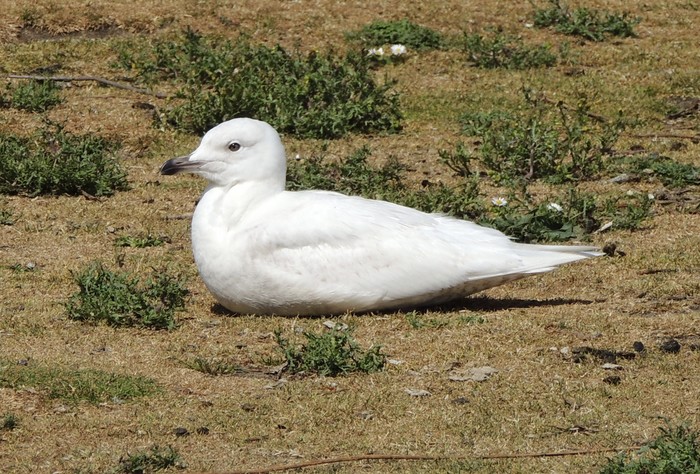 There were 24 Iceland Gulls recorded across 13 British and Irish counties over the past seven days with 15 of them in Scotland, nine of those in and around the Outer Hebrides. England managed eight birds in seven counties while Ireland managed one solitary bird. There were fewer Glaucous Gulls, 17 seen in 10 British and Irish counties, with 12 for Scotland, including at least five on the Outer Hebrides. Four singles were in England and one was still in Glamorgan.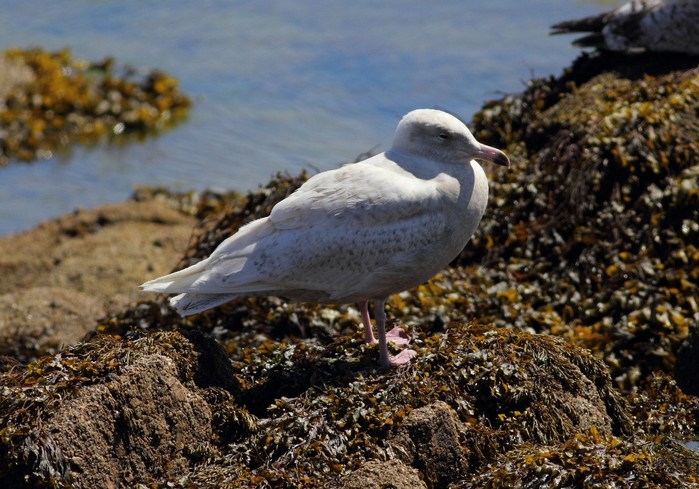 First stop this week is North Ronaldsay where what may have been the Eday Snowy Owl shot across the spine of the island on the morning of 10th (the Eday bird was last noted there on April 2nd with maybe even the same bird seen on Papa Westray on April 16th. ~ where one/it was seen again this week, on 16th.
Orkney popped in a White-tailed Eagle as well on 10th ~ seen heading towards Eday from Sanday while the same day saw the rather lost immature bird appear again in Norfolk, heading over Strumpshaw Fen RSPB. It then all got a tiny bit confusing...
What was assumed to have been the same young Eagle was back over Botany Bay RSPB, near Snape (Suffolk) at around 1 o'clock on 11th but then came an unconfirmed report of one still around the edge of the Broads, again at Cantley Marshes RSPB only half an hour later. In a straight line, that's a distance of around 40 miles or just over; it seems just a little too far for even a powerful drifter like a White-tailed Eagle to do. Or maybe not.
Come the 14th it had snuck back to the bottom edge of north Norfolk again, seen this time at Bintree Mill and Foulsham.
Four new Red-footed Falcons made themselves known on 10th; a male and female appeared at Carlton Marshes (Suffolk), a female was at Strumpshaw RSPB (Norfolk) and a male was in west Wales, at Plumstone Mountain in Pembrokeshire.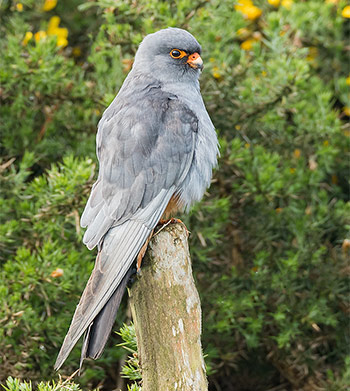 What was presumably the same (stunning) adult male then gave himself up to the Pembs., listers when he was relocated at Strumble Head on 11th where he showed well through until 13th. A couple of other new male Red-foots were found on 12th; one was seen heading west at Holkham NNR (Norfolk) and one was also seen at Wicken Fen NT (Cambridgeshire) and the county's female from last week was still (sporadically) at Fen Drayton Lakes RSPB to 14th. New on 13th was another Norfolk bird, a female seen at Winterton Dunes with one also reported at Romsey (Hampshire) while on 14th another adult male was seen, this one at Thorne Moors NNR (South Yorkshire) ~ the second for the site in a week or so. Rounding things off, the 1st summer female seen near Coldwaltham (West Sussex) on 16th.
A Black Kite was seen loosely along the Central Line on 10th; first noted at Gidea Park (yes, yes, I know that's not on the red one…) and then a little later over Hainault. Two further reported came from Kent, at South Foreland on 11th and Lenham Heath (seen from a car on the M20) on 16th.
Also in Kent, a young male Montagu's Harrier was noted at Cliffe Pools RSPB on 10th and an adult male was at Sunk Island (East Yorkshire) on 13th while elsewhere in the county, the female continued to show at Blacktoft Sands RSPB throughout the week. New too on 13th was the female seen around West Charleton Marsh (Devon) with another at Marazion (Cornwall). Pick of the bunch was the north of Ireland's third record, a male at Lough Beg (Co. Derry) on 16th.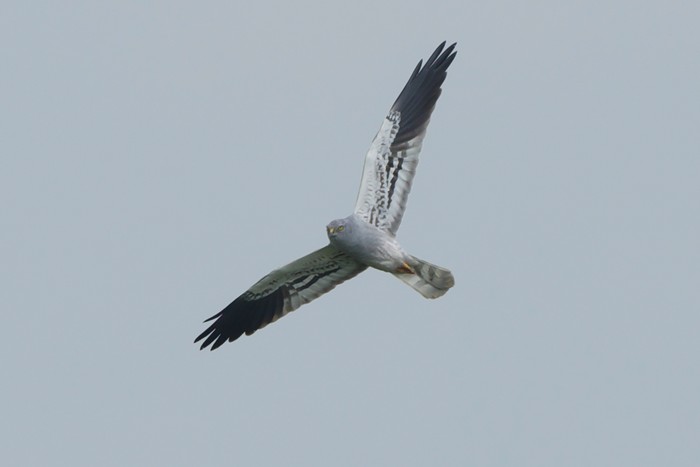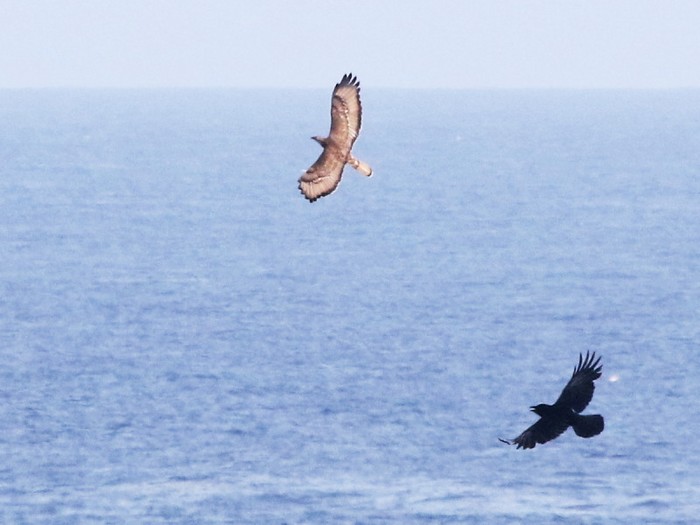 The expected mid-May mini-flurry of Honey Buzzards kicked in a little this week; one was noted heading north off the West Cliffs at Portland (Dorset) on 10th and it was followed by one over Romford (London) on 11th (around the same time there was a Black Kite loosely in that neck of the woods) while Kent loners were at Monks Wall NR on 11th and nearby Worth on 12th.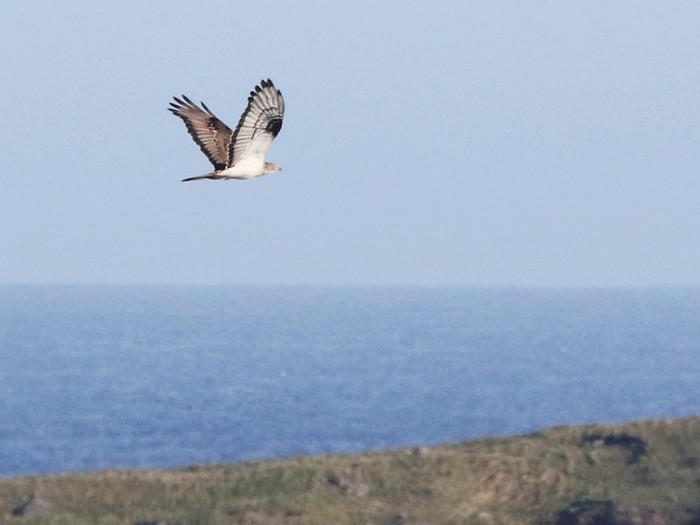 Also on 12th, a rather beautiful pale adult HB flew over Cley (Norfolk) and another in the same county followed the next morning, "off-out" at West Runton (it departed out to sea). The 13th also saw two groups of three birds circle over Kent, the first ones headed south over Sandwich Bay and the second bunch were over Pegwell Bay later in the day while three further singles were noted over Blakeney and Titchwell RSPB (Norfolk) through the remainder of the day. Another Norfolk bird was seen between Cley and Salthouse on 15th and one was seen on Shetland, on Unst the same day (and what a peach he was!). The final ones of the week headed south over Papa Westray (Orkney), Turners Hill (West Sussex) and St. Mary's (Scilly), all on 16th.
Perhaps not the most attractive of May classic arrivals the Thrush Nightingale is, though, an always welcome standard for the month and this week saw the debut bird for 2017 make itself known at Hamister, Whalsay (Shetland) on 13th ~ the extensive island chain has almost 50% of all records here to her name; over 90 from 215 acceptances to date with 54 Shetland May occurrences logged until the end of 2015. s if to confirm the islands' dominance, another was found on Fair Isle on 16th.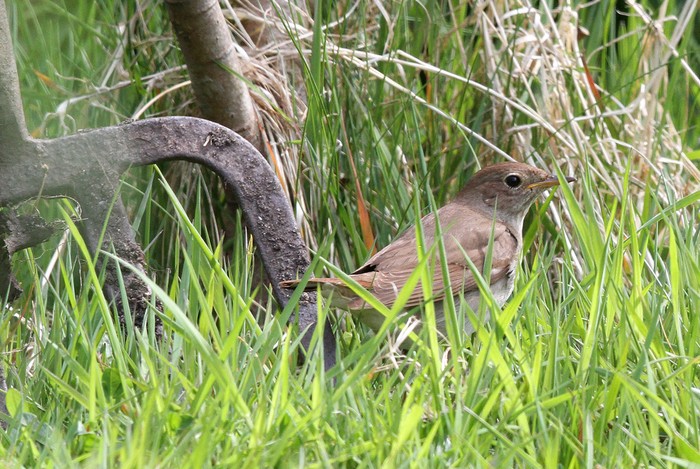 Shetland (generally) seemed unreasonably quiet despite conditions that (on paper at least) seemed moderately favourable to a few things here and there, particularly the first newly arrived male Red-spotted Bluethroats for the month; found on Fair Isle on 10th and 12th (two then, both males), Fetlar on 12th and it then started to really pick up across the remained of 13th ~ three were found on Noss, what may have been another new male was found on Fair Isle (three were present in all) and a couple of Mainland Shetland females also arrived, at Scatness and Channerwick to take the total on the islands to a minimum ten.
Orkney got in on the act on 13th, when singles were found on North Ronaldsay (a males was trapped there the following day), Sanday and South Ronaldsay and two followed back on Shetland Mainland on 14th, at Scatness and also nearby Sumburgh with a third on Noss and a fourth on Unst (with three on Fair Isle). The British mainland was missing out, bar the belated news of a photographed male at Adwick Washlands (South Yorkshire) on 14th.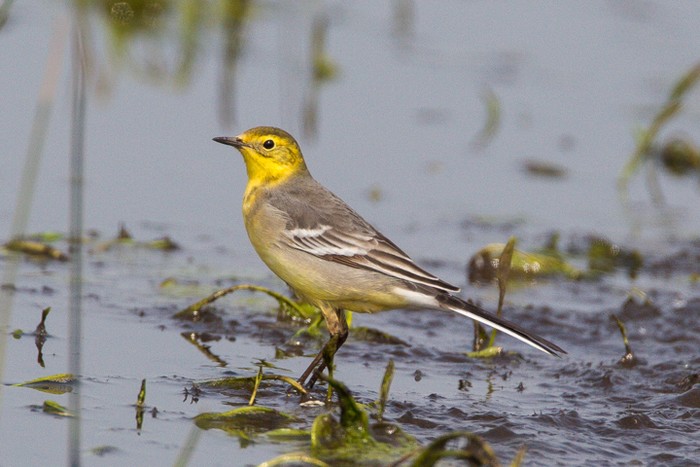 Hot on the heels of the predicted first Citrine Wagtail of the year in north Wales last week comes the second; another female, this one found at Lynemouth Flash (Northumberland) on 12th ~ fittingly, the 12th record for the county and the first since a first-winter was seen on the Farnes in August 2014. Of those dozen, this appears to be only the second spring bird for the northeastern county, the only other one was seen at Hauxley on May 15th-16th 1991.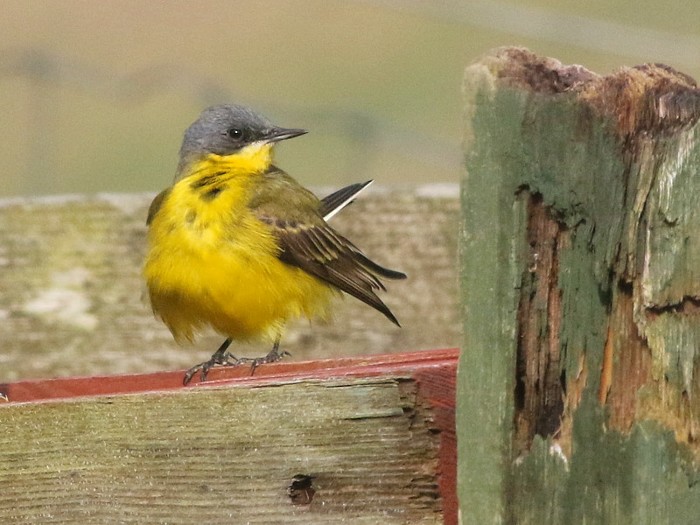 Back on the BBRC list is Tawny Pipit and a fine looking individual spent a few hours on the edge of Weybourne Camp (Norfolk) on 10th, disappearing mid-afternoon after some unplanned growler action. The second of the week flew over Martin's Haven (Pembrokeshire) on 11th and the third spent a bit of time at Long Nab, Burniston (North Yorkshire) on the morning of 16th.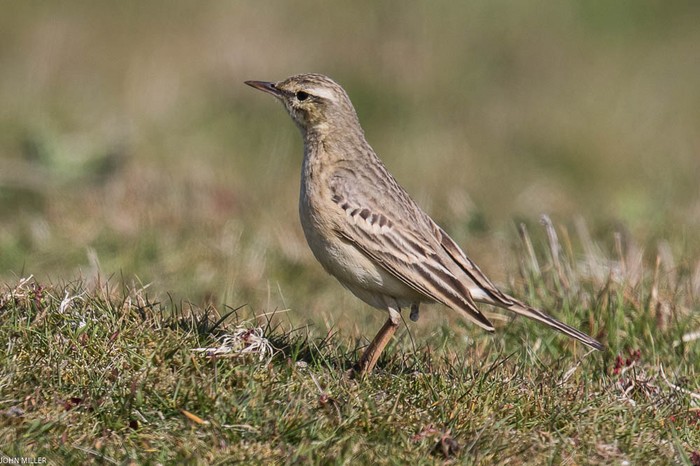 Cornwall's second Red-throated Pipit in as many weeks was reported heading north over the Nanjizal Valley on 11th while a brief Richard's Pipit was at Fleetwood (Lancashire) on 10th.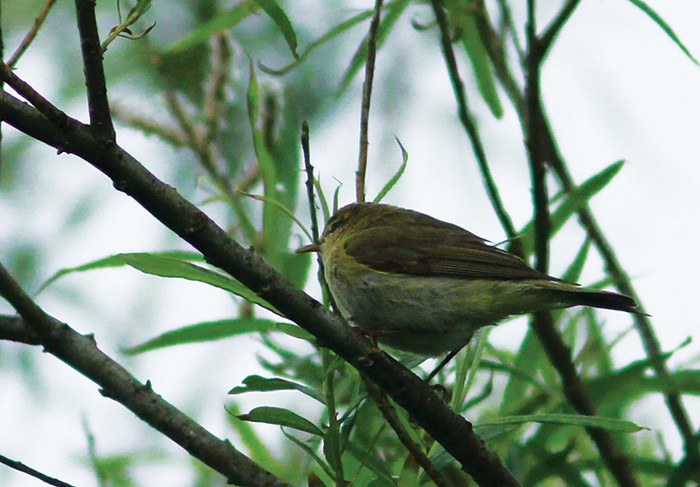 There's been a decided lull in the proceedings regarding Iberian Chiffchaff of late but all that changed with the (literal) early morning wake up call of a super singing male in the willows and hawthorn thickets at Walsey Hills NOA, Cley (Norfolk) on 16th ~ singing like a good 'un and showing well from time to time, this was a textbook bird in all respects; a long anticipated first for the famous TG04 square nicely UTB before the coffee was poured.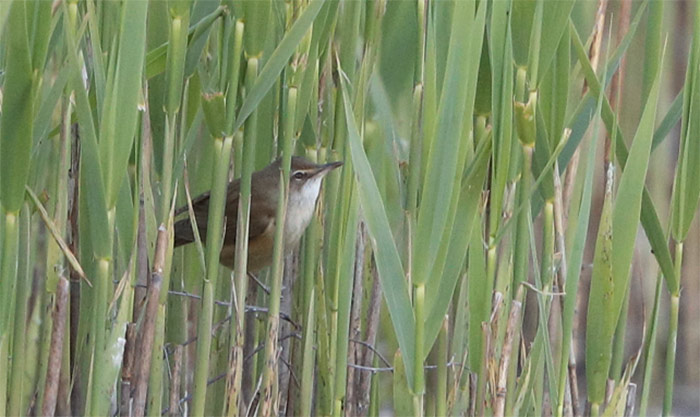 Great Reed Warblers have been a big part of the last week or two and this week saw the fourth of the month burst in to song at the Nunnery Lakes, Thetford (Norfolk) ~ the 16th for the county, the 12th May record in Norfolk and it was also the first for the Norfolk Brecks (there've been a handful on the other side of the county line in Breckland). The two main East Anglia counties share 33 Great Reed Warbler records between them, Suffolk one ahead on 17 to Norfolk's 16.
A female Eastern Subalpine Warbler was trapped and ringed in a local garden at Scatness, Mainland (Shetland) on 10th, with a male Eastern Sub-A found on the afternoon of 12th on the Isle of May (Fife). A further male Eastern was seen briefly on Lundy on 13th. A female Subalpine Warbler sp., was reported briefly a couple of times out at Red Rocks, on the Wirral on 10th.
The early morning of 14th brought with it two new Subalpine Warblers; a singing Eastern male was at Dawlish Warren NNR (Devon) and a female of an unidentified form was found on the Great Orme (Conwy).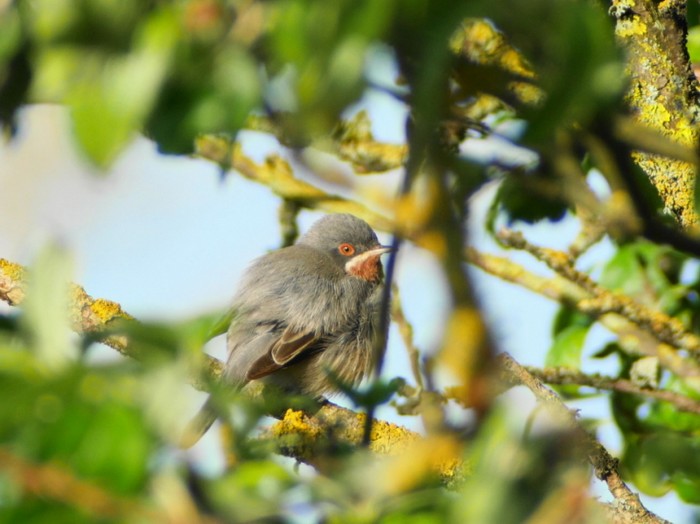 The two territorial male Savi's Warblers that have chosen their favoured spots at Minsmere and Hickling Broad were both noted as still present this week; Suffolk's songster still around to 14th, Norfolk's noise merchant again reeling them in to 16th.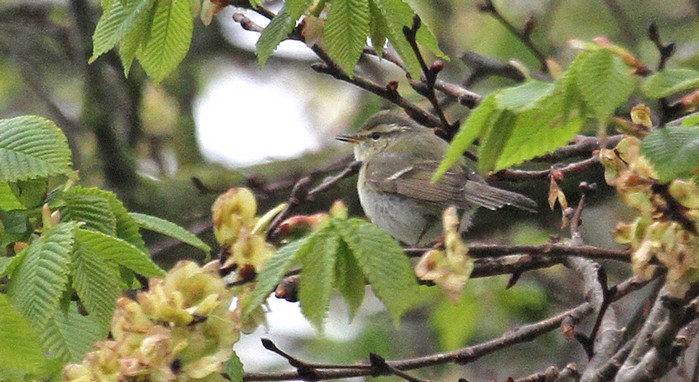 Yellow-browed Warbler is a species that just doesn't want to quit making a way in to the news; this week, singing males were nice finds at Eccles-on-sea (Norfolk) during 11th and on Holy Island (Northumberland) on 13th. A second Norfolk bird was also found on 13th, calling in the bushes at Titchwell RSPB.
It was perhaps a little surprise that the muggy southerlies ahead of the weekend brought only a single report of a northbound Bee-eater at St. Breward (Cornwall) on 10th. More expected early on 13th was the news of a southbound bird over Spurn (East Yorkshire), a bird that coasted down to the edge of the Wash, at Gibraltar Point by mid-morning. The warm southwest wind on 14th brought several reports of this eternal gem; one spent time around Cemlyn Bay (Anglesey) and a second Welsh bird was reported from Strumble Head (Pembrokeshire) ~ presumably the same bird was at Abercastle. At least one was heard-only at Hythe (Kent) and Little Trethewey (Cornwall) with twos flew over nearby Polgigga and also Winterton (Norfolk). Another heard-only single was over the observatory at Dungeness on 15th and the same day saw the same county score another singleton, noted at St Margaret's at Cliffe.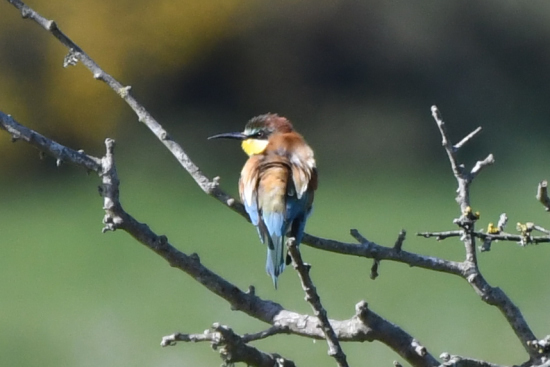 It also seemed somewhat surprising that the warm air coming straight our of the Iberian Peninsula didn't produce any Woodchat Shrikes within the first couple of days of the week but finally on 12th, two made it over the Channel ~ found at Dungeness (Kent) and at Buttedon Hill, Ivybridge (Devon), the latter in place to 14th.
Red-rumped Swallows are the next port of call; a couple were seen not too far apart on 10th in Dorset, at Radipole Lake RSPB and over Portland's West Cliffs. The same day saw another head north over Whitburn (Co. Durham) and an Irish bird was seen at Midelton (Co. Cork) as well.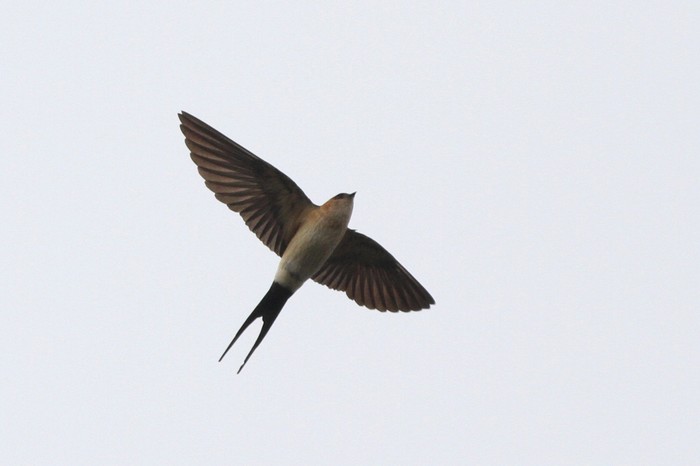 The first Red-rumped Swallow for a couple of years was at Kirkwall, Mainland on 11th-14th and at the other end of the country, the fifth of the week was at Marazion Marsh RSPB (Cornwall) on 12th-13th. A busier 13th started with two southbound birds within an early morning hour at Gibraltar Point NNR (Lincolnshire) and the morning's third was found before 8.15am on Holy Island (Northumberland). The day's fourth was another far-flung arrival, this one on the south end of Mainland Shetland, at Boddam (perhaps surprisingly, this is a species that has been recorded annually on the islands since 2008). The final birds of the week were the two at Druridge Pools (Northumberland) ~ with one of the same over Cresswell ~ and the single at Daventry Reservoir (Northamptonshire), all seen on 15th and a brief bird at Norwick, Unst (Shetland) on 16th.
Another Scottish island stole a most handsome prize this week, a beautiful looking adult male Red-breasted Flycatcher being found on the Isle of May on 12th ~ and it turned out that his little piece of metallic jewellery had been placed about his person in Sweden. A second island bird on the same date made landfall on Sanday (Orkney) with a third reported on the Outer Hebrides, at Paiblesgarry, North Uist on 13th.
Scilly hosted another Golden Oriole on Bryher on 11th and that appeared as though it was going to be the one and only record through the week but singles on 16th, at Spurn and Portland redressed the balance.
New Hoopoes were found at Long Nab, Burniston (North Yorkshire) on 11th and at Ronas Voe, Mainland (Shetland) on 12th while another was reported "recently" from gardens at Porlock (Somerset). The final ones (in a poor week) were seen in Cheshire, at West Kirkby, and Wiltshire, at Everleigh, both on 16th.
As well as a few of those luscious Luscinias, Fair Isle also scooped up two Wryneck on 12th (with two on 13th) and another Shetland bird was at Tresta, Mainland on 13th.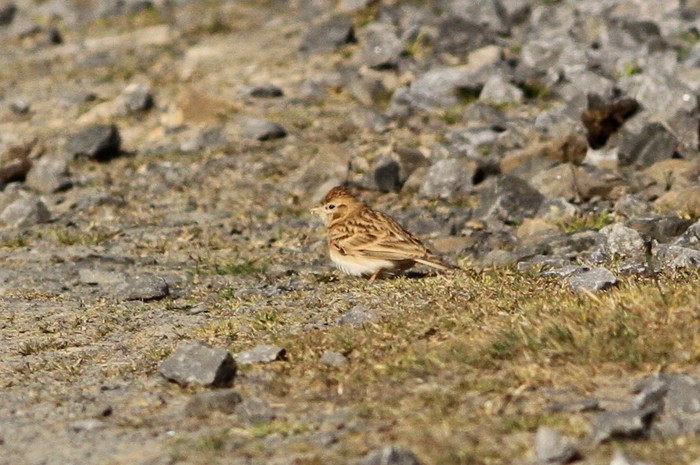 The popular Short-toed Lark found near close of play last week, at Catton Moss (Northumberland) through until 14th and the showy bird at Haroldswick, Unst (Shetland) was present to 14th while new was the Short-toed Lark at Cogden beach (Dorset) on 16th. An Ortolan Bunting on Noss was new on 14th too.
Elsewhere on Shetland, the Little Bunting remained on Fair Isle through until 15th and a couple of Wryneck was found there the same day. Another was at Lochwinnoch (Clyde), also on 12th.
Two different single Serins were logged around the far west end of Cornwall on 11th; a male was at Nanjizal and a female was at Lands End. Southwest England is a region that is pretty familiar with this particular pretty little finch, unlike the far northeast of England, so news of a Serin on Inner Farne, Farne Islands (Northumberland) on 12th-13th was pretty big news ~ the most recent one prior to this was reported in flight over North Shields in April 2007. New too was the bird at Flamborough Head (East Yorkshire) on 13th.
Way down in the pecking order comes the unconfirmed report of a male Black-throated Thrush at Wrexham (Clwyd) on 14th; seen at Moss Valley CP, there's not been too much information about the bird but you'd think a male at this time of year would be unmistakable. It has been a spectacular run for the species of late and there have been a few wintering common thrushes seen this week so, y'know, it could be good. So far, out of the 80+ records noted just one has been seen in May, a female at Lydd, in Kent, on the 2nd of the month in 1993.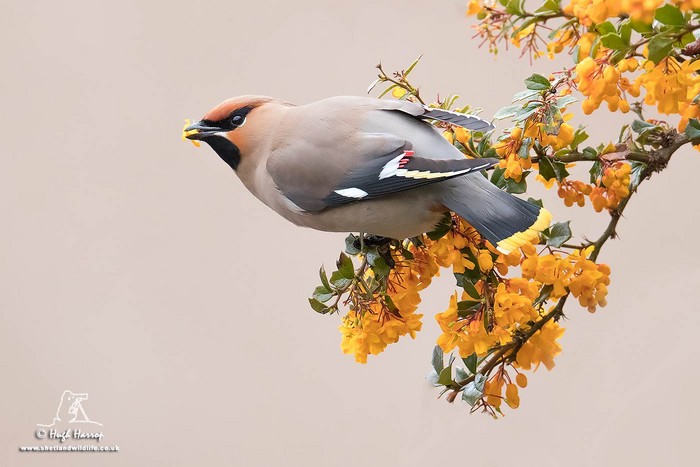 We're almost done with Waxwings for the time being, only three to mention this week ~ two remained at Gorleston (Norfolk) to 10th and one was in Scalloway, Mainland (Shetland) on 10th. The next one of these we hear about will be of the Cedar variety, somewhere remote in around a fortnight or so…
There are red letter days and then there a RED LETTER DAYS and for anyone in one area of Sweden on 14th, a quite extraordinary day was to be had when not one but two national firsts were found within just a few hours of each other on the Svenska Högarna chain of small islands, situated at the top end of the Baltic Sea, to the east of Stockholm.
First came Sweden's first-ever record of Slate-coloured Junco, a singing male, and then came a stunning drake American White-winged Scoter. What an immense (and unique) day that must have been out there...and it didn't stop there for Swedish birders as the nation's second Oriental Pratincole was also discovered on 14th at Bottorp, Småland, a bird that remained to 16th.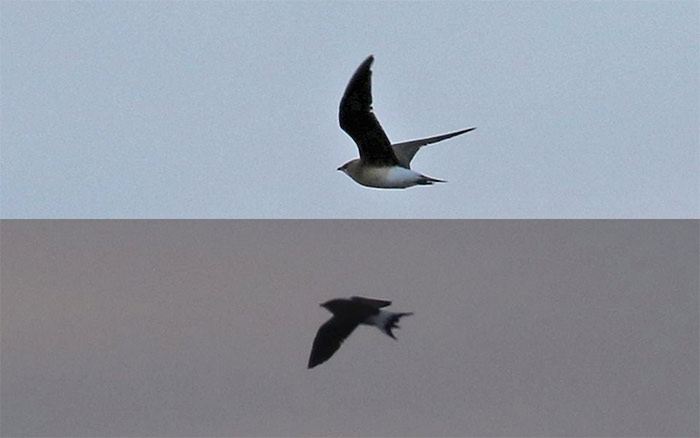 Remarkably, the same day saw another exceptional rare scoter appear in neighbouring Finland, an equally stunning drake Stejneger's Scoter seen and photographed at Hamina, to the east northeast of Helsinki (the 3rd record for Finalnd). The following day saw the discovery of the 6th Finnish Lesser Yellowlegs at Lohja.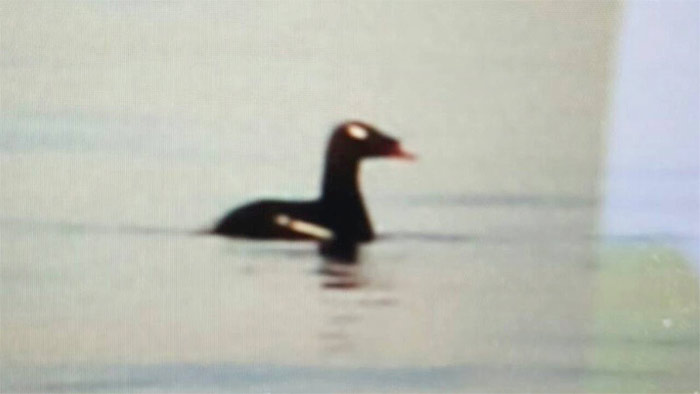 Before deciding top buzz the British coast once again, the adult Black-browed Albatross was seen on Sylt, Schelswig-Holstein, Germany on 11th.
Mooching around the northern tip of the Netherlands on 13th was the immature Lammergeier, seen at several sites around Ulrum, Groningen. It feels that this may be the same youngster seen earlier in the year at several sites in both Germany and the Netherlands ~ if it set a straight-line course west over the North Sea, the seal pups at Donna Nook best be on the look out…
Also in the Netherlands recently, a male Slate-coloured Junco noted at Bergen, Noord-Holland.
In Belgium, the country's sixth Lesser Yellowlegs was discovered at Kalkense Meerssen, East Flanders on 11th while pushing down to the French Atlantic coast and to Banc d'Arguin, in the Gironde region, where the adult Sooty Tern that was seen on the Cape Verde Islands and also the Canaries in March and then Portugal in April settled on site from May 8th-11th at least (joining the returning Elegant Tern which appeared back on April 23rd). Also within French jurisdiction, the island of Corsica produced a Cream-coloured Courser at Punto Spano on 15th.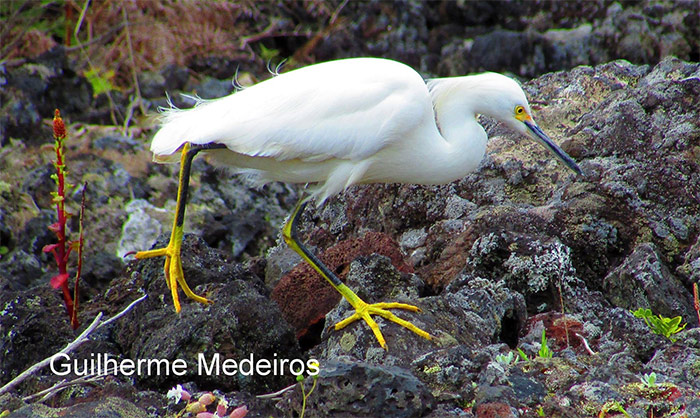 Out on the Azores, a dazzling male Indigo Bunting was at Lajes, Flores from 7th-13th at least while a striking Snowy Egret was at Madalena, Pico from 12th (there's a lot of listers here hoping for one of these again…).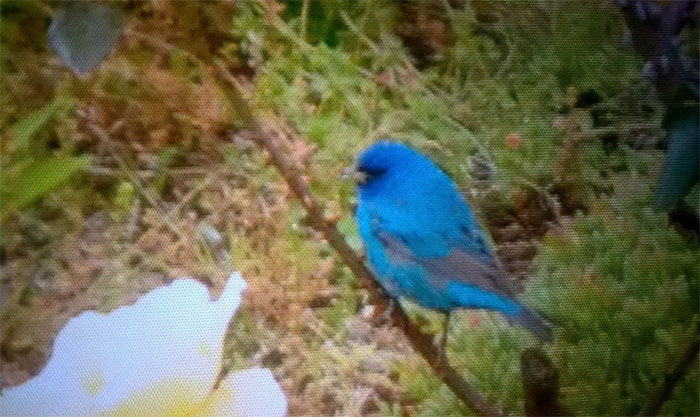 The bit of news that fascinates most though came from the Channel Islands…almost had passed since there was news of the first-winter American Royal Tern but on May 10th the bird was seen again on Guernsey, noted at Baie des Pecqueries. Then on 15th came a sighting some 30 miles or so to the northeast, the bird having moved to the smaller island of Alderney, seen heading north over Longis Bay.
The coming week…
Here we are then ~ shifting inexorably towards the business end of the month. Truth be told, despite much of interest in the first 16 days of May, that electrifying "big one" hasn't surfaced yet and looking ahead at the forecast, you wonder if it will in the next seven days…
Early indications show the wind shifting back to the north which wont suit too many but as has so often been said here before, those overshoots will still be overshooting, almost regardless, so hope (as ever) springs eternal.
A day-by-day trundle through the past feels like a way of showing just how fine a time we could have in the seven days ahead as the spring clock ticks down to the next big mega…
May 17th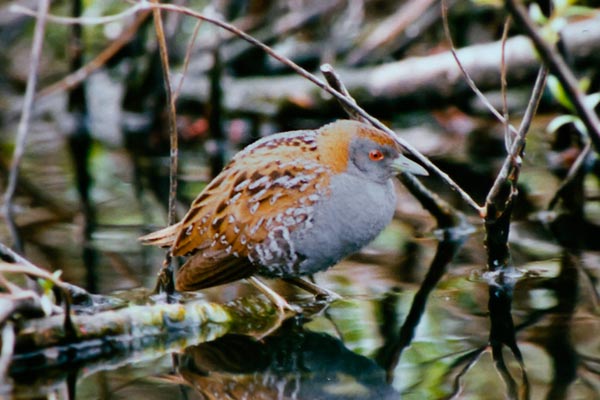 Historically, this has been a good date to find Little Bittern (5) and Broad-billed Sandpiper (6) (as well as the usual suspects that have featured for the last couple of weeks). "Cutting edge" highlights from the day include the marvellous Baillon's Crake in Sunderland in 1989, the inevitable Calandra Lark (on the Isle of Man in 1997), a trapped Eastern Olivaceous Warbler at Portland in 2008, the Leuchars (ex-Cley) male White-crowned Sparrow, also in 2008 and, rarest of all, the suppressed Northern Mockingbird that was seen in Essex (for a week…) in 1998.
May 18th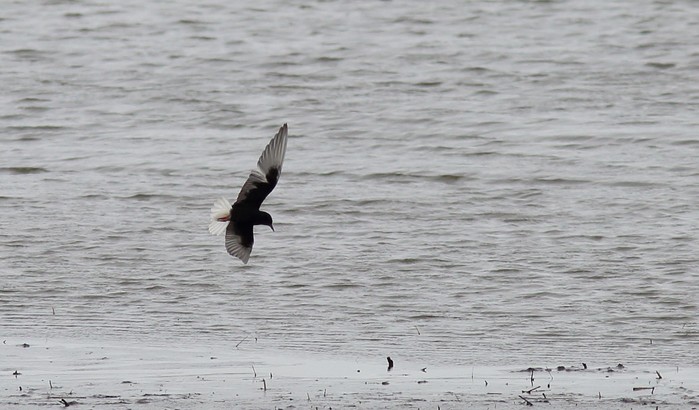 An even better day for Little Bittern and Broad-billed Sandpiper fans (9 & 10 respectively). This is also a strong date for Black Stork (8) and more and White-winged Black Terns (at least 13). The "bigger" rares are a tad thin on the ground, building up from single Collared Flycatcher (a male at Spurn in 2013) and Black-eared Wheatear (a male on Tresco in 1998) to a Spanish Sparrow in Pembrokeshire in 1993. Nearctic stars have included the male Myrtle Warbler on Fair Isle in 1977 and the Spurn Song Sparrow of 1964.
May 19th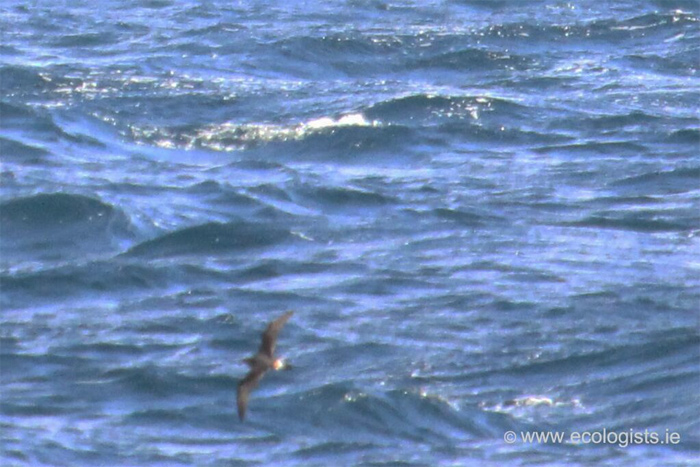 Two words. Bermuda Petrel.
At sea, off the Kerry coast, 2014. Unbeatable.
May 20th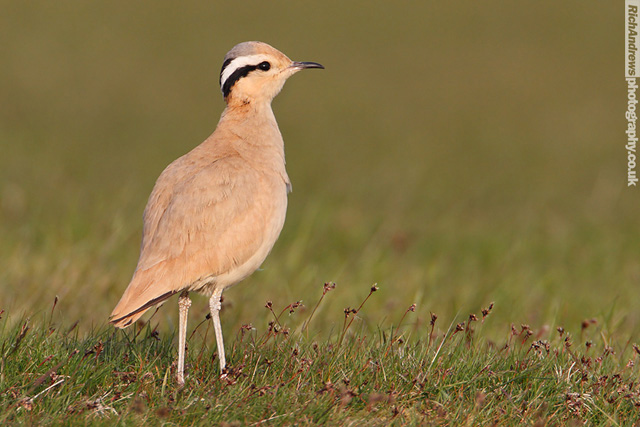 Quality abounds throughout…from double figures for Red-footed Falcon, Subalpine and Great Reed Warbler to one Rock Thrush, two Rollers, three Collared Pratincoles, four Whiskered Terns and five Thrush Nightingales, it is a hefty old day. And then come the megas…Orphean Warbler and Brown Shrike in Cornwall in 1981 and 2010, a couple of White-throated Sparrows in 2002 (at sea) and 2012 (on Skye), another White-crowned Sparrow (this one in Cork in 2003) and the Indigo Bunting on Anglesey in 2013. Most appreciated of all though was the beautiful Cream-coloured Courser in Herefordshire in 2012 ~ it remains one of springs most extraordinary vagrants of modern times.
May 21st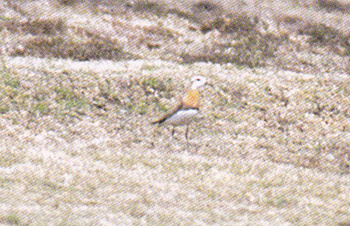 Two shorebirds steal the prizes today ~ the White-tailed Plover that spent not long enough at Cleadon in County Durham and the dazzling, sensational male Caspian Plover that spent not long enough on St. Agnes in 1988.
Worst dip ever? Probably.
The week's second Trumpeter Finch also catches the eye, but I'm still reeling from the nightmares of the miserable day trip to Scilly…
May 22nd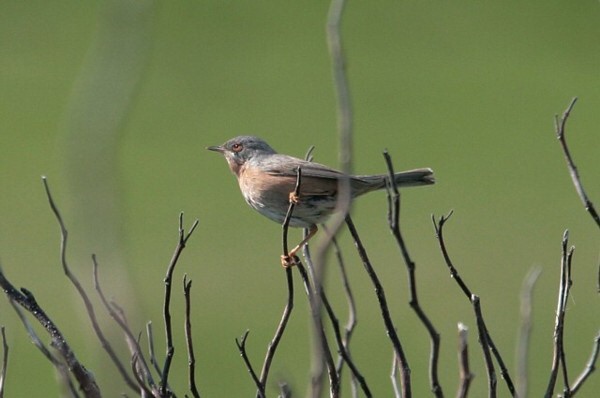 Well, there's another Caspian Plover to remember, the Norfolk bird of 1890…(so it's prime time for one of those bad boys…). It is also a surprisingly strong time for White-crowned Sparrow, the third of the week appeared at Hornsea Mere in 1977. A couple of the hot-tips for last week loom again ~ Little Swift (at Seaforth in 1984) and Calandra Lark (on Fair Isle, 'natch, in 2014) and it was also the date that another tip from last week, Moltoni's Warbler, made its first modern day appearance here, found at Scatness in 2009.
May 23rd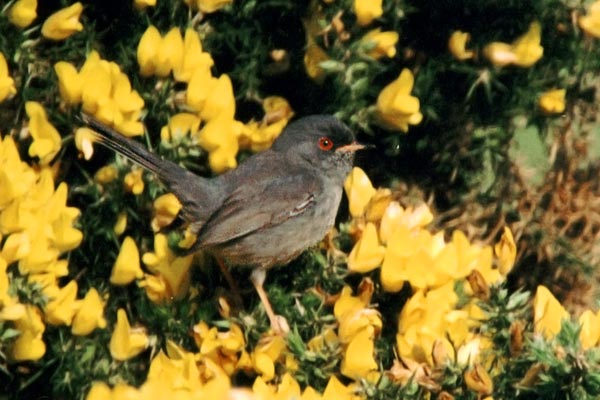 A quieter day historically than some of those mentioned above but if "quiet" includes a Marmora's Warbler, a Little Bustard, a River Warbler, four Rollers, a Terek Sandpiper, an inland Least Sandpiper and another White-throated Sparrow then I'll take a quiet old day anytime…
Fun and games ahead then…hopefully. There's something brewing on the east coast and it may be yet another Yankee Doodle Dandee…and if it isn't something colourful and warblery, I'm going all-out for the American Royal Tern to finally do the right thing and plonk itself on the south coast for a day or two.
The news that it was on Alderney sent a tingle down the spine as it means that it will either track along the French coast (Alderney is far closer to France than England of course) or it will cross the Channel and decide to alight anywhere from Weymouth to Worthing within the first day or two of the new week. A seawatch flyby from Selsey feels likely, given the trajectory it could have been on…
Mark Golley
May 17th 2017
Share this story
Tweet


Many thanks to all contributors for their photos and videos this week.
Special thanks this week to Keith Pellow for allowing me to include a copy of his still-stunning Caspian Plover shot from Scilly. Thanks also to....
Anton Meenan, Steven Nuttall, Will Soar, Joe Fryer, Jon Worthington, Justin Carr, John Tymon, John Kemp, Glyn Evans, Andy Livermore, Martin Goodey, Lewis Thomson, Ashley Fisher, Anthony Williams, Reuben Veal, Nick Crouch, Davie Abraham, Eric Dempsey, Andy Williams, Keith Langdon, David Cooper, Darren Robson, Gareth Rees, Dave Burns, Chris Greene, James Nangle, James Robson, Penny Clarke, Erich Hediger, Peter Phillips, Steve Blain, Richard Stonier, Martin Standley, Jon Dunn, Alan Curry, Ron Hindhaugh, Chris Waring, John Miller, James Lowen, David Boult, Tony Duckett, Jonathan Farooqi, Martin Jones, Rob Stonehouse, Hugh Harrop, Teemu Sirkkala, Guilherme Medeiros, Alan Tate, Eddie Seal, Ryan Wilson-Parr, Richard Andrews, Steve Minton.