Weekly birding round-up: 29 Mar - 4 Apr 2017
The week at a glance
Belated news of a Slate-coloured Junco for Borders
Startling little influx of Iberian Chiffchaffs across the week, half a dozen birds found, including a returning bird in Shropshire
The remote Pied-billed Grebe remains in Argyll & Bute
Cornwall's resident-ish Hudsonian Whimbrel still on the edge of Mount's Bay
North Ronaldsay's Northern Harrier lingers to the start of the new month
Scattering of typical early spring overshoots appear through the early part of the week
The new week began with the promised change from the chilly, ever-so-slightly raw largely grey and slightly damp northeasterly weather to an altogether more spring-like (even early summer-like) couple of days as Azorean air pushed the temperatures up and the grey clag was replaced by the bluest of blue skies.
Some parts of southeast England saw year-high scores on the thermometer, close to 22 degrees in Kent, Essex and Norfolk and that pulse of warm air did just what was expected of it - new migrants rattled in to the country and with them came a few scarcer options too.
Not everyone enjoyed the warmth, some parts of the north of Britain still had rain to contend with and the weather meandered a little as the weekend came in, sunshine and showers the order of the day for a few of us and with the wind heading back through towards the northwest and more seasonal mid-teen temperatures returned.
The week ended with more sunshine and more calm weather as a ridge of high pressure began building in from offshore of the Iberian peninsula which, on paper at least, bodes well…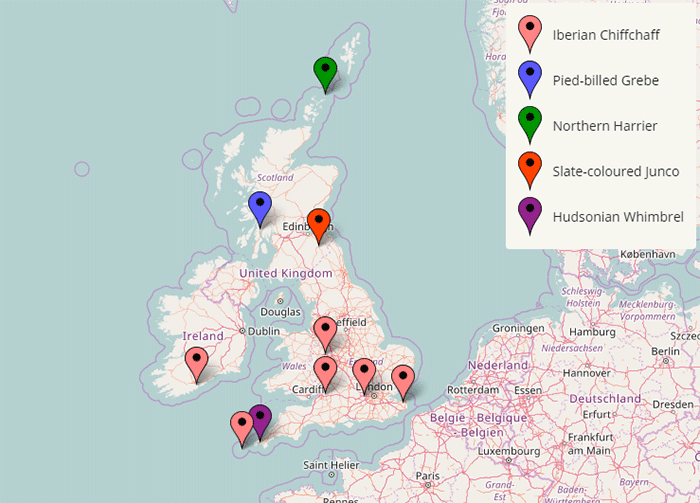 Here we go again as another week passes by as another star turn of the winter chooses his time well to depart - leaving a hole in the top of the round-up too.
After over six months on site at Skinningrove, the 1st winter male Eastern Black Redstart finally took his leave of the Cleveland coast; last seen on the last day of last week's review period, March 28th, there's only been negative news this week - the change in the weather across a cool Tuesday in to a warm Wednesday perhaps being the final nudge to our fine feathered friend.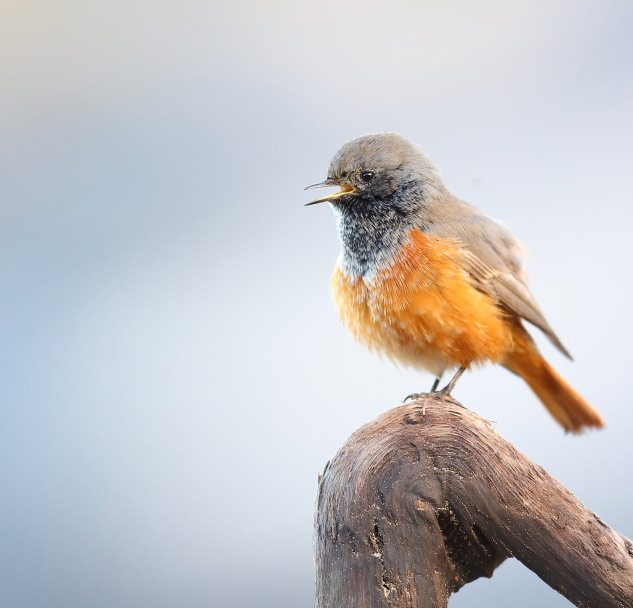 The same meteorological change may also be the primary reason as to why Norfolk's four-day Red-flanked Bluetail upped sticks and departed too; busily feeding on both 27th and 28th, the warmth in the wind may have induced movement in that one too…
…and while we're at it, what happened to the Blue Rock Thrush? After going AWOL for a few days, it was noted on two days last week, slightly away from its regular station in the houses of Stow-in-the-Wold but has gone to ground again (including a snippet of negative news too). Has it moved again or properly moved on?
Slate-coloured Junco
There was a short, sharp use of a small, perfectly formed little profanity when my pager proffered belated news of this week's main attraction on the evening of 3rd - the Slate-coloured Junco that spent two days in a garden at Dingleton, near Melrose (Borders) on 31st-1st had only gone and completely scuppered my clever-clogs prediction for next week.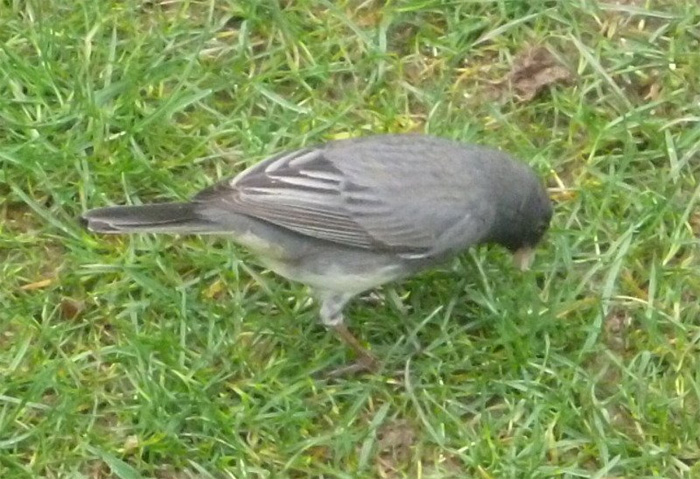 I really fancied one of these smoky crowd-pleasers next week, given the time of year and the number of acceptances that have cropped up around this time of year; the one upside of this fine garden bird find is that I don't have to wibble around searching the databases for more info; that job was already done and dusted at the rear end of what's in front of you now…
…so here it is…
There have been eight April records in all (out of just under 50 in all) for this handsome little passerine, two of them in the week ahead (on the Isle of Wight on April 8th-9th 1989 and, in what became the Acadian Flycatcher garden, at Dungeness on April 7th-9th 2008) and this time last year, out on the Isle of Man, a fine male was located at Point of Ayre.
There have been four accepted records for the Scottish mainland (up until the end of 2015), one of them was seen in Clyde for two days in May 1992 with the others appearing in Highland in May 1977, April 2000 and June 2007 so this week's individual will be a county first.
Iberian Chiffchaff
As has been said a few times before here, it is a dangerous game to start writing about your headliners before the weekend (needs must, I'm a busy man) and these last two weeks have been prime examples of that. A couple of weeks ago, Friday closed and the only bird on offer was the EBR but a nice waft of new birds popped up to enliven what would otherwise been an exceptionally dull first three or four minutes of reading.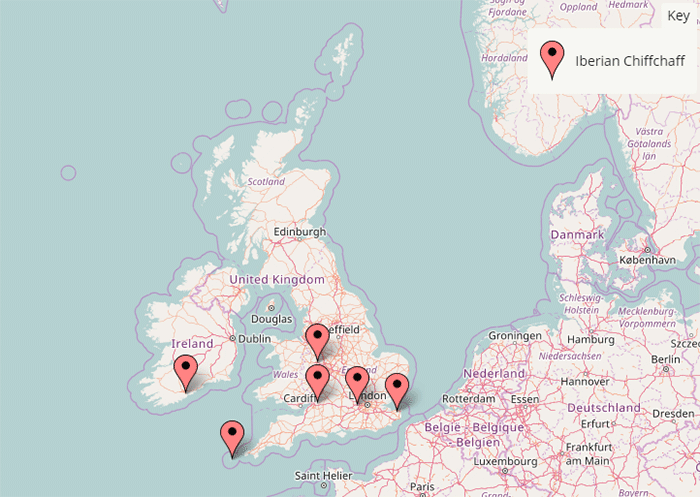 This week, was a similar scenario. Until Monday, the main news up to that point was dominated by the striking influx of an impressive six birds, all of the same species, but a decent one for all that (still very rare and also always the subject of some debate too) - Iberian Chiffchaffs; first up came the singing male found at Porth Hellick, St. Mary's (Scilly) on 30th and Seaton GPs, not far from Stodmarsh (Kent) on 31st, with news confirmed the next day. These were followed by presumably a second Scilly bird and also another songster in Cork on 2nd with late news on the same day popping up of the week's fifth singer that had spent March 30th in Berkshire. The week drew to a close with the reappearance in Shropshire of last year's county first.
Last week's first bird of the year at Yate was discussed not only for being borderline with regards to it being in Somerset rather than south Gloucestershire, but also because there was a little debate not so much with how the bird looked but how it sounded.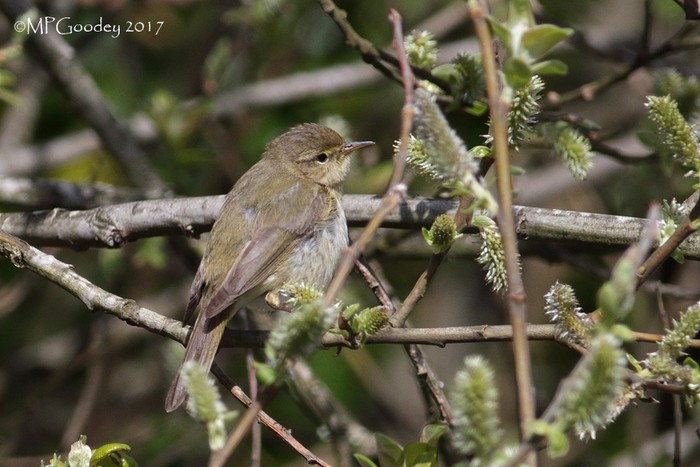 It seems as though this week's half dozen haul are all tickety-boo. The Scilly birds have the prospect of the Porth Hellick bird moving around St. Mary's before settling not that far away, at the Dump Clump on 2nd. However, the likelihood is that it was two birds and once accepted, they will become the fourth and (probably) fifth record for the islands, after single singing birds were also on St. Mary's in April-May 1992, four late April days in 2013 and last year's long-stayer on Tresco, present from mid-April to mid-July.
Kent's bird (another odd singer according to some), became the third March arrival of the year (the only ones ever here too of course) and is potentially the fifth county record; the first was seen and heard at Dungeness in April 2001, the second spending over 40 days at Walderslade, near Chatham in late April to early June 2010 while birds #3 and #4 were noted last spring - briefly at Reculver on April 20th then Northdown Park, Margate from April 23rd-28th.
After the Scilly duo and the Kentish bird came a first Iberian Chiffchaff for County Cork when a singing male was discovered at Carrigaline on 3rd. As it stands, there seems to be just one accepted record for Ireland ahead of this one, a bird that spent a single mid-June day at Brownstown Head (Co. Waterford) in 2010 but there was a bird that moved from possible to probable to definite (and back again) in Louth, at Drogheda in the spring of 2011 (what happened to that?).
Late news emerged too of a singing male Iberian Chiffchaff that was found along the river at Windsor (Berkshire) on 30th, with news known by the evening of 2nd - this too could become a significant county first if deemed acceptable.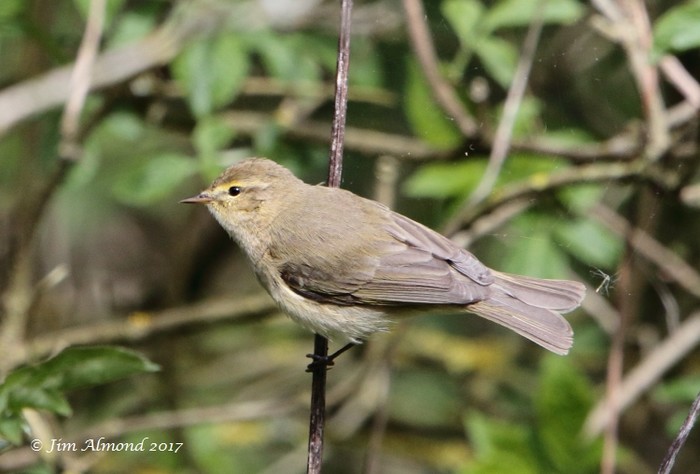 The busiest week yet for the species ended with the entertaining reappearance of the singing male which had returned to Donnington Wood in Telford (Shropshire) on 3rd with conformation following along on 4th. Last year he appeared on April 5th and stayed until early May. To date, there's only been one presumed returning singing male Iberian Chiffchaff - seen in the same bushes at Titchwell RSPB in Norfolk in the consecutive Aprils of 2010 and 2011. This week's Telford bird is undoubtedly one in the same.
The arrival of these tricky and often controversial little Phylloscopus warblers is unprecedented so early in the spring, seven birds within ten days is quite something and sees 2017 already overtaking the five found within the same number of days in mid- to late April 2013. Our best year to date was 2010 where eight birds were accepted, from April 3rd (in Norfolk) to June 16th (the already mentioned bird in Waterford). We're well on course to see that number toppled.
Ok. Short and sweet time for these next three…
Pied-billed Grebe
Almost a week after being relocated on a favoured stomping ground, April 2nd saw news of the continuing presence of the adult male Pied-billed Grebe on Loch Feorlin, near Minard (Argyll & Bute), showing well on the day and clearly very at home with an area it has obviously become used to. He was logged again on 4th.
Hudsonian Whimbrel
Even more at home in what is almost now home and looking suitably brown, apricot washed and markedly unlike "our" regular Joes, the Hudsonian Whimbrel was still at Boat Cove NT (Cornwall) to 31st…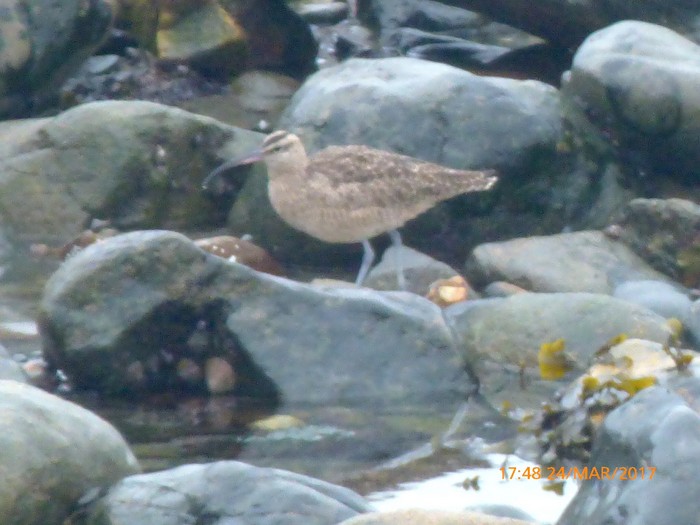 Northern Harrier
…while out on Orkney's northern isle, the male Northern Harrier chalked up another month on the stay of winter 2016-'17 board, seen on North Ronaldsay on April 1st-3rd.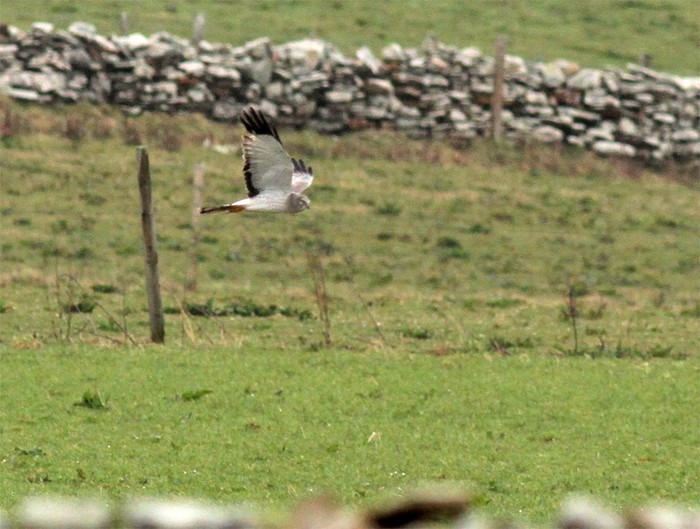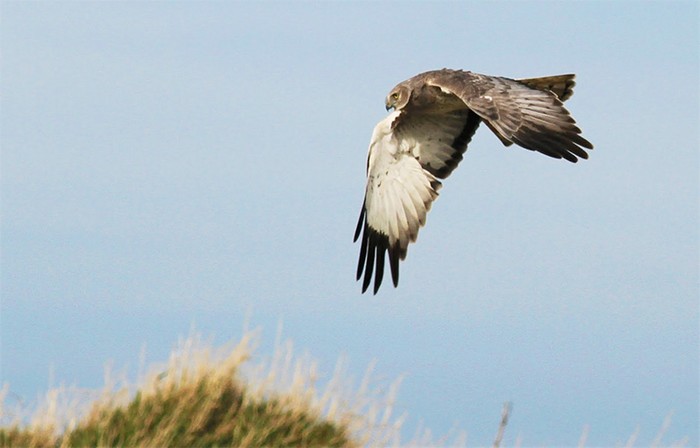 The first couple of days saw another decent little spread of passage White-billed Divers - in the Outer Hebrides one remained at Eoligarry, Barra from 29th while the following day saw at least three noted in Moray, two off Burghead and one again from Cullen whilst not far along the coast and just in to Aberdeenshire, four birds were noted off Portsoy.
Back on the Hebrides, a lone White-billed Diver was noted from Port Nis, Lewis on 1st and the same date saw the regular Orcadian bird noted as still present on South Ronaldsay and it was still around to 4th.
Not much out at sea this week, a dark Pomarine Skua off Porthcawl (Glamorgan) on 31st being the only other thing of note.
As with one or two other species that have been new for the year this week, the discovery of 2017's debut Purple Heron at Lower Moors, St. Mary's (Scilly) on 3rd was, although no surprise in terms of date or place of occurrence, nevertheless, exceptionally welcome. What was presumably the same bird headed across the island, from Longstone towards Porth Hellick during the afternoon. What was presumed to be the same bird was then seen on 4th heading over St. Agnes.
Talking of being exceptionally welcome, birders on Scilly rattled in their second herony 1st of the year the day after the Purp was seen at Lower Moors. This time, the early morning of 4th, at the same St. Mary's site, saw a male Little Bittern appear, the 21st record for the islands (out of a national figure of some 500 in all) and the first April record since 1992.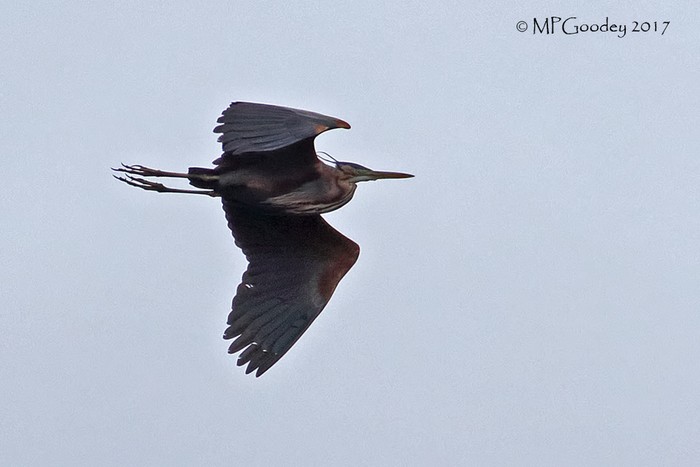 Cattle Egrets still remained a significant feature of the news throughout the week; back up from last week's 149 to 186 birds this week, seen across 19 counties in Britain and Ireland.
The southwest of England was still a way out in front in terms of numbers noted, 96 across the region's four counties but Devon has overtaken Cornwall as the leader of the pack, at least 61 seen with 19 remaining at Chivelstone, near East Prawle to 31st, 12 again around Totnes on 2nd, 10 were along the river at Bideford on 31st while eight were again at Teigngrace the same date. Dorset scored at least 19, nine noted over Radipole Lake RSPB on 30th with the half dozen remaining at Litton Cheney to the first day of the new review period. In Cornwall, there were 14 birds at three sites, including six around the Hayle Estuary on 2nd and the half dozen were still along the Gannel Estuary, near Newquay to at least 1st. Somerset managed a two and two ones.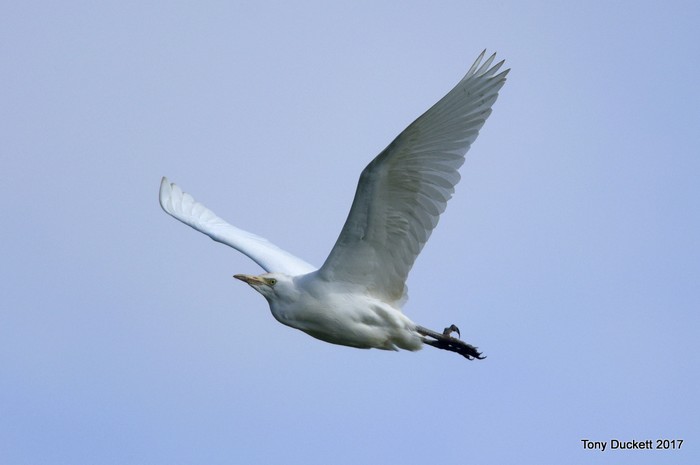 At least 43 Cattle Egrets were recorded in Ireland through the week, with 14 at Tacumshin (Co. Wexford) on 4th the highest national count with 11 at Lough Beg (Co. Cork) on 3rd and the same county hosted a further five or so, with one making it to Cape Clear Island from 28th-30th. Up to nine birds were logged in Waterford and new flock of four were seen in County Limerick.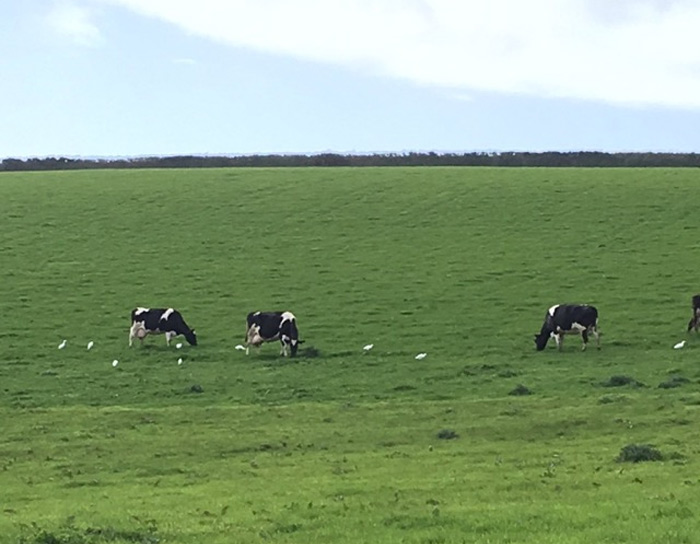 Further British birds included 17+ for the northwest, with seven at Freckleton on 3rd the highest count; 11 were noted around the Midlands with nine in Gloucestershire while the southeast mustered seven from three counties. Wales managed nine to eleven birds in all, including a four, which grew to a five, at Malltraeth Marsh RSPB (Anglesey) from 29th-4th and one was in the northeast, at Deeping Lakes LWT (Lincolnshire) on 3rd.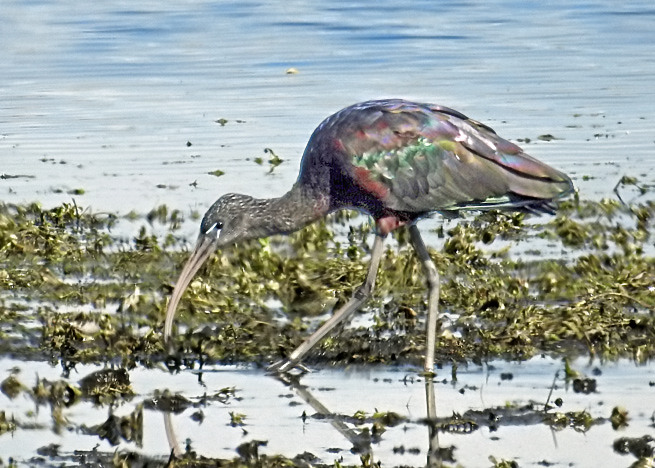 It was, once again, "as you were" for Glossy Ibis - seven birds noted, with regulars at Fremington and then Isley Marsh RSPB (Devon) and Thorncross (Isle of Wight) to 30th, Old Hall Marshes (Essex) on 31st, the young bird was at Cossington LWRT (Leicestershire) and the adult bird stayed at Ely (Cambridgeshire) to 3rd while at least two (fingers crossed…) roamed the Somerset Levels all week.
Plenty of Spoonbills were logged in small numbers this week, including four records of birds heading west off Sheringham (Norfolk) through the week (three twos and a single) while even more widespread across the country and in bigger numbers too were Great White Egrets the most interesting of which were six at ham Wall RSPB (OSmerset) on 4th, the five seen at Welney WWT (Norfolk) on 29th, four still at Leighton Moss RSPB (Lancashire) to 2nd, threes at Lound (Nottinghamshire) on 31st, Burton Marsh Wetlands RSPB (Cheshire) to 1st and Greylake RSPB (Somerset) to 2nd.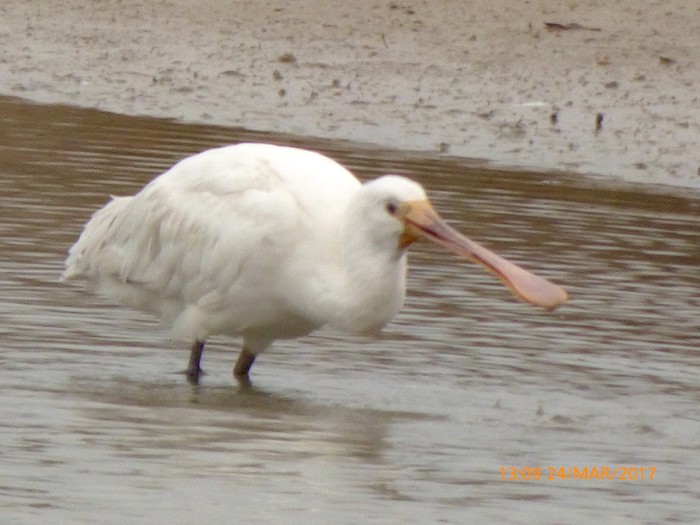 Pick of the bunch though was the Great White Egret that, after five days of occasional gazing out of assorted windows of opportunity across the Glaven Valley, finally made it on to my house list - joining a small but illustrious (and impressive) band of rares seen from said abode!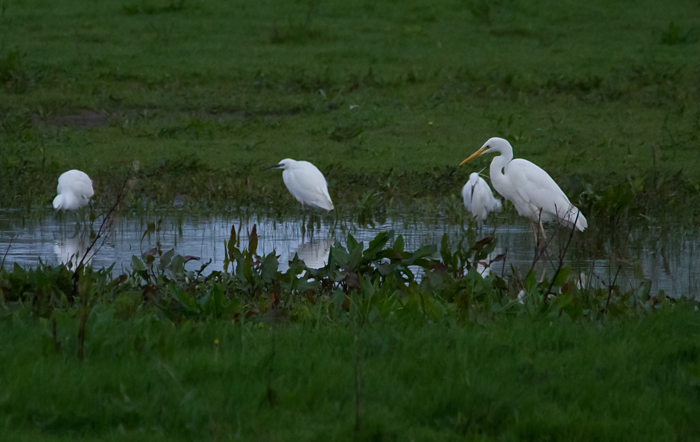 Last week's three Common Cranes that were tracked across country from west Wales to North Yorkshire feature again this week, seen in another new county when they appeared at Flamborough Head (East Yorkshire) on 29th. Other moving migrants were over Mitcham and Beddington (London) and Tynemouth (Northumberland), also on 29th, around Unst (Shetland) on 31st-1st and at Blue House Farm (Essex) on 2nd.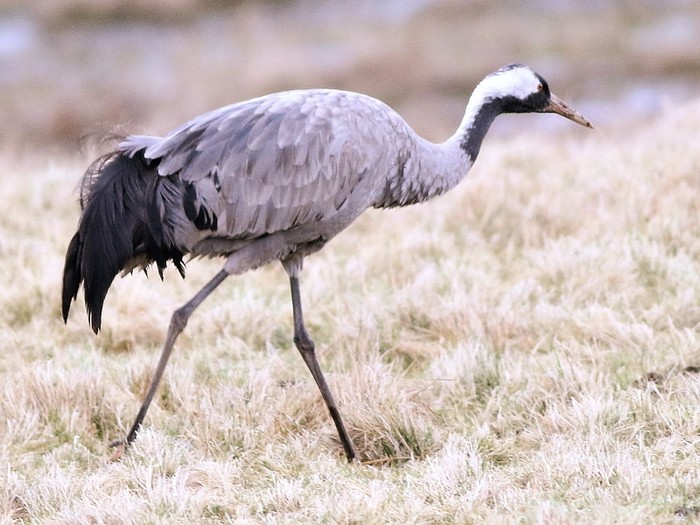 Norfolk regained the "big flock" crown this week, 18 birds around the traditional breeding areas of Horsey on 31st (with a single at Hemsby on 29th) while the Nene Washes flock managed 13 on 29th with two more Cambridgeshire birds at Bluntisham on 2nd.
The usual saga of East Anglian White Storks continued this week with the appearance of a raggedy-looking thing at Wickham Market (Suffolk), the bird relocating later in the day to Campsey Ash. This is presumably the same bird that was seen less than 10 miles away, at Badingham last week so, in a way, it has possibly become more interesting (if only by the fact that it hasn't returned to an enclosure just yet) but we may never know what this bird's origins are.
Others in East Anglia were noted at Feltwell on 30th and over Ranworth Broad NWT on 1st - the usual caveats in full swing - while there was no doubting the origin of the released, once wild, bird in Derbyshire and Nottinghamshire this week.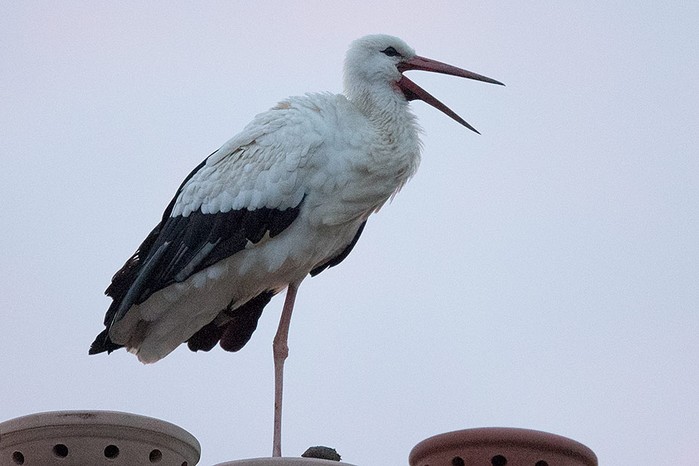 There may though have been a real White Stork or two this week thanks to the single bird that flew over Dublin's Phoenix Park on 2nd ~ records are still genuinely rare in Ireland but this one follows the report of a bird in Cork last July ~ and also Frampton Marsh (Lincolnshire) on 3rd with perhaps the same bird over Warbouys (Cambridgeshire) the following day (but that one could be from anywhere, maybe even Derbyshire?)
New for the year was the singing male Spotted Crake heard overnight on 2nd/3rd on Chester Meadows (Cheshire).
There were still a handful of wild geese hanging on as April came in to view - on the west side of Islay, a Richardson's Cackling Goose remained with the still-to-depart Barnacles until 29th while the Todd's Canada Goose in Lancashire was still on Crossens Outer Marsh to 2nd.
We're also down to just the two east coast Black Brant, singles hanging on for a little while longer at both Frampton Marsh RSPB (Lincolnshire) and Spurn YWT to 3rd.
After a couple of weeks away from the round-up there wasn't too much of a surprise when news of the continuing presence of the drake Black Duck at Strontian (Highland) came forth on 29th. He's going nowhere fast that boy…
Back again after a week wandering to somewhere fairly adjacent (presumably) the drake Lesser Scaup was back on Dozmary Pool (Cornwall) on April 1st, the only representative of the species this week and only seen on one day.
Seemingly coming full circle this week on his mini-tour of south Northumberland was the drake Ferruginous Duck who, after collecting another new location - Silverlink Park LNR on both 29th and 30th - decided to return back to Washington WWT on March's final day. By 3rd it was on the run again, appearing at Arcot Ponds, some three miles from Gosforth and he was back at Silverlink on 4th.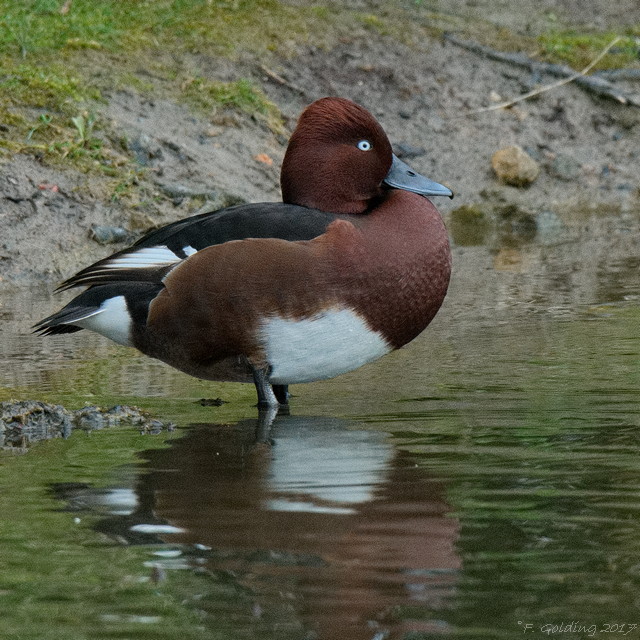 The line "of unknown origin" hasn't been used for a while for this localised traveller, so consider it duly re-attached to said mahogany-hued, handsome quacker forthwith.
Also still in Northumberland and of rather less dubious background, the drake Ring-necked Duck that remained at Hauxley NR to 2nd. Further new, new drakes in Scotland were found at Torphichen (Lothian) on 30th and in Highland, on Loch Shiel near Acharacle on 31st. Also new this week the pair of Ring-necked Ducks on Dunfanaghy New Lake (Co. Donegal) on 1st and April's first day also saw the reappearance, in Essex, of the drake at Tollesbury Wick EWT, previously reported there on March 19th.
Wintering stalwarts (a duck and a drake) lingered at Paxton Pits NR (Cambridgeshire) and Dungeness RSPB (Kent) until at least 2nd with other familiar birds, both drakes, were again near Pitlochry (Perth & Kinross) and Knockaderry Lake (Co. Waterford) also on at least the first day of the new month, bringing the total for the week up to 10 in all.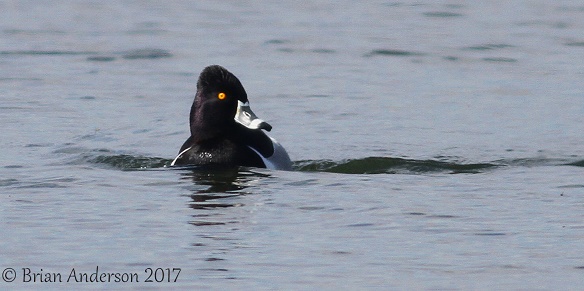 There wasn't too much new in the world of American Wigeons this week; the first-winter female was still at Holt (Worcestershire) as the new month began (and on to 3rd) and lone drakes remained at Dundrum (Co. Down) to 31st and Udale Bay (Highland) to 1st.
With the changing of the seasons in full flow, the spread of re-shuffling Green-winged Teals around the place didn't come as anything other than being the norm. New on the first day of the new week were single drakes on the Ythan Estuary (Aberdeenshire) and also in Ballysadare Bay (Co. Sligo) and they were part of the half dozen logged on 29th. The others were still present in England at both Lytchett Bay (Dorset) and Saltholme Pools RSPB (Cleveland) and up in Scotland, at Caerlaverock WWT (Dumfries & Galloway) and also Papa Westray (Orkney).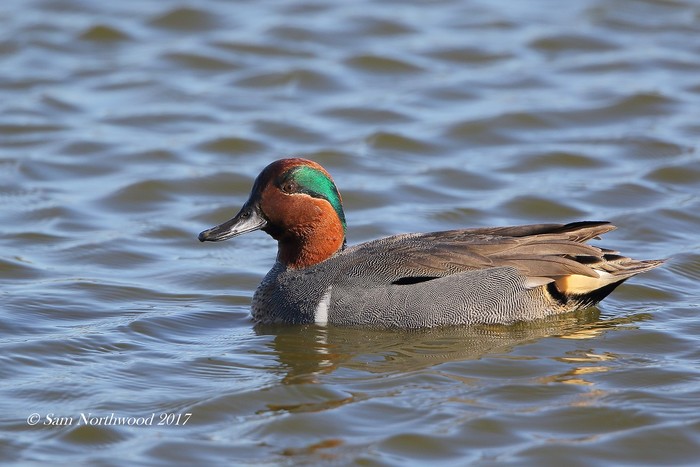 Three more Scottish island birds took the total to nine by the end of March; still at Loch Gruinart, Islay (Argyll & Bute), on North Ronaldsay (Orkney) and Pool of Virkie, Mainland (Shetland) all present on 31st with the total increasing by four over the weekend; new was a drake at Alkborough Flats (Lincolnshire) on 1st while on 2nd, one was back again at Newington, on the River Idle (Nottinghamshire) - the bird was last seen there on 21st. The 2nd also brought news of the lingering drake at Ashleworth Ham NR (Gloucestershire) and a second bird for Dumfries & Galloway, at Castle Douglas while new on 3rd was a Norfolk bird, found at Burnham Norton, bringing the week's total to 14.
Not much action to report for the first of our regular rare seaducks this week, just four lone Surf Scoters to make note of; a drake was again in Largo Bay (Fife) and a female at Laytown (Co. Meath), both birds noted on 1st, another Scottish male was back in the Mussleburgh area of Lothian on 2nd and an Irish drake was at Gleninagh Quay (Co. Clare) on 4th.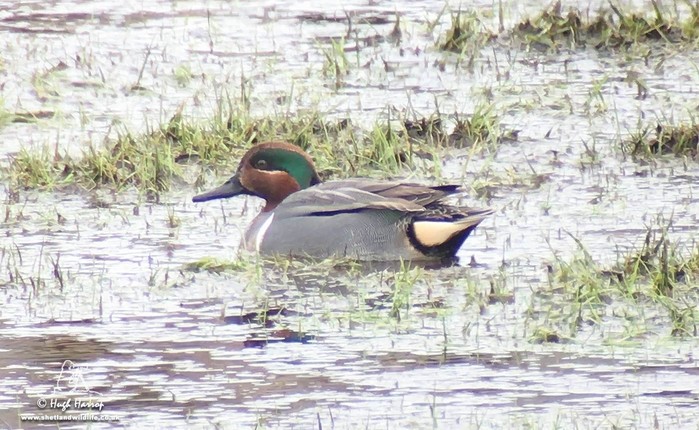 As well as hosting one of this week's new Green-winged Teals, Sligo's Ballysadere Bay continued to hold on to one of the week's two drake King Eiders still in place to 29th. The second was found to the northeast of Inverness, at the impressive looking Fort George on 30th and he was in place to April 1st.
Naming Black-winged Stilt as one to watch out for and to expect towards the end of March is one of the easier prediction calls to make, but they're always good when they happen and this week's appearance of one close to Cuckmere Haven (East Sussex) on 29th was most welcome - another vagrant herald of spring.
By the end of 2015, there had been over 450 accepted records of this ultra-distinctive shorebird (no surprise then to finally see the species waved farewell by the BBRC, on the very same day as this week's appeared) and March has accounted for 16 of those. The combined total for the two Sussex counties is around the 27 mark to date, including the successful breeding pair in 2014, while Cuckmere's only other record came on May 1st 2005.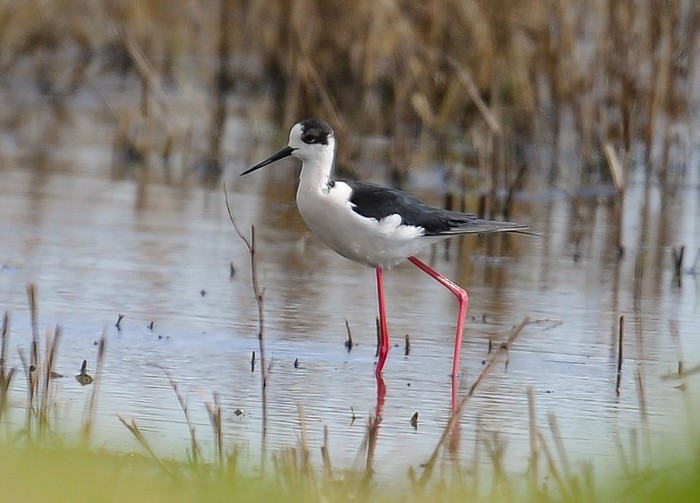 It didn't take long for the next arrivals of this now ex-BB rare to come along; the 30th seeing the appearance of three birds in all, the first of which was found on the Isle of Wight, at Brading Marshes RSPB (where it remained until 31st). It was swiftly followed by two Black-winged Stilts at Bowers Marsh RSPB (Essex), also on 30th; chances are this may even be the same pair that spent a May day at the same site last year (moving around to both Vange Marsh and Wat Tyler CP too) and one of this week's pair replicated last year's action by heading to Vange Marsh on 1st. Also on 1st either the Sussex or Isle of Wight bird may have accounted for the "new" bird in Hampshire, at Titchfield Haven NNR, which loitered to 2nd.
The long, long-staying Shetland Killdeer popped in to the news again on 1st and 4th as the bird's stay lurched towards a fifth full month on site at Sandwick, south Mainland with the Wexford Long-billed Dowitcher also making it to April as well, still at Tacumshin to 4th. In Dorset, the popular wintering Lesser Yellowlegs was noted at Lytchett Bay on 30th and again on 3rd-4th.
The new week began with two of last week's four Bonaparte's Gulls still on station - first-winters in place at Bowling Green Marsh RSPB (Devon) and Kenmare (Co. Kerry) to 29th but seemingly not beyond that.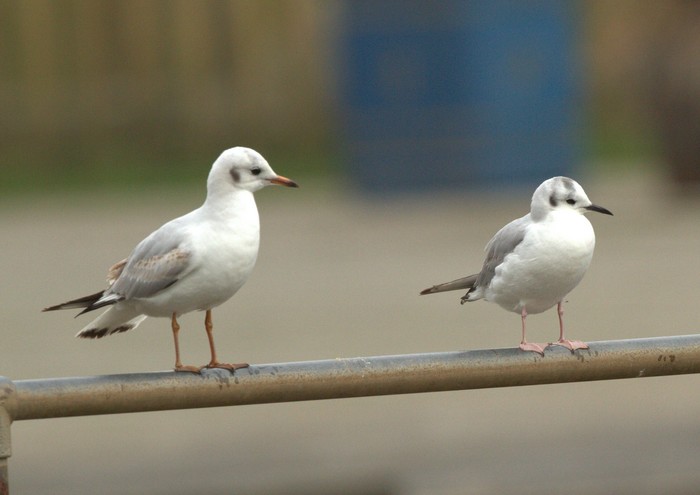 Ring-billed Gulls dropped in to single figures, up to seven reported, five of those being in Ireland. Two were on Dublin's North Bull Island on 1st and an adult was again at Sandymount on 2nd. Another adult was at Blennerville (Co. Kerry) and nearby at Tralee Bay Wetlands, a first-winter remained to 2nd with an adult again on 3rd. In Cornwall, a near-adult was on the Hayle Estuary fom 30th-3rd.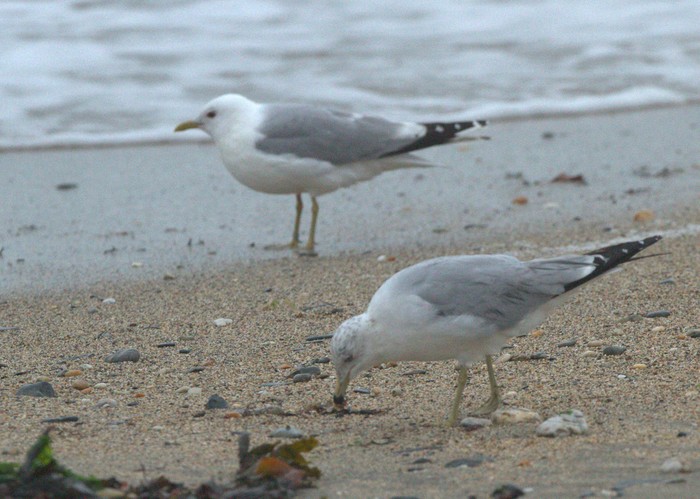 No confirmed Kumlien's Gull this week so it is headlong in to Iceland Gulls, numbers of which dropped to below the 100 mark for the first time in ages, 93 logged in 31 British and Irish counties. Ireland lead the way, 37 birds in eight counties and included nine at Annagh, The Mullet (Co. Mayo) on 1st, up to 10 birds in County Cork and seven in Kerry. England's 26 were pretty thinly spread, including a dozen for the southwest (up to nine of them in Cornwall) and nine in the northeast. Scotland scored 25 birds, 23 of them reported from the Outer Hebrides, including 10 at Port Nis, Lewis on 3rd. Wales managed a lowly single.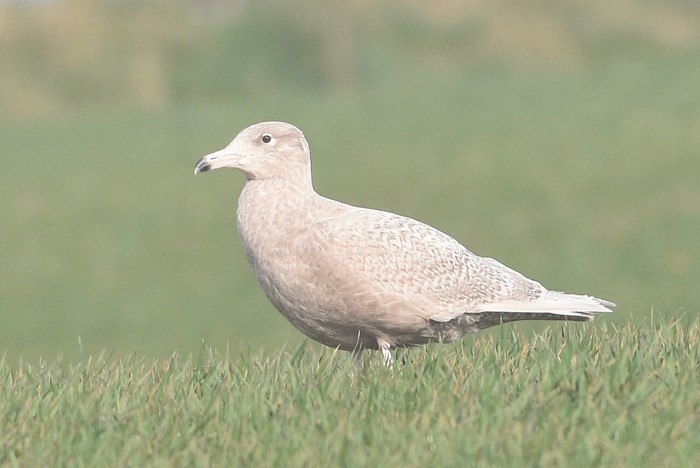 The numbers of Glaucous Gulls also dropped this week, down by around 20 on the total from seven days ago, 43 noted across 28 British and Irish conuties. England managed 22 birds in all, with 11 for the northeast (including four in East Yorkshire) with five for East Anglia. Scotland managed 13, five of which were on Shetland and it was four each for Ireland and Wales.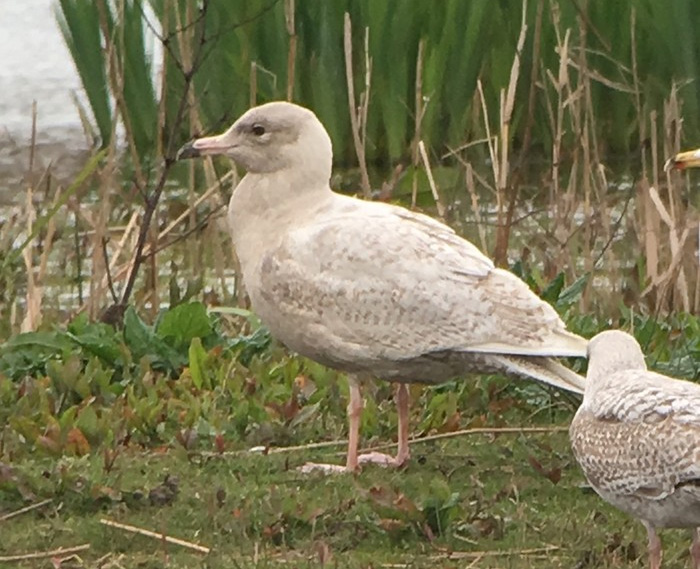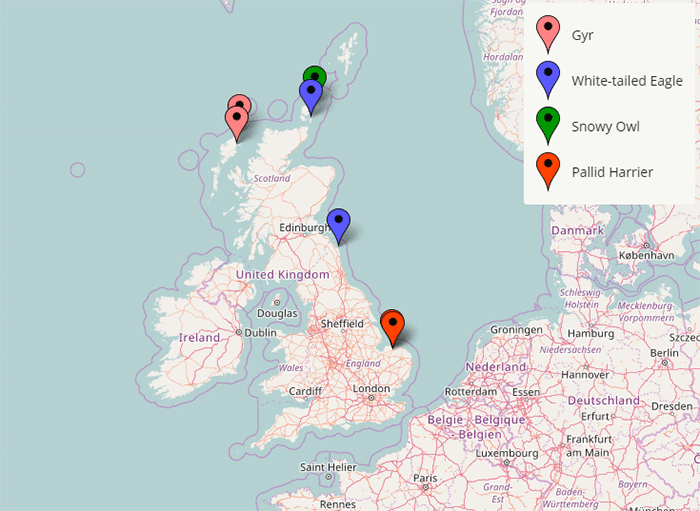 A little late news from last week concerned the white Greenland Gyrfalcon that was noted again on Lewis, near Balallan, Stornoway on 28th.
Also still at large on a Scottish island was the impressive female Snowy Owl who remained on Eday (Orkney) until at least 1st, she's been around for almost four months now.
In Norfolk, the juvenile female Pallid Harrier continued to play cat and mouse with interested parties but was seen again in the New Holkham area between 29th-2nd with another meander in the northwest Norfolk countryside taking her to the small reserve at Sculthorpe Moor on 31st. Once again, normal service was resumed after that but there's been no further hints of coastal roosting this week, the visits towards Scolt a few days ago appear to have been a one-off.
Wrapping things up, the immature White-tailed Eagle that was seen on the Megstone, Farne Islands (Northumberland) on 2nd which departed towards the mainland during the afternoon and another youngster was in Forth the same day (reintroduction birds both?). The week's third bird was seen on Burray (Orkney) on 4th.
Right on cue, no sooner had the first readers had had their fill of last week's ramblings, then up popped the first Red-rumped Swallow of 2017, found during the morning of 30th over the Newport Wetlands (Gwent).
This was the first record for the Welsh county since one spent three early May days at the same site in 2012 and that bird from five years ago appears to have been the first Gwent record ever.
Scilly on the other hand is far more used to welcoming Red-rumped Swallow, 25 acceptances up until they were removed from the Rarities List in 2005, with a further 20 or so in the 12 years until now, and the tally rose again on 31st with the arrival of two birds at Porth Hellick, St. Mary's.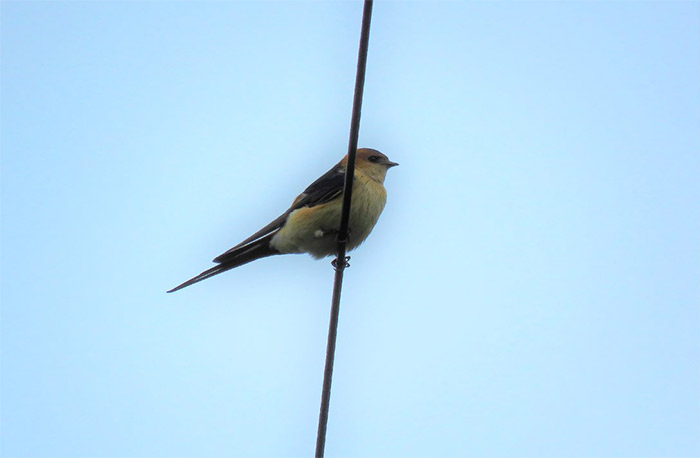 The fourth 'rumper within 36 hours flew south over another site which is no stranger to the species, Spurn in East Yorkshire, around 30 having been seen on site (that's just Spurn and not elsewhere on the peninsula) since Red-rumped Swallow came off the list eleven and bit years ago and not long after a bird in the northeast, then up popped one in the northwest, found at Himley (Staffordshire) to make it five in less than two days becoming only the 5th record for the county, all of them since 2004 and this week's find being the first since November 2006.
Following on from the mini-influx of rare swallows, there was no surprise to see the always pleasing news of a typically early southwestern Woodchat Shrike on the first of the month, discovered at Kynance Cove, Lizard (Cornwall) - another 1st for 2017 - and it was followed the day after by a second Cornish bird between Nanquidno and Cot Valley.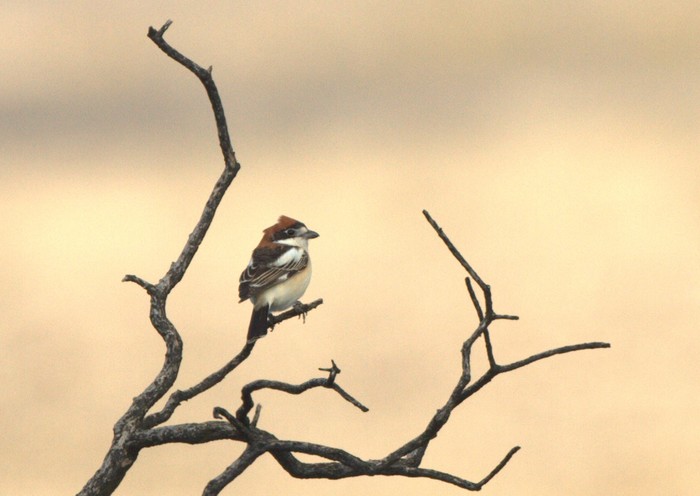 Back to eyes-in-the-skies and rare in one of the species' chosen locations this week was the early bird Alpine Swift on the northeast coast which must have livened up a few folk's day on 30th when it went north over Hartlepool before crossing the border in to County Durham where it was tracked as it still drifted north and was logged at Crimdon, Whitburn and Sunderland.
Prior to the species removal from the BBRC list in 2005 there had been just five accepted Cleveland records (between 1976 and 2002, the latter bird seen at Hartlepool) and online searches suggest maybe just one more since then, in 2013. This supreme aerial whizzer is rarer still in Durham, just one was known of ahead of the 2005 cut-off, seen in July 1871, but two lingering birds in Sunderland on October 22nd 2006 saw Alpine Swift make a modern-day debut on the county list.
April's 1st day brought a coasting Alpine Swift to the coast of south Devon, found over Bolt Head during the morning with what must have been the same bird over Thurlestone at lunchtime the same day.
Two new Cornish Hoopoes arrived on 29th, found not far from each other, at Culdrose, near Helston and on the Lizard, at Mannacan, this bird still around to 31st at least, while the county's third of the week was at St. Minver on 30th. For the second week in a row, Pembrokeshire hosted a funky Upupa, one seen in flight at Haverfordwest on 30th and it was followed by two more southwestern newbies, at Mothecombe (Devon) on 31st and Trull (Somerset) on 1st - the total for the week climbing steadily to half a dozen by the end of the weekend.
The coast of East Anglia generally fares rather poorly this early in the proceedings where spring birds are concerned but it does have a habit of scoring the occasional early Bluethroat and the appearance of a female (presumably a cyanecula given the date) was found at Lowestoft (Suffolk) on 1st.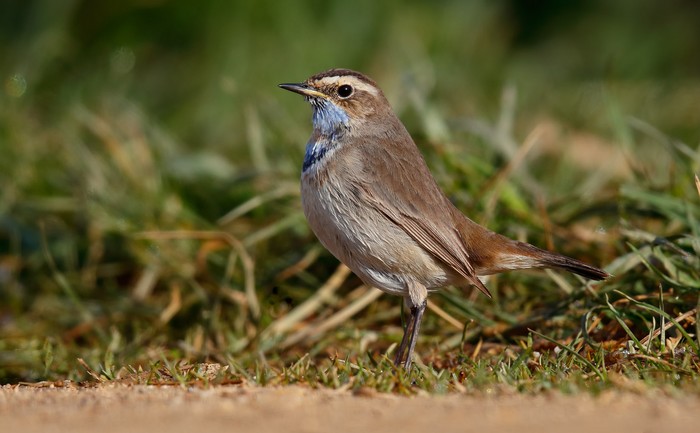 The fine looking moulting first-winter male Bluethroat was seen at Willow Tree Fen LWT (Lincolnshire) until 29th while the Hume's Yellow-browed Warbler was reported from Portland (Dorset) up until 3rd.
The new week began with a new Yellow-browed Warbler in Plymouth (Devon) on 29th, a bird that remained until 31st at least. Also on 29th, the wintering bird noted near Kinver (Staffordshire) while the final day of March saw the recent individual at Exmouth (Devon) start to sing, still an unusual (if increasing) happening here. Devon's third bird of the week was in place at Staverton to 1st. The second new bird this week was found in Telford (Shropshire) on 2nd while back in Plymouth, a garden bird in the Mount Gould area of the city on 3rd may even have been the bird seen there a couple of weeks ago. The same date saw the seventh of the week appear in gardens in Falmouth (Cornwall) and the eighth and final record was in Chester (Cheshire) on 4th .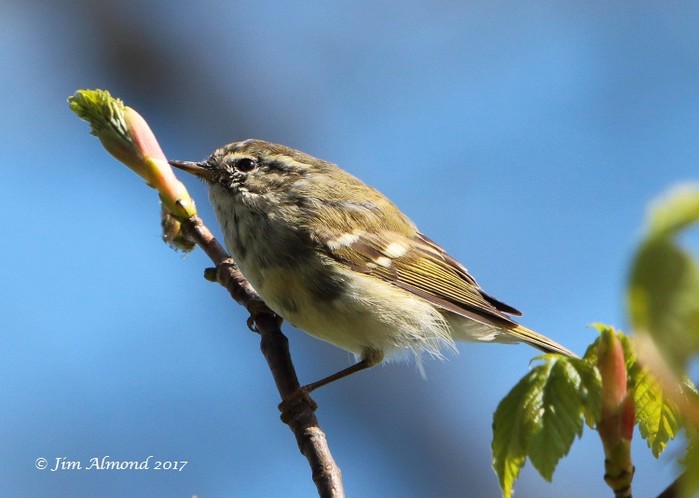 In Norfolk, a Rose-coloured Starling was reported briefly at West Runton around lunchtime on 30th but couldn't be found later in the day.
Last week's Little Bunting in gardens on the outer end of Flamborough Head (East Yorkshire) was still in situ to 29th while the two wintering Richard's Pipits remained at Abbotsbury (Dorset) until 1st with a third bird seen at the Swale NNR, Shell Ness (Kent) on 3rd (one was seen here very late in to the end of last year).
Certainly drifting away now were Great Grey Shrikes but the week still managed to muster 25 or 26 birds in all, two in two Scottish counties, two in two Welsh counties and 21 or 22 in 14 English counties.
Southwestern England managed seven or eight birds in all, four of them in Dorset; new at Stoborough on 29th and still at Hartland Moor to 31st, Verwood to 1st and Morden Bog to 4th. Devon still saw birds feature at Woodbury Common and Soussons Plantation to 30th and 3rd respectively with perhaps a new Dartmoor bird noted on 2nd, at Emsworthy Moor NR. Somerset's loner was still at Aisholt to 4th.
In the Midlands there were four Great Greys reported, at Hawling and Cleeve Hill (Gloucestershire) to 2nd and still at Black Hill (Shropshire) and Swallow Moss (Staffordshire) to 2nd and 3rd. The southeast also held four birds, two on Thursley Common (Surrey) on 2nd with singles at Wishmoor Bottom (Berkshire) to 29th and in the Ashdown Forest (East Sussex) to 31st.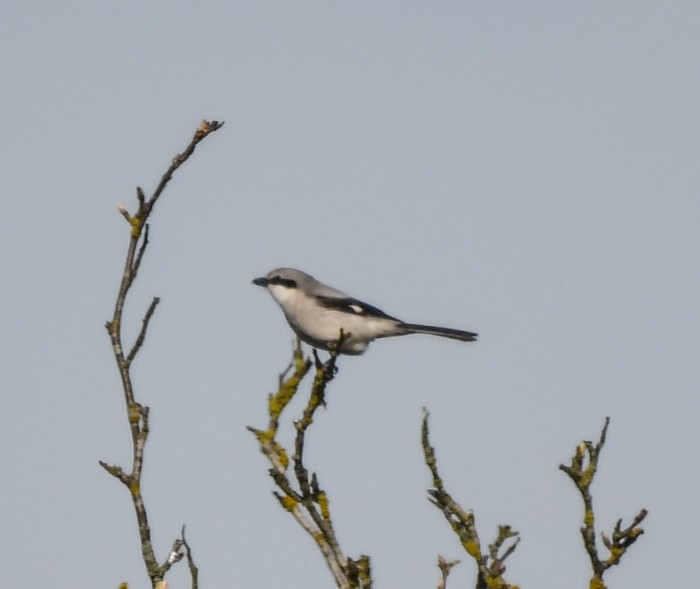 East Anglia's three birds were new at Brandon (Suffolk) on 2nd, reappearing at Burwell Fen (Cambridgeshire) on 3rd and lingering near Lyng (Norfolk) all week while the northeast's trio included two review regulars, still near York and in the Langdale Forest, both in North Yorkshire, until 2nd with a new bird (also in North Yorkshire) on Fylingdale Moors on 4th.
Welsh shrikes remained in Gwent, near Pontypool to 29th and at Cross Inn Forest (Ceredigion) to 1st while in Scotland, migrants were found on Islay, at Avonvoggie on 29th and on Shetland, in the bushes at Virkie on 1st.
After a slight rise last week, the numbers of Waxwings fell by a couple of hundred or so, but in a modest winter for the species, it was interesting to see 2688 birds were still not headed away to foreign climes just yet. The Midlands was again a hotbed of action, three three figure flocks noted there but there was also another century mark in London.
Wales (0) - 0…
SW (1) - 1 at Great Haldon, Devon on 3rd
Ireland (62+) - 29 at Dundalk in County Louth on 30th
EA (174) - 46 at Melton, Suffolk on 2nd
NW (179) - 30 seen in Carlisle, Cumbria on 31st
NE (290) - 50 noted at Ainderby Steeple, North Yorkshire on 1st
SE (290+) - 100 around Hampstead Heath, London on 1st
Scotland (497+) - 50 at Drumpellier CP, Clyde on 30th
Midlands (1195+) - three flocks of c.100 noted; at Sutton-in-Ashfield in Nottinghamshire on 29th, at Buxton, Derbyshire on 31st and again in Notts., at Mansfield on 1st
Finally, very belated news of a male Two-barred Crossbill that was photographed at Clay Bank (North Yorkshire) on March 10th and a quirky island first rounds things off, North Ronaldsay scoring their very first Common Kingfisher on 4th.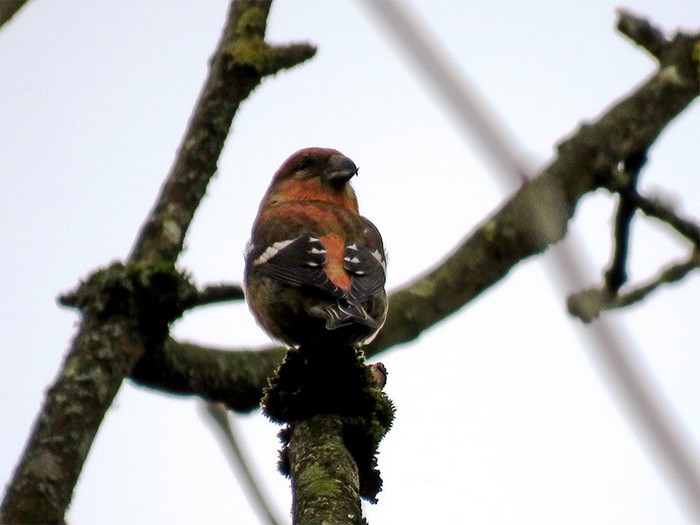 In the Netherlands, the first-winter drake Baikal Teal started the week off still at Noordwijk, Zuid-Holland (and he was still there to 4th) and another lingering winterer, the Blyth's Pipit remained at De Biesbosch, Noord-Brabant to 4th. That site had hosted the Netherlands 2nd Moustached Warbler a couple of weeks ago and either the third national record or the same bird on relocation duty was discovered on 3rd at Sandelingen-Ambacht, a few miles to the northwest of the original site (both to the southeast of Rotterdam). Elsewhere, close to the German border, a presumed Greater Spotted Eagle was photographed over Losser, Oelemars on 30th.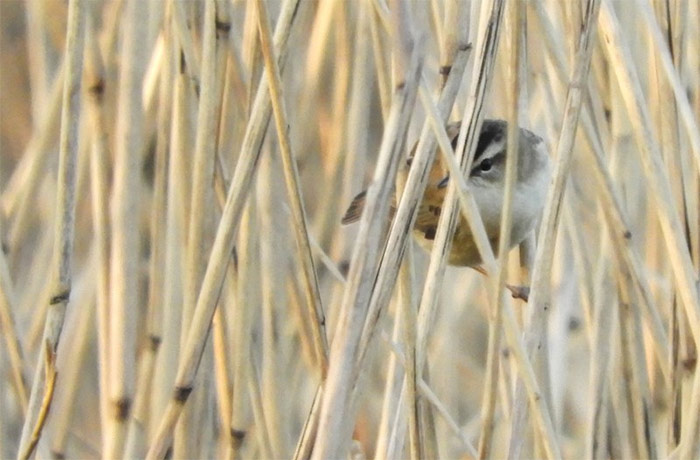 Late Dutch news concerned the news of a Black-shouldered Kite heading northeast over Leusden, Utrecht on 28th - still high on may people's "Next 1st for Britain" list - and then another was found on 31st, at Den Oever in the north of the country (due west lies the upper edge of the north Norfolk coast, Scolt Head maybe…) so the annual expectancy amongst some birders here increased just a touch.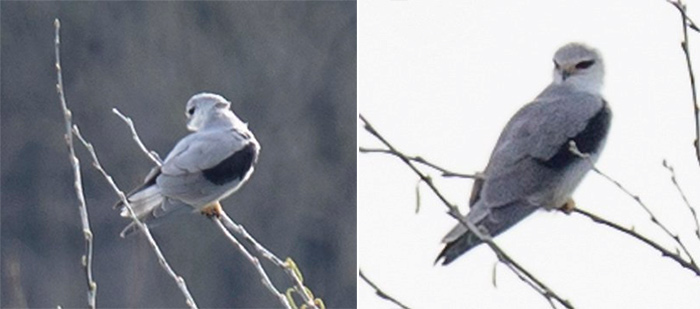 Across the border in Germany, the 30th saw the re-appearance of a young Lammergeier at Wangerooge, Niedersachsen (seen elsewhere in Germany and on the Dutch coast too recently) and on Helgoland, a male Pine Bunting was discovered on the same day.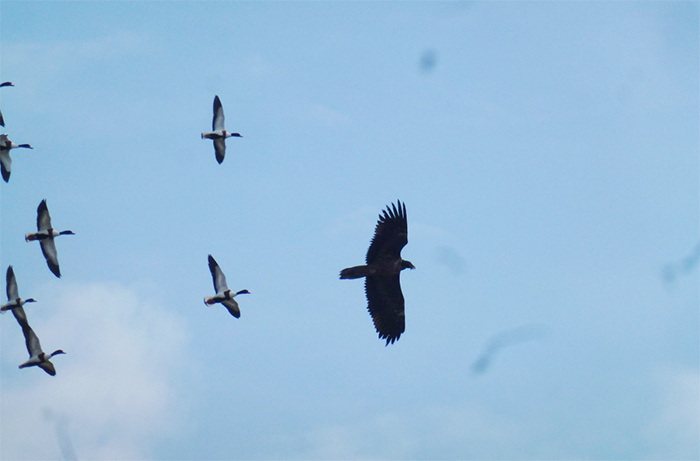 Another new Pine Bunting was found in Norway, at Bråten, Halse, Møre og Ramsdal on 29th and a drake White-winged Scoter was seen at Størdal, Nord-Trøndelag on 2nd (what could be the 9th national record). Also in Norway, the recent Siberian Accentor lingered at Slettmoen Øst, Løten, Hedmark to 31st.
Rarer still was the Black-throated Accentor found at Norbodda, Uppland in Sweden on 2nd, the eighth record for the country - how many birders here wish for one of those now that we have "done" the Siberian one. Also found in Sweden on the same date, an Oriental Turtle Dove at Simrishamn, Skåne.
Big news for Romania birders this week was the discovery of the country's first Little Bunting found in Transylvania on 27th with news reaching us on 29th while Poland's fifth Green-winged Teal was located at Oborczyska, Mazowzse on 2nd.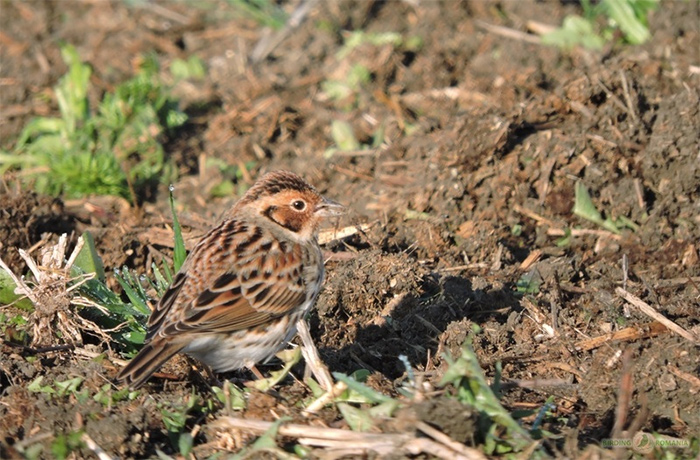 At the far southeastern extremity of the Western Palearctic is Kuwait and this Persian Gulf state hosted their fourth Radde's Accentor at the Lyah reserve on 31st while at the west end of the recording area, late news of a Sooty Tern photographed at Arrecife, Lanzarote on 25th and in the very bottom of the WP boundaries, a brown Red-footed Booby was recorded around Raso this week.
The coming week…
Everything is slowly up-for-grabs as the new week begins. April is now well and truly here and before you know it, there'll be double digits on the calendar and we'll be racing towards the middle of the month.
What's needed is a bit more prolonged warm, settled weather to aid and abet our longed for spring migrants that are heading our way (it's not looking bad but it isn't stunning either though, peering at a mid-range forecast suggests cool northwesterly winds off the high pressure); yes, they will be coming anyway but some favourable weather really will come as an added bonus on their precarious transit across the slaughtering grounds of the Mediterranean (as opposed to the slaughtering grounds of countless upland estates here in the UK - Britain is not absolved from butchering birds either, as wildlife crimes are common place).
The further we become embedded within the month, the hopes for the unusual edges up, incrementally, day by day. Several of the staple scarcities have been touched upon here in the last couple of weeks (the Red-rumps, the rarer herons and so on - and they came too…nice) but as we edge through the first week and a half of the month there are a few other "regulars" to keep in the back of your mind.
Nice and easy to ID is Black Stork and the week ahead has managed to produce half a dozen records over the years; generally they come a little later in April (there are 32 acceptances for the month, to the end of 2015) but, weather permitting, there's half a chance.
Ditto a nice early Whiskered Tern - these too tend to appear later in the month but of the 36 records for the month to date, there are a handful of occurrences around now; two birds have been found on April 5th (in Cork in 2008 and on the Hebrides in 2011) with two arriving on the same day, April 10th, in 2011, in Kent, at Elmley and in Dorset, at Swineham GPs.
It is also getting to the time of year when we welcome the occasional Penduline Tit too - nine of the 16 April records to date have appeared in the first half of the month, so there'd be no surprise if one or two of these masked beauties arrived in the next few days (if conditions are favourable…). And we're also drawing towards the time when a real Black Kite or two may start to appear.
Oddments that have raised eyebrows at this time of year famously include the much-twitched Crag Martin around Flamborough Head three years ago, found on 11th. There've also been two Sociable Plovers discovered in the week ahead, on old record from Dorset in 1961 and, a little more recently, at Brimpton GPs in Berkshire on April 10th 1991. It is now over 11 years since the last twitchable mainland record (at Rainham Marshes in December 2005) and already eight and half years since the last record anywhere, the nine-day youngster on Scilly in October 2008.
…and then there's the unequivocally genuine, non-controversial male Blue Rock Thrush that was seen and photographed on the conventional vagrant date of April 11th 2007 in the Elan Valley, Powys.
Never discount the increasing likelihood of the star turn/s coming not from the south or perhaps the east but from the west - two BIG Nearctic rares have also been attracted to our islands in the second week of April - dusted down and trotted down for their annual review airing are the double of April 11th, Fair Isle's Song Sparrow of 1989 and, of course, the famous Portland "Ipswich" Savannah Sparrow of 1982.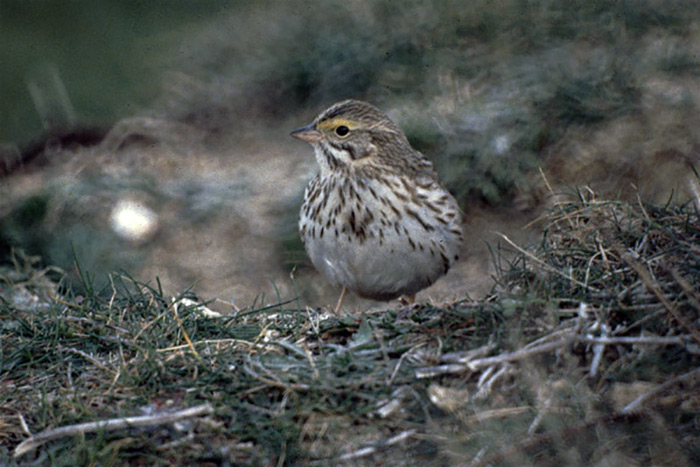 Both species have easily retained their mega status; incredibly, the Shetland Song is the most recent but one record and its now well over 22 years since the last one leapt around the gravel heaps at Seaforth, back in October 1994. Dorset's one-off "Ipswich" is never going to come again, but there have been two subsequent records of course, both autumn Fair Isle birds, in 1987 and 2003.
…you'd think that they'd be difficult to beat but we are now in the territory of the Godfather of all the "Most Wanteds" for so many, the Don Tichodroma if you wish…
Wallcreeper.
Again, this is one that gets a look in every single year at the end of relevant reviews and unashamedly so. It is a magnificent beauty, a rarity of (now) outrageous proportions here and only those birding in the time when the likes of Brotherhood of Man, David Soul and Leo Sayer ran rampant through the charts between 1976 and 1978 (and now you know three reasons why punk just had to happen…) can reminisce fondly of what its like to have seen one (or maybe two) here (unless they're older still and can go back to a time when it was more the Stones and Creedence Clearwater Revival, in 1969)…
April 6th 1977 was the famous date when the Hastings Wallcreeper was discovered at Ecclesbourne Glen and it stayed there for five days in all. The date of discovery is remarkable for also being the only date in British birding history when there have been two Wallcreepers up for grabs in Britain - the equally-as-famous Cheddar Gorge bird was noted for the final day of its winter stay of '76-'77 on April 6th (a year later, it left Somerset on April 9th).
To mark the 40th anniversary of that sensational Sussex find, and with the kind permission of Nigel Tucker, here is one of the best shots of the bird which so many dream of and long to see on British soil.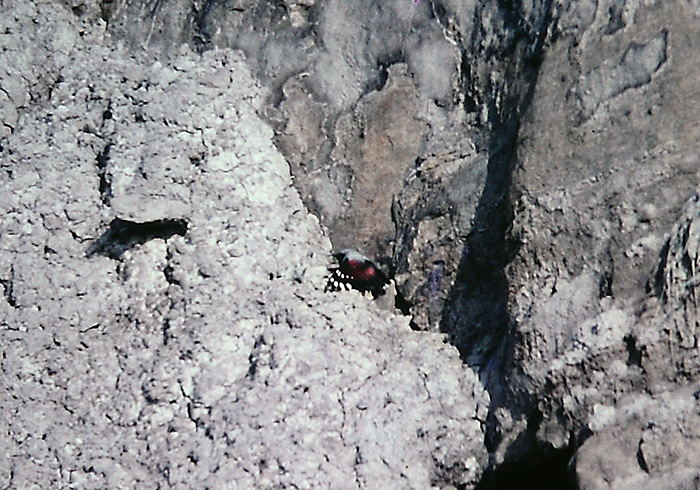 Dream on I guess…
Mark Golley
5 April 2017
Share this story
Tweet


Many thanks to all contributors for their photos and videos this week.
Michael Mckenzie, David Parkinson, Martin Goodey, Jim Almond, Rob Creek, Simon Davies, North Ronaldsay Bird Observatory, Tony Duckett, Mark Bailey, Jeff Hazell, Lorne Bissell, David Cooper, baltasound08, Andrew Moon, Chris Waring, Frank Golding, Brian Anderson, Sam Northwood, Hugh Harrop, Shetland Wildlife, John Pringle, Brian Mellow, David Boult, Andy Hood, John Nadin, Phil Bristow, Tony Davison, Michael Turner, John Russell, Rutger Plaisier, Johan vd Karthik Vimal, Behrend Dellwisch, Daróczi J. Szilárd, Alan Hayden, Nigel Tucker,