Tim Cleeves
1951-2017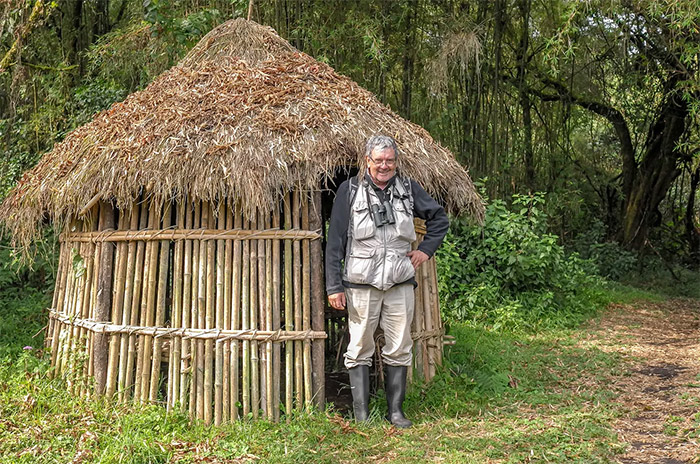 I first met Tim Cleeves on Hilbre Island, Cheshire in 1977. Newly-appointed as the island's Warden, he quickly befriended everyone at the bird observatory and became to me both a great friend and a birding mentor. I remember fondly our early morning circuits around the traps and hours in the seawatching hide looking for Leach's Petrels. He also took me on my first twitch - for the 1981 Hartlepool White-billed Diver. He found many good birds on the island, including several 'firsts' such as Reed Warbler, Willow Tit and, with his close friend John Rossetti, a Laughing Gull. He also found the infamous 'Hilbre stint' of October 1979, most likely a green-legged Little Stint but a 'head-scratcher' then and still today.
When he arrived on Hilbre Tim was already a highly experienced and proficient birder. Born in Hanham, Gloucestershire in 1951, he birded avidly around the Bristol area, keeping notebooks as early as 1965. Quaint though it may seem now, he would receive bird news by postcard from Bernard King and so managed to see Europe's first Pied-billed Grebe at Chew Valley Lake. He became a 'C' ringer at the Chew Valley Ringing Station and was also a Voluntary Warden there. Further afield, he succeeded in twitching both the 1970 Dorset Wallcreeper and the later Cheddar bird.
After leaving school he worked for a taxidermy firm, a supplier of biological specimens to schools and at a petrol station, the latter to finance a five-month birding trip to India with Paul Andrew and Roy Smith. Following this he took a job as credit controller for a carpet company and, in 1976, a species protection contract for Red Kites and Peregrines in mid-Wales and Pembrokeshire with the RSPB.
Perahps his most significant trip was to Fair Isle in 1975, the highlights of which were seeing two Tennessee Warblers and meeting Ann, the assistant cook at the observatory. Tim returned to Fair Isle the following summer to propose to Ann and they were married in February 1977, Tim wearing a red suit for the occasion (being colour-blind, he thought it was grey). That autumn he secured the Hilbre job, remaining there for four and a half years. During this period he continued to be entranced by islands, visiting Fair Isle, Portland (which he regarded as an island) and Lundy in his quest to find rare birds. He was successful too, finding an Arctic Warbler on Fair Isle in 1978 and another on Lundy in 1981.
After leaving Hilbre in 1981 he worked briefly as a Ranger on the Wirral before moving again to Droitwich, Worcestershire in 1983 to take up an RSPB Assistant Regional Officer post. Amongst his achievements here was the establishment of the Symonds Yat Peregrine Watch (showing the birds to the public) in the Forest of Dean.
In 1987 he started work as Conservation Officer at the RSPB North England office and was able to settle in to a new life in Northumberland, a county he came to love. From his house overlooking Holywell Dene he was able to explore Northumberland's ornithological riches, adding Holy Island to his list of much-loved islands. He became an active and popular member of the local birding community, a reputation cemented by finding a Bridled Tern at Seaton Sluice on 16th July 1989.
On 4th May 1998 (and continuing his habit of finding puzzling waders) he came across a strange curlew at Druridge Pools, Northumberland. Amidst great excitement it was accepted as Britain's first Slender-billed Curlew, only for a decade-long controversy to ensue, leading finally to its removal from the British List in 2013. The mental highs and lows associated with these events can only be imagined but great credit goes to Tim for noticing a bird which most would have missed and for weathering the subsequent storms.
On 7th October the following year Tim was on another of his favourite islands - St. Agnes - when, with Siberian and White's Thrushes already logged, he noticed a large raptor approaching from the south-west - Britain's first Short-toed Eagle!
After a spell at the RSPB office in Denby Dale, West Yorkshire (working on the Society's Trent Valley projects), Tim returned to Northumberland, buying a house in Whitley Bay. He finally retired from the RSPB in 2007, enabling him to spend more time with his grand-children and support Ann in her flourishing literary career.
He also re-entered the North-east birding scene, beginning a partnership with Maurice Hepple - the Lone Ranger and Tonto of Northumbrian birding (no prizes for guessing who's who) - and scoured the Northumbrian coast in all weathers, finding a host of local and national rarities, most notably an adult Ross's Gull at Seaton Sluice on 25th March 2008.
He also travelled extensively in Africa, Asia and the Americas and, despite being widely known as the worst sailor in Britain, accepted a post leading a birding group through Drake's Passage. Sadly he was so seasick was he that he was unable to leave his cabin for five days.
He worked hard on reaching 500 species in Britain and was very close when he suffered the 'double whammy' of having Slender-billed Curlew removed and Hudsonian Whimbrel down-graded to a subspecies. Despite these setbacks he not only travelled far and fast, notching up such species as Black-billed Cuckoo, Wilson's Warbler and American Redstart, but also had the happy knack of being in the right place at the right time. He was visiting Brian Rabbitts on North Uist when the Needle tailed Swift turned up on Harris and was on one of Ann's book tours to Shetland when the Pine Grosbeak appeared there.
This year, however, his luck deserted him. He had decided that North Ronaldsay was due a 'mega' so booked a week on there in September. On the train up to Aberdeen he heard about the Ryhope Scops Owl and then two days after spending an abortive week on Orkney he heard about the Siberian Blue Robin. Another 'double whammy'.
Tim's expertise continues to be showcased in his two books. The first of these was the 'RSPB Handbook of British Birds', written with Peter Holden. Published in 2002, it went on to appear in three further editions. Then came 'Birds New to Britain 1980-2004', written with his close friend Adrian Pitches and published in 2005. Tim wrote the yearly summaries for the second half of the book (covering the years 1992 to 2004), an engaging account of his birding in 1988 - his first full year in Northumberland - and of course the story of the Druridge curlew and the Short-toed Eagle.
He was also profiled in 'Birdwatch' and, most recently, he and Ann featured in Keith Betton and Mark Avery's 'Behind More Binoculars'. An insight into his time on Hilbre is contained in Ann's chapter in John Craggs's 'Hilbre: the Cheshire Island'.
Though his birding achievements were great, most of us will remember Tim for his enormous personal charm, ready wit and his skills as a teller of stories and jokes. He was just huge fun to be with, both in the field and over a drink, and some of his pet sayings ('the big one travels alone' etc.) will remain an inspiration. He was, above all, a sensitive and thoughtful man whose kindness and warmth touched all who knew him. He will leave a huge gap in the lives of his many friends, but most of all Ann and his daughters Sarah and Ruth.
The funeral of Tim Cleeves will be held at 10:30 on Tuesday January 2nd at Whitley Bay cemetery/crematorium. The colour theme is blue and white for this life-long Bristol Rovers supporter. A fitting location as Tim enjoyed Britain's second Eastern Bonelli's Warbler there in 1995.
Andy Stoddart (with many thanks to Colin Bradshaw)
19 December 2017
Share this story
Tweet