Common Swifts need a helping hand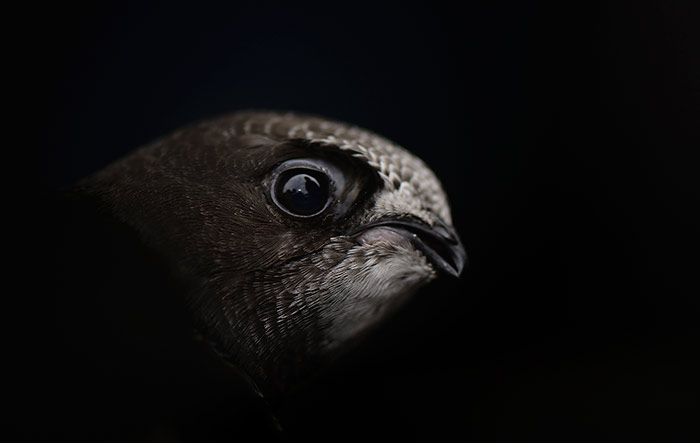 With their UK population declining by more than 50% between 1995 and 2016, common swifts (Apus apus) need our attention. Fortunately, there are a range of actions that we can all do to help these amazing long-distance migrants, from putting up a nest box to standing up for your local swifts.
Long-distance visitors
There's still a lot we don't know about these birds but we do know that they travel huge distances to reach their breeding grounds in the spring. Miniature tracking devices fitted to swifts show that they winter in sub-Saharan Africa and it's estimated that they could travel as far as two million kilometres in a lifetime, that's 50 times around the earth.
Worrying declines
While they may be a familiar sight in the summer sky, the strong population decline that swifts are experiencing in the UK is a cause for concern. The reasons behind the drop in swift numbers are not certain, however it's likely that a loss of nest sites could be having a negative impact.
Swifts nest high up in gaps on our homes, commercial buildings and other structures such as churches. However, the nooks and crannies that these birds exploit are being lost when older properties are renovated or demolished and new builds simply don't provide the crevices and holes that swifts look for in a nest site.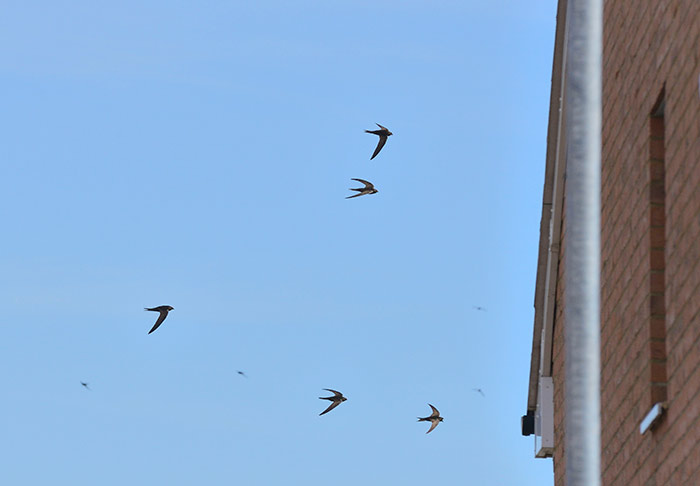 Provide a nest site
Specialised swift nest boxes and 'swift bricks' have been designed to ensure that swifts have nest sites to return to after their long migration from Africa to the UK. Have you considered providing swifts a home where you live?
Nest boxes are a good solution for properties that are not undergoing renovation works – they are fitted externally or internally and can tuck under the eaves or inside a roof space. Boxes are available online, such as through the RSPB Shop rspbshop.co.uk/swiftbox and you can also build your own, the Action for Swifts website provides a range of possible DIY designs.
'Swift bricks' fit neatly into new constructions, they provide the birds with a nesting cavity that sits within a row of bricks. If you're planning renovation works or a new build, then it's worth considering this option. There are several designs available, including the Manthorpe Swift Brick that was designed collaboratively by Barratt Developments Plc, Manthorpe Building Products, the RSPB and Action for Swifts. Nest bricks are available from builders' merchants or online, and the good news is that they've already been fitted in developments across the UK and in a piece of recent research, three quarters of the people surveyed thought that integral swift bricks were a good thing.
If you're interested in providing a nest site for swifts, there are a few things to consider including where to place boxes or bricks. Please visit rspb.org.uk/helpswifts where you can find more information.
Record your sightings – RSPB Swift Survey
The RSPB Swift Survey is helping us to build a picture of swift nesting sites across the UK. Once we know where these birds are nesting, we can identify places where they may be under threat. It is very simple to submit your sightings and in doing so you'll be helping these incredible birds. When the swifts return in later this spring, do visit rspb.org.uk/swiftsurvey to take part - we're looking for records of nesting swifts, screaming parties or sites where swifts used to nest but are now absent. In 2018 we received more than 9,000 records and we hope that with your support we can beat that in 2019!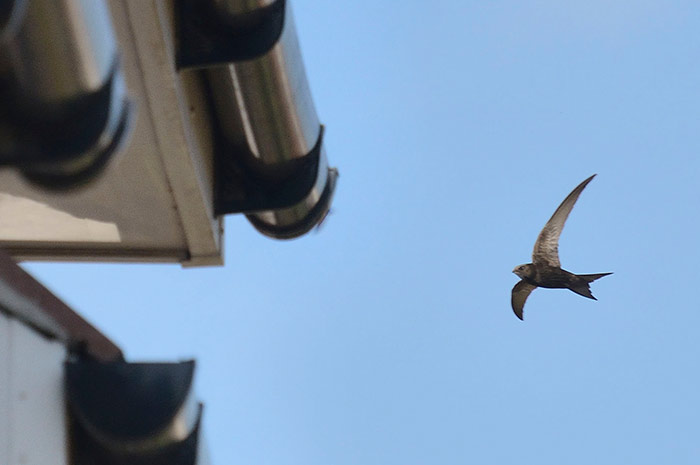 Get involved with a swift group
Groups dedicated to swift conservation are working across the UK. If you're interested in getting involved in swift conservation in your local area, check out this interactive map to find your nearest group. The Swift Conservation and Action for Swifts websites also contain a wealth of information, case studies and inspiration about swifts and nest sites.
Champion nest sites
It's important to alert developers, site owners or your local authority if you know of a swift nest site that is threatened by development. Visit rspb.org.uk/helpswifts to find out how you can champion nest sites.
By recording sightings, providing nest sites and championing others to do the same we can make a difference for swifts.
Jos Ashpole
13 February 2019
Share this story
Tweet