Night Herons breed in Somerset - a UK first
There is photographic confirmation that, for the first time in recorded history, a pair of Night Herons has bred in the UK. Two adults and two recently fledged juveniles are now roosting at Somerset Wildlife Trust's Westhay Moor National Nature Reserve, having either bred there or nearby on the Avalon Marshes site. The birds were captured on camera and made their debut on Flickr.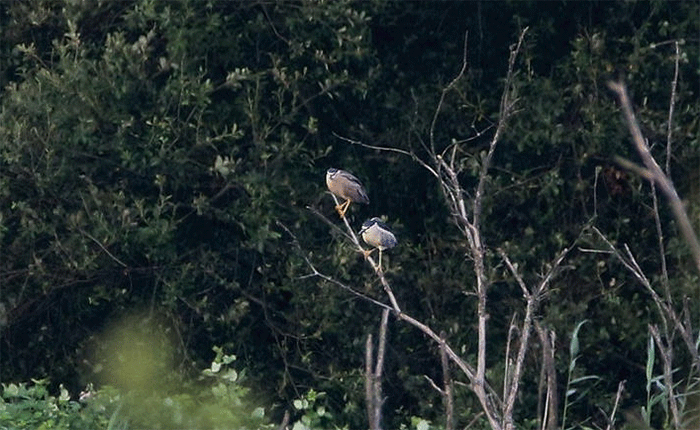 Simon Nash, CEO of Somerset Wildlife Trust explains why this is such exciting news:
"Our Westhay Moor National Nature Reserve, and the Avalon Marshes area as a whole, consists of a mosaic of carefully managed, diverse habits, and is already internationally recognised for its populations of rare wetland birds, for being the very best place to see overwintering birds, and for spectacles such as the starling murmurations. The news that Night Herons have made their home there is a tribute to the decades of careful conservation and wetland management that has been invested to create the perfect habitat for an increasing amount of birds and other wildlife. It really is a unique and utterly precious place – and one that is incredibly important for us to conserve into the future."
Roger Dickey, Chairman, Somerset Ornithological Society, gives some more background:
"This is obviously terribly exciting news. Night Herons are one of southern England's rarer summer visitors and only a dozen or so have been reported in Somerset since 1800. That they have decided to breed here for the first time on record is an event long overdue and confirms the Avalon Marshes' significance as one of the UK's most important breeding areas for Herons and Bitterns as well as other marshland birds. Prime breeding areas do not happen by accident and all organisations and individuals that help to manage this type of habitat are congratulated on their contribution to the ever expanding wetland breeding bird story in Somerset."
Stephen Moss, President of Somerset Wildlife Trust comments:
"This is incredible news. To put it in perspective, when I was a young birder in the 1970s, just two species of heron bred in Britain - the Grey Heron and the Bittern. These Night Herons are now the seventh member of their family to nest in the Avalon Marshes - a tribute to all the hard work by conservationists and volunteers working together to create the best new wetland habitat in the country. With the Cranes down the road, and several other species - including Glossy Ibis - regular visitors, Somerset is now the place to go to see long-legged waterbirds!"
1 Aug 2017
Share this story
Tweet