Weekly birding round-up: 16 - 22 Feb 2021
The first Ross's Gull of the year is found in Co.Down
In Devon, the Northern Mockingbird appears settled for now
Recent Buffleheads clock in once more in Warwickshire and Co.Cork
Co.Cork also holds onto the Belted Kingfisher
And, somewhere in Worcestershire recently, a Pied-billed Grebe's been lurking
Warmer weather was just around the corner this week, though with it, of course, came buckets of rain for some of us. What also came were the first green shoots of spring – which seems a bit mad in mid-February, but there's no denying the impetus that's driving the first pioneering Wheatears, Sand Martins and even a Stone Curlew that were clocked this week. Winter may not be done with us yet, but change is coming…
Ross's Gull
There may be signs of spring in the offing, but the week's star new bird was emphatically one of colder, northerly climes… a first-winter Ross's Gull found on 18th in Co.Down at Killough.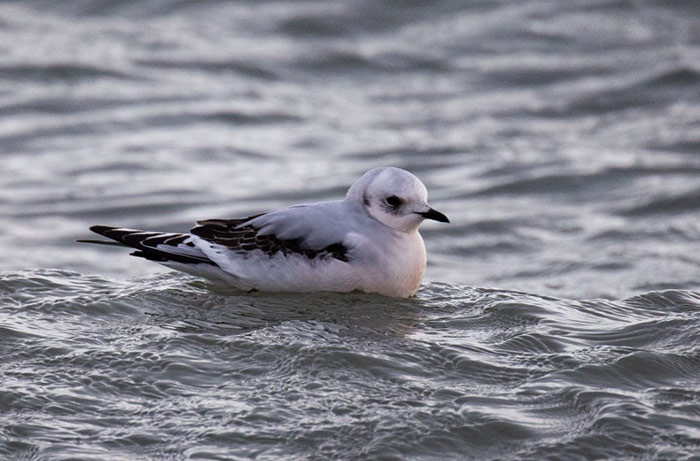 This was followed, on 20th, by a brief sighting of a probable first-winter bird on the other side of Ringfad Point in adjacent Ardglass harbour. Co.Down is no stranger to a Ross's Gull, having enjoyed four previous records of the species – adults at Portavogie on 1st-2nd January and 22nd-23rd February 1981; a second-winter bird shared with Co.Antrim at Briggs Rocks on 9th-12th February 1998; and an adult at Ardglass harbour on 18th January - 5th February 2012 – so another of these diamond-tailed beauties was arguably due any year now.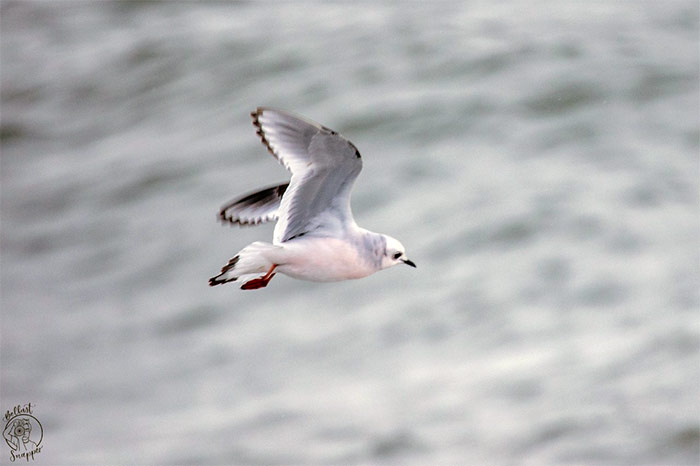 Northern Mockingbird
Reassuringly settled for another week in Exmouth (Devon), the Northern Mockingbird continued to be seen daily in its favoured gardens for another week until 22nd. Comfortably bird of the year for now, it's early days yet of course, but 2021 is going to need to pull something special out of the hat in the months to come to better a passerine of such stellar calibre. For now, we'll all settle for it remaining settled a good while longer…
Buffleheads
I'm not sure we've had a February quite like this one for Nearctic vagrants popping up regularly in the news. Or at least, not for a good long while – testament to the propitious westerlies that brought so many good American birds our way over the course of autumn 2020. This week, the drake Bufflehead last seen in Warwickshire at Coton 2B on 28th January was back there again on 16th-22nd – a locally welcome return.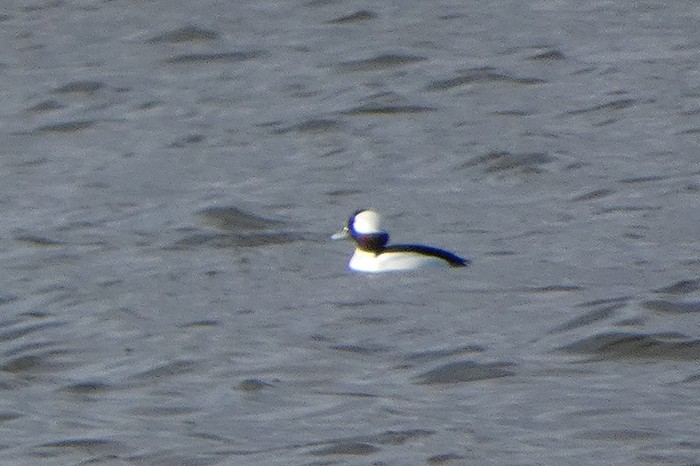 Buffleheads have featured regularly in the British and Irish, and broader European news in the past few months, and another of those previously-discovered birds was set to be seen again this week – in this instance, the settled first-winter female individual last reported from Nohoval (Co.Cork) on 30th January. She was there again this week on 21st.
Belted Kingfisher
Sticking with Co.Cork a moment longer, the week was further brightened by the welcome, if slightly belated, news that the first-winter Belted Kingfisher had, once again, been seen at Dunboy on 13th – a bird that, by its very lingering presence, is doing the Irish statistics for the species the power of good. Lest we forget, of the four previous Irish records, fully 50 percent of them have been ignominiously shot – a statistic that, were we talking about birds found back in the 1800s or early 20th century, when such a reception was the rule rather than the exception, we could understand.
Ireland's first bird, however, was found as recently as December 1978, surviving in Co.Mayo until early February 1979, when it was shot. The female found in Co.Down on 12th October 1980 was also shot. The subsequent two birds lived to rattle another day and, with this latest bird in Co.Cork, the stats now tip in favour of vagrant Belted Kingfishers being, mercifully, left alone by idiots with guns.
Pied-billed Grebe
Keeping up the Nearctic headlining theme, news emerged this week of a Pied-billed Grebe somewhere in Worcestershire recently, present at an undisclosed site since 6th January. There must be a fair chance that this is one and the same bird as that last reported in Shropshire at Chelmarsh reservoir on 22nd December; and, indeed, this in itself may have been the same bird first discovered in Cumbria on Walney on 6th November.
Then again, these assumptions are all terribly neat and tidy but, as we've seen lately, it's been quite a winter for displaced Nearctic wildfowl. Casting our eyes further afield, at least a couple of further Pied-billed Grebes lost their way last autumn – one in France at Rocheservière in late August; and another to the northwest of us out on Faroe in December. So who knows… maybe Worcestershire's first ever Pied-billed Grebe is brand new after all.
Absent from the news for weeks, a Pacific Diver put in an appearance again on Cornwall's south coast this week, being seen from Pennance Point on 18th.
Shetland provided two-thirds of the week's White-billed Divers this week – one again in South Nesting Bay on 20th, and another that day up on Unst. The balance came from Orkney, where one was again seen from North Ronaldsay on 20th also.
Breaking the recent Scottish monopoly for our sporadic sightings of Little Auks, our only bird this week was seen way to the south – off Pendeen (Cornwall) on 19th.
That bird brings us back to the county we started the week's seabirds, and we finish there too with Pomarine Skuas - one also seen on 18th from Pennance Point; and, on 21st, one off Towan Head in the morning, and another probable from Maenporth in the afternoon.
We enjoyed another solid week for settled Glossy Ibises with double figures logged over the course of recent days. The largest aggregation were, once again, the four birds still present in Devon at Fremington Pill on 16th-22nd, followed closely by the settled trio still in Cambridgeshire at Earith on 16th-21st.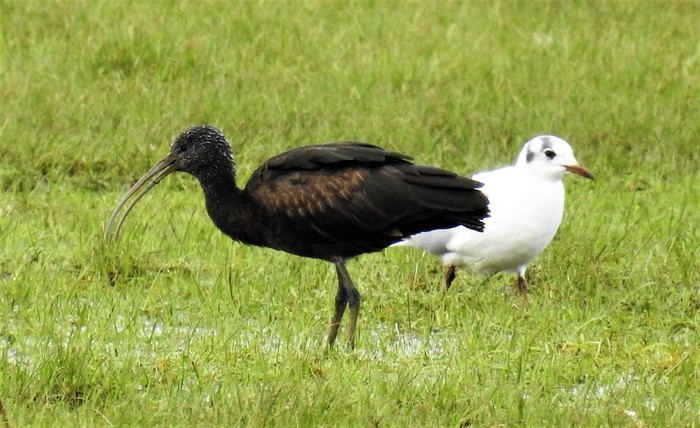 The Dorset bird was again seen at Stanpit Marsh on 16th-21st while, in Kent, the bird last reported west on Tonbridge in the Haysden Lake area on 10th January was, this week, seen there again on 16th-21st; and the Dungeness (Kent) bird was clocked again on 22nd.
The recent mobile bird in Bedfordshire and Northamptonshire seemed to settle down this week, being seen daily in the latter county at Islip on 16th-21st, before resuming those wandering ways on 22nd, being seen at Titchmarsh LNR and near Wadenhoe (Northamptonshire). One more bird was logged in recent days, this time in West Yorkshire near Bramhope on 17th.
As is our wont, we'll start the honkers and quackers section with The Goose Formerly Known As Canada. On Islay (Argyll & Bute), the interior Todd's Canada Goose was again noted on 18th, while another was seen once more in Northumberland at Hadston on 20th and Druridge Pools NR on 21st; and a bird again in Lancashire at Banks Marsh NNR on 21st. A possible Cackling Goose was seen hanging out with Pink-footed Geese at Loch of Strathbeg RSPB (Aberdeenshire) on 18th.
The week was a busy one where Black Brants were concerned, with potentially 10 or more birds logged nationwide. Starting on the south coast, one was seen at Exminster (Devon) on 18th while, in Dorset one was again on The Fleet at Butterstreet Cove on 18th also, and two birds were seen at the western extremity at Ferrybridge on 20th, of which one remained on 21st. One remained in Hampshire at Warblington on 17th still; and in Kent, another was seen at Swale NNR on 19th, with two noted on 21st at Leysdown-on-Sea. Crossing the Thames estuary, one was present at Wallasea Island RSPB (Essex) on 16th-19th, with two birds present there on 17th, and two seen west of South Fambridge and one earlier at Stow Marsh on 21st. Finally, in East Yorkshire, two birds were present at Kilnsea on 17th, with one again on 22nd; and a bird was seen at Sammy's Point on 19th-20th.
In Highland, two possible Grey-bellied Brants were logged at Nairn on 19th.
Scotland also held both of the week's Snow Geese - one on Sanday (Orkney) on 16th-18th, and the other still present on North Uist (Western Isles) on 20th.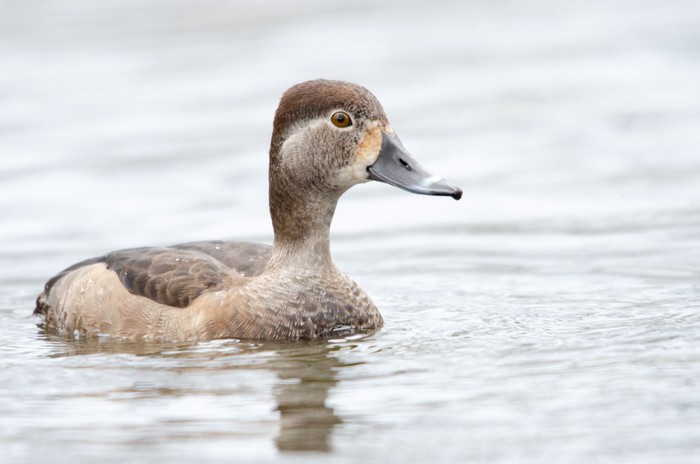 The Western Isles also held one of the week's American Wigeons, a bird seen on South Uist on 20th. The remainder were once again seen in Northumberland where, on 17th, the drake remained at Big Waters NR and, on 17th-22nd, a drake was once more noted at Grindon Lough.
Green-winged Teals remained in short supply this week – birds were logged at Dungarvan (Co.Waterford) still on 16th; in Dorset at Longham Lakes still on 16th also; on North Uist (Western Isles) on 20th-22nd; and at Cabragh Wetlands (Co.Tipperary) again on 21st.
The recent female Ferruginous Duck remained in Cambridgeshire at Ouse Washes RSPB on 16th-17th.
Numbers of Ring-necked Ducks held firm this week, with around 25 birds tallied overall. Of these Siblyback Lake (Cornwall) offered multiple birds in the form of the settled pair of females on 18th still; as did Radley GPs in Oxfordshire, with two birds again present there on 21st; while on 24th four birds were present at Talley Lakes (Carmarthenshire). In Greater Manchester, another female was proving popular in recent days – a confiding individual at Whalley Range on 18th-21st.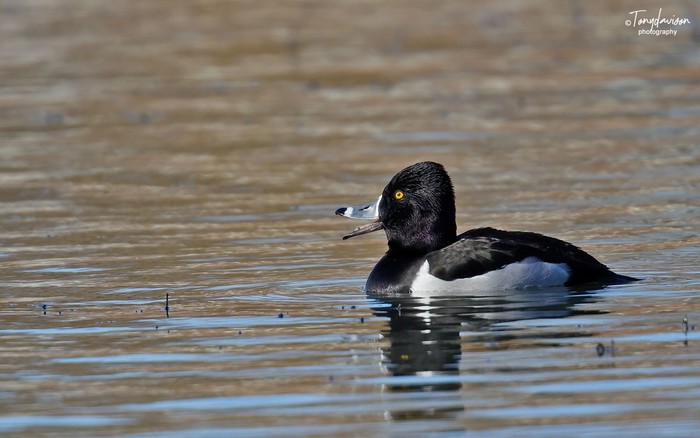 In Ireland, the two first-winter female King Eiders were still to be found at St John's Point (Co.Donegal) on 20th; and the first-winter drake remained in Co.Kerry at Castlegregory on 21st.
In Lothian, the drake White-winged Scoter made a welcome return to the news this week, seen once again from Eastfield on 19th and off Joppa on 21st, and sharing those waters with the drake Surf Scoter which was also noted in the area on 19th-21st. Two more of the latter were again seen this week in Co.Meath off Mornington on 18th.
<!—Section Title -->
In this week's scores on the shorebird doors, one bird stood out head and shoulders above the rest – that being the Sociable Lapwing again seen in Cornwall at Maer Lake CBWPS on 20th. That sighting brings the bird's overwintering stay in the county to an impressive 86 days to date – beating the previous longest-staying record, that of the bird that kicked around Sussex in late 2001, by a day.
Cornwall was giving the Sociable Lapwing a run for its money in the news this week with another tasty bird – an early Dotterel clocking in near St Buryan on 22nd.
Two Lesser Yellowlegs were logged this week – one still present in Devon at Aveton Gifford on 16th, and the other the settled individual still to be seen at Killongford Pools (Co.Waterford) on 20th.
In Ayrshire the Spotted Sandpiper remained happily tootling around the margins of Culzean Bay on 18th-20th.
On South Uist (Western Isles), the American Golden Plover was once more seen on 21st at Eochar.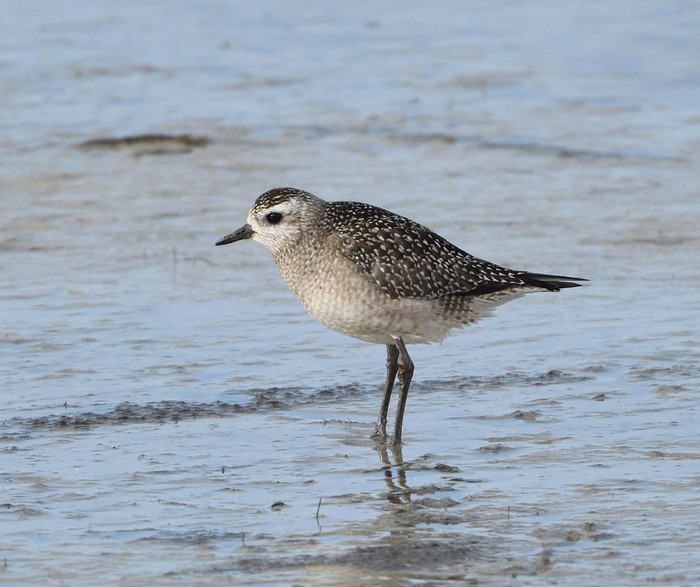 Just a couple of Grey Phalaropes were noted this week – a bird seen on 16th at West Haven (Angus), and one off Papa Westray (Orkney) on 21st.
Away from Co.Down, the best of the week's gulls was once more the first-winter Bonaparte's Gull still present in Glamorgan in Cardiff Bay on 20th-21st.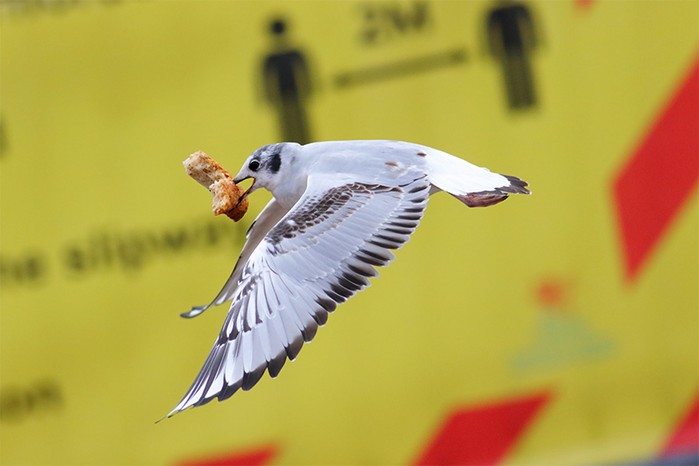 Eight Ring-billed Gulls were logged across the region in recent days. British individuals were seen at Hayle Estuary RSPB (Cornwall) still on 16th-22nd, at Eastfield (Lothian) again on 17th and 19th, and at Llys-y-Fran reservoir (Pembrokeshire) again on 21st. Irish birds were still present in Cork (Co.Cork) on 16th; at Nimmo's Pier (Co.Galway) still on 18th; at Tralee Bay Wetlands Centre (Co.Kerry), where two birds lingered on 17th-18th, with the birds split between there and nearby Blennerville on 21st; and at Blackrock (Co.Louth) still on 22nd.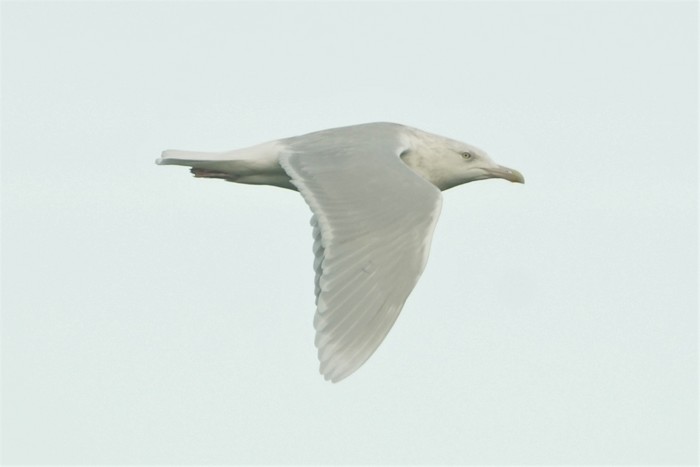 Some 40 Glaucous Gulls were seen nationally, though without any chunky single site tallies to speak of beyond the peak count of seven birds on North Uist (Western Isles) on 22nd. For the most part, the same could also be said of the 80 or so Iceland Gulls reported in recent days, as most again involved single birds; the highest single site tally being, by a country mile, the half dozen birds logged at Scrabster harbour (Highland) on 19th.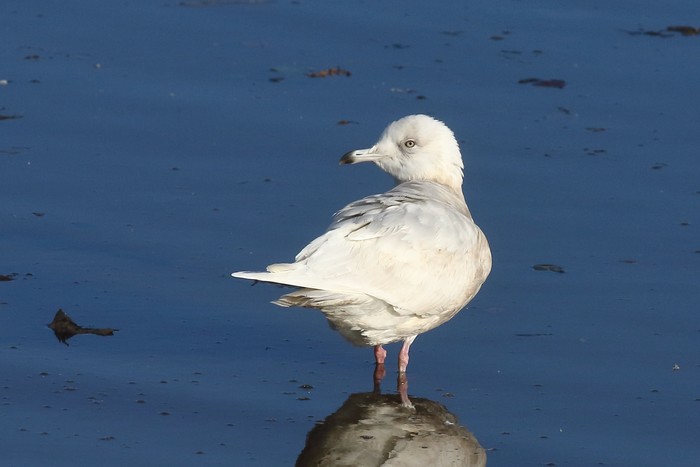 The recent adult Kumlien's Gull was again seen in Cornwall at St Buryan on 17th; the possible juvenile bird remained on Ogmore estuary (Glamorgan) on 17th.
Returning to our introductory theme of early spring migrants arriving in Britain, the most notable raptors this week had to be the determined Ospreys reported on 20th at Weir Wood reservoir (East Sussex) and over Orpington (London).
The biggest surprise this week amongst the passerines was the sudden absence of Yellow-browed Warblers - after a winter of weekly if not daily sightings, suddenly… nothing. It was left to the Ainsdale NNR (Merseyside) Dusky Warbler to keep up the side of the scarce winter warbler compact, being seen there still on 16th-22nd; while another was belatedly identified from a photograph taken at Mere Farm Quarry (Cheshire) on 10th.
Four Great Grey Shrikes were seen this week, two of which were in Hampshire – one at Acres Down on 16th-20th, and the other still in Woolmer Forest on 20th-22nd – and the remaining birds in the Forest of Dean (Gloucestershire) on 20th at Cinderford, and in Powys at David's Well on 22nd.
A few small parties of Waxwings were noted in recent days – two over Hunmanby Gap (North Yorkshire) on 17th; five at Wymondham (Norfolk) on 17th also; and three on 17th at Nethy Bridge (Highland) rising to four birds there on 19th-20th. On 21st a single bird dropped into a Headon (Nottinghamshire) garden briefly.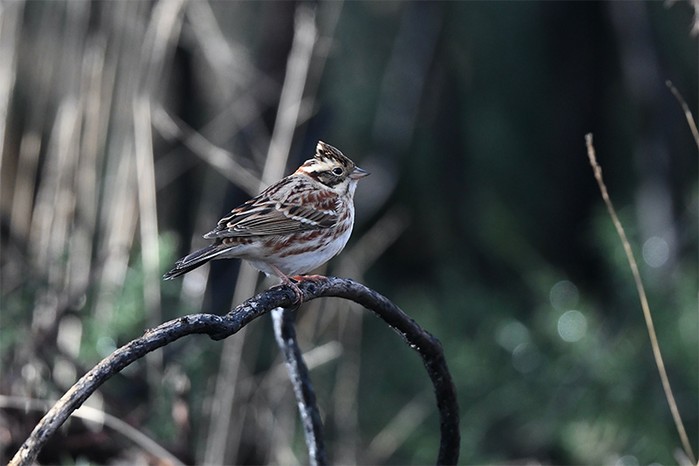 The wintering Rose-coloured Starling remained present on Portland (Dorset) on 16th-22nd, while the Anglesey individual was still to be seen at Amlwch on 17th-22nd. A further bird, first reported on 31st January at Eyemouth (Borders), was still present there this week on 20th, with a friend for good measure, both being first-winter birds.
Also absent from the news for a while, the first-winter Eastern Yellow Wagtail was again seen this week at Prestwick Carr (Northumberland) on 18th.
Yet again, we conclude the week's news with the recent quartet of buntings still present at opposite ends of the country. In Surrey, both the Rustic Bunting and the pair of Little Buntings remained at Thursley Common NNR on 16th-22nd, while up on Unst the Little Bunting at Baltasound on 18th will doubtless have been glad of the thaw in Shetland in recent days. The week got a final twist with another Little Bunting in a Shropshire garden on 22nd at Brown Clee Hill – a really superb garden tick for that neck of the woods.
We'll start the overseas news this week, for a change, in the Azores where the news this week was, in a small way, mirroring that of Britain and Ireland, insofar as two of our headline species were also to be found lingering in the mid-Atlantic archipelago – the Belted Kingfisher still on Pico on 18th, and the Pied-billed Grebe again on Sao Miguel on 18th also.
Drawing a little closer to home, the Allen's Gallinule remained alive and well in the Canary Islands on Gran Canaria on 17th.
In France, the Pygmy Cormorant remained in Vauvert at Marias de Buisson Gros on 18th.
Holland scored a Black-throated Thrush at Hoograven on 19th.
Germany, meanwhile, held onto the recent White-headed Duck at Ausgleichsweiher again on 20th.
In Poland, a Baikal Teal was seen on 21st-22nd at Pakoslaw reservoir.
Pushing north, in Sweden the Black-throated Thrush remained at Sjorrod on 17th-21st.
Denmark's pair of rare scoters were still present off Zealand this week – the Stejneger's Scoter again off Rorvig on 17th-21st, and the Black Scoter still at Tisvilde Hegn on 18th. The Sandhill Crane was again noted this week, now at Gravlev on 17th-19th.
In Norway the Pine Bunting remained at Ganndal on 18th.
Finally, in Iceland the Slate-coloured Junco was still present near Heidmork on 21st.
With the new week set to start with yet more southerlies, I still fancy an early Great Spotted Cuckoo is a distinct possibility but, after a week that featured just so many Nearctic rarities of one hue or another, my daydreams are drawn irresistibly to another species that historically, in the last week of February, has an endearing habit of being found…
This being the stripy, piebald-chested loveliness that's Killdeer. Five birds have been found in the coming week in years past, with honours split more or less evenly between Britain and Ireland. What's particularly encouraging for British birders is that the two prior late February records were both well inland – found at Etwall (Derbyshire) on 29th February 1964, and Holyport (Berkshire) on 25th February 1984. The moral of the story being that one could be found just about anywhere if the Fates smile on us.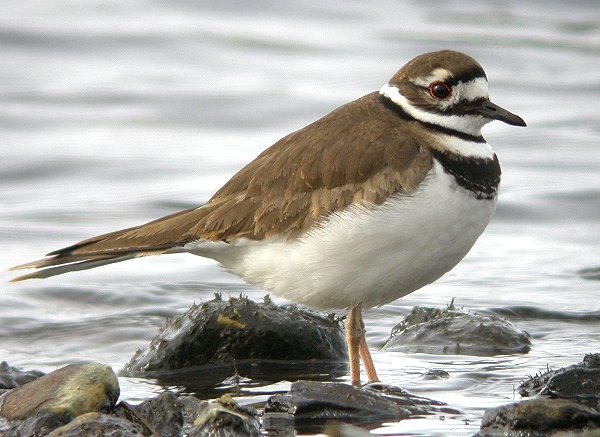 Jon Dunn
23 February
Many thanks to all this week's contributors for your photos and videos
Share this story
Tweet