Weekly birding round-up: 6 - 15 Feb 2021
The week at a glance
In Devon, the Northern Mockingbird appears settled for now
While in East Sussex the White-throated Sparrow remains also
And a Lammergeier is seen in Norfolk
A week of two halves, this – starting where the prior week left off, with snow and ice for many, then moving seamlessly into wetter and warmer conditions. As for the birds, well, our recent duo of Nearctic passerines were still dug in, and there was a big surprise in the offing in Norfolk…
Northern Mockingbird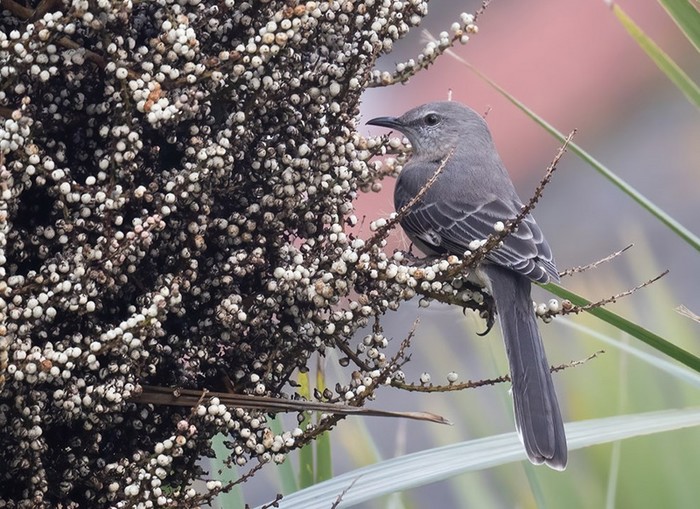 While it's no longer got the benefit of novelty – see further down the headlines for that – there's no disputing the star, top-billing quality of the Northern Mockingbird in Exmouth (Devon). Present throughout the week, it's showing no signs of moving on any time soon and, for those of us waiting in the wings, that's definitely good news.
White-throated Sparrow
Proving similarly settled, the recently found White-throated Sparrow at Barcombe Cross (East Sussex) remained present and seen more or less daily this week on 9th-13th. An excellent bird for local birders in the area, being only the second record of the species for Sussex as a whole, following a young bird present at Beachy Head on 19th-30th October 1968.
Lammergeier
Certainly taking the prize for the most unexpected new rarity of the week was the adult Lammergeier photographed over Nicola Duke's back garden near Dereham (Norfolk) in the mid-afternoon of 10th…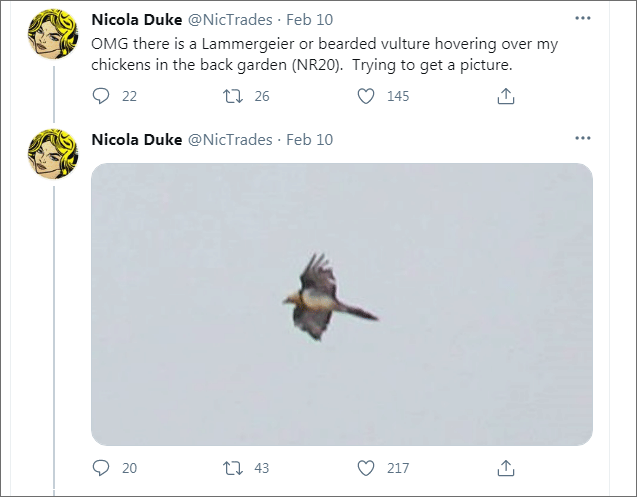 This was followed by a couple more reports in the days that followed – at Mattishall on 11th, and then reported as seen in flight, from a moving vehicle, over Lenwade on 14th.
Then, on 15th, further reports came from Norfolk – seen near North Tuddenham in flight, heading east at 1pm; a little later, a probable sighting came of it seen from afar perched in a tree in the area before it flew off. Initial sceptics of the veracity of the first report that set this particular hare running seem to have had at least some of their fears allayed – it really does appear as if Norfolk is graced once more by one of these mighty bonebreakers, fairly hot on the heels of the wandering bird found so memorably by James Lowen near Foxley on 28th September last year as it began to head south after a summer in Derbyshire.
But where's this particular latest bird from, and what's the story behind it? Time, perhaps, will tell…
The northern isles, once more, hosted some White-billed Divers this week – birds seen in all the usual places. Namely, in Shetland, one of the recent two birds was once more noted in South Nesting Bay on 10th; while in Orkney, two were again seen from Papa Westray on 10th.
Scotland also served up our only Little Auks of the week – a bird noted from Lossiemouth (Moray) on 13th, and one off Burntisland (Fife) on 15th.
The clement waters of Cornwall have been reliable throughout the winter for sightings of Pomarine Skuas and, this week, one was seen from Porthleven on 13th; another was logged from Helston on 13th and 15th; and a further possible bird was seen distantly on 15th near Crantock at Holywell Bay.
Welcome news came from Cambridgeshire this week where it turned out it took more than a bit of cold to shift the wintering Glossy Ibises from Earith – two birds were once again seen there on 12th, with the full trio present once more the following day and still present on 14th-15th. They'd been preceded in the news by the Dungeness (Kent) bird still present there on 9th, and the settled Dorset bird once again noted in Christchurch on 11th.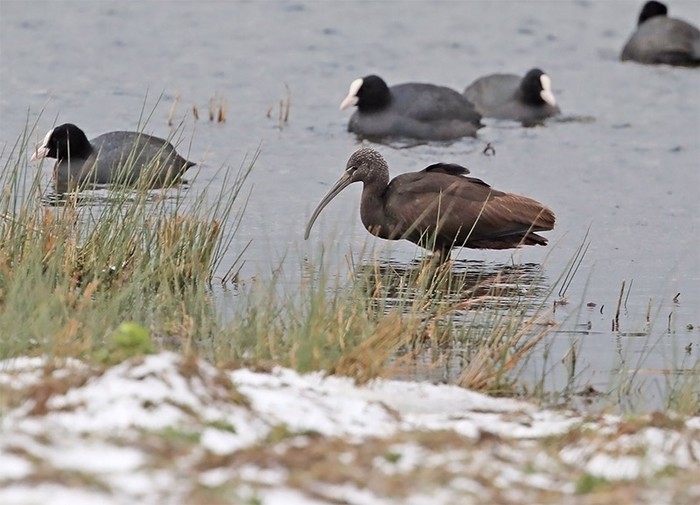 Elsewhere on 12th a bird was noted in Bedfordshire over Beeston, to be followed in the county on 13th by further sightings at Roxton GPs and over Sandy and, not a million miles away, over Thrapston GPs (Northamptonshire). A further possible sighting concerned a bird over Baldock (Hertfordshire) on 14th, while the four settled birds remained at Fremington Pill (Devon) that day.
Some further potential colour cropped up this week with a possible Purple Heron reported from Loxley Common (South Yorkshire) on 13th.
We'll start our weekly waddle through the honkers and quackers with The Goose Formerly Known As Canada and, in northern England, a couple of sightings of interior Todd's Canada Geese - on 10th, one in Lancashire at Hightown and, on 13th-15th, one in Northumberland at East Chevington NWT and Druridge Pools.
The Fleet in Dorset continued to hold two or three Black Brants this week – on 10th-11th one remained at Ferrybridge while, on 10th, two were seen from Rodden Hive once more; this pair also being noted on 13th from Butterstreet Cove. Further birds this week were seen at Kilnsea Wetlands (East Yorkshire) still on 10th; Warblington (Hampshire) still on 11th; near South Fambridge (Essex) on 11th, where two birds were to be found, with one still present on 15th; and on 14th-15th at Kirton (Suffolk).
On North Uist (Western Isles) the Snow Goose was again seen on 10th.
North Uist also provided one of the week's few Green-winged Teal, seen there on 9th-10th; another was still present in Dorset at Longham Lakes on 9th.
In Northumberland, the drake American Wigeon remained at Big Waters NR on 10th-15th.
The regular drake Ferruginous Duck remained in Hampshire at Blashford Lakes HWT on 12th.

Numbers of Ring-necked Ducks remained constant for another week, with some 20 birds in all noted nationwide. Of these, notable tallies came from Tiree (Argyll & Bute) again on 9th, where three birds were still to be seen; Radley GPs (Oxfordshire), where two birds remained on 9th-14th; and Swineham Point (Dorset), where two birds were noted on 13th.
In Ireland, the two first-winter female King Eiders were once more seen at St John's Point (Co.Donegal) on 13th, while the drake was again seen in Scotland at Nairn (Highland) on 13th also.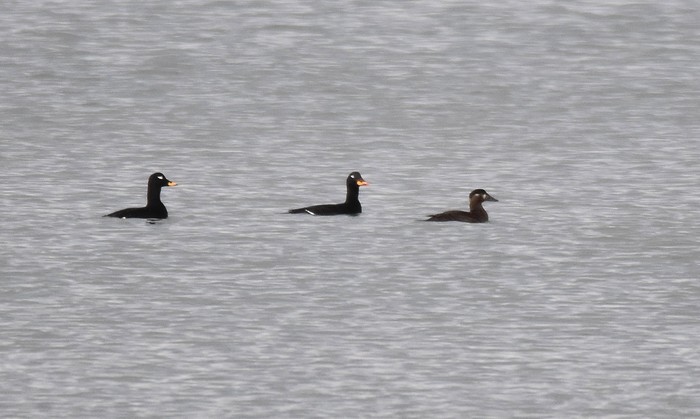 Surf Scoters, meanwhile, proved to be in short supply this week, with just the drake seen from Eastfield (Lothian) on 12th and a female off Musselburgh on 14th-15th again to report until 15th, when the drake at Embo (Highland) popped up again.
Finally, and thrillingly for proponents of such things, belated news emerged this week of a first-winter drake Hooded Merganser present on 8th in Tatton Park (Cheshire) for its 20th day.
Belated news of a Hooded Merganser at Tatton. The bird, a first winter male, present from 20 Jan to 8th Feb arrived with an influx of Goldeneye and also may have departed with them as the meres froze. @AhughPulsford pic.twitter.com/RtORHTtc25

— Cheshire & Wirral Ornithological Society (@CAWOSBirding) February 15, 2021
<!—Section Title -->
Ireland was enjoying an embarrassment of Lesser Yellowlegs riches this week with not one, but two birds logged – one still present at Killongford Pools (Co.Waterford) on 13th, and another that day at Tacumshin (Co.Wexford). The regular Devon bird was still present at Aveton Gifford on 9th-13th.
Moving north from there, in North Yorkshire the Long-billed Dowitcher was once more seen at Bolton-on-Swale GPs on 12th.
In Ayrshire the Spotted Sandpiper remained at Culzean Bay on 12th-14th.p>
The week was a strong one for Grey Phalarope sightings, with a little over half a dozen individuals seen on the English and Scottish east coasts. Starting in England, one was noted from Cley (Norfolk) on 11th; further English examples were seen at Flamborough (East Yorkshire) on 12th, Filey (North Yorkshire) again on 14th, and Blyth (Northumberland) on 9th. Scottish birds were logged on 10th at Musselburgh (Lothian) and Inverbervie (Aberdeenshire), and off Arbroath (Angus) on 15th.
Pick of the week's gulls was the first-winter Bonaparte's Gull found on 14th at Channel View in Cardiff Bay (Glamorgan).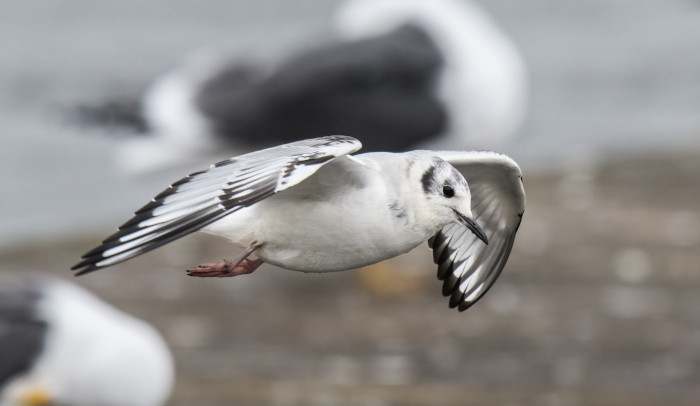 Numbers of Ring-billed Gulls were well down this week, with a mere four birds logged compared with 11 individuals during the preceding week. These were adult birds seen again at O'Callaghan Strand (Co.Limerick) on 9th, Belfast Waterworks (Co.Antrim) again on 12th, at Bray harbour (Co.Wicklow) once more on 13th, and in Cork (Co.Cork) again on 15th.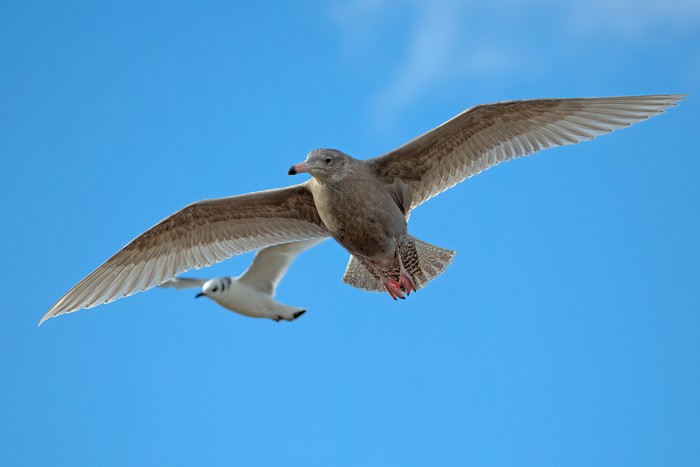 Of the 30 or so Glaucous Gulls seen nationally this week, the lion's share was very much in the Western Isles once more where, on North Uist, seven birds were seen on 11th. Iceland Gulls were again more numerous than their chunky cousins, with around 80 logged this week, of which four present on North Uist on 11th were the joint highest single site tally, with four also seen on 14th at Lossiemouth (Moray).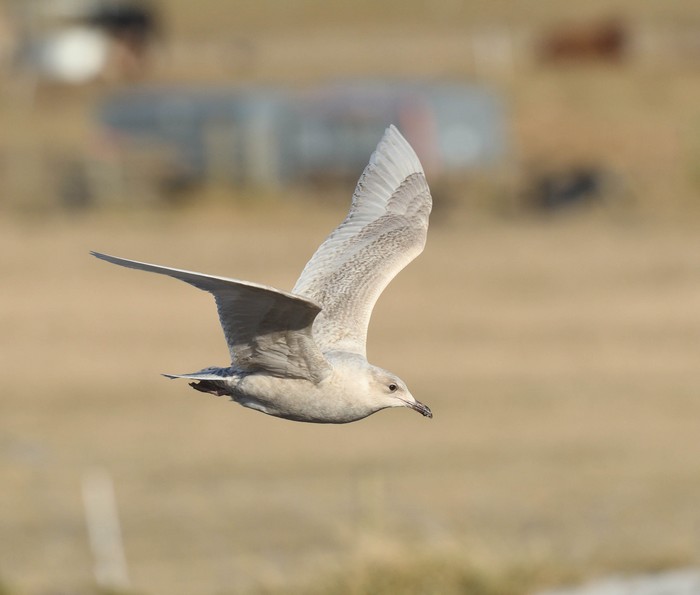 In Cambridgeshire the mobile second-winter Kumlien's Gull continued to lob around Foxton and Heydon on 9th-13th; further birds were seen at Clay Lough (Co.Armagh) still on 9th-10th; on St Mary's (Scilly) still on 9th; on Papa Westray (Orkney) on 15th; and at St Buryan (Cornwall) on 14th-15th. The possible juvenile bird remained on Ogmore estuary (Glamorgan) on 9th.
With one notable exception, quiet times still…
It's been a terrific feature of the passerine news so far this winter, the steady trickle of Yellow-browed and Dusky Warblers coming out of the woodwork as the weeks have unfolded. This week didn't disappoint…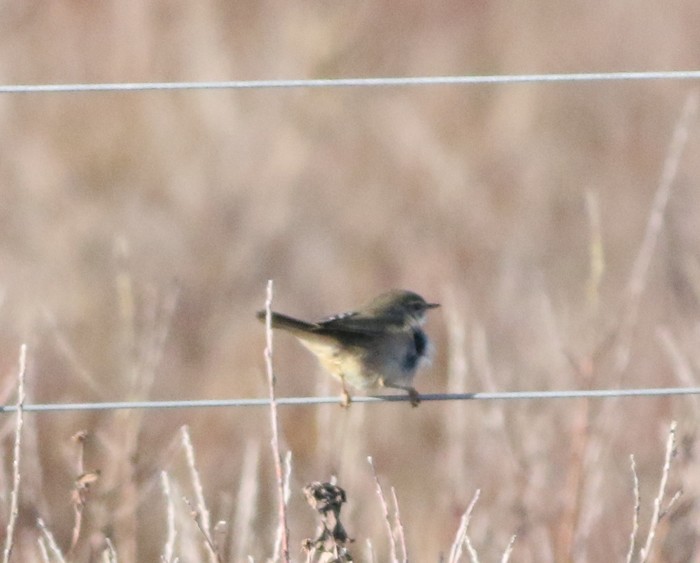 A fresh Yellow-browed Warbler was found in a garden at The Pippin in Calne (Wiltshire) on 9th, and one was seen with a roving tit flock in Poole (Dorset) on 12th, while the settled bird remained at Molesey Heath (Surrey) on 9th-11th.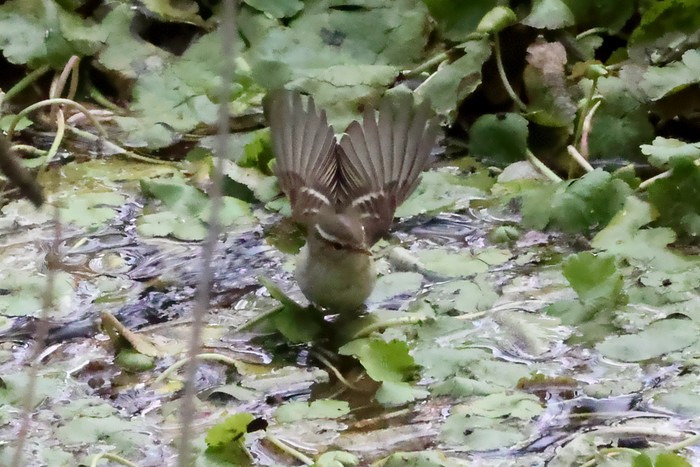 A new Dusky Warbler, meanwhile, emerged in a garden at Ainderby Steeple (North Yorkshire) on 9th. The wintering bird remained at Ainsdale NNR (Merseyside) on 9th-11th and then, on 15th, a twist in the tale – not one, but now two birds present there.
Numbers of Great Grey Shrikes reported this week were well up on the preceding weeks, with six widely scattered birds noted. The Surrey individual as still haunting Thursley Common NNR on 9th-13th; birds were seen in Hampshire at Hinton Ampner on 10th-11th and at Wherwell still on 11th-13th; a northerly outlier was seen in South Yorkshire at Huggin Carr on 10th; and one was seen passing through St Osyth (Essex) on 13th. In Devon, a probable bird was seen at dusk at Woodbury Common on 12th while, on 14th, the settled bird was once more logged at Soussons Plantation.
A brief Waxwing reported from Highworth (Wiltshire) on 10th came to nothing further, but some small flocks were brightening up days elsewhere in England this week – three were seen near Elvington (North Yorkshire) on 12th, while 10 birds were logged in Kent at Borough Green on 13th. Seven birds were again seen in Elgin (Moray) on 13th also.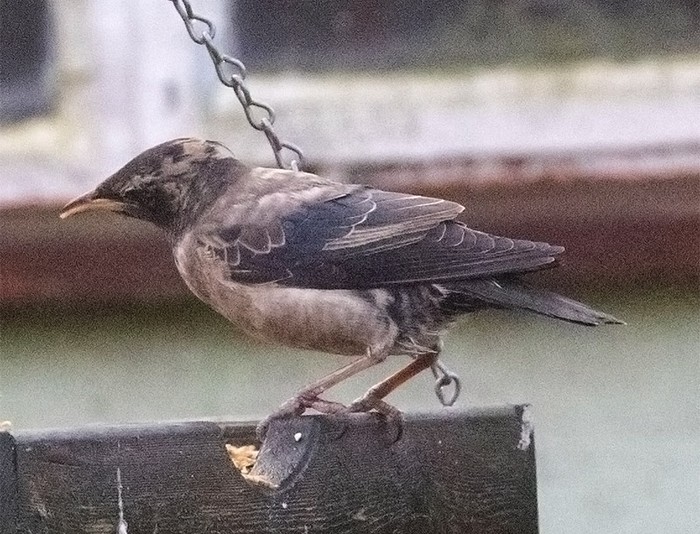 The wintering Rose-coloured Starling remained present on Portland (Dorset) on 10th-15th, and the Anglesey adult bird was once more seen at Amlwch on 14th – arguably the best roses one could wish for on Valentine's Day.
An exilipes Coue's Arctic Redpoll in Wells Woods (Norfolk) on 15th added a little frosty glamour to the week's proceedings.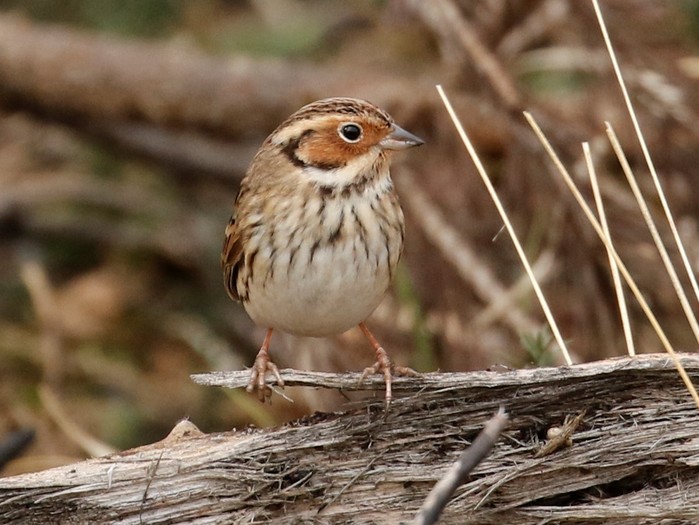 Once more, we close the week's news with the recent quartet of buntings still present at opposite ends of the country. In Surrey, both the Rustic Bunting and the pair of Little Buntings were still to be seen at Thursley Common NNR on 9th-15th, while up on Unst (Shetland) the Little Bunting was still present at Baltasound on 9th at least.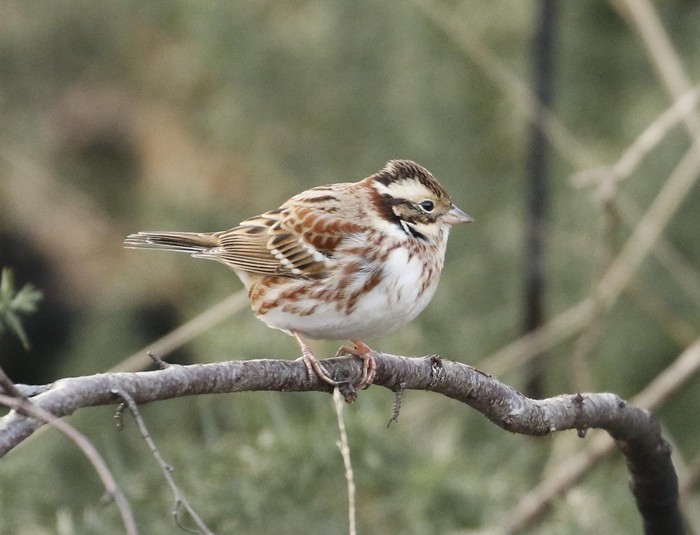 Sweden, this past week, continued to boast a glittering array of rarities given the time of year, and hence kicks off our overseas news. The Baikal Teal remained at Uppsala on 9th; the Black-throated Thrush remained at Sjorrod on 10th-13th; and the meena Western Rufous Turtle Dove was still present at Tavleliden on 13th.
In Norway, meanwhile, one of the recent Pine Buntings was still present at Ganndal on 11th-12th.
A Wallcreeper remained in Belgium at Dinant on 11th-13th.
France held onto its recent Pygmy Cormorant in Vauvert at Marias de Buisson Gros on 12th, and scored an Eastern Imperial Eagle on 11th at Saint-Gilles.
In Poland, the meena Western Rufous Turtle Dove remained at Katowice on 9th-13th.
Heading further afield, the Allen's Gallinule was still present in the Canary Island on Gran Canaria on 11th-15th.
Finally, in Israel, a Grey Hypocolius was seen at Beit She'an on 10th.
You'd maybe not think that mid-February was prime time for an outrageous passerine (recent Northern Mockingbird precedent notwithstanding), but a glance into the mists of time suggests that, if prime time is over-egging the pudding somewhat, we're in with at least a distant shout of a surprise. Plenty of us will remember vividly our consternation when our pagers lit up with news of the Cedar Waxwing discovered in Nottingham (Nottinghamshire) on 20th February 1996…
A bird that, obligingly, went on to remain there right through to 18th March. Of course, there were plenty of Waxwings in the area too, which will have helped to anchor it. Peering further back into the last century, we find another long-stayer, and one that would certainly be welcome should another bird be found and prove to be in it for the long haul – this being the Rock Bunting that tucked into Spurn (East Yorkshire) on 19th February – 10th March 1965. Blimey. Just imagine.
Meanwhile, back in the real world, a glance at the weather charts suggests we're in for some southerlies in the days to come. Is it really too early to get some sort of faintly exotic overshooting passerine? Past records for the coming week of Red-rumped Swallow, Alpine Swift and even Great Spotted Cuckoo all hint that southerlies could deliver an early spring surprise on the south coast.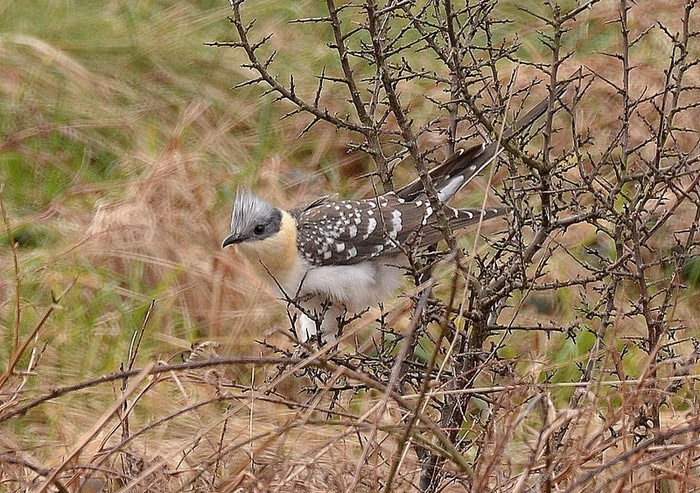 Jon Dunn
16 February
Many thanks to all this week's contributors for your photos and videos
Share this story
Tweet