Weekly birding round-up: 17 - 23 Nov 2020
The week at a glance
A White-bellied Storm Petrel makes a shock appearance off the Norfolk coast
Britain's first Ruby-crowned Kinglet graces the Western Isles
Orkney and Kent enjoy Crag Martins
While Irish news concerns Belted Kingfishers in Co.Cork and, belatedly, Co.Galway
If years were characters in movies, 2020 would be the zombie that, no matter how hard you hit it on the head with a shovel, just wouldn't lay down and give it a rest.
Truly, despite everything, the manifest restrictions on movement and birding opportunities, it's been a spectacular year for rare bird finds and, this week, either with birds found in recent days or news emerging of birds lately seen in prior days, 2020 continued to be the year that just kept on giving.
County firsts? Sure. A passerine first for Britain? Yeah, you can have one of those. Another loopy seabird? Oh, go on then…
White-bellied Storm Petrel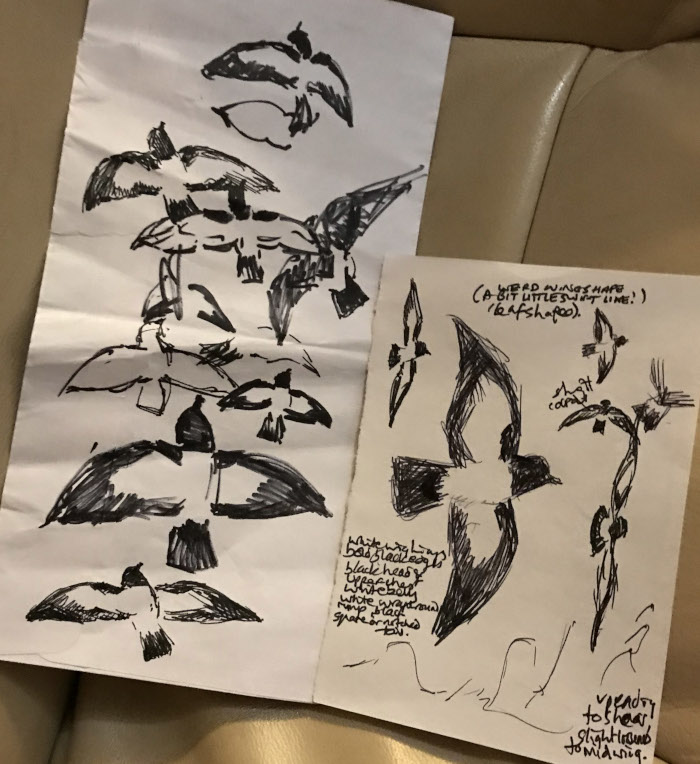 If you'd told me at the start of 2020 we'd have had even one Western Palearctic first seabird record in the months to come, I'd not have believed it. They don't happen often, after all. If you'd suggested that that bird would be a White-chinned Petrel, well… I think most of us would have scoffed at the suggestion.
It's interesting, at this juncture, to place ourselves in the BBRC's shoes. Let's pretend, for a moment, that the Western Palearctic's first White-chinned Petrel found and photographed, so grippingly, by Robert Foubister over Scapa Flow (Orkney) on 25th May, didn't happen. Instead, let's say that the subsequent sightings made by Simon Mitchell from the Unst-Fetlar (Shetland) ferry on the morning of 14th September, and Richard Millington off Cley (Norfolk) in the morning of 20th September stood alone.
Neither were photographed – so we'll have to wait and see what happens if and when they're submitted to the BBRC. Neither was claimed as 100% White-chinned Petrel at the time, but having seen the notes for one of those birds, it's hard to see what else it could have been - Spectacled Petrel notwithstanding, as the bird's face wasn't seen. Nonetheless, the element of uncertainty may be all it takes to consign either or both records to a BBRC 'Not Proven' verdict.
And, arguably, that's how it should be in the rare bird records assessment game – either a bird is demonstrably and unequivocally a given species beyond any doubt whatsoever, or it's simply not a strong enough record to stand on the formal British list.
That raises the matter of photographic proof. Has the time come when that's considered indispensable for, at least, firsts for Britain, even seabirds? The acid test of that will be the putative Cornish Trindade Petrel seen, by multiple observers, from Porthgwarra on 29th July 2018 – a record currently in circulation at BBRC on the strength of field notes alone. Will they be enough to convince the committee? Are field notes alone still enough?
And what of field notes from a single observer? The burden of proof instinctively weighs more heavily on the shoulders of just one person fortunate enough to bump into an extraordinary bird. Particularly if that person has already found a probable White-chinned Petrel off Cley and then, just a few short weeks later, is the only person to see what would amount, if accepted, to being the Western Palearctic's first White-bellied Storm Petrel from Cley on the morning of 17th?
A bird that, again, will stand or fall on the strength of field notes alone. The situation in this particular instance is clouded rather by the possibility of the white-bellied form of Black-bellied Storm Petrel, a distinct possibility and a significant pitfall for anyone encountering a white-bellied Fregetta.
We certainly know Black-bellied Storm Petrels have come close(ish). The video below, of a Western Palearctic individual found on a pelagic off Lanzarote (Canary Islands), remains for my money, one of the ultimately gripping sequences of a gross WP rarity...
…and is, in the absence of some grimly determined sea-watching from us all in Novembers and Decembers to come, perhaps the closest any of us are likely to come to a British Fregetta. Most that is, but not entirely all of us…
…as a very select few have connected in the past. Stepping back into those BBRC shoes, there's an alternative potential outcome to the Cley 2020 bird deliberations and, indeed, were BBRC minded to review it, also the bird seen and well-documented by Kevin Shepherd off Sheringham on 10th December 2007 – a bird that fell at the BBRC hurdle, but remains convincing for many others. Kevin's sketches alone, never mind his account of the bird, beg the question that, if this wasn't a Fregetta petrel, what exactly was it the BBRC concluded he saw that day?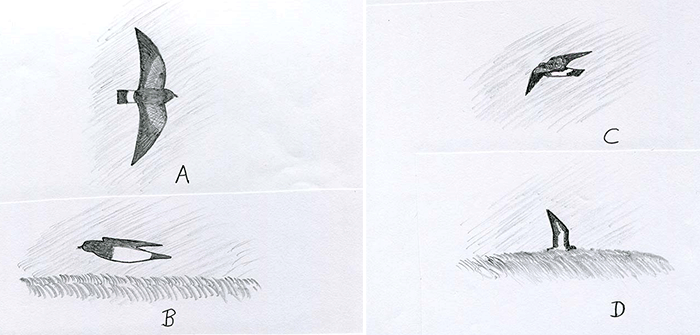 This alternative BBRC adjudication outcome is, of course, to neither accept either bird to species level on the basis of the evidence provided, nor to ditch them entirely as Not Proven, but to opt for the outcome that met Britain's first and, to date, only accepted Fregetta - which is to say, to accept them as "Black-bellied or White-bellied Storm Petrel". This is a precedent set by the bird accepted as such, seen by several observers off Severn Beach (Gloucestershire) on 25th November 2009 – John Martin's account and field sketch of the bird is hair-raisingly evocative.
This week's White-bellied Storm Petrel is a third candidate bird, and follows the pattern set by those first two individuals – all found in the wake of strong south-westerly winds emanating from deep in the heart of the Atlantic Ocean, and all found within an early winter window of 17th November – 10th December. Granted, we've just a sample of three birds to go by, but this is starting to look like a bit of a pattern developing.
Who knows… maybe concerted effort sea-watching this late in the year from south-westerly and Irish headlands could prove fruitful in the wake of powerful westerlies. Maybe these birds are – whisper it – if not regular, then maybe less rare than we currently give them credit for.
At the very least, it's surely time for BBRC to reopen Kevin Shepherd's 2007 Fregetta and review the record? Not Proven seems, under the circumstances, an outcome that's worth questioning. Even in the absence of a photograph or a nice video clip. They'll shortly have a White-bellied Storm Petrel record to assess, so maybe they should look at that alongside the Sheringham and, for the sake of completeness, the Severn Beach bird too.
But, to return to where we started, one can imagine that if it feels like a lonely place being a single observer submitting a monstrously rare seabird record, it's probably not a great barrel of laughs being a BBRC member who has to try to fairly assess such a record. Particularly if the committee isn't finding ready consensus amongst itself.
Ruby-crowned Kinglet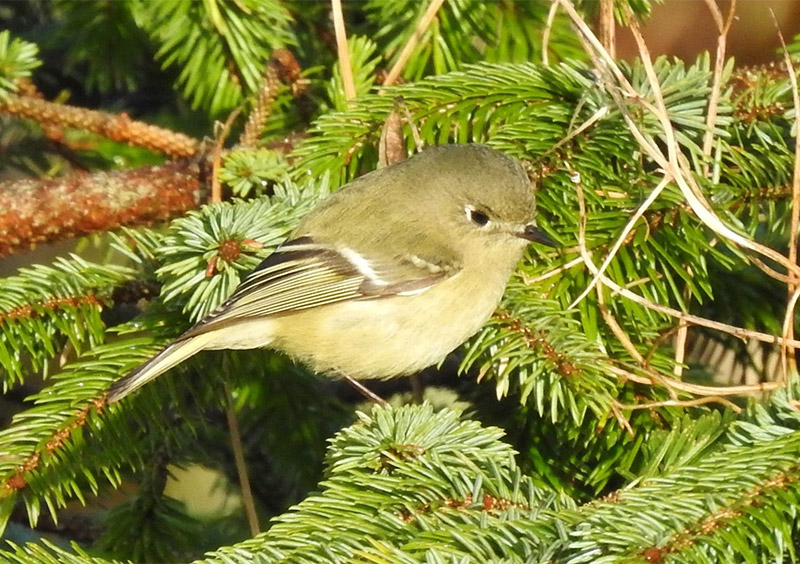 It's only a few weeks ago that we invoked Ruby-crowned Kinglet in the closing, wishful thinking section of the weekly Round Up, in the week that marked the anniversary of Ireland's one and only record, the first-winter female bird trapped and ringed on Cape Clear (Co.Cork) on 27th October 2013. It didn't seem too much to ask for another one, not least in an autumn that was marked by some conspicuous westerly weather systems sweeping across the Atlantic.
This week we learned that one such westerly blow had delivered, and spectacularly so in the form of a fresh Ruby-crowned Kinglet, found on Barra (Western Isles) on 12th by Bruce Taylor, and remaining there until 19th, after which point it departed and Bruce felt able to share his momentous news – a first for Britain.
(There was, of course, a previous British record that fell by the wayside – a bird said to have been shot in the summer of 1852 in woods on the shores of Loch Lomond by Donald Dewar, a young medical student – a bird that was only latterly identified for what it was, after dalliances as both Goldcrest and Firecrest. A series of latterday reviews by BOURC cast significant doubts on various elements of the bird's provenance, and as such it never made the grade for the British list.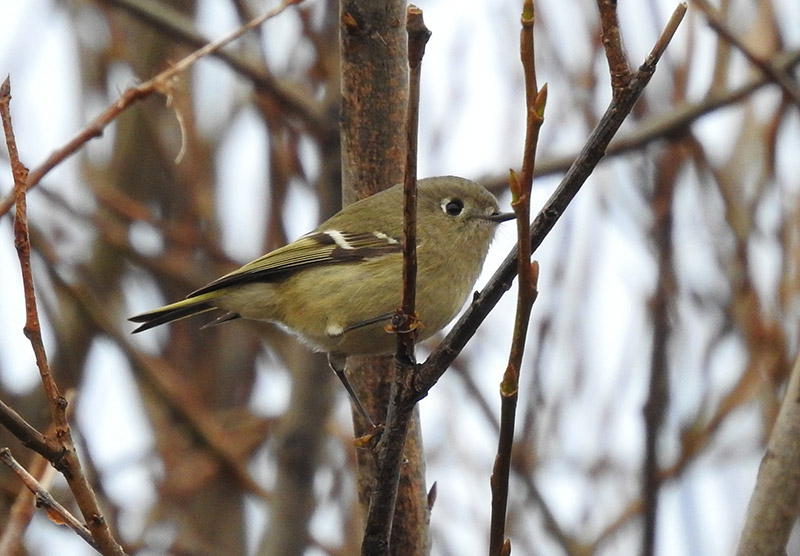 Nor too a later bird, said to have been shot at Highnam Court (Gloucestershire) on 21st September 1871 – this passed through the hands of a commercial taxidermist and into the collection of a wealthy collector, Sir Vauncey Harpur Crewe, a man we might reasonably describe as a chequebook bird collector. Crewe would readily splash the cash for specimens said to be British, without caring too much about doing the due diligence to establish their provenance. This record also, understandably, failed to make the grade for the British list).
That Irish bird was the shot across our bows to alert us to the possibility of a British Ruby-crowned Kinglet in due course – it always felt a matter of when, not if, in the wake of that record. Due to the Covid-19 restrictions in place when the bird was found, alas, this was a 2020 British first which like many things this year, we would all ahve to enjoy vitrually.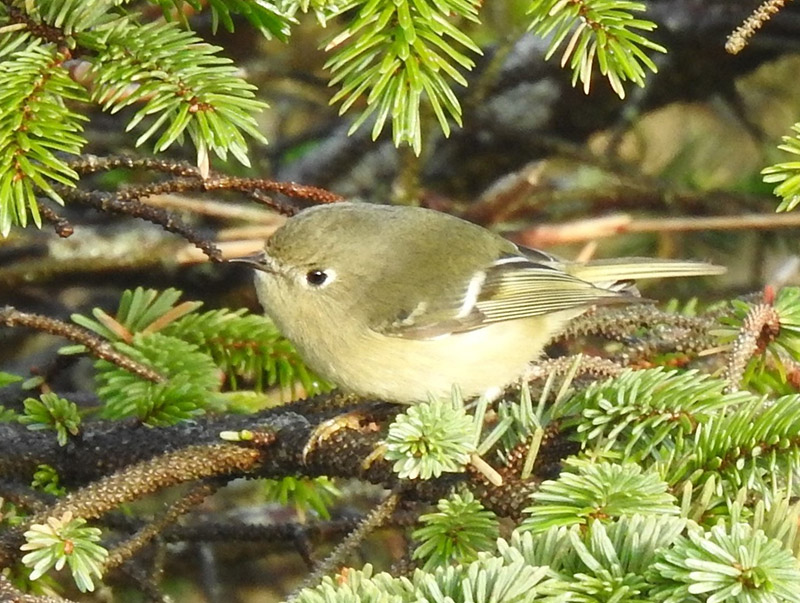 There will surely be another bird available in years to come and, all being well, one that those who want to can travel safely to see.
Crag Martins
George Gay has had a good working season on Orkney's North Ronaldsay, with a stellar cast of excellent birds under his belt. It's fair to say, however, that the last thing he was expecting as he passed through Kirkwall on the Orcadian Mainland on 18th was to bump into a Crag Martin…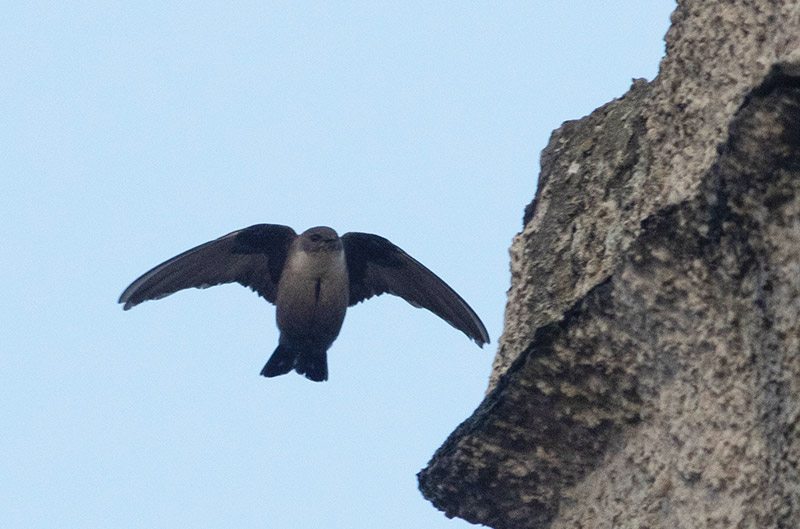 Only Orkney's second bird after a one day bird on Mainland at Finstown on 3rd May 1999, it proved obliging for the short remaining hours of daylight, and those Orcadian birders able to mobilise quickly were able to catch up with it. A brilliant end to George's 2020 account – but not the end of the 2020 British Crag Martin story for, in the afternoon of 21st, another bird was found at the very opposite end of the country, haunting the cliffs at Kingsdown in Kent – and this was the first county record for the Garden of England.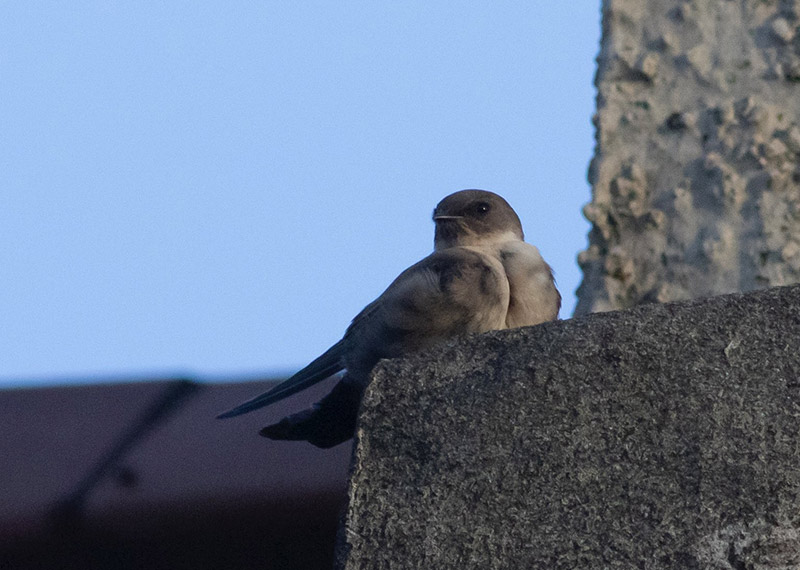 A bird that was definitely set to be locally popular, not least because it remained in the area until 23rd. Given that there have only been a dozen prior British records since the first, found in Cornwall in 1988, Crag Martin remains a top drawer prize for British birders – though, with most having been seen in southern England, and no fewer than four birds in Sussex, Kentish birders could be forgiven for feeling they were long overdue a bird to call their own.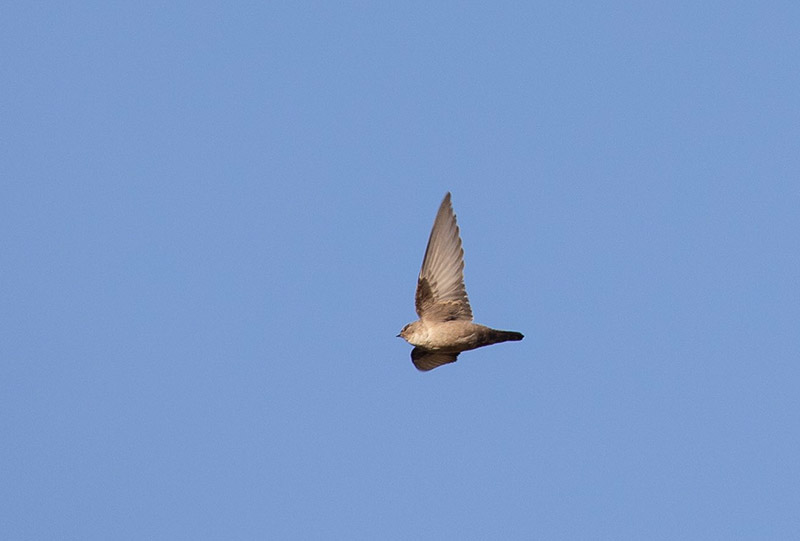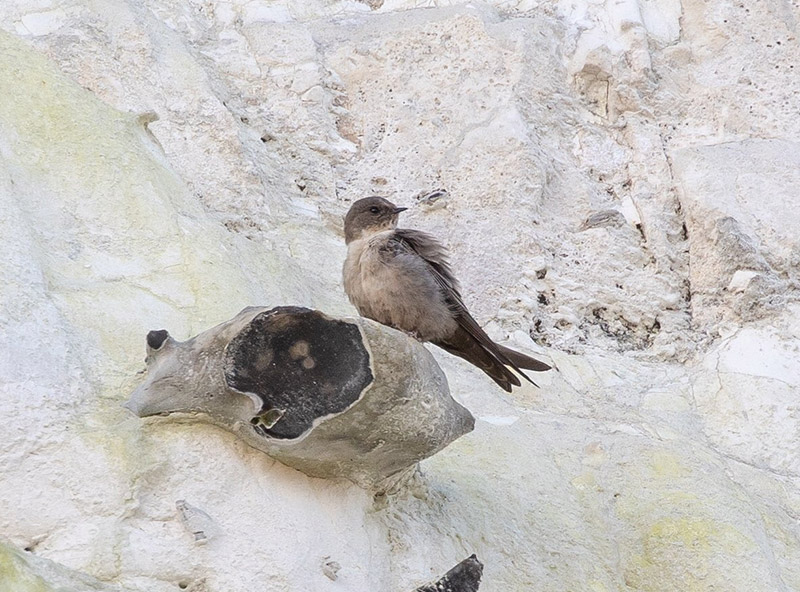 Belted Kingfishers
Positive news of the Dunboy (Co.Cork) Belted Kingfisher appeared sporadically as the week wore on, but the good news for all those Irish birders waiting for an opportunity to twitch her was that she was still settled there as the week drew to a close on 23rd. Tense times, of course, for those waiting…
But perhaps some small comfort can be drawn from the belated news that another Belted Kingfisher sighting had been made in Ireland in the past few fortnight – a bird seen at Ballyquirke Lake in Co.Galway on 10th. That appears to be two birds in Ireland, not to mention recent birds in the Canary Islands and the Azores. Cornish birders could be reasonably entertaining some modest hope that something exciting is hiding in a tidal creek somewhere on the south coast.
While petrel news from Norfolk this week was rocking the seabirding world, the balance of the week's seabird news was considerably more modest – as we'd perhaps expect of this time of year.
Leach's Petrels were represented by single birds seen from Caldicot (Gwent) on 17th and off St Ives (Cornwall) on 19th and, on 19th, two birds from Pendeen (Cornwall) and three off Strumble Head (Pembrokeshire).
The spread of Pomarine Skua sightings this week gave the lie to suggestions that nobody sea-watches at this time of year – some 55 birds being seen, for the most part down the English east coast, with outliers seen in Aberdeenshire and Dorset; a peak count of 10 birds were logged on 19th from Sheringham (Norfolk).
On 21st, a couple of Long-tailed Skuas added a little variety – seen from Pendeen (Cornwall) and off South Uist (Western Isles).
A fair haul of nearly 30 Little Auks also reflected observer effort – for the most part single birds, and again mostly logged down the east coast. One seen from Ballycotton (Co.Cork) on 17th was the only westerly sighting during the week. Seven birds seen from Scarborough (North Yorkshire) on 19th were comfortably the largest single site tally.
Glossy Ibises continued to be seen in good numbers this week, with 20 individuals shared between Britain and Ireland and, amongst them, a good few settled birds that weren't showing any signs of moving on any time soon.
Starting in southern England, four birds remained at Fremington Pill (Devon) on 17th-21st, with three still present there on 22nd; in Dorset, one was a regular sight at Hengistbury Head and adjacent Stanpit Marsh on 17th-23rd still; and one remained in Kent at Dungeness on 18th-22nd. In Cambridgeshire, one lingered at Ouse Fen RSPB on 17th-22nd; while further county sightings came on 20th-21st at Wistow Toll and on 22nd-23rd from near Dog-in-a-Doublet. In Norfolk, two birds remained at Horsham St Faith on 17th-21st, with two at Acle Straight on 22nd, and sightings of singletons at Cley and Thornham Marsh on 23rd. Three birds were found in Warwickshire at Middleton Lakes RSPB on 21st. Two were found on 23rd in Suffolk at Carlton Marshes SWT. The two settled Welsh individuals remained at Newport Wetlands NNR (Gwent) on 19th-23rd.
In Ireland, four birds were seen at Lismore (Co.Waterford) on 19th – perhaps, in the wake of some 18 birds logged in Co.Wexford alone the week before, we might expect there to be some more lurking there still but… not a squeak.
A couple of The Goose Formerly Known as Canada are the opening salvo of a honkers and quackers section that makes up in variety what it lacks in volume this week – these being interior Todd's Canada Geese seen on Islay (Argyll & Bute) still on 19th and again on 20th-22nd at Duleek (Co.Meath).
Scotland continued to hold three Snow Geese this week – two white morphs in Lothian at Aberlady Bay on 17th-19th, and over Burdiehouse Burn LNR on 19th also; and an intermediate morph in Highland at Muirton on 19th, Navity on 21st, near Cullicudden on 22nd, and at Udale Bay again on 23rd.
In Dorset, a Black Brant remained at Ferrybridge on 17th-18th, with a further sighting along the Fleet at Chickerell on 19th. On 21st, further birds were seen at Gosport (Hampshire) and near Salcott (Essex), with one more reported in Norfolk at Wells; one was seen in Norfolk at Warham Greens on 22nd. On 23rd, an Essex sighting came from Old Hall Marshes RSPB.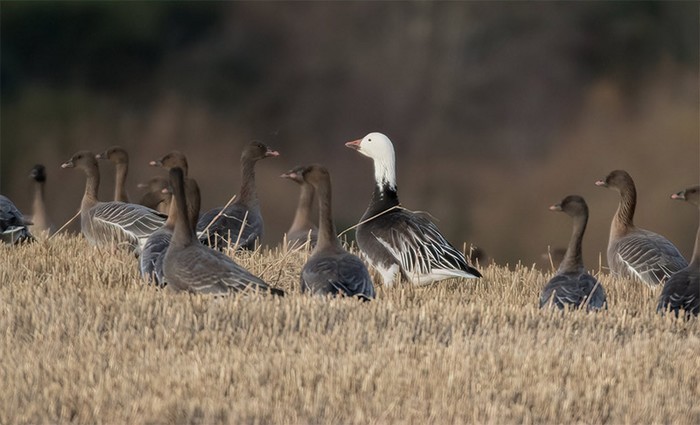 Norfolk also supplies the week's most intriguing honker – a probable Lesser White-fronted Goose seen on 20th with Pink-footed Geese at Billockby. One for Norfolk birders to keep an eye out for in the days to come.
Moving onto the quackers, we start the week's sightings once more with scoters – the drake Black Scoter once more being seen in Northumberland at Ross Bank Sands on 18th; and the drake White-winged Scoter again in Lothian at Eastfield on 19th.
Staying in Lothian, the drake Surf Scoter was again off Musselburgh on 19th; Ireland, meanwhile, gave us a first-winter female off Termonfeckin (Co.Louth) on 17th, a female on Lough Gara (Co.Sligo) on 21st, and a first-winter female off Mornington (Co.Meath) on 22nd.
In Northumberland, the drake American Wigeon was again seen at Big Waters NR on 18th-22nd; with another sighting coming miles to the west in the county at Grindon Lough on 21st.
Scottish island Green-winged Teals remained on North Uist (Western Isles) on 17th-18th, and at Scatness on the Shetland Mainland on 18th-23rd – the latter bird perhaps showing some signs of Eurasian Teal influence in its plumage. One more was reported down in Kent at Bushy Ruff CP on 20th, while the North Uist individual was again reported on 23rd.
Back in Scotland, the resident drake Black Duck remained at Strontian (Highland) on 21st.
On Shetland, the recently found Lesser Scaup was still on Loch of Spiggie on 17th-19th.
A little over a dozen Ring-necked Ducks were logged this week, with three birds on Lough Gara (Co.Sligo) on 21st the highest single site count, followed closely by two on Tiree (Argyll & Bute) on 19th. Further Irish sightings came from Moylan Lough (Co.Monaghan) on 17th still; on Ardclooney Lake (Co.Clare) on 21st; and at Knock Lake (Co.Dublin) on 22nd-23rd, and Tacumshin (Co.Wexford) again on 22nd. As for England, in Lancashire the drake was once more seen on Pine Lake on 17th-22nd and at Leighton Moss RSPB again on 20th and 23rd; and a drake was present in Devon on Beesands Ley on 20th-21st. In Wales a female was seen at Rhaslas Pond (Glamorgan) on 19th; and in Scotland, a drake was present on Balgavies Loch (Angus) on 21st-22nd.
We finish the week's quackers in Angus where, on 20th, a drake Hooded Merganser was found on Forfar Loch. While all the usual caveats apply, at least this one was found after a spell of sustained westerlies and, to date, has done nothing to blot its copybook, like sporting a duck-fancier's ring or clipped wings, being found near a known ornamental duckpond that features the species, staying for months on end, or wandering local high streets in search of bread…
<!—Section Title -->
Bumped from the headlines by a glittering cast of new rarities, in Fife the recently discovered Hudsonian Godwit is showing some promise for settling down for a protracted stay on the Eden estuary, remaining there until 22nd at least.
Suffolk's obliging adult Greater Yellowlegs was last reported from Dingle Marshes RSPB on 19th; the only Lesser Yellowlegs in the news this week were the adults at Nosterfield NR (North Yorkshire) still on 17th-23rd, and at Killongford Pools (Co.Waterford) still on 17th-22nd; and the welcome rediscovery of the recent juvenile bird in Norfolk at Cley on 23rd.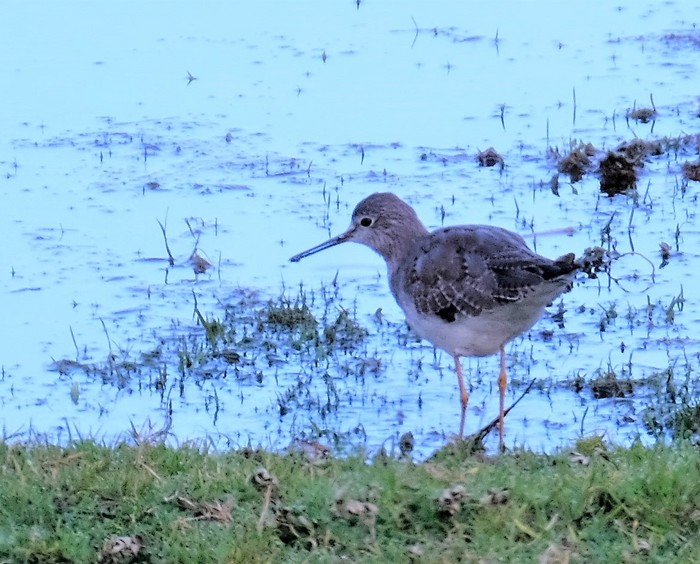 North Yorkshire also supplied a first-winter Long-billed Dowitcher again this week, at Scorton GPs on 17th-22nd, while the adult was again seen in Cumbria at Campfield Marsh RSPB on 17th-19th.
In Moray, the juvenile Pacific Golden Plover was once more seen in Findhorn Bay on 22nd.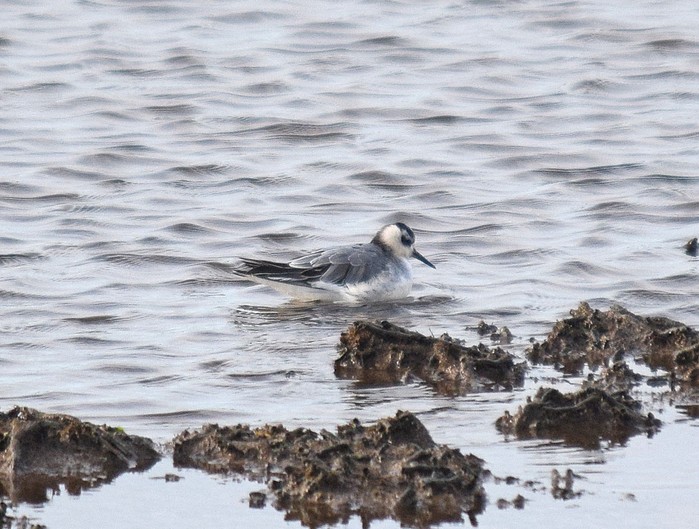 Almost double collective figures of Grey Phalaropes were noted in recent days – Cornish sightings on 19th came from Pendeen, Trevose Head, and St Agnes Head; while one more was seen that day at Southsea Common (Hampshire). On 21st further birds were seen in the Western Isles from Benbecula and South Uist. On 22nd an inland bird was wrecked at Blithfield reservoir (Staffordshire), with a further coastal sighting that day from Cley (Norfolk). On 23rd, one final bird for the week was seen from Longhoughton Steel (Northumberland).
Testament to some birds being pushed into the North Sea this week were a couple of Sabine's Gulls - juveniles seen on 19th at Holmpton (East Yorkshire) and Reculver (Kent), with another juvenile seen from Holmpton on 23rd.
In Pembrokeshire, the adult Bonaparte's Gull was still present on the Gann estuary on 17th-18th. A possible American Herring Gull was also seen briefly here in the afternoon of 21st.
Numbers of white-wingers, meanwhile, held more or less static, with a shade over 20 Glaucous Gulls and around 40 Iceland Gulls noted again over the course of the week – five individuals of the latter species seen between Thurso and Scrabster (Highland) on 19th being the most notable tally.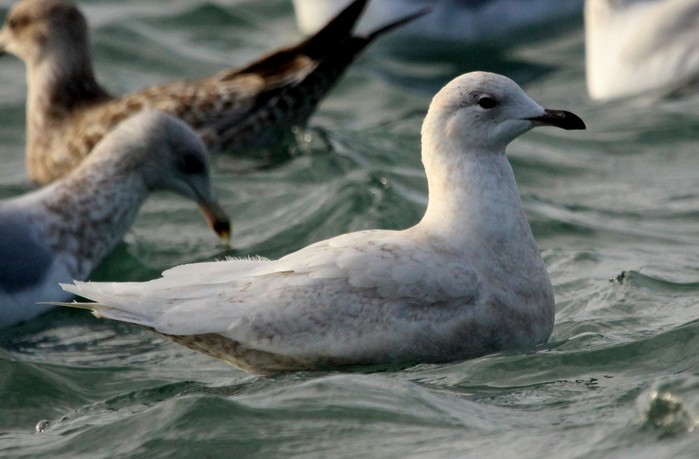 Scilly, however, added a little variety to the mix with a juvenile Kumlien's Gull on St Mary's on 17th-20th; another probable individual was seen in Cornwall at Mousehole on 17th.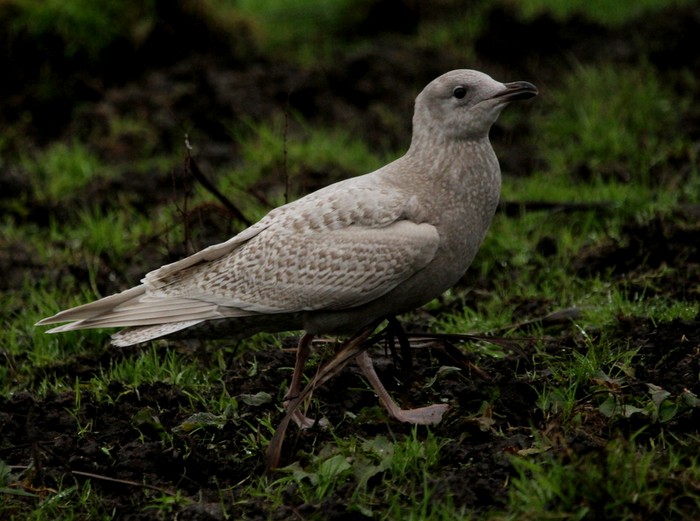 Nothing to see here… move along…
We'll kick of the passerines this week in Kent – a county that, with this week's Crag Martin and the recent Masked Shrike was already enjoying a superb autumn – an autumn further gilded by the discovery of the county's first Eastern Yellow Wagtail at Worth Marsh on 20th-21st. There's a certain inevitability about them now, certainly along the eastern coastal counties, at this time of year. One of the recent pair remained this week in Suffolk too at Dingle Marshes RSPB on 17th-19th. More, surely, await discovery elsewhere…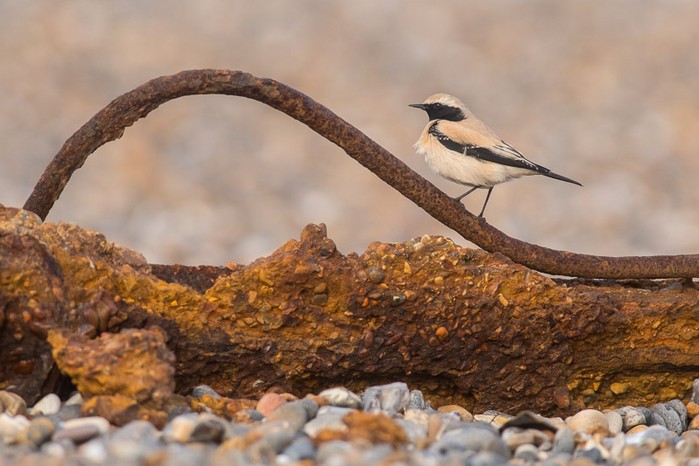 The male Desert Wheatear continued to delight this week at Gramborough Hill (Norfolk) on 17th-22nd; with another smart bird found lately in Cornwall at Penberth Cove on 22nd-23rd.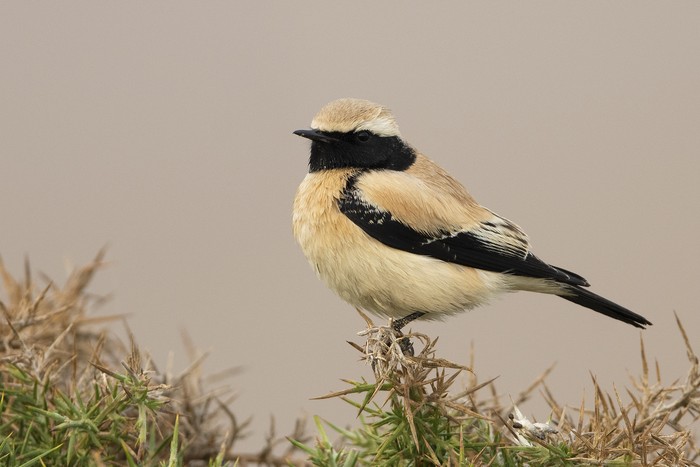 Sadly a report of a possible Dusky Thrush seen in the vicinity of Kingthorn Wood (Northamptonshire) on 20th came to nothing further.
A happier ending seemed assured for the Pallid Swift picked up, in a state of exhaustion, in the prior week in a Weston-Super-Mare (Somerset) garden – released on Monday 16th at Rye Harbour (East Sussex).
Shrikes this week were limited to Great Greys only – birds being seen at Upper Hollesley Common (Suffolk) still on 17th-23rd; at Cottam (Nottinghamshire) still on 17th-23rd; in Langdale Forest (North Yorkshire) still on 21st; in Cross Inn Forest (Ceredigion) still on 19th; and at Knockaneorn (Highland) on 17th, Fernworthy reservoir (Devon) on 19th-22nd, and in Matlock Forest (Derbyshire) on 21st-23rd. On 22nd-23rd one was again seen in Devon at Soussons Plantation, and another in Hampshire at Woolmer Forest on 22nd.
Waxwings were in decidedly short supply in recent days – single birds were seen in Shetland at Boddam on 17th and in Lerwick on 20th; one lingered in Felton (Northumberland) on 18th-21st, with two birds present on 19th at least; while two singletons were seen and heard in Edinburgh (Lothian) at Balgreen and Montgomery Street Park on 19th – the Balgreen bird remaining on 22nd-23rd, while two birds were seen heading west that day in Lothian over Penicuik; and another bird was found on 22nd in Highland near Laggan. On 21st-22nd the week's largest flock was seen in Norfolk, three birds present in a Cromer garden.
In Bedfordshire, the Hoopoe remained at Northill on 17th-19th.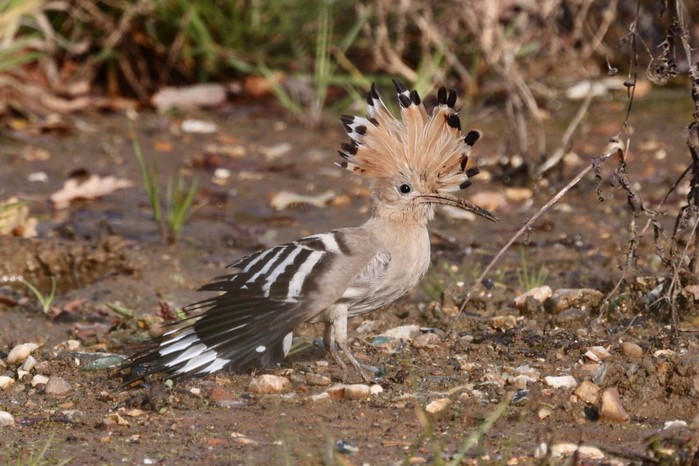 Interesting warblers were reduced now to the usual litany of lingering Yellow-broweds and a handful of rarer options – two Pallas's Warblers providing the colour at College reservoir (Cornwall) still on 17th-18th, and at Dungeness (Kent) on 20th…
…while a few Dusky Warblers provided a muted but welcome counterpoint. Two birds were seen off and on during 17th-23rd on St Mary's (Scilly); one remained in Norfolk at Muckleburgh Hill on 17th-20th, with another till at Beeston Common on 17th-18th; the inland bird remained at Holme Pierrepont (Nottinghamshire) on 17th-22nd; and one was again seen at Spurn (East Yorkshire) on 18th. A final bird was trapped and ringed in Cornwall at Nanjizal Valley on 22nd.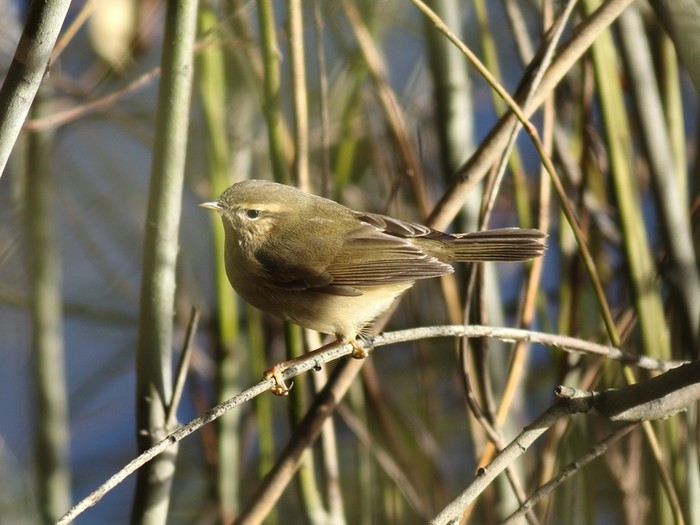 Highlight of the week's pipits was, by a comfortable margin, the American Buff-bellied Pipit found in Northumberland at Amble on 18th-19th on Links Beach – a county first, though the sixth record of the autumn nationally.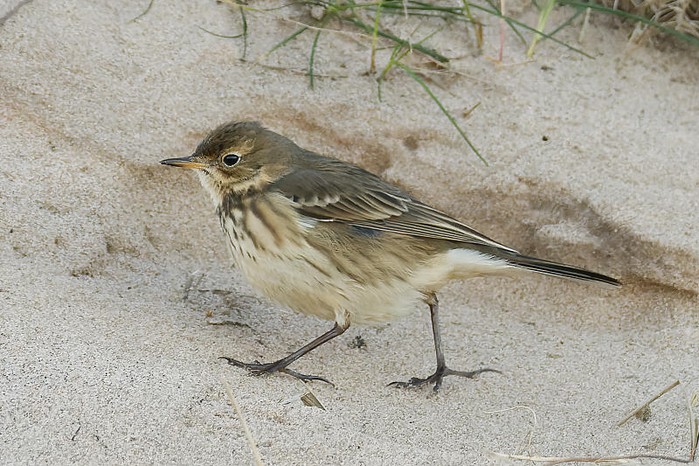 A Red-throated Pipit was noted in flight along the seawall at Huntspill (Somerset) on 20th.
A Richard's Pipit remained at an undisclosed site somewhere in Co.Limerick on 19th-20th.
One of the week's more notable passerine sightings came from Cornwall where a late adult male Red-breasted Flycatcher chose to linger on The Lizard at Church Cove on 19th-23rd; another late bird was found on 22nd in Dorset at St Aldhelm's Head.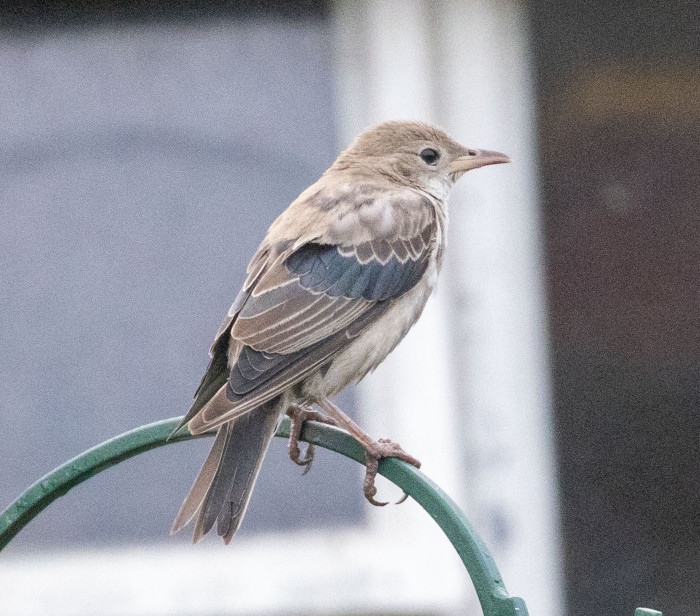 Two recent Rose-coloured Starlings hung around this week – the juvenile still on Portland (Dorset) on 17th-23rd, and the adult at Amlwch on Anglesey on 17th-23rd. Another bird was seen in Cornwall at St Buryan on 19th-23rd, with another Cornish sighting from St Mawgan on 21st.
A Serin was seen in Kent on 22nd at Lade.
The male Parrot Crossbill was seen again in Wakerley Great Wood (Northamptonshire) on 21st; another was found this week in Suffolk at Thetford Farren on 20th.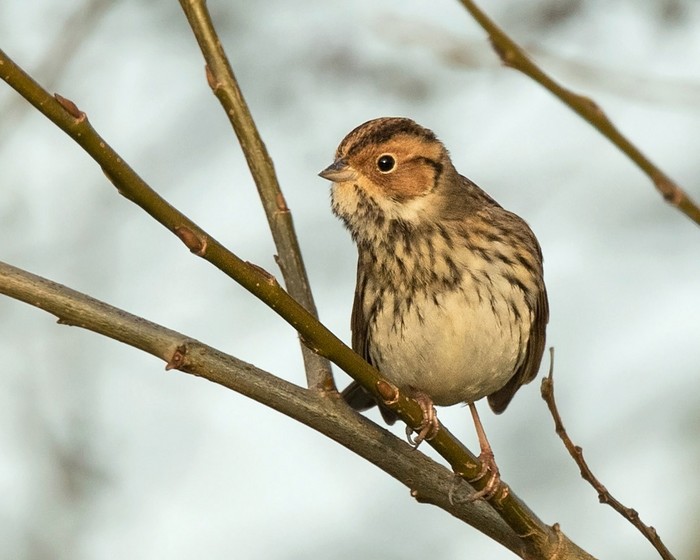 The settled Little Bunting remained in Surrey around Thursley Common NNR until 22nd at least, while another found inland at Langford Lowfields RSPB (Nottinghamshire) on 22nd-23rd was to prove locally popular; and one more for the week was seen in Cornwall on 23rd at Cadgwith.
Once again this week, we'll start the overseas news with White-headed Ducks - one remained in Austria at Schieferegg on 23rd; while the recent Polish bird at Wielikat was joined by a second individual on 18th. I still fancy one at Dungeness in the weeks to come…
Speaking of which, a couple more Wallcreeper sightings emanated from France this week – on 18th at Coutances and, on 21st, at Dinan.
Germany scored a Pygmy Cormorant at Hochwasserruckhaltebecken Alfhausen-Rieste on 20th.
In Denmark, a Greater Yellowlegs was seen at Sonderho on 21st.
Spain, meanwhile, enjoyed a Sociable Lapwing at Cabeza del Buey on 21st also.
In Israel, the long-staying Persian Shearwater remained off Eilat on 20th; a Bataleur was seen at Gal On on 18th-22nd.
Heading offshore, in the Canary Islands the male Belted Kingfisher remained on Lanzarote on 17th-20th.
And finally, deep in the Atlantic, a Double-crested Cormorant was still present on Faial in the Azores on 19th – a timely reminder that Britain or Ireland may yet have one big last roll of the dice before 2020 is done with us.
The last week of November, you don't need me to tell you, isn't renowned for delivering buckets of rare birds. Then again, nor is the penultimate week of the month, but look what we've just worked our way through this week…
The week ahead starts with westerlies dominating the charts – and heaven knows, after events of recent days one could do worse than a spot of sea-watching – but, by the weekend, it looks like it's going to get colder as easterly winds begin to exert some dominance.
Assuming we don't have another crazy seabird on the 2020 roster in the days to come, another Desert Wheatear feels like a solid bet – as does a Hume's Warbler or two. One wouldn't bet against something rarer though – 2020 has been consistent in that regard, and I'll be disappointed if the year doesn't have another surprise up its sleeve in the remaining weeks left to us before the clean slate of 2021.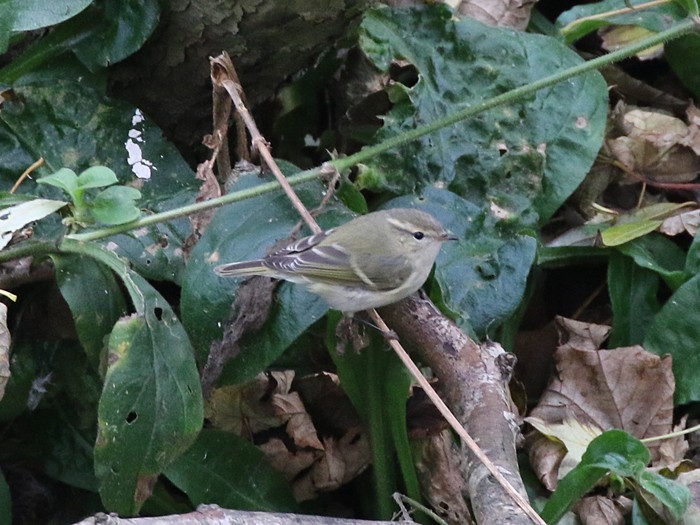 Jon Dunn
24 November 2020
Many thanks to all this week's contributors for your photos and videos
Share this story
Tweet