Weekly birding round-up: 10 - 16 Nov 2020
The week at a glance
Britain's fourth Hudsonian Godwit remains in Fife
Ireland's third Little Swift makes a fleeting appearance in Co.Cork
>And Ireland's third Pine Bunting is somewhere in Co.Kildare
While Co.Cork holds on to the recent Belted Kingfisher
A great big lump of low pressure, anchored over Britain and Ireland this week, brought unsettled weather, with ample wind and rain for all concerned – doubtless suppressing local birding activity even more than the dwindling prospects of the vestiges of autumn passage and, of course, the various local restrictions on movement to help contain the spread of Covid-19.
None of which was to say that there weren't good birds out there. Seeing them, however, was a very different matter…
Hudsonian Godwit
We closed the previous week with the breaking news that a Hudsonian Godwit had been, inadvertently, photographed on the Eden estuary (Fife) earlier in the week – and speculated as to whether it would ever be seen again there.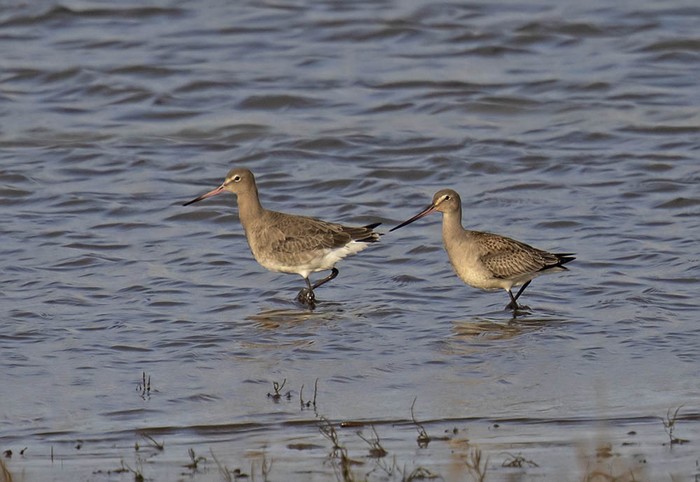 Happily for local birders, and those who interpreted the respective English and Scottish Government Covid lockdown definitions of essential journeys to include seeing a rare bird on a Scottish estuary, the Hudsonian Godwit did indeed choose to linger, and was seen off and on throughout the week from Tuesday 10th right through to the afternoon of Monday 16th.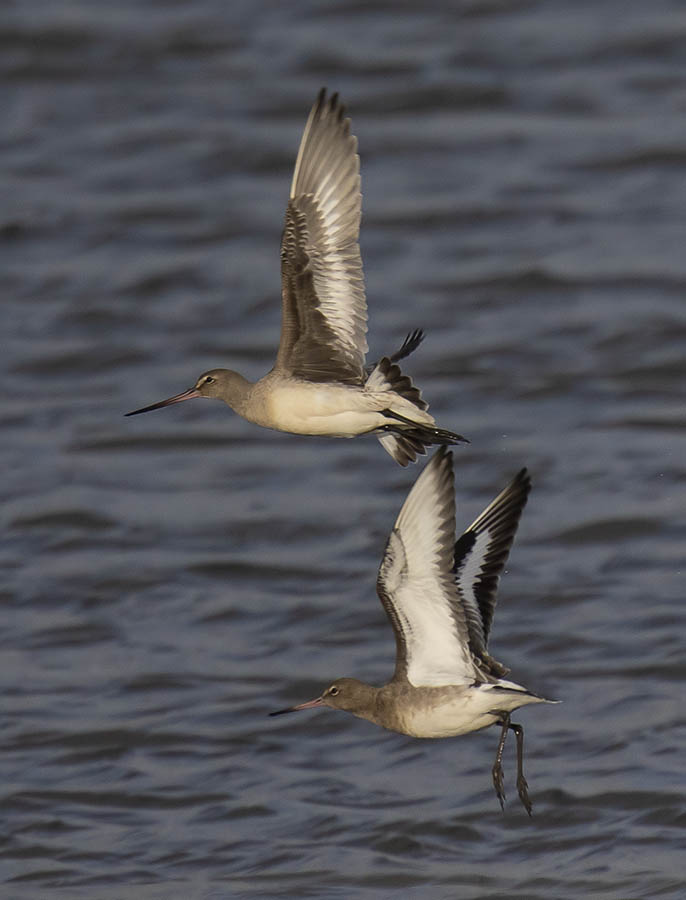 (Fife, in case anyone was wondering, is currently in Level 3 of the Scottish Government's Covid guidelines, which means that visitors from outside Fife should only enter Fife for 'essential purposes' and should 'avoid unnecessary travel [to places in Level 3 areas]').
Little Swift
Initially reported as a Chimney Swift at Glengarriff (Co.Cork) on 10th, the identity of Ireland's third Little Swift was resolved shortly afterwards from photographs. That was the good news – the bad news being that there was no subsequent sign of the bird, robbing even obedient local birders of their chance to catch up with it.
(Chimney Swift, it must be said, is a significantly commoner Irish bird than Little Swift, with a whopping 17 accepted records on the books to date and, at first glance, presence of a white rump notwithstanding, in the wake of the recent westerlies and other Nearctic arrivals, an observer could be forgiven for expecting the former rather than the latter species…)
This individual comes a full 18 years after the last, a fleeting bird seen for just five minutes on Great Saltee Island (Co.Wexford) on 16th May 2002. Ireland's first was also a one-day spring bird, found on Cape Clear (Co.Cork) on 12th June 1967.
The wait for an accommodating and twitchable Irish bird goes on, though hopefully it will be a matter of years and not decades before the next bird is found…
Pine Bunting
Irish birders could be forgiven for feeling a little thwarted of late, with records of Mourning Dove and Lesser Kestrel that, for all the right moral reasons in the current extraordinary circumstances, the finders have chosen to withhold locations for.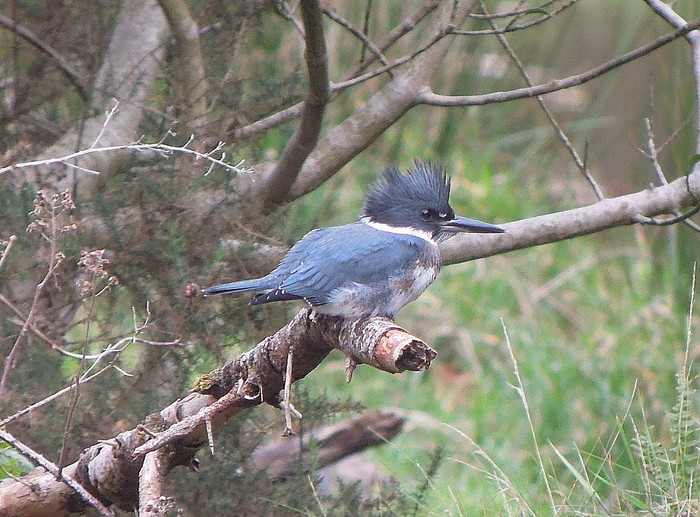 The emotional rollercoaster that's 2020 showed no signs of slowing down this week for them, with news emerging of another such bird – Ireland's third Pine Bunting, at an undisclosed site somewhere in Co.Kildare on 10th.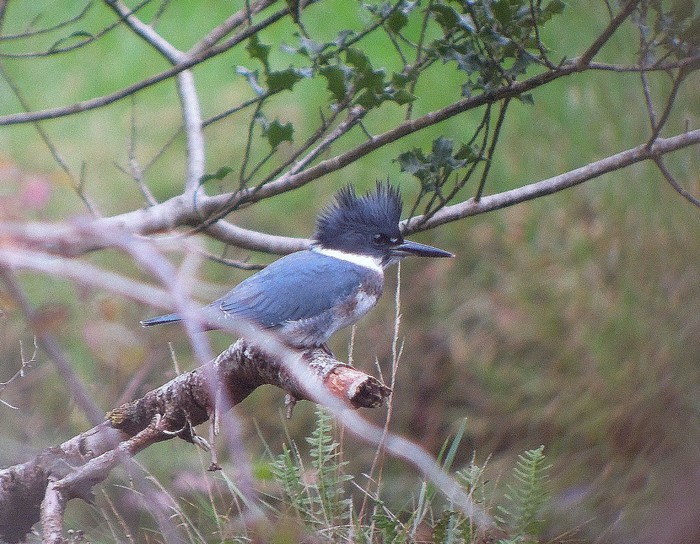 Ireland's first and second records came in quick succession some 25 years ago – a first-winter bird that lingered at North Slob (Co.Wexford) on 20th January – 19th February 1995; and a male that settled at Swords (Co.Dublin) on 3rd-10th March 1996. Maybe those combined long stays will have taken some of the sting out of this week's news… though probably not for Irish birders of a fresher, less grizzled and veteran persuasion.
Belted Kingfisher
Continuing something of a theme of Irish frustration in the headlines this week, the female Belted Kingfisher found on 9th at Dunboy (Co.Cork) remained happily tucked in the creek there this week until 16th.
Our previous British and Irish records have included a number of overwintering examples, so there's some hope to cling to for those Irish birders who haven't succumbed to the overwhelming temptation to journey more than 5km from home in order to illicitly twitch the bird in the past week…
If the week's seabirds were notable for much – and, really, they weren't on the whole – it was the continuing passage of Pomarine Skuas past our coast. It's easy to forget quite how late some of them leave it, but this week was marked by some 35 birds seen on the east and south coasts from Shetland in the north to Branksome Chine (Dorset) and Downderry (Cornwall) in the south and west. Peak counts amongst these were trios noted from Sumburgh (Shetland) on 10th and off Minsmere RSPB (Suffolk) on 14th, and eight seen from Thorpeness (Suffolk) on 16th.
Also on the move still were Little Auks, also with some 20 birds in all seen over the course of recent days. These, however, had a distinctly more northerly flavour to their distribution, all bar one off Cley (Norfolk) on 13th and another off Hannafore Point (Cornwall) on 16th being seen in Scotland, with quartets logged in Shetland from Virkie on 10th and Sumburgh on 11th the best counts.
A possible Leach's Petrel seen from Redes Mere (Cheshire) on 14th, and confirmed birds seen in Cornwall on 16th from Trevose Head and Pendeen Head added a note of interest to the week's proceedings; as did a Balearic Shearwater off Selsey Bill (West Sussex) on 14th.
Finally, three White-billed Divers were seen from Papa Westray (Orkney) on 16th.
Glossy Ibises were again a prominent feature of the daily long-legged beasty comings and goings, and nowhere more so than in Co.Wexford, where sightings peaked with a mighty count of 13 birds at South Slob on 11th. Tacumshin, meanwhile, accounted for four birds on 12th rising to five individuals there on 13th. One more in Co.Cork at Enniskeane on 12th had increased to two birds there on 13th, while three were seen in the county at Pilmore on 15th, and make up the balance of the Irish records this week.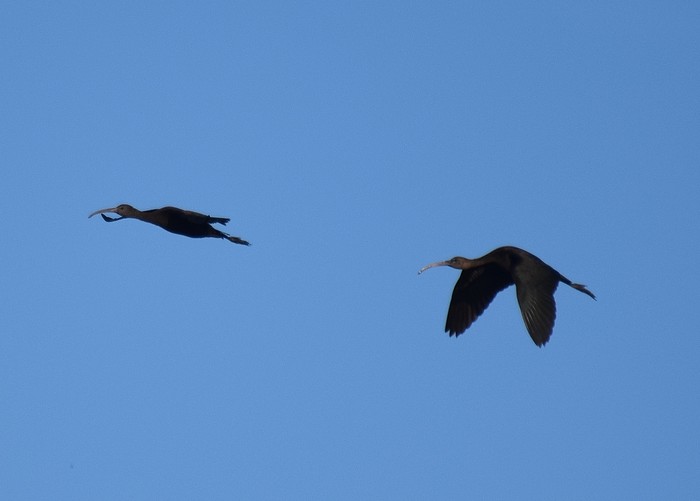 Daily sightings came from English counties as the week unfolded. Starting on 10th, one remained at Brading Marsh RSPB (Isle of Wight); two were present at Acle Straight (Norfolk); one flew over Ferrybridge (Dorset); and one remained in Dorset at Stanpit Marsh, set to stay there until 16th. On 11th, one was seen in north Kent at Cliffe Pools RSPB; one dropped into Ouse Fen RSPB (Cambridgeshire) on 11th-16th; and four birds remained at Fremington Pill (Devon) on 11th-16th. On Scilly, one was seen on St Agnes on 12th; one was again seen in Dorset at Hengistbury Head on 13th-15th; and one remained in Kent at Dungeness on 14th. In Wales, meanwhile, two birds remained settled at Newport Wetlands NNR on 11th-13th.
A probable juvenile Night Heron was noted over Ipswich's Christchurch Park on 12th.
Starting the honkers and quackers this week with the former and, specifically, The Goose Formerly Known as Canada, we've not much to delay us before we get onto the week's more interesting quacker news – it was almost all about Islay (Argyll & Bute) this week where, on 10th-12th, the interior Todd's Canada Goose remained and, on 11th, a hutchinsii Richardson's Cackling Goose was once again noted. Tiree (Argyll & Bute) also supplied a Todd's Canada Goose on 16th.
In Forth, two white morph Snow Geese were seen at Cambus on 12th and Bandeath on 13th, while one more was reported from North Uist (Western Isles) on 13th; two white birds were seen heading over Elphinstone (Lothian) on 15th, and at Aberlady Bay (Lothian) in the morning of 16th.
On the English south coast, Dorset continued to provide some modest intrigue in the form of the adult possible Grey-bellied Brant at Littlesea again on 13th, with two Black Brants present there that day also. Further single Black Brant sightings came from Ferrybridge on 11th, 14th and 16th; and Rodden Hive on 15th. Another possible Grey-bellied Brant was seen on 14th at Nairn (Highland).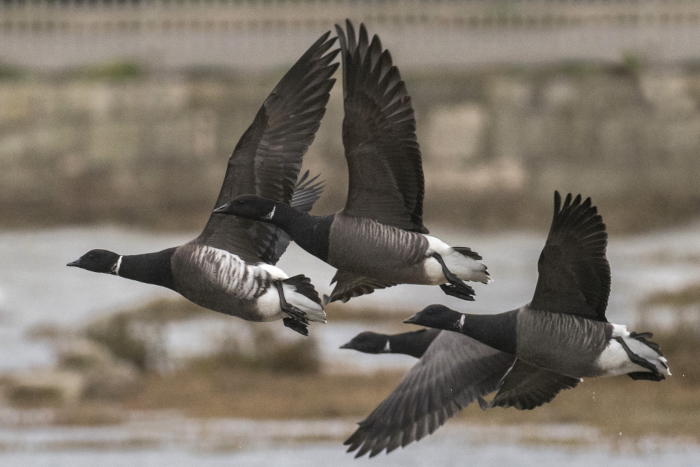 And so to the quackers, where the return of the drake Black Scoter off Cocklawburn Beach (Northumberland) on 10th was the week's rarest news.
Though try telling that to Pembrokeshire birders as, on 10th-14th, a juvenile drake King Eider was settled at Little Haven – a county first. One more was seen this week in the more anticipated quarters of Burghead Bay (Moray) still on 10th.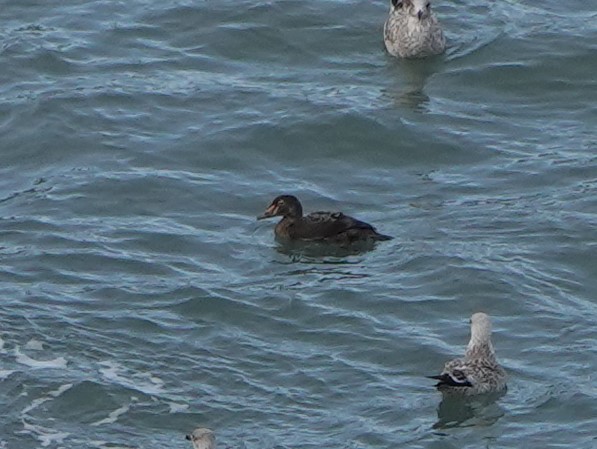 Returning to the scoters, Scotland was where it was at once again this week for Surf Scoters - drakes being seen off Harris (Western Isles) still on 10th; in Lothian from Joppa and Musselburgh still on 12th-15th; and Dornoch (Highland), where two birds remained on 14th. A further female was seen at Yellow Craig (Lothian) on 11th.
Further ducks of interest were in relatively short supply this week. Starting in East Yorkshire, the female or juvenile drake Ferruginous Duck was once again present at Hornsea Mere on 13th-14th and then, on 15th, was reappraised as a hybrid Ferruginous Duck x Pochard.
In Shetland, a Lesser Scaup was found on Spiggie on 15th-16th; they remain a decidedly scarce commodity there, with this being the first since the female trapped and ringed on Fair Isle in October 2011.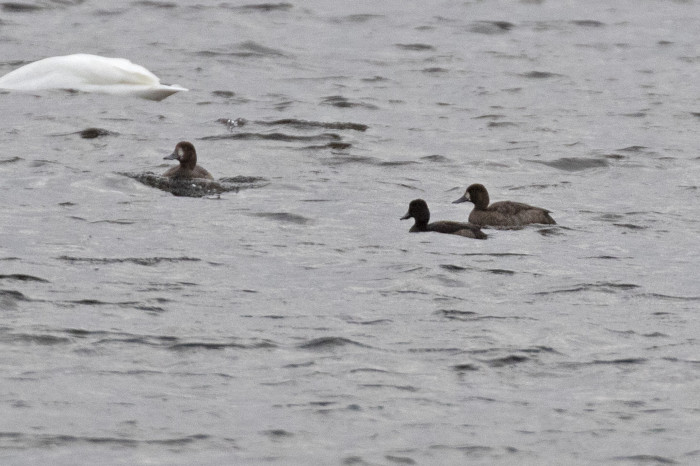 Ring-necked Ducks barely made it to double figures this week – the Lancashire drake was again at Leighton Moss RSPB on 10th and continued to haunt Pine Lake on 13th-16th; and the drake was again at Slapton Ley (Devon) on 13th, with another drake that day in Cornwall at St Gothian Sands LNR. In Ireland, meanwhile, a first-winter drake remained on Moylan Lough (Co.Monaghan) on 12th; two juveniles were seen on Lough Beg (Co.Derry) on 13th; the drake remained on Ballyallia Lake (Co.Clare) on 13th; the female on Lough Gash (Co.Clare) still on 14th; and the juvenile drake on Knock Lake (Co.Dublin) on 15th.
An American Wigeon was seen in Devon on Exminster Marshes RSPB on 10th, sharing the site with a Green-winged Teal for good measure. The drake American Wigeon was again seen at Big Waters NR (Northumberland) on 14th-16th.
More Green-winged Teals were logged this week at Longham Lakes (Dorset) still on 10th-16th; in Shetland at Scatness on 10th-12th; on Tiree (Argyll & Bute) still on 12th; in Cornwall at College reservoir on 12th again; on North Ronaldsay still on 14th; and on North Uist (Western Isles) on 15th. One more was reported on 15th from Woolston Eyes NR (Cheshire).
<!—Section Title -->
Starting the shorebirds for another week, the long-staying juvenile Pacific Golden Plover extended its stay at Findhorn Bay (Moray) until 16th; a juvenile American Golden Plover was seen on Unst at Uyeasound on 15th.
The returning Kentish Plover was once more seen on Stert Island (Somerset) on 10th.
Northern English Long-billed Dowitchers remained this week at Anthorn (Cumbria) still on 12th-13th and, on 12th-16th also, at Scorton GPs (North Yorkshire) again. A further bird was found on 15th in Orkney on Mainland at Loch of Tankerness.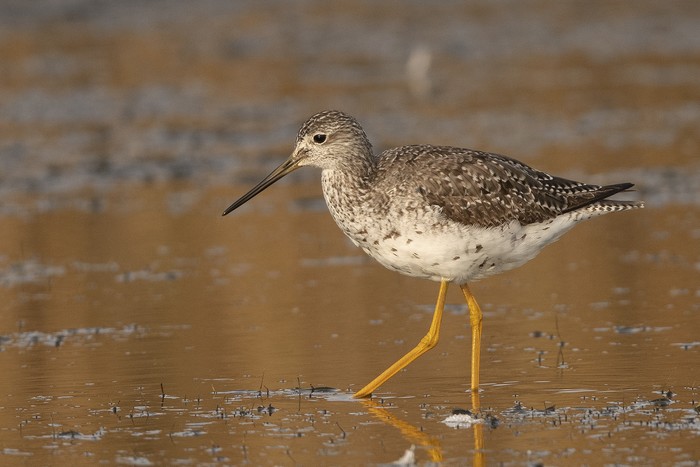 Staying in North Yorkshire, the adult Lesser Yellowlegs remained at Nosterfield NR on 10th-15th. Elsewhere, a probable sighting came again from Devon at South Efford Marsh on 12th, while the recent Kent bird was again seen on Capel Fleet on 12th. In Ireland, the adult remained in Co.Wexford at Killongford Pools on 12th-15th.
In Suffolk, the county's third, and confiding, Greater Yellowlegs remained a popular local draw at Dingle Marshes RSPB on 10th-16th.
Sightings of Grey Phalaropes more or less dried up this week – one was seen from Tiree (Argyll & Bute) on 11th; and on 13th single birds were noted from Walney (Cumbria) and Gibraltar Point NNR (Lincolnshire). Two further probable birds were reported from Portheras (Cornwall) on 12th.
This week's gulls'n'terns were a varied lot, with a little more diversity on offer than we've enjoyed in recent weeks.
We have to start in West Yorkshire where, on 10th, an adult Franklin's Gull was seen at Anglers CP; but not subsequently. One would think there's a good chance this is the bird last seen near Denholme (West Yorkshire) on 10th September – if so, one wonders where it's been in the meantime and where it's going to crop up next.
In Pembrokeshire, the adult Bonaparte's Gull was once more seen on the Gann estuary on 13th-15th.
Moving west into Ireland, Ring-billed Gulls were noted at Blennerville (Co.Kerry) on 11th, Dunworly (Co.Cork) on 13th, and Blackrock (Co.Louth) still on 14th-15th. More of their kind, surely, to come from Britain and Ireland any day now.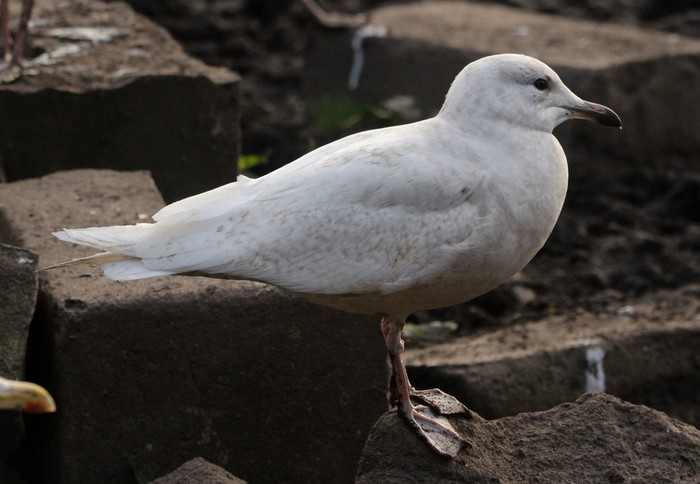 White-wingers, meanwhile were in reasonably short supply, with 20 Glaucous Gulls and around 40 Iceland Gulls noted over the course of the week. It's early days yet for both species, of course, and we'll doubtless start seeing them regularly at landfills and gull roosts across the region in the weeks and months to come.
Back to Ireland to conclude the section, the regular adult Forster's Tern was once again seen in Co.Galway at Kinvarra Bay on 10th.
A Rough-legged Buzzard seen at Cropton (North Yorkshire) on 13th was upstaged in the news this week by a late Black Kite skirting the English Channel at Dungeness on 12th.
Out on St Kilda (Western Isles), the female Snowy Owl was hunkering down for the coming winter on 14th. I'm betting the Shetland bird is still out there on Ronas Hill, somewhere. One to look for in the weeks to come when somebody gets a moment…
A Monday morning video treat for us all...even the Snowy Owl is watching to see when the rut is going to kick off, sheltering behind this rock from the wind most of Saturday. pic.twitter.com/1mO4N5hNyB

— St Kilda Soay Sheep Project (@SoaySheep) November 16, 2020
If Ireland's third Little Swift was playing hard to get in Co.Cork this week, putative Pallid Swifts were providing mild headaches of their own in Britain in recent days – probable birds being logged on Anglesey at Amlwch on 10th, and in Somerset at Sand Point on 11th. These were followed by a confirmed Pallid in Lancashire on 14th, initially seen at Knott End and, latterly, at Fleetwood but, like its Irish counterpart, only conclusively identified from photographs after the event.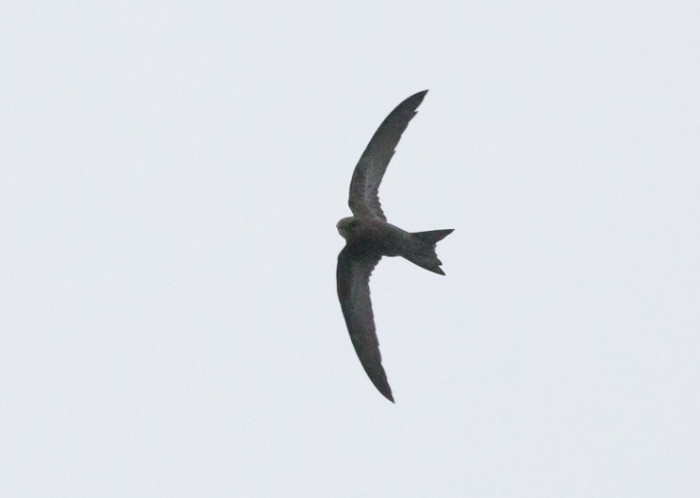 In the headlines had it only been a more concrete sighting, a wholly unconfirmed report of a distant Yellow-billed Cuckoo in Hampshire at Broomy Bottom on 12th didn't come to anything further, sadly.
Up in Shetland, Dougie 'Tennessee' Preston struck again with more patch gold this week in the form of a bedraggled Isabelline Shrike sp on Yell on 10th. Thought to be probably a Daurian Shrike, faecal samples were collected, so in due course we'll have what passes for certainty with this opaque species complex.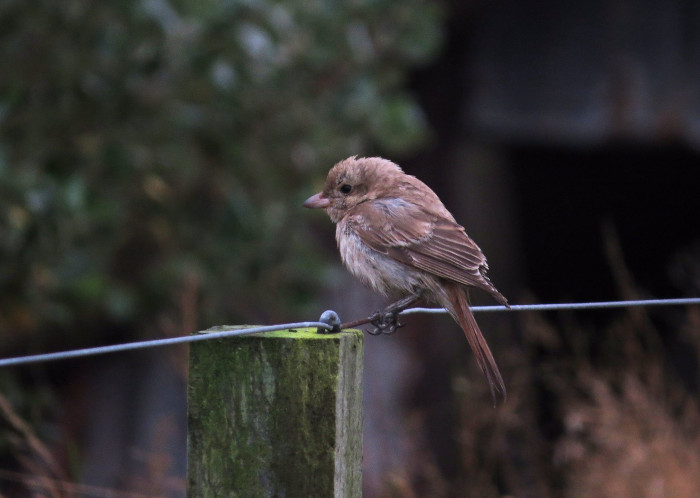 In Lewis (Western Isles), the recent Brown Shrike remained on 10th.
A migrant Great Grey Shrike was seen on Whalsay (Shetland) on 10th, while on the British mainland a number of birds seemed to be settling into winter quarters… Individuals were noted on 10th-15th at Crabtree Hill (Gloucestershire); on 10th-16th still at Cottam (Notthinghamshire); on 10th still at Upper Hollesley Common (Suffolk) and Langdale Forest (North Yorkshire); on 12th-16th in Soussons Valley (Devon); on 13th-15th again in Brechfa Forest (Carmarthernshire); and on 15th-16th in Hampshire at Milkham Inclosure.
The recent Hoopoe remained in Bedfordshire at Northill on 10th-16th.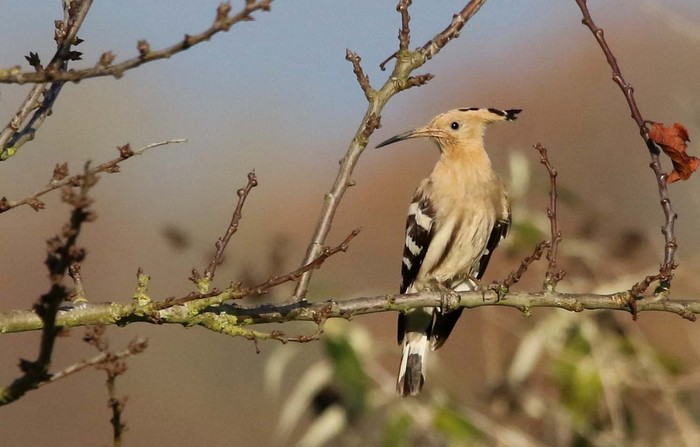 Just seven Waxwings were reported this week, seen on 10th at Lossiemouth (Moray).
In Aberdeenshire the possible Arctic Warbler was again seen in Aberdeen's Sunnybank Park on 10th. I'm sure I wasn't alone in hoping this might prove to be something rarer still this late in the day but, in the end, certainty of any kind remained an elusive chimaera.
A late Radde's Warbler was seen on Unst (Shetland) at Norwick on 10th.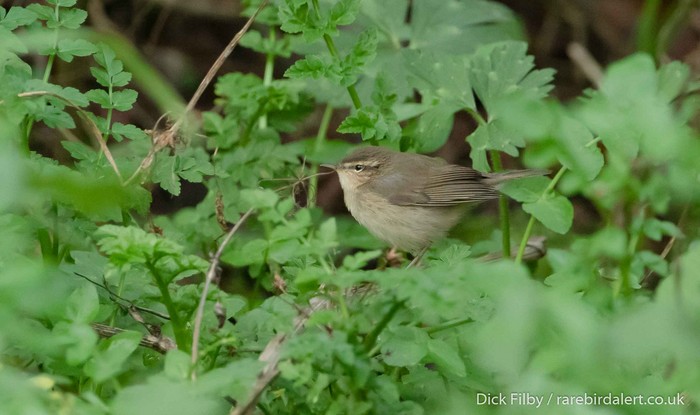 Such a prominent feature of the late autumn this year, Dusky Warblers continued to be a daily presence in the news this week, with at least 15 birds in total logged nationwide - St Mary's (Scilly) alone holding perhaps three birds on 13th. We've speculated that birds will surely start cropping up in unexpected places in the weeks and months to come, and this week seemed to confirm that – one being found inland at Holme Pierrepont (Nottinghamshire). Get yourself down to the local lake, reservoir or sewage farm and start checking the damp, invertebrate-rich margins… there's more out there to be found.
Elsewhere in Scilly, Tresco was having a good week for warblers of other kinds – on 13th both a late Blyth's Reed Warbler and a Pallas's Warbler were found.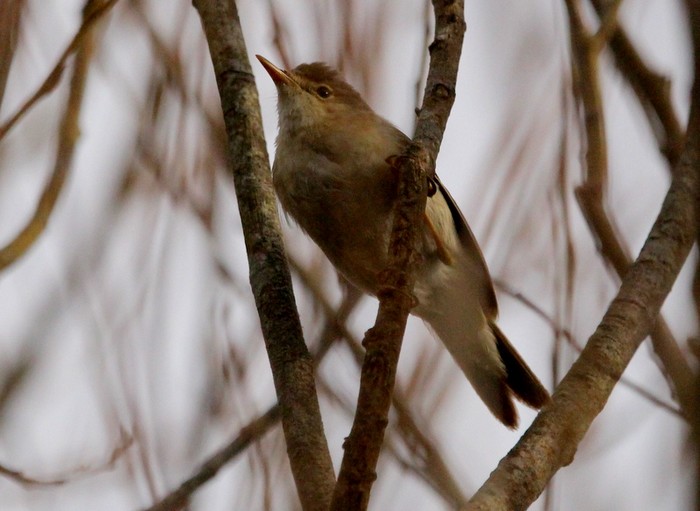 Other Pallas's Warblers this week were seen at Holkham NNR (Norfolk) on 10th-11th; in Wells Woods (Norfolk) on 10th; at Flamborough (East Yorkshire) on 10th; and at Landguard NR (Suffolk) on 10th-14th, with two birds present on 10th at least, and one of them trapped and ringed there on 13th. A final bird for the week was found on 15th amongst a Long-tailed Tit flock at College reservoir (Cornwall).
A brief Barred Warbler was seen at Skeffling (East Yorkshire) on 13th.
Star of the show this week in Norfolk had to be the cracking male Desert Wheatear found on 13th-16th at Gramborough Hill. Norfolk does well for them, with this bird being the 23rd county record, and the 14th since the turn of the century – not quite annual, then, but not far off it.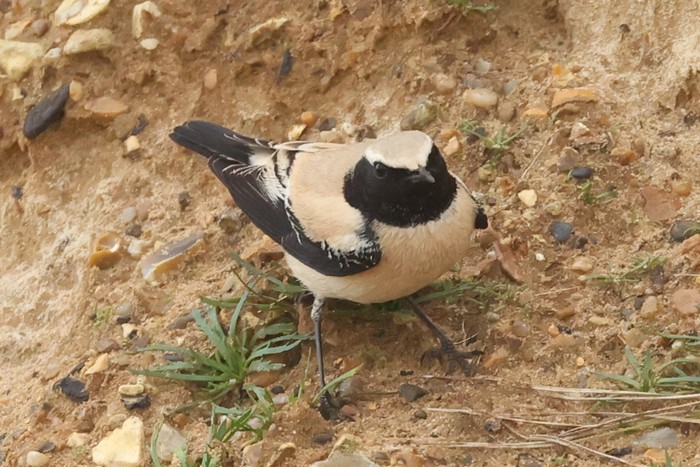 In Suffolk this week the two Eastern Yellow Wagtails remained at Dingle Marshes RSPB on 10th-16th, and one seen at Corporation Marshes (Suffolk) on 16th. Norfolk records came from over Muckleburgh Airfield on 10th, and in the Kelling area still on 10th-12th.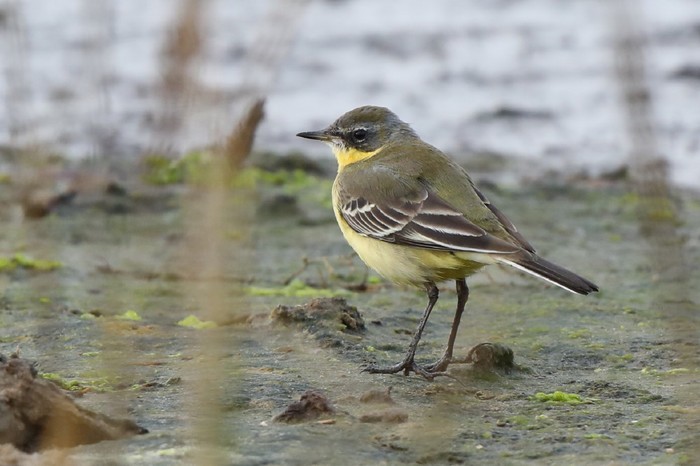 The Olive-backed Pipit remained this week at Goxhill Haven (Lincolnshire) on 15th.
Just two Richard's Pipits were noted this week – one apiece for Rainham Marshes RSPB (London) on 10th and Aberystwyth (Ceredigion) on 12th.
On Portland (Dorset), the settled juvenile Rose-coloured Starling remained on 10th-16th, while another adult was seen at Amlwch Port (Anglesey) on 14th-15th.
A late Serin was seen in Norfolk at Upton on 11th.
A male Parrot Crossbill was seen on 15th-16th in Wakerley Great Wood (Northamptonshire).
Biggest finch news of the week, however, came from Dorset where an exilipes Arctic Redpoll was found on Portland on 12th – just the third county record following two individuals on Studland Heath on 20th and 24th-26th February 1996. Big county news, then… Meanwhile, in Cornwall the possible individual was once more seen at Nanquidno on 10th. Up in the more regular species haunt of Shetland, a hornemanii bird was again seen on Unst on 10th.
Shetland also sported a Little Bunting on 12th on Mainland at Tresta; the recent Surrey bird was again seen this week at Ockley Common on 10th and adjacent Pudmore Pond on 11th.
We'll start the overseas news with White-headed Ducks - one remained in Austria at Schieferegg on 10th-12th; the recent Polish bird remained at Zbiornik Jutrosin on 11th-15th; while another Polish report came on 11th from Wielikat.
A meena Rufous Turtle Dove was seen in Switzerland at Sulgen on 11th.
Another Eyebrowed Thrush, in Holland at Paesens on 15th-16th, added to the excellent autumn for them in Western Europe.
Back in Poland, a Sociable Lapwing was found at Jamnik on 11th, with a further Polish sighting coming from Stawno on 15th; another was seen this week in Spain at Puerto Villareal de Olivenza on 12th.
Further Spanish news came of an algeriensis Algerian Grey Shrike in Jerez on 10th for its 18th day. Offshore, in the Canary Islands, the male Belted Kingfisher was still present on Lanzarote on 13th-15th.
Italy scored offshore gold on Linosa on 14th in the form of a female Moussier's Redstart.
In Israel, the Persian Shearwater remained off Eilat on 10th.
An Eastern Yellow Wagtail was found in Faroe on Suðuroy on 13th.
While a Greater Yellowlegs has been lingering in Denmark these past 20 days, still present on 16th at Sonderho.
So what of the week to come? A quick glance into the murky, opaque depths of the RBA crystal ball tells us that, even at this late juncture, quality passerines from the east are still a possibility, albeit a distant one.
Failing something unexpected of that persuasion coming out of the woodwork, looking at the weather charts for the week to come the prevailing wind looks set to have a predominantly, and unhelpfully, westerly flavour… Though that reminds us of one of the stand-out historic records for the coming week, the exhausted Bald Eagle found on 17th November 1987 in Co.Kerry at Ballymacelligot – a bird that was captured, rehabilitated on a diet of vension into mid-December, and then returned to the USA.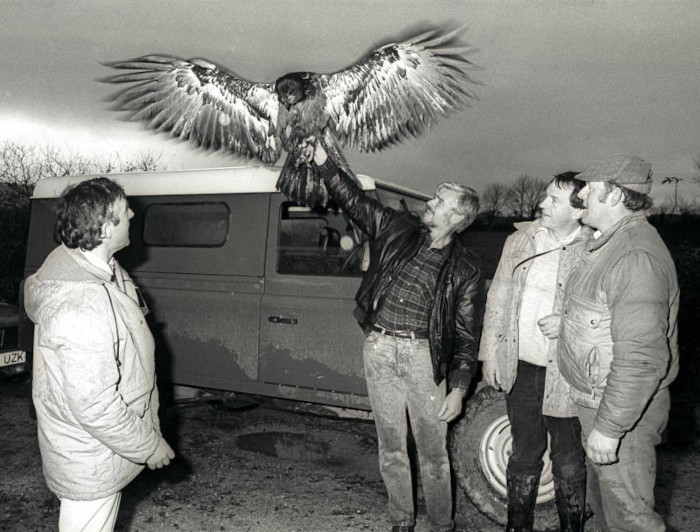 Given what else has turned up this year, one wouldn't put it past 2020 to drop another bird of similar rare heft into Ireland, to test the patience and lawfulness of Irish birders…
Similarly, heaven knows what would transpire should another bird from the history books occur again any time soon on the English south coast. This week marks the discovery of the glorious male Wallcreeper found at Worth Matravers (Dorset) on 19th November 1969 – a popular bird that overwintered until 18th April 1970.
#OTD 1970: "What a commotion he's caused" Bob Langley was twitching with anticipation, as bird watchers flocked to a disused quarry on the Dorset coast to glimpse a Wall Creeper pic.twitter.com/23pLUxsNU5

— BBC Archive (@BBCArchive) April 22, 2018
A northbound bird has already been seen in the past fortnight in France; while over-wintering birds in northern France and Belgium have been semi-regular for years now. We just need an obliging bird to cross the English Channel again, and settle down somewhere suitable for an appropriately socially distant gathering – when the rules allow…
Jon Dunn
17 November 2020
Many thanks to all this week's contributors for your photos and videos
Share this story
Tweet