Weekly birding round-up: 3 - 9 Nov 2020
The week at a glance
Belated news reveals the week began with Britain's fourth Hudsonian Godwit in Fife
Co.Cork ends the week with a belting Belted Kingfisher
And Co.Clare harbours Ireland's first latterday Lesser Kestrel
Kent is graced by its first, brief, Common Nighthawk
Ireland's third Hermit Thrush is found in Co.Cork
Cumbria lands its first Pied-billed Grebe
While Suffolk comes up golden with the county's third Greater Yellowlegs…
…and a duo of Eastern Yellow Wagtails
If the prior week had, on the whole, been fairly peaceful where headline birds were concerned, the week just gone was a reminder that autumn 2020 was far from done with us. And, as if we needed any telling, there was plenty of big news coming out of America…
Hudsonian Godwit
A couple of things happened on Tuesday 3rd November, both of which took a few days to resolve. For starters, and with implications for the world as a whole, voters turned out in their millions to vote to decide who would be the next US President. Given that Donald Trump's tenure in the Oval Office has seen almost 100 environmental rules and regulations either reversed or in the process of being rolled back and the USA taken out of the 2015 Paris Climate Agreement, a vote for Joe Biden offered some hope for an alternative, more mindful future.
However, news of who had won the election wasn't immediately forthcoming. Days elapsed before, over the weekend, the result was finally called in Biden's favour. Much of the world, and at least half of the US, breathed a sigh of heartfelt relief.
Meanwhile, an ocean away from the US elections, but not a million miles from the ravaged, formerly magnificent dune systems wrecked in the construction of a golf course on the Aberdeenshire coast by Trump, a godwit was photographed on the Eden estuary (Fife) on 3rd and posted online as a Bar-tailed Godwit by Keith Simpson. This particular bird's identity wasn't correctly resolved until after dark almost a week later when, late on 9th, news broke that the bird in question was, in fact, a Hudsonian Godwit - Scotland's second, and Britain's fourth ever record.
Were it not for the obliging adult female bird that spent a week in Somerset in spring 2015, British birders as a whole would be forgiven for feeling pretty tense about that belated identification – the wait since the first British bird, the returning individual that haunted Blacktoft Sands (East Yorkshire) and Countess Wear (Devon) intermittently between 1981 and 1983, had been a long one, interrupted only by a one day bird at Collieston (Aberdeenshire) on 26th September 1988.
Whether or not this latest British bird puts in a reappearance in the days to come remains to be seen. Scottish birders can draw some succour from the behaviour of Britain's first – having been found at Countess Wear on 22nd November 1981, that adult bird stayed put until 14th January 1982 – a most welcome American export to these shores.
Watch this space…
Belted Kingfisher
There's been a female Belted Kingfisher sitting pretty, mid-Atlantic, on Pico in the Azores since 30th October. This week, she was joined in the news by another bird, a little further across the Atlantic, on Lanzarote on 8th. Were these omens of good things to come? It would have taken a colossal leap of faith to say so – we've precious few of these belting kingfishers on the British and Irish books, after all.
Which is to say, four apiece respectively to the end of 2018. British birders will, of course, have fond memories of the obliging bird found on 1st April 2005 by Roger Broadbent on his local Staffordshire patch… a bird that his son, Ian, was one of the very first to lay eyes upon three days later when it had relocated hundreds of miles away to Peterculter (Aberdeenshire).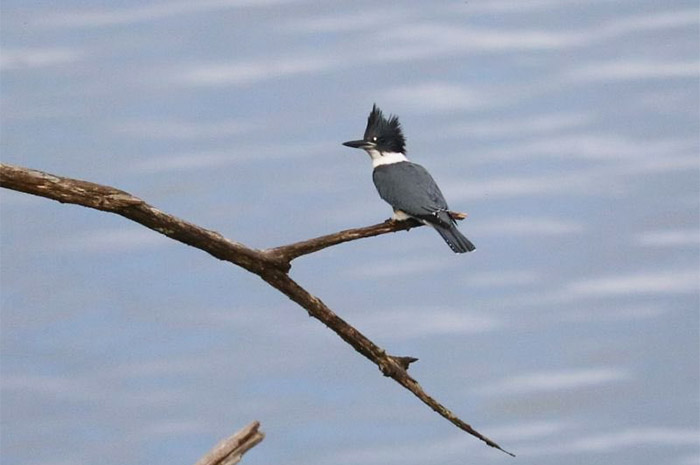 Irish birders, on the other hand, enjoyed a two day bird in Co.Galway on 5th-6th October 2012 but, prior to that, a long dry spell since their last, a bird first found in Co.Clare in 1984 that was relocated in Co.Tipperary in the early spring of 1985.
That a female was found this week at Dunboy (Co.Cork) on 9th was the good news. The bad news, for Irish birders with a yearning to see a Belted Kingfisher, was that the country remains in a national lockdown that began on 21st October, and will extend for six weeks. At least British birders are unlikely to do anything rash with this one…
Lesser Kestrel
However, if anything was calculated to test the moral compass of Irish birders who maintain a national list, it would be what amounts to a first for Ireland. Technically, Lesser Kestrel isn't new to the Irish list, being as there is a prior record, but when said record relates to a bird found almost exactly 130 years ago to the day… well, a contemporary bird more or less counts as a national first.
Though it must be said, that first record definitely qualifies as a long-staying bird. Found in early November 1890 at Woodford (Co.Dublin), the adult male in question did well, lasting until 17th February 1891 when it was, inevitably back in the day, shot – and resides to this day in the National Museum.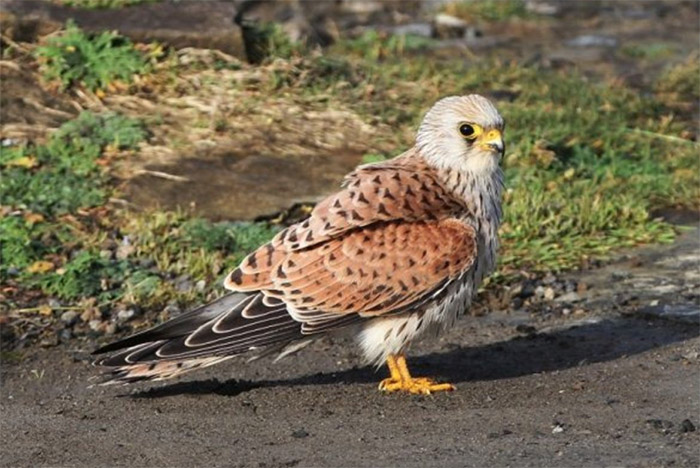 The location of that bird is in no doubt whatsoever. Quite where the current bird is, news of which broke well after dark on 9th, is another matter entirely. An undisclosed location in Co.Clare is all the public domain has to go on and, in the current locked down circumstances of Ireland, that's hard to refute. One hopes, without much confidence, that the first-winter male bird in question follows the precedent set by Ireland's long-ago first example and settles in for a stay that extends for many weeks, and into the clear water of post-lockdown.
Common Nighthawk
It's an accepted part of our collective birding lore that Common Nighthawks were, back in the golden age of British birding that was Scilly in the 1980s, more commonplace then than they have been hitherto. As it happens, that's slightly misleading, as there were actually more birds found on Scilly in the 1990s than in the preceding decade – four birds compared to three.
Still, what's an unavoidable fact is the dominance Scilly enjoys over Common Nighthawks as a whole in Britain – of our 24 accepted birds to date, 14 of them were seen (or picked up dead) on Scilly. It's curious that our last accepted record was an exception to that rule – the bird seen over Bushy Park (London) on 19th October 2019 – and that our very last bird, seen just a handful of weeks ago, was also in the south-east: this being the great find by Andy Wilkes at Church Norton (West Sussex) on 8th October.
One wouldn't have thought we'd be in for another Common Nighthawk so soon over the last two sightings, let alone in the south-east, but that's exactly what happened this week with the discovery of a bird in the afternoon of 6th at Burham Marsh in Kent. Present for just five minutes, it flew NNW across the River Medway and was lost to sight… and wasn't seen again subsequently.
Whether this relates to the Church Norton bird or not is going to remain a matter of enjoyable conjecture. Stranger things have, after all, happened – the Bushy Park bird of last year appeared to be one and the same as that which was widely twitched in Co.Antrim by British birders at Galgorm during its long stay between 13th September – 17th October…
Hermit Thrush
Hermit Thrush remains one of the rarer North American Catharus thrush offerings – we're become happily accustomed to near-annual Grey-cheeked and Swainson's Thrushes but, with just 14 prior British and Irish examples, Hermit Thrush - like Veery - is a very different story.
Those 14 records are shared between just five counties – in Britain, that's Shetland, the Western Isles, Cornwall and Scilly. And in Ireland? Both the past Irish records have been in Co.Cork – the first, at Galley Head, on 25th-26th October 1998 being followed, on 19th-20th October 2006, by one on Cape Clear.
We shouldn't, then, be overly surprised that Ireland's third Hermit Thrush was found this week in Co.Cork at Mizen Head on 3rd. The date, compared to our previous records, pushed the envelope a little for the species – hitherto, our autumnal birds have all been found in October, with the latest record to date being that found at Porthgwarra (Cornwall) on 29th October 2013.
Then again, we need only look to Iceland this week where a similarly late bird was found – trapped and ringed at Hofn on 5th. Whether these birds were new in or lately popped out of the woodwork is moot – but won't matter a jot to their fortunate finders.
Pied-billed Grebes
A glance at the distribution map for past Pied-billed Grebes shows what a generally unfussy creature they are – given half a chance, and an attractive patch of water, one could be found in pretty much any county one cares to name – east or west, north or south, coastal or inland. And there've been plenty of them – 45 accepted records to the end of 2018.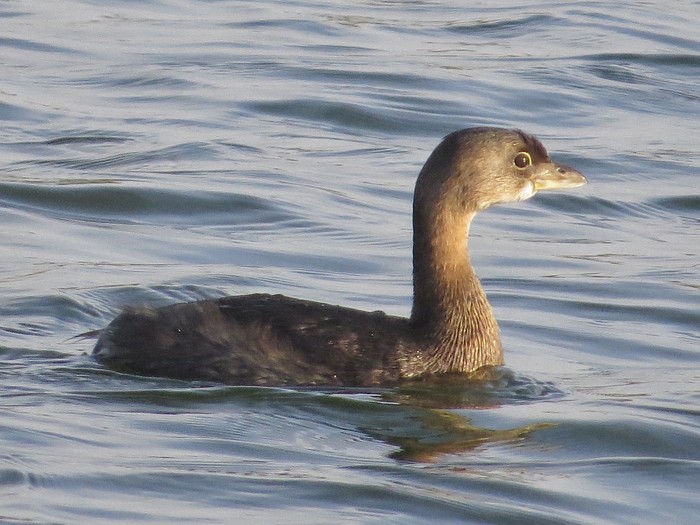 What there hasn't been, however, is one in Cumbria. The county makes for a noticeable gap between Lancashire and Dumfries & Galloway, both of which sport two records apiece. That changed this week with the discovery of Cumbria's first ever Pied-billed Grebe on Walney at South Walney NR on 6th-8th.
How long it sticks around for remains to be seen, but the species does have a pleasing habit of digging in for long stays once it's negotiated the Atlantic Ocean – a truism borne out this week by the resident adult male in Argyll & Bute, seen once again at Loch Feorlin on 6th.
Greater Yellowlegs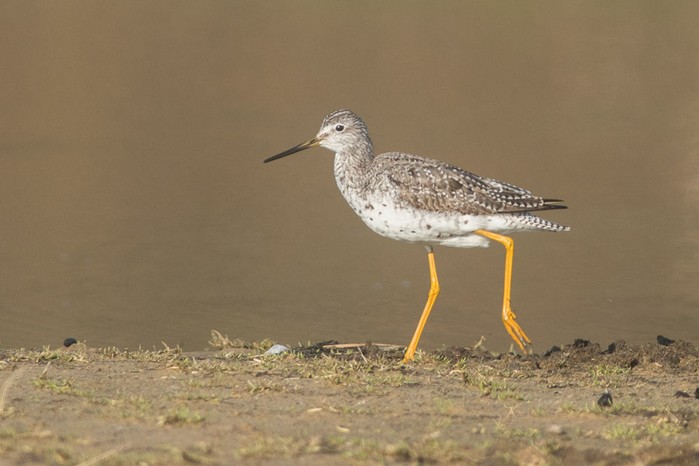 While not a county first, there's no diminishing the popularity of Suffolk's latest Greater Yellowlegs, found at Dingle Marshes RSPB on 7th and still present there as the week drew to a close on 9th.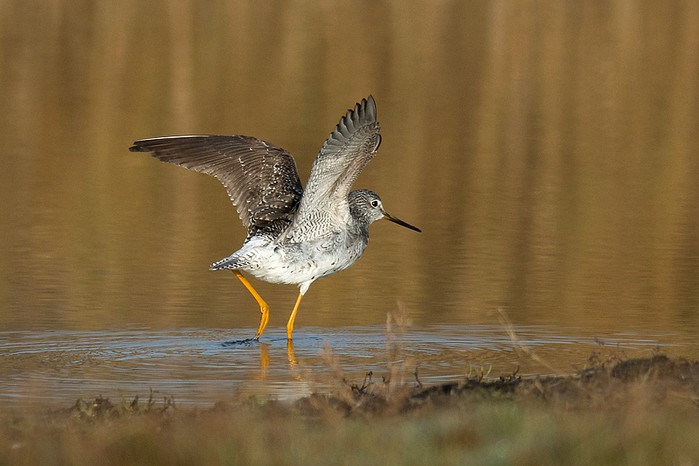 This was the third county record, following a one day bird on 14th May 1995 at Southwold and, a decade earlier, a long-staying individual that was seen off and on at Minsmere RSPB on 4th July – 14th August 1985. Given that first county record was all of 35 years ago, the fact that this week's bird was both settled and confiding will have rendered it a sore temptation for many a Suffolk birder…
Eastern Yellow Wagtails
…not least because it shared Dingle Marshes RSPB with not one but two Eastern Yellow Wagtails, first found there on 5th, and remaining there until 8th… and not least because one of those birds was a colourful tschutschensis Blue-headed form.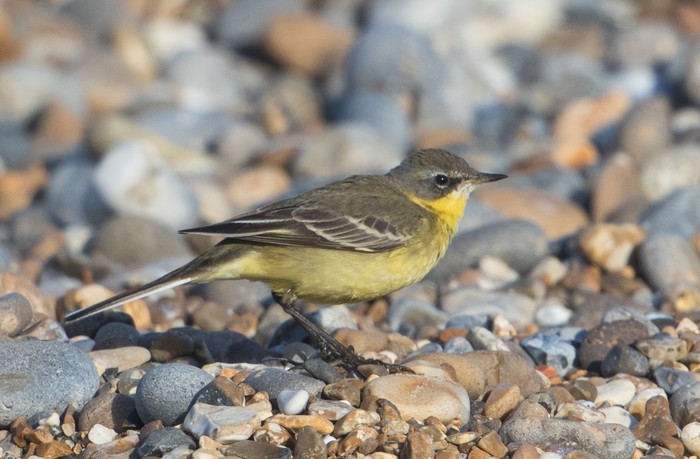 I keep promising that we've seen the last of Eastern Yellow Wagtails in the headlines as, at this rate, they seem set to prove themselves commoner than Citrine Wargtails but, in a week when two share a site with a Greater Yellowlegs, the symmetry is irresistible - Suffolk was having a purple patch with a yellow treble.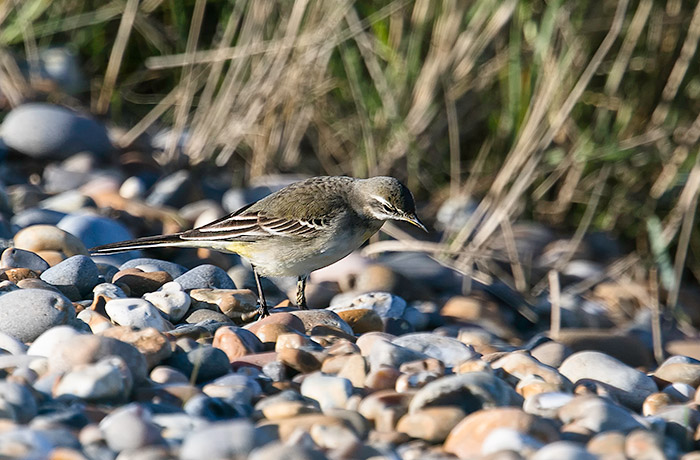 Nor were these the only Eastern Yellow Wagtails found this week – one was at Prestwick Carr (Northumberland) on 6th, while another was found on 6th at Kelling Quags (Norfolk). This may, or may not, have accounted for the bird a little later on 6th that passed west over Gramborough Hill – but certainly one was present at Kelling Water Meadow on 7th-8th. Back in Suffolk, at least one of the Dingle Marsh RSPB duo remained present on 9th.
I'd put money on more birds being found in the damp, warm places that harbour invertebrates in the weeks to come – be they water meadows, wetlands or dung heaps. Eastern Yellow Wagtail is, surely, the new Dusky Warbler - an attainable dream bird as an overwintering local patch self-find.
Seabirds of note were, increasingly, in short supply this week – perhaps as much a reflection of the changes in our collective circumstances as the changing of the seasons. Starting with White-billed Divers, one was seen in Shetland in Quendale Bay on 6th, with another probable noted heading west past Holkham Bay that morning. It was Orkney, however, that supplied the lion's share of sightings this week, with three birds seen from Papa Westray on 4th.
Papa Westray was also where it was at lately for Little Auks, with 30 birds seen off there on 4th also; back in Norfolk that day, 13 birds were seen from Holme Dunes, while on Shetland two were noted from Unst. Our remaining weekly sightings came from Burray (Orkney) on 7th; two seen from Lossiemouth (Moray) on 8th; and a further burst of 40 birds as the week closed from Sumburgh (Shetland) on 9th, while one more was seen in Scapa Bay (Orkney).
Just one Leach's Petrel was reported this week, seen from Newquay (Cornwall) on 3rd.
The same day and the same county also accounts for the week's only Long-tailed Skua, seen off Pendeen (Cornwall) on 3rd.
A small scatter of Pomarine Skuas round off the seabirds this week – on 3rd, one was seen from Dungeness (Kent); two from Cley (Norfolk); and three from Strumble Head (Pembrokeshire). On 4th, single birds were logged from Flamborough (East Yorkshire) and Papa Westray (Orkney); and on 9th three were seen from Sumburgh Head (Shetland).
Glossy Ibises continued to make (almost) all the running this week with a steady stream of English and Irish sightings across the days. On 3rd, single birds were seen at Otmoor RSPB and Port Meadow (Oxfordshire), Keyhaven Marshes (Hampshire), and Woodmansey (East Yorkshire); while three birds were noted at Wells (Norfolk), and four at Dungeness (Kent) – the latter quartet remaining on 4th also.
On 4th-9th one remained at Stanpit Marsh (Dorset); another was settled on 4th-7th at Breydon Water (Norfolk); on 4th-5th a bird was tucked into Brading Marsh RSPB (Isle of Wight); two were seen at Carlton Marshes, while three passed over Dunwich (Suffolk) on 4th; and four birds remained at Fremington Pill (Devon) on 4th, with three still present there on 5th, and one still on 8th. On 5th, back in Kent one was seen over Wouldham. Finally, on 9th, two were seen in Norfolk at Acle, while two were present in Gwent at Newport Wetlands NNR, and a final bird was seen in Dorset at Lodmoor RSPB.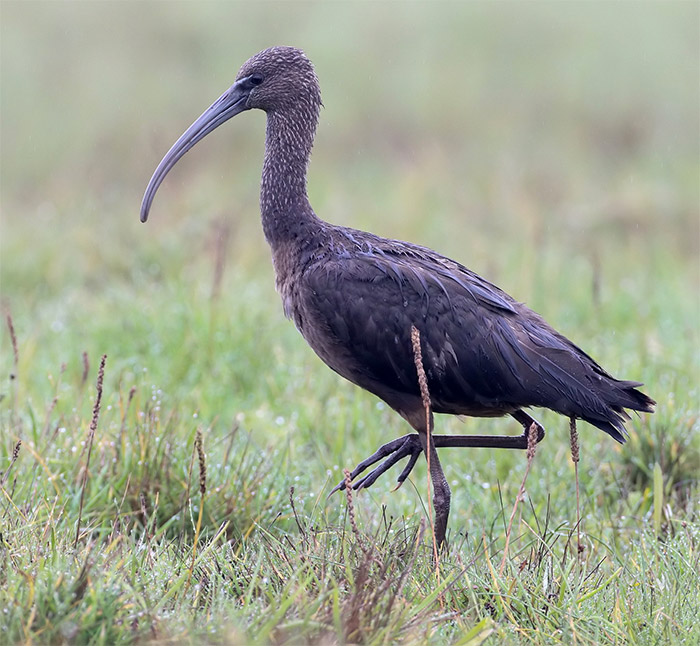 Ireland was only a little less busy where these elegant birds were concerned, and Co.Wexford was the epicentre of Irish sightings - three birds at Tacumshin on 3rd had risen to five individuals on 4th, with one again there on 7th-8th; while on 7th one was seen at Lady's Island Lake, and five at The Cull; and seven were at South Slob on 8th. The remaining Irish bird this week was one that lingered near Naas (Co.Kildare) on 4th-5th.
The balance of our long-legged beasties came in the lingering form of the recent adult Night Heron still present this week at Wellington (Herefordshire) on 3rd.
Finally, a Spotted Crake was heard only at East Chevington NWT (Northumberland) on 4th.
It was a busy week where The Goose Formerly Known as Canada was concerned – indeed, for honkers of all hues, but more of them anon… For starters, Argyll & Bute was knee deep in sightings of interior Todd's Canada Geese - on 5th, three probables were seen at Rhunahaorine Point, and one was present on Tiree, the latter remaining there until 9th; on 6th-7th one remained on Islay; and on 7th two birds were seen at Stewarton. One more was logged on 7th-8th in Clyde at Torrance, while one remained in Co.Meath at Duleek on 9th.
On 6th-7th a hutchinsii Richardson's Cackling Goose was also in Clyde, at Cadder; while the recent individual was again seen on Islay (Argyll & Bute) on 7th.
A possible white morph Snow Goose was seen passing over Warton Crag (Lancashire) on 3rd with Pink-footed Geese; while two white birds were seen at Skinflats Lagoons (Forth) on 6th-7th; and an intermediate morph was seen on 8th at Portmahomack (Highland).
Dorset's Littlesea provided two Black Brants on 6th, with one bird still present on 7th – while, on 6th-9th, a possible adult Grey-bellied Brant was also seen there. Another two possible examples of the latter were at Sandymount Strand (Co.Dublin) on 5th.
Moving into the quackers, the drake Lesser Scaup was still present in Somerset at Chew Valley Lake on 3rd-4th; another possible bird was seen on Islay (Argyll& Bute) on 6th.
A female or juvenile drake Ferruginous Duck was seen at Hornsea Mere (East Yorkshire) at dusk on 5th; presumably there will be news shortly of the regular wintering drake in Hampshire…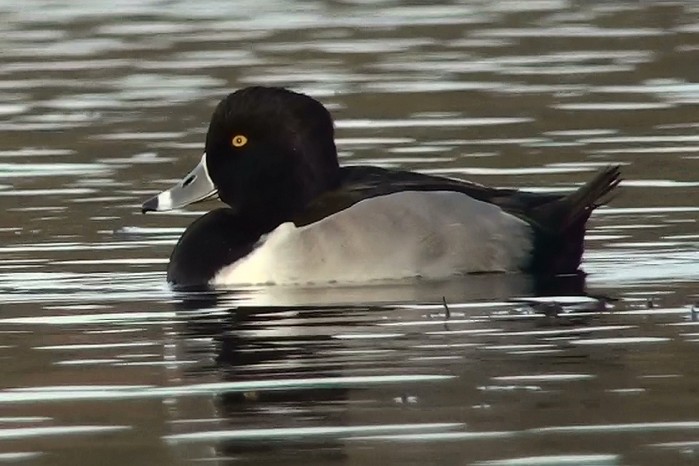 Ring-necked Ducks edged towards double figures this week – in Devon, the drake remained on Slapton Ley on 3rd-8th; the Lancashire drake was once again on Pine Lake on 3rd-9th; a female was seen on Tiree (Argyll & Bute) on 4th-9th; and the recent two birds remained in Cardiff Bay (Glamorgan) on 4th, with a further report of them there on 7th. In Ireland, a female was seen at Tacumshin (Co.Wexford) on 3rd; two drakes were still present at Lough Gara (Co.Sligo) on 7th, while the juvenile drake was again seen on Knock Lake (Co.Dublin) on 7th-9th.
On Islay (Argyll & Bute) the drake American Wigeon remained on 6th-8th, while a possible female bird was seen on St Mary's (Scilly) on 5th.
Lingering Green-winged Teals were still to be seen this week at North Cave Wetlands YWT (East Yorkshire) on 3rd-4th and Watton NR (East Yorkshire) on 3rd-5th, Longham Lakes (Dorset) on 3rd-9th, and at Budle Bay (Northumberland) on 3rd-9th. Additional sightings came from Monikie (Angus) on 3rd, Scatness (Shetland) on 6th, College reservoir (Cornwall) on 7th-8th, and East Coast NR (Co.Wicklow) on 8th. On 9th one was again seen in Co.Wicklow at Kilcoole.
The drake Black Duck was still present in Highland at Strontian on 8th.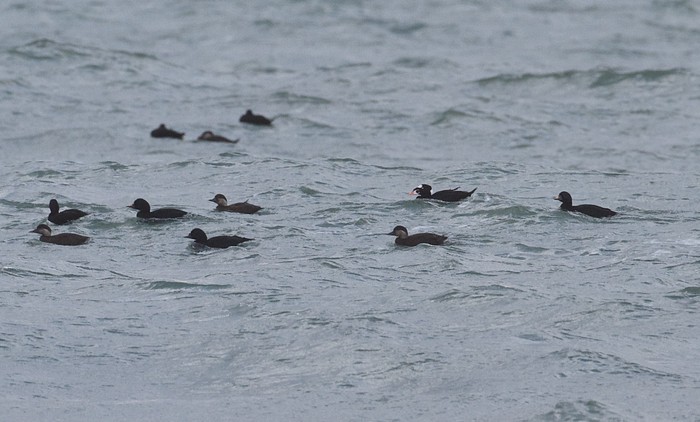 Scotland was awash with drake Surf Scoters this week. In Lothian, one was again off Fisherrow on 3rd-6th, with two drakes seen from Gosford Bay on 6th. One remained in the Western Isles off Harris on 3rd; two were still to be seen at Dornoch (Highland) on 6th-7th; and one was seen from Hatston Pier (Orkney) on 7th.
<!—Section Title -->
Kicking off the shorebirds for another week, the long-staying juvenile Pacific Golden Plover remained at Findhorn Bay (Moray) on 7th; while American Golden Plovers were reduced to individuals seen on Tiree (Argyll & Bute) on 4th-9th, and at Tacumshin (Co.Wexford) on 6th-7th.
In Somerset, a Kentish Plover was seen on Stert Island on 9th.
A late flourish of Nearctic peeps on 3rd had a long-winged starter in the form of a White-rumped Sandpiper at Tacumshin, and a compact counterpoint in a Semipalmated Sandpiper at Islandavanna (Co.Clare).
A Pectoral Sandpiper was found on 7th at Scorton GPs (North Yorkshire). Scorton had also played host this week to the Long-billed Dowitcher again on 4th-9th – the double on 7th an echo of that recently in Cumbria at Anthorn where, this week, while there was no Pec, the settled Long-billed Dowitcher remained on 3rd-7th.
A Hudsonian Whimbrel was an agonisingly brief bird on 4th at South Gare (Cleveland) – present for just a short while before flying off ESE, never to be seen again.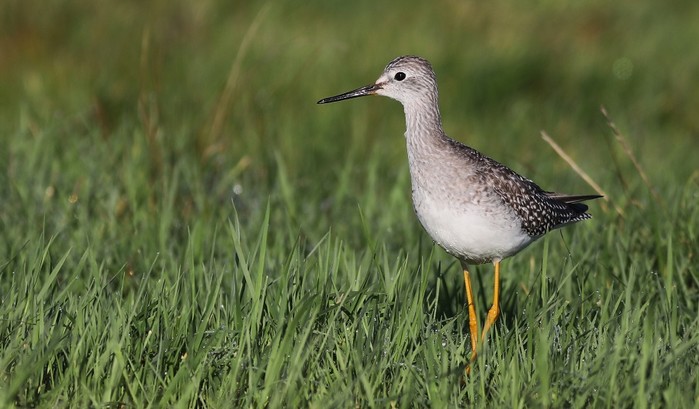 Four of our recent Lesser Yellowlegs remained available this week – in Co.Wexford, the adult remained at Killongford Pools on 3rd-9th; the adult was still present at Nosterfield NR (North Yorkshire) on 3rd-9th; and the recent bird was once again seen in Devon at South Efford Marsh on 7th-8th. The obliging individual at Cley (Norfolk) remained on 3rd-5th, relocating to Salthouse on 7th-9th. A further bird was found on 9th in Kent on Sheppey, last seen flying towards The Swale.
On 4th a Red-necked Phalarope was seen at Sker Point (Glamorgan), but the week emphatically belonged, once again, to Grey Phalaropes with 21 birds in all logged nationwide – all singletons bar four seen from Pendeen (Cornwall) on 3rd, and two present at Pennington Marshes (Hampshire) on 4th-6th.
It fell to Wales this week to provide the substance of our noteworthy gulls – our only Bonaparte's Gull being seen once more on the Gann estuary on 7th, and our only Sabine's Gull on 4th from Bangor Pier (Gwynedd).
White-wingers, meanwhile, maintained a steady if modest presence in the daily news. Scottish Glaucous Gulls were logged from Islay (Argyll & Bute) on 3rd and 6th; Harris (Western Isles) on 3rd and 9th; Lewis (Western Isles) and Eigg (Highland) on 4th; Unst (Shetland) on 4th, 6th and 7th; South Uist (Western Isles) on 5th; and South Ronaldsay (Orkney) on 8th; while on 9th four birds were logged on North Uist (Western Isles). Elsewhere, birds were seen at Coleraine still on 3rd and again on 9th at Barmouth (Co.Derry); Easington (East Yorkshire) on 5th; Marloes Mere (Pembrokeshire) and St Mary's (Scilly) on 6th; and Bawdsey (Suffolk) on 7th.
Iceland Gulls were slightly more numerous, but only just – some 25 birds were noted in recent days, with a handful of sites notching up two birds – on St Mary's (Scilly) on 4th; on Skye (Highland) on 6th-7th; and at Birsay (Orkney) on 5th.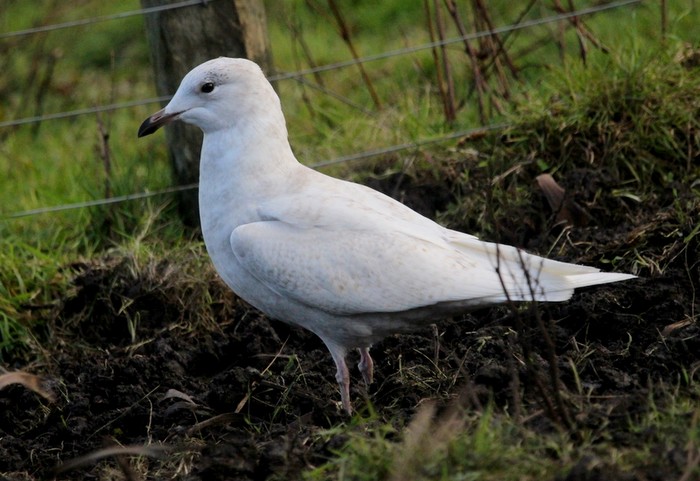 Norfolk accounted for our only reports of Rough-legged Buzzard this week – one seen on 8th at Burgh Castle, and a further sighting at Wells.
A Saker of unknown origins flew over Belvide reservoir (Staffordshire) on 9th.
We hardly need telling that Snowy Owls are hard as nails – anything that habitually lives and breeds in the Arctic interstices must be, by definition. But we need only look closer to home where, on St Kilda, the now resident female bird has made an enduring home on some of the most exposed, storm-lashed islands in the British Isles. She was, this week, once again seen there on 6th.
Anyone who's ever picked up an injured gull can also attest to their general belligerence and strength – you mess with a gull at your peril. Unless, that is, you're a peckish Snowy Owl - one was seen this week during the night of 6th/7th in Co.Cork on the harbour wall at Cobh, tucking into a juicy gull.
We'll start the week's passerines on Scilly where, on 5th, Scillonian birders enjoyed fireworks of the best kind with the discovery of a Red-flanked Bluetail. The bird, Scilly's ninth, remained present at Porth Hellick Pool until 7th. It's testament to the meteoric change in the species' fortunes that Scilly's first ever Red-flanked Bluetail was found as recently as 2008 – but no matter how many of these gorgeous birds turn up, they're always going to prove a potent draw for locals at the very least.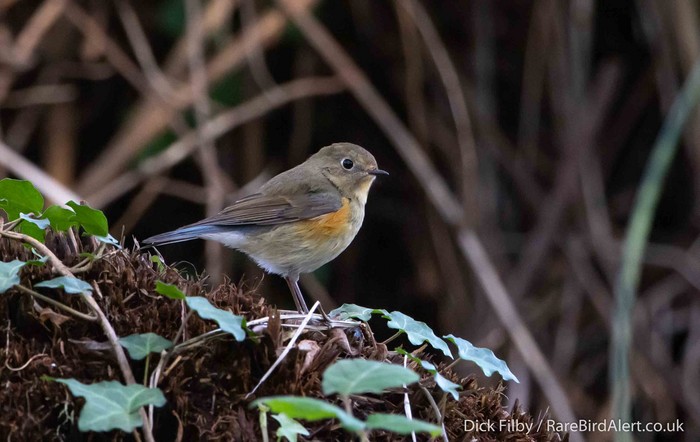 The same could fairly be said for Brown Shrikes, another former mega that still quickens the pulse amongst all but the most jaded of birders. Our autumnal haul of them rose by one more individual this week with the discovery of a smart bird on Lewis (Western Isles) on 6th-8th.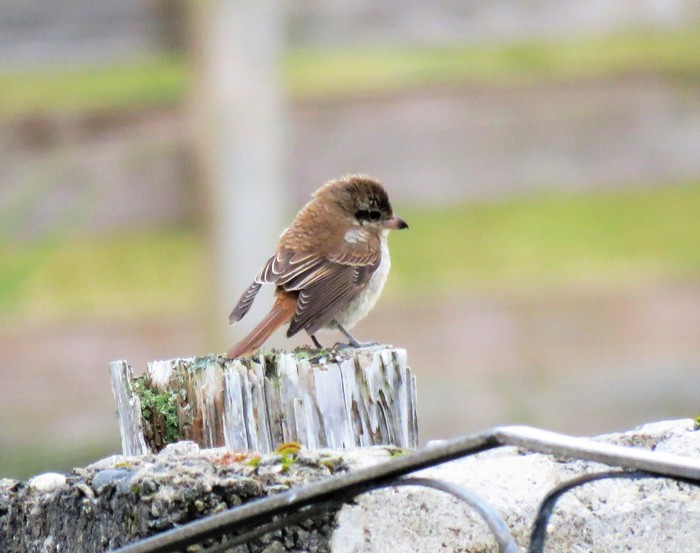 A handful of late Red-backed Shrikes clocked in during recent days – one was found on Stronsay (Orkney) on 3rd; another in Devon at Prawle Point on 3rd-5th; a probable in Gwynedd at Pentyrch on 5th; and one on St Mary's (Scilly) on 6th-8th.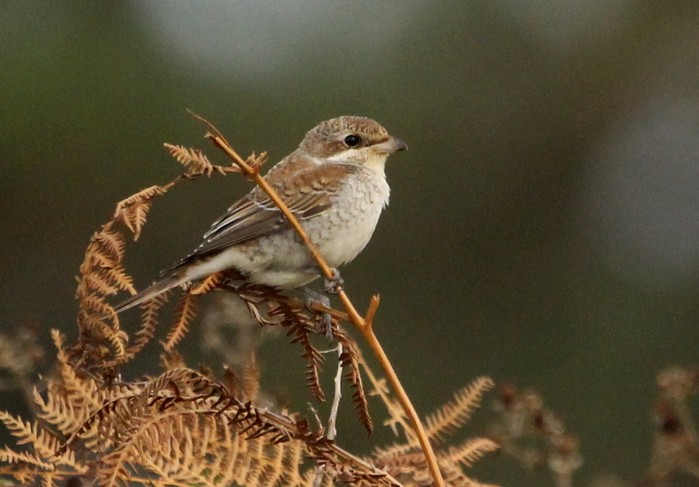 Great Grey Shrikes meanwhile were holding their own, with 14 birds in all noted, some of which were now in traditional wintering quarters. English sightings came from Crabtree Hill (Gloucestershire) on 3rd-7th; Hengistbury Head (Dorset) and Sandwich Bay (Kent) on 4th; Langdale Forest (North Yorkshire) again on 4th-7th; Upper Hollesley Common (Suffolk) again on 4th-7th; Thursley Common NNR (Surrey) on 6th; Alvecote Pools (Warwickshire) on 7th; and Cottam (Nottinghamshire) on 9th. Wales continued to hold its own, with five birds in all recorded – in Cross Inn Forest (Ceredigion) on 3rd; at Buckland Hill (Powys) on 4th; in Brechfa Forest (Carmarthenshire) still on 6th-8th; and on 7th at Llyn Brianne reservoir (Ceredigion) and on Skomer (Pembrokeshire). Scottish sightings came from Unst (Shetland) on 3rd and at Craobh Haven (Argyll & Bute) on 7th.
A late waft of easterly winds was all it took to bring us what's potentially the final flurry of autumn warblers of note this week. Some 80 Yellow-browed Warblers nationwide, from Shetland to Scilly and all points in between, either remained or were topped up by late arrivals. Amongst their number were a handful of their more muted, rarer counterparts - Hume's Warblers were seen this week on Tiree (Argyll & Bute) on 3rd still; at Dungeness (Kent) on 5th; on Orkney at Deerness still on 6th; at Kilnsea (East Yorkshire) on 7th; and, on 8th, at Gunton Warren (Suffolk) and Anderby Creek (Lincolnshire).
The Dungeness bird was one of a fine warbler double on 5th, with a Dusky Warbler trapped and ringed there that day also. Further birds in ringers' nets this week were trapped at Nanjizal (Cornwall) on 4th and Beachy Head (East Sussex) on 5th. Elsewhere, birds lingered at Bewbush (West Sussex) on 3rd and Holme NOA (Norfolk) on 3rd-4th; and further birds were seen on Barra (Western Isles) on 5th-7th; St Mary's (Scilly) on 5th-9th; at Park Head (Cornwall) on 5th; and on 7th at Sandwich Bay (Kent). On 8th birds were found on Tresco (Scilly), in Eccles and on Blakeney Point (Norfolk), Goxhill Haven (Lincolnshire), Porthgwarra (Cornwall), Kilnsea (East Yorkshire), and Spurn (East Yorkshire), with two birds present at the latter site. On 9th, the week's last birds were discovered at Port Henderson (Highland), and Lowestoft North Denes and Southwold (Suffolk).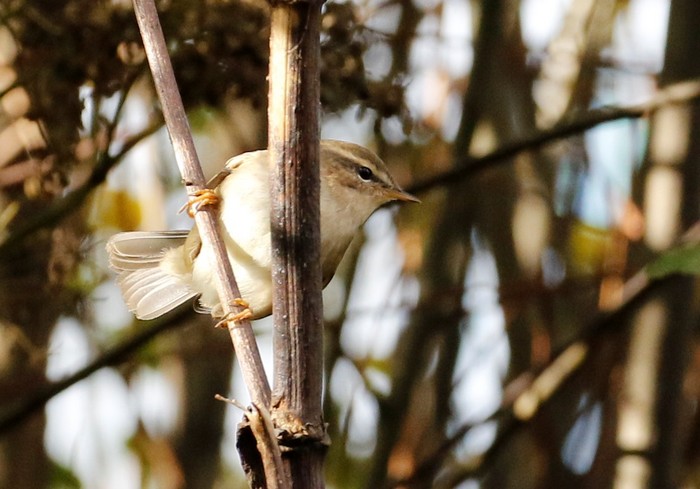 Blakeney Point also scored the week's only Radde's Warbler on 9th.
Sandwich Bay enjoyed a Pallas's Warbler on 5th; the prelude to a few more arrivals in the following days – birds being found at Berry Head (Devon) on 6th and, on 7th, on the east coast at Landguard NR and Minsmere RSPB (Suffolk) and Happisburgh (Norfolk). Further birds were found on 8th at East Prawle (Devon), and in Wells Woods (Norfolk). On 9th Landguard NR was up to at least three birds, with a further two birds found at The Naze (Essex), and a singleton on Portland (Dorset).
A late Barred Warbler was found on Unst (Shetland) on 7th at Norwick, with additional stragglers on 8th in Norfolk at Winterton North Dunes and on 9th at Spurn Point (East Yorkshire).
Last of our warbler news this week concerned a possible Arctic Warbler in Aberdeen (Aberdeenshire) on 9th.
Back in Cornwall at the valley that just keeps on giving, Nanjizal provided an Olive-backed Pipit on 4th. Another was found on 8th-9th in Lincolnshire at Goxhill Haven.
Richard's Pipits were seen on Portland (Dorset) on 3rd; Abbot's Cliff (Kent) on 5th; at Orcombe Point (Devon) on 5th, where three probables were logged; on 6th at Porthcothan (Cornwall) and Kelling Water Meadow (Norfolk); on 7th at Dawlish Warren NNR (Devon); on 8th on Blakeney Point (Norfolk); and on 9th on St Martin's (Scilly). In Aberdeenshire the recent individual remained at Cotehill Loch on 3rd.
Fair Isle (Shetland) had a Bluethroat on 4th. In a good autumn for their ilk, another eastern stonechat sp was found this week, at Easington (East Yorkshire) on 4th – this one thought to be probably a Siberian Stonechat.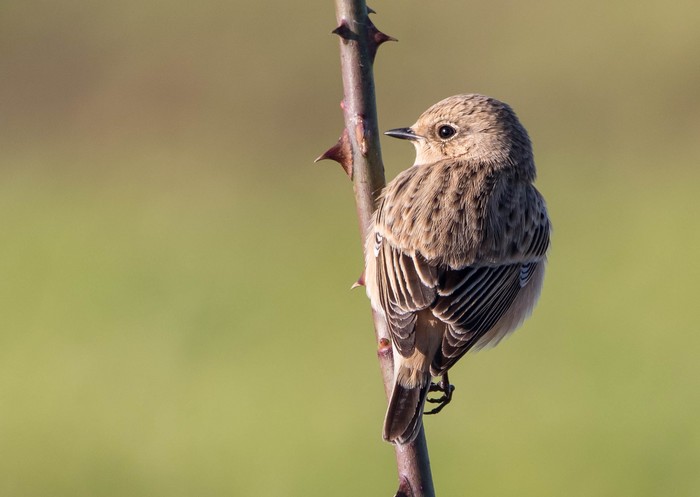 Another Penduline Tit was found this week in Suffolk at Bramfield on 7th.
A Short-toed Lark was found in Aberdeenshire on 9th at Girdle Ness – just a 'Lesser' away from being the bird of the week…
A Pallid Swift was reported from Newquay (Cornwall) on 9th.
A Hoopoe was seen on 5th at Pitsford reservoir (Northamptonshire); another was present at Northill (Bedfordshire) on 8th-9th; while a further bird was reported on 5th in Alnwick (Northumberland).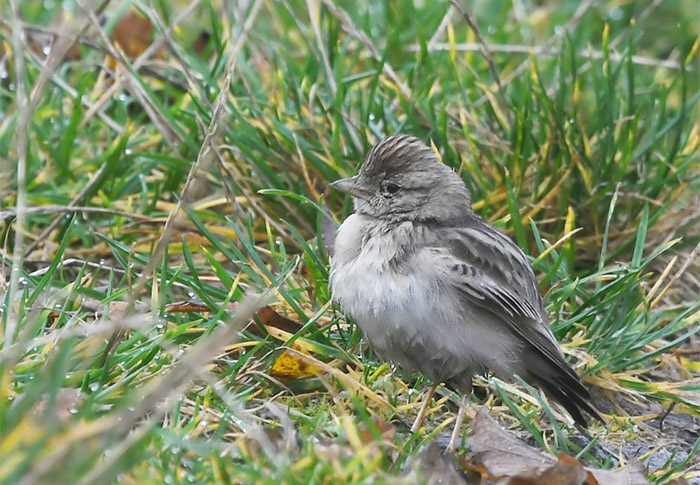 Winter colour came in the form of a succession of Waxwing sightings, for the most part involving single birds. Singletons were seen in Shetland at Voe on 3rd, in Lerwick on 5th-6th, and on Unst on 7th; two were seen over St Neots (Cambridgeshire) on 3rd; one was present at Roseisle Maltings (Moray) on 5th; a possible flew over Aberystwyth (Ceredigion) on 4th; one was present at Cellardyke (Fife) on 6th; another was seen on 7th at Westhill (Aberdeenshire), with a single bird that day at Bishopthorpe (North Yorkshire); four were seen at Arbroath (Angus) on 7th; and one in Norfolk in Norwich on 8th. A final bird was reported on 9th in Essex at North Harlow.
On Portland (Dorset), the settled juvenile Rose-coloured Starling remained on 3rd-9th.
A late Serin was noted over Dungeness on 4th, with another at Nanquidno (Cornwall) on 9th; while up on Foula (Shetland), a Common Rosefinch was seen on 6th.
A male Parrot Crossbill was found on 8th in Southey Wood (Cambridgeshire).
Orkney provided our only confirmed Arctic Redpoll of the week, a bird on Rousay on 5th; further possible exilipes were present in Cornwall at Trevose Head on 7th-9th and Nanquidno on 9th.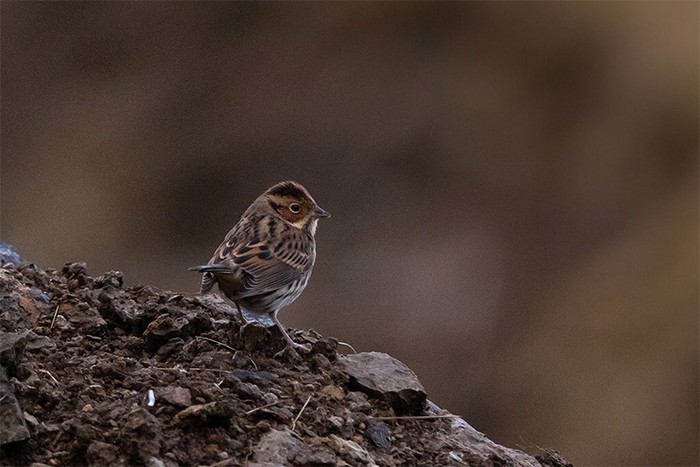 Last, but as ever not least, four Little Buntings bring the news to a close – one remained on and around Thursley Common NNR (Surrey) on 4th-9th; a Cornish bird was seen at Porthcothan on 6th; one was found on Unst (Shetland) on 8th; and a moribund bird was a sad find on the cliff path at Ardmore (Co.Waterford).
Birders in Britain looking for inspiration this week could, once more, do worse than looking to northern Europe for the fuel for their birding dreams. While a Lesser Short-toed Lark is, aesthetically at least, a birder's bird, a British example in the long-ago wake of the Portland (Dorset) bird of 2nd May 1992 would be most welcome indeed… This week examples were found in Finland at Iisalmi on 7th and, further afield, on 8th in Belarus at Kupisk.
Closer to home, Crag Martin sightings came from Belgium on 7th at De Panne and, on 8th-9th, at Ostend; and on 8th from nearby Breskens (Holland).
Holland also enjoyed a Pine Bunting on 6th at Katwijk.
Norway was enjoying a busy week – with on 4th, a Rufous Turtle Dove was at Svortland and a Dusky Thrush at Mehaug; and, on 8th, an Eastern Yellow Wagtail at Eigersund.
Another Dusky Thrush remained in Denmark on 3rd at Sorthat; an Isabelline Shrike sp was found on 8th at Lidso.
A Wallcreeper was seen flying north through Jullouville (France) on 4th. If only it would keep going…
In Poland, a White-headed Duck was found at Zbiornik Jutrosin on 8th; another was found on 9th in Austria at Schieferegg. We've had a few turn up in Britain down the years – were one to arrive at, say, Dungeness in the days to come, one wonders what reception would greet it this time with the adjudicating powers that be…
As we saw in our headlines, Iceland scored a Hermit Thrush at Hofn on 5th. Also far afield, but providing a hint of what was to come for us, in the Azores the female Belted Kingfisher remained on Pico on 6th…
8.11.2020 MEGA Megaceryle alcyon. Belted Kingfisher. 1 ind Arrecife, Lanzarote, Canary Islands (Antonio Unquiles). Not relocated in the afternoon. 2nd for Spain & 1st for the Canary islands pic.twitter.com/nM3OlgFZu0

— Rare Birds in Spain (@rarebirdspain) November 8, 2020
…with another found on the Canary Islands on Lanzarote on 8th. Preceding this, and from a different vector entirely, an Amur Falcon was found on Tenerife on 5th.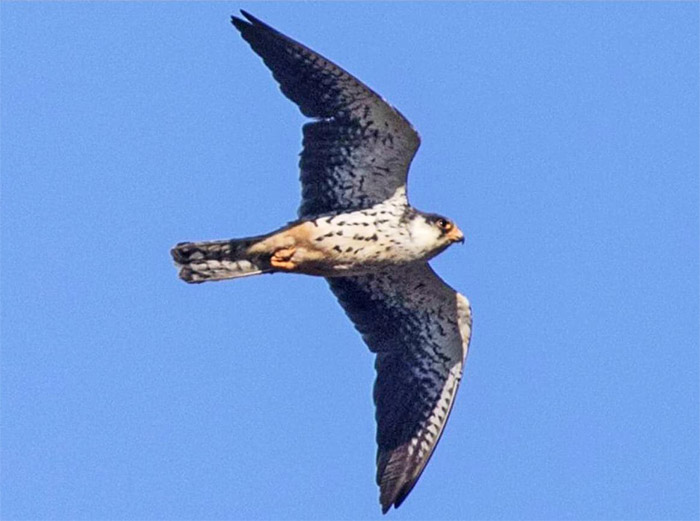 Two vociferus Asian Black-winged Kites were present on Cyprus at Akrotiri on 6th still, having been present there since 30th October.
Lastly, in Israel, the Persian Shearwater remained off Eilat on 5th.
The coming week, while well clear of the sharp pointy end of autumn migration, still boasts a magnificent set of past eastern and western rarities to remind us that, in the birding world, almost anything remains possible – even if not newly arrived, lurking birds may yet come out of the woodwork.
That said, the coming week has significant form in two notable regards – it's prime time for a Hume's Warbler, so any 'Yellow-browed Warbler' clearly deserves a second look and listen right now…
…as does any late wheatear. The days to come boast 25 past records of Desert Wheatear - a classic mid-November rarity for anyone who happens to be birding a coastal location.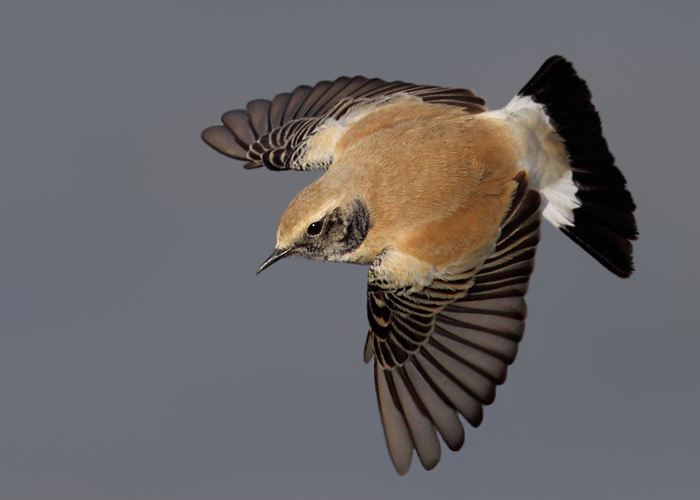 Jon Dunn
10 November 2020
Many thanks to all this week's contributors for your photos and videos
Share this story
Tweet