Weekly birding round-up: 22 - 28 Sept 2020
The week at a glance
BREAKING: As we go to press a Tennesse Warbler is found at Yell on Shetland, full details next week
Shetland hits the ground running with White's Thrush and Pallas's Grasshopper Warbler
The first Red-flanked Bluetails of the autumn arrive in Shetland and East Yorkshire
Northumberland and Suffolk both score Black-browed Albatross sightings
The Western Palearctic's first Yellow-bellied Flycatcher remains in Argyll & Bute
While Ireland's fourth Bobolink linngers in Co.Donegal
Well, that was (almost) the last of September… a stormy week that, for the most part, wasn't leaving us knee-deep in rarities from any point of the compass. That said, there was lingering quality from the west, and some fresh arrivals from the east to give a taste of what we might have to come now we teeter on the edge of October.
Bring it.
Tennessee Warbler
OK, so it wasn't found in the week being covered but we couldn't not mention today's terrific find at Yell, Shetland. Much more on this next week but for now here is a little something to whet your appetite.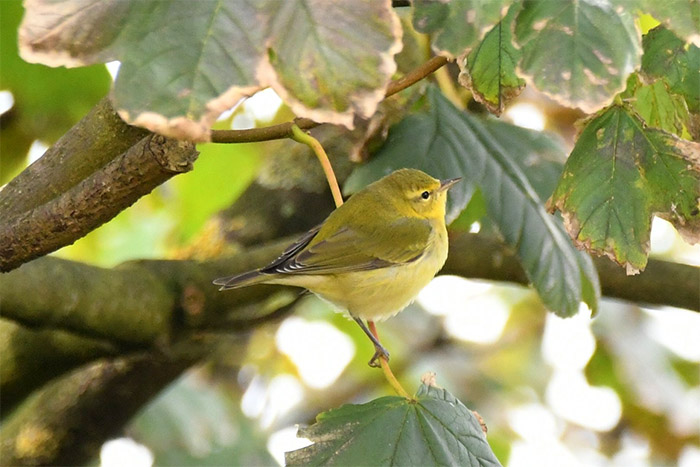 White's Thrush & Pallas's Grasshopper Warbler
Fair Isle (Shetland) served up a classic eastern double whammy this week, starting with arguably the prettiest of all vagrant thrushes to make it to our shores – the black- and golden-scalloped giant that's a White's Thrush, found on 26th by Fair Isle Bird Observatory assistant warden Alex Penn.
With nearly 90 accepted British birds to date, Shetland remains the locus mirabilis for the species, with 36 records to the end of 2018 – while Fair Isle's particular magnetism for White's Thrushes is borne out by the stark fact that 10 of those birds have been on the island since the turn of the century, and five of them in the last eight years alone.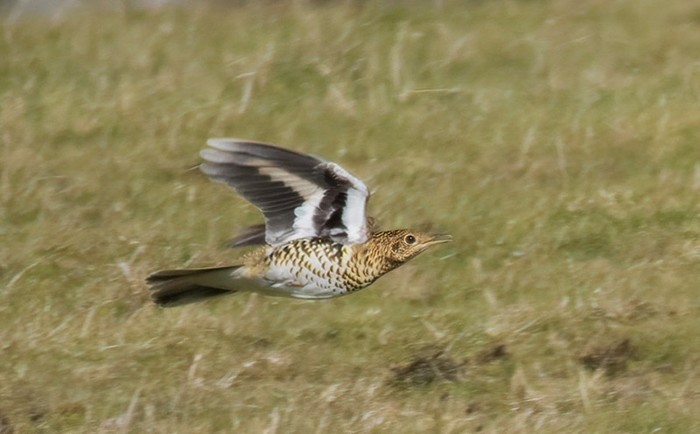 There are significant parallels there with Pallas's Grasshopper Warblers - numerically a rarer bird still; of the nearly 60 accepted British records, almost 75 percent of them were found in Shetland; and 25 of the 43 birds accepted for Shetland to the end of 2018 were on Fair Isle – there's simply no place in Britain to touch it for this dark, substantial Locustella. A bird seen in flight by an experienced observer on 27th was frustrating, to say the least – probably yet another Pallas's Grasshopper Warbler to add to the island's honours, it couldn't subsequently be relocated.
We'll see what the magic isle turns up in the week(s) to come, but what with one thing and another this week, the autumn had finally really kicked off on there this past few days.
Red-flanked Bluetails
Granted, after being dropped by BBRC in 2017 from its list of considered species, Red-flanked Bluetails no longer have the extraordinary lustre they once enjoyed as uber-rarities in Britain, but that's not to deny their enduring chutzpah and star quality – they're gorgeous wee birds and a prize of some calibre for anyone fortunate enough to find one in Britain.
We now expect multiple records in the course of the average autumn, so they're not usually the stuff of the headlines in the way they might once have been – but with a couple found towards the end of the week marking the first individuals of autumn 2020, they're getting honorary star billing this week.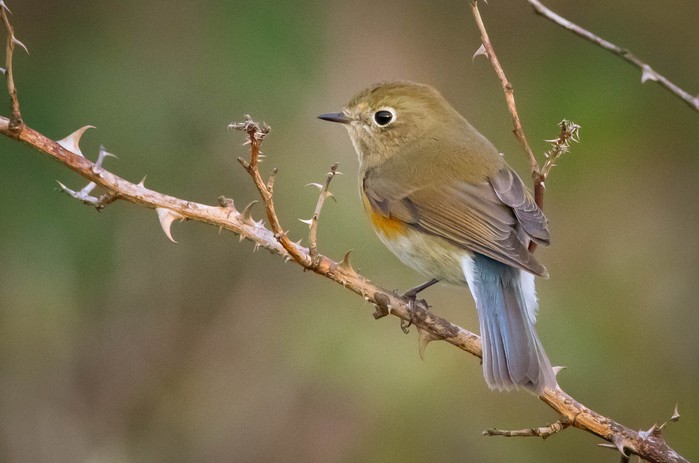 On 27th one was discovered on Unst (Shetland) at Valyie, a site that enjoyed a bird only last year in October; followed swiftly on 28th by another bird further south, at Spurn (East Yorkshire).
More, surely, are to follow – they're said to have enjoyed an excellent breeding season this year, so with any luck there will be plenty to go around in the weeks to come…
Black-browed Albatross(es)
There's going to come a point when a week passes without a notable seabird, but this isn't that week. Things kicked off on the English east coast on 25th when a Black-browed Albatross was seen by a fortunate few sat on the sea off Holy Island (Northumberland) for 20 minutes in the early evening before flying off, never to be seen again…
…but this was followed by a succession of sightings from Suffolk on 28th – starting with a possible bird noted heading south past Lowestoft in the late afternoon, confirmed sightings of a southbound bird swiftly followed from Southwold, Sizewell and Thorpeness.
Christ on a bike ! Just had a Black-browed Albatross south past Southwold !!!! Huge thank you to whoever reported it past Lowestoft! I can barely type this my hands are shaking so much ....I need a beer or 10 ??

— Craig Fulcher (@Griffonfulture) September 28, 2020
Suffolk is, of course, no stranger to a Black-browed Albatross in the wake of the quite extraordinary bird that was grounded by heavy rain on the freshwater at Minsmere RSPB on 12th July 2015. That wasn't present for long – mere minutes, in fact, but long enough for one of the most gripping rare bird photos of all time to be taken - so the unfolding news on 28th will have seen a number of Suffolk listers dropping everything and making rapid progress to the coast.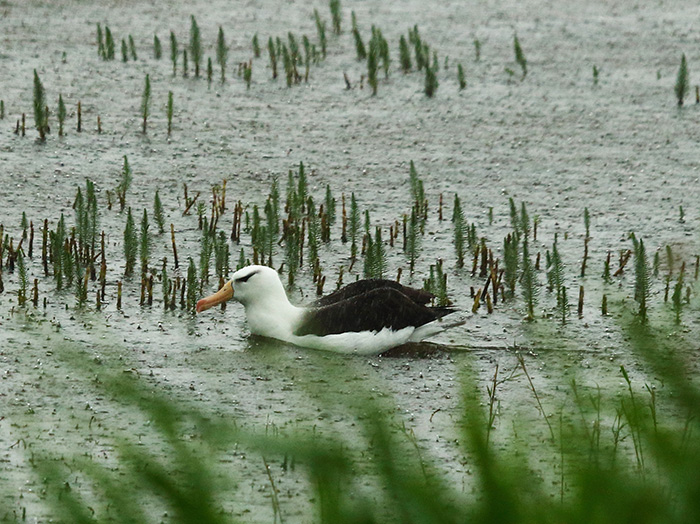 Yellow-bellied Flycatcher
If there's one thing that's even better than a first for the Western Palearctic arriving in Britain rather than out on the Azores, it's one that does the decent thing and actually sticks around for more than a few hours or, at best, a couple of days.
Hats off then to the Yellow-bellied Flycatcher that John Bowler found in his Tiree (Argyll & Bute) garden on 13th, as it stayed there until 23rd, allowing a daily pilgrimage of socially-distancing birders to make their way to the isle to catch up with it.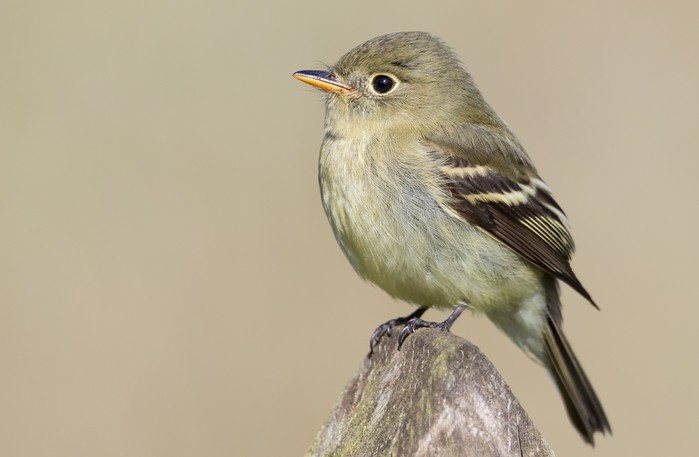 Even if, as we fear, Covid-19 robs us of the mobility that we'd like to exercise in our birding, either at a national or local level, in the weeks to come, those so inclined can at least look back at autumn 2020 as the season that delivered one reasonably accessible rare bird of impeccable quality.
Bobolink
All of the same sentiments can also be expressed for Ireland's fourth Bobolink, found in the closing days of the prior week on Fanad Head (Co.Donegal). As the new week dawned on 22nd it was still, magnificently, present and remained available for Irish birders to come and enjoy until 24th. Judging by some of the photos coming out of Ireland, it was showing pretty well too…
Ireland's first American migratory songbird of the autumn arrived in the form of this lovely Bobolink, so named for its call, Bob o' Lincoln.
It showed beautifully yesterday in Fanad, Donegal - the first land it encountered in 5,000km
Photo courtesy @DickCoombes @BirdWatchIE pic.twitter.com/U6388oaEAM

— Wicklow Nature (@WicklowN) September 24, 2020
What on earth is going on here? For the first week in ages (well, a fortnight) we're not featuring a possible White-chinned Petrel amongst the shifting waves of the seabirds section. Or, for that matter, any other outrageously rare, heavy duty seabird materiel. It's been quite a year for such birds but, at last, it's been a relatively quiet week, Black-browed Albatross(es) notwithstanding…
(Words calculated to tempt Fate as, late in the evening of 28th, with the Round Up put to bed for another week, news emerged of a Fea's or Desertas Petrel seen in the morning of 27th some 19 miles south of Baltimore (Co.Cork)).
Around 50 Leach's Petrels were logged this week, with a peak count of 12 birds noted from Bridges of Ross (Co.Clare) on 24th.
Sightings of large shearwaters were getting to be particularly few and far between. A single Cory's Shearwater was seen from Annagh Head (Co.Mayo) on 24th, followed by two birds from Strumble Head (Pembrokeshire) on 25th; and a further probable individual off Annstead Point (Northumberland) on 25th. A single Great Shearwater was logged off Pendeen (Cornwall) on 24th, and another was seen off Flamborough (East Yorkshire) on 28th.
From the large to the considerably smaller, a possible Barolo Shearwater flew north past North Ronaldsay (Orkney) in the morning of 27th, handily in the company of a Manx Shearwater for comparative purposes. We're still waiting for the BBRC review of historic 'Little Shearwater' records… a thorny affair that will surely see many struck from the record as no longer meeting the standards of the present day.
Balearic Shearwaters this week enjoyed something of a renaissance, with around 1,000 birds in all noted over the course of recent days – the best of which was 24th, when 239 birds were seen from Porthgwarra (Cornwall) alone.
Some 120 Pomarine Skuas were logged this week, of which 11 birds seen from Gibraltar Point NNR (Lincolnshire) were our peak single site daily count; Long-tailed Skuas were also noted in more modest numbers, with some 70 birds in all tallied during the week – half a dozen seen from Sheringham (Norfolk) on 26th being the best daily count.
We wrap the seabirds up with a possible White-billed Diver seen off Cullercoats (Northumberland) on 25th followed, on 27th, by confirmed sightings in the county from Annstead Point and Newton Point; and one more seen on 27th from St Abb's Head (Borders).
Fair numbers of Glossy Ibises continued to be seen this past week, albeit not quite as numerous as of late – one wonders where those recent birds have dispersed to… surely one or two remain to be found by lucky local patch-workers in the next week or two.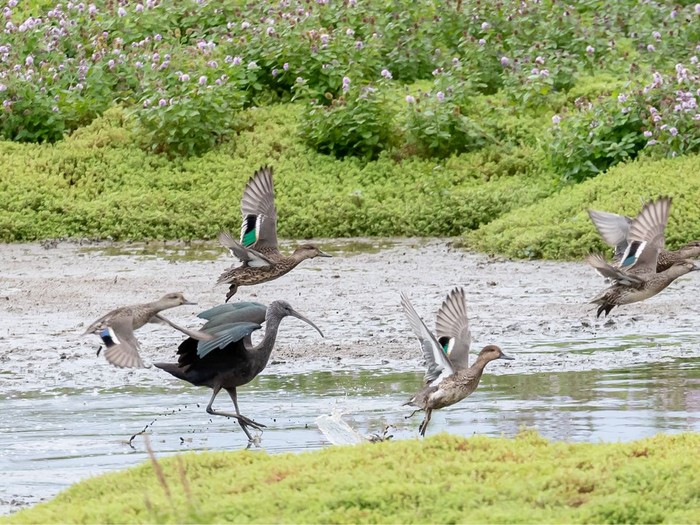 This week saw a few lingering birds – starting in Kent, our faithful recent bird remained at Dungeness on 22nd-27th; the Chard reservoir (Somerset) bird on 22nd-28th; two birds at Cors Ddyga RSPB (Anglesey) on 22nd-28th; and the Fremington Pill (Devon) bird still on 23rd-28th, with another bird present there on 23rd only. Further sightings this week came from Welney WWT (Norfolk) on 22nd; Thorney Island (West Sussex) on 23rd; Southfield reservoir and Went Ings (East Yorkshire) on 22nd-24th; in Co.Dublin at Balbriggan on 23rd-27th and Swords on 26th; and at Horsey (Norfolk) on 28th.
A Purple Heron was seen at Westhay Moor NR (Somerset) on 23rd-24th.
A handful of island Corncrakes were seen this week – one on St Martin's (Scilly) on 24th; one on Tory Island (Co.Donegal) on 25th; and, on 27th, single birds on Papa Westray (Orkney) and Tresco (Scilly).
A Spotted Crake was once again seen at Burton Mere Wetlands RSPB (Cheshire) on 22nd-27th; and one more was found at Westhay Moor NNR (Somerset) on 22nd-28th.
The changing of the seasons continues to be marked by the arrival of more interesting honkers and quackers alike – though the escaped Lesser White-fronted Goose at Staveley YWT (North Yorkshire) this week provided a salutary reminder that all is not always as it seems with their kith and kin.
An interior Todd's Canada Goose was seen on 23rd-26th at Marshside RSPB (Lancashire).
A possible Grey-bellied Brant was found on 22nd at Findhorn Bay (Moray).
Lewis (Western Isles), meanwhile, landed a Snow Goose on 25th. Two more were seen on Orkney on South Ronaldsay on 27th.
The Western Isles continued to supply sporadic sightings of Blue-winged Teals in recent days – on 22nd two were seen again on Barra; while on 23rd-26th three lingered on North Uist at Loch Mor, with a fourth bird seen there only on 23rd, and one still present on 28th. Elsewhere, one remaining on Annagh Marsh (Co.Mayo) on 23rd-26th was joined there on 26th by a second individual.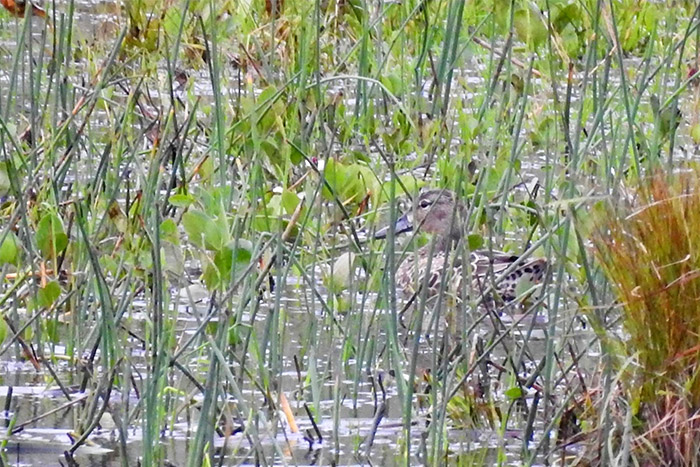 The prior week's drake American Wigeon was once more seen at Needingworth Quarry Lakes (Cambridgeshire) on 26th; another was found at Rahasane Turlough (Co.Galway) on 27th.
The drake Ring-necked Duck was also still to be seen at Needingworth Quarry Lakes on 22nd-24th; another was seen on 26th at Leighton Moss RSPB (Lancashire).
A drake Surf Scoter was noted this week on 23rd in Shetland off Maywick; a juvenile bird was seen off Colonsay (Argyll & Bute) on 27th; on 28th, a drake was seen at the classic location of Musselburgh (Lothian); and another drake was reported from Arnside (Cumbria) on 26th.
<!—Section Title -->
Numbers of Buff-breasted Sandpipers seen in Britain and Ireland took a bit of tumble this week, though we still made double figures overall. Starting in Britain, one remained in Northumberland at Boulmer on 22nd; two were seen on North Uist (Western Isles) on 23rd; one on Unst (Shetland) on 24th was joined by a second individual on 25th-28th; while the recent bird on North Ronaldsay (Orkney) was still present there on 25th. In Ireland, two remained at Slyne Head (Co.Galway) on 22nd; a single bird was seen at Rahasane Turlough (Co.Galway) on 23rd-24th; one lingered on The Mullet (Co.Mayo) on 22nd-23rd; one was seen at Ballykelly (Co.Derry) on 27th-28th; and another was gilding Tacumshin's (Co.Wexford) excellent week for Nearctic waders on 25th.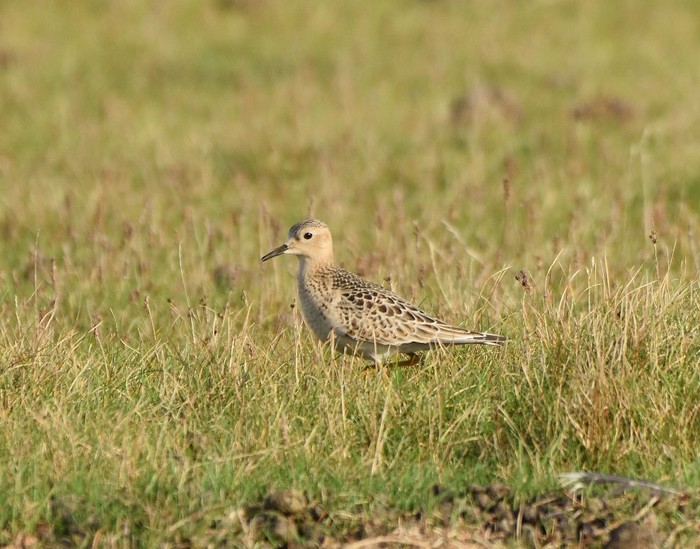 Leaning into that for just a moment, Tacumshin's recent large flock of Pectoral Sandpipers diminished to a mere two birds on 23rd-26th, with three again there on 25th-28th. A Lesser Yellowlegs was seen there on 23rd-28th and, for good measure, a Long-billed Dowitcher found there on 25th was joined by a second bird on 26th, with at least one still present on 28th. Frankly, if anywhere in Britain or Ireland is going to finally land our long overdue Willet, Tacumshin has to be favourite to do so…
Returning to Pectoral Sandpipers, a shade over 20 were seen across the region during the week, with the peak count this time coming from England where, at Saltholme RSPB, three birds seen on 24th rose to five birds on 25th.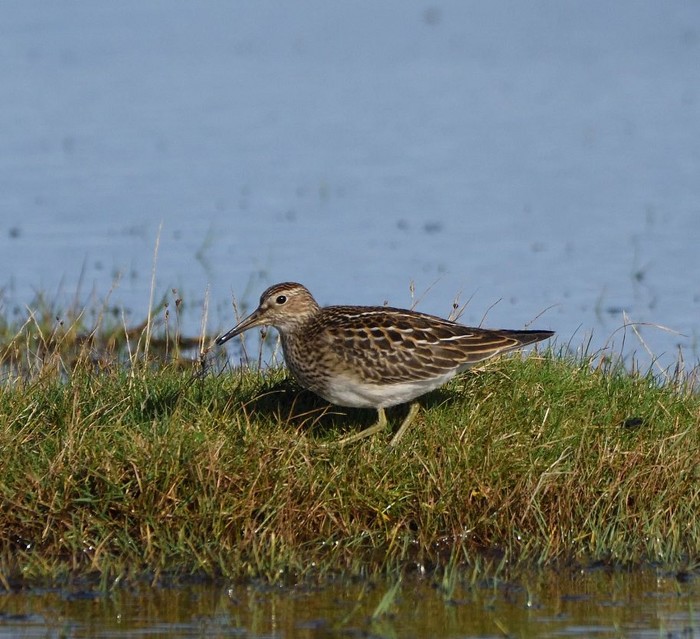 Further Lesser Yellowlegs this week included lingering birds at Runham (Norfolk) still on 22nd-23rd and Newport Wetlands RSPB (Gwent) still on 22nd; and were joined in the news by birds found at Baltimore (Co.Cork) on 23rd, North Uist (Western Isles) on 24th-28th, and Ladywalk NR (Worcestershire) on 27th. Another probable was reported from Roonagh Lough (Co.Mayo) on 24th.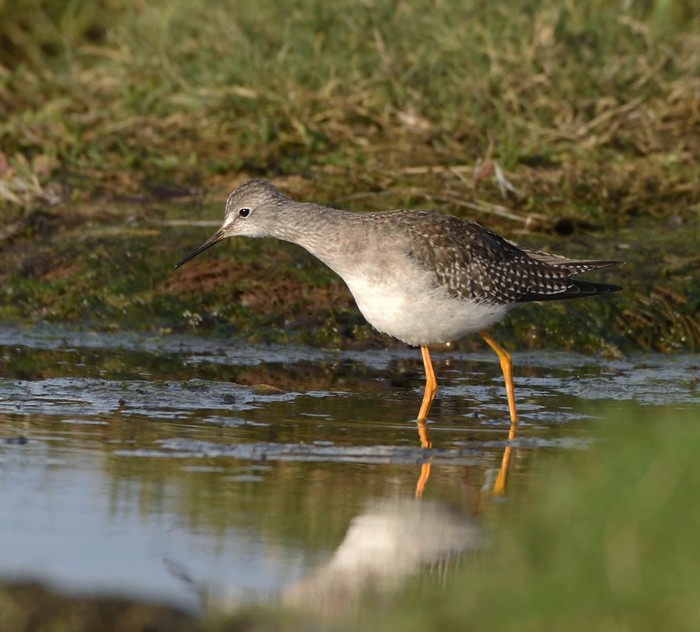 The recent adult Long-billed Dowitcher remained settled at Anthorn (Cumbria) on 22nd-27th, while another recent bird remained on Lough Beg (Co.Derry) on 25th-28th, and one more was found on 27th-28th at Kilcoole (Co.Wicklow).
Back to the sandpipers now, and starting with the smallest, the mobile Semipalmated Sandpiper remained in Cornwall at Godrevy Point on 23rd-28th again, and Hayle estuary once more on 25th; one remained at Inverin (Co.Galway) on 22nd; while, back in Cornwall, another bird was seen at Wadebridge on 23rd and again on 27th-28th.
Cornwall's recent Baird's Sandpiper stayed on the Hayle estuary until 24th, while the recent bird on North Ronaldsay (Orkney) was last reported from there on 23rd.
A juvenile Spotted Sandpiper was seen on TIree (Argyll & Bute) on 22nd-23rd.
A possible Hudsonian Whimbrel flew by Eyemouth (Borders) in the morning of 26th.
American Golden Plovers meanwhile had another solid week, with eight birds in all logged: one was still present on Tiree (Argyll & Bute) on 22nd; in Shetland, one was noted over Toab on 23rd, and another sighting came from Clevigarth on 24th; one remained on North Uist (Western Isles) on 23rd-26th, followed by a South Uist bird on 28th; an adult bird was found in Kent at Sandwich Bay on 23rd; and an adult was present at Farlington Marshes HWT (Hampshire) on 25th-28th. In Ireland, sightings came from Co.Galway at Slyne Head on 22nd and Rahasane Turlough on 23rd-28th; and from Ballykelly (Co.Derry) on 27th.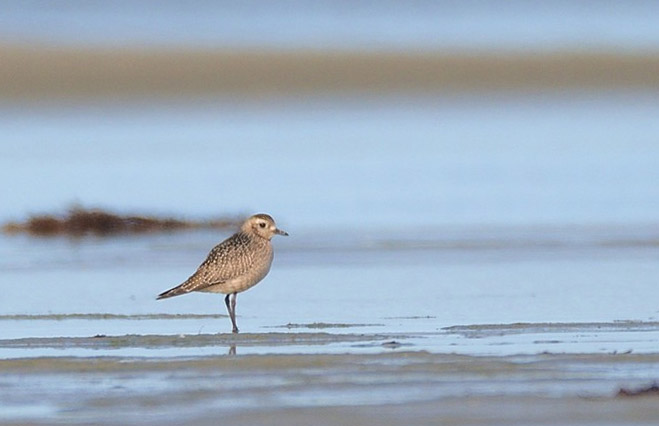 Dotterel numbers, however, dropped away in recent days. On Scilly, one was seen on St Mary's on 22nd-28th, while two birds were noted on St Martin's on 23rd; on 22nd, single birds were seen on The Lizard (Cornwall) and at Medmerry RSPB (West Sussex); and one more was seen in Cumbria at Mawbray on 25th. On 27th one was seen on The Lizard, and another in Norfolk at Terrington Marsh.
A couple of Kentish Plover records provided further variety this week – one on 25th at Hayling Island (Hampshire) and, on 26th-28th, on Thorney Island (West Sussex).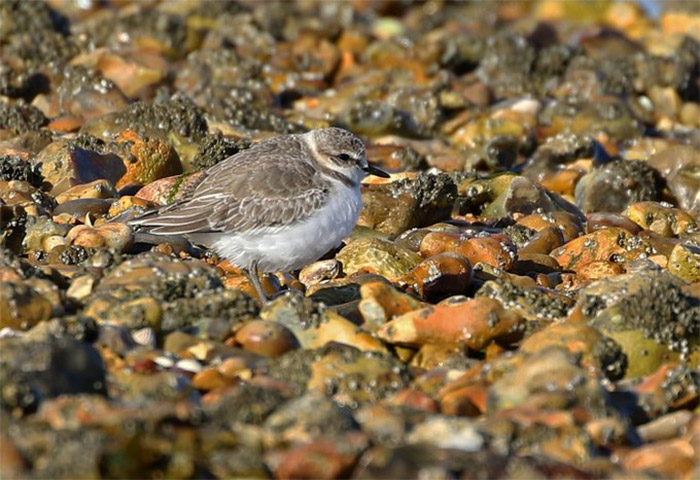 Some 40 Grey Phalaropes spoke eloquently of a spell of unsettled recent weather – Cornwall doing particularly well for them, with two noted from the Scillonian on 22nd, three from Pendeen on 23rd, and five off St Ives on 25th. Four were seen at Cley NWT (Norfolk) on 26th, sharing the site with a Red-necked Phalarope for good measure; on 27th five were noted on the sea off Titchwell RSPB (Norfolk). Another Red-necked was seen in Norfolk at Welney WWT on 27th-28th while, in Ireland at – where else, this week? – Tacumshin (Co.Wexford) on 25th-26th one more was to be found.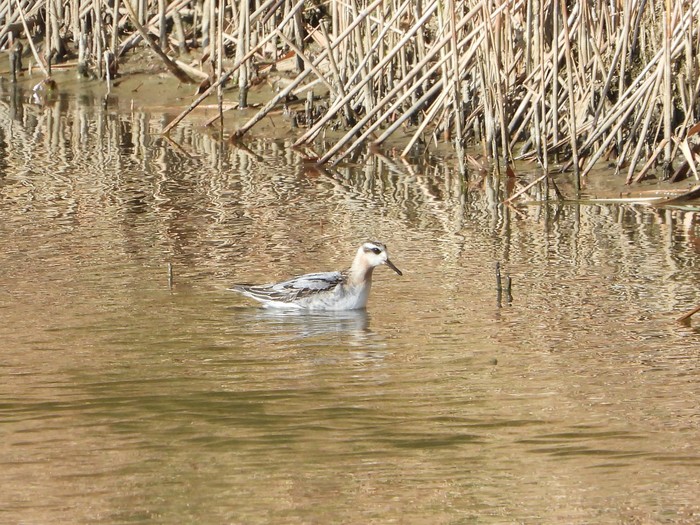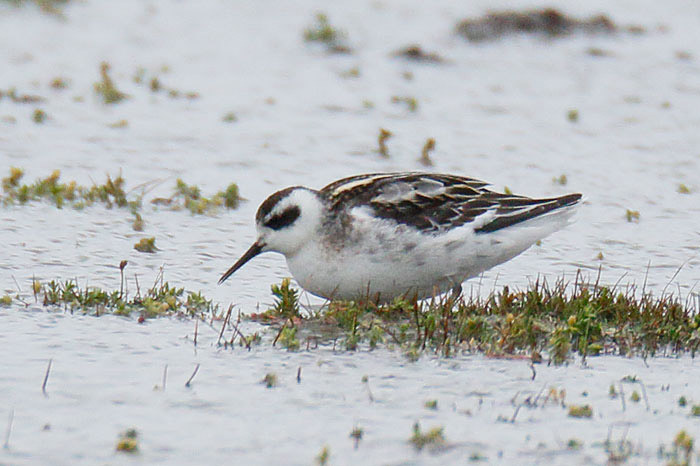 As so often is the case, fair numbers of Grey Phalaropes in these quarters go hand-in-hand with decent numbers of Sabine's Gulls - and, sure enough, this week around 60 birds were logged across the region – no single site doing better than Pendeen (Cornwall) where, on 25th, nine birds were seen.
In West Yorkshire the adult Franklin's Gull was again reported from Redcar Tarn on 24th.
A Laughing Gull was seen in Highland at Loch Fleet on 22nd.
A Glaucous Gull was noted at Fanad Head (Co.Donegal) on 26th; a juvenile was touring around various Scillonian locations on 27th, with another that day on Yell (Shetland), and one seen from adjacent Unst on 28th; while the adult (or hybrid) bird was still hanging out in Ullapool (Highland) on 24th-26th.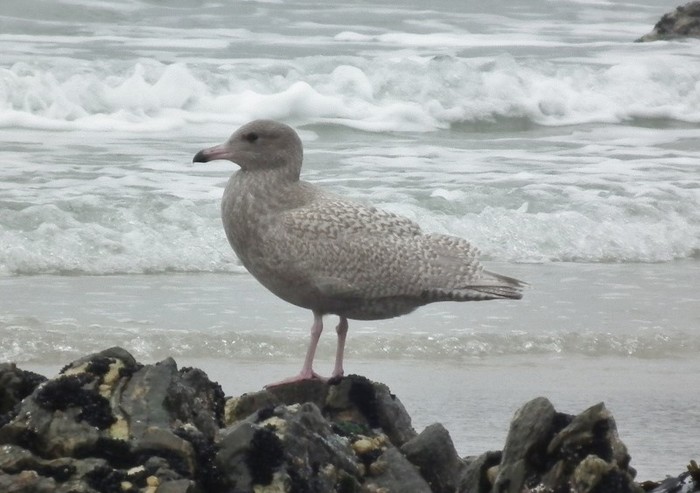 On 25th two Iceland Gulls were seen – one in Ireland at Kilcummin Head (Co.Mayo), and the other in London at Beckton – another was seen on 27th at Swords (Co.Dublin); and one more on 28th at St Gothian Sands LNR (Cornwall).
Best raptor news of the week was, emphatically, the young Lammergeier seen at various points in Norfolk in the course of the afternoon of 28th – initially in a field near Foxley, then airborne in the vicinity of Beetley, North Elmham and Worthing. Not wanting to be a total buzzkill, but swapping the dangerous moors of Derbyshire for the uncertain surroundings of Norfolk is a bit like jumping from the illegal raptor persecution frying pan into the fire…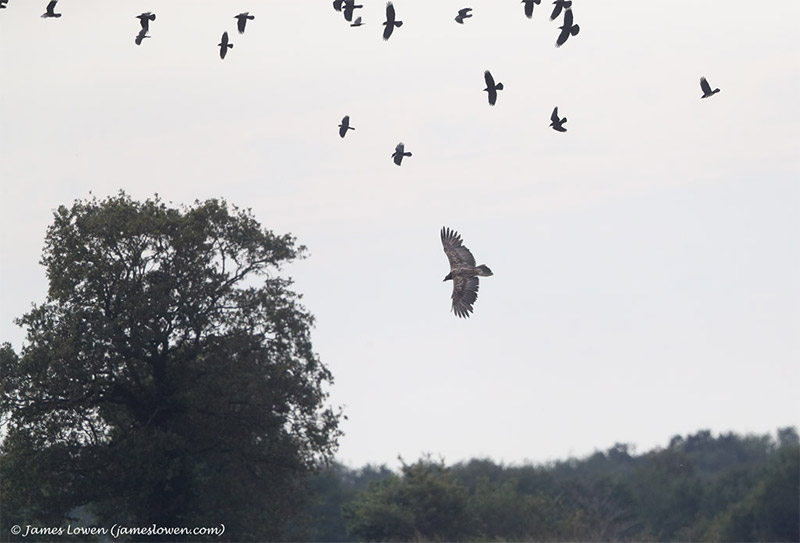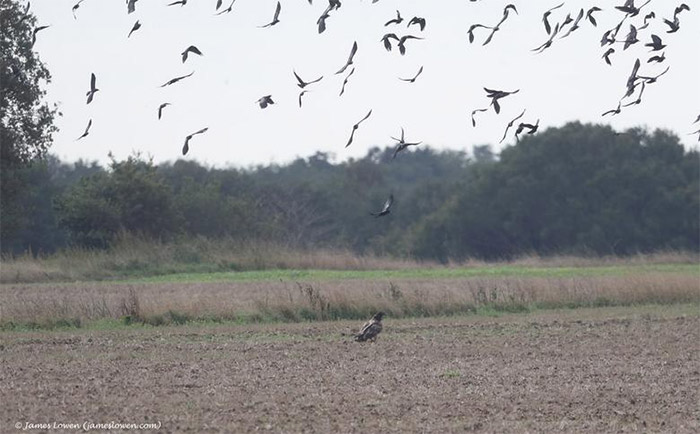 Such miserable musings aside, an adult male Pallid Harrier found on 23rd over the A350 near Chippenham (Wiltshire) was a superb fresh find this week. (The best I've found from a moving car is Citrine Wagtail, a bird that elicited an emergency stop at the time. I reckon I'd be off the road and wedged in a ditch if one of those elegant, ghostly skydancers suddenly hove into view…) Meanwhile, the recent Thorney Island (West Sussex) juvenile was once more reported from there on 28th.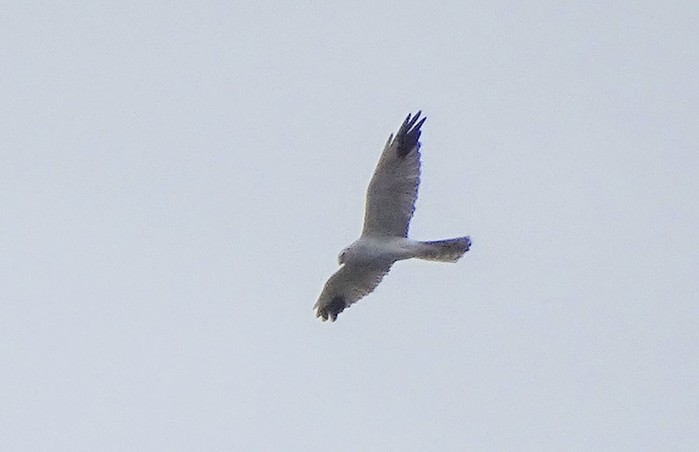 Tacumshin (Co.Wexford) proved it wasn't entirely about the shorebirds this week with a juvenile Montagu's Harrier there on 25th-26th, and a Black Kite on 25th.
Flamborough provided an intriguing record on 28th – a probable Lanner seen coming in off the sea.
Lastly, out on St Kilda (Western Isles), the female Snowy Owl was seen again, and how, on 26th…
Astounded yesterday when the Snowy Owl, who has been absent for a week, presumably down in Gleann Bay, landed on a cleit right in front of me with a Meadow Pipit lunch which she proceeded to consume, utterly unfazed by my presence. pic.twitter.com/Vh2Y2ojtP3

— St Kilda Soay Sheep Project (@SoaySheep) September 27, 2020
Numbers of Yellow-browed Warblers were down somewhat this week with some 230 or so birds logged up to and including 26th, at which point we might have thought that eastern traffic was slowing a little. A further minimum of 200 were found on 27th, with Shetland's outer isles faring particularly well with 24 found on Fair Isle and 17 on Foula (Shetland) alone… The pace slowed only a little on 28th with around 150 fresh birds tallied nationally. As we've already seen in the headlines, some star quality was coming on their coat-tails during the latter half of the week.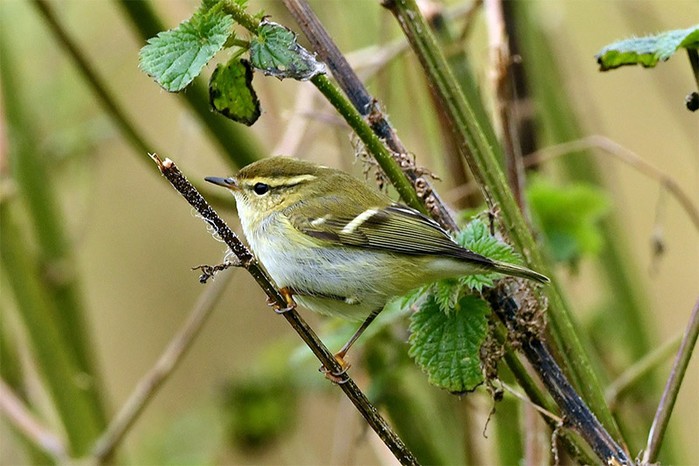 If anyone can be relied upon to deliver the goods in Shetland, it's Brydon Thomason – a man who was having a good week lately. A Booted Warbler found up the road from his house on Unst on 23rd was a great find, and all the sweeter for being viewable, with some effort from an upstairs window, from his home – 217 on the growing house list…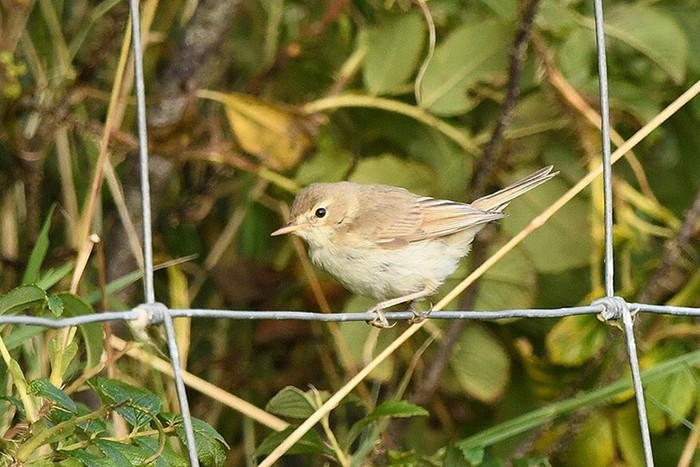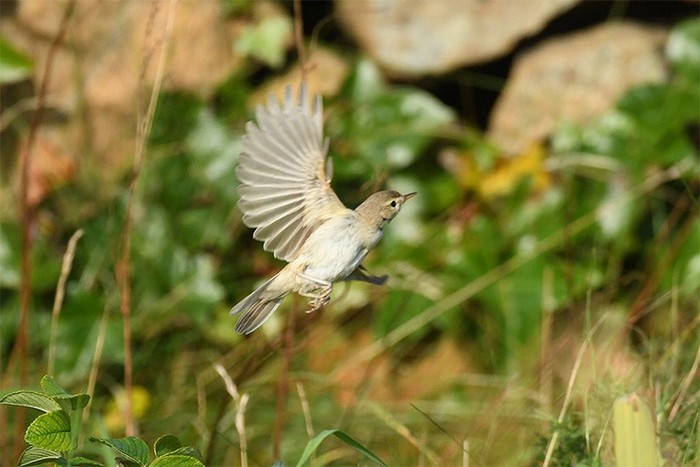 He followed that with his fifteenth self-found Blyth's Reed Warbler on 28th. Needless to say, that one isn't a house tick… This bird had been preceded this week by one on The Naze (Essex) on 22nd still, and another found on St Mary's (Scilly) on 23rd, and followed on 28th by one more bird trapped and ringed at Holme Dunes (Norfolk).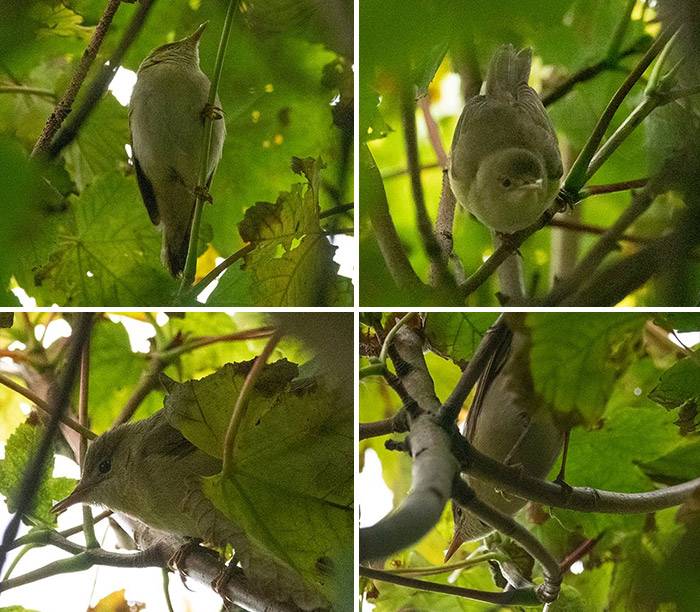 A Paddyfield Warbler graced Porthgwarra (Cornwall) on 22nd.
A somewhat early Dusky Warbler was present on Shetland at Maywick on 26th-27th; while a similarly premature Radde's Warbler was seen briefly at Holland Haven CP (Essex) on 26th.
In Kent, the Arctic Warbler lingered at Ramsgate on 22nd, with another seen on 27th-28th at Churchtown (Co.Wexford, and one more at the close of play on Flamborough (East Yorkshire); meanwhile a Greenish Warbler remained on Flamborough on 22nd, with another found on 23rd at Porthgwarra (Cornwall), and one more on 28th in Norfolk at Winterton.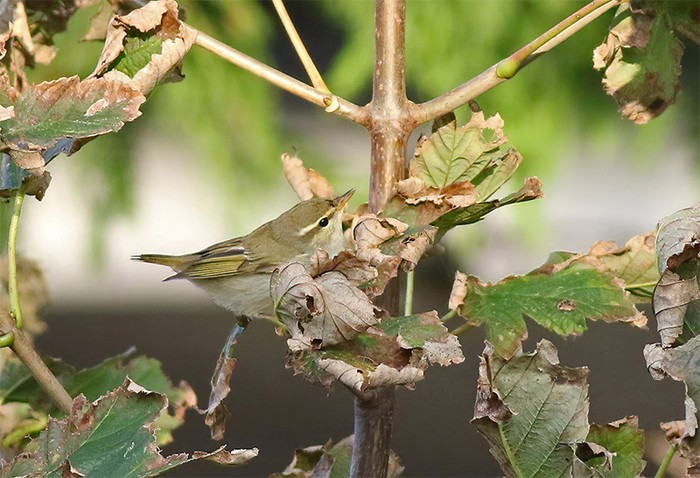 Some 25 Barred Warblers this week were a fair showing, albeit a fairly modest one. All were single birds bar two present on Flamborough on 22nd-28th.
In Norfolk, the recent Brown Shrike was seen again mid-morning at Warham Greens on 22nd, but not thereafter.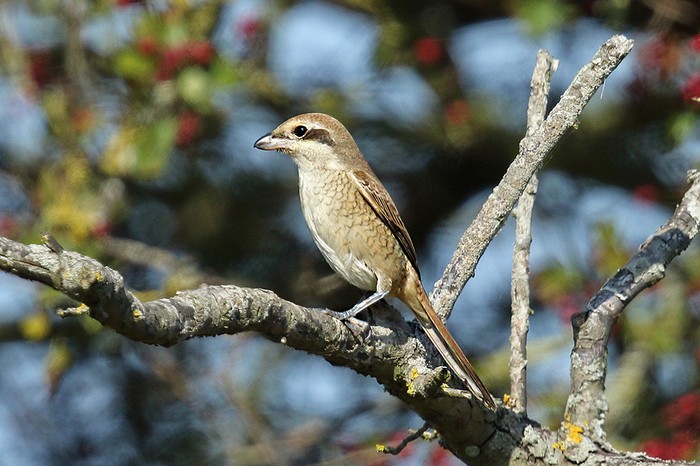 Shetland was doing well for Woodchat Shrikes this week – the recent bird remained on Yell on 23rd; another was found on Foula on 23rd-27th; and then Rob Fray found another individual at Virkie on 26th, the bird remaining nearby the following day.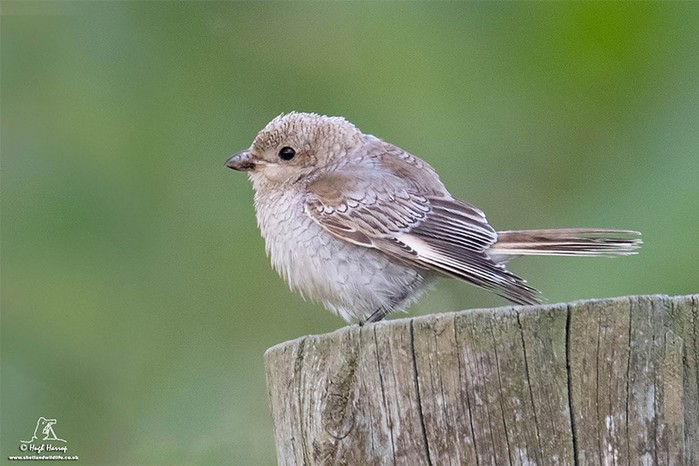 Red-backed Shrikes were fairly muted this week, with a scatter of records to show for ourselves. Shetland sightings came from Ellister, Bigton, and Maywick on 22nd-23rd, and Boddam on 23rd also; birds lingered at Flamborough (East Yorkshire) and Wells Woods (Norfolk) on 22nd and 22nd-28th respectively, with another Flamborough sighting on 28th also; another Norfolk sighting came from Titchwell RSPB on 23rd-28th; one was out on Cape Clear (Co.Cork) on 26th; one was noted in Orkney on Westray on 27th; and on 28th further birds were found in North Yorkshire at Scalby Nab and on St Mary's (Scilly).
The irrepressible Brydon Thomason was at it, again, on Unst (Shetland) on 26th with a Olive-backed Pipit in his garden – a long overdue house tick, taking the list to 218. Maybe this year will be the year he finally gets a garden Red-flanked Bluetail… Another OBP was found by Phil Harris on the Shetland mainland at Asta on 27th-28th, while another was noted in flight on Fair Isle on 28th.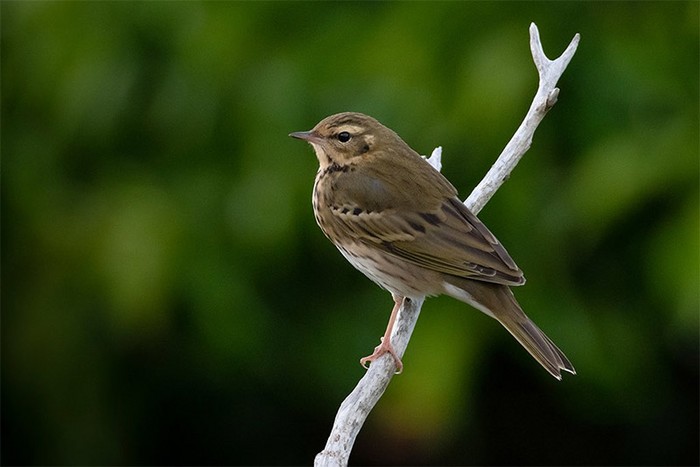 The recent Tawny Pipit was once again seen at Porthgwarra (Cornwall) on 22nd.
A trio of Red-throated Pipits were logged in recent days – one apiece for St Mary's (Scilly) on 22nd and 28th, Spurn (East Yorkshire) on 26th-28th, at Carrahane (Co.Kerry) on 26th, and along the road to Quendale (Shetland) on 28th.
Citrine Wagtails were, this week, the preserve of Scottish islands – one was seen on Shetland at Sumburgh on 23rd, while another was found that day on Barra (Western Isles). A possible Eastern Yellow Wagtail (or another Citrine) was found on St Mary's (Scilly) on 26th.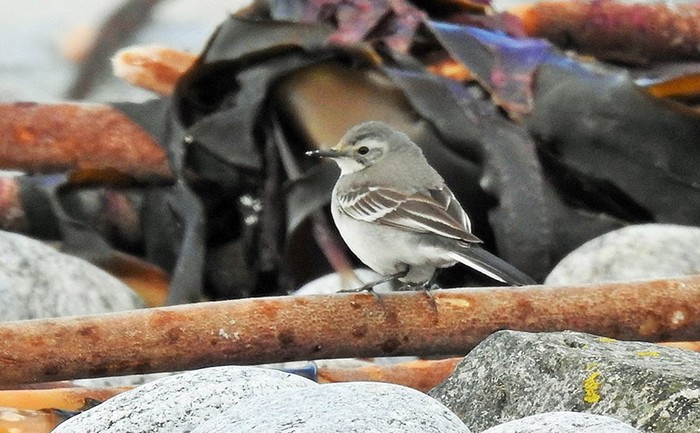 A Blue-headed Wagtail was found on 26th in Norfolk at Dickleburgh Moor NR.
A Hoopoe was found on Islay (Argyll & Bute) on 25th-27th; another was seen in North Yorkshire around Murton on 26th.
Eyes cast skywards found a Red-rumped Swallow in Kent at North Foreland on 22nd, and Alpine Swifts at Stanway Green (Essex) on 23rd and South Gare (Cleveland) on 25th.
At least 20 Wrynecks were logged this week, with Scilly particularly blessed with multiple birds on St Mary's, Bryher, and St Martin's. A lingering inland bird was popular outside Burnley at Cant Clough reservoir (Lancashire) on 22nd-26th.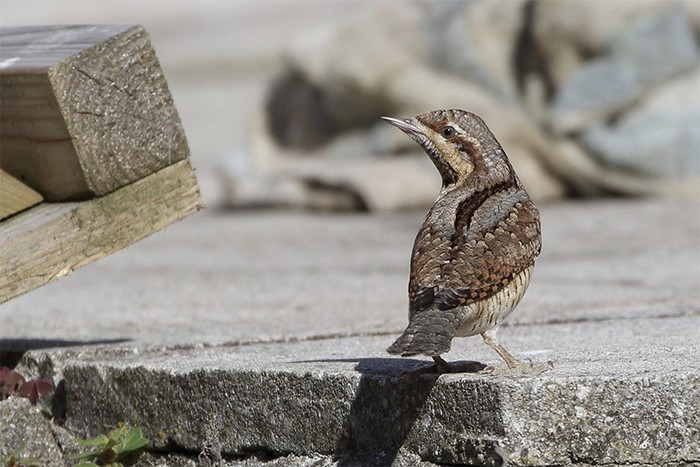 Foula (Shetland) got a Short-toed Lark on 23rd-27th.
Precious few Red-breasted Flycatchers were seen this week – one remained in Norfolk at Wells Woods on 22nd-27th, augmented by further birds at St Abb's Head (Borders) on 22nd-24th; Bempton Cliffs RSPB (East Yorkshire) on 24th; Polgigga (Cornwall) on 25th; Flamborough (East Yorkshire) on 26th-27th; and on North Ronaldsay (Orkney) on 27th. Matters livened a little on 28th, with fresh birds found at Skateraw (Lothian), Flamborough, Hoswick (Shetland), and East Hills, Holkham and Stiffkey (Norfolk).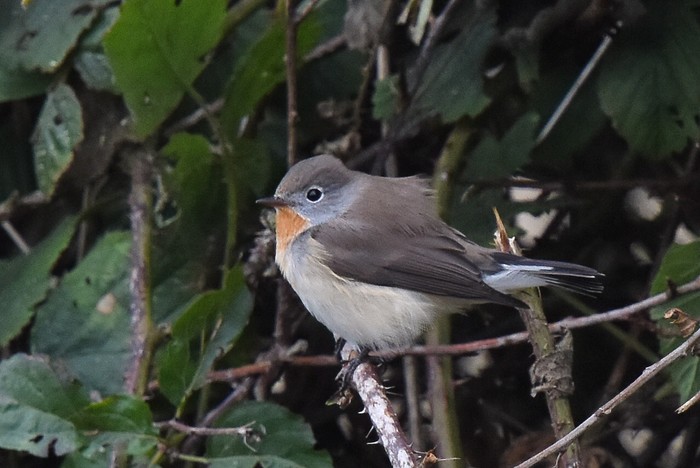 Our weekly Bluethroats were all island finds – on Whalsay on 23rd and Unst (Shetland) on 25th; on Dursey (Co.Cork) on 26th; and trapped and ringed on Fair Isle (Shetland) on 27th-28th.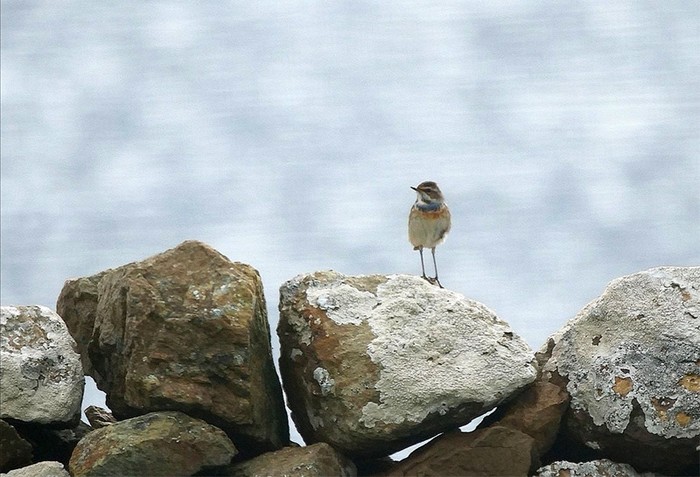 Our first eastern stonechat sp of the autumn, however, was mainland Britain based – one was present at South Gare (Cleveland) on 24th-28th – while another was found on 27th in Orkney at Deerness. Stool samples at the ready…
Settled Rose-coloured Starlings remained on Portland (Dorset) on 22nd-28th and at Bull Bay (Anglesey) on 25th; further birds were found this week on Bryher (Scilly) on 22nd-24th, at Trowbridge (Wiltshire) on 24th, at Deerness (Orkney) on 25th, and on North Uist (Western Isles) on 27th.
Common Rosefinches just about made it to double figures, if we include the bird found 115 miles northeast of Lerwick (Shetland) on the Brent Charlie oil rig on 23rd… Further actual Shetland sightings came from Fair Isle on 22nd-23rd; Hoswick on 22nd-23rd; Unst on 23rd; Whalsay on 24th; at Grutness still on 24th; on Out Skerries on 25th and Fetlar on 26th-28th, on Foula on 27th, and at Bigton on 28th. Breaking that Shetland near-monopoly were birds found on 26th at Spurn (East Yorkshire) and on 26th-28th on St Mary's (Scilly), and on 27th at Tarbat Ness (Highland).
A blast of northerly winds was all it took to bring the autumn's first Hornemann's Arctic Redpolls to Shetland – one of these frosty snowballs was found on Fair Isle on 25th, joined by a second individual on 26th-27th; and another was found on Foula on 26th, also joined by a second individual on 27th. Another was found on Unst on 27th, while one more was reported from Whalsay on 28th.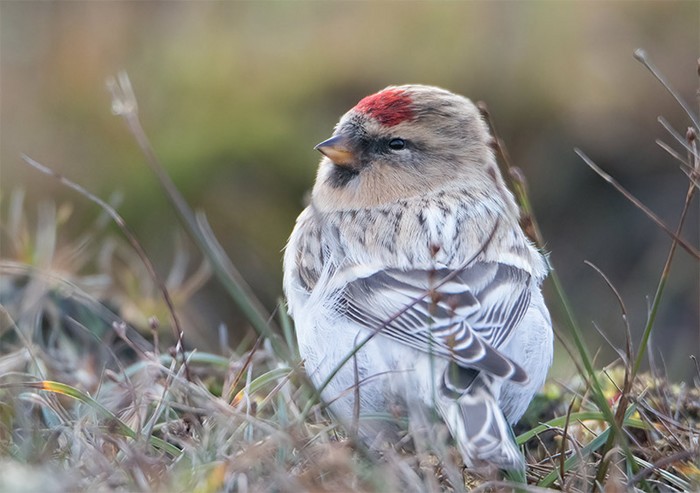 Fair Isle also provided us with a cracking Rustic Bunting this week, trapped and ringed there on 22nd and still present until 27th.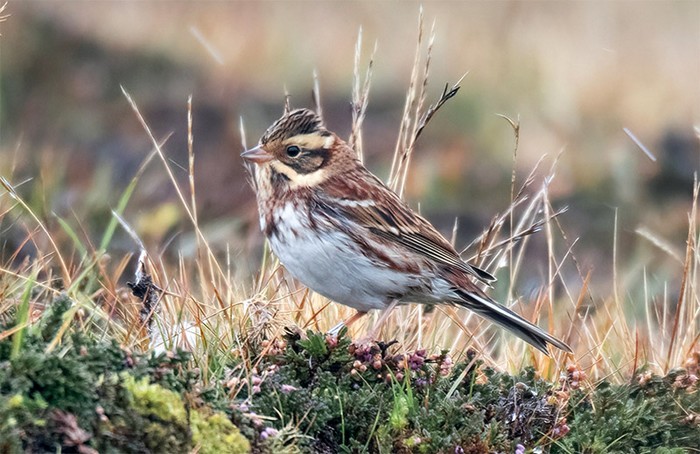 Little Buntings were in fairly short supply – birds seen only this week at Kilnsea (East Yorkshire) still on 22nd-24th; on Unst (Shetland) on 23rd; Thornwick Bay (East Yorkshire) on 24th; on Papa Westray (Orkney) on 26th-28th; on Fair Isle and at Voe (Shetland) on 27th; and Flamborough (East Yorkshire) on 27th-28th. On 28th new birds were found on Isle of May (Fife), at Swinister and on Unst (Shetland), and at Sammy's Point (East Yorkshire).
A Rustic or Little Bunting was found on St Mary's (Scilly) on 27th, but evaded specific identification.
An Ortolan Bunting was seen on St Mary's (Scilly) on 22nd and again on 26th.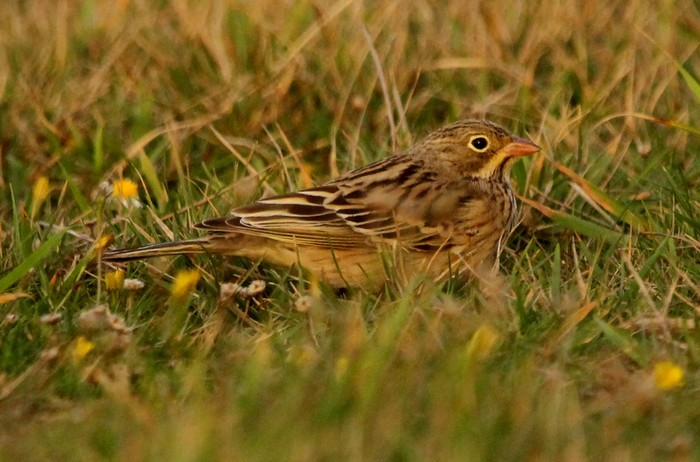 We've been lusting after a Neartic warbler in these parts for a couple of weeks now, watching strong westerlies barrel across the Atlantic towards us, but nary a hint of a warbler have they delivered… (Though, to be fair, we're not complaining about Yellow-bellied Flycatcher). Turns out those warblers were inbound, but overshot us – as, this week, Norway enjoyed a remarkable double on 23rd of the country's first ever Black-and-white Warbler found at Naerbo and, on Utsira, the national first record of Cape May Warbler - the latter, only the fourth record in the entire Western Palearctic, still present on 26th. On 27th Utsira scored large again with a Pallas's Grasshopper Warbler trapped and ringed there. Finally, crowning Norway's excellent week, a Pechora Pipit was found on 28th at Rost.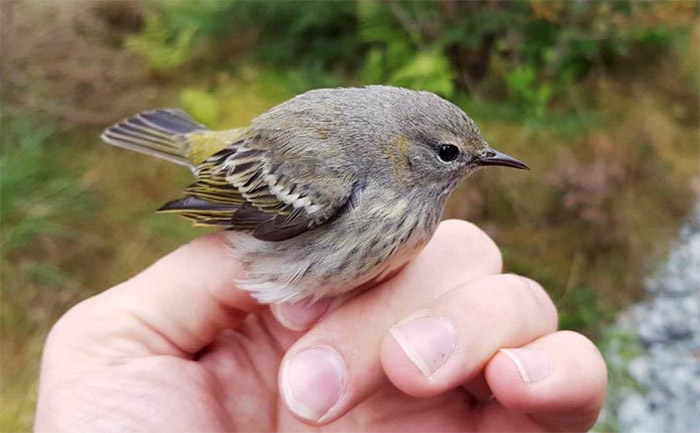 Iceland, a little further afield from us, also supplied a Tennessee Warbler on Hrisey on 22nd – the third national example of this one, and a species that's long overdue another visit to Britain. Further Icelandic excitement this week came in the form of the Alder Flycatcher still present at Hvalsnes on 22nd-26th; an American Buff-bellied Pipit at Garður on 23rd-24th, and another at Eyrarbakki on 28th; and a Swainson's Thrush at Seltjörn on 23rd-28th.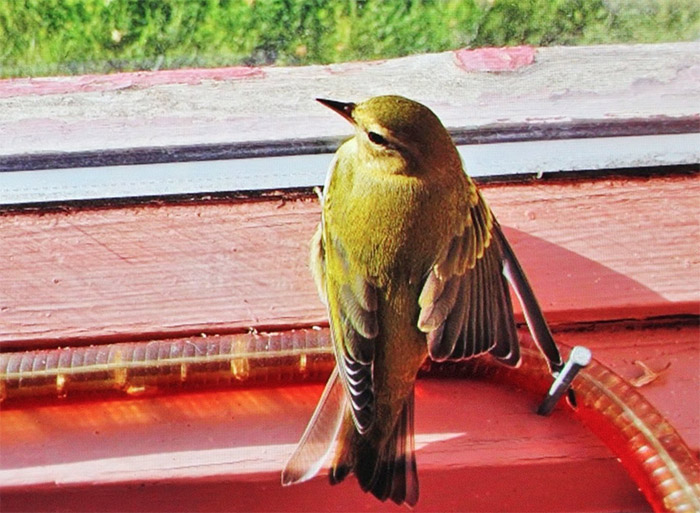 More wishful British food for thought came from Ouessant (France) on 26th, where a Spotless Starling was found.
Dutch birders enjoyed a Sociable Plover near Huissen on 27th. The last British bird is becoming a distant memory… The Black-winged Pratincole remained at Camperduin on 27th.
In Spain, the Elegant Tern remained at Montijo on 26th.
News from the Azores, finally, concerned a Least Sandpiper on Terceira on 22nd; and a Brown Booby seen off Corvo on 27th.
We stand on the cusp of the first week of October, and it's hard not to grin like an idiot looking at the charts as they stand at the time of writing on 29th – those relentless south-westerlies that are sweeping up the Irish and Scottish western seaboards will have their counterpoint from midweek onwards in the form of some really tasty south-easterlies hitting Shetland.
This, of course, is of mostly local interest as the Covid-19 guidelines have torpedoed many a birding crew's plans to spend a week or two here in the islands in early October. But still… exciting times lie ahead for local birders.
Expect more Red-flanked Bluetails and Blyth's Reed Warblers, maybe another exciting thrush or Locustella, and who knows… the coming week has some serious Siberian pedigree to draw inspiration from.
By which we mean two historic national records apiece for Siberian Blue Robin and Siberian Rubythroat, and one of Rufous-tailed Robin.
North Ron has both recent history in their regard and an enviable run of 2020 form, but I'm putting my money on this week being Shetland's turn to roar into life…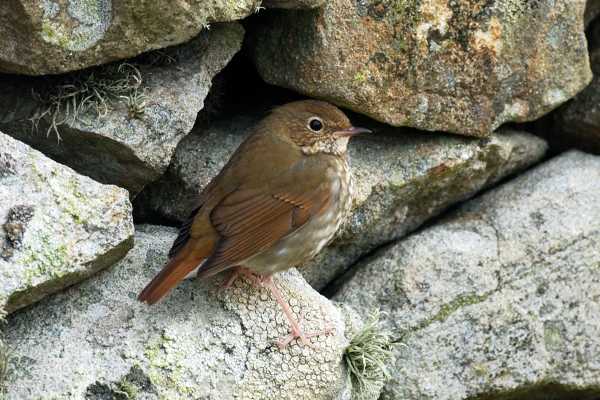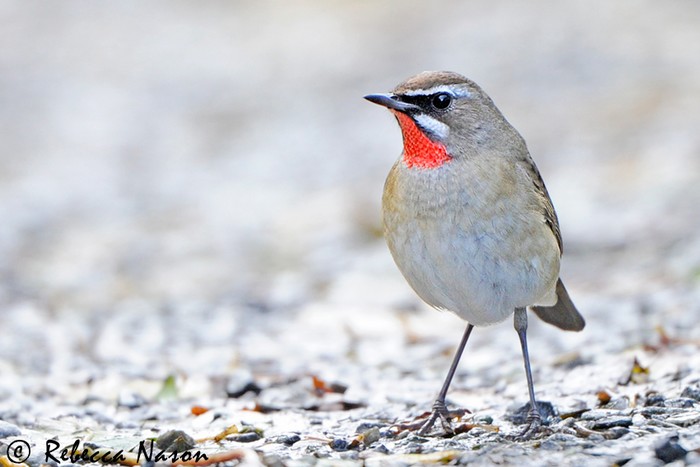 Jon Dunn
29 September 2020
Many thanks to all this week's contributors for your photos and videos
Share this story
Tweet