Weekly birding round-up: 1 - 7 Sept 2020
The week at a glance
Belated news from Dorset concerns another Eleonora's Falcon
Orkney lands Britain's fifth ever Semipalmated Plover
And Orkney enjoys another terrific shorebird in the shape of a Wilson's Phalarope
Relatively quieter times this week, at least where mega birds were concerned in recent days, with the biggest news of all relating to the prior week until – literally – the eleventh hour of the last day of the current week.
Prior to that, autumn migration was ticking over nicely, with the anticipated surge in Nearctic shorebirds, and a few passerines coming in over the North Sea.
And then Orkney happened. Again.
Eleonora's Falcon
We'd have to hope it's going to be third time lucky this year for Eleonora's Falcon. One retrospectively identified bird is just one of those things; a second bird is unfortunate; a third bird would be too much pain to bear. Hot on the heels of the pale morph bird seen fleetingly in Norfolk at Winterton North Dunes on 20th August, belated news emerged this week of a dark morph bird seen in Dorset at Lytchett Bay on 25th.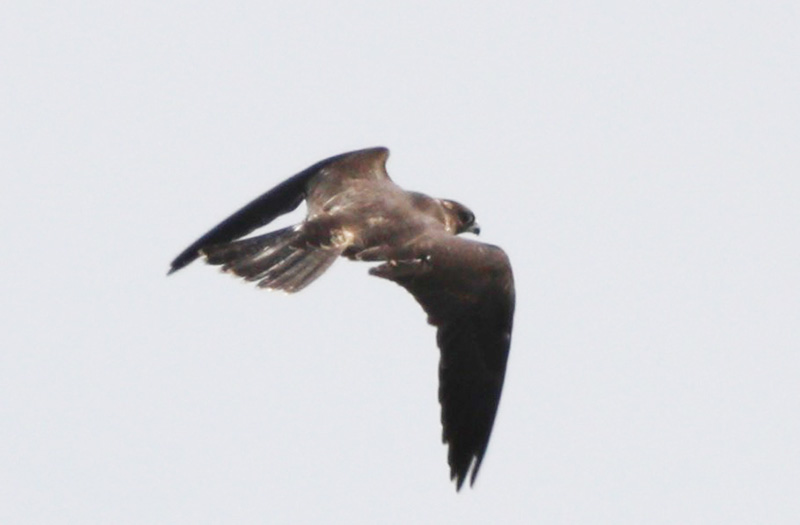 Just like the Norfolk bird, this one too was photographed – another one that proves the old adage of what's hit's history, and what's missed's mystery. We don't have to go too many years back to a time when digital photography was the exception rather than the norm, and reports of such birds were inevitably met with guarded caution. Increasingly, we've a decent chance of, at the very least an intriguing record shot or, in the case of these birds, emphatic certainty.
This comes to be Dorset's first record of this uber-rare raptor, filling a large hole in the middle of the south of England where previous records were concerned, between the one day birds in Cornwall on 11th August 2012 and Essex on 13th September 2008.
With news that there's been a major influx of Eleonora's Falcons into mainland Europe this late summer, a second bird in Britain was always a possibility. Now we just have to hope for a third… one that strays into the path of someone who recognises it for what it is there and then… and one that hangs around in the area long enough for a few folk to connect with one of the ultimate blockers.
Semipalmated Plover
Orkney's really been enjoying a good year, by any standards you care to define one. Granted, their first for Britain was enjoyed just by the fortunate finder – but still, simply typing White-chinned Petrel makes me lick my dry lips – but they've been spoiled in other ways besides – the lingering Steller's Eider, a gloriously bright Green Warbler, an adult Stilt Sandpiper and, most recently, that cracking adult female Turkestan Shrike.
Frankly, I'd settle for just one of those in Shetland in what remains of the year…
But Orkney's year just keeps on going from strength to strength. This week, the already stellar cast of 2020 was further augmented by the news that a Semipalmated Plover had been found by Dante Shepherd during the afternoon of 7th on North Ronaldsay.
These enigmatic waders are ones that I think we all suspect may go overlooked here. Certainly, from Britain's first, way back in October and November 1978 on the beach at Periglis on St Agnes (Scilly), to our next, a long-staying bird that settled at Dawlish Warren (Devon) between April and September 1997 before returning in the summer of 1998, some twenty birdless years elapsed. Ireland's first didn't come until October 2003, but that bird – on Arranmore (Co.Donegal) – was swiftly followed by five more accepted birds up to the present day. During which time Britain chalked up a couple more birds, in the Western Isles and Hampshire/Sussex respectively.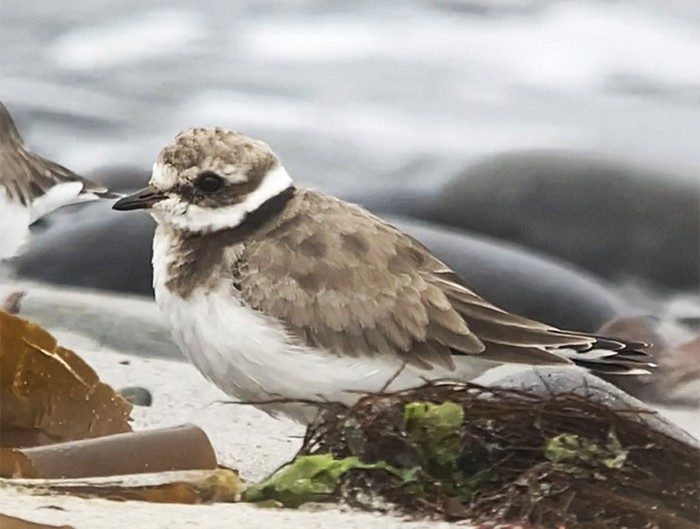 So are they actually turning up here with more frequency since the turn of the century, or are we just paying Ringed Plovers a little more attention?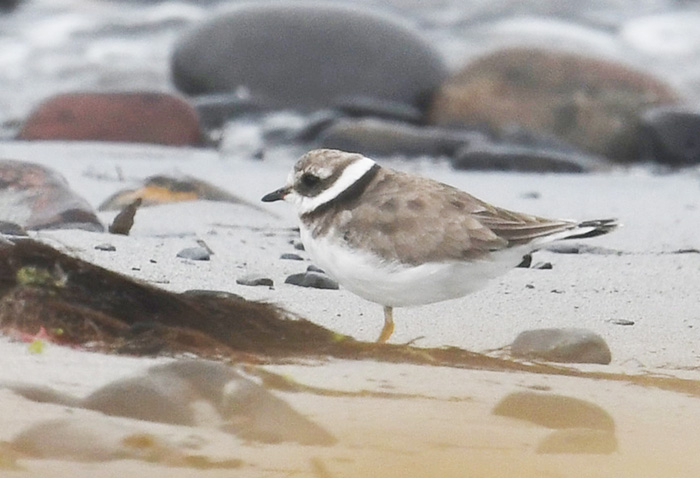 Thankfully, Dante was doing just that on 7th, and his diligence and keen eye was to pay dividends with Orkney's first, and Britain's fifth, Semipalmated Plover. News broke well after dark on 7th and was a timely reminder to us all to look at Ringed Plovers with fresh eyes in the days and weeks to come…
Wilson's Phalarope
Orkney was already having a good week by the point said plover was found, let alone a good year, for earlier in the week the islands had been graced by their third ever Wilson's Phalarope - a bird which, given their previous two records were both one day birds and receding into the mists of time (on 5th September 2002 and 3rd September 1981 respectively) would have been both timely and welcome for Orcadian birders.
Frankly, I'd settle for just one of those in Shetland in what remains of the year…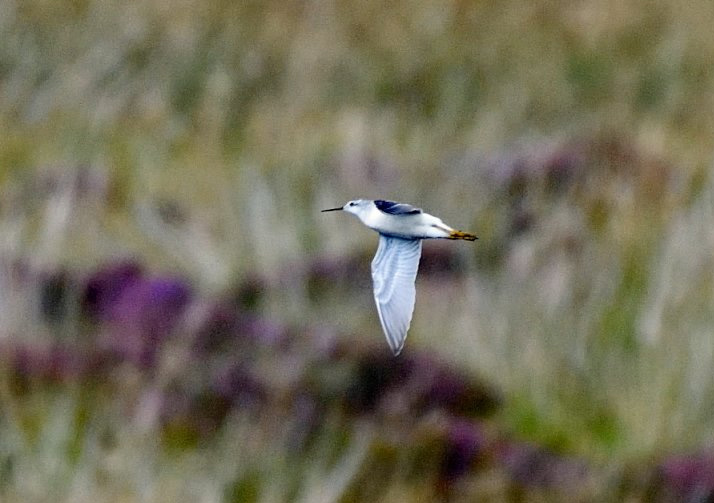 But Orkney's year just keeps on going from strength to strength. This week, the already stellar cast of 2020 was further augmented by the islands' third ever Wilson's Phalarope - a bird which, given their previous two records were both one day birds and receding into the mists of time (on 5th September 2002 and 3rd September 1981 respectively) would have been both timely and welcome for Orcadian birders.
Found on Burray on 3rd-5th September, the bird's stay neatly spans those two previous arrival dates, in one of those weird moments of birding synchronicity. Initially identified as a Marsh Sandpiper, it enjoyed a strange genesis – had it been one of those, that would have been an Orcadian first record. Still, I'm sure there weren't too many grumbles about what it turned out to be after all…
We'll kick of this week's seabirds with a brace of Fea's / Desertas Petrels - one apiece for Co.Clare and Co.Donegal on consecutive days. On 3rd one passed Bridges of Ross (Co.Clare) in the morning; and on 4th, one was seen from Fanad Head (Co.Donegal) in the afternoon.
Wilson's Petrels, on the other hand, were conspicuous by their absence after a succession of strong weekly showings – in recent days we had just the one bird logged, from Annagh Head (Co.Mayo) on 5th.
If they were a spent force, Leach's Petrels were very much in the ascendency this week, with around 400 birds in all noted nationwide. North Uist (Western Isles) alone accounts for 150 of them, seen from there on 4th. Further chunky counts came from South Uist (Western Isles) where 32 were seen on 3rd; Fanad Head (Co.Donegal), where 43 were seen on 5th; and Arranmore (Co.Donegal) where 32 were seen on 6th.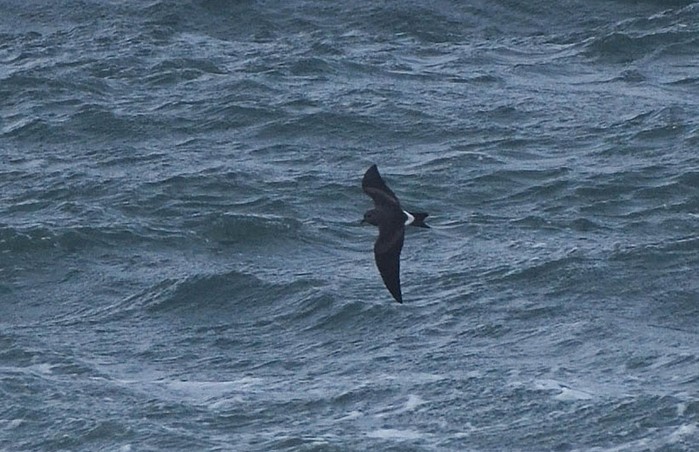 Our sole Cory's Shearwater was a bird noted from the venerable Scillonian on 1st; Great Shearwaters meanwhile were once again more numerous, with around 90 birds in all tallied across recent days. Double figure counts came from Annagh Head (Co.Mayo) on 3rd, with 14 birds, and on 5th with 16 birds; but the week's highest single site count came on 4th from Arranmore (Co.Donegal), where 37 birds were seen.
Numbers of Balearic Shearwaters took a tumble this week, with the 70 or so birds noted a shadow of the prior week's 125 birds. No sites managed to scale the dizzy heights of double figures – Portland (Dorset) comfortably providing the best of the slim pickings, with a peak count of 27 birds on 6th.
Skua numbers too were well down on the preceding week's high scores. Some 60 Pomarine Skuas were logged over the course of the week, with Irish vantage points providing a couple of double figure tallies – 11 birds from Arranmore (Co.Donegal) on 4th, and 22 birds from Annagh Head (Co.Mayo) on 5th.
Long-tailed Skuas, meanwhile, barely scraped into double figures at all. On 2nd single birds were seen at Slain Pools (Aberdeenshire) and Berry Head (Devon); on 3rd single birds were noted at Starr Gate (Lancashire) and Boulmer (Northumberland), while two were seen from Gibraltar Point NNR (Lincolnshire) - the latter site was to add one more on 5th; on 4th one was seen off Barra (Western Isles), and three from Arranmore (Co.Donegal) - Arranmore also added a single bird on 5th; further sightings on 5th concerned one bird seen from the North Uist (Western Isles) ferry, and four apiece from Annagh Head and Kilcummin Head (Co.Mayo). On 6th single birds were noted from Boulmer (Northumberland) and Flamborough (East Yorkshire). The week closed with one seen on 7th from Ynyslas (Ceredigion).
It wouldn't be a weekly Round Up this year without some sort of monstrous rare seabird, or at least the suggestion of one. The belated news of the Eleonora's Falcon that graces the headlines was, of course, accompanied by a clinching photo – sadly, however, the report of a possible Bermuda Petrel seen from Berry Head (Devon) in the early afternoon of 27th does not. It does, on the other hand, have a firsthand account that makes my heart do a little flutter…
Oof. Such a bird would once have been utterly unthinkable, but of course we know a little better post-2014 – as one was seen from the RV Celtic Voyager some 195 nautical miles off Slea Head (Co.Kerry) on 19th May of that year. Never say never then, let alone in this of all years.
After weeks – no, months – of one or two settled Glossy Ibises keeping things ticking over in the long-legged beastie department, things began kicking off this week, with a succession of new reports, not least from Devon. Fremington Pill was back in the news with a bird seen initially on 1st, and still present there again on 5th; Isley Marsh RSPB also proved attractive on 1st-4th; one was noted in flight heading up the valley at South Efford Marsh on 4th; and a sighting came that day also from Powderham.
Away from Devon, one passed over Hayle Estuary RSPB (Cornwall) on 3rd; on 4th, one was noted flying over Cotswold Water Park (Gloucestershire), and another was seen in Carmarthenshire at Ferryside – the latter maybe accounting for that at Kidwelly Quay (Carmarthenshire) on 6th-7th. One lingered in Ireland at Hook Head (Co.Wexford) on 3rd-5th; while our steadfast, settled birds remained this week at Dungeness (Kent) on 2nd-7th and Newport Wetlands RSPB (Gwent) on 2nd-6th.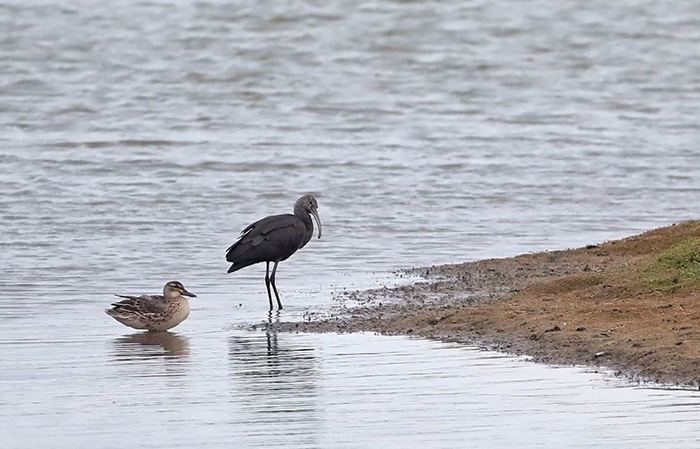 The recent juvenile Purple Herons remained in Somerset at Durleigh reservoir on 1st-7th, while a juvenile was seen in the county at Catcott Lows NR on 1st also. Sightings came again from Norfolk at Ormesby Little Broad on 1st-4th and, afresh, from Cors Ddyga RSPB (Anglesey) on 6th.
Cambridgeshire, as we've become accustomed, bossed Common Crane sightings once more this week, with a peak count of 40 birds at Ouse Washes RSPB on 4th, rather overshadowing four birds at Eldernell on 1st, and even the 11 birds in Aberdeenshire at Loch of Strathbeg RSPB on 5th-6th.
Burton Mere Wetlands RSPB (Cheshire) held onto a Spotted Crake still on 2nd-7th, while the Ayrshire bird remained at Doonfoot on 1st-7th, and the Suffolk bird was still present at Botany Marshes RSPB on 1st.
A couple of Corncrakes rounds the section off - one found in East Yorkshire at Grimston on 4th, and another on 7th outside Teddesley Park Farm (Staffordshire).
Our paddle in the rarity duckpond this week will, once more, be a brief one. We start at Strontian (Highland) where, on 1st-6th, the drake Black Duck remained happily in residence. Mixing things up a little, though, another possible drake was reported this week from Otterspool (Lancashire) on 5th.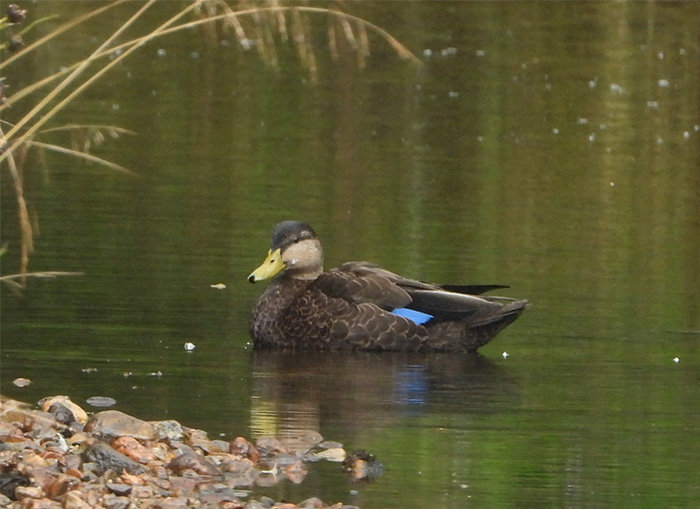 Back in Highland, the drake King Eider was once more seen at Nairn on 4th-5th.
And, breaking the habit of, well, months now… we finally have some honkers of note to report upon – two Snow Geese in Orkney on 7th on Sanday.
<!—Section Title -->
We closed last week's Round Up invoking the trinity of Baird's / Semipalmated / White-rumped Sandpiper and, sure enough, the birding gods smiled upon us this week.
Starting in Orkney – which, as we already know from the headlines, was having a Good Week (again) – a Baird's Sandpiper was a confiding and gorgeous find on North Ronaldsay on 3rd-7th.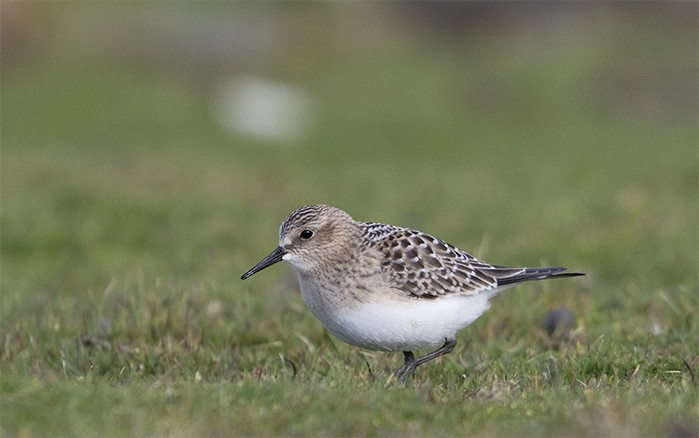 At the other end of the country, a juvenile Semipalmated Sandpiper graced Cornwall's Hayle estuary on 2nd-7th; while another was found in Ireland at Inverin (Co.Galway) on 5th-6th.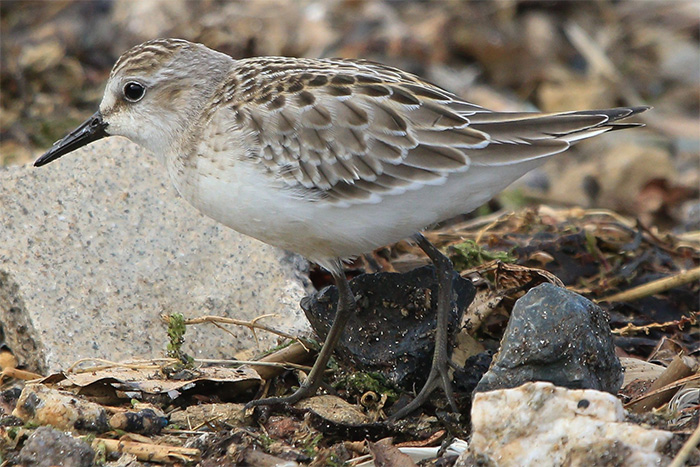 A possible White-rumped Sandpiper was seen on Myroe Levels (Co.Derry) on 5th, albeit briefly; further confirmed birds were found on 6th at Blanket Nook (Co.Donegal) and Inverin (Co.Galway), with the Blanket Nook bird still present on 7th.
No week, at this juncture, would be complete without Buff-breasted Sandpipers, and this week was no exception – Ireland in particular being especially blessed in this regard. Co.Wexford held a bird at Nethertown on 3rd-6th; one was seen briefly at Ballyconneely (Co.Galway) on 3rd; another at Arranmore (Co.Donegal) on 4th, with Timoleague (Co.Cork) scoring a bird on 4th-6th; and one was noted at Fanad Head (Co.Donegal) on 5th; on 6th one was seen at Myroe Levels (Co.Derry). In Britain, one flew over Nanjizal valley (Cornwall) on 4th, and another was found in Pembrokeshire, near Pembroke, on 5th. On 6th one was found at Park Head (Cornwall); and, on 7th, one had made it way into the east to Oare Marshes KWT (Kent) while another was found in the evening on South Uist (Western Isles).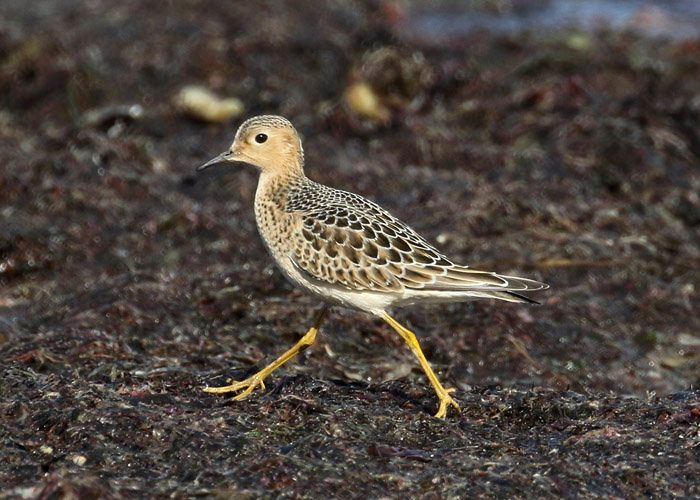 Numbers of Pectoral Sandpipers were accelerating fast this week, with Tacumshin (Co.Wexford) proving particularly potent – two birds there on 3rd had risen to three on 4th, and then five birds on 5th-6th; three remained on 7th. Further Irish sightings came from Carrahane Strand (Co.Kerry) on 1st; Achill Island (Co.Mayo) on 2nd-3rd; Killingford (Co.Waterford) on 3rd; Myroe Levels (Co.Derry) on 3rd-4th; and The Gearagh (Co.Cork) on 5th-7th. British birds were logged at Loch of Strathbeg RSPB (Aberdeenshire) on 1st; on 5th, from North Uist (Western Isles), Frampton Marsh RSPB (Lincolnshire) and Kimmeridge Bay (Dorset), the Lincolnshire bird remaining until 7th, and the Dorset individual remaining on 6th; and on 6th at Farlington Marshes HWT (Hampshire), Hazlewood Marshes SWT (Suffolk), and Budle Bay (Northumberland). On 7th Kent's excellent recent run of Nearctic waders was further gilded with two birds at Worth Marshes.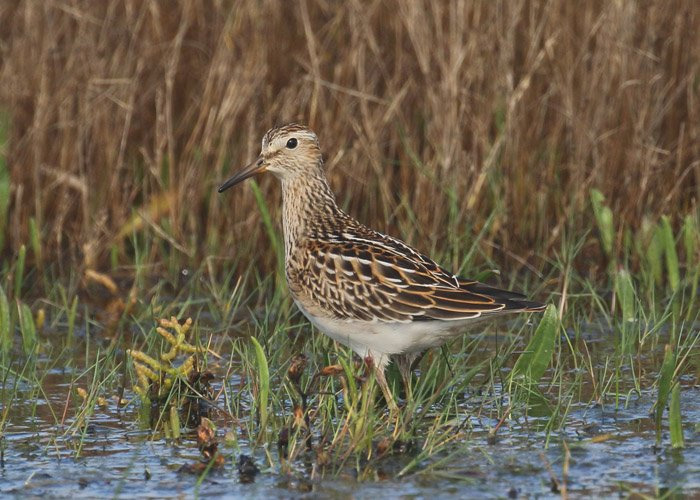 The Spotted Sandpiper remained on St Mary's (Scilly) on 1st-7th. One would suspect this one may settle in for a good long autumn stay.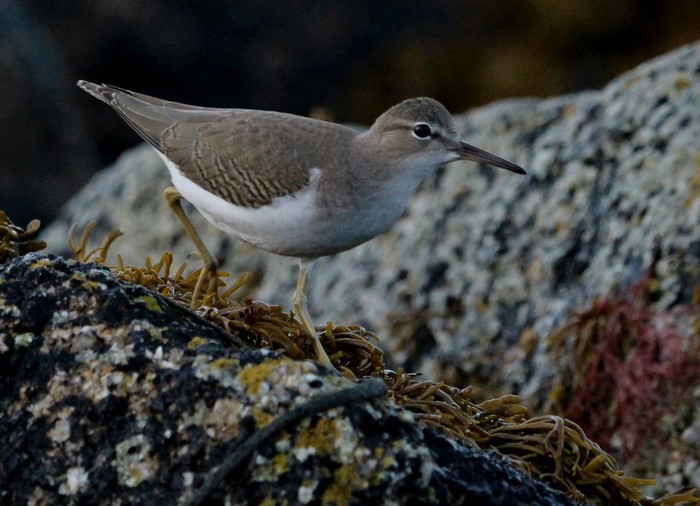 Staying on Scilly, the Temminck's Stint lingered on Tresco on 1st; further birds this week were seen at Cantley Beet Factory (Norfolk) on 3rd and Old Moor RSPB (South Yorkshire) on 5th-7th.
In Shetland, the adult American Golden Plover remained on Yell until 6th at least; another provided mobile in Kent, spanging back and forth across the Swale between Oare Marshes KWT and Shell Ness on 1st-7th; and one was seen in Cornwall at Polgigga on 3rd.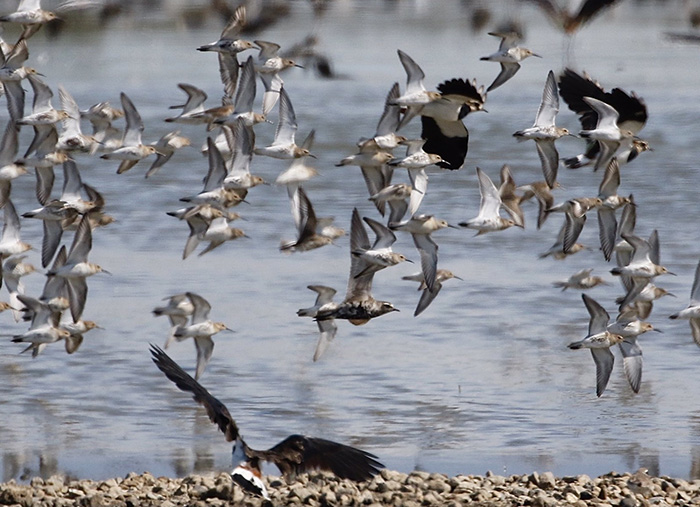 Three Dotterels settled down for a short stay in East Sussex near Ditchling on 1st-5th, with two birds seen there on 6th; further single birds were noted at Nanjizal (Cornwall) on 1st, Marshfield (Gloucestershire) on 2nd, Sixpenny Handley (Dorset) on 6th, and March (Cambridgeshire) in the early hours of 7th.p>
Two of the summer's happy clutch of Black-winged Stilts remained alive and kicking at Steart WWT (Somerset) on 1st-5th.
The adult Long-billed Dowitcher was once more seen this week at Anthorn (Cumbria) on 1st-6th.
Numbers of Grey Phalarope were down this week, with three seen from Arranmore (Co.Donegal) on 4th the lion's share of sightings; single birds were noted on 5th-6th at Cheddar reservoir (Somerset) and on 5th on Bardsey (Gwynedd).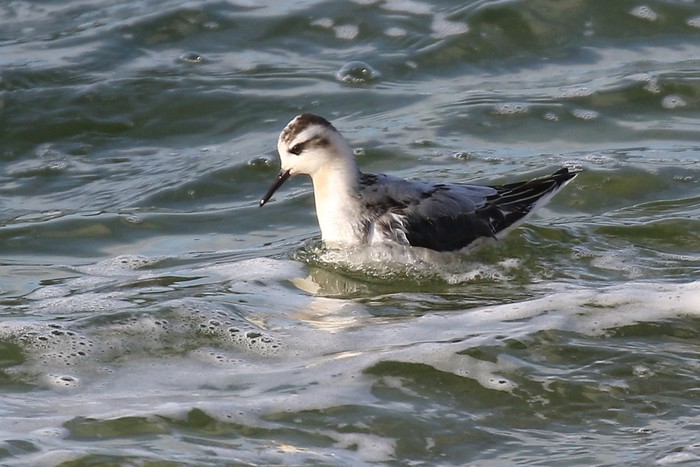 A little final variety was injected by a Red-necked Phalarope at Caerlaverock WWT (Dumfries & Galloway) on 2nd – neatly giving us the hat-trick of phalaropes this week.
Numbers of Sabine's Gulls seen from British and Irish vantage points approximately halved this week on the preceding period, with around 60 birds in all noted across the days. No single site managed to better four individuals in any one day – quartets were recorded from North Uist (Western Isles) on 4th; Pendeen (Cornwall) on 5th; and Mwnt (Ceredigion) on 5th.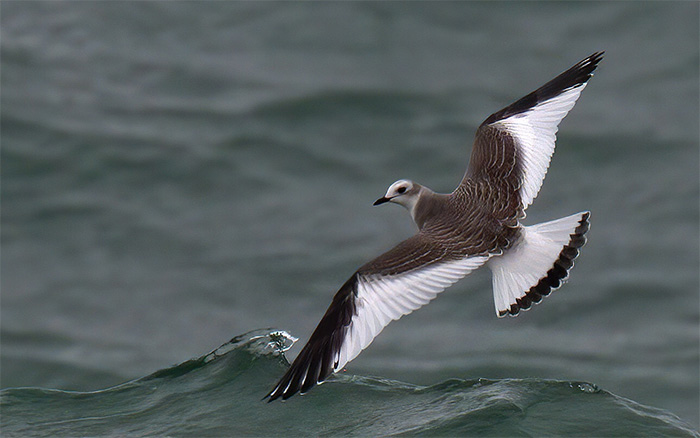 While the adult Bonaparte's Gulls remained in Kent at Oare Marshes KWT on 2nd-7th and on Islay (Argyll & Bute) still on 6th, fresh birds were seen this week at Hale (Cheshire) on 1st and Garretstown (Co.Cork) on 4th-5th.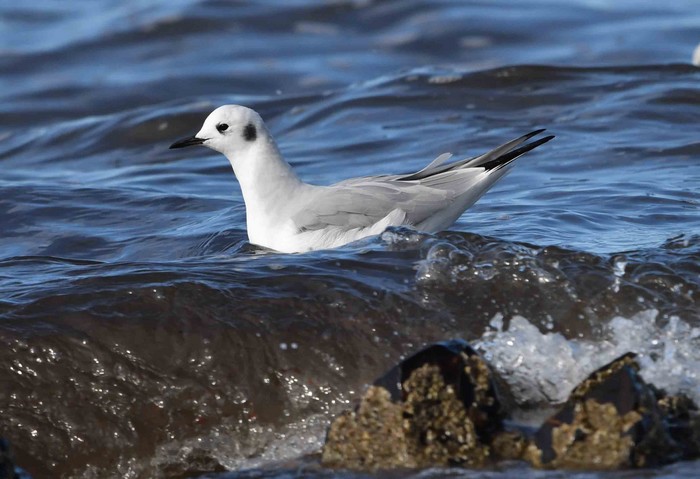 A Ring-billed Gull was found on 6th in Co.Kerry at Barrow harbour.
In Moray, the second-winter Glaucous Gull was once more seen on the Lossie estuary on 4th.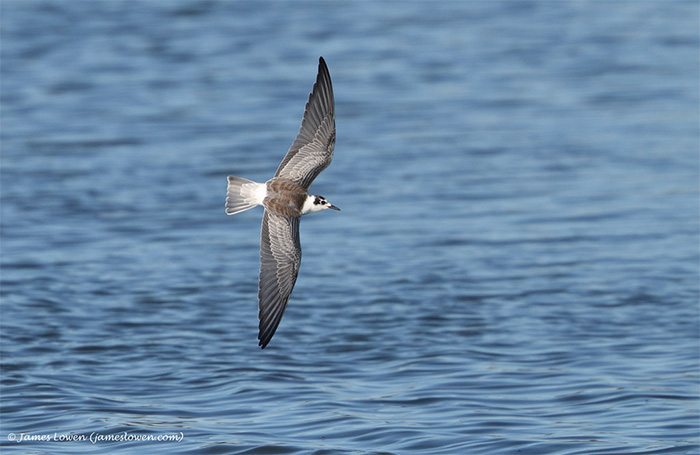 The prior week's juvenile White-winged Black Tern in Orkney remained on Burray on 1st-5th, while another juvenile this week was seen in Norfolk at Cantley Beet Factory on 3rd-6th, but sadly found dead there on 7th.
Every week that passes in which the young Lammergeier remains safe and well in the dangerous territory of upland northern England comes as something of a relief – for bird's welfare, first and foremost, but also of course for the viewing pleasure of the steady stream of admirers who continue to make the pilgrimage to see this fabulous bird. It was still to be found in the Crowden area of Derbyshire until 7th.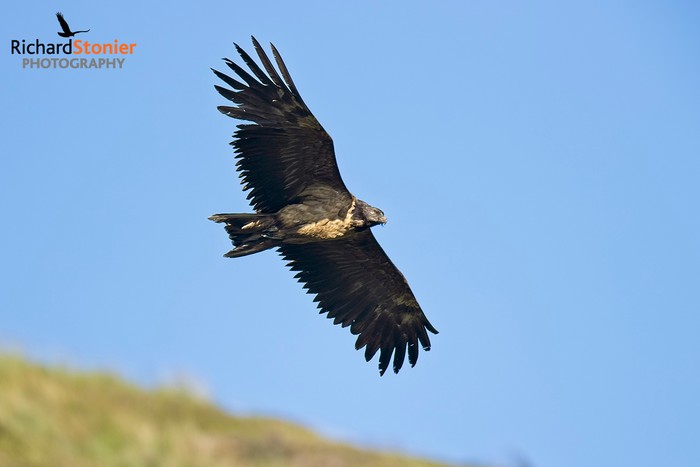 The autumn's first juvenile Pallid Harrier remained on Thorney Island (West Sussex) on 1st, but wasn't seen there thereafter. However, it was replaced in the daily news with impeccable timing on 2nd-6th by a juvenile across the water on the Isle of Wight at Brading Marsh RSPB.
A possible male Red-footed Falcon was seen, briefly, in Warwickshire at Stoneleigh on 1st.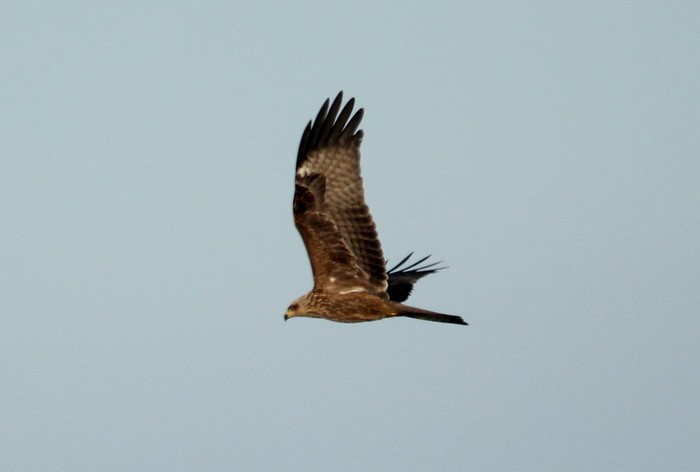 The two Black Kites last seen in Scilly on St Mary's on 31st went their separate ways on 1st – one remaining on St Mary's and the other heading to Tresco; thereafter sightings continued from St Mary's until 3rd, while a bird was seen on St Martin's on 2nd, before further reports came from Tresco again on 6th and St Mary's once more on 7th. Kent provided further sightings on 2nd with one seen in the morning at Tenterden and later in the morning another record from Tunbridge Wells. Another possible bird was reported on 6th over Hemel Hempstead (Hertfordshire).
Not one but two Snowy Owls in the news this week – while the female remained on St Kilda (Western Isles) on 2nd, a male was hanging out in the remote fastness of Ronas Hill (Shetland) on 3rd-6th.
Sure enough this week, Arctic Warblers began to pop out of the woodwork in Shetland or rather, they did before persistent westerlies slammed the door in the face of new arrivals. One was present on Unst on 1st-2nd; Fair Isle enjoyed two birds on 1st-4th, with one still present on 5th-7th; Yell had one bird on 1st-3rd, joined on the island by a second individual on 3rd; and one was found in the South Mainland at Ellister on 3rd-4th.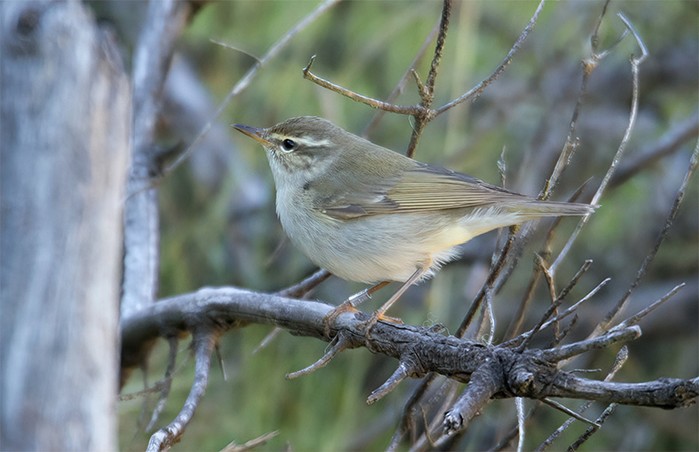 Greenish Warblers, meanwhile, weren't quite finished with us just yet – one on Unst on 1st-6th was supplemented by a second island bird on 4th-5th; while Norfolk sightings came from Holme NOA on 1st-2nd, Horsey on 2nd-3rd, and a probable in Holkham Pines on 3rd. On 6th another was found on Great Saltee Island (Co.Wexford).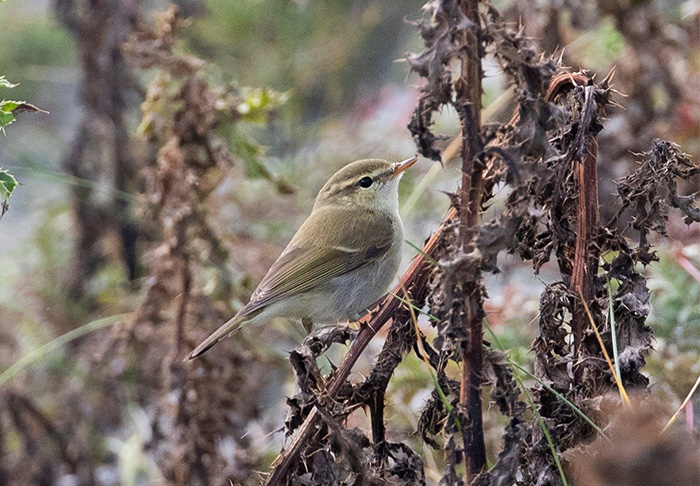 The super-early Yellow-browed Warbler remained on North Ronaldsay (Orkney) on 1st; while the Subalpine Warbler sp also remained on the island until 3rd, being resolved as an Eastern Subalpine Warbler in the process. Another Subalpine Warbler sp was found in Essex on 1st at Holland Haven CP.
Back on Unst (Shetland), a Marsh Warbler was seen on 1st in the lush depths of Halligarth; while Lincolnshire provided two more putative records – a probable bird at Donna Nook on 1st, and one reportedly singing at Huttoft Bank Pit LWT on 3rd; and one was present on Lundy (Devon) on 6th.
A handful of Icterine Warblers were found this week, widely scattered down the east coast and in southern England, with an outlier at Clonakilty (Co.Cork) on 1st. British records came from Barton-on-Sea (Hampshire) on 1st-2nd; Donna Nook (Lincolnshire) on 1st; Out Skerries (Shetland) on 3rd; Lundy (Devon) on 5th; and Porthgwarra (Cornwall) on 7th.
Melodious Warblers meanwhile were seen on Skokholm (Pembrokeshire) on 2nd and St Mary's (Scilly) on 3rd; and one more was reported from Barnwood (Gloucestershire) on 1st. On 6th two more appeared, on Skomer (Pembrokeshire) and at Porthgwarra (Cornwall).
Barred Warblers remained a modest presence in the news, with a dozen or so birds recorded in recent days. On 1st-2nd one was at Burnham Overy Dunes (Norfolk); on 1st birds were present at Filey (North Yorkshire) and Easington (East Yorkshire), while one lingered on Spurn on 1st-5th; and Fair Isle (Shetland) held one on 1st-6th, with two birds logged on 3rd. One had made it to Scilly on 3rd, being seen there on St Mary's. Unst (Shetland) boasted one at Norwick on 3rd-6th, while another at Easting on 4th rose to two birds on 5th; one was seen on North Ronaldsay (Orkney) on 3rd; back in East Yorkshire, a sighting came from Kilnsea on 5th; and a possible bird was seen at Porthgwarra (Cornwall) on 5th. On 6th one was present on Shetland at Ellister; and on 7th sightings came from Weybourne Camp and Burnham Overy Dunes (Norfolk).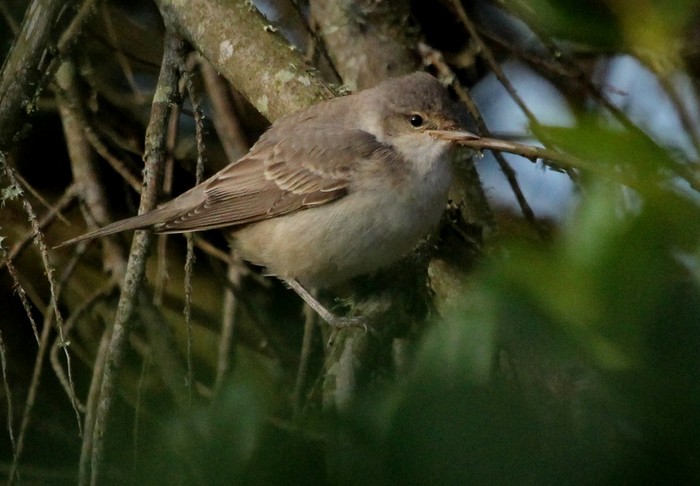 Speaking of elusive, brief possible birds, a possible, early Pallas's Grasshopper Warbler reported from Starehole Valley (Devon) on 4th would have been an incredible county first, had anything more come of it.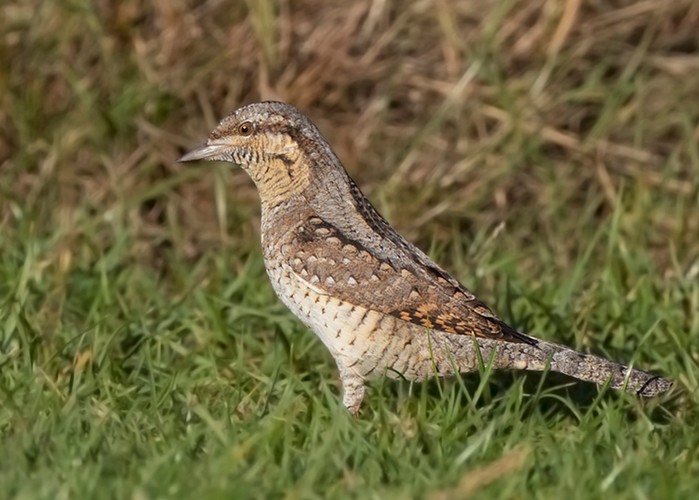 If it fell to one passerine to set the pace this week, it was emphatically Wrynecks - around 55 birds were logged across the country, inland as well as at coastal locations. Even London got a look-in, with birds at Hanwell on 5th-7th and in Richmond Park on 6th-7th. Most, of course, were single birds, but a couple of duos were noted – two at Burnham Overy Dunes (Norfolk) still on 1st; and two at Seaford (East Sussex) on 2nd.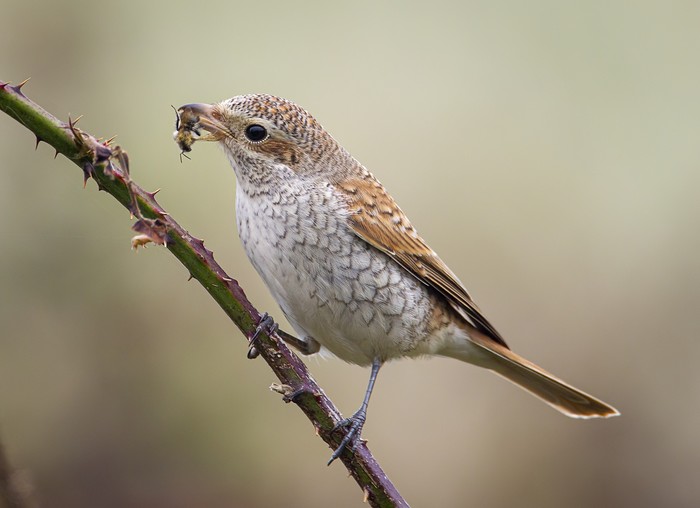 Red-backed Shrikes crept, just, into double figures with a little over a dozen birds noted. The popular adult male remained in Sutton Park (West Midlands) on 1st-7th; one lingered at Abbot's Cliff (Kent) on 1st-2nd still; and two birds were tucked into Waxham (Norfolk) on 1st-7th. Elsewhere, on 1st birds were found at Holland Haven CP (Essex) and Pegwell Bay (Kent); on 2nd-3rd at Worth Marsh (Kent); on 3rd at Millisle (Co.Down); on 4th inland at Wigston (Leicestershire); on 5th at Pagham Harbour LNR (West Sussex); and on 5th-7th at Marshfield (Gloucestershire) and Kilmachael Point (Co.Wexford). On 6th-7th one more was found at Bawdsey (Suffolk); and on 7th, further birds were seen in Kent at Capel-le-Ferne and on Tiree (Argyll & Bute).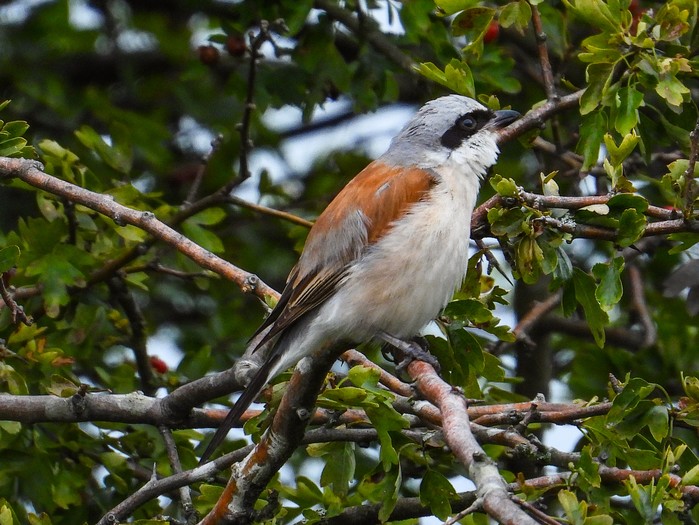 An Alpine Swift appeared on St Mary's (Scilly) on 6th. Further southern flavour came in the form of a Hoopoe seen at Reigate (Surrey) on 4th, and a Bee-eater in Kent on 7th at Bockhill Farm.
Citrine Wagtails became a Shetland exclusive this week, with three widely scattered birds on offer – one particularly confiding individual in the South Mainland at Swinister Burn on 2nd-7th; one in the North Mainland at Hillswick on 4th; and one on Fair Isle on 4th-6th.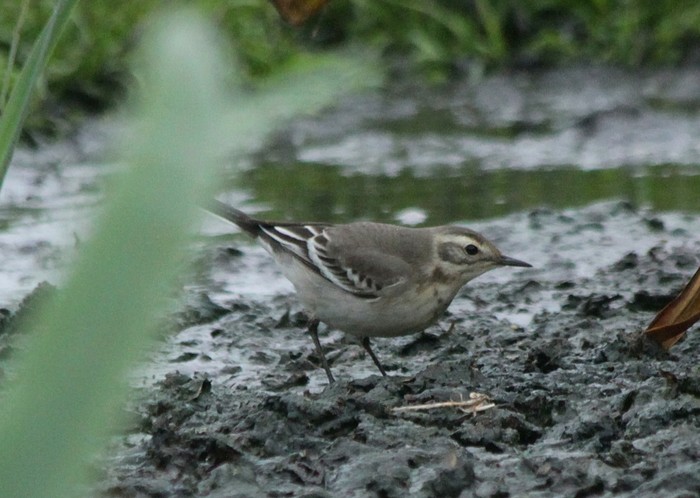 A male Blue-headed Wagtail was found on St Mary's Island (Northumberland) on 1st, with another reported that day from King George V reservoir (London); a further bird was reported from Gibraltar Point NNR (Lincolnshire) on 5th; and on 5th also, a final bird was seen on The Lizard (Cornwall).
A Red-throated Pipit, found on the Brent Charlie platform 115 miles northeast of Lerwick (Shetland) on 5th hinted at things to come, were the wind only to swing into the east…
Fair Isle (Shetland) retained a Rose-coloured Starling on 1st-3rd. Further sightings came from Hinckley (Leicestershire) on 2nd, Portland (Dorset) on 3rd, and on 6th from Bull Bay (Anglesey) and near Balnuig Bridge (Highland).
A Two-barred Crossbill was seen briefly near the Spiggie Hotel in Shetland's South Mainland on 4th.
The three recent Common Rosefinches on North Ronaldsay (Orkney) saw no good reason to move on any time soon, and remained there this week until 3rd, dwindling to two still present on 6th, and one by 7th; while a single bird was noted on Barra (Western Isles) on 3rd also, and one was seen on Stronsay (Orkney) on 6th. Other than them, though, it was all about Shetland, albeit in modest numbers – Fair Isle had two on 1st, with one remaining until 6th; one lingered in the South Mainland's Swinister Burn on 1st-2nd, perhaps also accounting for that seen at the nearby Orca Country Inn in Hoswick on 3rd; one was on Unst on 2nd-5th; and one was found on Out Skerries on 3rd-7th.
We conclude with a handful of mobile Ortolan Buntings - flyover birds logged at Chafford Hundred (Essex) on 1st; Sharpness (Gloucestershire) on 2nd; and in Dorset over Durlston CP on 4th and Portland on 5th.
Were there any doubts whatsoever that Brown Boobies remain a distinct possibility in British waters at the moment, they should have been dispelled this week with two more sightings from not a million miles away – one on 2nd at Cabo Sao Vicente (Portgual), and the other closer still on 5th from Cap de la Hague (France).
France also retained the recent Pied-billed Grebe this week at Rocheserviere on 1st-5th.
In Holland, the resident leucopsis Amur Wagtail remained at Rockanje on 3rd-4th.
Spain gives us an Elegant Tern at Punta de San Felipe on 3rd-7th, and a Least Sandpiper at Lira on 6th.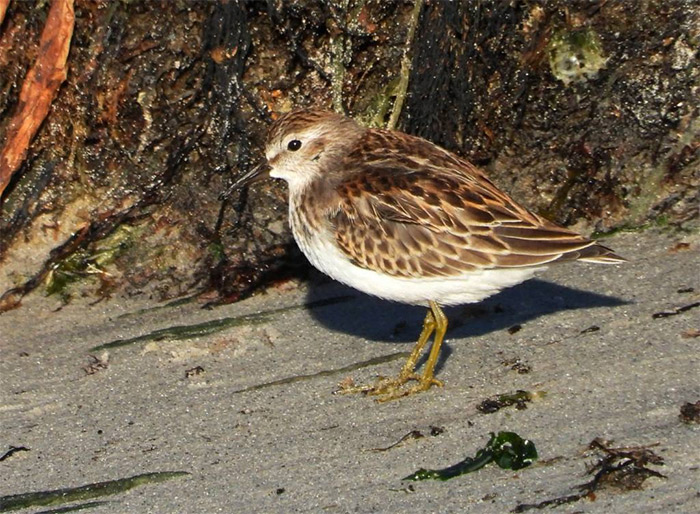 I'm wondering, in these strange Covid days, how many Western Palearctic birders will feel comfortable heading out to the Azores this autumn; or, for that matter, how comfortable the islanders will feel about the potential for Covid-19 being inadvertently introduced into their communities by visitors. For sure, how many birds get reported will be a measure of the presence of visiting birders there – this week, a Semipalmated Plover was found on Flores on 4th.
For the most part, we were plucking low-hanging fruit last week with the predictions, scoring the anticipated set of Nearctic waders and a handful of Arctic Warblers for good measure.
It's tempting to keep shooting fish in the birding barrel again this week – after all, with a spell of persistent westerlies we can be sure of more Neartic waders of one kind or another - Pectoral and Buff-breasted Sandpipers being firmly on our radar as potential self-found birds.
But there's no getting away from the fact that, as we head into mid-September, the possibility of a Nearctic passerine, be it an early Red-eyed Vireo or a warbler of some description, begins to weigh heavily on our minds…
In the not unthinkably distant past, St Kilda (Western Isles) boasts both Hooded Warbler in 1992 and Blackburnian Warbler in 2009. While St Kilda is firmly off-piste for all but the most determined – and even then… good luck with that at this time of year – it feels about time we got something really juicy somewhere a little more accessible…
Jon Dunn
8 September 2020
Many thanks to all this week's contributors for your photos and videos
Share this story
Tweet