Weekly birding round-up: 21 - 27 Jul 2020
The week at a glance
The Lammergeier lingers in northern England
Orkney scores a fine Stilt Sandpiper
And the wandering Sooty Tern appears in Ayreshire and Northumberland
Much as we'd expect at this point in the year, the doldrums continued for the most part this week with some extremely peaceful days indeed where birds on the move were concerned. Even the Balearic Shearwaters largely gave it a break…
Lingering rarities – if we can describe two birds of varying degrees of mobility as lingering – make up the bulk of the headlines, whilst Orkney's golden year continues with another high quality bird.
Lammergeier
The mood music seems to be changing somewhat about the young Lammergeier that's been lingering in northern England for the past fortnight and, this week, was still to be seen intermittently patrolling its territory over the South Yorkshire and Derbyshire hinterlands until 26th at least.
We're all of us fairly abreast of the latest goings on with some of the birds that teeter on the brink in Britain – the proactive steps taken to help the likes of Cirl Buntings, for example, or the now gloriously ubiquitous Red Kite.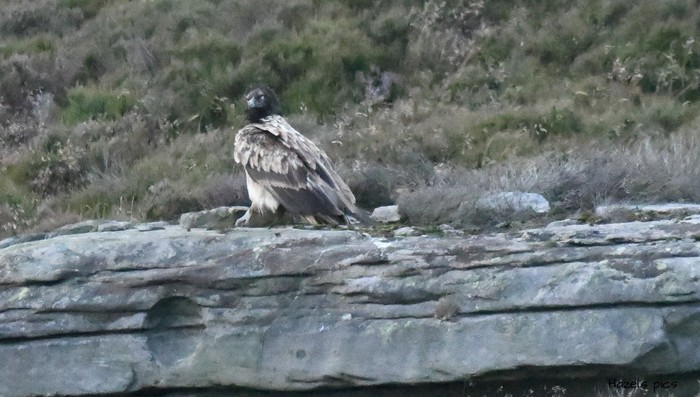 Many of us are not, of course, quite so au fait with goings on further afield. I'd be the first to admit I wasn't aware of the extent and success of the conservation project that's been running for years to help re-establish Lammergeiers across their former strongholds in the mountainous areas of Europe, in particular the focused attention that's being paid latterly to conserving genetic diversity and re-establishing the possibility of gene-flow between the scattered European sub-populations; and the extent of the breeding success of the birds that are out there, with first and second generation wild-bred birds now present in the 'new' populations. It's all incredibly inspiring stuff.
The European population appears to be far from not being self-sustaining; on the contrary, it sounds like it's expanding back into the vacuum created by persecution in the first place, and is now being carefully and rationally augmented rather than artificially supported. In terms of self-sustainability, these are clearly not, to pick an example that may still lurk, shamefacedly, on many a British list, Lady Amherst's Pheasants…
Certainly the EU external LIFE monitoring team tasked with looking at the success of the reintroduction officially consider the Alps Lammergeier population to be a "viable population", with up to 50 pairs present in 2017, and they specifically describe it as "self-sustaining".
Indeed, an earlier statistical analysis of the Alpine population concluded that "analysis also demonstrates that the [Lammergeier] population reintroduced into the Alps was already self-sustainable as of 2006"…
We will wait and see what reception this dispersing juvenile bird receives from the custodians of the official British list. I'd not be betting against it making the grade after all – it intuitively feels like a 50/50 chance now rather than a dead cert for Category E.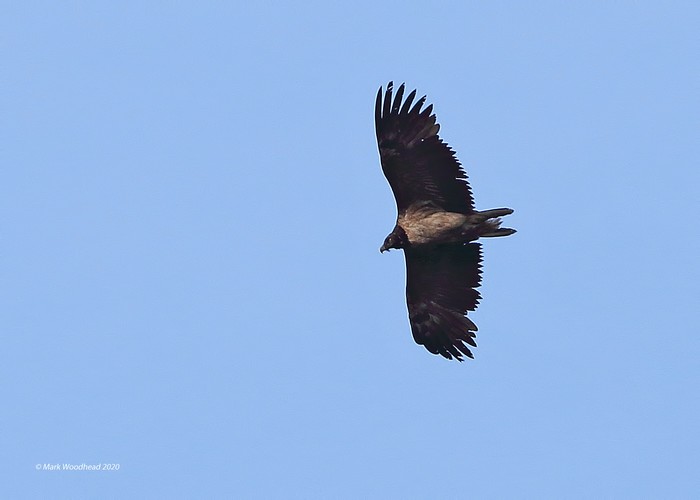 Stilt Sandpiper
Orkney – it's been having quite a run of birds of late, hasn't it? Needless to say, the jewel in the crown is Britain's first White-chinned Petrel, surely destined to be the ultimate blocker – though, given how 2020 has been for seabirds, one would never say never.
But beyond that remarkable bird, the archipelago has enjoyed a glittering haul of birds in the course of 2020. Green Warbler, Steller's Eider, and a host of supporting rarities and scarcities, many of which were either on North Ronaldsay or the new star in the Orcadian firmament, Papa Westray.
A couple of weeks back we mused that the time was right for a Stilt Sandpiper - and as predictions go, it was almost bang on the money, being just a few days adrift. Had we known it was going to be in Orkney this week, either of the two big-hitting islands would have been a good call to host it. But no…
Initially thought to be a Long-billed Dowitcher when found on Sanday on 22nd, Orcadian birders soon realised they had an adult Stilt Sandpiper on their hands on 23rd, the bird remaining on the island until the afternoon of 24th, but not seen thereafter.
From any perspective, that's big news – our judgement of just how rare Stilt Sandpiper is in a British context is clouded by a number of long-staying individuals, but with just 38 accepted records to the end of 2018, it's still a genuinely rare beast on these shores. Way more so in Orkney, as this week's bird was a welcome county first.
Sooty Tern
Here today and gone tomorrow or, more accurately, here for a few minutes and gone as quickly as it came, the recent wandering Sooty Tern cropped up not once, but twice again this week.
On 23rd it was Ayrshire's turn with the bird – a county first record - seen in Maidenhead Bay for a short while before flying off north…
… though, by 25th, it had apparently gone right around Scotland, for it was seen that afternoon heading south past St Mary's Island (Northumberland). It's a heck of a mobile, restless bird this one. Assuming, of course, that just one bird is accounting for records this year from both sides of Britain, from Anglesey to Suffolk…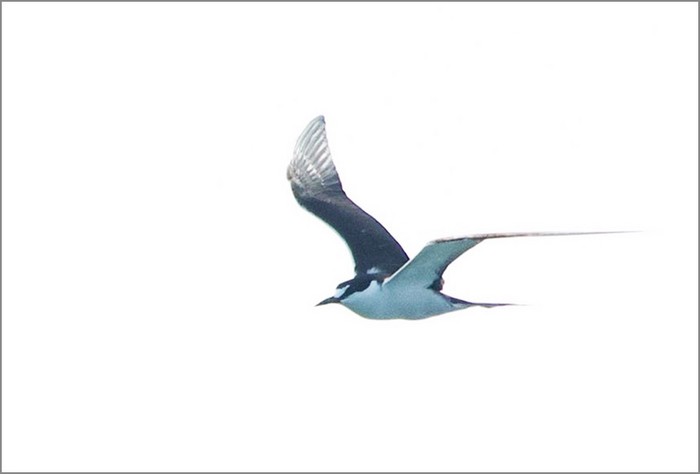 The seabird news was fairly quiet this week, at least to begin with – a measure of which were the 200 or so Balearic Shearwaters logged nationally in recent days, all bar one in the English southwest, the exception being an outlier seen on the sea off Corsewall Point (Dumfries & Galloway) on 22nd.
Things picked up on the 27th, however, with increased numbers of large shearwaters testament to the improved fresh westerly conditions and, best of all, a Fea's/Desertas Petrel seen passing Polperro (Cornwall) that morning.
Later in the day, that was augmented by a Wilson's Petrel off Brandon Point (Co.Kerry), with four more seen from a Scilly pelagic that also racked up nine Cory's and three Great Shearwaters.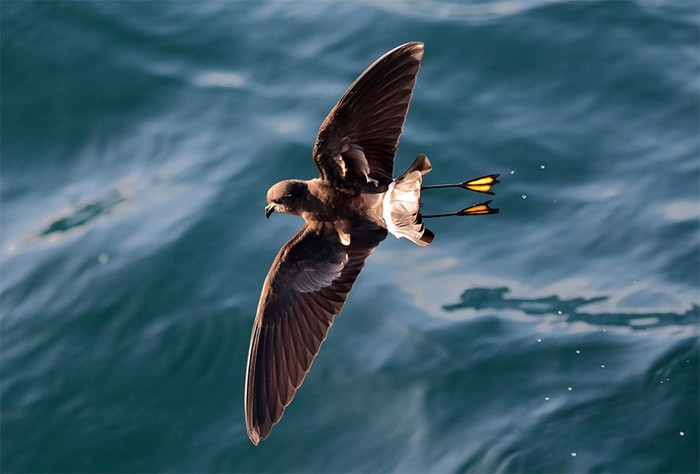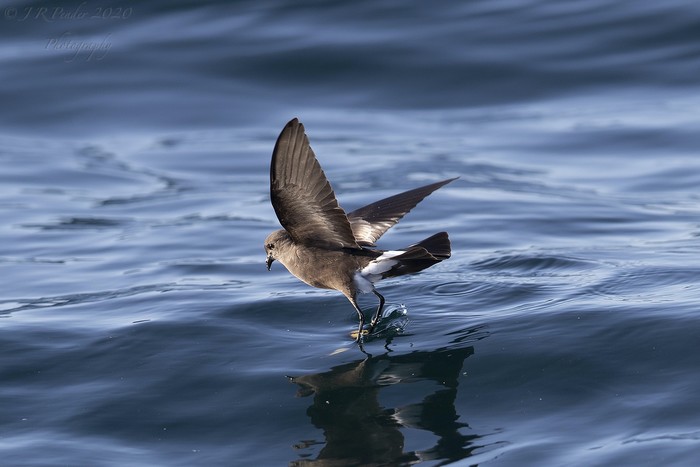 Of the large shearwaters, a fair haul of Cory's Shearwaters were recorded – one seen from Whitburn CP (Co.Durham) on 21st; and in Cornwall on 25th, two from Lamorna and one off Porthgwarra. The pace quickened somewhat on 26th, with Cornish vantage points to the fore – Porthgwarra and The Lizard getting half a dozen apiece, while Trevose Head logged seven birds – while two more were seen from Galley Head (Co.Cork), and a single bird from Melmore Head (Co.Donegal). In Cornwall on 27th, singles were noted from Rame Head and Mousehole, two were seen from Pendeen, three apiece from Chapel Point and Cape Cornwall, 20 off The Lizard, and 48 from Porthgwarra; while one was off St Mary's (Scilly) and another seen from Prawle Point (Devon) that day too.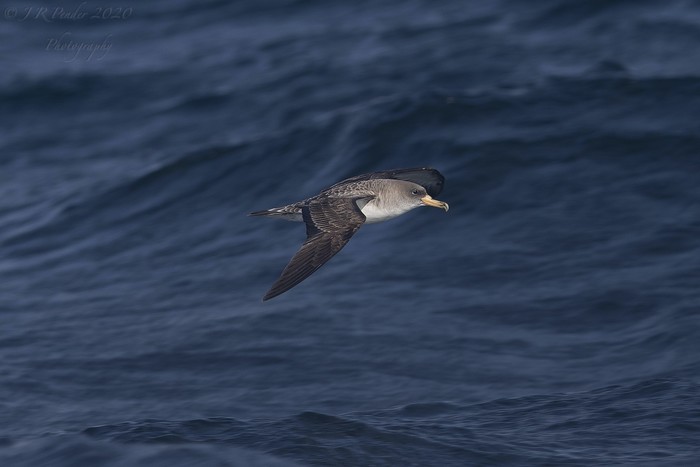 A single Great Shearwater was noted from Lamorna (Cornwall) on 25th; and, like the Cory's, a few more were to follow the next day – 13 birds being noted from Porthgwarra, and three more from Melmore Head. On 27th Porthgwarra notched up 45 birds; The Lizard 40 birds; Chapel Point seven birds; while Pendeen added a further three to the Cornish account, and single birds were seen from St Ives and from the unsteady decks of the venerable Scillonian; in Devon, two passed Froward Point, four Prawle Point, and five passed Berry Head; a probable had penetrated as far east as Chesil Cove (Dorset); and duos were seen from Ballycotton (Co.Cork) and Brandon Point (Co.Kerry).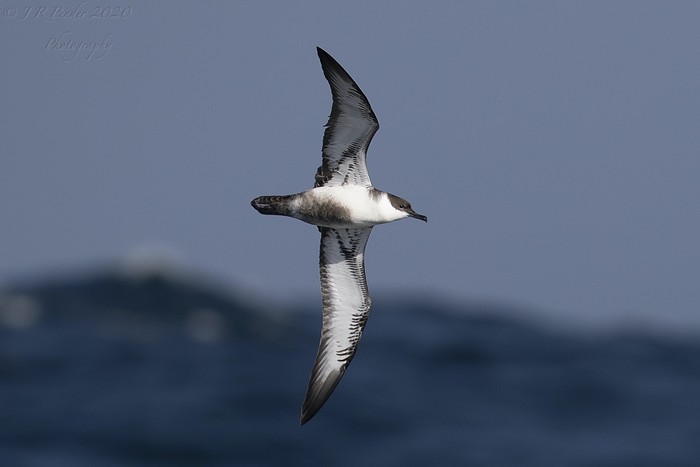 If Scotland's week was notable for anything, it was Leach's Petrels hitting the ringers' nets in the dead of night – a number were trapped and ringed lately. On 21st, one was on North Ronaldsay (Orkney), and three at Sumburgh Head (Shetland); one was at St John's Point (Highland) on 23rd; and single birds were processed in Aberdeenshire on 24th at Craig David Croft and Collieston.
In Shetland the adult Long-tailed Skua remained an abiding and popular presence on the hill at Dalsetter until 27th; meanwhile, in Orkney, North Ronaldsay's temporary residents numbered four birds still on 21st, rising to an impressive aggregation of eight individuals on 23rd, with four still present there on 27th.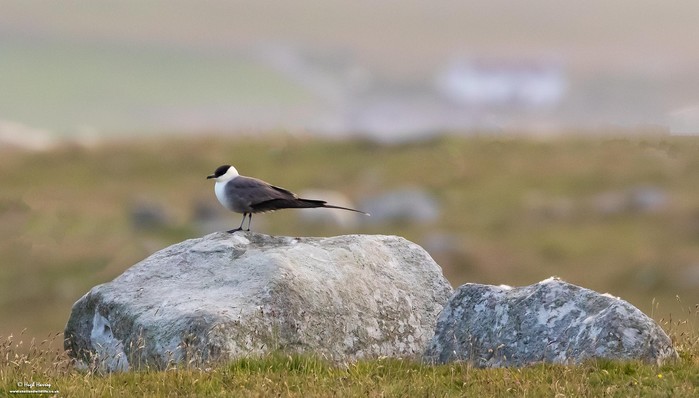 Pomarine Skuas were starting to move, with singletons logged from Hornsea (East Yorkshire) on 21st and Downderry (Cornwall) on 23rd, followed by two off Walney (Cumbria) on 25th, and more Cornish singletons off Porthgwarra and Trevose Head on 26th. On 27th in Cornwall three were noted from Chapel Point, two birds from Porthgwarra, one from The Lizard and, in Devon, two from Thurlestone and singles off Berry Head and Dawlish Warren NNR.
Absent from the news for some time now, heading up our long-legged beasties this week is the Glossy Ibis once more being reported from Newport Wetlands RSPB (Gwent) in recent days on 21st-26th.
A Night Heron has also been flying under the radar lately – one, present on the banks of the River Lune at Halton (Lancashire) on 24th had seemingly been in the area for some weeks beforehand. An immature bird at Ham Wall RSPB (Somerset) on 24th-25th leads to all sorts of enjoyable speculation about local breeding in the wonderful mosaic of wetland habitat that's been created thereabouts. First confirmed as a British breeding species in 2017, they were suspected of having given it a go at Westhay Moor in 1997, though that breeding attempt was never proven. With the likes of Bittern and Great White Egret going from strength to strength there, the Somerset Levels are proving to be a wonderful example of the adage 'build it, and they will come'…
The Levels also accounted for one of the week's Purple Herons, an adult noted at Shapwick Heath NNR on 22nd; another was seen the same day over Scarborough (North Yorkshire).
Common Cranes returned in a modest way to the news this week, with a few reports filtering out – two birds at Burwell Fen (Cambridgeshire) on 21st; three at Willow Tree Fen LWT (Lincolnshire) on 22nd, with two that day on Unst (Shetland) also; two were reported over Minsmere RSPB (Suffolk) on 23rd; and two were seen at Slains Pool (Aberdeenshire) on 25th. On 27th a duo were noted over A508 near Brixworth (Northamptonshire).
An unconfirmed report of a Corncrake in a garden at Raunds (Northamptonshire) sets us up nicely for one of the week's more intriguing reports – a male Little Crake reported singing, heard from a boat south of Irstead Staithe (Norfolk), just before midnight on 21st. A three hour vigil on the night of 22nd failed to hear it again…
But for one stalwart this week, the surface of the rarity duckpond would be entirely empty… thank goodness then for the fruitful drake Black Duck still present at Strontian (Highland) on 21st, with a magnificent brood of 13 hybrid Black Duck x Mallard trailing in his wake…
<!—Section Title -->
There was, for another week, plenty to go at amongst the waders again.
Starting with a near miss, a probable Hudsonian Whimbrel flew past Spurn (East Yorkshire) in the morning of 21st.
If that bird was frustratingly unobliging, the same couldn't be said of the magnificent male Pectoral Sandpiper found on nearby Kilnsea Wetlands on 22nd. Absent the following day, it was present once more there on 24th-27th – a cracking bird. Other sightings this week concerned a probable bird at Bishop Middleham (Co.Durham) on 21st; a report again from Frampton Marsh RSPB (Lincolnshire) on 22nd; the recent bird again present at Tacumshin (Co.Wexford) on 24th-27th; and, on 27th, one present back and forth on Druridge Pools NR (Northumberland).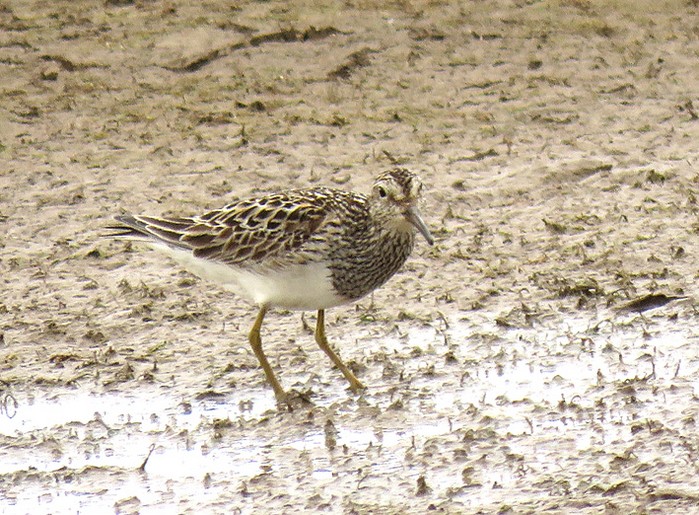 The adult Lesser Yellowlegs remained settled at Oare Marshes KWT (Kent) this week, still present there until 27th.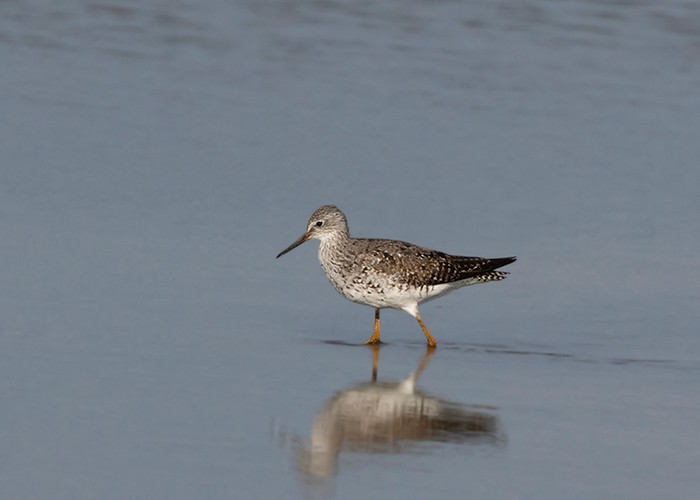 Back in northern England, both recent adult Long-billed Dowitchers were again seen this week, at Port Carlisle (Cumbria) on 21st-23rd, and at Marshside RSPB (Lancashire) still on 21st-26th.
In Somerset, at Steart WWT, the breeding pair of Black-winged Stilts remained present until 25th, with at least some of their young still being seen intermittently in the same period. In Kent, meanwhile, at Dungeness the male bird remained on 23rd-26th.
Two wandering Red-necked Phalaropes were seen in Shetland on Out Skerries on 21st; a further male was noted this week on 21st at Cemlyn Bay NWWT (Anglesey) on 21st also.
We'll kick of the gull'n'terns this week with the latter, and starting in Tacumshin (Co.Wexford) where a Gull-billed Tern was present on 21st-26th.
The recent Caspian Tern was again seen at Frampton Marsh RSPB (Lincolnshire) on 21st; thereafter, sightings came from Slimbridge WWT (Gloucestershire) on 25th; over Stanford reservoir and, latterly, Summer Leys NR (Northamptonshire) on 26th; and at Fishlake Meadows HIWWT (Hampshire) on 27th.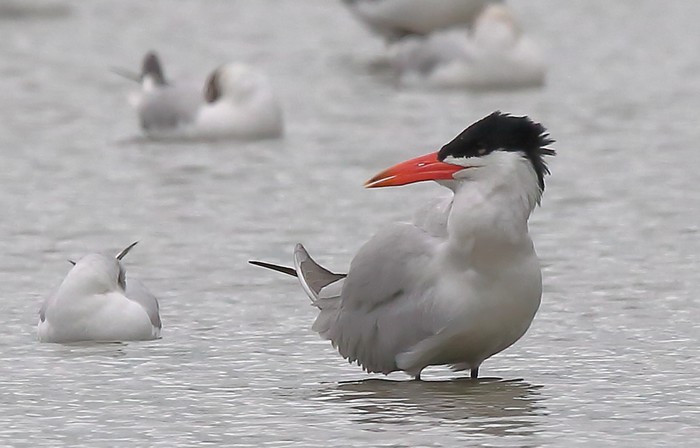 And so to the gulls, where the first-summer Laughing Gull still present at North Bull Island (Co.Dublin) on 21st-26th once more takes star billing…
…followed by our recent trio of regular Bonaparte's Gulls still present at, respectively, Oare Marshes KWT (Kent) on 21st-27th; on the Add estuary (Argyll & Bute) on 21st-23rd; and at Annagassan (Co.Louth) on 23rd.
Still we've not had a blank white-winger week... Four Glaucous Gulls were noted in recent days – one apiece for Farndale (North Yorkshire) on 21st; still present on the Lossie estuary (Lothian) on 22nd; on South Uist (Western Isles) on 26th; and Fair Isle (Shetland) on 27th.
Another bird that flirted with headlines this week, but wasn't firmed up enough to make the jump from the main body of the text to the giddy heights of our opening remarks, was the possible Scops Owl on Great Blasket Island (Co.Kerry) on 22nd.
Other than that, not a lot to report again this week. Our sole Black Kite was a bird seen on 21st at Tincleton (Dorset)…
…while we had a couple of widely separate sightings of White-tailed Eagles - one tracked in Norfolk through Winterton-on-Sea, Hickling Broad and Runham on 23rd, with a further sighting on 26th from Dickleburgh; and one present in the rocky vastness of Ronas Hill (Shetland) on 24th-25th.
Passerine news was a bit like a jug of Pimms this week – mainly colourful, and over very quickly.
Lincolnshire kicks things off with a brief Bee-eater at Stallingborough on 25th.
Two Red-rumped Swallows were found in East Sussex at Rye Harbour NR on 22nd.
Rose-coloured Starlings just made it into double figures, with the nation's gardens were still doing the business, turning up remnants of the earlier influx. Garden sightings came from Inver (Highland) on 21st; Cwmystradllyn (Gwynedd) still on 21st; Thurso (Highland) on 22nd-26th; Walls (Shetland) on 24th; and present in a North Uist (Western Isles) garden for a week leading up to 25th. Further birds were logged in Billingham (Cleveland) on 22nd-23rd; Ryde (Isle of Wight) on 23rd-24th; and on 24th at Winsford (Cheshire) and Trevescan (Cornwall). On 27th a mobile bird was found in Oxfordshire at East Challow.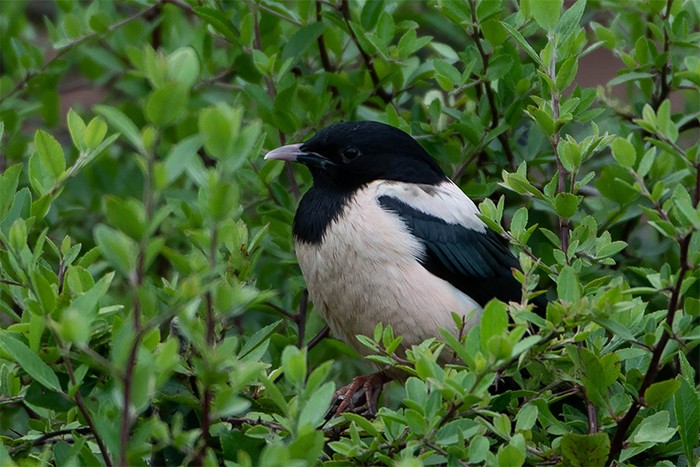 A drab counterpoint to this swirl of kaleidoscopic colour was the Blyth's Reed Warbler trapped and ringed in Cornwall's incomparable Nanjizal Valley on 21st.
A possible Parrot Crossbill was noted in Southey Wood (Cambridgeshire) on 24th.
And finally, while I tend to glide past the wholly unconfirmed reports, one couldn't fail but catch the eye in the dying moments of the week when the Round Up was almost put to bed and ready to send to RBA Towers – a report of an apparently 'very confiding White-winged Snowfinch' on the beach at Walberswick (Suffolk) on 27th.
Well. Imagine that…
Actually, we don't have to. Suffolk birders of sufficient vintage might recall the bird that spent three years (yes, years) at Lakenheath between June 1969 and June 1972. Having arrived at a lowland site, and never left, at a time the species was said to be in circulation in the cagebird trade on the continent, it was unceremoniously dumped out of Category D and consigned to Category E by BOURC in 2008…
No such debate yet for this wholly unconfirmed report as there was no sign of the bird when locals arrived and searched in the fading light of the day. Perhaps a photo will emerge?
Top of the slim pickings overseas this week has to be the African Royal Tern seen in the Ebro Delta NP on 24th, hanging out with Sandwich and Black Terns at Barra del Trabucador - a first for Catalunya.
In the south of France, meanwhile, the White-rumped Swift remained at Minerve on 21st-27th; a Trumpeter Finch was found on 27th at De Serre Chevalier and, on 26th, a Greater Sand Plover was seen at St Brevin, adding to the lustrous showing in Europe for the latter species this summer.
That particular lily had already been further gilded this week in Germany, where its second Greater Sand Plover of the year was found at Beltringharder Koog on 25th. Germany also held onto the settled Eastern Imperial Eagle at Randowbruch Zehnebeck this week on 22nd-26th.
Greater Sand Plover, Charadrius leschenaultii photographed at Beltringharder Koog, Schleswig-Holstein by Klaus Günter - 2nd record for Germany pic.twitter.com/iiCWYyvJGe

— Tarsiger (@TarsigerTeam) July 25, 2020
Finally, in Poland, a first-summer Great Black-headed Gull was logged at Laszka on 21st.
For another week, it remains emphatically wader o'clock as the dying days of July give way to the opening salvoes of August. Pretty much any species on the British list feels a possibility, with ample past records of a mouthwatering array of possibilities to draw inspiration from.
One does, however, stand out a little. Little being the operative word – although, for a small wader, Red-necked Stint punches well above its weight in terms of good looks, adult birds being particularly drop-dead gorgeous, with those snowy white underparts and that weathered red brick throat. The coming seven days are the nearest thing possible to prime time for finding one – of the 11 accepted British and Irish records, three were found in the week to come; one apiece for Norfolk in 1992, Co.Cork in 2002, and Co.Kerry in 2011.
You can probably see where I'm going with this – that's roughly one bird per decade in the coming week. We're due one, and you know what you've gotta do…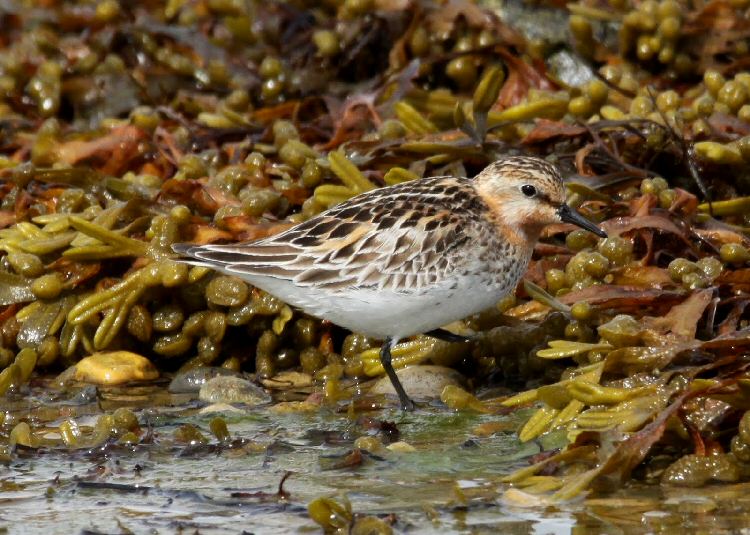 Jon Dunn
28th July 2020
Many thanks to all this week's contributors for your photos and videos
Share this story
Tweet