Weekly birding round-up: 30 Jun - 6 Jul 2020
The week at a glance
Another week, another mega seabird – a Black-browed Albatross makes landfall in East Yorkshire
And Lothian's Greater Sand Plover remains settled
It was another mixed bag, weatherwise, this week, but amidst the usual spells of summer heat there was trouble brewing out in the Atlantic – low pressure bringing westerlies of one flavour or another in off the ocean and, with them, the tempo of summer sea-watching began to pick up in Ireland and the English southwest.
All of which said, the biggest confirmed seabird news of the week was many miles away on the shores of the North Sea…
Black-browed Albatross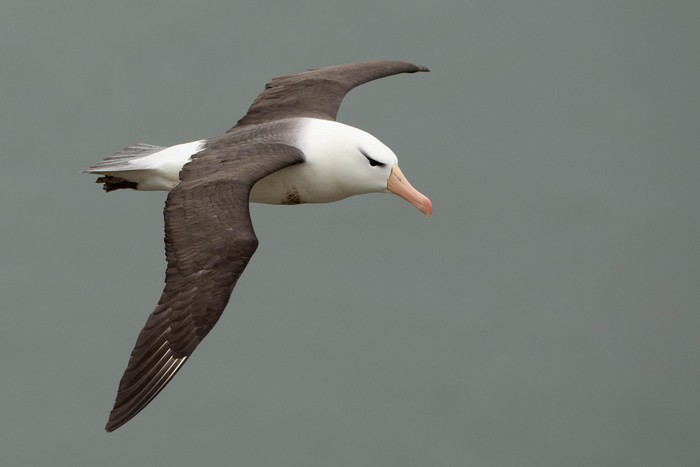 Really, the past few weeks has felt unprecedented for both the calibre and frequency of the rare seabirds that have appeared, one after another, in the newsfeed. Perhaps we shouldn't be surprised – 2020 is, after all, the year when in seemingly every sphere of life all bets are off. You just can't tell what the year's going to throw at us next, and as in real life, so in birding.
But for the clinching final percentage point of certainty, this week's headlines could so easily have featured a couple more significantly rare seabird species, with reports of a probable Yelkouan Shearwater in Devon and a possible Brown Booby in East Yorkshire. As it was, those prefixes mean both species only flirt with the headlines – but East Yorkshire had already firmly cemented a seabird headliner this week.
Finding a Black-browed Albatross in Britain or Ireland is the stuff of pleasant fantasy for anyone who's ever parked themselves on a headland behind a scope and settled down for a solid day of staring out to sea. It's an easy fantasy to visualise – the bird glides into your field of view, moving effortlessly above the waves, somewhere on the near horizon. Euphoria, of course, ensues.
Quite what finding one feels like when it appears on an updraft elevator, rising above the clifftop at your feet to look you in the eye, a couple of metres away, is another story entirely. And what a story…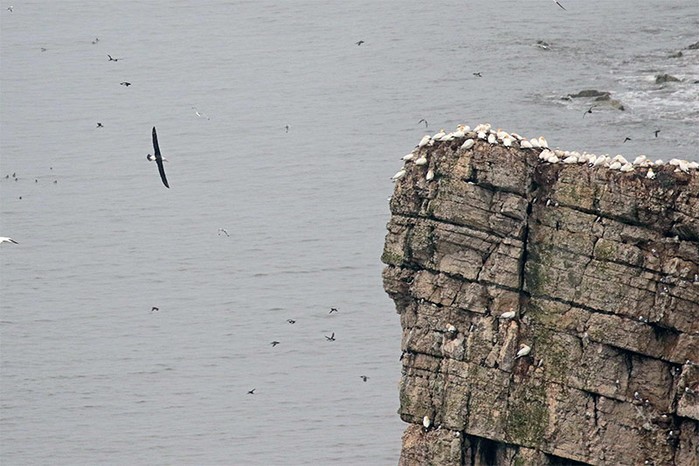 To describe Gary Vause and Jason Higgins' encounter with an adult Black-browed Albatross at Bempton Cliffs RSPB (East Yorkshire) on 2nd as the find of a lifetime is to downplay it – because most birders' lifetimes won't involve finding such a charismatic seabird, let alone in those intimate circumstances. I'm sure I'm not alone in admitting to a pang of jealousy.
The bird stuck around for a little while, long enough for some local birders to move fast and catch up with it before it headed onwards, being seen in quick order in the late afternoon off firstly Hunmanby Gap and, shortly afterwards, Filey Brigg (North Yorkshire). Happily for anyone who'd taken a punt on it returning, the bird was back, intermittently, at Bempton on the morning of 3rd, but wasn't seen thereafter.
We'd assume that this is the same bird that's been returning annually to the North Sea since 2014 – generally favouring the German coast, but with occasional and, at times, dramatic forays across to England. Who can forget the spectacular occasion it landed, in heavy rain, on freshwater at Minsmere RSPB (Suffolk) on 12th May 2015? What's presumably the same bird has been seen as far north in Britain as Fair Isle in the intervening period, and for now provides a credible outside chance for anyone seawatching on the British east coast in the weeks to come…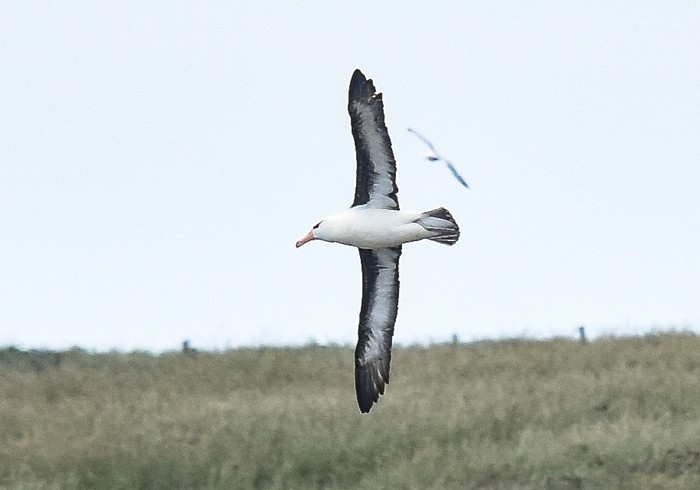 Greater Sand Plover
Having waited ages for our share of the small influx of Greater Sand Plovers into Europe, the bird that finally turned up the previous week in Lothian at Tyninghame Bay on 27th did the decent thing this past week, and stayed firmly put there right through until 6th, delighting all comers.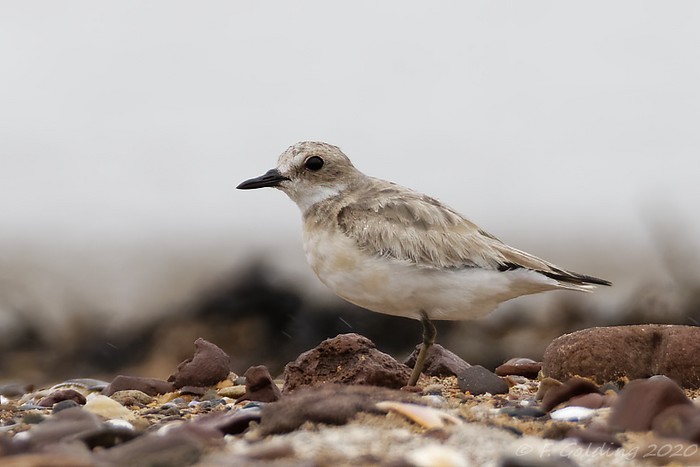 As the European news continues to remind us, rarer plovers are available… with a Lesser Sand Plover in Sweden this week the second of the year following a bird in Germany in May, we need to cast our nostalgic gaze back to 2013 for our last bird, an individual in July that swapped Lossiemouth (Moray) for, latterly, Ballymacoda Bay (Co.Cork).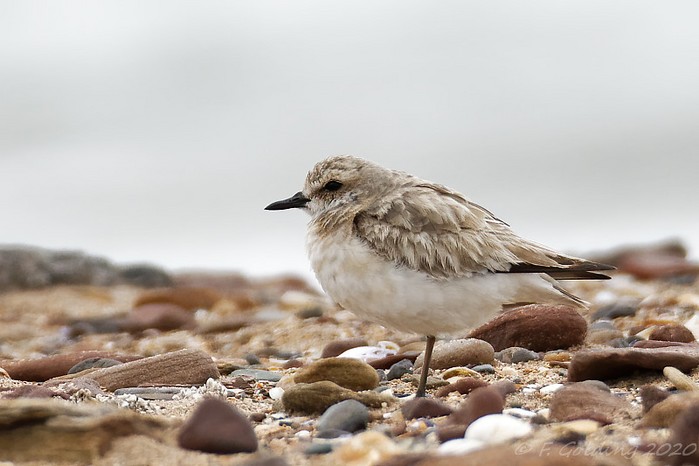 Another would be most welcome indeed. As for Oriental Plover… with recent Western Palearctic records including an adult male as close to us as Røstlandet, off the west coast of Norway, in late June and early July 2017 we can be forgiven for daring to dream a little bigger still.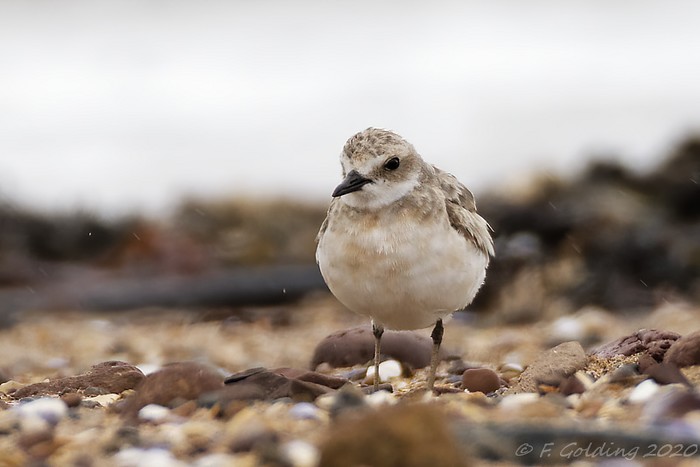 As touched upon in the opening of the Round Up, the week had a distinctly seabird-flavour about it, with shearwaters moving within sight of the coast in some numbers for the first time this summer, more quality petrels seen from land, and some intriguing sightings that, but for the final element of absolute certainty, would have scythed their way straight into the headlines.
To date, Devon boasts our one and only accepted Yelkouan Shearwater to the end of 2018, that seen from Berry Head on 29th July 2008. This week saw two sightings of a probable bird from the county, from Dawlish Warren NNR and Berry Head on the morning of 4th. Adding further lustre to the week's almost-rans, a possible Brown Booby was logged distantly off Withernsea (East Yorkshire) on 4th also.
Land-based sightings of Wilson's Petrels are always special events for their observers – this week, the fortunate few seeing birds on 3rd from Lamorna (Cornwall) and Ballycotton (Co.Cork) and, on 5th, from Pendeen (Cornwall) and Brandon Point (Co.Kerry). Those, of course, are all in the south and west, where we'd expect Wilson's Petrels to start cropping up from here into August. Scottish records are, by a long chalk, much fewer and further between – and they come little further out than St Kilda (Western Isles), from whence one was seen on 6th. Up to the point, in 2005, when they ceased to be adjudicated by BBRC, the Western Isles had just two accepted records – and I'm guessing there haven't been a great many since.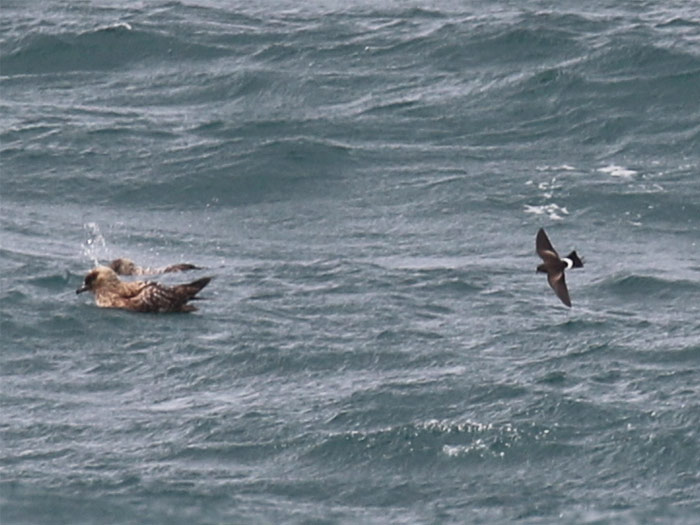 If any bird defined the week's seawatching, it was of course Balearic Shearwaters. From a standing start in previous weeks where just a few birds were being noted, the preceding week had seen us ascend into the region of 1,000 birds logged – this week, meanwhile, blew that firmly out of the water with three figure counts coming from a variety of sites and, of the approximately 2,500 birds reported in recent days, our biggest single site tally was of 1,068 birds noted off Start Point (Devon) alone on 4th.
Their big cousins, Cory's Shearwaters began to be noted too – not in great numbers, just yet, but enough to say the summer seawatching season is now properly under way. Devon provided the week's first, from Start Point on 30th; and then on 3rd a probable was seen from St Mary's (Scilly), four birds from Porthgwarra (Cornwall) and, in Ireland, one from Ram Head (Co.Waterford). On 5th, a further bird was seen lingering off The Lizard (Cornwall).
Skuas were on the move too – of the 50 or so Pomarine Skuas noted, peak count was eight birds noted from Portland (Dorset) on 3rd - while Long-tailed Skuas almost touched double figures as the week wore on. Individuals of the latter species were seen on 30th from Spurn (East Yorkshire), North Queensferry (Fife) and Porthgwarra (Cornwall), where two birds were logged; on 1st in Shetland on Fetlar, and on the Shetland Mainland on 1st-2nd at Loch of Clumlie, this latter bird perhaps accounting for that seen heading away from Sumburgh on 4th; on 1st at Letterfrack (Co.Galway); and on 4th from Dawlish Warren NNR (Devon).
Quiet times still for our various long-legged beasties – though, in the not too distant future, we'll start learning how the more exotic recent natural additions to our breeding avifauna have got on this year.
In Somerset, an adult Night Heron was noted again near Watchet on 3rd, last reported from the area on 8th June; another was seen in flight in the evening of 6th at Carlton Marshes SWT (Suffolk).
A Purple Heron was present on 4th at Stamford water meadows (Lincolnshire) before flying off.
In Worcestershire the adult Glossy Ibis remained settled at Lower Moor Meadows on 2nd-6th. Absent from the news for some months now, the Gwent bird at Newport Wetlands RSPB was once more logged there on 6th.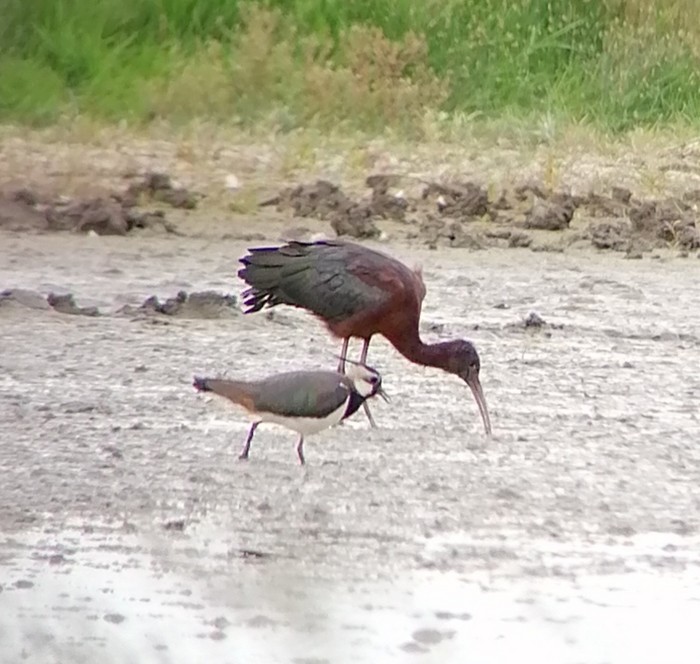 Away from their usual East Anglian haunts, the only Common Cranes reported this week were two at Newburgh (Aberdeenshire) on 4th, and two over March (Cambridgeshire) on 6th.
In Gloucestershire, the Spotted Crake was still singing at Splatt Bridge on 30th and heard again, distantly, on 6th. Belated news this week was a report of a singing male Baillon's Crake at Fowlmere RSPB (Cambridgeshire) on 24th June.
We'll not linger long amongst the quackers this week, with very little indeed to report upon.
In Scotland, the drake King Eider continued to provide a splash of colour at Burghead Bay (Moray) until 6th.
That would be it, but for a probable, elusive drake Ferruginous Duck seen on the Somerset Levels at Ham Wall RSPB on 2nd. With the species strongly suspected to have bred at Chew Valley Lake in the past, and with the proliferation of superb wetland habitat being created in Somerset, one has to wonder what the future may hold…
Finally, in Argyll & Bute the resident Pied-billed Grebe remained on 6th at Loch Feorlin.
<!—Section Title -->
Providing the perfect counterpoint to the week's other big event – seawatching – there were several timely reminders this week that we're coming into the prime time for lost waders of note to be discovered.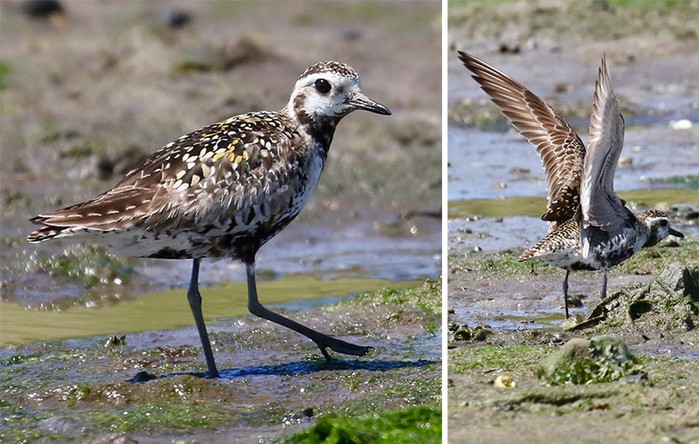 The week began with a bird, initially thought to be an American Golden Plover when found at Doonbeg (Co.Clare) on 29th, still present and reidentified as a Pacific Golden Plover on 30th, and lingering there until 6th.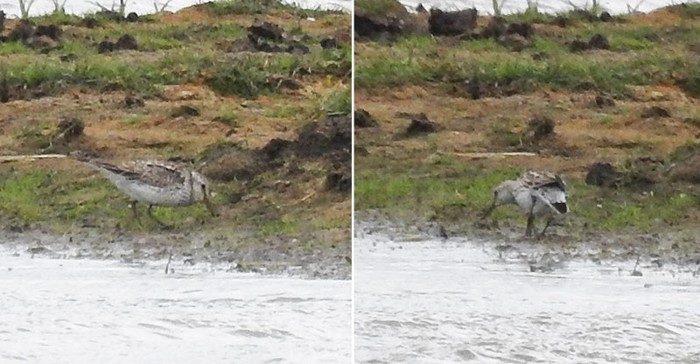 A small flush of Nearctic shorebirds were discovered as the days wore by – on 3rd-6th, an adult White-rumped Sandpiper graced Saltholme RSPB (Cleveland); on 4th, an adult Spotted Sandpiper was found at Aghagallon (Co.Antrim); and then, on 5th-6th, a Semipalmated Sandpiper was found on the beach at Dornoch Point (Highland).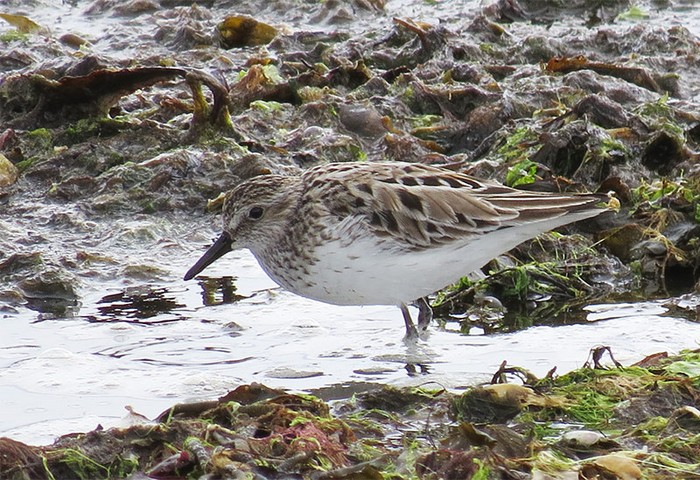 Meanwhile, in North Yorkshire, the first-summer Lesser Yellowlegs remained at Nosterfield LNR on 30th-5th.
In Kent, the male Black-winged Stilt continued to be seen at Dungeness on 30th-6th.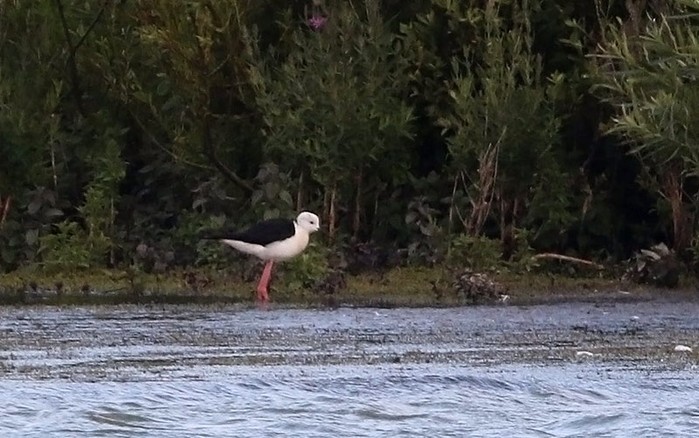 A little way along the south coast, the Temminck's Stint remained in West Sussex at Pulborough Brooks RSPB until 1st.
Both recent Red-necked Phalaropes remained into the early part of the week – the female was still present on Grindon Lough (Northumberland) on 30th-1st, while the bird at Frodsham Marsh (Cheshire) was last seen on 30th. Another was found on 5th-6th in Norfolk at Cley NWT.
Maintaining the seawatching theme, the summer's first wayward Sabine's Gulls were logged this past week – first-summer individuals seen on 3rd, numbering two from Lamorna (Cornwall) and four off Helvick Head (Co.Waterford).
Rarer fare lingered in Staffordshire – the county's first Laughing Gull remained at Belvide reservoir on 30th-1st.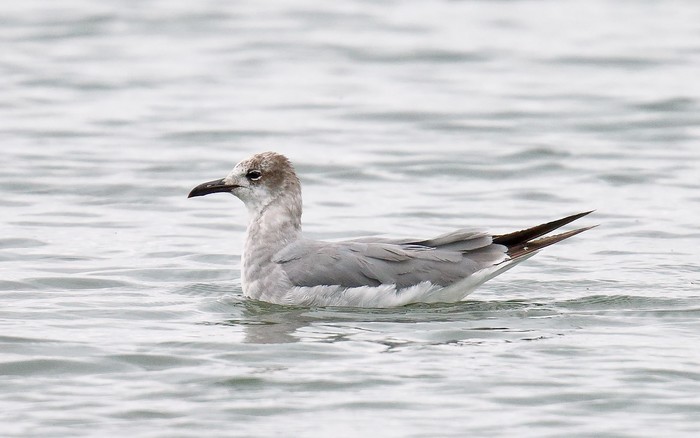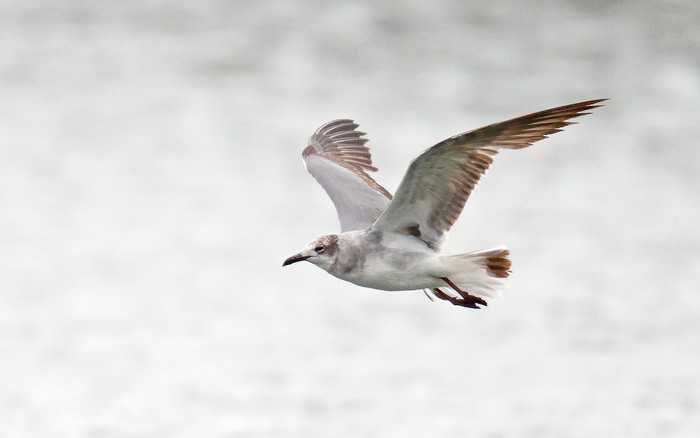 The first-summer Bonaparte's Gull was still present on the Add estuary (Argyll & Bute) on 30th-3rd; the returning adult was once more seen in Kent at Oare Marshes KWT on 4th-6th; and another first-summer was seen on 4th-6th at Annagassan (Co.Louth).
Glaucous Gulls maintained a tenacious grip on the news for another week – maybe we won't have a blank week this summer after all. The Pyewipe (Lincolnshire) stalwart remained there on 30th-6th; one was again seen in Shetland on Yell on 1st; and the immature was still enjoying salubrious delights of Stinky Bay on Benbecula (Western Isles) on 3rd. A further adult was seen on South Uist (Western Isles) on 4th.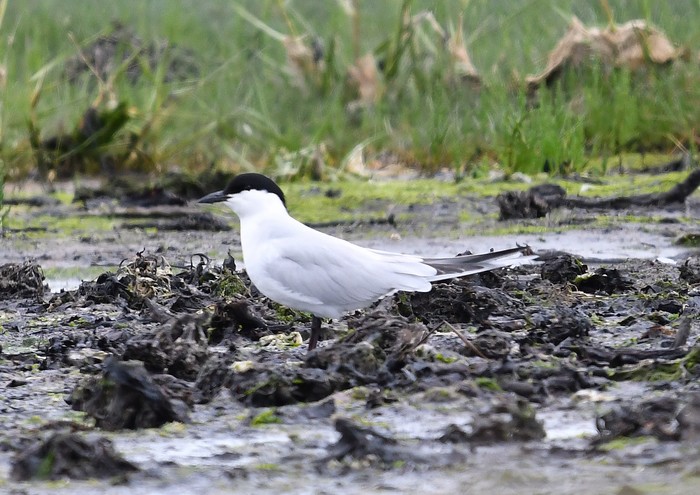 The week began with the Gull-billed Tern still present in Kent at Dungeness on 30th, but not thereafter; the Ballycotton (Co.Cork) was made of sterner stuff, and remained until 5th.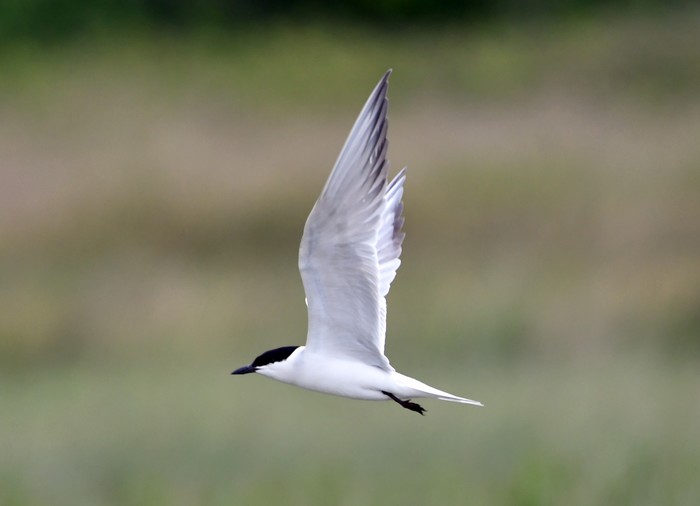 Raptor news was in increasingly short supply this week – the female Red-footed Falcon at Thorngumbald remained there on 30th, with another bird reported that day at Cresswell (Northumberland).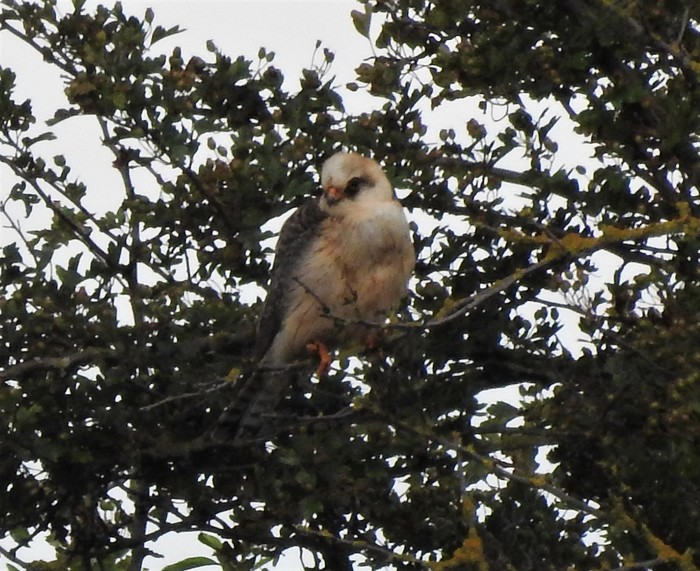 A male Montagu's Harrier was logged in Norfolk at Syderstone Common on 5th.
Norfolk also provided us with the week's only confirmed Black Kite, seen at Hopton-on-Sea on 6th; another probable was seen on 6th in Essex over Roxwell.
Speaking of probables, a probable Gyr was seen, fleetingly, in the early morning of 6th at Flamborough (East Yorkshire).
Beyond that, we've just the wandering young Lammergeier seen once more on 30th in northern England, with confirmed Derbyshire sightings at Hassop and Edale supplemented by a further probable sighting at Goyt Valley that day also, and followed at the week's end by further confirmed sightings in the county heading north over Froggatt Edge and near Tideswell on 6th.
We'll start our summer passerines up in Shetland again this week, where the handsome Lesser Grey Shrike remained at Ellister on 30th.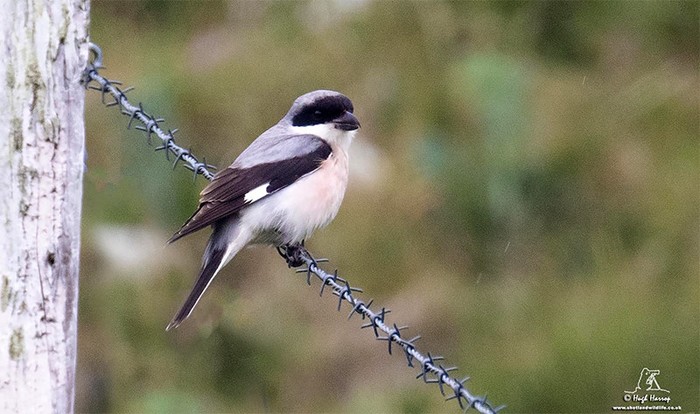 Shetland also provides us with most of our weekly Red-backed Shrikes - the female still present on 30th-6th; and another a little way north in the south Mainland at Levenwick on 1st – while one more was found on 6th at Bempton Cliffs RSPB (East Yorkshire).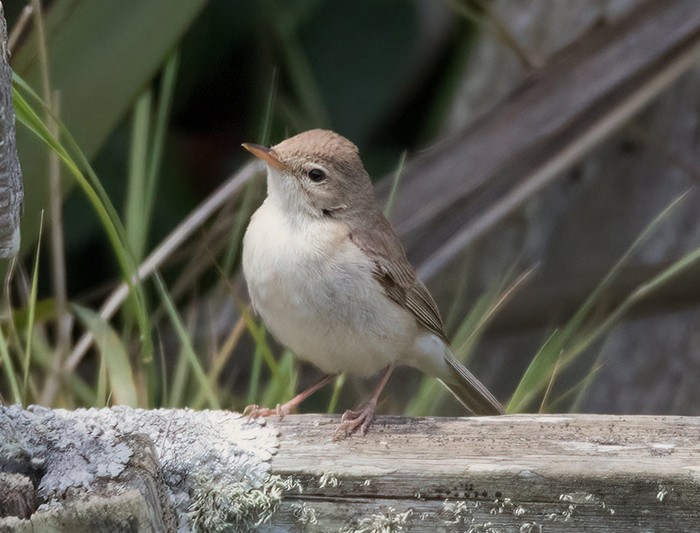 Providing a late migratory flourish, Shetland's second singing Booted Warbler of the spring was found on Fair Isle on 30th.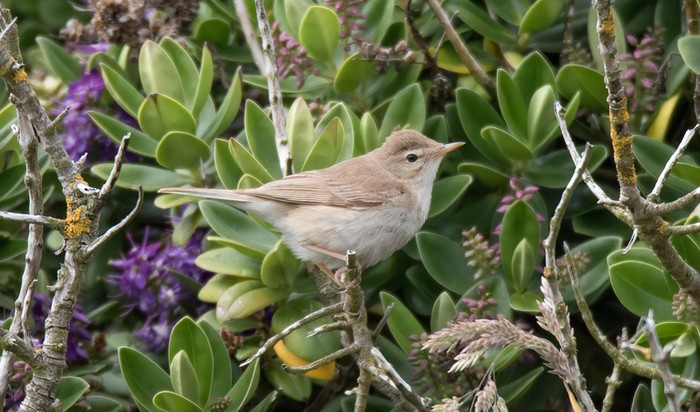 The last remnant of the late spring influx of Blyth's Reed Warblers clung on in song at Longlands Lake (Cumbria) still on 30th-6th.
Shetland provided a couple of late Marsh Warblers this week – one present at Ellister on 1st-2nd, and another at Bakkasetter on 1st – while another was in song at St Abb's Head (Borders) on 4th.
Speaking of warblers in song, the settled Iberian Chiffchaff remained on territory at Minsmere RSPB (Suffolk) on 30th-1st.
An elusive Melodious Warbler was found in song on 6th at Dungeness (Kent).
A Hoopoe was captured on a trail cam in a Weybourne (Norfolk) garden on 5th. I'm not sure what the garden listing etiquette is for trail cam only records… can one count them?
A probable Bee-eater was sound-recorded over Clevedon (Somerset) on 1st.
Some 25 Rose-coloured Starlings, including new birds, continued to remind us this week that their influx was far from over – and least of all in the Western Isles where, on Lewis, numbers climbed from three birds at the north end on 1st to five birds present there on 3rd-5th, with seven birds present on the isle as a whole on 5th. Mull (Argyll & Bute) managed a paltry (by comparison) two birds on 1st; and two lingered at Durness (Highland) until 5th.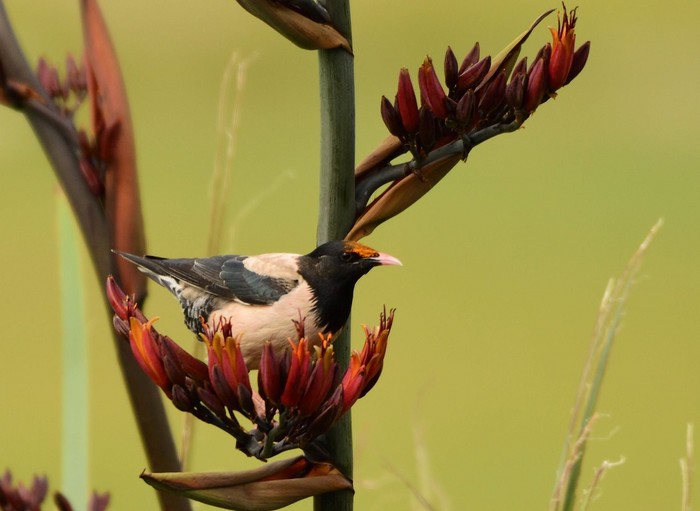 A probable Black-headed Bunting was seen in a garden, briefly, in Bessingby (East Yorkshire) on 30th.
Dorset provided us with two of the week's trio of Serins, with one seen on Portland on 30th-1st and again on 5th, and another in the east of the county at Broadstone on 1st; a further bird was found in Suffolk at Landguard NR on 2nd and seen again there on 6th.
We mused last week whether, with numbers of mobile Common Crossbills mounting, we might be on for some Two-barred Crossbills any day soon and, sure enough, this week we close the passerines section where we started, in Shetland, where on 4th-5th five birds settled down in the plantations at Kergord. More to follow, surely…
Just when you thought it was safe to go into the pines in Shetland in the summer without distraction... found these 5 Two-barred Crossbills at Kergord this afternoon pic.twitter.com/QWK8R8zfd0

— Rob Fray (@robfray) July 4, 2020
What's Sweden ever given us? Apart from Abba. And Volvo. And Ikea. And the Swedish Chef in the Muppets, obviously. Apart from all that, what else?
Well, this week, quite a lot of bird news, that's what. On 1st-2nd, a Lesser Sand Plover at Trelleborg; on 2nd, a Pacific Golden Plover at Svenskundsviken, a Black-winged Kite at Tanumshede, and a Asian Red-rumped Swallow at Segerstads fyr.
Scandinavia, generally, was having a good week of it. Finland added another Greater Sand Plover to the European roster this year, with one found at Tormela on 5th, and scored their third national record of Pied Bush-chat at Eurajoki on 4th-6th, a cracking male bird…
…while Norway was tested by that perennial thorn in the lister's side, a male Red-headed Bunting found on Rost on 30th. The country also landed a very lost Oriental Turtle Dove at Havøysund in Finnmark on 3rd.
In Germany, a Sociable Lapwing was present near Utphe on 4th.
Holland's lingering leucopsis Amur Wagtail remained at Rockanje on 1st-6th.
In Spain, an Elegant Tern was seen on 4th at Concil de la Frontera, and the Pied-billed Grebe was still present at Grijalba on 1st.
And finally, finishing the week's news where we started, with a belting seabird, a White-tailed Tropicbird was trapped and ringed on Cima Islet (Cape Verde) on 6th.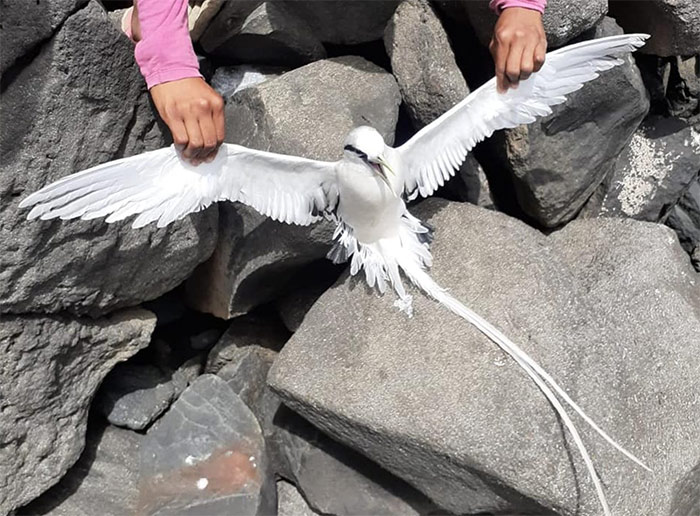 What then of the week to come for us closer to home? We've already cast covetous eyes at Sweden's Lesser Sand Plover and, historically, the coming week provides a past record, at Aberlady Bay (Lothian) on 8th-9th July 2004 for added credence. Aberlady Bay also boasts an historic record of Caspian Plover, on 12th-13th July 1988, if we're to continue those rare plover daydreams.
These provide star-billing amongst a host of other past rare waders for the week to come. Whether any of them get a look-in during a week that seems set to be dominated for westerlies remains to be seen…
Perhaps we should be turning our eyes towards the sea. As recent weeks prove, we could do worse… More Wilson's Petrels seem a formality. Perhaps we're due a Fea's-type Petrel. And we're getting to the point when a Swinhoe's Petrel just might emerge from the darkness once more on Fair Isle…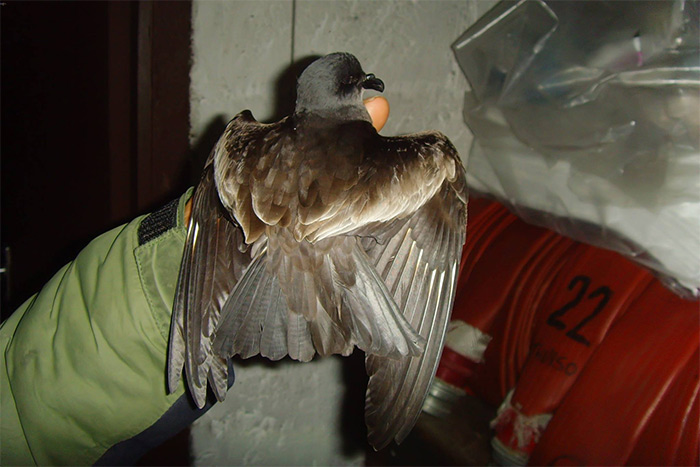 Jon Dunn
7th July 2020
Many thanks to all this week's contributors for your photos and videos
Share this story
Tweet