Weekly birding round-up: 16 - 23 Jun 2020
The week at a glance
Co.Wexford's year gets spicy with Cayenne Tern
Shetland starts the week with a Green Warbler…
…and ends it with a Calandra Lark
While in Northumberland the Asian Desert Warbler continues to delight
Sure enough, on the whole this week our bird news was gradually getting more peaceful still as we passed the summer solstice. This is usually the point at which some sage in Shetland will remark that the nights are drawing in, and winter's coming…
…not that we'd know that this week, least of all in Shetland, where the quality of late spring migration, if not the quantity, was still of the very highest order. But the biggest news of the week? That would be a certain tern in Ireland…
Cayenne Tern
Another week, another seabird first for the Western Palearctic. Honestly, who'd have foreseen the past month featuring both White-chinned Petrel and Cayenne Tern? You couldn't make it up.
As of last week, the discovery of a putative Cayenne Tern amongst the Sandwich Tern colony at Lady's Island Lake (Co.Wexford) was couched with understandable caution and caveats – the possibility of an aberrant Sandwich Tern or a hybrid being obvious pitfalls.
We need only cast our minds back to 3rd June 2006 for a case study in point – as that was the day a yellow-billed tern mooted as a possible Cayenne Tern was found amongst the Sandwich Terns at Cemlyn Bay (Anglesey). The identity of that bird was never put to bed, with the same aberrant and hybrid arguments being rehearsed at the time, though consensus seemed to err towards the latter judgement, a hybrid bird borne of a Sandwich and an unknown orange-billed tern sp union.
That unsatisfactory outcome doesn't appear to have been the case this week, as keen eyes turned upon the Irish contender. Irish eyes come little keener than those of Killian Mullarney…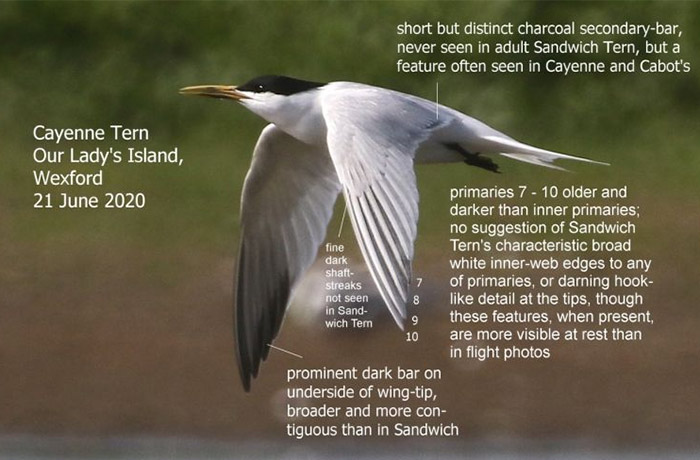 In a nutshell, bare parts and, crucially, plumage features appear to add up to this bird being the real deal – Ireland's first, and the Western Palearctic's first Cayenne Tern or, if you prefer, the first euryganthus Cabot's Tern for Ireland – it all depends what flavour you like your taxonomic sandwich. Britain already boasts a prior Cabot's Tern, albeit one found dead on arrival – a misfortunate bird picked up, inland, at Newhouse Wood (Herefordshire) on 8th November 1984 had been ringed earlier that year, on 25th June, near Beaufort in North Carolina (USA).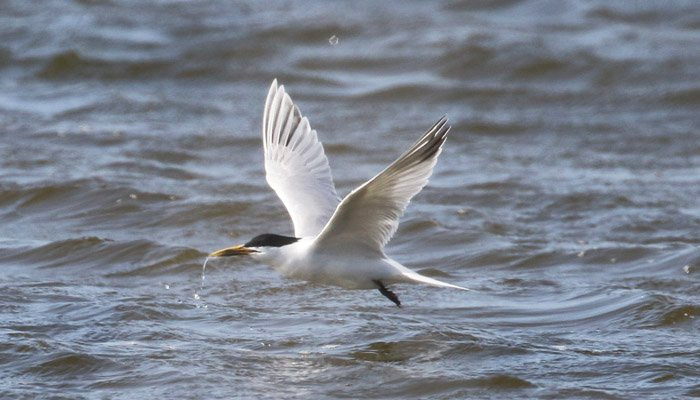 On this latest, extant, bird that yellow bill is a little more petite than the accompanying Sandwich Terns, the primaries exhibit a range of subtly but distinctively different markings, and there's a neat little charcoal grey bar on the bird's secondaries – a feature never seen in adult Sandwich Terns, but often present in Cayenne/Cabot's Terns.
None of which has rendered this bird any less attractive to the local Sandwich Terns - it seems like she's paired up with one of them, after all and, at the time of writing on 22nd, is still settled on Lady's Island Lake.
Green Warbler
We felt for East Yorkshire last week where there was, I think, a sense of reasonable anti-climax when a small fall of Greenish Warblers followed a recent run of Green Warblers in northern Europe including, of course, the latest British bird present on North Ronaldsay not so very long ago.
That particular bird is already consigned to being the penultimate British record as, early this week on 16th, Fair Isle (Shetland) landed a particularly bright individual in the wonderful patch of habitat that are Vaila's Trees. Not even an island first, of course – Fair Isle hosted an adult female bird just three years ago, on 4th-7th July 2017.
With the rise in British records from 2014 onwards, and the flush of records here and a little further afield in Europe so far this year in particular, one wonders if Green Warbler may in due course no longer have quite the rare cachet it currently enjoys. Maybe it's set to be, if not regular, then reasonably anticipated later on in springs to come…
Calandra Lark
On the subject of birds we might reasonably expect in the spring, not least on Fair Isle, the substantial matter of a Calandra Lark, inevitably, should crop up. A bit like the previous week's River Warbler on the island, it's one of those birds that Fair Isle seems to specialise in, not least after a spell of promising light south-easterlies.
The morning of 22nd was barely a few hours old when the news came from Fair Isle that they'd landed their latest bird. It's worth noting that, of the 19 British records accepted up to the end of 2018, a shade over a third of them have been in Shetland and, of those seven birds, six of them have been on Fair Isle. It's that much of a monopoly.
All of which said, 22nd June is pretty late for a Fair Isle Calandra Lark - the earliest of those prior records was on 20th-22nd April 2008, and the latest 22nd May 2014. This, then, comes a full month later, and is the island's first June record…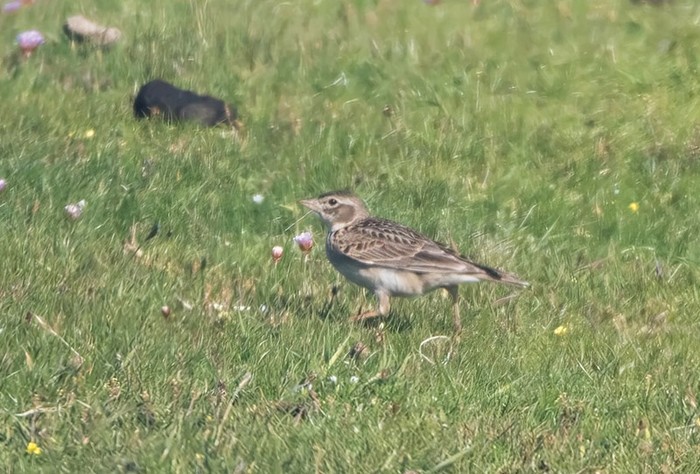 …whereas, on 8th June 1976, Fair Isle scored Britain's last accepted record of the increasingly mythical Bimaculated Lark - a species that, this week, was already taunting us from not so very far away, as one had been found in Holland on Rottumerplaat on 17th. (An island off the north Frisian coast, almost directly south-east of Fair Isle, as you ask).
Perhaps the biggest surprise of the Calandra Lark on Fair Isle this week, then, wasn't the timing – it was that it wasn't that keenly anticipated fourth British Bimaculated…
Asian Desert Warbler
Of course, had that Calandra Lark been a Bimaculated, it would have all been very much a moot point, albeit an extraordinarily frustrating one for those who are prepared to twitch Shetland.
Scotland remains guardedly cautious about relaxing lockdown restrictions, at least compared to England, and Shetland, apart from to residents or key workers, remains resolutely off limits. Travel within Shetland, even for residents, is further restricted, with access to all of the outer islands operating on reduced timetables and for residents of those islands only.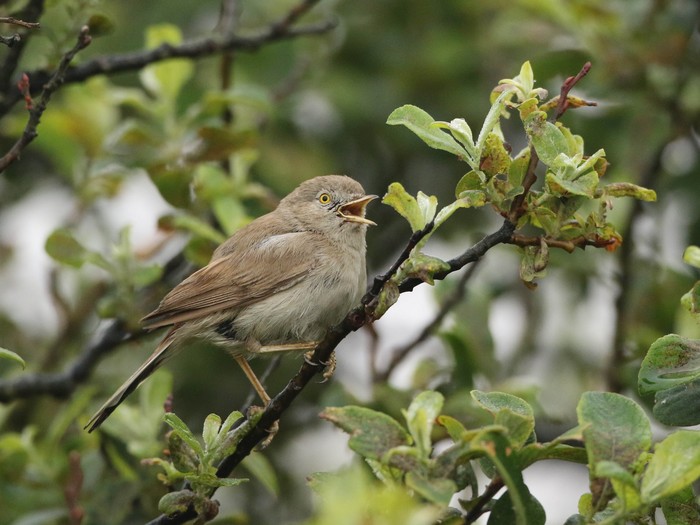 In other words, Fair Isle might as well be the moon for all the good a mega bird on there could do for even a Shetland resident, let alone a twitcher from south of the border.
But who flipping cares? Because English birders with twitchy inclinations have been spoiled rotten this week, and have no grounds for complaint whatsoever. How could they, when the singing male Asian Desert Warbler on Holy Island (Northumberland) continued to delight all comers until 19th, an outrageously showy and rare late spring flourish that didn't require ferry crossings or flights to get to.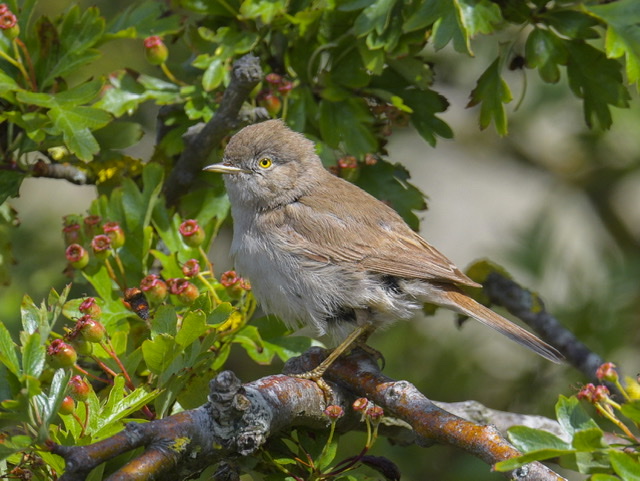 Quiet times still where seabirds are concerned this week although, to make a change, there was a little movement of Balearic Shearwaters off the south coast to liven things up a touch. 14 birds were seen in Devon from Start Point on 19th, with three more seen the following day from Berry Head; while, in Cornwall, single birds were noted from Porthgwarra and The Lizard on 20th, the former site again on 21st, and Downderry on 22nd.
Skuas, meanwhile, were restricted to a handful of Pomarine sightings – one off The Lizard on 20th also, while in Ireland that day two were logged from Toe Head (Co.Cork), and half a dozen from Helvick Head (Co.Waterford); and two seen on 21st in Devon from Ilfracombe.
Once again this week, our long-legged beasties are headed up by a mobile Black Stork - this time, not in Cumbrian airspace, but a way south – one was seen on 20th over Aveton Gifford (Devon).
One of the week's more intriguing records also came on 20th from Filey (North Yorkshire), where three possible Purple Herons were seen, distantly, heading south. A confirmed individual was present on St Mary's (Scilly) on 16th and, on 22nd, the ever reliable Somerset Levels produced a bird again in the afternoon at Shapwick Heath NNR.
The recent Night Heron remained on the River Wye in Herfordshire near Kerne Bridge on 21st.
In Worcestershire the adult Glossy Ibis remained settled at Lower Moor on 16th-21st, whilst in Ireland, the other recent bird was still present at Pilmore Strand (Co.Cork) on 19th.
Away from their regular haunts, mobile Common Cranes were a-wandering this week over East Hunsbury (Northamptonshire) on 16th and Fair Isle (Shetland) on 18th and 22nd; while on Unst (Shetland), the settled bird was still present at Norwick on 21st; and another was noted at Loch of Strathbeg RSPB (Aberdeenshire) in the early morning of 21st.
Finally, a Corncrake was logged near Penrith (Cumbria) on 20th; and a Spotted Crake was heard in song at Frampton Pools (Gloucestershire) in the evenings of 21st-22nd.
We'll start the honkers and quackers this week with our here today gone tomorrow honorary wildfowl, the adult male Pied-billed Grebe that's still alive and kicking, it transpires, up in Argyll & Bute on Loch Feorlin, presumably bothering the local Little Grebes for another summer, and seen once more this week on 17th-20th.
Before we leave Scotland, and remaining on the subject of now resident male Nearctic birds, belated news came this week from Highland where, at Strontian on 15th, the drake Black Duck was once more noted.
Out on North Uist (Western Isles) the drake Lesser Scaup was still present on 17th.
In Northumberland the putative female Blue-winged Teal - or hybrid Blue-winged Teal x Shoveler - was still to be seen at Castle Island on 17th-22nd while, at Grindon Lough, the drake American Wigeon remained on 16th-20th.
In Leicestershire, presumably the same Green-winged Teal last seen on Eyebrook reservoir on 9th, was found on Cossington Meadows LRWT on 16th.
<!—Section Title -->
I'm amazed we've not had a Greater Sand Plover drop in this week, with yet another European sightings in recent days, this time in Norway. Surely it's just a matter of time? Daydreams aside, the reality of our weekly waders was generally more workaday, with mostly settled birds of note to make do with.
Best of the lot, for sheer aesthetics, has to be the female Red-necked Phalarope still happily lingering this week on Grindon Lough (Northumberland) on 16th-21st.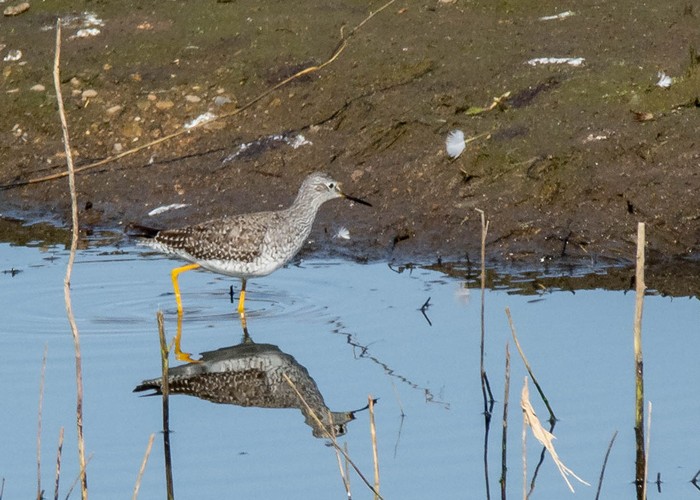 In North Yorkshire, the first-summer Lesser Yellowlegs remained at Nosterfield LNR on 16th-22nd..
Finally, injecting a tiny bit of southern variety into proceedings, a Dotterel was seen at Pagham Harbour (West Sussex) on 16th, and a Black-winged Stilt at Dungeness RSPB (Kent) on 21st and again, fleetingly, on 22nd.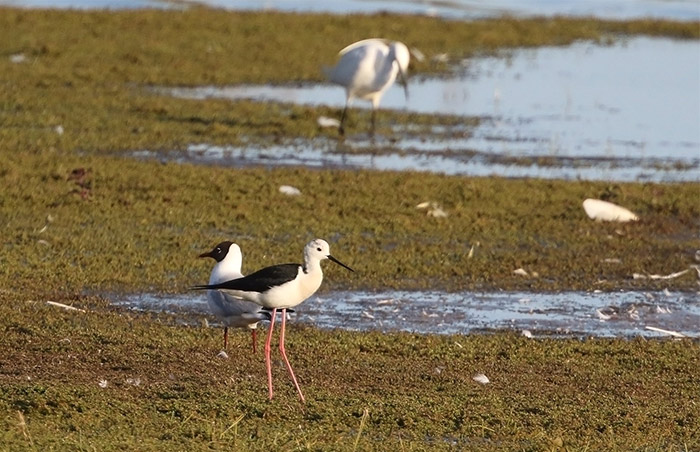 Starting in Ireland, a Gull-billed Tern found at Ballycotton (Co.Cork) on 21st-22nd was, as we know, far from the rarest tern on offer in the country this week.
Belated news came from Kent of a Whiskered Tern present on 17th at Dungeness RSPB.
In Norfolk, meanwhile, the Swedish-ringed Caspian Tern was again seen at Hickling Broad on 16th, with a further sighting later in the week on 19th at Potter Heigham once more.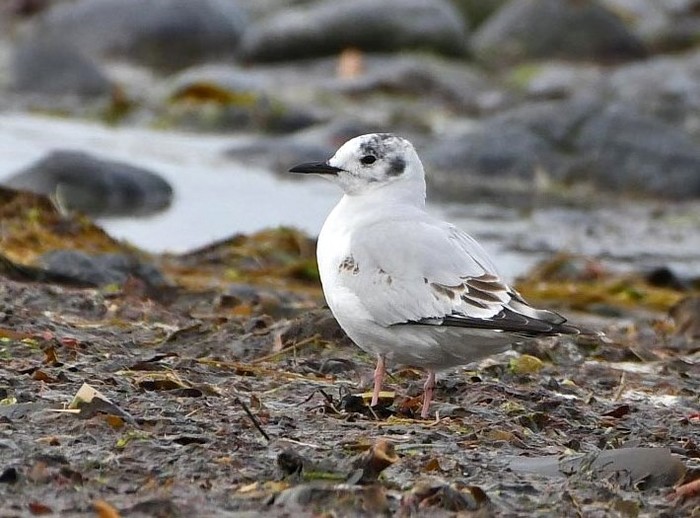 In the absence of any news of the returning adult bird in Kent, a trio of first-summer Bonaparte's Gulls made up the height of the British gull interest – birds seen on 16th in Surrey at the Queen Elizabeth II reservoir; on 20th, on South Uist (Western Isles); and, on 22nd, on the Add estuary (Argyll & Bute).
In Shetland, the recent first-summer Ring-billed Gull continued to lob around Loch of Hillwell and the surrounding area on 18th-21st.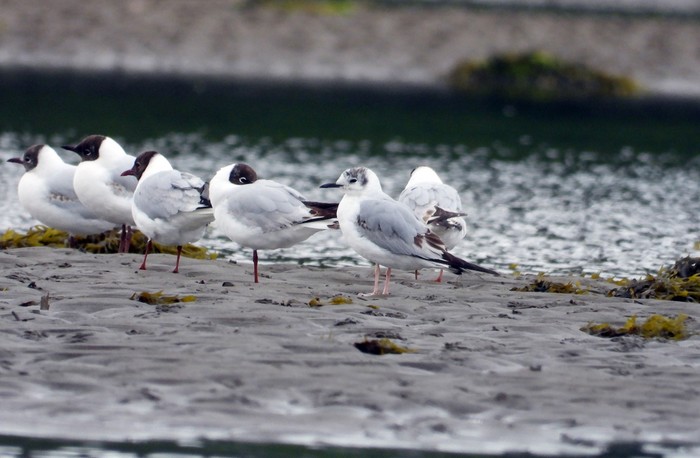 Glaucous Gulls this week were mainly a Scottish preserve, with just a report of one in Lincolnshire at Stallingborough on 19th to break the mould; Scottish sightings came from Yell (Shetland) still on 16th-18th, and South Uisyt and Benbecula (Western Isles) respectively on 16th and 19th-20th.
An Iceland Gull was seen from Holborn Head (Highland) on 19th.
Pleasingly, another week studded with Red-footed Falcons unfolded in recent days, with at least 10 birds involved of which two, a female and a first-summer female, were seen at Wells (Norfolk) on 20th; Norfolk followed that with a bird seen heading north at Upwell on 22nd.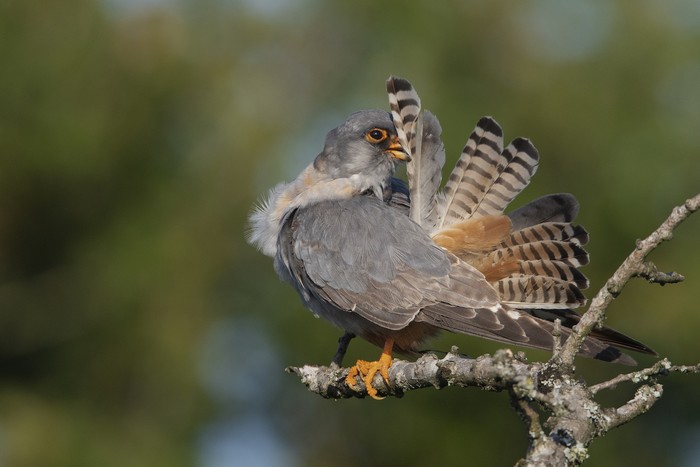 The recent first-summer male remained at Upper Beeding (West Sussex) on 16th, with further lingering birds found this week at North Warren RSPB (Suffolk) on 16th-18th; Sherburn-in-Elmet (North Yorkshire) on 16th-20th; and Cothelstone Hill (Somerset) on 19th-22nd.
More fleeting sightings came from Slaughden (Suffolk) on 16th, Grafham Water (Cambridgeshire) on 19th, and Dungeness (Kent) on 20th. Further possible birds were reported from Cliffe Pools RSPB (Kent) on 17th; Minsmere RSPB (Suffolk) on 19th, and Mattiscombe (Devon) on 19th also.
Kent provided the only Black Kite of the week, seen at Seasalter on 17th.
A probable ringtail Montagu's Harrier was noted at Deeping Lakes NR (Lincolnshire) on 18th, with a further possible bird that day at Halam (Nottinghamshire).
A succession of White-tailed Eagle sightings came throughout the week, with a distinctly northerly flavour to them. On 16th one was seen in Orkney on Westray; on 17th, it was the turn of Wardie Bay (Lothian); on 18th, one was seen in Fife at Tentsmuir NNR; on 19th another was logged at Arbroath (Angus); and on 20th, two were seen circling over Farndale (North Yorkshire).
Best of the also rans this week, and top of the passerines section, is the female Moltoni's Subalpine Warbler found in the sheltered garden of Shetland birders Rebecca Nason and Phil Harris, in the heart of Lerwick on 17th – an excellent bird anywhere, let alone in the middle of town, and just going to show that, in Shetland, the good birds really can be anywhere. The female Subalpine Warbler sp meanwhile remained out on Foula on 16th-17th.
That Lerwick Moltoni's is run a close second in the weekly warbler standings by the Paddyfield Warbler found by Roger Riddington at the end of his road at Pool of Virkie (Shetland) on 18th. While we traditionally think of them as an autumn bird, there's a distinct second peak in sightings in June, into which this bird neatly falls.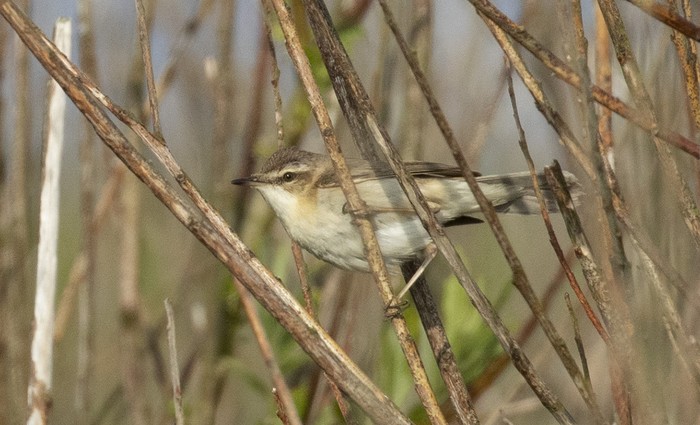 Our recent influx of Blyth's Reed Warblers finally was petering out this week, though I'm sure one or two may yet come out of the woodwork in the week to come… Lingering birds remained at Bridge of Don (Aberdeenshire) on 16th, and Far Ings NR (Lincolnshire) on 16th-21st; and further birds were found at Beachy Head (East Sussex) on 16th; Foula (Shetland) on 16th-17th; and at Flamborough (East Yorkshire) on 19th.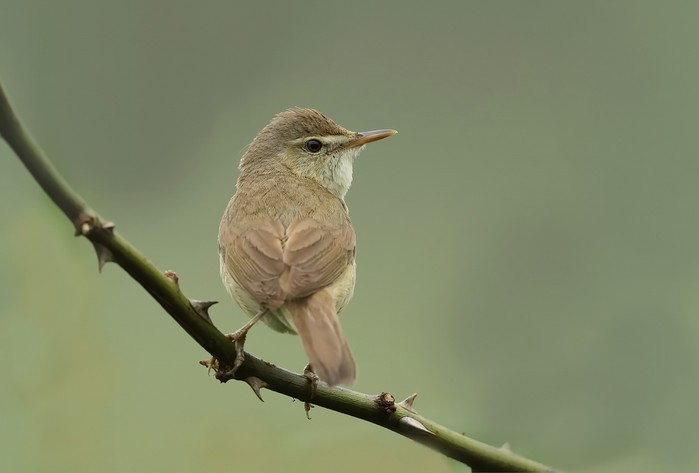 Marsh Warblers, meanwhile, continued their excellent run of recent form, with around 25 birds in all noted across Britain. Some sites got more than one bird – duos were logged in Shetland on Foula on 17th-18th and Fair Isle on 17th, and down south at North Warren RSPB (Suffolk) on 20th.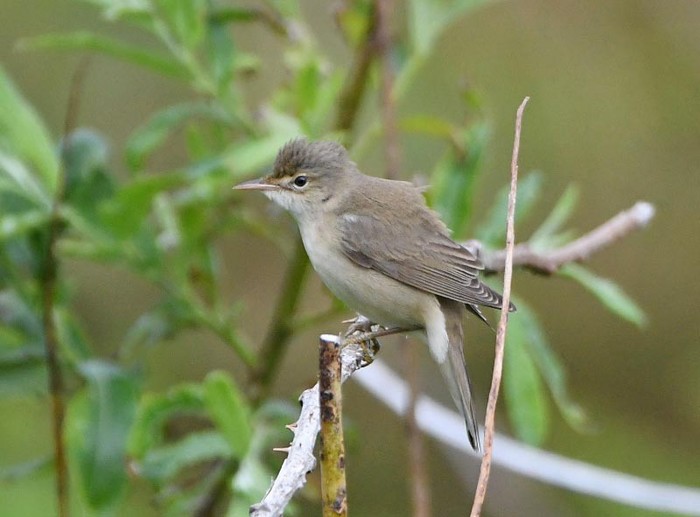 Sticking with Suffolk for a moment, the singing Iberian Chiffchaff remained at Minsmere RSPB on 16th-22nd.
Two of our recent Savi's Warblers were still in song this week – the Shetland bird still present at Scatness on 18th-22nd, while the Norfolk individual remained at Thorpe Marshes NWT on 16th-20th. A further bird was heard in song in Kent at Stodmarsh NNR on 17th.
In Shetland, a Great Reed Warbler identified at Asta on 21st had been present in the area for around a week beforehand, and remained there on 22nd.
An Icterine Warbler was present on Isle of May (Fife) on 16th.
Shrikes were generally in short supply this week, with just the one female Red-backed Shrike lingering on Fair Isle on 17th-22nd, and a female also seen at Martin's Haven (Pembrokeshire) on 21st; the best of their kind, however, was the Lesser Grey Shrike present in Lothian near Halfland Barns on 17th-20th.
Visitors to Holy Island (Northumberland) on 16th got a nice extra in the form of an Alpine Swift overhead.
Romsey (Hamsphire) scored a Red-rumped Swallow on 16th, while another was present on St Mary's (Scilly) on 19th-20th.
Solitary Bee-eaters were reported this week, over Spurn (East Yorkshire) on 17th; Mansfield (Nottinghamshire) on 19th; and Cambridge (Cambridegshire) on 21st.
Hoopoe sightings came from Walney (Cumbria) where a bird lingered on 16th-17th, Shropshire, where reports came from Wem and Prees Heath on 18th, and Poole (Dorset), where a bird was seen on 20th.
A much more unseasonal sighting came from Lerwick (Shetland) where, on 16th-17th, a mobile Waxwing was logged.
Unst (Shetland) supplies one of the week's haul of Golden Orioles, present in the depths of Halligarth on 18th-19th; further birds were on Lundy (Devon) on 18th, Morden Hall Park (London) on 20th and, on 22nd, at Flamborough and Kilnsea (East Yorkshire).
On Fair Isle (Shetland), the singing male Citrine Wagtail remained on 16th-22nd. A probable Grey-headed Wagtail was found on 21st at Seaton Point (Northumberland).
A handful of Red-breasted Flycatchers were found this week – one on Isle of May (Fife) on 18th; another on North Uist (Western Isles), also on 18th; and one trapped and ringed on Calf of Man (Isle of Man) on 19th.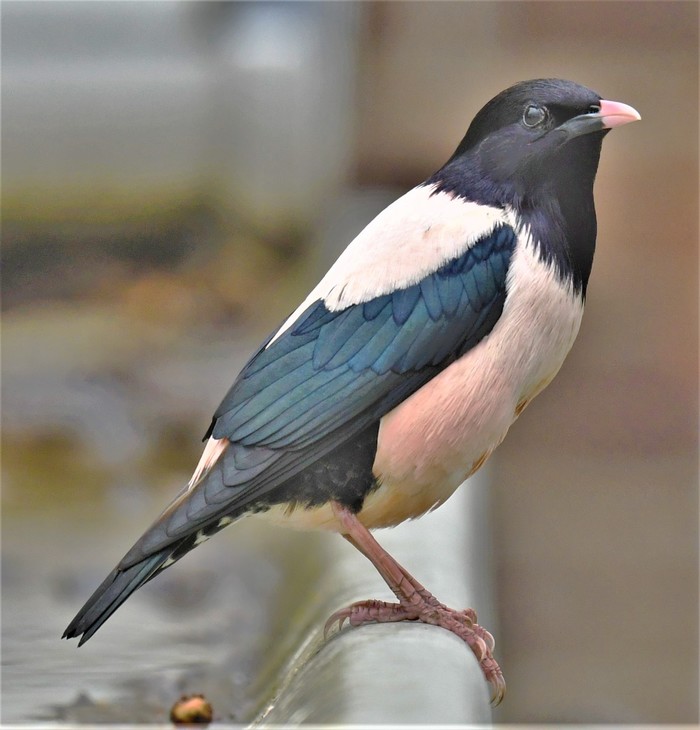 Around 60 Rose-coloured Starlings seen or reported this week kept the species very much on everyone's radar, with plenty of inland sightings to give a fillip of hope to every house-lister. Almost all were single birds, the exception being on The Lizard (Cornwall) where three were tallied on 16th, with two remaining on 21st; two birds together on Portland (Dorset) on 21st-22nd; and two on 22nd at Hayle Towans (Cornwall).
The Serin remained in Collieston (Aberdeenshire) on 16th-17th; another was noted on Portland (Dorset) on 21st.
Lingering recent Common Rosefinches were logged this week still on Isle of May (Fife) on 16th, Auchenblae (Aberdeenshire) still on 16th-19th, and at Briton Ferry (Glamorgan) again on 18th. Further birds were found on Tory Island (Co.Donegal) on 16th, Foula (Shetland) on 17th, and at Flamborough (East Yorkshire) on 22nd.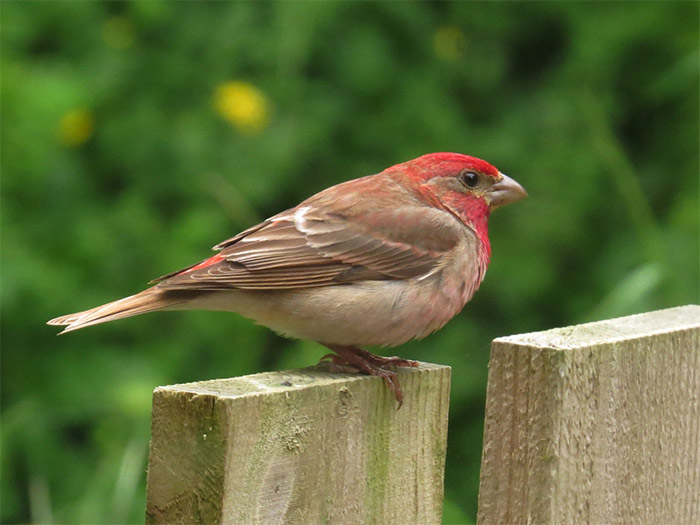 Another House Finch anyone? Following the previous week's sighting in Devon at Parkham Ash on 14th, photos emerged online of another bird on garden feeders in Norfolk at North Walsham on 14th also. It's all gone a bit Painted Bunting, no?
Much less contentiously, a cracking Rustic Bunting was present on Foula (Shetland) on 17th-18th.
We'll kick off our overseas news in Scandinavia where, for another week, there was plenty of food for thought. Starting closest to home in Norway, a Greater Sand Plover was seen at Braut on 20th, and a Bridled Tern at Hamningsberg on 19th, the latter only the second national record. If only either would make the North Sea crossing…
https://twitter.com/TarsigerTeam/status/1274099676501991424?s=20
A little further afield, in Denmark an Eastern Olivaceous Warbler was present at Gedser on 17th-18th, and a Lesser Spotted Eagle at Skagen on 16th.
Holland was, once again, extremely busy this week. Starting with the settled leucopsis Amur Wagtail, the bird remained at Rockanje on 17th-21st. As noted up in our headlines, Holland's first ever Bimaculated Lark was found on Rottumerplaat on 17th, while the eighth ever Dutch Slender-billed Gull was also found on the island the very selfsame day. On 18th 13 Griffon Vultures were logged heading northwest over Nunspeet; followed, on 19th, by 14 birds seen going southwest over Amersfoot. On 18th-19th a Black-winged Kite was seen at Veessen.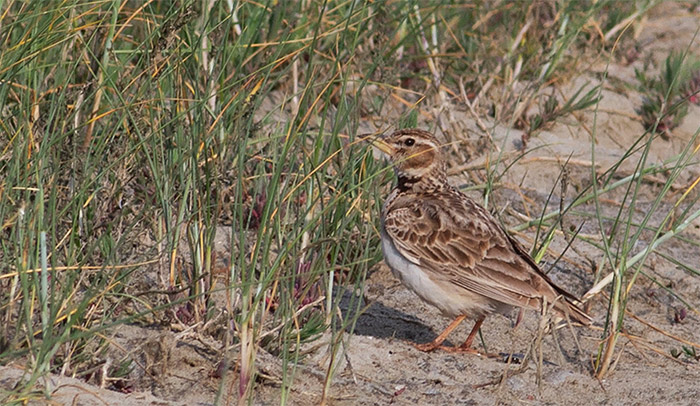 Belgium, meanwhile, was playing host to a wandering Lammergeier, seen over Bruges on 18th and Ghent on 19th, and an Eastern Imperial Eagle at Heverlee on 19th.
In France, the Elegant Tern remained present at Polder de Sebastopol on 18th.
Casting our net a little wider, in Poland the Great Black-headed Gull remained at Nowe Gniewniewice on 18th.
In Spain, a Seebohm's Wheatear was found on 20th at Bohoyo in the Sierra de Gredos, the first mainland national record.
Israel's latest Three-banded Plover remained at Hama'apil Fishponds on 19th.
And finally, out on the Azores a Yellow-crowned Night Heron was seen on Faial on 19th, and the Azores' first ever Rose-coloured Starling has made it to Pico…
The coming week is the last of June and, while I'm erring towards some slightly safer predictions than of late – how many times do I have to invoke a Greater Sand Plover before one actually happens? – I can't completely ignore one historic record from the recent past – perhaps the biggest one that got away, ever – the Atlantic Yellow-nosed Albatross picked up in Somerset at Brean Down on 29th June 2007, released on 30th, and latterly seen on an inland fishing lake in Lincolnshire a few days later on 2nd-3rd July.
I mean, it's not going to happen again anytime soon, but given the run of loopy seabirds we've enjoyed lately, it's worth mentioning just for the vicarious hell of it. An inaccessible but incontrovertible albatross or frigatebird of some description would kinda round things off nicely for the first half of 2020...
Being a little more reasonable, my eyes turn to birds of a south-eastern persuasion. The final week of June is prime time for the likes of Black Stork, Lesser Grey Shrike, Black-headed Bunting and Roller. We've had three out of those four in the past few couple of weeks, and find ourselves only wanting for the Roller.
Go on then.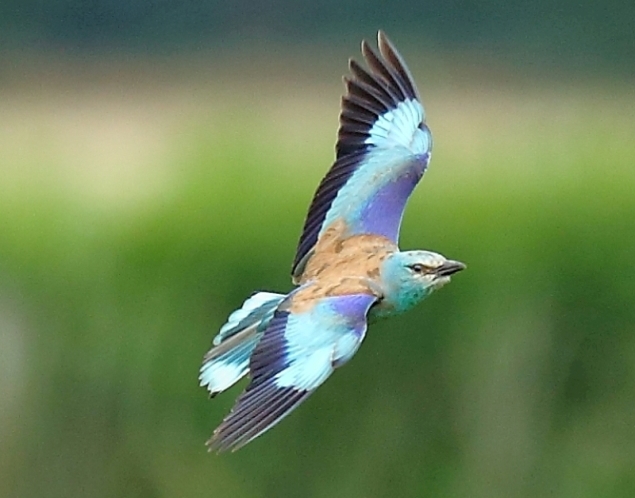 Jon Dunn
23 Jun 2020
Many thanks to all this week's contributors for your photos and videos
Share this story
Tweet