Weekly birding round-up: 9 - 15 Jun 2020
The week at a glance
Northumberland scores a late winner with an Asian Desert Warbler
Anglesey lands a brief Sooty Tern
While Shetland gets a River Warbler on Fair Isle
Blazing June. Well, not so much as the week began, with weather from the Atlantic bringing a cooler tone to many of our days than of late. A welcome respite for the gardeners, but what of the birders…
As we'd expect, things were generally getting incrementally quieter this week, though there were still flashes in the pan that said spring migration wasn't done with us just yet.
Asian Desert Warbler
We all have a shortlist of birds we'd really, really love to find one of these days in Britain. Maybe a top three that includes a first for Britain – because, why not? – maybe a glorious fly-by seabird that you and a handful of mates see well, but isn't seen again by anyone else – because we do like a gripping yarn, don't we? – and perhaps something else that combines beauty with mythical rare status – you know the sort of thing, a Siberian Rubythroat sort of bird.
With the best will in the world, this week's top headline bird is none of those things. Asian Desert Warbler is, however, in my top three birds I'd sell a minor organ to find in Britain. Heaven knows they're rare enough – we've just a dozen birds on the British list, half of which came in a dizzying five year spell in the late 80s and early 90s. But in terms of sheer aesthetics, one of these sandy-pale, cadmium-eyed warblers can't hold a candle to, say, a Subalpine Warbler sp. Even a female Subalp is a soft, muted confection of pastel loveliness that outshines the looks of Dessie any day of the week you care to mention.
Even late on the final day of the RBA week, when your own correspondent is settling down to a cold beer in the garden and feeling faintly smug that he's on top of the Round Up – and then the mega alert chimes… Yep, that female Subalpine Warbler sp on Holy Island (Northumberland) earlier today that I'd consigned to the main body of the Passerine news section – well, it isn't one.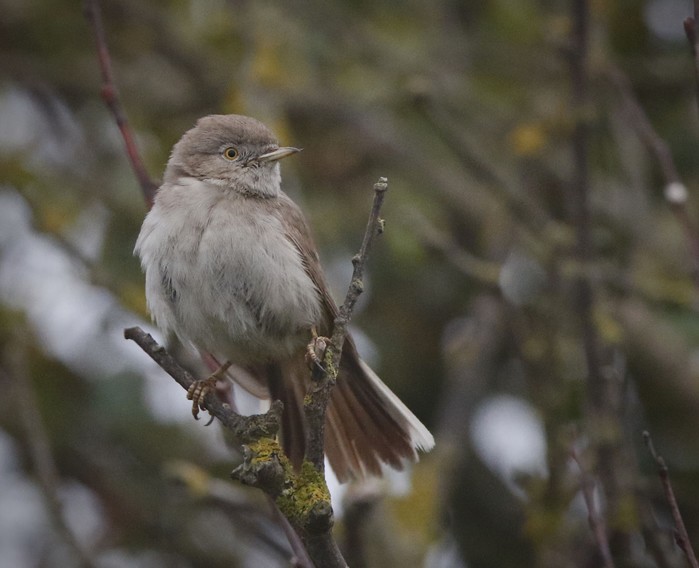 Instead, it's one of my dream self-found birds – Britain's 13th and Northumberland's first ever Asian Desert Warbler. Oh my days. There's just something about them, isn't there? I can't imagine what finding one would feel like. Happily, I don't have to, as I've heard first-hand how it feels from the finder of Britain's 10th individual – the bird my erstwhile Rarity Round Up companion, Mark Golley, found on Blakeney Point on 27th May 1993: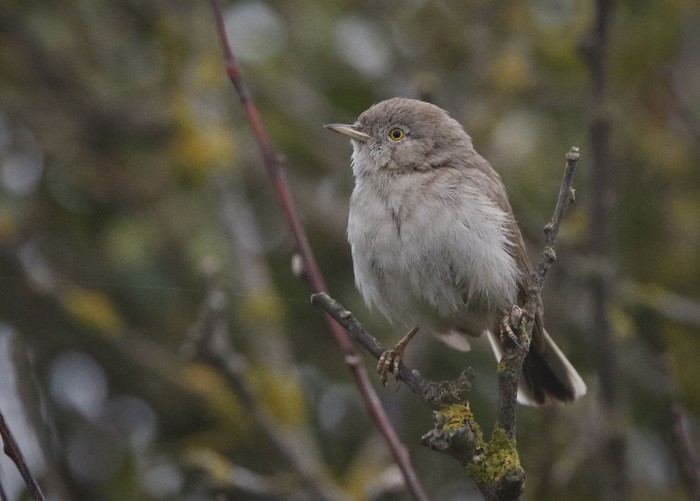 "It's etched into my mind, every single step, every single second in the three minutes from the first, naked eye, split second view to the gasp and exclamation when the rusty tail and then, moments later, a yellow eye was looking right back at me from 10 feet away in the low sueada. Never had a buzz like it…"
I bet.
And that buzz won't have diminished down the years, as since 1993 there have only been two more birds in the space of almost three decades now – one at Sammy's Point (East Yorkshire) on 7th-11th May 2000, and one grippingly photographed on 18th November 2012 at Samphire Hoe CP (Kent). That's it. The sum total of what's become something of blocker in recent years.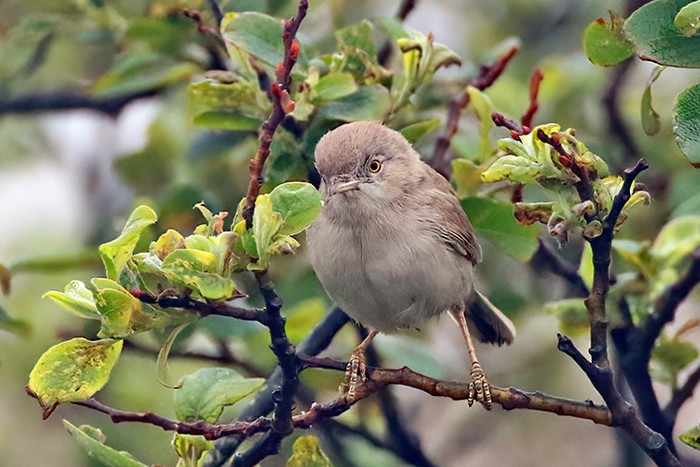 Now, I wonder who's going to take full advantage of the continued relaxation of lockdown in England and the opportunity to 'work from home' in the days to come if it sticks around? At the time of writing, early in the morning of 16th, it's still there, singing away to itself…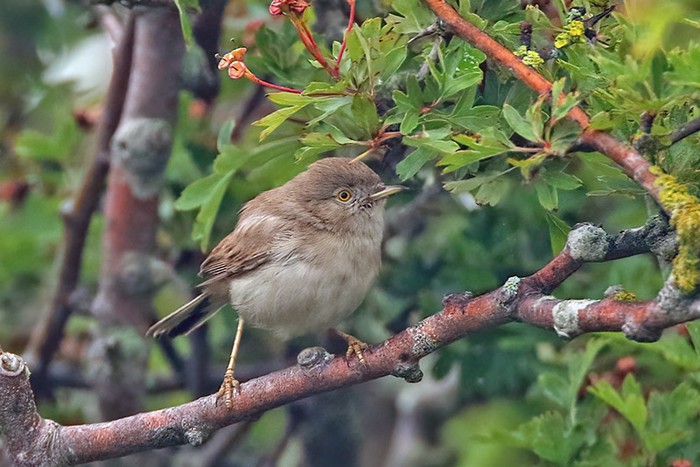 Sooty Tern
We closed last week's round up musing about the possibility of the recent Bridled Tern seen off Sylt (Germany) making the North Sea crossing to Britain in the days to come… and also noted, in passing, the recent sightings of Sooty Tern in north-east England and Scotland in 2017-2019.
Those records perhaps relate to one returning individual – or else lightning really striking twice – and this week, in a wider British context, we made it four years on the trot for Sooty Tern with a bird found on 14th on the lagoon at Cemlyn Bay NWWT on Anglesey. It wasn't hanging around for long and, in the early afternoon, was last seen heading out to sea.
Anglesey last had a near miss back in 2017, when a possible bird was seen on 13th July from Valley Cob – the identification was never confirmed though. For a confirmed sighting, we have to go back to 2005 and a long-staying bird seen, intermittently, at Cemlyn Bay on 10th-26th July.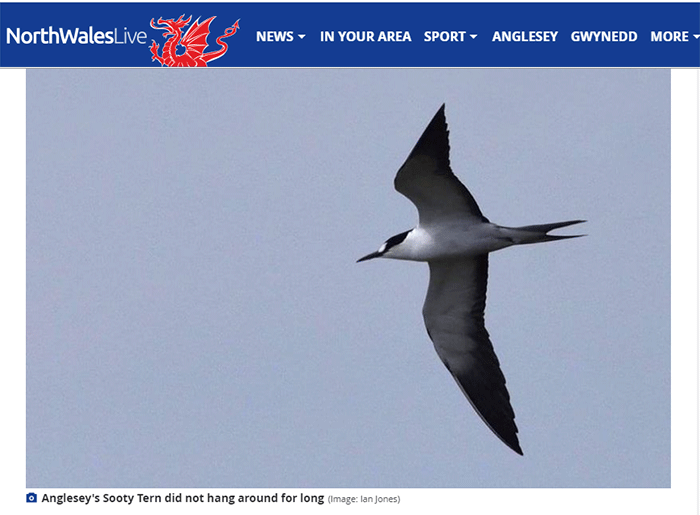 At the time of writing, Welsh lockdown restrictions mean that, were this latest bird to start to appear with any sort of frequency at the tern colony at Cemlyn, it's off limits to all but any birders living within five miles of it. As such, it's all fairly moot – but it's good to know one of these dapper terns is back in British waters.
River Warbler
You could practically set your watch by River Warblers and Fair Isle – Shetland's jewel in the crown proving, down the years, to be almost magnetically attractive to the species in the days of late spring and early summer.
Lest we forget, River Warbler remains a genuinely rare beast in a British context – with less than 50 accepted records to the end of 2018, a shade over half of those owe themselves to Shetland as a whole and a whopping 17 of those birds were found on Fair Isle. This week, newly arrived assistant warden Alex Penn was blessed on his first morning on the island on 9th with Fair Isle's 19th record popping up onto the fenceline in front of him – quite a baptism, even by Fair Isle's admittedly high standards! The bird remained there the following day, for good measure, and comes hot on the heels of the island's last record (the 18th individual), found in June last year at the site of tragically burnt Obs. Not quite a phoenix rising from the ashes, but definitely a good bird and a fine omen for the future of the new Obs.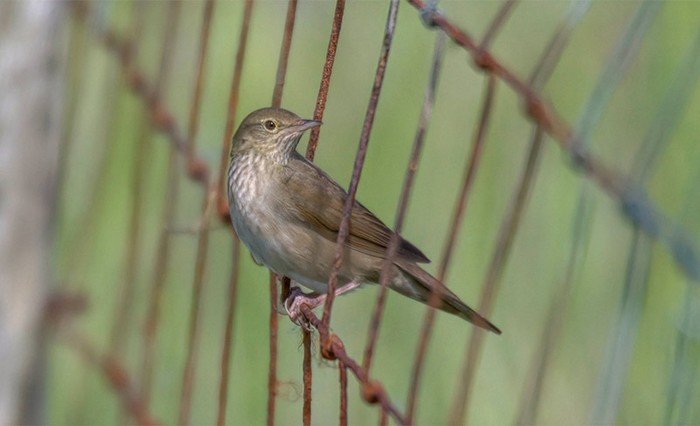 On the British mainland, they're still a decidedly hard to come by commodity – we need to go back a decade to Norfolk where, on 2nd-16th July 2010, one spent some time at Thorpe-next-Haddiscoe, for a gettable bird. I think many of us, of a certain age, will have particularly fond memories of the obliging individual that spent a month at Scotsman's Flash (Greater Manchester) in 1995. The next long-staying mainland English bird will surely be well-received too.
It was generally very slim pickings once more this week amongst the seabirds, with not a lot of movement of any kind offshore to report upon although, amongst a sea of tranquillity, we did get our first Fea's or Desertas Petrel of the summer, seen at sea 75 miles SSW of Cape Clear (Co.Cork) from the RV Celtic Explorer on 14th. We wait with bated breath for the next truly monstrous seabird to be logged from that particular vessel in the days and weeks to come…
That said, there was never likely to be a scintilla of doubt what the week's star seabird was going to be in these quarters – it's impossible to gainsay the star quality of a summer plumaged and confiding White-billed Diver. One was hanging photogenically around this week just off the coast of Unst (Shetland) on 10th-13th.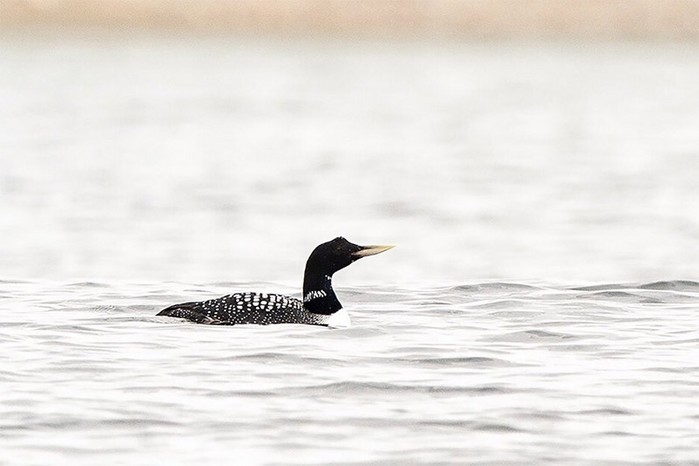 Skuas were limited to a single Pomarine seen on 12th from Auckengill (Highland), and a Long-tailed on Orkney at Bay of Skaill on 14th; while single Balearic Shearwaters were seen in the south from St Ives (Cornwall) on 11th, and Portland (Dorset) on 11th and 13th.
A probable Cory's Shearwater was logged heading north past Hunmanby Gap (North Yorkshire) on 11th.
Numbers of the scarcer long-legged beasties on offer this week were well down generally. We'll start in northern England where, in Cumbria on 14th, a Black Stork was seen near Haverthwaite and, latterly, Hampsfell.
In Lancashire, a Purple Heron was again seen at Marton Mere LNR on 10th.
Moving south, the adult Glossy Ibis remained settled at Lower Moor (Worcestershire) on 9th-14th. In Ireland, another bird was present at Pilmore Strand (Co.Cork) on 10th-14th.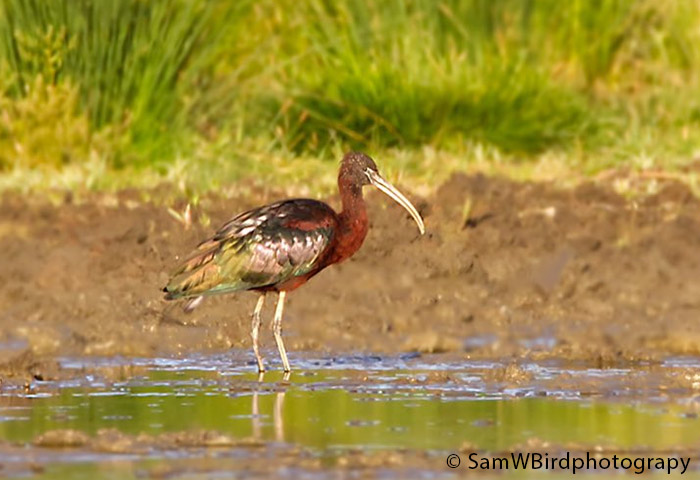 A possible Night Heron was noted over Marston (Lincolnshire) as night fell on 13th.
On Unst (Shetland), the recent Common Crane remained in residency until 15th; one was noted on 9th in East Yorkshire still at Leven Carr. On 13th, two were seen over Beal Carrs (North Yorkshire).
In Norfolk, the Corncrake remained rasping away at Thorpe Marshes NWT on 13th-14th, while another was heard in the county at Welney WWT on 12th-14th.
Just when you thought it was safe to go back in the water… the surface of the rarity duckpond is ruffled once more by the presence of yet another Hooded Merganser this week, a female seen on 11th in Epping Forest (Essex) on Connaught Water, deemed to be a presumed escape. The same could fairly be said for some birds in the not too distant past too, but heyho…
Before we leave controversy corner, the female duck in Northumberland, initially reported as a Blue-winged Teal and, latterly, mooted as a hybrid Blue-winged Teal x Shoveler, was still tootling around Castle Island on the River Wansbeck (Northumberland) on 11th.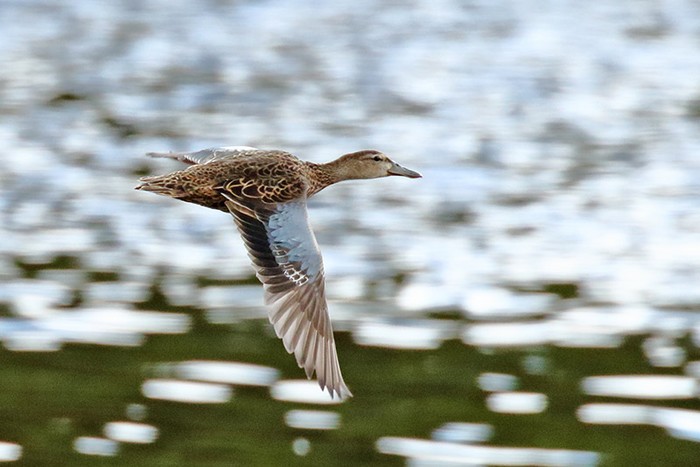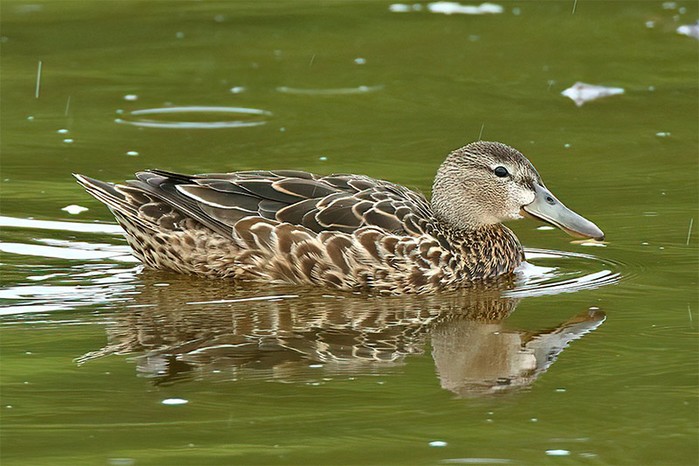 Moving onto firmer ground, the drake American Wigeon remained in Northumberland at Grindon Lough on 11th-15th.
In Leicestershire, the Green-winged Teal was still to be seen on Eyebrook reservoir on 9th, but wasn't reported thereafter.
Out on North Uist (Western Isles), the drake Lesser Scaup was still present on Loch Sandary on 11th-15th.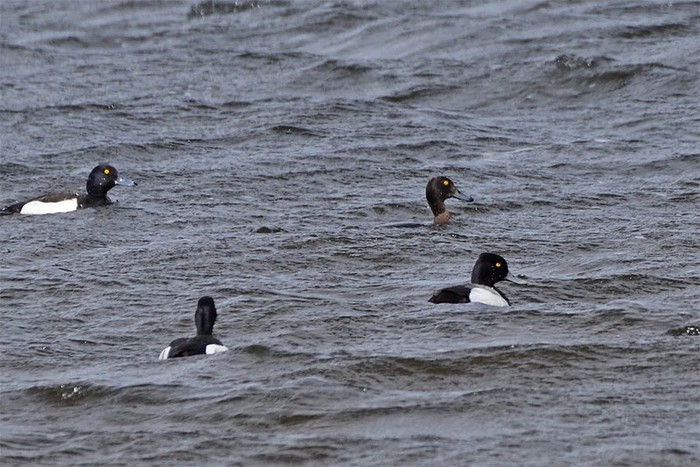 A possible Ring-necked Duck was seen on 14th at Seamer Tip Pool (North Yorkshire).
Finally, we've not had a honker in the news for a few weeks now, but that changed this week with two white morph Snow Geese seen on North Ronaldsay (Orkney) on 9th.
<!—Section Title -->
Topping the week's wader news once more this week was another Broad-billed Sandpiper, this time a Scottish example, seen at Musselburgh (Lothian) on 10th-11th.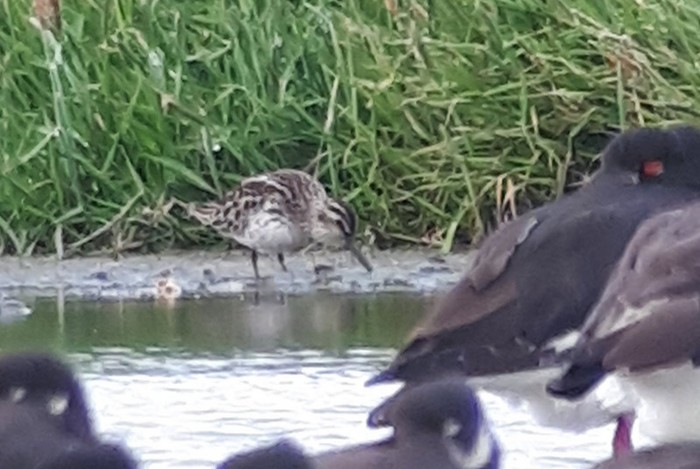 More southern flavour was provided in the form of a Kentish Plover seen at Weston Shore (Hampshire) on 11th; whilst the Black-winged Stilt still present at Rye Harbour NR (East Sussex) on 9th-14th was joined in the news by two birds at Badshot Lea (Surrey) on 9th, and one over Hollesley (Suffolk) on 13th.
A distinctly northern element came in the form of a late Dotterel on the summit of Shetland's highest ground, Ronas Hill, on 10th.
The first-summer Lesser Yellowlegs continued to find Nosterfield LNR (North Yorkshire) greatly to its liking on 9th-14th.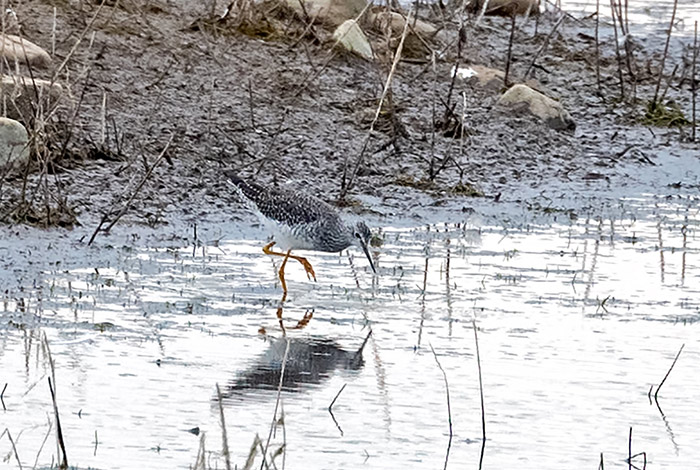 Birders, meanwhile, were finding English Red-necked Phalaropes greatly to their liking this week – the female still present on Grindon Lough (Northumberland) on 9th-15th and a male at Watermead CP (Leicestershire) on 10th-12th both proving popular.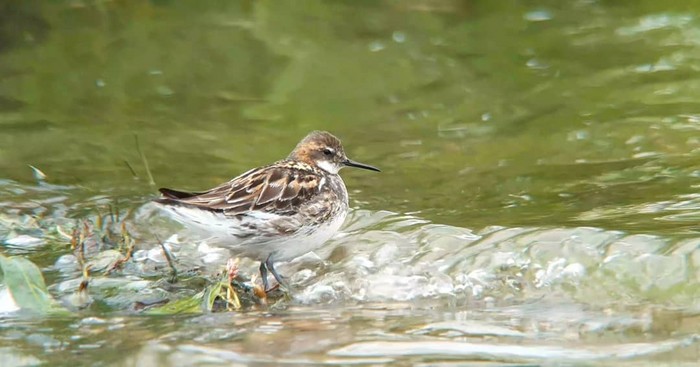 The biggest tern news this week was, clearly, on Anglesey, but literally bigger tern news was present elsewhere, with fresh Caspian Tern sightings to report – from Norfolk, at Potter Heigham on 9th still and again on 13th-15th, and in the afternoon of 9th also at Hickling Broad; briefly, on 12th at Chew Valley Lake (Somerset); and further probable bird was seen distantly off Bawdsey (Suffolk) pon 14th. At this time of year, one could conceivably appear at any inland freshwater site, the stuff of daydreams for local patch-workers.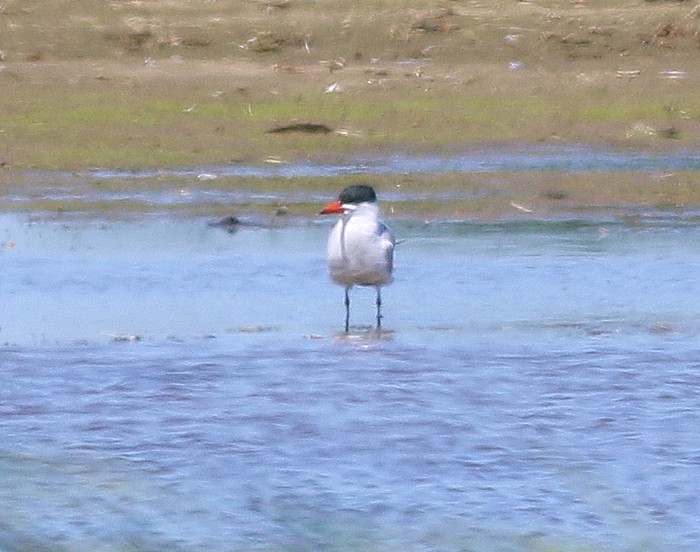 In Ireland, a putative adult eurygnathus Cayenne Tern was seen at Lady's Island Lake (Co.Wexford) amongst the regular Sandwich Terns on 12th-14th. Formerly considered a subspecies of the latter, they're now considered a subspecies of something considerably rarer - Cabot's Tern. This then, potentially, could be very big news indeed. Watch this space…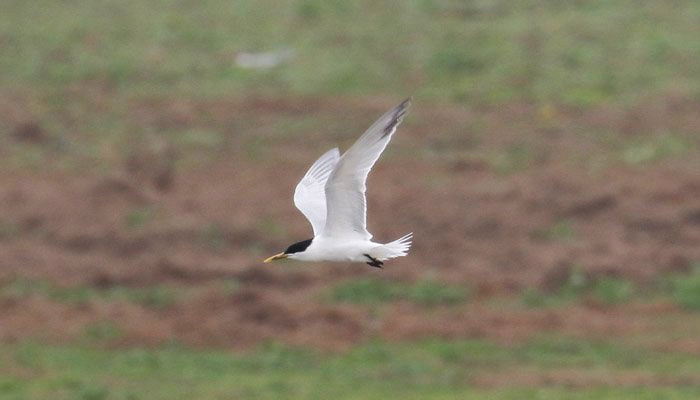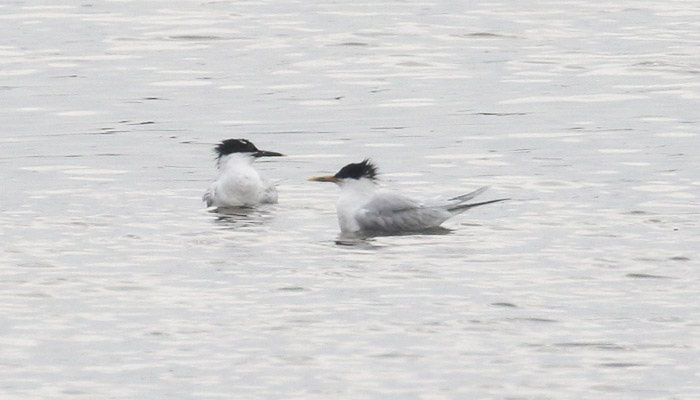 Presumably the regular, semi-resident Irish Forster's Tern accounts for the adult bird seen on 14th at Inishroo (Co.Galway).
The returning adult Bonaparte's Gull was again seen this week at Oare Marshes KWT (Kent) on 10th.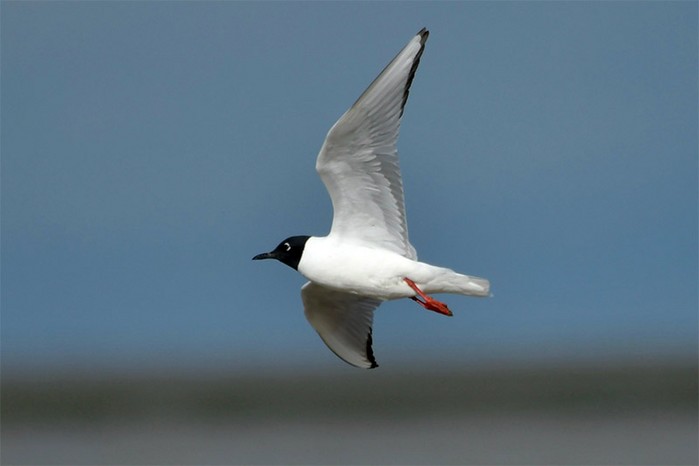 A first-summer Ring-billed Gull around Loch of Hillwell (Shetland) on 14th had been present in the area for some days beforehand.
Our sole white-wingers this week were the lingering Glaucous Gull still present in Lincolnshire at Pyewipe on 10th and another seen on Benbecula (Western Isles) on 14th; and an Iceland Gull seen on Barra (Western Isles) on 15th.
The news continued to be dominated by reports of Red-footed Falcons this week, with a number of lingering birds proving deservedly popular with their admirers.
Kent, once again, was a hotspot for sightings, with birds being logged at Dungeness on 9th, where a male was seen, and again on 14th when a first-summer male cropped up; a female at Sandwich on 11th; and on 13th a female at Westbere and a first-summer male at Worth Marsh. On the Kent/East Sussex border at Jury's Gap on 13th-14th another female was seen.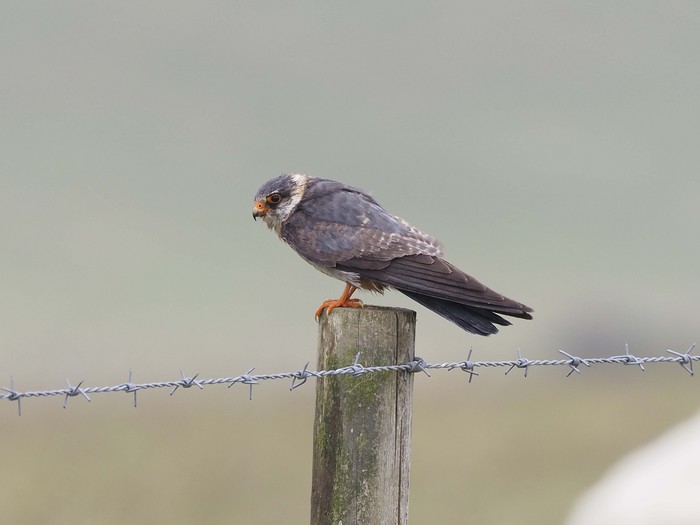 Sussex generally also did well this week, with sightings of a first-summer male coming on 9th-10th in East Sussex at Shoreham and Portslade-by-Sea and, in West Sussex, a first-summer male lingering at Upper Beeding on 10th-15th.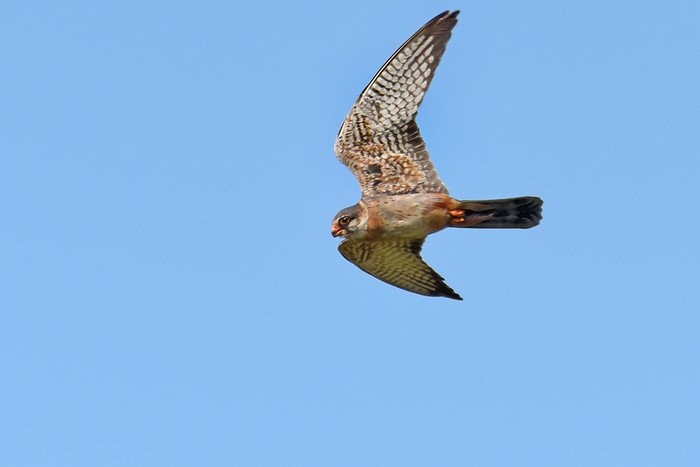 Moving west along the south coast, Hampshire had sightings of a female bird on consecutive days, at Titchfield on 11th and Acres Down on 12th, preceded by a probable first-summer male at Shatterford on 9th. The week's final birds were a lingering first-summer female at Fen Drayton Lakes RSPB (Cambridgeshire) on 9th-15th, and a female in the evening of 15th at Biggin (North Yorkshire).
A probable Black Kite was noted over Uckfield (East Sussex) on 13th, with another probable on 15th at Minsmere RSPB (Suffolk).
A probable White-tailed Eagle cropped up twice in Lancashire on 9th, in the late morning over Boulsworth Hill and, in the afternoon, at Rawtenstall. Staffordshire, meanwhile, accounted for sightings in the afternoon of 9th near Rushton Spencer and at Silverdale. On 15th a juvenile was seen on Westerdale Moor (North Yorkshire).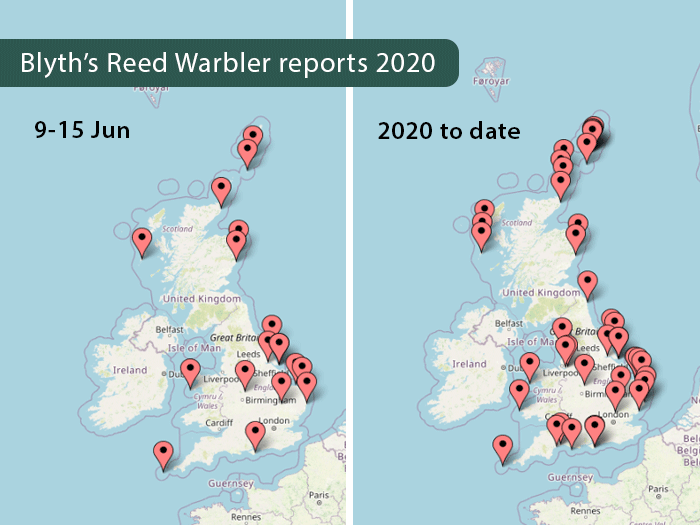 The previous week's headliner, Blyth's Reed Warbler continued its strong run for another week, albeit not in quite the same numbers as hitherto. Hangovers from the prior week remained present at Southwold (Suffolk) on 9th, North Walsham (Norfolk) on 9th, Fair Isle (Shetland) on 10th-11th, and at Far Ings NR (Lincolnshire) on 9th-15th – the latter bird being particularly vocal and demonstrative. Fair Isle landed a new bird on 13th, with at least one or possibly two birds present on the island on 14th; while further fresh faces were found at Cley (Norfolk) on 10th, Barra (Western Isles) on 11th, Spurn (East Yorkshire) on 12th, and on 13th at Kilnsea (East Yorkshire), Filey (North Yorkshire) and Quendale (Shetland). On 14th-15th Aberdeenshire landed one in song in Aberdeen, with another candidate at Kinneff on 14th; another possible bird was inland at Whitemoor Haye (Staffordshire) on 14th also; and one was present at Wick (Highland) on 14th-15th. On 15th one was found in song on the Isle of Wight at Haddons Pits NT.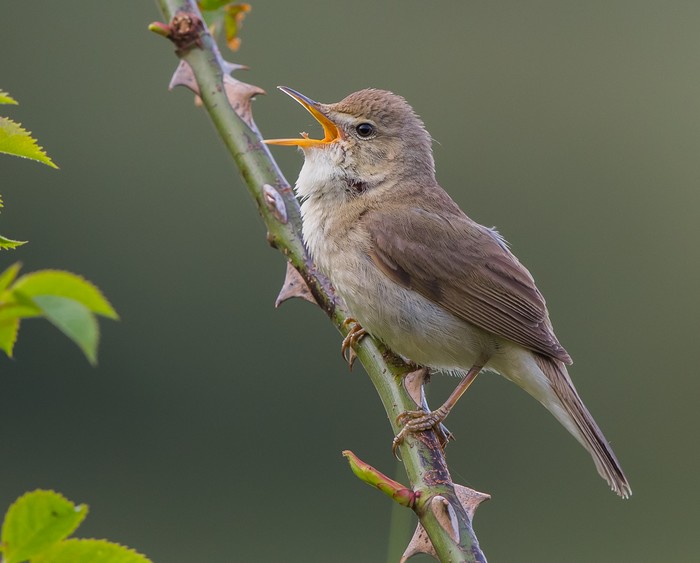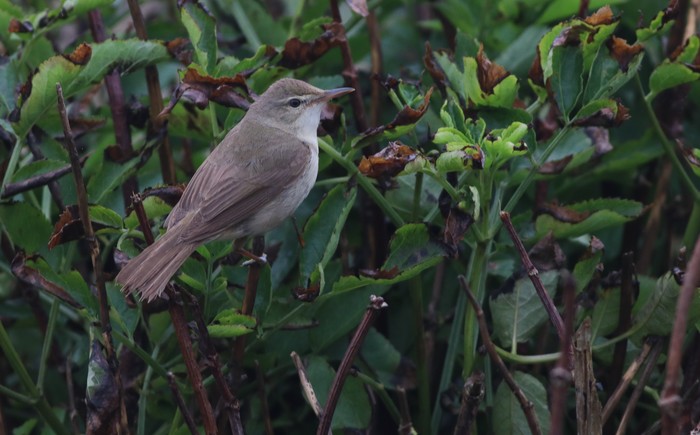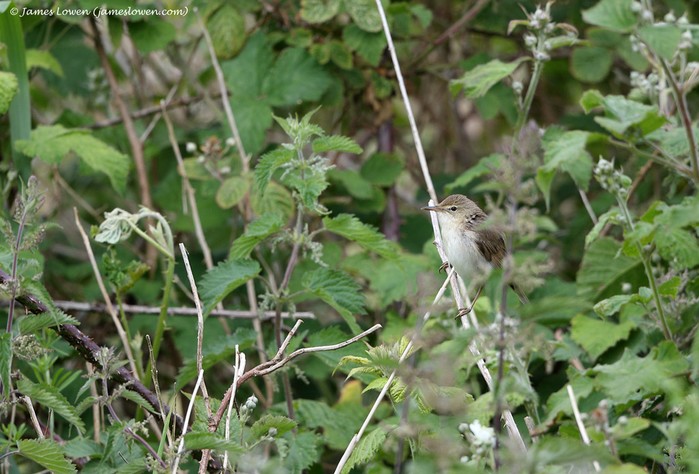 Marsh Warblers meanwhile went from strength to strength, with around 30 birds found this week – Flamborough (East Yorkshire) enjoying an embarrassment of riches with two singing birds present on 13th, while two lingered in Suffolk at Southwold until 12th and two were present on Fair Isle (Shetland) as the week came to a close on 15th.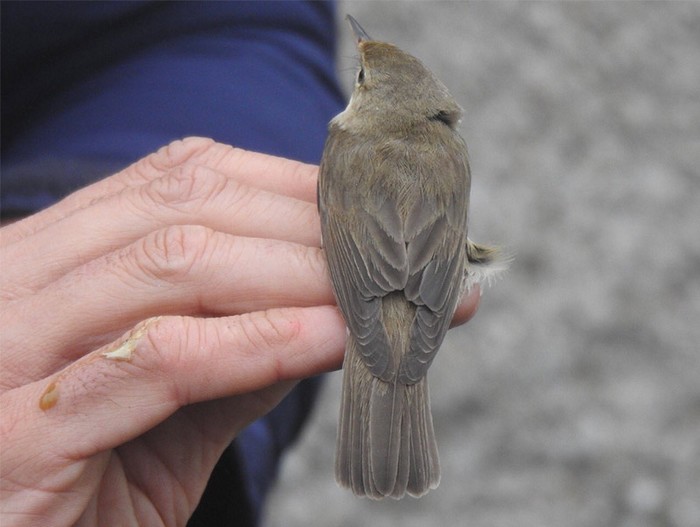 Birders in East Yorkshire could be forgiven for feeling a little jaded they didn't land a Green Warbler this week – with recent sightings in Scandinavia, Orkney's bird still fresh in our minds' eyes, and one present this week in Holland, the signs were all promising – and, certainly, Greenish Warblers were turning up. One on Spurn on 10th was followed by a bird trapped and ringed at Kilnsea on 11th, and then on 12th-13th at least two and at times three birds were present across Spurn. Birds in song were also discovered in the county at Flamborough on 12th-13th and, on 13th, at Easington. The week's only non-Yorkshire birds were one present in the trees at Halligarth on Unst (Shetland) on 10th-15th – a first for the site, coming after Green Warbler -and one trapped and ringed on Fair Isle (Shetland) on 15th.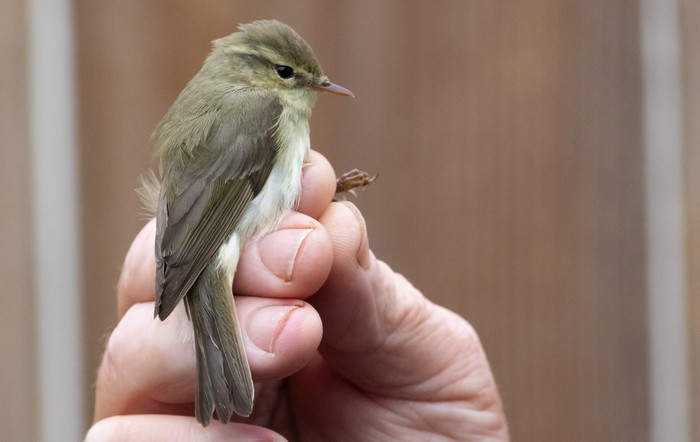 In Suffolk, the singing Iberian Chiffchaff remained at Minsmere RSPB on 9th-15th.
Shetland's latest Savi's Warbler was still dug in like a tick in Steve Minton's garden at Scatness on 10th-15th. Further singing birds were found this week at North Warren RSPB (Suffolk) still on 9th-10th and, in Norfolk, at Thorpe Marshes NWT on 13th-15th.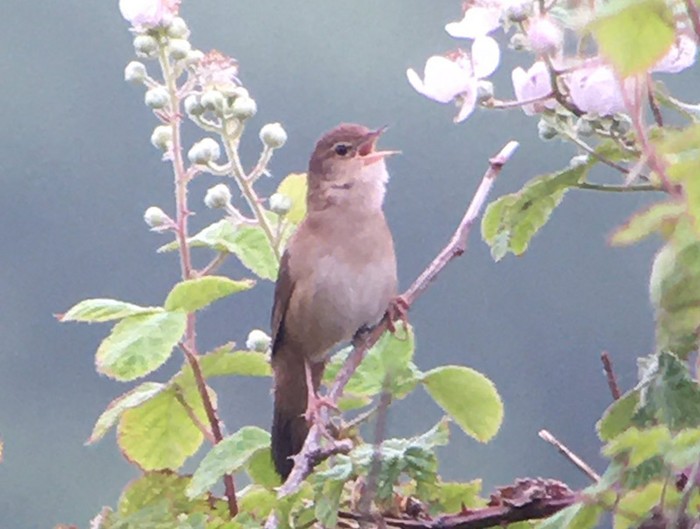 A female Subalpine Warbler sp was found on Foula (Shetland) on 15th, with a Barred Warbler on there too for good measure.
Icterine Warblers were to be found this week on Fair Isle (Shetland) on 9th and Isle of May (Fife) on 15th; further probable birds in song were noted on 10th at Stonham Aspal (Suffolk) and 15th at Nunnery Lakes NR (Norfolk).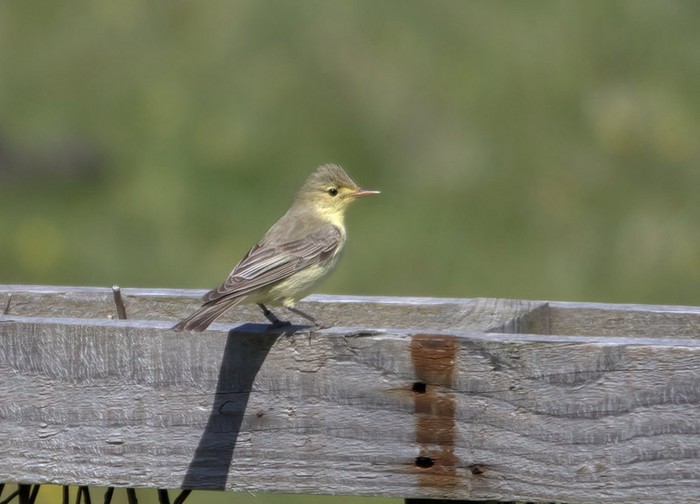 Around a dozen Red-backed Shrikes were logged this week, a predictably east coast bias challenged only by a bird on 12th at Malltraeth Cob on Anglesey. Fair Isle (Shetland) enjoyed the lion's share of sightings, with four birds present on 9th.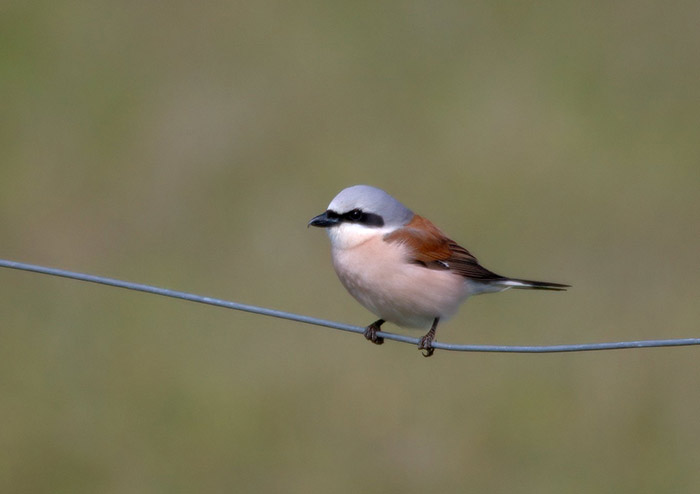 Orkney, meanwhile, enjoyed a Woodchat Shrike still present at Loch of Harray on 9th-11th; a further bird being found this week at Crosshaven (Co.Cork) on 12th-13th.
A scatter of Bee-eaters kept the summery feeling very much alive – southern England was blessed with single birds seen or heard at Elmsett (Suffolk) on 9th; outside Faversham (Kent) on 10th; on 13th, at Land's End and Polgigga (Cornwall), Sandwich Bay (Kent), Holland Haven CP (Essex) and Aldeburgh Town Marsh (Suffolk); and on 14th on Portland (Dorset), where at least two were heard passing overhead. An exceptionally wayward and lost bird was photographed on a boat 55 miles northwest of Muckle Flugga (Shetland) on 14th.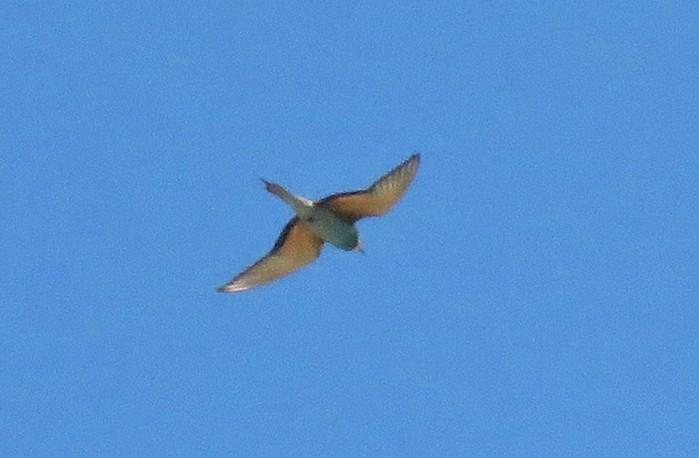 Golden Orioles were heard this week on 9th at North Warren RSPB (Suffolk), Kilnsea (East Yorkshire);on 9th-10th, at Wicken Fen NT (Cambridgeshire) still; and on 14th at Hollesley Marshes RSPB (Suffolk). A further male was seen in North Yorkshire at Wykeham Lakes on 13th and, on 15th, one was found on Portland (Dorset).
A Hoopoe was seen in Bristol (Somerset) on 14th, with another found that day at Westerleigh (Gloucestershire).
The Red-rumped Swallow remained on St Mary's (Scilly) on 9th.
Kent would have made the headlines had the possible White-rumped Swift seen briefly over South Tonbridge on 13th only firmed up into a more concrete sighting.
Fair Isle's excellent week was cemented by the discovery of a Thrush Nightingale on the island on 14th.
Before we leave Fair Isle, however, we need to acknowledge the singing male Citrine Wagtail still settled there on 9th-14th; and cast our eyes south briefly to Papa Westray (Orkney) where the recent first-summer male bird was again seen on 10th.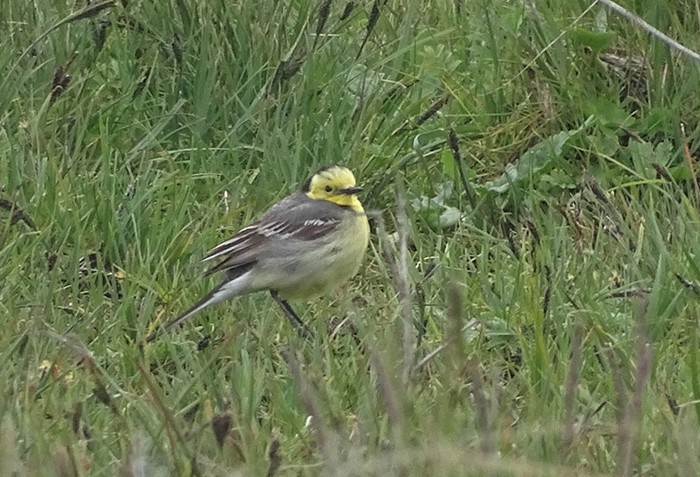 Fair Isle's wagtail haul was embellished with a Blue-headed Wagtail on 11th; another this week present on Hesketh Out Marsh RSPB (Lancashire) on 13th-14th. A Grey-headed Wagtail was present on Isle of May (Fife) on 14th.
Fair Isle also landed a Red-breasted Flycatcher on 11th; further spring birds being found this week on Tiree (Argyll & Bute) on 12th and St Abb's Head (Borders) on 13th.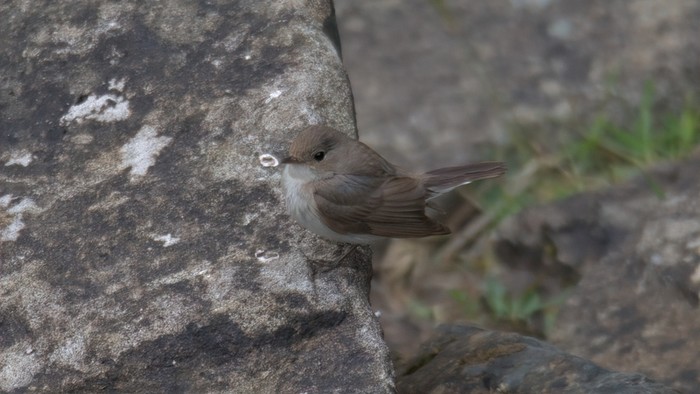 The 2020 irruption of Rose-coloured Starlings continued apace this week, with plenty of new birds found taking the year's tally over 100 birds – in all, some 50 fresh birds were logged this week, with two on The Lizard (Cornwall) on 9th and as many as three on Portland (Dorset) on 10th notable.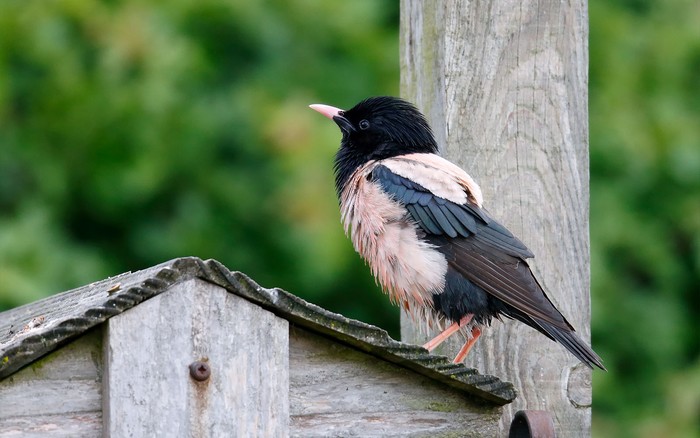 A wide scatter of Common Rosefinches were noted this week, with some cheerful singing going on here and there. One such was present on Fair Isle on 9th, and another songster was on Bardsey (Gwynedd) on 12th-14th. One remained at Auchenblae (Aberdeenshire) on 9th-15th; a bird was present on North Ronaldsay (Orkney) on 10th-11th, with two birds present on 12th; a male was found at Pant-Y-Sais (Glamorgan) on 13th-14th; and another Welsh singing bird was found in Gwynedd at Cwmistir on 14th. On 15th one was in song on Isle of May (Fife).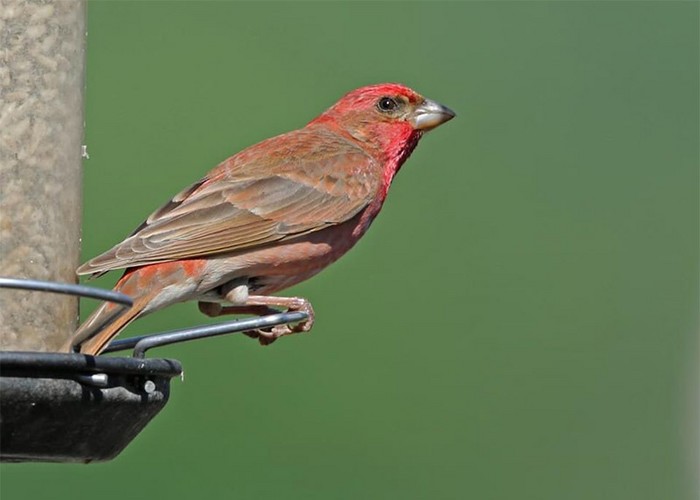 House Finch anyone? With the sound of lid being prised off a can of worms, one was seen in Devon at Parkham Ash on 14th.
A single Serin was found at Hope Point (Kent) on 13th; another was reported on 15th at the opposite end of the country, at Collieston in Aberdeenshire.
An Ortolan Bunting was present on Tory Island (Co.Donegal) on 10th, with a further unconfirmed report of a bird at Rogerstown (Co.Dublin) on 13th, and another reported from Filey (North Yorkshire) on 14th.
Finally, the irrepressible Nanjizal (Cornwall) enjoyed a brief singing male Rustic Bunting in the morning of 13th.
Scandinavia continued to dominate the overseas news again this week, with something in Norway to really set the old pulse racing… the country's second ever Rufous Bush Chat, in Arnestangen on 11th. If ever there was a bird to test social distancing and the application of common sense, this would be the one. Norway also landed another Greater Sand Plover, hot on the heels of one in Sweden the week before, at Rost on 10th.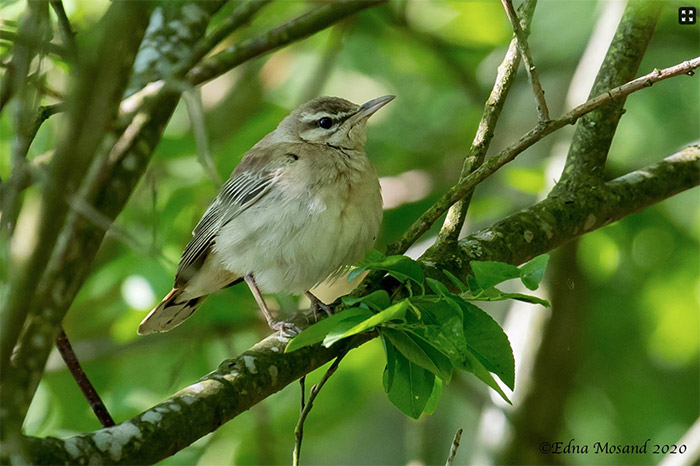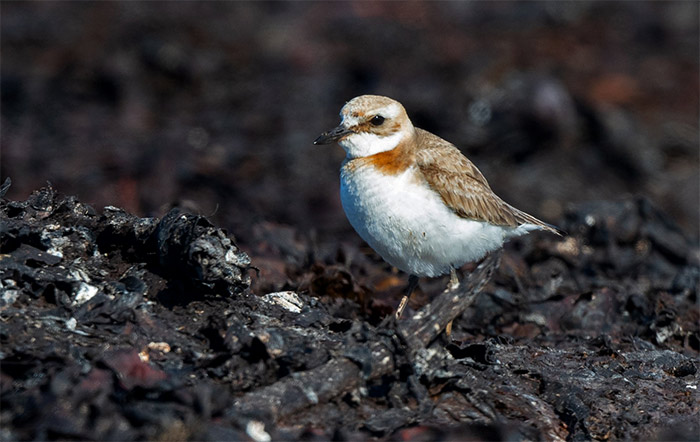 Sweden, meanwhile, supplies us with another Black-winged Kite in recent days – at Gerum on 9th – and a Trumpeter Finch at Norrgaddens harbour on 14th.
Denmark enjoyed a Rock Thrush at Ebeltoft on 11th.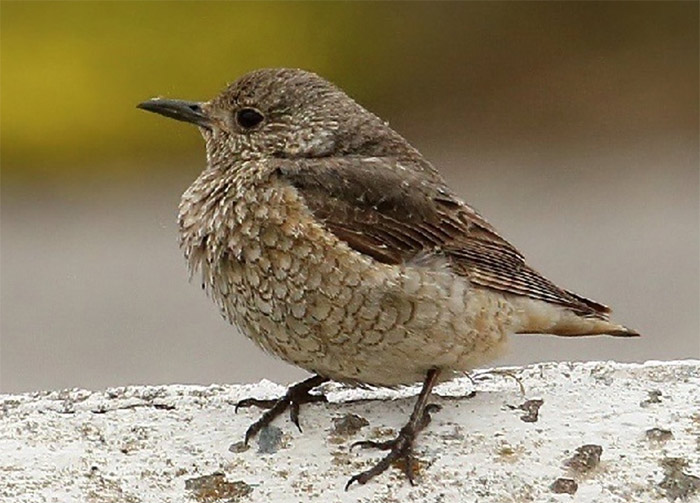 Holland was busy again, not least with the country's second ever Green Warbler on Texel on 10th. Sightings of Booted Eagle came thick and fast – at Katwijk on 12th, and on 13th at Meijendel and Pesse. The leucopsis Amur Wagtail remained at Rockanje on 10th-13th.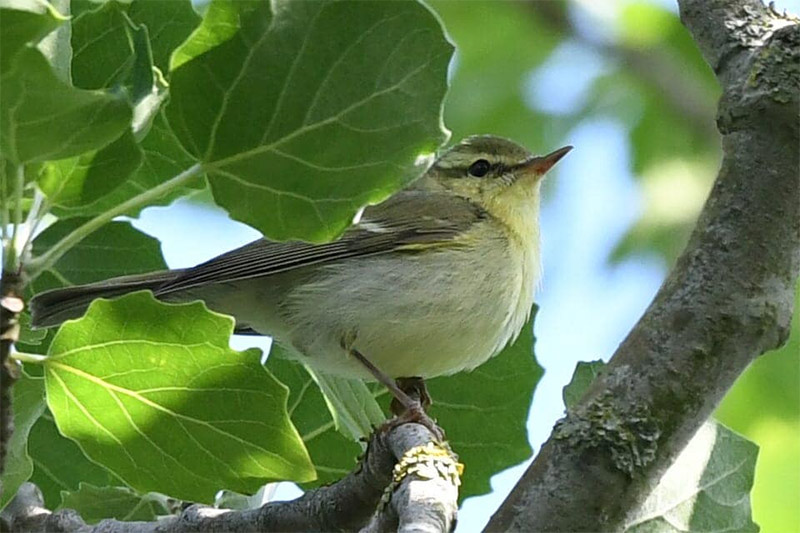 Germany also enjoyed a Greater Sand Plover this week, at Arneburg on 13th – surely one is in the wings for us soon? A Sociable Lapwing was present at Schonitzer See on 10th.
In Spain, four Lesser Flamingos remained at Laguna de Fuente de Piedra on 13th.
Finally, in Turkey, a Shikra was found on 10th at Trabzon, the third national record.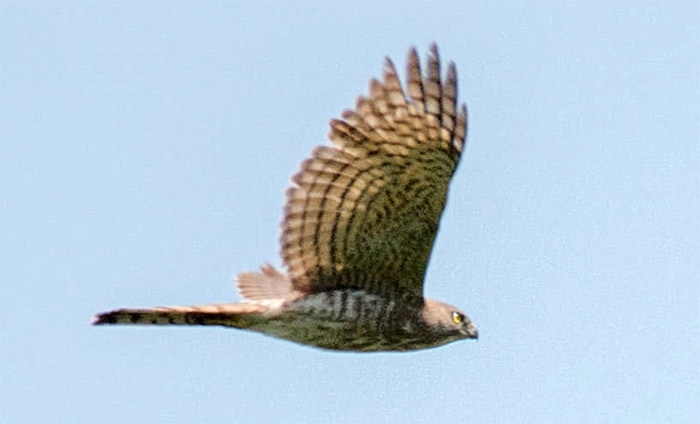 Returning to a drum I was banging earlier in the spring, when we were enjoying a fair few Large Tortoiseshell sightings across southern England, we've some happy news to report this week from Dorset where, initially this week a final instar Large Tortoiseshell caterpillar was found trundling through a Weymouth garden looking for a quiet place to pupate and, on 14th, local butterfly enthusiast Will Langdon made the find of a lifetime on adjacent Portland…
As the Portland Bird Observatory website http://www.portlandbirdobs.com/2020/06/14th-june.html notes, there have been rumours that someone has released insects onto the island in recent years – rumours that nobody seems able to substantiate, but plenty of people are happy to scathingly repeat. None of which takes away from Will's discovery – and I'll bet that, even if larval webs or wandering larvae aren't found elsewhere in southern or eastern England in the coming days, a fresh flush of Large Tortoiseshell sightings this summer from Dorset to Suffolk will bear mute testament to their successful breeding once more on British soil.
Large Tortoiseshells this week were certainly on the wing in East Sussex on 14th, being seen at Seaford and Beachy Head. That day was also marked by a possible first for Britain – a possible Southern Small White was seen at St Aldhelm's Head (Dorset). They've expanded their range in Europe significantly in the past few years and have been knocking at our door on the Channel and southern North Sea coast. It's surely only a matter of time before we get our first confirmed record – and there's rather a smart prize up for grabs if anyone gets a clinching image…
We're squarely at the point of the year where we ought not to expect a lot from the coming week… but, of what might turn up, we could reasonably hope for something really very tasty indeed. The impetus to migrate will be spent for many birds by this point in proceedings…
…but shorebirds provide significant grounds for some (wild) optimism. Historically, the third week of June boasts all manner of lovely things, from Marsh Sandpipers to Wilson's Phalaropes, and not forgetting Greater Sand Plover - with several of the latter now seen in western Europe in the past fortnight, this must surely be firmly on our radar.
The week to come is also a strong one for pratincoles. All three species on the British list have been seen during this period, with four past records for Collared and one for Black-winged. As a long, speculative shot this week, let's hold out for the middle ground - Oriental Pratincole has two historic records for the week to come, owing to 1981 and 1988 respectively. With just seven accepted British records as a whole, it remains a monstrously rare beast – but one that might, just might, be winging its way to an east coast wetland any day now…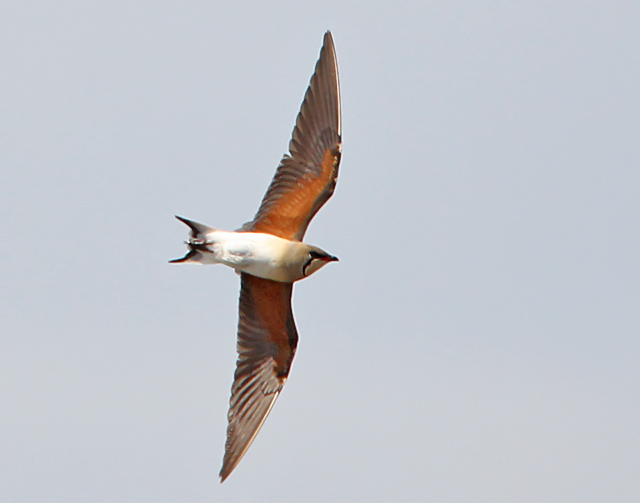 Jon Dunn
16 Jun 2020
Many thanks to all this week's contributors for your photos and videos
Share this story
Tweet