Weekly birding round-up: 26 May - 1 Jun 2020
The week at a glance
Orkney lands Britain's seventh Green Warbler
A Scops Owl is found in Cornwall
Shetland gets a brief Black-and-white Warbler
A Calandra Lark flies through Cleveland
While South Yorkshire has a brief recent Little Swift
With the coming of June, we've now clicked over into the meteorological summer. Yet how would we really know that this year as, officially, it's been the sunniest May on record – a meltdown May to be followed, one would assume nowadays in our warming world, by a flaming June.
Quite what that's going to mean for our native flora and fauna remains to be seen, but the effects have been remarked upon in some quarters in the past, predictably sunny, week. Orchids are flowering earlier than expected, and many plants are struggling in the baking ground.
What's happening with birds, though? It's too early to say how a scorching spring and summer will affect the breeding season, but there will inevitably be winners and losers. Speaking of winners, from a birder's perspective the past week started to get distinctly interesting, with helpful easterlies and south-easterlies flowing into Britain. That could mean only one thing…
Green Warbler
For the second week running, Orkney tops the headlines this week with yet another superb bird. For a while now, it's seemed like, within the archipelago, individual island bragging rights were very much Papa Westray's – indeed, even this week Papa was continuing its rich run of form, as we'll see in due course.
There was, perhaps, a clue as to what we might expect, somewhere, in the north earlier in the day on 1st, when Shetland scored Britain's earliest ever spring Booted Warbler - the clue lying further east, where one was found the same day in Denmark.
What else had Denmark enjoyed in recent days that might, with a fair wind, also be found in Britain? Ah yes. That would be the singing Green Warbler found at Skagen on 27th, Denmark's second national record.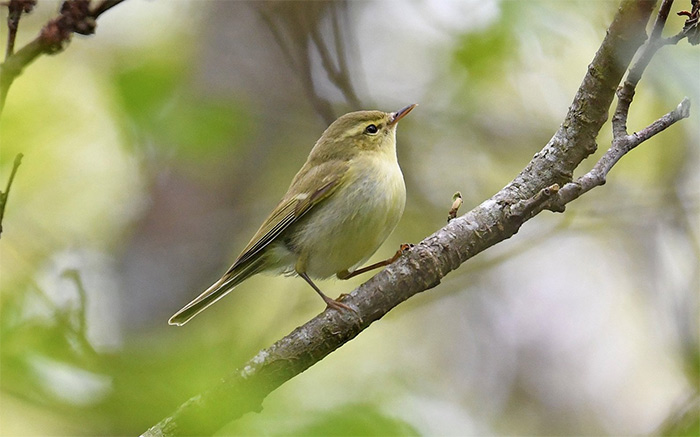 Late news from North Ronaldsay on 1st confirmed a good day at Orkney's northern extremity – a couple of Marsh Warblers, and a Greenish Warbler trapped and ringed. Alarm bells, however, were ringing the moment observatory assistant warden George Gay laid eyes on the latter bird – so brightly marked was it he thought it was going to prove to be a Wood Warbler. Of course, it wasn't…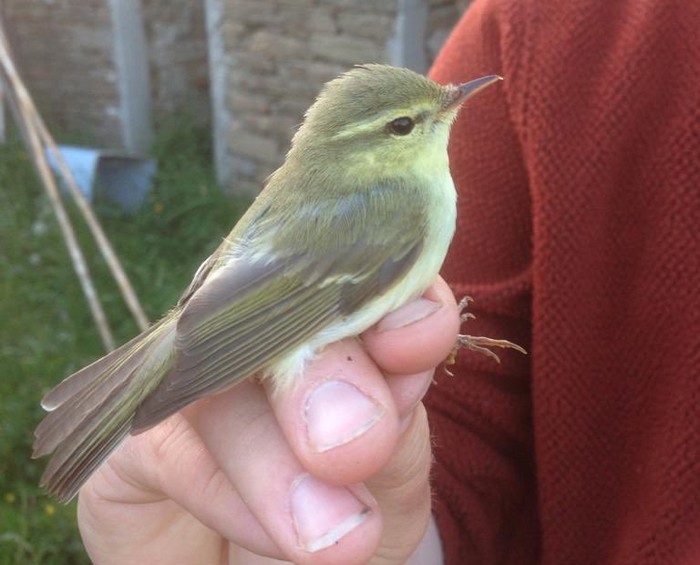 …but this looked good to him as a candidate for Green Warbler. By the morning of 2nd, with images of the bird online, others were of the same opinion. It looks the part and, in the brave new world in which we bird, with a sample retained for DNA analysis we'll have absolute certainty in due course.
Just to confirm on yesterdays Greenish.
Green was an immediate thought. For those interested bios were:
Wing 65mm
P2 = 7/8
Emg strongly on P6.
We do have DNA from the bird so that will obviously answer all the questions.

— North Ronaldsay Bird Observatory (@NRonBirdObs) June 2, 2020
Our past six British records show, if we're lucky, a Green Warbler could turn up any time between May and October – this being the fourth emphatically spring bird, following those found in Shetland on Foula on 31st May 2014 and Unst on 12th May 2016, and one found on The Lizard (Cornwall) on 10th June 2019. Shetland's third record, a bird found on Fair Isle on 4th July, falls in a midsummer hinterland before more classically autumnal records from St Mary's (Scilly) found on 26th September 1983 and Lundy (Devon), found on 7th October 2018.
With four spring birds found in Britain in the past decade, Green Warbler is starting to show some promise as a distinct, if outside, possibility given promising weather at this time of year. What's certain is that Orkney is absolutely flying so far this year where rare birds are concerned.
Scops Owl
Many years ago, more than I care to remember or admit, I won a writing prize at school. The prize took the form of a book of my choice. I forget the price ceiling the school placed on that – certainly, the Birds of the Western Palearctic was out of the question – but there was one book I wanted above all at the time. I'd recently seen my first Bluethroat on Portland, and the rarity bug had bitten hard…
I still have the book in question. It's sitting beside me as I write this week's round up. I'd rather look at it than out of the window as, across the water on the Out Skerries, a Woodchat Shrike is taunting me. It could so easily have flown the little extra way across the water to Whalsay… But back to the book. On the front cover is a glorious illustration of an alert, sulphurous-eyed Scops Owl. The book is, of course, Richard Millington's A Twitcher's Diary.
If you've not read it, do seek it out – it covers his birding travels in 1980 around Britain, and it's a gripping read. Imagine, for a callow young birder, how exciting the rarities he saw were – and few gripped me more than the Scops Owl he finally saw, on his fifth visit to Dummer (Hampshire), on 3rd July of that year. Years later, when news of one in Cornwall at Morwenstow broke on 9th April 1995, I abandoned a barbecue with my girlfriend's family and fled west as fast as I could thrash an asthmatic diesel Vauxhall Cavalier down the A30. I saw the bird, and it cost me my relationship. But hey. Scop's Owl…
So, I've a particular fondness for them. They're simply awesome little birds, bursting with character. Ones in Cornwall, then, have particular resonance for me. All of which is by way of nostalgic preamble to this week's opening bird – a superb Scops Owl trapped and ringed at the magnificent Nanjizal Valley in west Cornwall on 28th by an evidently delighted Kester Wilson, the seventh Cornish record. Worth getting out of bed for, indeed…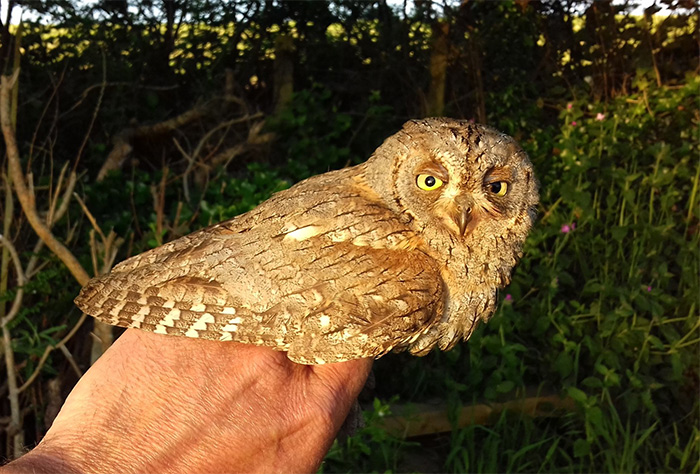 Black-and-white Warbler
How very differently the news of a Black-and-white Warbler at Aithsetter (Shetland) in the morning of 28th would have been greeted had that news not been belated, and couched with the significant caveat that the bird hadn't been seen since…
Not a first for Shetland, but it might as well have been, for the last one was found dead in the central mainland at Tingwall in October 1936. This, to date, is the only Scottish record. Birders in Shetland, at the very least, would in normal circumstances have been very interested indeed.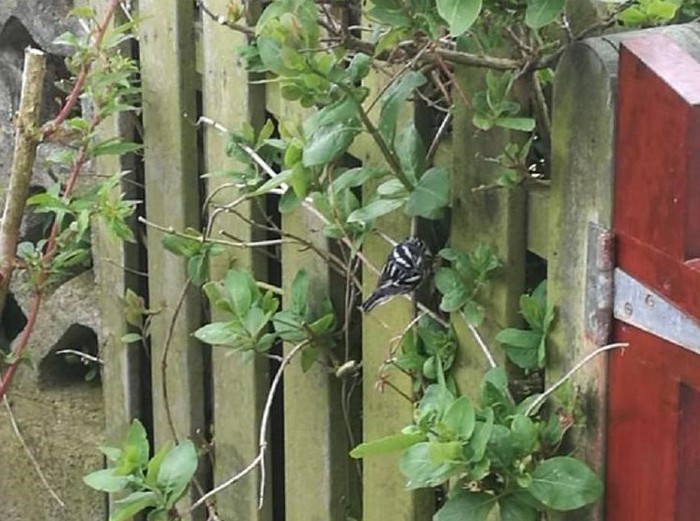 These are not, of course, normal circumstances and, with the Scottish government lockdown restrictions only easing to allow non-essential travel within a five mile radius of one's home, Aithsetter would have been well out of reach of pretty much every Shetland birder bar a handful.
As it was, the angst and frustration was limited – hot on the heels of a bird in Iceland the previous week, this one had come and gone leaving only a gripping photograph in its wake…
Little Swift & Calandra Lark
What follows now are the briefest of accounts. Pretty much as fleeting and transitory as the sightings themselves, for neither of the week's other headline birds was hanging around.
The first of the dynamic duo also relates to belated news that emerged after the event – in this case, news concerning a Little Swift at Potteric Carr YWT (South Yorkshire) on 24th. The bird was seen briefly, and that's about all we can report – apart, of course, from setting it in the context of other Yorkshire sightings, which means the last bird to be found was in 2008 at Spurn on 26th June and, latterly, Old Moor on 2nd July.
News of the other big bird this week was rather more contemporaneous, but no less frustrating for all but the lucky finders – a flyby Calandra Lark, seen motoring north through Greatham Creek (Cleveland) in the early afternoon of 31st – a county first, but even the generous couldn't describe it as a one-day bird – more of a fleeting instance bird.
It was always too much to hope that the prior week's White-chinned Petrel was going to put in another appearance so soon after its serendipitous discovery in Orkney. And yet… I know many an Orkney or Shetland birder was secretly hoping it might yet surface once more. It wasn't to be, and so the ultimate blocker begins what's surely going to be a gripping tenure that will stretch decades before another bird is encountered. If ever.
Returning to more conventional seabird fare, it was a quiet time for seawatchers this past week. Perhaps attention was more focused on coastal bushes than what lay out towards the distant horizon…
Skua numbers generally were well down, with Long-tailed outnumbering Pomarines in recent days. The former were evidently pressing north with some urgency – in the Western Isles, one passed Grimsay on 26th, and two were seen from South Uist on 29th; and, in Shetland, one was found in the south of Mainland at Dalsetter on 29th also.
Our only Pomarine Skuas were two seen from Rossall Point (Lancashire) on 30th.
On 28th, our sole Balearic Shearwaters of the week put in an appearance – single birds off, respectively, Portland (Dorset) and St Mary's (Scilly).
A probable first-summer White-billed Diver was found in Orkney on 31st on St Peter's Pool, albeit seen distantly.
There was definitely something of a south-eastern European vibe amongst our long-legged beasties this week, with some colourful arrivals spicing things up.
Starting in Norfolk, a Squacco Heron seen intermittently at Hickling Broad NWT on 26th-27th was followed, on 30th-31st, by a deservedly popular and showy bird at Bayfield Hall.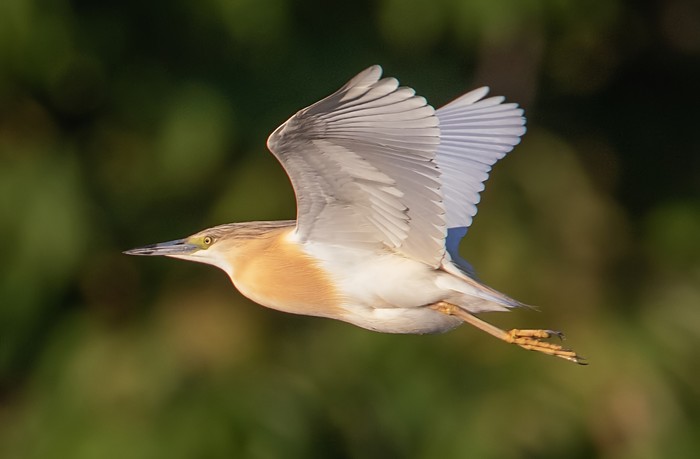 Staying in Norfolk, a Night Heron passed over Great Ryburgh in the evening of 28th; another was seen on 26th on the Westport Canal near Hambridge (Somerset); and on 1st a sub-adult bird was seen in flight in Cornwall at Buryas Bridge.
Down in Cornwall, a male Little Bittern was an unexpected discovery at St Levan on 30th; another was seen in flight at Blagdon Lake (Somerset) in the late evening of 27th.
On the Somerset Levels, the first-summer Purple Heron was again seen at Ham Wall RSPB on 27th-31st. Moving east, one was seen over Christchurch Harbour (Dorset) on 28th, one was present at Farlington Marshes HWT (Hampshire) on 31st and, back to Norfolk once more, another bird was noted at Hickling Broad NWT on 30th. On 1st a final English sighting came from Worth Marsh (Kent). In Ireland, meanwhile, the recent individual was once more seen at Knock Lake (Co.Dublin) on 30th.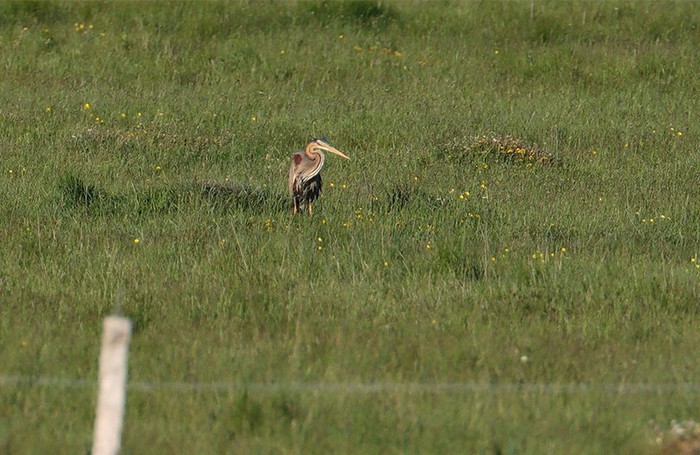 Worcestershire provides us with the first of the week's Glossy Ibises - a bird seen initially in the morning of 27th over Camp Lane Pits and, latterly, on 27th-31st, at Lower Moor. Further birds were found on 31st at Grove Ferry NNR (Kent) and on Belfast Lough (Co.Down). The week closed with another seen in Suffolk at Botany Marshes on 1st.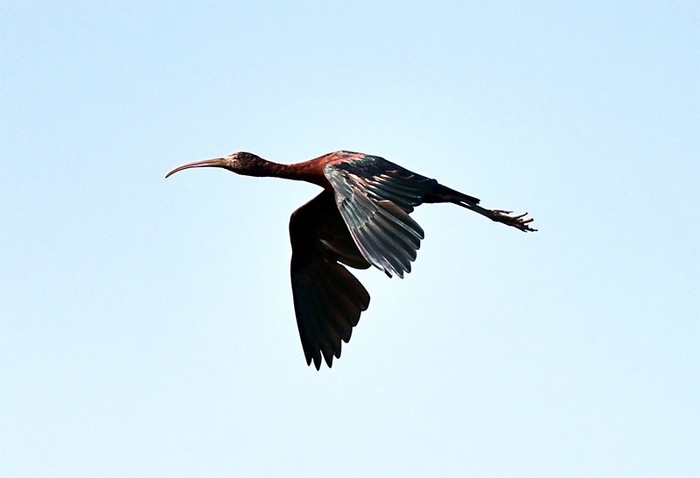 Wandering Common Cranes were, once again, a feature this week, with a wide scatter of records across the country away from the regular quarters. Starting in Shetland up on Unst, one remained there until 31st, while two were tracked over Lerwick and out onto Bressay on 27th, lending themselves to one or two house lists in the process. On the British mainland, one remained at Leven Carr (East Yorkshire) on 27th; a mobile bird was tracked through Cleveland on 27th, being seen over Haverton Hole, Saltholme RSPB and Kirklevington; a bird settled briefly at Idle Valley NR (Nottinghamshire) on 29th-30th; and on 30th birds were noted over Inverness (Highland) and Biggleswade (Bedfordshire).
The rasping Corncrake remained settled in Norfolk at Thorpe Marshes NWT until 1st; and an unconfirmed report came of a Spotted Crake in South Yorkshire at Loversall Carr on 28th.
Just when you thought it was time to chuck away the stale bread, a couple of notable quackers arrived this week on the rarity duckpond…
Out on the Western Isles, a drake Lesser Scaup was a fine find on North Uist's Loch Sandary on 27th-31st.
A female Blue-winged Teal appeared on 31st at Castle Island (Northumberland), remaining there as the week closed on 1st.
Lastly, a Green-winged Teal turned up in Leicestershire on Eyebrook reservoir on 30th-1st; another was found on 31st at Portmore Lough RSPB (Co.Antrim).
<!—Section Title -->
As we'd expect at this stage in proceedings, there was plenty of variety to be had amongst the waders on the move this week.
Absent from the headlines but for the lack of detail of the sighting, a possible Upland Sandpiper was reported from Saltholme RSPB (Cleveland) on 29th.
Last seen in Gloucestershire at the tail end of the prior week, was the Collared Pratincole found at Tramore Backstrand (Co.Waterford) on 27th one and the same bird? I guess we'll never know but, as we said last week, multiple records in any given year, particularly on the back of southeasterly winds, are far from unprecedented and, of course, Ireland's already had one record this spring, the bird seen at The Gearagh (Co.Cork) on 18th-20th April.
Lending a Nearctic twist to the week's waders, a Long-billed Dowitcher was to be seen at Belfast Lough RSPB (Co.Antrim) still on 26th-28th and, in North Yorkshire, the Lesser Yellowlegs was once more reported from Nosterfield LNR on 29th-1st.
A Pectoral Sandpiper was seen at Dungeness (Kent) on 29th; another was found on 31st on Skokholm (Pembrokeshire).
Temminck's Stint numbers dwindled sharply this week, with confirmed birds logged at Worth Marsh (Kent) still on 26th and at Frampton Marsh RSPB (Lincolnshire) on 28th; and a further probable bird at Breydon Water (Norfolk) on 28th also.
A Black-winged Stilt was found in East Sussex at Pannel Valley NR on 30th; another was present in Kent at Stodmarsh NNR on 1st.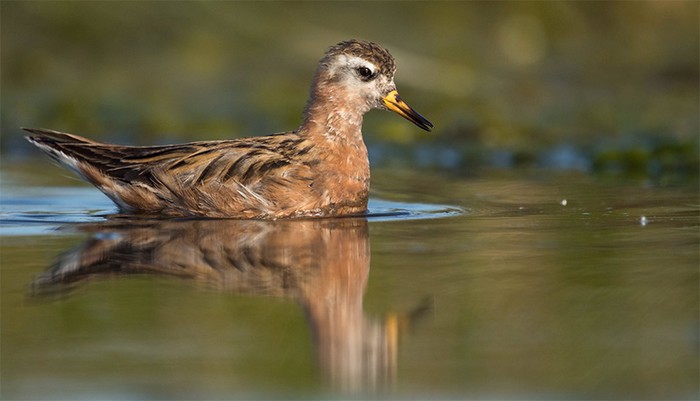 A handful of phalaropes provided late spring or early summer variety to the week's sightings. The female Red-necked Phalarope remained at Grindon Lough (Northumberland) on 26th-1st, with further birds found at Eldernell (Cambridgeshire) on 28th and Nosterfield LNR (North Yorkshire) on 30th; and Grey Phalaropes turned up at Lough Foyle (Co.Derry) on 26th and Sker Point (Glamorgan) on 29th.
The week's gull 'n' tern charge was lead this week in Norfolk where, on 28th, an adult Franklin's Gull appeared on the scrape at Hickling Broad NWT. The last confirmed bird in the county dates back to 2014.
Norfolk also provided a possible Bonaparte's Gull at Buckenham Marshes RSPB in the morning of 31st.
White-winged gulls, meanwhile, finished May with something of a flourish compared with recent weeks. Glaucous Gulls pushed towards double figures nationally, with birds seen on 26th at Blanket Nook (Co.Donegal) and Rosemarkie (Highland); on 27th on Tiree (Argyll & Bute) and on 27th-28th on North Uist (Western Isles); on 28th in Scrabster harbour (Highland); and on 30th on Skye (Highland) and at Pyewipe (Lincolnshire) again.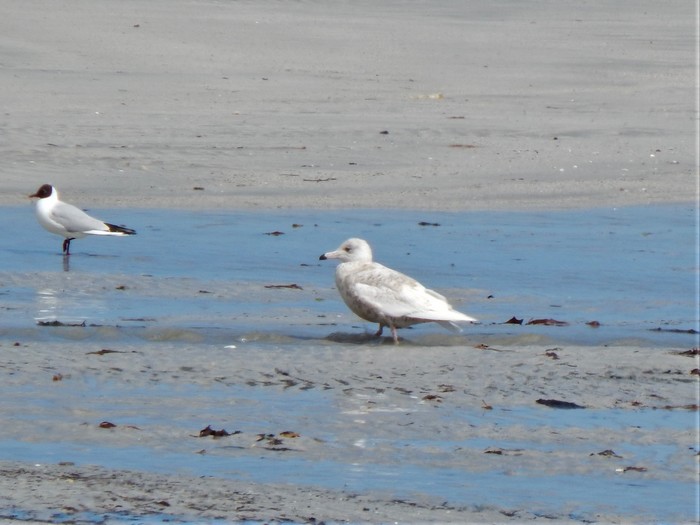 Iceland Gulls were a little less numerous – Shetland accounted for sightings at Ringasta on 26th and Hillwell on 29th; one was in Orkney on Papa Westray on 26th; another was seen on 27th on North Uist (Western Isles); and one remained at Ullapool harbour (Highland) on 27th-1st.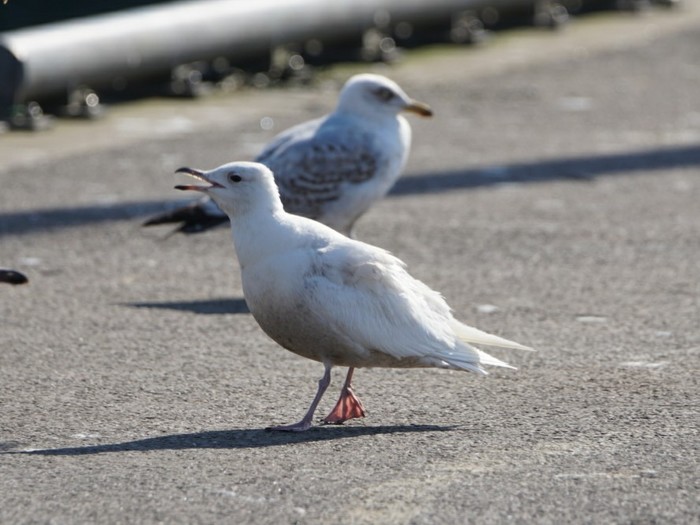 Belated news this week concerned a Whiskered Tern present at Dungeness (Kent) on 23rd-25th; another was found along the south coast this week at Titchfield Haven NNR (Hampshire) on 27th-28th, being seen there in the early mornings before heading out into the Solent during the day.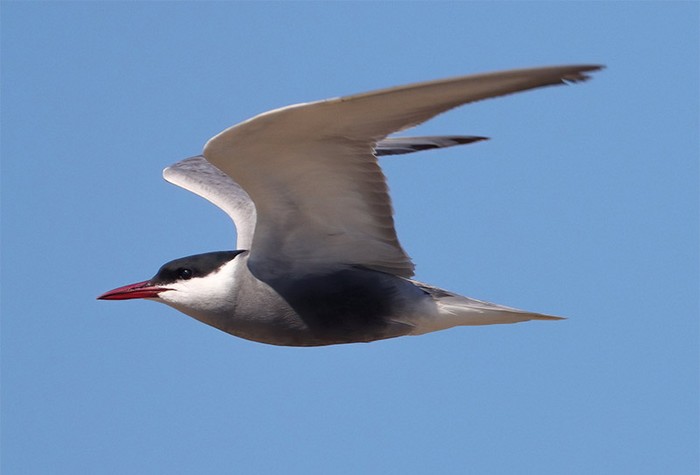 Hampshire was doing well for terns as, on 31st, a wandering Caspian Tern was seen at Eling Marsh, Hythe, Testwood Lakes HWT and Netley. Another of these bulky beauties was found that morning inland at Stanford reservoir (Northamptonshire); and, in the early evening of 1st, a probable was seen in Dorset at Bestwall NR.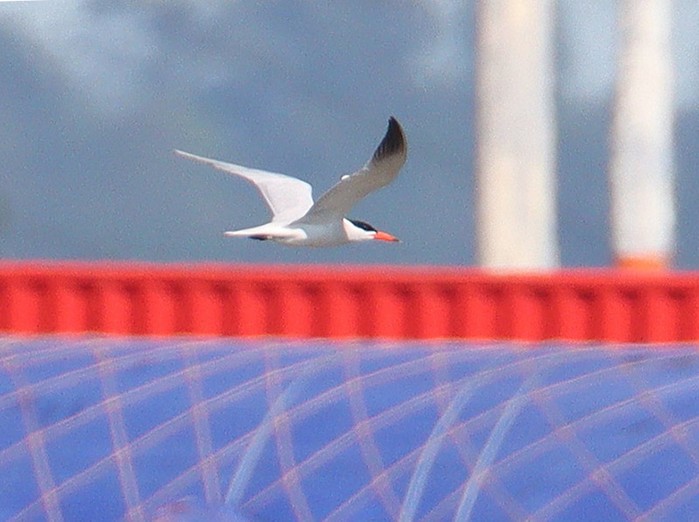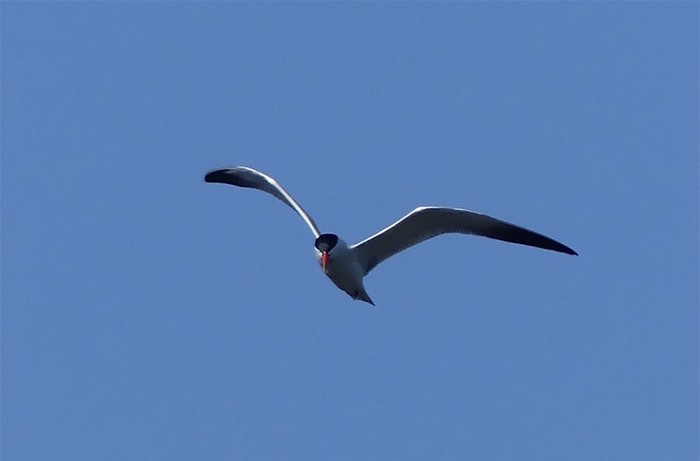 As we'll see shortly, Orkney's Papa Westray continued to emblazon a burgeoning recent run of form this week and, as we begin our raptor section with Red-footed Falcons, we'll start in the north on Papa Westray where a female was found on 30th. These beautiful little falcons are a scarce commodity this far north – but further south, they're more anticipated, not least in Kent. This week the garden of England retained a bird at Worth Marsh on 26th-1st with two birds present there on 1st, and gilded the lily with further sightings at Stodmarsh NNR again on 29th-1st and nearby Grove Ferry on 30th-31st also. Norfolk was doing well too – the female remained at Hickling Broad NWT on 26th-31st with two birds present there on 28th, while my erstwhile Rarity Round Up companion, Mark Golley, was continuing his rich vein of recent form with a first-summer male over Cley on 26th, and another sighting came from Breydon Water on 1st. Kilnsea (East Yorkshire) scored a female bird on 1st. Another first-summer male was reported this week from Frinton-on-Sea (Essex) on 26th, and a female bird was seen at Tacumshin (Co.Wexford) on 31st. A possible female flew over Welsh Hook (Pembrokeshire) on 31st.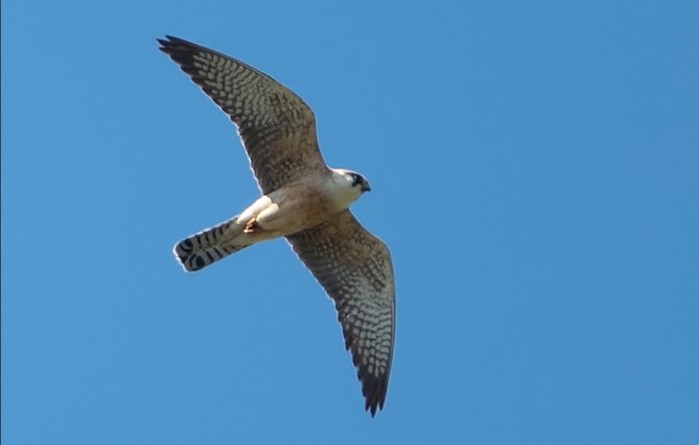 Further tantalising news came from Co.Wexford on 30th, where a possible Eleonora's Falcon was noted over Tacumshane. One of these days there's finally going to be an unequivocal and twitchable example of these elegant birds…
A Pallid or Montagu's Harrier was seen on 29th at Coxheath (Kent).
Further Montagu's Harriers were noted on 28th at East Tilbury (Essex), Thornhill Carse (Forth), and heading out to sea at Dungeness (Kent); probable birds were reported from Durlston CP (Dorset) on 26th, Drift reservoir (Cornwall) on 28th, on 29th from West Kyloe (Northumberland) and Cley NWT (Norfolk), and on 31st at Horse Shoe Point (Lincolnshire); and a possible bird on 31st at Icklesham (East Sussex).
Black Kites continued to pop out of the woodwork this week – birds were seen at Arundel WWT (West Sussex) on 26th and over Bexleyheath (London) on 27th; while further possible birds were reported from Pegwell Bay (Kent) on 27th, Hythe (Hampshire) on 28th, and Bristol (Somerset) on 30th.
Finally, we had a couple more sightings of White-tailed Eagles in recent days – an immature at Farndale (North Yorkshire) on 26th and, on 27th-28th, one in Surrey between Virginia Water and Lyne. On 1st further sightings came from Hampshire – at Hedge End and, latterly, Emsworth.
It's time to ditch the habit of recent weeks and consign the week's colourful stuff to later in the passerines proceedings. This week was, emphatically, all about warblers in song and one species in particular – a warbler that once posed a knotty identification challenge and was considered an enigmatic and hard to come by rarity. From one shot on Fair Isle (Shetland) in 1928, over 50 years elapsed before Britain got another Blyth's Reed Warbler and, until things began to change profoundly in the 1990s, we'd only enjoyed a further seven records.
And from 1990 onwards, as we know, things went a little loopy. A further 180 birds were found and accepted by BBRC until, bowing to the weight of the deluge, in 2014 the species was pulled from their radar.
The week just gone is a case in point – at least 10 Blyth's Reed Warblers were found in recent days, almost all of which were in song. There lay a little cause for confusion as the similarly rich, varied and exotic tones of Marsh Warbler were also ringing out this week. But more of them anon – back with the Blyth's Reeds, songsters were found at Walsey Hills NOA (Norfolk) on 27th; Flamborough (East Yorkshire) on 28th; Ramsey Island RSPB (Pembrokeshire) on 29th-30th; Beer Head (Devon) on 31st; and Knott End (Lancashire) and Setter (Shetland) on 1st. Further birds were trapped and ringed on Fair Isle (Shetland) on 29th, Burray (Orkney) on 29th also, and on the Shetland mainland at Scousburgh on 31st – two were present on Fair Isle on 31st.
A bird in song on Papa Westray (Orkney) on 29th was either this or a Marsh Warbler, as was one on Wigg Island (Cheshire) on 30th - further of the latter species were found singing at an undisclosed east Kent site on 26th; on 26th-31st at Bembridge (Isle of Wight); on 27th at Spurn (East Yorkshire) and Ventnor (Isle of Wight); on 29th at Wicken Fen NT (Cambridgeshire); on 29th-31st at Swineham Point (Dorset) and on 29th-30th at Tipton St John (Devon); on 30th at Grimston (East Yorkshire) and on 30th-31st on Bardsey (Gwynedd); 31st saw fresh arrivals on North Ronaldsay (Orkney), Fair Isle (Shetland) – where two birds were present - and St Mary's (Scilly); and on 1st an elusive bird was in song at Boddam (Shetland), while two birds were now on North Ronaldsay.
The Marsh Warbler in the Obs garden earlier, not a Blyth's Reed as we first thought, not typical for either species I'd say, missing out most@of the usual mimicry of Marsh, but the faster pace, and lack of Blyth's usual chattery clicks, probably makes it a Marsh. @RareBirdAlertUK pic.twitter.com/tA9N4GcxAi

— George Dunbar (@georgedunbar_) May 30, 2020
In Kent, the recent Savi's Warbler remained at full throttle at Grove Ferry on 27th still.
Back on Bardsey, a singing Greenish Warbler was found on 29th, while another was present that day at Spurn.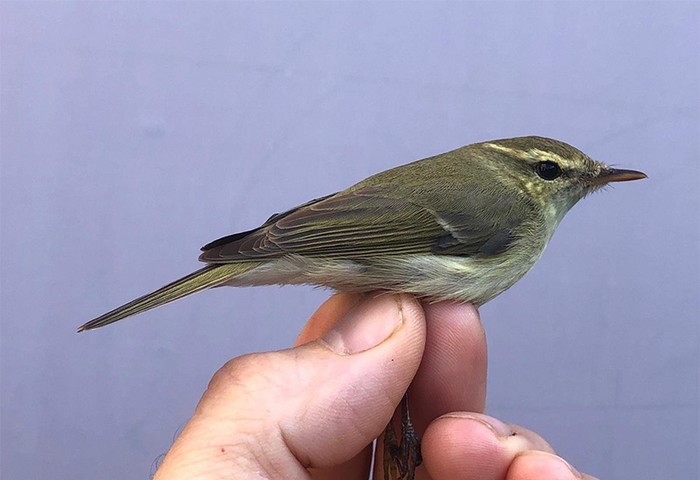 Two of our recent Iberian Chiffchaffs remained audible on territory, at Minsmere RSPB (Suffolk) until 31st and Ponders End (London) on 28th still.
An Icterine Warbler was singing on Fair Isle (Shetland) on 28th; further birds this week being found at Boddam (Shetland) on 27th, Flamborough and Kilnsea (East Yorkshire) on 30th, and on 31st at Quendale (Shetland); on 31st-1st on Fair Isle, with two birds trapped and ringed on the latter date; and on 1st at Noss (Shetland).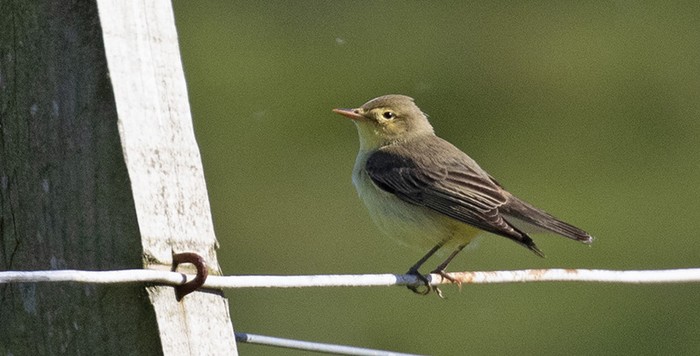 Two first-summer female probable Western Subalpine Warblers were trapped and ringed on 31st – one on Fair Isle, and the other at Kilnsea (East Yorkshire). A further female Subalpine Warbler sp was present on Foula (Shetland) on 1st.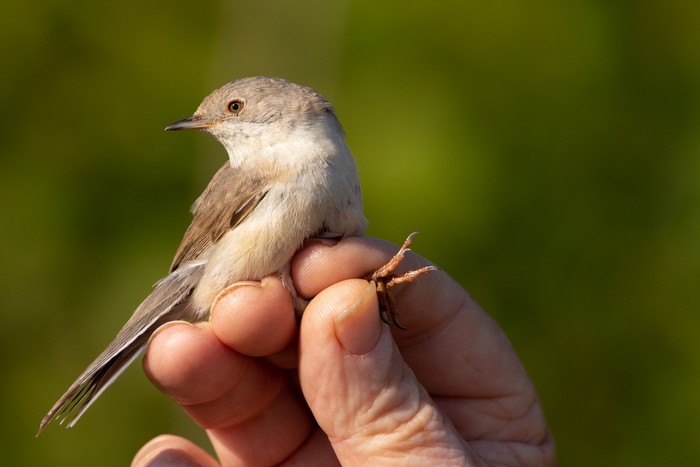 The week closed with another outstanding warbler in song – a Booted Warbler found by Rob Fray in his mainland Shetland garden at Bakkasetter – a garden to watch, as it's fast gaining an enviable reputation as a local hotspot. The bird in question is all the more remarkable for being the first Scottish spring record and, moreover, the earliest ever to be found in Britain, beating by a day the individual found on Blakeney Point (Norfolk) on 2nd June 2007.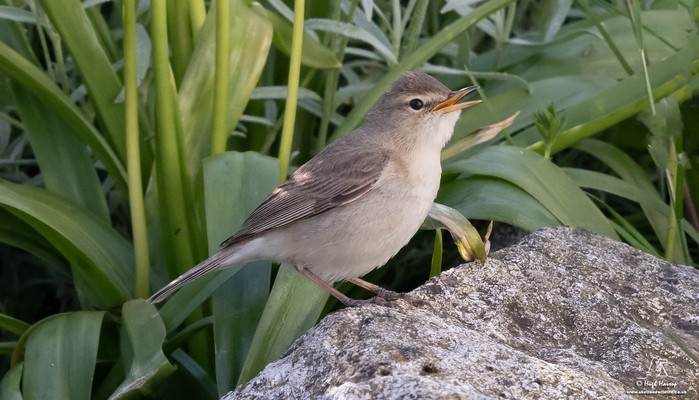 Back now to Papa Westray, where Orkney's new superstar island continued an amazing run of birds in recent months. Sharing the island with the Red-footed Falcon on 30th was a Woodchat Shrike - coming hot on the heels of a good run of records elsewhere in Britain in the preceding days. The week began with one found on The Lizard on 26th, followed by another on Tresco (Scilly) the next day; on 28th, one was discovered singing at Hightown Dunes (Merseyside), one lingered on 28th-30th on South Uist (Western Isles); and further individuals were found on 1st on Out Skerries (Shetland) and in Somerset at Black Hill near Bicknoller. A female found on Bardsey (Gwynedd) on 29th was the island's 28th record of the species – a stunning haul given the westerly location and, in this latest bird, the first for the island in almost a decade.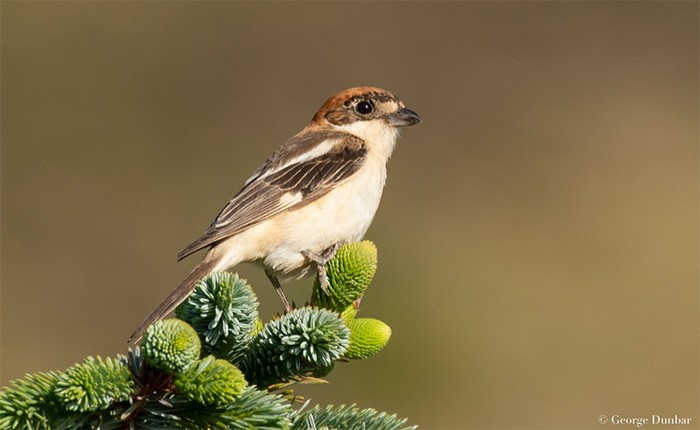 These were far from the rarest of shrikes seen this week – 31st marked the arrival of two Lesser Grey Shrikes, one apiece for Unst (Shetland) and Westray (Orkney).
Some 25 Red-backed Shrikes were found this week, nationwide – from Shetland to Scilly, Anglesey to Kent – almost all coastal points were covered.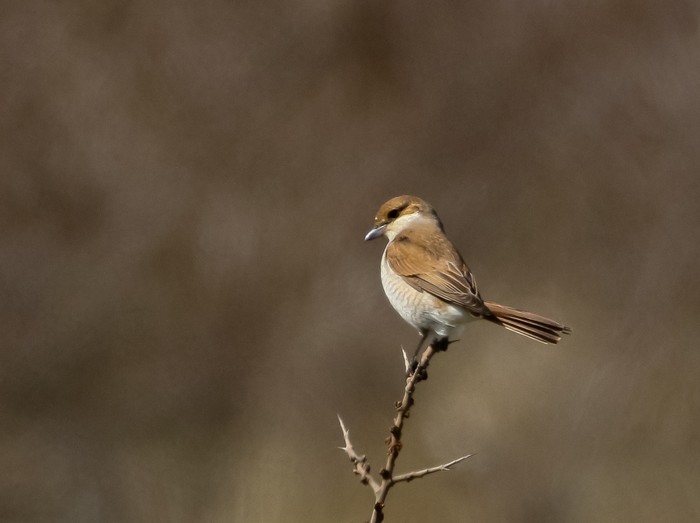 As we anticipated at the end of last week, Rose-coloured Starlings were on the move on the Continent and were surely due to start arriving in Britain and Ireland this week – and so it proved in recent days. Birds were found this week on 28th on Skomer (Pembrokeshire) and at Mayland (Essex), and in a Devon garden at an undisclosed location; on 29th at Land's End and Tintagel (Cornwall), Portslade-by-Sea (East Sussex), and in Cork (Co.Cork); on 29th-30th on St Mary's (Scilly); and on 30th on South Uist (Western Isles) and in a garden at Nefyn (Gwynedd). On 31st more were found – at Carnforth and Fluke Hall (Lancashire), Marloes Mere (Pembrokeshire), Hookwood (Surrey) and Portland (Dorset); and on 1st more were found in Cornwall at St Just and Newquay, while two birds were now present at Land's End, and another Irish bird appeared, at Hags Head (Co.Clare). More to follow, surely…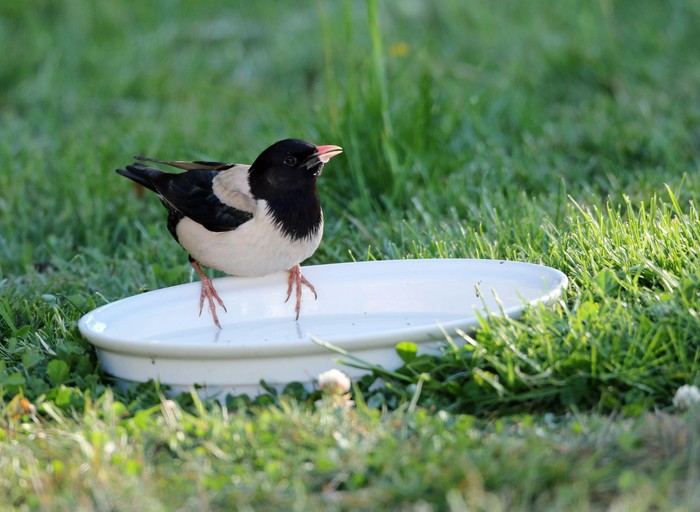 Other predictable colourful fare continued to stream in this week – starting with Bee-eaters, the week's most northerly birds were two mobile individuals in Wester Quarff (Shetland) on 26th. More were found further south – on 27th at South Foreland (Kent), The Naze (Essex) and Ventnor (Isle of Wight); on 28th at Sandown (Isle of Wight), Dungeness (Kent), Bolton-upon-Dearne (South Yorkshire) and at High Hauxley (Northumberland); on 29th at Long Nab and Scarborough (North Yorkshire), and Pett Level (East Sussex); and 30th over West Buckland (Somerset). On 31st duos were seen on South Ronaldsay (Orkney) and at Filey (North Yorkshire), and a probable flew over Sanderstead (London) in the late morning.
A number of these birds were heard only – and birders with keen ears were treated to perhaps the loveliest of all unexpected spring songs from another overshooting southern species this week – the mellifluous fruity tones of Golden Orioles were floating from trees across southern England and Wales alike. Starting in the southwest, birds were present on St Mary's (Scilly) on 27th-1st; in Cornwall at Cot Valley on 26th, Nanjizal on 28th and 1st, and Polgigga on 30th; in Devon at East Budleigh Common on 26th; and in Dorset at Wick on 26th, West Bexington on 27th, and Shaftesbury on 28th. Easterly birds were found at Stodmarsh NNR (Kent) on 26th, Epping Forest (Essex) on 27th, and Minsmere RSPB on 29th. Welsh records came from Cors Ddyga RSPB (Anglesey) on 28th and Llangwyryfon (Ceredigion) on 28th. Ireland had just one record this week – a male in the evening of 30th at Roscam (Co.Galway). Given the southerly bias to all the other birds, one reported from Hillwell (Shetland) on 31st seemed an incredible outlier, but was followed by another bird at Hoswick and one on Unst on 1st.
A handful of Hoopoes were seen this week – one remained at Ordsall (Nottinghamshire) on 26th; and further birds were found at Evesham Golf Club (Worcestershire) and Upton St Leonards (Gloucestershire) on 28th, and at Donna Nook (Lincolnshire) on 29th. On 31st Norfolk sightings came in quick succession in the morning at West Runton and Sheringham, and another bird was found way north on North Uist (Western Isles).
Perhaps we might have hoped for more Red-rumped Swallows than the one we got this week – and that one significantly off course, seen on Fair Isle (Shetland) on 28th-31st.
Shetland also supplied our sole Bluethroat, a male bird on Whalsay on 27th.
Portland (Dorset) came up trumps with an elusive spring Red-breasted Flycatcher in the Obs garden on 29th; another was found on 31st at Flamborough (East Yorkshire).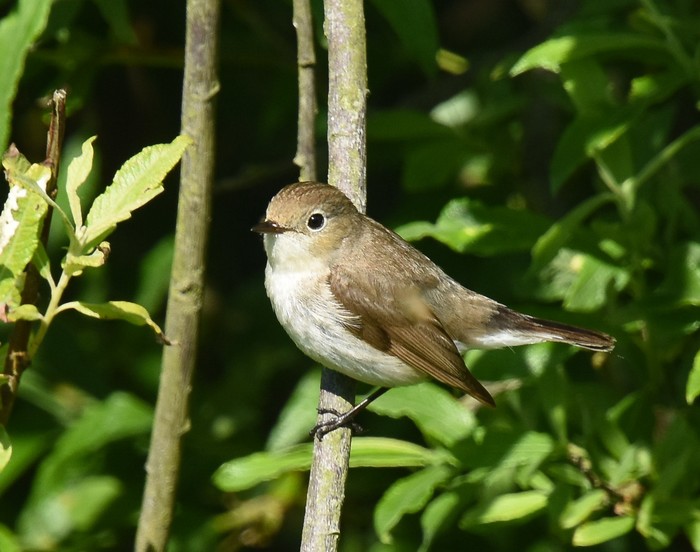 Portland also scored a probable Red-throated Pipit on 31st - a brief sighting that, unfortunately, couldn't be relocated afterwards.
A Tawny Pipit was reported from near South Foreland (Kent) on 28th; another was found this week at the irrepressible Nanjizal Valley (Cornwall) on 30th.
Foula (Shetland) was having a good day on 1st, with the female Subalpine Warbler sp sharing her new home with a belting male Citrine Wagtail.
Blue-headed Wagtails this week were found at Burwell Fen (Cambridgeshire) on 27th and at Quendale (Shetland) on 1st; a Grey-headed Wagtail was seen on 31st on Holy Island (Northumberland).
Common Rosefinches began to turn up this week, with Shetland enjoying its fair share of records – one on Fair Isle on 29th followed by two birds present on the island the following day, and one still on 31st; and birds on Mainland at Sumburgh on 30th-31st and Culsetter on 31st, and Quendale on 1st. Rathlin Island (Co.Antrim) landed a bird on 26th, while singing males were found at The Naze (Essex) on 26th, Ventnor (Isle of Wight) on 26th-27th, and Lundy (Devon) on 1st.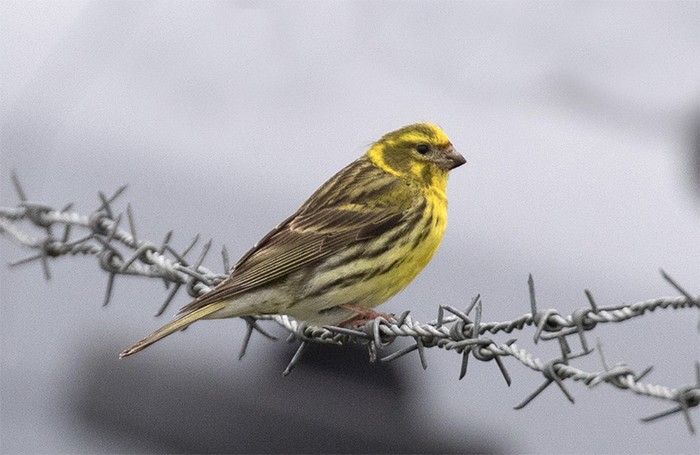 Shetland's eighth Serin remained singing at Scatness on 26th-29th; a singing bird in Kent at Bishopstone on 26th was followed by one at Dungeness on 30th – with a small arrival a little way west along the coast on the latter date, when three birds were found at Beachy Head (East Sussex). Back in Kent on 31st, another singing male was found at South Foreland; and, on 1st, one was found in Cornwall on The Lizard.
News from further afield continued to tantalise and delight in equal measure those of us watching, enviously, from afar. Surely a large raptor or vulture was going to waft across to us… or even a smaller raptor would have done, as yet another Black-winged Kite sighting came from Utrecht (Holland) on 26th-27th.
Dutch birders were having a good time of it again this week, with a first-summer Ross's Gull found at Westkapelle on 26th, a leucopsis Amur Wagtail at Rockanje on 27th-30th, and no fewer than 10 Griffon Vultures logged over Vlaardingen on 30th.
Belgium provided us with a Booted Eagle on 30th at Oedelem.
In Germany, meanwhile, the Eastern Imperial Eagle remained at Randowbruch Zehnebeck on 26th-30th, while a Pygmy Cormorant was found at Hausdulmen on 30th.
In Poland, the Great Black-headed Gull remained at Siemianowka reservoir on 30th still; and the country's second Audouin's Gull was found on 1st at Hel. Poland's third Lesser Yellowlegs was seen near Bialystok on 28th.
Scandinavia was busy too this week – Denmark racked up a Green Warbler at Ellebrattet on 27th, a Little Swift at Tornebakke Ramme on 29th, and a Steppe Eagle at Skagen on 29th also before, on 1st, a Paddyfield Warbler was trapped and ringed at Skagen, and a Booted Warbler found at Christianso – the same day as one was found singing in Shetland.
Sweden elbowed its way into the news with an Oriental Plover at Adalen on 31st-1st – a national first record, and only the third record for the Western Palearctic as a whole.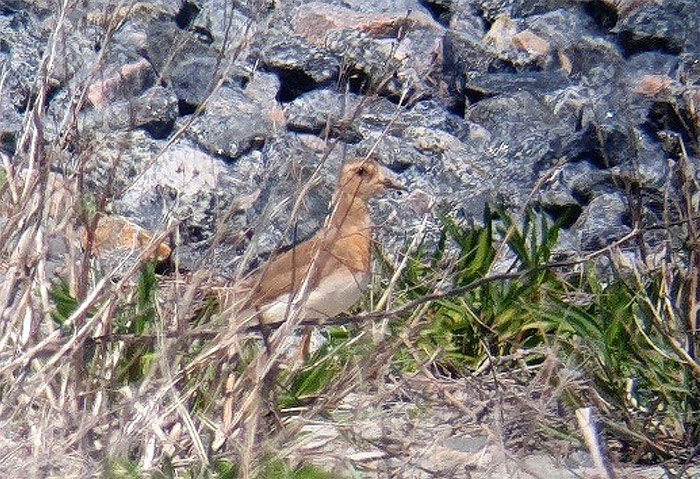 Norway, meanwhile, scored heavily with another Tufted Puffin on Svalbard on 28th. Probably just as well this one had avoided the Faroe Islands… while the wait for one in a Shetland Puffin colony goes on. Other Norwegian news involved a Black Scoter past Larkollen on 30th.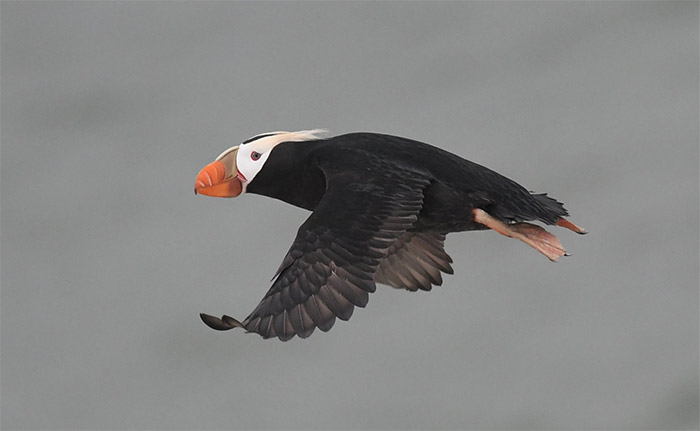 Speaking of Faroe, a Broad-billed Sandpiper was found on 27th at Torshavn, the first record for the archipelago.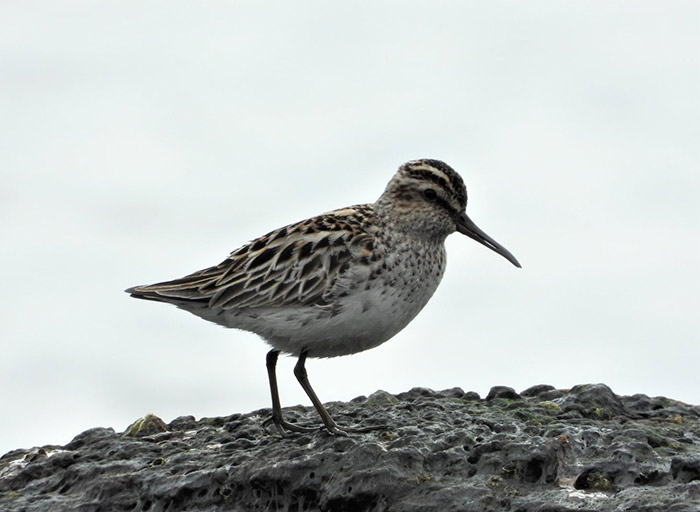 Heading south now, in France the Lammergeier continued to flirt with the north coast, being seen in Normany at Baie d'Ecalgrain on 26th. A Elegant Tern was found at Polder de Sebastopol on 30th.
Spain, meanwhile, enjoyed a Lesser Crested Tern on 29th at Chipiona; a Pied-billed Grebe at Grijalba on 28th-31st; and a flock of five Lesser Flamingos at Laguna de Fuente de Piedra on 26th.
In Portugal, the recent Yellow-crowned Night Heron remained in Faro on 29th-31st.
Heading much further afield, Ukraine's third Spur-winged Lapwing was found on 30th at Tatarbunay. That brings back fond memories of the bird in Kent in 1996…
The first week of June is upon us, and that must mean the law of diminishing returns is going to start biting any day now. Yes, there'll still be a scatter of wayward migrant passerines, but migration is starting to dry up as surely as the parched countryside around us.
All of which said, the potential for something really tasty starts to escalate now. Something really lost… Though, it has to be said, depending on which part of Britain or Ireland one lives in, and how stringently one adheres to the respective Covid-19 advice of each region, a tasty bird could be a moot point for anyone apart from the lucky finder and those living within a few miles of it.
Still. It's not for us to tell birders how to behave in these unusual times – that's the job of government and their advisers...
…but it most certainly is for us to have a gaze into the cloudy crystal ball of rarities past to see what we might anticipate, if we're lucky, in the week to come.
All sorts of glorious, long-distance travellers spring to mind. At the country's extremes, we've the likes of the Tree Swallow on St Mary's (Scilly) in 1990 and the Caspian Plover on Shetland in 1996 to draw inspiration from.
And there's one more mega that could conceivably be found anywhere, if only the birding gods smiled on us. Even over an inland reservoir near you... And that bird is, of course, the incomparable White-throated Needletail - found, this week in 1991, in Derbyshire near Belper – and during a wandering sojourn, also seen in Kent, Shetland and Staffordshire that year.
Oof…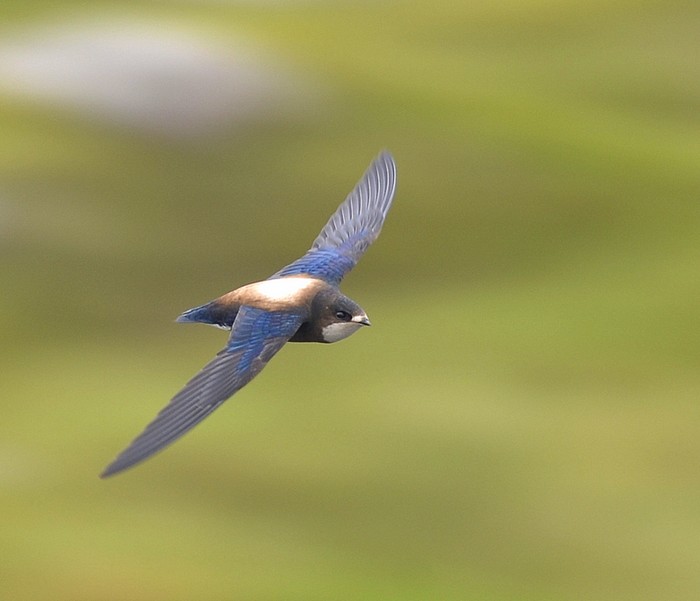 Jon Dunn
2 Jun 2020
Many thanks to all this week's contributors for your photos and videos
Share this story
Tweet