Weekly birding round-up: 19 - 25 May 2020
The week at a glance
Orkney blows the week out of the water with Britain and the Western Palearctic's first White-chinned Petrel
Gloucestershire's first Collared Pratincole proves popular
While Dorset enjoys a settled Squacco Heron
In an otherwise relatively peaceful and uneventful late spring week in Britain and Ireland, we've just three words that sum up everything that's glorious, unpredictable and wonderful about birding:
White. Chinned. Petrel.
White-chinned Petrel
"It was larger than a bonxie, maybe about black-back size. I spotted the white beak and thought that's different! Thought it must be a skua due to the tail; that's why I didn't think it was that important…"
So said Orkney local birder Robert Foubister shortly after returning from a productive morning walk on 25th – he'd found a nice Golden Oriole, and posted some images of it on the Orkney Scarce and Rare Birds Facebook page – alongside a couple of images of a large, dark, pale-billed seabird he'd seen over Scapa Flow. Robert asked if anyone could provide an identity of his mystery bird…
…and provided a little more gripping context: "The beak and flying style was different to any skua I have seen, wing beats were owl like and it was a big bird, almost eagle size."
Within minutes, suggestions began popping up in the comments boxes below and, very quickly indeed, birders began positing the unthinkable – Robert's clear, sharp photos were leading to the inevitable conclusion that this was a White-chinned Petrel - not only a British first, but a Western Palearctic first… and one last seen heading north out of Scapa Flow.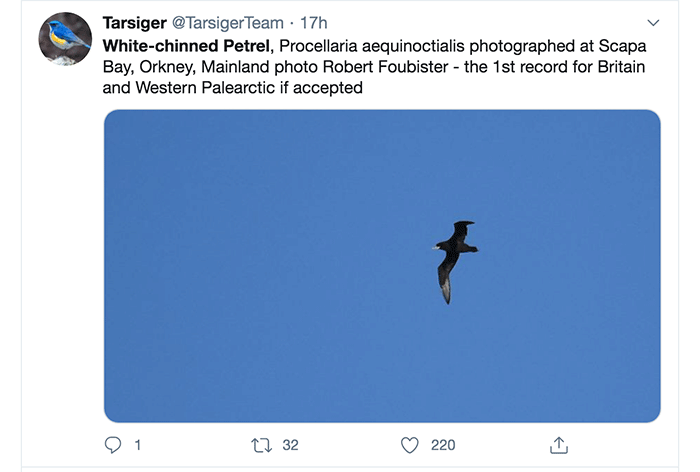 Needless to say, at the time of writing it's not been seen since. That's rare seabirds for you though, given the species' propensity for associating with fishing boats looking for an easy meal, perhaps it may yet be seen again in Orkney or Shetland's rich fishing grounds…
Normally a resident of the Southern Ocean, by any standards this is an extraordinary record… but not one entirely without precedent. On the other side of the Atlantic one was found off Maine in the northeast of the USA on 24th August 2010 though, of course, compared to Orkney that's not that far north…
…and then we've the previously claimed British bird, one that was reported off the venerable seawatching location of Flamborough (East Yorkshire) on 24th July 1988. There was a somewhat distasteful vogue for rolling one's eyes back in the day when the subject of outrageous seabirds seen from 'Flannelborough' cropped up, but as the likes of last year's Giant Petrel sp and this week's White-chinned Petrel are found and photographed, one wonders what fabulous birds have occurred in British waters in the decades gone by that were simply never going to be accepted in the absence of hard evidence.
In these digital days, we're in with a fighting chance of these startling, once in a lifetime birds being firmly inked into the record books – though, seabirds being the mobile, enigmatic creatures they are, not on so many birders' lists. Really though, who cares about the latter – a bird of this calibre is one to celebrate and relish simply for the fact of its documented, remarkable, presence.
Collared Pratincole
We do like a county first in these quarters. Obviously, national firsts have a broader appeal, and Western Palearctic firsts on home soil are the ultimate prize for the British birder, but there's a lot to be said for the joys of local birding and the pleasures that tighter focus provides for all concerned.
Gloucestershire's birders, this week, will have been really enjoying their latest county first, a magnificent Collared Pratincole found at Pilning Wetland on 21st-24th. A confiding, showy, and perhaps overdue bird for the county.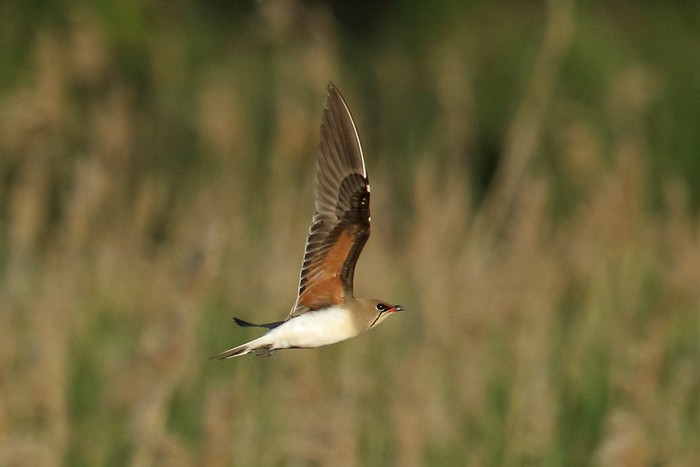 We've quite a few years on the books with more than one record for the species, and late May and early June is very much the classic time for them to occur. One wouldn't put money against another before the next month is out…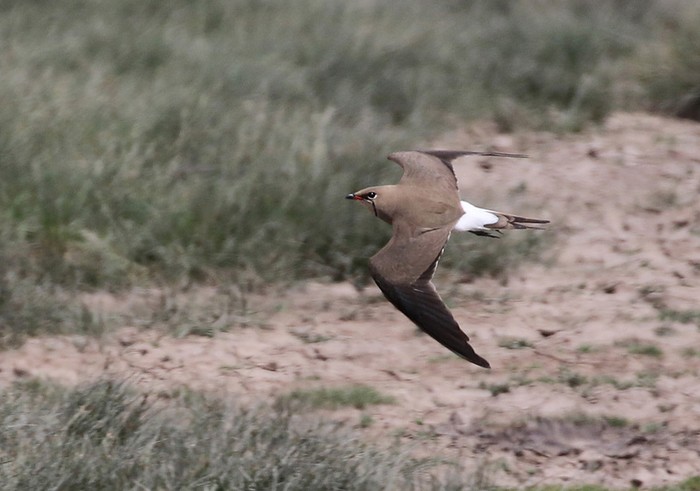 Squacco Heron
Glancing at the county statistics, one could be forgiven for thinking that a Squacco Heron, while of course both rare and a beautiful thing in its own right, wasn't that big a deal for Dorset – the county boasts 12 historic records to the end of 2018. Drill down a little and one appreciates they're still proper, full-blooded rarities of note…
Half of the records on the books relate to the 19th century, when for the most part any Squacco Heron found in Dorset was ending up shot. A January bird in 1905 was atypically early in the year for the species and marked the start of a decades-long drought – the next Dorset sighting coming some 70 years later, in May 1977.
From that point onwards, the county has landed approximately one bird a decade – the last of which was a juvenile on Little Sea on 21st September 2011.
One found, this week, at Lodmoor RSPB on 21st-23rd comes just shy of a decade later – maintaining the recent batting average. One has already been lobbing around northern England in recent weeks, and this latest bird was presaged by another sighting in the southwest this week – one was seen, briefly, in Cornwall between Bude and Marhamchurch on 20th.
Skua passage was shifting north this week, with keen eyes in the north of England and the west of Scotland noticing birds on the move as the week wore on. All of which said, there were still Pomarine Skuas to be picked out further south too – on 22nd, single birds were seen from Severn Beach (Gloucestershire), The Naze (Essex), and in Ireland from Ballycotton (Co.Cork); and on 23rd, birds were noted from Weston-super-Mare (Somerset) and Cogden Beach (Dorset).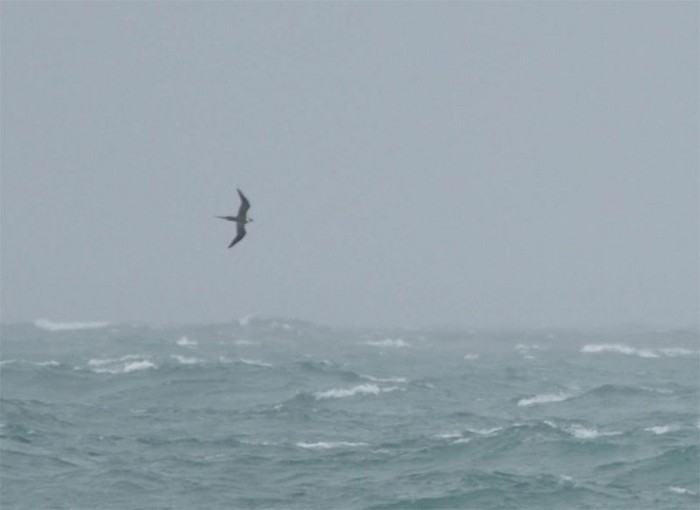 Shifting our focus north, Cumbria stirred on 19th, with three Poms seen at Bowness-on-Solway, a further bird there on 23rd, three more on 24th, and two birds on 25th. 23rd marked the week's highest single site count further north still, off North Uist (Western Isles), where 12 birds were seen – in addition to 14 Long-tailed Skuas. A single individual of the latter species was also seen at Bowness-on-Solway on 23rd, with two more off Unst (Shetland) on 24th, with an additional Pom off there too for good measure. Two Long-tailed Skuas were seen from North Uist on 24th.
Back in the south, more Pomarine Skuas were noted on 24th – two off Porthgwarra (Cornwall); one off Ladye Bay (Somerset); and one more seen off Blackpool (Lancashire).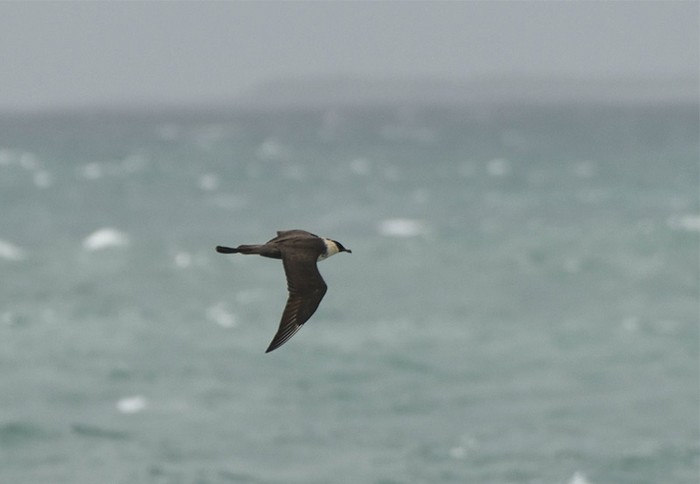 Balearic Shearwaters began to crop up with just a smidgen of frequency in recent days – single birds were seen from Portland (Dorset) on 19th and 22nd; in Devon on 22nd at Start Point and in Thurlestone Bay; and on 23rd at Pendennis Point (Cornwall) and in Dorset at East Bexington; three Dorset birds were logged on 23rd at Cogden Beach, with one that day in Devon off Dawlish Warren NNR; and on 24th two passed Downderry (Cornwall).
Last, but not least, a White-billed Diver was tracked passing Unst (Shetland) on 24th.
Ireland's enjoyed precious few Little Bitterns in recent years – the female found in Co.Dublin at Knock Lake last week remained there this week until 24th, and is only the fourth Irish bird of the present century. That she's stayed longer than one day is remarkable in itself, as all of the preceding accepted trio were one day birds – but also presumably a source of some mounting frustration for Irish birders. Unlike their English counterparts who are now free to travel within England, the Irish remain confined to within a 5km radius of home at the time of writing.
Sharing the site – albeit commuting between Knock Lake and Bog of Ring – was a Purple Heron still on 19th-22nd. Further birds were seen in Britain at Berney Marshes RSPB (Norfolk) on 20th; at Ham Wall RSPB (Somerset) again on 21st-23rd and, on 24th, over Ashcott Corner; in Lincolnshire at Deeping Lakes NR on 23rd and at Horse Shoe Point on 25th; on 24th over Langdon Hole (Kent), coming in off the sea; and on 25th on St Mary's (Scilly).
Another garden was blessed with a flyover Night Heron this week – on this occasion at Stubbington (Hampshire) on 20th.
A trio of Glossy Ibises added further southern spice to proceedings – birds were logged at Dungeness (Kent) on 19th-20th, over Buckden (Cambridgeshire) on 20th, and at Carlton Marshes SWT (Suffolk) on 21st-22nd.
Sightings of Common Cranes away from the anticipated heartlands dried up this week, with Shetland providing the lion's share of our birds – a single bird on Unst still until 23rd was joined by a second bird on the island on 23rd-24th, and another two birds were found elsewhere on the island on the latter date; one was noted at Loch of Strom on 19th; on 21st, two were seen at Sand Water; and two were seen on Fetlar at Funzie. A single bird was seen in Oxfordshire at Port Meadow on 24th; on 25th, birds were found over Wheldrake (North Yorkshire), and over Aldeburgh (Suffolk), where two birds were seen. Back on Unst, the two pairs of birds had met up to form a flock of four as the week closed.
Finally, a singing Corncrake was proving popular in Norfolk this week – found at Thorpe Marshes NWT on 19th-22nd.
The surface of the rarity duckpond remained mirror calm and unruffled for a second consecutive week. A fresh face was found in Cornwall on the Camel estuary on 21st-22nd – a female American Wigeon.
In Aberdeenshire, there were more colourful duck tales to be told. The drake King Eider was once more seen on the Ythan estuary on 24th…
…and, on 25th, our old nemesis the Hooded Merganser Of Doom cropped up once more – a bird found on the River Don in Aberdeen, which transpired to be a Hooded Merganser x Goldeneye hybrid. Was ever a duck species more tainted by repeated circumstance?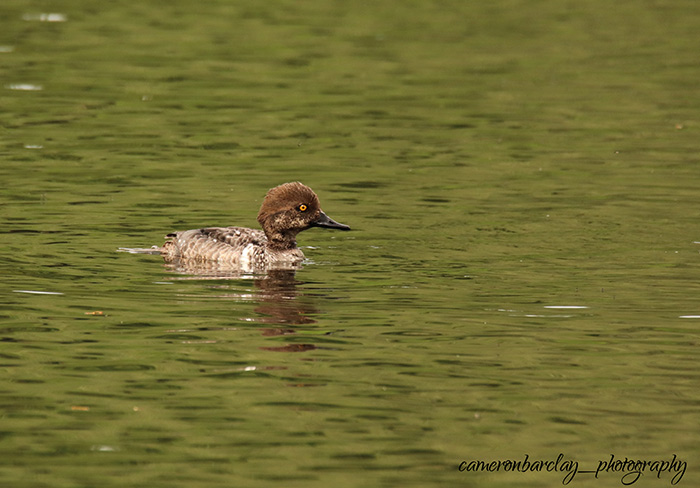 <!—Section Title -->
Rare sandpipers of various shapes and sizes were, one way or another, in the news this week…
Warwickshire kicked proceedings off with a Broad-billed Sandpiper found at Middleton Lakes RSPB (Warwickshire) on 22nd.
As the week drew to a close, a Terek Sandpiper was discovered on the River Esk in Musselburgh on 25th – a first for Lothian, and one that lingered there into the afternoon. One wonders if that's the bird last seen heading north out of Alkborough Flats NR (Lincolnshire) on 18th… What's for sure is just how rare they are on the Scottish mainland – there's only been one in the past 21 years. Practically a once in a generation thing, then.
The prior week's star turn amongst the regular scarce passage waders, Temminck's Stint, played a more subdued role in recent days – three birds were seen, all singletons. One was present at Holland Haven CP (Essex) on 19th; one was seen on 19th-20th in Dorset at Swineham; one lingered in East Yorkshire at Thornwick Pools on 21st-23rd; one was found in Kent at Worth Marsh on 24th-25th; and finally two birds on 25th at Frampton Marsh RSPB (Lincolnshire).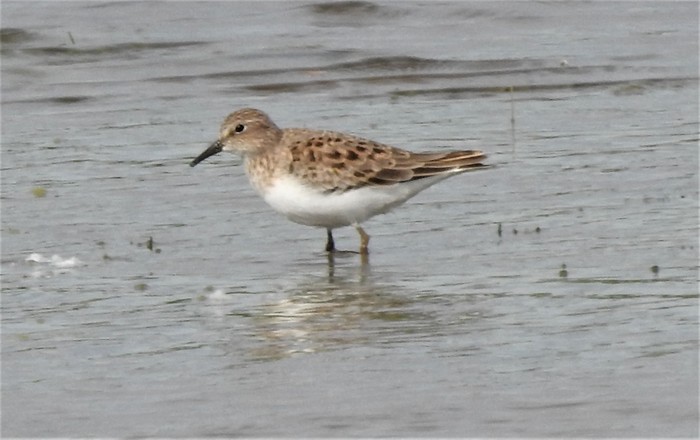 Dotterels too were dwindling lately – duos were logged at Saltburn (Cleveland) on 19th-20th, on Fair Isle (Shetland) on 20th, and Unst (Shetland) on 24th; and single bird records came from Lancashire in the form of one reported at Cockersand on 20th and one passing over Lancaster at 4am on 23rd.
Staying with Lancashire for a moment, the recent Pectoral Sandpiper remained at Lunt Meadows LWT on 19th-20th.
The Nearctic theme continued inland this week with the discovery of a Buff-breasted Sandpiper at Idle Valley NR (Nottinghamshire) on 21st-24th.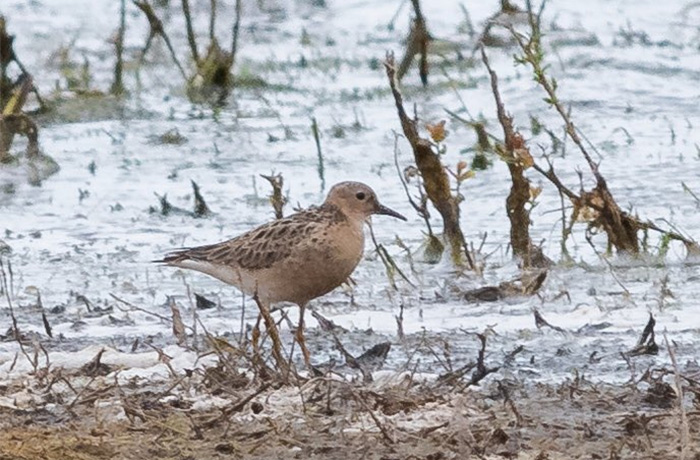 In Norfolk, a Lesser Yellowlegs was once more present at Titchwell RSPB on 20th-21st.
Moving west, a Long-billed Dowitcher was found at Belfast Lough RSPB (Co.Antrim) on 23rd-25th.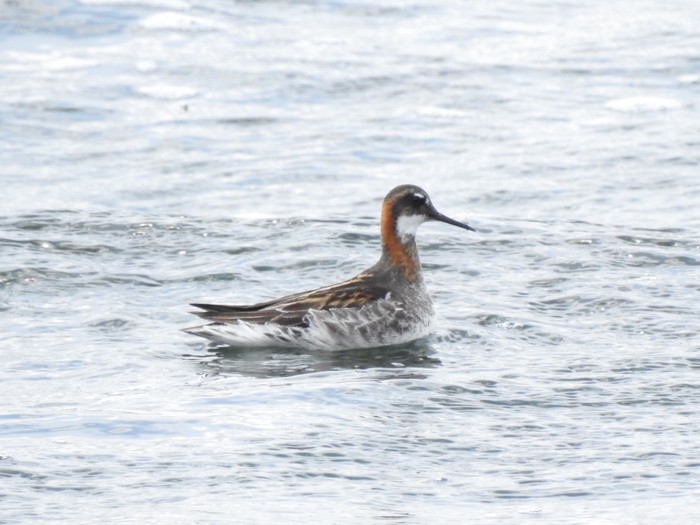 Finally, a handful of Red-necked Phalaropes were logged this week – a fine female bird remained at Grindon Lough RSPB (Northumberland) on 19th-25th; another was seen on 23rd at Wombwell Ings (South Yorkshire); and on 24th a final male bird was discovered at Wilstone reservoir (Hertfordshire).
With the absence of any remarkable terns, it falls to the dwindling numbers of white-winged gulls to make up the bulk of the section's news this week.
Starting in Shetland, on Yell the settled Glaucous and Iceland Gull duo remained at Cullivoe until 21st and 24th respectively.
Further Glaucous Gulls were noted on 23rd from North Uist (Western Isles) and in Cork harbour (Co.Cork).
Iceland Gulls were only fractionally more numerous – birds being logged on 19th on Skye (Highland) still and from Dornoch Point (Highland); on 20th in Cork (Co.Cork); on 22nd at Renvyle (Co.Galway); and on 23rd from North Uist (Western Isles) and North Ronaldsay (Orkney). On 25th one was found on Unst (Shetland).
Finally, a first-summer Sabine's Gull was found off Kinnaird Head (Aberdeenshire) on 24th.
Sightings of Red-footed Falcons continued to provide welcome distractions across much of the length and breadth of England this week. Settled birds from the prior week remained at Thursley Common (Surrey) on 19th-21st, Ringstead GPs (Northamptonshire) still on 19th, at Thorne Moors NNR (South Yorkshire) on 19th-21st, and again at King's Moor (Somerset) on 20th. Further birds were found in Kent at Worth Marsh on 19th and 23rd-24th, Oare Marshes KWT on 20th, and Pegwell Bay on 24th; in Northumberland on 21st where a female was seen first in the late morning at East Chevington NWT and, in the early afternoon, on Holy Island; and, in Dorset, passing through Chesil Cove on 21st. On 25th, one was seen heading north over Horse Shoe Point (Lincolnshire), while one present in Norfolk at Hickling Broad NWT on 25th had been present there for at least the preceding day if not a little longer.
Black Kites, meanwhile, such a prominent feature of recent weeks, were fading away somewhat this week. One was seen in Cambridgeshire at Earith on 19th; and, on 22nd, in Kent one was seen at Boughton Street with another probable seen at Sandwich Bay. On 24th, another was found in Ashdown Forest (East Sussex), with a further possible bird seen in Suffolk at Levington. In London on 25th, another sighting came from Streatham in the mid-afternoon.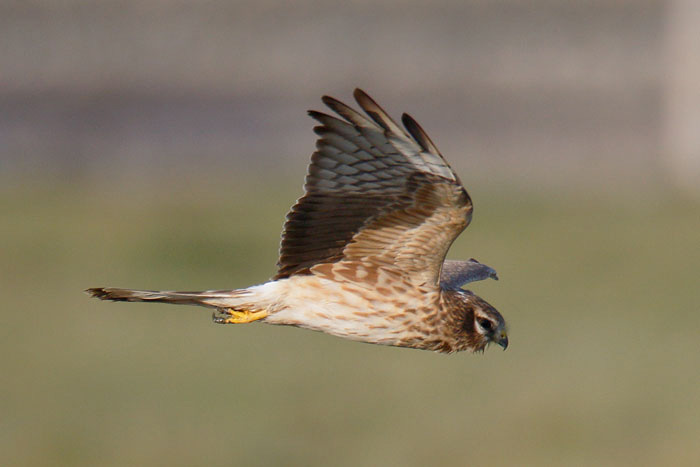 A handful of Montagu's Harriers provided a little more variety – in Norfolk, at Kelling on 20th-21st and Gramborough Hill on 20th also; at Rodmell (East Sussex) on 21st; on Worth Marsh (Kent) on 22nd; and a final probable female much further west at Avon Dam reservoir (Devon) on 23rd.
A White-tailed Eagle was an unexpected find for a lucky allotment tender in London at Coppetts Woods on 20th, with another London sighting coming from Ilford on 24th; and further probable birds were reported from Cotswold Water Park (Gloucestershire) on 19th and Woodstock (Oxfordshire) on 21st. On 25th, sightings came from Norfolk at Mulbarton and Keswick, while one was seen in the early evening at Giggleswick (North Yorkshire) – with the significant caveat that the escaped Bald Eagle is still in the latter area…
Picking up where we left off the previous week, Bee-eaters were still popping out of the woodwork recently, with widely scattered reports in recent days. The week began with two widely separated records, both of which were heard only – birds passing over Polgigga (Cornwall) and Kirkton of Maryculter (Aberdeenshire) on 19th. Another was heard on 20th at Flamborough (East Yorkshire); while birds were seen that day also in East Yorkshire at Sunk Island and Kilnsea, with two birds noted passing through the latter location. Cornwall provided sightings of a duo heading north through Sennen Cove on 21st and at Pendeen on 21st-22nd; and two were seen at Bockhill Farm (Kent) on 23rd. One was heard in the morning of 24th at Boskednan (Cornwall); and back in Kent on 25th, one was seen at South Foreland.
The past week's Hoopoe remained at Adderbury (Oxfordshire) on 19th; further birds were found on Islay (Argyll & Bute) on 22nd; in a Barton-le-Clay (Bedfordshire) garden on 22nd; in Hale (Greater Manchester) on 23rd; and at Ordsall (Nottinghamshire) and Chesterfield (Derbyshire) on 24th, the Ordsall bird remaining there the following day also.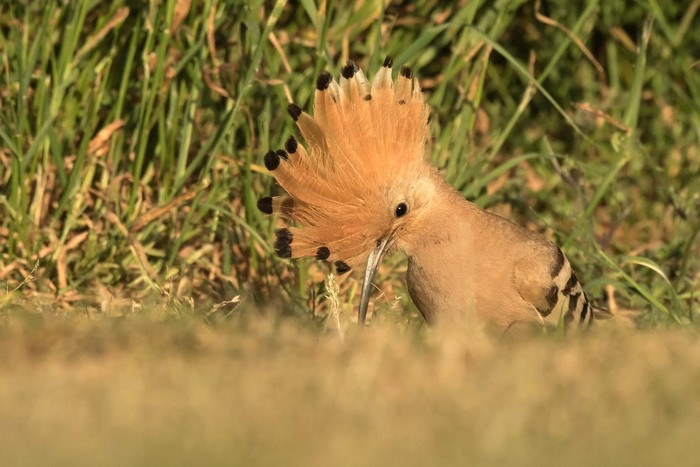 Golden Orioles continued to crop up, deliciously, this week – always a welcome sight or sound wherever they're found. One was found singing in Kent at North Foreland on 19th; on 19th, one was present on St Mary's (Scilly), while the following day, two singing males and a further female/first-summer male were present on the island – and one bird at least still present there on 21st; on 20th one was found on Lundy (Devon); on 21st a Norfolk individual was found at West Runton on 21st; Fair Isle (Shetland) held a female/first-summer male on 22nd-23rd; while another Shetland sighting came from the lush depths of Mainland's Swinister Burn on 23rd. On 24th one was found in song at Blaxhall (Suffolk), one in Lincolnshire at Whisby NR, and in Shetland still another sighting, this time out in the west of Mainland at Bridge of Walls. The week ended on 25th with further birds found in Norfolk at East Wretham Heath and on Orkney at Inganess Bay.
A Wryneck was found at an undisclosed site in Leicestershire on 24th.
Out on Barra (Western Isles), the local mega Magpie remained on 21st still.
If one passerine this week marked the changing tempo of spring migration, it was the rising numbers of Red-backed Shrikes - including, I'm happy to say, one I can see distantly from the window even as I write. Some 25 birds were found this week, from Cornwall and Kent in the southern extremities of England to Unst (Shetland) in the Scottish north. All were single birds bar two males present at Penberth Cove (Cornwall) on 21st.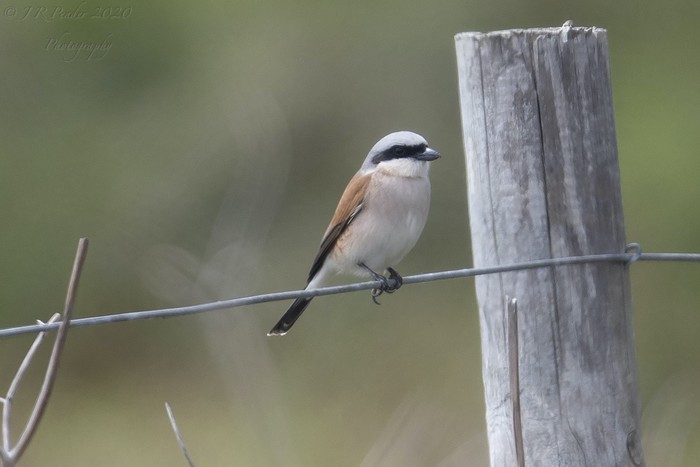 Cornwall also supplied one of the three Woodchat Shrikes found this week, present on The Lizard on 20th – with another found the same day in Norfolk at Kelling, and a final bird seen in Flintshire at Hawarden on 23rd.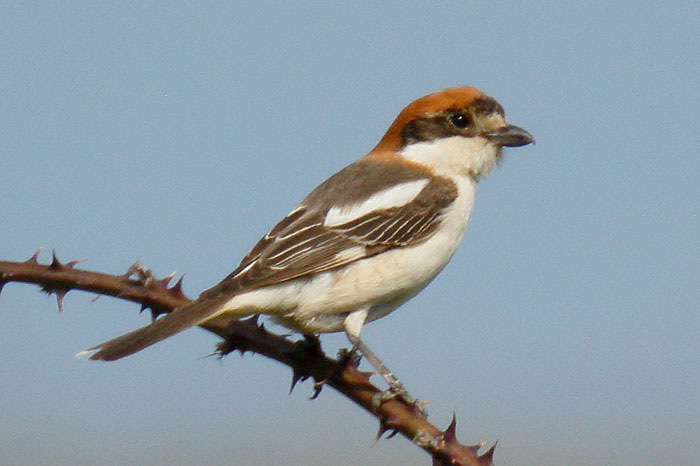 The Lizard was having a good day on 20th, for a Great Reed Warbler was found on there that day also.
Further north, an elusive singing Blyth's Reed Warbler was found on 21st in Hale (Cheshire); another was in song in Devon near East Budleigh Common on 23rd.
Late yesterday I heard an "odd" Accro singing on the E. Devon Commons. It bothered me enough to get a sound recording & confirm it as a Blyth's Reed Warbler! Despite 4 hours listening this morning it seems to have moved on.?? pic.twitter.com/tpl52KLJiR

— Chris Townend (@WiseBirding) May 24, 2020
Song continued to betray the lingering presence of a couple of Iberian Chiffchaffs, and to suggest more birds besides. The settled individuals remained at Ponders End (London) until 25th and at Minsmere RSPB (Suffolk) until 23rd. Another was discovered singing in a Pontypool (Gwent) garden on 20th, with a further possible bird that day at Belvide reservoir (Staffordshire), and a probable in song in South Yorkshire at Thorne Moors NNR on 24th.
Belated news came this week of a singing Savi's Warbler in Kent at Grove Ferry NNR on 17th-18th, with confirmation the bird was still present and in fine song in the evening of 25th.
Evading specific identification, a Subalpine Warbler sp was found at Landguard NR (Suffolk) on 20th.
A rare component of the spring thus far, an Icterine Warbler was found on Tiree (Argyll & Bute) on 21st.
East Yorkshire enjoyed a couple of Red-rumped Swallow sightings in recent days – one was seen briefly on 19th at Flamborough and then, on 22nd, another was found at Spurn.
Down on Scilly, a Short-toed Lark was present on St Mary's on 20th-22nd. Fair Isle (Shetland) landed the week's second bird on 25th.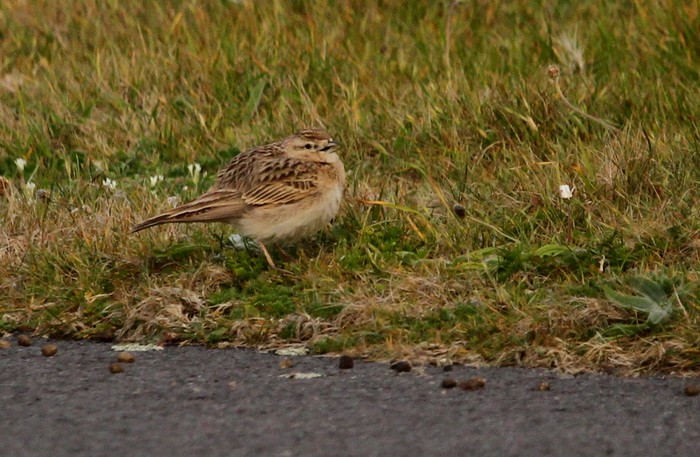 Mirroring the upturn in Red-backed Shrikes lately, numbers of Bluethroats were also on the up – one trapped and ringed on Skokholm (Pembrokeshire) on 20th was a shot across the bows for the northern isles in the days to follow… Shetland birds were found at Dalsetter on 21st and 22nd; on Foula on 21st; Fair Isle on 23rd-25th; and Whalsay on 24th. Orkney got a bird on Papa Westray on 23rd, and one on North Ronaldsay on 24th-25th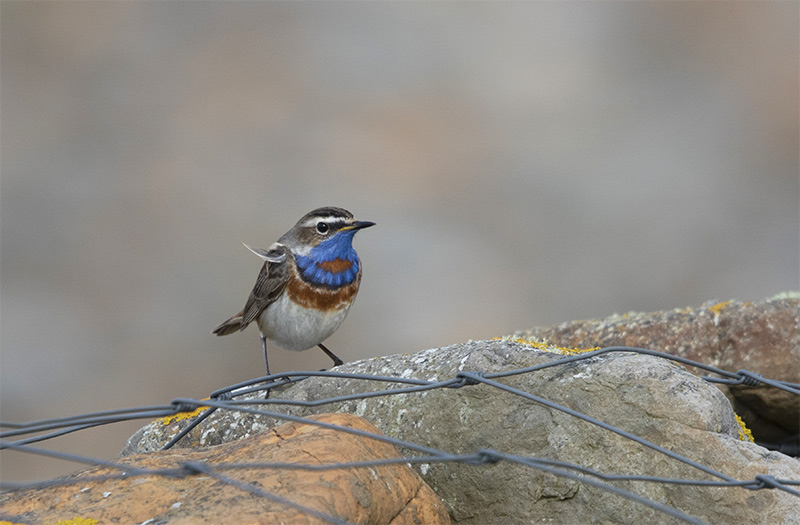 …though, quite frankly, with a glorious singing male Citrine Wagtail present on Papa Westray on 22nd-25th, who's got eyes for mere Bluethroats?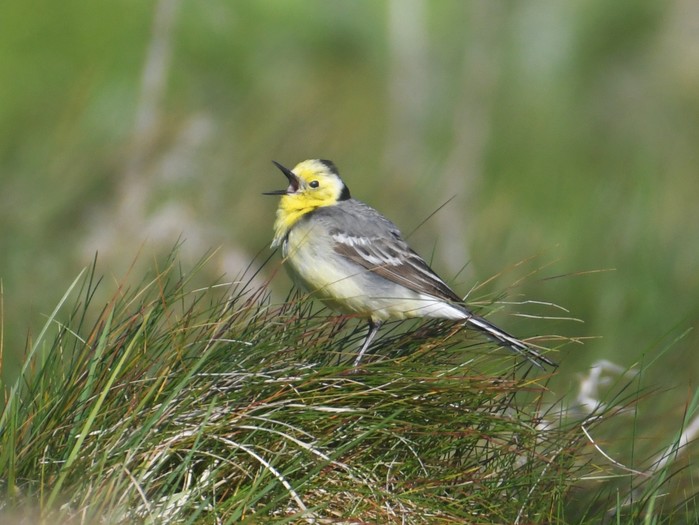 A female Blue-headed Wagtail was found in Hale (Cheshire) on 23rd; a male bird was found on 24th at Earsdon (Northumberland) and, on 25th, further males near Heath and Reach on the Bedfordshire / Buckinghamshire border, and near Sedgefield (Co.Durham).
A male Grey-headed Wagtail was seen in Norfolk near Felmingham on 24th.
West Runton (Norfolk) was blessed with a brief Red-throated Pipit early in the morning on 22nd.
A couple of Cornish Serins, at Porthgwarra and nearby Nanjizal on 20th, and one in Dorset at St Aldhem's Head on 24th weren't entirely unexpected, that far south – one found in song on Shetland at Scatness in the morning of 25th was a local rarity of more impact, however – Shetland has just a handful of records to its name.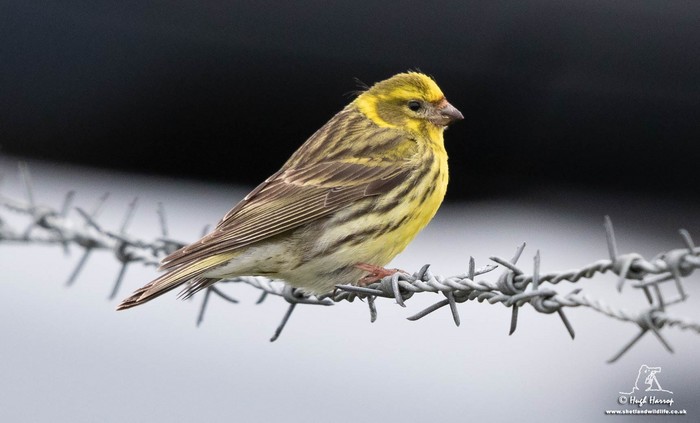 We finish with a handful of wayward Common Rosefinches. One on Islay (Argyll & Bute) on 19th was followed by a Shetland trio – one on Fair Isle on 22nd rising to two birds there on 23rd-25th, and another out on Foula on 22nd.
We've all manner of overseas news to get through this week, providing plenty of tantalising food for thought… and, for that, we start close to home on Alderney in the Channel Islands where, on 20th-21st a Lammergeier was wondering whether a summer roaming Dartmoor might be rather fun after all…
We shall see.
With one putative Booted Eagle already under our belt this spring, a further glut of sightings on the near continent were circling, like Buzzards over a particularly juicy bit of carrion, this week. On 22nd, intermediate morphs were seen in Belgium at Viroinval and in Denmark at Skagen; on 23rd, Holland accounted for a dark morph at Lemelerveld and a pale morph at Vlieland.
Belgium was having a pretty good time this week all round, with further sightings of Egyptian Vulture at Lichtervelde on 21st and Black-winged Kite at Westmalle on 21st-23rd, and a Steppe Eagle that flew northwest out of Dranouter on 21st.
Which leads us neatly to Holland where sightings of Steppe Eagle followed, on 21st at Middelburg, and on 22nd at Den Bommel and Roodewijk. Staying in Holland, belated news came this week of a Rock Thrush at Heerde on 16th; and in the week just gone, a first-summer male Semi-collared Flycatcher was trapped and ringed at Beek on 21st.
The STEPPE EAGLE performed well near Goes, Netherlands this morning. / De STEPPENAREND nabij Goes werd vanochtend rond 6.00 uur teruggevonden en verbleef in de akkers tot ongeveer 11.00 uur. Daarna vertrok de vogel richting noord(oost?). #birdwatching #vogelskijken pic.twitter.com/HcTLFOWUxD

— Dutch Birding (@dutchbirding) May 22, 2020
Germany, returning to the eagle theme, enjoyed an Eastern Imperial Eagle at Randowbruch Zehnebeck on 19th-21st.
Poland, meanwhile, sported a Sociable Lapwing still present at Wielikat on 19th, and an immature Great Black-headed Gull at Nowe Gniewniewice on 23rd.
Hungary enjoyed its first Blue-cheeked Bee-eater at Dabas on 23rd, a Greater Sand Plover on 25th at Sarkeresztur, and a Demoiselle Crane at Ferto to on 24th.
Austria also had a Demoiselle Crane this week – seen at Seewinkel on 25th.
Moving west, in France a male Black-headed Bunting was found on 22nd at Briges; another was found the same day in Finland at Kemionsaari, while Finnish birders were blessed with a Caspian Stonechat trapped and ringed on 19th at Halias.
Back in Denmark, a Mourning Dove was found at Bogballe on 25th.
Portugal was making the news this week with the Western Palearctic's eighth Yellow-crowned Night Heron on 19th-22nd in Faro – this bird being also the first record for mainland Portugal.
Yellow-crowned Night Heron, Nycticorax violaceus photographed at Faro by Nuno Sales Henriques - the 1st record for Portugal mainland and 8th for Western Palearectic pic.twitter.com/dTdxqy8DUW

— Tarsiger (@TarsigerTeam) May 19, 2020
Heading much further afield now, a Pink-backed Pelican was noted heading north over Agamon Hula in Israel on 21st.
Finally, in Iceland a Black-and-white Warbler was present at Reynishverfi on 22nd-23rd.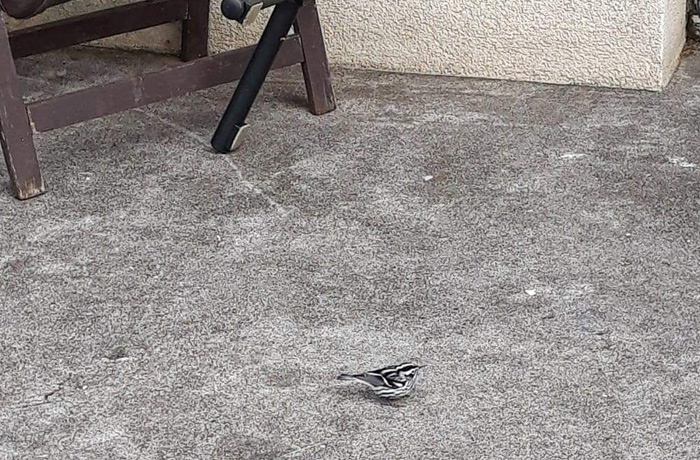 Finishing last week's Round Up with unusual blithe optimism about outrageous rarities of the calibre of Pallas's Sandgrouse may have seemed like a ridiculously long shot but, as events this week in Orkney serve to remind us, the later in spring we go the more we can start to hope for something truly daft.
As the late, great, Tim Cleeves was fond of reminding me, 'the big one travels late, and alone'…
All the same, nobody could have foreseen what Robert Foubister chanced upon in Scapa Flow last week. It is, for my money, the ultimate blocker – the likes of Aleutian Tern or Ancient Murrelet have similar otherworldly star quality, but both were seen by more than one incredibly fortunate observer. Robert may be forgiven for being somewhat bemused by the attention his chance find has elicited, but it's one he can dine out on for years to come…
Birders in the northern isles will, doubtless, be keeping half an eye on the sea in the coming days but, really, one has to assume the White-chinned Petrel won't be seen again. Lightning couldn't strike twice, could it…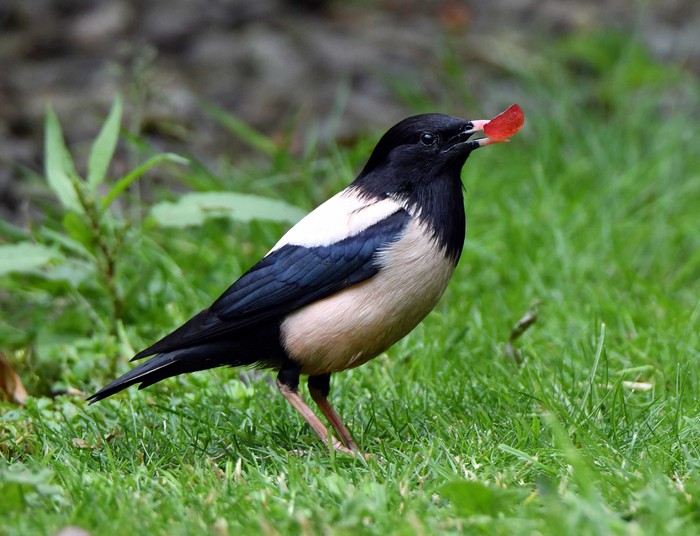 What then for the coming week? Something rare this way comes, even if it's not a Western Palearctic first. I gather that numbers of Rose-coloured Starlings are starting to mount rapidly in Austria, so we might get our first adult Rosy of the late spring/early summer…
Or, if we're to aim a little higher, with two Black-headed Buntings found in the past week in France and Finland respectively, a smart male of the latter species seems like a reasonable shout.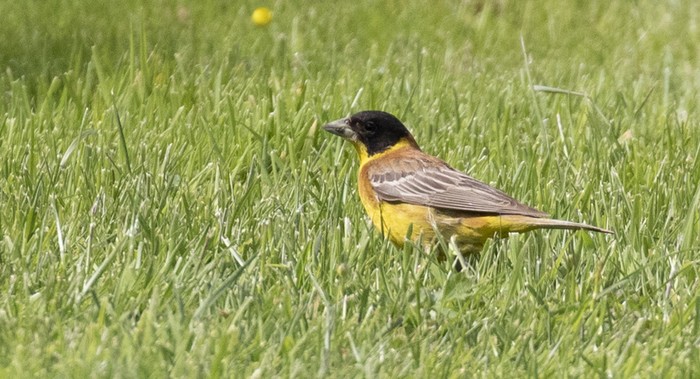 Jon Dunn
26 May 2020
Many thanks to all this week's contributors for your photos and videos
Share this story
Tweet