Weekly birding round-up: 21 - 27 Apr 2020
The week at a glance
Belated news comes of a singing Sardinian Warbler in Cornwall lately
Dorset delivers another Iberian Chiffchaff
And on Scilly, the male Lesser Kestrel remains to the fore
That's us almost clear of April – a month we won't look back on with any particular fondness in the human world, but one that's been reassuringly marked by some good birds, a timely reminder that the world as a whole is carrying on regardless.
Many of us have, working from home, felt just a little more connected to the natural world, a little more aware of the first migrant birds arriving in our neighbourhood, more conscious of nesting activity and, maybe, more appreciative than ever for all of these things.
Sardinian Warbler
Slightly belated news emerged this week of a male Sardinian Warbler in song in Cornwall at Porthleven on 18th-19th – the first in the county for five years, and the ninth in total since the species joined the Cornish list in March 1990 with a brace of overlapping males – birds at Stratton on 8th-22nd March, and on The Lizard on 18th-26th March. Dry stats aside, this was an absolutely cracking patch find a few hundred yards away from Ilya Maclean's house but, frustratingly, just out of earshot…
From a national perspective, the 1990s and first half of the first decade of the current century were something of a purple patch for Sardinian Warblers - many years featured multiple birds, with 1992 and 1994 boasting eight records apiece, and 1995 and 2003 half a dozen each respectively. Since 2005 things have calmed down – there've been six entirely blank years in the past 15 years, and numbers as a whole are a pale shadow of those former glory days.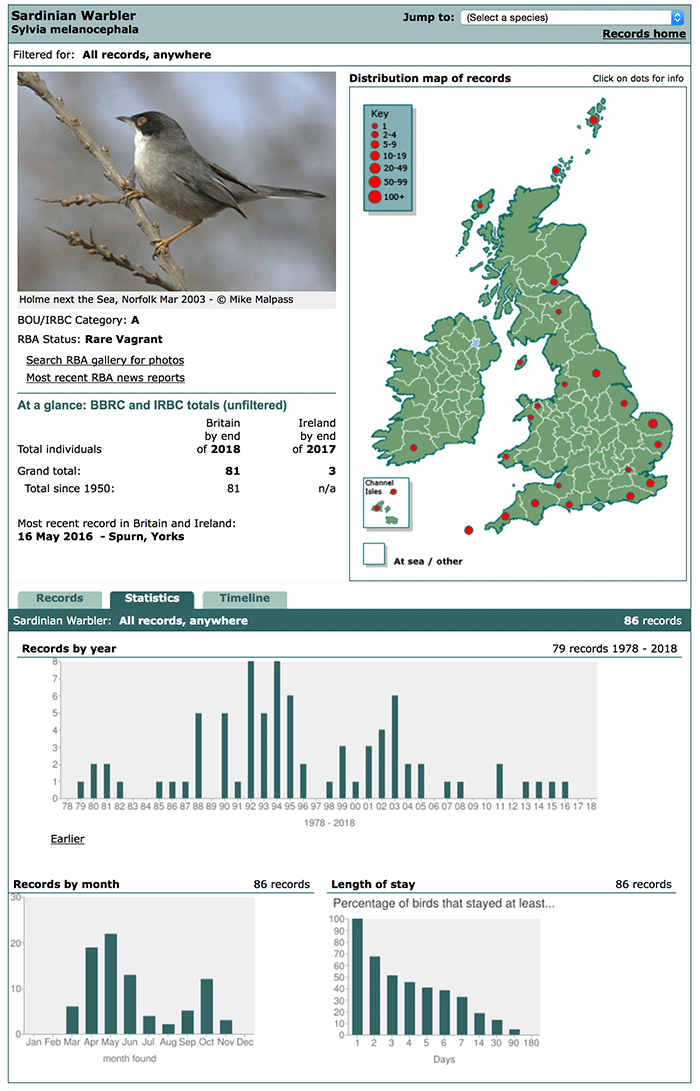 All of which means that my prediction of one being found during the week was braver than I realised when I blithely made it in the closing passages of the Rarity Round Up on April 14th. Thanks to the bird at Porthleven on 18th-19th, it's nice to get one right once in a while…
It's interesting to compare the British distribution map of this dapper Sylvia with that of the next species in the headlines - Sardinian Warbler being resolutely associated with coastal locations, whilst Iberian Chiffchaffs are rather less fussy in that regard with a scatter of inland records to their name. While this week's example of the latter was found within sight of the briny, they remain a possibility pretty much anywhere…
Iberian Chiffchaff
We do like a drop of nostalgia – and Twitter has been rife with it in the past few weeks, with many a birder rummaging in their dusty old photo albums for images of twitches past, photos of historic rarities, and even some scraps of archive footage culled from old camcorder tapes.
Funnily enough, and I can't imagine why, the Portland (Dorset) Iberian Chiffchaff found on 25th April 1999, remaining there in more less daily song until 8th July of that year, hasn't featured amongst the misty-eyed nostalgia-fest. Granted, that might be because they're, hand on heart, not the most glamorous of rarities in the charisma and looks department… or because since that bird they're now more or less an annual fixture, and we've 69 accepted British records on the books to the end of 2018.
That's doing the events of late April 1999 something of a disservice. When that bird first popped up on the pagers, it caused quite a stir, pretty much coinciding with the time that the species was formally adopted onto the British List. Though it technically wasn't the first example of its kind for Britain, it certainly had the feeling of a British first for those of us who gathered at Portland in the early days of its tenure. Little did any of us know that they were going to become quite so regular in the years to follow, let alone breed here too.
Funny thing, though – with records accelerating nationally in the past 20 years, Dorset hasn't had a single further acceptable bird lodge in the county books to the end of 2018. A probable bird was trapped and ringed last year on 1st April 2019 at the Portland bird observatory, but wasn't heard to call or sing. One found this past week, in song, on Portland on 25th was, therefore, arguably rather overdue.
Another possible bird was trapped and ringed this week at Hoylake (Cheshire) on 21st.
Lesser Kestrel
Scilly's male Lesser Kestrel, present for another week on St Mary's, is the rarity that just keeps on giving – showing absolutely no sign whatsoever of moving on any time soon. A shame it's on an essentially inaccessible offshore island – though, perhaps for the sake of the wallets of anyone who might have felt tempted, that's all for the best after all.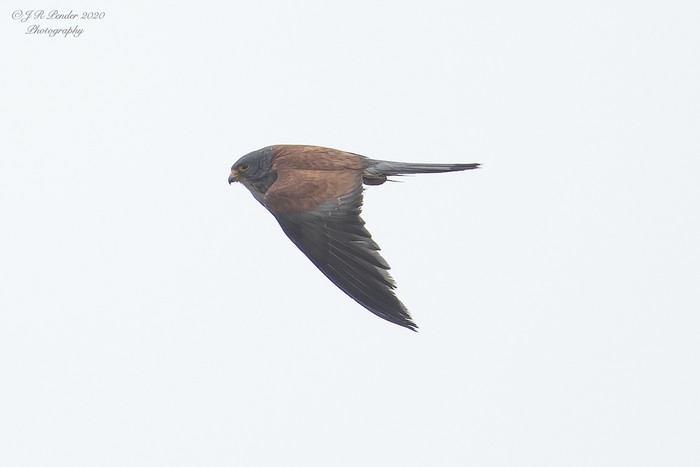 There's no surer sign of the unfolding of spring than the appearance of the first Pomarine Skuas off southern promontories jutting into the English Channel. For the past couple of weeks we've had the odd bird or two logged, but this week they were starting to move with slightly more purpose – not least on 23rd when two were seen, not in the English Channel, but considerably further north – off Saltcoats (Ayrshire).
Back down on the south coast, one off Ovendean (East Sussex) on 23rd was an early forerunner of a small movement the following day – on 24th a peak count of 10 birds came from Ovingdean, with other East Sussex sightings coming from Hove, where five birds were seen, and Bexhill, where two were noted. In West Sussex that day Selsey Bill scored three birds, while Goring-by-Sea had one certain bird and a further five probables. On 25th two more passed Goring-by-Sea, while back in East Sussex one was seen from Splash Point. Traditional Dorset spring skua hotspot Portland notched up a singleton on 24th.
On 25th six more were seen from Dungeness (Kent); on 26th, Dunge enjoyed seven more birds, Ovingdean claimed one more, Selsey Bill two birds, and Beachy Head (East Sussex) eight birds – a total matched by a party of eight seen on the Isle of Wight that day from St Catherine's Point and Ventnor. The week ended with one seen from Goring-by-Sea.
We did rather better than of late for White-billed Divers this week, with the mirror calm seas associated with a big lump of high pressure anchored over Scotland helping no end with picking out birds sitting on the sea. On 22nd four were off Cullen (Moray); and on 23rd two were seen in Shetland off Unst, while a further bird was found that day off adjacent Yell. On 25th-26th the regular bird was again seen off South Nesting on the Shetland mainland.
There was just enough southerly flavour amongst the week's long-legged beasties to lend a touch of the exotic to what would, otherwise, have been all about the Common Cranes again this week.
Starting with Purple Herons, the adult remained in Suffolk this week at Southwold on 21st-22nd, and was joined in the news by another seen at Kenfig NNR (Glamorgan) on 22nd. A final bird was reported from northwest of Ellington (Northumberland) in the early evening of 27th.
Further scarce heron sightings came in the form of a couple of widely spaced adult Night Herons - one on St Mary's (Scilly) on 22nd, and the other on 24th at Pegwell Bay (Kent). One would have to think that there may have been one or two in between those as well…
Glossy Ibises staged a modest comeback into the news this week, with one in Devon at Wrafton on 21st augmenting one in Kent on 21st-22nd at Dungeness RSPB that had been present there since the first week of April, and two seen in the promising quarters of Ham Wall RSPB (Somerset) on 22nd.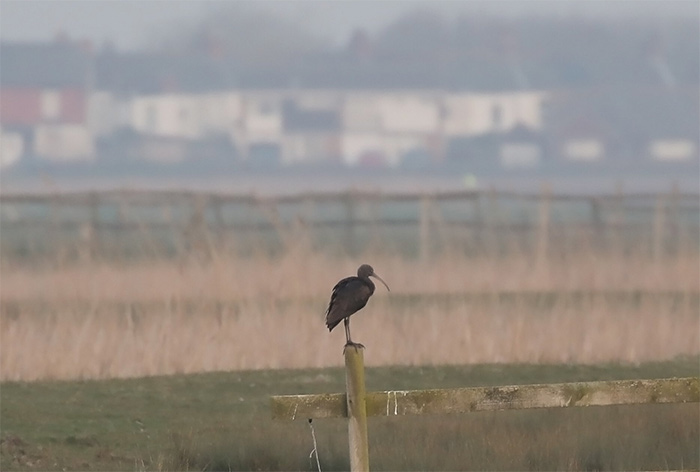 All of which said, as promised, Common Cranes made most of the running this week where long-legged beasties were concerned. The recent quarter in Shetland's south mainland fragmented this week, with one taking itself south to Fair Isle still on 21st, and the remaining trio lobbing around the Loch of Spiggie on 21st and nearby Bigton on 22nd. North Yorkshire was busy on 21st too, with singles over Filey and Thornton Dale, and a trio seen at Hutton Buscel; four were reported from Cowpen (Cleveland) on 21st also.
On 22nd an unconfirmed report came of three birds at Embleton (Northumberland), with three also seen that day circling over Barton Mills (Suffolk). Further eastern sightings came on 23rd with one bird at St Aidan's RSPB (West Yorkshire) and duos over Dunston (Lincolnshire) and Besthorpe NR (Nottinghamshire); while a single bird was much further south and west at Wimborne Minster (Dorset). Duos were noted on 24th at Fen Drayton Lakes RSPB (Cambridgeshire) and West Stow CP (Suffolk); and on 25th two were seen over Baston and Langtoft GPs (Lincolnshire), and single birds over Broomhead reservoir (South Yorkshire) and Reston (Borders). On 26th one was seen heading north over Loughrigg Fell (Cumbria).
We've been ignoring White Storks in the Round Ups for some time now due to wandering birds from the (re)introduction program in West Sussex clouding the any sort of sense of certainty about what's wild and what's not any more. It's worth mentioning in passing, however, this week the news that three nests on the Knepp estate are, apparently, active at the moment, one of which involves one of the 're-wilded' birds that's paired off with an actual wild White Stork - kind of the perfect metaphor, really, for how mixed up the status of the species now is in a British context.
Moving on to something less contentious altogether, a Spotted Crake was present at Ted Ellis NR (Norfolk) on 24th.
Still hanging around this week, thankfully, despite a general lack of quackers, was the young drake Steller's Eider on Papa Westray (Orkney) on 21st. My high hopes for a future long weekend on Orkney when the world settles down remain alive for another week.
Our only Green-winged Teal this week was the lingering bird still present on the Scottish mainland at Loch of Kinnordy RSPB (Angus) on 21st.
A possible female Blue-winged Teal was reported from Bourne (Lincolnshire) on 23rd.
Three Ring-necked Ducks were seen on Lough Madderiska (Co.Galway) on 22nd, while a drake was found in the evening of 24th near Collieston (Aberdeenshire), and the recent drake was once more seen at Priory CP (Bedfordshire) on 27th.
Finally, in East Yorkshire, the Black Brant remained settled at Kilnsea on 21st-26th.
<!—Section Title -->
Making a comeback to the news after an absence of some weeks after a strong winter showing for the species in Britain and Ireland, this week saw the welcome return of a Long-billed Dowitcher to the shorebird headlines – a bird on the Exe estuary (Devon) near Topsham on 24th-25th.
Keeping up recent momentum, another Black-winged Stilt sighting came in recent days, at Welney WWT (Norfolk) on 21st. Keeping everything crossed that more are to follow and, quietly, get on with the business of continuing their natural, tentative, colonisation of England…
One of the previous week's Dotterels remained at Landbeach (Cambridgeshire) on 23rd, while another was a quality find for one of the burgeoning ranks of nocmig devotees, recorded overnight at Aberdour (Fife) on 23rd. In Wales, on 24th two were noted at Foel Fras (Gwynedd) and, on 26th, one was present on Great Ormes Head (Conwy). On 27th a handful more were found – one on the summit at Ingleborough (North Yorkshire) and a pair near Scrabster (Highland).
If the latter species isn't yet piling north in appreciable numbers, the same can't be said for Whimbrels - definitely one for the keen house-lister to have on their radar in the week to come. To give an idea of the volumes of this subtly attractive wader on the move, look no further than Barnacre reservoirs (Lancashire) where, on 27th, some 660 birds were roosting…
One of the most satisfying finds of the week, at least for Steve Duffield, has to be the young Ring-billed Gull he found following the plough on Benbecula (Western Isles) with a crowd of Common and Black-headed Gulls on 21st. Not a bad way to enliven a morning bike ride, that…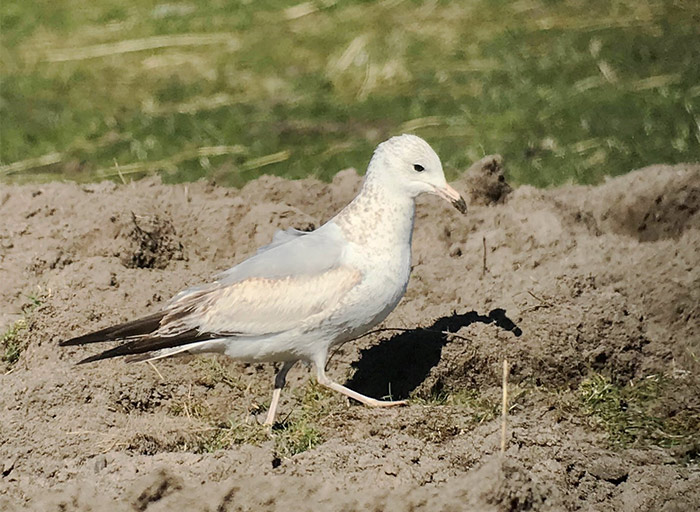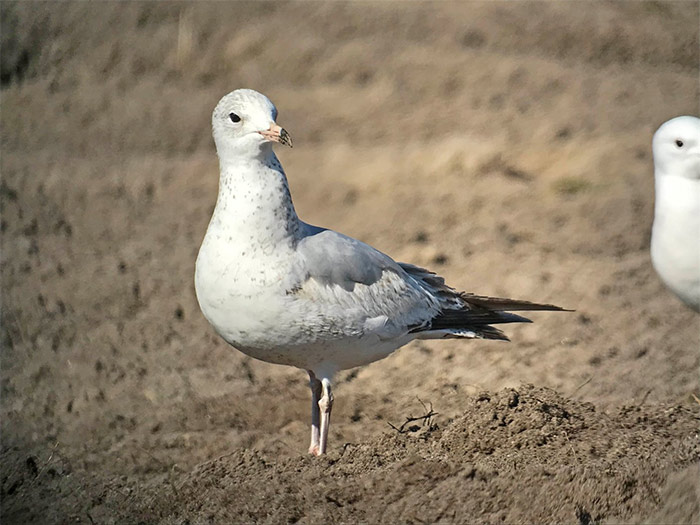 Sticking with serendipitous chance encounters, a fly-by White-winged Black Tern heading east past Selsey Bill (West Sussex) on 23rd is also right up there.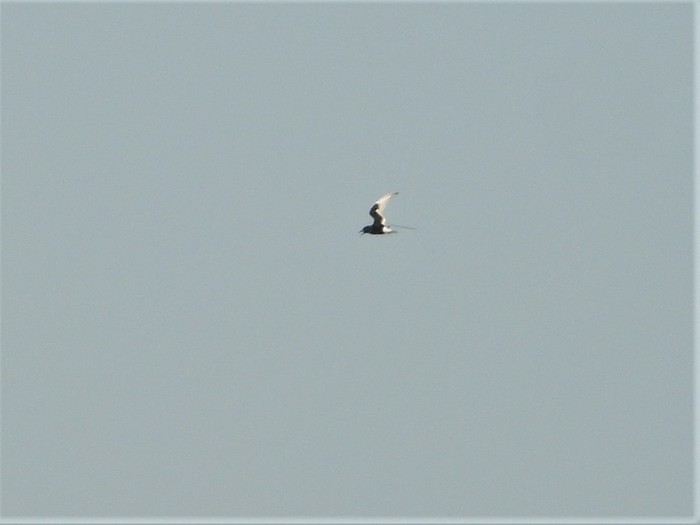 The rest of our weekly gull'n'tern fodder was all about the last dregs of the winter's white-wingers. Starting with Glaucous Gulls, Cornwall in particular remained a hotspot for sightings again this week – the juvenile bird hanging around Newlyn still on 21st-27th, joined in the news with further reports from St Just on 22nd, Penzance on 23rd, and Portheras Cove again on 25th. Elsewhere, on 21st Scottish islands claimed birds on Papa Westray (Orkney) and Tiree (Argyll & Bute), while the Pyewipe bird remained in Lincolnshire on 21st-27th. On 22nd one was seen again on Unst (Shetland), another in Stromness (Orkney), while a further possible was seen from Timsbury (Somerset); 23rd featured a bird in Perth (Perth & Kinross); on 24th-27th one was again seen in Shetland on Yell; and on 25th another bird was to be found in Aberdeenshire at Inverbervie. On 26th one was found at Grantown-on-Spey (Highland), and another down south in Suffolk at Southwold.
Yell (Shetland) remained attractive to two settled Iceland Gulls for another week, still present at Cullivoe on 21st-26th, with one still present on 27th; further settled birds were still liking Big Waters NR (Northumberland) on 21st-27th, Penzance (Cornwall) on 23rd and nearby Newlyn on 25th, St Just (Cornwall) again on 24th-27th, and Skye (Highland) still on 25th-27th. Additional sightings this week came from near Dingle (Co.Kerry) on 21st; Seaforth LWT (Merseyside) on 21st-25th; Drift reservoir (Cornwall) on 22nd; Elton reservoir (Greater Manchester), Westray (Orkney) and Sancreed (Cornwall) on 23rd; Wooler (Northumberland) on 24th; and Quendale (Shetland) on 26th.
Easily topping the raptor news this week was a juvenile Pallid Harrier tracked heading east along the north Norfolk coast in the early morning of 22nd – seen initially off Weybourne Camp and, a little while later, from Sheringham. They have, in the words of every reality TV contestant, ever, undergone a journey in recent years, from former achingly rare autumn mega to, happily, an annual sight in Britain. Since the turn of the century they've only skipped one year (2008, as you ask) and, while early autumn remains the prime time to bump into one, there's a second migratory peak in sightings spanning late April and early May. This, then, fits the pattern nicely and may well not be the last one seen in 2020.
Montagu's Harriers, meanwhile, were seen this week at Merthyr Mawr Dunes (Glamorgan) on 21st, with another Glamorgan report that day from Trecco Bay also; at Cottingham (Northamptonshire) on 21st; and one (or a Hen Harrier over Reculver (Kent) on 22nd.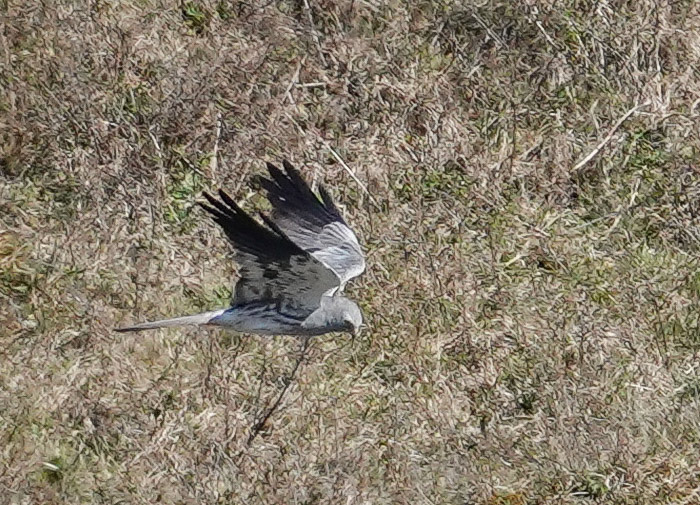 We've touched on Booted Eagles here in recent weeks and, with other rare raptors on the move on the near continent, it's not entirely surprising that a Booted Eagle should be reported this week, a probable pale morph heading northwest, first over Worth Marshes and, latterly, over Pegwell Bay (Kent) in the morning of 27th, being mobbed by a couple of Common Buzzards. One of these days there will be photos accompanying such a sighting that place the identity beyond dispute and then the ball will be firmly back in the BOURC's court…
For now, the Sandwich Bay Bird Observatory website provides a little more context on this latest record:
"At all times the bird was clearly larger than the Buzzards mobbing it. It was not a huge eagle but one of intermediate size. It was mostly pale below on the body and on the underwing but with a thick dark trailing edge. There were well-marked pale contrasting patches above on the upperwing and on the rump. It had a sharp squared-off tail and clearly square-ended flat wings with distinct fingering. It's a shame the bird was always distant. The bird was seen by three different observers with experience of pale Buzzards and of Eagles on the continent, and including a few White-tailed Eagles over our Recording Area in the last month."
Black Kites were seen this week at Harrogate (North Yorkshire) on 22nd, with another reported from a moving vehicle at Rainham Marshes RSPB (London) that day also; on 24th on Bardsey (Gwynedd); and on 25th at Romsey (Hampshire). On 26th Kent landed a possible over Broadstairs , and a confirmed bird a little earlier over Walmer; and another was found well inland at Stourport-on-Severn (Worcestershire). On 27th one was reported heading south over Ashdown Forest (West Sussex).
Lingering winter frosty loveliness came in the form of a couple of Rough-legged Buzzards - one at Broadstairs (Kent) on 23rd and West Runton (Norfolk) on 25th. Another probable passed over York (North Yorkshire) on 27th, and there was an unconfirmed report of a further bird that day at Long Itchington (Warwickshire).
We conclude the raptors with a scattering of English White-tailed Eagle sightings, with the usual Isle of Wight caveats attached – birds were seen on 21st at Godshill (Hampshire) and reported passing high over Harold Hill (London); on 22nd in Lancashire at Preston and Tarnbrook, at Grantchester (Cambridgeshire), and a further possible over Chelmsford (Essex); and a final probable was seen in Devon on 24th at Cranbrook.
We'll kick off the passerines with a healthy shot of spring overshooting colour again this week, starting with the perennial garden favourite, Hoopoes - just shy of 25 birds were seen this week, and five of them were in gardens – if anything's going to inspire someone to start watching birds, it's gotta be a house-tick Hoopoe…
On 21st-22nd, the recent Foulness bird remained in Essex; further finds on 21st were made in Fort William (Highland) and on St Mary's (Scilly). On 22nd one was seen on Portland (Dorset) and another in Angmering (West Sussex). On 23rd Portland cropped up again, with additional birds seen in East Sussex at Piddinghoe, Felixstowe (Suffolk), and in a garden in Cuddington (Cheshire). Back in Dorset on 24th one was in a Branksome Chine garden, while another was found in Somerset's Cheddar Gorge. 25th provided a quintet of birds – two more in East Sussex, at Lewes and Ovingdean; one inland at Caldecott (Oxfordshire); one at Honiton (Devon); and one in Northumberland at Druridge Pools NR, the latter remaining until 27th, whilst another report came from Portland on 25th; the recent bird in Shropshire was again seen in Wem that day also. On 26th a slew of fresh birds were found – at Climping (West Sussex), near Doncaster (South Yorkshire), Scarborough and Womersley (North Yorkshire), and on St Mary's (Scilly). On 27th more birds still were discovered – at Aldbrough (East Yorkshire), and near Aylesham (Kent).
Returning to Portland (Dorset) for a moment, the first Woodchat Shrike of the spring, a singing male, was outstandingly confiding there on 21st.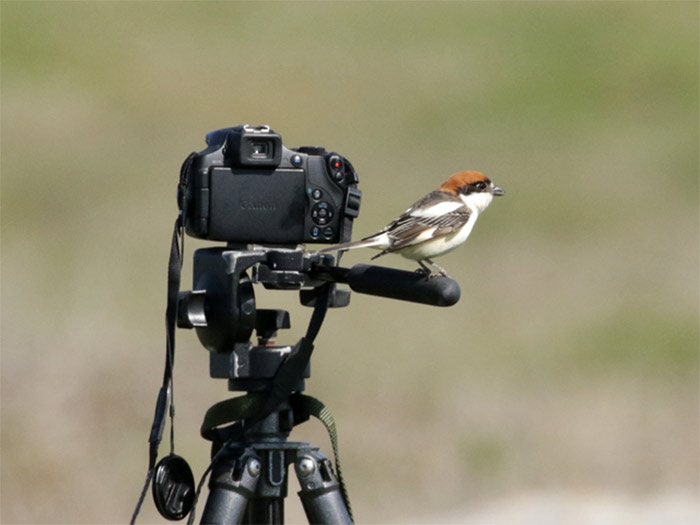 A Great Grey Shrike, meanwhile, was reported from Ipswich (Suffolk) on 22nd.
Back in the colourful southern groove, Bee-eater sightings continued to come in this week – following three possible birds heard over Islip (Northamptonshire) on 21st, one was seen on 23rd on Portland (Dorset), and two more were reported at Southport (Merseyside) on 27th.
The recent Wryneck in Cley (is that a Cleyneck?) remained there in Norfolk until 24th – and further birds were found this week on Fair Isle (Shetland) on 25th and, on 27th, in Truro (Cornwall).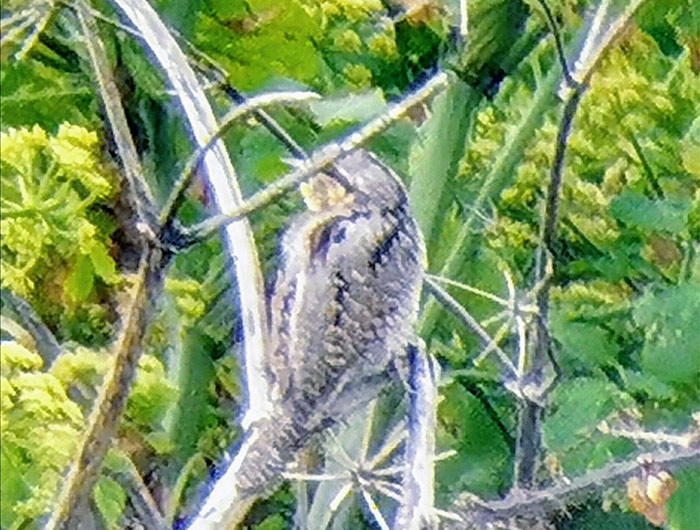 St Mary's (Scilly) struck gold on 27th in the form of a singing male Golden Oriole found in the early evening.
A Short-toed Lark was found on St Agnes (Scilly) on 21st. Scilly was having a solid week with a Red-throated Pipit on St Mary's on 26th-27th – an excellent flyover house bird for Kris Webb on 26th after a fruitful nocmig session the night before and, better still, he relocated it shortly afterwards nearby.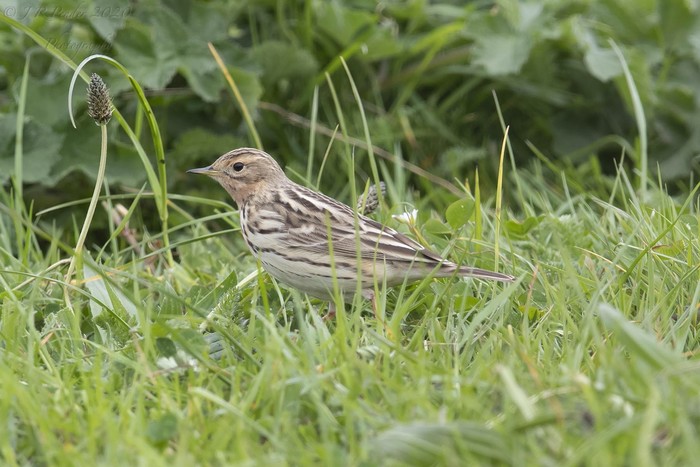 Richard's Pipits were seen again this week in Lincolnshire in the Anderby / Huttoft area on 24th still and, on 25th-27th, at Flamborough (East Yorkshire). A final bird was found on 26th at Little Ormes Head (Conwy).
The Blue-headed Wagtail remained into another week at Toft Newton reservoir (Lincolnshire) on 25th; further birds were seen near Arbroath (Angus) on 21st, on Huttoft Marsh (Lincolnshire) on 24th, at Fleetwood (Lancashire) on 25th, and on the Northamptonshire / Cambridgeshire border east of Thrapston on 26th. A further probable female was present at Walthamstow Marsh NR (London) on 23rd, with another report from there on 27th also.
A male Subalpine Warbler sp, thought probably to be an Eastern, was present at Martin's Haven (Pembrokeshire) on 23rd.
The first Savi's Warbler of the spring was found on 21st at Brading Marsh RSPB (Isle of Wight).
An Alpine Swift was seen on 21st over the Blackdown Hills near Taunton (Somerset).
Red-rumped Swallows continued to brighten their finders' days this week – one was seen at Dungeness (Kent) on 23rd; a probable over Maldon (Essex) on 24th; one at Bishopthorpe (North Yorkshire) on 25th; a bird at Kilnsea (East Yorkshire) on 25th; and one over Landguard NR (Suffolk) on 27th.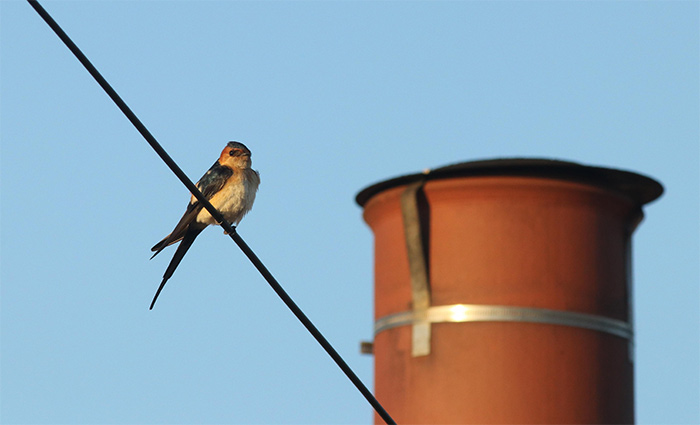 Numbers of Waxwings continued to fall and, were it not for the flock of 20 seen in Inverness (Highland) on 24th and the 20 birds in Aberdeen (Aberdeenshire) on 26th, we'd have been comfortably in single figures this week with single birds noted elsewhere only on Yell (Shetland) on 21st and Richmond (North Yorkshire) on 22nd, a further bird reported from Kincraig (Highland) on 25th, and one on 27th at South Shields (Co.Durham).
A Serin was found in Norfolk at Thetford on 23rd; another was heard passing over Barnham (Suffolk) on 26th, and a final bird over Lawrence Weston (Somerset) on 27th.
Shetland provides the last of the week's pukka passerines – a Little Bunting in a crop field at Toab in the south mainland on 24th – whilst there remains only a salutary lesson before we move on to overseas news for another week.
That lesson being a colourful one – two Painted Buntings were found on 22nd, one on the Orkney mainland at Toab, and the other a ringed bird at Flamborough (East Yorkshire); followed, on 24th, by another ringed bird found in Aberdeen (Aberdeenshire). Turns out the spectre of colourful escaped buntings hasn't gone away after all … and there I was hoping that one of these days an acceptable Red-headed Bunting might arrive, late one spring, somewhere in Britain. Oh well. Maybe not…
Today's painted bunting (see ring) in our Flamborough garden has spoilt me. I'm worried now that even if I get a red flanked blue tail or a Siberian ruby throat (not ringed!) visiting, I might be a little underwhelmed! #BirdRainbow ?? pic.twitter.com/j1V50mmn1w

— Treespers (@Treespers42) April 22, 2020
Overseas news, for another week, was largely all about the larger raptors. Not least Bonelli's Eagles for, for a second consecutive week, the sightings continued to come in – birds were seen in Holland on 23rd heading northeast over Breskens and, on 24th, on Texel; and on 24th in Germany at Gandesbergen.
Denmark, meanwhile, scored a Lesser Spotted Eagle at Skagen on 22nd-23rd.
Sweden landed a drake Stejneger's Scoter at Landsort on 27th.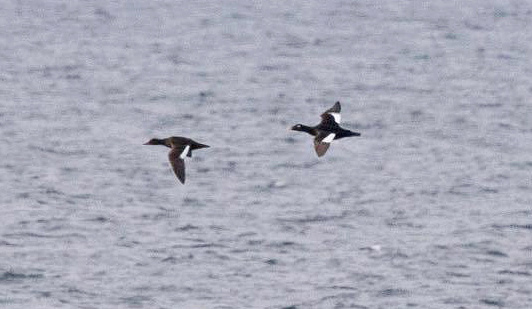 We don't hear much news from the Faroe Islands – the last bird news on the menu being the late Tufted Puffin - so it was fine to hear of an extant Collared Flycatcher there at Porkeri on 25th – a first for the islands.
A male Pied Wheatear was in song in Austria at Weiden am See on 26th.
Finally, in Israel the Three-banded Plover was again seen at Ma'ayan Tzvi fish ponds on 24th.
Large Tortoiseshells continued to provide food for thought for yet another week – particularly in the case of Kent, where one lingered in the moat at Dungeness on 22nd-23rd, and three insects were logged on 26th at Lydden Hill.
Elsewhere in Europe, the quiet times of lockdown have revealed other wildlife that might hitherto have gone unnoticed or, indeed, have been absent altogether due to the pressures of human traffic in their environment. This past week we've heard of jellyfish pulsing through the still canals of Venice, and marine biologists rushing to take advantage of quieter oceans stilled by reduced shipping to listen to cetaceans in the North Atlantic in what may prove to be a once in a lifetime opportunity .
Meanwhile, our urban spaces are growing quieter too – all around the world, and in Britain too, wildlife is taking to the streets in the absence of human disturbance. We're living in the strangest of times, but perhaps, counterintuitively in lockdown conditions, more people will have an opportunity to connect with nature than they may have done so hitherto.
There's a window in the weather in the early half of the week where it looks like the east coast, from Norfolk up to Shetland, is likely to have easterlies of one complexion or another coming at us across the North Sea.
We've had a few Wrynecks thus far in the spring, but surely more are in the wings - another quality coastal garden bird for the blessed.
If we're aiming a little higher, I'm taking some guidance from my island neighbours up on Faroe this week – if they can score a Collared Flycatcher, we certainly can at this point in spring's precedings. The coming week boasts five prior accepted records, adding to the general sense of possibility.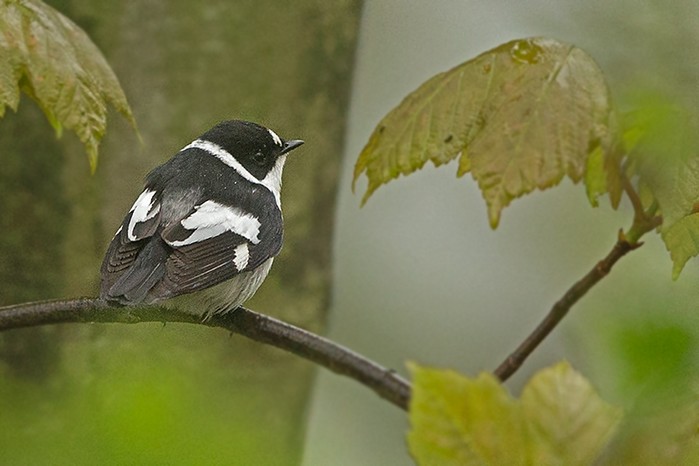 Jon Dunn
28 April 2020
Many thanks to all this week's contributors for your photos and videos
Share this story
Tweet