Weekly birding round-up: 24 - 30 Mar 2020
The week at a glance
A spate of White-tailed Eagle sightings brighten the week
And the Lesser Kestrel remains on Scilly
You don't need me to tell you that we're living in strange times, not least because there's a very real chance you're reading this, on a weekday, at home. If not, you're probably a key worker on their way to keep the country's infrastructure working for us all and, if so, you have our heartfelt gratitude.
Hopefully, for whomever this reaches every week, it's going to provide a few welcome minutes of escapism. None of us will be twitching the big birds of the coming weeks, but we all still want to know about them. Travelling to go birding is firmly in the category of non-essential travel for the time being, but birding from where one is based has arguably never been more essential – a welcome dose of nature to help one's mental health.
And besides, where birds are concerned, big is all relative now. Whilst we signed off last week suggesting a genuine rare that could conceivably be found almost anywhere in Britain during the spring, being at home during migration will almost certainly mean that some gems will be uncovered in gardens that would otherwise be unwatched. Or over some gardens, as was the case this week…
White-tailed Eagles
When did we ever have headlines that were all about the raptors in any one week here? That's partly a measure of the times we're living in, but also simply a reflection of the surge in sightings of wandering White-tailed Eagles that spiked this past week. At least one of which was definitely not from the Isle of Wight reintroduction scheme, giving significant comfort to anyone who is blessed to find themselves, standing in their garden, watching the sun blotted out overhead by the massive form of one these bad boys in the week to come.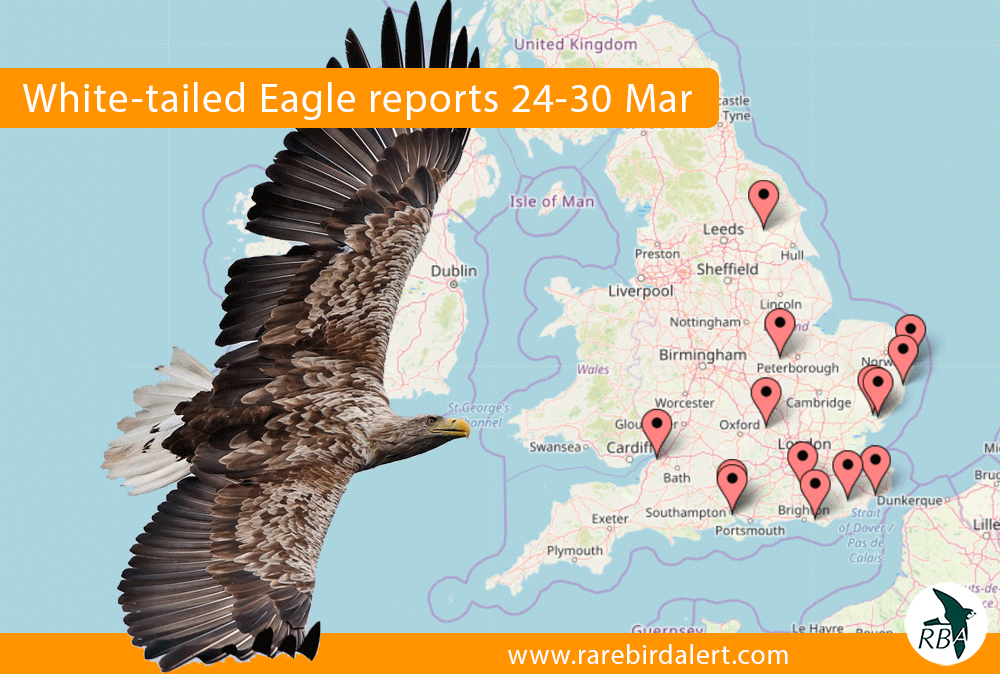 But back to the past week. White-tailed Eagles became a daily staple, starting on 25th with an initial flurry of sightings – one over Southampton (Hampshire) could easily (though not necessarily accurately) be reconciled to the nearby Isle of Wight, while two more records came from Kent that day – over Sandwich Bay Bird Observatory and Hythe. On 26th one was seen in Northamptonshire over Blatherwycke, while one was a magnificent garden tick that day over Melbourne (East Yorkshire).
Another day, another garden tick, and this one confidently not from the Isle of Wight scheme – Dan Forder landing the ultimate urban birding house tick with a young bird passing by his balcony in Watermead, Aylesbury (Buckinghamshire) at treetop height on 27th. Oof. Further sightings on 27th came from Newenden (Kent), near Portbury and Shirehampton (Somerset), Crawley (West Sussex), and Oulton and Westleton (Suffolk) – the latter site getting a second helping on 28th also.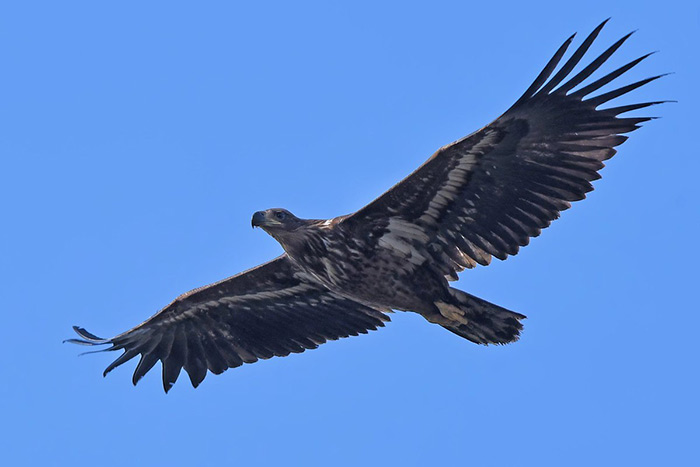 On 30th a spate of Kent sightings rolled in – seen from Littlestone-on-Sea and Hythe, whilst in the morning one had been seen heading north from Piddinghoe (East Sussex). Sightings also came from Essex on 30th, at Lawford and near Wix, and from Suffolk where one was seen over Boyton Marshes RSPB.
The moral of this, for the coming week, being eyes to the skies, folks. Needless to say, amongst these eagles, there were other raptors on the move - Ospreys are returning too. Good luck!
Lesser Kestrel
Whilst technically of interest only to those Scilly residents who could comfortably bump into the lingering male Lesser Kestrel still on St Mary's this week until 28th, it would be a churlish outside observer who didn't relish seeing images of it, or simply hearing it was still there – comfortably bird of the spring to date.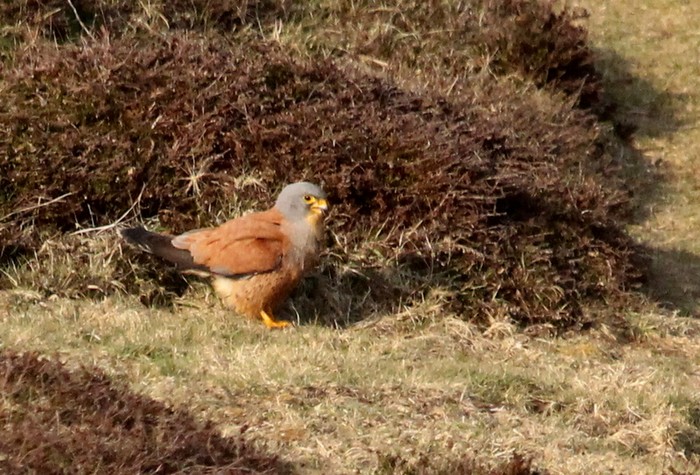 Understandably, with us all reducing our hours in the field this past week, and for the weeks to come, seawatching is going to be a casualty – it's just not exercise in the same way that a brisk walk or cycle ride is. Though, for those of us who've sat in the teeth of bitterly cold, scything gale that's blowing salt spray against our faces and lenses, that dismissal of seawatching as hard work would seem rather trite…
Needless to say, as skua passage accelerates in the weeks to come, those of us fortunate enough to have a sea view from home will be in pole position to pick up a Pom or log a Long-tailed Skua - but that week was not the week just gone.
Birders living in coastal locations will certainly be in the driving seat for a while as, even working from home, there's still the opportunity of a lunchtime break that would often, in normal circumstances, be spent nursing a sandwich somewhere entirely less promising altogether.
And whilst seawatching requires some dedicated focus looking out to, er, sea, walking past a coastal wetland allows a window of opportunity for bumping into one of the scarcer long-legged beasties. This week, on 28th, a cracking adult Purple Heron was found at Salthouses (Norfolk); while another sighting came from Cley NWT on 30th.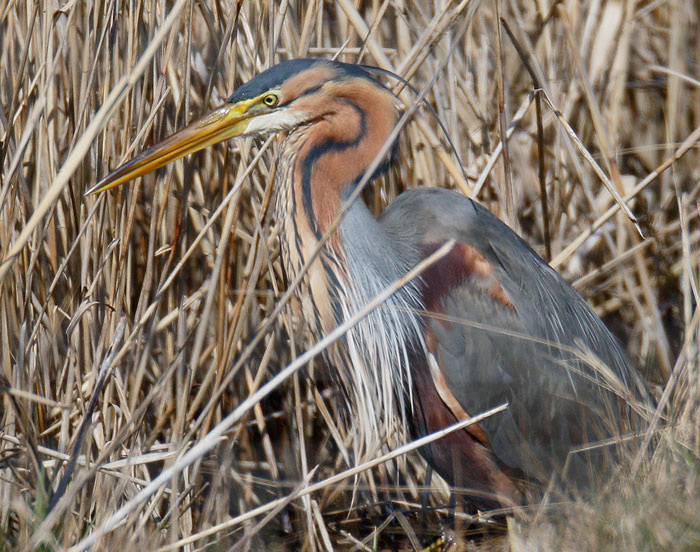 In Wales, the regular Glossy Ibis was still to be found at Newport Wetlands RSPB (Gwent) on 24th. Others, surely, may be in the wings.
One of the week's characteristic wandering birds that could, with a generous dollop of luck, pass over almost anybody's personal airspace was once more Common Crane. Indeed, it's yet another near-ish miss for my own house list, as one was wandering around Unst (Shetland) on 26th – on a clear day, the tip of the island is tantalisingly visible on the horizon. One of these days…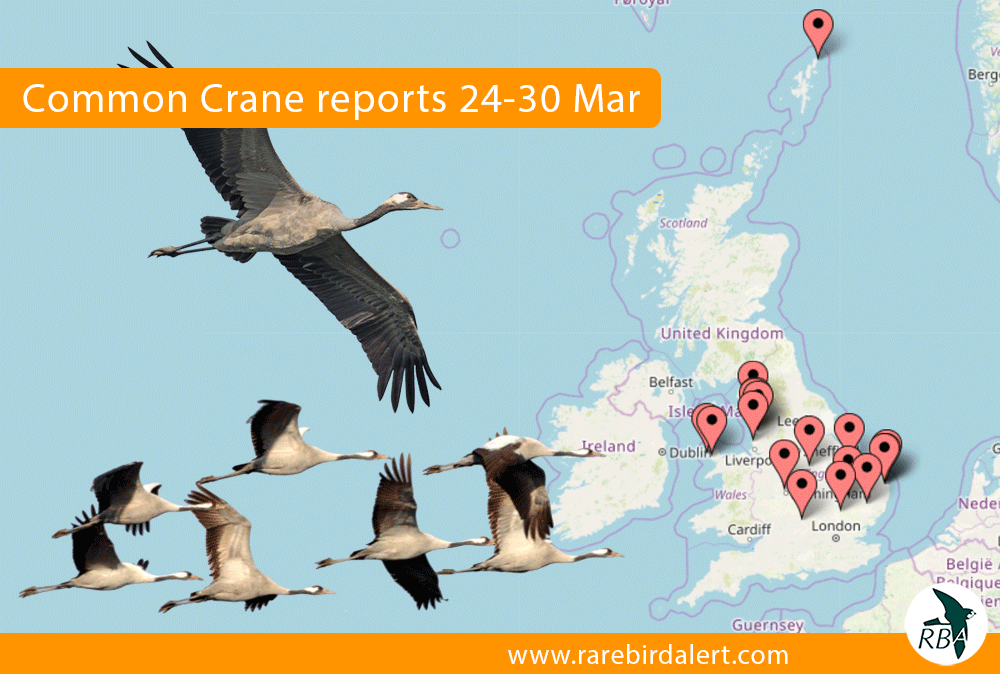 Personal house listing ambitions aside, there were plenty more on the move this week, offering chances for mainland birders to serendipitously connect. On 25th duos were logged at Ely and Melbourn (Cambridgeshire), and Calverton (Nottinghamshire), with a singleton passing over Gibraltar Point (Lincolnshire); on 26th, a duo passed over Glymton (Oxfordshire); on 27th one was heard at Cabin Hill NNR (Merseyside), while duos were noted at Blackpool and Poulton-le-Fylde (Lancashire), and South Stack RSPB (Anglesey), with two probable birds that day over Llyn Traffwll RSPB (Anglesey) also. On 28th one was seen over Sandwell Valley RSPB (West Midlands), while two were seen in Suffolk over Hadleigh and Elmswell, and a further probable bird was recorded in the small hours of the morning above Ulverston (Cumbria).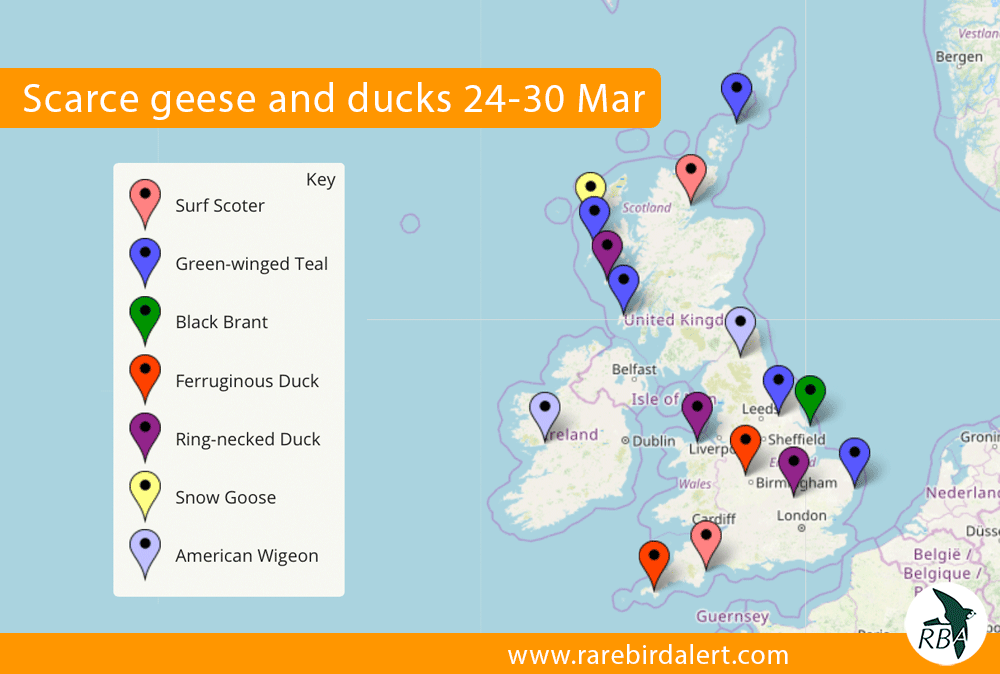 Sitting on the cusp of April, we'd naturally be expecting our honkers and quackers of interest to start to dwindle around about now – though, of course, this week's slimmer pickings owes more to the current circumstances than the time of year per se.
Starting with the honkers, the white Snow Goose remained on North Uist (Western Isles) on 27th.
Further south, the Black Brant was once more seen at Kilnsea (East Yorkshire) on 25th-29th.
Late news emerged on 30th of a drake Blue-winged Teal at an undisclosed site on Anglesey. We've been enjoying a good run lately for these attractive ducks.
Ireland's second first-winter drake American Wigeon of recent weeks was seen on 25th at Lough Nalareagh (Co.Galway) – on the opposite side of the country to the lingering Co.Wicklow bird last seen at The Breaches on 23rd.
Six Green-winged Teals were logged this week, the most notable sighting of which were two drakes seen on Islay at Loch Gruinart RSPB (Argyll & Bute) on 25th. Further singletons were seen at North Duffield Carrs (North Yorkshire) on 24th, and lingering on North Ronaldsay (Orkney) and at Southwold (Suffolk) still on 28th, and on South Uist (Western Isles) on 30th.
Ring-necked Ducks were the most notable casualty of the lockdown, with just one bird recorded this past week – this being the long-staying drake still present at Priory CP (Bedfordshire) on 24th-27th.
The drake Ferruginous Duck, meanwhile, was still to be seen in Wolverhampton (West Midlands) on 24th-28th.
Embo (Highland), the recent hotspot for Surf Scoters, continued to hold some birds this week, with three once more seen off there on 26th, and two still on 29th. In Devon, meanwhile, the recent drake remained off Teignmouth on 30th.
And finally, bringing back memories of Shetland's spring Wood Duck in April 2009, one was found in Co.Louth at Dundalk on 29th at Soldier's Point. Hopefully it won't hang around and, hence, blot its copybook… Speaking of which, what to make of the report of a drake Bufflehead at Swillington Ings (West Yorkshire) on 30th? We've had recent form with the wandering escaped female, which does little inspire confidence in their kind generally…
<!—Section Title -->
Our usual stalwart first-winter Long-billed Dowitchers in Ireland were both still present, at Tacumshin (Co.Wexford) still on 24th and Kilcoole (Co.Wicklow) on 25th.
The long-staying Lesser Yellowlegs was still to be found at Nosterfield LNR (North Yorkshire) on 29th.
A report of a Red-necked Phalarope at Leighton Moss RSPB (Lancashire) on 26th would, if confirmed, have represented a particularly early and determined returnee.
It was one apiece this week for Ring-billed Gulls, with one reported from Allestree (Derbyshire) on 24th and an adult bird seen in Co.Dublin on 27th at Poolbeg.
Glaucous Gulls, already in freefall before the lockdown, struggled towards double figures this week with 12 birds recorded, one of which annoyingly I missed from the window on Whalsay (Shetland) on 25th. (Of such small frustrations are lockdown lists made – you wouldn't believe how much I'm hankering for a migrant Woodpigeon….) Other Glaucous Gulls were noted this week at Dungeness (Kent) on 24th-28th; Foston on the Wolds (Gloucestershire) on 25th; at Killybegs (Co.Donegal) on 25th; at Crookhaven (Co.Cork) on 26th; on Tory Island (Co.Donegal) on 26th; still hanging out in the field with the pink elephant at Newquay (Cornwall) on 27th; and on North Uist (Western Isles) on 27th-29th. On 29th further birds were noted on Tiree (Argyll & Bute), Stromness (Orkney), and Rathlin Island (Co.Antrim); and, on 30th, one remained on Lewis (Western Isles).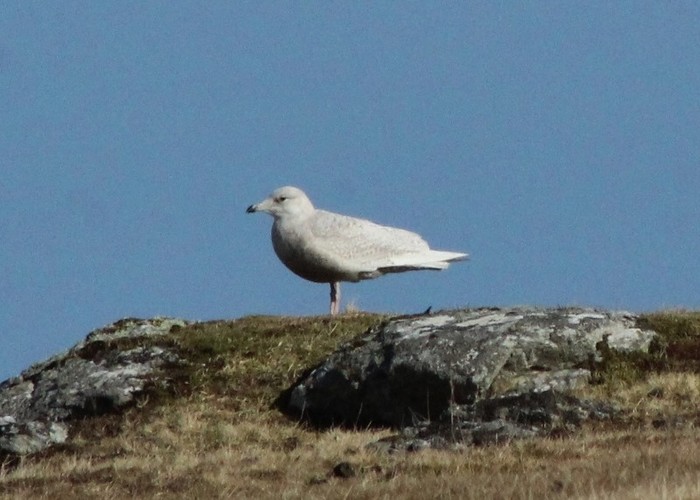 Iceland Gulls were only a little more numerous in the newsfeed, with 19 birds recorded in recent days. A shade over half of these sightings were of Scottish origin – in Shetland on Yell on 24th-28th still and on Fair Isle on 25th; in Orkney on Westray on 24th-26th; in Highland at Thurso on 24th and on Skye on 27th; reported from Ayrshire at Fail Loch on 25th; and in Fife at Kingsbarns on 28th. English sightings were restricted to a bird in Northumberland at Tynemouth on 26th-28th and two records from Cornwall on 26th, at Newlyn and Lamorna – another Lamorna sighting came on 30th also. Our final sightings both owed themselves to Co.Wexford, where birds were logged at Lady's Island Lake on 26th-27th and Kilrane on 28th. On 29th three were seen at New Deer (Aberdeenshire), two remained on Skye (Highland), and one was seen at Ryhope (Co.Durham); and, on 30th, one was seen in Cambridgeshire at Cottenham.
Sticking with Co.Wexford, the adult Kumlien's Gull was still hanging around the Tralee Bay Wetlands Centre area on 27th.
Wandering White-tailed Eagles were very much a feature of the week just gone, as we've already seen, but the first vanguard of displaced migrating Black Kites also hit our shores this week – a pleasing sign of things to come and, lest we forget, a species that's more than capable of striking inland once it's crossed the English Channel. Another one that, if the Fates smile on us, could drift over almost anyone's garden.
This week, however, the sightings were resolutely on the south coast – a bird tracked in East Sussex over Cuckmere Haven in the early morning of 27th and, later on, at Seaford; and a probable bird seen at Brixham (Devon) on 27th also.
On 29th, a Rough-legged Buzzard was seen in Suffolk at Barsham.
Still topping the passerine offerings this week was the young male Black-throated Thrush in Grimsby (Lincolnshire) on 24th-29th. I've been banging this familiar drum back and forth for a few weeks now, but with three birds already reported in Britain during the 2019/20 winter period, and others seen in Western Europe in the past few months, I wouldn't be in the least bit surprised if there isn't another one or two lurking around some particularly berry-rich garden somewhere in Britain even as we speak. Maybe one will make somebody's day while they're doing the RSPB Lockdown Breakfast Birdwatch…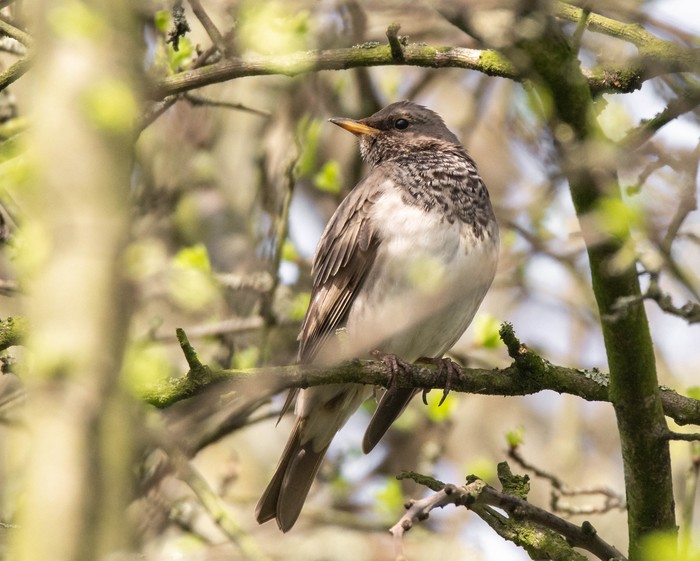 Our other long-standing rarity of note remained in Cheshire this week, this being the wintering maurus Siberian Stonechat still present at Ashton's Flash on 26th-29th. A further possible male eastern stonechat sp was reported from Clash Lehane (Co.Kerry) on 23rd.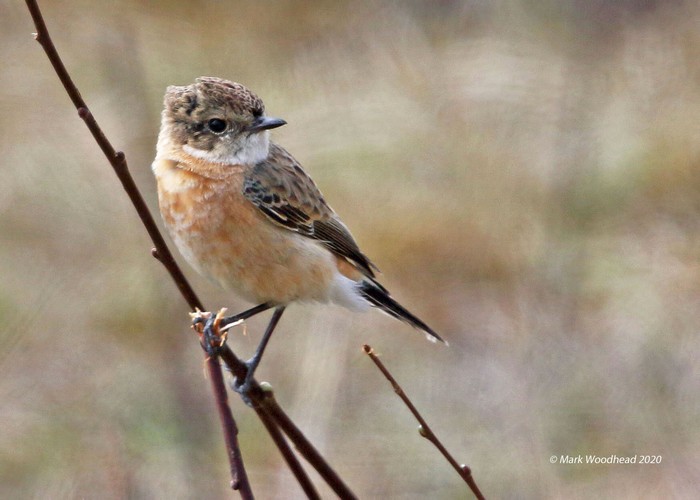 If Black Kites were livening up the raptor possibilities this week, further signs of southern migrant action came in the form of a scattering of Serins across the English south coast in the early part of the week. On 24th birds were noted at Durlston CP (Dorset) and St Catherine's Point (Isle of Wight), while on 25th sightings came from Worthing (West Sussex) and Dungeness (Kent), with a further report from the latter site on 27th. They've been tantalisingly close to becoming a regular, albeit rare, breeding bird in the past – first confirmed breeding in Dorset in 1967, the anticipated colonisation never got off the ground. For now they remain very much an irregular prize for the coastal birder.
As do Hoopoes, another species that absolutely screams spring promise. One was logged this week in Co.Waterford at Bunmahon on 26th, while one has been present on Gugh (Scilly) for the past week or so. There will, very shortly, be more to follow.
On the other hand, this week, Waxwings were as persistent as a Cairngorm snow patch. A smidgen over 200 birds were seen this week, with double figure flocks noted in Aberdeenshire on three occasions – in Aberdeen on 25th, with 20 birds seen passing over; at Cults on 28th, where 30 birds were again noted flying through; and at Westhill on 28th, where 21 birds were seen – and then, on 29th, back in Cults, a flock of 100 birds were noted. A further flock of 10 birds were seen in Richmond (North Yorkshire) on 27th, and 25 were seen in Milngavie (Clyde) on 30th.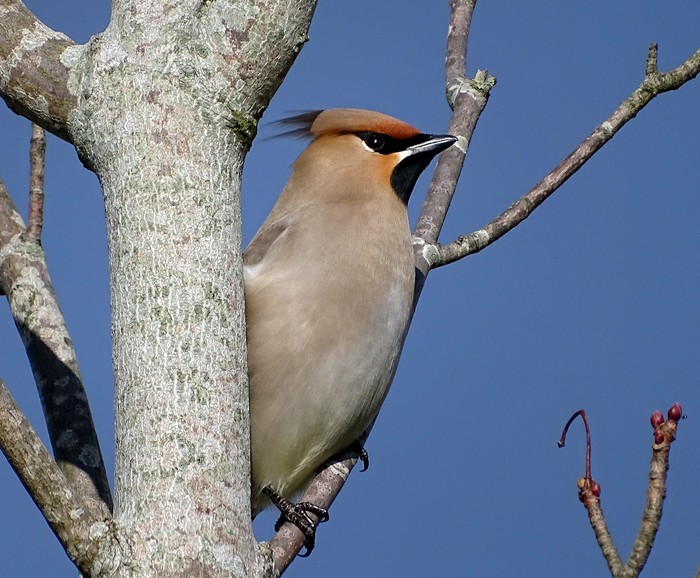 If Serins and Hoopoes tend to show a coastal bias, there's been some recent cause for inland optimism in other quarters this week – indeed, I'm prepared to bet money that some folk have added Black Redstart and Firecrest to their house lists in recent days. The former, in particular, have been streaming through the country, with sightings at all the usual coastal stations augmented by birds found well inland – I can remember the thrill of my first spring birds, way back when in the mid-1980s, at Sherborne Lake (Dorset) and then the massive adrenaline rush some years later when one spent a couple of days flycatching on our garage roof. The latter bird was the one and only example of its kind I saw at that house – they're a decent prize for an inland house list, and one that should continue to be on the radar for us all in the coming days.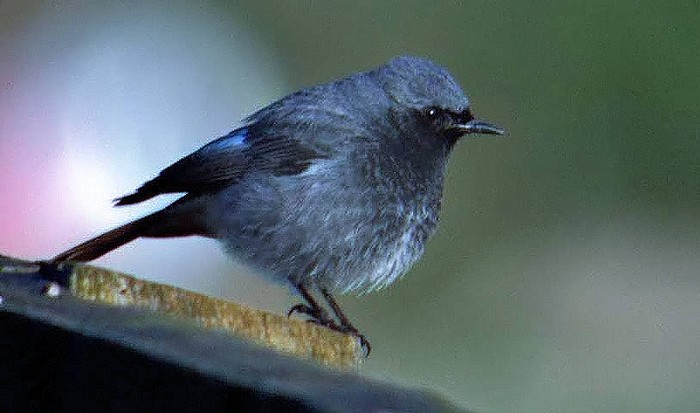 Another bird that, surely, will be on the move soon is the wintering Yellow-browed Warbler that's been happily dug in at Mitcham (London) – seen again this week on 28th still, it won't be hanging around much longer now.
In East Yorkshire, another recent familiar remained at Flamborough on 28th – the Richard's Pipit there once more being seen.
Finally, one of the week's more striking garden records came on 26th at Cleethorpes in Lincolnshire, where a Chough was seen passing overhead. On Scilly, the two birds that spent weeks in residence also remained present this week, seen again there on St Mary's on 26th.
Understandably, overseas news remained at a premium in recent days. On Guernsey the American Royal Tern was again logged on 24th and 29th.
Spain, in the news for all the wrong, tragic reasons this week, landed an adult Bonaparte's Gull in Malaga on 27th-28th.
Finally, in Germany, the drake Black Scoter was again seen off Bulk on 24th.
The warming and lengthening days of April bring, of course, the promise of spring migration really starting to up the ante and pace and, from wherever we're sitting it out, we'll be seeing new birds returning to breed, the dawn chorus really kicking off and, as always – this is Rare Bird Alert, after all – the promise of something out of the ordinary landing in front of the fortunate.
All of which said, there's also the potential for some decent other wildlife sightings besides, not least the emergence of hibernating butterflies. Who doesn't love seeing the first Small Tortoiseshell or Peacock of the year? Recent weeks have also yielded sightings of other, rarer, Nymphalidae, and the past week was no exception – Camberwell Beauties were seen in Surrey at Ash on 25th, and in Cannock Wood (Staffordshire) on 28th; and a Large Tortoiseshell was noted on 25th-26th at – where else? – Portland (Dorset).
I say 'where else' as, in the past couple of years, something interesting is happening down on the south coast. There've been a spate of Large Tortoiseshell records along the Dorset coast since 2005, with a notable spike of sightings on Portland in 2007-2008 and, more recently, between 2018 and the present day.
There've been rumours for years that Large Tortoiseshells have, through one means or another, re-established themselves on the Isle of Wight. (https://www.theguardian.com/environment/2013/jun/17/large-tortoiseshell-uk-elusive-butterfly) Those means may not be entirely natural as, despite being officially frowned upon, butterfly enthusiasts are known to have lent native species a helping hand in the past – sometimes a relatively benign hand, insofar as they've brought the likes of Marbled White a few miles to suitable habitat that had, formerly, been rendered unsuitable by the vagaries of intensive agriculture and to which the tattered remnants of the butterflies' population weren't dispersing to under their own steam.
And then again, not so benign – in 1906, and again in 2014, colonies of Map were established in Britain – not a native butterfly species, but one that their mischievous benefactors saw fit to try to introduce. In both instances, those alien colonies didn't persist.
What then do we make of the provenance of the Portland Large Tortoiseshells? It's entirely possible they've made it there under their own steam from the European mainland – but then again, as a formerly native species to Britain, does it really matter so very much if they've been reintroduced? We've the hand of man to thank for the now thriving colonies of formerly Swedish Large Blues in the southwest, not to mention the licenced (and unlicenced) European Beavers in Scotland and England. And then there are those White Storks (https://knepp.co.uk/white-storks) in Sussex which, let's be honest, and despite the claims of their proponents, we're not entirely certain ever actually were a former British breeding species.
On the whole, while not personally condoning arbitrary tinkering in the natural world, I find it hard not to welcome the re-emergence of Large Tortoiseshells in our midst. I for one hope they prosper.
I can't get away from the potential offered by Iberian Chiffchaffs in the week to come – we've four historic records from the first week of April, two of which relate to what's presumed to be the same, returning, bird in Shropshire in 2016 and 2017. That's an inland bird, and that's significant comfort for anyone currently working from home away from the coast.
That said, we're firmly into Great Spotted Cuckoo territory now, and those magnificent beasties are resolutely coastal vagrants. There are eight historic birds from the week to come, which is potential indeed for those fortunate to live in coastal locations. Who knows what might come to munch the caterpillars in your garden?
We can but dream.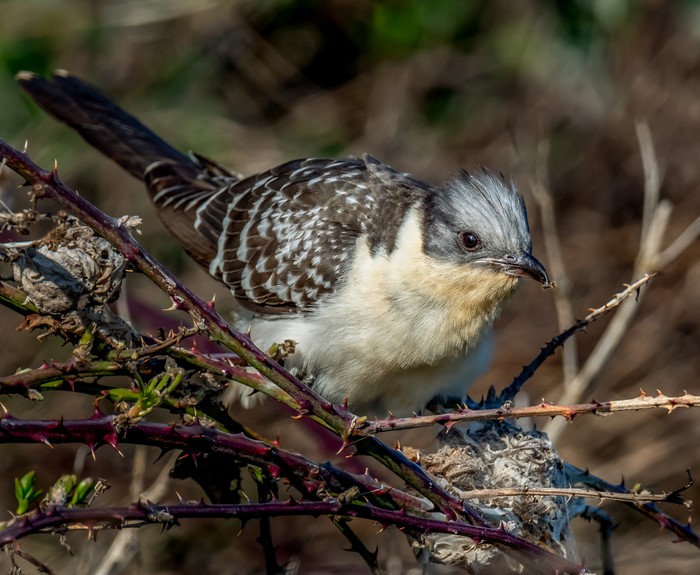 Jon Dunn
31 March 2020
Many thanks to all this week's contributors for your photos and videos
Share this story
Tweet