Weekly birding round-up: 17 - 23 Mar 2020
The week at a glance
Kent lands yet another Short-toed Treecreeper
The Lesser Kestrel remains on Scilly
And the Shetland Tengmalm's Owl stays another week
These are strange days indeed. It's almost impossible not to become consumed by the unfolding, dreadful news from around the world and ever closer to home yet, while we adjust to the new realities that are defining our daily lives, nature continues apace around us. Spring is happening out there, and birds are on the move. Come what may, there will always be birds.
They're a welcome distraction at the best of times. Now, in the worst of times, they're more compelling and important than ever. While we can still, judiciously, get outside they're there to be seen and, even when we're indoors, there's always window-watching. Springs past boast a glittering roll call of outrageous birds found in back gardens.
One way or another, there will be birds – and we'll be sharing them with you. Which must mean it's time for the weekly round-up…
Short-toed Treecreeper
We've a few birds on the British list that revel in English names of a Kentish persuasion. I give you Kentish Plover, Sandwich Tern, and Dartford Warbler. Really though, there ought to be one more – there's a compelling case for Dungeness Treecreeper.
Because if you've got Short-toed Treecreeper on your British list, chances are you saw your first at Dunge. I know I did. Granted, there've been other records outside the county, but not many… them stats don't lie. Of the 31 accepted records to the end of 2018, a mighty 23 of those birds have been in Kent, and 15 on the shingle promontory of Dunge, jutting out into the English Channel like a great big treecreeper magnet.
Sure, one can live in hope elsewhere on the south coast. The furthest west one's been found is Dorset, though the last bird there was way back in 1979. A scatter of coastal records extends to Suffolk and then, to Norfolk's chagrin, there's the northerly outlier that suggests one might, one day, be found in the county boundaries – the remarkable record of 26th October 1970, trapped at Yorkshire's Hornsea Mere.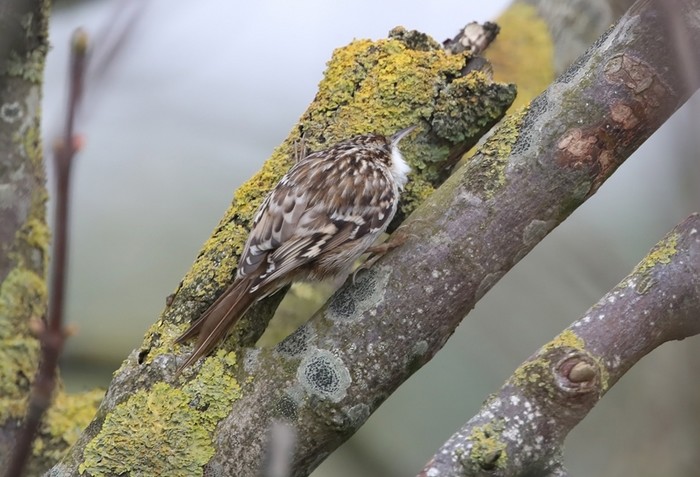 But really, it's all about Dungeness and, this week, it struck again with a lost spring bird found there on 17th and, after a worrying absence on 18th, still present on 19th-20th. A shade over half of all our previous records have been one day birds, so we could have been forgiven for thinking it might have done a flit, but no. Still present and correct three days after it was first found and, for anyone fancying a trip down to Dungeness, a welcome tick.
Kentish birders, on the other hand, blasé after so many of its kind, might be forgiven for thinking that's all very well, but it's no Lesser Kestrel…. The only modern record in Kent was back in 1989, so another is arguably long overdue. Birders on Scilly, on the other hand, could continue to fill their boots in that regard this week…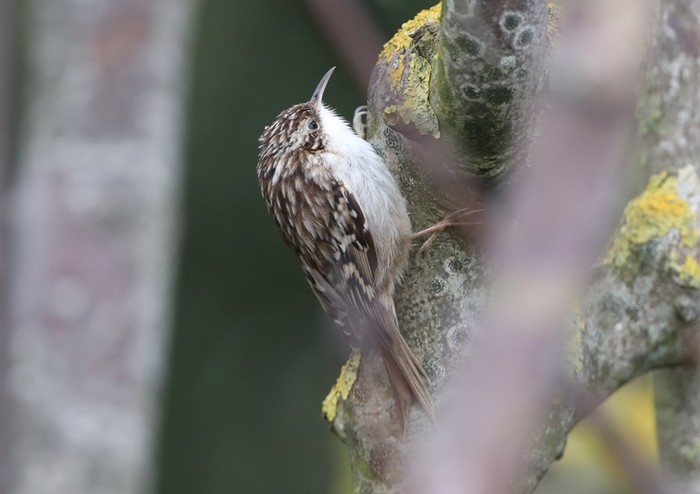 Lesser Kestrel
Coming on the coat tails of what Ashley Fisher memorably describes as "the worst winter/pre-spring in living memory: constant SW gales, lashing rain, mud…" the sumptuous male Lesser Kestrel remained on St Mary's (Scilly) this week until 23rd, an extremely welcome tonic indeed for the islands' resident birders – the archipelago, sensibly, is now only accessible for residents.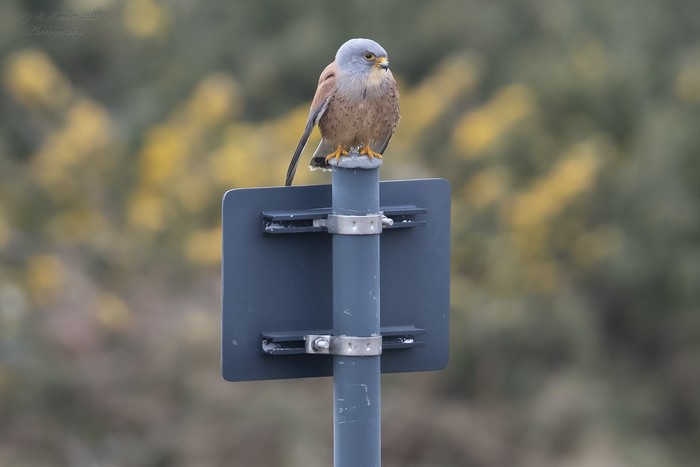 Tengmalm's Owl
Birders in Shetland meanwhile had their own resident mega available to distract them for another week, though as your own correspondent can attest, knowing where a Tengmalm's Owl was doesn't necessarily mean it's actually going to be there when you pop in for another look…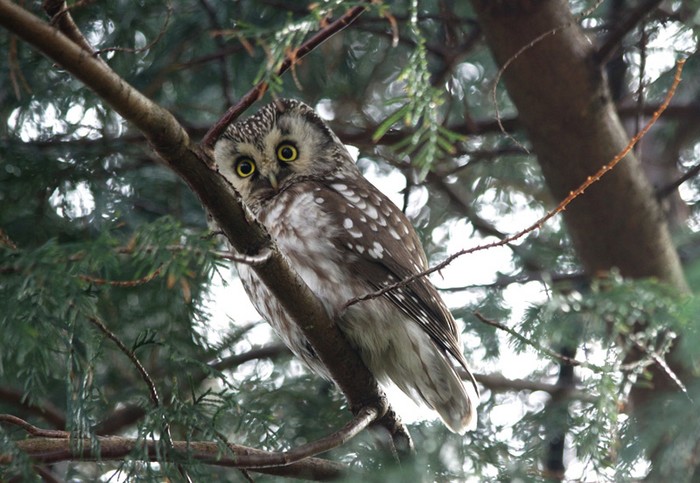 Which is a nice way of saying that said owl was still present, off and on, in its favoured corner of the Lyndsey Lea plantation on the flanks of Kergord until 23rd at least.
White-billed Divers continued to be the main feature of the seabird sightings and, in the weeks to come, we can expect that to be ever more the case as numbers will start building off the Scottish coast – one was seen this week at Portsoy (Aberdeenshire) on 21st, with two there the following day, the vanguards to greater things to come. Elsewhere, the Shetland wintering bird was again noted in South Nesting Bay intermittently on 17th-20th; one was seen motoring past Brora (Highland) on 19th; and four were off Cullen (Moray) on 22nd.
Some green shoots of spring began to emerge this week amongst our long-legged beasties with the sighting of not one, but two Purple Herons - one in Lancashire at Marton Mere LNR on 19th, and another at Chew Valley Lake (Somerset) on 21st.
In Ireland, the Glossy Ibis was again seen at Pilmore (Co.Cork) on 17th, whilst the regular bird remained at Newport Wetlands RSPB (Gwent) on 18th-22nd. A further unconfirmed report came of a bird in Norfolk at Wells on 19th.
Common Cranes continued to be, if not ubiquitous, then certainly on the move and liable to pop up almost anywhere this week. Non-Norfolk sightings came from Amble (Northumberland) on 17th, with three birds seen passing over; over Bradford-on-Avon (Wiltshire) on 17th also; at Sandtoft, on the Lincolnshire / South Yorkshire cusp where two birds were seen on 19th; at Hartburn (Northumberland), where the adult remained on 17th-21st; and, on 21st, two birds were logged over Swithland reservoir and Benscliffe Wood (Leicestershire) and Brandon Marsh NR (Warwickshire). A fresh batch of sightings came on Sunday 22nd – two in Suffolk at Minsmere RSPB; three at Mersehead RSPB (Dumfries & Galloway), Troup Head and Loch of Strathbeg RSPB (Aberdeenshire); and a ringed, released bird at Gallows Bridge NR (Buckinghamshire). On the evening of 23rd a lone outlier was found on Lewis (Western Isles). Cambridgeshire's peak count this week was 13 birds at Ouse Washes RSPB on 22nd.
The honkers and quackers on the rarity duckpond this week once more provided much of the week's news. Kicking off, as is our wont, with The Goose Formerly Known As Canada, we begin on North Uist (Western Isles) where two hutchinsii Richardson's Cackling Geese remained on 20th; whilst interior Todd's Canada Geese were again seen in the Marshside RSPB area of Lancashire on 18th-22nd and on Tiree (Argyll &Bute) on 19th-20th.
Still mooching about in Lancashire, the possible adult Grey-bellied Brant was kicking around the same haunts as the Todd's Canada Goose on 17th-23rd.
Just the one Black Brant was seen this week, still in the Kilnsea and Spurn (East Yorkshire) area on 17th-23rd.
The white morph Snow Goose remained this week on North Uist (Western Isles) on 20th; two more were reported near Wick (Highland) on 21st.
Looking smart as a newly minted coin, the first-winter drake Blue-winged Teal remained this week at Man Sands (Devon) on 18th-23rd.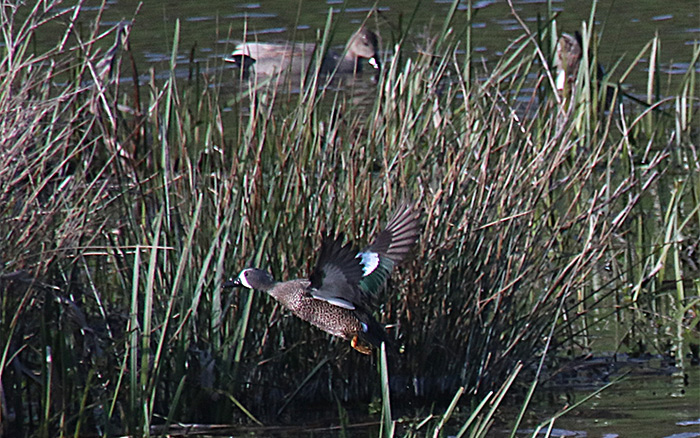 Drake American Wigeons remained this week at Grindon Lough (Northumberland) on 17th-23rd and Fedderate reservoir (Aberdeenshire) on 21st; and the first-winter drake remained at East Coast NR (Co.Wicklow) on 17th-19th and The Breaches on 23rd.
Numbers of Green-winged Teals held firm for another week, with eight birds noted in recent days. Scottish individuals remained on Islay (Argyll & Bute) on 17th, South Uist (Western Isles) on 19th, and North Ronaldsay (Orkney) on 20th-22nd. English sightings came from Powderham Marsh (Devon) still on 17th-23rd, Bubwith Ings (East Yorkshire) still on 18th and Ellerton Ings on 21st, Marshside RSPB (Lancashire) again on 18th-19th, and at Southwold (Suffolk) on 21st-23rd. In Ireland, one remained at East Coast NR (Co.Wicklow) on 17th-19th.
The drake Lesser Scaup was once more seen on Loch Ryan (Dumfries & Galloway) on 20th, while the female remained in Cornwall at Stithians reservoir on 19th.
The drake Ferruginous Duck was again noted in Wolverhampton (West Midlands) on 21st-23rd.
Numbers of Ring-necked Ducks held steady this week, with just shy of 20 individuals recorded, albeit with none of the recent small flocks reported. Peak count were the two birds still present on Tiree (Argyll & Bute) on 20th.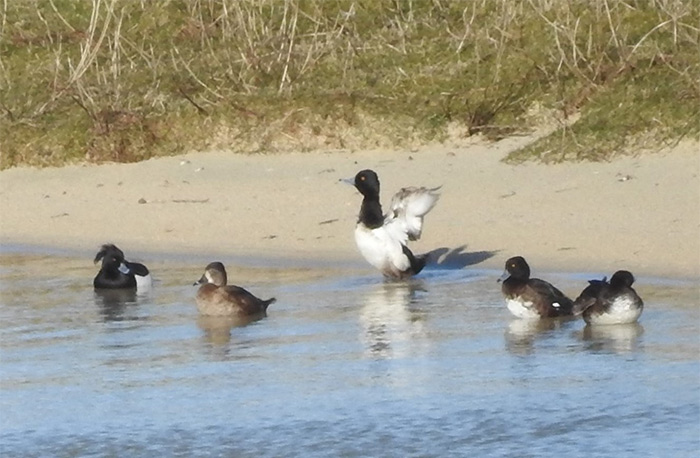 In Highland, the drake King Eider was still present at Nairn on 20th-21st.
Lothian accounted for the drake White-winged Scoter again off Musselburgh on 18th, while the drake Surf Scoter was still in the area until 23rd, with a second bird again present there on 22nd too.
Scotland did well for Surf Scoters this week – the drake at Embo (Highland) on 17th was joined by friends, with two birds present there on 18th, three on 19th-20th, five birds logged on 21st, and half a dozen on 22nd. Three were seen in the Sound of Taransay off Harris (Western Isles) on 21st. The English drake, meanwhile, remained off Teignmouth on 17th-21st.
A possible drake Black Scoter was seen from Llandulas (Conwy) on 22nd.
I knew we should be treating last week's discovery of a drake Hooded Merganser on Dosthill Lake (Staffordshire) with a generous pinch of cynical salt… and sure enough, this week it transpired it was missing half its wings and had managed to squirm itself under some wire to freedom. Also seen again this week was the female bird on King George V reservoir (London) on 19th, also carrying the 'presumed escape' tag of shame in the news. Has the pendulum finally swung with these ducks from blithe assumption they're probably all okay to a more jaundiced and, arguably, pragmatic approach that most of them are, after all, probably escapees given what a popular ornamental ducky they are?
Finally, our honorary waterbird, the male Pied-billed Grebe remained at Loch Feorlin (Argyll & Bute) on 20th.
<!—Section Title -->
Not an enormous amount of change to report amongst our waders, though chinks of light were peeping through, in the form of the Kentish Plover still in Somerset on Stert Island on 17th-20th and a female bird in Devon on 21st-22nd at Dawlish Warren NNR – and a Dotterel also in Devon, at Holwell Down in the evening of 23rd.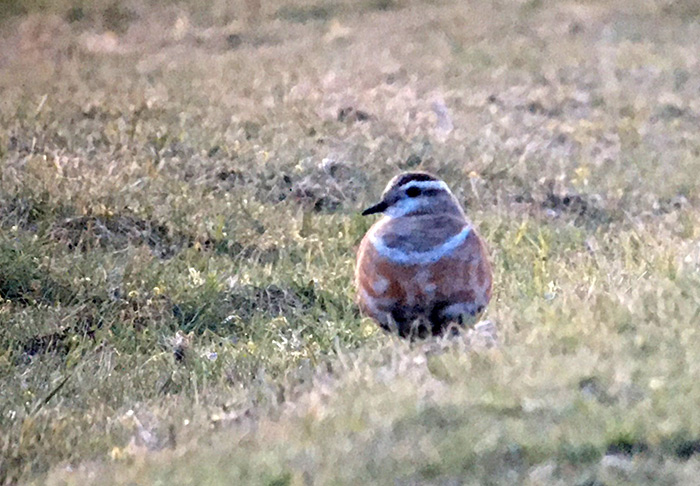 Ireland provided two settled first-winter Long-billed Dowitchers, both present still at Kilcoole (Co.Wicklow) on 17th-23rd and Tacumshin (Co.Wexford) on 18th-22nd; and a third bird was seen in Cumbria on 22nd at Wedholme Flow.
Finally, the first-winter Lesser Yellowlegs remained at Nosterfield LNR (North Yorkshire) on 18th-22nd.
Not exactly renowned hitherto as a gull hotspot, Cheddar reservoir (Somerset) this week was getting all Killybegs on us with a couple of quality American offerings present at once.
The first-winter Laughing Gull relocated from Chew Valley Lake to Cheddar reservoir on 17th, remaining there until 22nd, and joined by a second-winter Ring-billed Gull there on 17th.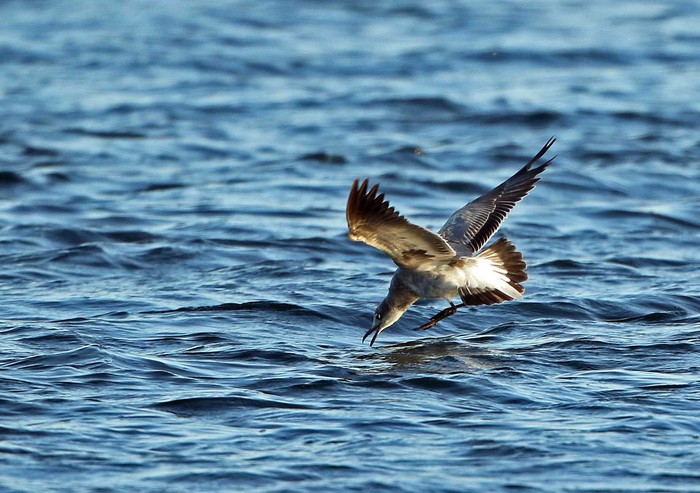 Further Ring-billed Gulls were logged in the usual Irish quarters – seen at Carrickfergus harbour (Co.Antrim) on 17th and 22nd, Tralee Bay Wetlands Centre (Co.Kerry) on 19th, and Seafield (Co.Clare) on 21st – whilst the adult bird remained in Cornwall at Hayle Estuary RSPB on 17th-19th.
Ireland also accounted for the lingering adult Bonaparte's Gull still present at Kilmore Quay (Co.Wexford) on 17th-22nd.
Numbers of white wingers were shifting this week, with a drop in Glaucous Gulls to some 25 noted; and around 45 Iceland Gulls logged. The peak count of the former was three birds noted on North Uist (Western Isles) on 17th; and, of the latter species, four birds seen on Skye (Highland) on 19th and four at Killybegs (Co.Donegal) again on 23rd.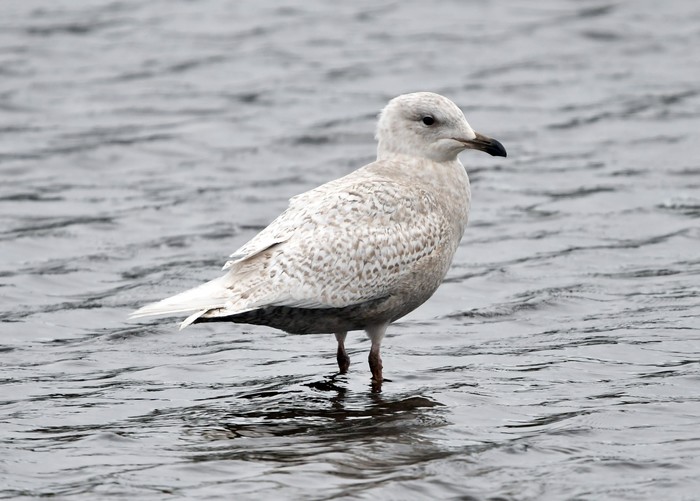 Just one Kumlien's Gull was seen in recent days – the adult once again noted in Mousehole (Cornwall) on 21st.
Finally, the adult Forster's Tern once more seen in Co.Galway at Kinvarra on 20th-22nd.
Another week, another report of a Gyr in Orkney. Hot on the heels of last week's possible white morph on Hoy, this week something more concrete materialised – a grey morph bird found on 22nd on Birsay Moors had, apparently, been present in the area for almost a fortnight – and was still there at Rennibister in the morning of 23rd.
English birders enjoyed a glut of White-tailed Eagle sightings this week, a situation that's clouded somewhat by the recent release of half a dozen birds on the Isle of Wight in late 2019. Birds of unknown origin, then, were noted this week on 17th over High Wycombe (Buckinghamshire), and Washington WWT and Boldon Flats NR (Co.Durham); on 18th in the New Forest over Milkham Inclosure (Hampshire); and on 21st over Symonds Yat and Ross-on-Wye (Herefordshire) and Hawkwll (Gloucestershire). On 22nd birds were seen over Tetbury (Gloucestershire) and Hightown (Merseyside).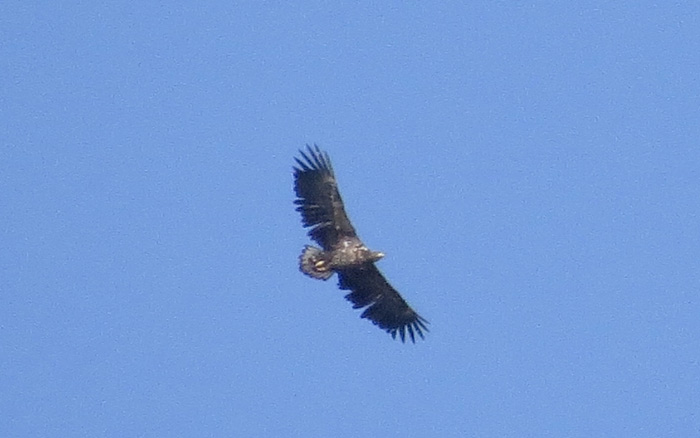 In Norfolk, the juvenile Rough-legged Buzzard remained at Wells on 17th-22nd, and a further juvenile was seen in Lincolnshire at Deeping St Nicholas on 19th-23rd; an adult bird was present in Co.Durham on 22nd near West Auckland.
The elusive Snowy Owl on Ronas Hill (Shetland) was once more bumped into there on 22nd.
And finally, intriguingly, an unconfirmed report of a vulture sp came from Broomfleet Ponds (East Yorkshire) on 23rd. Make of that what we will…
Not an enormous amount of change to report this week amongst our rare and scarce passerines as a whole, with most of the recent usual suspects still present and correct, at least at some juncture in recent days.
The Grimsby (Lincolnshire) Black-throated Thrush was still present on 17th-19th and again on 21st-23rd. Whipsnade Zoo is closed to visitors until further notice, so we needn't expect much news from there going forwards.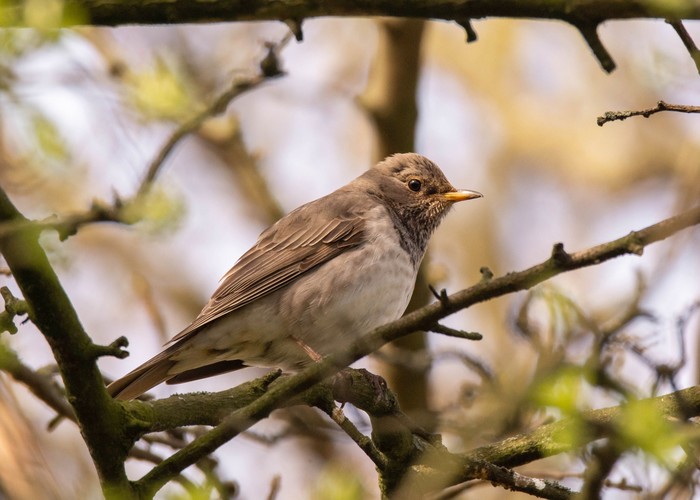 Absent from the news for weeks, the final day of the current recording period provided us with an Eastern Yellow Wagtail - the individual at Prestwick Carr (Northumberland) once more coming out of the woodwork there in the late afternoon of 23rd.
In Cheshire, the wintering maurus Siberian Stonechat remained at Ashton's Flash on 17th-23rd.
The male Penduline Tit was seen once more at Radipole Lake RSPB (Dorset) on 17th, but not thereafter. One might assume it, or the other recent bird, may yet emerge from the extensive reed beds in the days to come.
In London the Yellow-browed Warbler at Mitcham went AWOL for a while, but was seen again there on 19th-23rd.
The Black-bellied Dipper remained in Buckinghamshire at High Wycombe on 17th.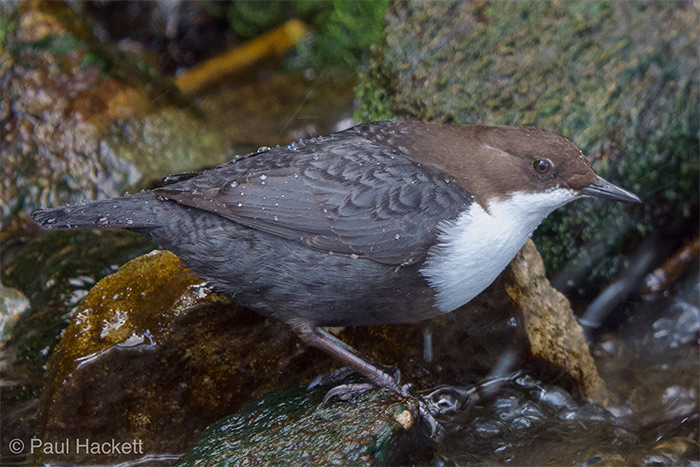 The Richard's Pipit was remained in East Yorkshire at Flamborough on 20th-21st, whilst another possible bird was found in the dunes at Minsmere RSPB (Suffolk) on 20th.
Fourteen Great Grey Shrikes were logged this week – in Cannock Chase (Staffordshire) on 17th still; at Morden Bog (Dorset) still on 17th-18th; in Milkham Inclosure (Hampshire) still on 17th; in Norfolk at Fincham still on 17th-23rd; on Hatfield Moors NNR (South Yorkshire) still on 17th-23rd; at Crabtree Hill (Gloucestershire) still on 18th-23rd; at Plumstone Mountain (Pembrokeshire) still on 18th-23rd; in Garwnant Forest (Glamorgan) still on 19th-20th; at Trimdon (Co.Durham) still on 19th; at Loch Calder (Highland) still on 20th; in Clocaenog Forest (Denbighshire) still on 20th-22nd; near Sapperton (Gloucestershire) again on 21st; at Croydon Hill (Somerset) again on 23rd; and at Holm Hill (Hampshire) again on 23rd.
Numbers of Waxwings rallied a little this week, with around 330 birds in all noted nationwide. Our peak flock was once more seen in Scotland, this time in Aberdeen (Aberdeenshire) on 22nd, where 100 birds were noted.
A Hoopoe was found in Dorset on Rope Lake Head on 22nd; and another was reported from The Cunnigar (Co.Waterford) on 23rd.
On Anglesey the first-winter Rose-coloured Starling remained at Llanfachraeth on 17th-19th.
Overseas news was, as we might expect, thin on the ground this week. Starting close to home, on Guernsey the American Royal Tern was once more seen on 20th.
Another Sociable Lapwing was found this week, hot on the heels of the German bird of the week before – this one in Hungary at Baks on 17th.
Finally, in Sweden, the male taivana Green-headed Eastern Yellow Wagtail remained present at Gislovslage on 18th-21st, whilst the personata Masked Wagtail was still to be found at Falkenburg on 21st also.
As alluded to in the opening passages of this week's round up, we're largely needing to look little further than the boundaries of gardens in the near future for our birding. Time, then, to work from home… not least on our garden lists.
And consider what, if fortune were to beam upon us, we might hope to find. How about a passerine that, not so long ago, had twitchers firing up quattros the length of the land… a passerine that has since bred successfully in Britain… and nowadays, every spring, more and more of them are found holding territories. As we rattle towards April, and migrants are starting to trickle through, they'll be heading our way any day now.
Iberian Chiffchaff - one could be found pretty much anywhere, and not just at the sexy coastal locations. They're eminently findable in the gardens of suburbia as well as on the headlands of the coastal margins. Familiarise yourself with their song and, in the long weeks to come, listen a little harder when you're in the back garden…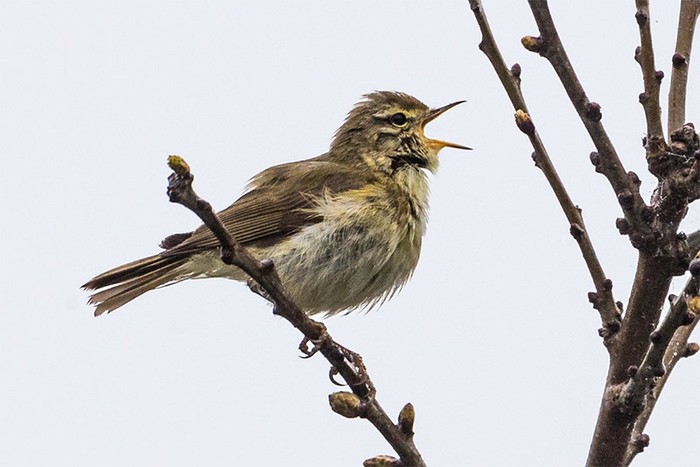 Failing any of that, keep an eye out for butterflies – there's been a small flurry of Large Tortoiseshell sightings throughout March.
Jon Dunn
24 March 2020
Many thanks to all this week's contributors for your photos and videos
Share this story
Tweet