Weekly birding round-up: 4 - 10 Feb 2020
The week at a glance
Co.Cork lands another American Herring Gull
While the Pied-billed Grebe reappears in Argyll & Bute
And belated news comes of a Tengmalm's Owl in Shetland
Our national media, no strangers to a dash of hyperbole where winter storms are concerned, whipped themselves into a fine frenzy this week with the imminent arrival of Storm Ciara. This, the Met Office warned us, would be the worst storm since 2013.
Ah, 2013… the halcyon days when our winter storms were anonymous and didn't have dramatic, hurricane-esque identities foisted upon them. February 2013, in fairness to it, featured a number of half-decent American honkers and quackers, a couple of Nearctic gulls, and a Pied-billed Grebe.
What would Ciara, barrelling across the Atlantic, bring us? Trampolines on the nation's railway lines, apparently. Leaves on the line are so 2013…
American Herring Gull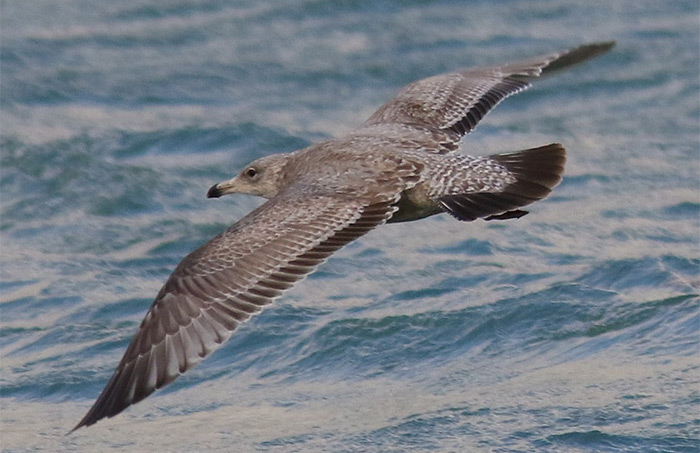 The week's best new bird was, once again, a gull – though on this occasion we weren't talking about a glamorous potential first for Britain or the Western Palearctic.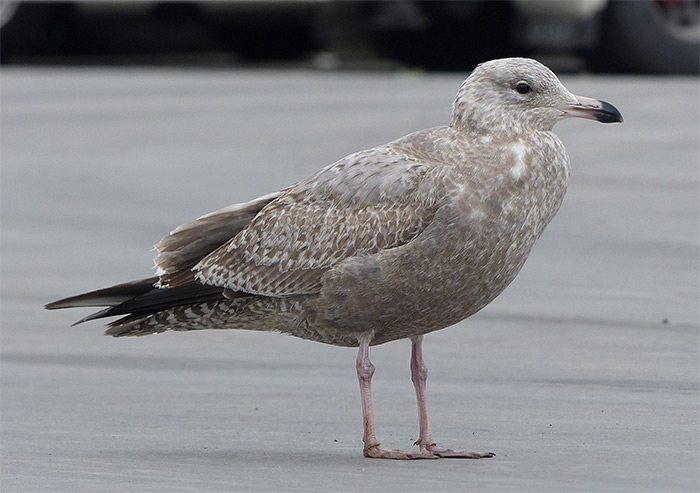 Glamorous being an adjective that no one, ever, used to describe a first-winter American Herring Gull. Other terms may be applied… Then again, for all the disdain we can muster for an adolescent gull clad in the finest plumes of turd brown ermine, actually finding an American Herring Gull for oneself remains a genuine prize.
Step forward, this week, Fionn Moore in Castletown Bearhaven (Co.Cork) on 6th, armed with a loaf of Ireland's cheapest sliced white bread or, as the keen laridophile knows it, gull manna. They say there's no such thing as a free lunch but, if you're a large gull at this time of year and you happen across a keen birder hoping to score something decent from the west or north, there just might be.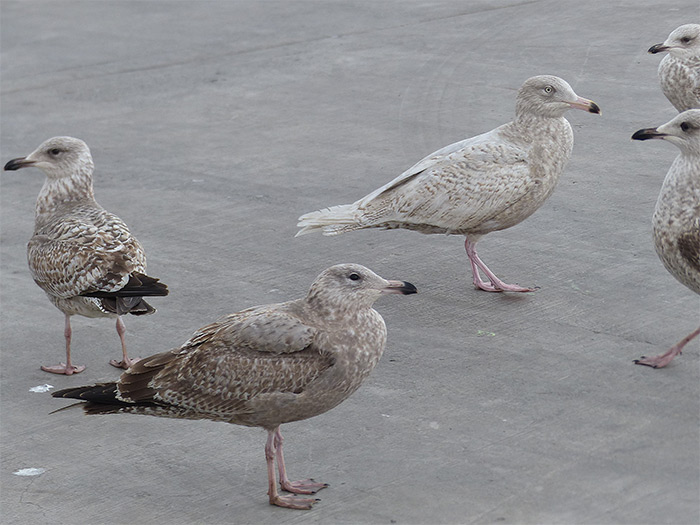 Hanging around, for good measure, with a second-winter Glaucous Gull, this was a good day's work for Fionn. One wonders how many American Herring Gulls go overlooked in rural Irish and Scottish fishing harbours that are checked only sporadically by birders in the course of the unfolding winter.
Ireland, with around 100 accepted records to date, enjoys a threefold advantage over Britain where the species is concerned. February, for all, is the peak month of arrival. Two thirds of all birds found to date have been first-winters, so for anyone hoping to emulate Fionn in the coming week or two, a brief refresher course – and a good look at his excellent images of this latest bird, still present in Co.Cork until 9th, – may be timely.
This particular bird was found before Ciara swept in from the Atlantic – it may have been present a while, though Fionn's observation that it had the healthiest appetite of all the gulls present may suggest it was newly arrived and keenly hungry. With such a powerful set of westerlies arriving at the tail end of the week, making a point of checking those remote harbours in the coming days might pay dividends.
Just don't forget the cheap white sliced.
Pied-billed Grebe
We may not have landed a new bird yet, but the reappearance of the adult male Pied-billed Grebe on Loch Feorlin (Argyll & Bute) this week on 7th was a welcome return to the news regardless.
First found in Argyll & Bute way back when on 30th May 2014, it was last reported there on 18th July last year – reports of it over the past five and a bit years have always been somewhat irregular, reflecting both the relative remoteness of the location and our collective familiarity with the species in Britain over the past few decades. There've been a fair few of them down the years, the length and breadth of the country and, since 2010, not a year's gone by when one hasn't been available.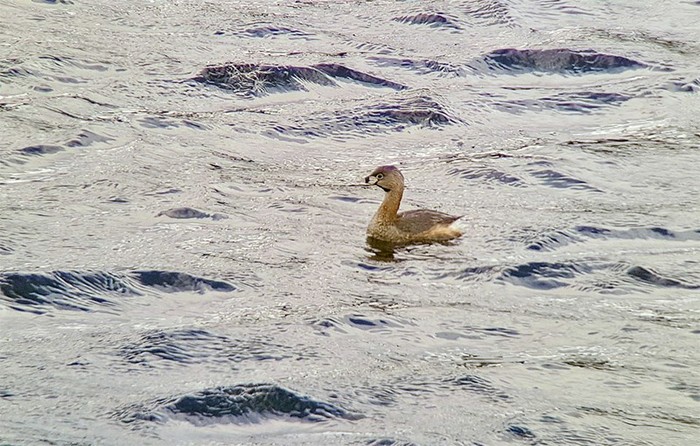 In fact, it's only two years in the past decade when we've only had one record. Pied-billed Grebe feels rarer than, perhaps, it really is. They usually come out of the woodwork during the spring, with April the peak month for new birds being found. We'll see in due course if this year is any exception…
Tengmalm's Owl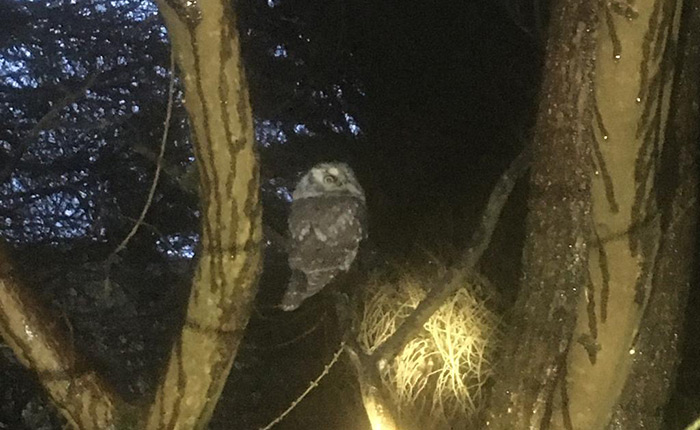 And finally, what would have been heart-breaking news were it not for events of 2019 in Shetland. After almost a 40 year wait, an accessible Tengmalm's Owl was finally there for the unblocking early in the year courtesy of the initial kindness of Jackie Moar and, latterly, the owners of nearby Lea Gardens for allowing access to their respective properties to see what, for many, was the bird of the year.
Last seen at Lea Gardens on the Shetland Mainland on 13th April, that popular bird was, remarkably, relocated up on Unst the following day at Valyie, where it remained until dusk – by which point in a long stay in Shetland it was reduced to 'just' a brilliant Unst tick for the resident birders.
There was no sign of it there the following day. We could be forgiven, then, for assuming that this wintering bird had, as the sap rose, made a move back towards the east and whatever deep, dark corner of Scandinavia it had originally come from.
Fast forward to late on 10th this week when, with the ink barely dry on the final draft of this week's Rarity Round Up, we learned of a twist in the 2019 Tengmalm's Owl tale. On 14th December the Shetland Coastguard were doing a search and rescue training exercise in the small areas of woodland on Mainland at Kergord. What should they find perched in one of the larch trees in the failing light of the afternoon but a small owl…
Baltasound coastguard team member Kevin Jamieson took a couple of photos on his phone, thinking it probably wasn't a Long-eared Owl, and thought he'd show them to his coastguard colleague and Shetland rare bird magnet Brydon Thomason when next he saw him…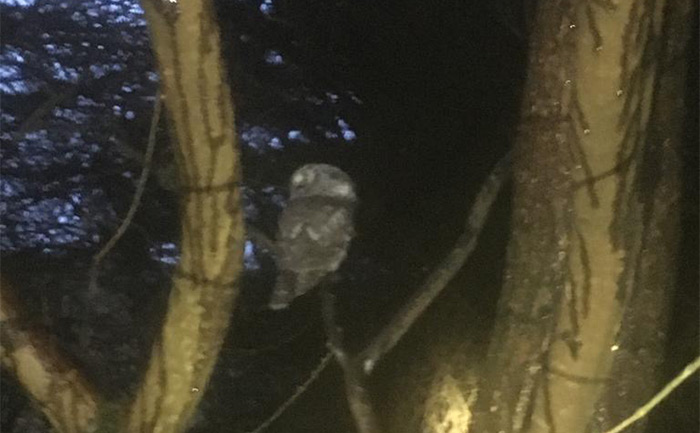 …the only snag being that, with Brydon away from Shetland for a hard-earned family holiday through December and much of January, it slipped Kevin's mind until they next bumped into one another this week. Kevin scrolled through the photos on his phone and boom! Brydon found himself looking at a peachy Tengmalm's Owl.
Given how much time had elapsed since Shetland's last example and the bird seen earlier in 2019 – over 100 years, since January 1912 – it would be remarkable indeed if we got two different birds in the course of the same year. Remarkable, but not impossible, of course.
Alternatively perhaps, on 14th April 2019 the bird on Unst set off over the North Sea, went out over the water for a way, didn't much like what it saw, and turned back. Shetland, while it's largely treeless, does these days have a surprisingly large number of gardens with established trees and shrubs, not to mention a number of scattered historic plantations. Who's to say the bird hasn't been hiding in the islands all year… only to be stumbled across, just a few miles away over the hill from Lea Gardens, on 14th December.
I'm sure I won't be the only one who's paying a little more attention to the plantations and gardens of the central Mainland and west side in the days and weeks to come…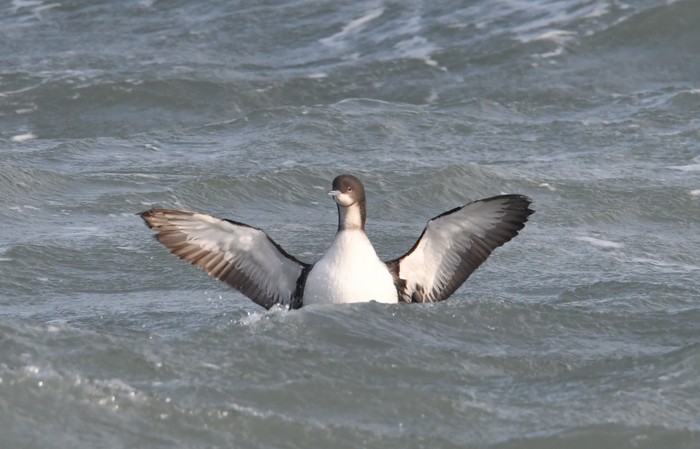 After a conspicuous absence in these quarters for some time now, another welcome return this week was the reappearance of some Pacific Divers in the news. The Co.Cork bird was once again seen in Crookhaven harbour on 5th-10th; while, in Cornwall, sightings came from Gerrans Bay on 5th-8th and off Marazion again on 6th.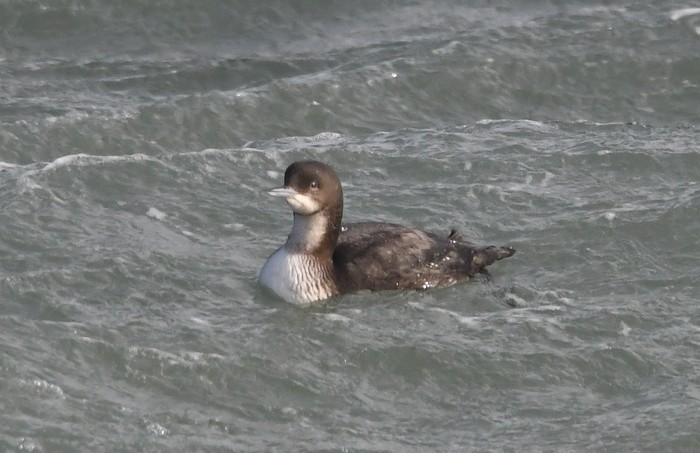 Orkney, meanwhile, provided all of our White-billed Divers - two birds seen in Scapa Flow on 8th; and one off Papa Westray on 9th.
Shetland more or less had a monopoly on Little Auks, with three seen from Sumburgh Head on 5th and four more on 6th. A further singleton was seen from Tiree (Argyll & Bute) on 4th.
A Pomarine Skua was seen from Portreath (Cornwall) on 9th.
Just the usual suspects once more this week amongst the long-legged beasties, headed up by the late juvenile Purple Heron still present at Eagland Hill (Lancashire) on 6th.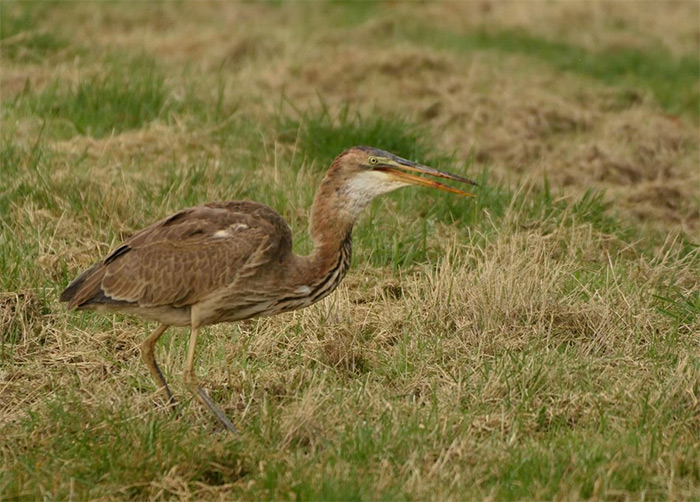 Our Glossy Ibises featured the two regular, familiar faces in Britain - at Newport Wetlands RSPB (Gwent) on 4th-9th, and at Fremington Pill (Devon) on 4th-8th – and, in Ireland, a further bird was seen in Co.Cork at Youghal.
Non-Norfolk Common Crane featured birds in the north at Hartburn (Northumberland), where the adult bird remained on 5th, and at Goole Fields (East Yorkshire) again on 4th where two birds were seen. Seven were the peak count from Eldernell (Cambridgeshire) on 6th; and two were noted at Lakenheath Fen RSPB (Suffolk) on 8th.
Honkers and quackers next and, for a change, we find ourselves scraping the barrel this week where the former are concerned.
Lincolnshire provided sightings of Black Brant at Donna Nook again on 7th and Gibraltar Point NNR on 8th; and Wells (Norfolk) a bird on 5th.
A blue Snow Goose was Vane Farm RSPB (Perth & Kinross) on 9th; with a blue bird seen on 10th in Aberdeenshire at Echt.
Our sole representative of The Goose Formerly Known As Canada was a hutchinsii Richardson's Cackling Goose at Cullerlie Pools (Aberdeenshire) on 10th.
Scotland was, once again, the place to be for decent ducks. Starting in Orkney with the most notable of the lot, the juvenile drake Steller's Eider was again logged on Papa Westray on 8th-9th.
Moving south, the drake White-winged Scoter was still lingering in Lothian in the Fisherrow area on 4th-8th, with the usual drake Surf Scoter also present throughout. Other Surfies were seen in Conwy at Great Ormes Head again on 6th, and in Co.Clare at Gleninagh Quay still on 4th-10th.
On Shetland, the drake King Eider was again seen off Uyeasound on Unst on 9th.
Dropping into northern England, the drake Black Scoter was off Cheswick on 5th-10th.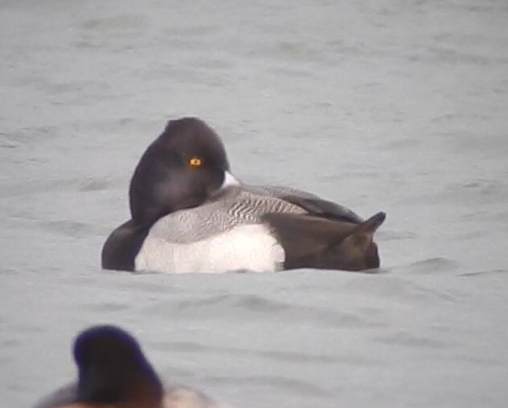 Pick of the diving ducks, the drake Lesser Scaup was still on Loch Ryan (Dumfries & Galloway) on 4th; the female remained in Cornwall on Stithians reservoir until 8th.
The regular drake Ferruginous Duck remained on Blashford Lakes HWT (Hampshire) on 5th; further drakes were found this week on Abberton reservoir (Essex) on 6th-8th, and on 8th-9th again at Seeswood Pool (Warwickshire).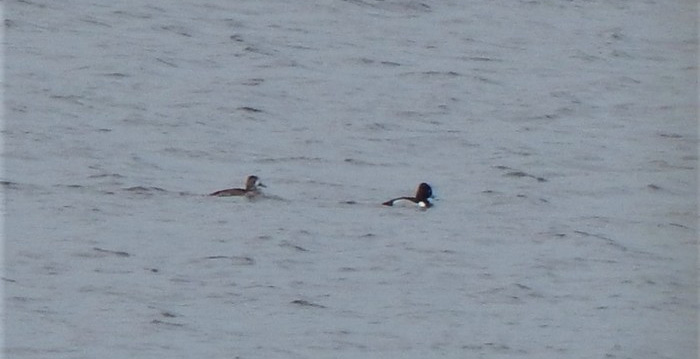 The recent flock of four Ring-necked Ducks on the Devon/Cornwall border at Lower Tamar Lake were nowhere to be seen in recent days, but overall numbers remained strong with some 20 sightings across the week. Multiples were two birds still on Tiree (Argyll & Bute) on 5th-6th, and another duo in Ireland on Lough Gara (Co.Sligo) on 6th still.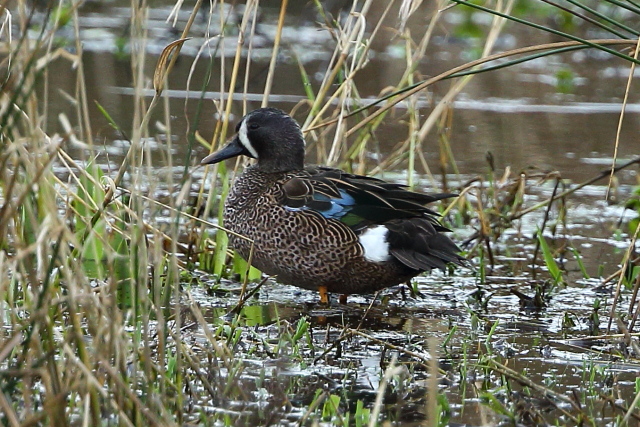 In Devon the young drake Blue-winged Teal remained at Man Sands on 4th-8th.
Up in Highland, the resident drake Black Duck was still to be seen at Strontian on 6th,
Numbers of Green-winged Teals took a bit of a tumble, with eight birds recorded. Scottish birds were noted on North Ronaldsay (Orkney) again on 5th and Benbecula (Western Isles) on 5th also, on Islay (Argyll & Bute) still on 9th, and Barra (Western Isles) still on 10th. English birds remained at Minsmere RSPB (Suffolk) on 4th-10th, Blacktoft Sands RSPB (East Yorkshire) on 4th-5th, and Wilcove (Cornwall) on 6th. Another bird was seen in Norfolk at Breydon Water on 6th.
<!—Section Title -->
In Ireland this week the juvenile American Golden Plover remained at Ballylongford (Co.Kerry) on 4th-6th.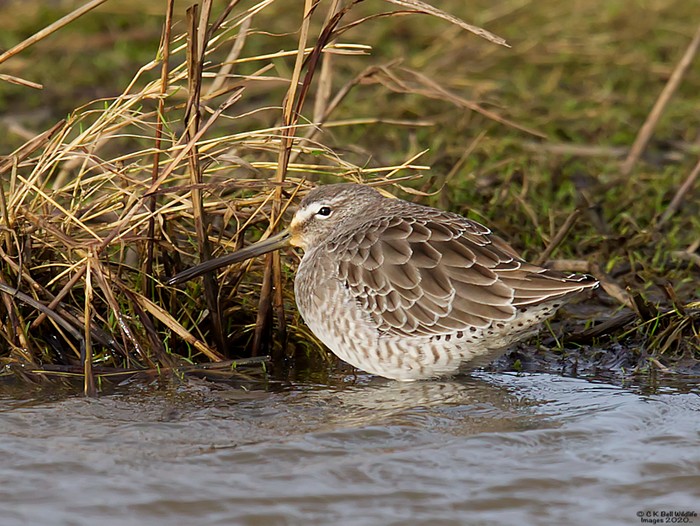 Co.Wexford, meanwhile, continued to boast a Long-billed Dowitchers at Tacumshin on 5th, with another seen on 9th at Seabank (Co.Louth); further birds were seen again in England at Marshside RSPB (Lancashire) on 4th-8th and Campfield Marsh RSPB (Cumbria) on 6th-8th.
The first-winter Lesser Yellowlegs remained at Nosterfield LNR (North Yorkshire) on 4th-10th.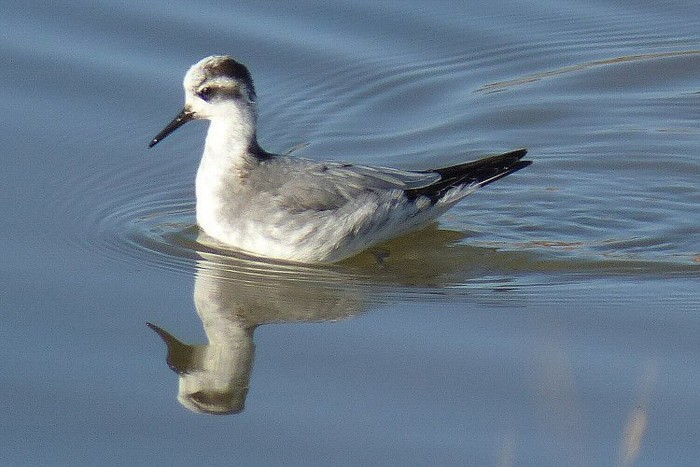 An unconfirmed report of a Wilson's Phalarope on 5th at Powderham (Devon) came to nothing further; but the Grey Phalarope remained at Flamborough (East Yorkshire) on 4th-10th.
A fresh first-winter Bonaparte's Gull was found in Cornwall at Padstow in the early evening of 9th; hopefully the first of a few Nearctic gulls to be unearthed in the wake of Storm Ciara. The adult bird, meanwhile, remained at Kilmore Quay (Co.Wexford) on 4th-8th.
Numbers of Ring-billed Gulls recorded this week took a tumble, with just four birds logged – lingerers in Limerick (Co.Limerick) still on 4th and on the Hayle estuary (Cornwall) on 4th-10th, and one still at Blackrock (Co.Louth) on 9th; and a new probable bird at Cotswold Water Park (Gloucestershire) on 8th-10th.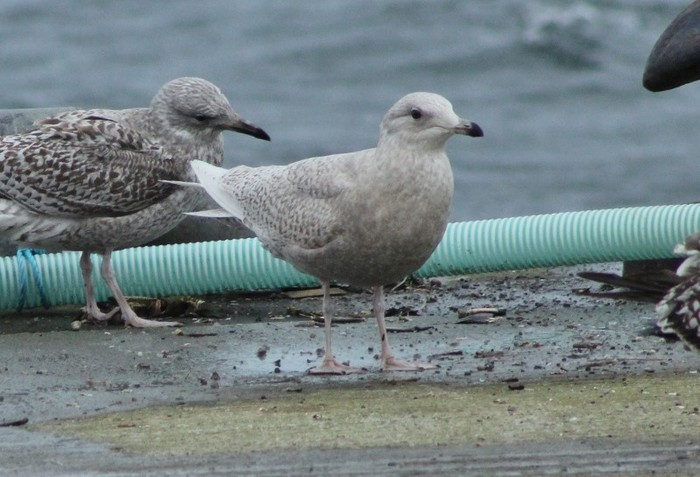 Some 50 Iceland Gulls and 30 Glaucous Gulls were logged this week, in both cases something of a drop on the preceding week's numbers. No big single site tallies of either species were noted, with three Glaucous Gulls at Draycote Water (Warwickshire) on 8th and three Iceland Gulls on Unst (Shetland) on 9th about the best of it.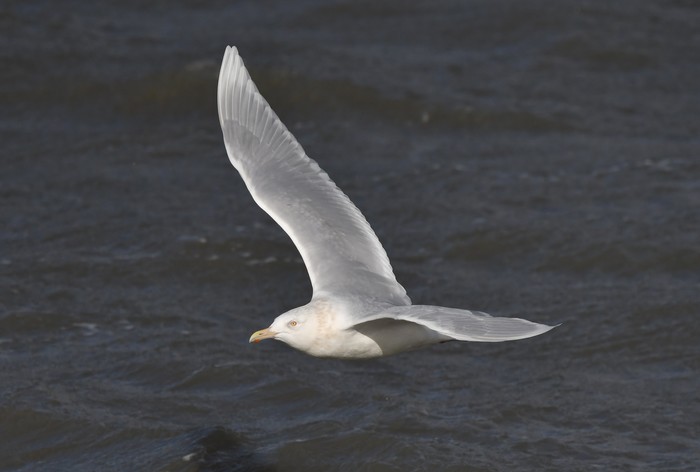 A third-winter Kumlien's Gull was again seen at Shawell (Leicestershire) on 5th, with another probable sighting there on 8th; and a third-winter seen on 8th also at Draycote Water.
A further probable first-winter American Herring Gull was found in the evening gull roost at Mousehole (Cornwall) on 10th. One to watch to see if that firms up into a confirmed record in the days to come.
We conclude the gulls with the intangibles – another report of the possible adult Vega Gull at the Studholme Street recycling centre in Liverpool on 5th; and a possible Franklin's Gull seen heading east past Cley (Norfolk) in the morning of 4th.
Finally, back in Co.Galway, the Forster's Tern was once more seen, at Parkmore Quay, on 10th.
Our recent quartet of settled Rough-legged Buzzards remained in residence this week – at Wells (Norfolk) still on 4th-10th; at Thorne (South Yorkshire) still on 4th-9th; at Chetney Marshes (Kent) still on 5th-8th; and in Suffolk at Bawdsey Marshes still on 5th-8th. A further bird was seen in Co.Durham at Newbiggin Common on 8th.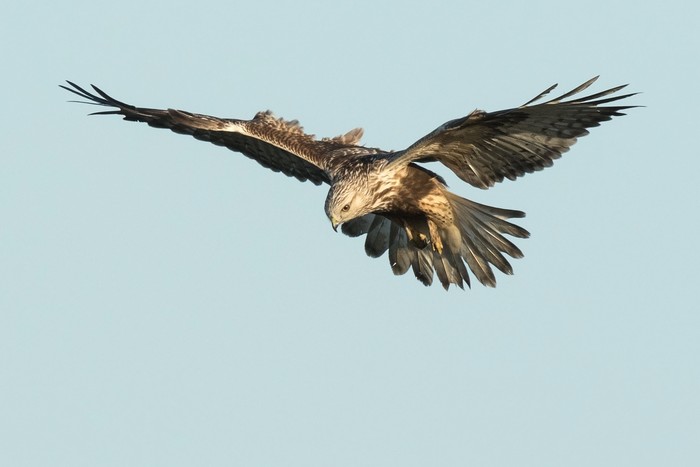 Up on Shetland a White-tailed Eagle was seen on Unst on 4th; in England, meanwhile, a probable bird was seen on 5th at Holbury (Hampshire) and a possible bird at Roade (Northamptonshire) on 8th.
Finally, a Snowy Owl was seen on 4th at Ballyvaughan (Co.Clare).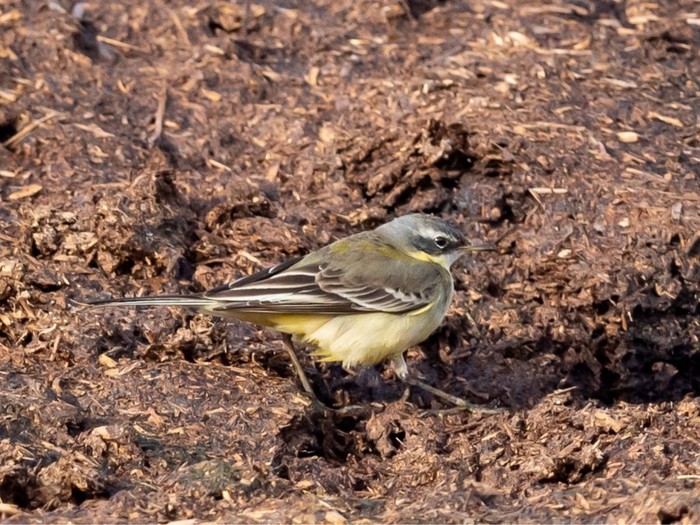 I wonder if wintering Eastern Yellow Wagtails are going to become a regular thing in future. I rather suspect they might. This week our two reliable recent birds, the first-winter male tschutschensis still in Norfolk at Sedgeford on 4th-8th and the bird still in Northumberland at Prestwick Carr on 5th-10th were joined in the news by the refinding of the bird in Suffolk at Havergate Island RSPB. Last reported from there on 14th November last year, here it was again on 4th and again on 7th.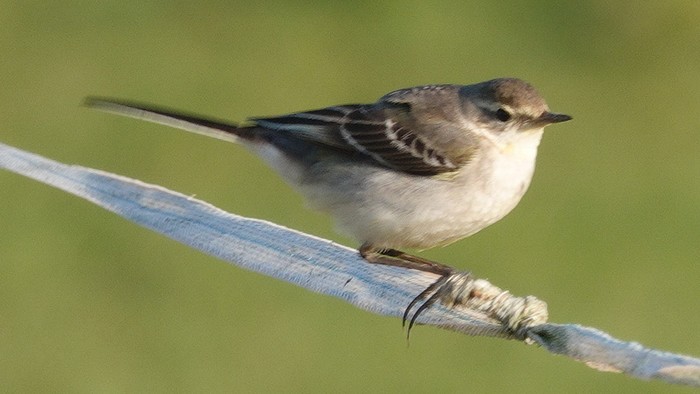 Down in Cornwall, the wintering American Buff-bellied Pipit remained at Sennen (Cornwall) on 5th-6th.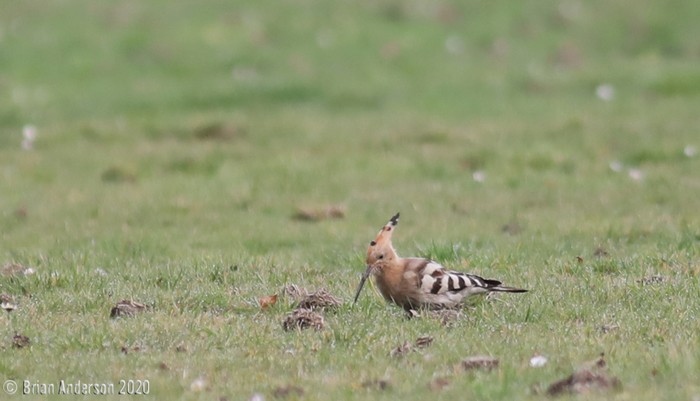 More colourful by far, the Hampshire Hoopoe remained at Badminston GPs on 4th-10th, with the bird still present in Clynder (Argyll & Bute) on 8th also.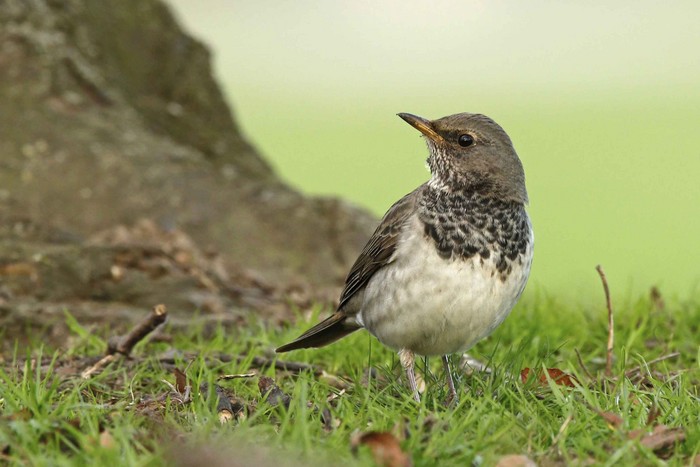 Both the overwintering male Black-throated Thrushes remained for another week – the first-winter bird still in Grimsby (Lincolnshire) on 4th-9th; and the Whipsnade Zoo (Bedfordshire) individual again on 6th-8th.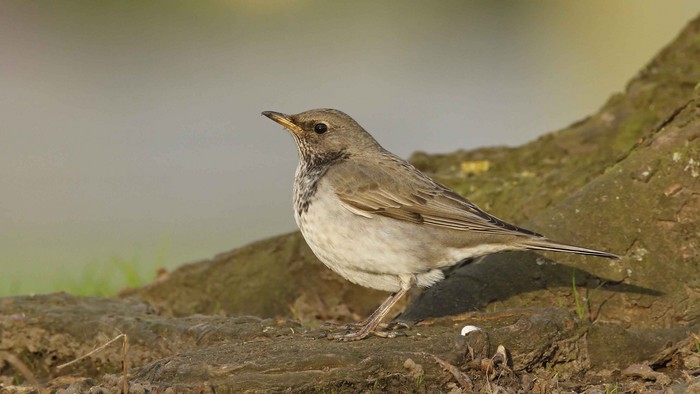 In Cheshire, the maurus Siberian Stonechat remained settled at Ashton's Flash on 4th-10th.
Yellow-browed Warblers were seen again in London at Beddington on 4th and Mitcham on 5th-10th; other recent birds were again noted at Westbury sewage works (Wiltshire) on 4th-8th, and Filey Dams NR (North Yorkshire) on 5th.
Hot on the heels of last week's male Penduline Tit kicking around Weymouth (Dorset), this week there were two birds to be seen at Lodmoor RSPB on 5th-6th.
Numbers of Waxwings fell again, with some 300 birds reported in recent days. Peak count was, by a country mile, the 127 birds seen in Stirling (Forth) on 4th.
A plethora of wintering Great Grey Shrikes were seen again this week, with a good geographic scatter through England and some outliers in Scotland and Wales for good measure. Gloucestershire, as is so often the case, dominated sightings with reports coming from Sapperton and Snowshill on 5th, Crabtree Hill on 7th-8th and Park Corner on 8th. Other English records came from Holm Hill (Hampshire) again on 4th-6th, Croydon Hill (Somerset) on 5th-10th, Morden Bog (Dorset) still on 5th-8th, Hatfield Moors NNR (South Yorkshire) on 5th-6th, Brogborough Hill (Bedfordshire) on 6th-8th, Cannock Chase (Staffordshire) on 6th-10th, and Curbar (Derbyshire) on 8th. Scottish birds were seen again at Backwater reservoir (Angus) on 6th and Clatteringshaws loch (Dumfries & Galloway) on 5th. Finally, our Welsh sightings came from Garwnant Forest (Glamorgan) on 5th-8th still, and Llyn Brenig (Denbighshire) still on 6th.
Last of all, a female Serin was a good late winter find in Devon at Seaton on 5th.
If one of my friends was making the news this week with a belated Tengmalm's Owl, another was scoring something considerably rarer still in a Western Palearctic context, and more contemporaneous too – Peter Stronach, uber WP lister, stumbled across the Western Palearctic's 13th Black-capped Petrel on his way home from Cape Verde on 6th. Epic stuff.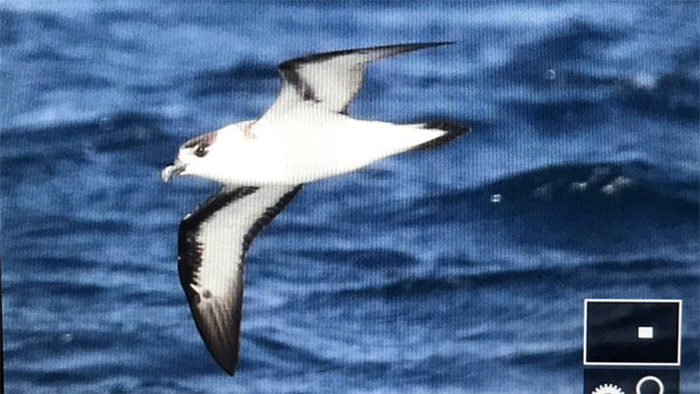 That stunner aside, Spain continued to dominate the overseas news, not least with yet another sighting of arguably the biggest European rarity event of 2019, a Brown Booby, at Lekeitio on 8th.
Further Spanish news concerned the Lesser Flamingo still in Andalucia at Salinas de Bonanza on 6th, the Sociable Lapwing still at La Aldea de Obispo on 4th-5th, and the Brown Shrike still present at O Meson do Vento on 5th.
Out on the Canaries, the Abyssinian Roller remained on Gran Canaria on 4th-8th, while the Eastern Yellow Wagtail was on Fuerteventura on 6th.
Italy got a Lesser White-fronted Goose at Isola della Cona on 6th; and the Brown Shrike remained at Osoppo on 10th.
In Holland the meena Rufous Turtle Dove remained in Friesland at Sneek on 4th-9th.
In Belgium, the Pygmy Cormorant was still present in Parc Domaine du Val Duchesse on 4th, while the Dusky Thrush remained at Turnhout on 4th also.
France, meanwhile, landed a Wallcreeper on 4th at Dinan.
Guernsey's American Royal Tern was again seen on 5th.
Finally, in Sweden the personata Masked Wagtail remained at Falkenberg on 4th.
The coming week…
Sticking with the gulls for another week in the rarity prediction corner, for good reason. Westerlies like the ones we've enjoyed in recent days must, surely, have brought something in from further afield.
Another American Herring Gull or two feels likely, and not a particularly brave call; ditto another Bonaparte's Gull. A more leftfield suggestion, though far from groundless as February has a few previous records, is Laughing Gull. Worth a punt, I think.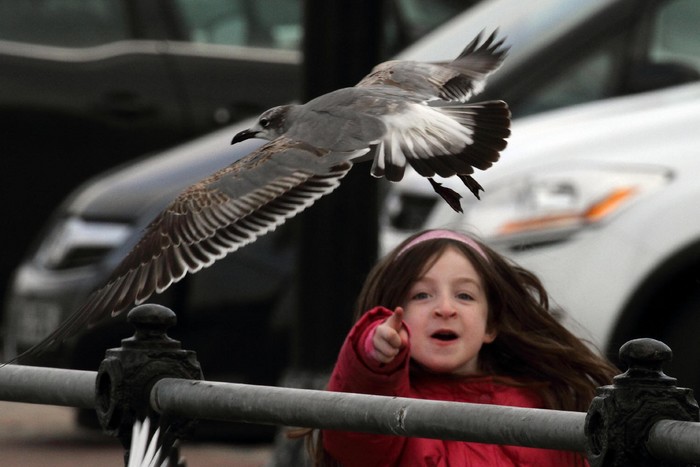 Jon Dunn
11 February 2020
Many thanks to all this week's contributors for your photos and videos
Share this story
Tweet