Weekly birding round-up: 22 - 27 Jan 2020
The Steller's Eider remains on Orkney
And Dorset gets an American Herring Gull
Guess who's back this week? And no, that's not a self-indulgent rhetorical question – because up on Orkney, the re-emergence of one of 2019's late surprises was welcome news indeed…
Steller's Eider
A month after he was last seen in Orkney, the juvenile drake Steller's Eider cropped up again on Papa Westray this week on 24th-25th – a welcome return, and encouraging news insofar as no mishaps have befallen him in the meantime. He needs, obviously, to endure for some time yet and attain his full, glorious, adult plumage – but, shallow aesthetics aside, it's good to add another species of such star quality to 2020's early account.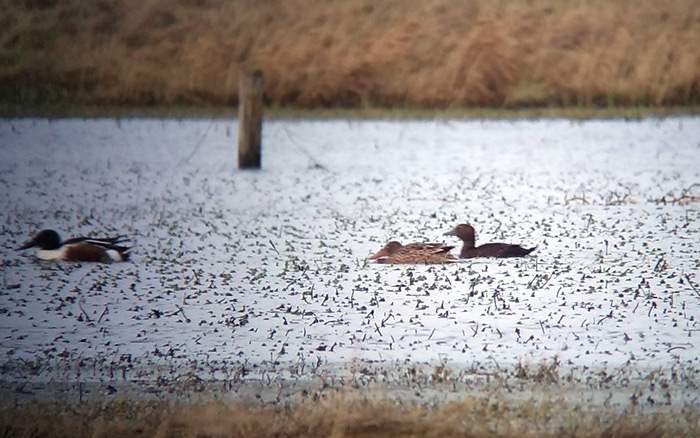 American Herring Gull
Dorset finally got an American Herring Gull at West Bexington this week – present on 25th-26th, this first-winter bird's identity was resolved from photographs on the latter date.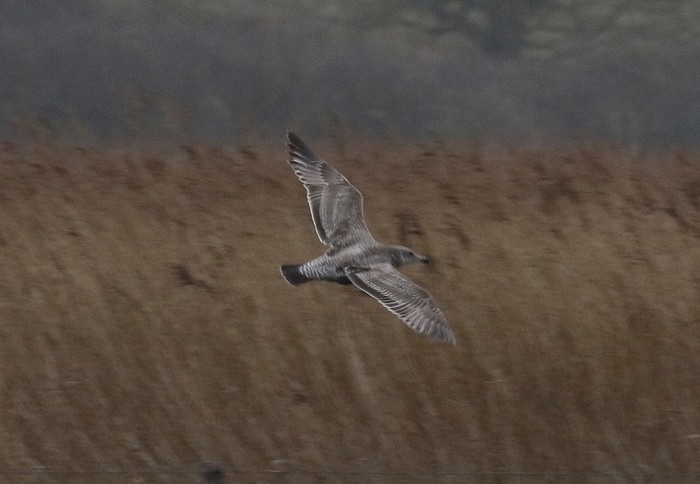 Only the second record for the county, it was nowhere to be seen on 27th – a shame, as the first one dates back to 2002 and, while it was a long-stayer racking up over 60 days in Dorset, that's almost 20 years ago now.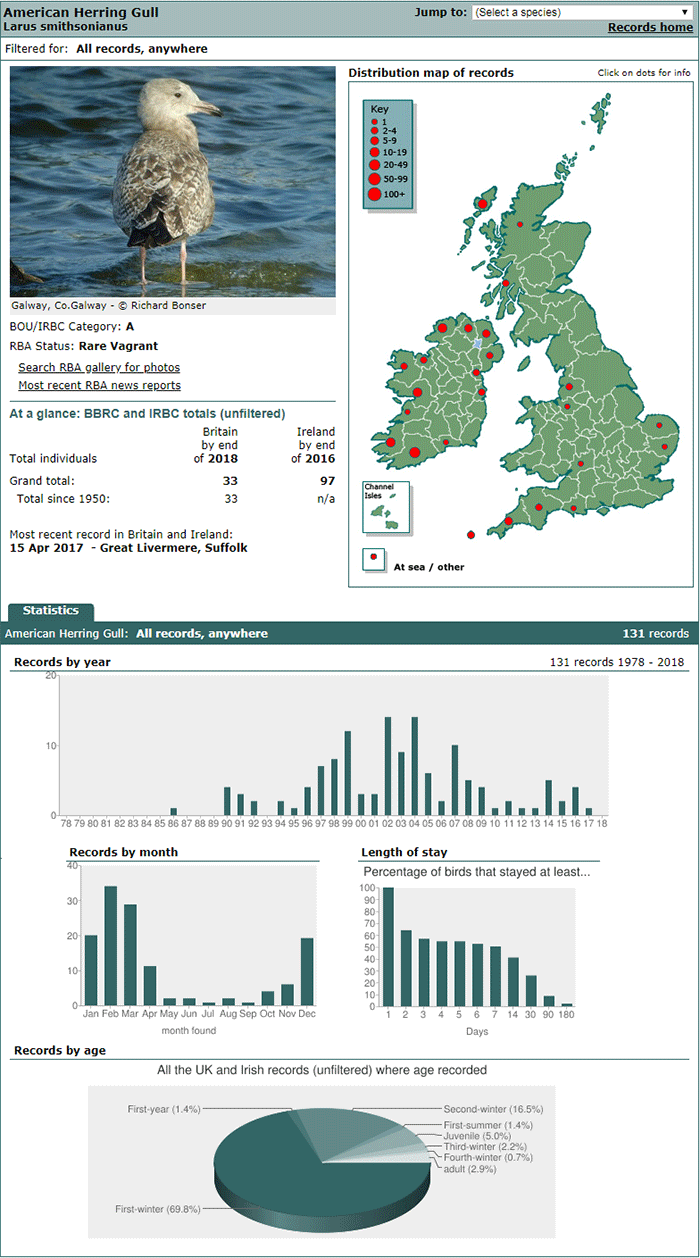 It's absolutely the classic time of year to find one, in late January and going into February, so it's surely not the last bird to be found in Britain and Ireland for the weeks to come. Get yourself down to the coast, out to the nearest tip, or to whatever crapulous place large gulls gather near you, and start sifting through them. There's treasure in them there landfills…
Predictably in late January, we've the very slimmest of pickings to go at where seabirds were concerned.
Down in the far south, a Pomarine Skua drifted past Dungeness (Kent) on 24th.
Meanwhile, up in the north, a White-billed Diver was noted on 25th passing Mull Head (Orkney); and single Little Auks were seen from Barra (Western Isles) on 22nd and Scrabster (Highland) on 25th.
The late juvenile Purple Heron remained at Eagland Hill (Lancashire) on 22nd, but wasn't reported thereafter until 25th-27th.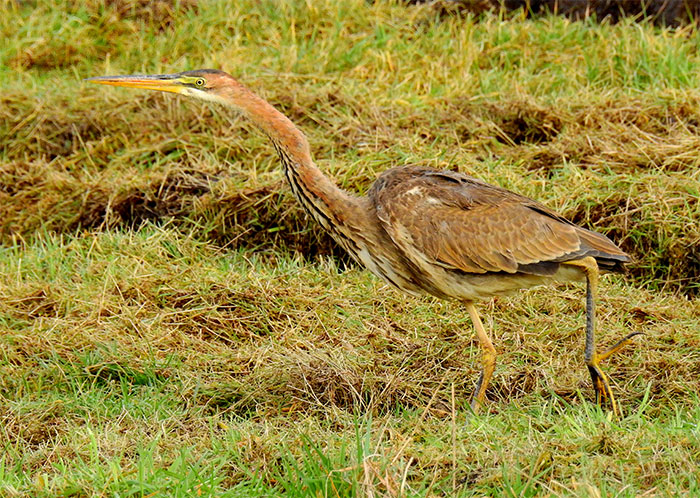 The balance of the interesting long-legged beasties were Glossy Ibises, with resident birds still firmly dug in at Newport Wetlands RSPB (Gwent) on 22nd-27th and in Devon at Fremington Pill on 23rd-27th; and a flyover bird seen in Ireland at Rosslare (Co.Wexford) on 24th. A further bird was reported from Rye Harbour NR (East Sussex) on 25th, with the Pilmore (Co.Cork) also seen again on 25th-26th.
Away from Norfolk, the bulk of our Common Crane sightings were in the north of England, where two birds remained near Hatfield Moors (South Yorkshire) on 22nd-27th, and one was to be found still at Hartburn (Northumberland) on 22nd-27th. On 23rd three birds were seen flying over March town centre (Cambridgeshire); and five were seen in the county near Thorney on 25th, with six there the following day and three birds still on 27th.
Honkers and quackers dominated the news for another week, with the Orcadian Steller's Eider enjoying a strong supporting cast of other wildfowl.
Kicking off with The Goose Formerly Known As Canada, two hutchinsii Richardson's Cackling Geese remained on North Uist (Western Isles) on 22nd-26th, while the interior Todd's Canada Goose was still to be seen on Tiree (Argyll & Bute) on 22nd-23rd also; another possible interior bird was seen on 26th at Alford (Aberdeenshire); and, on 27th, a hutchinsii individual was found at Caerlaverock WWT (Dumfries & Galloway).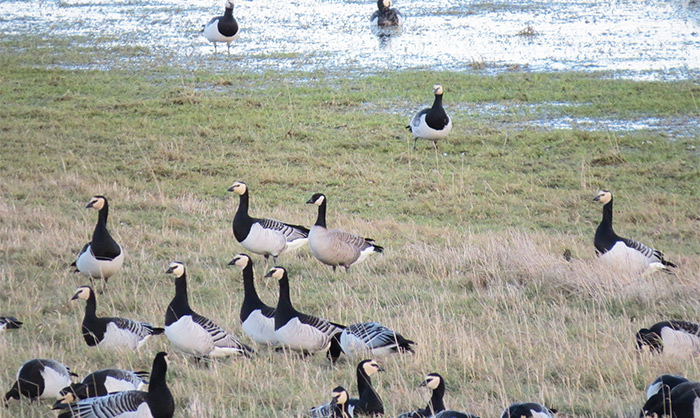 A white Snow Goose was still present in Ayrshire at Auchincross on 24th-27th; another remained on Orkney on Shapinsay on 26th.
Black Brants, meanwhile, were seen in the Spurn (East Yorkshire) area on 22nd-27th; at Donna Nook (Lincolnshire) again on 24th; and in Poole Harbour (Dorset) still on 22nd. A further probable bird was seen in Norfolk at Holkham on 22nd, with a more definite sighting from there on 26th. Another – or a hybrid – was seen on 26th at Harty Marshes (Kent).
Moving onto the quackers, in Devon the juvenile drake Blue-winged Teal continued to brighten up Man Sands on 22nd-25th.
Seven Green-winged Teals were seen this week – Scottish birds were logged on Benbecula (Western Isles) still on 22nd, on Islay (Argyll & Bute) on 23rd still, at Murton GPs (Angus) still on 24th-27th, and on Barra (Western Isles) on 26th; English sightings came from Wilcove (Cornwall) again on 22nd-27th, Slimbridge WWT (Gloucestershire) on 23rd-27th, Minsmere RSPB (Suffolk) still on 24th-27th, and Wheldrake Ings YWT (North Yorkshire) on 26th-27th. Our final bird was seen again in Co.Kerry at Blennerville on 23rd.
At Culdaff (Co.Donegal) the drake American Wigeon was still to be seen on 25th. On 26th, the drake was again seen in Aberdeenshire at Fedderate reservoir; and on 27th the drake was once again noted in Somerset at Shapwick Heath NNR.
In Cornwall, the female Lesser Scaup remained at Stithians reservoir on 23rd-27th, while the regular wintering drake Ferruginous Duck was still to be found at Blashford Lakes (Hampshire) on 23rd-25th. A further potential female Ferruginous Duck was seen in Norfolk again on Ranworth Broad on 25th.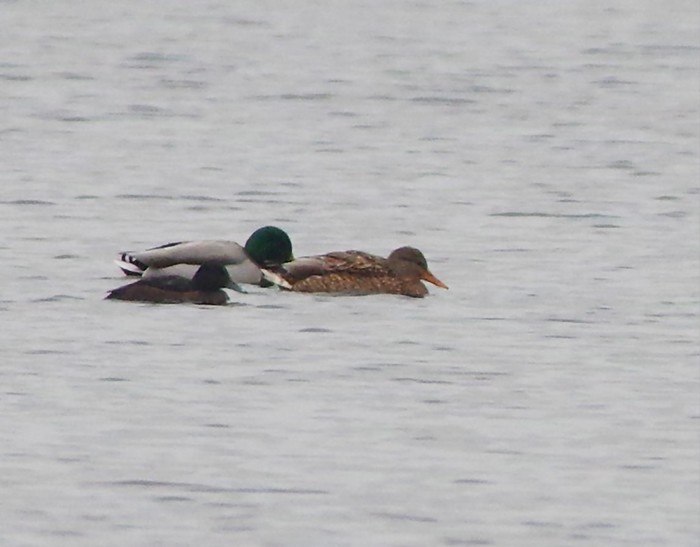 Numbers of Ring-necked Ducks remained strong and a notable feature of the week, with 19 birds logged across the region. Multiple single site records came in the form of two birds on Tiree (Argyll & Bute) on 23rd still and on Lough Atarriff (Co.Cork) on 23rd respectively, and four birds still settled on the Devon/Cornwall border at Lower Tamar Lake on 23rd-25th.
In Lothian the drake White-winged Scoter was still lingering on the waters off Fisherrow (Lothian) on 22nd-26th, with the regular drake Surf Scoter still in the area until 26th; another drake of the latter remained at Ballyvaughan (Co.Clare) on 26th. The drake Black Scoters were once more seen from Goswick (Northumberland) and Lunan Bay (Angus) on 25th, the Lunan Bay bird at least remaining there until 27th.
Finally, a drake King Eider was lurking off Uyeasound on Unst (Shetland) on 22nd still.
<!—Section Title -->
The bulk of our interesting waders this week were, once again, the good numbers of Long-billed Dowitchers scattered around the region – in England, the adult bird remained at Marshside Marsh RSPB (Lancashire) on 23rd-27th, whilst first-winter birds were still to be seen in Devon at Topsham on 23rd and Exminster Marshes RSPB on 27th, and Campfield Marsh RSPB (Cumbria) on 23rd-25th.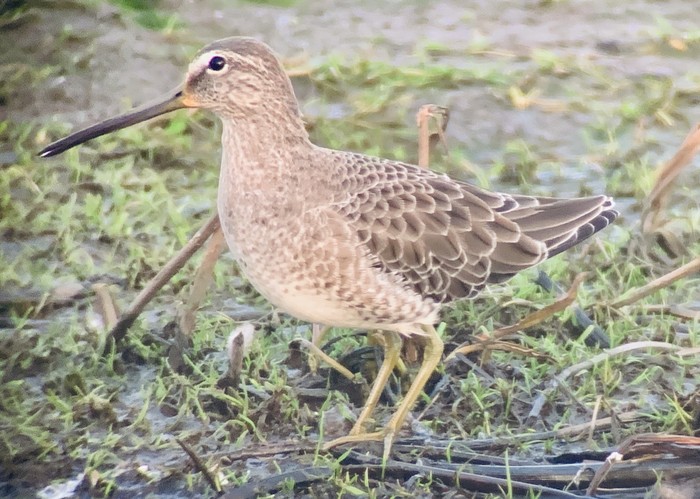 Meanwhile, in Ireland, the first-winter individual remained at Kilcoole (Co.Wicklow) on 22nd, with another seen at Tacumshin (Co.Wexford) on 25th-26th, and two birds seen at Laytown (Co.Meath) on 26th.
I can't recall if we've ever bettered seven individuals in a week – I think perhaps not. It's a lot of dowitchers.
A little more colour was added, once again, by the first-winter Lesser Yellowlegs at Nosterfield LNR (North Yorkshire) on 22nd-27th.
While white-winged gulls (mostly) continued not to set the winter birding world on fire this week, we had another fair showing of Ring-billed Gulls, the bulk of which were, predictably, in Ireland – six single birds were logged at, respectively, Tralee Bay Wetlands Centre (Co.Kerry) on 23rd-24th still, Blackrock (Co.Louth) still on 23rd-26th, and Carrahane (Co.Kerry) on 23rd, Belfast (Co.Antrim) on 25th, and in Co.Galway at Nimmo's Pier still on 25th and Omey Island on 27th; while on 23rd two birds were noted in Co.Cork at Clonakilty. One lingered around the Hayle estuary (Cornwall) on 22nd-27th; and in Scotland the adult bird was still to be seen in Strathclyde CP (Clyde) on 22nd-27th.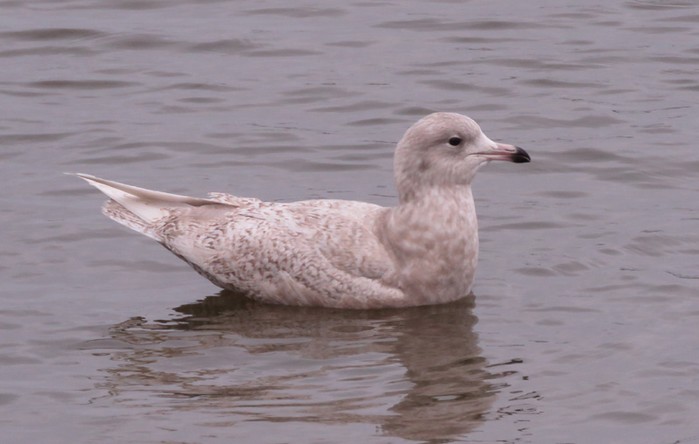 Ireland boasted the wintering adult Bonaparte's Gull still at Kilmore Quay on 23rd-27th.
Back in Cornwall, a possible juvenile American Herring Gull was seen at dusk on the Hayle estuary on 23rd.
And so to those white-wingers and, at least for most of the country, we're not yet on for a winter influx, with modest numbers of Iceland and Glaucous Gulls logged nationwide – some 35 of the former easily outstretched by at least 100 of the latter species in total. Notable this week was Unst (Shetland), where a count of half a dozen Glaucous Gulls on the island on 22nd was blown out of the water by 16 birds tallied two days later on 24th and then, on 25th, a simply crazy arrival of 67 birds into Burrafirth in the space of three hours in the morning, followed by 56 birds – one and the same? – coming in off the sea there the following day.
A handful of overwintering juvenile Rough-legged Buzzards continued to delight birders in various eastern counties this week. Birds remained in Norfolk at Wells on 22nd-27th; at Thorne (South Yorkshire) still on 22nd-27th; in Kent at Funton Creek and Chetney Marshes until 27th, with another reported from Elmley RSPB on 25th; and in Suffolk at Bawdsey Marshes still on 24th-25th. One more was reported on 26th from Thorney (Cambridgeshire).
I've been doing the Rarity Round Ups for some years now and, if you pushed me, I'd never put money on the passerines section being one of the most interesting parts of proceedings this early in the year. I mean, maybe one decent wintering passerine if we're lucky, and a handful of the winter regulars, yes. But what we've still got on offer this week? Nope, I wouldn't have seen that coming.
Starting in the far southwest, the American Buff-bellied Pipit remained in the fields at Sennen (Cornwall) on 23rd.
Further southern pipit action remained in the form of Richard's Pipits in Somerset at Steart WWT on 23rd-24th, and across in Kent at Halstow Marshes on 22nd-25th.
The absolutely stonking first-winter male tschutschensis Blue-headed Eastern Yellow Wagtail was still on offer this week in Norfolk at Sedgeford until 26th; while the plainer first-winter bird remained in Northumberland at Prestwick Carr on 24th-27th.
Crossing the north, in Cheshire the now-confirmed maurus Siberian Stonechat remained at Ashton's Flash on 22nd-27th.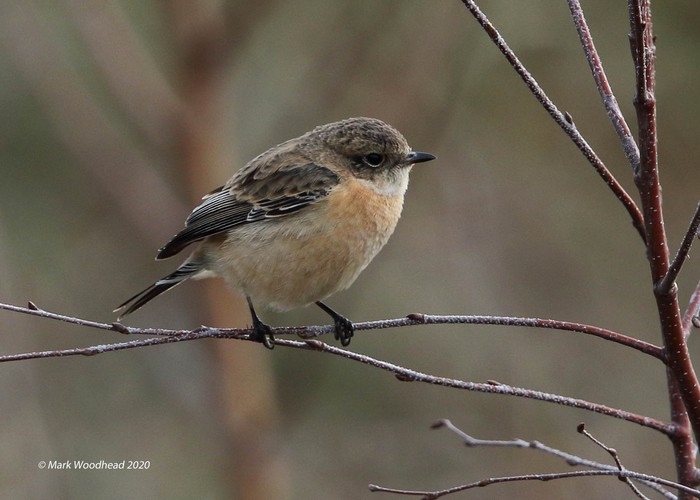 In Bedfordshire, Whipsnade Zoo's latest cash-cow attraction remained on offer in the cotoneasters on 22nd-27th – this being the cracking adult male Black-throated Thrush.
Yellow-browed Warblers were still present at Shifnal (Shropshire) and Stour Valley LNR (Dorset) on 26th, and at Filey Dams NR (North Yorkshire) on 27th; another possible bird was reported from Beddington Farmlands (London) on 27th.
Kent landed a Penduline Tit from the Lampen Wall at Stodmarsh NNR on 24th.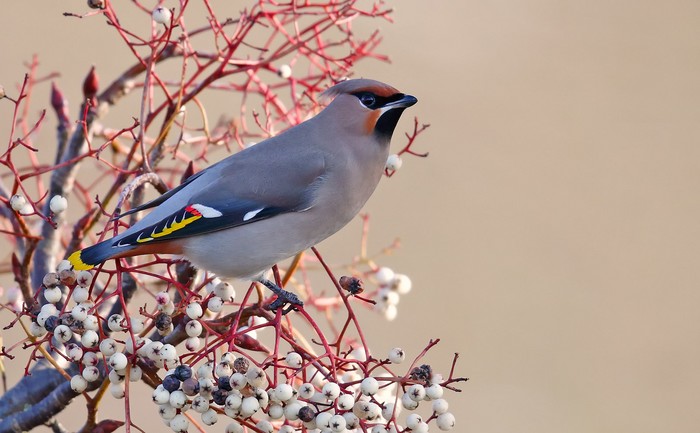 Waxwings, meanwhile, continued to be reported in modest numbers, with some 800 birds in all noted over the course of the week, with the largest flock by some margin being the 350 birds seen at in Glasgow (Clyde) on 26th.
Wintering Great Grey Shrikes remained dug in like ticks this week at regular sites across England – birds being logged again at Hamsterley Forest (Co.Durham) on 22nd; in Hampshire at Holm Hill Bog on 22nd-27th still; at Brogborough Hill (Bedfordshire) still on 22nd-27th; at Hatfield Moors NNR (South Yorkshire) still on 23rd-25th; in Dorset at Morden Bog still on 23rd-27th; and in Gloucestershire again at Crabtree Hill on 23rd-24th and Sapperton on 23rd-27th. Additionally, one was seen again on 22nd and 27th in Cannock Chase (Staffordshire), a brief sighting of another came from near Bampton (Oxfordshire) on 26th, and another Hampshire sighting came on the morning of 27th from Clumber Inclosure. In Scotland the bird remained at Backwater reservoir (Angus) on 25th-26th.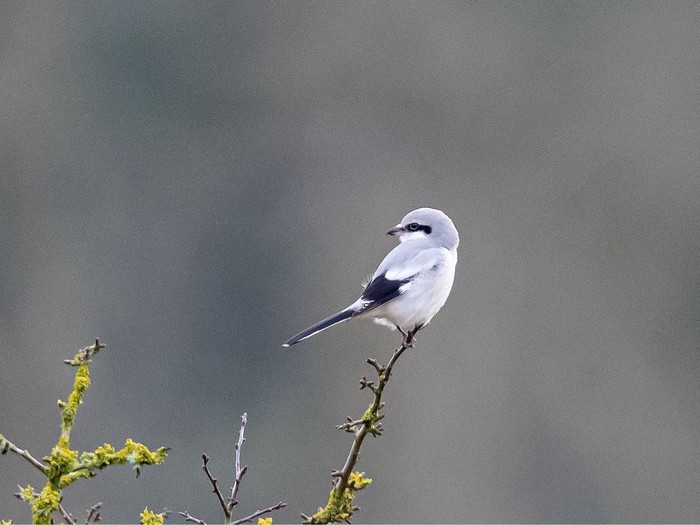 Before we head overseas, we finish with an unconfirmed possible report of a Coue's Arctic Redpoll seen at a feeding station in Salthill (Co.Galway) on 22nd.
All sorts of interest further afield this week, not least in the south where the early signs were there for what practically amounts to an influx of Lesser Moorhens - one was taken into care on Lanzarote in the Canary Islands on 15th, followed by another found at Olot in Catalonia (Spain) on 23rd – Spain's fourth ever record.
Further Spanish news came in the form of the American Buff-bellied Pipit still present on 24th at Fisteira; and a Western Reef Egret at Isla Cristina in Andalucia on 22nd.
Back on the Canary Islands, on Gran Canaria the Laughing Gull remained on 23rd-26th, and the Abyssinian Roller was again seen on 24th-26th.
In Italy, a White-tailed Lapwing was seen on 24th at Foce del Fortore.
Moving north to Belgium, the Pygmy Cormorant was still present in Parc Domaine du Val Duchesse on 22nd-27th, and the settled Dusky Thrush remained at Turnhout on 24th-26th.
In Sweden the Eastern Yellow Wagtail was still to be seen at Gislovslage on 24th-27th; the personata Masked Wagtail remained at Falkenberg on 27th.
Finland, meanwhile, enjoyed a Black-throated Thrush at Ivalo on 24th.
Up in Iceland the White-winged Scoter remained at Njarovik on 25th.
Much further afield, in Israel a Lesser White-fronted Goose was north of Eilat at Km19 on 24th-26th; and, in Kuwait, three Purple Sunbirds were seen on 25th – one still at Fnaitees and two birds at Abdullah Al-Salem – and an Eversmann's Redstart was found on 23rd at Al-Abraq.
A Dwarf Bittern was found in Mauritania at Nouadhibou on 26th, the first for Mauritania and the 11th for the Western Palearctic.
Finishing on a final sour note, a Tufted Puffin was found on Faroe on 26th… and promptly shot dead. There's literally nothing positive to say about that. I'm bored of the tedious Faroese litany of tradition trotted out as an excuse for their annual slaughter of Long-finned Pilot Whales - it doesn't cut it in the 21st century, least of all when we consider other neighbouring island groups long ago gave up their traditional whale killing in the face of advancing economic prosperity in their midst – but killing a vagrant puffin outside the usual Puffin-hunting season there seems particularly mindless and base. Shame on them.
Back in the predictions game once more, the coming chilly week remains pure gull territory and, for the eternal optimists, what better gull gem to hope for than a Ross's Gull? Small, dainty, and utterly gorgeous. None of which are words we'd choose to describe the other likely rare gull candidate which is, of course, another American Herring Gull.
I'd settle for either, but I know which I'd prefer…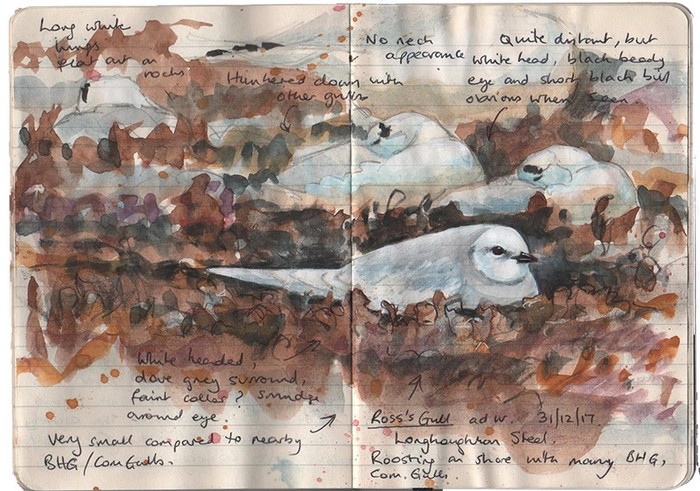 Jon Dunn
28 January 2020
Many thanks to all this week's contributors for your photos and videos
Share this story
Tweet