Weekly birding round-up: 15 - 21 Jan 2020
American Herring Gull in Co Kerry
West Siberian Stonechat confirmed in Cheshire
American Herring Gull in Co Kerry
On 15th January Ed Carty located a possible American Herring Gull at Tralee Bay Wetlands (Co Kerry). The identification was apparently firmed up two days later, but it has not been reported since 17th. As far as we know there are no photos of this week's bird doing the rounds, so here is a selection of previous American Herring Gulls to grace the Kerry shores.
Ed's Kerry smiths might be a sign of things to come. Severe winter weather in Newfoundland could, perhaps, displace multiple American Herring Gulls to likely Irish hotspots, like at Cobh (Co Cork) where - following the first Irish record http://www.irbc.ie/notes/ahg/ahg.php – up to three were present from January 2001 with two lingering there throughout the spring and beyond. Despite there being only a small gull flock at Cobh, the coincident arrival of multiple American Herring Gulls was perhaps linked to the docking of transatlantic boats there with gulls following vessels from a long way offshore.
West Siberian Stonechat in Cheshire confirmed by DNA
The Eastern Stonechat present at Ashton's Flash (Cheshire) since Boxing Day last year has been confirmed as a West Siberian, nominate maurus. The prompt scores on the doors offers the rare opportunity to see a confirmed Siberian whilst it is still on the go, as of the afternoon of 21st.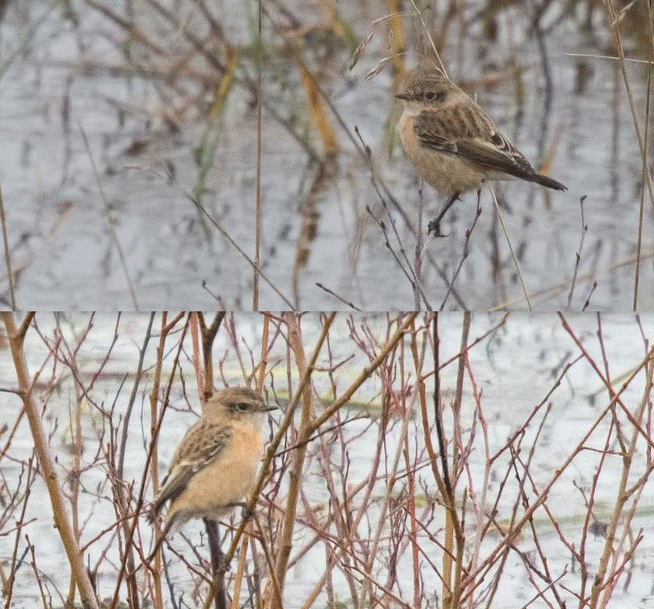 This week also saw the results of a stonechat present at Kilnsea (East Yorkshire) from 6th-7th October 2019 return as a maurus. Prior to this, Stoddart and Collinson (2019) detailed six British West Siberian Stonechats records confirmed by genetic analysis – Isle of May (Fife) 10th October 2013, Orford Ness (Suffolk) 10th October 2015, Fair Isle (Shetland) 16th-30th October 2016, Sandwick (Shetland) 8th-22nd October 2017, Halstow Marsh (Kent) 19th November-3rd December 2017 and Scalloway (Shetland) 24th-27th October 2018. The same article details four DNA-confirmed Stejneger's Stonechat between 2012-2018, and more followed last year.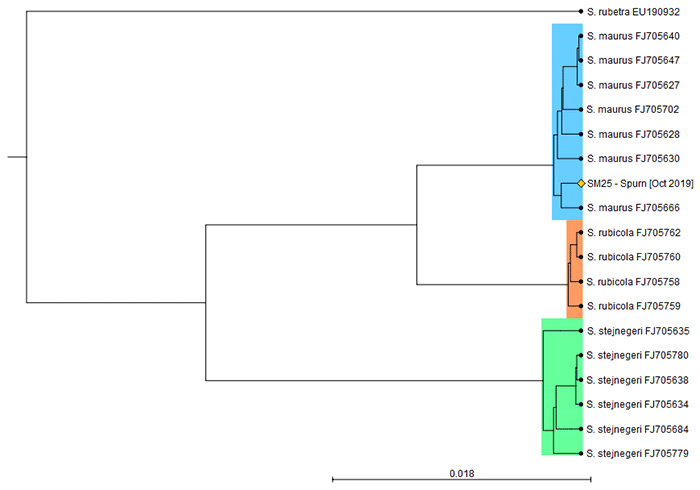 Tenuous link of the week, bonding the two headline birds above – Ashton's Flash (current home of the West Siberian Stonechat) was the site of the first American Herring Gull for Britain, found there on 26th February 1994, although it was adjacent to the then active Witton Landfill (now Carey Park) at that time... Late January can be a quiet time of the year...
An adult Pacific Diver reappeared off the Cornish coastline, this time off Pendower Beach on 15th then Maenporth 16th-19th. It had last been reported off Marazion on 3rd December last year.
A couple of Pomarine Skuas lingered in Tor Bay (Devon), whilst one flew past St Ives Island (Cornwall) on 15th.
Little Auks were logged off Lamba Ness, Unst (Shetland) on two dates during the week, whilst two were reported at both Musselburgh (Lothian) and Inverlochy (Highland) on 18th.
The Fylde juvenile Purple Heron remained until 21st, whilst Glossy Ibises remained at Fremington Pill (Devon), Goldcliff Pools (Gwent) and near Henfield (West Sussex).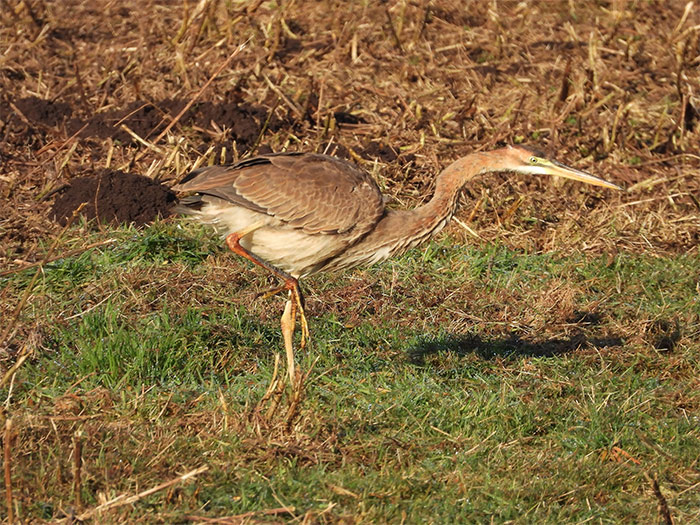 Goose-wise it was quieter than of late. The highlight was a Richardson's Cackling Goose in the Pink-footed Goose roost at Loch of Skene (Aberdeenshire) on 16th and 19th, and it was observed during the daytime at Alford. Todd's Canada Geese joined Barnacle Geese on Tiree (Argyll) and Pink-footed Geese at Marshside RSPB (Merseyside). The potential Grey-bellied Brant was located amongst Pinkfeet near Walpole St Andrew (Norfolk) on 16th and 17th, whilst Black Brants were reported with Dark-bellied Brents in Dorset, East Yorkshire and Essex.
The Forth Taiga Bean flock peaked at 144, whilst 115 Tundra Bean Geese were spread across seven counties, with the majority in East Anglia.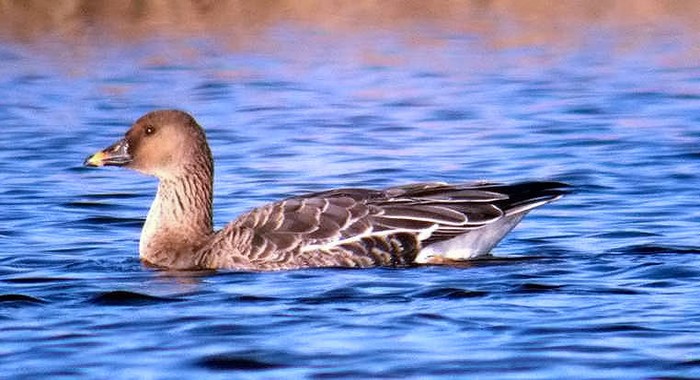 White morph Snow Geese remained on Westray (Orkney) and North Uist (Western Isles).
The Lothian White-winged Scoter continued to show off Fisherrow until 21st, whilst long staying adult drake Black Scoters remained off Goswick (Northumberland) and Lunan Bay (Angus). Drake Surf Scoters remained with the White-winged in Lothian and near Ballyvaughan (Co Clare).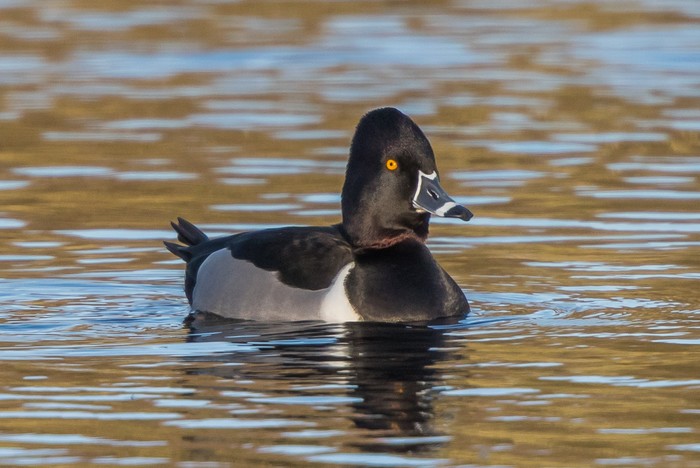 19th January brought a new female Ferruginous Duck to Anglers' Country Park (West Yorkshire), where it remained until 20th. The same site scored a hat-trick of Ferruginous, Ring-necked and Long-tailed Duck this week. In Warwickshire the drake Ferruginous Duck reappeared at Seeswood Pool on 18th, whilst the dark-headed female remained at Ranworth Broad (Norfolk) and another female lingered at Blashford Lakes (Hampshire).
Sweeping up the rare and scarce ducks not already mentioned, the Devon Blue-winged Teal was still at Man Sands on 21st, a Lesser Scaup was at Stithians Reservoir (Cornwall) until at least 20th and American Wigeons were logged in Aberdeenshire, Gwent, Highland and Somerset, whilst 19 Ring-necked Ducks and ten Green-winged Teals were reported during the review period.
<!—Section Title -->
It was all very static waderwise – the Lesser Yellowlegs remained at Nosterfield (North Yorkshire) and Long-billed Dowitchers were still in Co Wicklow, Cumbria, Devon and Merseyside. It has been suggested that the 2020 reports of the Semipalmated Sandpiper in Hampshire all refer to a Dunlin – a photo of what was claimed to be the Semi-p taken over the weekend certainly showed the latter species. On 17th a Grey Phalarope paused off Norwick Beach, Unst (Shetland).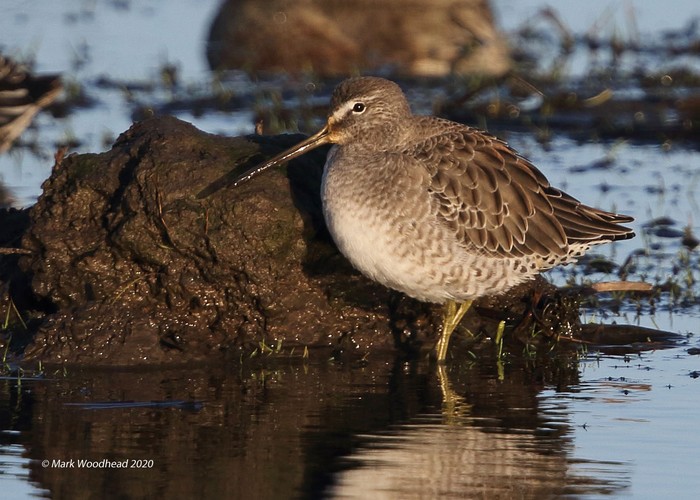 On 16th January an adult Bonaparte's Gull reappeared at Kilmore Quay (Co Wexford), having last been seen there on 17th November last year. County Carlow hosted a possible Baltic Gull and the probable Azorean Yellow-legged Gull, whilst lingering adult Ring-billed Gulls were recorded in Clyde, Cornwall, Co Antrim, Co Donegal, Co Kerry, Co Limerick, Co Louth and Co Wicklow.
Kumlien's Gulls were at Shawell (Leicestershire) and The Mullet (Co Mayo). A total of 18 Caspian Gulls passed through the former site on Saturday.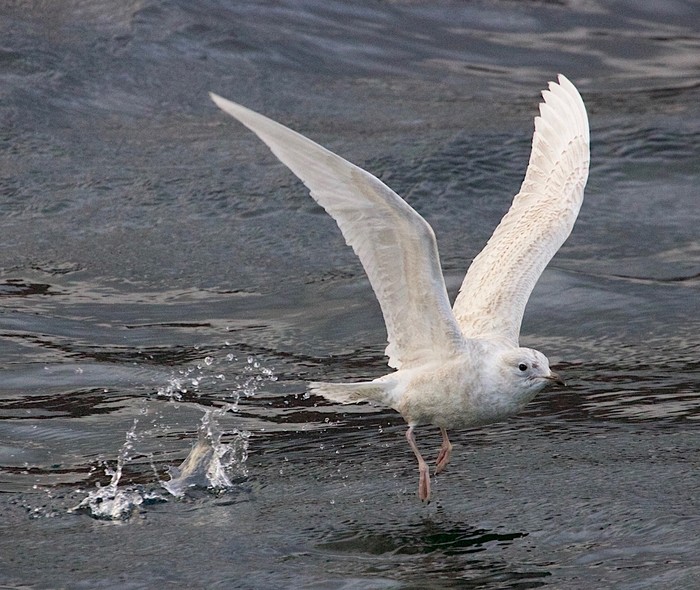 Numbers of Iceland and Glaucous Gulls increased, especially in northern Scotland, with Unst (Shetland) in particular producing excellent counts.
An adult male Snowy Owl flew over the road in a pine forest in Shiplake (Co Cork) on 19th. Meanwhile, another Snowy Owl was reported flying over the R688 near Clerihan in Co Tipperary on 15th.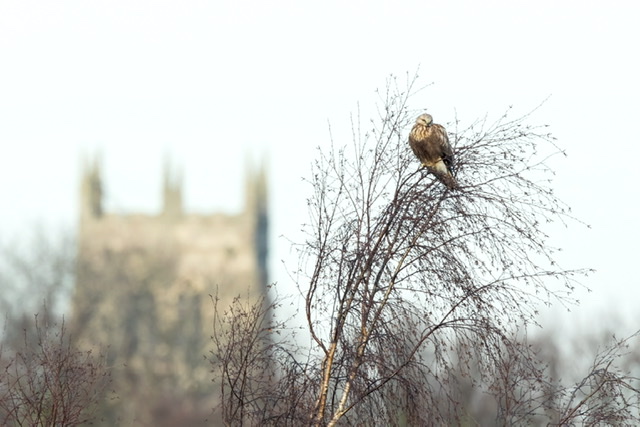 Rough-legged Buzzards continued their stay near Stainforth (South Yorkshire), Funton Creek (Kent), Wells (Norfolk) and Bawdsey Marshes (Suffolk).
The long-staying Black-throated Thrush in Bedfordshire and American Buff-bellied Pipit in Cornwall both remained until 21st. In Norfolk the Blue-headed Eastern Yellow Wagtail continued to frequent the dung heap near Sedgeford throughout, and it also roosted at Titchwell RSPB on 20th. The Northumberland Eastern Yellow Wagtail just scraped into this review period, but was not seen after 15th. The flock of Two-barred Crossbills remained on North Uist, with four observed at Langass Woods on 15th.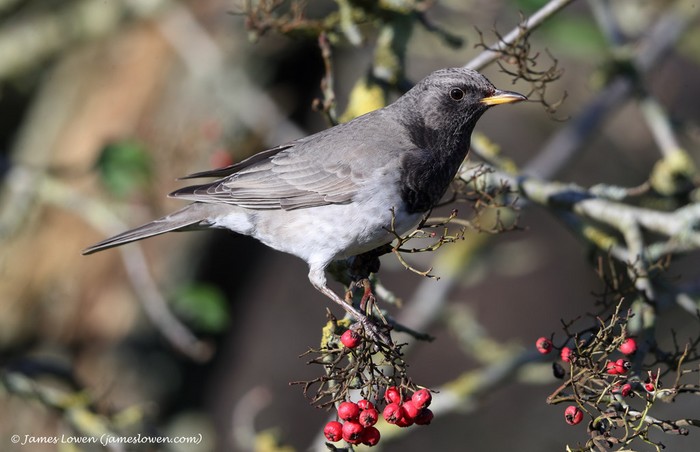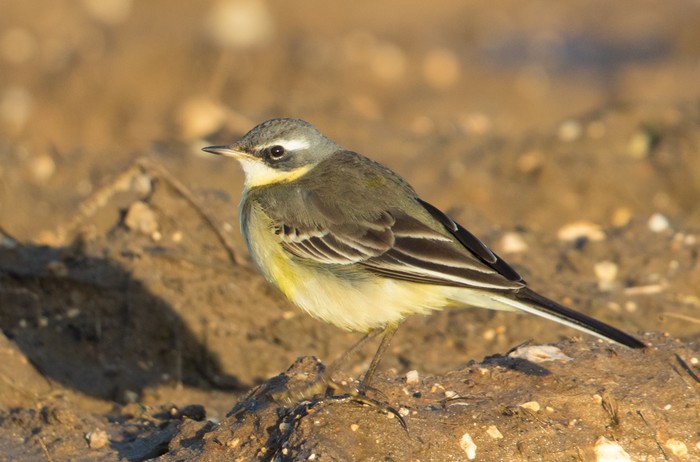 A possible Continental Long-tailed Tit Aegithalos caudatus europaeus in Hertfordshire at Spellbrook will be a difficult identification to prove, with the potential result of a mixed pairing of British rosaceus and Northern nominate caudatus being an obvious problem and the reason europaeus is not on the British List; although three Long-tailed Tits trapped and ringed together in the core-range of europaeus in Belgium at Willebroek on 10th October 2001 and then all retrapped 143 miles to the west northwest at Walton-on-the-Naze (Essex) eleven days later were presumably this subspecies.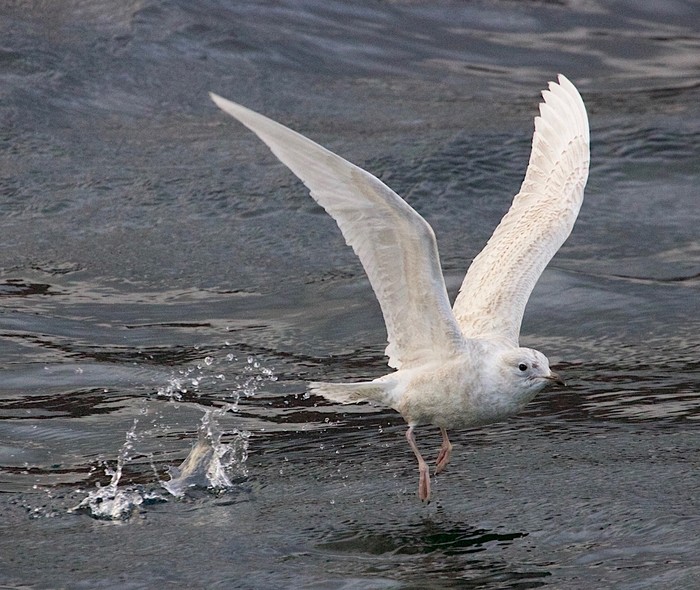 Six wintering Yellow-browed Warblers involved singles in Devon, Lancashire, London, Shropshire, Somerset and North Yorkshire, but far rarer was a wintering Whitethroat at Westbury sewage works (Wiltshire). Richard's Pipits lingered at Halstow Marshes (Kent) and Steart (Somerset) and a possible Siberian Lesser Whitethroat was still in the Gloucestershire section of Cotswold Water Park.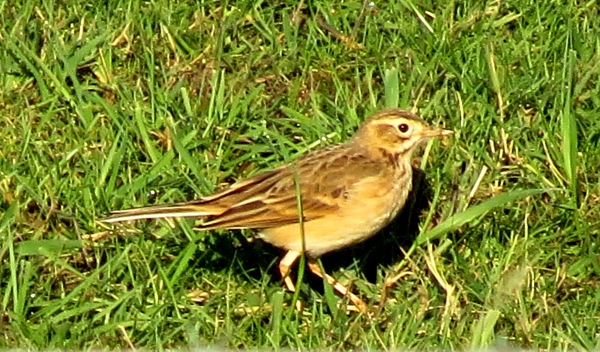 Standard wintering fare comprised 15 Great Grey Shrikes, 14 Lapland Buntings and eight Shorelarks (six in Norfolk and singles in Kent and Suffolk).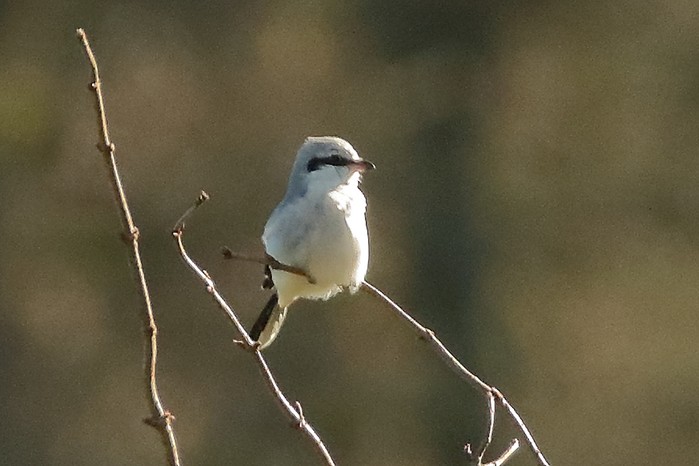 The Black-bellied Dipper lingered at St Andrews (Fife).
Fresh from its recent split, the American-ringed Royal Tern resurfaced on Guernsey (Channel Islands) on 16th. The Benelux Countries continued to host the popular Little Whimbrel and Little Bustard (Netherlands), and Dusky Thrush and Pygmy Cormorant (Belgium). A lingering Pygmy Cormorant was also available in France, whilst news of an American Buff-bellied Pipit, Brown Shrike, Laughing Gull, Lesser Flamingo, Sociable Lapwing and Ruppell's Vulture all emanated from Spain.
In Israel the African Crake recently taken into care was released at Eilat on 18th, whilst a Western Rufous Turtle Dove was also recorded during the week.
Finland produced a Black-throated Thrush and the Masked Wagtail lingered in Sweden, Kuwait hosted two Lesser Flamingos and a Purple Sunbird, Turkey also produced a Lesser Flamingo and the Atlantic Islands held a Hudsonian Whimbrel (Cape Verdes) and two Wood Ducks (Azores).
An interesting (yet slightly depressing) update surfaced on the recent White-rumped Seedeaters in Algeria. Information on Tarsiger makes it difficult to make a convincing case that they were of wild origin.
If the swarms of American Herring Gulls mentioned above don't show up, what else is there to go at? How about an Ivory Gull or a Mainland Gyr – they'd do nicely. The Lesser White-fronted Goose will hopefully show its dainty pink bill again, hopefully amongst the Lancashire Pink-footed Goose flocks. And if none of those materialise, perhaps we'll have to make do with the increased volume of Iceland and Glaucous Gulls filtering down into English gull roosts.
Stuart Piner
22 January 2020
Many thanks to all this week's contributors for your photos and videos
Share this story
Tweet