Weekly birding round-up: 11 - 17 Dec
Bedfordshire brings us a Black-throated Thrush,with another seen in Clyde
Northumberland scores a late Eastern Yellow Wagtail
And Argyll & Bute lands some offshore Ruddy Shelducks
A nation held its breath this week, took a deep breath and, like a shaggy dog that's plunged into a particularly foul, muddy pond, shook itself down.
The ghastliness that's yet another spasm of British politics behind us, at least for a week or two, going birding had never seemed a more attractive prospect. Better yet, this weekend just gone provided an opportunity to not only twitch a decent inland winter rarity, but to take the kids too.
We're going to the zoo, zoo, zoo…
Black-throated Thrushes
Like a particularly slick relay team, 2019's rarities continued to pass the baton from one to another as the weeks clicked over – Scilly's long-staying Hermit Thrush may be gone (well, maybe) but another rare thrush was waiting in the wings to take over in the headlines…
I've particularly fond memories of 1996, a happy winter when we enjoyed two long-staying wintering Black-throated Thrushes, in Cambridgeshire and Worcestershire respectively, with a third bird seen for a couple of days in Somerset for good measure. The enduring birds were especially obliging and popular, and many a birder of the day made repeated visits to enjoy them.
Long-staying wintering birds seem to have been on the rise since then, with multiple birds found in 2005, 2007, and 2017 – 2005 being notable for no less than three birds being discovered during December.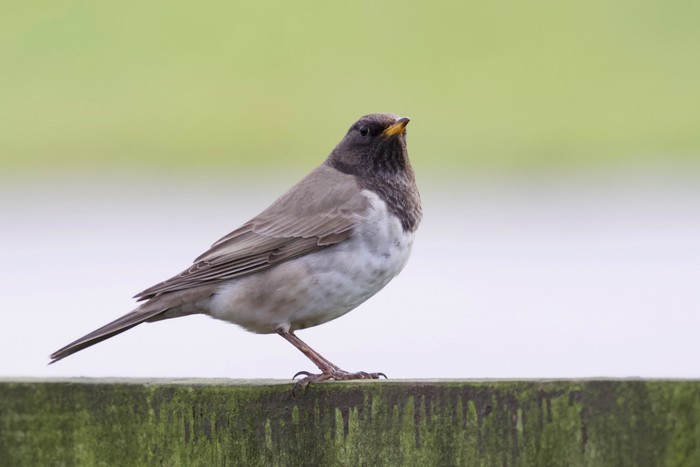 The latest addition to the December roll call was found this week on 11th – seen briefly, with Redwings, at the former Asian Elephant enclosure of Whipsnade Zoo (Bedfordshire) before flying off. A mouth-watering photo of the bird was posted on Twitter but, for a couple of days, this felt like one of those serendipitous, fleeting chance encounters that would make the lucky finder's day, but wasn't to be enjoyed more widely…
…and then, on 13th, it was back again in the grounds of the zoo. An adult male Black-throated Thrush, Bedfordshire's first ever record, and showing well too. Game on, especially as it remained there throughout the weekend, delighting a stream of birders who were prepared to part with the price of entry to the zoo.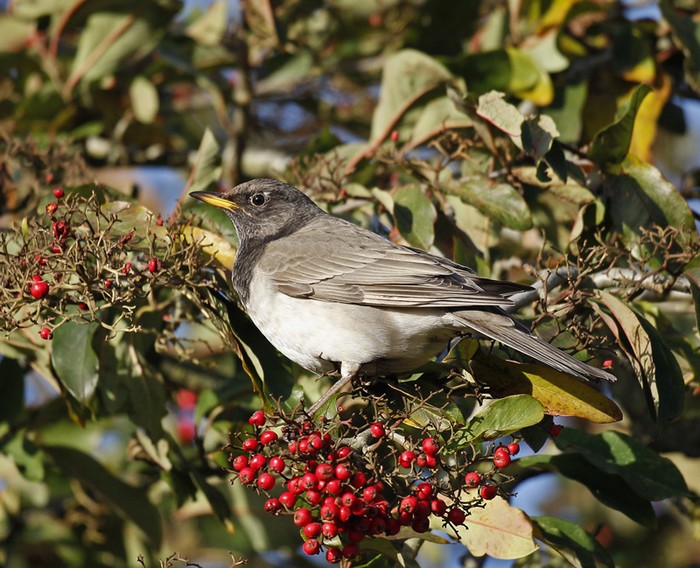 (A crushing blow for the chorus of online naysayers who had spent the previous day 'analysing' the original photo of the bird, proclaiming it to be suspicious, manipulated in Photoshop, etc. All of which was a damning indictment of the cynical days we live in and, happily, completely baseless).
We all like a story with a happy ending, and this was just that. Better yet, the second bird of the month was found by Shetland birder Kristofer Wilson, moonlighting on the Scottish mainland on 16th, in Hamilton (Clyde) – a first-winter bird in the late afternoon that flew off, presumably to roost, but wasn't to be refound the following day – but, on 17th, the Whipsnade bird was still on offer for those who fancied it.
Eastern Yellow Wagtail
As narrative arcs go, the story of Eastern Yellow Wagtails in Britain has been unbelievably acute and has unfolded with breakneck speed. From newly announced species to seemingly commoner than Citrine Wagtail, it's been quite a journey.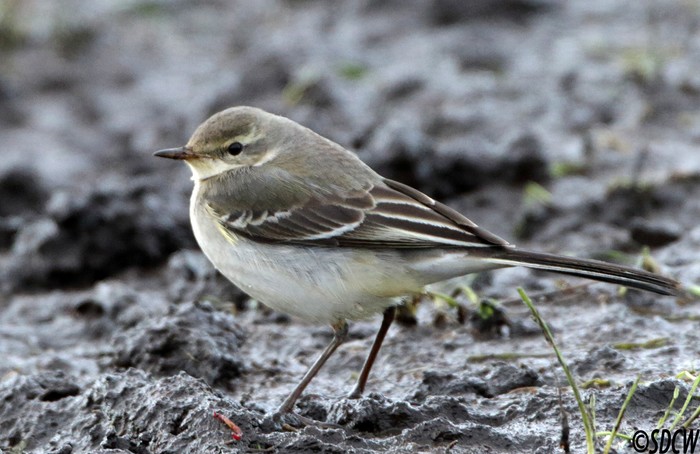 There comes a time, soon I think, where the finding of one won't warrant elevation to the main headlines of a round up, but that time isn't quite yet. This week a suspected bird, found at Prestwick Carr (Northumberland) on 14th had, by 15th, been resolved via sound recording as the county's second record – hot on the heels of Northumberland's first, also identified via sound recording, over Budle Bay on 26th October this year. The bird remained on site until 17th.
Any autumn or winter yellow wagtail sp clearly warrants a second look these days; or should that be, a second listen. Eastern Yellow Wagtail should definitely be high on any rarity-hunter's list of self-found target species.
Ruddy Shelducks
And finally, we turn to Islay (Argyll & Bute) for one of the week's more curious sightings – apparently the first Ruddy Shelducks for the island, a pair of birds hanging out with Barnacle Geese in the morning of 16th. What do we think about Ruddy Shelducks?
What we can say, for certain, is that they don't enjoy Category A status on the British list. And what we can hear, if we listen carefully, is the sound of a lid being prised off a familiar can of worms in these quarters…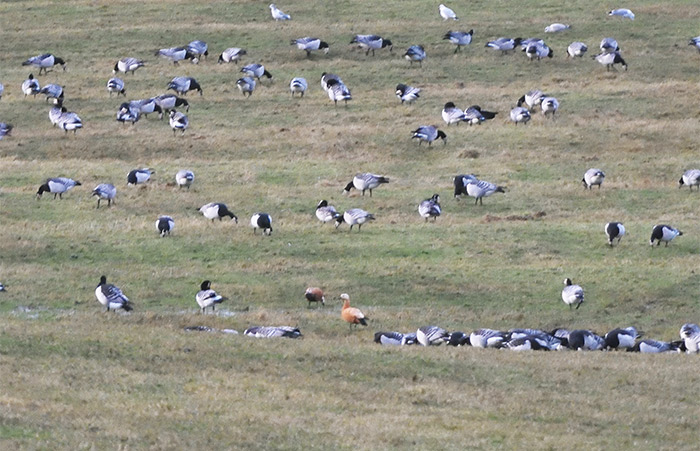 In 2002 the BOU Records Committee helpfully undertook a review of the species' status in Britain – in a nutshell, none of the birds seen post 1950 are considered free of the taint of possible escape or feral origin; while those found in Britain during a Europe-wide influx in 1892 are deemed sufficiently pukka to retain Category B status on the British list.
The phrase "vagrancy remains possible" is used, and is alluring and frustrating in equal measure. Vagrancy remains possible, presumably, in the same way that credible vagrancy is possible with Hooded Mergansers and Buffleheads…
The concept of having one first, unequivocal record of a given species and then a somewhat lower bar for acceptance of latter records appears fundamentally flawed, and we've covered it ad nauseam here. It appears dafter than ever though with the shades of grey involved distinguishing between Categories A and B of the British List insofar as a species recorded in "an apparently natural state" at least once after 1st January 1950 elevates apparently wild examples of its kind to Category A thereafter, whereas a species also recorded in "an apparently natural state" up to 31st December 1949 does not.
It just seems incredibly arbitrary, really.
Maybe in these digital, post-truth days there will eventually be a reverberating Moustached Warbler-esque review of the British list and it will re-boot to a new starting point for Category A – one when digital photography and sound recording provided a higher standard of proof than hitherto. 1st January 2000 has a nice ring to it... Of course, one sincerely hopes not, but it's about as logical a step as the current starting point for what's defined as Category A and what's not.
I'm not sure that a couple of Ruddy Shelducks on Islay in mid December are my absolute prime candidates for examples of natural vagrancy, but then again there are a few accepted North American duck records on the books that raise an eyebrow too. What's certain is that every year Ruddy Shelducks turn up in Britain in late summer – but what's unclear is whether they originate from a wild population in south-east Europe, self-sustaining feral populations in western Europe, or from non self-sustaining feral populations anywhere one cares to stick a pin in a map.
My point being, really, that if those 1892 birds are considered of an "apparently natural state" then we should be giving those fully-winged and wary contemporary birds the same benefit of doubt we currently afford to fully-winged Hooded Mergansers et al…
The week's best seabird was the flyby White-billed Diver seen motoring south past Hemsby (Norfolk) on 15th. We're growing accustomed to them being 'easy' at certain points of the year when they gather off the Scottish coast, but the sudden appearance of one during a seawatch off the English coast is always going to be pulse-quickeningly special.
Norfolk also supplied one of the week's Little Auks, off Titchwell RSPB on 14th. Another was seen from Whitburn CP (Co.Durham) on 15th; and two more in Shetland at Sullom Voe on 17th.
Suffolk, meanwhile, gave us three sightings of Pomarine Skua, from Landguard NR on 12th, and Minsmere RSPB on 13th and 16th; another was noted from Dungeness (Kent) on 13th also.
The late juvenile Purple Heron remained this week at Eagland Hill (Lancashire) on 11th-16th and, on 17th, at Marshside RSPB, and provided the cream of a denuded crop of long-legged beasties.
Apart from that, we just had three or four Glossy Ibises to go at – the settled Devonian bird again at Fremington Pill on 12th and 16th, two sightings from Suffolk – at Carlton Marshes SWT on 12th, and Southwold on 15th-16th – and the Newport Wetlands RSPB (Gwent) bird again on 15th.
Away from Norfolk, Cambridgeshire's Manea remained reliable for Common Cranes, with a flock of 14 birds logged there on 14th; elsewhere, one was seen at West Boldon (Co.Durham) on 12th, and two nwar Salisbury (Wiltshire) on 16th.
And so to the honkers and quackers where, this week, it was all going on once more. Nowhere more so than up in Highland at Castle Stuart, where we were knee-deep in interesting geese…
Regularly in the news lately for the possible Grey-bellied Brant - which remained there this week on 12th-16th – Castle Stuart also weighed in with an intermediate morph Snow Goose on 13th and a hutchinsii Richardson's Cackling Goose on 14th-15th.
Before we leave Scotland for the week's rarest honker in Norfolk, two more hutchinsii Richardson's Cackling Geese remained on North Uist (Western Isles) on 12th-17th, with an interior Todd's Canada Goose also on 16th-17th; another Todd's Canada Goose was again seen on Tiree (Argyll & Bute) on 17th; a possible Cackling Goose was noted at Meikle Loch (Aberdeenshire) on 16th; and Snow Geese were seen on Westray (Orkney) on 14th, near Thurso (Highland) again on 15th-16th, at Loch of Skene (Aberdeenshire) again on 15th-17th, and once more on North Uist (Western Isles) on 17th.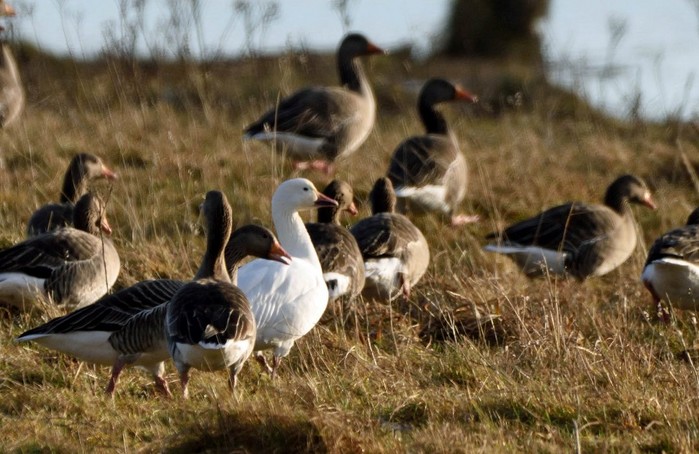 Passing south of the border, the biggest goose news of the week was the brief rediscovery of the recent adult Lesser White-fronted Goose in Norfolk at Burnham Market again on 14th – brief as it, and the accompanying 5,000 Pink-footed Geese were flushed…
Staying in Norfolk, a Black Brant was reported from Cley NWT on 14th; while in Dorset the bird was once again seen on the Fleet on 15th. On 16th further sightings came from Donna Nook (Lincolnshire) and near Woodbridge (Suffolk); and on 17th the Poole Harbour (Dorset) bird was once more seen at Arne RSPB.
Onto the quackers and the very welcome news on 14th that the juvenile Steller's Eider was still alive and well off Papa Westray (Orkney). Hang in there, fella.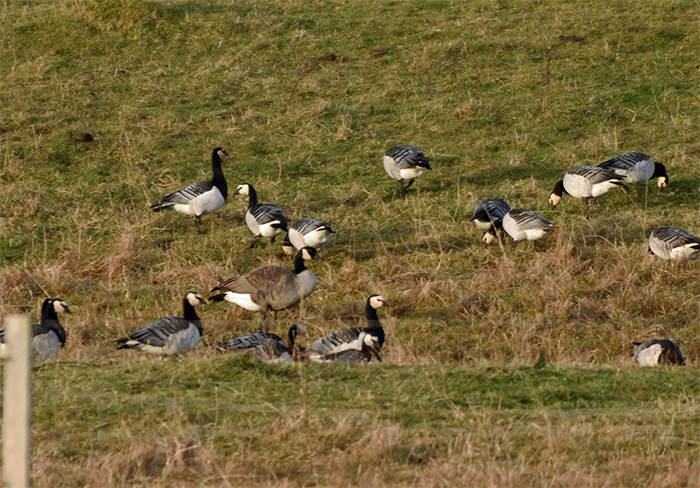 The drake White-winged Scoter was again seen off Fisherrow (Lothian) on 17th while, further south, the drake Black Scoter was once again seen from Goswick (Northumberland) on 15th.
Drake Surf Scoters remained this week off Musselburgh (Lothian) on 11th-15th, Old Colwyn (Conwy) on 15th-17th, and Kirkwall (Orkney) on 17th. On 17th three birds were seen off Harris (Western Isles) in the Sound of Taransay.
The pick of the remaining ducks was in Devon where the juvenile drake Blue-winged Teal remained at Man Sands on 12th-13th.
Numbers of Green-winged Teals, meanwhile, took a bit of a tumble, down to five birds this week. Scottish individuals remained on North Ronaldsay (Orkney) on 14th-15th and in Wick (Highland) on 12th-14th,with another seen on Loch of Wester (Highland) on 14th; an English bird remained at Big Waters NR (Northumberland) on 12th-15th; and, in Ireland, one continued his residency at Kilcoole (Co.Wicklow) on 15th-16th.
Drake American Wigeons remained on the Kilcolgan River (Co.Galway) on 11th and Loch Eye (Highland) on 14th still.
Numbers of Ring-necked Ducks however fell away this week, down to a mere 16 individuals seen in Britain and Ireland. Multiples remained on Tiree (Argyll & Bute) where two birds were still to be seen on 13th; and on the Devon/Cornwall border at Upper Tamar Lake where four birds were again logged on 14th-17th.
In Cornwall, the female Lesser Scaup remained on Stithians reservoir until 16th at least.
<!—Section Title -->
A possible juvenile Pacific Golden Plover was seen this week at Woodbridge (Suffolk) on 11th but not, sadly, thereafter – seemingly one that slips through the net.
The bulk of our remaining shorebird news involved the recent settled first-winter Long-billed Dowitchers that, respectively, remained available at Cresswell Pond NWT (Northumberland) until 12th, Campfield Marsh RSPB (Cumbria) until 12th, and down in Devon at Bowling Green Marsh RSPB until 17th.
Lastly, a Grey Phalarope chose to linger in Aberdeenshire off Rosehearty on 14th-16th, with another seen on 16th-17th at Poolbeg (Co.Dublin).
Ireland remained where it was at this week for interesting gulls'n'terns and, of them, the Forster's Tern in Co.Galway near Kinvarra at Traught Beach on 11th was the rarest of the lot.
Three adult Ring-billed Gulls were logged again this week, all settled birds – at Tralee Bay Wetlands Centre (Co.Kerry) still on 13th-17th; at O'Callaghan Strand in Limerick (Co.Limerick) still on 13th-16th; and at Blackrock (Co.Louth) still on 14th-17th.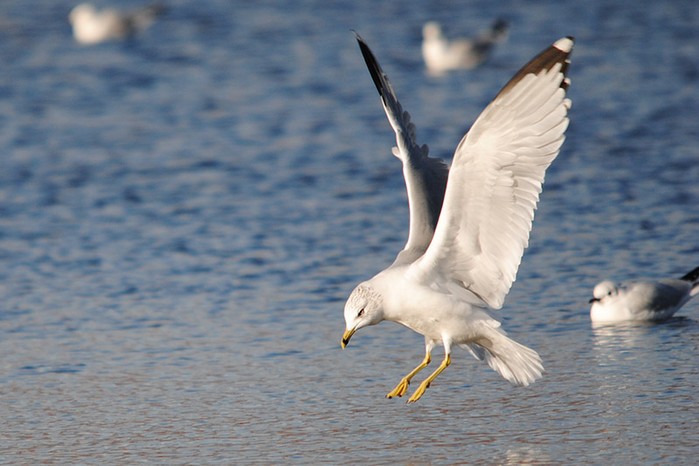 Numbers of white-wingers were somewhat down, with Iceland Gulls in particular barely scraping into double figures. One remained at North Shields (Northumberland) on 11th-14th while another juvenile lingered in Thurso harbour (Highland) on 11th also. On 12th birds were noted at Chasewater (Staffordshire) and the magnificently named Woon Gumpus Common (Cornwall); on 14th a probable was seen in Kirkcaldy (Fife), with further birds logged that day at Enniskillen (Co.Fermanagh) and on Skye (Highland); two birds were present on Skye on 15th, with further sightings that day on Unst (Shetland) and at Coverack (Cornwall). On 16th one was present in Derbyshire at Ogston reservoir; on 17th two were seen on North Uist (Western Isles), with another at Carrahane (Co.Kerry) and one in Hertfordshire at Hilfield Park reservoir.
Glaucous Gulls fared similarly modestly, with some 15 birds tallied during the week – peak counts coming, once again, from Unst (Shetland) where three birds were seen on 11th were bettered, on 15th, by a count of four birds on the island as a whole, a total that increased to six birds the following day.
Our raptors this week were all about the winter staple, Rough-legged Buzzards - a handful of birds were on offer again. Starting in Norfolk, the juvenile remained at Wells until 17th while, down the road in Suffolk, the recent juvenile was last seen at Bawdsey on 11th. The juvenile found the previous week in Kent at Funton Creek remained there this week until 17th while, up in South Yorkshire, another juvenile was found on 14th-17th near Thorne. Back in Suffolk, a further possible bird was seen on 14th-15th at Lakenheath Fen RSPB.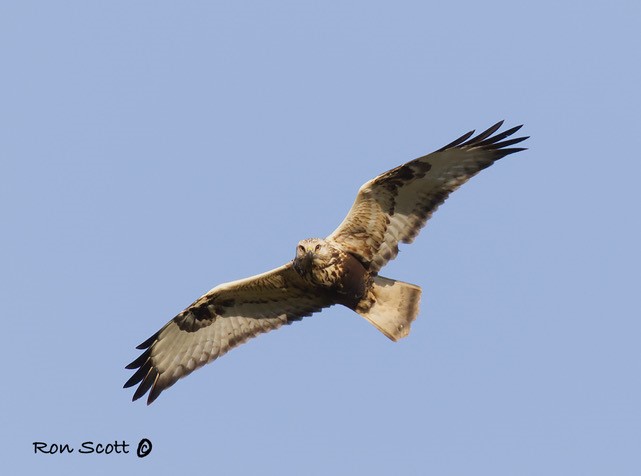 Heading into the depths of winter, it seems appropriate to elevate a couple of Hoopoe sightings to the top of the news this week – providing a dash of out-of-season exoticism to proceedings at Long Preston Deeps (North Yorkshire) on 13th and Houghton-le-Spring (Co.Durham) on 14th.
In Suffolk this week the eastern Stonechat sp, still considered most likely to be a Siberian Stonechat, continued to haunt Hollesley Marshes RSPB on 11th-17th.
Sightings of interesting warblers were getting thinner than ever on the ground, but were spearheaded by a Dusky Warbler on St Mary's (Scilly) on 11th and again on 16th.
News of a possible Pallas's Warbler in a Lindfield (West Sussex) garden on 14th was, unfortunately, both belated and wholly unconfirmed at the time of writing.
Other than this, however, we had just a scattering of Yellow-browed Warblers to go at – in the north, the bird remained at Filey Dams NR (North Yorkshire) on 12th-17th, with a second bird present on 17th; while one was an excellent garden tick in Tottington (Greater Manchester) on 14th; another was found on 16th-17th at Ham Wall RSPB (Somerset); and Hampshire got a bird at Mill Field LNR on 17th. The remainder were found in Cornwall – at Constantine sewage works on 13th, Bude Marshes still on 14th, and in Helston Loe Valley on 15th.
A male Penduline Tit was an excellent London bird, seen at Crossness NR on 11th and again on 15th.
A possible Rose-coloured Starling was reported from Anderby Creek (Lincolnshire) on 11th.
Typical winter fodder came in the continuing presence of some 900 Waxwings seen nationwide again this week, of which a peak count of 150 came from Dundee (Angus) by D.C. Thomson on 15th - braw! – while another 150 were tallied on 16th in Perth (Perth & Kinross).
A handful of Great Grey Shrikes remained happily dug into their winter territories across England still – recent regulars were again seen this week at Lilbourne (Northamptonshire) on 11th-16th; Brogborough Hill (Bedfordshire) again on 14th-16th; at Hatfield Moors NNR (South Yorkshire) on 11th-13th; Crabtree Hill (Gloucestershire) still on 11th-16th; at Backwater reservoir (Angus) again on 12th; in Wareham Forest (Dorset) on 15th; and on Thursley Common (Surrey) on 16th. A final bird was seen in Norfolk fleetingly near Hillington on 14th.
Lastly, the Coue's Arctic Redpoll remained on Shetland at Voe on 15th.
Overseas this week there was a surprisingly decent array of goodies to go at. Starting near to home, the American Royal Tern was once again back on Guernsey in the Channel Islands on 15th, allowing us familiar daydreams of it bobbing across the Channel at some point in the weeks and months to come.
Speaking of daydreams, one of these days a Pygmy Cormorant is going to turn up at Dungeness or Minsmere RSPB. This week, the regular bird was again seen in Belgium at Parc Domaine du Val Duchesse on 11th-17th, with another found on Ismaninger Speichersee in Munich (Germany) on 14th. Belgian birders also scored a Wallcreeper - more daydreams! – at Dinant on 14th-17th; and, back in Germany, a drake Falcated Duck remained for its 20th day at Forggensee on 13th, with the drake Black Scoter still present on 13th also at Nieby.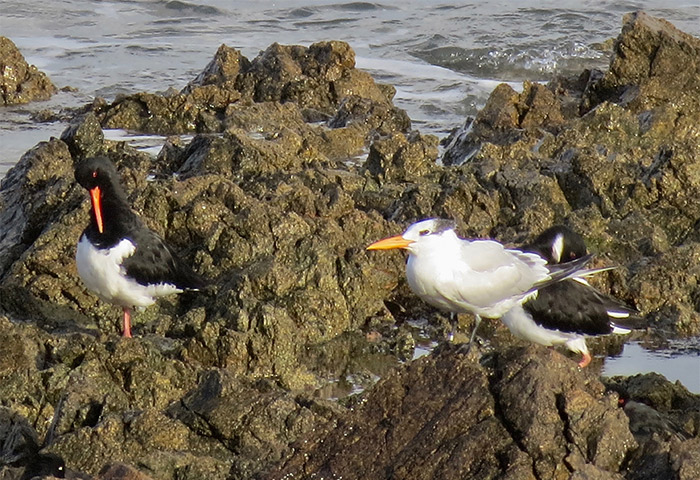 Sweden landed a drake Stejneger's Scoter off Bastad on 12th-16th, while the Eastern Yellow Wagtail remained at Gislovslage on 12th also. Norway, meanwhile, had a Black-throated Thrush at Vigrestad on 14th; and Finland an Azure Tit in Vaala on 16th and another Black-throated Thrush at Ristinkallio on 17th. Surely more are inbound for Britain?
Austria's second Western Rufous Turtle Dove remained at Pöstlingberg on 11th-15th.
In Spain, the country's second Brown Shrike remained at A Coruna on 14th-16th, while an algeriensis Great Grey Shrike was present at Las Cabenzas de San Juan on 15th-16th. The adult Franklin's Gull remained this week at Zeluan on 14th.
Italy's sixth Brown Booby was again seen at Voltri on 11th.
Heading offshore, the Dwarf Bittern remained on Fuerteventura on 13th-14th while, elsewhere in the Canary Islands, the Laughing Gull was still on Gran Canaria on 14th.
Out on the Azores, a Double-crested Cormorant was seen on Flores on 11th.
Last of all, we turn to Kuwait where the Purple Sunbird remained at Fnaitees on 11th-17th with a second bird there on 17th and, if that weren't lure enough for WP listers, was further enhanced by the discovery of the Western Palearctic's first ever White-breasted Waterhen at Jahra Pool Reserve on 14th-17th.
The week running up to Christmas offers generally slimmer pickings than the scraps from Ebeneezer Scrooge's table. Which is to say, there's not a great deal of stand out historical mega quality to provide our birding daydreams with much substance.
Gulls of one shape, kind or another remain a decent bet this week – and, indeed, for the next couple of months – but perhaps we could look to recent sightings for a clue to slightly more exotic fare – the coming week being a fair one for Penduline Tits, with six historic records on the books. One for the keen local patch-worker to find, maybe.
As for one last mega rarity – are we in for an unexpected, juicy Christmas turkey this year or will the coming week just be a bit of a turkey?
Wait and see. It all depends on whether you've been good this year.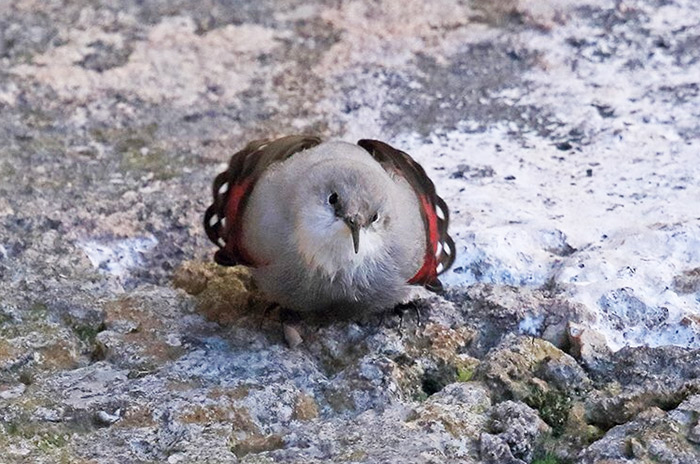 Jon Dunn
18 December 2019
Many thanks to all contributors for their photos and videos this week.
Share this story
Tweet