Weekly birding round-up: 4 - 10 Dec
Northumberland scores a fly-by Ivory Gull
And the Hermit Thrush remains on Scilly
Perhaps the prospect of yet more politics was just too depressing, and a nation's birders elected to sit in a darkened room rather than venture outside. Or maybe there just weren't an awful lot of decent birds on offer this week.
Either way, it was a quiet one. Time to take to the hustings that's our first December Rarity Round Up and see what gets a big inky X in the box next to its name.
(We could do worse than electing a vagrant Arctic gull with a penchant for feeding on carrion. In fact, we probably will…)
Those of us of a certain vintage will have fond memories of southern birds that stuck around for a while – somewhere or other I've got a VHS tape with footage of the popular bird that haunted the beach at Aldeburgh on 7th-31st December 1999, Suffolk's one and only record to date.
Ivory Gull
It's nice to occasionally have one of our wistful, wishful-thinking, closing predictions actually come true during the week. A bit like sticking a couple of quid on the lottery, actually getting three numbers right, and seeing a modest return on the dream.
Last week we concluded these columns by noting the time of year was absolutely bob on for something ermine-clad from the Arctic… and no sooner had the new week begun than just that happened when an Ivory Gull was found heading north past Inner Farne (Northumberland) on 4th.
Not, then, a bird for general consumption and enjoyment – but it's early days yet and, with plenty of the winter still stretching out ahead of us, there's time yet for some frigid northerlies to usher in another bird or two and, perhaps, one that's more generally available.
Another would be good, please.
Hermit Thrush
Just when I was daring to think that the Hermit Thrush on St Mary's (Scilly) might actually be making a go of staying there for the entire winter or, at the very least, seeing in the New Year there, it only went and upped sticks this week, being last reported from the island on 7th.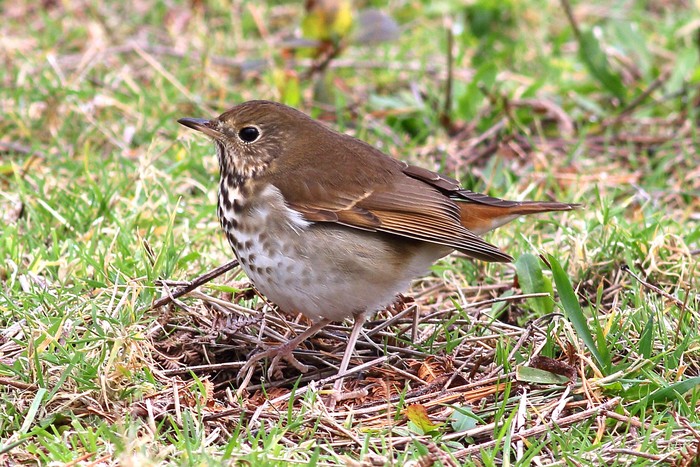 Not, however, that I'm entirely ruling out it reappearing at some point in the future as, after all, St Mary's has plenty of lush cover throughout the year in which a vagrant thrush could usefully hide itself. But for now, it looks like the bird's long stay may be over. Present since 18th November, it had stuck around for a full 20 days, more than twice as long as the longest-serving previous Hermit Thrushes, putting a record-breaking duration under its feathery belt.
By quite some margin this past week proved to be the quietest one we've had for seabirds in a very, very long time indeed. Our recent stalwart, the adult Pomarine Skua at Donna Nook (Lincolnshire), kicked things off as the week got under way, remaining in the seal colony there on 4th, but decamped after that… leaving just a handful more birds to be seen this week. Two were off Saltcoats (Ayrshire) on 5th; and then, on 9th, a small flurry of sightings came from Titchwell RSPB (Norfolk), Landguard NR (Suffolk), Sheringham (Norfolk), Gibraltar Point NNR (Lincolnshire), Felixstowe (Suffolk), and St Ives (Cornwall). All were single birds bar five at Sheringham and two at Gibraltar Point NNR.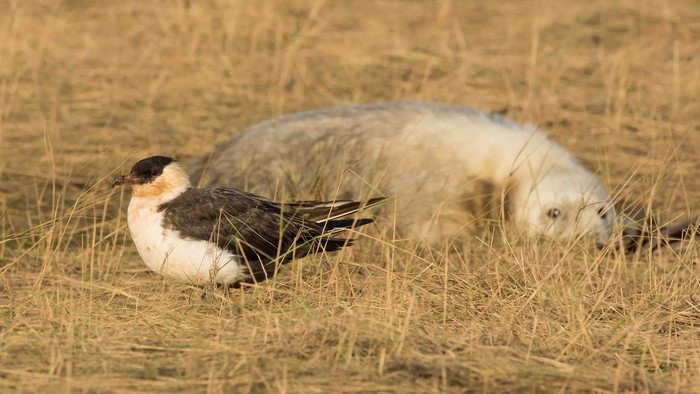 Which leaves only Little Auks to report upon, and little was the operative word this week with just four (live) birds seen – one from Thurlestone (Devon) on 5th, another from Papa Westray (Orkney) on 7th and, on 9th, singletons in Dunnet Bay (Highland) and off Blacksod Pier (Co.Mayo).
Our long-legged beasties, on the other hand, enjoyed something of a late flourish this week, with both some numbers and some modest variety amongst them.
Top billing has to go to the juvenile Purple Heron found at Eagland Hill (Lancashire) on 4th-10th – a late bird, by any standards and, as such, a popular one for north-west birders.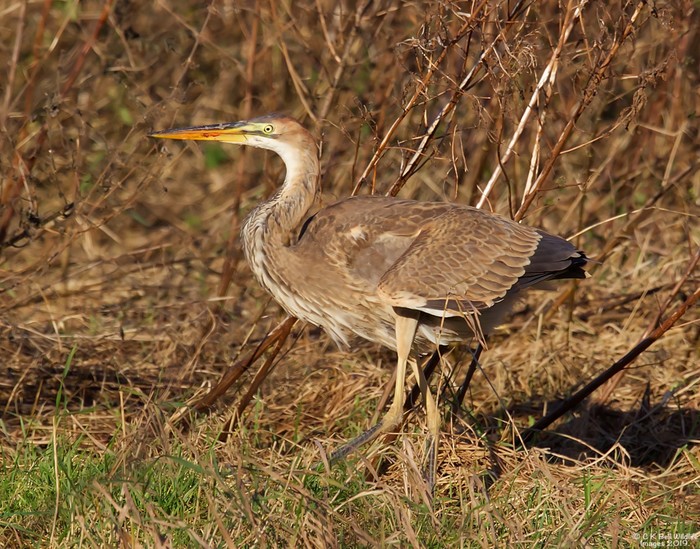 Glossy Ibises featured strongly once again, with two birds wandering in Kent – sightings from the county came again at Worth Marsh on 4th-7th; and from Stodmarsh NNR on 4th, Sandwich Bay on 7th and, on 8th, Walmer Beach and Dungeness RSPB, remaining at the latter site on 9th. Elsewhere, the Fremington Pill (Devon) bird was again seen on 5th, and the Newport Wetlands RSPB (Gwent) individual once more on 4th. A final report came of a bird at Minsmere RSPB (Suffolk) on 5th.
A flock of nine Common Cranes seen on 4th over Blacktoft Sands RSPB and Goole Fields (East Yorkshire) appeared to fragment in two, with three birds seen again at Goole Fields on 5th and, latterly, Alkborough Flats (Lincolnshire) on 7th; and six birds at Hatfield Moors NNR (South Yorkshire) on 5th. A single bird was a good London sighting, noted over Alexandra Park on 5th; and four birds were logged at Manea (Cambridgeshire) on 6th.
In the lean times of British and Irish birding this week, we've a lot to thank our honkers and quackers for. They continued to provide reliable colour and variety although, in common with everything else, numbers of many hitherto relatively numerous species seemed to be falling.
Our only example of The Goose Formerly Known As Canada for much of the week was a canadensis Atlantic Canada Goose found in Norfolk on 8th at Cley NWT; and then, on 10th, two possible interior Todd's Canada Geese were found near Scrabster (Highland).
The possible Grey-bellied Brant remained this week at Castle Stuart (Highland) on 5th; two more possibilities were found in Highland at Nairn on 6th-7th.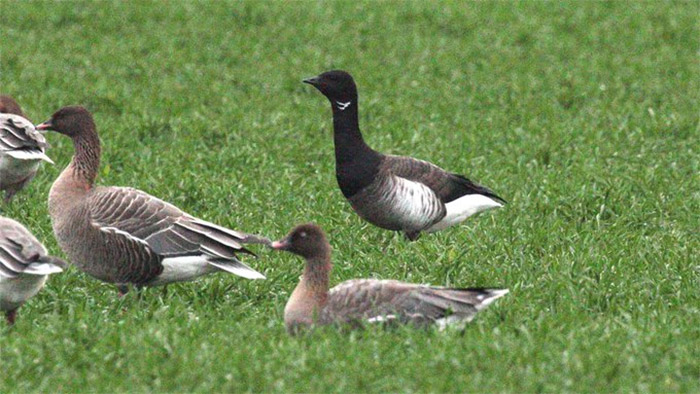 Essex dominated our sightings of Black Brants this week, with two birds at West Mersea on 5th followed by one bird there until 8th, another at Brightlingsea on 8th, and one at Blue House Farm EWT on 6th-7th. The recent Poole Harbour (Dorset) bird was seen from Arne RSPB on 7th, with another at Gibraltar Point NNR (Lincolnshire) on 7th also. In East Yorkshire the recent bird was once again noted at Kilnsea on 7th.
The recent possible Ross's Goose hanging out with Greylags near Thurso (Highland) finally gave itself up with better views on 6th – not a Ross's but, all the same, still a satisfying candidate for a wild Snow Goose. Other Scottish Snow Geese with a feel-good factor this week were the white morph still on North Uist (Western Isles) on 8th, and a blue morph at Loch of Skene (Aberdeenshire) again on 5th and 9th. English birds, meanwhile, involved a blue morph on 5th at Warton Bank (Lancashire) and another bird, much further south, at Exminster Marshes RSPB (Devon). Those and a burgeoning feral population in Oxfordshire…
Less contentious all round, up on Orkney the recent highlight of all our wildfowl remained on Papa Westray on 4th, but wasn't seen thereafter – fingers crossed that the young drake Steller's Eider has merely relocated slightly within the archipelago and hasn't fallen foul of any mishaps. We need him to last a couple of years and grow some dandy adult plumage...
An unconfirmed report of a King Eider came from the Norfolk coast between Burnham Overy and Holkham on 4th also.
The Northumbrian drake Black Scoter was seen again off Goswick on 7th; while in Lothian a report of the drake White-winged Scoter came again off Musselburgh on 7th.
The regular Musselburgh Surf Scoter was seen again on 6th-7th, while another drake was logged again from Old Colwyn (Conwy) on 4th-8th and a further drake was seen in Orkney from Quanterness on 7th.
The stand-out duck in the southwest this week was in Devon, where the juvenile drake Blue-winged Teal remained at Man Sands on 4th-9th.
In Cornwall, the female Lesser Scaup continued to haunt Stithians reservoir on 6th-8th; in Hampshire, the Blashford Lakes HWT drake Ferruginous Duck was seen again on 5th.
Numbers of Ring-necked Ducks held firm, with 25 birds logged across the region. Multiple birds were seen at several sites – two remained on Tiree (Argyll & Bute) on 4th-6th; quartets were logged on Lough Gara (Co.Sligo) again on 6th and on the Devon/Cornwall border at Upper Tamar Lake on 7th-9th; and six birds were still to be seen on Lough Yganavan (Co.Kerry) on 4th.
Eight Green-winged Teals this week again comprised four settled birds – at Chew Valley Lake (Somerset) still on 4th-6th; Blacktoft Sands RSPB (East Yorkshire) still on 4th-9th; on South Uist (Western Isles) again on 4th-6th; and in Ireland at Blennerville (Co.Kerry) still on 6th. One more bird was found at Big Waters NR (Northumberland) on 7th-9th. On 9th one was found in Wick (Highland), with another seen once more that day on Islay (Argyll & Bute). On 10th our final individual was seen at Doonfoot (Ayrshire).
Finally, Northumberland provided our sole American Wigeon this week – the drake still present on Grindon Lough on 7th.
<!—Section Title -->
A little variety was injected into what would otherwise have been wall-to-wall dowitchers this week by the discovery of an American Golden Plover in Ireland at Moveen (Co.Clare) on 5th.
And those dowitchers? All three recent English first-winter Long-billed Dowitchers remained on offer in recent days – on Cresswell Pond NWT (Northumberland) until 10th, Campfield Marsh RSPB (Cumbria) until 9th, and down in Devon at Bowling Green Marsh RSPB until 10th.
With white-wingers still very much an understated understudy this early in the winter performance, American gulls continued to provide star-billing in the week's gulls'n'terns lately.
None more so than the adult Bonaparte's Gull seen passing over a Whitburn (Co.Durham) garden on 8th – a stupendous garden tick. Another bird, a first-winter, was found on 8th in Ireland at Killybegs (Co.Donegal).
Four of the week's half dozen or so Ring-billed Gulls were seen in Ireland too - at Tralee Bay Wetlands Centre (Co.Kerry) again on 5th-6th; in Co.Louth at Blackrock again on 8th; at Broad Lough (Co.Wicklow) on 8th; and again at O'Callaghan's Strand (Co.Limerick) on 9th. In Wales, the adult bird was once more seen at Llys-y-Fran reservoir (Pembrokeshire) on 4th. A possible bird was seen in Cornwall at Porth reservoir on 7th, whilst a definite first-winter bird was on the Hayle esturary on 8th.
Orkney gave us our only Kumlien's Gull this week, a second-winter individual seen from Birsay on 5th. Numbers of other white-wingers lifted, modestly, in the wake of recent winds from a northerly vector…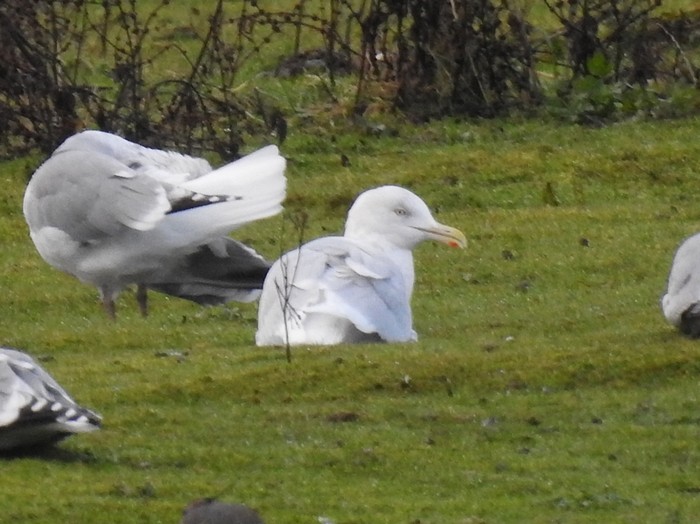 Some 20 Iceland Gulls were logged this week, with a notable lift in sightings on 8th when nine birds were recorded. All were single birds bar duos seen on 8th on the Hayle estuary (Cornwall) and at Killybegs (Co.Donegal).
A shade over 20 Glaucous Gulls were noted this week, with Unst (Shetland) again dominating sightings – with a peak count of five birds from the island on 8th. Away from Unst, duos were seen on Papa Westray (Orkney) on 4th, Whitburn CP (Co.Durham) on 7th, and Killybegs (Co.Donegal) on 8th.
Finally, a Sabine's Gull was reported off Dungeness (Kent) on 9th.
It seems odd to think of something as substantial as a White-tailed Eagle being anything but blindingly obvious but, when one has chosen the vastness of Yell (Shetland) as its temporary home, that means there's plenty of middle-of-nowhere in which to lose itself. Not reported for over a week, the recent immature bird was once again seen on the island on 7th.
The two recent settled juvenile Rough-legged Buzzards remained at, respectively, Wells (Norfolk) until 10th and Bawdsey/Ramsholt (Suffolk) until 10th. A further Suffolk sighting came from Lakenheath Fen RSPB on 4th. Another was seen further inland at Fen Drayton Lakes RSPB (Cambridgeshire) on 6th; and a further juvenile was found down in Kent at Funton Creek on 7th-10th.
Next, a word of warning. While we concluded last week's Round Up with optimistic words about the likelihood of a wayward Gyr being found at this time of year, a timely reminder came this week of a frankly amazing act of gross ecological irresponsibility in Scotland – the issuing of a licence by Scottish Natural Heritage on 9th May for the release "no more than 150" Gyrs into the Moray countryside between 1st June and 15th September.
The questionable legality of the release of such numbers of a large predator into the countryside aside, there has to be the question of whether some of those birds go astray. Granted, they're presumably ringed but, all the same, given poor views one could easily miss that…
And finally, another ermine-clad executioner, but one of less questionable provenance – the male Snowy Owl was seen once more this week on Eday (Orkney) on 5th.
Top of the passerine news this week concerned the recent candidate Paddyfield Pipit at Sennen (Cornwall), present there on 23rd October – 14th November. Thanks to those clever folks at the University of Aberdeen and their dark DNA arts, we've got confirmation that bird was, indeed, a Paddyfield Pipit - a quite remarkable record and one that, when we come to consider what the bird of the year was in 2019, will surely be up there with the more glamorous options of Brown Booby or Tengmalm's Owl.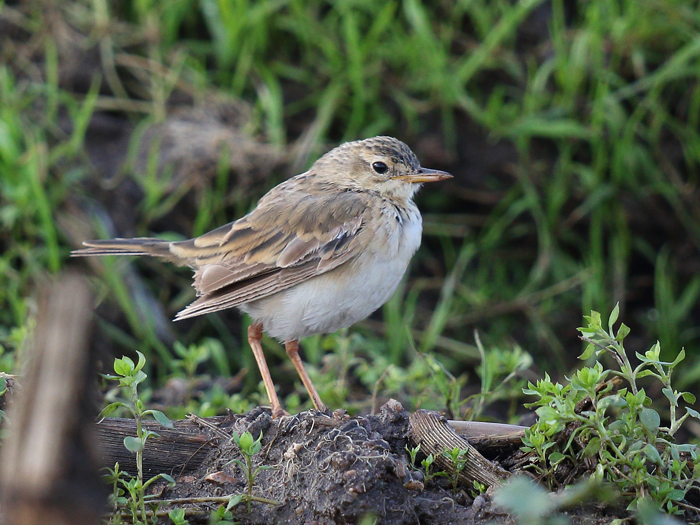 However, that was then, and this is now, and we've not got an awful lot of passerine news to share from recent days. Perhaps best of the bunch was the lingering eastern Stonechat sp, still considered most likely to be a Siberian Stonechat, at Hollesley Marshes RSPB (Suffolk) this week on 4th-9th.
(If only the reported male Siberian Thrush in Rathnangan (Co.Wexford) on 8th had been firmed up… then we'd have had some serious headline news…)
The Pallas's Warbler remained in Cot Valley (Cornwall) on 4th.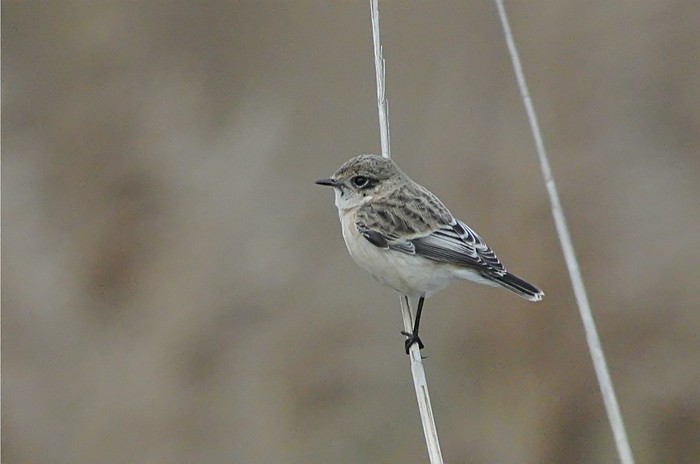 Half of our Yellow-browed Warblers were birds that had already been found in days gone by – birds that remained this week at Bude Marshes (Cornwall) on 4th; Greylake RSPB (Somerset) on 4th-8th; Alrewas (Staffordshire) on 4th-9th; and Filey Dams NR (North Yorkshire) on 4th-9th. A new bird was found on Anglesey at Holyhead on 9th, while Dorset supplied the balance of our new sightings – individuals found at Lytchett Bay on 4th-9th, West Bexington on 5th and at the sewage works of Gillingham on 7th – a reminder, the latter record, of the warbler-friendly joys of your local sewage works bushes. Always worth checking at this time of year for a Yellow-browed or Dusky Warbler.
Waxwings continued to maintain a strong daily presence in the news, with around 1,000 birds reported over the course of the week. Peak count came, this week, from Aberdeenshire where 112 were seen in Inverurie on 6th, while 80 in Blyth (Northumberland) on 4th served as a reminder that they're filtering south too.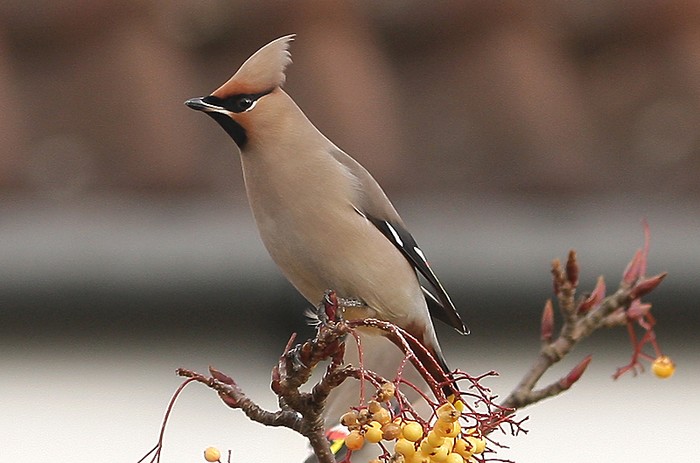 Wintering Great Grey Shrikes remained settled on territories across England. Birds were reported again this week at Lilbourne (Northamptonshire) on 4th-9th; Brogborough Hill (Bedfordshire) on 4th-7th; Holm Hill (Hampshire) on 4th-7th; Hatfield Moors NNR (South Yorkshire) on 4th-9th; Crabtree Hill (Gloucestershire) on 6th; in Ashdown Forest (East Sussex) again on 7th; and in Wareham Forest (Dorset) on 7th-9th. A final bird was seen in West Sussex at Cissbury Ring on 4th, and a possible bird was reported from Cornwall near Mithian on 9th.
Lastly, the Coue's Arctic Redpoll remained in Voe (Shetland) on 6th-8th.
Our overseas news this week is headlined by the unlikely exoticism of the Western Palearctic's fourth ever Purple Sunbird, found in Kuwait at Fnaitees on 6th-9th.
In Israel, meanwhile, a warriae Basalt Mourning Wheatear was present at Upper Wadi Hayun on 4th-9th.
Remaining far afield, the Dwarf Bittern continued its long Canarian residency on Fuerteventura on 4th-10th still.
Speaking of familiar faces, the Pygmy Cormorant was once again seen in Belgium at Parc Domaine du Val Duchesse on 5th. The week also featured Belgium's first Siberian Rubythroat, a male bird unfortunately slain by a cat at Haillot on 4th.
Siberian Rubythroat found dead, killed by a cat, in Haillot, Province of Namur 4th December 2019, photo by Jean-Sebastien Rousseaut-Piot - the 1st record for Belgium pic.twitter.com/93ORWQ3Ggt

— Tarsiger (@TarsigerTeam) December 6, 2019
Austria scored a Western Rufous Turtle Dove at Pöstlingberg on 5th-8th, the second national record.
Sweden kept on adding to an already glittering annual haul with an Eastern Yellow Wagtail at Gislovslage on 10th; Denmark, meanwhile, enjoyed a Brunnich's Guillemot at Hvide Sande on 10th also.
Continuing the species' unprecedented visitation to Europe this year, a Brown Booby had entered the Mediterranean this week, being seen from Italy at Voltri on 7th – the sixth record for Italy.
In Spain, the country's second Brown Shrike remained at A Coruna on 4th-10th, while a Sociable Lapwing was found at Olivenza on 8th.
Finally, in Poland the returning drake Stejneger's Scoter was back in Gdansk this week on 5th-10th for its third consecutive winter, while a Black Scoter was found in Germany at Nieby on 10th.
The past week has been something of a chastening reminder that, come this time of year, things do tend to quieten down. December, despite what the wags might opine, isn't yet the new October…
That said, we're still in with a fighting chance of a decent bird or two before the year draws to a close. The coming week, ushered in by a good westerly blow, boasts some historic Nearctic quality that gives some succour for the optimists amongst us.
Single past records apiece of Slate-coloured Junco and White-throated Sparrow, both birds that were set to winter, serve as a reminder that even a domestic bird feeding station might lure a good bird.
They're long shots though. Statistically more likely would be a gull coming in off the Atlantic, perhaps an American Herring or Laughing Gull.
And then there are always waders – it's surely worth checking a tidal creek or two for a Spotted Sandpiper, while five past records for the coming week of Killdeer remind us that we can dare to dream a little bigger too…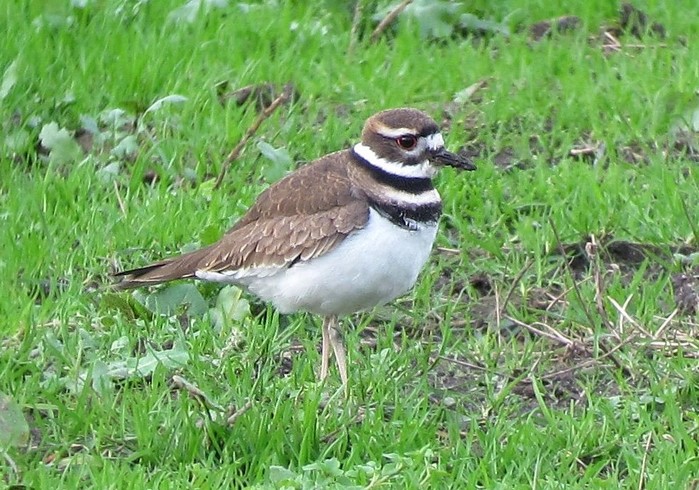 Jon Dunn
11 December 2019
Many thanks to all contributors for their photos and videos this week.
Share this story
Tweet