Weekly birding round-up: 20 - 26 Nov
The week at a glance
Scilly's Hermit Thrush remains for a few days
While Norfolk scores a Lesser White-fronted Goose
Definitely an increasingly wintery feel in the air of late, with some frosty mornings, thick fog, torrential rain or combinations of any of the preceding for us this week, depending on where in the country one was. A hint of an east in the wind helped raise hopes a little midweek, but realistically we're all bedding in for the winter now – though still wondering what lingering goodies might yet pop out of the woodwork.
Hermit Thrush
No week lately seems to be complete without some sort of starring role for Scilly and, goosy goings on in Norfolk notwithstanding, this week is no exception. Britain's latest ever Hermit Thrush, found the preceding week on 18th, saw fit to hove into view once more on St Mary's on 20th-21st before, not unreasonably, appearing to call it a day. We're staring down the barrel of December, after all.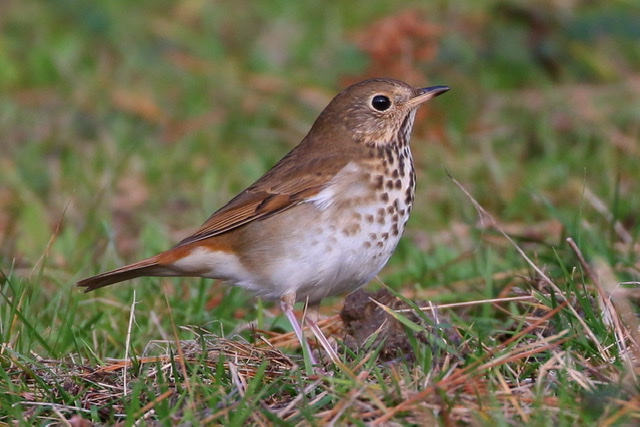 And then, just when anybody so inclined had written off a weekend jaunt to Scilly, there it was again on 24th-26th, bringing its stay to over a week in duration, and counting…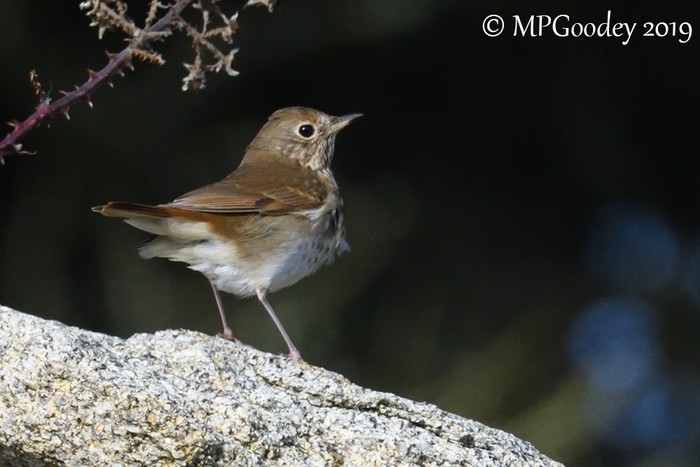 Hermit Thrushes, based on the admittedly rather small sample of prior British records, tend not to stick around for more than a couple of days. Our longest staying birds, to date, are the Tresco (Scilly) individual of October 1993, and that seen on Barra (Western Isles) in October 2010. Both clung on for eight days apiece, so this bird's surpassed that record.
How long this already late bird remains on St Mary's remains to be seen. Conventional wisdom would have it that it should be long gone by now. Maybe the mild surroundings of St Mary's are going to keep it anchored there a while longer yet…
Lesser White-fronted Goose
Norfolk, meanwhile, like a particularly persistent dog working the scraps from a juicy bone, also continues to deliver almost weekly good birding news lately. News of a Snow Goose seen passing over Lincolnshire earlier in the week would have been inducement, were any needed, for Norfolk's goose flocks to get a good daily grilling, but something rarer still was destined to emerge, albeit briefly, in the fields south of Langham on 22nd, heralded by cold easterlies and a vanguard of Tundra Bean Geese.
That something being in the always lovely form of an un-ringed adult Lesser White-fronted Goose hanging out with the Pink-footed Geese. The lack of a bracelet hopefully allaying fears of this being a bird from any sort of reintroduction scheme…
Lesser White-fronted Geese have, as every reality TV wannabe ever is fond of saying, been on a journey. And we don't just mean the one that wafts them across the North Sea. Seemingly an annual and regular fixture of the 1980s, they began to stutter in the 90s and then, at the turn of the century, more or less dried up altogether.
In fact, since 2000 we've just four accepted records, presumed to relate to just three birds – one on North Uist (Western Isles) on 17th February 2001, another in Gloucestershire at Slimbridge WWT on 16th-28th February 2003, and what's assumed to be the same bird seen on consecutive winters in Norfolk at Buckenham Marshes RSPB on 13th December 2010 – 31st January 2011 and on 27th December 2011 – 19th February 2012.
Which tells us that not only have they become hard to come by in Britain but, were one to hope to see one of these golden eye-ringed beauties anytime soon, the grey goose flocks of Norfolk would be a good place to start looking and, touch wood, once pinned down there's a fair chance any bird in question would stick around for a while to give us a sporting chance.
Not, however, the case just yet with this bird, as it's not been seen since that initial sighting on 22nd.
The return of the recent regular wintering adult Pacific Diver in Co.Cork at Crookhaven – a bird still present this week on 22nd at least – was always likely to herald the finding of one of the recent annual Cornish birds too, and so it proved this week with the discovery of an adult bird off Penzance on 23rd-25th.
Astonishing to think that these birds were once the stuff of drop everything and go go go! twitches, and are now reliable wintering staples.
A solitary Balearic Shearwater was seen from The Lizard (Cornwall) on 21st.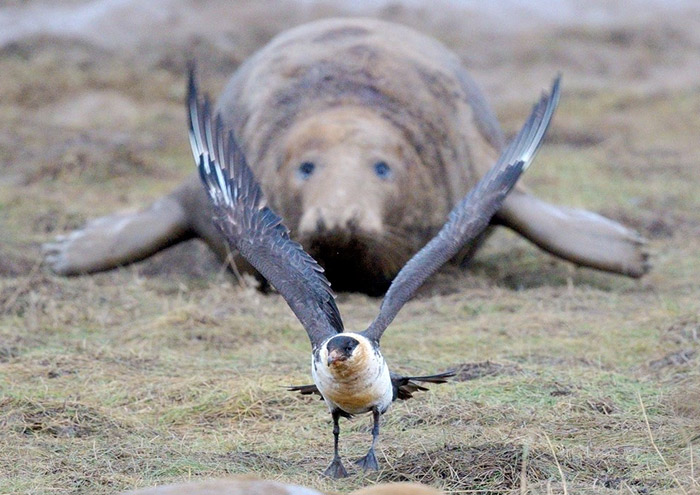 Sightings of Pomarine Skuas dried up almost entirely this week, with just a trickle of birds on the move – and one that wasn't, in the form of the adult that had taken up residence at Donna Nook (Lincolnshire) until 26th. Other sightings came in the form of three off The Lizard on 20th, two seen off Berry Head (Devon) on 20th also, and single birds off Anstruther (Fife) on 20th, Flamborough (East Yorkshire) on 21st, and on 25th Dungeness (Kent) and Minsmere RSPB (Suffolk).
Hand in hand with their reduced numbers came a dearth of Little Auks, with around 50 birds in all seen nationwide over the course of the week. 33 birds passing Sumburgh (Shetland) on 22nd made up the bulk of them; while the most notable of the lot was arguably the tenacious recent bird that remained extant at Abberton reservoir on 20th, the latter date marking what appears to be the end of a week-long stay. In the interests of happy endings, let's call it a stay and not a steady decline…
Our long-legged beasties were lonelier than a tower crane driver this week, with just a trio of Glossy Ibises to enliven an otherwise steady procession of the staple Cattle and Great White Egrets…
One was seen again at Newport Wetlands NNR (Gwent) on 23rd, preceded by newcomers at Thornham Harbour (Norfolk) on 21st-26th and in Kent at Stodmarsh NNR on 22nd-24th – the latter bringing back fond - if that's the right word for the countless hours spent braced in a cheap rip-off waxed jacket against the bitterly cold wind on the Lampen Wall - memories of the regular bird that used to perform early evening fly-bys back in the day. That is, in the late 80s and early 90s. Damn, that makes me feel old. Back in the present, presumably the same bird seen earlier in the week in Kent was found on 26th at Lydden Valley RSPB (Kent).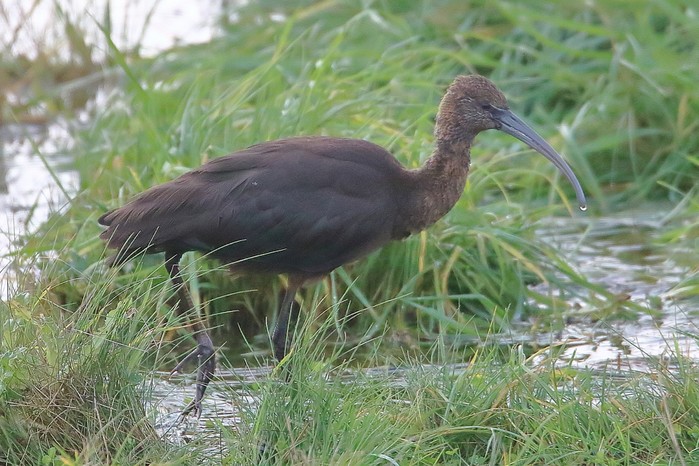 Two Common Cranes were seen on 25th at Hatfield Moors NNR (South Yorkshire).
A late Spotted Crake was seen on 23rd in Co.Durham at South Hylton.
While other sections of the news are fast becoming pale shadows of their autumn glories, our honkers and quackers are getting busier than the enclosures of Slimbridge at feeding time.
(Sorry, slightly unfortunate metaphor there, but in another week that was bursting at seams with a dismal roll-call of questionable Ferruginous Ducks and dodgy Bufflehead and Hooded Merganser, it seems apposite…)
Starting with The Goose Formerly Known As Canada, an interior Todd's Canada Goose added further lustre to Norfolk's week, seen on 22nd near Langham, Binham on 23rd and Weybourne on 24th-25th. Up on North Uist (Western Isles) the two recent hutchinsii Richardson's Cackling Geese remained present on 21st-23rd, with further sightings on 22nd at Loaningfoot (Dumfries & Galloway) and Mersehead RSPB again (Dumfries & Galloway) on 24th-25th. Another interior Todd's Canada Goose was seen on North Uist on 26th.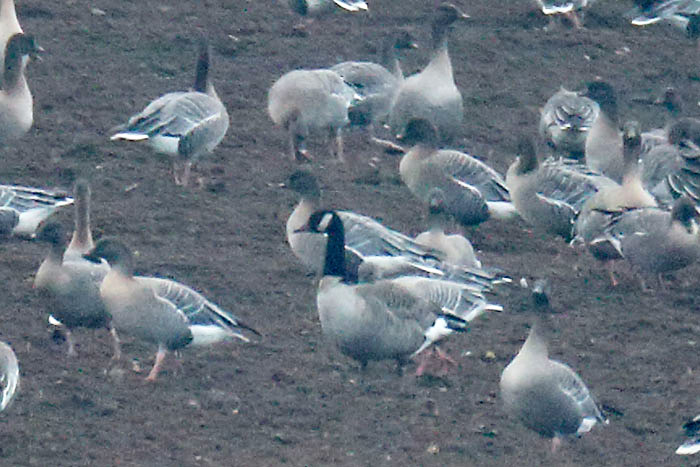 North Uist retained its Snow Goose until 26th, with another white morph again at New Cumnock (Ayrshire) until 25th. Aberdeenshire supplied sightings of blue morphs near Kemnay on 20th and at Loch of Skene on 21st. an intermediate morph completed the spectrum at Alturlie Point (Highland) on 22nd; and a white morph was found on 25th near Douglas Water (Clyde).
Two Black Brants were logged early this week – one still on The Fleet (Dorset) on 20th, and the other in Suffolk at Falkenham Marshes on 23rd-24th – with two more seen as the week closed on 26th, one apiece at Stiffkey (Norfolk) and at Mersea Island (Essex) again. A possible Grey-bellied Brant was found in Highland at Castle Stuart on 24th-26th.
And so to ducks and, of course, the rarest of the lot was the juvenile drake Steller's Eider still finding the waters off Papa Westray (Orkney) to his liking until 25th at least.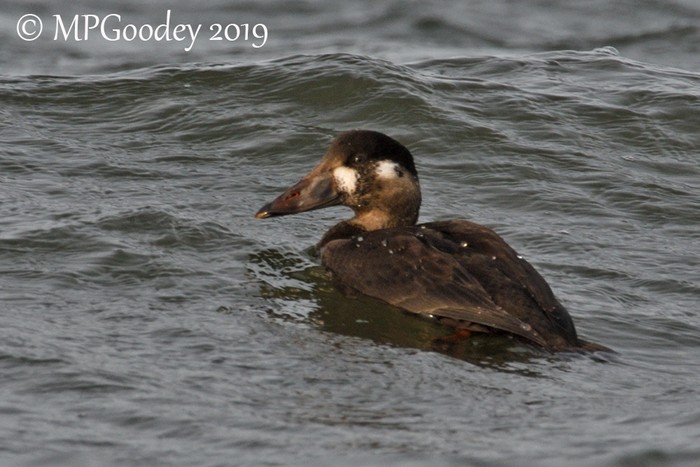 Scotland supplied the rest of the week's triumvirate of the rarest quackers in the form of the drake Black Scoter still in Lunan Bay (Angus) on 20th-23rd, and the drake White-winged Scoter still in Lothian off Musselburgh on 20th-23rd.
A drake Surf Scoter remained with the latter bird during that time, but further afield a scatter of further Surf Scoter were seen – one was in Scilly off St Mary's on 20th—26th, while another was seen again in Tor Bay (Devon) on 20th and 25th; and, in Ireland, a drake was found off Ballyvaughan (Co.Clare) on 21st and a female in Brandon Bay (Co.Kerry) on 23rd. On 24th one was seen off Tentsmuir (Fife), and another was logged from Arran (Ayrshire); and, on 25th, one was seen in Largo Bay (Fife).
Just one Lesser Scaup was seen this week, still on Stithians reservoir on 22nd-25th; though the Blashford Lakes HWT (Hampshire) bird was reported again on 26th.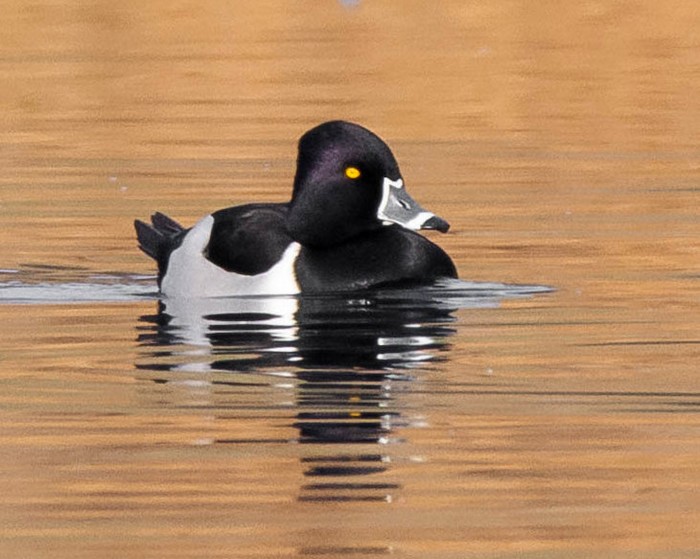 Ring-necked Ducks meanwhile just about managed to scrape into double figures. English birds were seen again at Slapton Ley (Devon) on 20th-25th; on Johnny Brown's Common pond (West Yorkshire) on 20th-26th; on Abberton reservoir (Essex) again on 20th-24th; and on Pine Lake (Lancashire) still on 21st-26th; with another bird found in Bedfordshire at Cuckoo Bridge Lake on 20th-22nd. One remained in Scotland on Barra (Western Isles) on 21st-24th; one was present on Skokholm (Pembrokeshire) on 20th; and, in Ireland, one was seen on Lough Yganavan (Co.Kerry) still on 20th and another at Inch Island Lake (Co.Donegal) on 24th. On 25th a quartet – two adult drakes, a first-winter drake, and a female – were found at Upper Tamar Lake (Devon), with four or five birds reported from there still on 26th.
In Devon the female or juvenile drake Blue-winged Teal remained at Man Sands on 21st-26th, and the female bird was seen once again in Co.Wexford at Tacumshin on 22nd.
Green-winged Teals faded from the news in some numbers this week, with just a few birds initially reported – on South Uist (Western Isles) still on 21st; on North Ronaldsay (Orkney) still on 21st; and on Chew Valley Lake (Somerset) still on 21st-26th. On 24th further records came from Blennerville (Co.Kerry) and Wacker Quay (Cornwall) once more, while on 25th the Co.Kerry bird was still present at Blennerville, and another was seen once more at Wall Farm NR (Shropshire). On 26th one was again seen at Blacktoft Sands RSPB (East Yorkshire), while the Wacker Quay bird remained present that day too.
A female American Wigeon was found this week in Northumberland at Warkworth Lane Pond on 21st; and a drake was again seen in Highland at Clachnaharry on 23rd, and another sighting came again at Loch Eye (Highland) on 25th. On 26th a final bird for the week was found at Cley (Norfolk).
<!—Section Title -->
Pick of a rapidly denuded crop of shorebirds this week remained, in Hampshire, the first-winter Semipalmated Sandpiper still present at Pennington Marshes on 20th-25th.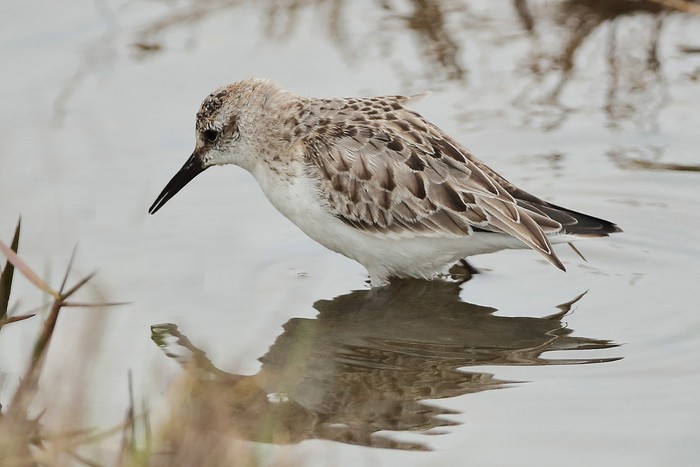 Three settled first-winter Long-billed Dowitchers made up the balance of the rare waders, respectively still present at Cresswell Pond NWT (Northumberland) until 26th, Campfield Marsh RSPB (Cumbria) until 23rd, and in the southwest at Bowling Green Marsh RSPB (Devon) until 26th.
Finally, a Grey Phalarope was seen in Devon from Berry Head on 20th.
Cream of the gull crop this week was the first-winter Laughing Gull found on 24th at Mizen Head (Co.Cork); while a probable adult Bonaparte's Gull was seen on the Exe estuary (Devon) at Cockwood on 25th.
Ireland also continued to set the pace this week for Ring-billed Gulls - birds remained at Nimmo's Pier (Co.Galway) on 20th, Doorly Park in Sligo (Co.Sligo) on 21st, and at Blackrock (Co.Louth) still on 22nd-24th; a further adult was found on 23rd at O'Callaghan's Strand in Limerick (Co.Limerick). St Mary's (Scilly) scored a near adult bird on 21st-22nd, the sole English representative this week.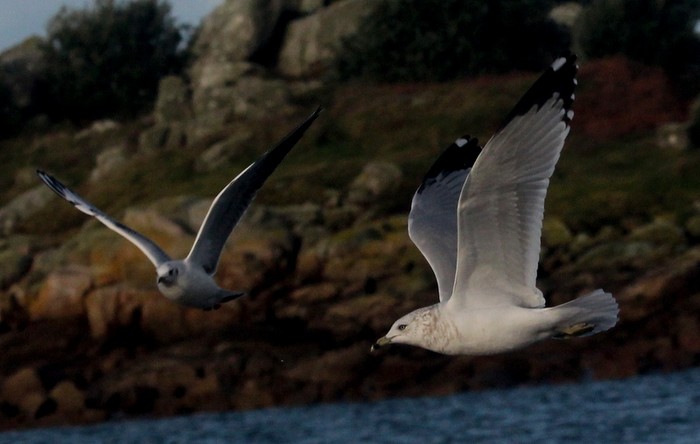 Numbers of Iceland Gulls took a tumble, with just nine birds reported nationwide. Scottish examples were seen on North Uist (Western Isles) on 21st, on Skye (Highland) on 22nd-24th, and at Durness (Highland) on 25th. English sightings came from North Shields (Northumberland) still on 20th-26th, on the Hayle estuary (Cornwall) on 20th-21st and again on 26th, at Stapleford (Cambridgeshire) again on 23rd, and at Oldham (Greater Manchester) on 25th. Irish birds were noted at Ventry (Co.Kerry) on 22nd and Tramore (Co.Waterford) still on 22nd-24th also.
Glaucous Gulls, meanwhile, were almost exclusively the limited preserve of Shetland – birds were seen this week on Yell on 22nd-24th, Whalsay on 22nd, Unst on 23rd, and Fair Isle on 23rd also. North Uist (Western Isles) got a bird on 21st; and one was seen again in Northumberland at North Shields on 23rd. On 25th South Shields (Co.Durham) got a look in, while further birds were seen that day on North Ronaldsay (Orkney) and in Killala harbour (Co.Mayo). On 26th two birds were seen on Lewis (Western Isles).
Shetland, and Yell in particular, provided the week's biggest raptor news with the sighting of a wandering juvenile White-tailed Eagle on there on 22nd.
Otherwise, though, our attention remained riveted on a handful of Rough-legged Buzzards amongst which the Wells (Norfolk) bird from the previous week remained the most reliable individual, being seen there until 26th still. Another Norfolk sighting came from Hunstanton Cliffs on 20th, with a probable bird seen on 21st at Blakeney freshmarsh and further sightings on 24th and 26th at Holkham NNR. Cambridgeshire records came from Ouse Washes RSPB still on 20th and then, on 22nd, a report of one near Chatteris seen from a moving vehicle.
Sustained by the timely intervention of some meal-worms, the Isabelline Wheatear remained at Cley (Norfolk) this week until 26th; another probable bird was seen on a boat 140 miles northeast of Aberdeen on 21st.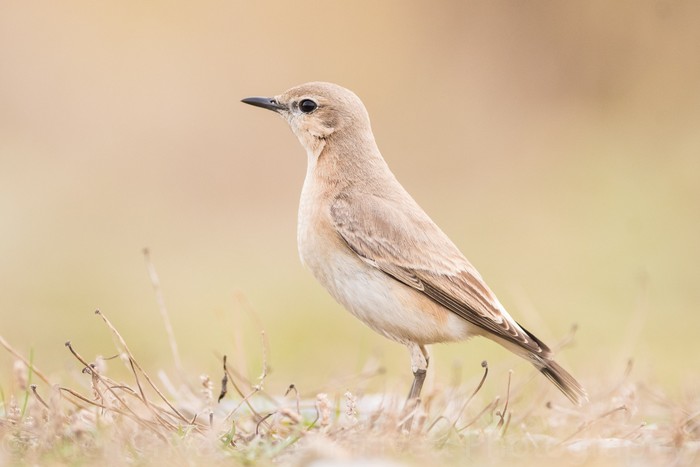 Shetland, rather muted in recent weeks, landed another Desert Wheatear on the slopes of Sumburgh Head on 25th. The bird proved to be rather mobile though, alas, not mobile enough – it appeared to be taken by a Merlin shortly after dawn on 26th.
The previous week's eastern stonechat sp remained at Langford Lowfields RSPB (Nottinghamshire) on 20th, with opinion erring towards Stejneger's Stonechat.
Pipits of all kinds, scarce and rare, were suddenly in short supply this week, with just one Richard's Pipit seen on 20th at Medmerry RSPB (West Sussex), and a possible Olive-backed Pipit found on 23rd at Sennen (Cornwall).
Warblers provided scant consolation and variety, with even Yellow-browed Warblers drying up – sightings came from Portland (Dorset) on 21st-25th, Shapwick Heath NNR (Somerset) on 22nd, and Titchwell RSPB (Norfolk) again on 20th-23rd. On 24th a small flurry of further birds were logged – at Kessingland (Suffolk), Donna Nook (Lincolnshire), and on St Mary's (Scilly). The Kessingland and St Mary's birds remained until 26th, with another on 25th at Minsmere RSPB (Suffolk).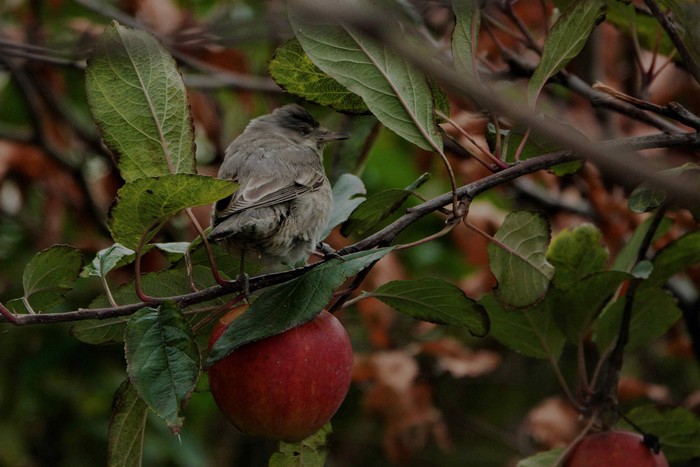 Just one Hume's Warbler remained, at Bempton Cliffs RSPB (East Yorkshire) on 20th still.
Find of the week, however, has to be the Pallas's Warbler found, most unexpectedly, inland at Paradise Fen LNR (Cambridgeshire) on 22nd-26th. Other, coastal, birds were seen on Portland (Dorset) on 20th, at Kilnsea (East Yorkshire) on 23rd-26th, Gibraltar Point NNR (Lincolnshire) on 24th and Kessingland (Suffolk) on 25th. On 26th Minsmere RSPB (Suffolk) got a final bird.
Cornwall contributed a Dusky Warbler at St Levan on 24th; with another found at Shanklin (Isle of Wight) on 25th.
The Barred Warbler remained at Hartlepool Headland (Cleveland) on 20th-24th; another possible bird was reported from Langstone Harbour (Hampshire) on 20th.
A probable Pallid Swift was seen at Cley (Norfolk) on 23rd.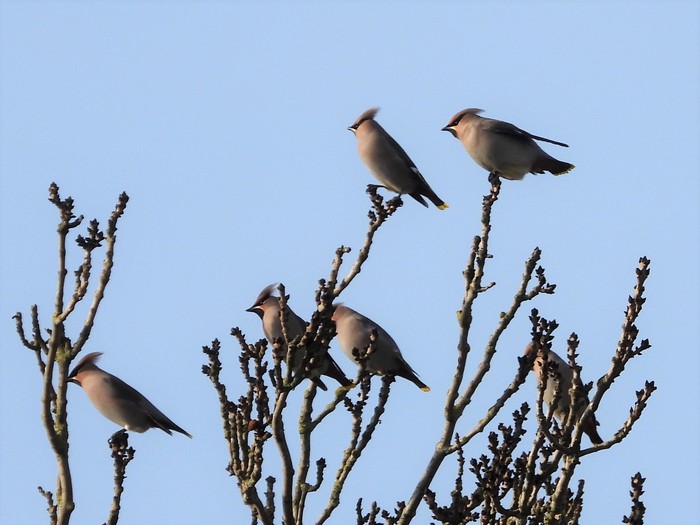 Waxwings, meanwhile, provided more seasonal diversion and again in some numbers – around 1,300 birds were reported, with the largest flock of all being at Kincorth (Aberdeenshire), rising from 200 birds there on 20th to some 300 present there on 23rd; the next nearest contender being Forres (Moray) where 150 birds were seen on 24th. English sightings seemed to be picking up too, with a flock of 110 birds seen passing over North Shields (Northumberland) on 24th particularly notable.
The late Red-backed Shrike remained at Porthcawl (Glamorgan) on 20th-21st this week. Settled Great Grey Shrikes were seen at Holmhill (Hampshire) until 24th; Wareham Forest (Dorset) until 26th; Brogborough Hill (Bedfordshire) until 25th; Lilbourne (Northamptonshire) until 22nd; Cannock Chase (Staffordshire) still on 20th; at Backwater reservoir (Angus) until 23rd; and in Langdale Forest (North Yorkshire) on 20th still, where two birds were recorded. On 26th a Hampshire sighting came from Ober Heath, while another bird was seen in Denbighshire near Llyn Brenig.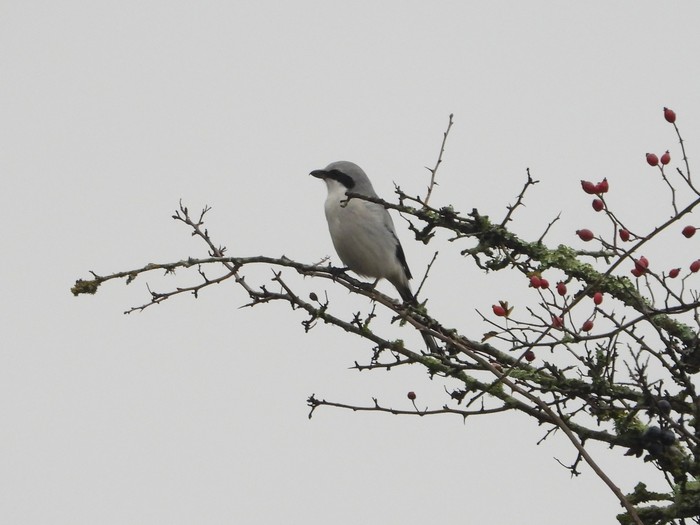 The juvenile Rose-coloured Starling was again seen at Eastriggs (Dumfries & Galloway) on 22nd-26th; while down in East Sussex the first-winter male Serin remained at Ticehurst on 20th-23rd, and another Serin was seen, briefly, on 24th in Glamorgan at Nash Point.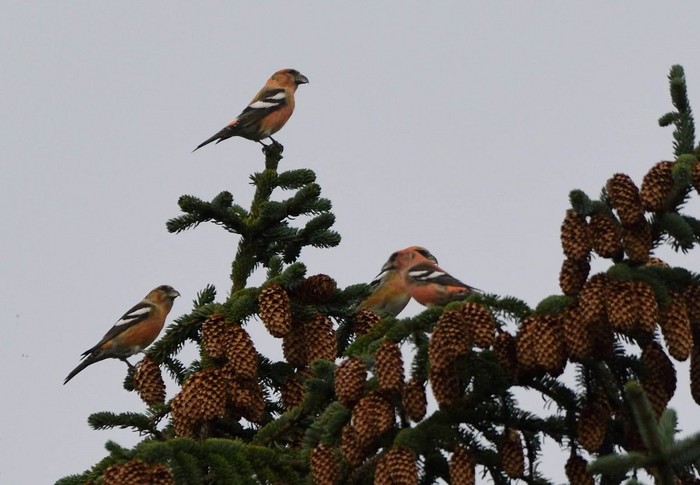 Finally, on 24th, seven Two-barred Crossbills remained ensconced in Langass Woods on North Uist (Western Isles).
We start a similarly peaceful overseas round up in Spain, where the seventh Killdeer for Spain remained at Cabo de Penas in Asturias on 21st; on 23rd, a Sociable Plover completed its 36th day at Embalse de Alqueba; and, on 24th, a Moussier's Redstart was seen in Malaga.
Offshore, in the Canary Islands, the resident Dwarf Bittern remained on Fuerteventura on 22nd-25th.
In France, a Pine Bunting, first found on 19th, remained at Manigod until 21st.
The weekend was marked by Sweden rocking the boat once more, this time with a Masked Wagtail found on 23rd at Getteron.
Finally, on 26th, Iceland's third ever Black-throated Thrush was found at Stöðvarfjörður.
If boundless optimism was any sort of currency, yours truly wouldn't be herding words for a living. As it stands, it doesn't pay any bills but what it does do is serve as useful armour for those weeks when, despite putting in the legwork and dreaming big of what the next good bird might be, the reality is a Glaucous Gull at best.
Nothing against Glaucous Gulls, of course. They're just not… well, of the calibre of Glaucous-winged Gulls, are they?
Sometimes though, that boundless optimism has to be set on a shelf and a little more realism needs to be injected into proceedings. We could hope this coming week for a saucy passerine of some nature, but realistically a Desert Wheatear is probably as good as that might get…
Alternatively, we could start to think gulls and some decent self-found material that could turn up pretty much anywhere. The coming week is a good one, historically, for picking out a Bonaparte's or a Laughing Gull - so this week, before we begin the long winter haul of scoping distant flocks of large gulls, our thoughts might usefully turn a little smaller.
Jon Dunn
27 November 2019
Many thanks to all contributors for their photos and videos this week.
Share this story
Tweet