Weekly birding round-up: 13 - 19 Nov
The week at a glance
Scilly delivers yet another superstar – a late Hermit Thrush
The Steller's Eider remains faithful in Orkney
In Cornwall the Paddyfield Pipit stays… and appears to go, one way or another
And Suffolk now sports a brace of Eastern Yellow Wagtails
Autumn finally began to feel like it was winding down a little this week, though the eternal optimists amongst us continued to hope the year had one big roll of the dice left in it…
New rarities may have been a little thin on the ground compared with weeks of late, but there were still some quality birds on offer nationwide. And then Scilly went and did it again.
Hermit Thrush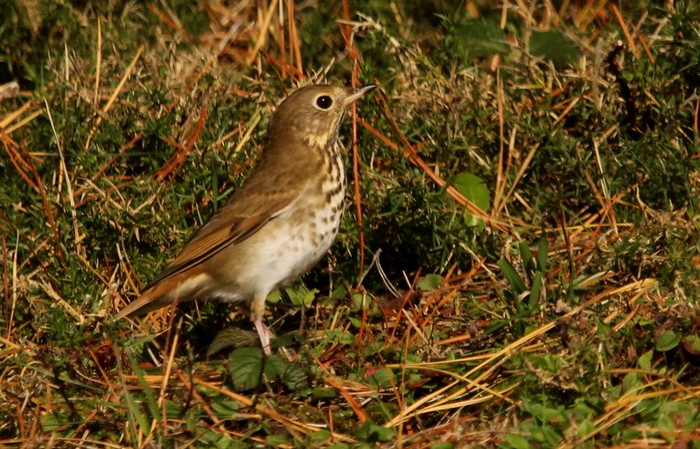 Scilly, already having enjoyed a marvellous autumn even by the archipelago's famously high standards, refused to call it a day this week and, on Monday 18th, there was St Mary's lighting up the pagers and phones once more with breaking news of a Hermit Thrush at Porth Hellick.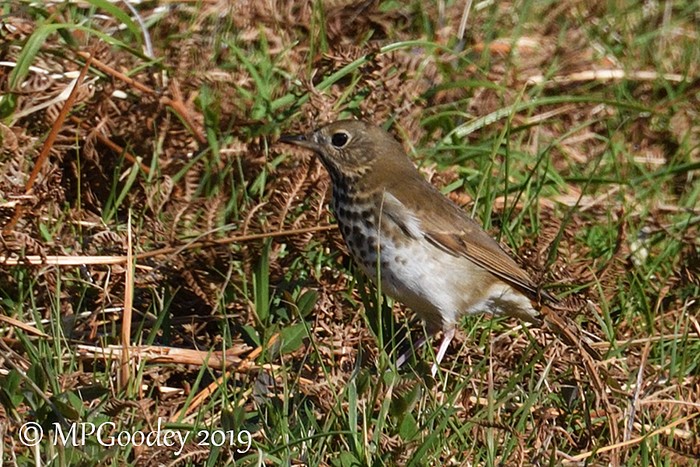 That's notable news whichever way we spin it, combining all sorts of curious stats with the simple, undeniable fact that this dapper Catharus remains a sought after and attractive rarity of some standing. This bird is only Britain's 13th to date, of which Scilly already claims three previous records – the last being way back in October 1993 on Tresco.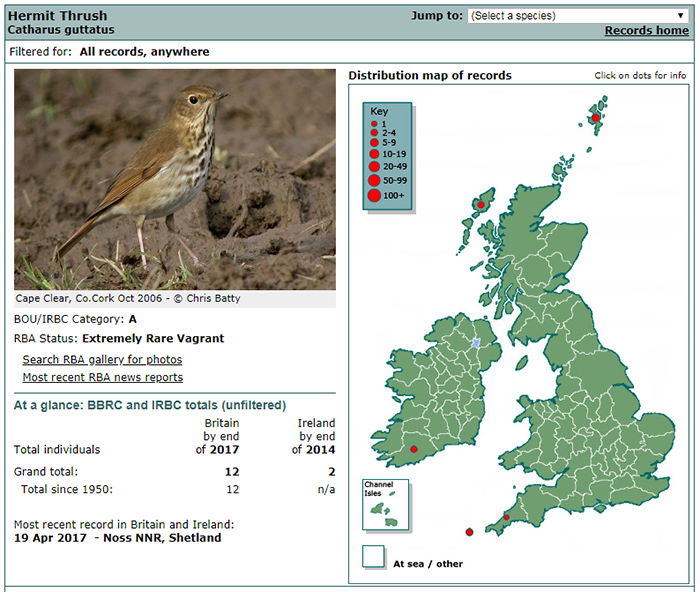 If Scilly hasn't enjoyed a Hermit Thrush for over 25 years, St Mary's has had an even longer wait still – the last on there was back in late October 1984 and was, at the time, only the second for Britain after our first on Fair Isle in 1975. Shetland has featured more strongly in subsequent records, with five birds now accepted on the books – lending credence to the hypothesis that all of these Nearctic thrushes were now making landfall further north. See also recent records of Veery, Grey-cheeked and Swainson's Thrushes…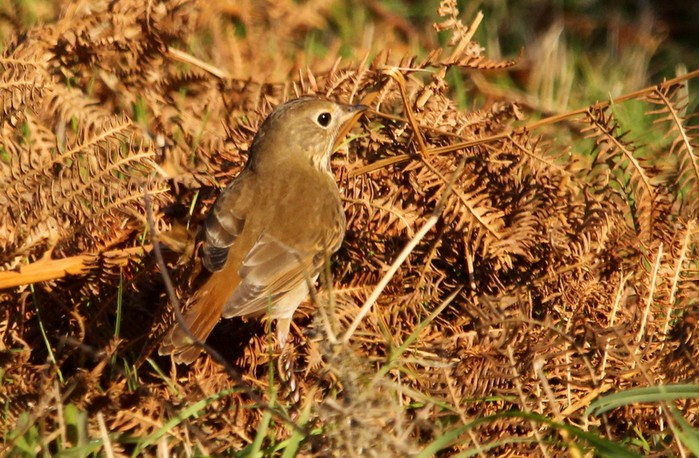 But you should never say never where Scilly's concerned. The Fortunate Isles can always pull a rabbit out of the hat, even one as unexpectedly as this week's star headline bird. Unexpected not least because of the timing – this is Britain's latest Hermit Thrush by a margin of some three weeks, considerably extending the window of possibility beyond the previous boundary established by the Porthgwarra (Cornwall) bird found on 29th October 2013.
A stunning find then, this late in proceedings and, as far as 2019 goes, further fuel on the fire for the theory that this excellent year isn't finished with us yet.
Steller's Eider
Britain's sixteenth – or should we say fifteenth, given that one of those prior records relates to a wing found on a Shetland tideline - Steller's Eider continued to prove an irresistible lure for some this week, remaining reasonably faithful to its new favoured haunt of Papa Westray (Orkney) until 18th at least.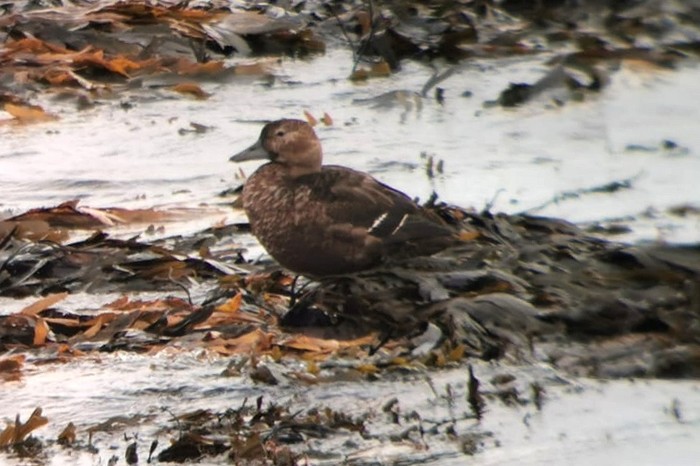 As noted last week, we're all hoping it sticks around rather longer – as in long enough to attain adult plumage. Looking to the past Orcadian records, we've solace to draw from the drake seen intermittently between 1974 and 1982. First seen as an immature male on 25th October – 14th November 1974, it went on to become a more or less annual fixture in the Westray and Papa Westray area.
More or less.
Should this latest bird go missing for a while – years even – we need to look back to that 1974 bird. It wasn't seen again until 14th July 1978… Whether that reflects lack of observers or a genuine absence is probably lost to the mists of time. One thing's for sure – I think these days there will be a keener running interest on the comings (and hopefully not goings) of the newest Orcadian Steller's Eider.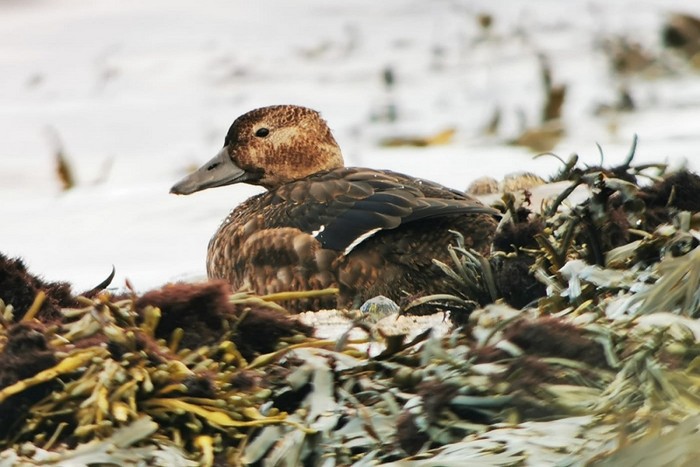 Paddyfield Pipit
At the opposite end of the country, our second recent big-ticket bird remained on offer in the fields of Sennen (Cornwall) for a few more days. This being what looks like Britain's first Paddyfield Pipit. (No, the DNA's not back yet, at the time of writing. That's one for the conspiracy theorists…)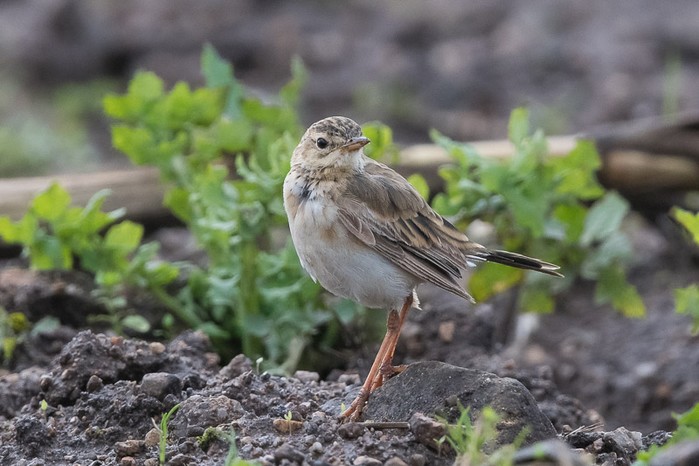 Last seen in Cornwall on 15th, news fell silent on the subject of the bird thereafter. Rumours began to swirl of a run-in with a cat earlier in the week. Had the Paddyfield Pipit finally acquired enough feathers to feel confident to move on? Or had a local moggy finally managed to get the Asian takeaway it had been getting its mouth ready for in recent days?
Eastern Yellow Wagtails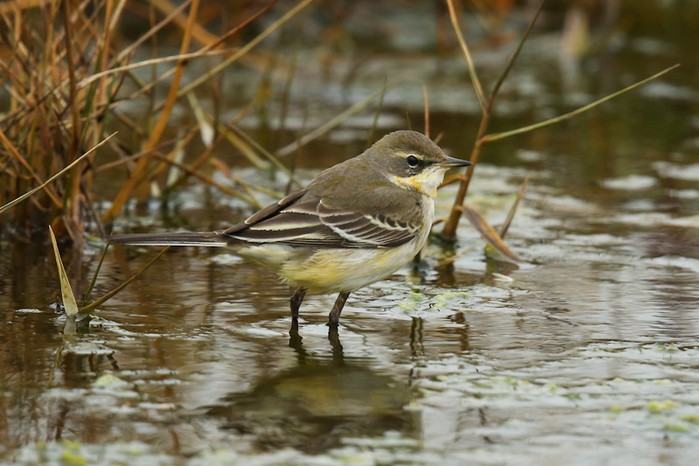 We speculated in these columns last year that, in the years to come, we suspected Eastern Yellow Wagtail would possibly prove to be much less rare than we'd hitherto given it credit for. Fair to say that this autumn has done little to disabuse that hypothesis and, in Suffolk this week, we got further confirmation still.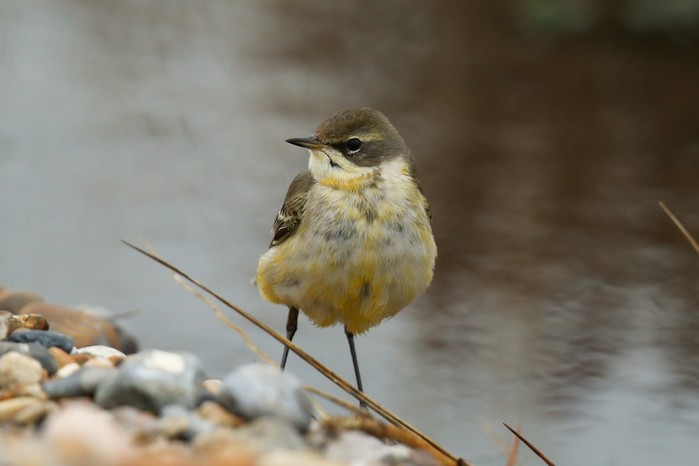 Talk last week was of the clinching of the Walberswick Wagtail, thanks to a sound recording, as Suffolk's first confirmed Eastern Yellow Wagtail. As the week drew to a close, we had a second putative candidate found by Dave Fairhurst at Havergate Island RSPB on 12th.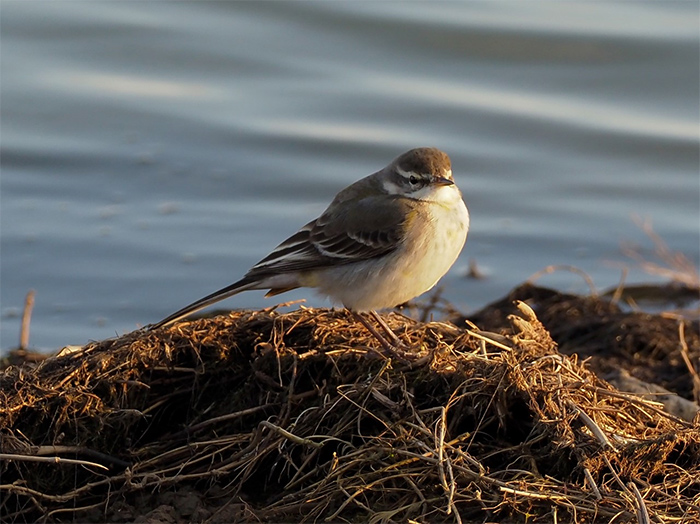 The current week began with both birds still present on 13th, the Walberswick bird remaining reasonably faithful to Corporation Marshes until 19th, though occasionally prone to going a-wandering for an hour or so – one such excursion presumably accounting for the bird heard over Dunwich in the morning of 16th.
The Havergate Island RSPB bird, meanwhile, remained present until 14th, with the identity being resolved once and for all courtesy of yet another sound recording – Suffolk's second Eastern Yellow Wagtail. Like buses, they are. I still fancy we're in for plenty more bus action with every coming autumn. Commit this explosive call to memory…
Predominantly it was all about the divers again this week where seabirds were concerned. Rarest of those being, of course, the adult Pacific Diver still off Crookhaven (Co.Cork) on 16th; and the balance being White-billed Divers once more off Orkney's Papa Westray – counts from there through the week varying between five and ten birds at any given time.
A Leach's Petrel was noted from Chapel Point (Lincolnshire) on 15th; and a handful of Balearic Shearwaters were also seen this week – one from Skokholm (Pembrokeshire) on 14th, and two in Thurlestone Bay (Devon) on 15th.
A probable Great Shearwater was seen passing Cley (Norfolk) in the morning of 18th.
Pomarine Skuas enjoyed a small surge this week, with sightings peaking on 15th. Of the 150 or so birds seen nationally in the course of the week, around 75 of those were logged that day, with Spurn (East Yorkshire) racking up the best single site count of the day – a dozen birds noted off there, a single site count only bettered this week by the 14 birds seen from Sheringham (Norfolk) on 18th.
Sightings of Little Auks down the east coast remained a regular daily feature, with some 170 birds logged across the week. Some of these involved the familiar litany where Little Auks are concerned – birds found away from the sea, in gardens or on fresh water. Of the latter, a bird discovered on Abberton reservoir (Essex) on 14th was notable – mainly for remaining alive, and hence popular, there until 19th, a remarkable show of inland longevity.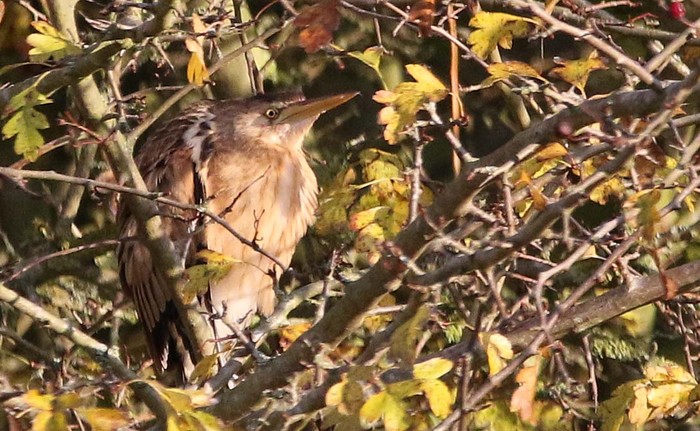 We enjoyed an atypically varied November showing of long-legged beasties this week, featuring some perhaps less anticipated faces. Starting in Norfolk, the Little Bittern remained at Titchwell RSPB on 12th, but was joined in the news by another first-winter bird, found inland at Amwell NR (Hertfordshire) on 14th-15th.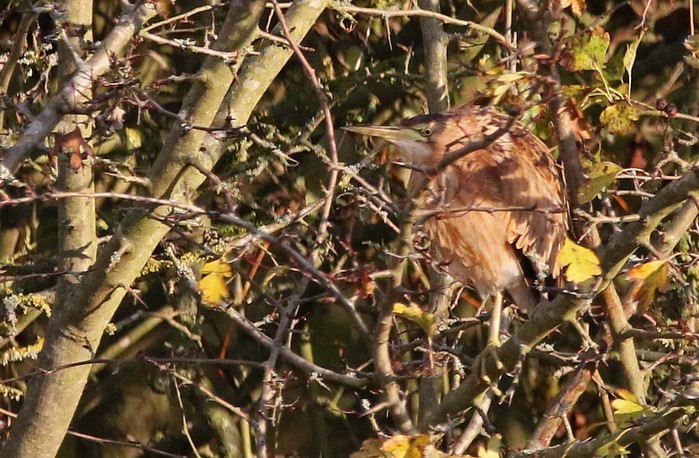 Were that not exciting enough, we also had a Night Heron in the mix this week – present at Staveley YWT (North Yorkshire) on 15th.
Glossy Ibises, meanwhile, were a little quieter than of late, with just two birds to report upon – still present at Pilmore (Co.Cork) and Fremington Pill (Devon) on 17th.
By some margin, the week's peak count of Common Cranes were the flock of 50 birds at Eldernell (Cambridgeshire) on 16th; another two birds were noted passing over Barton-upon-Humber (Lincolnshire) on 17th.
We enjoyed another strong week of honkers and quackers, with new arrivals and familiar faces alike to pick through nationwide.
Starting with The Goose Formerly Known As Canada, two interior Todd's Canada Geese were seen – at Newton Marsh (Cumbria) on 13th and Ballyconnell (Co.Sligo) on 17th – and two hutchinsii Richardson's Cackling Geese were present on North Uist (Western Isles) on 13th-16th still.
North Uist also sported a Snow Goose again on 15th-16th; and another was seen passing over Lincolnshire's Saltfleetby with some 250 Pink-footed Geese on 16th.
Black Brants were seen again at Kilnsea (East Yorkshire) still until 19th; on Mersea Island (Essex) on 15th; and on The Fleet (Dorset) still until 19th; while the putative bird (or hybrid) remained at Gibraltar Point NNR (Lincolnshire) still on 13th; and a further bird was seen in Lincolnshire on 19th at Horse Shoe Point.
Scoters continued to provide the rarest of the quackers away from Orkney this week, with Scotland boasting both the big ticket items. A drake Black Scoter was in Lunan Bay (Angus) on 13th and 17th-18th; and the drake White-winged Scoter remained in Lothian on the waters off Fisherrow on 13th-18th, joined there by the regular drake Surf Scoter until 19th; three of the latter were off adjacent Musselburgh on 17th. A further drake was seen in Tor Bay (Devon) on 17th-19th.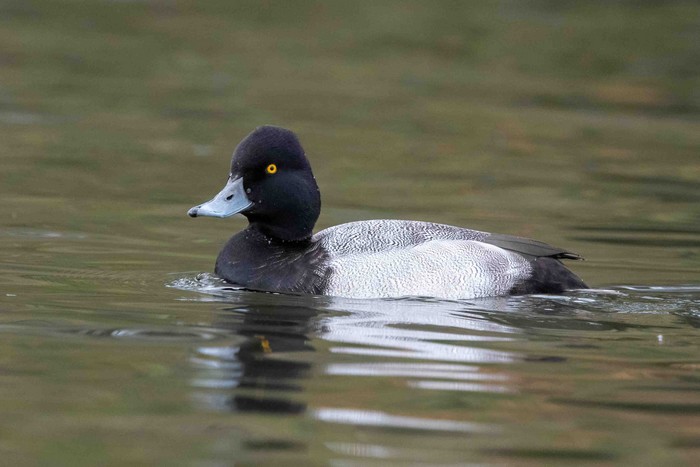 Settled Cornish Lesser Scaups remained, respectively, at Helston boating lake and Stithians reservoir on 13th and until 16th; another new bird was found in the south of England this week, at Blashford Lakes HWT (Hampshire) on 16th-18th.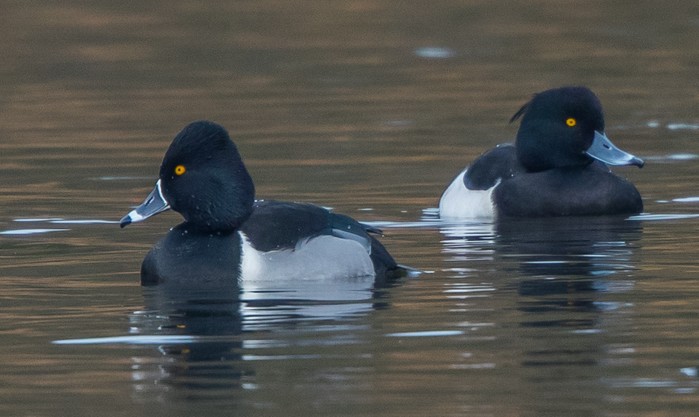 A dozen Ring-necked Ducks were seen in Britain and Ireland, with plenty of new birds being found this week. Lingerers remained at South Nesting (Shetland) still on 13th; Abberton reservoir (Essex) still until 19th; on Barra (Western Isles) until 16th; and at Tacumshin (Co.Wexford) until 18th. Fresh birds were found at Slapton Ley (Devon) on 16th-19th; Sturminster Marshall (Dorset) on 16th; on Lough Yganavan (Co.Kerry) on 16th, where two birds were present; on Pine Lake (Lancashire) on 17th-19th; on Cold Hiendley and Wintersett reservoirs (West Yorkshire) on 17th and Johnny Brown's Common pond on 18th-19th; at Llyn Caer-Euni (Gwynedd) on 17th; and on Loch Owel (Co.Westmeath) on 17th. On 18th further sightings came from Caranavoodaun Turlough (Co.Galway) and Carlingwark Loch (Dumfries & Galloway).
In Devon the female or juvenile drake Blue-winged Teal remained at Man Sands on 13th-19th; a further drake was found in Lancashire at Leighton Moss RSPB on 15th.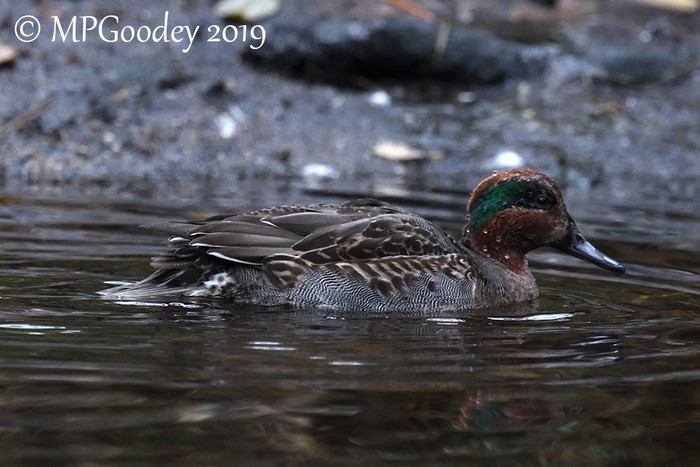 A dozen Green-winged Teals were logged nationally this week, from North Ronaldsay (Orkney) in the north to St Mary's (Scilly) in the south – the latter with a first-winter drake on 16th that has now been present on the island for some 50 days at least.
Four drake American Wigeons were seen this week – one still on Grindon Lough (Northumberland) on 13th-17th; on 16th, birds present at Feddergate reservoir (Aberdeenshire) and on Loch Watten (Highland); and on 16th-17th, one was on the Kilgolgan River near Kinvarra, Co.Galway – and then, as the week came to a close, another Highland sighting came from Loch Eye again on 19th.
<!—Section Title -->
As a rule, sightings of interesting waders this week began to dry up, but there were a scatter of new Nearctic arrivals to keep interest levels piqued and eyes peeled nationwide.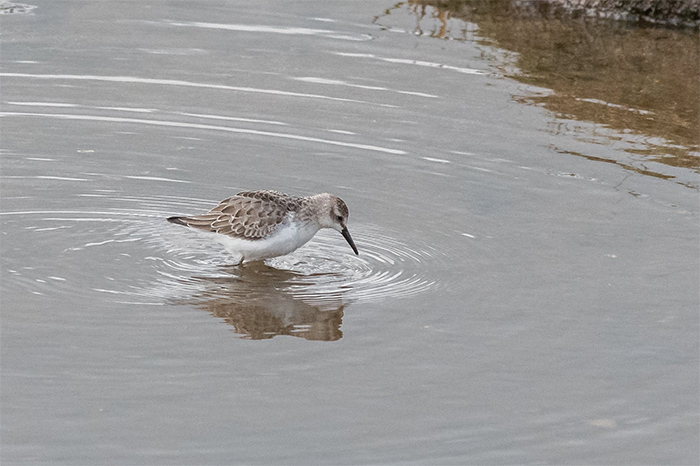 A young peep caused pulses to raise briefly in Hampshire at Pennington Marshes on 16th-19th, being momentarily mooted as a Western Sandpiper but, before long, being resolved as a first-winter Semipalmated Sandpiper instead.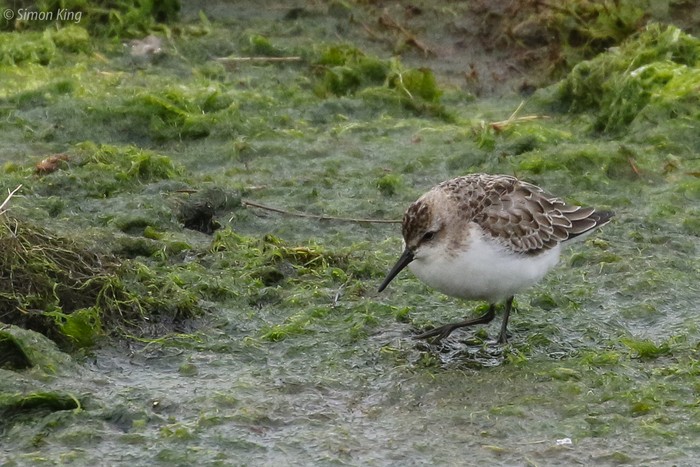 Numbers of White-rumped Sandpipers fell through the floor, with just two Irish birds to account for – one at Black Rock Strand (Co.Kerry) on 13th, and one still on Lough Foyle (Co.Derry) on 16th-18th.
Back to new arrivals, the settled Long-billed Dowitchers still present at Cresswell Pond NWT (Northumberland) until 19th and Bowling Green Marsh RSPB (Devon) until 19th were joined by another English sighting this week – present at Campfield Marsh RSPB (Cumbria) on 15th-17th.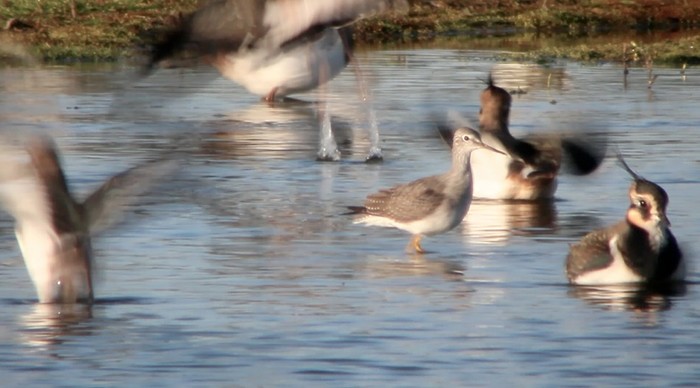 Also newly found, and also in the north on England, a Lesser Yellowlegs was in a field outside Catterick (North Yorkshire) on 17th-18th.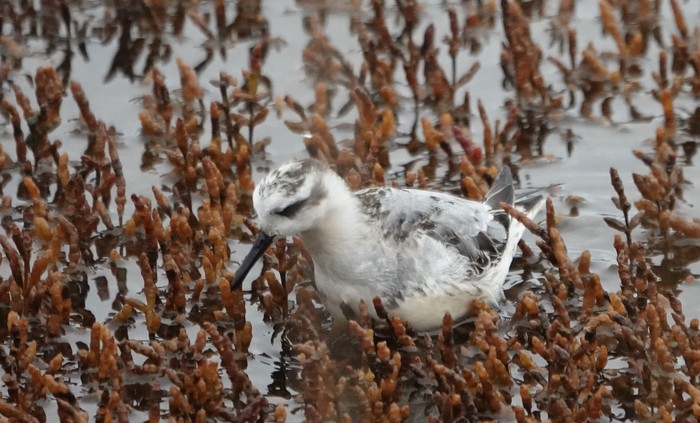 A handful of Grey Phalaropes round things up for this section – single birds seen off Spurn (East Yorkshire) on 15th, from Minsmere RSPB (Suffolk) on 15th and again on 16th, Dunwich (Suffolk) on 15th and, on 18th, Hemsby (Norfolk) and Gibraltar Point NNR (Lincolnshire).
Variety was injected into our gulls'n'terns proceedings this week with the discovery of some Bonaparte's Gulls - a first-winter on 13th at Kildavin (Co.Carlow) in a site with no general public access; and two more obliging adults at Kilmore Quay (Co.Wexford) on 15th-17th and Bamburgh (Northumberland) on 17th-18th.
Ireland continued to be where it's at for Ring-billed Gulls, with adult birds seen at Doorly Park in Sligo (Co.Sligo) on 14th, Blackrock (Co.Louth) still on 16th-18th and from Nimmo's Pier (Co.Galway) again on 17th; and a first-winter in Bantry Bay (Co.Cork) on 17th. A solitary English record came late, at Lower Lugg Meadows (Herefordshire) on 19th.
A probable juvenile Sabine's Gull was seen from Sheringham (Norfolk) on 15th.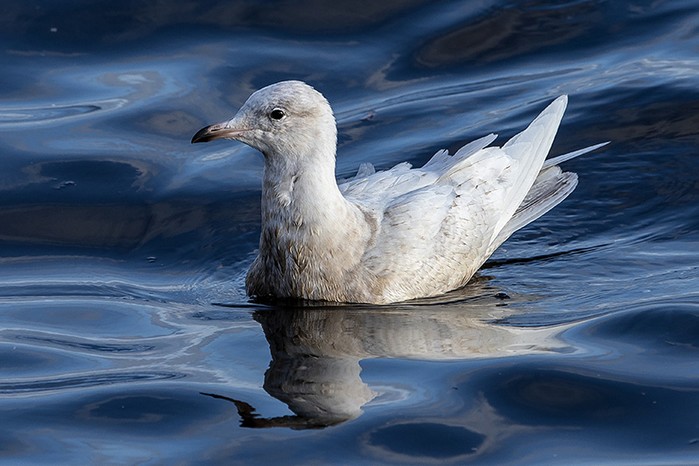 Some 20 Iceland Gulls seen this week marked a 100% increase on the preceding period – all single birds bar two at Killybegs (Co.Donegal) on 15th. Curiously and conversely, numbers of Glaucous Gulls collapsed in on themselves, down from the 30 of the preceding week to little more than a dozen this week – mostly single birds bar duos seen at North Shields (Northumberland) on 14th and on Unst (Shetland) on 17th.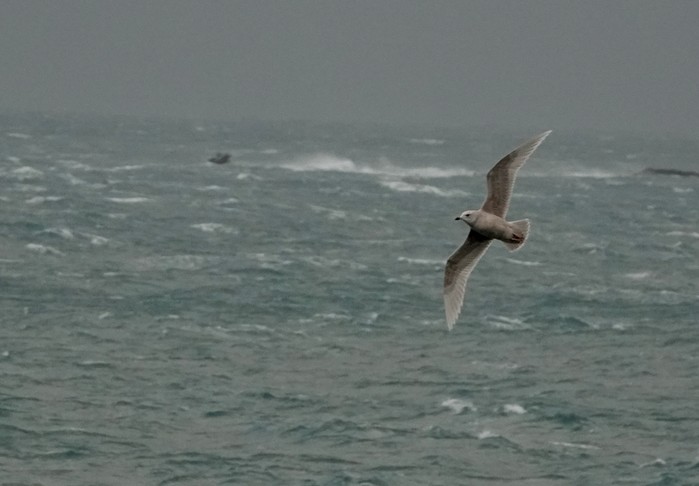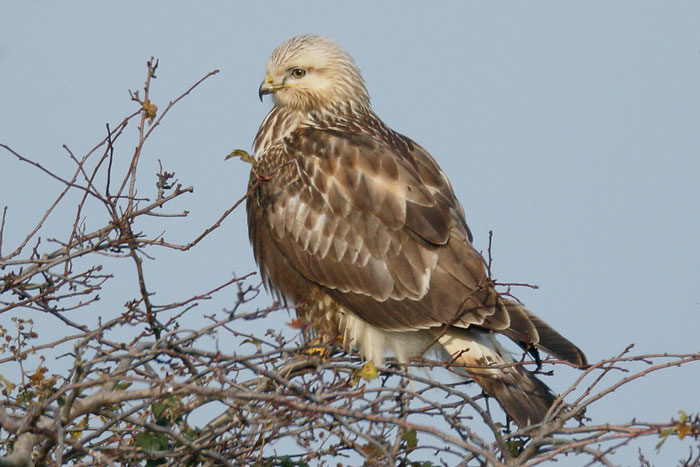 Where interesting raptors were concerned this week, it was all about the frosty loveliness of Rough-legged Buzzards. Norfolk got things off to a good start on 13th with sightings that day from Titchwell RSPB, Saxlingham, Wiveton, and Wells – the latter site becoming reliable with daily further sightings until 19th. One remained on 13th at Holme Fen NNR (Cambridgeshire), while further birds were seen that day at Gibraltar Point NNR (Lincolnshire) and in Suffolk at Ipswich. On 14th one was seen at Goadby (Leicestershire); and on 15th, back in Suffolk on the Alde estuary. On 17th birds were seen back in Cambridgeshire at Ouse Washes RSPB and, in East Yorkshire, at Sunk Island. On 18th another Norfolk sighting came from Holkham; while on 18th-19th one remained in Cambridgeshire at Ouse Washes RSPB still.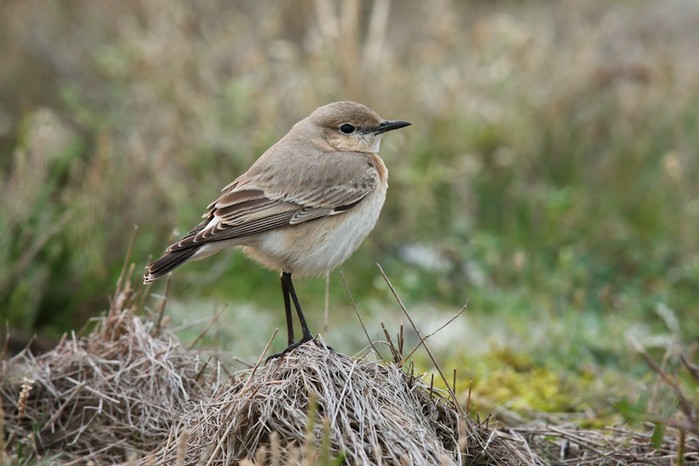 Still top of the class this week, and proving confiding and, therefore, popular with photographers and birders alike, the Isabelline Wheatear remained at Cley (Norfolk) until 19th.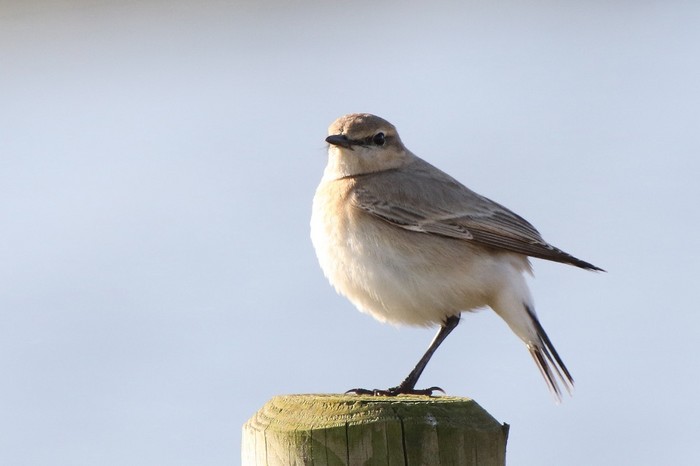 Foula, meanwhile, put Shetland on the rare wheatear scorecard with a Desert Wheatear present on the island on 16th.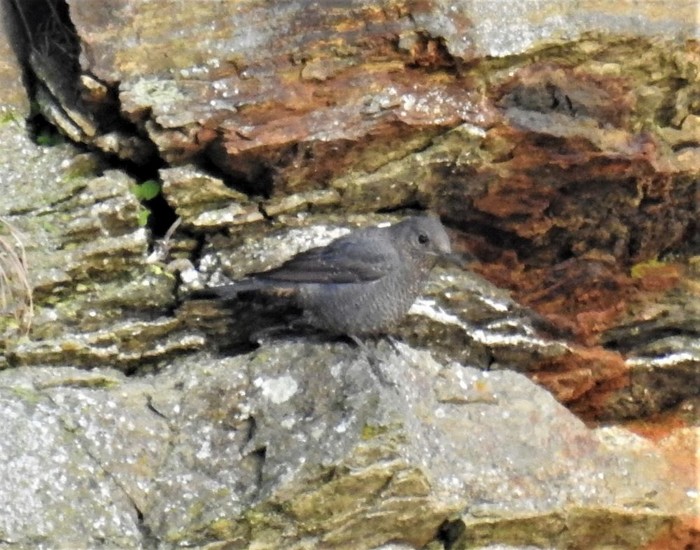 Just a (relatively) short hop south across the water, the first-winter male Blue Rock Thrush remained tucked inside the quarry on Lamb Holm (Orkney) on 13th-18th.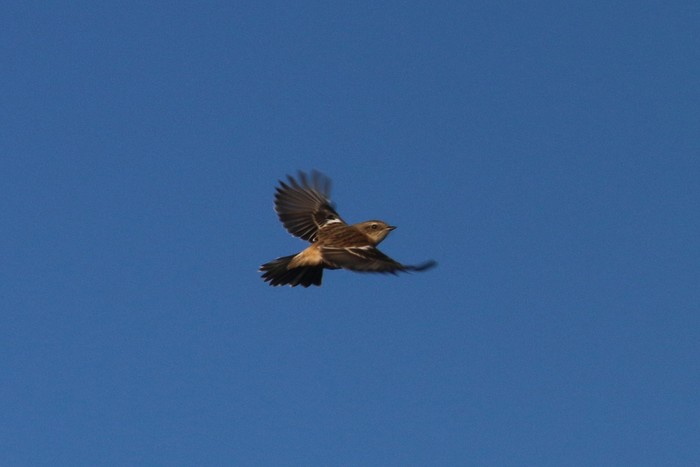 Back on the British mainland, the week also began with the eastern stonechat sp still present at Easington (East Yorkshire) on 13th; and ended with another bird, thought to be probably Siberian, found at Langford Lowfields RSPB (Nottinghamshire).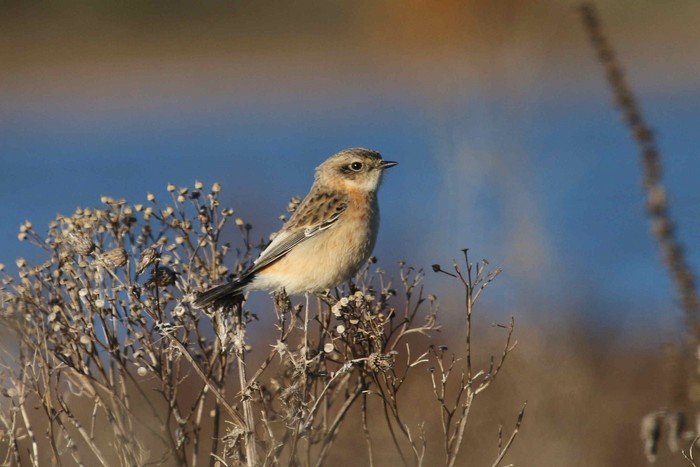 A Bluethroat was found on 19th at Exminster Marshes RSPB (Devon).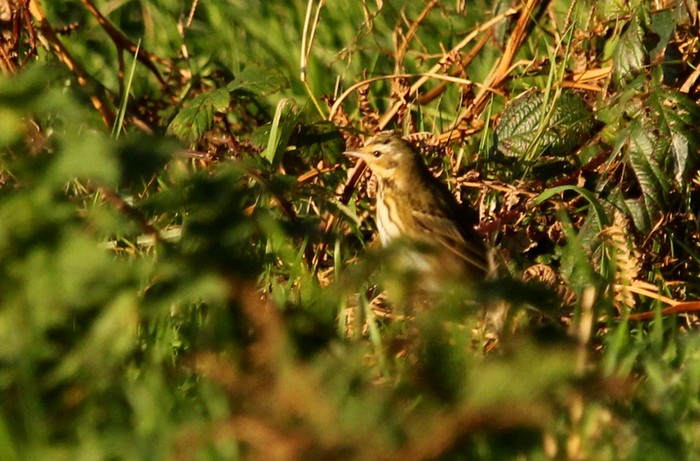 While the week's main pipit event was, understandably, still down in Cornwall at Sennen, a late Olive-backed Pipit was a quality find at Holkham Pines (Norfolk) on 17th, as was the bird found on St Mary's (Scilly) the following day. This being Scilly, and this being this year, that wasn't good enough – so there was a Red-throated Pipit there too, for good measure.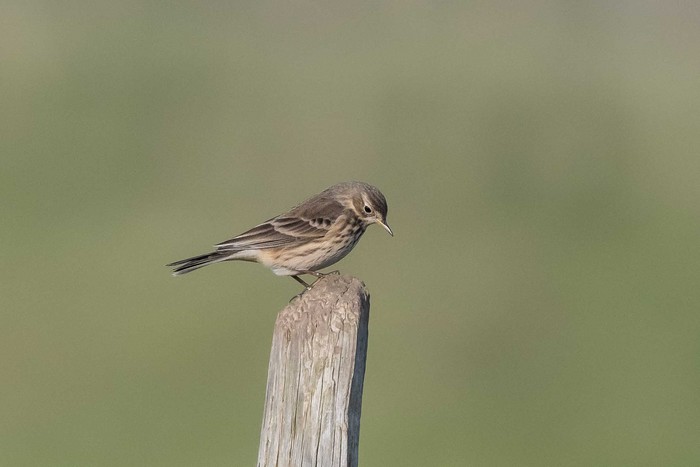 Back in Sennen, absent for days this week the American Buff-bellied Pipit emerged back into the news at the end of the week – seen in the maize field there again on 18th-19th.
Richard's Pipits were seen at Nash Point (Glamorgan) on 13th, King's Sedgemoor Drain (Somerset) on 13th-15th, a probable bird back in Glamorgan at Sker Point on 15th, and one more at South Stack RSPB (Anglesey) on 18th.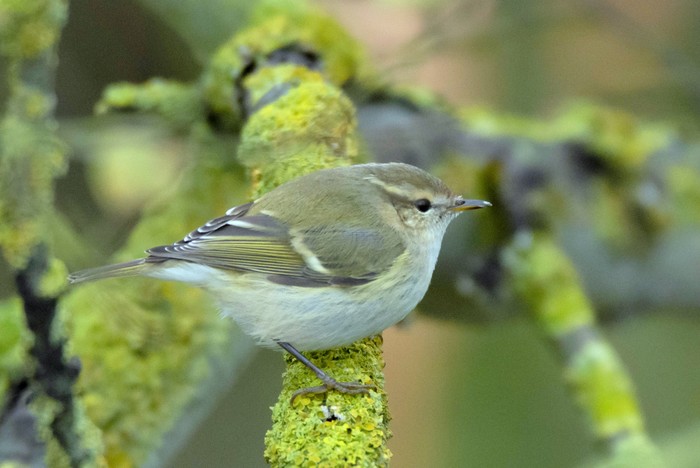 Pick of the week's warblers this week were surely the good showing of Hume's Warblers - birds lingered in East Yorkshire at Easington and Flamborough (East Yorkshire) on 13th and Bempton Cliffs RSPB until 19th; one present in Norfolk's Holkham Pines on 13th-15th was joined there by a second bird on 16th-19th; and one was at Spurn (East Yorkshire) on 15th.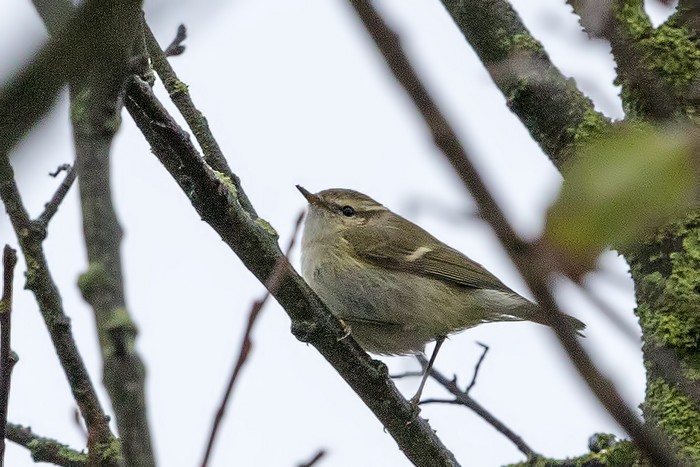 The bird previously reported as a Hume's at Rhyl (Denbighshire) was re-identified as merely Yellow-browed, to the consternation of some who swore they'd heard only a Hume's-type call emanating from it. Others attested to the non Hume's-like brightness of the bird's plumage. This bird, still present until 15th is, perhaps, one that would only be resolved with a sonagram…
Less contentiously, around 20 Yellow-browed Warblers were noted nationwide, with a peak count of three birds in Cornwall at Swanvale NR on 15th.
A Pallas's Warbler remained tucked in the warmth of Cot Vallley (Cornwall) on 13th-17th; further birds were seen at Grimston (East Yorkshire) again on 13th and at Dungeness (Kent) on 17th.
A handful of Dusky Warblers were also logged this week – still present at Hollesley (Suffolk) on 13th, on St Mary's (Scilly) on 17th and 18th, at Polgigga (Cornwall) on 14th, and Anderby Creek (Lincolnshire) on 16th.
The Barred Warbler remained at Hartlepool Headland (Cleveland) on 13th-19th; a further report came this week of a probable bird at Boston (Lincolnshire) on 17th.
The Wryneck remained on Portland (Dorset) on 15th still, presumably bound to move on some day soon; another was seen at Compton Verney Park (Warwickshire) on 17th.
A Hoopoe remained at Foveran (Aberdeenshire) on 13th; and others were seen this week in Somerset at Minehead on 13th-15th, and Dorset at Swanage on 17th.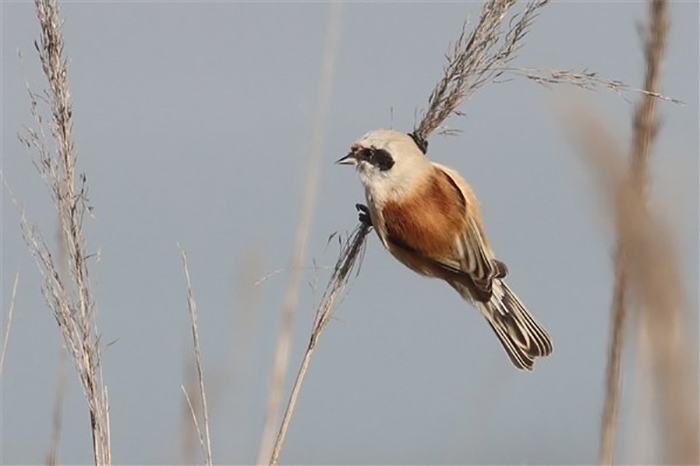 Three Penduline Tits found this week marked a small influx into the southeast – one was trapped and ringed on Orford Ness (Suffolk) on 13th; on 16th one was present at Grove Ferry NNR (Kent); and on 17th another was found at Rainham Marshes RSPB (London).
A late Red-backed Shrike was at Porthcawl (Glamorgan) on 15th-19th, with another probable bird on Bryher (Scilly) on 18th; Great Grey Shrikes meanwhile were seen at Cannock Chase (Staffordshire) still on 13th; Backwater reservoir (Angus) still on 13th-19th; Bockhill Farm (Kent) still on 13th; and again at Holmhill Inclosure (Hampshire) on 17th-19th; with new faces found at Woolmer Forest (Hampshire) on 16th-17th, Trimingham (Norfolk) on 16th-17th, Stoodleigh (Devon) on 16th, Wareham Forest (Dorset) on 17th-19th, Yelvertoft (Northamptonshire) on 17th-19th, and Brogborough Lake (Bedfordshire) and Ruthin (Denbighshire) on 18th. On 19th a further bird was seen in Co.Durham at Willington, while the Brogborough Lake bird remained present also.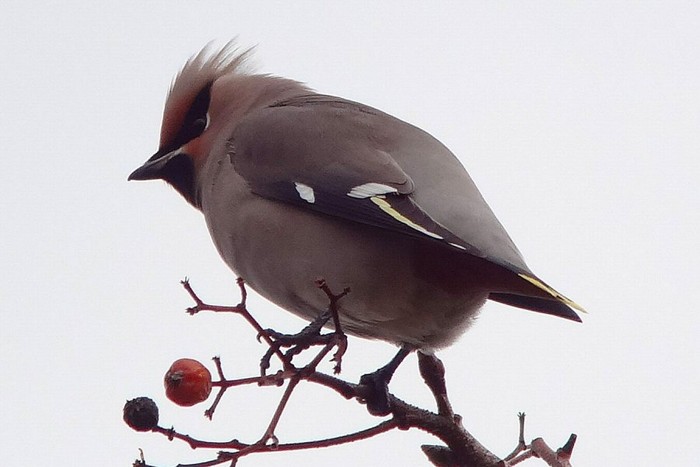 Around 1,000 Waxwings were reported this week, though inevitably with these berry-hungry birds there will have been some duplication involved as, once food sources were exhausted, they moved on to pastures new. The peak count, by some margin, came from Forres (Moray) where 170 birds were tallied on 14th.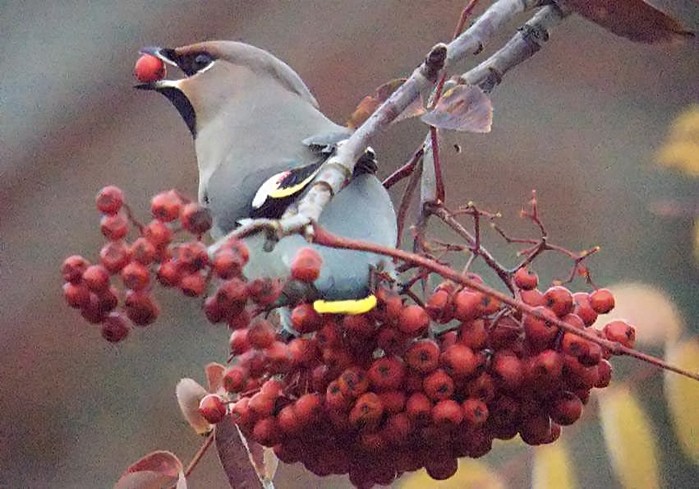 A quartet of Rose-coloured Starlings were seen this week – one, at Eastriggs (Dumfries & Galloway) on 14th-18th had been there for around a fortnight beforehand; and further birds were noted at Maxton (Borders) on 14th, Burnham Overy (Norfolk) on 17th, and Holsworthy (Devon) on 18th.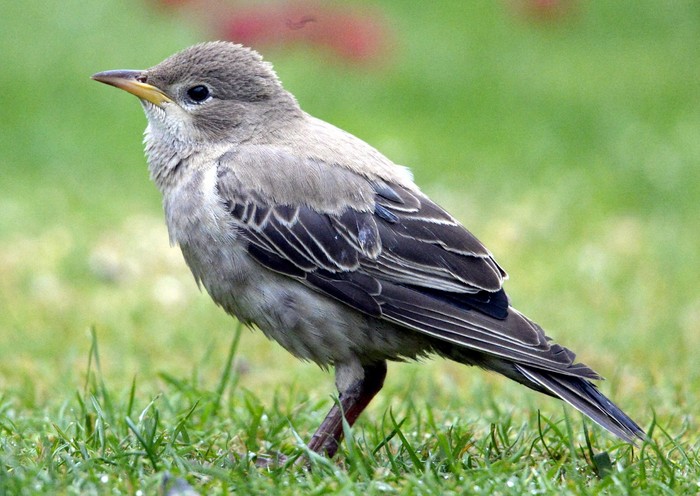 A Serin was seen at Ticehurst (East Sussex) on 13th-19th.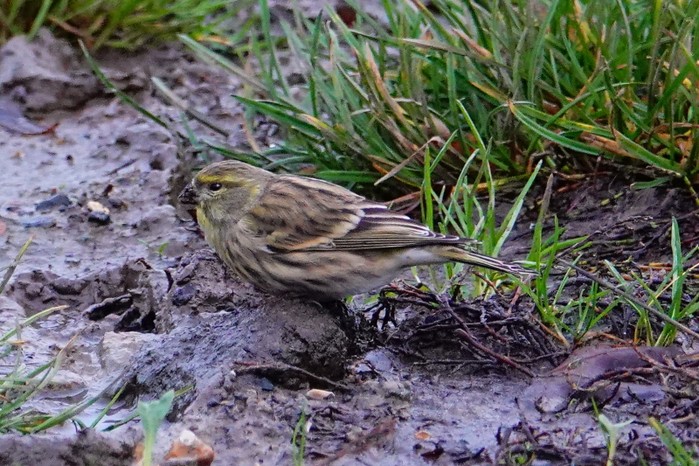 More seasonally anticipated, a Coue's Arctic Redpoll was seen, briefly, on North Ronaldsay (Orkney) on 13th.
Finally, a Little Bunting was found on 17th at Scatness (Shetland), and another bird on 19th at Gryfe reservoirs (Clyde).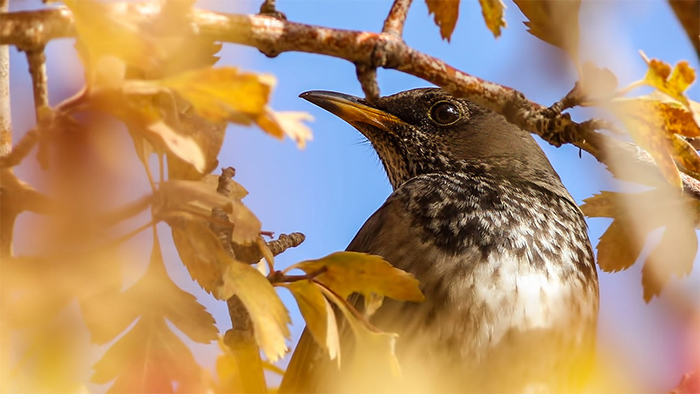 New from further afield dried up a little more this week, so we'll start a denuded round-up in Turkey with one of the more striking sightings of the week – a flock of 13 Black-throated Thrushes seen at Yuksekova on 14th, the fifth record of their kind for Turkey.
With perfect timing, Greece replied on 15th with a Striated Heron found on Crete, a Greek national first and, perhaps, linked to the species' rapid northward expansion along the east Mediterranean coast.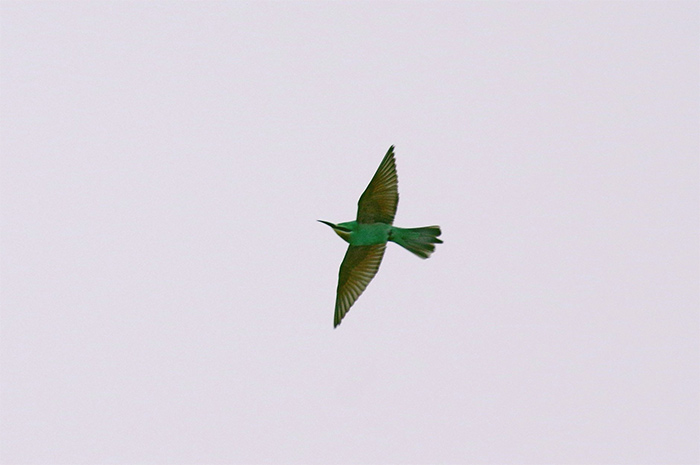 Staying far from home, in Ukraine a Blue-cheeked Bee-eater seen at Kiev reservoir on 15th was a national fourth record.
Moving west, in Sweden the Black-faced Bunting remained on Oland on 13th, and the Oriental Turtle Dove at Kristinehamn on 14th.
Poland scored a Pallid Swift at Warsaw on 16th, the fourth for the country.
In a year already bursting with sightings, another Brown Booby record came this week – one seen from Ons Island in Galicia (Spain) on 15th. Spain also turned up a Killdeer at Cabo de Penas in Asturias on 17th-19th, the seventh national record of the species.
The coming week…
While the coming week features, historically, one of the stand-out rarities of the 20th century – the Macqueen's Bustard found at Hinton (Suffolk) on 25th November 1962 – I don't think many of us expect that to be unblocked any time soon.
(Nor the Hawk Owl from way back when, shot on 21st November 1898 at Gight (Aberdeenshire). Every few years they erupt west through Scandinavia and we hear the familiar litany about this being the year… - and 2019 is another such year. Betcha it doesn't happen though, for all we'd love it to.)
That's not to say that late November can't still pack a punch. More contemporary, eye-watering stuff includes the Hudsonian Godwit found at Countess Wear (Devon) on 22nd November 1981, and the Black-bellied or White-bellied Storm Petrel seen battling the winds off Severn Beach (Gloucestershire) on 25th November 2009.
Clearly, as we already knew in our hearts, the big one travels late, and alone. Word has it that there are record numbers of Pine Grosbeaks on the move through Scandinavia. Maybe, just maybe, one of those beefy finches could be British-bound in the week(s) to come…
Three of the past four British records were in Shetland, but past records display a range right down the east coast from Shetland to Kent. Not one in Norfolk yet though – surely that's going to change eventually?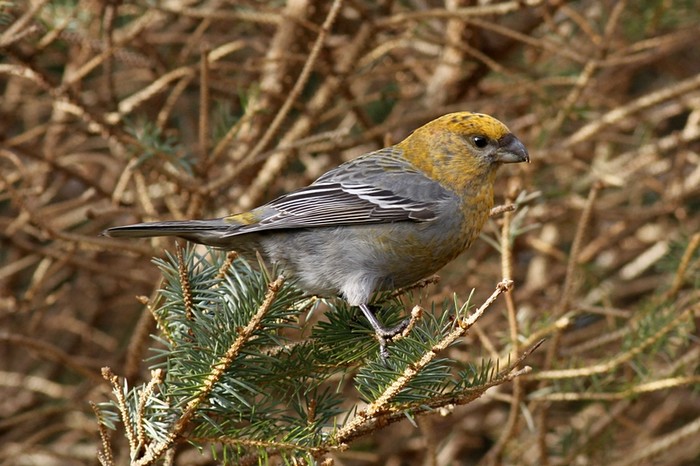 Jon Dunn
20 November 2019
Many thanks to all contributors for their photos and videos this week.
Share this story
Tweet