Weekly birding round-up: 6 - 12 Nov
The week at a glance
Scilly enjoys late Rose-breasted Grosbeak and Brown Shrike
The Steller's Eider in Orkney is joined by Blue Rock Thrush and Siberian Rubythroat
While in Cornwall the Paddyfield and American Buff-bellied Pipits remain on offer
As said by every dog owner, ever, when they come back home to chaos after a little time away – "what have you done?"
I mean you, Britain. I leave you for a few weeks in late autumn and the birding world goes ever so slightly mad, from one end of the country to another. Never mind Brexit – that pales into insignificance compared to events lately in Cornwall and Orkney. And this week the birds just kept on coming…
Autumn 2019, the season that just wouldn't lie down and call it a day.
Rose-breasted Grosbeak and Brown Shrike
Taking either in isolation, particularly in the context of the month just gone, Rose-breasted Grosbeak and Brown Shrike perhaps don't merit headline-grabbing status. But then again, this late in proceedings, and both to be found within a mile or two of one another on St Mary's (Scilly) on 7th… well, you've got to sit up and pay attention to that sort of east-meets-west quality.
The Brown Shrike was first found on 6th, and was hanging around the following day when the second Rose-breasted Grosbeak of the Scillonian autumn was found nearby. Or is the latter the bird last seen on St Martin's on 16th October? There's plenty of dense cover on the islands for a bird to lose itself in and, with birder numbers reducing rapidly as the month wore on, less likelihood someone was going to stumble across it.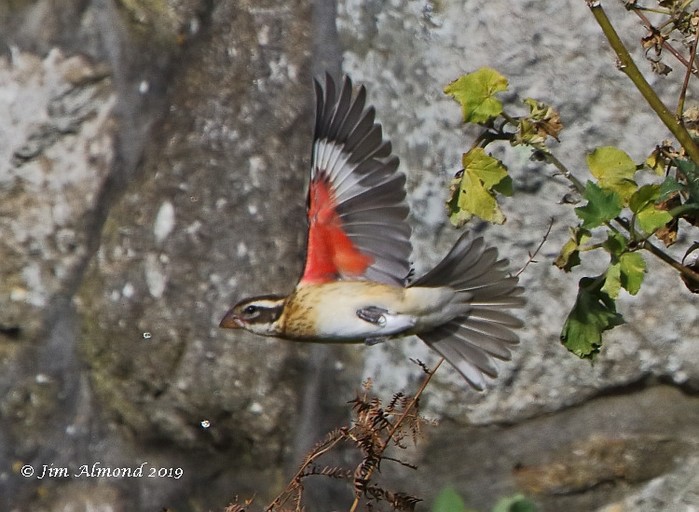 Either way, both birds appeared to have done a bunk by 8th, though the shrike re-emerged from the woodwork again on 10th. Meanwhile, a nation's birding attention was turning inexorably back to the north…
Steller's Eider, Blue Rock Thrush and Siberian Rubythroat
…where, in Orkney, it was all going on again this week. I make a point these days of basically not twitching outside of Shetland but, this week, the urge to scratch the itch was getting pretty hard to resist.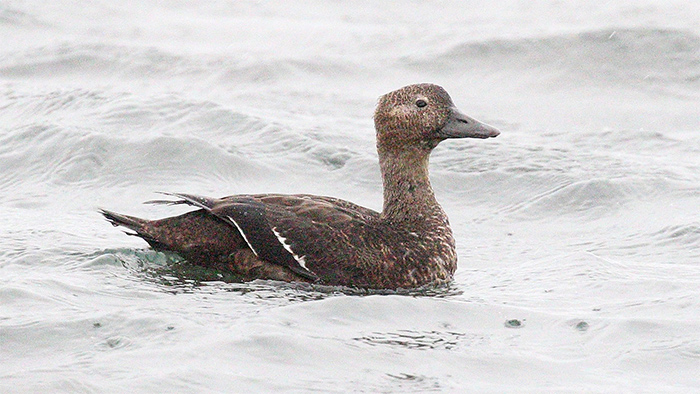 I'm fairly certain I've remarked previously in these columns this autumn what a blinding year Papa Westray has been enjoying, with a succession of decent birds being found on the island in the weeks and months past. None though can hold a candle to the latest, the juvenile drake Steller's Eider first seen on Westray on 29th October and, this week, on Westray on 6th-8th and on Papa Westray from 8th-12th.
Given that past vagrant birds have shown some site fidelity – including off Westray and Papa Westray back in the 70s and 80s - I'm sure I'm not alone in hoping this bird sticks around, survives, and in time comes into his funky adult plumage. Then Papa Westray would be on the receiving end of a pilgrimage the extent of which would make the early Christian fathers wonder at the power a single bird could exert over us...
All that said, this isn't the first Steller's Eider for Orkney as a whole or either island in particular. That accolade, this week, goes instead to the male Blue Rock Thrush found on Lamb Holm on 8th-10th.
Lamb Holm? I hear you say. No, me neither. A quick glance at Wikipedia tells us that the main attraction on this tiny, uninhabited island is the Italian Chapel built by prisoners of war working on the construction of the Churchill Barriers in Scapa Flow in 1942.
Wikipedia is, of course, very wrong.
The main attraction on Lamb Holm this week was indisputably Orkney's first and Britain's most northerly ever Blue Rock Thrush. Our first British record was a Scottish bird – seen around Skerryvore lighthouse (Argyll & Bute) on 4th-8th June 1985, before being found dead there on the latter date – but thereafter all our recent birds have been of a much more southerly flavour, with the one day bird at Moel-y-Gest (Gwynedd) on 4th June 1987 the most northerly of the lot.
Fair to say then that nobody saw this one coming… but what a belter of a bird it was.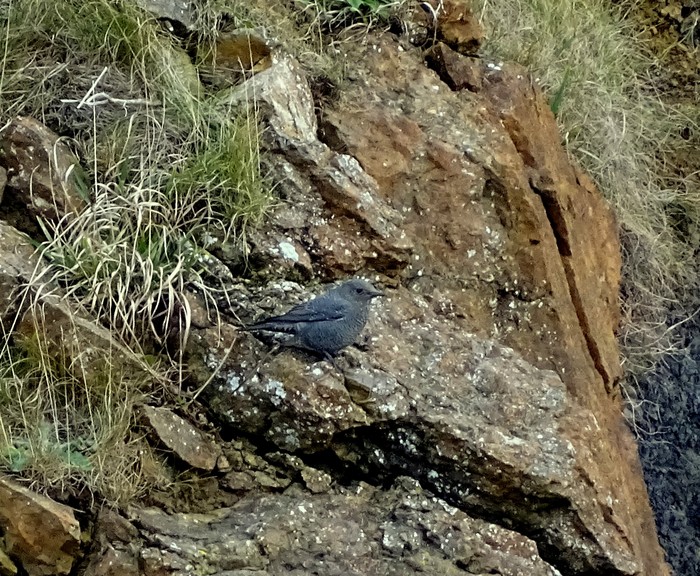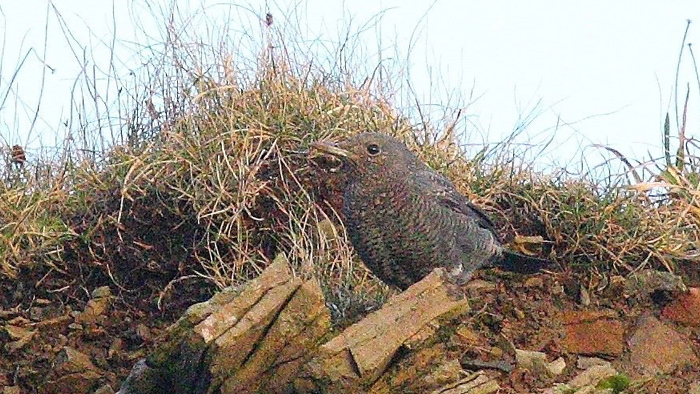 As if all of that weren't enough, Orkney was already basking in the warm glow of another county first this week, albeit one that was arguably more anticipated and overdue. North Ronaldsay, no stranger to a rare chat, went and did it again on 6th-7th with a female Siberian Rubythroat present on the island.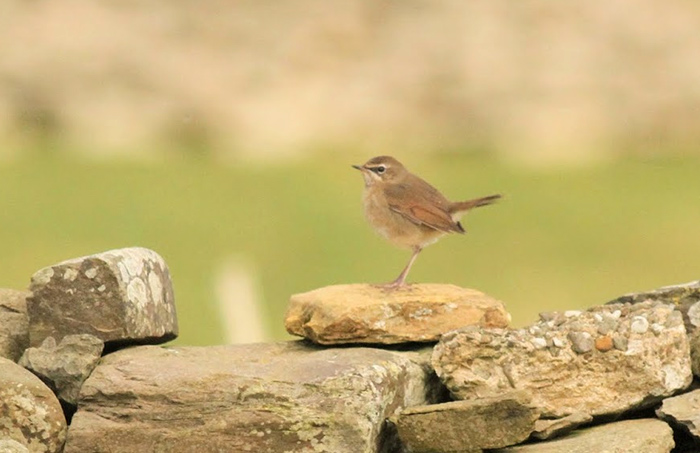 Ignoring the Hertfordshire Horror, this is the second bird of the year – the first time that's happened in Britain, surely another sign that the species is starting to do a Red-flanked Bluetail on us, and is getting steadily commoner with the passing years.
Which just leaves Rufous-tailed Robin and Siberian Blue Robin needing to up their game a little for us all… although, of course, North Ron already had those eye-watering Sibes under the belt before events of this week.
Paddyfield and American Buff-bellied Pipits
Events in Sennen (Cornwall) lately really sum up all that's brilliant and baffling at once about British birding. In many ways, it's the perfect case study for the birding times in which we live.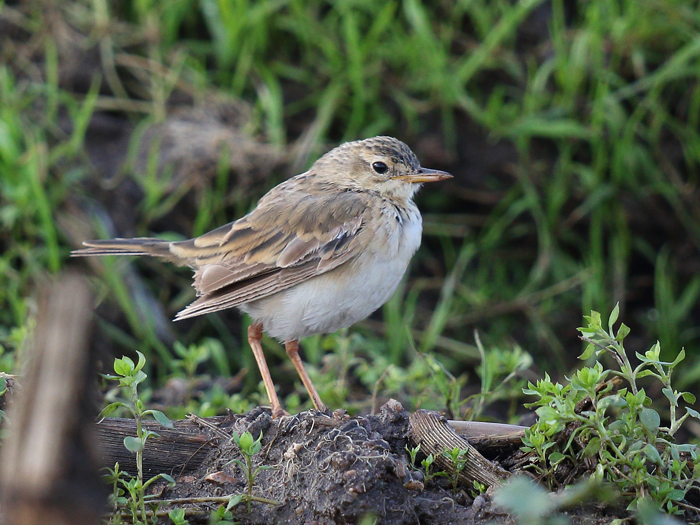 Whoever would have predicted we'd be seeing a Paddyfield Pipit in Britain any time soon? I'm assuming that the DNA will bear out the remarkable CSI sonogram analysis that led to that identification in the first place – and therein lies the heart of the brave new birding world, one where technology allows us to have certainty where once there would just have been conjecture and, over time, occasional cause for rueful reminiscence.
Which leads us neatly to the underbelly of the birding scene – the inevitable carping and naysaying that accompanies almost every extraordinary bird nowadays. Obviously the Paddyfield Pipit is not one / an escaped cagebird / ship-assisted… The conjecture online has ranged from the risible ("it's got clipped wings") to the more reasonable observation that, as far as we know, it's a short-range migrant at best.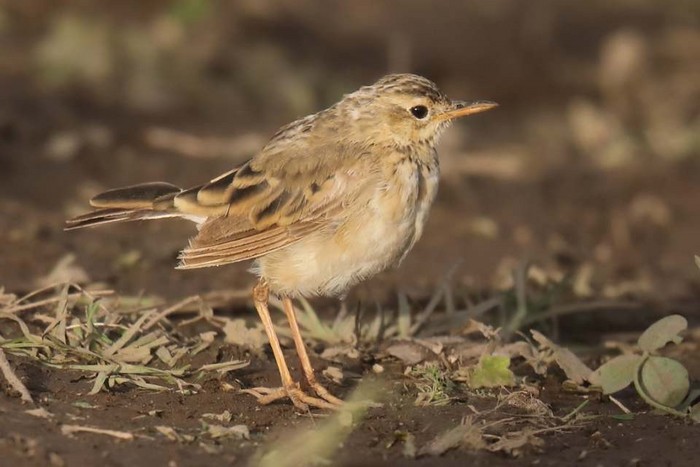 All of which reminds me of the reception granted the Fair Isle Citril Finch in 2008. The online mud slung initially at that bird included the escaped cagebird and non-migrant tropes. Then the penny dropped that the bird showed no incriminating signs of prior captivity and the species does, in fact, undertake short migrations. The bird's credentials with the sceptics were significantly improved when one turned up, more accessibly, in Norfolk a few years down the line…
So, I won't be entirely surprised if it turns out that some populations of Paddyfield Pipits are more mobile than we currently assume they are. And when another turns up… well, that'll be nice, won't it?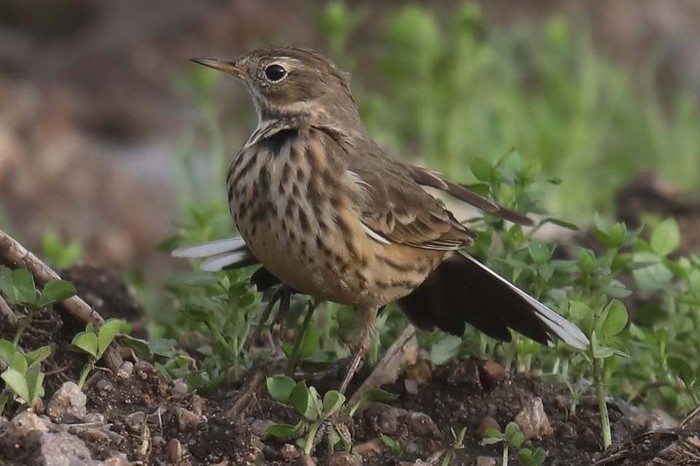 But until then, there's still one on offer, moulting in a field outside Sennen until 12th at least. That it's sharing the area with an American Buff-bellied Pipit is all the more remarkable, and makes justifying a trip to Cornwall even easier, surely?
It's with a certain magnificent inevitability that we start this week's short seabird section on Papa Westray (Orkney) where, on 10th, at least seven White-billed Divers were to be seen offshore.
Total respect. What an island!
In Ireland, the adult Pacific Diver was once more seen at its rgular wintering station off Crookhaven (Co.Cork) on 12th. Where do these birds go in the summer?
Around 60 Pomarine Skuas were logged this week, predominantly off the east coast of Britain – most being ones or twos, with notable tallies being half a dozen seen from Sheringham (Norfolk) on 8th and nine birds off Hound Point (Lothian) on 7th. A single Long-tailed Skua was noted on 8th off Sheringham also.
Meanwhile, Little Auks had a modest moment, with around 200 birds recorded as the week wore on. Around 70 were seen daily on 6th-7th, with daily tallies dropping thereafter. Peak counts came on 6th from St Abb's Head (Borders), where eight birds were seen; on 7th from Flamborough (East Yorkshire), where 13 birds were logged; and on 10th with further octets noted from Flamborough and Walcott (Norfolk).
In these days of regular breeding British Cattle and Great White Egrets, and a host of wilfully released but emphatically not wild White Storks, all of which for reasons good and bad are now dropped from our weekly summary, thank goodness for Glossy Ibises.
(Don't tell the Daily Mail about those immigrant egrets coming over here from Europe as they please, taking amphibians and small fish from our British Grey Herons, just helping themselves to nest sites - their head would explode).
But yes, Glossy Ibises. Also coming here without so much as a by-your-leave, and very welcome they are too. This week featured another decent showing of them – in Devon, at Fremington Pill still on 6th, 10th and 12th, over Starcross on 8th and at Exminster Marshes RSPB on 8th-9th; at Sidlesham Ferry Pool (West Sussex) on 9th; on Anglesey at Valley on 7th-8th; at Fairburn Ings RSPB (West Yorkshire) on 10th; and in Ireland at Pilmore (Co.Cork) again on 10th.
In Norfolk the male Little Bittern was once again seen a handful of times in flight at Titchwell RSPB on 9th, and again on 12th.
And finally for our long-legged beasties this week, we've just a few Common Cranes recorded away from the usual Norfolk haunts – duos seen at Eldernell (Cambridgeshire) on 7th and Hatfield Moors NNR (South Yorkshire) on 9th.
A probable Spotted Crake was seen in flight on 11th at Llanilid (Glamorgan).
As we'd expect at this juncture in the year's proceedings, numbers of interesting honkers and, in particular, quackers are on the up again this week.
Goose-wise first, we've a blue morph Snow Goose once more at Loch of Skene (Aberdeenshire) on 6th-10th, with two birds noted there on 10th.
Keen eyes are picking out more Black Brants again – birds were seen this week at Kilnsea (East Yorkshire) still on 6th-12th; in Norfolk again at Stiffkey on 7th; and once more on the Fleet (Dorset) on 8th-9th. Further sightings came from The Naze on 6th and Hamford Water (Essex) on 9th; and at Donna Nook (Lincolnshire) again on 10th. Another bird (or a hybrid) was seen in Lincolnshire at Gibraltar Point NNR on 10th-11th also.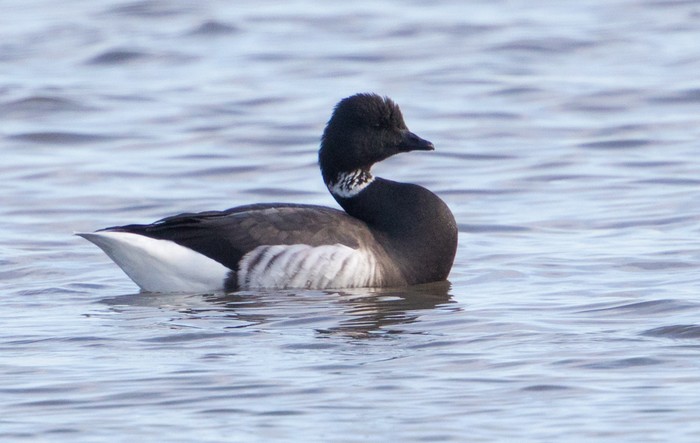 As for The Goose Formerly Known As Canada, we've just got the interior Todd's Canada Goose still present on Tiree (Argyll & Bute) on 8th.
Starting the quackers with sea ducks, we enjoyed a rare scoter double bill once more this week, with the drake Black Scoter again off Cocklawburn (Northumberland) on 6th embellished with the lingering presence of the drake White-winged Scoter a little further north, off Musselburgh (Lothian) still on 6th-12th.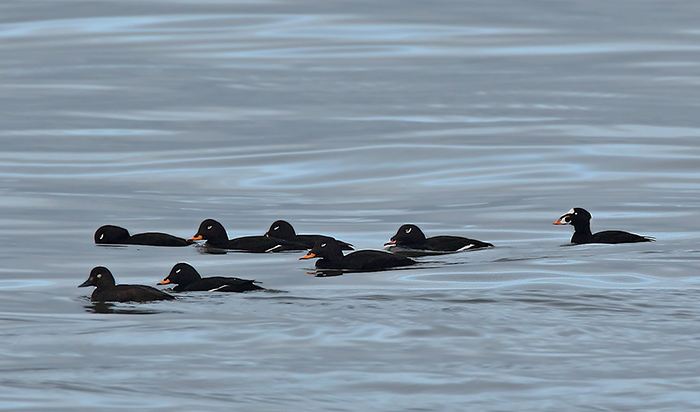 The latter was sharing the Lothian waters with the regular drake Surf Scoter still on 6th-12th, with a female picked out there also on 8th. At the opposite end of the country a drake was seen in Thurlestone Bay (Devon) on 8th.
A drake King Eider was once more seen off Nairn (Highland) on 9th.
By any standards the week just gone was a good one for Lesser Scaups, with five birds in all seen – known drakes once more at Carrowmore Lake (Co.Mayo) on 6th, on the boating lake in Helston (Cornwall) on 6th-12th, and on Chew Valley Lake (Somerset) again on 7th-8th; and new birds found at Cross Lough (Co.Mayo) on 8th-12th and Stithians reservoir (Cornwall) on 10th-12th.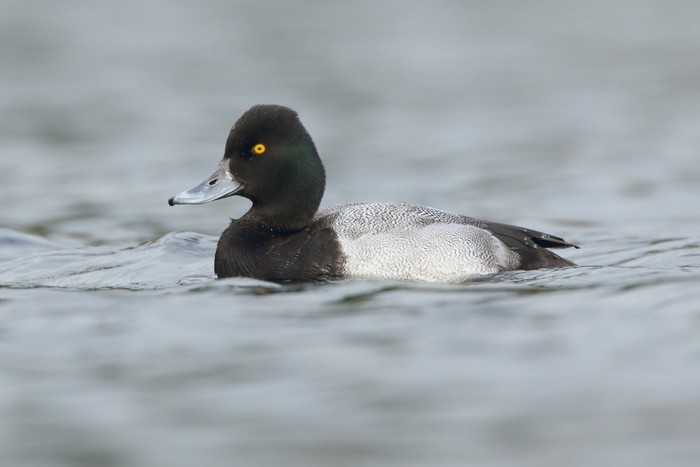 In a British and Irish context Ring-necked Ducks are always commoner still, so we shouldn't be too surprised that we did well for them too. Ireland weighed in heavily with a peak count of four birds – two drakes, a first-winter drake, and a female – on Lough Gara (Co.Sligo) on 10th, augmented by further sightings at Ennis (Co.Clare) on 6th, Tacumshin (Co.Wexford) on 8th-10th, and Ballyallia Lake (Co.Clare) still on 8th. British sightings came from Barra (Western Isles) still on 6th-12th; South Nesting on the Shetland mainland on 6th-12th; Abberton reservoir (Essex) again on 7th-12th; on Tiree (Argyll & Bute) on 8th, where two birds were seen; and at Longham Lakes (Dorset) still on 9th-11th.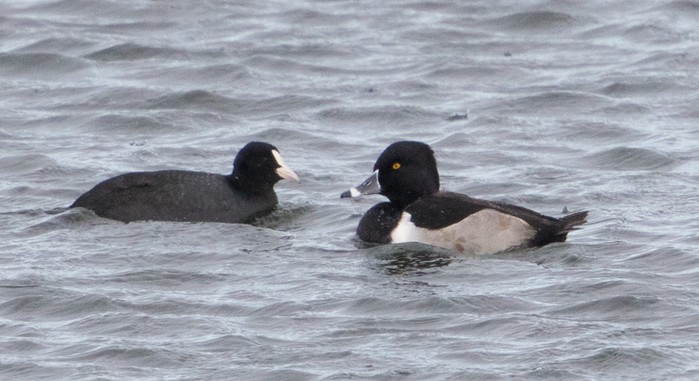 A drake Ferruginous Duck was found on 11th in Surrey at Papercourt GPs.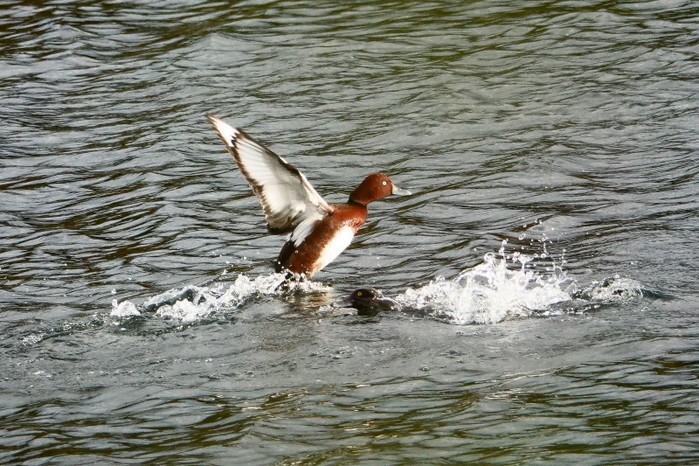 In Scotland the drake Blue-winged Teal remained at Milngavie (Clyde) on 6th-7th; while a new female or juvenile drake was found in Devon at Man Sands on 7th-12th, the first for the county in over 20 years, so a welcome sight for local birders.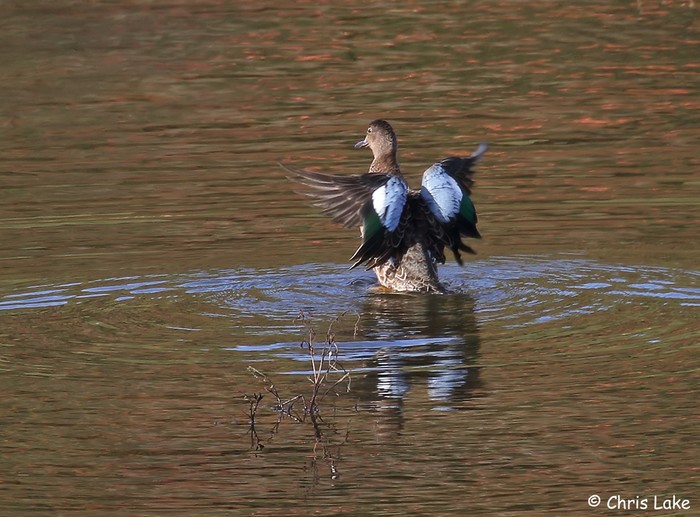 Green-winged Teals remained this week on North Ronaldsay (Orkney) on 6th-12th; at North Cave Wetlands YWT (East Yorkshire) on 7th-12th; and on Blacktoft Sands RSPB (East Yorkshire) on 9th-11th; further birds were found on 10th at Ham Wall RSPB (Somerset), and on 11th at Wacker Quay (Cornwall) and Wall Farm NR (Shropshire); the latter bird remained on 12th, with another seen that day on South Uist (Western Isles).
Staying on the Somerset Levels, a possible female American Wigeon was seen at Catcott Lows NNR on 6th; in Highland sightings came on 7th again from Clachnaharry and on 10th on Merkinch LNR; the drake was once more seen on Grindon Lough (Northumberland) on 8th; and a drake was seen in Co.Donegal at Culdaff on 10th.
<!—Section Title -->
We have to begin our weekly waders with White-rumped Sandpipers as, once more, they were a notable feature of the daily news throughout – none more so than the lingering flock of six birds on Lough Foyle (Co.Derry) on 7th-10th, with a further two birds seen in the area on the Roe estuary on 10th also.
Elsewhere, a duo was noted at Annagh Beach (Co.Mayo) on 9th, up from one bird still there on 8th; and further singletons were recorded at Ballycotton (Co.Cork) still on 6th-10th, on South Uist (Western Isles) on 8th-10th, on Leam Lough (Co.Mayo) again on 8th, at Tacumshin (Co.Wexford) on 8th, and at Skinflats Lagoons RSPB (Forth) on 10th.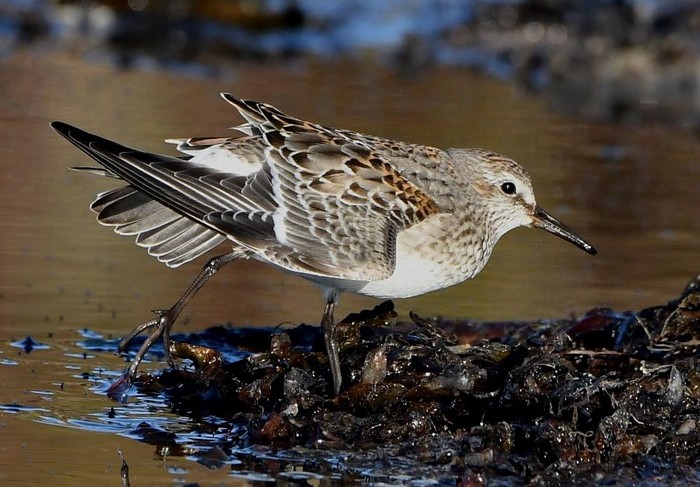 The juvenile Baird's Sandpiper remained at Ballinskelligs (Co.Kerry) on 6th-10th.
Rarest of the lingering birds this week was, of course, the Short-billed Dowitcher seen once more in Dundalk (Co.Louth) on 9th-11th. Long-billed Dowitchers, meanwhile, remained available at Cresswell Pond NWT (Northumberland) on 6th-12th; Bowling Green Marsh RSPB (Devon) on 6th-10th; and on Tiree (Argyll & Bute) still on 8th.
A reported probable Great Snipe in the West Midlands at Temple Balsall on 9th proved to be an unobliging bird, flying off never to be seen again.
Three American Golden Plovers were made of more confiding stuff. Two juveniles remained at Leam Lough (Co.Mayo) and Littleport (Cambridgeshire) respectively on 6th; and a further juvenile was seen in Ireland at Bannow Bay (Co.Wexford) on 8th.
A Grey Phalarope was reported from Cley (Norfolk) on 9th; with it or another seen that day along the coast at Blakeney Point; and on 11th one was seen briefly back at Cley.
This was a significantly quieter time where gulls'n'terns are concerned than when I left you three weeks ago – this week, Ring-billed Gulls were about the rarest offering, seen on Inch Island (Co.Donegal) on 10th and Annagh Beach (Co.Mayo) on 12th.
These were run a close second by the week's only Sabine's Gull, a juvenile noted offshore from Eyemouth (Borders) on 8th.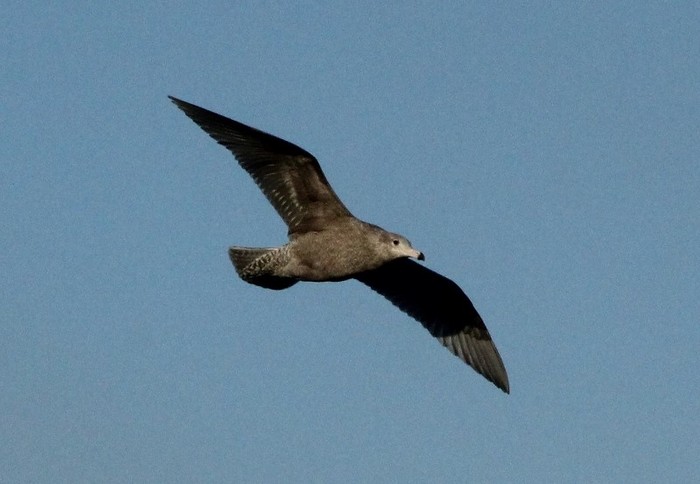 Apart from those, well, it was all about the white-wingers, albeit in modest numbers at this point in the very early winter. Almost 30 Glaucous Gulls were noted nationwide with a predictably northerly bias, all single birds bar two seen from Unst (Shetland) on 10th and six off there on 12th; while around 10 Iceland Gulls were logged this week. These were seen on Barra (Western Isles) on 6th-9th; at Tarbat Ness (Highland) again on 7th; at Gibraltar Point NNR (Lincolnshire) on 7th also; at Fowlmere RSPB (Cambridgeshire) on 8th and Dernford Farm reservoir on 12th; at Scatness (Shetland) on 10th; still present at Tramore (Co.Waterford) on 7th-12th; and at Belfast Lough (Co.Antrim) on 8th. On 11th individuals were seen at Marazion (Cornwall) and Clonea (Co.Waterford), and on 12th one was again on the Hayle estuary (Cornwall), while another was seen from the ferry that day off Skye (Highland).
Heading up our raptors this week was a bird that was either a juvenile Pallid Harrier or a hybrid, seen on 7th at Therfield (Hertfordshire).
On 9th a mobile male Montagu's Harrier was seen passing through Surrey, noted from Badshot Lea and nearby that day.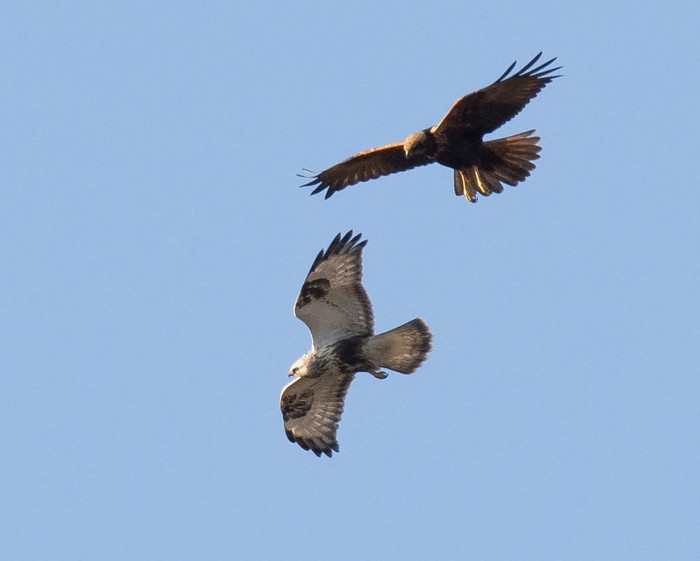 Rough-legged Buzzards lent a more appropriately wintery feel to proceedings – birds were noted at Gibraltar Point NNR (Lincolnshire) on 7th-8th, Sunk Island (East Yorkshire) on 8th, on 10th at Holme Fen NNR (Cambridgeshire) and Walberswick (Suffolk), and on 11th-12th at Wells (Norfolk); with another possible bird seen on 7th at Dungeness (Kent). On 12th final sightings for the week came from Norfolk, at Holkham Park and Freshmarsh, and Cley; and Suffolk, where a bird was seen over Newmans Drove in the afternoon.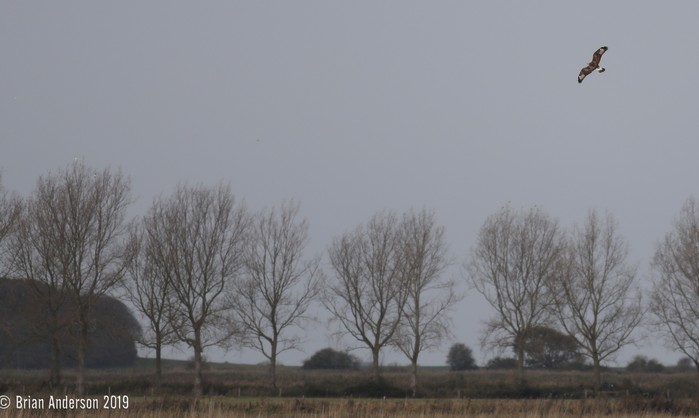 Keeping with the wintery theme, Orkney's already indecently good week was gilded still further by a male Snowy Owl seen on Hoy on 6th; while the recent Shetland bird emerged from the vastness of the Ronas Hill area once more on 8th. As I write, I can see Ronas Hill sitting covered in snow on the horizon. Good luck to anyone searching it or adjacent Collafirth in the coming days…
And so to the passerines where things were still pleasingly busy this week, with a good easterly flavour to proceedings. Enough variety was on offer to make it tricky to know where to begin, so I'll start with a bit of loyalty to a friend who happened to find one of the more crowd-pleasing birds of the week – step forward my erstwhile RBA Rarity Round Up colleague and, this autumn, rarity-finding machine Mark Golley. Still glowing with the satisfaction of finding Shetland's first confirmed Stejneger's Stonechat a few weeks ago, he only went and did it again this week – turning up the first Isabelline Wheatear for Cley, present on 10th-12th, and only the fifth for Norfolk as a whole.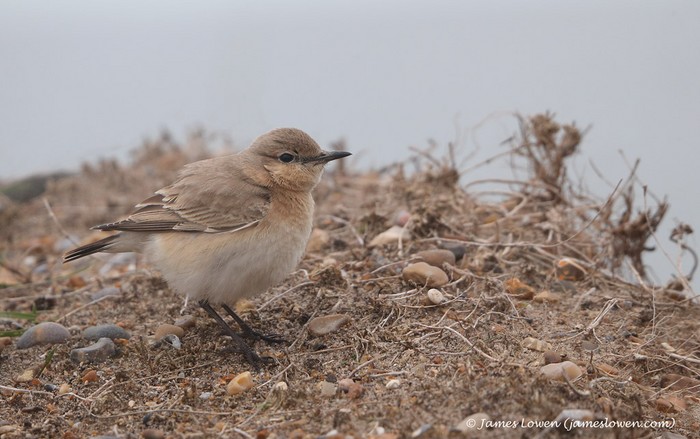 I saw my first way back when on Gugh (Scilly) in 1991 – at a time when that bird was only the eighth record for Britain, and had hair-raising rarity value still. Some 30 years later and we're now knocking on the door of 50 British records – the times they are indeed a-changing.
Another Desert Wheatear was seen this week, at Pen y Cil (Gwynedd) on 6th, though news didn't emerge until belatedly a couple of days after the event.
On the subject of changing times, Eastern Black Redstart is now firmly on our radars in the late autumn and, this week, a couple were found in northern Europe. One in Sweden on 8th and, at Loftus (Cleveland), another of either form phoenicuroides or rufiventris on 9th.
Now seemingly commoner than Siberian Stonechat, another putative Stejneger's Stonechat was found this week, seen at Easington (East Yorkshire) on 9th-12th.
A Bluethroat lingered at Spurn (East Yorkshire) on 6th-8th.
Before we move away from the 'new' species that the likes of the aforementioned Eastern Black Redstart and Stejneger's Stonechat represent, we move seamlessly onto the Walberswick wagtail. Present in the Walberswick area of Suffolk for some days previously, alongside first one and latterly two Yellow Wagtails at times, suspicions were mounting that the bird was, in fact, another Eastern Yellow Wagtail. Sure enough, this week a sound recording enabled a positive identification to be made, and the bird obligingly remained on Corporations Marshes until 12th. A further probable bird was found on 12th on Havergate Island RSPB (Suffolk).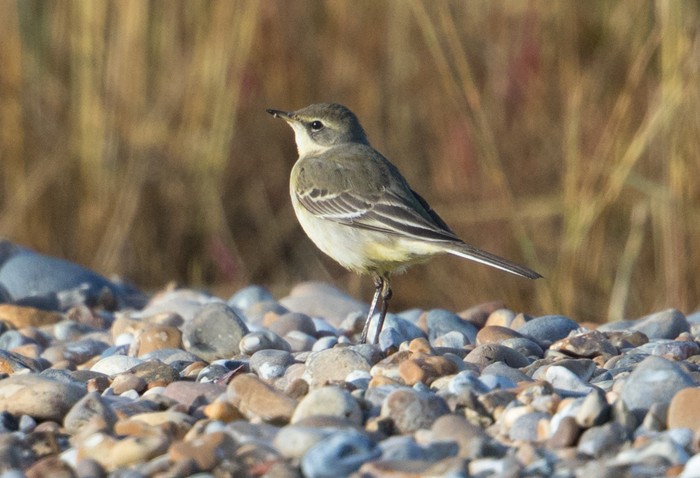 A Citrine Wagtail, meanwhile, flew over St David's Head (Pembrokeshire) on 8th.
While the main pipit focus this week remained, of course, in Cornwall, there were a few further scarce pipits available too. The small arrival of easterly passerines down the east coast on 8th featured, amongst them, two Olive-backed Pipits, one at Gibraltar Point NNR (Lincolnshire) and the other, present until 9th, on Brownsman in the Farne Islands (Northumberland).
A Richard's Pipit lingered in Devon at Orcombe Point until 6th; further birds were seen this week at pipit-central Sennen (Cornwall) on 6th, West Runton (Norfolk) on 6th, Burnham Deepdale (Norfolk) on 6th, Bexhill (East Sussex) on 6th, and at Staines reservoir (Surrey) on 10th.
Another inland reservoir turned up the goods this week – a Black-bellied Dipper was found at Hilfield reservoir (Hertfordshire) on 7th.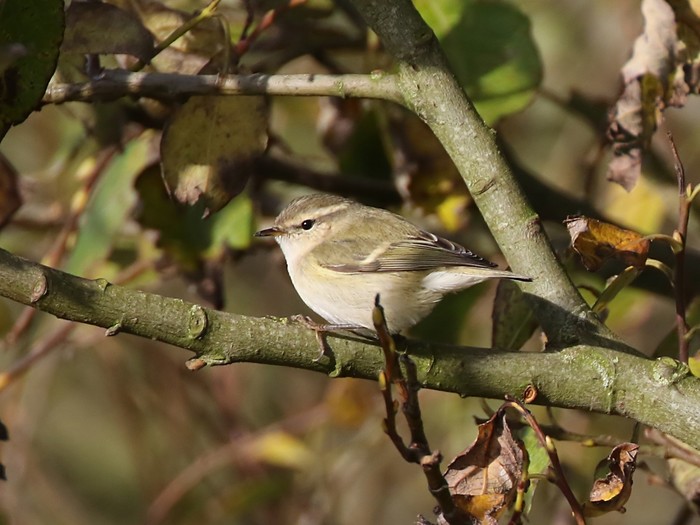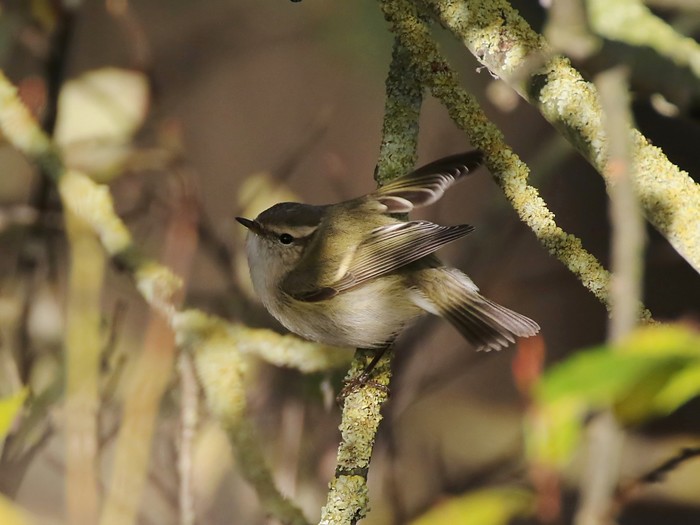 While some 30 Yellow-browed Warblers were logged nationwide this week, the main attraction was their rarer congener – a decent arrival of Hume's Warblers. A shade over a dozen birds were seen, including two together at Lowestoft (Suffolk) on 10th. Sightings came from as far north at Tarbat Ness still on 6th-11th, found by Peter Stronach and Bob Swann, the first record for Highland; and in the south, in particular, in Suffolk – in addition to the two Lowestoft birds further examples were found on 9th at Felixstowe Ferry and Dunwich Heath NT. Most notable of all this week was a bird present at Rhyl on 11th-12th, the first record of its kind for Denbighshire; while on 12th one had penetrated as far west as Scilly, being found on St Mary's that day at Newford Duckpond; the last accepted example on Scilly being found, coincidentally, on 12th November seventeen years ago.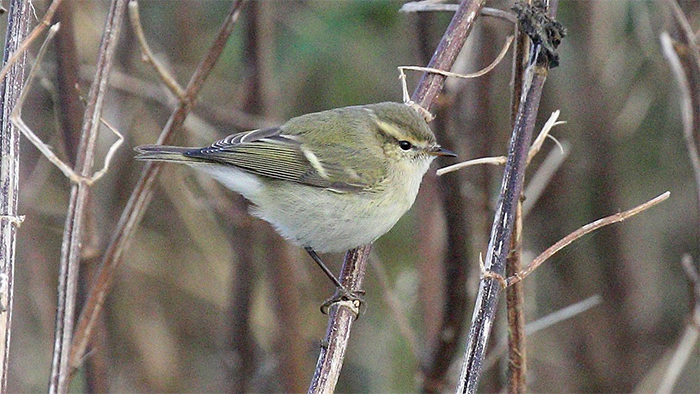 Similar numbers of the considerably more colourful Pallas's Warbler turned up – approximately a dozen, with for the most part a similarly east coast distribution – the exceptions being Cornish birds at Porthgwarra on 6th-7th and in Falmouth on 9th.
That other typical late autumn warbler arrival, Dusky Warbler was represented by a quartet of birds seen at, respectively, Kenidjack (Cornwall) on 6th; Kilnsea (East Yorkshire) on 8th; trapped and ringed at Hollesley (Suffolk) on 10th; and on St Mary's (Scilly) on 10th-12th.
A single late Barred Warbler was at Hartlepool Headland (Cleveland) on 6th-11th, with a second bird reported on site on 9th.
A late Red-breasted Flycatcher near Durness (Highland) on 8th raised eyebrows in some quarters… worth noting, in passing, that Denmark also scored a Taiga Flycatcher this week on 10th…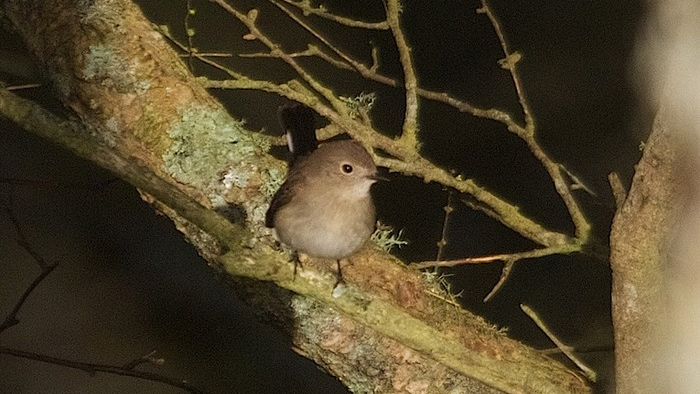 Other late stragglers this week included a Wryneck still on Portland (Dorset) on 8th-11th; and four Hoopoes, seen on 8th at Lady's Island Lake (Co.Wexford), on 9th at Reiff (Highland) and on South Ronaldsay (Orkney), and on 12th at Foveran (Aberdeenshire).
Waxwing numbers appear to be building, with approximately 700 birds tallied this week – some flocks are coalescing, particularly in Scotland, where the peak count this week was 100 birds in Forres (Moray) on 11th.
A cracking late autumn find came Norfolk's way on 8th in the form of a Pallid Swift at Sidestrand.
A Penduline Tit was present at Minsmere RSPB (Suffolk) for a while on 7th.
Ten Great Grey Shrikes were logged this week, a good number in the anticipated winter quarters. Birds remained at Backwater reservoir (Angus) until 11th; Loch Mahaick (Forth) until 9th; Cannock Chase (Staffordshire) until 11th; Crabtree Hill (Gloucestershire) until 10th; and St Margaret's at Cliffe (Kent) until 12th. Further sightings came from Stainburn Moor (North Yorkshire) on 6th, Anglezark reservoir (Lancashire) on 8th-9th, on 10th from Holm Hill (Hampshire), Pegwell Bay (Kent) and Bwlch y Sarnau (Powys), and on 11th from Hatfield Moors (South Yorkshire).
A tardy Common Rosefinch was present on Unst (Shetland) on 7th.
Two Two-barred Crossbills remained tucked away on North Uist in Langass Woods on 12th.
Last, but never least, two Little Buntings were seen this week – one on Portland (Dorset) on 6th-11th; and the other offshore on Brownsman (Northumberland) on 9th.
While the east coast of Britain was enjoying some late autumn action this week, our Scandinavian counterparts were having some of the same – and with results that, in some cases, mirrored our own; and in others, gave pause for a little thought.
Starting in Sweden, there was plenty going on this week. A Rufous Turtle Dove was present at Kristinehamn on 6th-8th; on 7th an Eastern Yellow Wagtail was found at Skane Ian; on 8th, an Eastern Black Redstart was found at Nykoping, and a Pied Wheatear at Arvika; and on 8th-11th a Black-faced Bunting was on Oland, the third ever record for Sweden.
Norway too got a Pied Wheatear this week, present on 7th at Stovasen.
Denmark's contribution was the Taiga Flycatcher at Gentofte on 10th; a national first.
Surrounding us with good birds, Belgium landed its sixth ever Dusky Thrush on 9th at Heist-an-Zee; bringing back painful memories of last autumn much closer to home for me. A Pacific Golden Plover was also seen this week at Kieldrecht on 7th.
Germany hit a duck on 10th, with both Black Scoter and King Eider drakes found that day at Schleimunde.
Memories of one of the year's most remarkable vagrancy events were reignited in France on 6th with a flyby sub-adult Brown Booby off Boucau. A Sociable Lapwing was seen on 10th at Lapeyrouse.
Heading south, a Terek Sandpiper was found in Portugal at Praias do Sado on 11th.
Moving further out into the Atlantic, on the Canary Islands this week the now resident Dwarf Bittern remained on Fuerteventura on 6th-12th; and a Laughing Gull was seen on Gran Canaria on 9th.
News from the Azores has pretty much dried up these days – all we heard of this week being a Hudsonian Whimbrel seen on Terceira on 10th.
Finally, further away still, the Lesser Flamingo remained in Kuwait this week on 8th at Sulaibikhat.
I'd normally be firmly predicting the usual mid-November staples at this point in the late autumn or, whisper it, early winter. You know the kind of thing. More Pallas's Warblers, maybe another Desert Wheatear or two, definitely time to start checking the bushes at the local sewage farm to see if there's a Dusky Warbler tootling around in them (and there surely is, somewhere)…
But this hasn't been a usual spell of birding lately, so I'm daring to dream a little bigger a little longer.
Could we really be on for a hat-trick of pukka Siberian Rubythroats this year? Our latest bird to date was the male on Fair Isle on 18th November 2016, so we're still in the window of possibility for another to turn up somewhere.
However, given the miserably unhelpful northerlies we've got forecast to start the week, and remembering the fabulous spell of westerlies that ushered in so much Nearctic goodness earlier in the autumn, my mind turns to the possibilities that may yet be lurking unnoticed on a water body or coastline near you. Eyes peeled please for another Double-crested Cormorant or American Coot. Both have been found historically in the coming week, so both should be on our radar.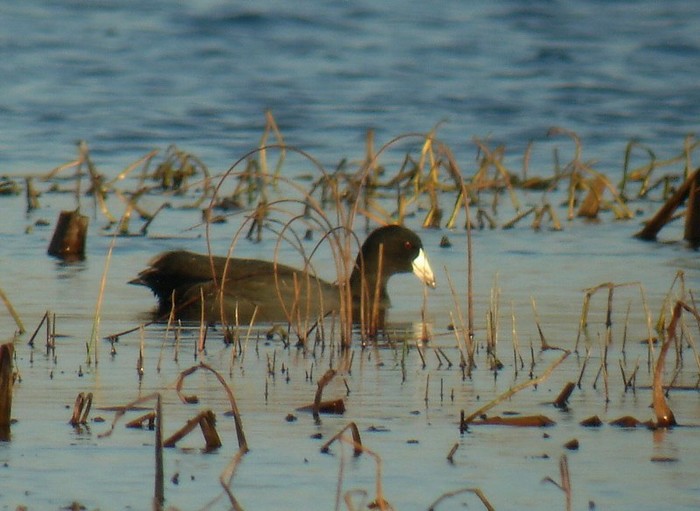 Jon Dunn
13 November 2019
Many thanks to all contributors for their photos and videos this week.
Share this story
Tweet