Weekly birding round-up: 2 - 8 Oct
The week at a glance
Co.Kerry hits the jackpot with Ireland's first Least Bittern
Scilly strikes again with the first of the week's Yellow-billed Cuckoos…
…and the sixth Black-and-white Warbler for the islands
While Co.Galway scores another Black-and-white Warbler
Co.Mayo gets a Baltimore Oriole
Co.Antrim hosts a showy Common Nighthawk
Yet another good Irish bird is found in the form of a Chimney Swift in Co.Wicklow
And Shetland delivers a painfully brief Rufous-tailed Robin
The week began with dire warnings about the imminent arrival in Britain and Ireland of, if no longer technically a hurricane, then certainly the hangover of Hurricane Lorenzo. Cue much hysteria in the excitable sections of the media… but also some quiet optimism in the birding community. As the week unfolded we enjoyed a decent spell of easterlies too, surely conditions for the classic east-meets-west autumn circumstances so deservedly beloved of birders?
Least Bittern
Bad luck, they say, comes in threes. That's a superstition that's hard to gainsay this week as, following the discovery of an ex-Yellow-billed Cuckoo in East Sussex and the suicidal tendencies of a Red-flanked Bluetail in Shetland, on 8th we learned that Co.Kerry had, the previous day, completed the week's triptych of woe.
And how.
It was only a fortnight ago that the Western Palearctic's ninth Least Bittern was picked up, moribund, on Sao Jorge in the Azores and within a few short hours of being taken into care had died, just too exhausted after a long open ocean flight to pull through.
Few would have predicted, however, that one would make it all the way across the Atlantic to Ireland, but that's exactly what happened this week. Unfortunately, with a perfect echo of recent Azorean events, the Least Bittern found on 7th at Farranfore (Co.Kerry) had no sooner been discovered than, thirty minutes later, it had slipped this mortal coil after a brief starring role as Ireland's first ever record of its kind, leaving in its wake a collection of photos of its corpse that are the very definition of birding pathos.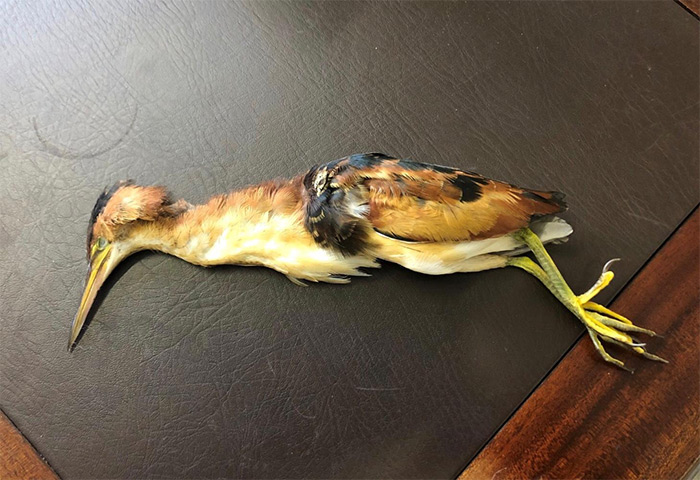 While obviously none of this was a particularly pleasing outcome for the bird itself, this was also sad news for Irish birders who will have to wait who knows how long for another chance at this particular outrageous blocker.
What a way to close the week.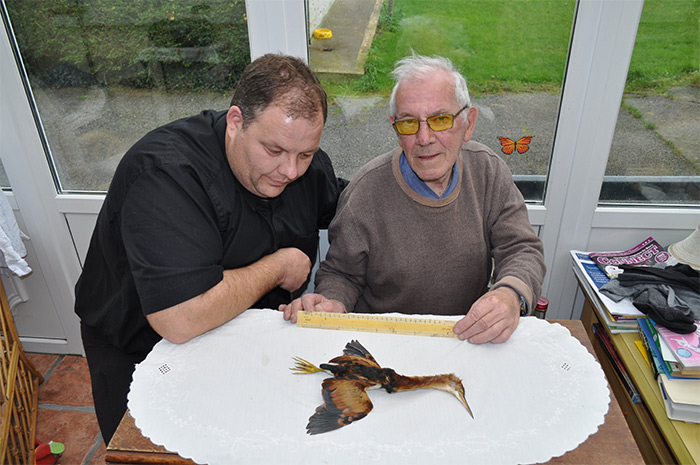 Yellow-billed Cuckoos
The ink was barely dry on the previous week's Rarity Round Up before the first of former Hurricane Lorenzo's transatlantic deliveries were found in the southwest of England in the morning of 2nd – a cheeky Red-eyed Vireo on The Lizard (Cornwall) and, rarer still, a Yellow-billed Cuckoo seen in flight over the beach at Porth Mellon on St Mary's (Scilly).
While far from the rarest of Nearctic vagrants, with almost 70 records on the British books to date, there's something inherently pleasing about a Yellow-billed Cuckoo. They just feel exotic in a British context, an impression that their infamously delicate constitutions do little to dispel – a Yellow-billed Cuckoo on the wrong side of the Atlantic is, sadly, living on borrowed time…
Of the 47 birds found in the past half century, fully 21 were either dead or dying. They're birds out of place and rapidly running out of time by the point at which we set eyes upon them.
If one's hoping to see one before it drops off the twig, there's really nowhere better to be than Scilly – it's the place par excellence for vagrant cuckoos with eleven Yellow-billed and five Black-billed Cuckoos accepted to the end of 2017. The golden year was, of course, 1985 when two or three of the former and one of the latter were found during one dizzying spell for Nearctic rarities on the islands. Will we ever see the like again? In these bleak times of enormous bird decline one would suspect not… making any transatlantic vagrant even more cherished by British birders than ever before.
Though, as the early part of the week unfolded, we could have been forgiven for thinking we'd slipped back to something approaching the glory days of yore…
The last echoes of the mega alert were still ringing in our ears when news of the week's second Yellow-billed Cuckoo emerged – this one, with a certain dread inevitability, found dead in East Sussex at Seaford on 2nd. If that weren't enough, on 3rd a possible Yellow or Black-billed Cuckoo was reported on St Mary's in flight over Penninis Head.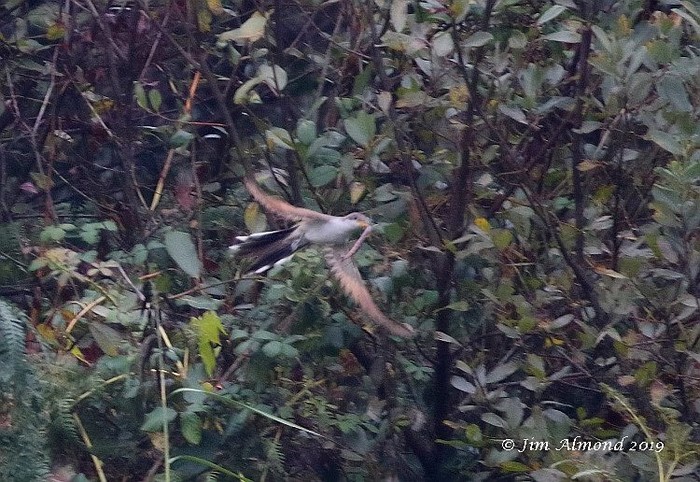 At which point it all went quiet on the cuckoo front. But just for a little while as, on 6th-7th, a Yellow-billed Cuckoo was found on St Mary's at Lower Moors. Now… with the low numbers of birders and the density of cover present on St Mary's, it's possible that this bird was one and the same as the bird seen on 2nd (and possibly again on 3rd) having been lurking, unseen, somewhere in the intervening days. Then again, given their well-rehearsed propensity for keeling over, it's also possible that this was a different, fresher bird entirely. We'll never know – but at least this one, while mobile, was a little more available for those on Scilly to see it.
Black-and-white Warblers
Belated news is always hard to swallow, flavoured with regret for what might have been. Perhaps the only seasoning that makes it palatable, in a birding context, is the Schadenfreude felt by those who've already seen the species in question.
In the case of the Black-and-white Warbler found this week on 2nd trapped in netting on St Martin's (Scilly), news of which became widely known on 3rd, there will at least have been many a Scilly regular who's had a previous chance to catch up with a prior individual. This bird comes to be the sixth record for the archipelago, following the last present on the islands on 17th-21st September 2011 – and only the 15th British record as a whole of this snazzy humbug.
Sadly only seen again briefly on 3rd, the bird seemed, metaphorically at least, to have slipped through the net. Combined with what had just been found just off the west coast of France on 2nd – France's first ever Blackburnian Warbler on Ile d'Yeu – and the lingering presence of an Ovenbird closer still on Ile Molene, and British birders' hopes could be forgiven for riding high for the days to come…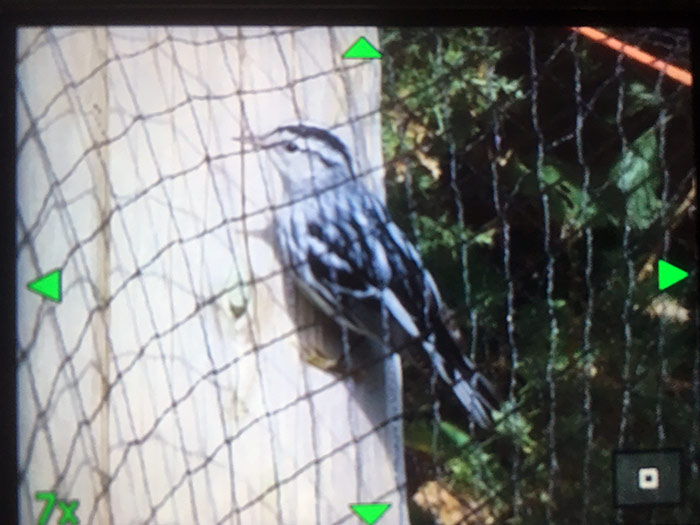 …and the chat amongst birders in the field on Shetland over the weekend was very much there had to be more Nearctic value out there, on Scilly or in Ireland, just waiting for somebody to find it – not that any of us predicted Least Bittern. Come the weekend, cometh the birders and, on 5th, there was our second Black-and-white Warbler of the week – one found in the evening on Inishbofin (Co.Galway).
Alas, in a familiar litany, there was no sign of it there the following day…
Baltimore Oriole
…but Irish birders weren't resting on their laurels, for along came something new and different entirely on 6th - found on Achill Island (Co.Mayo), an elusive Baltimore Oriole.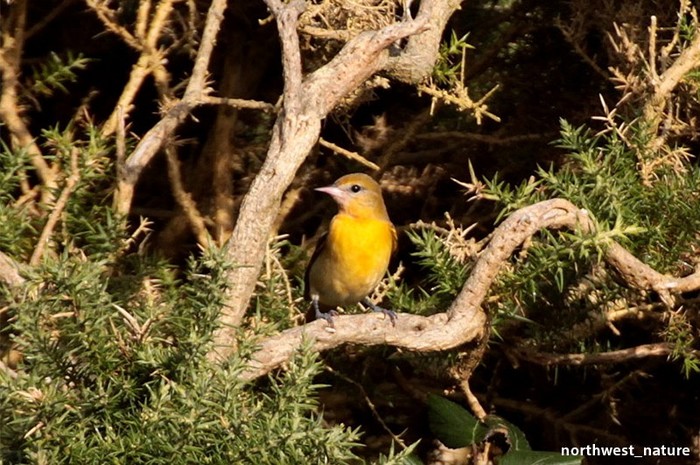 That's a significant bird in any regard, with relatively few British records – 25 accepted to the end of 2017 – but in an Irish context it's a much rarer beast altogether – only the third of its kind to be found in Ireland, the first record for Co.Mayo, and still present there on 7th-8th.
Common Nighthawk
Midway through the week, with Scilly already profiting from Black-and-white Warbler and Yellow-billed Cuckoo(s), news that a possible Common Nighthawk had been seen in the early morning flying over the Garrison campsite on St Mary's on 5th and again on 6th felt entirely plausible. Unfortunately, though, the news never elevated itself into anything more tangible.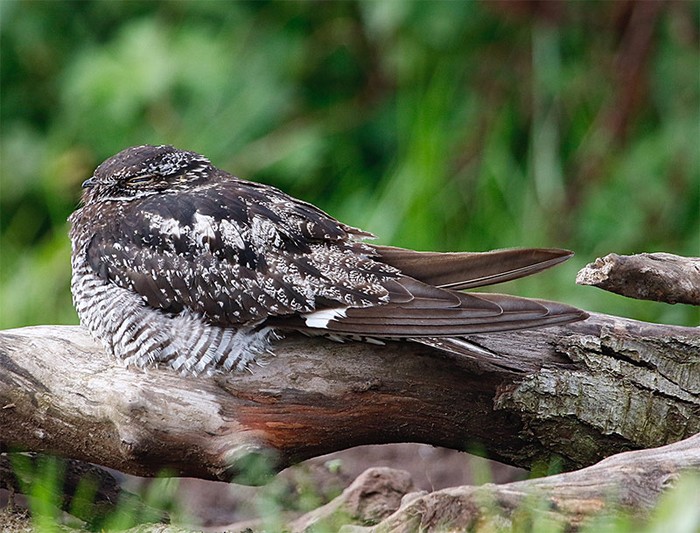 Happily, however, on 7th news emerged of a more concrete record altogether – an adult male bird found in Co.Antrim at Ballymena. Needless to say, with just two prior Irish records this was always likely to be a first for Co.Antrim – and if that limited precedent was anything to go by, it wasn't likely to hang around. The Irish first, at Ballydonegan (Co.Cork) was a one day bird on 24th October 1999; and the Irish second, at Caherciveen (Co.Kerry) on 24th-25th October 2009 was but a two day bird.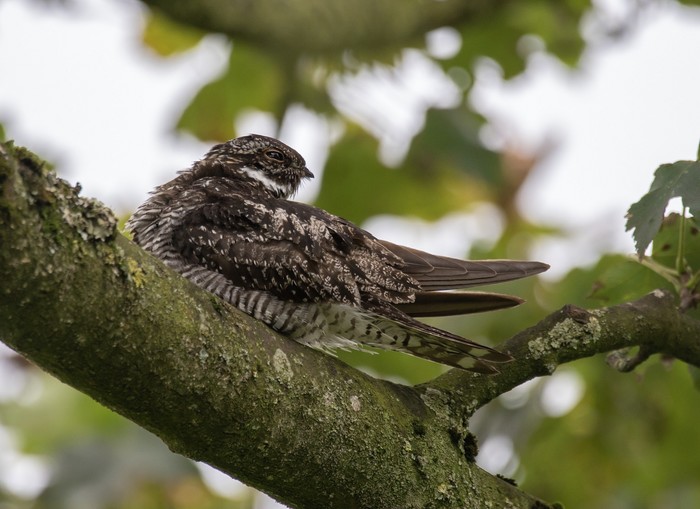 Quite apart from the shock that this bird in Co.Antrim wasn't found on 24th October, it also did the decent and unexpected thing and hung around. It turned out the bird at Ballymena had been present there since 4th and, as the week closed on 8th, it was still there and showing extraordinarily well. At the time of writing that's at least a five day stay by an extremely obliging bird indeed – local rumour has it that it's been in the area for a fortnight…
Chimney Swift
If there's one species that feels hard as nails and able to cope admirably with a rapid transatlantic passage it's got to be Chimney Swift - if one makes it across, it's in with a good chance of finding plenty of fuzzy airborne invertebrates to sustain it a while yet.
Far from the rarest Nearctic vagrant – we've 37 on the combined British and Irish books to date, with honours fairly evenly divided between the two countries – they're far from an annual event and they've still got some proper star quality about them, so the arrival of one is always a big deal. On 8th one was found this week over the Beehive Inn in Co.Wicklow - a find I'd certainly be turning to the bar to celebrate were it me.
Co.Wicklow only has the one prior record to date, seen on 30th October 1999 at Greystones. As a whole 1999 was a remarkable year, with 12 birds in all found in Britain and Ireland; a year without precedent at that point, but repeated in 2005 when a further 17 birds were logged in the course of the autumn. Given the weather that's set to come our way in the coming week, don't be in the least bit surprised if we enjoy some more sometime soon…
Rufous-tailed Robin
Just when the week didn't feel like it could possibly be more excitingly Nearctic, and amidst the clamour of Red-eyed Vireo after Red-eyed Vireo being uncovered on 6th, up popped Shetland with a monster all of its own, and from the opposite side of the compass – only a Rufous-tailed Robin found out on Fetlar.
That was the good news. The ominous caveat was that it hadn't been seen after the initial sighting in the late afternoon and, for those familiar with the corner of Fetlar in which it had been found, the 'plantation' in question at Feal is just a mere handful of trees and doesn't offer much by way of cover. Nearby are a handful of lightly vegetated gardens and a modest stand of rosa rugosa at the primary school and beyond that… well, a decent burn that meanders up into the hills. Not a lot to hold a bird, to be honest.
That didn't stop a couple of dozen hardy souls coming and having a go for it the following morning, including your own correspondent. As the weather closed in by lunchtime, south-easterlies and heavy rain, it felt rare… but not rare enough in the sense that there was no sign whatsoever of Britain's fourth Rufous-tailed Robin in the Feal plantation or the wider Houbie area. A brilliant find that hopefully kickstarts a decent spell for Shetland, but one that frustrated all but the fortunate finder. The wait goes on for one that's more widely available…
For a second week running, the most notable event at sea were the continuing presence of good numbers of Balearic Shearwaters - though the 900 logged over the course of recent days were approximately a third of the chunky numbers recorded in the previous week. That's to take nothing away from the south west, however, where the species seemed omnipresent off Cornish and Devonish seawatching vantage points – most notably on 3rd when 190 birds were seen from The Lizard (Cornwall), and on 4th when 391 birds were noted from Pendeen (Cornwall).
Pendeen also supplied the week's sole Great Shearwater, seen from there on 4th.
Numbers of Leach's Petrels continued to fall, with barely double figures noted nationwide. Five birds were seen from Brandon Point (Co.Kerry) on 4th; a single bird was seen in Co.Kerry that day from Kilshannig; and two were seen on 4th also off The Lizard (Cornwall); and two birds were seen on 6th from Malin Head (Co.Donegal). On 8th one was seen from South Uist (Western Isles), another in Gloucestershire off Severn Beach, and three from Bridges of Ross (Co.Clare).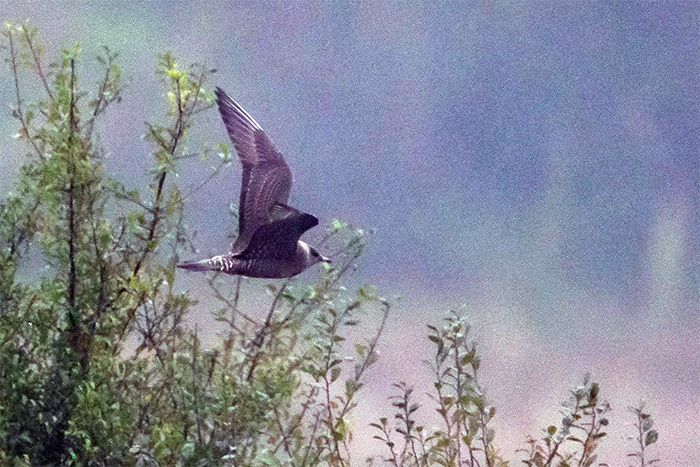 A shade over 80 Pomarine Skuas were recorded nationally this week, for the most part all of which involved ones and twos; eight birds logged from Sheringham (Norfolk) being a notable exception on 2nd bettered only by 14 off Bridges of Ross (Co.Clare) on 8th. The 22 Long-tailed Skuas found this week also represented a drop on the previous week's skua passage – most of these were single bird sightings, with duos off Hornsea (East Yorkshire) on 3rd, Flamborough (East Yorkshire) on 5th, Strumble Head (Pembrokeshire) on 6th and Bridges of Ross (Co.Clare) on 8th, and a trio from Whitburn (Co.Durham) on 6th being the notable exceptions. More notable still was the inland juvenile bird found on 7th at Carsington Water – a brilliant Derbyshire record.
Little Auks continued to hint at birds pushing down from the north, with a few more noted this week than hitherto this autumn. Birds were seen on Unst (Shetland) and from Filey (North Yorkshire) on 2nd; two were noted from North Ronaldsay (Orkney) on 3rd; one was off Sanday (Orkney) on 4th; one was seen from Lossiemouth (Moray) on 5th; and one was seen in Highland from Lothbeg Point on 6th.
Belated news this week concerned a sighting, on 2nd September, of a Brown Booby from a cruise ship off Land's End (Cornwall). Imagine how galling that would have been were it not for the land-based opportunities we enjoyed earlier this autumn…
Long-legged beasties remained in vanishingly short supply this week - Great White Egrets, once again, notwithstanding...
Perhaps the most notable bird of all was a probable Purple Heron flushed by a Marsh Harrier at Frampton Marsh RSPB (Lincolnshire) on 6th.
Regular faithful Glossy Ibis remained at Fremington Pill (Devon) still on 2nd-8th and Newport Wetlands NNR (Gwent) on 5th-6th.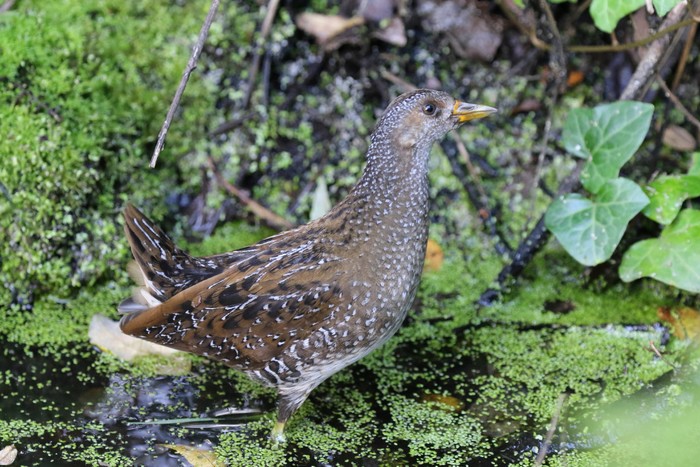 Away from Norfolk, sightings of Common Cranes peaked with around 20 birds in Cambridgeshire seen from a passing train north of Manea on 7th; a wandering pair seen in Cleveland on 5th over New Skelton and Boulby; five were seen on 5th at Hatfield Moors NNR (South Yorkshire); and three were seen on 6th over Budby (Nottinghamshire).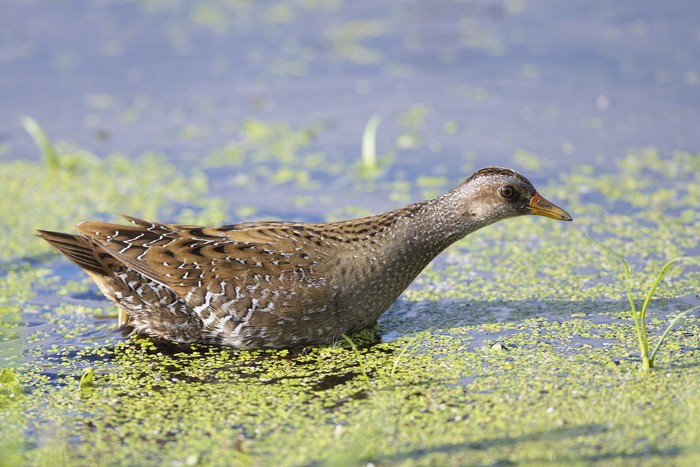 In Somerset, the Spotted Crake remained at Greylake RSPB on 2nd-5th; further birds were found this week on St Mary's (Scilly) on 5th-7th, at Black Hole Marsh (Devon) on 5th and at Stodmarsh NNR (Kent) on 6th.
Meanwhile migrant Corncrakes were seen on 3rd on St Agnes (Scilly), at Sheringham (Norfolk), and at Marsden (Co.Durham).
All of a sudden this week the rarity duckpond was beginning to bustle with various interesting honkers and quackers. Winter must be just around the corner…
Starting with the geese, on 2nd an interior Todd's Canada Goose was found at Aberlady Bay (Lothian) – the first, no doubt, of many of the various shapes and sizes of The Goose Formerly Known As Canada to grace, if grace be the word, Scotland in the weeks and months to come.
Also newly in were a couple of Black Brants on 5th – on Walney (Cumbria) and at Wells (Norfolk).
Here for a few days now, the blue morph Snow Goose remained with the Pink-footed Geese at Vane Farm RSPB (Perth & Kinross) on 2nd-5th.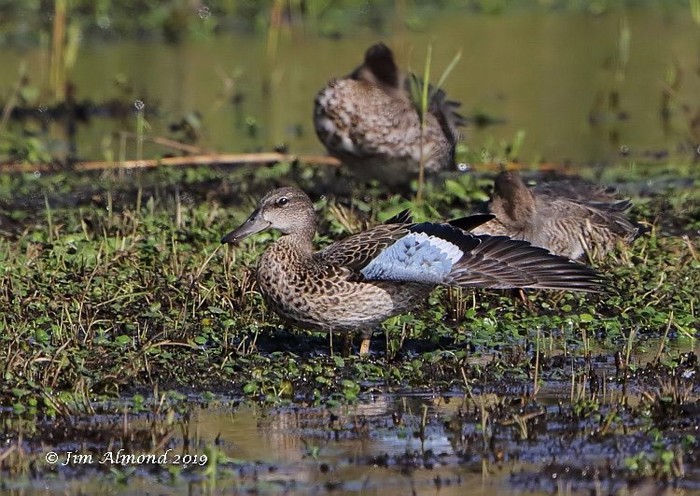 Staying in Scotland, the drake Blue-winged Teal remained at Frankfield Loch (Clyde) on 4th-8th while the drake Black Duck was seen again at Strontian (Highland) on 4th also. A juvenile drake Blue-winged Teal was on St Agnes and, latterly, St Mary's (Scilly) on 7th-8th.
A drake American Wigeon was on Loch Eye (Highland) on 3rd whilst another bird was found at Inishmore (Co.Galway) on 6th.
Ring-necked Ducks were seen again this week on Omey Island (Co.Galway) on 4th and at Abberton reservoir (Essex) on 2nd-3rd, with two drakes at the latter site on 3rd. New birds were found on 5th on Lough Gill (Co.Kerry), at Cutacre CP (Greater Manchester) and at Marston Vale Millennium CP (Bedfordshire), the latter bird being reportedly still present on 6th. On 7th-8th a juvenile was found on Barra (Western Isles); and on 8th a further bird was found in Co.Cork at The Gearagh.
In Powys the drake Ferruginous Duck was back on Llangorse Lake on 6th.
A female or juvenile King Eider was found on 6th-8th in Co.Antrim at Carrickfergus.
And finally, providing more colourful food for thought for yet another week, a drake Hooded Merganser was hanging out with the local Mallards on the Tay estuary at Kingoodie (Perth & Kinross) on 3rd.
<!—Section Title -->
Numbers of scarce and rare waders were on the wane this week as many birds moved on ahead of the weather, but what we lacked in sheer numbers was more than made up for with variety, with plenty of species of interest still to be seen across the region.
Starting with the sandpipers, Semipalmated Sandpipers remained in Shetland at Grutness and nearby Pool of Virkie until 6th and, in Co.Wexford, at Tacumshin until 6th. On 8th a final bird was found on The Gearagh (Co.Cork).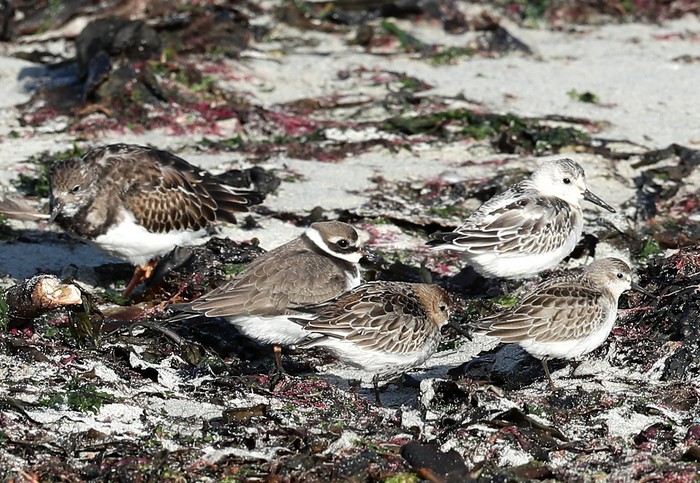 Two Pectoral Sandpipers stayed in residence at Clifton Pits (Worcestershire) until 6th, whilst the lone bird on Fair Isle (Shetland) was still present until 8th; two more were found on 6th at Lough Beg (Co.Derry). On 7th one was present at Parkgate Marsh (Cheshire).
Buff-breasted Sandpipers remained in Highland at Achnahaird until 4th and on St Mary's (Scilly) until 3rd; further sightings this week came from Sanday (Orkney) on 2nd and Truska (Co.Galway) on 6th. Sanday… giving North Ronaldsay a run for its money this autumn on the Orcadian rare and scarce bird front. If you've not already, keep an eye out for it in the news and the round ups – it's having a blinder.
Out on Holy Island (Northumberland) the adult Pacific Golden Plover remained in residence on 4th-5th; while seven American Golden Plovers were logged this week – at Oare Marshes KWT (Kent) still on 2nd-5th; Steart WWT (Somerset) still on 2nd-8th; on Sanday (Orkney) still on 4th; on Yell (Shetland) still on 8th; and at Cashen (Co.Kerry) on 2nd-5th; on Fetlar (Shetland) on 4th; and on Annagh Head (Co.Mayo) on 8th.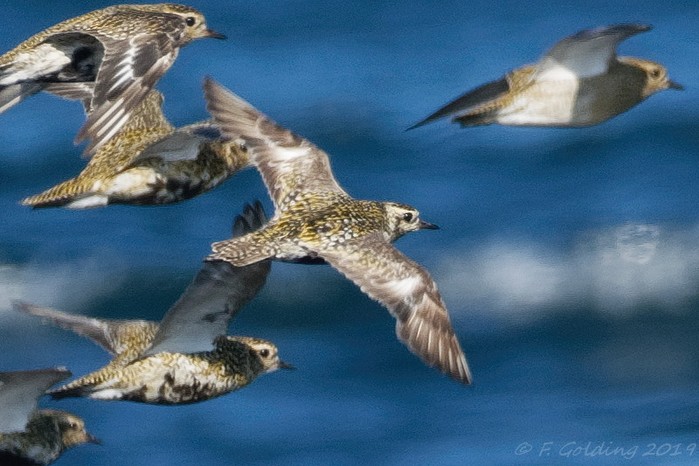 A late Kentish Plover was a quality find at Southport (Lancashire) on 5th-8th.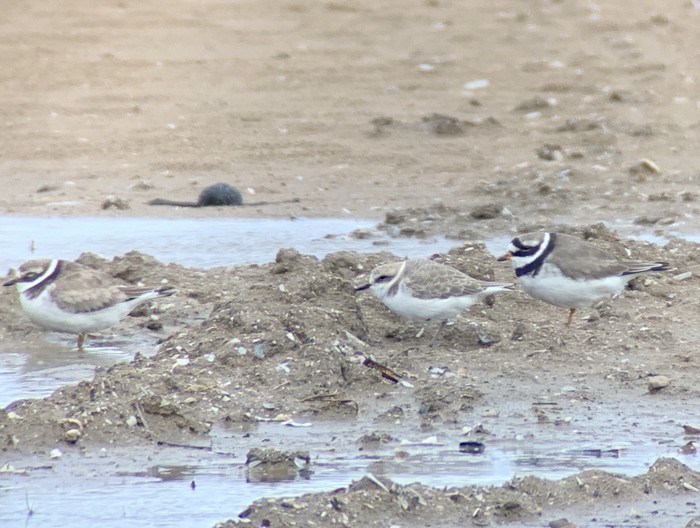 Not so much a trip as a stumble of itinerant Dotterel were seen this week, on Scilly on St Mary's still on 3rd-8th and on St Martin's on 6th, and out in Co.Galway on Slyne Head on 6th.
The juvenile Black-winged Stilt remained settled in Berkshire at Moor Green Lakes NR until 8th.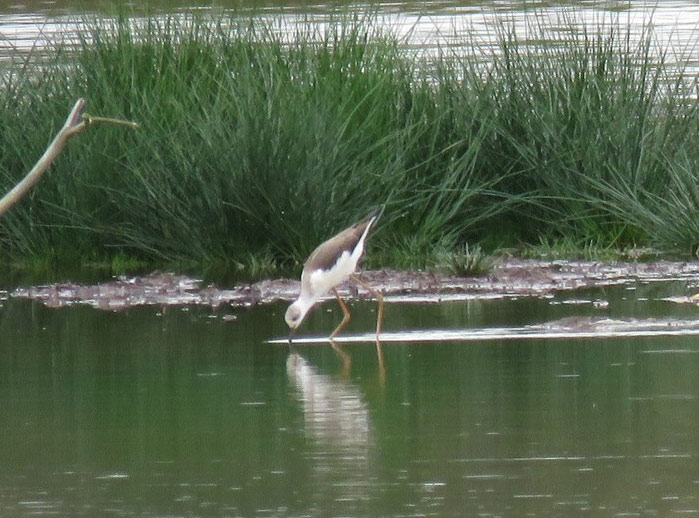 Long-billed Dowitchers were accounted for by settled birds still present at Swillington Ings (West Yorkshire) until 4th and at Bowling Green Marsh RSPB (Devon) until 5th, and another found on 5th on Tiree (Argyll & Bute).
A Lesser Yellowlegs remained at Capringstone Flash (Ayrshire) on 2nd-3rd, while another was found on 5th at Killongford (Co.Waterford).
At least 120 Grey Phalaropes were logged this week, with some seriously chunky counts coming from Cornwall where, at Pendeen, 31 birds were noted on 4th exceeded, on 6th, by a count of some 40 birds in Sennen Bay.
Once again we kick of the gulls n terns section this week with latter and, in particular, those seen in Dorset – the county was having a star turn lately. (Sorry…)
On 2nd a Gull-billed Tern was noted from Lodmoor RSPB but it was further east and later in the week where the biggest news for county birders emerged – a juvenile surinamensis American Black Tern was discovered on 6th-8th at Longham Lakes. The previous week's example also remained on offer this week in Co.Galway at Nimmo's Pier again on 4th, while a further probable bird was found on 7th on St Mary's Island (Northumberland).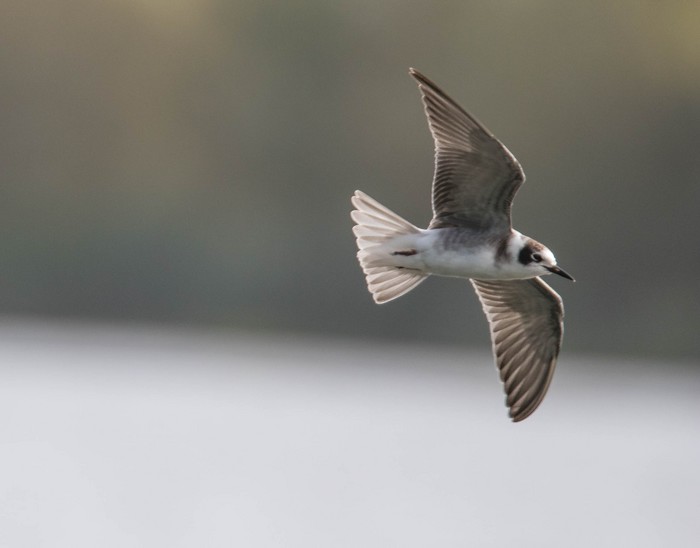 A juvenile White-winged Black Tern was seen on Scilly on Tresco on 2nd, but it was another putative American offering that was really capturing Scilly birders' attention this week – a potential second-winter American Herring Gull being seen on St Mary's for a few days before, eventually, being resolved as a Herring Gull after all.
Nimmo's Pier featured again this week for the Ring-billed Gull still present there on 2nd-4th; another was noted at Mullaghmore (Co.Sligo) on 2nd.
The recent spell of northerlies hastened a few more white-wingers into Britain than of late this week. A probable Iceland Gull in Shetland at Maywick on 2nd was augmented by confirmed birds at Filby (Norfolk) on 2nd, Parton (Cumbria) on 4th, Beckton (London) and the Out Skerries (Shetland) on 5th, and Barra (Western Isles) on 6th-8th still.
Their beefier cousins, Glaucous Gulls were equally represented – birds were seen this week in Shetland on Unst on 2nd-4th, Yell on 2nd and 5th, Loch of Spiggie on 4th-6th, in Lerwick on 4th and Fair Isle on 6th, where two birds were present, and Fetlar on 8th; and, away from the north, at Borth-y-Gest (Gwynedd) on 3rd and Dungeness (Kent) on 5th.
A shade over 30 Sabine's Gulls were logged in recent days – multiple counts being topped by six birds seen from Pendeen (Cornwall) on 4th with three birds seen from Brandon Point (Co.Kerry) on 4th and duos elsewhere at Reculver (Kent) on 2nd, Flamborough (East Yorkshire) on 5th, Malin Head (Co.Donegal) on 6th, and off The Lizard (Cornwall) on 8th.
Extremely peaceful times this week where interesting raptors were concerned. The waters are muddied, of course, by the recent release on the Isle of Wight so we merely note in passing the vagueness of an unconfirmed possible report of a White-tailed Eagle over Beddington sewage farm (London) on 6th and a probable eagle sp over Stanton St John (Oxfordshire) on 2nd.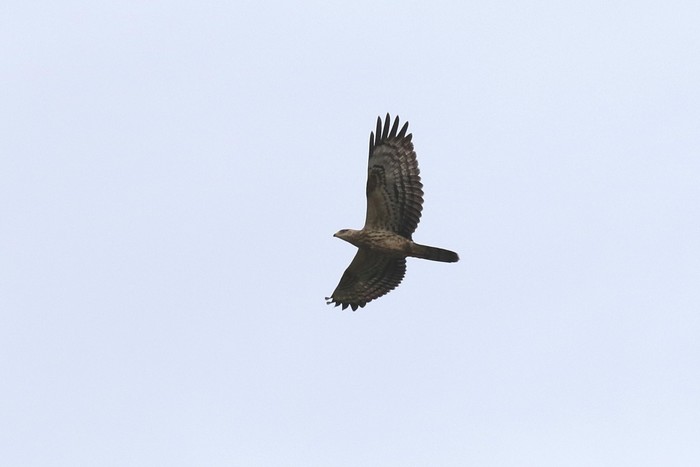 A Rough-legged Buzzard was reported from Holkham Freshmarsh (Norfolk) on 7th; one was reported again from Hurley (Berkshire) on 8th.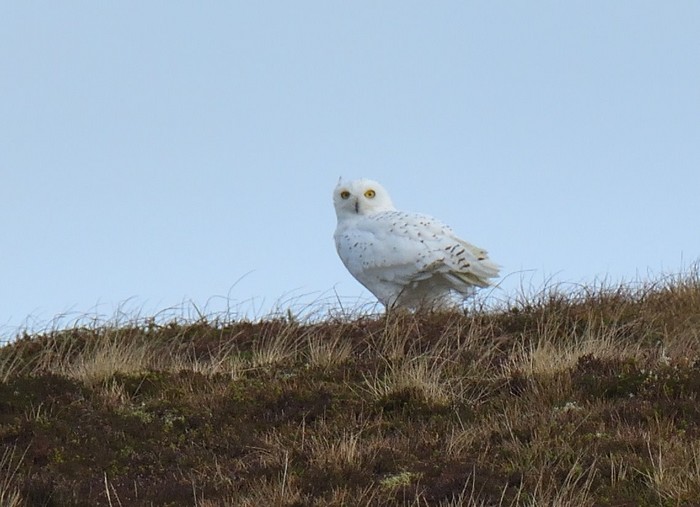 There's little more solidly unequivocal than a Snowy Owl, so we can finish the section on a more positive note with both the female still present on St Kilda (Western Isles) on 2nd-8th and the Ronas Hill individual still present on Shetland on 2nd, allowing visting birders the possibility of the odd one/two with the nearby Bee-eater.
For a second consecutive week, and reflecting the American flavour that dominated our headlines this week, we start the passerines run through with Red-eyed Vireos - brassy, showy beasts here in some numbers. The week kicked off with birds lingering in Co.Antrim on Rathlin Island and on Mizen Head (Co.Cork) still on 2nd, with a fresh individual found on 2nd-4th on The Lizard (Cornwall). With a brief pause midweek it all kicked off again on 5th with one on Slyne Head (Co.Galway) and on 6th with two birds found that day – one apiece on Helvick Head (Co.Waterford) and at Porthgwarra (Cornwall), both remaining present on 7th and the Porthgwarra bird until 8th. On 8th further, final individuals were found on St Mary's (Scilly) and in Co.Cork at Lehanmore.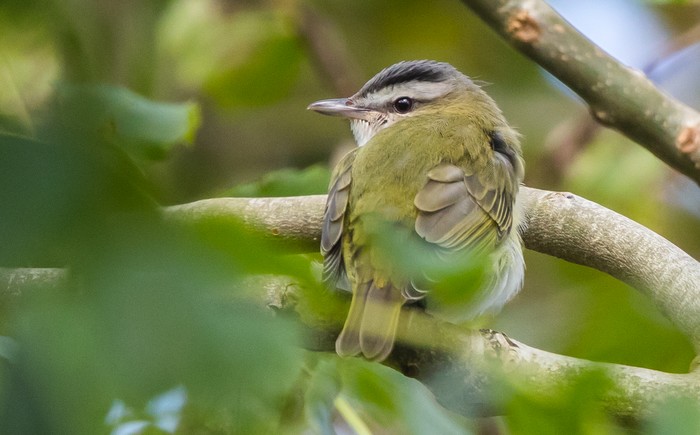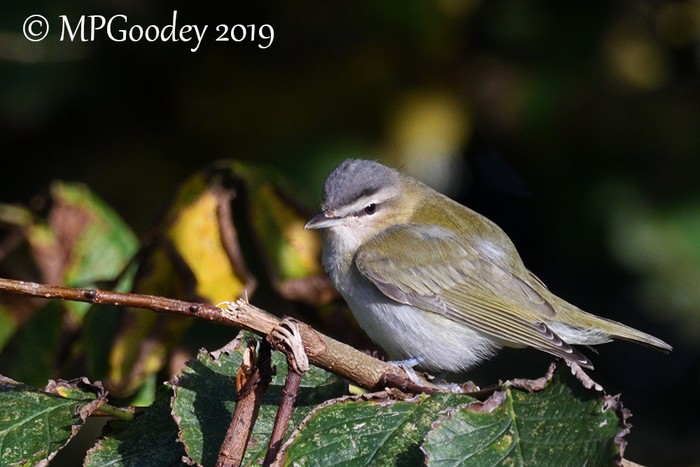 On the east side of the country, the now traditional and anticipated old world colourful autumn rare came in numbers too – step forward Red-flanked Bluetails, none of which could better the adult male bird found in Cleveland at Hunley Hall Golf Course on 3rd and again on 6th for sheer wow factor. Given the east coast location, and the species' ascendency in the past couple of decades, this was surprisingly only the fourth record for Cleveland. And what a bird.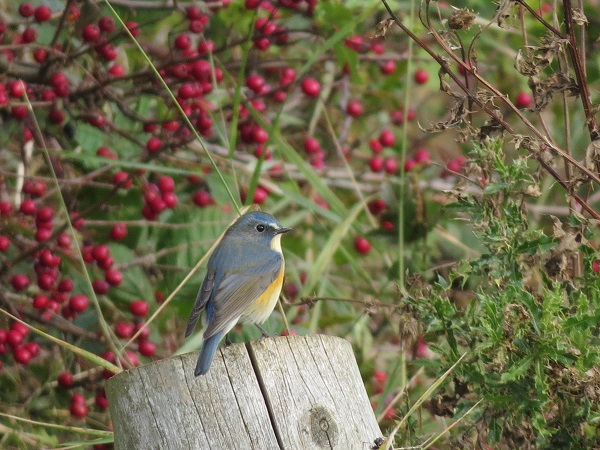 Further Red-flanked Bluetails were found this week on Unst (Shetland) on 2nd-3rd, a stay cruelly cut short by fate when the bird flew into a window and killed itself; on the Isle of May (Fife) on 4th-6th, trapped and ringed there on 4th; on Sanday (Orkney) on 5th; and on 6th on Fair Isle (Shetland) and Rattray Head (Aberdeenshire).
A Bluethroat was seen, briefly, on Whalsay (Shetland) on 5th; another Shetland bird turned up on 8th on Mainland at Sandness.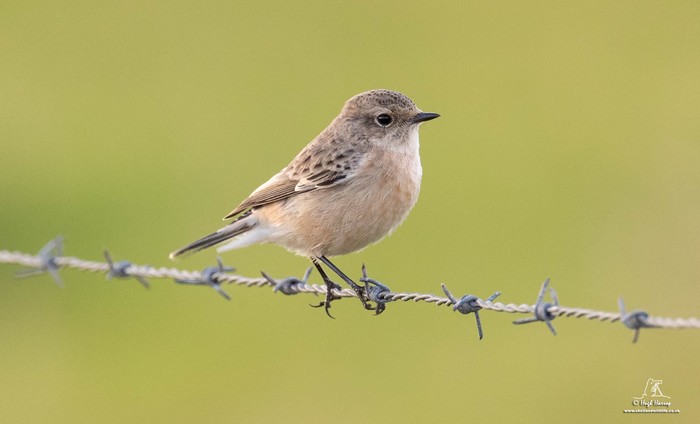 The probable Siberian Stonechat remained in Shetland at Brake on 4th-7th; another was trapped and ringed at Kilnsea (East Yorkshire) on 6th, remaining there on 7th; while back in Shetland on Unst an eastern Stonechat sp was reported at Burrafirth on 5th and followed, on 8th, by one found at Westing by my erstwhile RBA round up colleague Mark Golley in a brief moment of distraction from watching Otters on his doorstep – this latter bird starting to appear suggestive as a candidate Stejneger's Stonechat as the day wore on.
An Isabelline Wheatear found at Llandudno on 2nd was the first record for Conwy; Shetland's less of a stranger to the species and the islands' latest was found on Out Skerries on 6th-8th.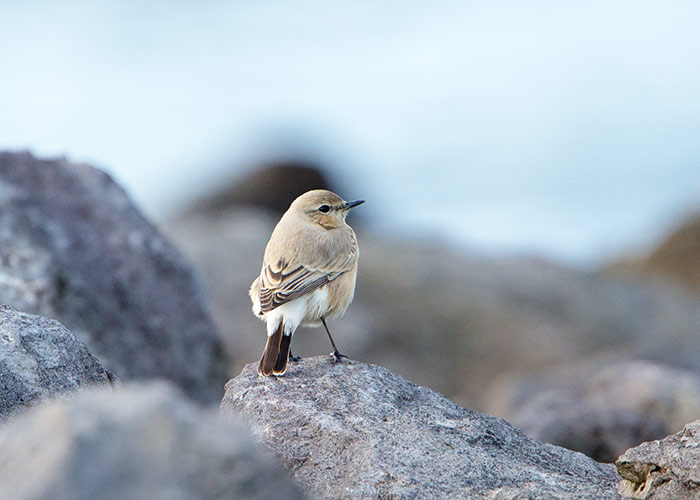 On St Mary's (Scilly) the Blue Rock Thrush remained elusive but present on 2nd-8th.
If one species continued to dominate the passerine news this week, nationwide, on the coastal fringes and inland too, it was Yellow-browed Warbler. It's hard to do more than estimate just how many birds were involved in the now annual invasion, but something in the region of 800 were recorded this week – we've seen higher weekly tallies in other recent autumns, but still… that's a lot of birds. The north-east was particularly blessed, with consistently high counts coming from East Yorkshire – 19 at Flamborough on 5th, 27 at Spurn on 6th, and 19 at Kilnsea on 8th for example. They look set to remain a fixture for some time to come.
Finally we got a few more Barred Warblers this week – around 20 birds were recorded, predominantly east coast birds and mainly at Scottish locales. All were single birds bar two on St Mary's Island (Northumberland) on 4th; and on 6th one intrepid individual was found much further west than its brethren, on Inishbofin (Co.Galway).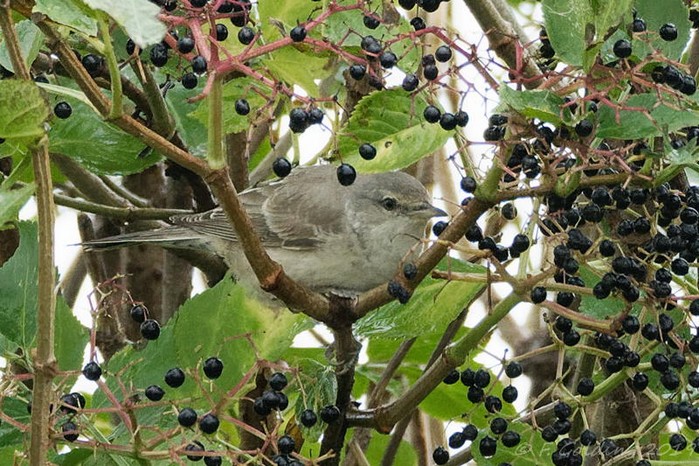 A solitary Icterine Warbler was reported from Castle Sinclair Girnigoe (Highland) on 6th. The Melodious Warbler remained on St Mary's (Scilly) on 2nd-4th with a probable there on 5th also.
St Mary's also elicited a report of a possible Aquatic Warbler on 6th.
Across the water in Cornwall a Blyth's Reed Warbler was trapped and ringed at Nanjizal on 2nd; another was found on 8th at Barns Ness (Lothian).
Spurn (East Yorkshire) supplied two Marsh Warblers on 6th; while the Booted Warbler remained there on 2nd-3rd. Further Marsh Warblers were found on 7th at Cruden Bay (Aberdeenshire) and a possible at Arundel (West Sussex); with one of the week's most intriguing warblers of all trapped and ringed at Filey (North Yorkshire) that day – thought to be either a hybrid Marsh x Blyth's Reed Warbler or a Blyth's Reed Warbler - one way or another, a bit of a headache.
A Subalpine Warbler sp was found in Norfolk at Wells on 6th; another was seen on Barra (Western Isles) on 8th.
Suffolk, meanwhile, supplied an early Pallas's Warbler at Minsmere RSPB on 5th; another was found on 8th on Unst (Shetland).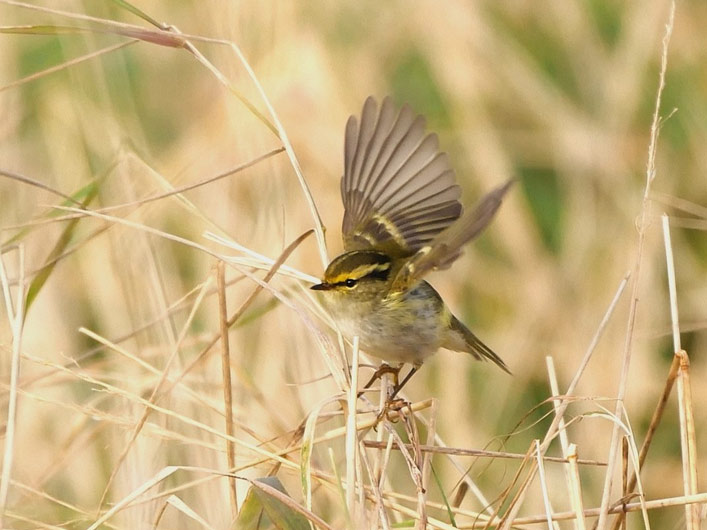 Greenish Warblers were found this week at Cot Valley (Cornwall) on 2nd, Cunningsburgh (Shetland) on 2nd-3rd, and on Holy Island (Northumberland) on 3rd-8th – the latter bird even heard in song.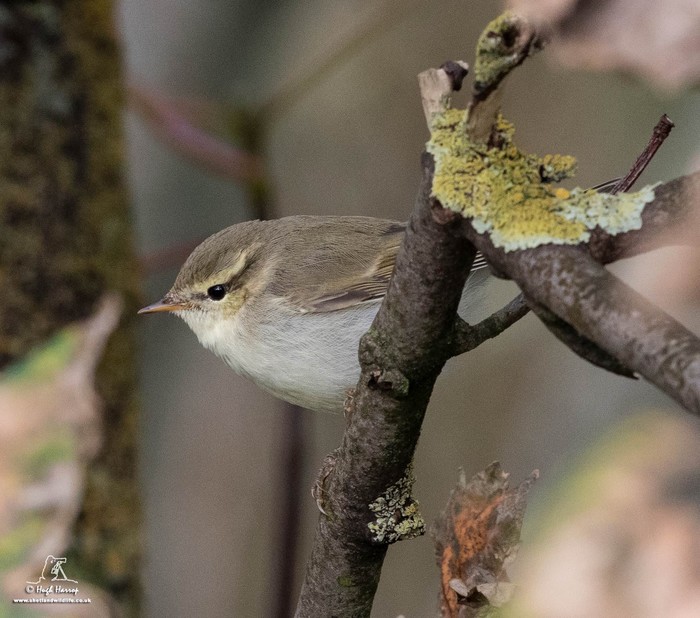 Less obligingly vocal, however, was the Bonelli's Warbler sp found on Burra (Shetland) on 5th – a bright bird that wasn't heard to call, thus eluding a definitive identification. For what it's worth, it was said to react to playback of Western Bonelli's Warbler and not to Eastern Bonelli's Warbler…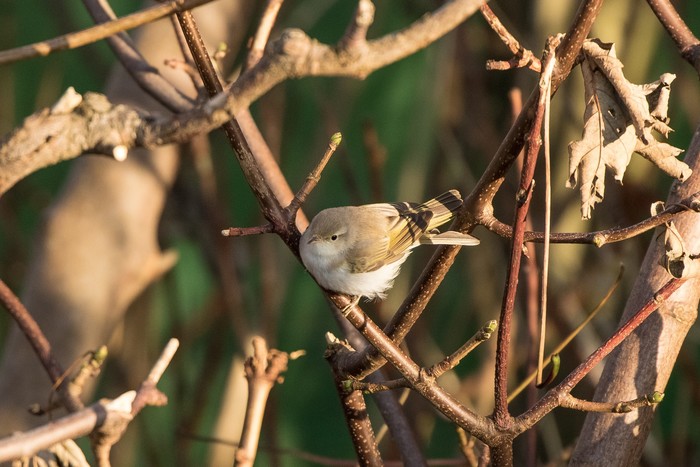 The quickening of autumn pace was marked by the arrival of a handful of Dusky Warblers - birds present on Unst on 2nd-4th, Burray (Orkney) on 4th, at Burnham Overy (Norfolk) on 5th and South Gare (Cleveland) on 5th also. On 6th-7th one was to be seen at Grimston (East Yorkshire); and on 7th-8th one was found in Norfolk at Warham Greens. A probable seen in the morning of 8th in Shetland at Quendale couldn't be relocated later on; a further Shetland probable was seen at Voxter on 8th also.
While the hotly anticipated Pechora didn't pop up this week, we still did okay for scarce and rarer pipits – pick of the bunch being one or two Red-throated Pipits in west Cornwall. One was noted at Nanjizal on 2nd and again on 6th – bookending a sighting at nearby Porthgwarra on 4th. The week concluded with another bird on St Mary's (Scilly).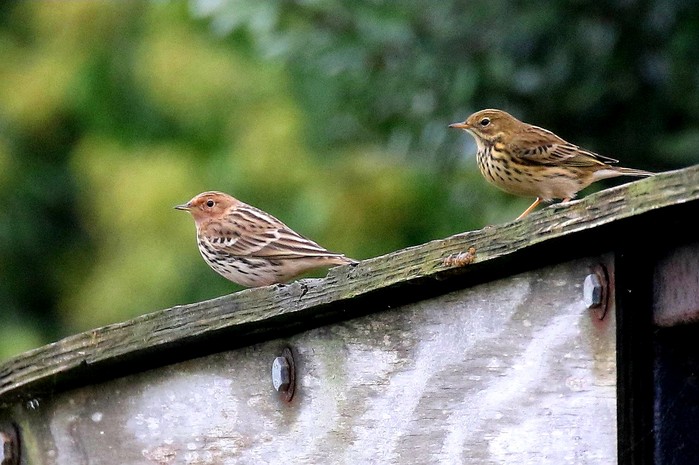 Olive-backed Pipits started the week a Scottish specialty, with birds recorded in Shetland in the Swinister burn again on 3rd, up the road at Easter Skeld on 3rd also, and at Sandwick on 8th; on Sanday (Orkney) again on 6th; and at Mains of Usan (Angus) on 6th. On 7th a possible bird flew over Spurn (East Yorkshire); and one was found on Holy Island (Northumberland).
14 Richard's Pipits represented the species going up a gear with the advent of easterly winds – spread across England from the east coast to Cornwall, all were single birds bar two on Gibraltar Point NNR (Lincolnshire) on 2nd.
On North Ronaldsay (Orkney) the male Grey-headed Wagtail remained in residency on 4th-6th.
Short-toed Larks were widely scattered around the region this week – one remained on Tresco (Scilly) on 2nd-8th; Shetland had birds on Fetlar on 2nd-8th and an occasionally rather mobile individual at Garths Ness on Mainland on 4th-8th; a probable bird was at Cruden Bay (Aberdeenshire) on 4th; and one was reported from Dawlish Warren NNR (Devon) on 6th.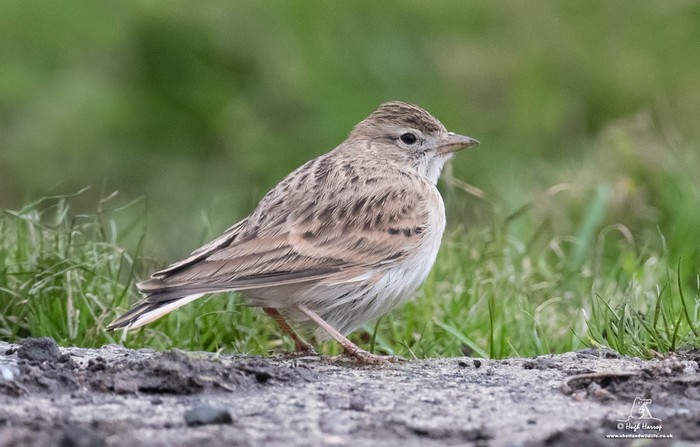 13 Wrynecks were logged during recent days, with a predominantly southwesterly bias to those records – all were singletons bar three seen on St Agnes (Scilly) on 2nd.
Hoopoes put in a good showing, with birds noted at East Coast NR (Co.Wicklow) on 2nd-3rd, Tresco still on 2nd, Llantilio Crossenny (Gwent) on 4th, at Amble Links (Northumberland) on 5th-8th, at Moylgrove (Pembrokeshire) on 7th, and at Kelso (Borders) on 8th.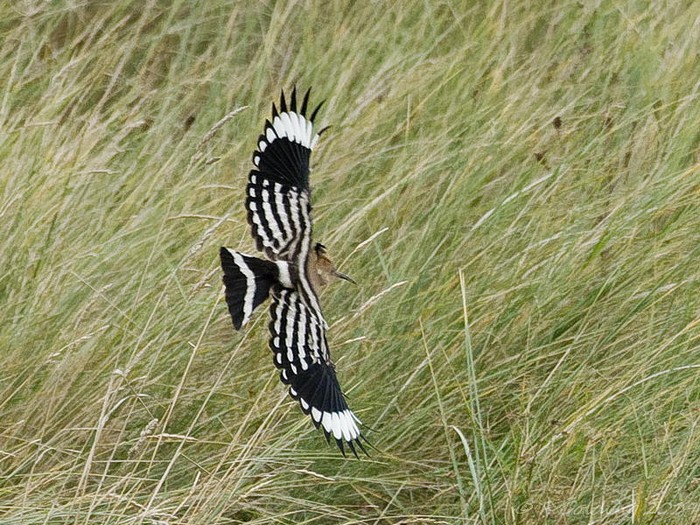 In Shetland the Bee-eater remained at Ollaberry on 2nd-6th.
The shortening days were marked by the rising numbers of migrant Waxwings cropping up – with the exception of eight birds in Campbeltown (Argyll & Bute) on 2nd and 18 birds in Dyce (Aberdeenshire) on 7th, all the remaining 15 birds were found scattered throughout Shetland.
Some 25 Red-breasted Flycatchers were noted this week across Britain and Ireland, as far flung as one seen on 2nd at Three Castles Head (Co.Cork).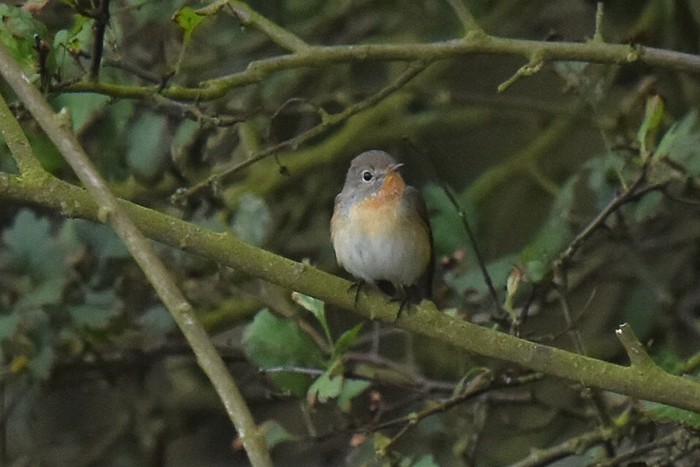 While I for one was surprised we didn't get another Brown Shrike this week, we did have a handful of Red-backed Srhrikes - seen at Cunningsburgh (Shetland) on 2nd-6th, Tingwall (Shetland) on 2nd-6th, on North Ronaldsay (Orkney) on 2nd-6th with two birds there on 4th, on St Mary's (Scilly) on 4th-8th, on Bryher (Scilly) on 6th-8th, and at Flamborough (East Yorkshire) on 6th.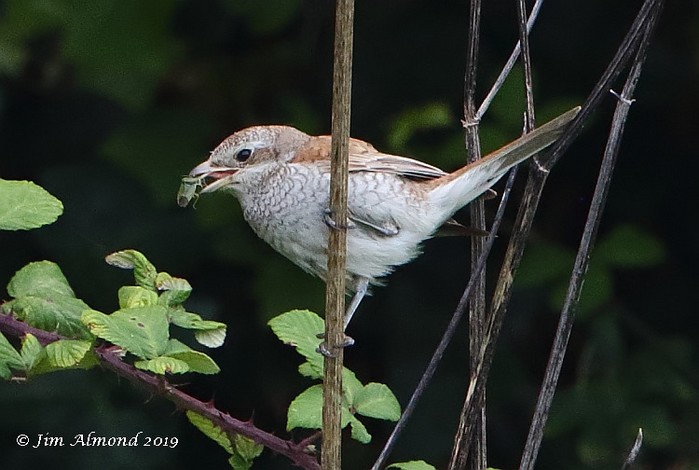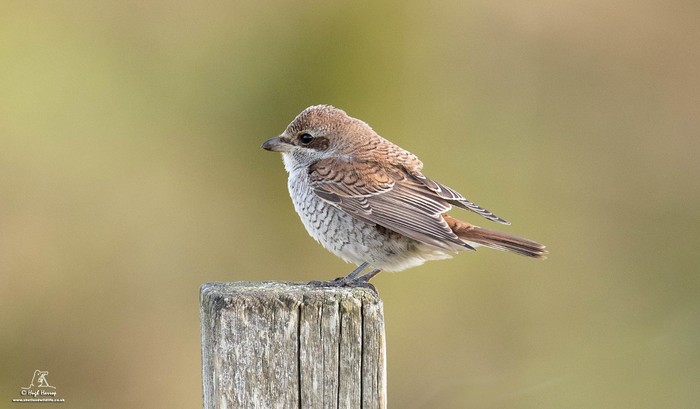 Also newly in were Great Grey Shrikes - reports at Budby Forest South (Nottinghamshire) and Prestwick Carr (Northumberland) on 5th being followed by a surge of birds on 6th – seen at Kergord and Tingwall (Shetland), Torness Point (Lothian), Isle of May (Fife), North Ronaldsay (Orkney), Holy Island (Northumberland), and Mains of Slains Farm (Aberdeenshire). On 7th one came in off the sea at Houbie on Fetlar (Shetland), with further birds found on Orkney at Deerness and at Hornsea (East Yorkshire); and on 8th a fresh arrival was found on Out Skerries (Shetland).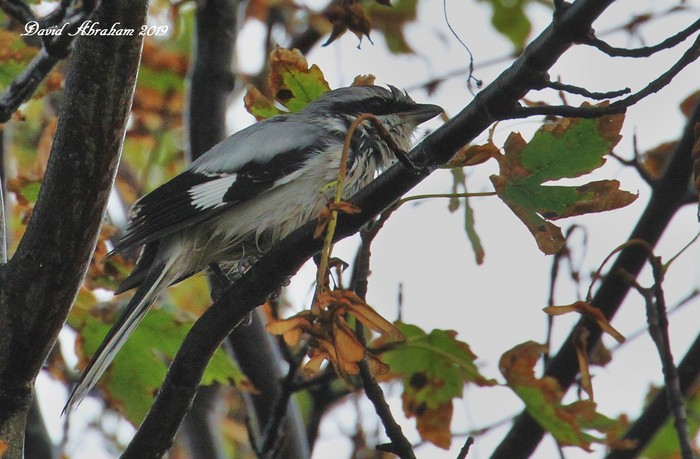 Rose-coloured Starlings were in shorter supply – just two birds seen, on The Lizard (Cornwall) still on 2nd-3rd and South Uist (Western Isles) on 4th-5th.
A surprising feature of the autumn thus far is surely the shortage of Common Rosefinches - we're usually knee deep in their blandness by now. This week we had just two birds to record – one on Lundy (Devon) still on 2nd and one on the Isle of May (Fife) on 5th-6th.
North Ronaldsay (Orkney) retained the Hornemann's Arctic Redpoll on 2nd-8th, with a probable reported over Quendale (Shetland) on 3rd. Unst (Shetland) had a probable Coue's Arctic Redpoll on 3rd at Norwick followed by a definite bird a little way away at Lamba Ness on 4th-5th and two present there by 8th; Bressay (Shetland) came late with a further Coue's on 8th; and another was reported that day from Fetlar too.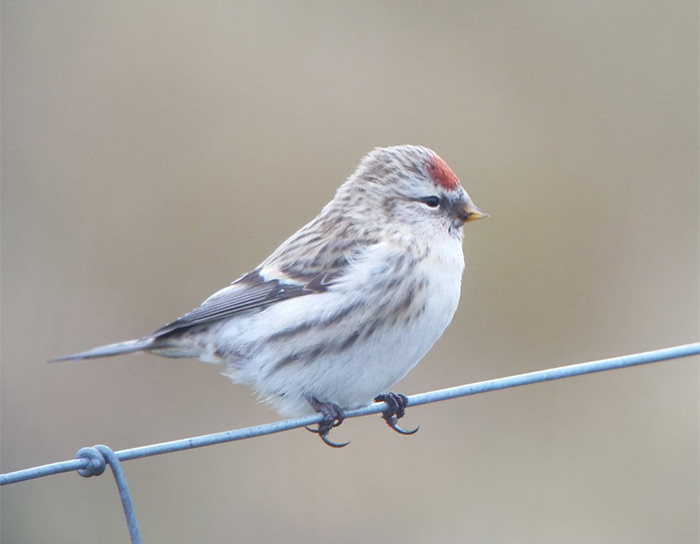 Shetland had a couple of Little Buntings this week, at Sumburgh on 3rd and Quendale on 4th; one was on Orkney's Sanday on 5th; a probable bird was at Gibraltar Point NNR (Lincolnshire) on 4th and a probable was reported from West Runton (Norfolk) on 6th-8th; and one was present on Spurn (East Yorkshire) on 6th-8th. On 8th final birds were found in Shetland on Yell and trapped and ringed on Bressay, and another in Lincolnshire at Huttoft Bank Pit LWT.
Spurn also held a Rustic Bunting on 2nd still; while on Tresco (Scilly) the Ortolan Bunting remained until 6th.
There's no question whatsoever what the big news was this week further afield, and that's clearly the mini influx of Brown Shrikes…
Nah, only joking. Though we'll come back to them in a bit. The big news was, of course, out on Corvo where the Azores had more colourful goodies on offer again this week than an old fashioned sweet shop counter. The tastiest treat of all this week has to be the Prothonotary Warbler seen on 4th-7th, the first for the Western Palearctic, but it had plenty of company besides…
Two Black-and-white Warblers on 2nd-5th provided a hint of what Britain and Ireland could expect; while the optimists will hope that the Western Palearctic's tenth Magnolia Warbler on 6th-7th or the WP's 7th Hooded Warbler on 7th are similarly prescient. Also seen this week on Corvo were Ovenbird on 6th and at least one Yellow Warbler on 7th – as Paul French, newly arrived on there, said, it felt like it was raining warblers – and a supporting cast of a Bobolink on 4th and Philadelphia Vireo on 7th also.
On 8th Corvo added further to its account with a Black-throated Green Warbler, a Rose-breasted Grosbeak, two Red-eyed Vireos and a Northern Harrier for good measure.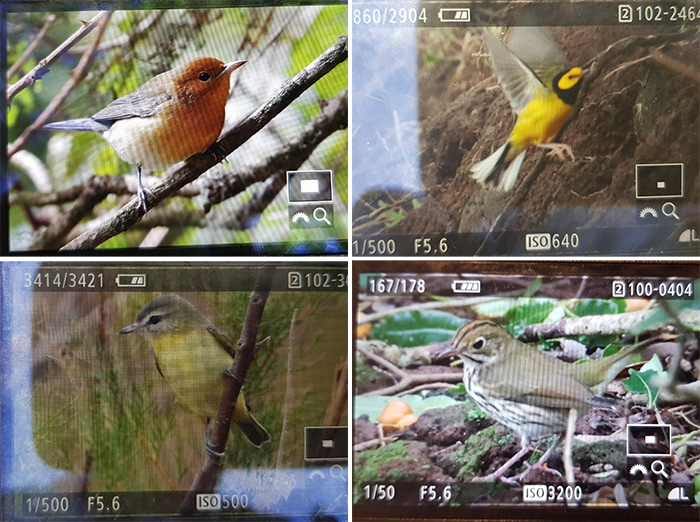 Staying in the Azores, Terceira had an American Buff-bellied Pipit on 2nd and Red-eyed Vireo on 3rd.
Closer to home, France was enjoying similar Nearctic gems, albeit in smaller numbers – the Ovenbird remained on Ile Molene on 2nd while the first Blackburnian Warbler for France was found on Ile d'Yeu on 2nd also. On 8th Ouessant scored one apiece of Grey-cheeked and Swainson's Thrushes.
An Isabelline Wheatear was found in Holland at Groot Olmen on 7th.
Spain enjoyed a Ruppell's Vulture at La Janda on 4th.
On the Canary Islands the Dwarf Bittern remained on Fuerteventura on 5th.
Iceland got itself a Rose-breasted Grosbeak trapped and ringed at Seltjorn on 7th.
Israel retained the recent White-throated Bee-eater near Eilat on 2nd-4th.
Estonia, supplied yet another sighting of a drake Stejneger's Scoter off Poosaspea on 7th.
On 7th an Asian Desert Warbler was found in Sweden on Gotland.
And so to Brown Shrikes - having quite a time of it recently, and surely there's another one in the post for the UK sometime soon… This week birds were found on 3rd at Utsira (Norway), and on 5th at Landsort (Sweden) and Vlieland (Holland). There's even been one in the past week found in British Colombia, at Rocky Point Bird Observatory on 1st.
I could pretty much repeat the closing sentiments of the previous week's Rarity Round Up for the week to come where predictions are concerned – the second week of October being every bit as potentially high octane as the first. And we didn't do too badly last week, did we…
Being relatively conservative, I'm thinking we must surely be due a White's Thrush one of these days, and a Blackpoll Warbler seems like a fair bet too.
History, however, is on our side where daring to dream a little bigger is concerned. A kaleidoscope of Nearctic warblers have arrived in the week to come though, statistically, we're more likely to land something a little chunkier and more suited to safely crossing the Atlantic airways.
And have you seen the forecast for the coming days?!
With 10 and 13 records respectively apiece for the coming week, either a Bobolink in a weedy field margin or a Rose-breasted Grosbeak gorging on blackberries seems an attainable dream for birders in the southwest of England or in Ireland. But surely something better still is on its way even as we speak…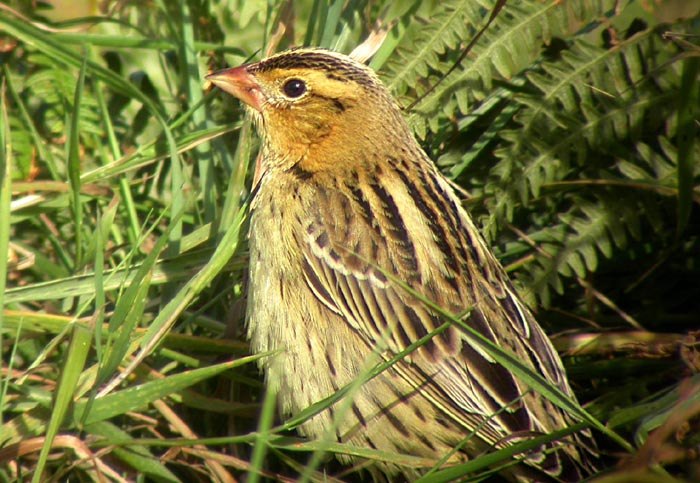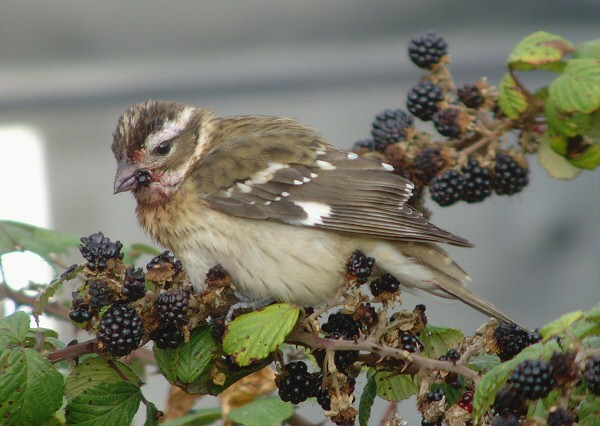 Jon Dunn
9 October 2019
Many thanks to all contributors for their photos and videos this week.
Share this story
Tweet