Weekly birding round-up: 25 Sept - 1 Oct
The week at a glance
Gwynedd lands the first American Buff-bellied Pipit for Wales
While Anglesey gets the first Welsh Eastern Yellow Wagtail
Shetland scores a shrike double with Brown and Daurian Shrikes found
And Cornish and Scillonian waters are graced by Barolo Shearwater
Very much a game of two halves this past week, weatherwise, with the northern half of the country enjoying some winds of an easterly flavour whilst southern areas were dominated by westerlies – and there's very much more of the latter in the post in the coming week, more of which in due course. Autumn 2019 is shaping up nicely as we head into October. And of the past week? There were birds…
American Buff-bellied Pipit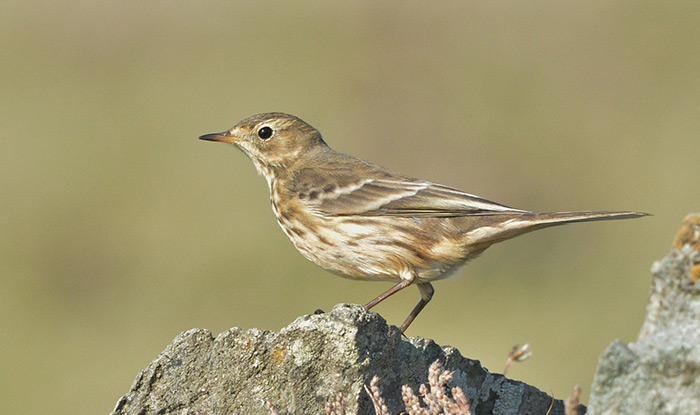 There was definitely a feeling going into the past week that we might be on for an American Buff-bellied Pipit, perhaps in the north of the country in the wake of the preceding week's strong westerlies, or in the south on the back of the contemporary conditions.
What one couldn't predict, of course, was a national first. Step forward Bardsey (Gwynedd) on 29th, where a cracking example was discovered on the west coast of the island by Lewis Hooper and Sam Prettyman. Not only a new addition to the burgeoning Bardsey list, but new too for Gwynedd and Wales as a whole.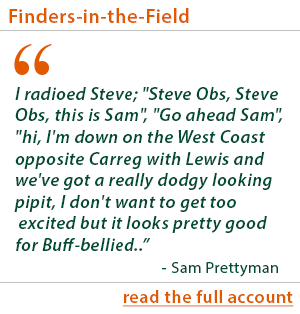 For a while it felt like a former monster rarity was all set to become an annual fixture nationwide – with a mere handful of prior records to the end of 2005, we were all startled by autumn 2007 when Britain and Ireland turned up no fewer than 13 birds between them during the period of September to November.
And it didn't stop there – birds were found annually up to and including 2014, and the species seemed to have become regular. Such complacency was ill-founded, however, with blank years in 2015 and 2016, and just the one bird in 2017. Maybe American Buff-bellied Pipit hasn't lost its cachet after all…
The time of year is absolutely prime for one to be found, based upon the precedent of the past decade or so and, with some tasty westerlies set to visit in the coming week, one wouldn't be entirely surprised if one or two more birds weren't turned up in Britain or Ireland before the autumn's out. For now, Bardsey's birders can feel justly pleased with themselves for their first for Wales – still present, seen briefly, on the island on 30th.
Eastern Yellow Wagtail
I can't remember the last time two of the headline birds in a given week were seen in Wales – let alone when both of those birds concerned were national firsts, but there you go – that's what's happened this week.
While the British record books are still fairly empty on the Eastern Yellow Wagtail front, I think we all suspect that this won't stay the case for very long now the species is firmly on our radars and, in this brave new world in which we bird, we know to try to secure a sound recording or a DNA sample of any putative bird we find.
A possible Eastern Yellow Wagtail found on Anglesey at Cemlyn Bay NWWT on 25th certainly looked intriguing enough for that species to be mooted as an identity but, as we know, looks aren't everything where these 'new' cryptic species are concerned.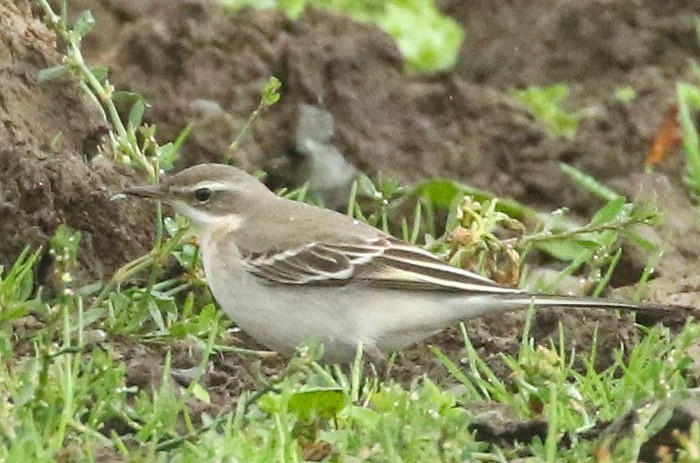 (I was chatting to one of the BBRC's rare men this week and his surprise at the recent conclusion of the Lancashire Eastern Black-eared Wheatear saga was reassuring – we've reached a stage now where, in some cases, bird identification transcends in-field observations and comes down to CSI levels of photo, sonogram or DNA analysis – what hope for mere mortals who fail to nail the killer image, recording or faecal sample?!)
Happily, this good-looking candidate Eastern Yellow Wagtail was sound recorded and subsequent analysis confirmed the identity – the first Welsh record, no less, and present at Cemlyn until 27th. The first of our collective autumn account but, I'm betting, far from the last.
Brown and Daurian Shrikes
We indulged in a little misty-eyed reminiscence last week, harking back to the autumn of 1999 and all the goodies that landed on Scilly in that golden period. It's time to peer, briefly, through that lens once more – and remember a simpler, more straightforward era when Brown Shrike was still an outrageously rare blocker and Isabelline Shrike was, well, Isabelline Shrike.
How times change. My first full autumn in Shetland in 2004 was crowned by our discovery of an adult male Brown Shrike on Whalsay on 19th September, a bird at the time that was unthinkably rare, just the fourth for Britain – I warned my then wife that "there might be one or two people here tomorrow" and, sure enough, she opened the kitchen blinds the following day to find a few dozen twitchers from the British mainland leaning against the walls of the house. Back then, Brown Shrike had the power to pull people the length of the country.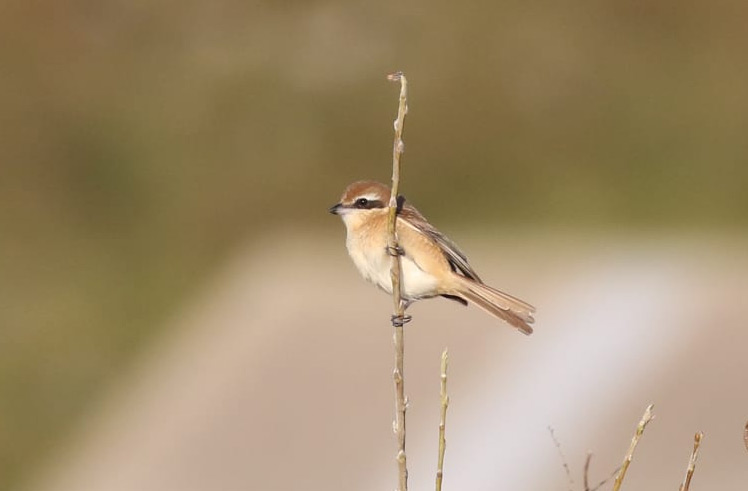 The following 15 years have seen 19 more birds land in the record books, including of course the individual that overwintered in Surrey in 2009/10. The former monster rarity was now doing a Great Grey Shrike on us.
Nevertheless, with just 23 accepted records to date the species still has the power to excite, and remains a genuine prize for whomever is fortunate enough to find one. Sat writing this week's rarity round up I can see the Out Skerries (Shetland) from the kitchen window and, on them this week, our latest Brown Shrike will have doubtless been well-received when it was discovered on 28th. I know exactly how exciting that moment will have been.
Also found in Shetland on 28th was another shrike, and another one that's had something of a journey in the past decade or two. A bird discovered in the morning of 28th at Levenwick was initially flagged up as an Isabelline Shrike sp and then, as the day wore on, mooted as a possible Turkestan Shrike.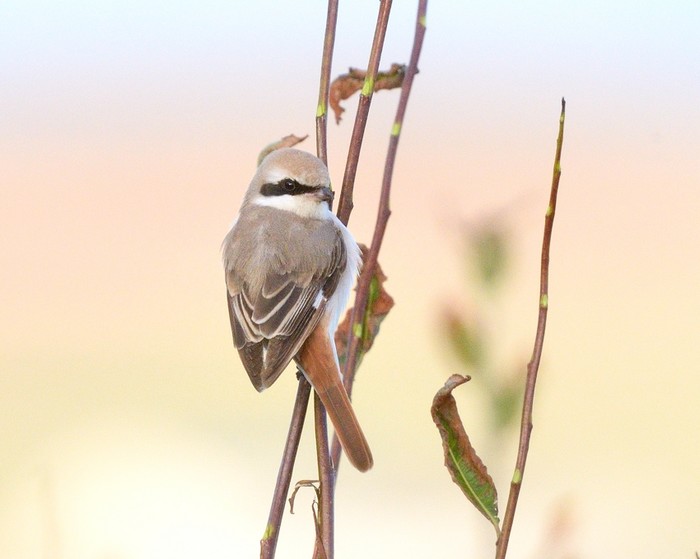 Now, back in the day, before we'd adopted the IOC as our taxonomy-determining list provider of choice, we merely knew Isabelline Shrike as just that, with phoenicuroides or "Turkestan Shrike" simply a subspecies of the nominate isabellinus "Daurian" Isabelline Shrike.
Then, on 1st January 2018, the world tilted on its access when the BOU decided to adopt the IOC World Bird List for all its ornithological needs. Which meant, in a nutshell, we overnight gained all sorts of exciting possibilities – the cryptic likes of Stejneger's Stonechat and Eastern Yellow Wagtail and, happy days, the loss of mere Isabelline Shrike and the gain of Daurian and Turkestan Shrikes as valid species in their own right.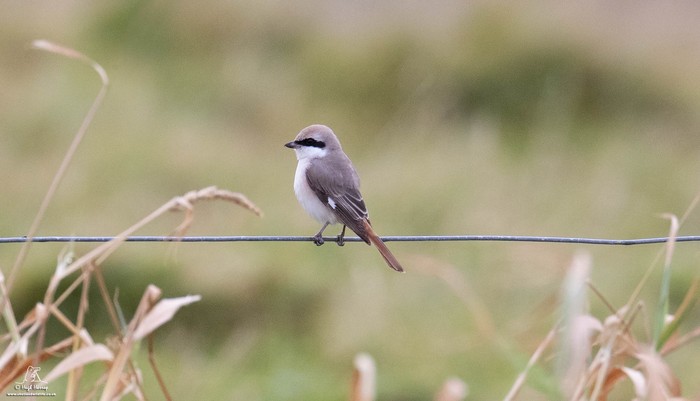 (Oh, and we lost Hudsonian Whimbrel by way of collateral damage, but what the dallio. We got shrikes…)
All of which was, however, something of a headache for those of us who, pre-2018, had blithely ticked one of the 103 accepted British Isabelline Shrikes. Which (former) subspecies had we seen? Turns out precious historic few of either flavour can be assigned with confidence to Daurian or Turkestan Shrike - to date, 16 and 5 British records respectively.
Shetland is no stranger to an Isabelline Shrike, with a goodly few prior records of that former species – but, as it happens, in our current brave new world no Turkestan Shrike. Pulses all round were quickening with the suggestion that the Levenwick bird, present until 29th, could be the archipelago's first record… and then, late on 29th came the news that, with appraisal of photos taken when the often-distant bird had ventured closer to its admirers, the mood music had swung towards Daurian Shrike after all.
Which would, officially at least, make this Shetland's fifth record. Of course, we all know that there will have been more Turkestan Shrikes lurking amongst those previous 103 accepted British Isabelline Shrike records and, maybe, one or more of Shetland's 14-strong share of them will have been the rarer option… but, for now, the wait will have to go on a while yet.
Barolo Shearwater(s)
We'd already had one Barolo Shearwater flash up on the newsfeeds this autumn, in the form of the bird that passed Corsewall Point (Dumfries & Galloway) in the morning of 18th August. Fast forward to the current week and that bird was augmented by a bevy of further sightings…
Matters got under way on 26th with the report of a probable bird seen in the late afternoon from the Scillonian - an evocative report if only for the way it makes me swallow hard recalling the precise at-sea motion of that unique vessel.
On then to Sunday 29th when a Barolo Shearwater was seen, heading west, past Pendeen (Cornwall) at 15:43. Perry Smale's photos captured the moment perfectly…
@cwlbirds Barolo Shearwater (we're both happy with ID, think boydi can be ruled out) at 1543 this afternoon picked up by my wife passing Pendeen just beyond rocks. The amount of white on the face, the pale upperwing panels and distinctive flight. Managed these ropey shots... pic.twitter.com/Hi6GBa5LE7

— Perry Smale (@SmalePerry) September 29, 2019
Shortly afterwards, a further sighting of a probable, presumably one and the same bird, came from Cape Cornwall.
Barolo Shearwater is a properly rare prize for the dedicated or fortunate sea-watcher – after a spell in the 80s and 90s when they appeared to be regular, we're now in a time when their rarity is perhaps better appreciated – one wonders whether some of those prior records would pass muster in our current, more discerning, digitally enhanced era. And, indeed, the BBRC review of historic records remains ongoing…
The stand-out seabird event of the week, by a significant margin, had to be the resurgence of Balearic Shearwater sightings – though there will, doubtless, have been some duplication of records in the southwest as birds moved along the English Channel, we're looking at around 2,750 birds logged in the course of the week just gone. Bear in mind there were only some 60 birds in all seen in the preceding week… A peak count of 142 birds off Portland (Dorset) on 26th looked like being the highest single site tally until, the following day, of around 1,250 birds noted nationally a magnificent 459 of them were tallied from Devon's Prawle Point.
Portland featured once more in the news on 28th with a lone Great Shearwater reported from there.
Belated news concerned an unconfirmed report of a Fea's / Desertas / Zino's Petrel seen off Strumble Head (Pembrokeshire) on 25th, though that news didn't emerge widely until 30th…
Very few Leach's Petrels were recorded, and those that were seen were from just a handful of sites. Single birds were seen off Severn beach (Gloucestershire) on 27th and Bardsey (Gwynedd) on 28th; while a single seen from Pendeen (Cornwall) on 27th was followed by two off there on 29th. Comfortably the lion's share this week were seen from Bridges of Ross (Co.Clare) where, on 27th, 20 birds were noted, and a further singleton was seen the following day.
Pomarine Skuas, however, were still moving past our shores in reasonable numbers. Around 175 birds in all were recorded this week – as usual, most of these sightings involved ones or twos, but four seen off Fort George (Highland) on 25th and five seen from Bridges of Ross on 27th were notable before, on 1st, counts of 16 off Seahouses (Northumberland) and 25 from Hound Point (Lothian) comfortably surpassed those.
Some 90 Long-tailed Skuas were seen this week, a total that spoke of a steady passage continuing largely out of sight of land. Again, many of those seen were individual birds but trios were noted from Bridges of Ross on 27th, Bardsey (Gwynedd) on 28th and North Queensferry (Fife) on 29th; five birds were logged off Flamborough (East Yorkshire) on 29th also; and then, on 1st, a chunkier tally of 17 birds off Whitburn CP (Co.Durham) reflected a surge in sightings off the northeast coast that day.
Finally, a Little Auk was reported from Pendeen (Cornwall) on 29th; two more off St Ives (Cornwall) on 30th; and one seen from Cullernose Point (Northumberland) on 1st.
While the likes of Great White Egret remained omnipresent once more this week in the shallows of many a freshwater body, our other rarer long-legged beasties were in fairly short supply still.
A Purple Heron was seen in flight in Norfolk on 26th at Limpenhoe Marshes…
…and three Glossy Ibis were seen once more at familiar sites, namely Fremington Pill (Devon) still on 25th-26th, Newport Wetlands NNR (Gwent) on 27th-29th, and Tacumshin (Co.Wexford) again on 28th.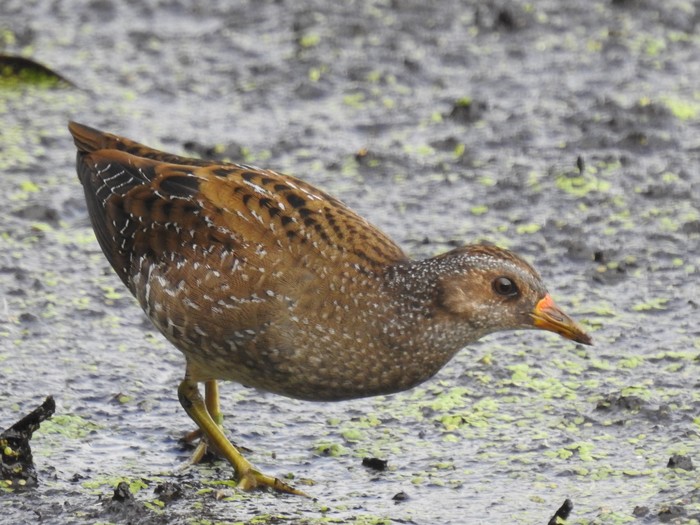 Away from Norfolk, sightings of Common Cranes revolved mainly around Cambridgeshire where the peak count came, once more, from Ouse Washes RSPB where, on 29th, 44 birds were tallied. A single bird was seen away from East Anglia – at Lytchett Fields RSPB (Dorset) on 28th.
Precious few Spotted Crakes were seen this week – after quite a flurry of them in the week that went before, recent days gave us birds still at Bowers Gifford RSPB (Essex) on 25th and Greylake RSPB (Somerset) on 25th-1st, and a further migrant briefly in Shetland at Levenwick on 27th.
Shetland also supplied a couple of Corncrakes - one in Gulberwick on 27th and another on Out Skerries on 28th.
The week's honkers and quackers begin, once more, with the two white Snow Geese still brightening up the Western Isles on North Uist at Balranald RSPB on 25th-27th; and then, on 1st, a probable blue morph bird was found hanging out with the Pink-footed Geese at Vane Farm RSPB (Perth & Kinross).
A couple of Blue-winged Teal comprised familiar faces – the female still in Co.Wexford on Lady's Island Lake on 25th and at Tacumshin on 28th-1st, and the now resident drake still on Frankfield Loch (Clyde) on 26th-30th.
A drake Ring-necked Duck noted once more at Loch Leven (Perth & Kinross) on 27th and the drake once more on Abberton reservoir (Essex) on 30th were joined in the news this week by further drakes at Radipole RSPB (Dorset) on 25th, and Omey Island and Rahasane Turlough (Co.Galway) on 29th.
<!—Section Title -->
Our weekly wader section continued to give the passerines a run for their money in terms of variety and quality once more, with plenty on offer still nationwide.
Scilly's autumn continued to click into gear with the finding of the traditional Buff-breasted Sandpiper on St Mary's on 27th-29th; further birds were seen in the Western Isles on North Uist on 27th and South Uist on 29th; at Stanpit Marsh (Dorset) on 29th; and in Ireland at Malin More (Co.Donegal) on 27th and Tacumshin (Co.Wexford) on 27th-30th. On 1st a final bird was found in Highland at Achnahaird.
Tacumshin also featured a Semipalmated Sandpiper on 27th-29th, while another was reported from Derrymore (Co.Kerry) on 29th; a confiding individual greeted birders as they arrived on Shetland, gracing the beach at Grutness beside Sumburgh airport on 28th-1st; and, back in Co.Kerry on 30th, another was present at Smerwick Harbour.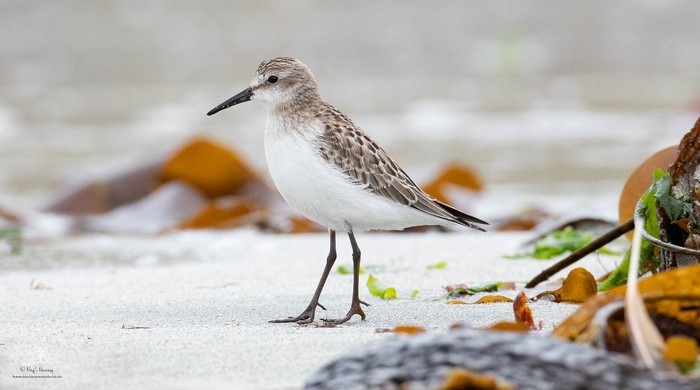 Staying in Shetland, the Baird's Sandpiper remained comfortably hunkered down on Foula on 28th-30th; and a Pectoral Sandpiper was present on Fair Isle on 26th-1st.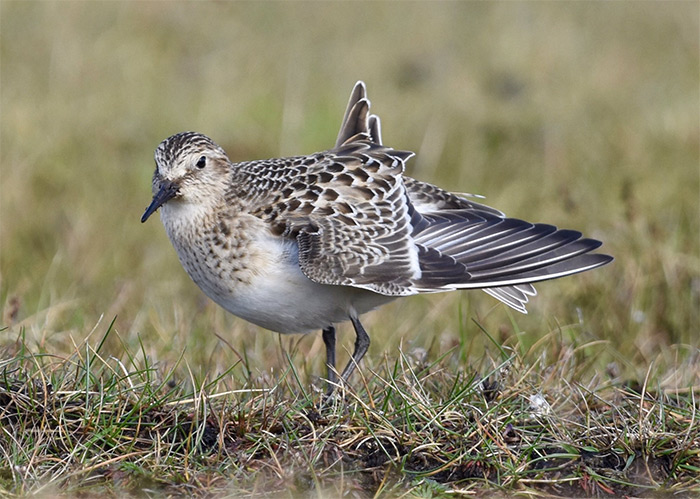 Further Pecs remained this week at Clifton Pits (Worcestershire), where two birds stayed until 1st; Frampton Marsh RSPB (Lincolnshire) still on 25th-30th, sharing the site with a Temminck's Stint on 29th; at Minsmere RSPB (Suffolk) still on 25th; and at Winmarleigh Moss (Lancashire), where two birds remained on 25th-26th. An Irish bird was present at Carrahane Strand (Co.Kerry) on 28th-30th and, on 30th, a new bird was found in the Western Isles on Lewis.
Adult White-rumped Sandpipers remained on offer at Davidstow airfield (Cornwall) and Tophill Low NR (East Yorkshire) on 25th; further birds were found at Idle Valley NR (Nottinghamshire) on 29th-30th and Skinflats Lagoons RSPB (Forth) on 29th-30th; an unconfirmed report came from Hampshire where one was said to be on the River Hamble near Warsash on 28th; and a further possible bird was at Coombe Hill Meadows NR (Gloucestershire) on 30th briefly.
Bucking the recent trend for their American counterpart, an adult Pacific Golden Plover was present on Holy Island (Northumberland) on 26th-1st, with another possible bird at Colne Point (Essex) on 26th also.
American Golden Plovers, meanwhile, remained omnipresent with new individuals still being turned up with some regularity. Birds were seen this week at Frampton Marsh RSPB (Lincolnshire) again on 25th, Oare Marshes KWT (Kent) still on 25th-1st, on Sanday (Orkney) still on 25th-1st, and in Shetland still on Yell on 25th-29th and Unst on 27th-28th. New faces were found at Carrahane Strand (Co.Kerry) on 25th-30th, Tiree (Argyll & Bute) on 26th, Porthgwarra (Cornwall) on 28th and nearby Polgigga on 30th, and Steart WWT (Somerset) on 28th-1st. On 1st a newcomer was found on West Burra (Shetland).
A Dotterel remained at Dale airfield (Pembrokeshire) on 25th-27th, with further single birds seen on Scilly on St Mary's on 29th-1st and at Binsey (Cumbria) on 30th.
The recent juvenile Black-winged Stilts remained in Berkshire at Moor Green Lakes NR until 1st and in Somerset at Ham Wall RSPB until 26th. A possible bird was reported on the Hayle estuary (Cornwall) on 27th, and one was seen over Binley (Warwickshire) on 29th.
Three Long-billed Dowitchers were seen this week, settled at Swillington Ings RSPB (West Yorkshire) still on 25th-1st, and newly arrived at Bowling Green Marsh RSPB (Devon) on 25th-1st and Coombe Hill Meadows NR (Gloucestershire) on 26th-30th.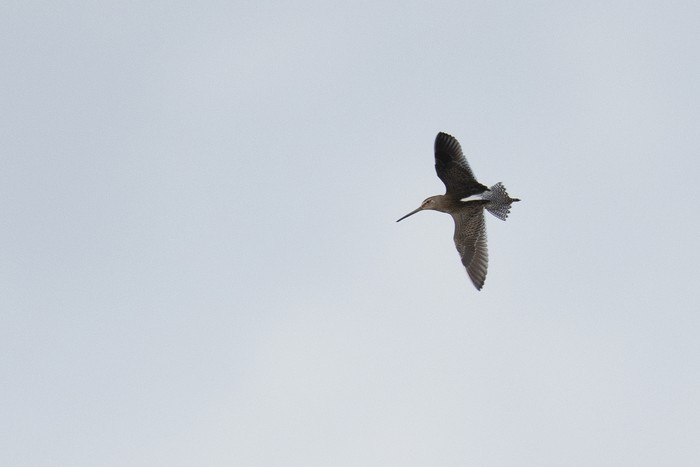 A Lesser Yellowlegs was still available on Tresco (Scilly) on 25th-26th while on 1st a new bird was found Capringstone Flash (Ayrshire).
The Red-necked Phalarope remained at Marshside RSPB (Lancashire) until 27th, with another seen on 29th-30th at Newport Wetlands NNR (Gwent). The unsettled weather in the southern half of the UK and Ireland contributed to a decent showing of Grey Phalaropes, with around 60 birds noted as the week wore on – of these, the best count came from Pendeen (Cornwall), where 11 birds were tallied on 29th.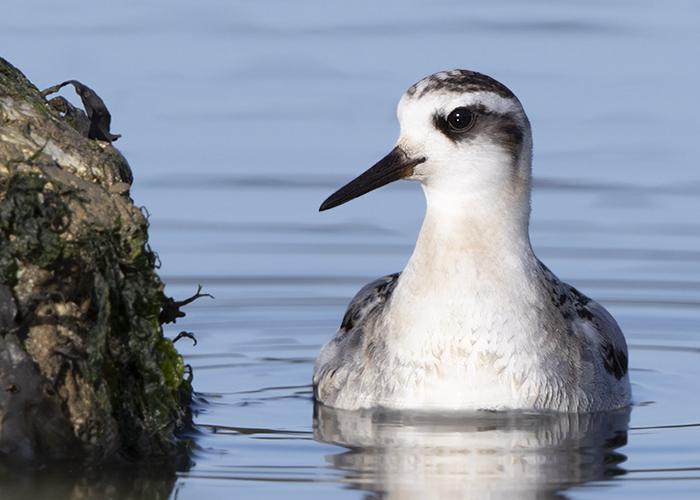 Our gulls n terns this week were all about the latter, with both rarities and rare forms to report upon…
Starting in the north, a Whiskered Tern on North Uist (Western Isles) on 29th-30th was the very last thing finder Steve Duffield expected to see at this juncture in the year – not only the third of its kind for the Western Isles, but a bird as much out of time as it was out of place – they're firmly associated with spring overshoots rather than autumn vagrancy, and there are fewer than 20 records for September to date.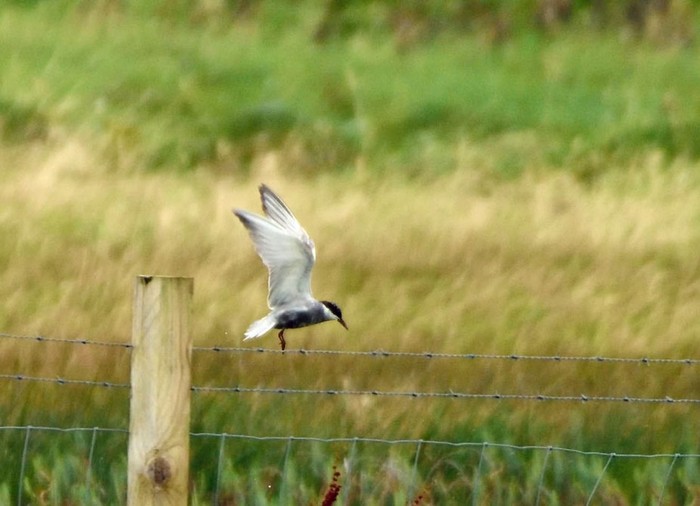 Northumberland, meanwhile, was getting in on the rare tern action on 29th also, with a Gull-billed Tern seen from Cullernose Point in the morning and, a little while later, another possible but distant sighting coming from Howick.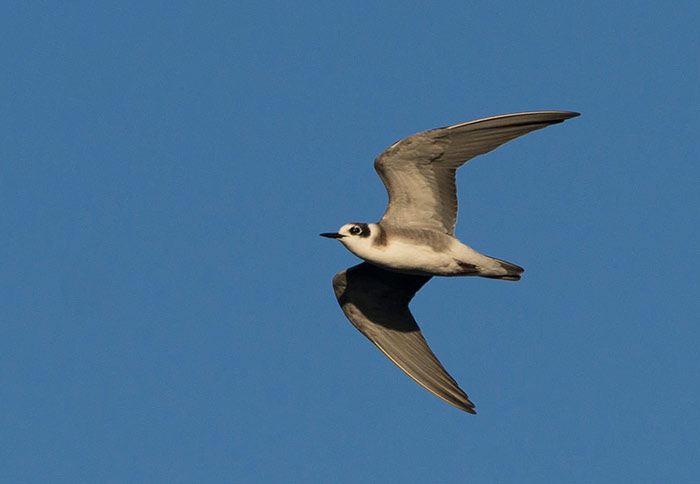 Down in the far south, at Dungeness RSPB (Kent) on 28th-1st a possible adult longipennis Siberian Common Tern was noted; and meanwhile, in Co.Galway, another juvenile surinamensis American Black Tern was seen at Nimmo's Pier on 28th-1st.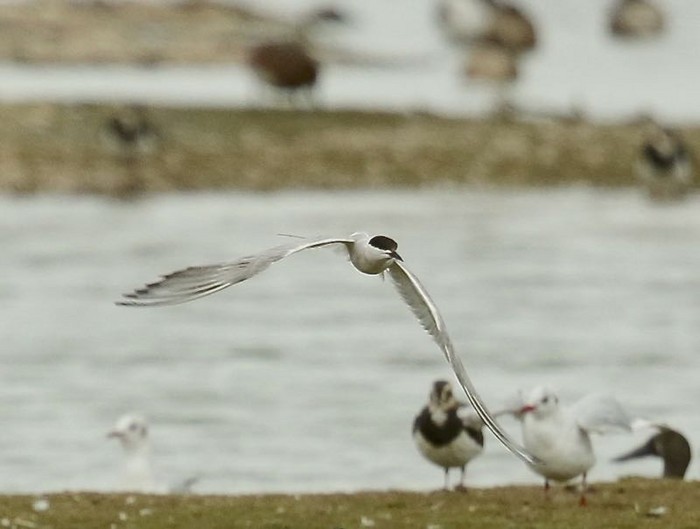 Some 30 Sabine's Gulls seen this week were the bulk of the Larids available to us. Most were single birds, but duos were seen off Flamborough (East Yorkshire) on 25th, Pendeen (Cornwall) on 27th, 29th and 1st, and Strumble Head (Pembrokeshire) on 28th.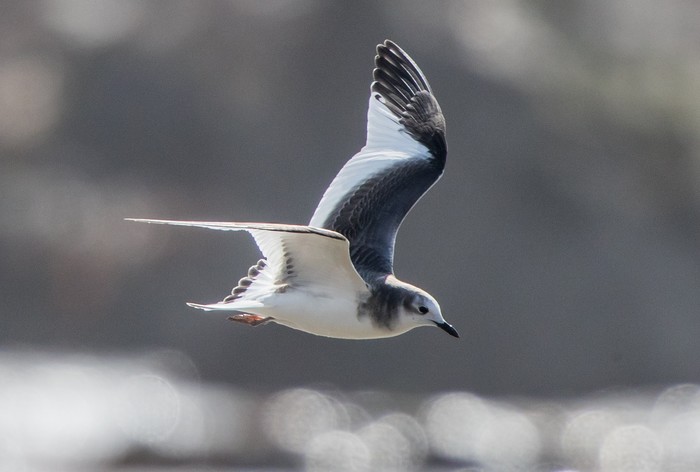 White-wingers remained numerically rarer still – one Glaucous Gull was seen on Foula (Shetland) on 25th; while Iceland Gulls were seen on Unst (Shetland) still on 25th-30th, Barra (Western Isles) still on 25th, at White Sands Bay (Lothian) on 27th, and Mains of Usan (Angus) on 30th.
Finally, on 1st an adult Ring-billed Gull was found at Nimmo's Pier (Co.Galway).
We had an atypically varied selection of raptors this past week, kicked off with a Black Kite on 25th at Llangefni (Anglesey), and followed a couple of days later by a Red-footed Falcon seen on 27th at Northward Hill RSPB (Kent); another of the latter came in off the sea at Gibraltar Point NNR (Lincolnshire) on 30th.
A Pallid or Montagu's Harrier was noted on 28th at Anderby Creek (Lincolnshire), whilst a Montagu's Harrier was found on 25th at Ballylongford (Co.Kerry).
A trickle of Rough-legged Buzzard sightings came at the start of the week – birds seen on 25th at Yaxley (Cambridgeshire) and, on 26th, at St Aidan's RSPB (West Yorkshire) – with a further possible bird noted on 28th-30th at Hurley (Bekshire) – and one more reported on 30th at Knarr Fen (Cambridgeshire).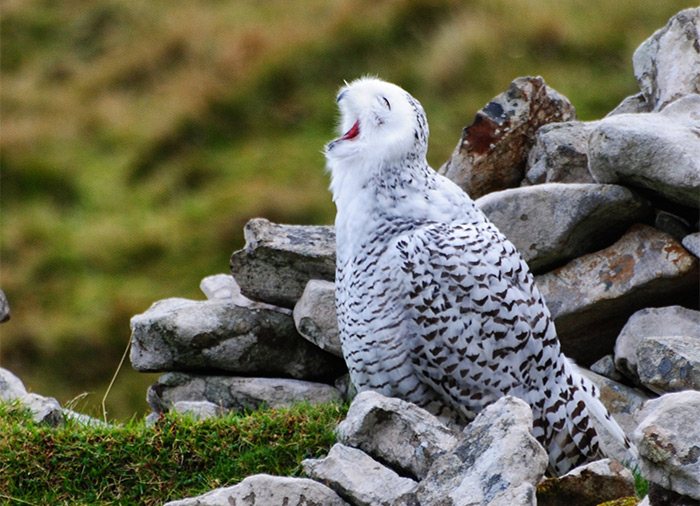 The female Snowy Owl remained out on St Kilda (Western Isles), being reported from there still on 25th-1st while, in Shetland, the Ronas Hill bird was once more seen on 30th-1st.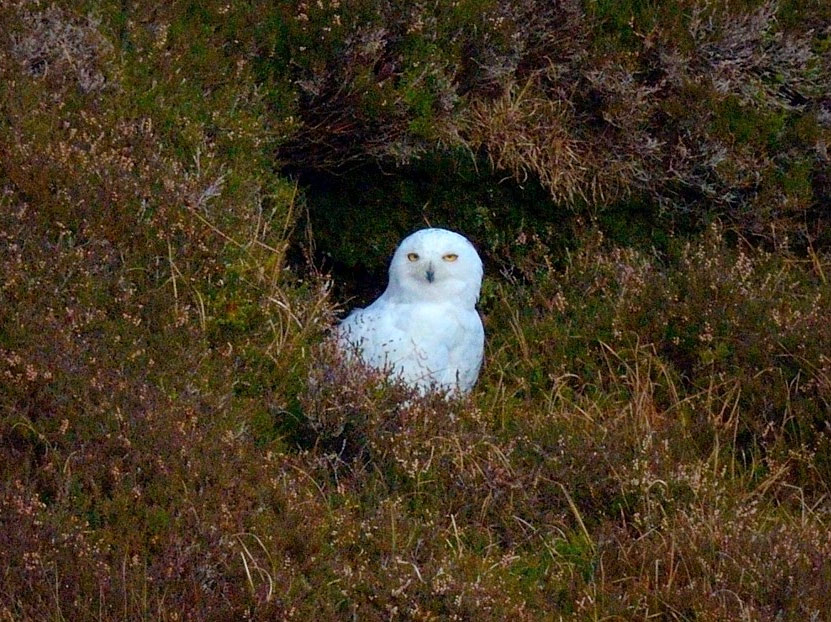 Autumn felt like it was stepping up a gear this week with the arrival of multiple Red-eyed Vireos and, while they're not quite rare enough to make the headlines this week they're certainly worthy of starting our passerines account. Two were found on 29th at Mizen Head (Co.Cork) and on Rathlin Island (Co.Antrim) respectively, the both of which remained until 1st; further individuals were turned up on 30th at Galley Head (Co.Cork) and Ballynacarriga (Co.Cork).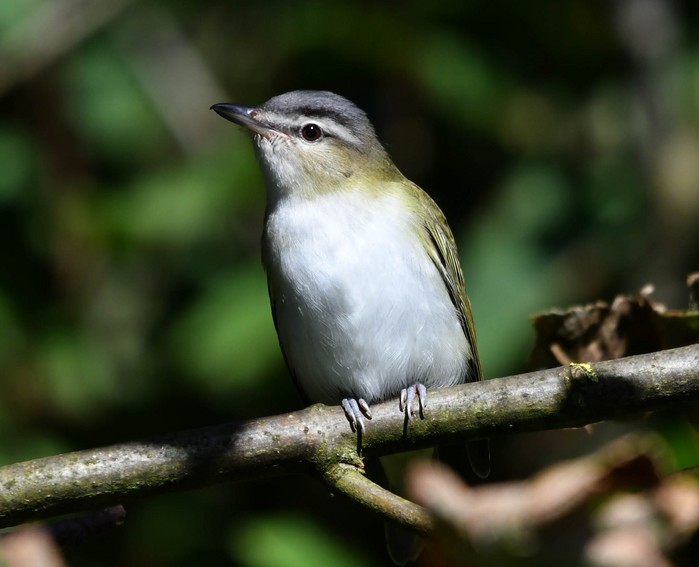 On Scilly, the resplendent Blue Rock Thrush continued its residency on St Mary's until 1st.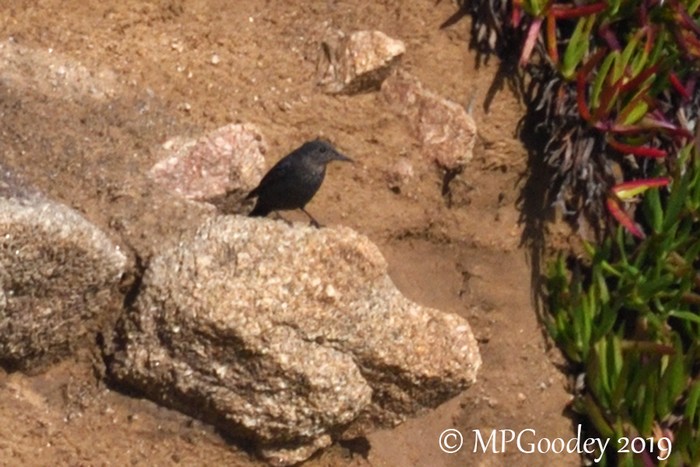 Whisking us to Shetland next, the Red-flanked Bluetail was still lurking in the crevices of Foula on 25th-27th, with another found on Unst on 1st; while on Mainland an eastern Stonechat sp, thought probably to be Siberian, was found at Brake on 28th-29th, sharing its chosen oat field with a Bluethroat on 28th.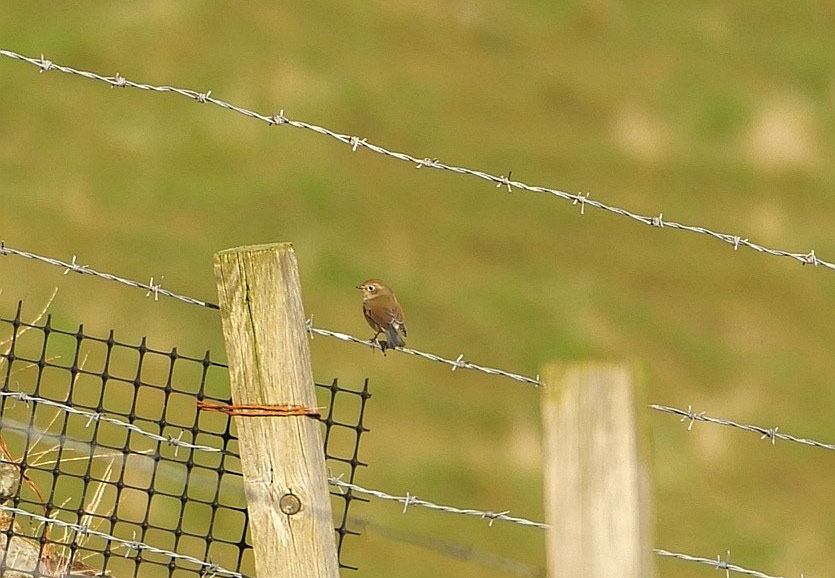 Another Bluethroat remained at Titchfield Haven NNR (Hampshire) on 27th-28th.
An unconfirmed report of an Isabelline Wheatear seen briefly on a Cornish hedge at Penberth on 25th was augmented by a definite bird on 27th, seen on Mull (Argyll & Bute).
We closed the previous week's Round Up with a reasonably confident assertion that the coming week was to be a good one for scarce and rare pipits and, happily, that proved to be the case. Wales' first American Buff-bellied Pipit clearly stole the show, but there was more quality found besides…
Starting on Shetland, a Red-throated Pipit on Whalsay on 27th was frustratingly brief; but was followed by another on Foula on 29th and, away from Shetland, by an Irish sighting on 28th at Carrahane (Co.Kerry).
Shetland however was to dominate sightings of Olive-backed Pipits, with five birds logged during the week – one was on Yell on 25th-26th; and, on Mainland, birds were seen at Cunningsburgh and Lower Voe on 28th, in the Swinister Burn on 29th-1st, and at Quendale on 1st, with a possible further bird heard over Sumburgh on 26th. Sanday (Orkney) broke this monopoly with an individual found there on 28th.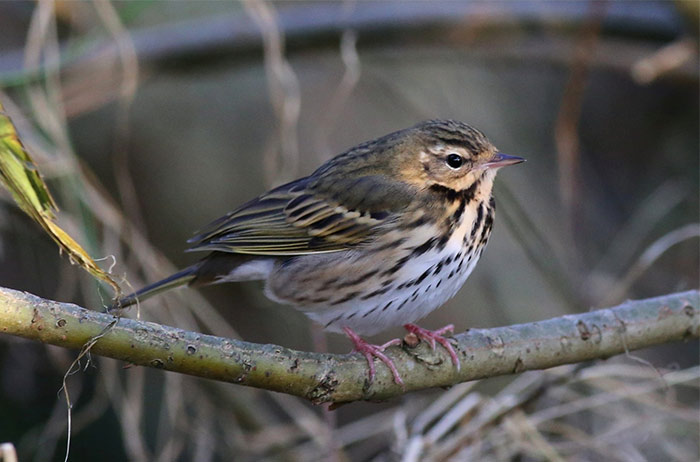 Portland (Dorset) supplied a Richard's Pipit on 26th but the remainder of the week's showing of the species all came from much further north – birds were noted on North Ronaldsay (Orkney) on 28th and, in Shetland, on Foula on 28th-29th and over Grutness on 29th. On 1st another bird was found down south, on Scilly, on St Agnes.
Citrine Wagtails were in relatively short supply this week, with birds seen only in Shetland at Norby on 25th and on Foula still on 28th; one more was found on North Ronaldsay (Orkney) on 29th; and a further possible bird was logged at Thurso (Highland) on 27th-28th.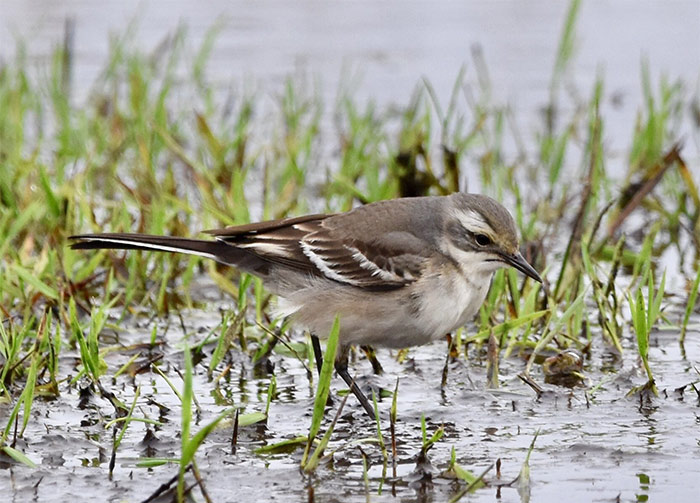 North Ronaldsay also had a Grey-headed Wagtail on 28th-30th.
Shetland enjoyed a couple of rare southern overshoots this past week, in the form of a crowd-pleasing Bee-eater on Mainland at Ollaberry on 29th-1st and (for Unst birders especially) a frustratingly brief Alpine Swift picked up coming in off the sea and hence away never to be seen again on Unst on 27th.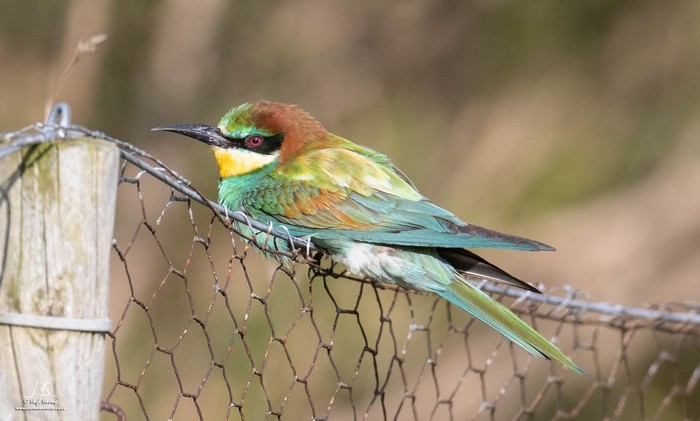 The latter species was bookended by sightings this week on the British mainland, at Clowbridge reservoir (Lancashire) on 26th and in Co.Durham at Seaham on 27th and Hendon on 28th.
Unst continued to host a Short-toed Lark on 25th-29th whilst further birds were found on Scilly, on Tresco on 27th-1st and St Mary's on 29th-30th.
A Hoopoe remained on St Mary's on 25th, and was joined in the news this week by further sightings at Hazlemere (Buckinghamshire) and Ryton (Co.Durham) on 25th, Sanday (Orkney) on 28th and Tresco (Scilly) on 29th-1st; and a possible in Low Hauxley (Northumberland) on 1st.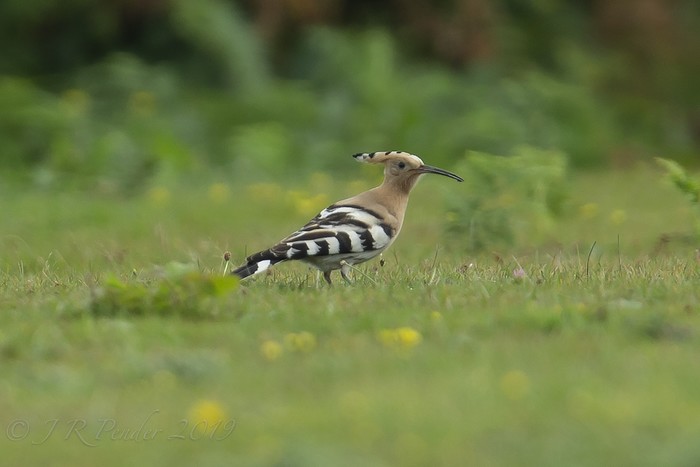 Wrynecks continued to filter through, from Fair Isle (Shetland) in the north to Scilly in the south, with some 15 birds in all logged over the course of the week. A couple of birds were seen as far west as Ireland, at Carne (Co.Wexford) on 27th and Mizen Head (Co.Cork) on 29th.
On 25th Red-rumped Swallows were seen in Gwynedd at Aberdaron and on Bardsey; and a further bird was noted on 27th on the east coast at Spurn (East Yorkshire).
With the notable exception of Yellow-browed Warblers - of which around 500 birds were recorded in the past week – warblers continued to offer decent variety if not volume just yet.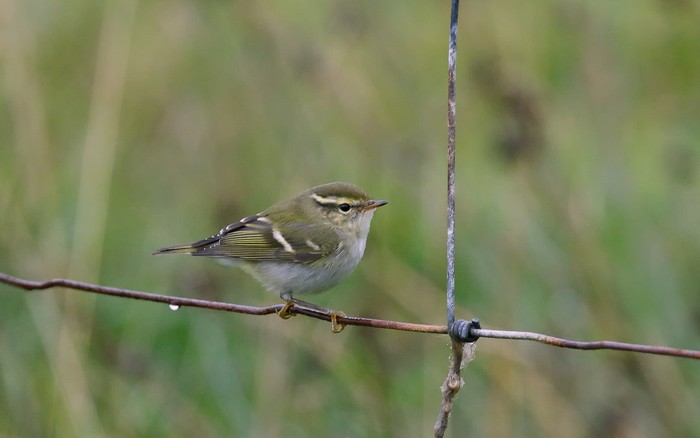 Barred Warblers are a case in point – it's just not been a particularly busy autumn for them. A mere 11 birds were seen this week, of which five on Sanday (Orkney) on 30th were the highest single site tally by a considerable margin. Elsewhere singletons were logged at Hook Head (Co.Wexford) on 25th-29th; on Holy Island (Northumberland) on 25th-26th; in Shetland at Hoswick on 27th, Foula on 29th and in Lerwick on 1st; on North Ronaldsay (Orkney) on 27th-30th; and at Kilminning (Fife) on 28th-1st.
The male Subalpine Warbler sp was still to be found on South Uist (Western Isles) on 25th-27th.
The recently ringed Great Reed Warbler remained on Portland (Dorset), being seen in the Obs garden again on 28th.
Blyth's Reed Warblers were seen this week on Barra (Western Isles) still on 25th-27th, on Unst (Shetland) on 27th, and a further possible bird was seen in the verdant depths of the Swinister Burn (Shetland) on 29th. On 30th one was trapped and ringed at Polgigga (Cornwall).
Staying in Shetland, Fetlar supplied a, rather rarer these days, autumn Marsh Warbler on 28th; and a Melodious Warbler was seen on Out Skerries on 25th-29th. Another Melodious Warbler was found on St Mary's (Scilly) on 1st, while one remained on Rathlin Island (Co.Antrim) on 29th-1st.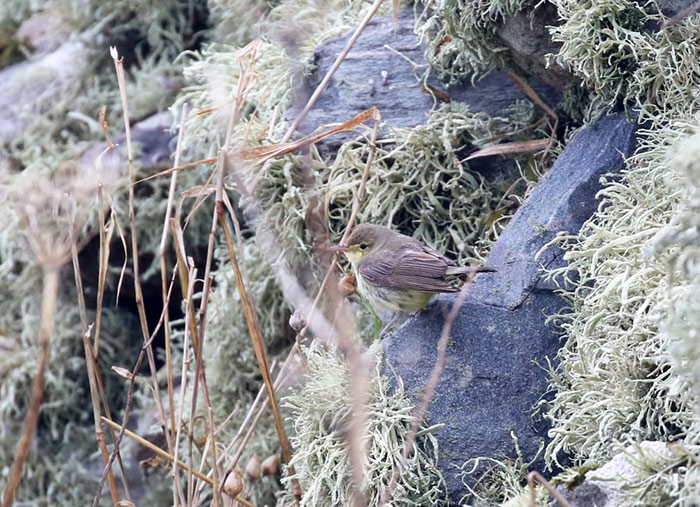 A Greenish Warbler was at Levenwick (Shetland) on 27th with a second, widely separate, possible bird seen this week on Tresco (Scilly) on 27th also; and a final confirmed bird on 30th-1st out on Holy Island (Northumberland).
Spurn (East Yorkshire) came late to the party on 1st with a Booted Warbler.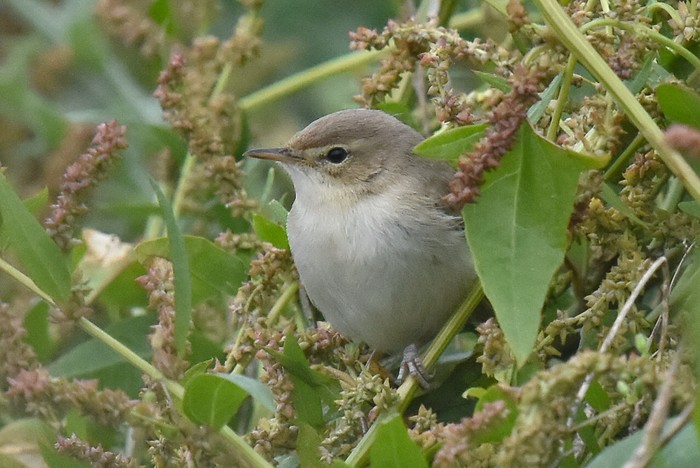 Finishing our warbler account back in Shetland, potentially the week's rarest of the lot was a frustratingly elusive probable Pallas's Grasshopper Warbler on Fair Isle on 28th.
Some 30 Red-breasted Flycatchers were seen this past week – it's always a joy to find one of these charming birds, but some observers were treated to multiple birds at single sites – duos were found at Cunningsburgh (Shetland) on 25th, Deerness (Orkney) on 25th, on Whalsay (Shetland) on 27th, and on Fetlar (Shetland) on 28th; while three birds were seen on North Ronaldsay (Orkney) on 25th.
Far fewer Red-backed Shrikes were on offer – birds only being seen in Shetland on Fair Isle still on 25th and on Yell on 26th-27th; on Orkney on North Ronaldsay on 26th-30th with two birds trapped and ringed on 29th, and on Sanday on 29th-30th; and on Islay (Argyll & Bute) on 29th. On 1st one was present on Mizen Head (Co.Cork), while St Mary's (Scilly) and Tingwall (Shetland) landed one apiece that day also.
Settled Rose-coloured Starlings remained at Cemlyn Bay NWWT (Anglesey) until 1st, on North Uist (Western Isles) until 26th, in West Sussex at Pagham Harbour until 29th, and on The Lizard (Cornwall) again on 30th.
It always felt cold enough in the latter half of the week to auger a Hornemann's Arctic Redpoll and, sure enough, on 30th one was trapped and ringed on North Ronaldsay (Orkney), remaining on the island the following day too.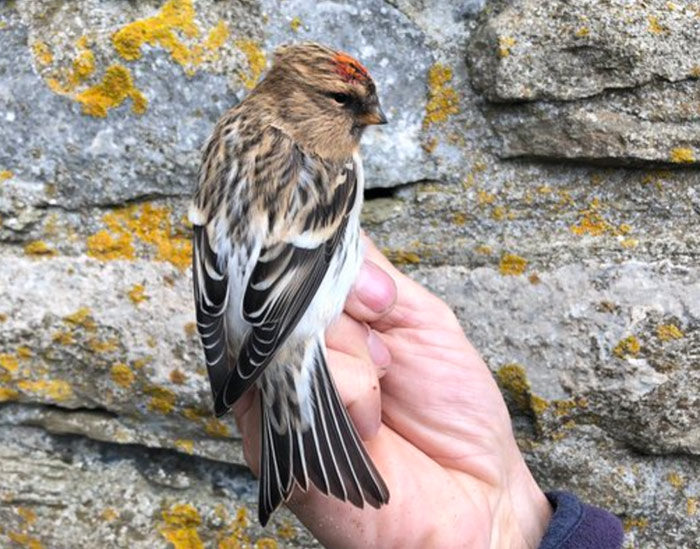 Numbers of Common Rosefinches fell away once more to a mere quartet of birds recorded this week – on Skokholm (Pembrokeshire) still on 25th-1st, and on Shetland on Whalsay on 27th, Fetlar on 28th, and at Pool of Virkie on Mainland on 29th.
Little Buntings, on the other hand, were considerably more numerous, with all but one of the 16 birds recorded this week being on Shetland where three in the Swinister Burn on 26th were the highest count. The odd bird out was one on Isle of May (Fife) on 28th.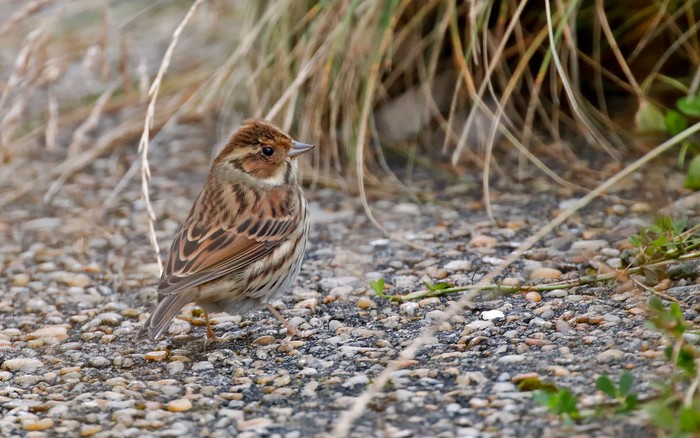 On Foula (Shetland) the Rustic Bunting last seen there on 24th popped out of the woodwork once more on 28th; and further birds were seen this week at South Shields (Co.Durham) on 25th, on North Ronaldsay (Orkney) on 28th, on 30th-1st on St Mary's (Scilly), and on 30th-1st at Spurn (East Yorkshire).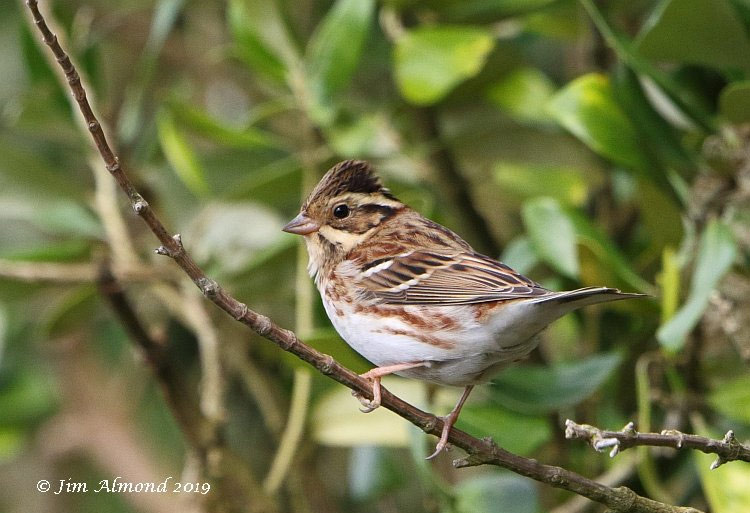 Finally, an Ortolan Bunting lingered on Tresco (Scilly) on 26th-1st.
It's reached that point in the year when we start to cast envious eyes out to the mid Atlantic and the Western Palearctic's final frontier – this being the Azores and, notably, Corvo in particular.
For a time this week it felt like Peter Stronach and Bob Swann could do no wrong out there as the Nearctic warblers fell for them, daily, one after another. While the sixth Western Palearctic Canada Warbler and the fifth WP Chestnut-sided Warbler remained until 25th and 27th respectively, these were followed, on consecutive days, by the WP's third Cape May Warbler on 27th, Black-and-white Warbler on 28th, and Northern Waterthrush on 29th. These with a supporting cast of two Red-eyed Vireos, a Blue-winged Teal and a Lesser Yellowlegs on 26th. Elsewhere, Terceira managed a Semipalmated Plover on 29th and, on 30th, Faial a Solitary Sandpiper.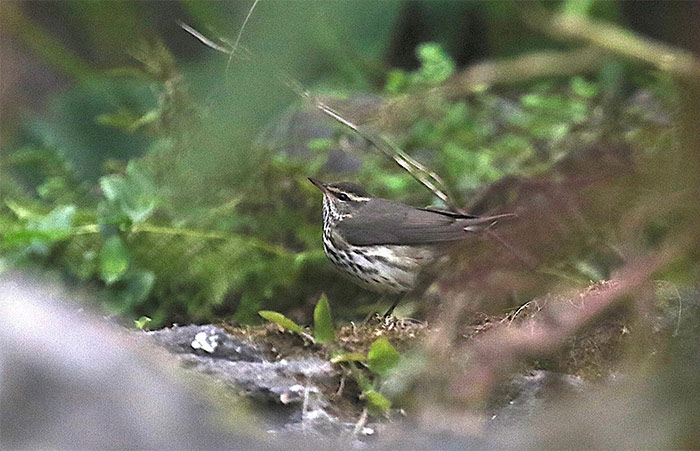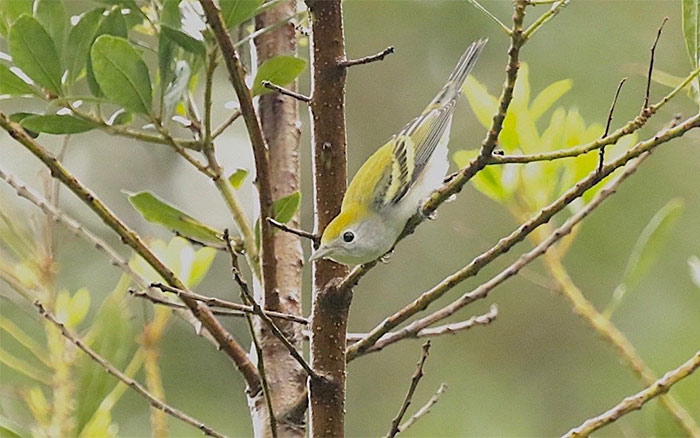 Cracking warblers weren't the exclusive preserve of Corvo this week for another island, much closer to home, was playing host to a monster of its own – Ouessant, off the French coast, was temporary home to an Ovenbird on 27th-1st. France also enjoyed a Black-shouldered Kite this week at Velving on 28th.
Spain had plenty going on too – on 29th Andalucia hosted Royal Tern at Tarifa and two Elegant Terns at Chipiona, while on 25th a South Polar Skua was seen at sea off Galicia.
Further out to sea still, the Dwarf Bittern remained in the Canary Islands on Fuerteventura on 27th.
In Holland a swift sp at Schiermonnikoog on 26th-27th was causing some consternation. Initially reported as a Little Swift, that determination changed to White-rumped Swift and then, latterly, suggestions of aberrant white-rumped Common Swift or, eye-wateringly, Horus Swift - the latter's range recently being confirmed further west and north in Africa than hitherto understood, and it's been mooted as a potential Western Palearctic vagrant for the future.
Iceland scored a Swainson's Thrush on 29th at Reynivellir.
Lastly, in Estonia, two drake Stejneger's Scoters were seen again, together, passing Poosaspea on 28th.
I really, really don't want to hex the coming week but… the weather forecast does look particularly interesting given the time of year – the first week of October being about as packed with rare potential as any autumn week we care to mention.
Hurricane Lorenzo is officially the furthest easternmost Category 5 hurricane in history, having turned up 600 miles farther east into the Atlantic than any previously observed hurricane to date. At the time of writing, that's due to hit the Azores overnight on Tuesday (1st) before chugging northeast towards Ireland, probably making landfall as a powerful storm there on Friday and thence up towards the Western Isles.
Interesting!
Better yet, the northerlies that start the week appear to be looping over from the east and, if that weren't hopeful enough, by the weekend the eastern side of Britain looks set fair for some decent easterlies. Could this be the makings of the classic east-meets-west autumnal week?
History is on our side, after all. A glance at the historic records for the coming week reveals pretty much every decent Sibe is a possibility, as are a glittering array of jewel-like Nearctic passerines too. Anything feels possible this coming week…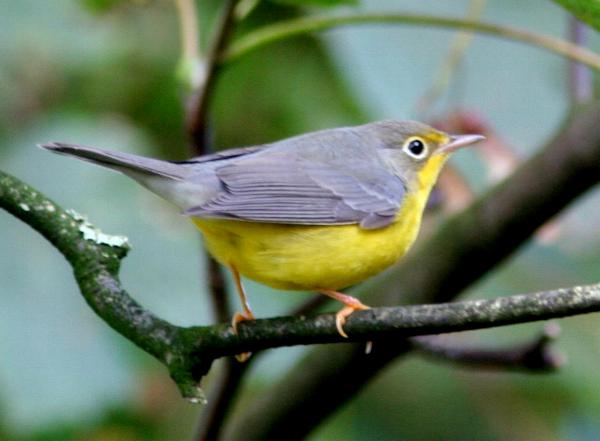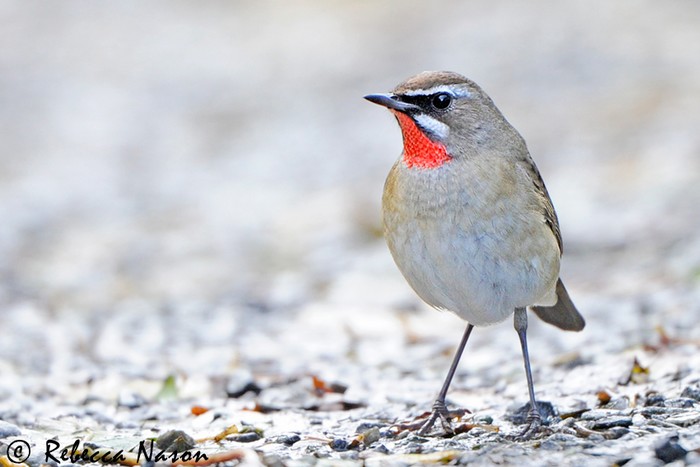 Jon Dunn
2 October 2019
Many thanks to all contributors for their photos and videos this week.
Share this story
Tweet