Weekly birding round-up: 18 - 24 Sept
The week at a glance
Scilly's autumn account kicks off with a Blue Rock Thrush
While another Short-toed Treecreeper is found in Kent
And Norfolk birders may wonder if their second Hooded Merganser fares any better than their first…
While parts of the region basked in summer's second coming this past week, anticipation was mounting, particularly in the north and on the east coast. Would the forecast south easterlies deliver autumn's first appreciable fall of rarities? The southerlies that heralded that decent spell of weather had other plans…
Blue Rock Thrush
Cast your mind back to 1999 on Scilly. This was the time that the naysayers were beginning to chorus that Scilly was over, that the heyday of the 1980s would never be touched again, that the wise birders were heading north…
A litany that continues, in some quarters, to this day. But it's wrong…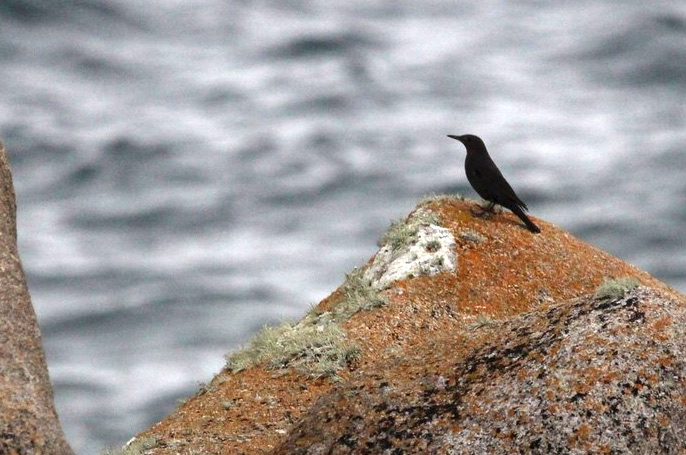 Scilly never goes away. It may pause, sometimes, to catch its breath for a year or two, but when it's firing on all cylinders it's almost untouchable. 1999 was one of those moments – Britain's first Short-toed Eagle toured the islands and unequivocally proved that the English Channel wasn't the insurmountable barrier some would have had us believe; Scilly's third White's Thrush spent 35 days on St Agnes through October and into November; Britain's sixth Siberian Thrush joined it on Aggie on 5th-8th October; and then, if things weren't thrush bonkers enough, Britain's third Blue Rock Thrush turned up on St Mary's on 14th-15th October.
Crazy, crazy days.
It's hard to believe that this was 20 years ago. It seems like only yesterday, so vivid are the memories of those of us who were there for some or all of that largesse. A lot of water has passed under autumn's bridge in the meantime - Yellow-breasted Buntings have fallen off a cliff, and we've enjoyed a few more Blue Rock Thrushes in subsequent years.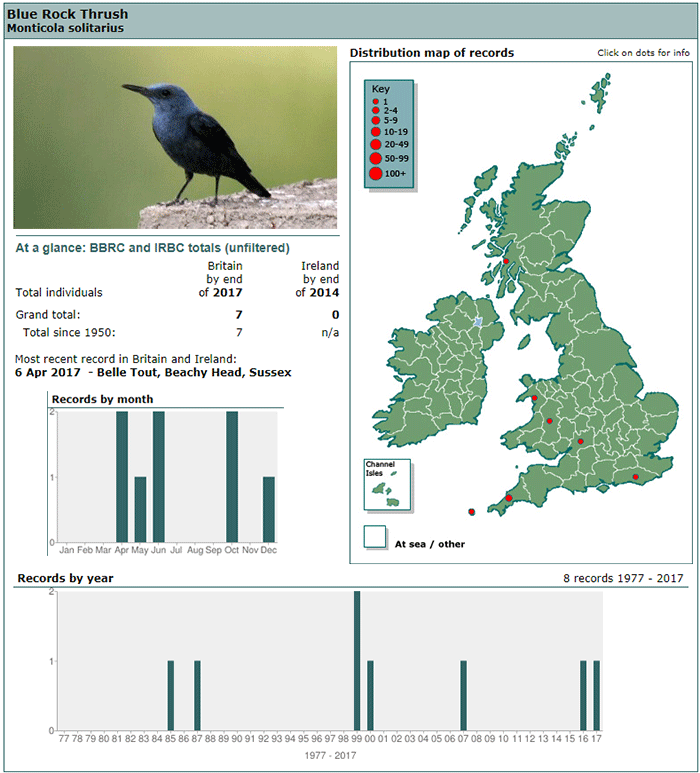 We've never yet had a September record, though, but that was set to change this week with the discovery of Scilly's second bird on St Mary's on 22nd-24th – a joyously slate-blue creature, so an absolute belter in every sense. Found by Ren Hathaway, a man who knows a thing or two about rare thrushes, this was a superb bird if not a confiding one. While many a birder on social media had been anticipating what the south-easterlies crossing the North Sea might bring to Shetland this week, Scilly was quietly getting on with business and kicking off the archipelago's autumn account in some considerable style.
Short-toed Treecreeper
If there's one rare passerine that's utterly synonymous with Kent – and no, it's obviously not the anachronistic Dartford Warbler - it has to be Short-toed Treecreeper. A subtle symphony in brown, and one that may be overlooked elsewhere, but is inextricably linked with Kent in the historic record.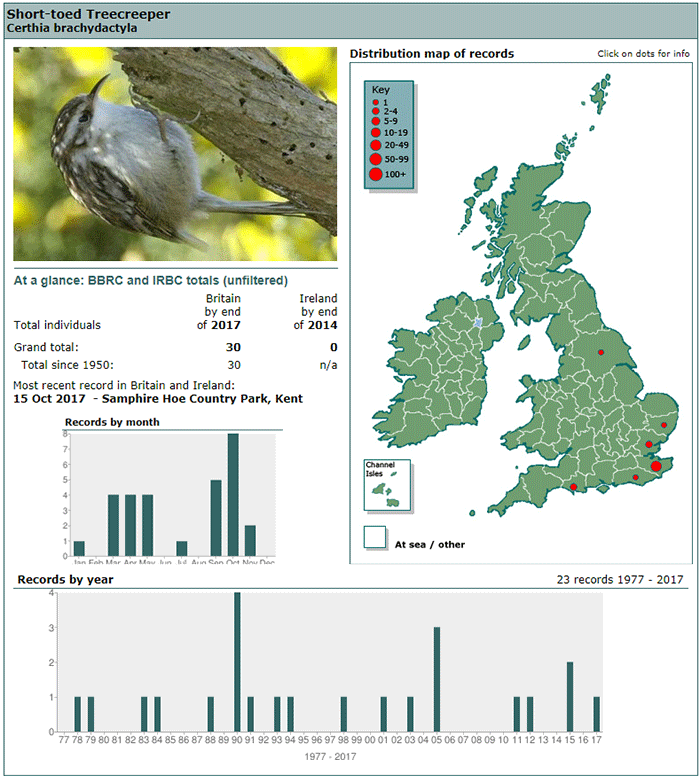 We've a nice round figure of 30 accepted birds to the end of 2017 and, of them, Kent lays proud claim to a whopping 22 individuals. One at Hornsea Mere (East Yorkshire) on 26th October 1970 is, by some margin, the furthest north one has managed to penetrate, and if precedence is anything to go by doesn't look like being repeated any day soon – though on the basis of recent events in Yorkshire, county listers may yet hold out some hope that yet another blocker may duly fall.
But Kent. If we were to predict where Britain's next Short-toed Treecreeper would be found, the smart money would always have been there. And so it proved this week with a brief bird found on 21st at Langdon Cliffs NT. With a certain thrush the following day on Scilly, it was the south of England that had it all going on this weekend.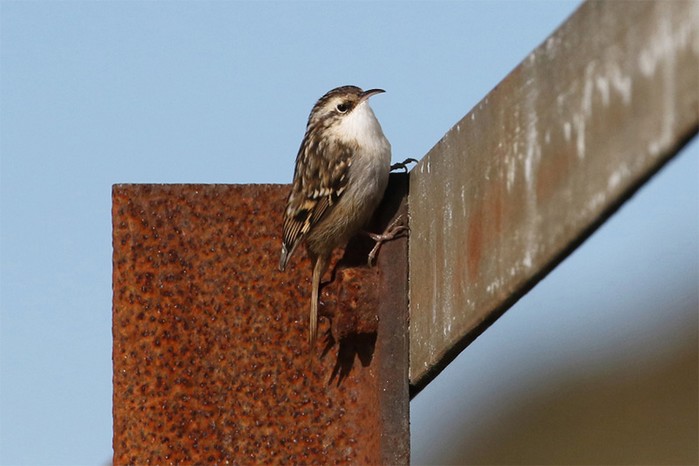 Hooded Merganser
Just when I thought we'd flogged this particular crazy horse to death, and there was really no more we could say or insinuate about the clusterduck that's British Hooded Merganser records, along comes another sighting this week that demands we not only get back in the saddle, but give the poor nag another whipping.
Hot on the heels of the female bird seen at the close of the previous week in London, a bird that raised barely a meh despite having arrived on the back of some tasty westerlies, put yourself in the shoes of Colin Scott, standing in Norfolk on 18th at Titchwell RSPB. This is in the middle of a movement of ducks along the north Norfolk coast, mind you – so there are Teal and Wigeon on the move, and other bits and pieces too.
Two mergansers hove into view. One's a female Red-breasted Merganser, and the other? Only a fully-winged and motoring drake Hooded Merganser.
Colin kept his cool, and captured a tremendous image of the bird heading west – perhaps Worcestershire-bound, for a drake was found on Upper Bittell reservoir the following day.
Last week, Colin Scott captured a genuinely brilliant flyby moment when he photographed Norfolk's 1st Hooded Merganser. It should sail through the BBRC process. But should the species be on the county list already? (Thanks to Colin for allowing me to use his photo) 1/3 pic.twitter.com/Nutlp80HLg

— TheWhiteFalcon (@Vaasetter) September 23, 2019
There's nothing, on the face of it, not to like about this bird – apart from it being a Hooded Merganser and, hence, as a bona fide pretty ducky, the like of it resides in many a wildfowl collection in Britain and Europe. But since when has the escape likelihood really had that much bearing on a British Hooded Merganser record in the absence of pinioned wings or incriminating leg bling?
Certainly not in Kent, where the Chilham Lakes bird of December 2005 was found less than a mile from a farm shop that, certainly while I lived in Chilham just a few years previously, had all sorts of ornamental wildfowl on their duckpond including… yes, you've guessed it.
Anyway. The Chilham Lakes bird seemed to have a full set of wings and wasn't seen to bear a ring. Hence, on the basis of a bird being innocent until proven guilty, all is well. All of which is a roundabout way of saying that this bird in Norfolk should have absolutely no bother whatsoever passing muster with the BBRC who adjudicate on such matters. Which will make it a first for Norfolk.
Yay.
Or is it? We've another latter-day Norfolk record that, were it to turn up today, would surely sail onto the record books too. This was the female bird that lurked around Holme and Titchwell in early 1997. A bird that, when you read the details of the record, and the corroborating evidence that's been gathered to support it, seems like a perfectly viable and reasonable candidate to be not only the first for Norfolk but, as it happens, the first accepted bird for Britain too, as it pre-dates the currently accepted British first, the bird present on North Uist (Western Isles) in the last week of October 2000.
Of course, for that to happen, the bird would need to pass muster with BOURC. The bar is, naturally, set high for a first for Britain. It should appear to be wild beyond all reasonable doubt. And here's the thing. In the absence of something concrete that proves beyond doubt that a bird is of wild origin – a ringing recovery, stable isotope analysis, some actual science – what anybody, individually or collectively, is really doing is making a judgement based at least partly on gut instinct and what feels right. Bird has turned up in a plausible location at a plausible time of year, hasn't got anything about it that suggests captive origin? All should be well, but the decision that endorses it isn't necessarily based on anything particularly concrete. It just feels right.
Perhaps the same presumption of innocence until proven guilty applied by the BBRC in those circumstances should be equally applied by the custodians of the British list too. It would be a consistent approach. Maybe that's what they're now doing – after all, we've now got Dalmatian Pelican on the British List, a development that many didn't see coming – but then again, the bird did nothing in particular to blot its copybook, did it?
Now, excitingly, you can put yourselves in BOURC's shoes and see if you think the 1997 Norfolk Hooded Merganser is equally blameless. Have a read of the case put together for it by Norfolk birder and my erstwhile RBA colleague Mark Golley and see what you think. What would your judgement be? A wild bird?
While 22nd September appears to have been the day autumn officially started where passerines were concerned, it was a somewhat different story at sea. Sunday 22nd was, instead, albatross day. Alas neither sighting could be ascribed definitively to species level, but still – albatross(es) – you've gotta love them. The morning kicked off with an albatross sp noted heading north at 11:40am past St Abb's Head (Borders); and then, later in the afternoon just after 3pm another, thought probably to be Black-browed, was seen heading south past Winterton (Norfolk).
Our other star seabird this week has to be the Fea's / Zino's / Desertas Petrel logged on 18th off Aghernagallagh (Co.Mayo) – it's been a good late summer and early autumn for these enigmatic pelagic birds in Britain and Ireland.
Large shearwaters had a reasonable week this late in proceedings, with a single Great Shearwater seen from North Ronaldsay (Orkney) on 18th, and Cory's Shearwaters noted on 18th from Barns Ness (Lothian), Hauxley NR (Northumberland) and Whitburn CP (Co.Durham), followed on 19th by a probable from North Ronaldsay and one more reported from Hornsea (East Yorkshire).
Balearic Shearwaters were ever more muted, with just 60 birds in all recorded over the course of the week, a dozen off Portland (Dorset) on 24th being about the best of it at any single site.
The hundreds of Leach's Petrels seen in recent weeks are already a fading memory now, and this week we had barely a handful to deal with. Two were seen from North Ronaldsay on 18th; one was noted off the Belfast – Cairnryan ferry (Co.Antrim/Dumfries & Galloway) on 19th; on 21st, single birds were seen from Frinton-on-Sea and Holland Haven CP (Essex), and Lowestoft and Southwold (Suffolk); and, on 23rd, two more were seen from the ferry between Ullapool and Stornoway (Highland/Western Isles).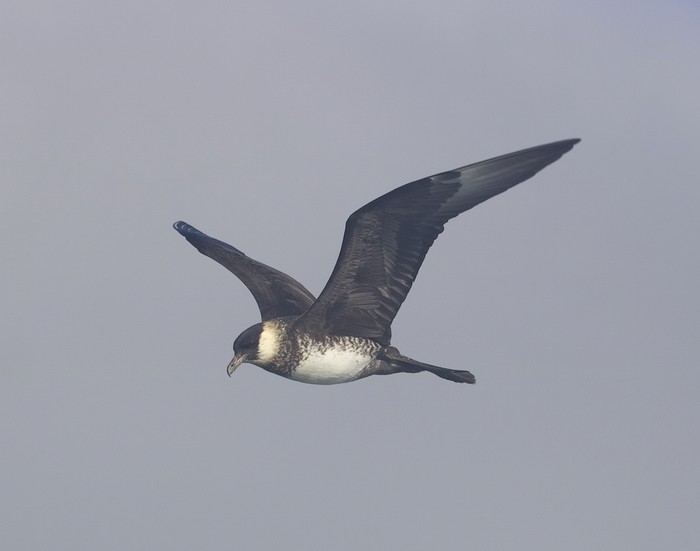 Pomarine Skuas, on the other hand, remained a notable feature for another week, with around 100 birds seen. Much of this skua passage involved single birds, with a peak single site count coming from Collieston (Aberdeenshire) on 22nd, where eight birds were tallied.
Some 35 Long-tailed Skuas were seen too this week, remaining a realistic sea-watching prize pretty much anywhere on the coast for another week. The best of it, however, came during North Ronaldsay's excellent sea watch on 18th, when five birds were logged.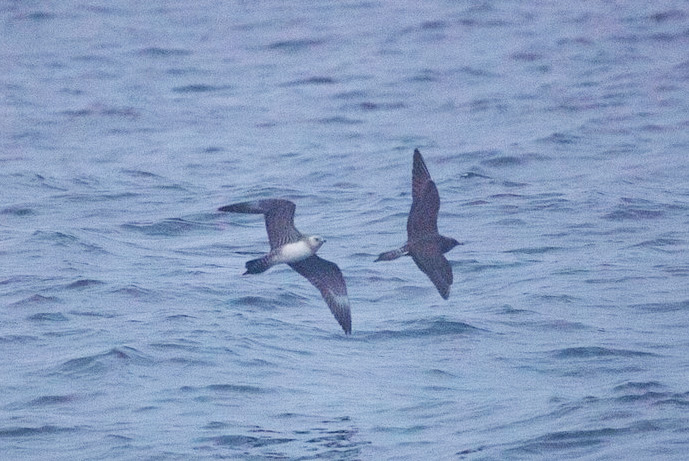 Lastly, and literally least, a Little Auk was reported from Hornsea (East Yorkshire) on 1th.
Back in the long-legged beasty news this week after something of a quiet spell lately, Purple Herons featured in the early days of the week. In Dorset, one was seen on 18th over Portland and Chesil Cove; and, on 19th, another was seen passing over the Thanet Way at Chambers Wall (Kent).
A stranger to these columns for a while, birders in the field and watchers of the RBA newsfeed alike this week can't have failed to notice Great White Egrets having a bit of a moment. By which we mean, there were many, many birds seen this week, as the map below neatly illustrates…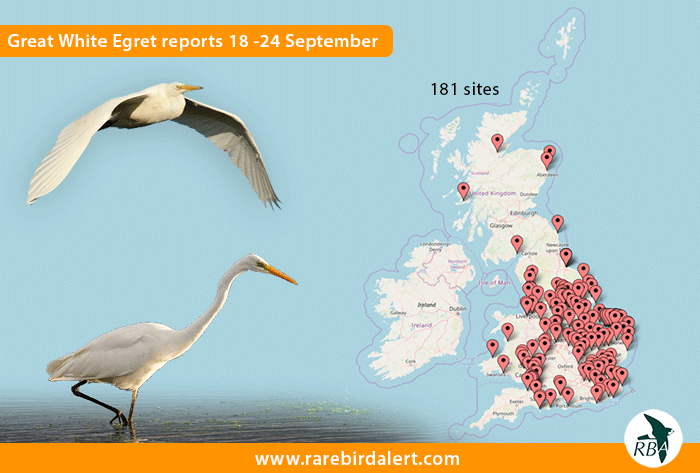 In Gwent, the resident Glossy Ibis remained at Newport Wetlands NNR on 19th-23rd. Another was reported from Storrington Memorial Pond (West Sussex) on 23rd.
Away from Norfolk sightings of Common Cranes dried up this week, with mere duos recorded at Alkborough Flats (Lincolnshire) on 18th and Castle Douglas (Dumfries & Galloway) on 19th, and 14 birds at Eldernell (Cambridgeshire) on 22nd.
Spotted Crakes on the other hand were having a fine old time, with seven birds in all reported in recent days. Two remained at Wheldrake Ings YWT (North Yorkshire) on 18th-19th; one stayed settled at Bowers Marsh RSPB (Essex) on 18th-23rd; one remained at Blacktoft Sands RSPB (East Yorkshire) still on 18th and again on 24th, with another on 18th-23rd in Somerset at Greylake RSPB; a probable bird was seen in flight on 20th at Middleton Lakes RSPB (Warwickshire); and, on 22nd-23rd, another was to be found on the Teifi Marshes NR (Ceredigion).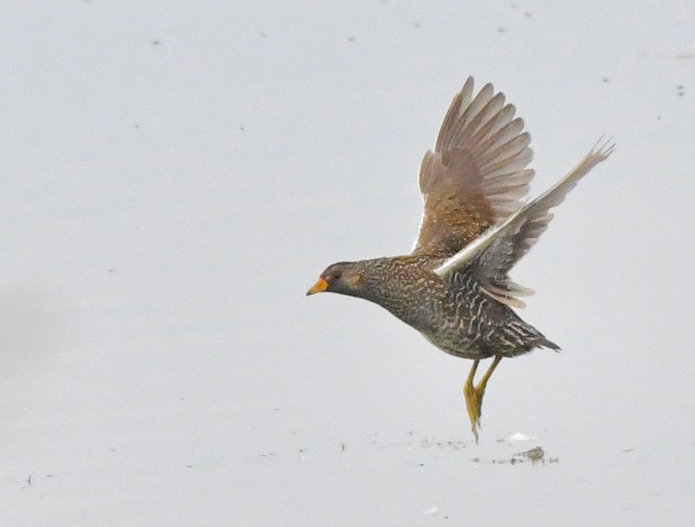 Finally, a Corncrake was found on 18th at Nanjizal (Cornwall).
We've a trio of Snow Geese to kick off our honkers and quackers this week – the two white morphs still present on the Western Isles on North Uist at Balranald RSPB on 19th-24th, and a further bird seen on 18th at Loch Leven (Perth & Kinross). A further bird was reported on 24th at Aberlady Bay (Lothian).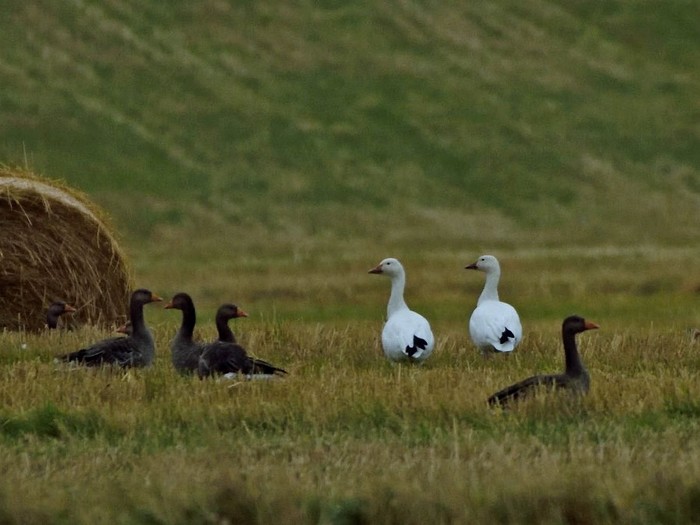 A couple of newly arrived Nearctic ducks provided some variety – in Co.Wexford a female Blue-winged Teal remained on Lady's Island Lake on 19th-20th and at Tacumshin on 23rd, while the stalwart eclipse drake was once again seen on Frankfield Loch (Clyde) on 23rd also.
Meanwhile on Scilly an American Wigeon was found hanging out with the Mallards on St Agnes on 22nd.
Also no stranger to a Mallard, the drake Black Duck remained in Highland at Strontian on 18th.
Finally, in Essex, the drake Ring-necked Duck was again seen on Abberton reservoir on 21st-24th.
<!—Section Title -->
Plenty of good things continued to happen this again this week and, if we're to single out a single site again for particular attention, it has to be up on South Uist (Western Isles) at Eochar where, on 18th, a trio of Semipalmated, White-rumped and Pectoral Sandpipers were all on offer.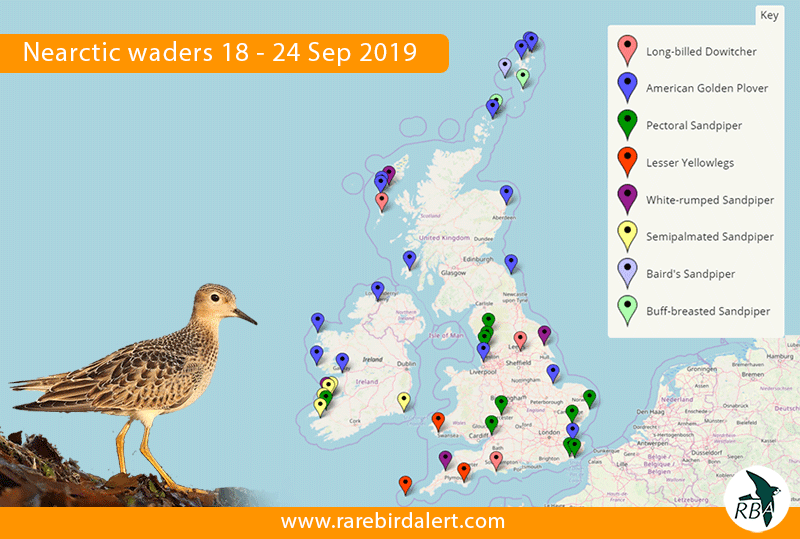 The Semipalmated Sandpiper remained until 20th; the week's further sightings mostly came from Co.Kerry where birds were seen, on 18th at Rossbeigh still and on 20th again at Carrahane Strand, on 20th-23rd at Lady's Island Lake, and on 24th at Beale Strand; and a final bird was found in Co.Clare on 23rd at Poulnasherry Bay.
The Eochar White-rumped Sandpiper proved to be a one day bird; but further individuals were found this week at at Tophill Low NR (East Yorkshire) on 20th-24th; on 21st on Harris (Western Isles) and at Carrigaholt (Co.Clare); and on 22nd-24th at Davidstow airfield (Cornwall).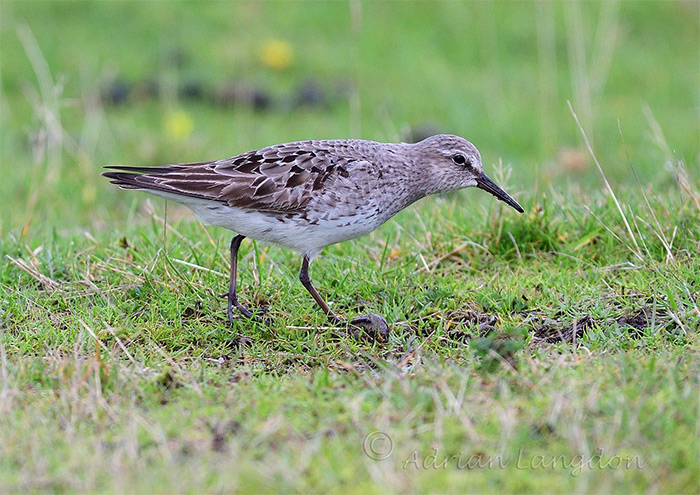 Eochar's Pectoral Sandpiper was one of 11 birds seen during the course of the week – birds remained at Frampton Marsh RSPB (Lincolnshire) on 18th-24th, at Dungeness (Kent) on 18th-20th, Minsmere RSPB (Suffolk) on 18th-24th, and Blennerville (Co.Kerry) still on 19th-24th – while fresh birds were found at Blackpool Wake Park (Lancashire) on 18th-23rd, Abberton reservoir (Essex) and Heversham (Cumbria) on 19th, and at Rye Harbour (East Sussex) and Pilning Wetland (Gloucestershire) on 22nd; and a further probable bird was logged on South Uist on 22nd at West Gerenish. On 23rd one was found in Worcestershire at Clifton Pits, joined by a second bird there on 24th; and on 24th two were found in Lancashire at Nateby with two seen at Winmarleigh also.
The week's sole Baird's Sandpiper was one hunkered down on Foula (Shetland) on 18th-24th, joined there by a Buff-breasted Sandpiper on 21st.
Buff-breasted Sandpipers remained this week on Davidstow airfield (Cornwall) until 23rd and at Fleck (Shetland) again on 18th; new birds were seen on North Uist (Western Isles) where a single bird on 18th rose to two individuals on 19th-20th, and on North Ronaldsay (Orkney) on 20th.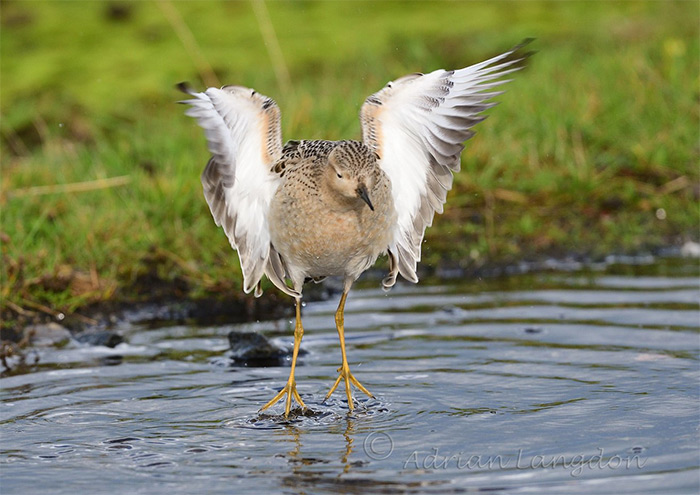 An unconfirmed report came in of a Spotted Sandpiper on the River Don in Aberdeen (Aberdeenshire) on 21st. It wasn't to be found subsequently.
Three or four Long-billed Dowitchers were, however, very much on offer this week – birds remained at Lodmoor RSPB (Dorset) on 18th-23rd, South Uist (Western Isles) again on 20th-22nd, and at Fairburn Ings RSPB (West Yorkshire) on 18th-21st still – the latter bird presumably accounting for the individual found on 22nd-24th at Swillington Ings RSPB (West Yorkshire).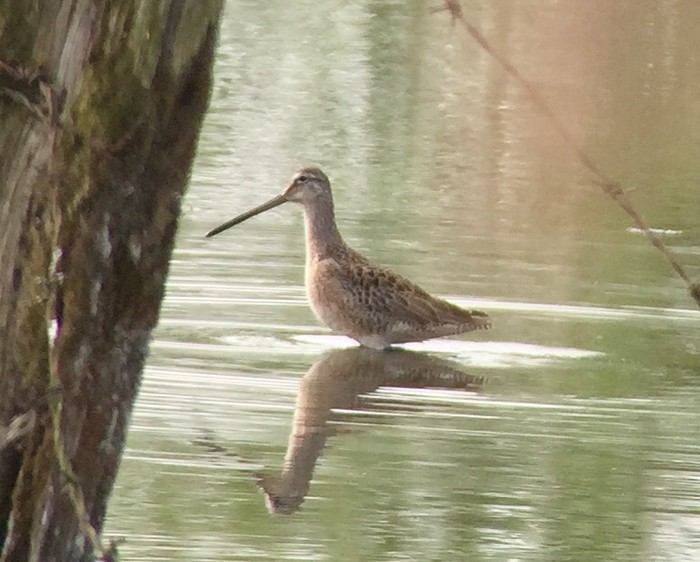 A trio of Lesser Yellowlegs offered elegant counterpoint – birds remained this week on Tresco (Scilly) on 18th-23rd and in Pembroke (Pembrokeshire) on 20th-24th; and a new bird was found at South Efford Marsh (Devon) on 19th-20th.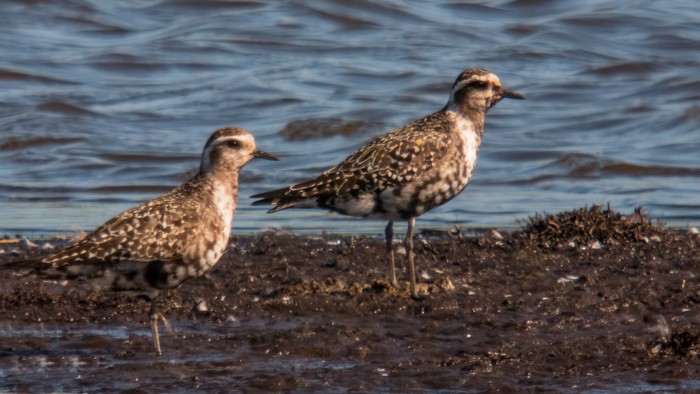 American Golden Plovers continued to be seen and found in good numbers – with some 18 birds noted in the course of the week, including duos on Yell (Shetland) still at Cullivoe on 20th, on Sanday (Orkney) still on 18th-22nd, and at Lunt Meadows LWT (Lancashire) still on 18th-24th.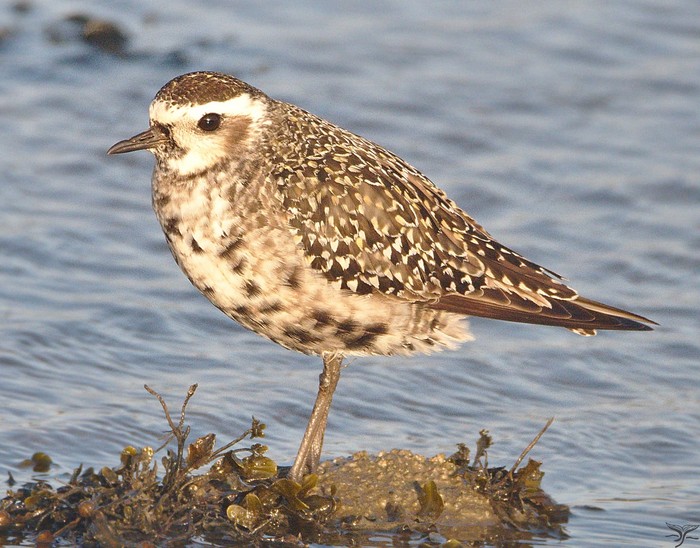 Two flushes of solitary Dotterels were found this week – on 19th at Grit Fell (Lancashire), Seaford Head (East Sussex), Charmouth (Dorset), until 20th at PLumstone Mountain (Pembrokeshire) and until 21st on Bryher (Scilly) still; and then, on 21st, further birds were found at High Pike and Carrock Fell (Cumbria), Burntisland (Fife), and until 22nd at Dale airfield (Pembrokeshire). On 23rd another was sound-recorded passing over Cambourne (Cambridgeshire) in the early hours.
The previous week's juvenile Black-winged Stilt remained in Berkshire at Moor Green Lakes NR until 24th; and a second juvenile was found in Somerset at Ham Wall RSPB on 21st-24th.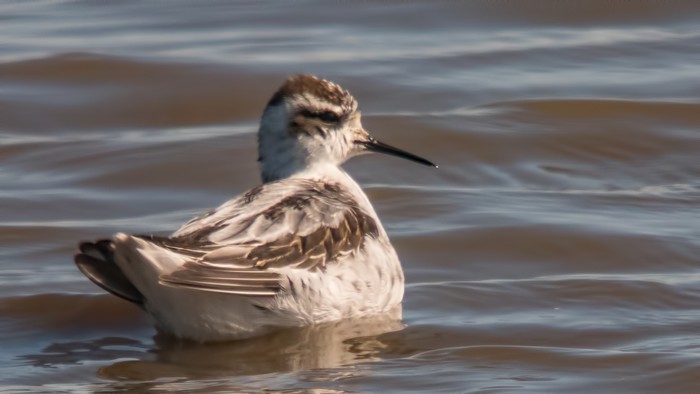 A Red-necked Phalarope was seen on 20th-24th at Marshside RSPB (Lancashire); while Grey Phalaropes numbered two reported on 20th from St Martin's (Scilly), a single bird seen on 20th off Tory Island (Co.Donegal), on 21st a further reported bird from Minnis Bay (Kent) and, on 24th, a definite Kentish bird off Birchington.
Starting our gulls this week with the rarest offering, a Laughing Gull was seen on 19th at Greystones (Co.Wicklow) – not the rarest Larid in an Irish context, but in Switzerland… more of which anon.
Staying in Ireland, the adult Bonaparte's Gull remained at Liscannor (Co.Clare) on 18th-19th.
Sabine's Gulls crept into double figures again this week, just. Birds were noted on 18th from Canvey Island (Essex), Whitburn CP (Co.Durham) and North Ronaldsay (Orkney); on 19th at sea off Grassholm (Pembrokeshire), from the Belfast – Cairnryan ferry (Co.Antrim/Dumfries & Galloway), off Eyemouth (Borders), and from Flamborough (East Yorkshire) – with subsequent daily records from the latter on 20th and 21st too, and once more on 23rd; on 20th from Inverbervie (Aberdeenshire); and on 22nd on the Lossie estuary (Moray) and from Bridges of Ross (Co.Clare). On 24th one was seen passing Thurlestone Bay (Devon).
An adult Ring-billed Gull provided a little more variety on 23rd-24th at Blackrock (Co.Louth).
On Barra (Western Isles) the Iceland Gull remained on 18th-24th; another was seen again on Unst (Shetland) on 19th-24th; and a further bird was found on 22nd in Kirkwall (Orkney). A Glaucous Gull on Foula (Shetland) on 23rd rounds off the gulls.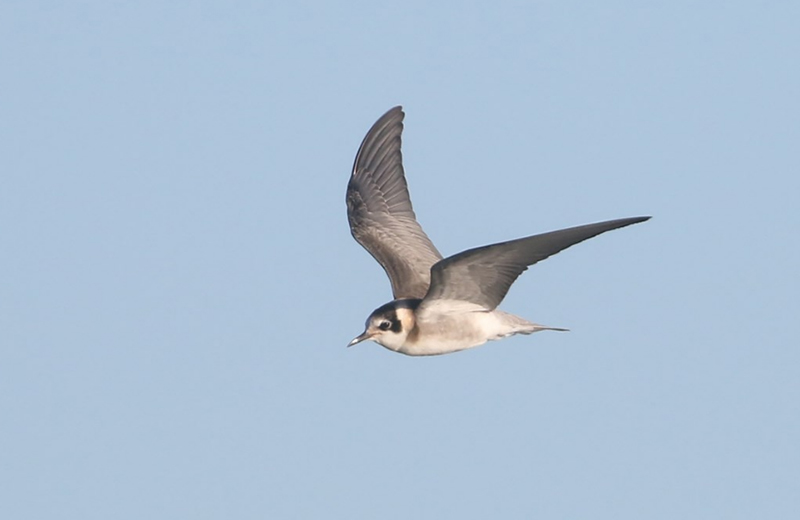 And so to terns… where all of our news was happening in Ireland, and for once didn't comprise solely of the adult Forster's Tern in Co.Louth – though that was still there at Soldier's Point on 18th-23rd – as this week a surinamensis American Black Tern was found on 18th at Tacumshin (Co.Wexford).
The week kicked off with the female Pallid Harrier still present at Beachy Head (East Sussex) – it transpired that she'd been ringed at Tyrnava in Finland in June 2018.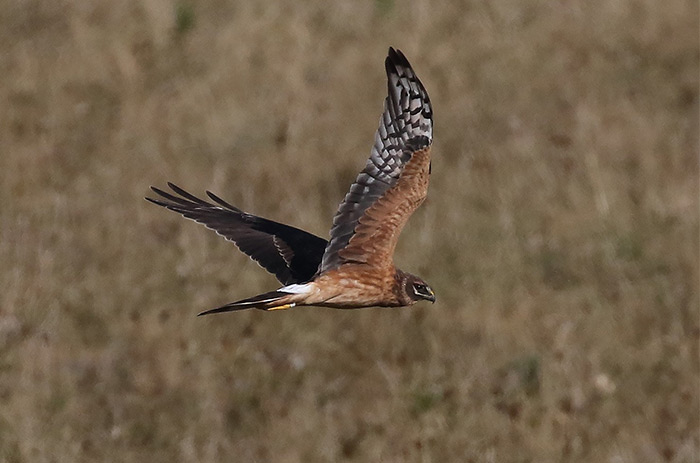 Further Pallid or Montagu's Harriers were seen on the east coast this week on 20th over Holy Island (Northumberland) and on 22nd coming in off the sea and passing through Donna Nook (Lincolnshire).
On 21st a Rough-legged Buzzard was found in Norfolk at Kelling, with further birds reported that day at Grindon Lough (Northumberland) and over Gateshead (Co.Durham).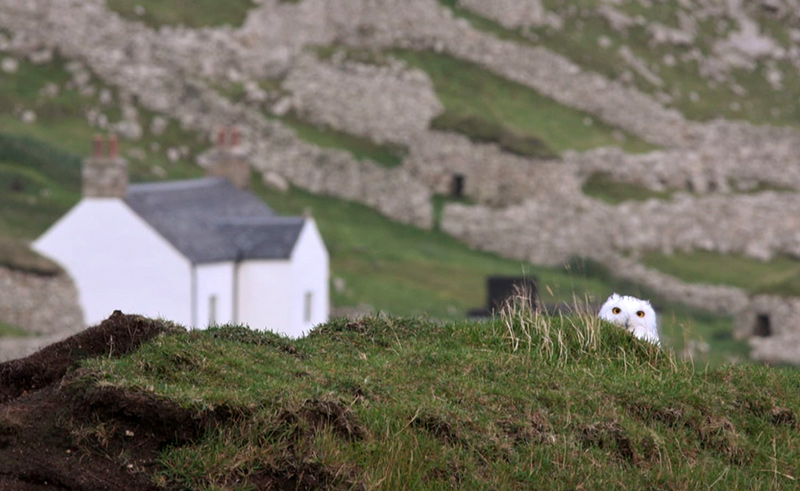 The female Snowy Owl remained ensconced on St Kilda (Western Isles) for another week, being seen there until 23rd at least.
A decent scatter of variety came in this week where passerines and their ilk were concerned – and we'll start with the intriguing sighting of a Roller in West Yorkshire flying over Oxenhope on 18th – seen a mere four miles away from where one was seen on 2nd June, one would presume this bird is of the same pedigree. Where has it been all this while?
Fair Isle (Shetland) landed a former mega on 23rd in the always gorgeous form of a Red-flanked Bluetail; answered by Orkney on 24th when North Ronaldsay returned the favour with another bird; while back on Shetland, Foula added a third bird to the week's tally on 24th also.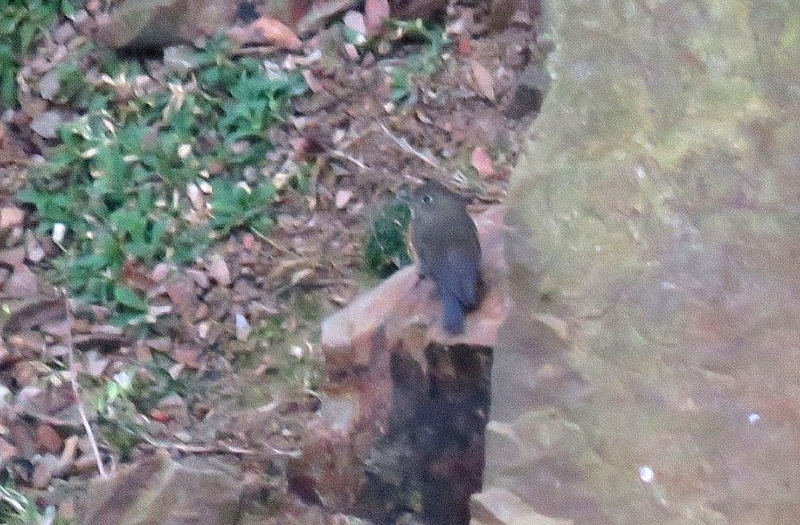 The conversely increasingly scarce Bluethroat meanwhile was represented by a male at Titchfield Haven NNR (Hampshire) on 19th-22nd, and another bird on Tresco (Scilly) on 21st-22nd.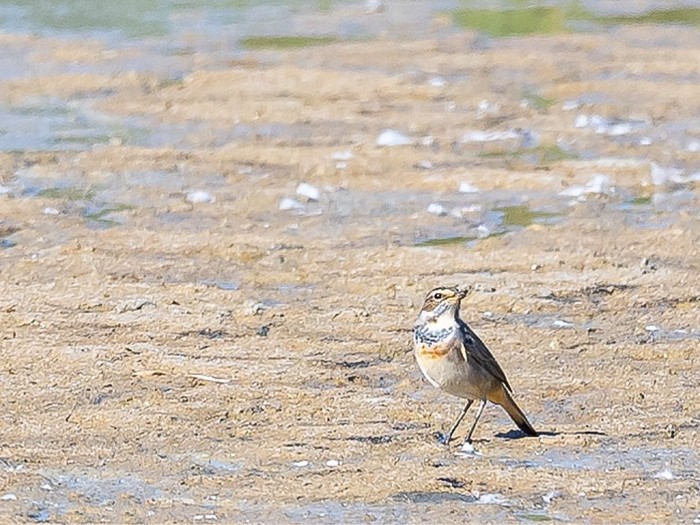 The Isle of May added to an already decent Fife autumn with an Eastern Stonechat sp trapped and ringed there on 23rd. DNA will doubtless reveal all in due course…
Foula (Shetland) was having a decent week, what with a couple of good waders and a Citrine Wagtail present on 18th-24th; two further probable birds were noted on 19th heard only on South Uist (Western Isles) and, on 22nd, at Lunt Meadows LWT (Lancashire).
A female Blue-headed Wagtail was seen at Port Meadow (Oxfordshire) on 19th-20th.
Scotland landed a couple of Richard's Pipits on 21st, seen at Ushat Head (Highland) and on Fair Isle (Shetland). An English record came from Grimston (East Yorkshire) on 22nd, followed by another on 23rd at Whitburn CP (Co.Durham). On 24th another was seen heading over Yell (Shetland).
A possible Red-throated Pipit was heard over Stainborough Castle (South Yorkshire) on 23rd.
On 24th the first Olive-backed Pipit of the autumn landed on Foula (Shetland).
A possible Isabelline Wheatear was reported from Burnham Overy (Norfolk) on 21st; a further bird seen on 22nd-23rd on Gibraltar Point NNR (Lincolnshire) was suspected to be Isabelline and, once the photos had been seen, the identity was confirmed – making this a perhaps overdue first for Lincolnshire.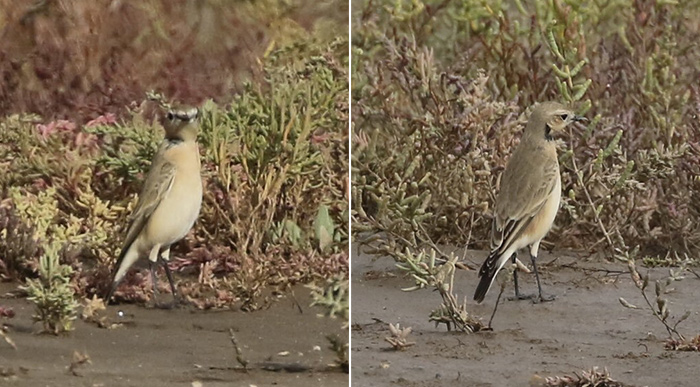 A Short-toed Lark was found on St Agnes (Scilly) on 22nd; another was found at the opposite end of the country on Unst (Shetland) on 23rd-24th.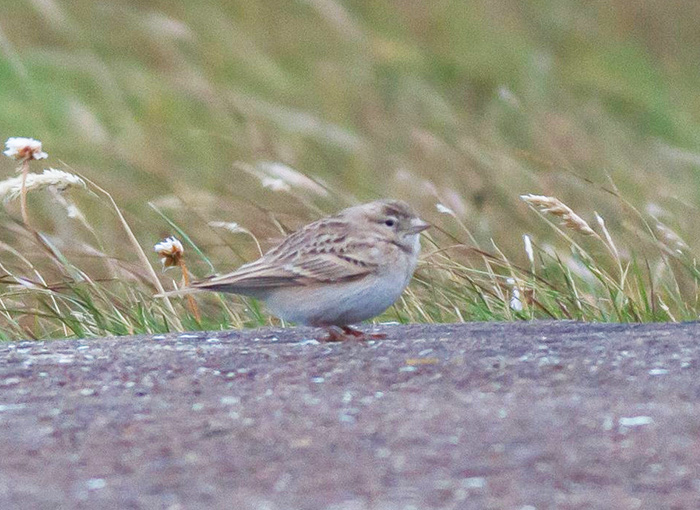 The previous week's headliner, the Eastern Olivaceous Warbler at Farlington Marshes HWT (Hampshire) was reliably seen on 18th-19th but thereafter played much harder to get – sightings came early on 20th and then not until 23rd again.
Portland (Dorset) scored a biggy on 18th, with a Great Reed Warbler trapped and ringed there.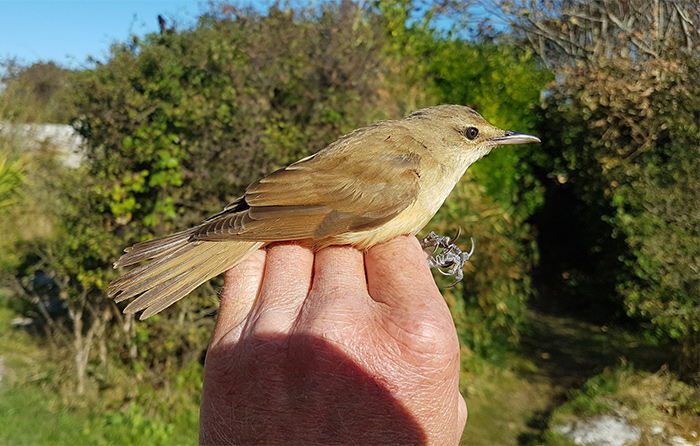 A Marsh Warbler was seen on North Ronaldsay (Orkney) on 18th-20th.
Shetland got what is presumably the first of many Blyth's Reed Warblers to arrive in the coming days on 24th, found at Hillswick by on-form Rob Fray – fresh from his success finding Nearctic waders lately, this week had already brought something much rarer than a Blyth's Reed - he'd found a Monarch on 23rd. Now that was gripping news... A second Blyth's Reed Warbler was found on Barra (Western Isles) as 24th drew to a close.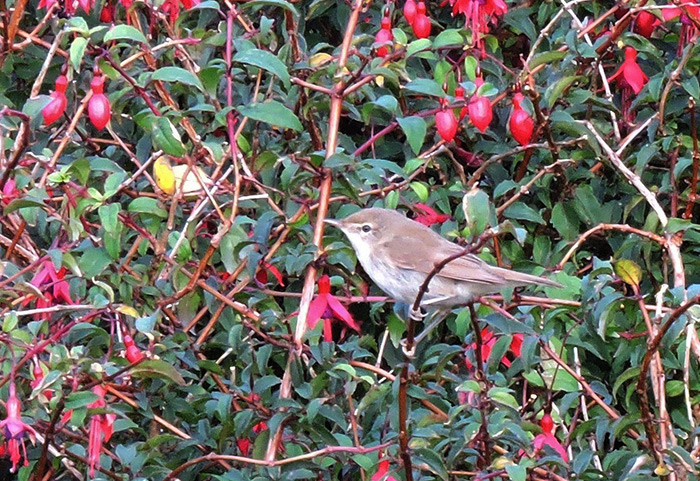 In the Western Isles the Western Bonelli's Warbler remained on Barra on 18th-19th, while the male Subalpine Warbler sp was still present on South Uist on 19th-22nd. Further Subalpine Warbler sp were found this week at Pennington Marshes (Hampshire) and on the Isle of Wight at West High Down, both on 20th.
A Melodious Warbler remained on Inishbofin (Co.Galway) on 18th, and another was found on 22nd at Land's End (Cornwall). On Shetland on 24th a probable was found on Mainland at Catfirth, with a confirmed bird also seen on Yell.
For now, Barred Warblers remain in short supply – birds seen this week only at Hoswick (Shetland) on 18th, trapped and ringed on 19th at Melvich (Highland), trapped and ringed on Orford Ness (Suffolk) on 20th, on Unst (Shetland) on 20th, on North Ronaldsay (Orkney) on 20th-23rd, and a probable seen on St Mary's (Scilly) on 20th. On 23rd the pace quickened a little, with new birds found on St Abb's Head (Borders), at Girdle Ness (Aberdeenshire) and in North Yorkshire on Castle Head behind Hairy Bob's Skate Park. On 24th one was found on Hook Head (Co.Wexford), and further birds were seen on South Uist (Western Isles), on Papa Westray (Orkney), and on Holy Island (Northumberland).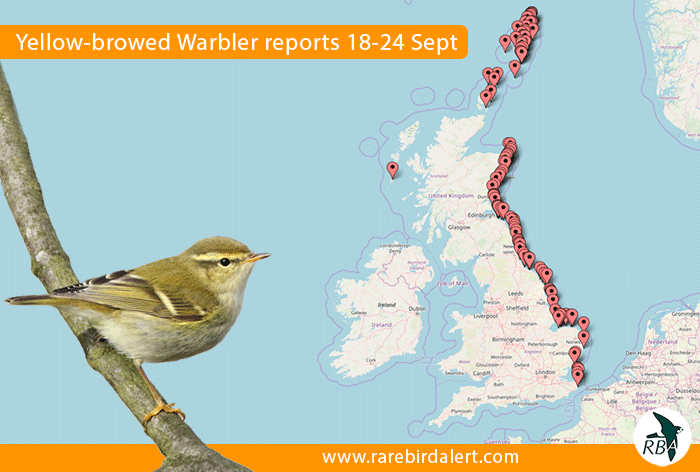 Yellow-browed Warblers, on the other hand, kicked off this week – some 15 birds seen by the end of 18th-21st being blown out of the water on 22nd when a shade over 80 were found down much of the east coast of Britain. Some sites enjoyed multiple birds – the highest single site tallies on 22nd being seven birds apiece for Fetlar (Shetland) and the Isle of May (Fife). Around 160 birds were logged on 23rd, with Out Skerries (Shetland) claiming 14 of them. A further 120 or so birds were reported on 24th, with Bressay (Shetland) alone accounting for 21 of the national tally. Doubtless they were being massively under-recorded in Shetland for they were truly everywhere in the past 48 hours – by some margin the commonest migrant throughout the islands.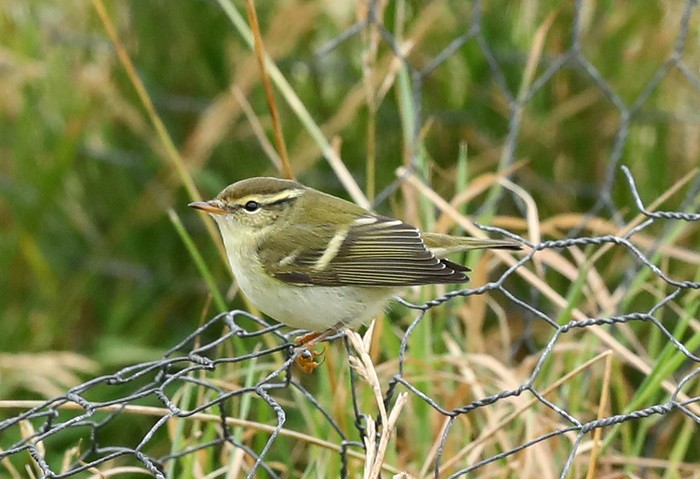 Finishing the warblers for another week, an Arctic Warbler was found on 22nd at Grimston (East Yorkshire), and one was trapped and ringed on the Isle of May (Fife) on 23rd.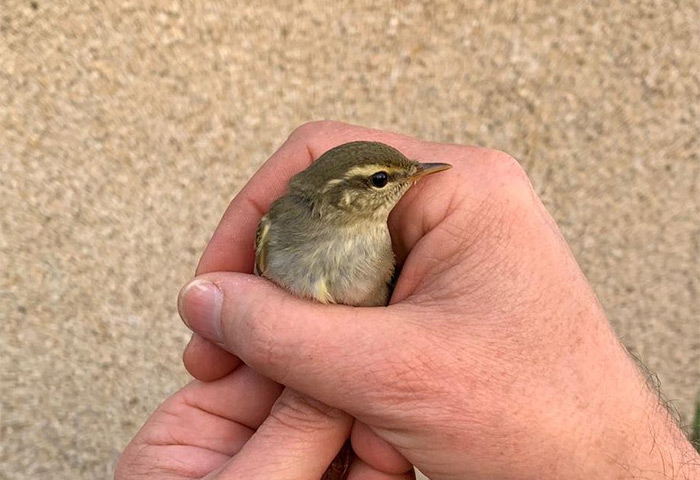 A couple of Red-breasted Flycatchers - a probable, heard only, bird on 20th at Anderby Creek (Lincolnshire) and another at Kilnsea (East Yorkshire) on 21st – hinted at what would follow on 22nd… A small arrival, synchronous with the deluge of Yellow-browed Warblers, numbered birds found at Sandside Bay and North Ronaldsay (Orkney), Long Haven (Aberdeenshire), Fife Ness (Fife), on Holy Island (Northumberland), at Flamborough (East Yorkshire) and, further south, at Landguard NR (Suffolk). On 23rd more birds followed, on Fair Isle (Shetland), North Ronaldsay (Orkney) where two birds were seen, South Ronaldsay (Orkney) and Low Newton-by-the-Sea (Northumberland). On 24th the finds kept coming in – at Scousburgh on Mainland and on Unst, Fetlar and Foula (Shetland) respectively, and at Deerness on the Orkney mainland and out on Papa Westray, while birds were seen again on Holy Island and at Low Newton-by-the-Sea (Northumberland), and two remained on North Ronaldsay.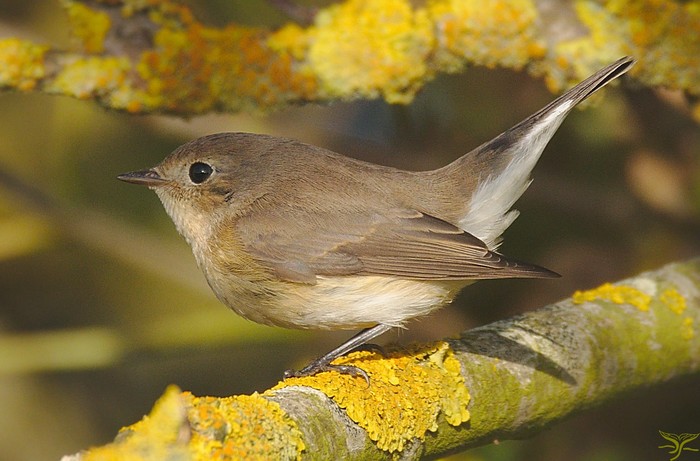 Some 22 Wrynecks were logged this week, largely with a southerly bias once more. All involved single birds bar two on St Martin's (Scilly) on 18th and two on Bardsey (Gwynedd) on 20th.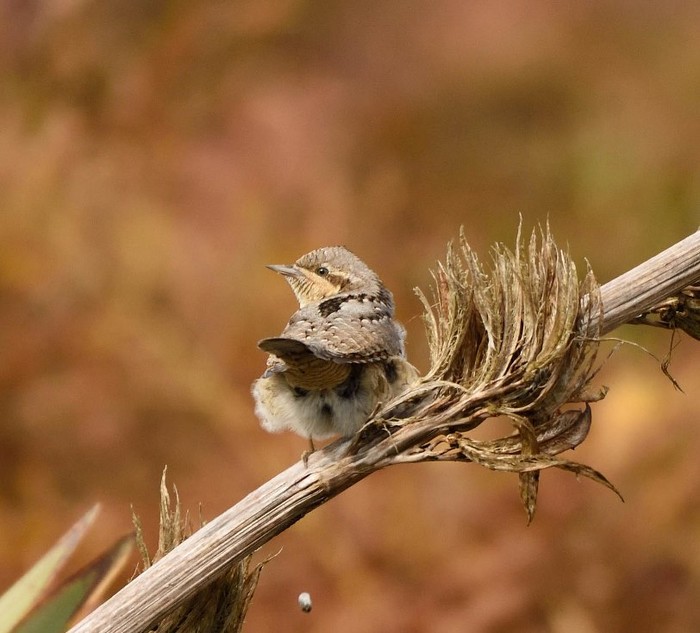 Red-backed Shrikes on the other hand were conspicuous by their absence – just four birds were noted, at St Cyrus NNR (Aberdeenshire) on 19th-20th, and at Whitburn (Co.Durham) on 19th-20th still, followed on 24th by birds on Yell and Fair Isle (Shetland).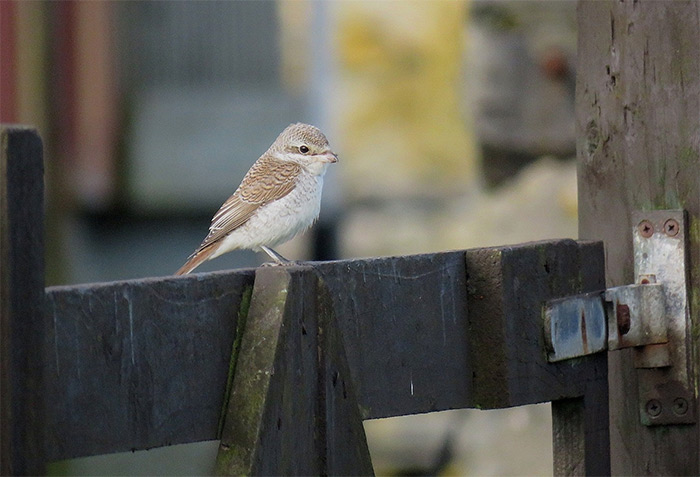 An unconfirmed report came of a Great Grey Shrike on 21st on Chobham Common (Surrey).
A Hoopoe was found on St Mary's (Scilly) on 24th; another was in Co.Wicklow at Kilcoole that day also.
A single Golden Oriole was seen on Anglesey at South Stack RSPB on 19th. Anglesey also accounted for sightings of Rose-coloured Starling at Cemaes on 18th and Cemlyn Bay NWWT on 19th-24th; further birds remained on The Lizard (Cornwall) on 18th-24th and North Uist (Western Isles) on 19th-24th; and a new bird was found on 24th in West Sussex at Pagham Harbour.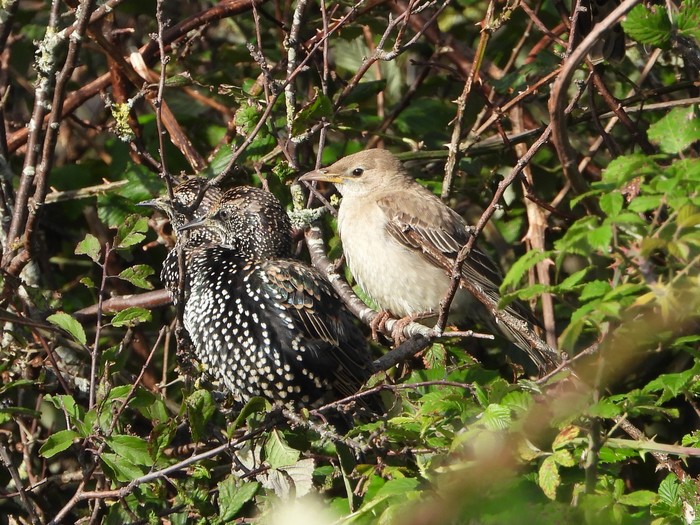 An Alpine Swift was found on 23rd over Aberystwyth (Gwynedd); another was reported in the early afternoon of 24th near Pentre Berw on Anglesey.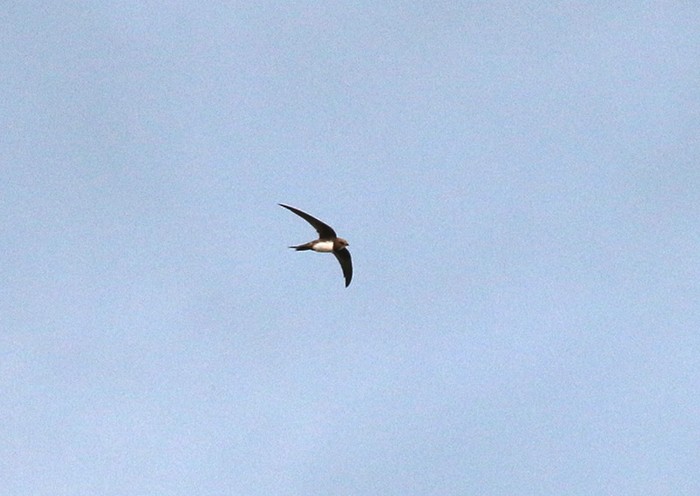 Numbers of Common Rosefinches began to swell this week, with 14 birds logged nationally. Most were in Scotland – all bar one of those in Shetland – with three birds on Foula on 18th; non-Scottish birds were seen on Inishbofin (Co.Galway) still on 18th, at Gibraltar Point NNR (Lincolnshire) on 20th, on Skokholm (Pembrokeshire) on 23rd-24th, and on St Agnes (Scilly) on 24th.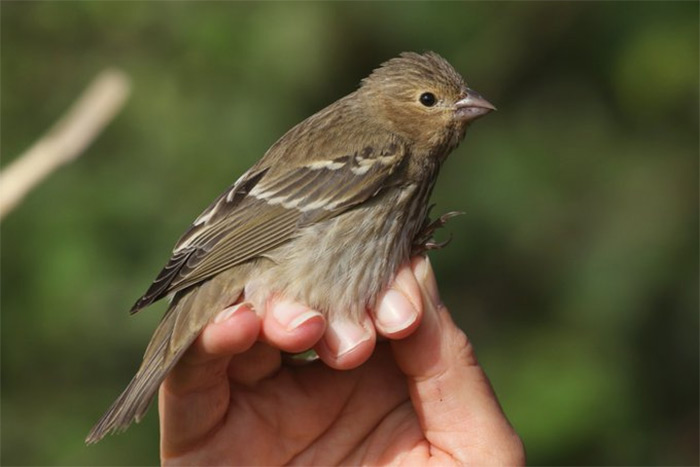 Shetland accounted for half the week's Ortolan Buntings, being birds seen on Out Skerries and Foula on 22nd; the honours were shared with Co.Cork, where birds were noted on Galley Head on 18th and Mizen Head on 22nd.
Shetland also picked up some Little Buntings, on Fair Isle and Out Skerries on 22nd-24th, with two seen on Fair Isle on 23rd and one remaining on 24th, and on Mainland at Hoswick on 23rd; another was present on Coquet Island (Northumberland) on 22nd; and one was seen at Kilminning (Fife) on 23rd.
Finally, Foula (Shetland) scored a Rustic Bunting on 24th.
Kicking off the overseas news fairly close to home this week, in Holland a probable Semi-collared Flycatcher was photographed and sound-recorded on Texel on 22nd – much food for thought for east coast British birders there – and Nutcrackers seen on 18th at Beerze and 23rd at Nijmegen, news that will have barely registered for Dutch birders after being spoilt earlier this year with the ridiculously confiding wintering bird in the country.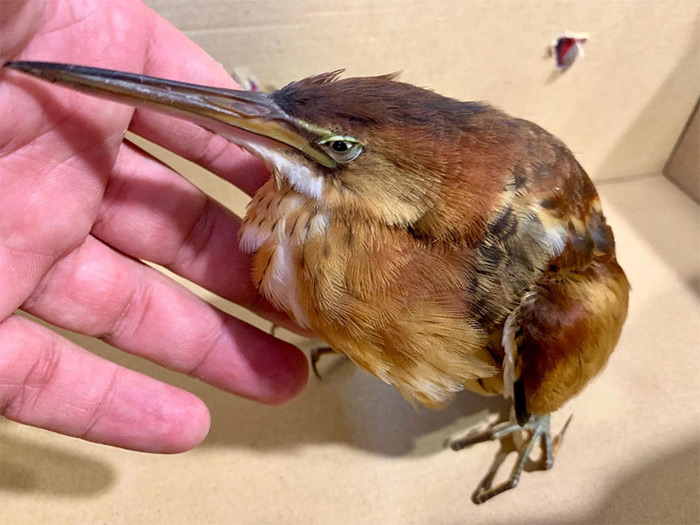 Belgium's sixth Pallas's Grasshopper Warbler was trapped and ringed at Knokke on 22nd.
Norway's excellent year continued apace this week with, on 18th, an Eastern Olivaceous Warbler at Karmoy and a Pechora Pipit at Vaeroe.
Denmark meanwhile scored a Red-flanked Bluetail, trapped and ringed at Blavand on 22nd.
In Estonia, a Stejneger's Scoter was again seen off Poosaspea on 20th.
Switzerland scored a rare inland European Laughing Gull at Allaman on 22nd.
In the Channel Islands a Booted Warbler was found on 20th.
Spain provided us with a South Polar Skua on 23rd-24th at Fisterra; while the Western Reef Egret remained on the Ebro Delta until 24th.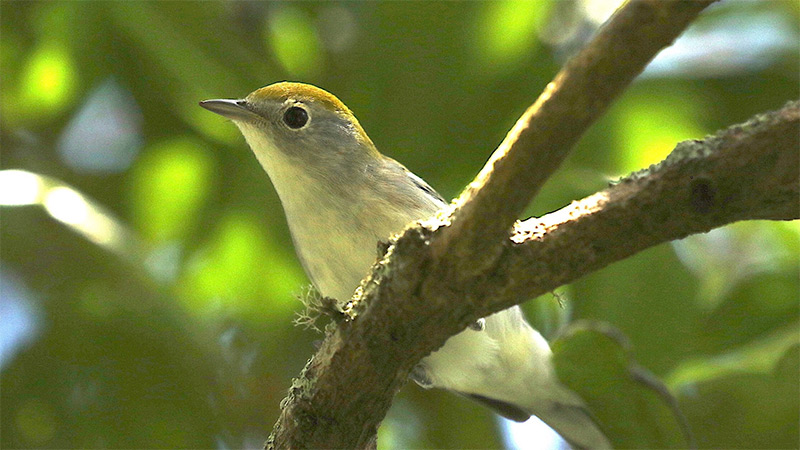 Further afield still, the Azores' eighth Least Bittern was found, moribund, on Sao Jorge on 21st, but later died in care. On 23rd three Red-eyed Vireos were logged on Corvo, and a Hudsonian Whimbrel was found on Sao Jorge; at least two Red-eyed Vireos were logged on Corvo on 24th, but had single Black-and-white Warbler, Canada Warbler (the sixth for the Western Palearctic) and Chestnut-sided Warbler (the fifth for the Western Palearctic) for company on the island. Somebody tow Corvo up to British or Irish waters, will you?
On the Canary Islands, the Dwarf Bittern on Fuerteventura remained in rude health, and was seen on there once more on 23rd.
In Israel, the Broad-billed Roller remained at Zikim on 18th, while the White-throated Bee-eater was once again seen at Km20 on 21st; and finally, in Kuwait, a Great Knot was found on 18th at Sulaibikhat Bay.
Ah, the last week of September, and a birder's mind turns, irresistibly, to the east. We've absolute scads of rare warblers that start featuring in the past records in appreciable numbers, and all give hope to the rarity hunter anywhere on the eastern side of Britain in particular.
A notable feature here in Shetland at the moment are Meadow Pipits, and it's pipits that occupy my thoughts for the coming week. We're in prime time now to find something rarer from the east – maybe Richard's, Red-throated or Olive-backed… perhaps a Pechora if we're really lucky.
And, meanwhile, never say never for an American Buff-bellied Pipit - while they're not turning up on easterlies, we've had decent westerlies in recent weeks in northern Scotland and who's to say one isn't quietly pottering around waiting to be picked out?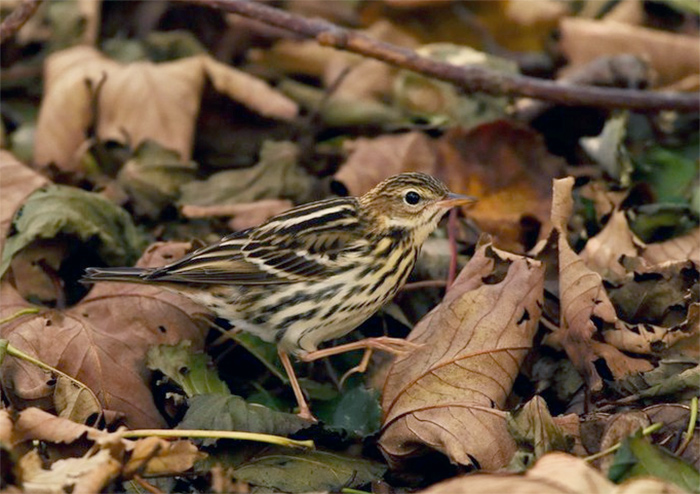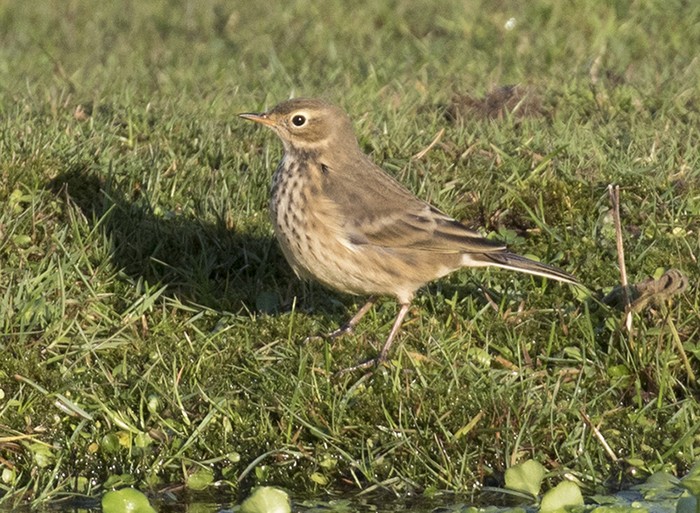 Jon Dunn
25 September 2019
Many thanks to all contributors for their photos and videos this week.
Share this story
Tweet