Weekly birding round-up: 11 - 17 Sept
The week at a glance
Argyll & Bute gets a county first, a frustratingly brief Common Nighthawk
While Hampshire gets its first ever Eastern Olivaceous Warbler
And last, but by no means least, a Little Crake is found in East Yorkshire
The week gone was dominated, in the north at least, by winds scything in off the Atlantic, with our two leading headline birds only partly reflecting that – indeed, precedent was firmly thrown out the window with a Scottish specialty found in the far south of England, and a southwest English specialty found much further north than usual. A week then of county firsts - but where was the Nearctic warbler we all craved?
Common Nighthawk
We concluded the prior week's round up in these columns with a wishful nod to the west, predicting more Nearctic waders would be riding in on the back of the anticipated storm force westerlies sweeping in from the Atlantic, and daring to hope for a colourful American wood warbler. The latter was, of course, wishful thinking of the highest order – they're found here so very infrequently, after all.
Other Nearctic birds make it here desperately infrequently too, and have an unfortunate habit of being found dead on arrival. Black and Yellow-billed Cuckoos, we're thinking of you… and so too Common Nighthawks.
A glance at the past four British records shows half of them found dead on arrival – birds at Mwnt (Ceredigion) on 28th October 1999 and on St Mary's (Scilly) on 6th October 2008. Scilly, of course, enjoys something of a reputation for Common Nighthawks, with 14 records to date representing over half of all British sightings, dead or alive.
What they're not known for is turning up in Scotland. Indeed, there's just the one prior Scottish record to look to, way back when on 12th September 1978 – notable not only for being Scotland's only prior record, but also for being trapped at the time at Kirkwall airport on Orkney.
Fast forward to 2019, place ourselves at Portnacroish (Argyll & Bute) on 11th September, and there was what looks to be Scotland's second record, flying by in the mid afternoon and thereafter… not seen again. Frustrating, all round.
Eastern Olivaceous Warbler
Think of Eastern Olivaceous Warblers - and, in September, why wouldn't you, with over half of Britain's prior accepted 21 records found in the month – and you'd be forgiven for thinking the one found this week would have been in Shetland. After all, nine of Britain's accepted birds have been found there. It's got quite the monopoly on these pale, snouty warblers.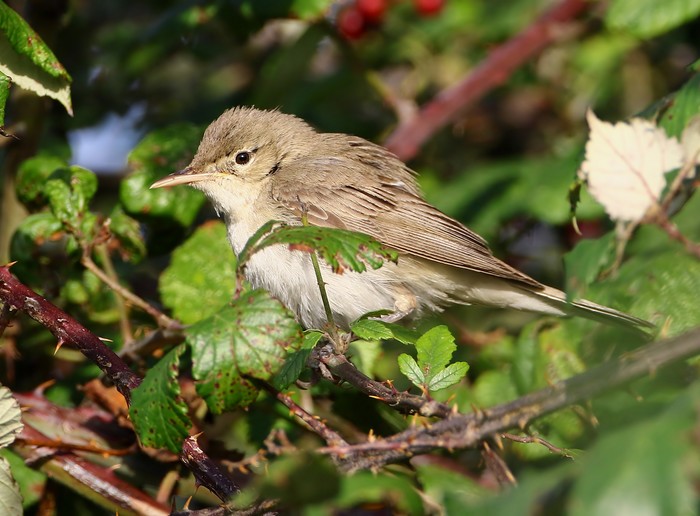 They're emphatically not a bird of the English mainland south coast. Or at least, not to date. Portland has enjoyed three previous examples, but Hampshire… not a squeak, thus far. Happily this was all set to change in the past week, with a cracking Eastern Olivaceous Warbler discovered at Farlington Marshes HWT on 13th, staying put there until 17th allowing birders from further afield than the county bounds and those bound by work commitments to enjoy a rare weekend crack at a genuinely rare warbler. As accommodating as the Common Nighthawk sadly was not.
Little Crake
Just as the week was drawing to a close, those visiting Blacktoft Sands RSPB in East Yorkshire hoping for, at best, the continuing presence of a Spotted Crake there, were rewarded with the discovery of another, much rarer, crake altogether – a Little Crake, no less.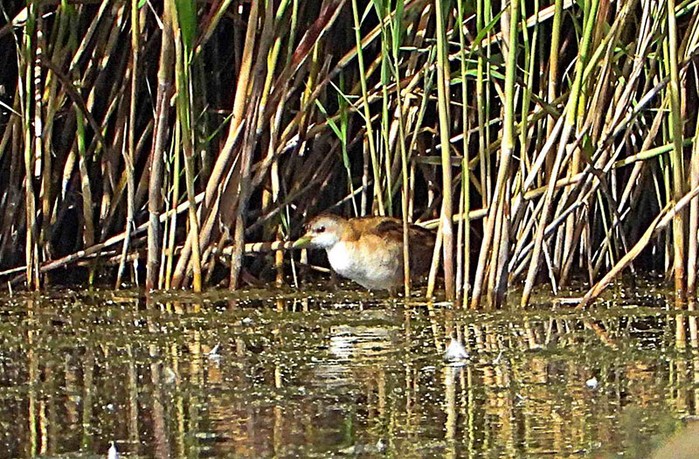 Records of this diminutive species have dried up in recent years, with none found seen in Britain since a one day bird at Slimbridge WWT (Gloucestershire) on 8th October 2015 (though a female was heard on 18th-21st May 2018 at Ouse Fen RSPB (Cambridgeshire)). If that seems a little while ago, spare a thought for Yorkshire birders – the last was one seen at Spurn on 28th December 1946 and, before that, we've just a handful of records from the 19th century. Effectively, it's practically a county first.
Little Crakes just don't tend to make it that far north. With the exception of a trio of wayward birds found up on Shetland in 2007, 1970 and 1959 respectively, we have to go all the way back to one seen at Shawkfoot Quarries in Cumbria on 3rd November 1940 for a northern British record. They're like hens' teeth in the north and, hot on the heels of the recent Choughs in the county, Yorkshire listers are having a rare old time lately.
As we'd expect at this point in the early autumn, numbers of interesting seabirds began to wane this week. For example, Leach's Petrels, the stand out event of the previous week, were still notable but a shadow of their former numbers – around 90 birds in all being tallied, of which 38 seen from Bridges of Ross (Co.Clare) on 11th were the highest single site count by a country mile.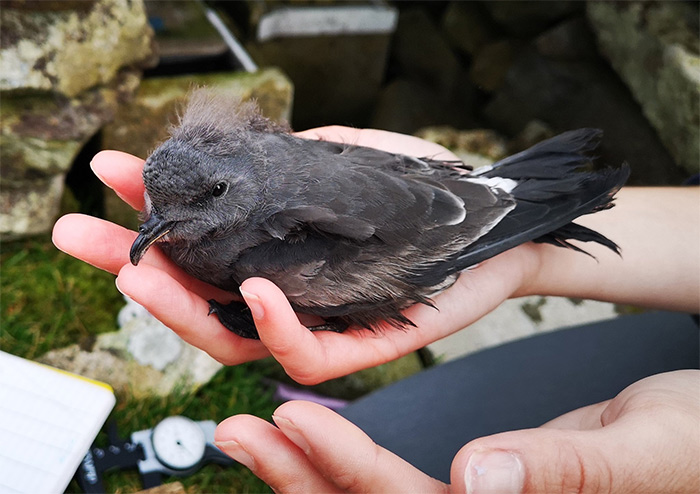 Balearic Shearwaters too were becoming conspicuous by their absence – just a shade over 40 birds were seen nationally all week, with 19 of those of traditional stronghold Portland (Dorset) on 12th.
A handful of Great Shearwaters livened things up a little – Cornwall accounted for one off Mousehole on 12th and four from Porthgwarra on 14th; and one was noted from a pelagic off Baltimore (Co.Cork) on 15th. A Cory's Shearwater was logged in the evening of 16th from Filey Brigg (North Yorkshire).
Around 100 Pomarine Skuas were noted in Britain and Ireland during the week, representing a drop on the numbers recorded in the preceding week. Most of these were single birds – 10 birds seen off Bardsey (Gwynedd) on 17th and 29 seen from Whitburn CP (Co.Durham) on 17th also being notable exceptions.
Long-tailed Skuas fell to the point where we can list individual birds – these being seen at Bangor (Co.Down) on 11th; from The Lizard (Cornwall) on 12th; at Belfast Lough (Co.Antrim) on 13th; off Magilligan Point (Co.Derry) on 14th; on 15th from Lewis (Western Isles), South Ronaldsay (Orkney),Ynyslas (Ceredigion), and Strathy Point (Highland); on 16th at Eshaness (Shetland), Grey Point (Co.Down), and Papa Westray (Orkney); on 17th Papa Westray added two more birds to the week's tally, while four were noted that day from Whitburn CP (Co.Durham), two were seen from Spurn (East Yorkshire), and further singles were seen from Long Nab (North Yorkshire), Gibraltar Point (Lincolnshire), and off Cley (Norfolk), with a final at-sea bird noted some 40 miles off Westray (Orkney).
Finally, a Little Auk was reported from Sheringham (Norfolk) in the morning of 17th.
A trio of Glossy Ibis provide the best of the week's long-legged beasties – these being the familiar birds still at Newport Wetlands NNR (Gwent) on 11th and Fremington Pill (Devon) on 12th and 16th, and a fresh sighting from Tacumshin (Co.Wexford) on 14th-15th.
Kent notched up its second sound-recorded nocturnal flyover Night Heron of the year, heard heading south east in the late evening on 15th. Another Kentish bird was heard on 17th flying over the centre of Faversham.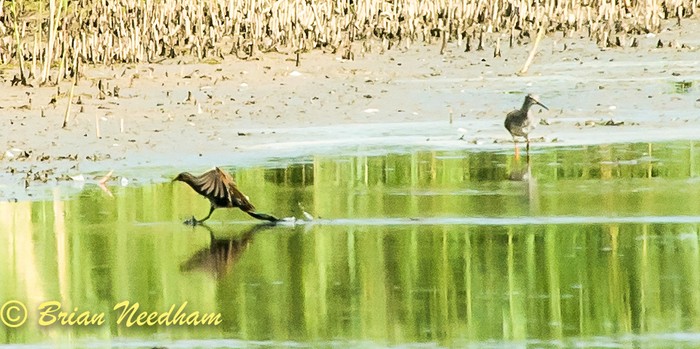 Cambridgeshire gave us the bulk of our non-Norfolk Common Cranes, with substantial numbers once more noted at Ouse Washes RSPB – a flock of 34 birds seen there on 12th being the best of it. Meanwhile, in the north, three birds still at Loch of Strathbeg RSPB (Aberdeenshire) still on 12th rose to five birds present there on 15th; two remained on Shetland at Sandwick on 16th-17th; one was present at Cloughton (North Yorkshire) on 13th; and four remained at Thorne Moors NNR (South Yorkshire) on 15th, reducing to two there on 16th. In Dorset on 17th a further bird was seen in Wareham Channel.
Finally, the Spotted Crake remained at Blacktoft Sands RSPB (East Yorkshire) on 11th-17th, and was joined in the news by another at Wyver Lane DWT (Derbyshire) on 13th-15th, one seen in Essex on 15th-17th at Bowers Marsh RSPB, and one more on 16th-17th in Hampshire at Hook-with-Warsash LNR. Ending the week, two were found on 17th at Wheldrake Ings YWT (North Yorkshire).
Regular readers of these columns will be familiar with our love/hate relationship with Hooded Mergansers - at least some of those that irregularly turn up on these shores will be of wild origin, but given the monotonous regularity with which escapees seem to crop up, it's a jaundiced eye we cast at newly found examples of their kind. So… with every caveat possible attached to it, we kick off the week's rare honker and quackers with the female Hooded Merganser found on 15th on King George V reservoir (London).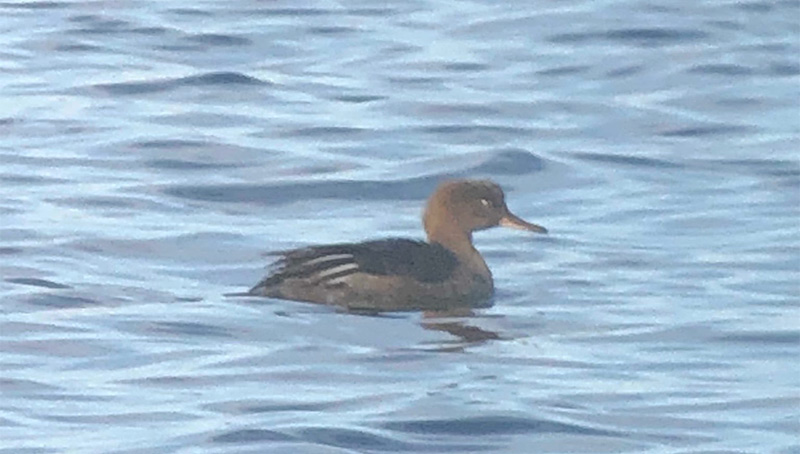 And merely note, in passing, the escaped female Bufflehead remained at large this week on Rutland Water (Leicestershire) until 15th before decamping to St Aidan's RSPB (West Yorkshire) on 16th.
Wandering ornamental ducks. Meh.
Considerably less tainted by any trace of suspicion, the drake Surf Scoter remained in Lunan Bay (Angus) on 15th.
More quackers emerged onto the rarity duckpond on 16th – a Blue-winged Teal at Tacumshin (Co.Wexford); and a Ring-necked Duck on Loch Leven (Perth & Kinross), both birds still being present on 17th.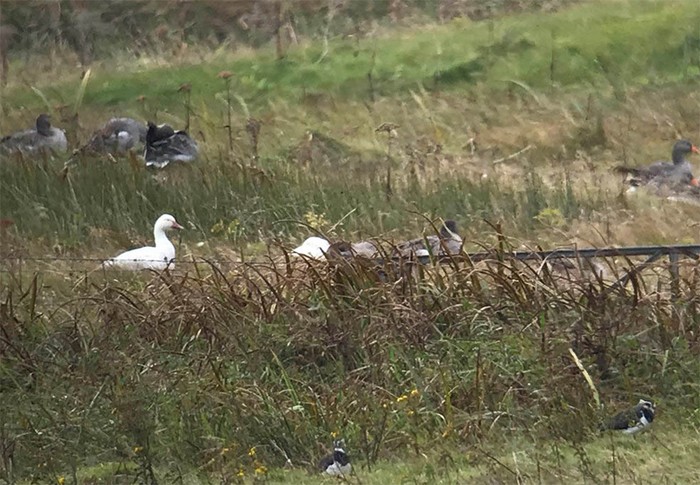 Finally, another week some more interesting geese – this time starting with a Snow Goose out on St Kilda (Western Isles) on 11th-13th. Another species that, in the wrong place in England we might view with a little circumspection but, out on St Kilda, has all the feel-good factor in the world about it. Ditto the two birds found as the week ended on North Uist (Western Isles) at Balranald RSPB on 17th.
<!—Section Title -->
With a conveyor belt of westerlies sweeping across the Atlantic this week we were always in for some decent wader action – and so it duly proved.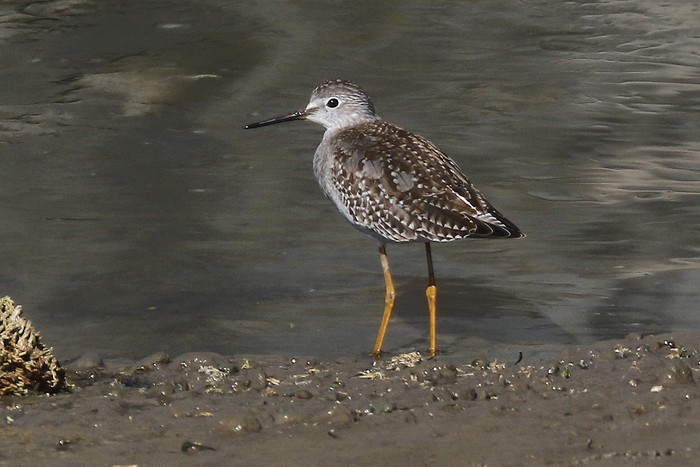 We'll start in Dorset where Lodmoor RSPB was having a good week – with Long-billed Dowitcher on 11th-17th and a bonus Lesser Yellowlegs on 13th.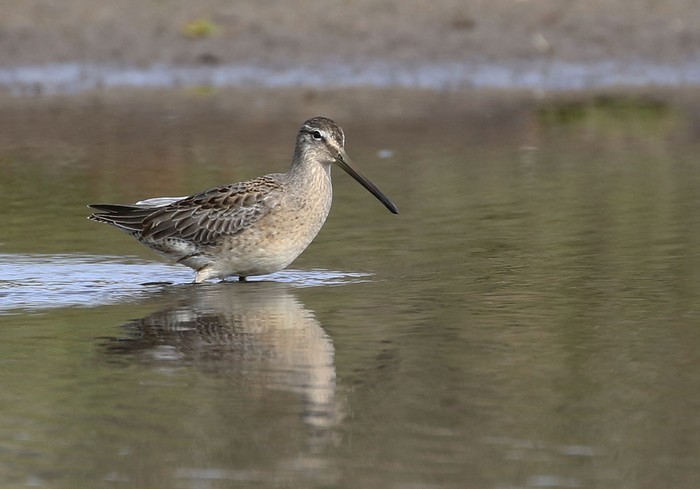 Further Long-billed Dowitchers were seen in the Western Isles on Lewis on 11th and South Uist on 15th, at Fairburn Ings RSPB (West Yorkshire) on 14th-17th and, on 17th, in Co.Louth at Rockmarshall. Additional Lesser Yellowlegs comprised the juvenile still in Pembroke (Pembrokeshire) on 11th-17th, another on Tresco (Scilly) on 13th-17th, and a final bird seen on 15th in Co.Kerry at Lauragh.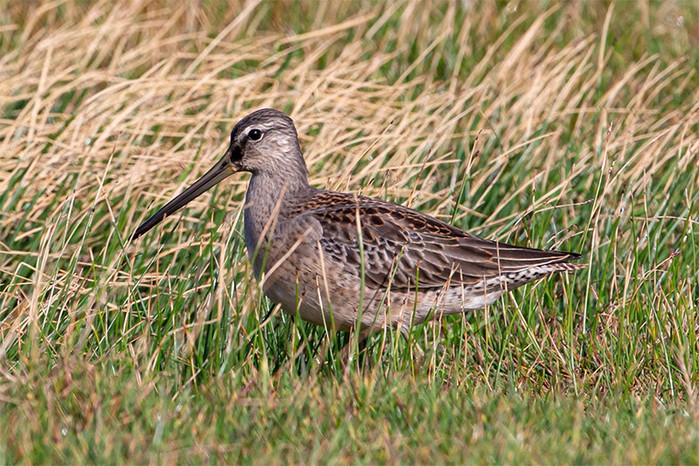 Semipalmated Sandpipers had a largely Irish flavour this week, with birds noted at Carrahane Strand (Co.Kerry) still on 11th, Tacumshin (Co.Wexford) still on 11th-17th and Lady's Island Lake (Co.Wexford) on 15th-16th; with a further possible bird in Co.Kerry at Ferriter's Cove on 13th; and, on 16th, sightings from Rossbeigh and Cromane Point (Co.Kerry), the Rossbeigh bird remaining there on 17th. Another possible bird was seen at Newport Wetlands NNR (Gwent) on 11th; and a juvenile was found in Scotland on South Uist (Western Isles) on 11th, with it or another present on the island on 16th-17th also.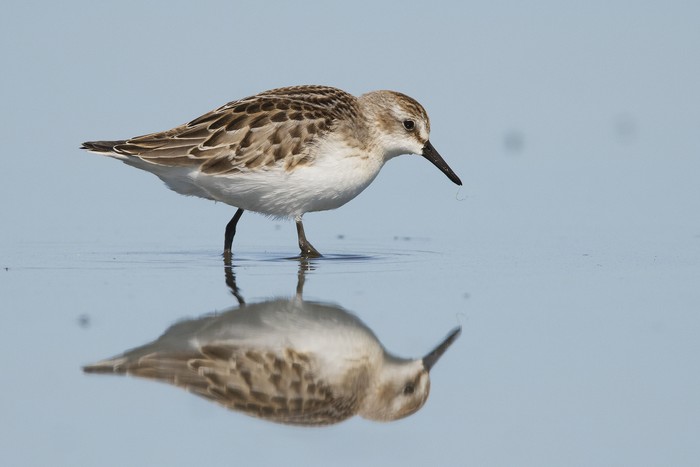 The juvenile Baird's Sandpiper remained on Tiree (Argyll & Bute) on 12th.
White-rumped Sandpipers, meanwhile, included fresh arrivals amongst their numbers. Birds remained at Kilnsea Wetlands (East Yorkshire) on 11th-13th and Loch of Strathbeg RSPB (Aberdeenshire) on 11th; and new birds were found on North Uist (Western Isles) on 11th, Lissagriffin (Co.Cork) on 12th, on Lewis (Western Isles) on 16th-17th, and at Eshaness (Shetland) on 16th – the latter bird found by Rob Fray shortly after he'd discovered a Pectoral Sandpiper there wandering along the side of the road. On 17th another popped up on South Uist (Western Isles) – one wonders how many there are in the isolated nooks and crannies of the Western Isles at the moment…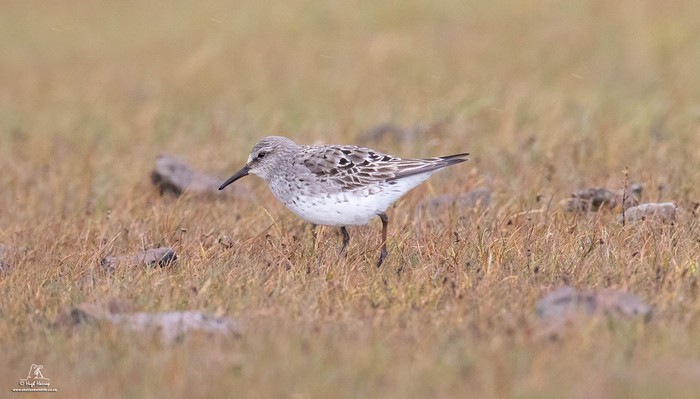 Further Pectoral Sandpipers were seen this week on North Uist (Western Isles) on 11th; at Tacumshin (Co.Wexford) still on 11th-17th with two birds present there on 13th and again on 16th; at Minsmere RSPB (Suffolk) on 12th-17th; on Mull (Argyll & Bute) on 12th-16th; at Belfast Lough RSPB (Co.Antrim) on 13th-15th; and commuting along the River Stour on the Essex / Suffolk border on 14th. On 16th one was present at Blacktoft Sands RSPB (East Yorkshire), and another on South Uist (Western Isles). Finally on 17th birds were found at Dungeness RSPB (Kent), Frampton Marsh RSPB (Lincolnshire) and Watsness (Shetland).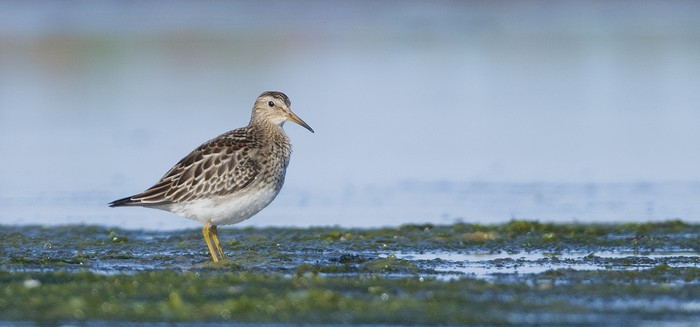 Cornwall's two Buff-breasted Sandpipers from the preceding week at Davidstow airfield remained there on 11th, dropped to one bird on 12th, increased to a trio present on 13th, and were back down to a singleton on 14th-17th. Elsewhere, one was seen intermittently at Fleck (Shetland) on 11th-16th, another was on Tiree (Argyll & Bute) on 15th, and birds were found on 17th on North and South Uist (Western Isles).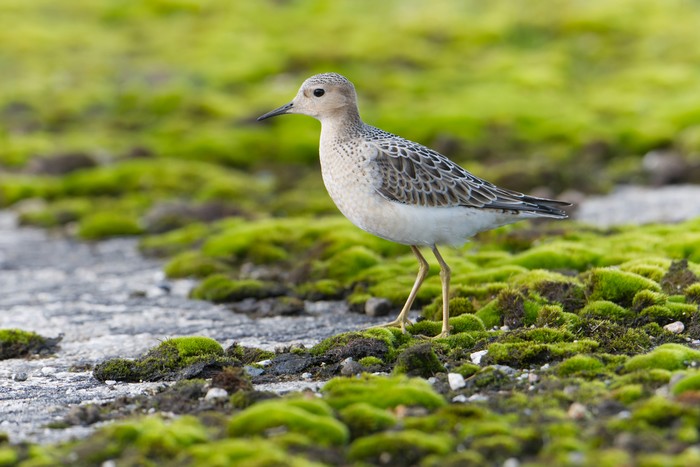 Co.Kerry supplied a Spotted Sandpiper in Barrow harbour on 11th.
A Temminck's Stint at Alkborough Flats (Lincolnshire) provided a little relief from all this Nearctic largesse on 15th.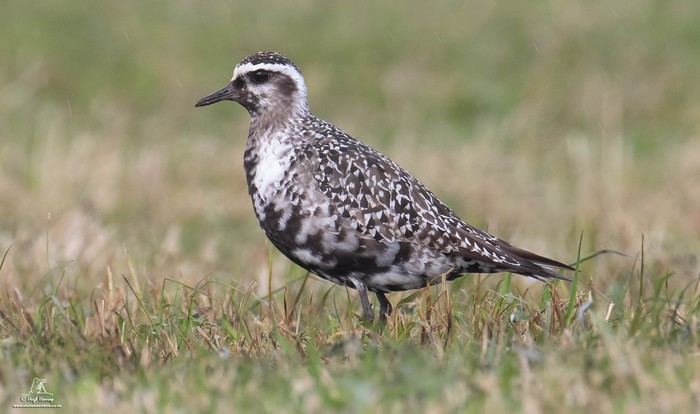 American Golden Plovers remained a monochrome prize amongst our massing Golden Plover flocks this week – one continued to commute back and forth across the Swale in Kent, being seen on 11th-17th on Sheppey and at Oare Marshes KWT; two were to be seen on Shetland on Yell on 11th-16th, with one still there on 17th, and another seen on nearby Unst too on 12th-13th and again on 17th; a bird at Lunt Meadows LWT (Lancashire) on 14th had gathered a friend there on 15th-17th; on 14th, birds were found at Lough Foyle (Co.Derry) and Carrahane (Co.Kerry); and on 16th, at Clahane (Co.Clare), North Uist (Western Isles) and on Sanday (Orkney) where two birds were found, the latter remaining on Sanday on 17th. Another was found on North Uist (Western Isles) on 17th, which takes us to over a dozen birds this week – good going by any standards.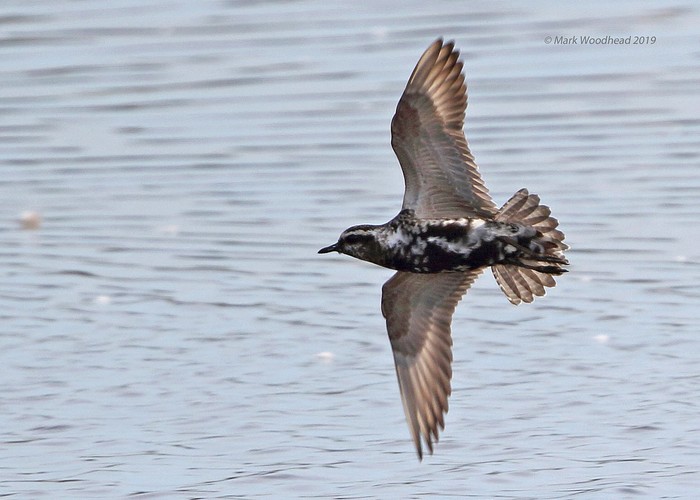 Single Dotterels were found on North Uist (Western Isles) on 11th, on the summit of Foel Fras (Gwynedd) on 13th, over Morgan's Hill (Wiltshire) on 14th, at Leasowe (Cheshire) on 14th also, at an undisclosed site in East Sussex on 15th, and on Bryher (Scilly) on 16th-17th.
The juvenile Black-winged Stilt remained at Moor Green Lakes NR (Berkshire) on 11th-17th; and another was found in Dorset at Lytchett Fields RSPB on 12th.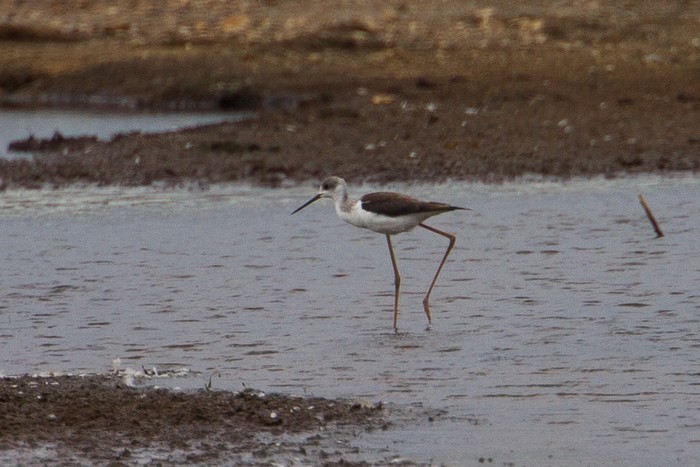 On St Kilda (Western Isles) the Hudsonian Whimbrel remained present on 11th.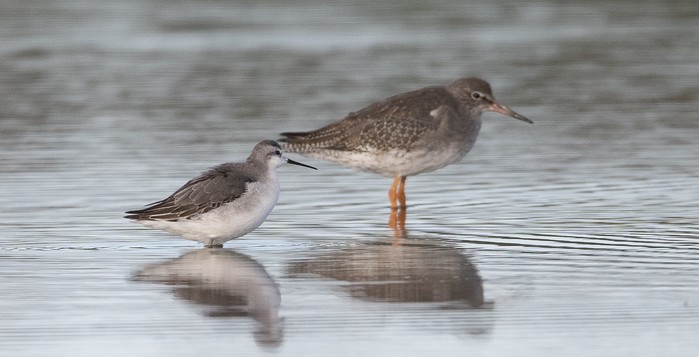 Co.Wexford's recent Wilson's Phalarope remained at Tacumshin until 14th. A Red-necked Phalarope was present in West Sussex at Pulborough Brooks RSPB on 11th-17th; and of some 30 Grey Phalaropes seen this week, the 16 noted from Bridges of Ross (Co.Clare) on 11th were particularly notable.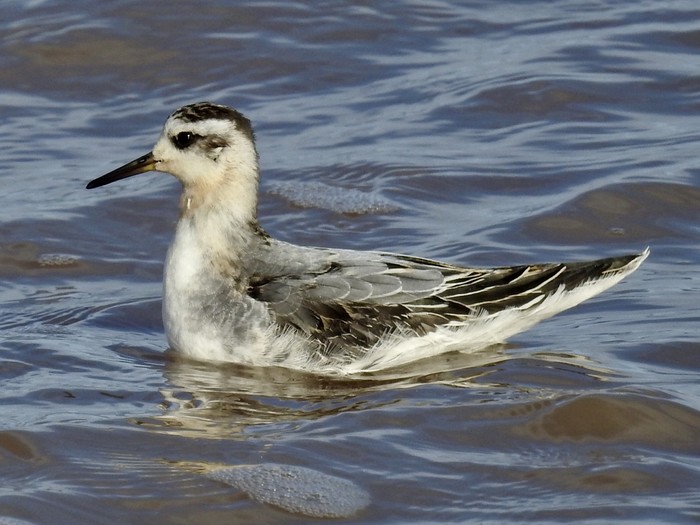 On the back of a preceding week that featured almost 100 Sabine's Gulls, the current week was unlikely to ever scale such giddy heights, but there were still some of this charismatic gull available for dedicated seawatchers this week, with 20 birds noted nationally, from Orkney in the north down the western coast into Ireland. Eastern sightings came off Kelling (Norfolk) on 13th and St Abb's Head (Borders), Whitburn CP (Co.Durham), Spurn (East Yorkshire), Cley (Norfolk) and Oare Marshes KWT (Kent) on 17th.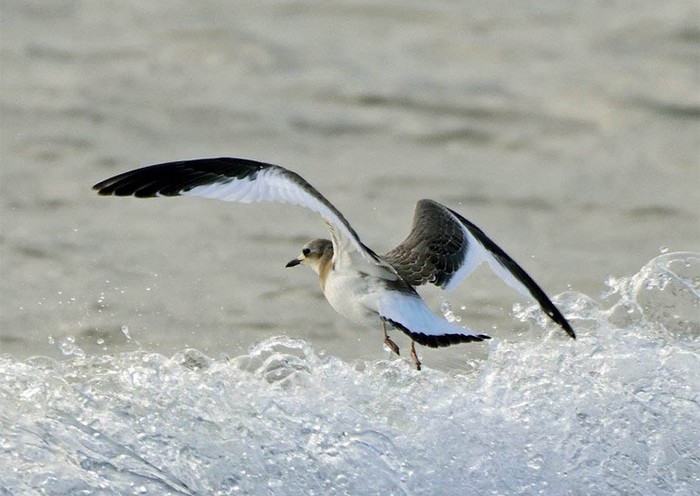 Both of our adult Bonaparte's Gulls were again noted this week, at Liscannor (Co.Clare) on 12th and Oare Marshes KWT (Kent) on 13th.
Three Ring-billed Gulls were found this week, all in Ireland – second-winter individuals at Black Rock Strand (Co.Kerry) on 11th-14th, and on the Roe estuary (Co.Derry) on 14th; and a first-winter at Cleggan (Co.Galway) on 14th.
Iceland Gulls numbered the recent resident still on Barra (Western Isles) on 11th-16th; two additional sightings in Co.Down at Groomsport on 11th and Swineley Point on 15th; two birds in Dunnet Bay (Highland) on 16th; one on Unst (Shetland) on 16th; and, on 17th, one seen from Mains of Usan (Angus).
Finally, we've an unconfirmed report of an adult Glaucous Gull at Bromborough (Cheshire) on 14th followed by a definite bird seen from Whitburn CP (Co.Durham) on 17th and, returning to unconfirmed reports, another one of a orange-billed tern sp off St Mary's (Scilly) on 11th.
Some somewhat unseasonal variety brightened up the week's sightings of scarce and rare raptors, headed up by a juvenile Red-footed Falcon over Landguard NR (Suffolk) on 13th. This bird flew off north, and may yet account for the possible juvenile seen later on at Shottisham. A further probable female was logged in Somerset on 14th at Wall Common.
Continuing to deal in raptor probabilities, a probable Rough-legged Buzzard was noted on Mull (Argyll & Bute) on 12th, and an unconfirmed report came of another in East Yorkshire on 17th at Grindale; and a probable ringtail Pallid Harrier was seen on 15th at Inverbervie (Aberdeenshire).
A juvenile Montagu's Harrier was seen in East Sussex at Seven Sisters Country Park on 13th and then at Beachy Head again on 15th. Two days later a ringtail harrier at Beachy Head on 17th was presumed to be this same bird but it later transpired that it was an adult female Pallid Harrier bearing a white-ring, presumably having been ringed at the nest in Finland.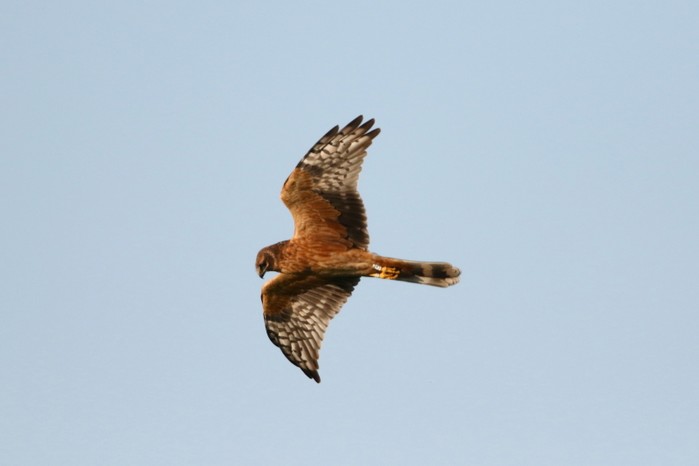 Finally, out on the Western Isles the resident female Snowy Owl remained on St Kilda on 11th-14th at least, whilst the bird on Shetland's Ronas Hill was seen once more on 17th – a bird that's seemingly well settled there but simply not encountered very often in this remote and rarely visited corner of Mainland. One for the visiting autumn birders to make a pilgrimage for, perhaps…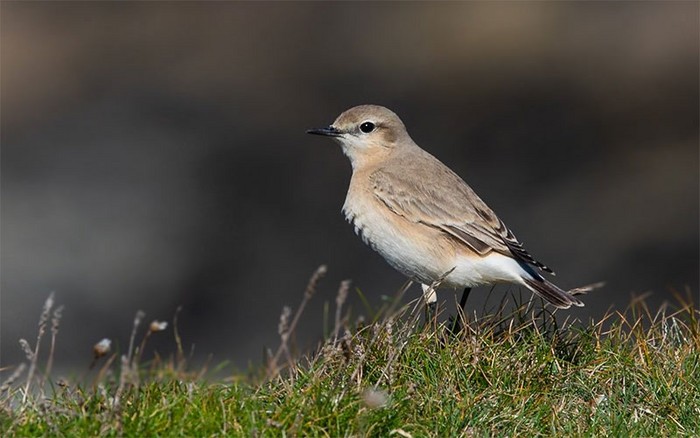 Both of our recent rare wheatears remained available for most of the week just gone though, of course, the Eastern Black-eared Wheatear on the sea wall at Fluke Hall (Lancashire) until 16th was considerably more readily accessible than the Isabelline Wheatear that stayed put on Bardsey (Gwynedd) until 16th also. A further possible female Western Black-eared Wheatear was found late on 16th on Great Ormes Head (Conwy).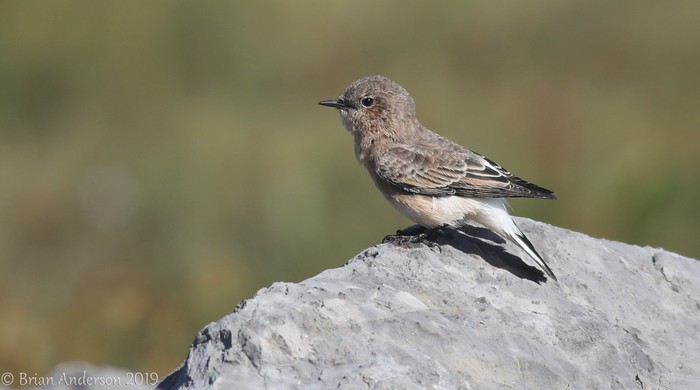 The male Bluethroat remained at Hook-with-Warsash LNR (Hampshire) until 14th; another was found on Unst (Shetland) on 16th.
Returning, briefly, to St Kilda a probable form alpestris / hoyti / praticola Horned Lark was found there on 11th.
Starting the warblers, Hampshire was having a good week as, in addition to the county's first Eastern Olivaceous Warbler, it also racked up yet another Aquatic Warbler at Titchfield Haven NNR on 15th.
Two male Subalpine Warbler sp were seen this week – on Tory Island (Co.Donegal) on 12th-14th, and still present on South Uist (Western Isles) on 11th-13th.
The Western Isles also accounted for a Western Bonelli's Warbler on Barra on 12th-16th.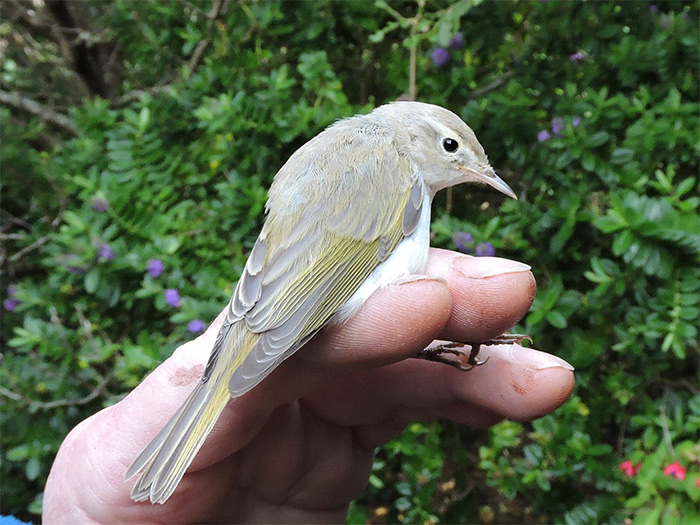 By and large, though, without much easterly assistance numbers of scarce warblers were extremely muted to say the least. Just one Icterine Warbler was logged, at Eshaness (Shetland) on 11th; and Barred Warblers failed to break double figures, with only single birds seen at Peterhead (Aberdeenshire) on 11th; Spurn (East Yorkshire) on 11th-13th; Brotton (Cleveland) on 12th-16th; Barns Ness (Lothian) on 12th; Bempton Cliffs RSPB (East Yorkshire) on 13th-16th; at Trevescan (Cornwall) on 16th-17th; North Ronaldsay (Orkney) on 16th; and in Shetland on Fair Isle on 12th-16th and Whalsay on 15th.
Inishbofin (Co.Galway) landed a Melodious Warbler on 17th.
A solitary Yellow-browed Warbler was found with a tit flock at Brading Marsh RSPB (Isle of Wight) on 15th, while the previous week's new arrival at Scatness (Shetland) remained there on 12th.
Three widely separated Citrine Wagtails were logged this week – one at Cley (Norfolk) on 11th, another again on Papa Westray (Orkney) on 12th; and an Irish bird on Inishbofin (Co.Galway) on 17th.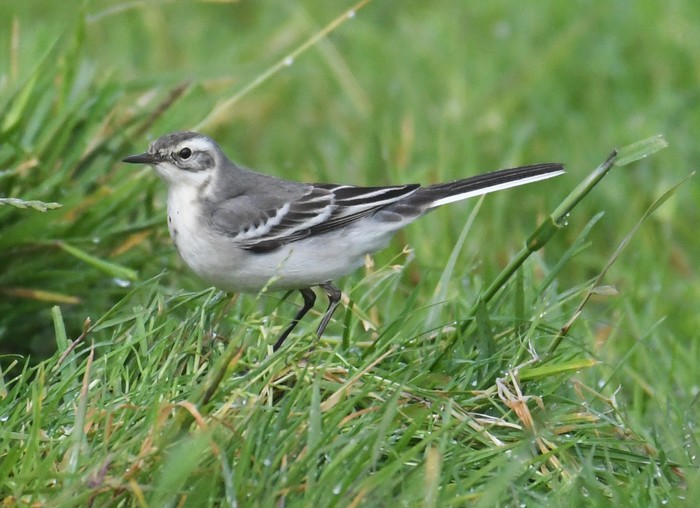 A Blue-headed Wagtail was present in Dorset at Abbotsbury on 11th.
Cornwall meanwhile accounted for two Tawny Pipits in quick succession on 14th – seen at Nanquidno and Porthgwarra respectively. A Richard's Pipit was found on 17th flying over the Deeps near Southerndown (Glamorgan).
One Hoopoe was found this week, at Pennington Flash CP (Greater Manchester) on 14th; while numbers of Wrynecks continued to hold reasonably firm in double figures, with around 30 birds in all logged nationally.
A probable Penduline Tit was seen on 14th in Milton Keynes (Buckinghamshire).
While the Cape Clear juvenile Woodchat Shrike was still present on there on 12th-13th, a few fresh Red-backed Shrikes continued to filter through this week – birds were logged on Sanday (Orkney) on 11th-17th; at Holland Haven (Essex) on 11th-15th; on North Ronaldsay (Orkney) and Fair Isle (Shetland) on 11th; on St Mary's (Scilly) on 13th-16th; at Filey (North Yorkshire) on 13th; on The Lizard (Cornwall) on 14th; and at Whitburn (Co.Durham) on 15th-16th.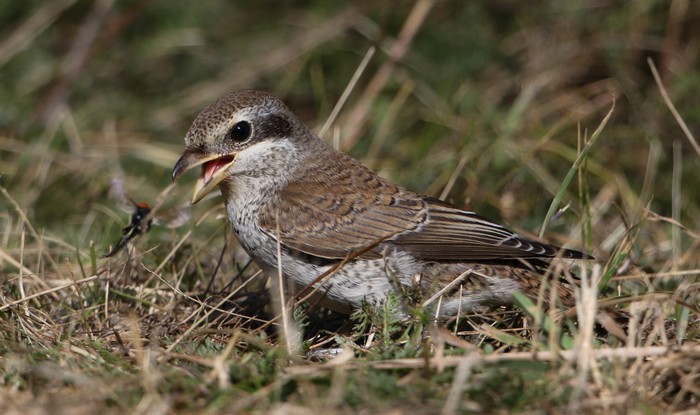 Two Rose-coloured Starlings were seen lately – one on Anglesey at Cemlyn Bay NWWT on 14th-17th, and the other on The Lizard (Cornwall) on 14th-17th.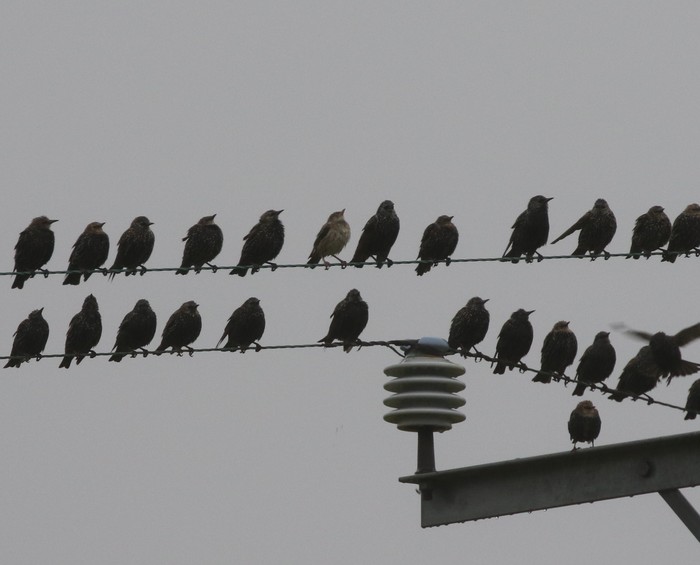 The two Anglesey-ringed Choughs remained at Settle (North Yorkshire) on 11th, but weren't reported thereafter. It's been quite an early autumn for wandering birds – will there be another county adding the species to their county list any day soon?
Four Common Rosefinches were logged this week, none of which appeared to be newly arrived, reflecting the generally unfavourable conditions for inbound eastern passage – birds were seen on 11th on Fair Isle (Shetland) still, on 11th-12th on Holy Island (Northumberland) again, on 13th in Scalloway (Shetland) and, on 14th, up on Unst (Shetland) – while maybe the fifth bird, on Inishbofin (Co.Galway) on 17th was a fresh arrival after all.
The Little Bunting remained on North Ronaldsay (Orkney) on 12th; while Ortolan Buntings were once more noted in Dorset on Portland on 13th and 14th and Hengistbury Head on 15th, and in Conwy at Great Ormes Head on 16th.
Our overseas news kicks off once more in Israel where, hot on the heels of the country's first White-throated Bee-eater, another national first turned up in Zikim on 12th-14th – a Broad-billed Roller, only the third to be recorded in the Western Palearctic and by some decades the only latter-day bird available for WP listers.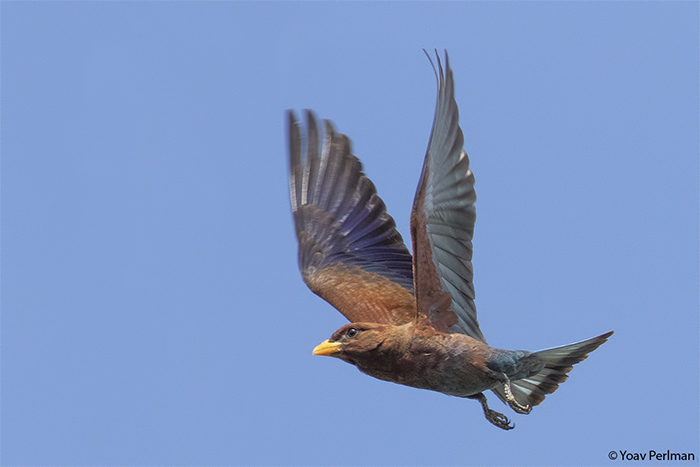 Closer to home, two Black-winged Pratincoles were found in Belgium at Honnay on 11th, the sixth national record; and another was seen this week in Poland at Jeziorsko reservoir on 15th.
Holland meanwhile landed a Laughing Gull at Castricum on 13th.
An albatross sp was seen on 12th from the ferry off Kattegat (Denmark) and from Nimis (Sweden).
Estonia's second Stejneger's Scoter remained off Poosaspea on 14th.
The third week of September is the week that just keeps on giving. No matter which way the wind is blowing, there's birds on the move, and opportunity a-plenty on the horizon for us.
The coming week looks like it could be another east-meets-west one – with a couple of calm days ahead of us at the start of the week, those positioned in the Western and the Northern Isles could all be forgiven for hoping for some sort of Nearctic passerine coming out of the woodwork. While a warbler remains arguably the most coveted prize of all, we're now in rare cuckoo territory or, at the least, perhaps a Red-eyed Vireo.
As the week wears on the wind's going to start coming up from the south, off the continent, with perhaps just a hint of easterly in it. It feels ripe for a decent Old World warbler, definitely Arctic or Greenish Warbler, and perhaps a decent shrike - Lesser Grey feeling like a fair call.
But with almost a week of snorty westerlies having just finished… surely there's a Nearctic thrush waiting to be found out there? Grey-cheeked or Swainson's, Veery at a pinch…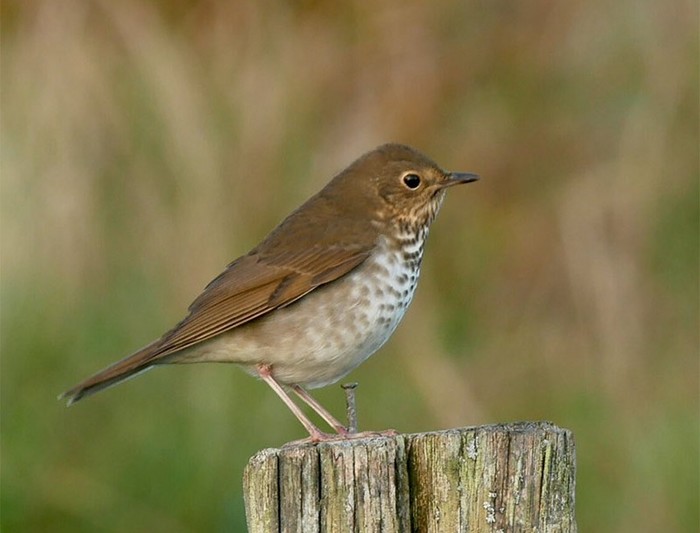 Jon Dunn
18 September 2019
Many thanks to all contributors for their photos and videos this week.
Share this story
Tweet