Weekly birding round-up: 28 Aug - 3 Sept
The week at a glance
Britain's first confirmed Brown Booby plays cat and mouse in Cornwall
While our second confirmed Brown Booby makes landfall in Cornwall too
And Lancashire lands either an Eastern Black-eared or Pied Wheatear
With winds of a westerly hue colouring the past week, expectations were understandably not riding sky high for much beyond some Nearctic wader action and, while we got some of that, the week was on the whole a quiet one. Well. With a first for Britain commanding our attention, it was never going to be that quiet. Or easy, it seems…
Brown Booby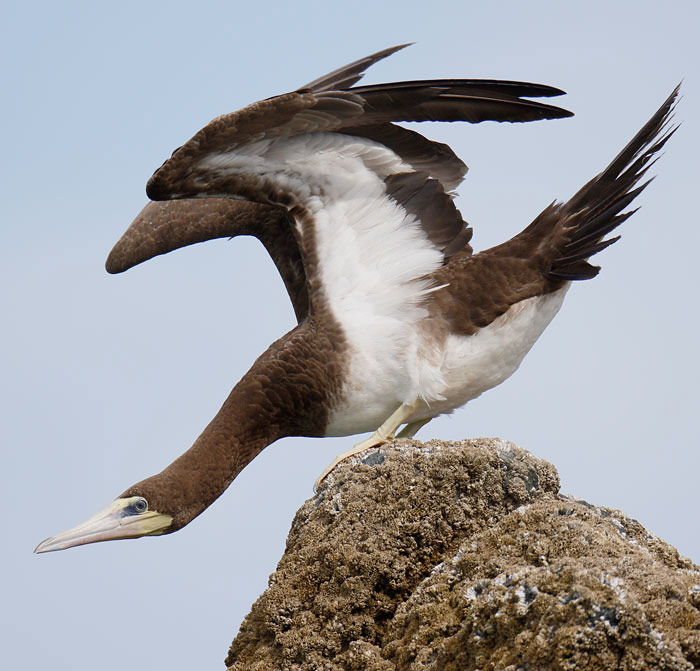 If I had been making overnight tracks down to Cornwall this week for Britain's first confirmed Brown Booby – and, believe me, if I still lived on the British mainland, how would I ever have resisted the urge? – I'd have had a playlist of classics on the stereo to augment the adrenaline in the small hours. And every single line of the Inspiral Carpets' I Want You would have resonated…
(Go on, give it a listen.)
With the barrier broken, and the bird emphatically and unquestionably one of its kind, all that remained was for the faithful to connect. But no one ever said it was going to be easy.
Still present, back and forth, in the St Ives Bay area on 28th, the sub-adult Brown Booby wasn't giving itself up at all readily, and was going missing for substantial periods of time. Testament to its wandering nature, it popped up on 29th off Hell's Mouth, quite some way along the north Cornish coast from the initial point of discovery. And then, on 30th… absolutely nothing.
News of one seen off the French coast that day briefly allowed some conclusions to be jumped to. This, surely, was the Cornish bird having done a flit? But when photos of the French bird came to light, it turned out to be an adult – a different bird altogether then, and testament to a small arrival of their kind on this side of the Atlantic. All of which certainly does the credentials of the putative Kentish bird of the previous week no harm whatsoever, but was no help whatsoever to the unfortunate birders who found themselves booby-less in Cornwall on 30th.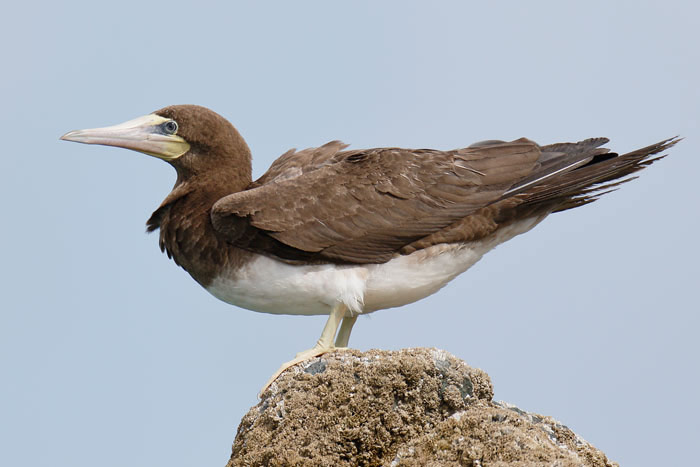 Saturday 31st dawned and the weekend's speculative birders hit the Brown Booby jackpot. Not only was it back off St Ives – this time, it made landfall, and spent some time hanging out on a rock with the local Shags. Cue the most outrageous images and footage imaginable – this was the best booby prize, ever.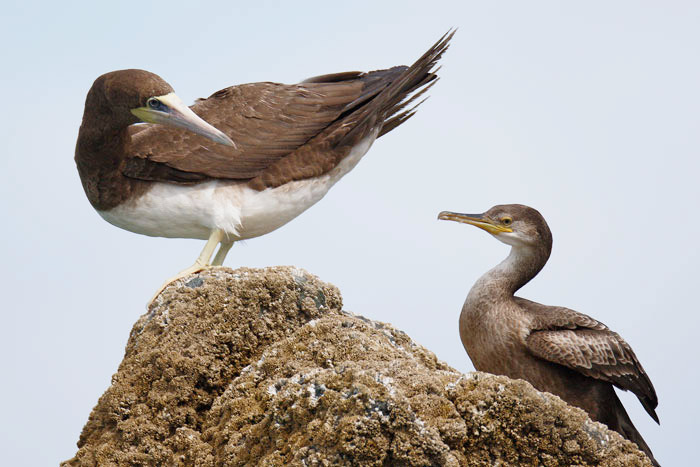 Needless to say, on 1st there was, once again, no sign of the bird. The dejection of anyone dipping a first for Britain is easily imagined – indeed, we've many of us been there in our time – but spare a thought for those who'd missed it on Friday and were back, dipping again, on Sunday. Oof.
Those of them who stayed on until 2nd hoping a pattern of alternate day sightings was emerging were to be, initially, further disappointed – there was still not a sausage to be seen on the north Cornish coast. (Plenty of pasties, but for all they're the finest food known to man, they're not a Brown Booby). All was not, however, totally lost…
As, mid-morning on 2nd, a Brown Booby was discovered on the south coast, perched upon a rock in Kynance Cove on The Lizard. This was, surely, the St Ives subadult bird relocating? Or, just perhaps, the French adult having drifted north?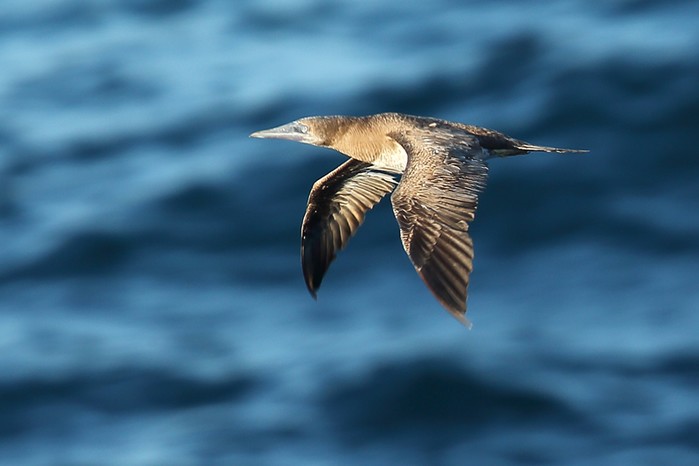 Nope. This was a first-summer individual, which appears to make it either Britain's second or even third record in quick succession, depending on how the Kentish bird fares with the adjudicators. Just how many of these dapper Sula are there out there? And how come one hasn't popped up on an Irish birder's radar in the past week? A matter of time, surely…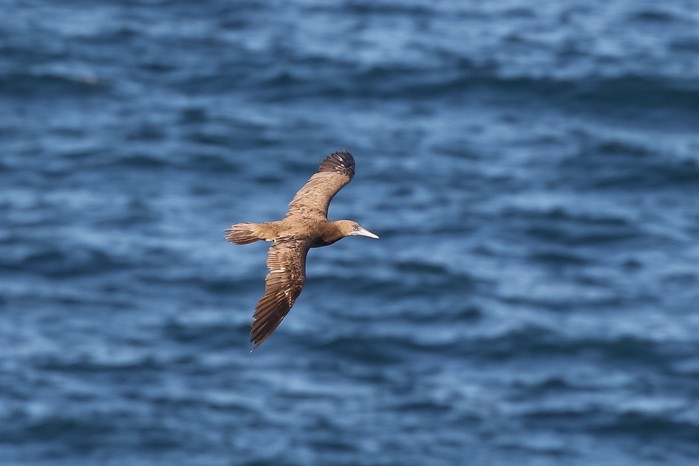 Happily, this week concludes back in Cornwall on 3rd where, for a second consecutive day, the new Brown Booby remained at Kynance Cove. Tempted? Yes, I am a bit…
Eastern Black-eared / Pied Wheatear
In a week dominated by westerlies, and with many a birder's mind turned firmly to seabirds in general and one species in particular, an easterly passerine of note really wasn't what anyone was expecting. And if they were, one on the north west English coast really wouldn't have been on the cards.
But there you go. Rare birds don't always play by the rules, and they certainly don't always give themselves up easily. Sometimes that's birds vanishing for a day or two at a time… and sometimes it's a bird that shows well but divides opinion as to what the heck it actually is.
First found on 1st, and remaining there until 3rd, a female wheatear sp on the seawall near Fluke Hall (Lancashire) was initially touted as a melanoleuca form Black-eared Wheatear and, as such, that would have been the first record for the species regardless of form in Lancashire since 21st April 1943.
It wasn't long before the first photos were forthcoming online and some folk were asking, having seen images of what appeared to be a cold, dark, grey-toned bird, why this wasn't in fact a Pied Wheatear… and there the matter rests, for now, with proponents of both identities stating their cases, though there seems to be more of a swing towards Pied. Of interest, a female Pied Wheatear spent almost a month in Norway this summer near Stavanger on 25th June – 22nd July.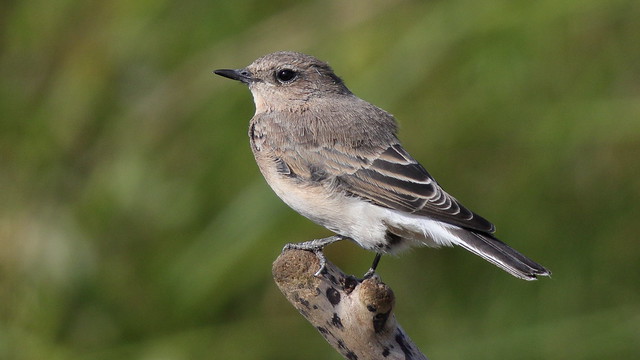 For the latter species, Lancashire's one and only record dates back to 27th October 1997 at Seaforth; while not a million miles away, north-west birders were spoiled last autumn with the showy first-winter male that spent some time at Meols (Cheshire) in late 2018.
But what of this bird, in the here and now in Lancashire? A dropping is said to have been collected and, in a sign o' the times, we can all hope that the DNA will reveal all and give us a definitive answer where field observations or photos have divided opinions.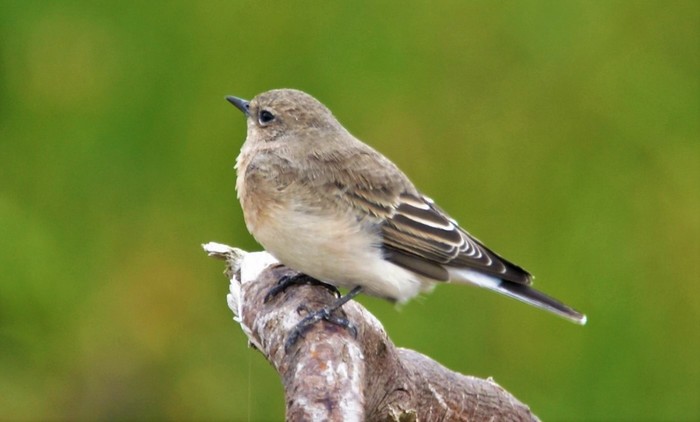 Then again, with two such closely related species, all may not prove quite as clear-cut and convenient as one might hope – they're known to hybridise, and what then if that's what this bird proves ultimately to be? Educational, interesting and, ultimately, untickable either way.
No one ever said it was going to be easy.
As alluded to in the headlines, it's a source of wonder that Irish birders haven't had a Brown Booby off their coast in the past week – though, given what's been seen in Irish waters so far this summer, they've little cause for complaint on the whole. More consolation came this week in the always delightful form of a Fea's / Zino's / Desertas Petrel seen in the morning of 30th passing Annagh Head (Co.Mayo).
Two Wilson's Petrels were logged from the Scilly pelagic on 29th but, if any petrel was dominating the news this week, it was Leach's Petrels - some 140 birds were noted across the region, with the bulk of this seen from Irish vantage points. Peak counts came in the form of 28 birds logged off Bridges of Ross (Co.Clare) on 31st and 36 birds seen from Kilcummin Head (Co.Mayo) on 1st.
Large shearwaters remained in short supply, however, with Ireland dominating what few of either species were found. Starting with Cory's Shearwaters, a single bird was seen from Toe Head (Co.Cork) on 29th, followed by three birds off Arranmore (Co.Donegal) on 30th. A further possible was seen from Porthgwarra (Cornwall) on 31st.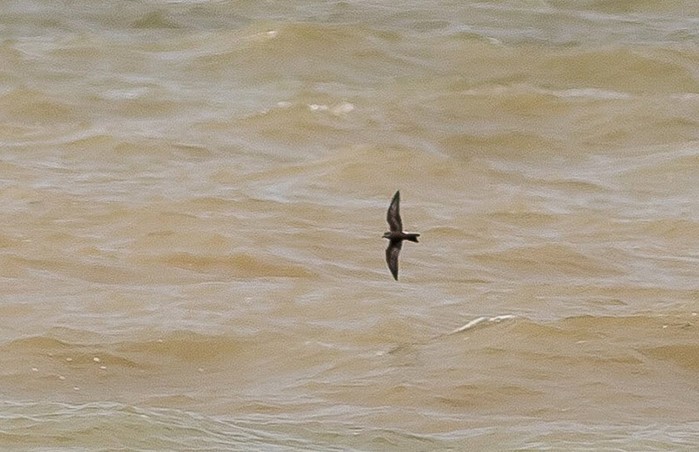 Great Shearwaters meanwhile numbered single birds from Hell's Mouth (Cornwall) on 29th; Annagh Head (Co.Mayo) and Arranmore (Co.Donegal) on 30th; and Porthgwarra (Cornwall) and Bridges of Ross (Co.Clare) on 31st. Duos were noted from Ballycotton (Co.Cork) on 30th and Gwithian (Cornwall) on 31st.
Quiet times too for Balearic Shearwaters, with just a shade over 100 birds seen throughout the week across the region. Many of these were ones or twos slipping by – Portland (Dorset) bucked the trend with the week's only appreciable tallies, being 20 birds past there on 30th and 36 birds seen on 31st.
Some 80 Pomarine Skuas around the region were a much better showing than of late, with Kilcummin Head (Co.Mayo) dominating the news in this regard – sporting 13 birds off there on 31st, and 26 birds the following day. Long-tailed Skuas were in somewhat shorter supply, with around 30 birds in all seen, of which 11 off Bridges of Ross (Co.Clare) on 31st were by some margin the best single site tally.
Finally, in extremely early circumstances, a Little Auk was seen off North Ronaldsay (Orkney) on 3rd.
With White Storks now officially dumped, like, forevs – thanks a lot, Knepp - our weekly wade through the long-legged beasties is, as we'd expect at this juncture in the year, rather brief.
Starting the uncontentious stuff with Glossy Ibis, just the one regular was seen again this week – the bird still present at Newport Wetlands NNR (Gwent) on 30th-2nd.
Shetland enjoyed a small arrival of Common Cranes, with duos seen on 1st on Fetlar, Unst and, down in the south Mainland, in the Loch of Hillwell area – the latter duo lingering until 2nd and perhaps also accounting for the two birds seen on 2nd up the road near Sandwick. Elsewhere, the singleton remained at Otterburn (Northumberland) still on 30th and one was noted at Whittle Dene reservoirs on 2nd-3rd; four birds were still to be seen at Thorne Moors NNR (South Yorkshire) on 28th, with three still present there on 31st-3rd; and four birds (two adults and two juveniles) were noted at Nene Washes RSPB (Cambridgeshire) on 29th.
Finally, a Spotted Crake was found at Lodmoor RSPB (Dorset) on 29th; and a Corncrake was also in the county on Portland on 3rd.
Starting our weekly dabble in the rarity duckpond, as usual of late, in Scotland we find a familiar face once more taking time out from bothering the local Mallards at Strontian (Highland) to be seen again on 1st – this being, of course, the drake Black Duck.
Elsewhere in Scotland, the drake Blue-winged Teal remained in Clyde at Frankfield Loch on 28th-1st; while one or two Surf Scoters were seen back and forth through the week still at Musselburgh (Lothian), and the drake remained at Lunan Bay (Angus) still on 30th.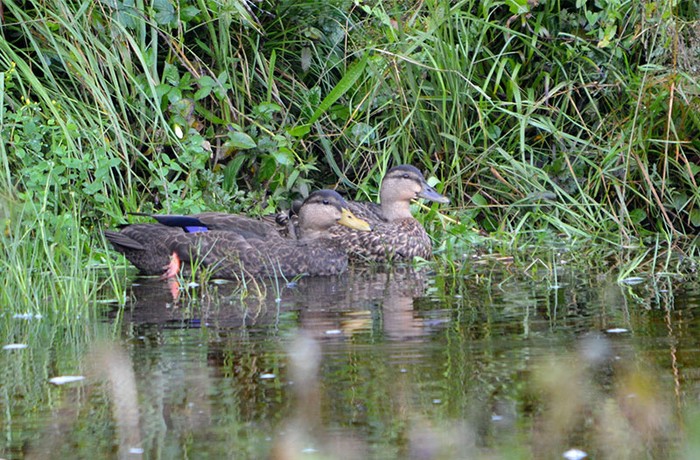 Presumably the drake Ferruginous Duck seen formerly at Minsmere RSPB (Suffolk) had relocated on 31st to Orford and an area with no general public access; while a fresh drake Lesser Scaup was found on 1st in Ireland at Carrowmore Lake (Co.Mayo).
In Wales, the drake Ring-necked Duck was still at Llyn Brenig (Denbighshire) on 28th while, on 29th, the drake at Wellington GPs (Herefordshire) was noted there once more. On 2nd a further drake was found at Saltholme RSPB (Cleveland).
<!—Section Title -->
As confidently predicted in these parts last week, this week was the week of Semipalmated Sandpipers. It's nice, sometimes, to be right. First bird was, predictably, in Ireland where a juvenile individual graced Tacumshin (Co.Wexford) on 31st-1st. Another was seen in Ireland in Co.Sligo at Rosses Point on 1st-2nd; and a further juvenile was seen at Newport Wetlands NNR (Gwent) on 1st-3rd also.
Keeping it Nearctic, a couple of White-rumped Sandpipers rocked up on 31st – found at Saltholme RSPB (Cleveland) and Kilnsea Wetlands (East Yorkshire), the latter bird sticking around until 3rd. Back in Ireland, meanwhile, the adult Baird's Sandpiper was still present at Tacumshin (Co.Wexford) on 28th-2nd; and a fresh juvenile was found on Tiree (Argyll & Bute) as the week closed on 3rd.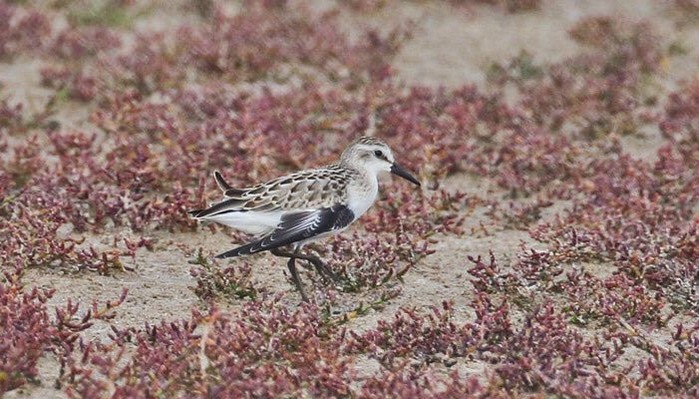 Speaking of lingerers, the Buff-breasted Sandpiper remained at Frampton Marsh RSPB (Lincolnshire) on 28th, but finally flitted after that. On 2nd-3rd one was discovered at the traditional site of Davidstow airfield (Cornwall).
Some Pectoral Sandpipers filtered in, though I'm assuming more are in the post imminently. Birds were found this week on 29th-2nd inland at Broom GPs (Bedfordshire), and in the Western Isles on South Uist on 30th-3rd.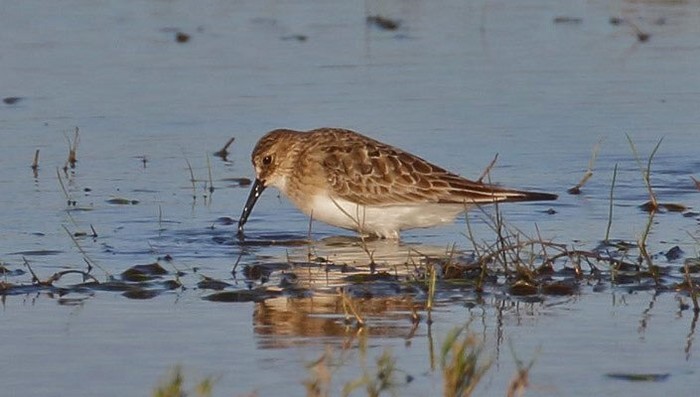 A possible Temminck's Stint was present at Lamesley (Co.Durham) on 29th, with another reported that day from Frampton Marsh RSPB (Lincolnshire).
Emphatically more unequivocal was the cracking adult American Golden Plover found on Yell (Shetland) on 1st-2nd. No doubt about that monochrome beauty.
A Kentish Plover was seen on 2nd on Hayling Island (Hampshire).
A Black-winged Stilt was a-wandering in the north this week – seen on 28th at Filey (North Yorkshire), it made it to Chirnside (Borders) on 29th, into Northumberland on 31st at Hadston Carrs, Cresswell NWT and Druridge Pools NR; and then, on 1st-3rd, presumably the same bird had moved south to Idle Valley NR (Nottinghamshire).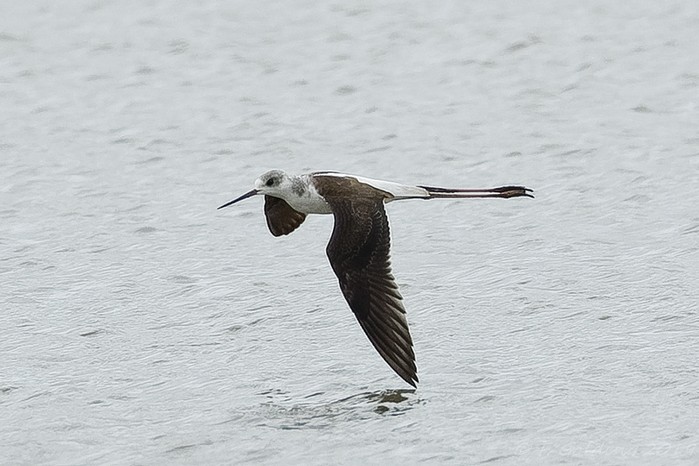 A handful of Dotterel were logged this week, starting with yet another addition to Brydon Thomason's soaring house list on Unst (Shetland) – a bird found there on 28th, the same day as one was seen at Killingholme (Lincolnshire) still and another was noted at Bempton Cliffs RSPB (East Yorkshire). The latter county featured more sightings on 30th-3rd at, variously, Spurn, Kilnsea Wetlands and on the Humber. On 2nd one was seen over Whitburn (Co.Durham).
Back in Lincolnshire, the adult Long-billed Dowitcher continued to go about its business at Frampton Marsh RSPB on 28th-29th.
Finally, while far from the rarest shorebird, there was just no ignoring the presence of Grey Phalaropes in the news this week – around 75 birds in all were seen, ranging from the sublime (31 birds noted off Bridges of Ross (Co.Clare) on 31st, to the ridiculous(ly unpleasant) – a possible bird seen from the Scillonian while she wallowed, broken down, three miles off Land's End (Cornwall) on 28th. Blee.
After a bit of a lull in the previous week, this week Sabine's Gulls were gloriously to the fore once again – with some 40 birds in total seen nationwide, of which the lion's share were noted in Ireland and nowhere more so than off Kilcummin Head (Co.Mayo) – an impressive 12 birds off there on 31st was beaten by 14 more the following day. Singles were seen in Welsh waters off Strumble Head (Pembrokeshire on 31st and 1st, and Mwnt (Ceredigion) on 1st; and Cornwall supplied sightings on 1st off St Ives and Porth Kidney Sands.
Kent's adult Bonaparte's Gull remained at Oare Marshes KWT on 28th-3rd, while the other recent adult individual was seen again in the Lahinch area (Co.Clare) on 30th-1st.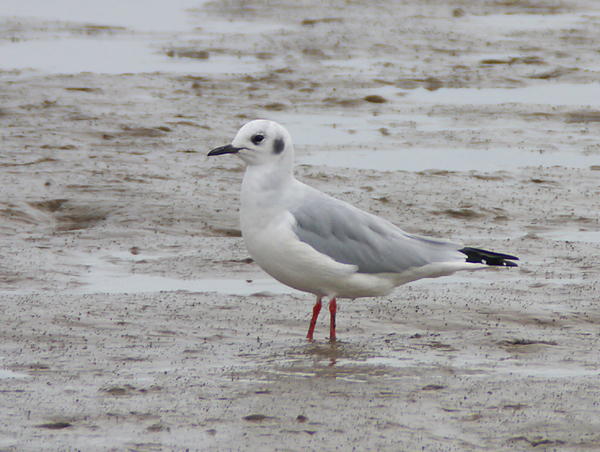 The Iceland Gull remained on Barra (Western Isles) on 29th, with another possible seen at Bunmahon (Co.Waterford) on 30th.
A little final variety came in the form of a juvenile White-winged Black Tern seen on 1st initially at Lodmoor RSPB and, latterly, Abbotsbury (Dorset). On 2nd sightings of a possible juvenile came from Dorset off Wyke Regis and Rodden Hive.
The female Montagu's Harrier remained this week at Blacktoft Sands RSPB (East Yorkshire) on 28th-2nd; probable birds were reported on 28th from Durlston CP (Dorset) and Devil's Dyke (West Sussex), and a ringtail was reported that day also at Luccombe Down (Isle of Wight); and a juvenile was found on 31st near Telscombe (East Sussex).
A probable ringtail Montagu's or Pallid Harrier was seen on 30th at Whitburn CP (Co.Durham).
Out on the Western Isles the female Snowy Owl remained on St Kilda on 30th-31st; while a male cropped up in Orkney on Eday on 29th. If only there was a Love Island for these wayward birds to get together upon…
We'll start the passerines section with a sentence I literally never thought I'd write – Whalsay (Shetland) and Sheppey (Kent) were islands with something in common this week. That something being, on 30th and 1st respectively, a Bee-eater. Not the biggest news of the week, but extremely disruptive for yours truly when he was trying to focus on the past day's bird news.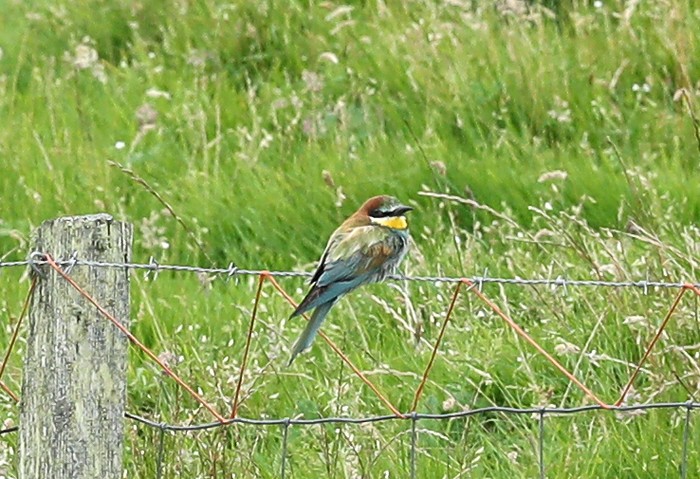 On to the warblers, where there was both some variety and some new arrivals to report upon this week. Starting in Cornwall, at Trevescan the Western Bonelli's Warbler remained present until 1st, whilst another was found in Wales at Uwchmynydd (Gwynedd) on 31st-3rd.
Wales also scored an Aquatic Warbler, trapped and ringed at Llangorse Lake (Powys) on 30th; another was pulled from the ringers' nets at Titchfield Haven NNR (Hampshire) on 1st.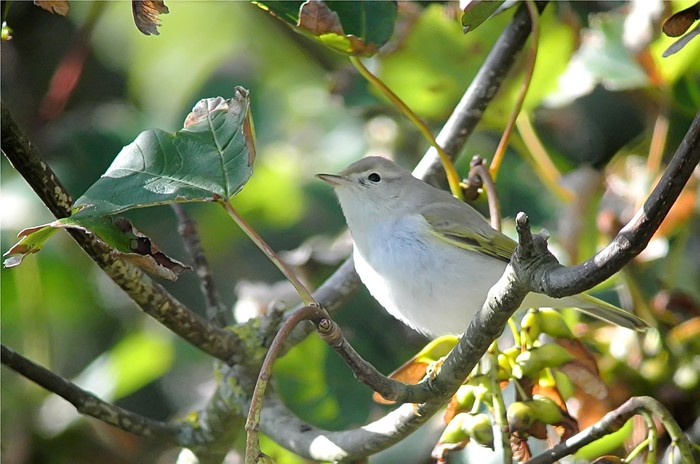 A Melodious Warbler was present at Porthgwarra (Cornwall) on 28th-29th, with another Cornish example reported on 3rd from Rinsey Head; while Icterine Warblers remained in short supply generally. One was seen at Sumburgh (Shetland) on 28th and 1st-2nd; Fair Isle (Shetland) enjoyed one on 28th; and back on the south Shetland Mainland, one was seen near Sumburgh at Scatness on 1st. Finally, in Ireland, a bird was present on Cape Clear (Co.Cork) on 29th.
Barred Warblers were again more or less the exclusive preserve of Shetland – birds were logged at Sumburgh on 28th-29th, Toab on 28th-1st, Grutness on 28th, on Unst and Noss on 28th, in Lerwick on 29th, and on Fair Isle on 30th and 3rd; while another sighting came from Unst on 3rd. Breaking that monopoly was one wayward individual found in Thurlestone (Devon) on 30th, and one on North Ronaldsay (Orkney) on 1st and, perhaps, again on 3rd, the latter being notched up as probable only.
Fair Isle also notched up a Marsh Warbler on 30th-1st.
Previously discovered Greenish Warblers remained in Shetland at Frakkafield on 28th and in Orkney on North Ronaldsay still on 28th also. Another was found this week in Cleveland on the edge of Hunley Hall golf course on 2nd-3rd.
Before we leave the warblers, couched in every single caveat available to us, an unconfirmed report of a possible Pallas's Grasshopper Warbler seen briefly at Cley (Norfolk) on 28th raised an eyebrow or two.
A Citrine Wagtail was found on rarely visited Balta Isle (Shetland) on 29th – literally the only migrant passerine on the island at the time – and the finder, Brydon Thomason, went one better on 3rd by finding a different individual whilst working on his shed roof – yet another house tick! A further bird was found down in the Shetland south Mainland at Hillswick on 2nd.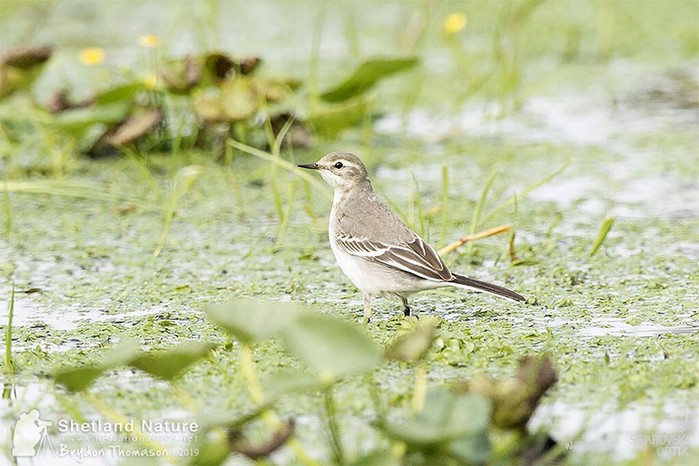 A male Grey-headed Wagtail was present at Hesketh Out Marsh RSPB (Lancashire) on 31st; and a Blue-headed Wagtail was seen at South Huish Marsh (Devon) on 1st.
Pendeen (Cornwall) accounted for the only Tawny Pipit of the week, noted there on 28th.
The first Red-breasted Flycatcher of the autumn was on Rame Head (Cornwall) on 2nd.
Two Hoopoe were found on 2nd – one in Cornwall at Millbrook briefly, and the other up in Staffordshire at Tamworth. The Cornish bird was seen again on 3rd.
Wrynecks continued to dominate the passerine news in recent days, with some 45 birds in all seen nationally, from Scilly and Kent in the south to Unst (Shetland) in the north. Most, however, showed a southerly bias in their occurrence.
That southerly distribution was reflected by Red-backed Shrikes, with three birds seen this week, all along the south coast. First up, one remained on St Mary's (Scilly) on 30th-1st; and on 1st, further birds were found on The Lizard (Cornwall) and at Dungeness (Kent). On 2nd, Kent got another at Reculver, while the bird on the Lizard was still present on 2nd-3rd.
On Cape Clear (Co.Cork), a Woodchat Shrike was seen on 1st-2nd.
The adult Rose-coloured Starling remained this week at Boulmer (Northumberland) on 28th-1st, whilst a juvenile was found on Anglesey at Aberffraw on 1st.
Common Rosefinches remained a Shetland preserve, with birds logged this week on Unst at Norwick, where two birds on 29th had risen to three there on 31st - perhaps they'd been joined by the single bird seen at Baltasound on 29th – while one remained on the isle on 3rd; one was present and trapped and ringed on Fair Isle on 29th-31st, with it or another seen on there on 3rd; and one was found down in the south Mainland at Sumburgh on 1st-2nd.
A handful of Two-barred Crossbills continued to pop out of the Shetland woodwork as the week progressed – two females were seen briefly at Quendale on 29th, while a male was noted at Kergord on 30th; and another juvenile cropped up, some three weeks after one had last been seen on the island, on Unst on 2nd. On 3rd a juvenile made a brief pitstop on Fair Isle.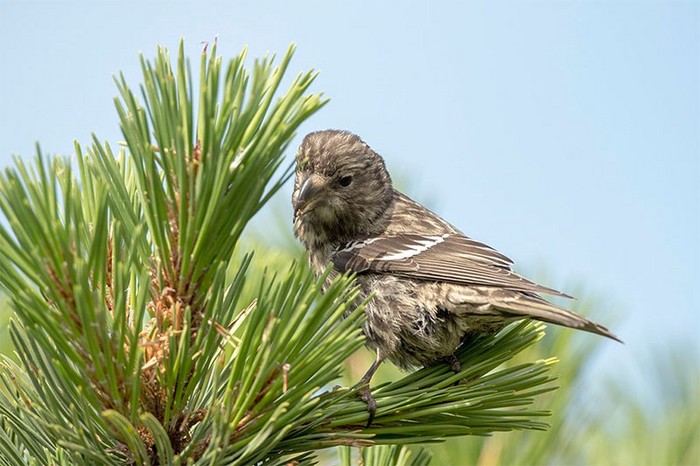 An Ortolan Bunting was a good Grimsby (Lincolnshire) find on 29th, while in Devon two more were found at East Soar Farm on 2nd. Further birds on 2nd were one on Mizen Head (Co.Cork) and an unconfirmed report of one over Charmouth (Dorset).
Back in Devon, the male Black-headed Bunting remained on Lundy until 3rd.
For the second week running, we begin our recent overseas news in France. The adult Brown Booby seen on 30th at Perros-Guirec in Britanny demands it, after all. Other notable French sightings this week include a Least Sandpiper in the Aude department at La Palme on 31st, and an Elegant Tern at Le Grau-du-Roi on 29th.
Spain also had an Elegant Tern this week – one seen on 31st still present at Cadiz.
A small bird was big news in Holland on 31st – a Pygmy Owl, unfortunately found dead, on a balcony in Lelystad.
Heading north, Norway's remarkable year continued with a Oriental Pratincole at Ha on 28th.
To Poland next, where the Great Black-headed Gull remained at Libiaz on 31st, and a Sociable Lapwing was present at Stoczek on 29th.
In Israel, the White-throated Bee-eater remained in Eilat on 29th-1st.
Meanwhile in Kuwait the male Pied Bush-chat was still to be seen at Nuwaiseeb on 28th-31st.
Offshore now, and to the biggest news of the week – a Black-bellied Storm Petrel off the Canary Islands on 3rd off Lanzarote.
Black-bellied Storm-Petrel, Fregetta tropica photographed at the Banco de la Concepción, Lanzarote offshore, photo by Eduardo Garcia del Rey - 7th record for Spain and 8th record for WP pic.twitter.com/V627lEmMDF

— Tarsiger (@TarsigerTeam) September 3, 2019
Finally out on the Azores six Cliff Swallows were present on Terceira on 2nd.
There was a hint of shooting fish in a barrel about last week's predictions. Semipalmated Sandpiper always had a hint of the inevitable about it, given the westerlies we were due and, courtesy of France, the Western Palearctic was also treated to the Least Sandpiper I'd thrown in as a longer peep shot.
This week, though, hot on the heels of recent Cliff Swallows in Iceland, Scotland and the Azores, and with more westerlies in the pipeline, I'm going to cast caution to the westerly wind and dare to dream a lot larger.
Yes, another Cliff Swallow would be nice. (Understatement). Nicer still would be another Purple Martin - after our first, on the Butt of Lewis (Western Isles) on 5th-6th September 2004, we've had nothing. Surely another one is overdue, and now feels like the right time. All we need is the place, and the mega alert to chime…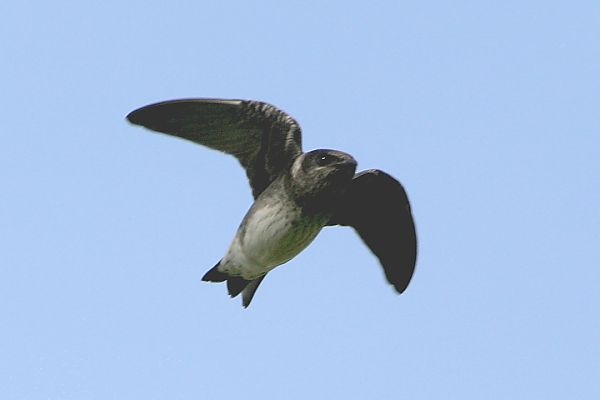 Jon Dunn
4 September 2019
Many thanks to all contributors for their photos and videos this week.
Share this story
Tweet