Weekly birding round-up: 7 - 13 Aug
The week at a glance
East Yorkshire serves up a Pacific Swift
The male Little Bustard remains in West Yorkshire
And Co.Antrim scores a Stilt Sandpiper
Lots of good things come out of Yorkshire, and many of them are golden. Yorkshire Gold teabags, for starters and, famously, a goodly proportion of Team GB's medals at the last Olympics. This week the rest of Britain and Ireland may have been battered by stormy and wet weather, but everything in Yorkshire birding terms was golden…
Pacific Swift
Just days after the British Ornithologists' Union Records Committee rubber stamped the admission of White-rumped Swift onto the British list, in the wake of the glorious individual found on 14th October 2018 over Hornsea Mere (East Yorkshire), the mega alerts chimed in the morning of 10th August 2019 to herald the discovery of a white-rumped swift sp over Hornsea Mere. Either Britain's second White-rumped Swift, or a barely commoner Pacific Swift - one way or another, this was definitely big news.
Soon enough, the news firmed up – this was a Pacific Swift - perhaps not the tidings those who'd missed the first White-rumped Swift wanted to hear, but all the same – it's a stony-hearted birder whose pulse doesn't quicken for a Pacific Swift. To this day, jamming in on Britain's first mainland record, the Cley (Norfolk) individual of 30th May 1993, remains one of my most cherished birding encounters. Stumbling across the ensuing twitch, with abandoned cars and running birders on the road, and the most awesome bird scything back and forth in the sky overhead, was the catalyst to my investing in a Rare Bird Alert pager. I didn't want to rely on such immense good fortune ever again…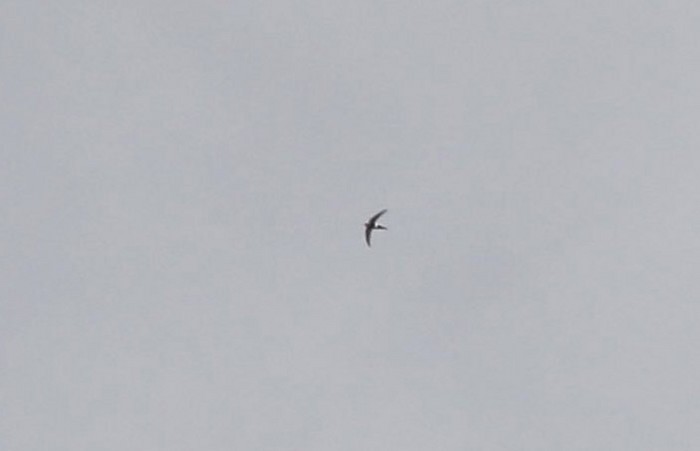 Throughout the 1990s and early years of the new century, that Norfolk bird felt like it had the makings of a good blocker about it. Right place, right time stuff – a feeling only cemented by the fleeting Northamptonshire record in 1995. Then Yorkshire started to develop something of a track record where Pacific Swifts were concerned…
Records in 2005, 2008, 2011 and 2013 followed. It was (almost) a monopoly – though, thankfully for those who'd not enjoyed the serendipity of coinciding with any of these transitory records, 2013 also served up a two-day showing at Trimley Marshes (Suffolk) on 15th-16th June which finally gave a window of opportunity for anyone minded to catch up with a British Pacific Swift.
But, Yorkshire. Now firmly established as the county for rare swift sightings, and only cementing that reputation further this week with Britain's latest Pacific Swift, seen intermittently at Hornsea Mere throughout the morning and early afternoon of 10th and then, briefly, heading west over Easington Church later that evening. Whatever next? I for one certainly wouldn't be betting against the county's birders turning up another white-rumped wonder before the year is over.
Little Bustard
As if all of this Pacific Swift loveliness weren't enough, West Yorkshire continued to boast the not insignificant matter of the male Little Bustard at Mickletown Ings still this week until 11th.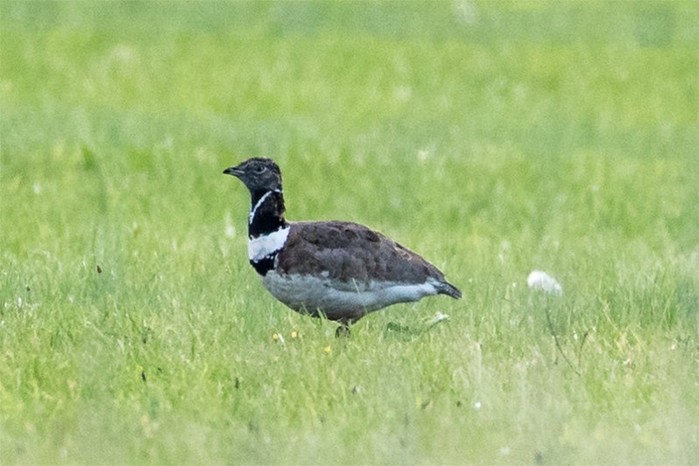 An improbable, glorious late summer record, and one that couldn't fail to please, as relatively long-staying as the swift had been fleeting, the new century's second Little Bustard was a top drawer crowd-pleaser. This bird alone would have made many a Yorkshire birder's summer – but this week it was relegated to play second fiddle to the main event, a telling testament to just what a great spell local birders were enjoying.
I'm sure I'm not alone in looking forward to seeing what the autumn serves up…
Stilt Sandpiper
Ireland was already enjoying a solid week for Nearctic shorebirds by 11th, more of which in due course, but the ante was upped at this point in the week on Rathlin Island (Co.Antrim) with the discovery in the evening of an adult Stilt Sandpiper.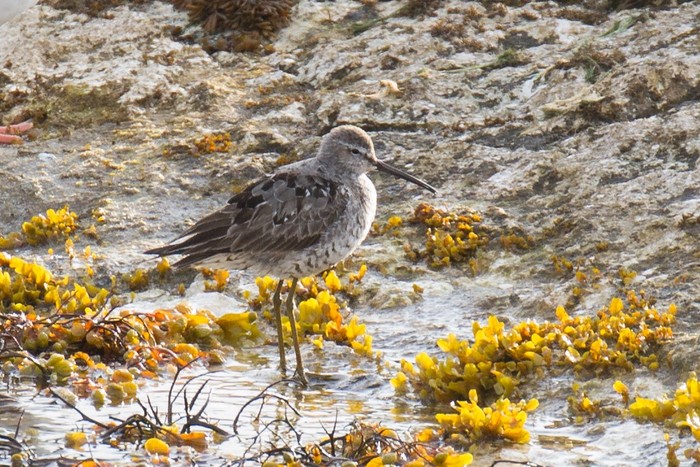 Whilst not quite of the calibre of the Sharp-tailed Sandpiper we yearned for in last week's predictions for the coming days, Stilt Sand was one of the longer shorebird shots we'd identified as a possibility, and from a Co.Antrim perspective it's a top drawer find – which is to say, it's a county first, no less. Unfortunately it was a fleeting thing, and was nowhere to be seen the following day.
The past week was ushered in by an emphatic late summer storm sweeping in from the Atlantic, bringing with it strong winds, rain and a distinctly unsummery feel for those in its path. Which isn't to say that it was wholly unwelcome – for surely there would be some interesting seabirds to be seen too?
The main event, as perhaps we might have anticipated given the time of year, came in the form of an appreciable movement of Balearic Shearwaters on 9th – the preceding days, with barely 20 birds in all logged, gave no indication of the scale of what was to come, with around 900 birds tallied on 9th including the week's peak count of 385 birds off Berry Head (Devon) alone. Numbers generally dwindled after 9th – though 239 heading west past Portland (Dorset) on 12th spoke of birds still on the move – and cumulatively we were looking at around 1,400 birds recorded over the course of the week.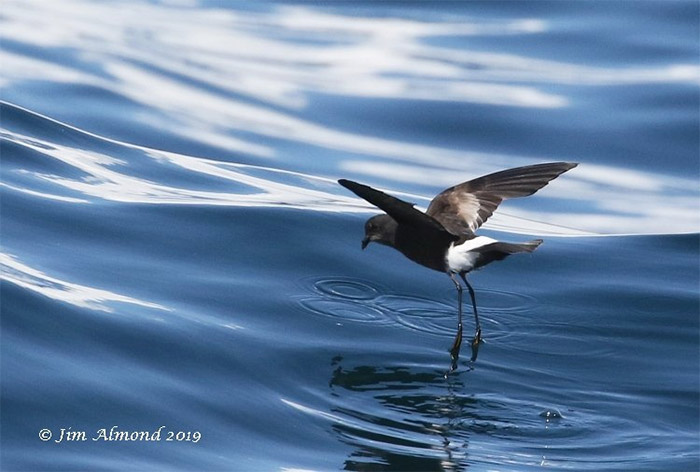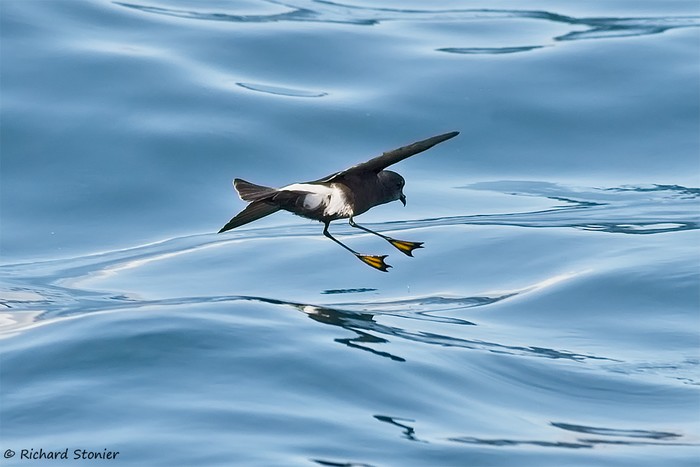 A possible albatross sp reported off Cape Cornwall (Cornwall) in the morning of 10th had the potential to be the week's biggest (in every sense) seabird news, but eluded identification and, hence, elevation to the headlines. Instead, for rarity we have to turn once more to Wilson's Petrels - keen eyes in Ireland logged two off Kerry Head (Co.Kerry) and one from Bridges of Ross (Co.Clare) on 10th; while two were noted from a Scilly pelagic on 11th, a further single bird there the following day, and two more on 13th. On 13th a final bird was logged back in Ireland from a pelagic off Baltimore (Co.Cork).
Returning to the shearwaters, modest numbers of the larger options were seen – Cory's Shearwaters numbered three on 9th and one on 10th from The Lizard, two on 9th and three on 10th from Porthgwarra (Cornwall) and one off Cley (Norfolk) on 12th and, in Ireland, single birds on 10th from Galley Head (Co.Cork) and Carnsore Point (Co.Wexford).
Great Shearwaters, meanwhile, consisted of two from The Lizard on 9th; one off Start Point (Devon) on 10th with another possible that day off Ram Head (Co.Waterford); and on 11th, one at sea off Courtmacsherry (Co.Cork), another from a Scilly pelagic, and two off Pendeen (Cornwall).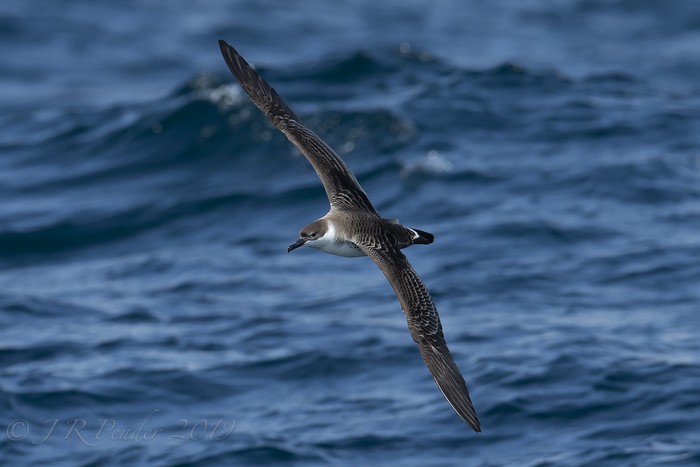 Pomarine Skuas nudged into double figures with some 15 birds recorded during the week, from Aberdeenshire in the north to Cornwall in the south. Amongst this scatter of sightings came a couple of duos at single sites – two birds being seen from Whitburn CP (Co.Durham) on 8th and two from Thornham (Norfolk) on 11th.
The ten or so Long-tailed Skuas seen nationally had a somewhat more southerly bias, with the most northerly bird being one off Whitburn CP on 9th; all were singletons bar two birds seen from Cley and Titchwell RSPB (Norfolk) on 10th.
In West Sussex, the adult Squacco Heron remained at Pagham Harbour on 7th-13th, and heads up another modest showing of long-legged beasties this week.
A little more colour came in the form of a Purple Heron on the grazing marshes at Upton (Norfolk) on 8th.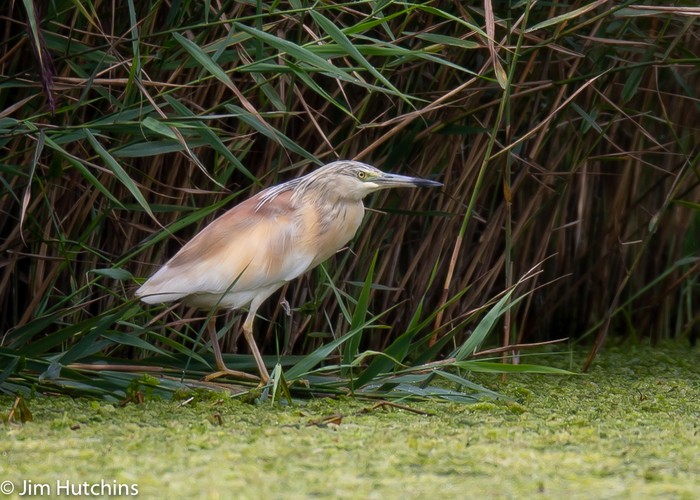 A White Stork was seen over Trowbridge (Wiltshire) on 8th; another was reported on 13th in Dorset, over Highcliffe.
Altogether less couched in caveats, the two settled Glossy Ibises remained at Newport Wetlands NNR (Gwent) on 8th-13th and at Fremington Pill (Devon) still on 8th-9th. Five birds were seen heading south over Lowestoft (Suffolk) on 12th. Another possible bird was seen in flight over the River Calder at Wakefield (West Yorkshire) on 9th.
For non-Norfolk Common Cranes we turn our eyes first to Cambridgeshire where 13 birds were seen at March Farmers on 8th, and then north – a single bird was present at Otterburn (Northumberland) on 8th-9th, and three were present in Aberdeenshire at Slains Pools on 12th. Another individual was seen over Wingrave (Buckinghamshire) on 8th.
The surface of the national rarity duckpond remained largely unruffled for another week, with just a few of the usual suspects still hanging around.
Scotland continued to enjoy the lion's share of what little there was - the drake Blue-winged Teal remained on Frankfield Loch (Clyde) on 8th-13th; the drake Black Duck was still proving faithfully wedded to Strontian (Highland) and its Mallards on 9th; and the drake Surf Scoters were once more seen off Musselburgh (Lothian) on 10th and in Lunan Bay (Angus) on 12th, with two birds present at the latter site.
Down in England, the drake Ferruginous Duck remained in East Sussex at Pett Level still on 8th, while the drake Ring-necked Duck was once again seen off and on at Abberton reservoir (Essex) on 8th-11th.
<!—Section Title -->
Everything's been building up to this section thus far, so now's the time to get comfortable and settle in for a really decent, varied, waderfest this week.
Ireland in particular was proving to be the place to be, with examples of pretty much everything on offer seen somewhere there in the past few days. Tacumshin (Co.Wexford) alone sported, on 9th, White-rumped Sandpiper, Buff-breasted Sandpiper, and Long-billed Dowitcher…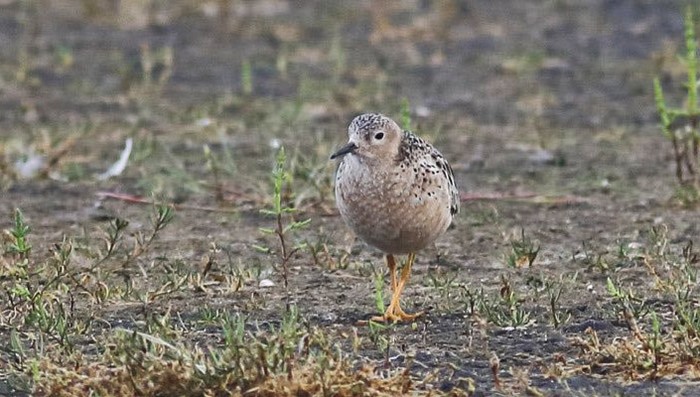 Taking things in turn, though, we'll start with White-rumped Sandpipers - birds remained in eastern England at the start of the week, with two present in Lincolnshire at Freiston Shore RSPB still on 7th and one there still on 9th; while one was reported from Frampton Marsh RSPB on 7th and again on 9th; and single birds remained at Kilnsea Wetlands (East Yorkshire) and Snettisham RSPB (Norfolk) still on 7th also. Sightings came thick and fast from Co.Wexford, with two present at Lady's Island Lake on 8th-11th and one still present there on 13th, and single birds noted at Tacumshin on 9th and The Cull on 11th. Blessington (Co.Wicklow) landed another bird on 10th-11th; while back in England, another was present on Holy Island (Northumberland) on 11th-12th.
Northumberland also provides the second of the week's Buff-breasted Sandpipers - one present at Low Newton-by-the-Sea on 10th – while a third sighting came on 13th at Lady's Island Lake (Co.Wexford).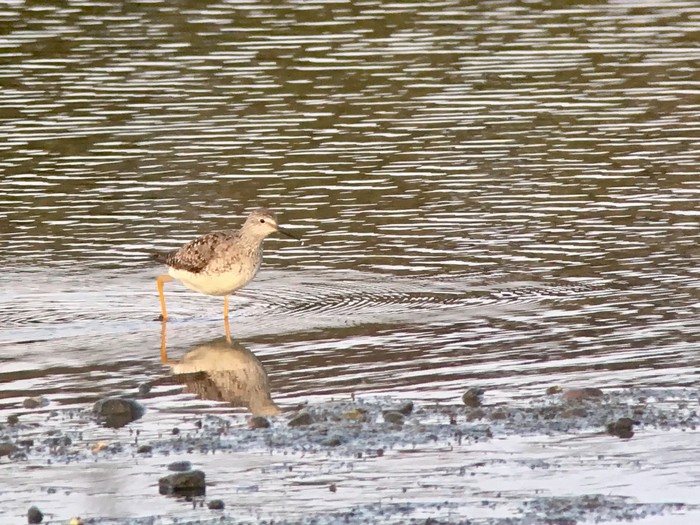 More Irish variety came in the form of an American Golden Plover at Derrybeg (Co.Donegal) on 11th; Hampshire supplied the week's second bird in the morning of 13th at Keyhaven Lagoon.
The adult Long-billed Dowitcher remained in Lincolnshire at Frampton Marsh RSPB on 7th-13th; further adults were logged this week at Belfast Lough RSPB (Co.Derry) on 8th-13th and, in Co.Wexford, at Tacumshin on 8th-9th and Lady's Island Lake on 11th-13th.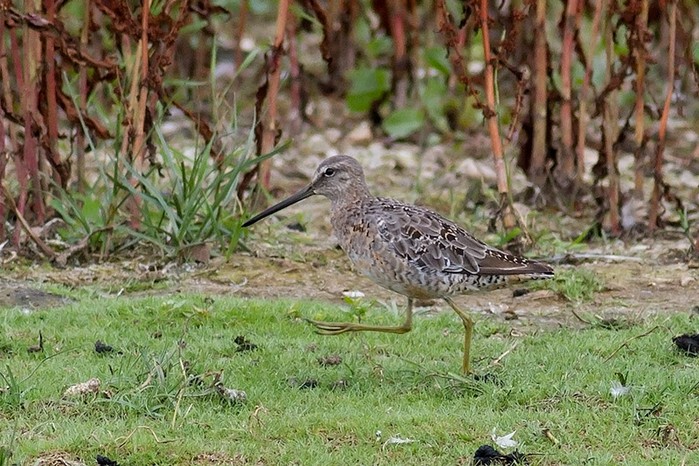 Staying in Ireland, the adult Lesser Yellowlegs remained at Kinsale Marsh (Co.Cork) on 10th-12th, whilst a further unconfirmed report came in of a possible bird on the Eden estuary (Fife) on 11th.
Two Red-necked Phalaropes were logged this week – one on 8th at Grafham Water (Cambridgeshire) and the other, on 11th, at Coquet Island RSPB (Northumberland). A probable Grey Phalarope was seen from Pendeen (Cornwall) on 9th, with another proving popular on 11th-13th in Dorset at Ferrybridge, and a further bird seen off St Martin's (Scilly) on 11th.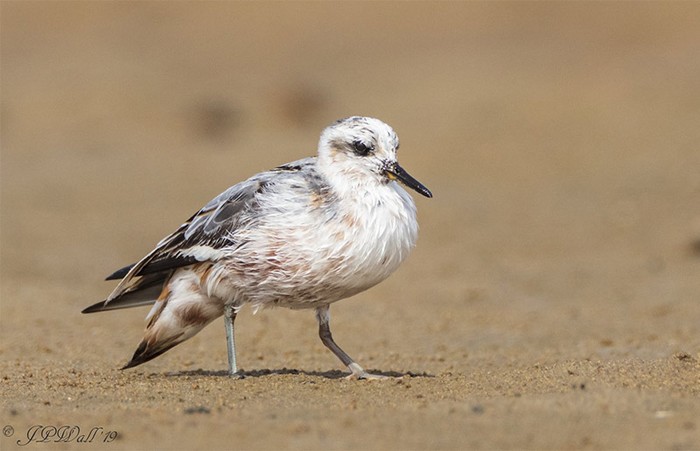 The gulls 'n' terns section in a week that featured a slightly elevated profile for seawatching goodies should start, naturally, with the summer gull of choice – these being the joy that's Sabine's Gulls. Southern birds were noted from Canvey Point (Essex) on 9th, Severn Beach (Gloucestershire) on 10th and off Pendeen (Cornwall) on 11th; much rarer still, however, in a Shetland context was the bird seen off Eshaness on 11th.
Kent's regular adult Bonaparte's Gull at Oare Marshes KWT on 7th-13th was augmented this week by a further adult bird in Ireland, seen at Clahane (Co.Clare) on 10th-11th and 13th, and between Liscannor and Lahinch on 12th.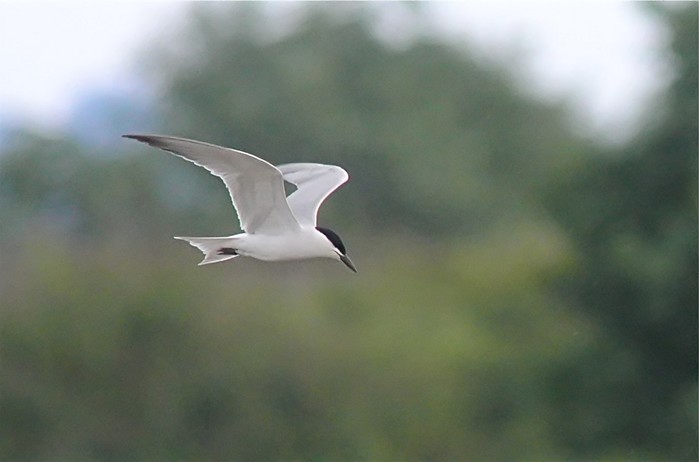 Ireland also supplies a second-winter Ring-billed Gull at Blennerville (Co.Kerry) on 11th; while it's to North Uist (Western Isles) once more this week for our only Glaucous Gull, seen there on 11th-13th.
Cheshire started the week with the Gull-billed Tern still present at Sandbach Flashes on 7th, but alas it was not seen there thereafter.
The recently re-found Snowy Owl in Shetland on the flanks of Ronas Hill continued to reward the determined with sightings again this week on 8th-9th and again on 13th, but this was almost the extent of the interesting birds of prey in recent days.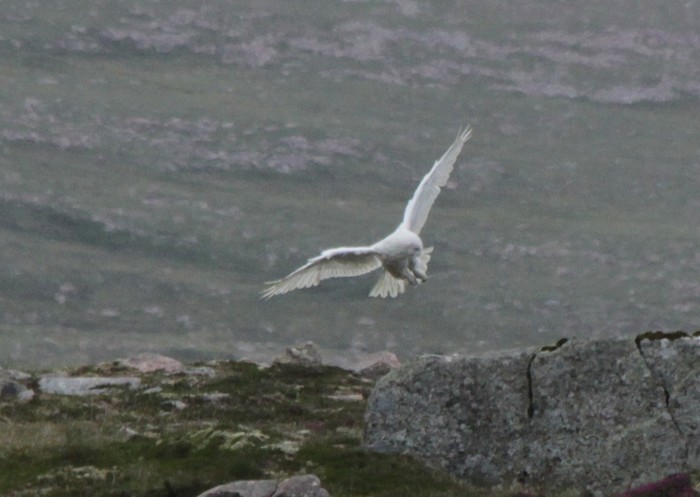 For any variety, we had to wait until the week's closing hours when, on 13th, a Black Kite was seen near Crowborough (East Sussex) heading west over Nap Wood.
Shetland continued to prove a fruitful hunting ground for those hoping to stumble across more Two-barred Crossbills this week, with a scatter of sightings the length of the archipelago crowned by the discovery of a decent flock on the outskirts of Lerwick itself – some nine birds in trees on the shores of Clickimin Loch on 10th, with at least seven still there on 12th and half a dozen there as the week came to a close on 13th.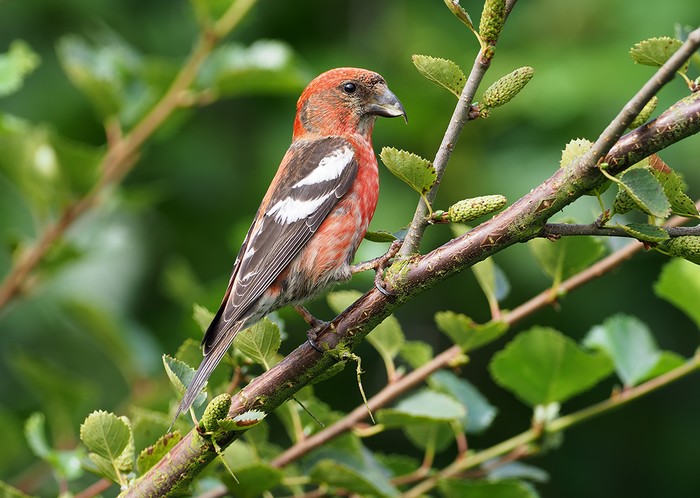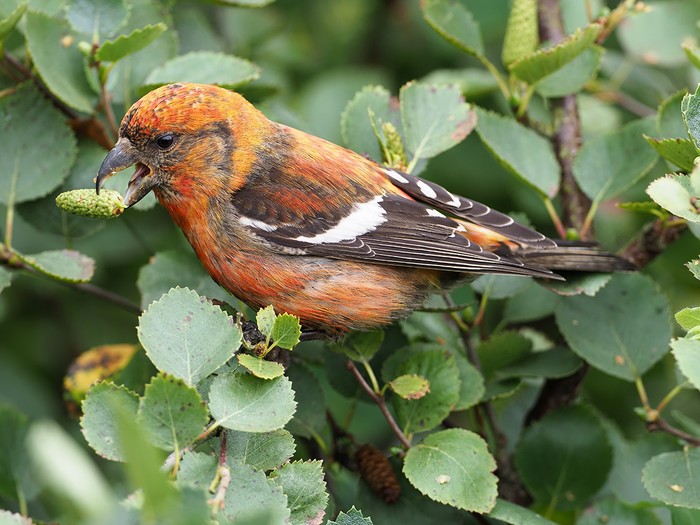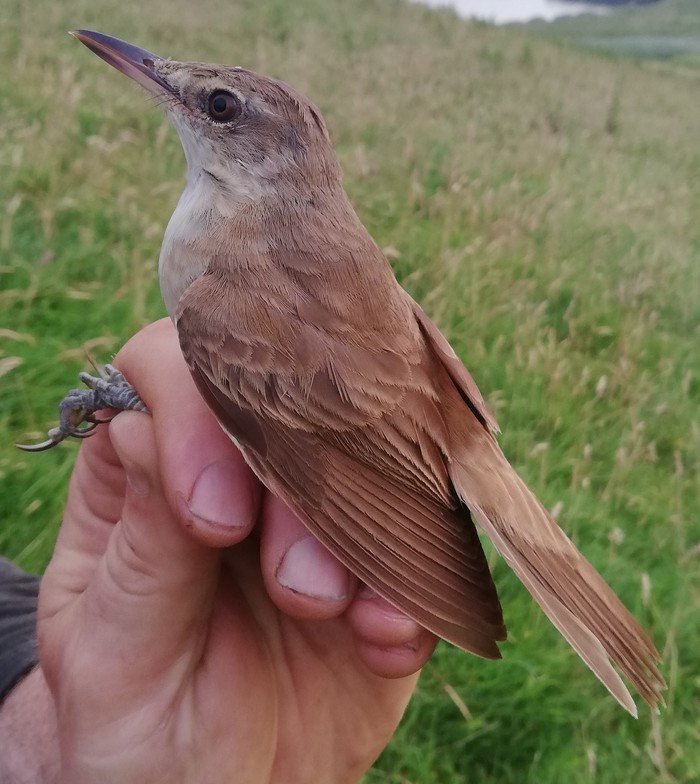 Elsewhere in Shetland, Fair Isle held onto four birds on 7th-10th, with at least three birds on the island on 12th; further Mainland sightings came from Hoswick on 8th, Sand on 11th, Scatness on 11th where two birds were seen and, on 12th, there were flocks of respectively seven birds at Stromfirth and six birds found near South Nesting; while single birds were seen on Unst on 10th and Fetlar on 11th. Breaking this monopoly, a female bird was found on Tiree (Argyll & Bute) on 10th.
At the opposite end of the country, a Bee-eater provided a flash of colour at Brading Marsh RSPB (Isle of Wight) on 8th.
Back in the north, a female Grey-headed Wagtail was present on North Ronaldsay (Orkney) on 10th with a male present there on 12th-13th, and the island also enjoying a Rose-coloured Starling on 8th. Another Rose-coloured Starling was present on North Uist (Western Isles) on 12th.
Shetland mist nets gathered a Great Reed Warbler at Rerwick on 10th.
In East Yorkshire, the four Marsh Warblers remained at Kilnsea throughout the week; another was trapped and ringed at Woolston Eyes NR (Cheshire) on 8th; and another possible bird was present at Clifford Hill GPs (Northamptonshire) on 11th.
East Yorkshire also landed an Icterine Warbler at Kilnsea on 7th.
The juvenile Chough remained in Derbyshire in the Goyt Valley on 7th-10th.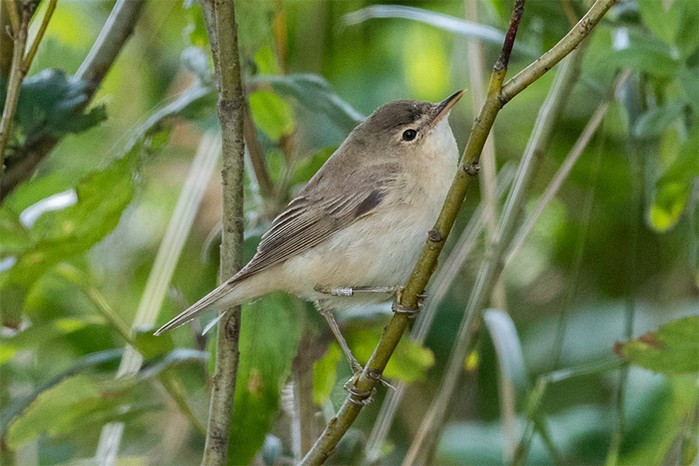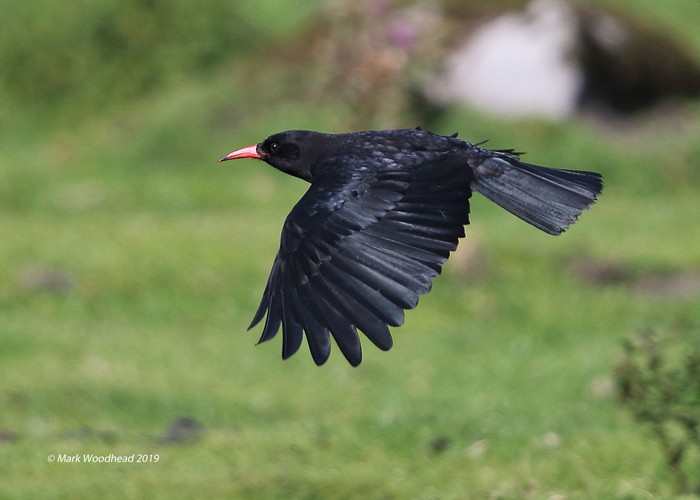 A Serin flew south over Landguard NR (Suffolk) on 13th; and, finally, a Common Rosefinch was seen on Fair Isle (Shetland) on 10th.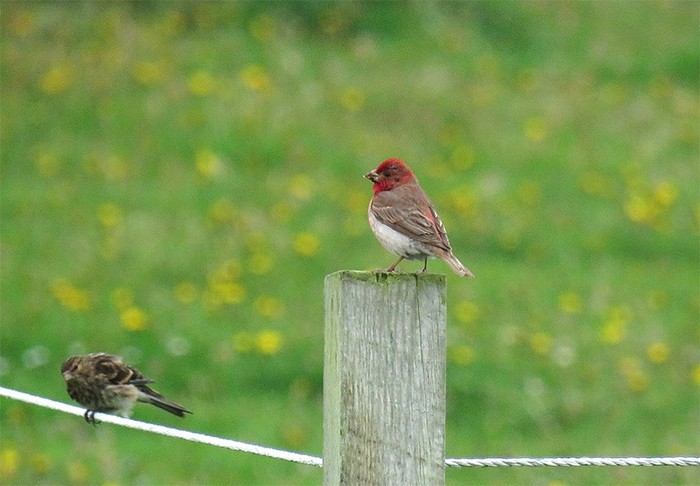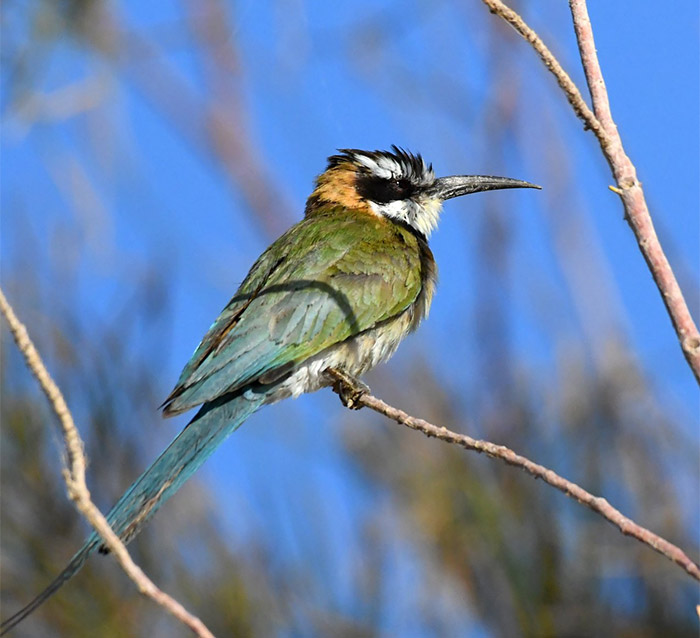 In a litany that's set to become familiar in the coming weeks, we'll start our overseas news in the Azores where, on Sao Miguel, a Spotted Sandpiper was seen on 9th.
In Spain, the Red-footed Booby was once more present in the harbour at Caleta de Velez on 8th and again on 12th.
Elegant Terns had something of a quiet moment this week, with Andalucian sightings in Spain at Cadiz on 11th and Rota on 12th preceded by a French record at Polder de Sebastopol again on 9th.
Israel, meanwhile, scored a White-throated Bee-eater in Eilat on 13th. The last piece of bird news of the week just gone, but perhaps the biggest news item of all – if accepted, that's a first for Isreal and only the third record for the Western Palearctic. Boom!
Well, we're now into mid-August and I'm left wondering where the year's going. It seems to be flying by and we're staring down the barrel at the sharp, pointy end of proceedings that's the autumn and the time when any weather forecast with an easterly in it sets our hopes soaring.
But that's a little way off yet. For now, we remain in the late summer days when a good (or very good) seabird or shorebird remains a coveted possibility. However, probably best not to dwell too closely on this week being the sixth anniversary of the Red-billed Tropicbird off Pendeen (Cornwall), and consider the more likely options…
And, the likes of Lesser Yellowlegs or White-winged Black Terns notwithstanding, I'm drawn back to the passerines and my craving for autumn to get under way, if only a little. History tells us that mid-August is the time that Citrine Wagtails and Greenish Warblers start to be on the move and, given a little encouragement from a friendly wind direction, could head our way. And whose day isn't improved by finding one of either of those?
(Failing that, there will always be Balearic Shearwaters…)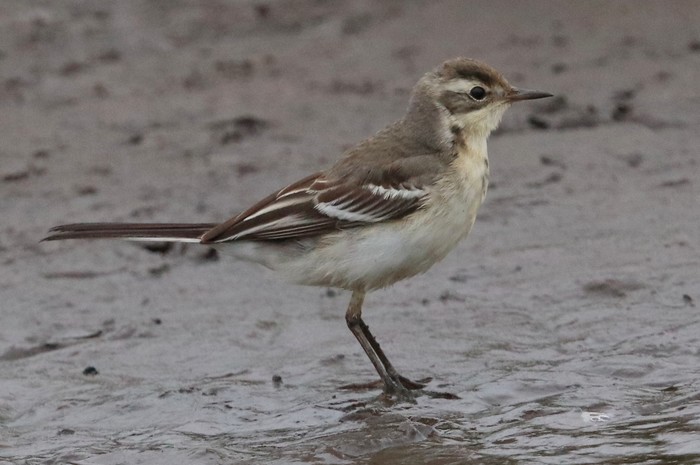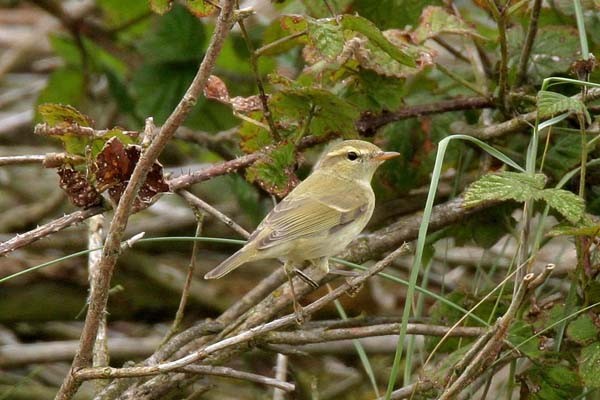 Jon Dunn
14 August 2019
Many thanks to all contributors for their photos and videos this week.
Share this story
Tweet