Weekly birding round-up: 31 Jul - 6 Aug
The week at a glance
Keen eyes in Norfolk pull a Sooty Tern out of the bag
A male Little Bustard rocks West Yorkshire
While White-rumped Sandpipers hit double figures
Whoever said summer birding was boring? Apart from those who've turned to butterflies, dragonflies and moths… but apart from them? I only ask as, in a week in which the heatwave broke, spectacularly, with torrential rain for some, our breaking bird news included some high quality species. One for the fortunate few, one that was more accommodating, and some that were up for grabs in almost every corner of the region.
Sooty Tern
Our recent Sooty Tern has enjoyed flirting with British birders in recent weeks. Here one day, gone the next, and for way too long in between sightings. Where does it get to in the intervening periods?
First seen this year in East and North Yorkshire on 24th June, what is presumably the returning crowd pleaser that graced Aberdeenshire's Ythan estuary, back and forth in summer 2018, was next seen heading along the coast this year on 9th July moving along the north-east English coast before winding up, briefly, just outside Seahouses (Northumberland). It then flew off, and hasn't been seen since.
This week, presumably the self-same bird put in another appearance, on 2nd August, having headed unseen as far south as the north Norfolk coast. Here it was seen, first from Weybourne and then, shortly afterwards, off Sheringham, heading east distantly offshore. Where to next for this bird? If anywhere before 2020 and the return we're all hoping for…
A Sooty Tern, anywhere, is a big deal – but with Norfolk boasting more than the average number of uber-keen birders and county list-keepers, the species is a bigger deal still – past accepted records are two-fold, and neither was remotely recent. One was seen on 11th September 1935 in Blakeney Harbour; and the only faintly latter day bird was an individual noted at Scolt Head and Blakeney Point on 14th-19th June 1966 and again on 11th July. For now, it looks like the long wait to scratch that itch continues.
Little Bustard
News on 5th of an unconfirmed report of a male Little Bustard at an undisclosed site outside Leeds (West Yorkshire) was calculated to intrigue and tantalise in equal measure – by any standards, that's fabulous news, even in a year that's already featured one male bird earlier this summer at Slimbridge WWT (Gloucestershire) on 23rd-26th June.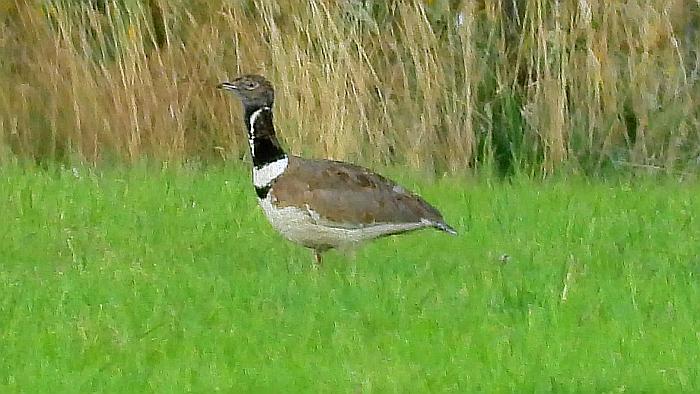 Whether or not we're talking about one and the same bird is a matter of idle speculation – the important thing is that, on 6th, the mega alert chimed for West Yorkshire – the news had firmed up into a definite male Little Bustard, present at Mickletown Ings.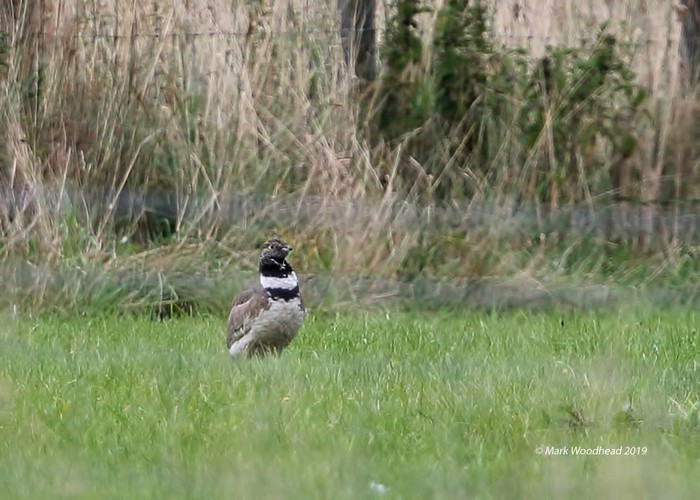 From a Yorkshire perspective a Little Bustard is big news. One seen at Fraisthorpe at the turn of the year on 31st December 2014 – 1st January 2015 was the first since 1956 – the latter date representing a particularly bleak year for the species, with birds given a warm Yorkshire welcome at, respectively, Albrough on 10th November and near Preston on 20th November – both individuals were shot, maintaining a 20th century tradition that had seen two of the previous three birds discovered in Yorkshire since 1900 also blasted dead on arrival.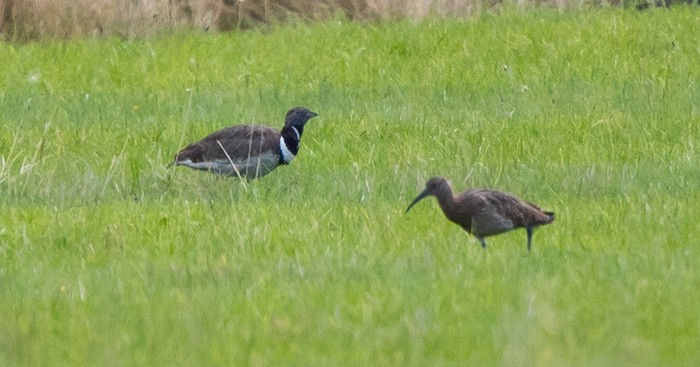 Happily, the only shooting that will have greeted this latest bird will have been the firing of camera shutters.
White-rumped Sandpipers
If the long, hot, crazy days of August mean that record numbers of Wood Sandpipers can make the headlines – and the previous week, they did just that, with good numbers continuing to stream through in the past week – then we can surely be forgiven for elevating White-rumped Sandpiper into the oxygen thin atmosphere of the Round Up headlines too.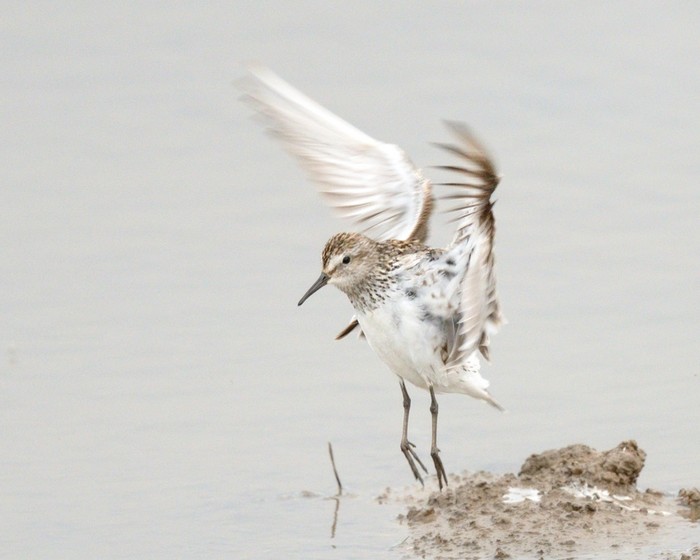 They're not, on the face of things, the rarest of our rare shorebirds. After all, since 2005 they've been beneath the BBRC's radar, so frequently were they being found. That said, they're still North American waders and those have a charm all their own; and they're considerably funkier than the beige plainness that's a Pectoral Sandpiper. Also, and this is a big also, any week in early August that sports double figures of them is surely a statement of intent that autumn is now officially under way, and we should be giving serious consideration to rarer options still. In other words, get you to a decent bit of mud and see what you can find rootling about on it.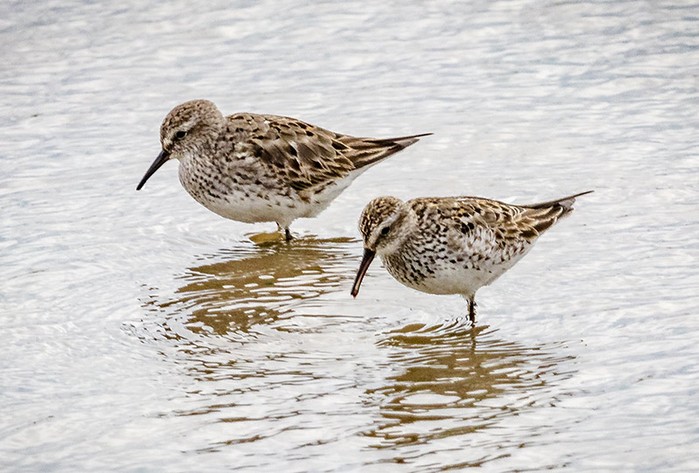 The week began with two still present at Freiston Shore RSPB (Lincolnshire), and one still at Kilnsea Wetlands (East Yorkshire) – all of which remained present until 6th, bar one of the Lincolnshire birds on 5th – perhaps explaining the singleton present again on 5th at Frampton Marsh RSPB. One in Norfolk on 2nd at Snettisham RSPB had doubled to two birds there on 3rd, with one still present on 5th-6th; and one was seen on the Humber at Spurn (East Yorkshire) on 3rd also; one would assume this might be the Kilnsea individual, but with birds turning up all over this week, you never know… In Scotland, Lothian landed sightings at Aberlady Bay on 2nd and Skateraw on 4th, while another was seen on 4th at Pilnanton Burn (Dumfries & Galloway). Ireland, finally, supplied sightings in Co.Wexford at Lady's Island Lake on 1st-5th and at The Cull on 3rd.
The wait for a keenly anticipated Fea's or Desertas Petrel finally came to an end this week from a Scilly pelagic in the evening of 5th. It was only a matter of time, and we'd hope for one or two more in the coming weeks…
As we'd confidently expect at this point in the late summer / early autumn proceedings, the week also featured a few more Wilson's Petrels, both seen in the usual quarters – singles from Scilly pelagics on 1st and 5th, and another in Co.Cork, noted off Toe Head on 3rd.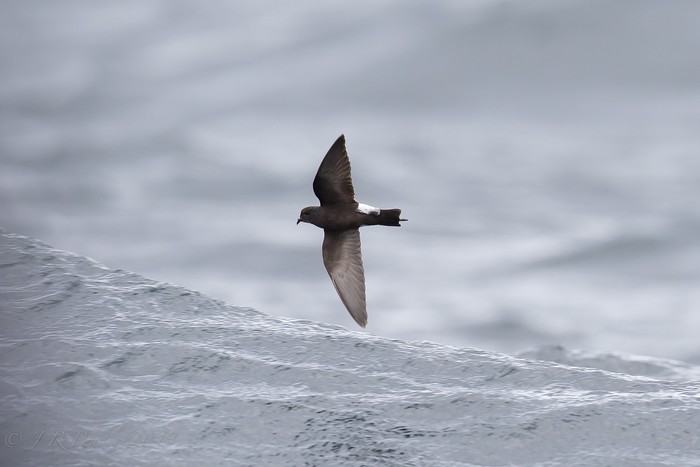 A handful of large shearwaters were logged again this week by dedicated seawatchers – Porthgwarra (Cornwall) tallied two Cory's Shearwaters on 31st, one or two more on 2nd, and another bird on 4th; one was seen from Bardsey (Gwynedd) on 1st; and one was reported passing Pendeen (Cornwall) on 6th. Two Great Shearwaters were seen from Toe Head (Co.Cork) on 3rd, while singletons were seen from the Scillonian on 3rd and off Porth Chapel (Cornwall) on 4th, with single birds logged from Lamorna and Porthgwarra on 6th.
Numbers of Balearic Shearwaters were a shadow of the preceding week, with around 300 birds in all seen, of which the peak count was 70 birds noted at sea off Berry Head (Devon) on 6th. A scatter of east coast sightings trickled in – birds seen this week from Whitburn CP (Co.Durham) on 31st and 2nd and Sheringham (Norfolk) on 1st, with a further Norfolk report coming from Holme on 2nd.
Scottish petrel ringers continued to pull a few Leach's Petrels out of the bag – two were on Fair Isle (Shetland) on 31st; one was on Birsay (Orkney) on 1st; and one was on North Ronaldsay (Orkney) on 2nd.
Back in Co.Durham, at Whitburn CP, single Pomarine Skuas were logged on 3rd and 4th; another was seen off Seaton Sluice (Northumberland) on 4th. Three Long-tailed Skuas were seen from St Andrews (Fife) on 31st; and another was off Cley (Norfolk) on 2nd.
We enjoyed some decent variety this week where long-legged beasties were concerned, particularly where herons of were concerned.
Starting in West Sussex, an adult Squacco Heron was present on 2nd-6th at Pagham Harbour – a lovely late summer surprise for the locals.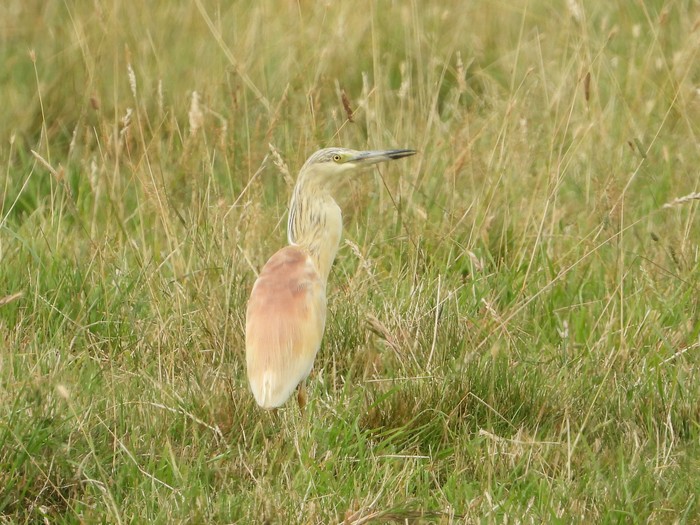 Speaking of surprises, in Gloucestershire the adult Night Heron was back in Cheltenham once more on 2nd-4th at Pitville Park – where has that been lurking meantime? A first-summer bird was found in Ireland at Lady's Island Lake (Co.Wexford) on 1st-3rd.
Just two Purple Herons were recorded in recent days – one of the two juveniles that closed the previous week remained at Manby Flashes (Lincolnshire) on 31st, and another was seen at Homersfield (Suffolk) on 6th.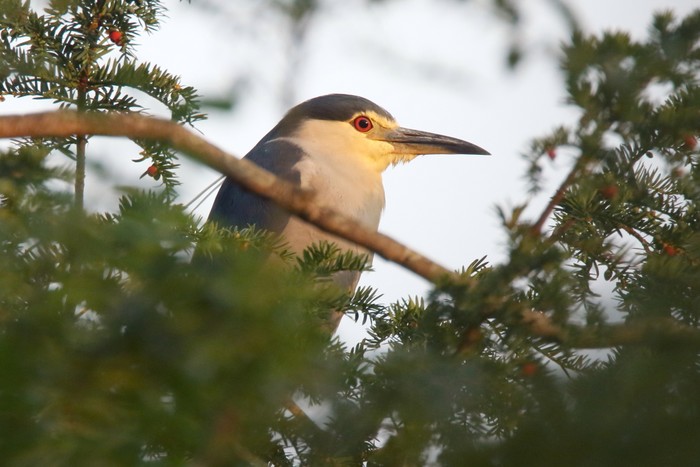 Where Glossy Ibis were concerned we've just the regulars at Newport Wetlands NNR (Gwent) still on 1st-4th and Fremington Pill (Devon) again on 5th to report.
Our non-Norfolk Common Cranes number the regular trio still present on the Ythan estuary (Aberdeenshire) on 31st; one seen at North Cave Wetlands YWT (North Yorkshire) on 3rd; and two seen in flight at Lakenheath Fen RSPB (Suffolk) on 3rd.
Finally, staying with Suffolk, a dead Spotted Crake was found on the beach at Kessingland on 2nd.
It was even more peaceful than of late on the rarity duckpond this week, with very few birds indeed to report upon. Not surprising, really, given the time of year.
Starting in Scotland, the drake Blue-winged Teal remained on Frankfield Loch (Clyde) on 1st-4th.
The drake King Eider was once more seen in Nairn (Highland) on 4th-6th.
And, completing our Scottish quackers, we've the regular drake Surf Scoter again off Musselburgh (Lothian) on 1st-5th, and another at Lunan Bay (Angus) on 5th-6th.
Down to the south coast to finish, the drake Ferruginous Duck remained settled in East Sussex at Pett Level still on 1st-6th.
<!—Section Title -->
After the recent feast of Pacific Golden Plovers, the famine – just one probable seen at Easington Straight (East Yorkshire) on 2nd this week. Yorkshire birders enjoyed plenty of compensation though in the form of that cracking Little Bustard…
A trio of Pectoral Sandpipers - at Tacumshin (Co.Wexford) on 1st, Old Hall Marshes RSPB (Essex) on 2nd, and Cley NWT (Norfolk) on 3rd-6th – were complemented by an additional probable bird, heard only, at Porth Hellick on St Mary's (Scilly) on 3rd.
Both of our recent adult Long-billed Dowitchers remained on offer this week – at Frampton Marsh RSPB (Lincolnshire) still on 1st-5th, and at Lough Beg (Co.Derry) on 31st-3rd.
Lincolnshire also provided a Kentish Plover this week, a female bird at Gibraltar Point NNR briefly on 5th.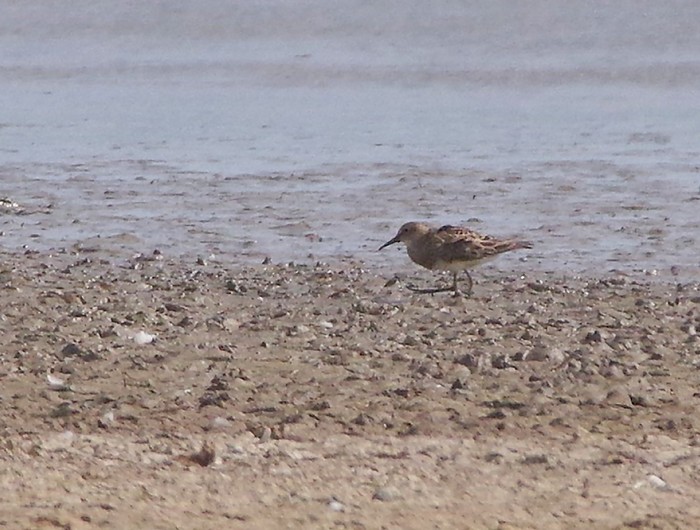 Ireland scored a Lesser Yellowlegs on 4th at Kinsale Marsh (Co.Cork).
Three Marsh Sandpipers were reported on 1st at Bowcombe Creek (Devon), but failed to coalesce into anything more concrete.
The Temminck's Stint remained in Lincolnshire at Middlemarsh Wetlands on 31st-1st, whilst another was seen on 31st at Ladybank (Fife).
Finally, a Red-necked Phalarope was found on 3rd at Newbiggin-by-the-Sea (Northumberland); and a Grey Phalarope was found inland at Grimley (Worcestershire) on 5th, with another seen passing Strumble Head (Pembrokeshire) the following day.
There was, events in Norfolk notwithstanding, precious little happening this week where gulls 'n terns were concerned, with just a couple of recent familiar faces keeping up appearances for another week, and a couple of new tern arrivals to liven things up a smidgen.
Kicking off in Kent, the adult Bonaparte's Gull remained at Oare Marshes KWT on 31st-6th.
Our only white-winger was the settled Glaucous Gull still enjoying all North Uist (Western Isles) has to offer on 2nd.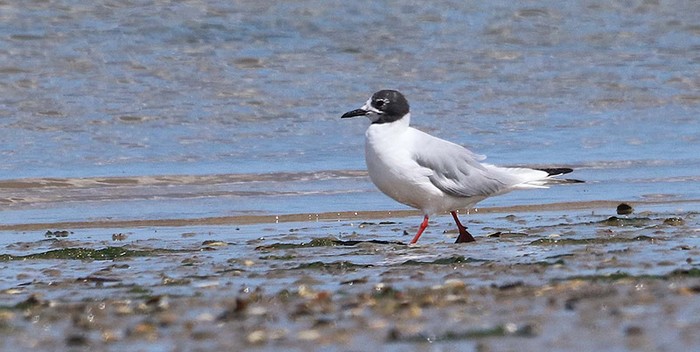 Cheshire scored late in the week with a Gull-billed Tern found at Sandbach Flashes in the morning of 6th.
A juvenile White-winged Black Tern was present at Edderthorpe Flash (South Yorkshire) on 5th.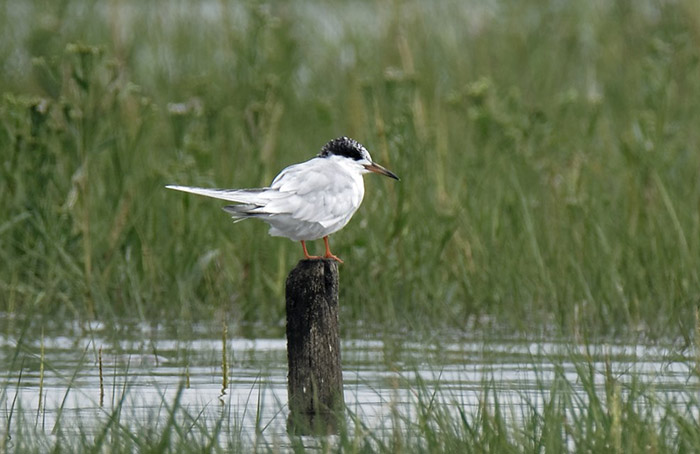 Finally, to Ireland now, where the adult Forster's Tern remained faithful to Co.Louth's Soldier's Point on 31st-5th.
Shetland provides the star feature of this section this week, with the news of a Snowy Owl seen 'recently' by crofters on the north side of Ronas Hill firming up, on 5th, into a definitive sighting thanks to Paul Bloomer's perseverance – seven hours of searching the furthest rocky reaches of Shetland's north mainland being rewarded with some distant views in the evening. This, presumably, is one of last year's birds that's been summering here – easily overlooked in such an infrequently visited and topographically challenging landscape.
Another settled Snowy popped into the news this week also – the female present still on St Kilda (Western Isles) again on 1st. All of which gives hope that, one of these days, the fates will allow two summering birds' paths to cross and a repeat of the happy events of long ago on Fetlar to occur.
In other news, a probable male Red-footed Falcon was seen in Croydon (London) on 3rd; while on the same day, a Black Kite was noted in Nottinghamshire at Woodborough.
The female Montagu's Harrier remained at Blacktoft Sands RSPB (East Yorkshire) on 5th.
A possible White-tailed Eagle immature flew past Whitburn (Co.Durham) on 6th.
A little late same colour, in the form of a Hoopoe at Wroxhall (Isle of Wight) kicks off our passerines section this week, but our attention was more drawn to the continuing glimmers of autumn passage in north where bits and pieces were being uncovered.
In Shetland, the recent invasion of Two-barred Crossbills flickered back into life again with a small succession of sightings – three were seen on Unst on 1st and 5th, with at least one still present on the island on 6th; three more were found on Mainland at Weisdale on 2nd; and a further trio were present on Fair Isle on 4th, with one bird still present there on 5th-6th. Away from Shetland two birds, present since 30th July, remained on North Uist (Western Isles) on 1st, with at least one remaining until 6th; a male bird was found on Barra (Western Isles) on 6th; and a further possible was logged over Alnwick (Northumberland) on 3rd.
Warblers, however, showed signs of things beginning to hot up, just a little, in the dying days of summer – with a Greenish Warbler on Shetland at Scatness on 1st perhaps the warmest of offerings.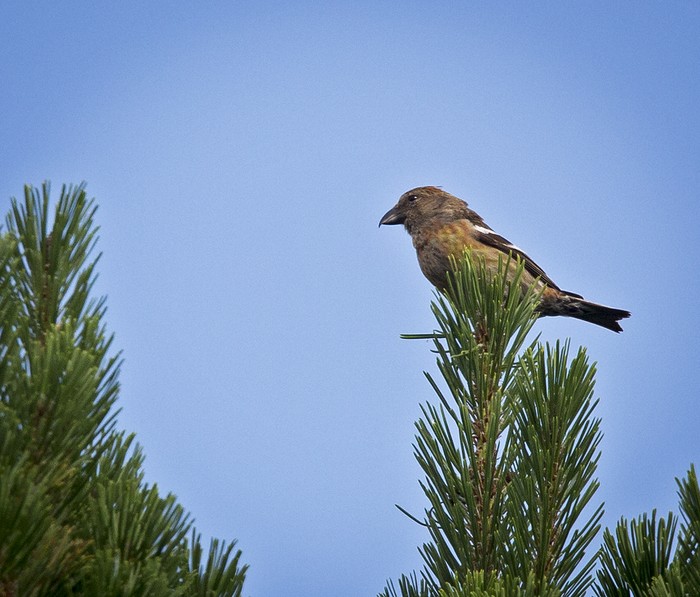 Fair Isle (Shetland) had more variety – two Barred Warblers on 1st-5th, with one still present on 6th when it was trapped and ringed; and two Icterine Warblers on 31st, including one trapped and ringed there. Further examples of the latter species were trapped and ringed on North Ronaldsay (Orkney) on 1st and at Sandwich Bay (Kent) on 3rd. A final probable bird was noted at Reay (Highland) on 4th. Another Barred Warbler was found in the afternoon of 6th at Bakkasetter on the Shetland mainland.
Fair Isle also held onto a Marsh Warbler on 1st-3rd; while at least four birds, including two juveniles, at Sykes Field at Kilnsea (East Yorkshire) on 4th-6th suggested a recent happy event in the vicinity.
Widely separated Melodious Warblers were logged on the Isle of May (Fife) on 31st and at Porthgwarra (Cornwall) on 3rd-4th.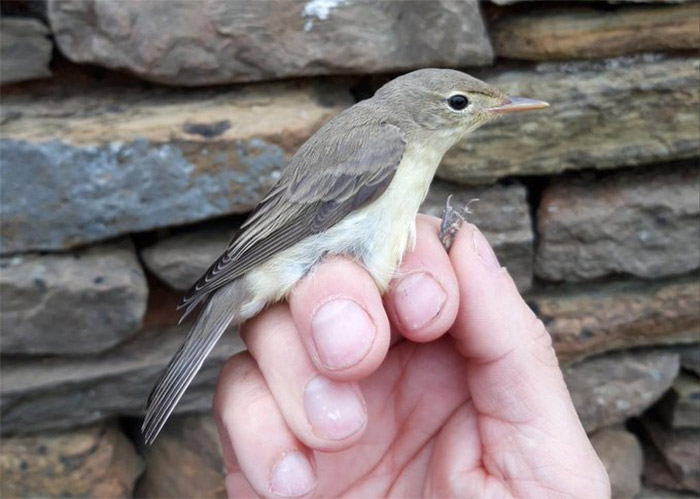 Completing the warblers, and couched in caveats, a possible Aquatic Warbler was reported, briefly, on St Mary's at Porth Hellick on 5th, the news emerging nationally the following day.
A Red-backed Shrike was seen on 2nd near Pwllheli (Gwynedd) at Pen-ychain.
A probable Short-toed Lark was found at Aber Dysynni (Gwynedd) on 5th.
Co.Donegal landed an adult Rose-coloured Starling at Burtonport on 6th.
The two juvenile Choughs first found in the preceding week remained in the Malvern Hills on the Worcestershire / Herefordshire border at Herefordshire Beacon until 2nd. Their departure may, or may not, be related to the finding of a juvenile in Derbyshire in the Goyt Valley on 3rd-6th.
Finally, a singing Common Rosefinch was at Gibraltar Point NNR (Lincolnshire) on 2nd, and another male bird was found on Fair Isle (Shetland) as the week closed on 6th.
Absent from the news for months now, but surely set to feature prominently in the weeks and months to come, we'll start our further afield news about as far away as we can stretch Western Palearctic boundaries and credulity – out on the Azores, where two Least Sandpipers were seen on Sao Miguel on 31st, and another was found on Faial on 4th.
In Portugal, a Franklin's Gull was found at Vila Nova de Milfrontes on 3rd-4th; while on the other side of the Iberian Peninsula, in Spain the Red-footed Booby remained at Caleta de Velez on 3rd-5th.
Never absent from the news in recent months, Scandinavia got a look in this week with a Roller in Denmark at Skagen on 4th.
Some of the past week's predictions had a little of the shooting fish in a barrel about them - Wilson's Petrels and White-rumped Sandpipers always had the air of inevitability about them, didn't they? And seem nailed on certainties for the coming week or two as well.
The next few weeks of August are pretty much interchangeable in terms of what might realistically be found – good seabirds, and good shorebirds will be the flavour of the month. This week, then, assuming that most of us are more likely to get to a wetland than take to the waves, I'll opt for a handful of likely waders.
Specifically, sandpipers. Historically, we're into double figures of Baird's Sandpiper in the coming days, so that's a decent bet I reckon. Nine past records of Semipalmated Sandpiper also give cause for cautious optimism on that front. Longer shots? Broad-billed and Stilt Sandpiper both have a handful of past records, but for a real crowd-pleaser, how about another Sharp-tailed Sandpiper? One spent a couple of days at Kent's Oare Marshes KWT on 10th-11th August 2007; with only around 30 previous British records, and none since 2012, a repeat would be more than welcome.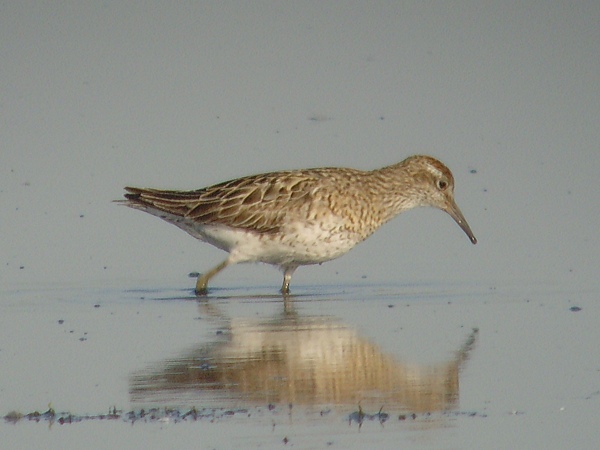 Jon Dunn
7 August 2019
Many thanks to all contributors for their photos and videos this week.
Share this story
Tweet