Weekly birding round-up: 19 - 25 Jun
The week at a glance
Irish waters score a South Polar Skua
A Blue-cheeked Bee-eater briefly appears in Highland
Yorkshire weighs in with a Sooty Tern
Gloucestershire goes big with a Little Bustard
And Dorset adds another Slate-coloured Junco to the year's tally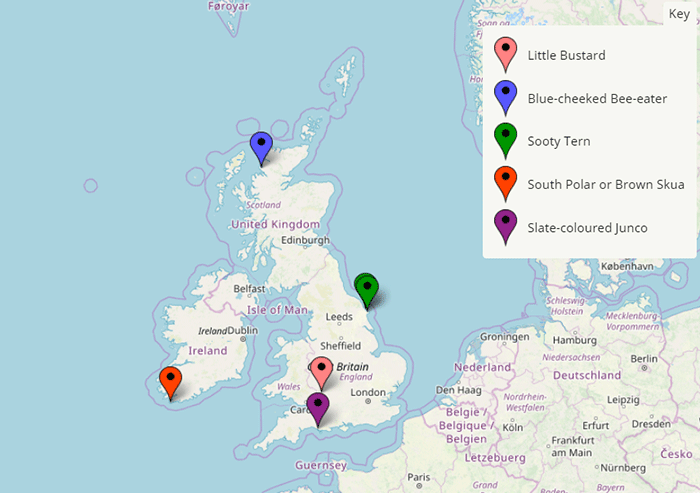 Where do we even begin with a week like the one that's just passed? Midsummer birding is one of two things – either generally very peaceful and quiet, or generally peaceful and quiet with some absolutely belting, stand-out highlights. This week will go down as one of the latter…
South Polar Skua
We all suspect, deep in our bones, that there's some good stuff happening out of sight of land, especially the nearer one gets to the continental shelf edge. The venerable Scillonian lured us, for years, to head west and add Wilson's Petrel to our lists and, if we were really lucky, an outside chance of Fea's Petrel. In more recent years the pelagic trips operating out of Scilly have changed the game entirely, with some outrageous tallies of all sorts of goodies. And yet compared to, say, the USA, we're still just dipping our toes in the water where regular pelagic trips are concerned. There's that lingering feeling that there's a lot more going on out there, unseen.
It's primarily logistics that seem to scupper our chances of getting out there and amongst it all. That, however, is not such an issue for those on board the RV Celtic Explorer - a vessel that's plying her trade far from land off the coast of Ireland conducting survey work from 47°N northwards to 58°30'N. It's a chance to spend days immersed in the most incredible transect of shelf waters – and, inevitably, there will be good birds found.
This week, during only the first leg of the 2019 survey, RV Celtic Explorer scored heavily, with what stands to be Ireland's first accepted South Polar Skua, seen 110 miles south of Mizen Head (Co.Cork) on 22nd.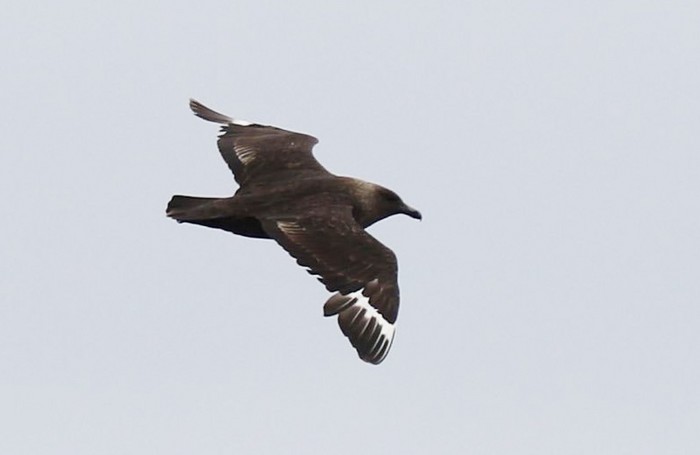 Britain, of course, has two accepted records of South Polar / Brown Skua, in the form of the two birds taken into care on Scilly and in Glamorgan respectively in the winter of 2001/2. DNA samples from these initially suggested they were of the Brown Skua group before, latterly, the results were revised to either/or South Polar / Brown Skua.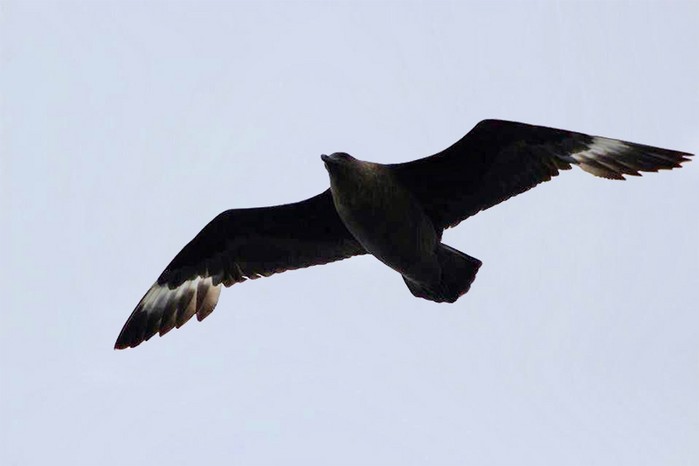 None of which is to say that British or Irish birders haven't been seeing South Polar Skuas hitherto. No lesser a seabird luminary than Peter Harrison claimed Britain's first sightings off St Ives (Cornwall) in October 1982; and more birds were to follow in latter years, off St Ives and at sea from the MV Chalice and the Scillonian. One was even claimed from the north Norfolk coast in October 1985. Ireland, more recently, has had calls from Bridges of Ross (Co.Clare) in August 2006 and Mizen Head in October 2012. At least some of those were, surely, the real deal…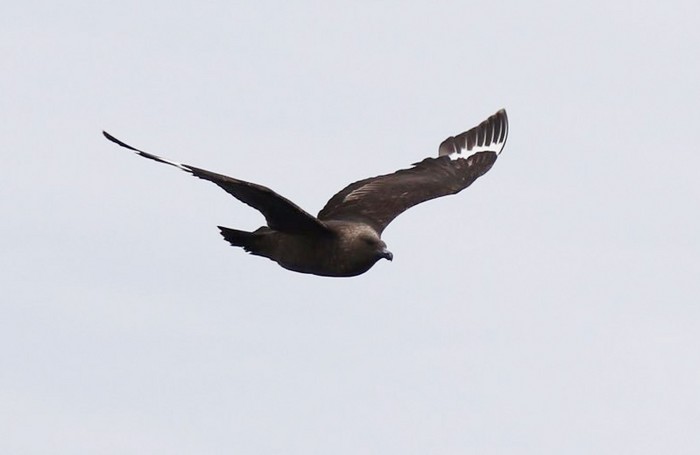 The bar is, however, understandably set high for these birds, and it would take a well-photographed individual to make the grade. That's lucky, then…
Blue-cheeked Bee-eater
If identifying a South Polar Skua has proven something of a headache in the past few decades, the very antithesis of this conundrum must be the dream that's a Blue-cheeked Bee-eater - multi-coloured, distinctive, as refined and beautiful as a skua is, well, salty and with a face only a mother could love.
That one was found on 23rd in Highland was good news, and set the mega alerts a-chiming. That's a first for Highland and comes some 10 years after the last British bird, the one-day individual at Bockhill (Kent) on 22nd July 2009.
The bad news? It sat around on wires for 10 minutes and then flew off, heading west, and hasn't been seen again subsequently.
June and July are, insofar as we can discern trends from 10 prior British records, prime time for Blue-cheeked Bee-eaters and, encouragingly, there's some succour to be found in that in both the summers of 1989 and 2009 there were multiple records. There's time yet for another, more obliging, sighting in 2019…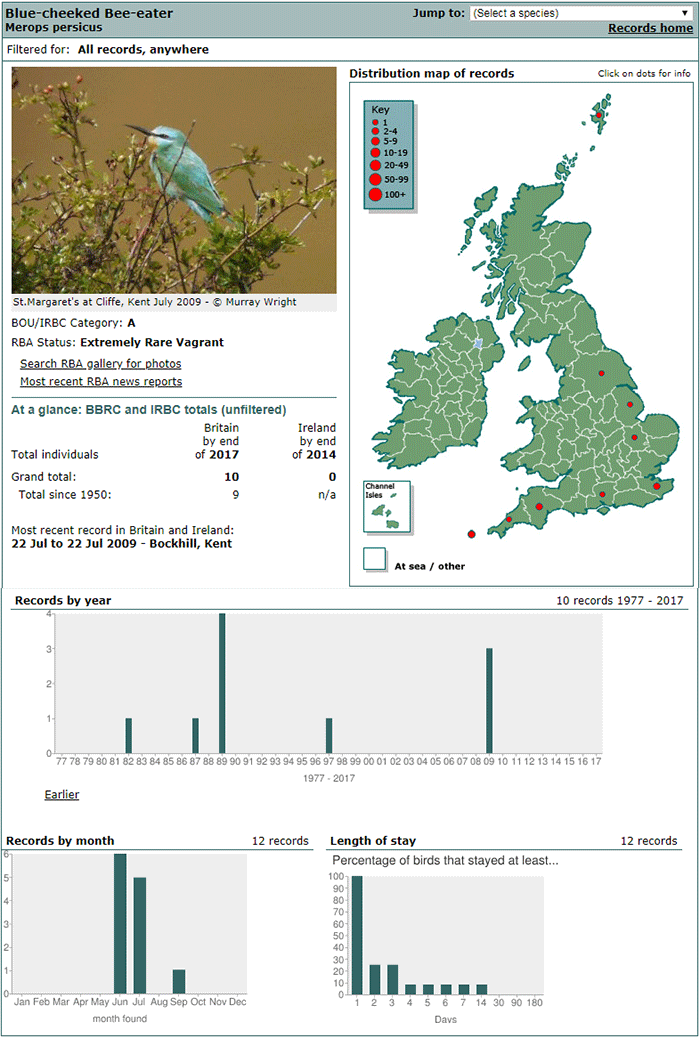 Sooty Tern
An already busy week for headlining birds got that little bit busier in the morning of 24th with the sighting of either a Bridled or a Sooty Tern off Bempton Cliffs RSPB (East Yorkshire). Just a few minutes later that news had firmed up with a subsequent sighting – East Yorkshire had just got its first Sooty Tern.
(Good news for county listers, that - Bridled Tern was already on the books).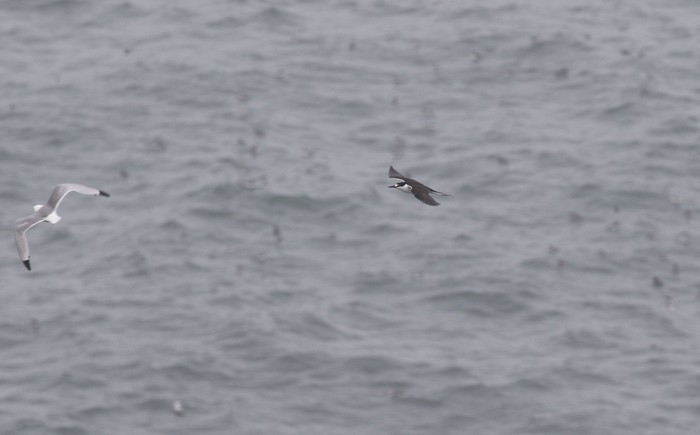 It was a curious omission, really, given that the previous 26 British records of Sooty Tern paint the south and east coasts of England from Devon east to Kent, and from Kent north to Fife, with very few counties on the east coast missing out. Given the immense birding pedigree of Yorkshire, it was probably just a matter of time, really.
Very little time had elapsed on 24th before the tern had motored north, being logged heading north still past Filey Brigg (North Yorkshire) in the early afternoon.
Little Bustard
23rd June was proving to be a busy day for rarity arrivals, with said fleeting Blue-cheeked Bee-eater complemented by a more obliging bird altogether – a male Little Bustard found at Slimbridge WWT (Gloucestershire). Obliging in every sense – on a Sunday, in the south of England, at a site that allowed easy access and, better yet, it actually stuck around, being present still on 24th-25th.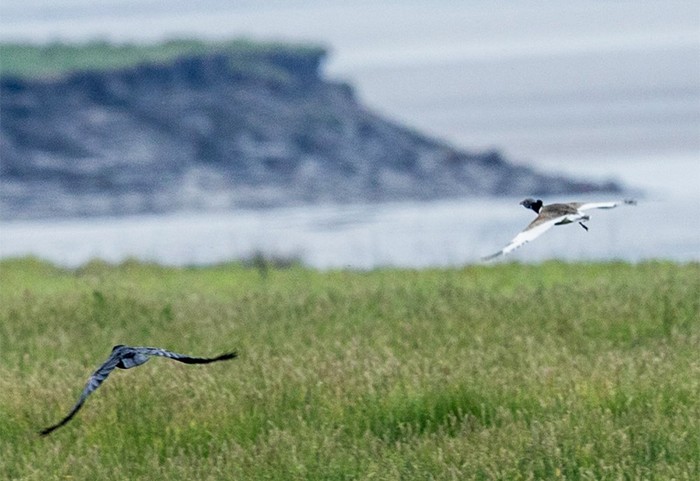 The statistics for Little Bustard are deeply deceiving – over 200 prior British records would suggest they're not that big a deal. Look a little closer and you'll see just 28 accepted birds post-1950. Our last, it must be noted, was the unfortunate first-winter female bird found shot in Norfolk at Blofield on 27th January 2015; and indeed, that time of year is traditionally when Little Bustards seem to turn up here. Midsummer birds are, apparently, an even scarcer commodity than a Norfolk shotgun licence holder who can tell the difference between a Pheasant and a Little Bustard.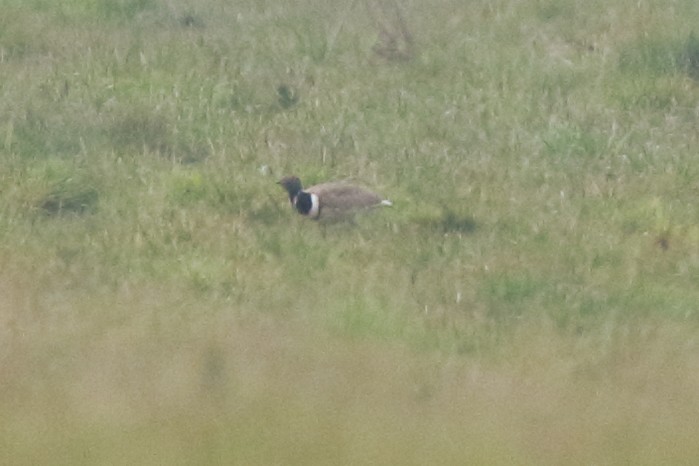 And since 1950, it's also worth noting that Gloucestershire's birders haven't had a chance at adding Little Bustard to their county list – so this cracking male bird will have been welcome on every level, for locals and listers from further afield alike.
Slate-coloured Junco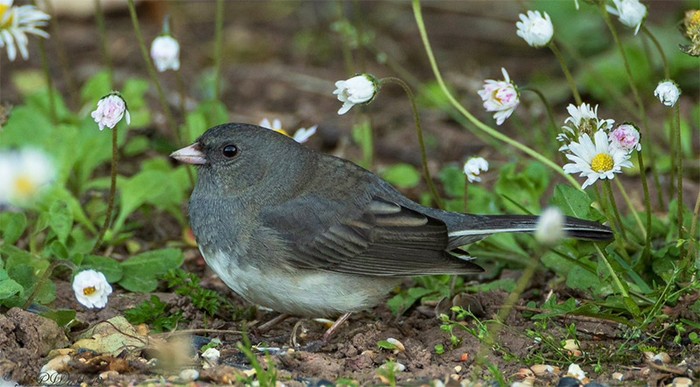 2019 has already proven to be a good year for the always charming and welcome Slate-coloured Junco - we've had two birds, both in April – one a brief garden visitor in Ventnor (Isle of Wight), and the other a more obliging individual in a Westward Ho! (Devon) garden.
Dorset's enjoyed three previous records, albeit the last one was way back in November 1993. One this week on 21st in the Abbotsbury Swannery car park was therefore always going to be popular with local birders; with the additional bonus of the lingering Glossy Ibis still present at Abbotsbury at the time too.
And who said June was quiet?!
While a certain skua and tern would beg to differ otherwise, by and large this week was pretty peaceful where seabirds of all ilks were concerned.
Three Cory's Shearwaters were noted from the Scillonian on 20th; and a further Cornish sighting came off Mousehole on 23rd.
And a Balearic Shearwater was seen on 23rd from Berry Head (Devon); with three more noted on 23rd off South Stack (Anglesey); and a final bird on 25th from Thurlestone Bay (Devon).
Our wandering Scottish Black Stork checked in again, briefly, this week, being reported from Loch of Strathbeg RSPB (Aberdeenshire) on 19th. Where will it pop up next?
A Night Heron made a fleeting appearance at Chigborough Lakes (Essex) on 23rd; Purple Herons, meanwhile, were accounted for by the lingering bird still in Norfolk this week at Titchwell RSPB on 19th-25th, and further individuals seen over Rimac (Lincolnshire) on 21st and Stodmarsh NNR (Kent) on 22nd.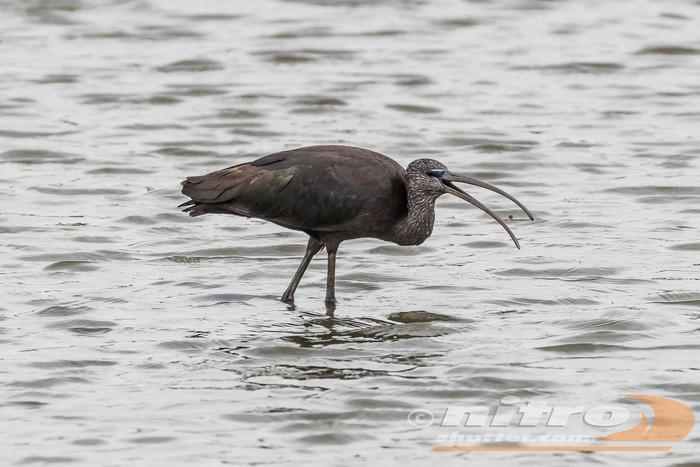 Glossy Ibises continued their residency at several British and Irish sites - at Newport Wetlands NNR (Gwent) on 19th-22nd; Abbotsbury (Dorset) on 19th-25th; Marshside RSPB (Lancashire) still on 21st-24th; at Portmore Lough RSPB (Co.Antrim) on 20th; and at Cahore Marsh (Co.Wexford) on 21st.
The Spotted Crake remained in song at Welney WWT (Norfolk) until 25th, whilst another was present at an undisclosed Charmouth (Dorset) site on 20th. A rasping Corncrake was still present on North Ronaldsay (Orkney) on 19th.
Still present in Britain for its 99th day on 25th, the drake Baikal Teal remained this week at Druridge Pools NR (Northumberland), fast becoming as colourful and reliable a presence as was the drake Hooded Merganser that spent so long at Radipole RSPB (Dorset) in the not so distant past.
Moving swiftly onwards…
Plenty of variety on the rare duck front remained available in Scotland. We'll kick off with one of the recent Blue-winged Teals still present in Clyde, the drake on Frankfield Loch on 29th-25th; whilst the other drake was once again seen on Douglas Water on 24th.
In Highland, the drake Black Duck was still to be seen at Strontian on 22nd.
The drake Green-winged Teal, seemingly paired up with a female Eurasian Teal, remained on Unst (Shetland) on 22nd, being seen at Baltasound that day and coming to be the 206th species on Shetland rarity-magnet Brydon Thomason's house list. (He took that to 207 species the following day with the addition of Nightjar - a house list to reckon with, and one that's growing at a fearsome pace even now). A further bird was present in Norfolk at Cley NWT on 19th-25th.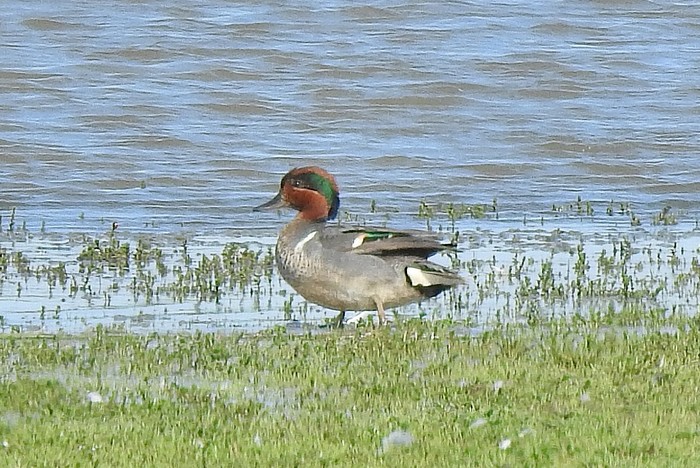 In Ireland, Co.Wexford accounted for all of our week's American Wigeon sightings – a first-winter drake at Lady's Island Lake on 22nd and Tacumshin on 23rd, and a drake at Cahore Marsh still on 23rd.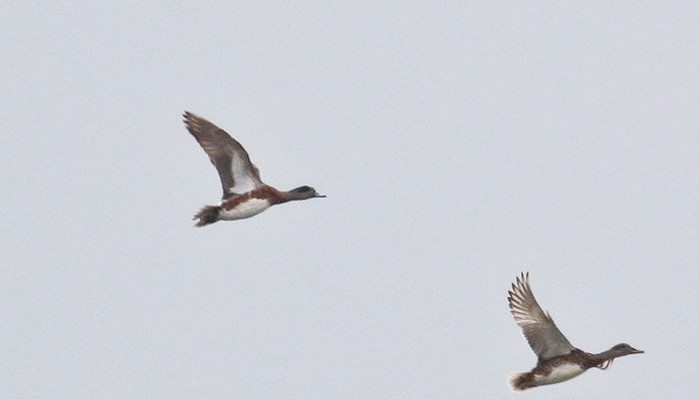 Back in Scotland, the drake Lesser Scaup was still present on Millar's Moss reservoir (Borders) on 20th-23rd.
The drake Ferruginous Duck remained in West Yorkshire at South Kirkby on 20th-25th.
Drake Ring-necked Ducks were seen once more at Grimley (Worcestershire) on 19th-21st; Radipole RSPB (Dorset) again on 20th; at Llyn Brenig (Denbighshire) again on 21st-23rd; and at Wellington GPs (Herefordshire) on 25th.
The drake King Eider was again noted at Nairn (Highland) on 22nd; while at Dunnet Bay the two recent drake Surf Scoters were still present on 20th-21st.
<!—Section Title -->
Bumped from the headlines by a host of new rarities, last week's late arrival, the Lincolnshire Black-winged Pratincole remained at the start of the current recording period at Frampton Marsh RSPB until 21st; a deservedly popular bird.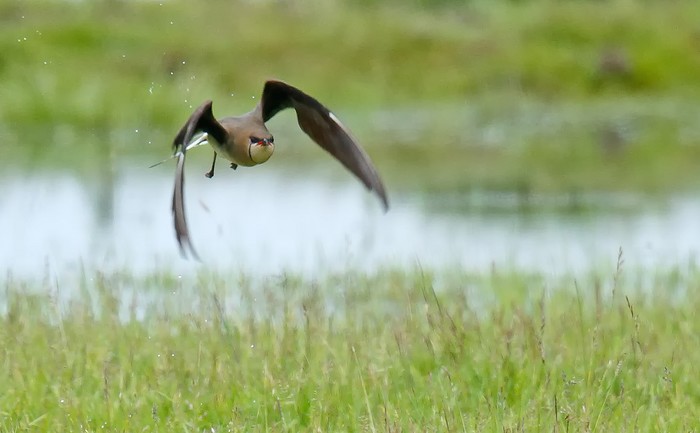 Topping the rest of the weekly wade through the scarce and rare shorebirds is the adult Marsh Sandpiper found at Cliffe Pools RSPB (Kent) on 19th-25th, cementing the county's reputation as the place to see one in Britain – to the end of 2017 Kent can claim an impressive 23 accepted records of this dainty wader, a track record that only Norfolk comes close to touching.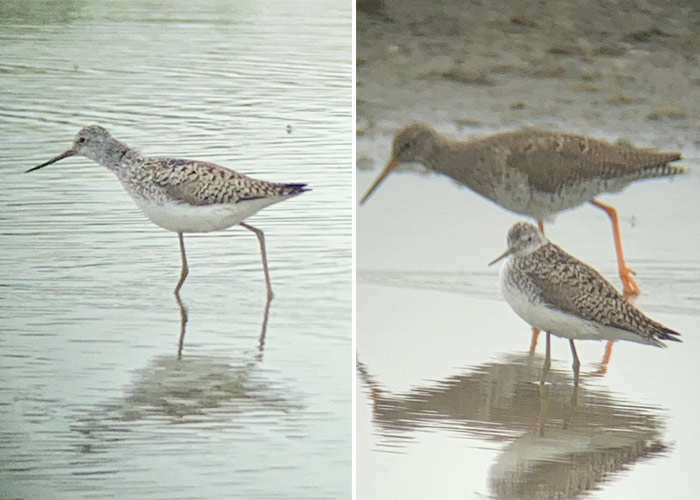 In Shetland, the Lesser Yellowlegs last seen some three weeks previously was once again seen in the south Mainland, present at Scatness on 19th-20th.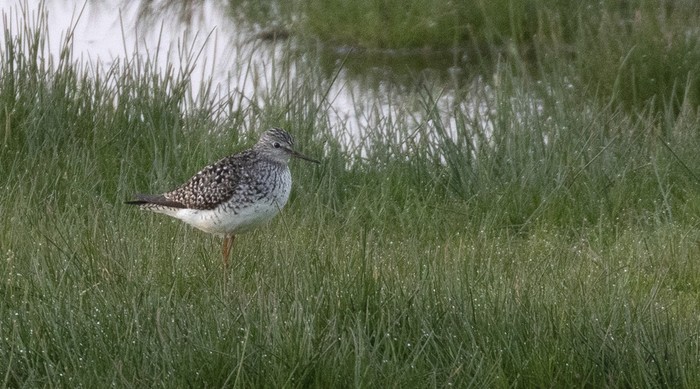 An unconfirmed report came of a Spotted Sandpiper at Loch Insh (Highland) on 22nd.
In Co.Antrim the Long-billed Dowitcher remained at Belfast Lough RSPB on 19th-25th.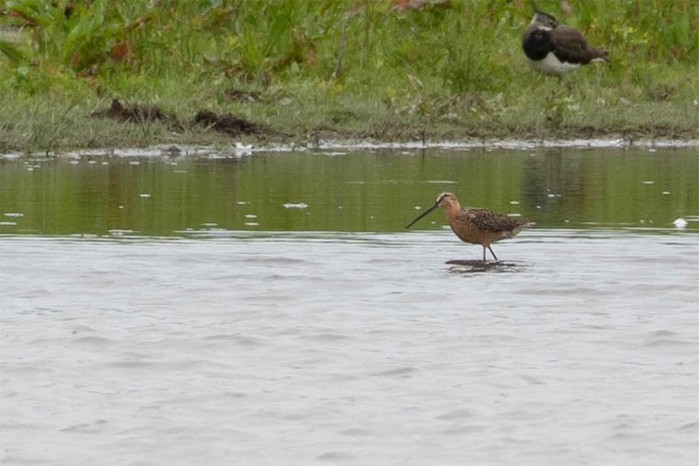 Co.Wexford provided one of the more noteworthy sightings (and sounds) of the week – a singing Temminck's Stint on Ring Marsh on 21st-22nd. Another was present at Cresswell Pond NWT (Northumberland) on 23rd.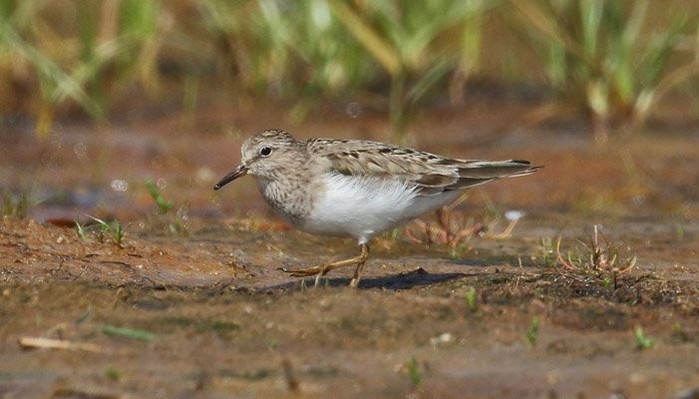 Two Red-necked Phalaropes were logged this week – one at Cresswell Pond NWT (Northumberland) on 21st; and the other in Ireland on Broadmeadows estuary (Co.Dublin) on 22nd-23rd.
Well, that's midsummer's day passed and, with it, the nights are drawing in and winter is coming. How else to (tongue in cheek, naturally) explain the upturn in white-winged gulls compared with recent weeks?
Not that this amounts to lots of either species. Just some. We'd half a dozen Iceland Gulls, all bar one seen in Scotland – at Leebitten (Shetland) on 19th; in Highland at Thurso on 20th and Skye on 20th and 22nd; on Barra (Western Isles) still on 23rd; in Northumberland at Dunstanburgh Castle on 23rd and Bamburgh on 24th; and on Unst (Shetland) on 25th.
And as for Glaucous Gulls, well, a trio of them – all Scottish sightings. These were at Lossiemouth (Moray) on 19th; Sandwick (Shetland) on 20th; and on North Uist (Western Isles) on 23rd.
Finally, a possible Gull-billed Tern flew west over Fairburn Ings RSPB (West Yorkshire) on 20th, and another possible was noted on Orkney at Birsay on 23rd.
A handful of Montagu's Harriers were logged this week, in the east and south – on 20th, a ringtail was at St Osyth (Essex) and a first-summer male was noted at St Mary's Bay (Kent), with another probable ringtail that day over Spurn (East Yorkshire); and on 23rd, a further ringtail was found at Medmerry RSPB (West Sussex).
A Black Kite was reported on 20th near Nevern (Pemrbokeshire); another was seen on 21st at Sturton by Stow (Lincolnshire); and a further probable bird was logged on 24th over the M5 near Churchdown (Gloucestershire).
Last, but not least, a Snowy Owl was a fine midsummer find on Mount Brandon (Co.Kerry) on 20th; and the female bird remained in residence on St Kilda (Western Isles) on 24th.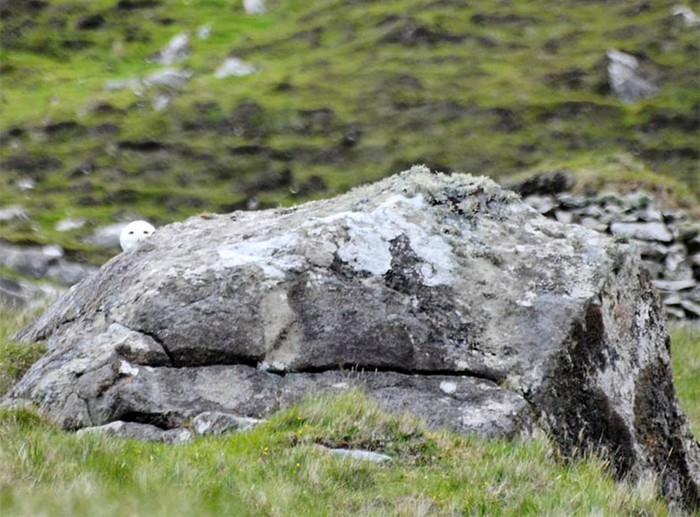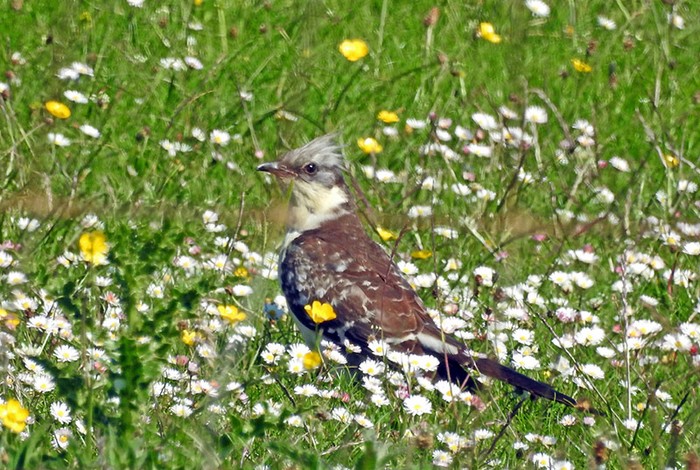 Making a change from starting with the warblers, and in the headlines but for the plethora of other quality this week and several earlier examples this year, a Great Spotted Cuckoo must have been a most unexpected find on Iona's (Argyll & Bute) machair on 23rd-25th.
Playing a supporting role to the big one in Highland, a number of Bee-eaters were logged this week – one on St Mary's (Scilly) on 21st-22nd; another was present at Cliffe Pools RSPB (Kent) on 21st; and two flew over Shrieking Pit at Hungry Hill (Norfolk) on 23rd, straight out of Stephen King. On 24th two were logged at Dungeness (Kent), two more flew over Landguard NR (Suffolk), and a possible was heard over Alexandra Park (London).
A late Hoopoe was seen at Landguard NR (Suffolk) on 23rd.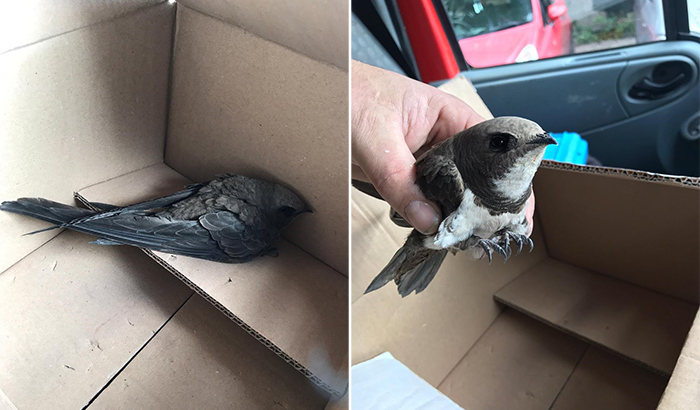 A Pallid Swift was picked out of some 5,000 Common Swifts moving past Spurn (East Yorkshire) on 20th; an Alpine Swift, meanwhile, was picked up in a warehouse in Leigh (Greater Manchester) and later released at Astley.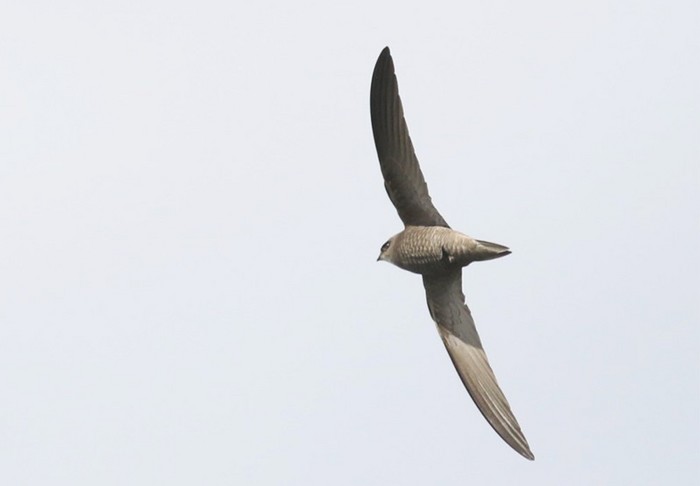 Skokholm (Pembrokeshire) landed a Short-toed Lark on 22nd-23rd.
And so to the warblers, where it was all about the songsters once again. We'll start them off with a new Iberian Chiffchaff, the latest in an already bumper spring and early summer for the species – this one was in Co.Durham at Swalwell on 21st-25th. Territorial birds remained at Dunwich Heath NT (Suffolk) on 19th; Pilling Lane Ends (Lancashire) on 19th-23rd; and at South Kirkby (West Yorkshire) still on 22nd.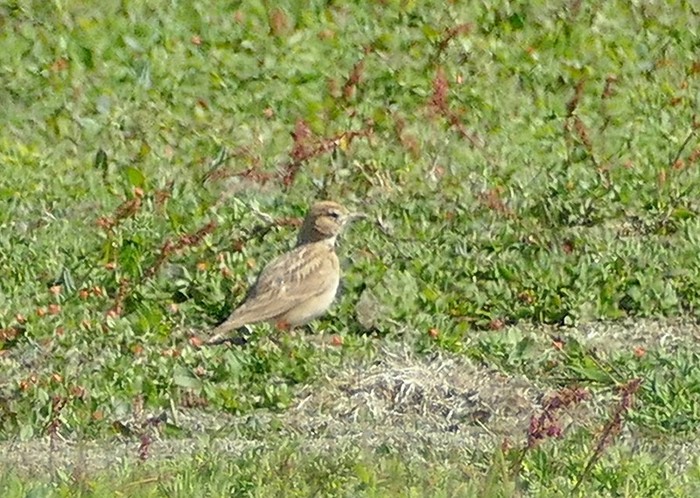 Savi's Warblers remained at Minsmere RSPB (Suffolk) until 21st and, on Anglesey, at Cors Ddyga RSPB until 25th.
The Great Reed Warbler at Low Barns NR (Co.Durham) was last heard on 19th; but the individual at Pugneys CP (West Yorkshire) was made of sterner stuff and remained until 24th.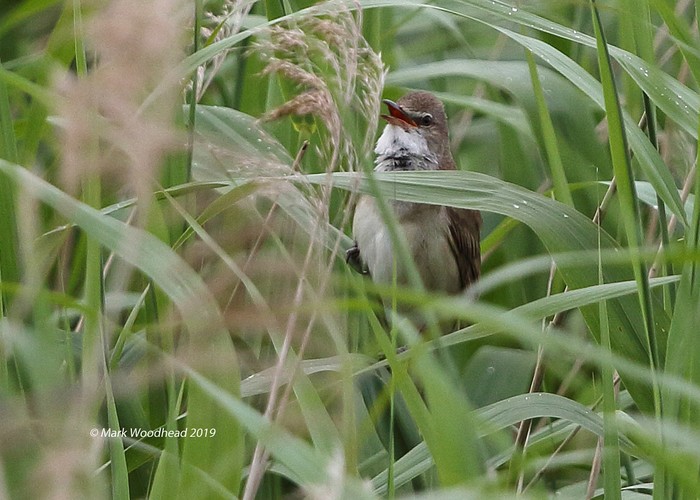 A couple of singing Blyth's Reed Warblers were on Scottish islands this week – at Balranald RSPB on North Uist (Western Isles) on 21st, and on Unst (Shetland) on 23rd-25th – audible from, of course, Brydon Thomason's kitchen window! A further singing bird was present at a site with no public access in Lothian at Livingstone on 24th.
Unst also sported a singing Marsh Warbler this week on 19th-20th still; and further birds in song were found on The Lizard (Cornwall) on 20th-21st, at Frampton Marsh RSPB (Lincolnshire) on 20th, and at Lodmoor RSPB (Dorset) on 22nd-24th.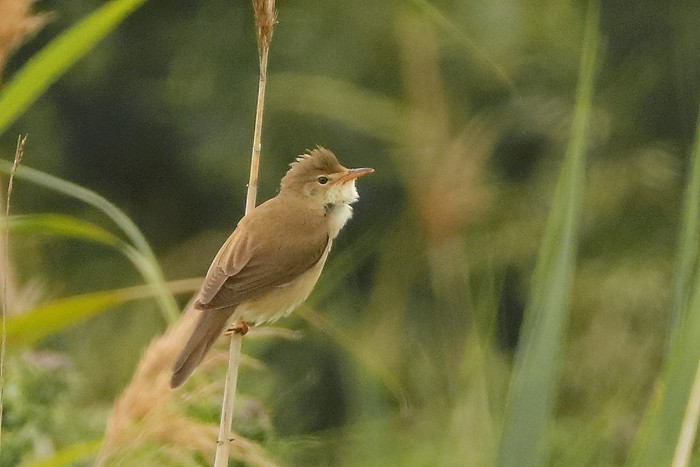 The singing Icterine Warbler remained at Colemore (Hampshire) on 19th.
On Fair Isle (Shetland), the Eastern Olivaceous Warbler remained on 19th-20th, joined there by an Eastern Subalpine Warbler on 19th also. A probable Western Subalpine Warbler was present at Flamborough (East Yorkshire) on 24th.
A solitary Golden Oriole in song on Lundy (Devon) comprises our only record for the species this week.
A Woodchat Shrike was found in Cornwall at Treen on 20th, followed on 23rd by a brief further possible bird in Co.Down at Orlock Point.
A singing Red-breasted Flycatcher was at Nanjizal (Cornwall) in the evening of 23rd; nearby Porthgwarra scored a Tawny Pipit on 25th.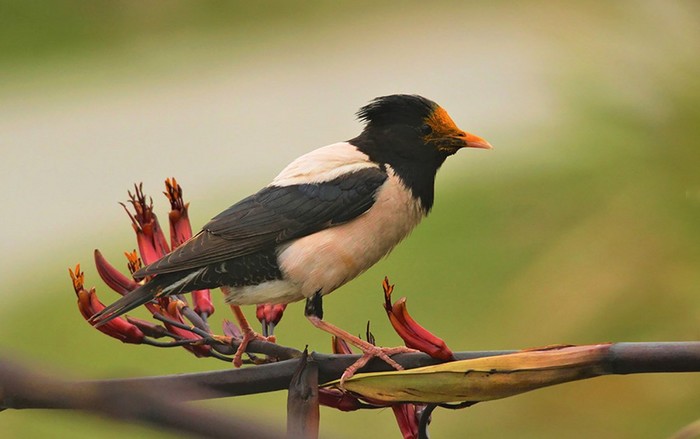 Rose-coloured Starlings continued to feature, as is traditional at this time of year, with double figures noted nationally. One made it to Ireland – seen in Co.Clare at Kilcredaun on 20th; Scottish sightings came from Tankerness (Orkney) on 19th, Barnton (Lothian) on 19th-21st, Skye (Highland) on 22nd, North Uist (Western Isles) on 23rd, Durness (Highland) on 24th, and on Luing (Argyll & Bute) for around a week until 24th; and a quartet of birds were seen in the south-west, at Exminster (Devon) on 21st-22nd, in Yeovil (Somerset) on 21st, and in Cornwall on 24th at Gwithian and The Lizard, the latter Cornish birds still present on 25th.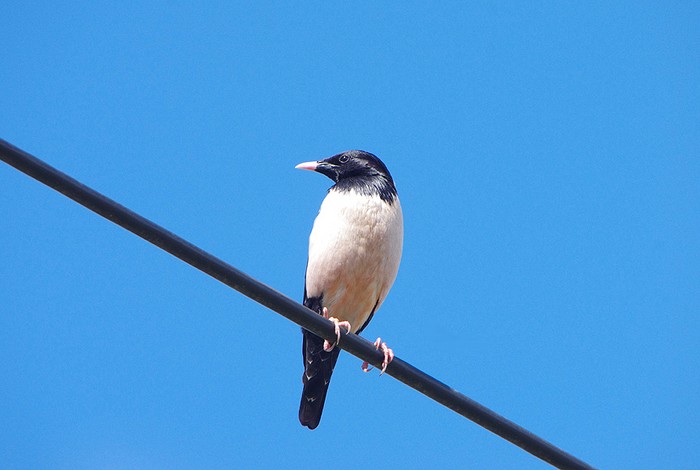 The settled Serin remained in song for another week at Littlestone-on-Sea (Kent), still present there until 24th; further birds were seen over Spurn (East Yorkshire) on 20th and on Portland (Dorset) on 22nd-23rd, the latter bird being trapped and ringed on 23rd.
A Common Rosefinch remained on Fair Isle (Shetland) on 19th, while further offshore Scottish birds were seen on Unst (Shetland) on 22nd and Barra (Western Isles) on 23rd.
Finally, we finish the week's British and Irish bird news on a colourful flourish with two sightings of male Black-headed Bunting in Shetland – at Noness on 19th, and then Sandwick on 22nd-23rd.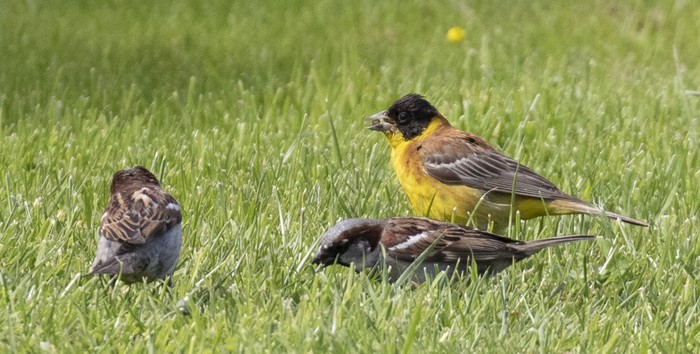 It's diverting to speculate what would have been made of them had this involved a Red-headed Bunting - one was found this week in Finland. Red-headed Bunting is, of course, a glaring omission from the British list. All of our previous records have been tarred with the brush of the cage bird trade – but, as Keith Vinicombe noted in his 2007 British Birds article, we could reasonably regard them as a likely vagrant to Britain and assume that, "their arrival patterns would be similar to those of Rose-coloured Starling and Black-headed Bunting, i.e. with a variable late spring/early summer peak, relating principally to overshooting males, and a smaller secondary peak of first-winters in autumn".
British records surged in the 1950s-1970s, a rise ascribed to the buoyant cagebird trade in the species at the time. The first British record, a male on North Ronaldsay (Orkney) on 19th June 1931 predated that; our next, a male collected near Lerwick (Shetland) on 5th June 1950 (wrongly ascribed as 8th June in the records) was arguably just as likely to have been wild but falls foul of the imminent rise in sightings over the course of the following 30 years, particularly in the 1960s and 70s.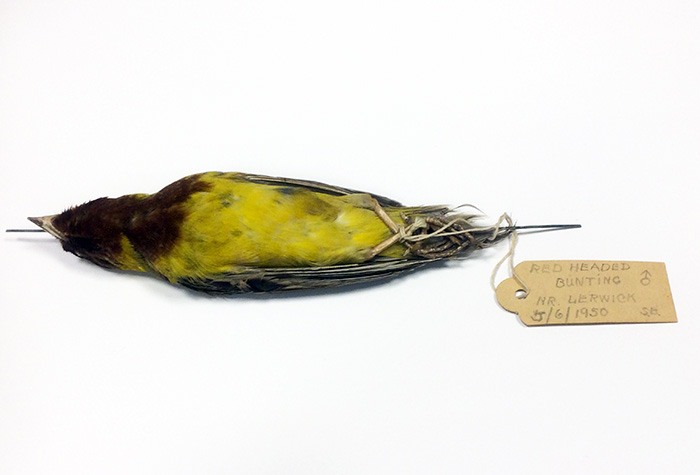 So for now, the wait goes on for a June or July Red-headed Bunting that can test the mettle of BOURC once again…
After which, it seems only right that we start our overseas summary this week with the male Red-headed Bunting in Finland at Halikonlahti on 21st-25th the third national record, subject to acceptance. Finland also made the bunting news with a singing male Yellow-breasted Bunting at Marjaniemi on 20th. How times have changed for that unfortunate species…
In Holland, a Griffon Vulture was seen on 23rd over Haaksbergerveen; a Green Warbler was found on 24th at Vlaardingen; and, following a sighting in Belgium at 11th at Prosperdrop, a Red-wattled Plover was present on Texel on 19th-23rd. Not sure what to make of that really, particularly in the light of the Grey-headed Plover seen in Scandinavia a few weeks back. In the captive bird literature Red-wattled Plovers are described "like many in the plover group, [as] prolific and easy birds to rear. They exhibit well, getting along with other species in a free-flight enclosure.
Which inspires no end of confidence in all extralimital lapwings, really.
Ääni haudan takaa! Ensimmäinen #kultasirkku Suomessa sitten 2007, tänään aamulla Hailuodon Marjaniemessä (© Kalle Hiekkanen). Erittäin ilahduttava havainto Suomessa hävinneeksi luokitellusta lajista, vaikka tn. kyseessä on vain yksittäinen harhailija. pic.twitter.com/60KvtBkRZk

— BirdLife Suomi (@BirdlifeSuomi) June 20, 2019
Moving onto firmer ground, Belgian birders enjoyed a River Warbler at Zichem on 18th-24th and a Black Vulture at Honnay on 21st.
The Eastern Imperial Eagle remained in Germany at Randowbruch on 20th; Austria, meanwhile, landed a national first in the form of a Franklin's Gull at Lake Constance on 22nd.
Spain's 7th Red-footed Booby remained into the current week, being seen at Caleta de Velez still on 19th-24th.
And finally, much further from home, a Trindade Petrel was logged at sea off Pico (Azores) on 22nd.
The forecast for the week ahead is an interesting one, with high pressure creeping in off the Atlantic and, with it, southerly winds coming up into Britain and Ireland from heatwave-bound southern Europe. If we'd not already had one, I'd be thinking of the likes of Little Bustard in the coming days.
Failing which, it's time to let the old imagination run riot. Statistically the last week of June is a quiet time for rarities, so we need to go big or go home on the prediction front. And on that front, I still maintain we could be in for another Blue-cheeked Bee-eater this summer…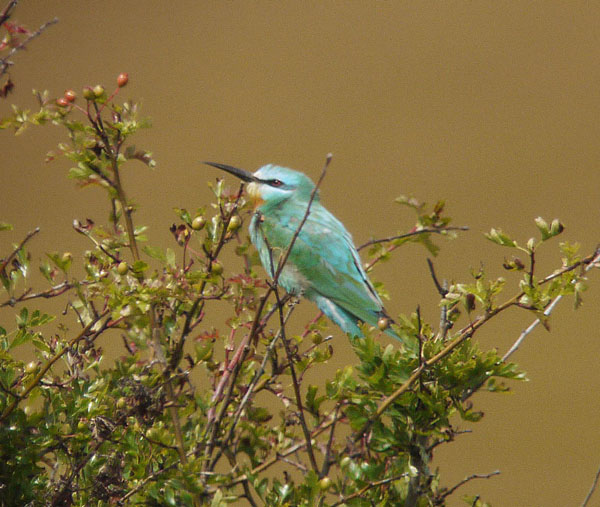 Jon Dunn
26 June 2019
Many thanks to all contributors for their photos and videos this week.
Share this story
Tweet