Weekly birding round-up: 22 - 28 May
The week at a glance
East Sussex gets the week off to a flying start with a Crag Martin
In Norfolk, an Upland Sandpiper briefly brightens up the Bank Holiday weekend
After the old school excitement of the preceding week, low pressure over Scandinavia this week slammed the door closed on much continental drift action. Bird proceedings were, for the most part, a much calmer affair all told. All the same, one or two goodies manage to slip through the cracks and make it to our shores…
Crag Martin
Courtesy of the extraordinary bird that graced Chesterfield (Derbyshire) for an extended stay between 8th-19th November 2015, Crag Martin resides on many a British birder's list. That bird was, however, a welcome anomaly as the previous 10 records only featured one bird that had been seen for longer than one day – this being a three day bird that kicked around the Flamborough area of East Yorkshire on 11th-13th April 2014.
Other than those birds, opportunities to actually catch up with a British Crag Martin have been restricted solely to those within fast striking distance of one of those previous one day birds. I've sore memories of the Anglers CP (West Yorkshire) bird that I managed to see as a distant, untickable, dwindling speck in the sky as it vanished late on 18th April 1999…
For many, ghosts of those missed birds were laid to rest by the Chesterfield bird. Given that was only four years ago, would many beyond Sussex birders have stirred to head to East Sussex this week when news broke of one at Beachy Head on 22nd? Any who couldn't make it on 22nd would have been pleasantly surprised then that the bird was present again the following day. Then, this being a spring Crag Martin, it was gone, never to be seen again.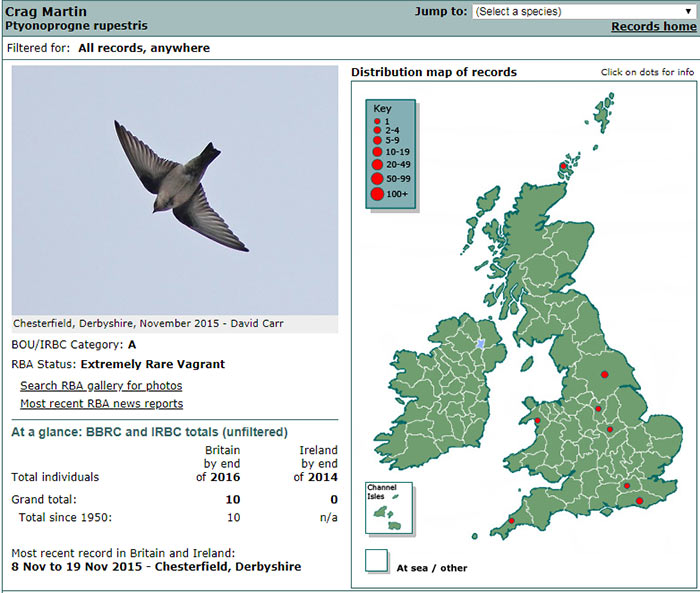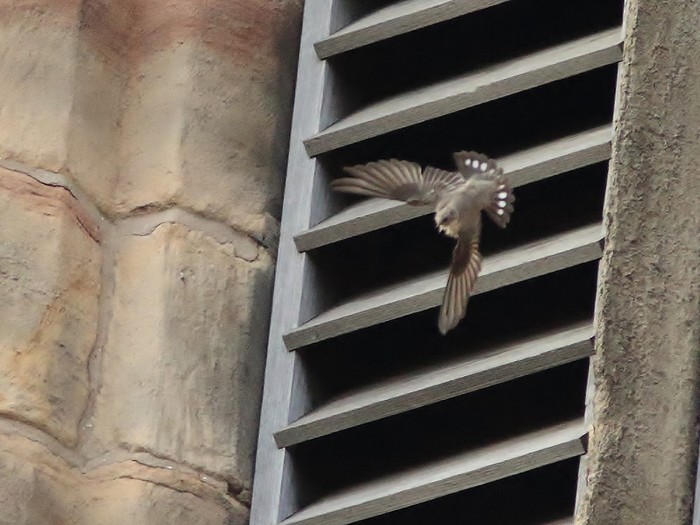 Upland Sandpiper
An otherwise fairly quiet week got a little bit of a spring in its step as the weekend drew to a close on Sunday afternoon when an Upland Sandpiper was found in a Sheringham field. Alas, this was all too brief an initial sighting, for no sooner had it been found than away it went, flying off west.
Belated news of a probable bird seen earlier in the morning at Brancaster on the Royal West Norfolk golf course didn't much help matters.
An unobliging bird, then. And if that weren't frustrating enough for Norfolk birders, this wasn't just any Upland Sandpiper - this was the first for the county.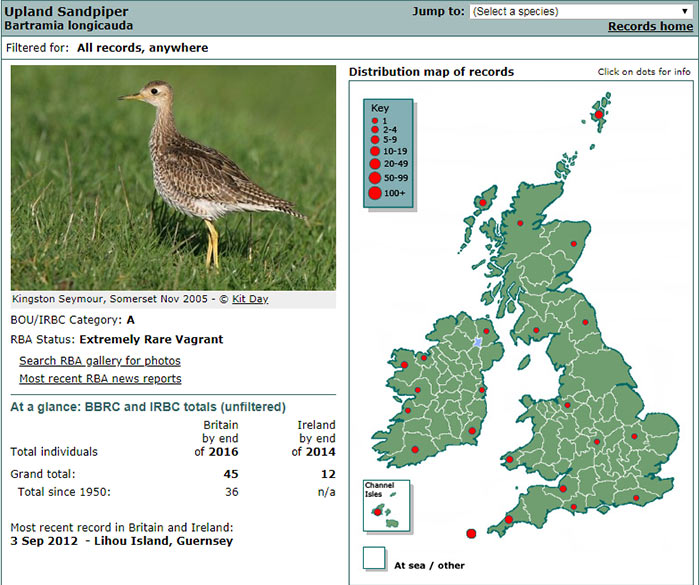 Of course, Nearctic waders heading north in the spring are a well-established thing. We've seen recent records of some of the usual suspects - Spotted Sandpiper, Lesser Yellowlegs, American Golden Plover. So far so relatively good. Upland Sandpiper, however, is a rarer beast altogether – with under 50 records for Britain as a whole, birds in May are restricted to just two prior, Scottish birds – one on Foula (Shetland) on 4th-8th May 2004, and another at Loch of Strathbeg (Aberdeenshire) on 5th-6th May 2008.
Both of those were much earlier in the month than this one. A glance at the prior stats shows that the closest one's got to Norfolk was a bird found between Cambridge and Newmarket on 12th December 1854, a record that is so far back in the mists of time as to be almost unbelievable.
With Pomarine Skuas this week barely scraping into low double figures, we might have been forgiven for thinking that the seabird section was going to be feather light on content and news this week. Not so. Thank heaven for Long-tailed Skuas… With just four birds logged by 25th, the signs weren't looking promising, but on 26th the floodgates opened with some 260 birds noted in the north – of which around 250 were seen heading north off North Uist (Western Isles). Here's to more of that sort of thing.
(Suffice to say single examples of both species were reported nationally the following day…)
A White-billed Diver passing Longhaven (Aberdeenshire) on 27th was the sole representative of its ilk this week.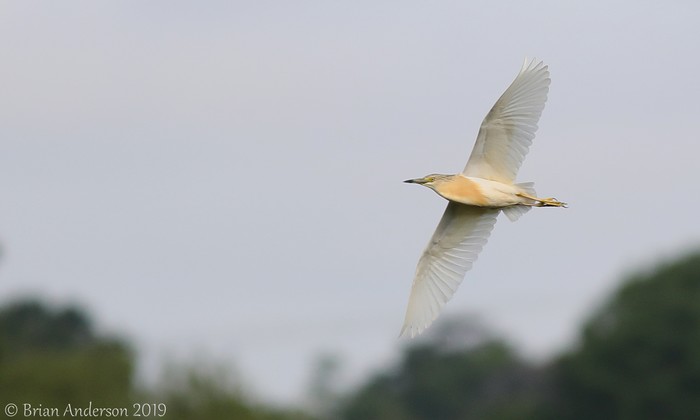 Last week's Squacco Heron at Tacumshin (Co.Wexford) remained there this week on 22nd, the herald of a couple more sightings – birds seen on Lundy (Devon) on 23rd and again on 28th, and in Hampshire at Titchfield Haven NNR on 24th-26th. A good, solid way to kick off this week's long-legged beasties.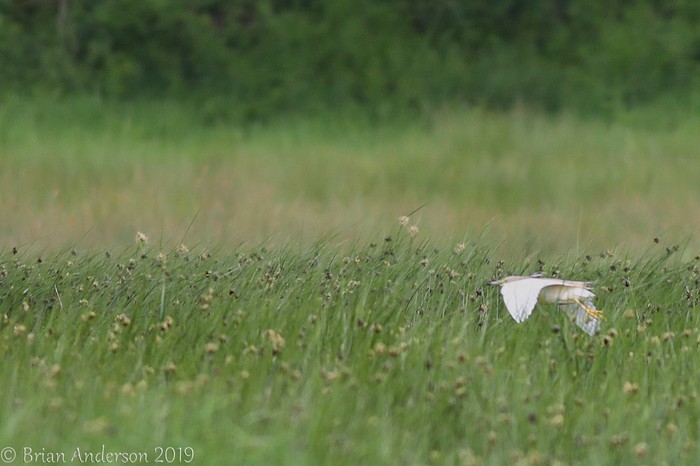 A Night Heron was once more reported from Attenborough NR (Nottinghamshire) on 22nd, while one lingered at Fairburn Ings RSPB (West Yorkshire) on 23rd-26th.
A handful of Purple Herons were once more on offer, from Barra (Western Isles) in the far north where on remained on 22nd-27th, to Rostellan Lake (Co.Cork) in the south-west of Ireland where one was noted in flight on 26th, via Norfolk where an adult was seen at Brancaster and Titchwell RSPB on 25th-27th and Heacham on 28th; and Maxey GPs (Cambridgeshire) where an individual remained on 22nd-24th.
Norfolk featured strongly where overhead White Storks were concerned – birds being noted on 23rd at Martham Broad and on 26th at Potter Heigham and Hickling Broad. Elsewhere one passed over Rainham Marshes RSPB (London) on 23rd and, with a certain dreadful inevitability, one was seen in the skies over East Sussex at North Chailey on 24th.
These days we seem to be able to trust Glossy Ibises to do the right thing and feature in the weekly news. Sightings this week were widely spread across Britain and Ireland. Starting in the latter, one remained at Portmore Lough RSPB (Co.Antrim) on 22nd-27th; one was over South Slob (Co.Wexford) on 23rd; and another sighting came from Tramore Backstrand (Co.Waterford) on 26th-28th. In England, a bird kicked around Scilly on 22nd-24th, being seen variously on St Mary's and Tresco; it or another was in Cornwall at Nanjizal and Polgigga on 26th, while one was once again at Marazion RSPB on 27th-28th; one remained at North Warren RSPB (Suffolk) on 22nd; and from an initial report of two birds at Marshside RSPB (Lancashire) one remained on 23rd-27th there. On 28th in Cheshire one was seen at Burton Marsh; and another on Anglesey at Cemlyn Bay NWWT.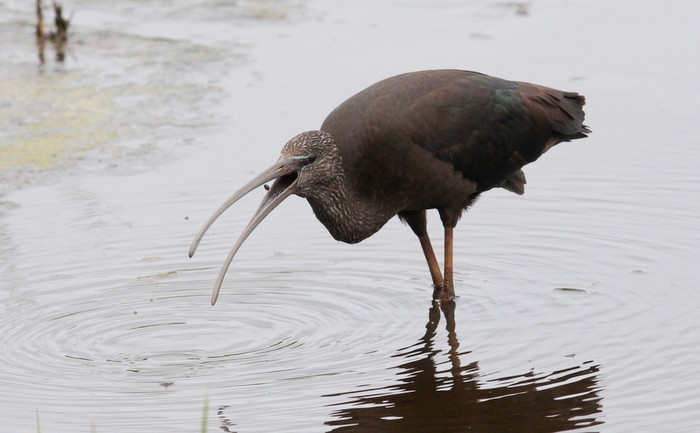 Scattered sightings of Common Cranes continued to filter in, with up to half a dozen still hanging around the Ythan Estuary this week pipped for the most northerly record by one present on Orkney at Orphir on 25th-26th.
A Spotted Crake singing at Bank Island (North Yorkshire) on 22nd-23rd was far from the most notable heard-only record of the week – one was sound-recorded in the dead of night over Earlswood Lakes (Warwickshire) on 25th, subsequently identified from the recording – one wonders how many pass, unseen, overhead; and marvels at the leap in technology that allows us a peep into the nocturnal wanderings of all manner of birds. A further probable bird was heard singing on 27th-28th at Buckroney Marsh (Co.Wicklow).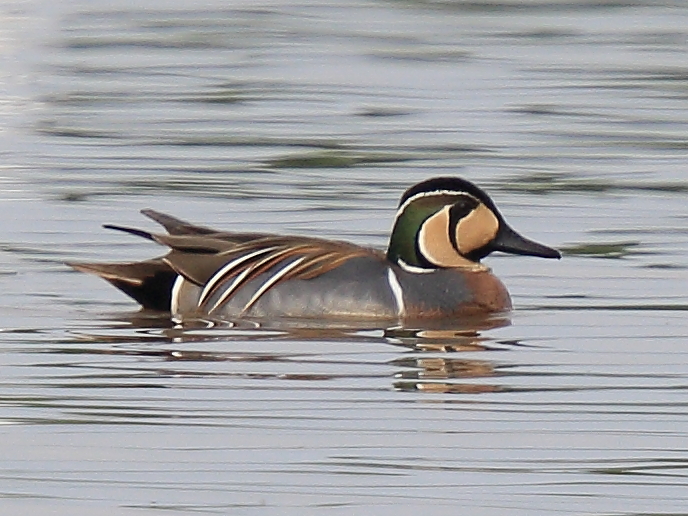 We'll start our dabble in the murky waters of the rarity duckpond this week in East Yorkshire where, having apparently got bored of playing hard to get, the drake Baikal Teal had relocated to Kilnsea Wetlands on 23rd and, latterly, Hornsea Mere on 24th-28th. An understandably popular bird, by all accounts.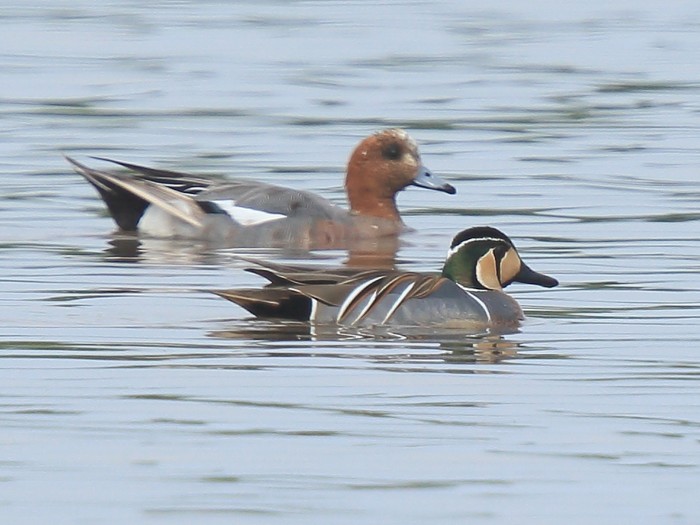 What to make of the drake White-headed Duck found on 28th in Bristol at Eastville Park? One that falls into the dreadful limbo into which all of their kind, along with Marbled Duck, automatically fall.
Otherwise, not an awful lot this week to chuck a metaphorical crust of stale bread at, the best of which remained on offer in Scotland.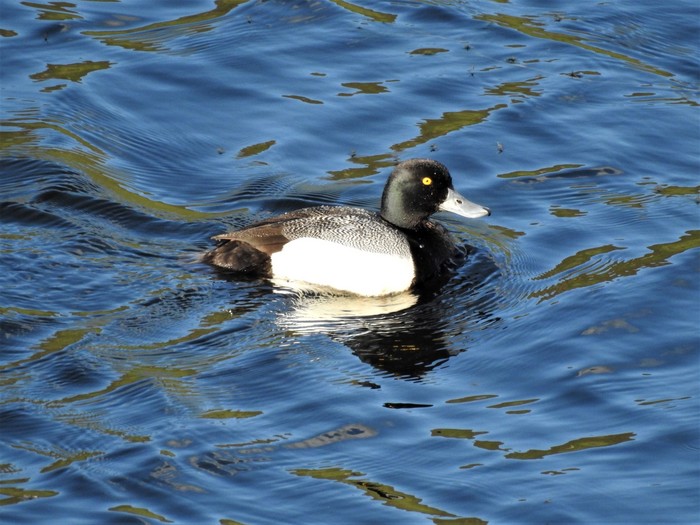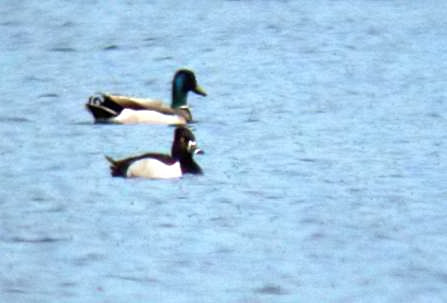 Long-stayers, the drake Black Duck at Strontian on 22nd-28th and the drake Blue-winged Teal still at Mellon Charles on 22nd-26th kept Highland in the news. A drake Lesser Scaup was still to be had in Borders at St Abb's Head on 22nd-23rd; and the drake King Eider was once more seen in Highland at Nairn on 27th.
A metal-ringed drake Ring-necked Duck at Great Livermere Lake (Suffolk) on 22nd-27th was, presumably, the bird seen formerly in Essex.
Finally we've a couple of Green-winged Teals - one was reported on Unst (Shetland) in the evening of 24th but not seen there latterly; and another was present on 25th-26th at Erewash Meadows EWT (Derbyshire).
<!—Section Title -->
A star bird from the previous week reappeared this week in Northumberland, and kicks off the shorebirds section anew – the Broad-billed Sandpiper seen once more on Holy Island on 23rd-25th.
From very different origins altogether, an American Golden Plover was present on another island on the opposite coast – on Skokholm (Pembrokeshire) on 25th-28th.
Dotterel numbers plummeted this week, with just a few birds logged – in Norfolk at Choseley still on 22nd and then on Blakeney Point where two birds were seen on 25th; one remained in Suffolk at Kessingland on 22nd; Fair Isle (Shetland) held onto a bird on 24th-26th; and one was noted in Kent at Bockhill Farm on 26th. On 28th a final bird was in Wales in Gwynedd near the summit of Mynydd Moel.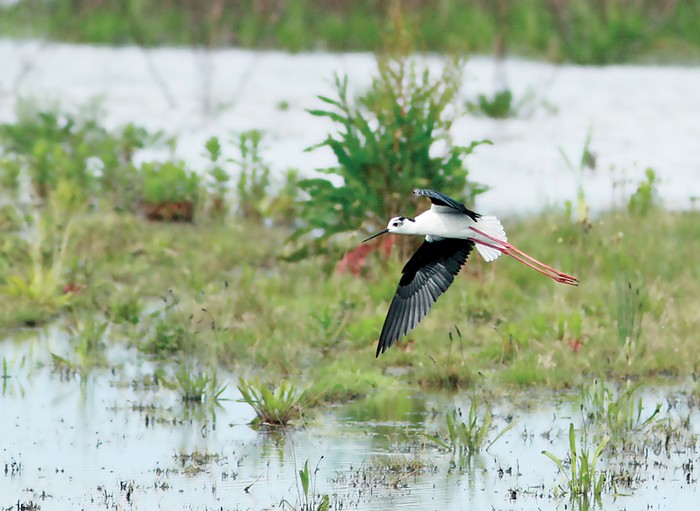 Two pairs of Black-winged Stilts made the news – one pair at Holkham Freshmarsh (Norfolk) on 22nd, and the other in Somerset at Catcott Lows NR on 26th-28th. Back in Norfolk one bird was noted on 27th just east of Wells on North Point Pools.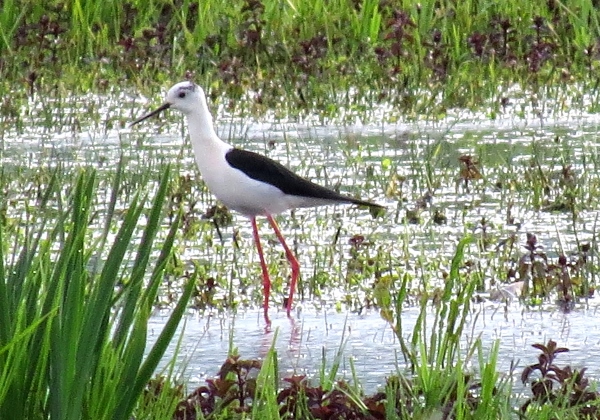 Temminck's Stints, however, continued to dominate the news. Some 30 birds in all were logged this week, once more being mainly singletons but with a handful of single-site duos and, notably, three birds present at Ouse Washes RSPB (Cambridgeshire) on 22nd, three on the Ugie estuary (Aberdeenshire) on 28th, and a quartet at Cley (Norfolk) on 23rd-24th.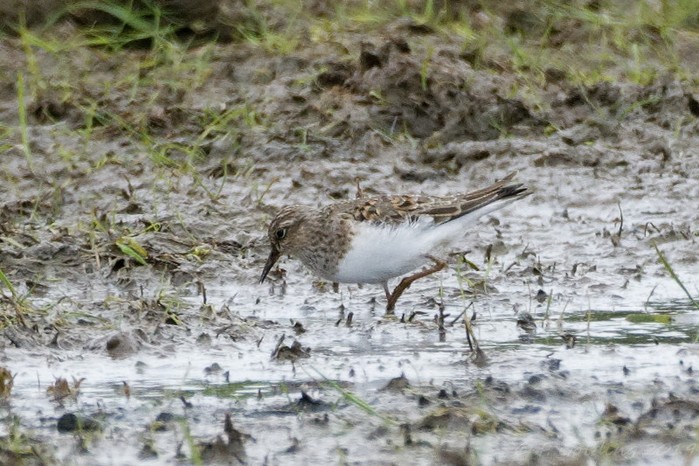 What was presumably the Lesser Yellowlegs recorded recently on Fair Isle had made it to mainland Shetland on 23rd-28th, being seen intermittently on Scatness in that period.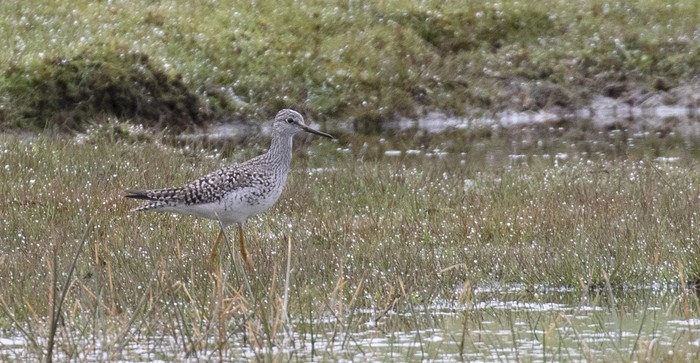 A couple of Grey Phalaropes were logged as the week began to draw to a close – seen in Scotland on 26th off Uisead Point (Argyll & Bute) and Maidens (Ayrshire) – and a Red-necked Phalarope was found on 27th inland at Uttoxeter Quarry (Staffordshire).
When I say that this week's gulls'n'terns represented slim pickings, that's a tiny bit of an understatement.
A couple of quality terns were about the extent of it. The adult Forster's Tern popped back out of the woodwork in Co.Galway once more, being noted at Inishroo on 22nd; and the Gull-billed Tern remained on Tiree (Argyll & Bute) on 23rd-27th.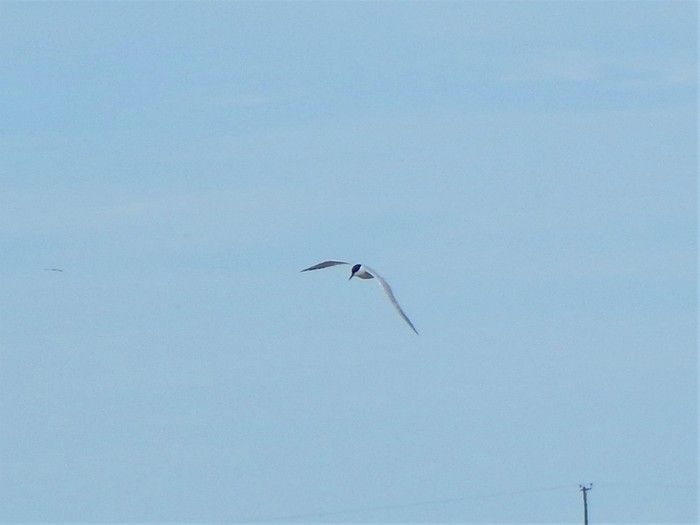 Some variety came in the form of an adult White-winged Black Tern in Cheshire at Burton Mere Wetlands RSPB on 24th-25th; but even that was a shadow of the prior week's strong showing nationally.
And so to gulls, where the juvenile Iceland Gull once more in Cornwall at Kenidjack on 25th was almost the entirety of the week's interesting news. On 27th a couple more reports filtered in – still in Cornwall, at Cot Valley; and one on Barra (Western Isles).
A Glaucous Gull was our last newsworthy larid, found on 28th at Ramore Head (Co.Antrim). That'd be summer here, then…
Comfortably the best raptor recorded this week would have to be the male Pallid Harrier found on 24th at Helperby (North Yorkshire); another species that's gone from mythical rarity to anticipated annual bird nowadays. A putative ringtail (or Montagu's Harrier) was noted on 23rd near Buckton (East Yorkshire) and Filey Brigg (North Yorkshire).
Montagu's Harriers, meanwhile, consisted of sightings this week in East Yorkshire at Kilnsea on 22nd and Sunk Island on 23rd; and at Trimley Marshes SWT (Suffolk) on 27th. On 28th one was logged at Orwell Bridge in Suffolk.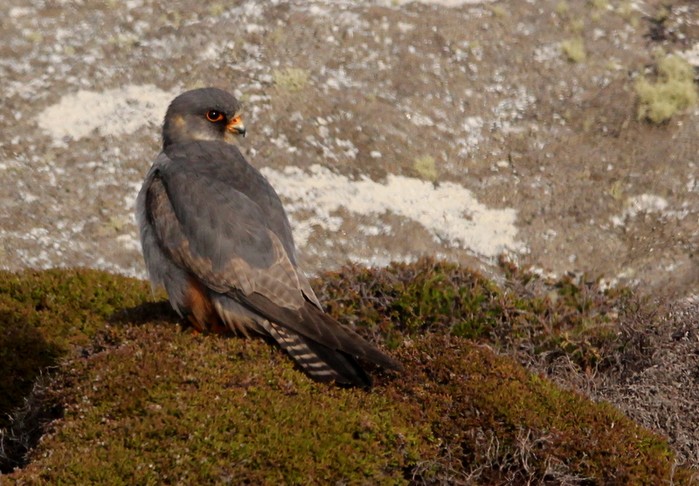 The first summer male Red-footed Falcon remained this week on St Mary's (Scilly); a male was found in East Yorkshire) at Sammy's Point on 22nd; a female in Ireland at South Slob (Co.Wexford) on 25th; and Cahore Marsh (Co.Wexford) accounted for reports of firstly a first-summer female again and then two females present on 27th, then the first-summer female and both females again on 28th.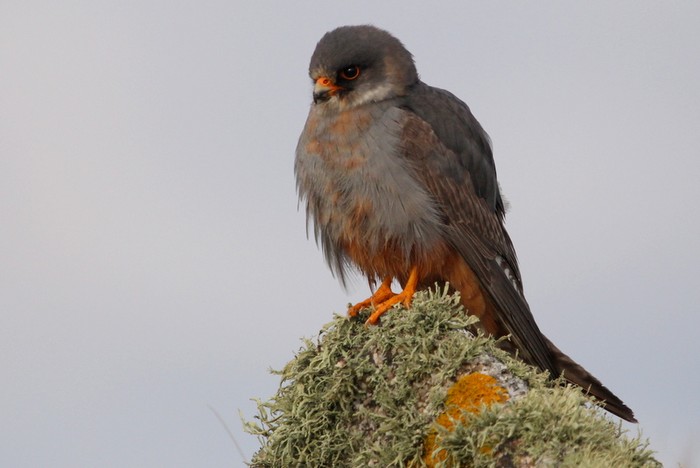 A probable Saker of, obviously, unknown origin flew west in the late morning of 27th at Potter Heigham (Norfolk).
A possible Black Kite was reported from London over East India Dock Basin NR on 24th; one was seen the following day at Hastings (East Sussex). On 27th another possible bird was seen in the morning at Little Wilbraham (Cambridgeshire).
A late taste of winter came this week in the form of a Rough-legged Buzzard reported on 24th from Findhorn Bridge (Highland).
A subadult White-tailed Eagle made a brief appearance over Fair Isle (Shetland) on 27th before heading south.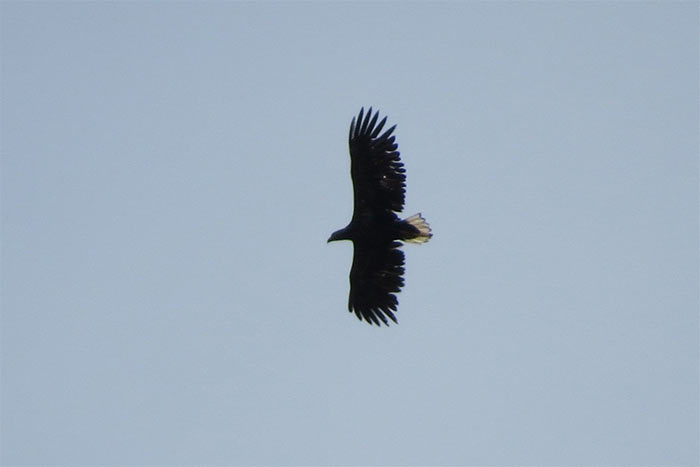 Last but far from least, the female Snowy Owl was once more seen in her remote fastness on St Kilda (Western Isles) on 24th; and on 27th one was seen near Doolin (Co.Clare).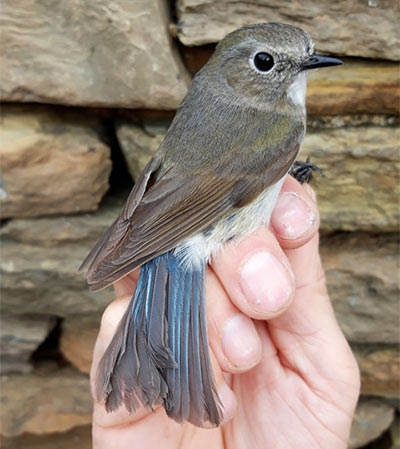 I can't quite bring myself to elevate to the main headlines this week's Red-flanked Bluetail on North Ronaldsay (Orkney) on 24th but, all the same… quality bird, that, particularly this late in the spring.
Bluethroat numbers fell away as quickly this week as they'd soared the previous week. Not much sign that those arrivals were lingering, really. Birds were noted in recent days in Shetland where, at Sumburgh on 22nd, two birds lingered; on Out Skerries on 23rd; on 24th on Fair Isle and at Maywick; and on 26th on Unst and Fair Isle still. One was present in North Yorkshire at Filey Brigg on 25th; and two were reported on 26th from Flamborough (East Yorkshire).
All of our Thrush Nightingales were confined to Shetland – birds lingered on Out Skerries on 22nd-23rd and at Quendale on 22nd, while a further sighting came from Fair Isle on 24th-26th.
Our solitary Wryneck was noted this week on Out Skerries on 22nd.
Besides a possible bird at Morpeth (Northumberland) on 22nd, our Blue-headed Wagtails were confined to birds seen on 22nd at Middlemarsh Wetlands (Lincolnshire) and Spurn (East Yorkshire), and on 23rd at Goring Gap (West Sussex). A possible Grey-headed Wagtail on Out Skerries on 22nd was followed by two birds there on 26th; and further sightings came from Flamborough (East Yorkshire) on 24th and 27th, Fair Isle (Shetland) on 25th-27th, and Foreness Point (Kent) on 27th.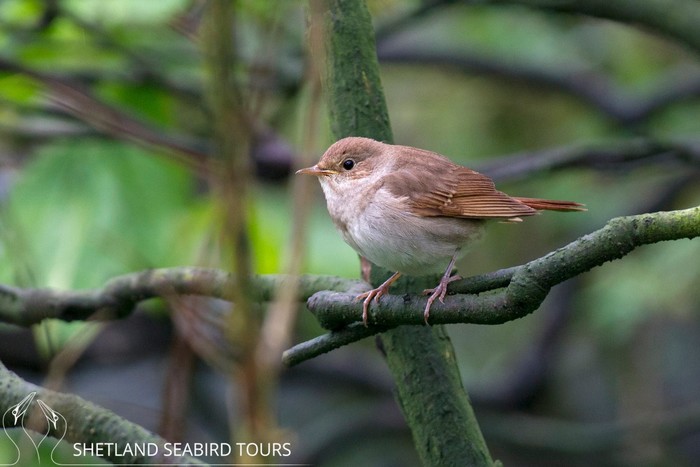 Fair Isle also landed a Tawny Pipit on 26th-27th, with one seen on 25th at Renvyle (Co.Galway).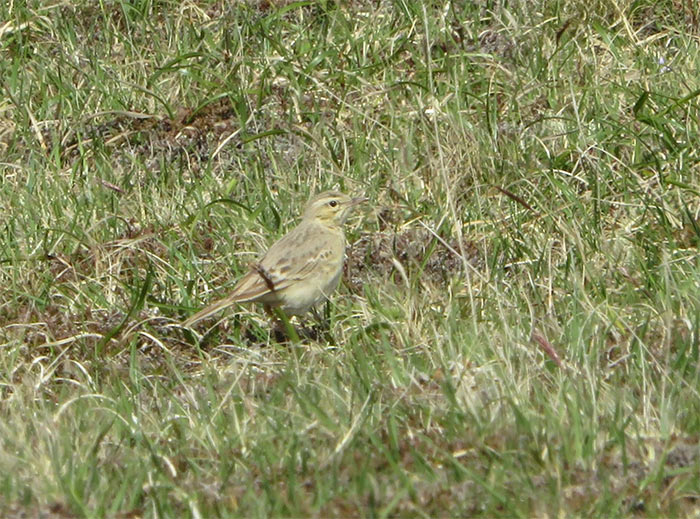 Two or three east coast Red-rumped Swallows were logged this week – at Gibraltar Point NNR (Lincolnshire) on 24th and again on 27th, and Spurn (East Yorkshire) on 26th.
Bee-eaters showed signs of having itchy feet for another week, with a host of sightings and birds heard overhead as the week wore on. Some 16 single birds were noted nationwide, with a mostly southerly bias interrupted only by a bird seen on Orkney at Deerness on 25th.
One Hoopoe was found this week – at Caister-on-Sea (NorfolK) on 27th.
Shetland provided the week's late Waxwing sightings – at various sites on Unst on 23rd-25th; on Fetlar on 22nd; and in Brae on 25th-27th.
Shetland too dominated the news where warblers were concerned. Out Skerries' excellent recent run continued with Paddyfield Warbler on 22nd and Blyth's Reed Warbler on 22nd-23rd; and the lingering Eastern Subalpine Warbler present until 27th joined there by a second bird on 24th.
Another Eastern Subalpine Warbler was in song at The Naze (Essex) on 24th. A first-summer male Western Subalpine Warbler was trapped and ringed at Calf of Man (Isle of Man) on 23rd-25th; and a Subalpine Warbler sp, though likely to be a Western was present at Hook Head (Co.Wexford) on 26th.
A Melodious Warbler was at Nanjizal (Cornwall) on 23rd; a singing Icterine Warbler was on Unst (Shetland) on 25th, and another was found in Hoswick (Shetland) on 27th.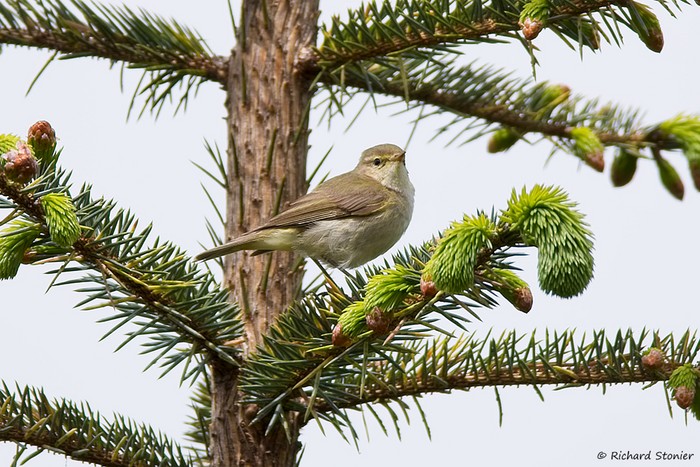 Also in song this week, Iberian Chiffchaffs remained at Newburgh (Aberdeenshire) on 23rd-26th and Pilling Lane Ends (Lancashire) on 22nd-28th; another bird was in song in Pantmaenog Forest (Pembrokeshire) on 25th-28th. A possible was heard at Draycote Water (Warwickshire) on 27th-28th, and a further undisputed bird was found on 27th-28th at Dunwich (Suffolk).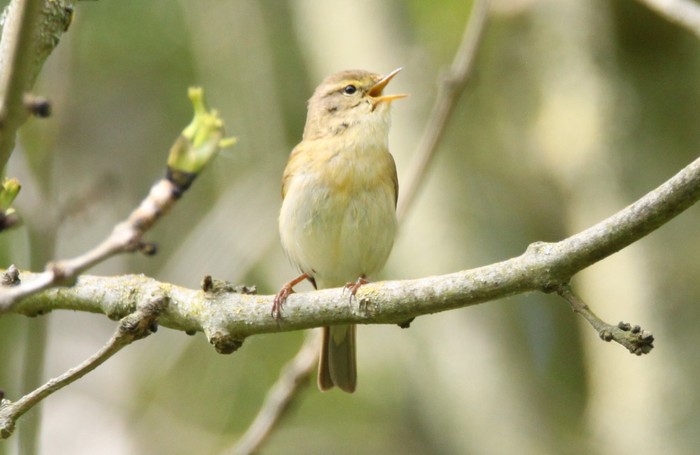 A singing Savi's Warbler remained in Suffolk at Minsmere RSPB on 25th-27th still; further songsters were found at Buckroney Marsh (Co.Wicklow) on 25th-28th and Uskmouth NR (Gwent) on 25th-28th.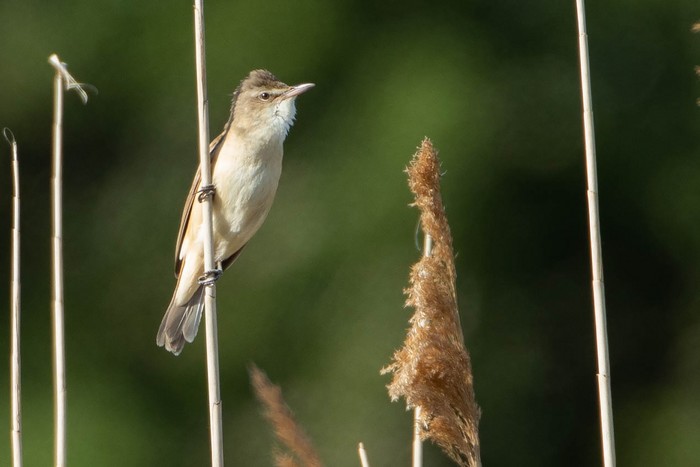 The croaking Great Reed Warbler at Wintersett reservoir (West Yorkshire) still on 22nd-28th had plenty of company, nationally at least, this week. Further birds were found at Saltholme RSPB (Cleveland) on 22nd-28th and on Whalsay (Shetland) on 23rd, the latter a first for the island and the 307th species on the island list. Another Great Reed was reported from Dewsbury sewage works (West Yorkshire) on 23rd also.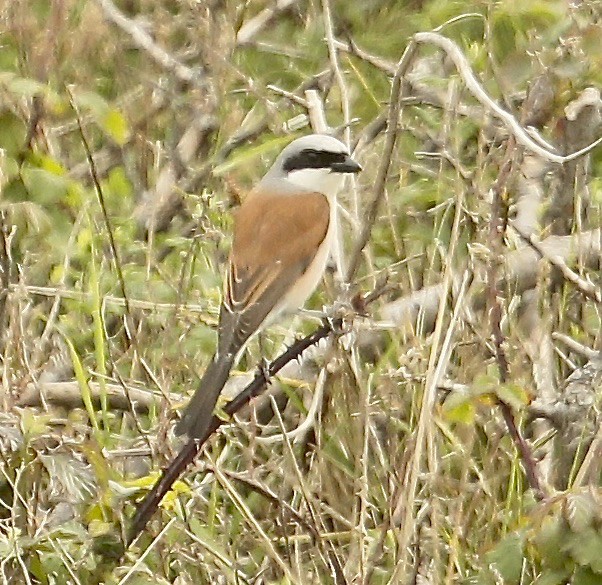 A singing Marsh Warbler was found on Unst (Shetland) on 23rd, with another that day at St Abb's Head (Borders).
Some fifteen Golden Orioles were logged nationally this week, with a good proportion of those found in song. Largely scattered across southern and eastern England, one in Lerwick (Shetland) on 24th was somewhat out of place.
Two Red-backed Shrikes were found in Shetland, on Fair Isle and Fetlar on 23rd and 22nd-23rd respectively; another was present on Orkney at Tankerness on 24th; and on 27th one was found at Redcar (Cleveland). In the south, birds were seen at Dungeness (Kent) on 22nd where a male was trapped and ringed, and at Kessingland (Suffolk) on 23rd. Another was found in Ireland on 25th at South Slob (Co.Wexford).
Further shrike action was twofold – a male Woodchat Shrike at Cemlyn Bay NWWT (Anglesey) on 26th; and the Great Grey Shrike at Needingworth GPs (Cambridgeshire) again on 26th-28th.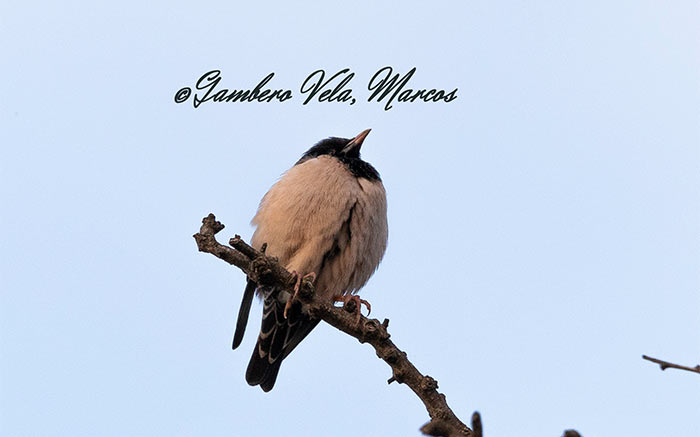 An adult Rose-coloured Starling was seen in Norfolk at Hunstanton on 24th; on 28th one was in Driffield (East Yorkshire).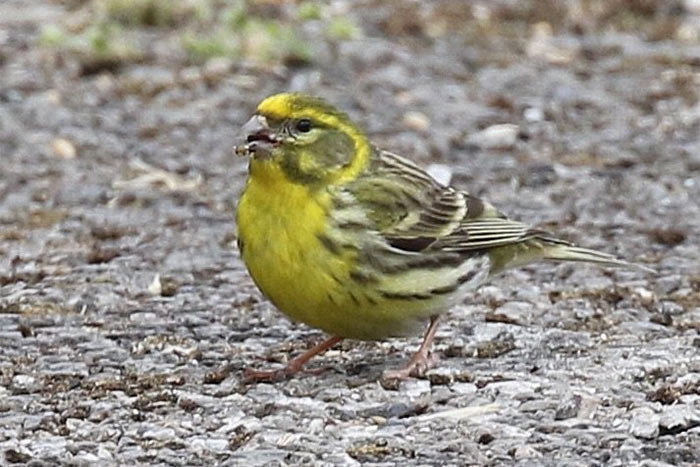 We did rather better once more this week where sightings of Serin were concerned, with 11 individuals logged nationally. Most of these were down the east coast, featuring the male bird in song in Kent at Littlestone-on-Sea still until 28th; the exceptions to this east coast flavour were a female at Ventnor (Isle of Wight) on 23rd, and one that day also in Cornwall at Nanjizal.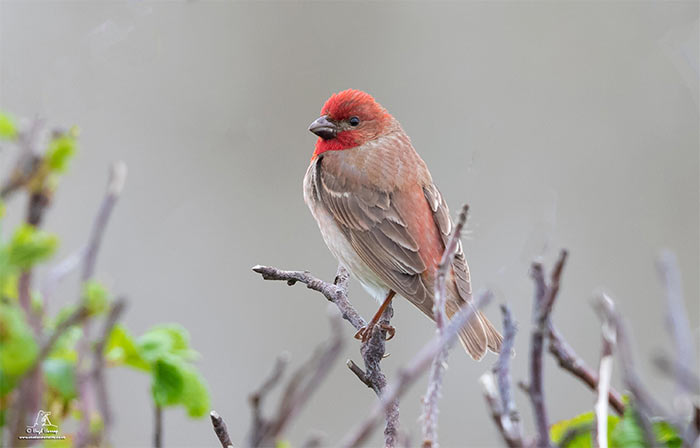 Common Rosefinches did better yet, with some 15 birds in all logged. Two or three were lurking in the Sumburgh (Shetland) area on 22nd; while our other single site duos were both also in Shetland this week, in Scalloway on 23rd and on Fair Isle on 24th.
Two Rustic Buntings lingered into the new week – those still present on Papa Westray (Orkney) on 22nd-24th and Fair Isle (Shetland) on 22nd-23rd – while another was on Unst (Shetland) on 23rd.
Failing to make the headlines due to the fleeting and ephemeral nature of the initial sighting, a possible White-throated Sparrow was seen on 23rd at Beauly (Highland).
Scandinavia is having a hell of a spring. First Norway features, then Sweden and now, this week, it's Denmark's turn.
On 23rd a Black-shouldered Kite was present with a Griffon Vulture at Skagen, the latter bird still present on 24th; a Great Black-headed Gull was seen on 23rd at Christianso; while on 24th at Christianso an Eastern Black-eared Wheatear was discovered.
Another Great Black-headed Gull was seen in Sweden on 25th at Storviksanden; the Mourning Dove remained on Oland until 28th; and the Stejneger's Scoter was still present at Hornefors on 22nd.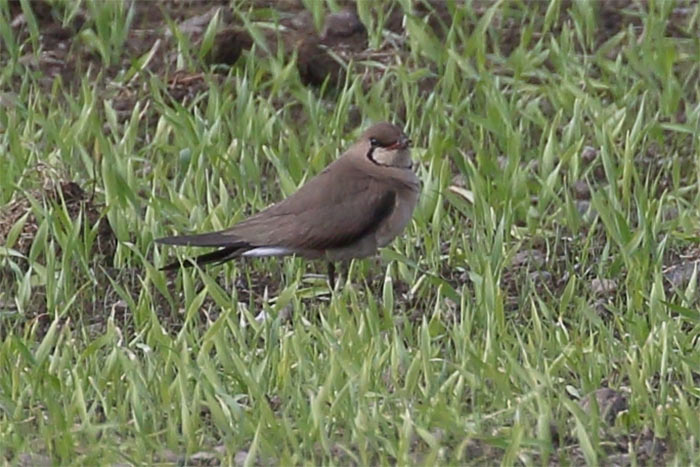 Norway, having a quiet(ish) week scored an Oriental Pratincole on 27th at Hillesland.
Holland hasn't been far from the news for months now. The long-staying Nutcracker remained at Wageningen on 22nd-27th; a Pied Crow, perhaps our British wanderer, was found at Den Oever on 22nd; a Greater Sand Plover was present at Havenhoofd on 23rd; and Black Vultures were logged on 24th at Eelderwolde and on 25th at Hellendoorn.
Spain held three Elegant Terns at Marjal Dels Moros on 24th.
Tenerife (Canary Islands) retained the Dwarf Bittern on 26th still.
A Pied Crow was seen in Morocco at Miht Essallah on 25th.
Further afield still, a Crested Honey Buzzard was noted in Azerbaijan at Masally on 26th.
The coming week…
We're staring down the barrel of what starts to look less like spring now and rather more like early summer. The first week of June offers dwindling numbers of birds on the move, but rising potential for something a little bit out of the ordinary.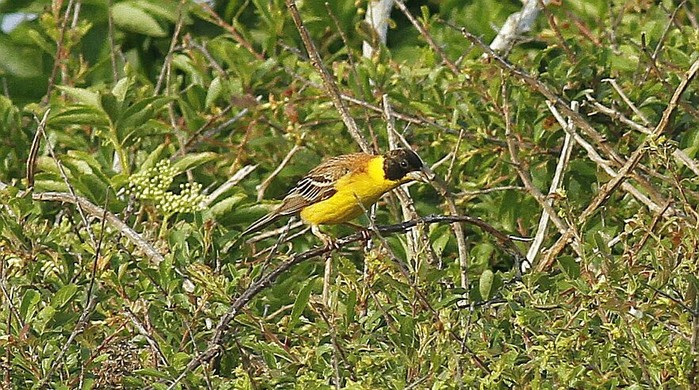 I still maintain that a good tail wind would make a Black-headed Bunting a good call. Maybe though we need to be thinking of birds that are rather stronger fliers than that.
It's coming to be prime time for a pratincole – the coming week features past records of all three species on the British list, and Norway provided a hint of what's possible this past week. More powerful still, it's a good week for a Caspian Tern.
Daring to dream just about as big as it gets though, is there any bird on the British list more powerful in flight, more yearned for, than White-throated Needletail? The coming week sports the mobile bird seen at various locations from Kent to Derbyshire and in between in 1991. Another bird would be the most welcome arrival since, ooh, the Shetland Tengmalm's Owl.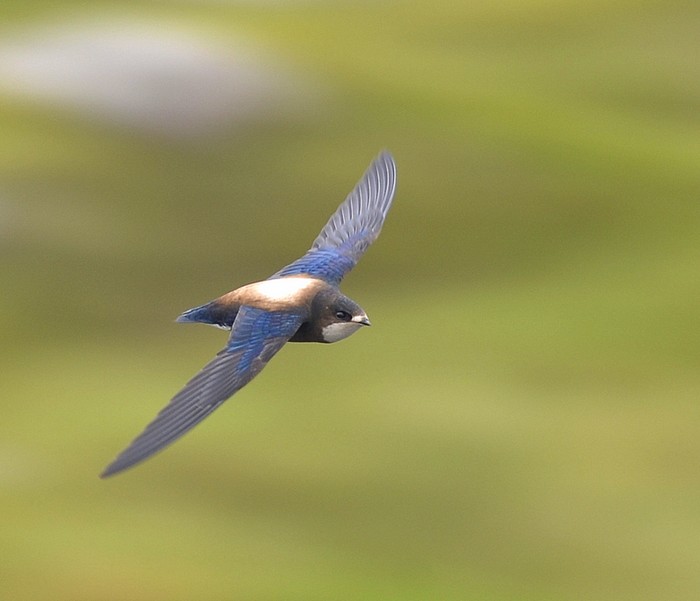 Jon Dunn
29 May 2019
Share this story
Tweet