Weekly birding round-up: 6 - 12 Mar
The week at a glance
New discoveries included Red-rumped Swallow in Co Cork and Coues's Arctic Redpolls in Powys and Shropshire.
A fine selection of rarities lingered on, including American Herring Gull, Pacific Diver, Penduline Tits, Pied-billed Grebe and Snowy Owl.
This week's birdnews was overshadowed by the tragic events on Fair Isle. On Sunday 10th March a devastating fire destroyed the famous Fair Isle Bird Observatory and adjacent warden's accommodation. Thankfully, nobody was injured, but the impacts of the fire will be long-lasting. Dwelling on the disaster here will do no good, but donating to a fund established to support the warden and family will, so please consider contributing here. At the time of publication, birders and fellow well-wishers have donated over £22,000
The February heat wave was never going to last; sensible money was always on a return to winter weather before full-fat spring kicked in. And British weather rarely does things by halves – cue a seemingly endless series of weather fronts bombarding the west coast during the past week, cumulating in the arrival of Storm Gareth as the review period ended. Consequently, wind and rain characterised the week, and birders stayed indoors.
Just three messages appeared on our pagers' New Rarity channel – a paltry total, even in the seasonal No Man's Land of early March. Two concerned Coues's Arctic Redpolls – one visiting a garden in Newtown (Powys) on 7th, but only belatedly reported a couple of days later, and the other a curious record from Shropshire. The latter report surfaced via an excellent photo, labelled as a 'Common Redpoll?', posted on a previously dormant Twitter account. I hope my cynicism is misplaced, and Jamie has genuinely appeared from Twitterland obscurity to announce his great find, but in this age of internet bird fraud, it is difficult to take reports like this at face value.
The third new discovery came in the form of a Red-rumped Swallow at Youghal (Co Cork) on 7th-11th, becoming the fifth to be reported in Britain and Ireland before spring has even started – following two on Isles of Scilly and singles in Glamorgan and Pembrokeshire during the February pseudo-spring.
Lingering rarities
Whilst headline-makers were notable by their absence, and with the Shetland Tengmalm's Owl having fizzled away, a fine selection of rarities remained available during at least some of this week's review period. Penduline Tits at Lodmoor RSPB (Dorset) and Crossness LNR (London), Pacific Diver at Gerrans Bay (Cornwall) and near-adult American Herring Gull at Black Ball harbour (Co Cork) were the pick of the bunch. Lingering Nearctic shorebirds comprised Lesser Yellowlegs at Devoran (Cornwall) and Lodmoor RSPB (Dorset), Long-billed Dowitcher at Frampton Marsh RSPB (Lincolnshire) and Spotted Sandpiper at Ferrybank (Co Wexford). Meanwhile the Pied-billed Grebe at Loch of Spiggie (Shetland), Red-rumped Swallow on St Mary's (Isles of Scilly), Coues's Arctic Redpoll at Sculthorpe Moor NR (Norfolk), Ferruginous Duck at Blashford Lakes (Hampshire) and Forster's Tern in Galway (Co Galway) all showed their face during the week. On the final day of the review period, the Snowy Owl resurfaced on Eday (Orkney), having been last reported there on 11th February.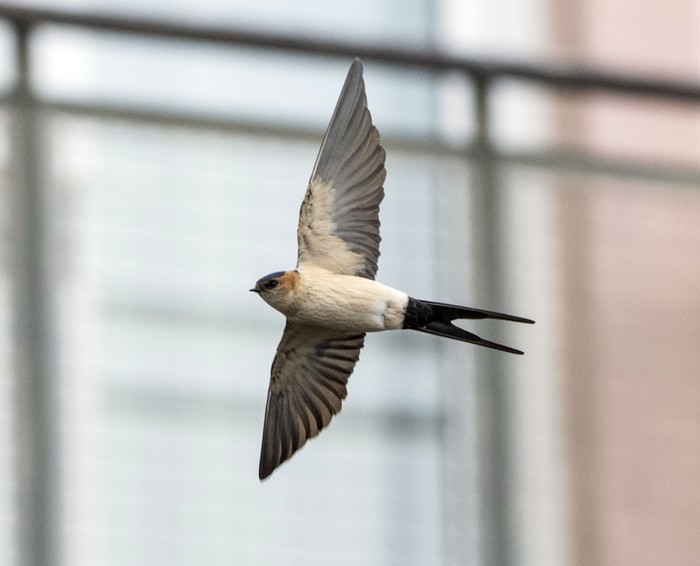 Back onto the Tengmalm's for a brief moment, having spoken to someone who watched it appear from its daytime roost on the evening of its final showing, apparently the Mega-owl significantly changed its dusk routine on the evening of 2nd March, before the bird flew north. The observer in question believes he watched it migrate. Visible migration or not, this added snippet offers less hope to those who pray the Tengmalm's is sitting around on Shetland waiting for a second wave of admirers.
Sightings of Sooty Shearwater off the Cleveland, Co Durham and Northumberland coastlines between 6th-9thprobably related to one individual, whilst another was logged off Sheringham (Norfolk) on 10th.
After what appeared to be the beginning of the spring passage of White-billed Divers last week, not a single bird was reported during this review period.
Nine Glossy Ibises were recorded, all singles in different counties in southern England and Wales, except one in Co Roscommon.
It is difficult to know what to say about White Stork records nowadays, so we'll keep it simple – two were in a field near Whittlesey (Cambridgeshire) on 10th and another flew over Worthing (West Sussex) the following day.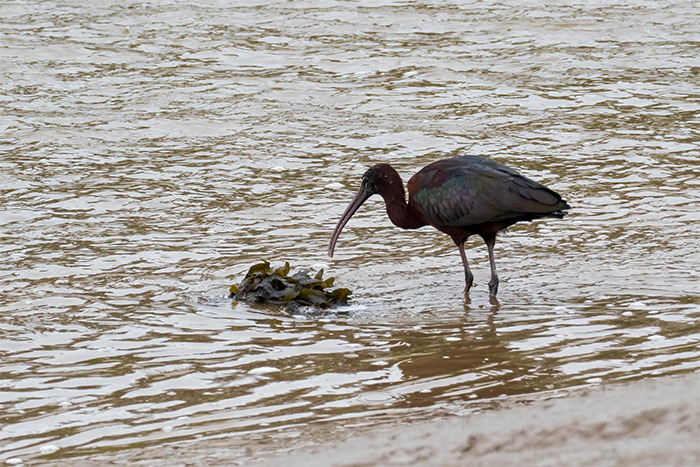 Unsubstantiated claims of Night Herons came from Greater Manchester (at Stockport) and Warwickshire (at Kingsbury Water Park).
A grand total of at least 348 Cattle Egrets were spread across 23 counties, with the peak count coming from the Somerset stronghold, were at least 100 were logged in the Ham Wall RSPB roost.
As winter ebbs away, scarce goose records are beginning to fade into the background. The long-staying Canada Goose on Barra (Western Isles), Snow Goose at Ballyhealy (Co Wexford), pairs of Taiga Bean Geese in Aberdeenshire and Highland and twelve Tundra Bean Geese in Norfolk, in addition to pairs in Shetland and Suffolk, was all this week could muster.
Perhaps the most interesting goose-related record concerned a bird discovered towards the back end of the last review period – a Brent Goose at Fisherton (Highland), which some believe to be a candidate Grey-bellied Brant. The bird may have been in the area since January, and some are speculating that it is the same bird seen with the Pink-footed Geese in Norfolk earlier in the winter (see the Twittering here). However, word on the street is that the Norfolk bird was still present with the Pink-footed Goose flocks as recently as 2nd March, discrediting the Norfolk-Highland link.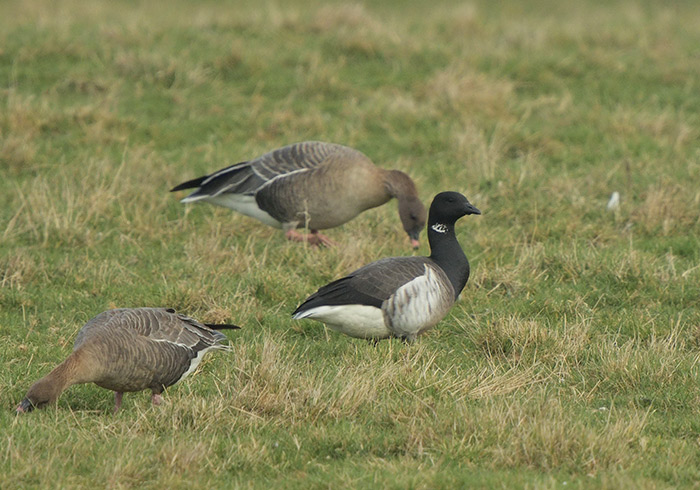 The population of Brent Goose known as Grey-bellied Brant breeds in the western High Arctic, mainly on the islands of Melville and Prince Patrick. The population has long been in taxonomic limbo – opinions are divided on whether it is a valid subspecies, or an intergrade population between Black Brant and Pale-bellied Brent Goose. Consequently, identifying an out-of-range individual is fraught with difficulties – without confirmation by a marked individual it is difficult to see how we will ever be able to eliminate a dingy Pale-bellied, or a hybrid between one of the other Brent forms from the equation when dealing with a candidate Grey-bellied Brant. And whilst Brent Geese are a variable beast even within their respective forms, surely we'd need a Grey-bellied Brant to be a perfect specimen to start the ball rolling with identifying one over here? The Norfolk and Highland birds have very limited neck collars, at odds with the large Black Brant-style neck collar that a 'classic' Grey-bellied Brant should exhibit.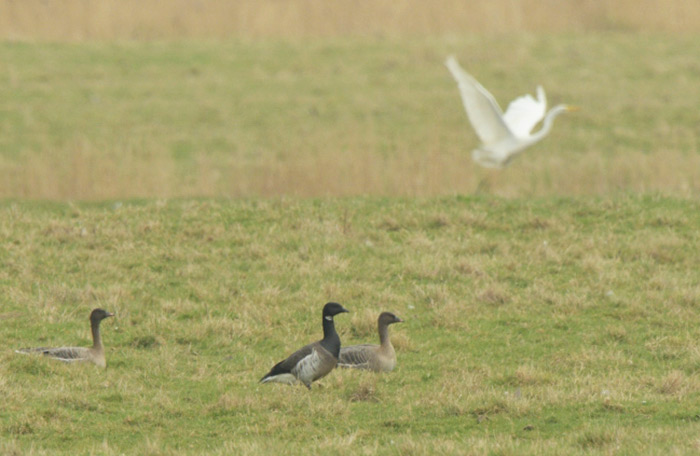 The ropey Red-breasted Goose (in Cumbria) and pair of Lesser White-fronted Geese (in Anglesey) remained on show, for what it is worth.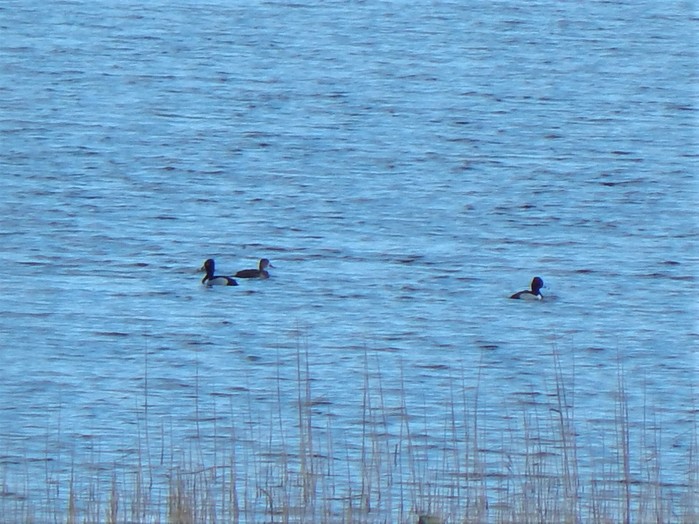 Two American Wigeons (in Highland and Worcestershire), seven Ring-necked Ducks (in Co Clare, Denbighshire, Devon, on the Devon/Cornwall border, Dorset, Highland and Kent) and nine Green-winged Teals (all drakes in different counties) were logged this week.
Seaducks records were limited to just three lingering Surf Scoters – a couple in Co Meath and the lone drake in Lothian.
<!—Section Title -->
The rare shorebirds have been covered above, but in addition the wintering Temminck's Stint remained at Chapel Amble (Cornwall). Also in Cornwall, the first Dotterel of the year was reported near Newquay on7th – presumably a bird which has wintered in the UK or nearby, rather than an early migrant.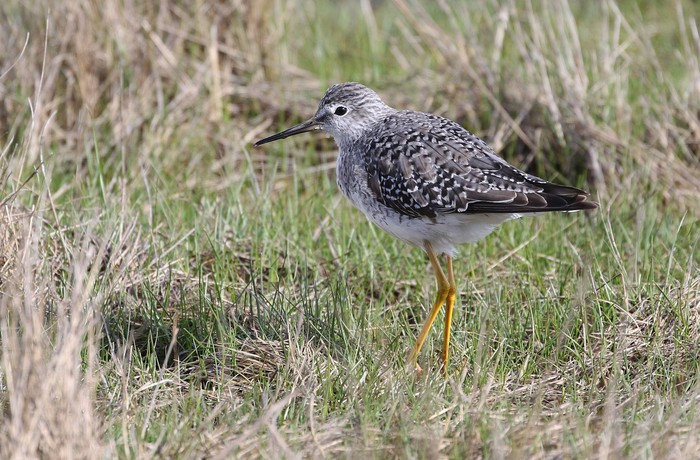 Seven Ring-billed Gulls - all but one (the regular Hampshire bird) in Ireland (in Counties Antrim, Cork, Kerry [2], Louth and Sligo) – were recorded during the week. Adult Kumlien's Gulls were in Cornwall, Leicestershire and Warwickshire, whilst second-winters were reported from Co Cork and Suffolk.
Reports of flyover White-tailed Eagles came from Lound (Nottinghamshire), Unst and Yell (Shetland) and West Dean Woods (West Sussex), before one was observed to land at Hatfield Moors NNR (South Yorkshire) on 12th. Nine Rough-legged Buzzards lingered on (a couple of loners in Cambridgeshire, two together and other singles in Kent, and singles in Norfolk and Suffolk).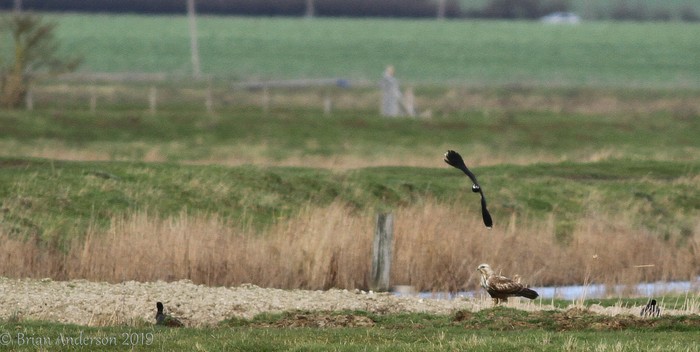 Some of the standout passerines of the week are highlighted earlier in the review, but there are plenty of others to summarise. A lingering Pallas's Warbler at Coverack (Cornwall), Richard's Pipits at Cahore Marsh and Tacumshin (both Co Wexford) and a Hoopoe at Broad Haven (Pembrokeshire) until 6th were the pick of the scarce passerines. In Norfolk the Weybourne Little Bunting was probably seen on 7th, although there have been no reports since.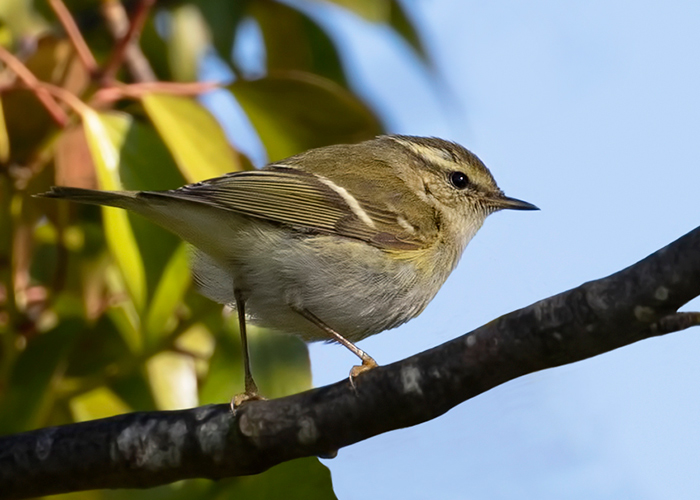 Three Lapland Buntings (two in Norfolk and one in Cleveland), eight Yellow-browed Warblers (in Cornwall [2], Co Waterford, Gloucestershire [2], Kent, London and Somerset), eight Great Grey Shrikes (in Dorset, Highland, Northamptonshire, North Yorkshire, Nottinghamshire, Staffordshire, Suffolk and West Sussex) and 32 Shorelarks (including up to 21 at the UK stronghold of Holkham, Norfolk) were accumulated during the period. Waxwings clung on, with 167 spread across twelve counties, 52 in England and the remainder in Scotland.
The Lesser Moorhen and an African Crake, both remaining on Sal (Cape Verde), lined up for a double Mega twitch, and some top Western P listers couldn't resist (http://www.netfugl.dk/ranking.php?id=wp&mode=hhhb&species_id=253). However, the former has been knocked off its perch as the first record for the Cape Verde archipelago – a belated report from last month has surfaced from Santiago, where a Lesser Moorhen was photographed on 24th February.
Belated news: 1st-winter Lesser Moorhen photographed at Barragem de Figueira Gorda, Santiago 24th February 2019 - the 1st record for Cape Verde and 4th for Western Palearctic pic.twitter.com/sS2Kjnmh2C

— Tarsiger (@TarsigerTeam) March 10, 2019
On the Canary Islands the long staying Dwarf Bittern was still available on Fuerteventura.
The near continent continued to play host to Nutcracker, Western Rufous Turtle Dove and another Oriental Turtle Dove in the Netherlands and Pygmy Cormorant in Belgium. An American White-winged Scoter in Iceland, Stegneger's Scoter and Eastern Imperial Eagle in Sweden and American Coot in Spain were the best of the rest.
As I write this, a gale is brewing outdoors and my wife is currently buzzing around panicking that our house is going to flood... and that snippet of information alone says all we need to know about the shape of the forecast for the coming week! The weather maps are painted blue, with Storm Gareth and subsequent weather systems likely to dump vast amounts of rainwater on the UK, particularly in western parts, as well as bringing damaging winds to some areas. New birds might arrive, but they're going to be tricky to find.
The forecast doesn't inspire dreams of Alpine Accentors, despite the four day Minsmere bird jumping out from the history books, having arrived on 16th March 2002. Alpine Swift, Great Spotted Cuckoos and the like also take a back seat in the potential goodies list, but perhaps a rare gull – Franklin's, Laughing , Bonaparte's or even Ross's will appear from the deluge. Good luck, if you dare venture out...
Stuart Piner
13 March 2019
Share this story
Tweet