Weekly birding round-up: 9 - 15 Jan
The week at a glance
A Hume's Warbler in East Sussex gets a 'general release'
An American Herring Gull in Co Cork is a classy find
British birding is intrinsically linked with the weather. It is the single most significant factor in determining what we do or do not see. So with unremarkable weather this week, the birding was, predictably, unremarkable .
The Jet Stream remained to the north of the UK throughout, but swung southwards sharply just to the east of the country. Consequently high pressure continued to dominate through the back end of last week, bringing clear, frosty and cold conditions on Wednesday, before the temperatures increased from Thursday, with the majority of the UK being under a blanket of cloud. As the weekend approached high pressure began to drift south-west, allowing a cold front to introduce cold air from the north-west, and rain and a brisk NW wind followed, most severely in north-west Scotland. A ridge of high pressure again began to establish in the early part of this week and a warm front approached from the west, introducing mild Atlantic air and cloud across much of the UK, and rain the west.
Settled conditions (aside from the weekend blast from the northwest) produced a settled cast of rarities. Most of the long-stayers continued their long-stay, and very few new arrivals showed up. We're pretty much bang in the middle of the season. Things are static, a pause before springs starts to chip away at the edge of the winter. This January stasis is nothing new; during the equivalent week last year, lingering Stilt Sandpiper, Snowy Owl, Hume's Warbler and Desert Wheatear formed the headlines. Delving even further back, a grab at the first January edition of Birding World that comes to hand (2001, as it happens), lists monthly highlights of new Laughing and Franklins's Gulls, a Cattle Egret (which goes to highlight how things have changed with this species!) and a dead Brunnich's Guillemot. And that is for the entire 31 days of January.
2019 will kick into action sooner rather than later, but for the time being there are plenty of lingering rarities and scarcities to enjoy.
Hume's Warbler
This week's best new discovery wasn't actually discovered this week. In fact, it wasn't even discovered this year. News of a Hume's Warbler found on the day after Boxing Day finally found its way into the wider world on 12th January. 'Local birders' received a preview in the days leading up to the ,a href="http://seafordbirding.blogspot.com/2019/01/humes-leaf-warbler-newhaven-10118.html" target="newwindow">news release, a case of selective suppression that occurs far too often nowadays.
BBRC records list six previous Hume's Warblers in Sussex. All six have occurred along the 18 mile stretch of coastline between Brighton and Beachy Head. In fact, the first Hume's Warbler to be identified in Britain was located at Beachy Head in 1966. The current Newhaven bird had already broken the county stay-duration record (previously set at 16 days straddling 2007 and 2008 at Beachy Head) before the news hit the pagers. Fortunately for those unable to get a ticket to the advance showing, the warbler remained in situ by the Newhaven Incinerator throughout the period.
Once a head scratcher, nowadays Hume's Warblers tend to be an easier puzzle to solve. The watershed moment arrived in 1997 when BOURC split the species from Yellow-browed Warbler and subsequently accepted the 1966 record as the first for Britain. Years of trial and error followed, but as the 21st Century developed, so did the understanding of the sight and sound criteria for identifying Hume's Warbler. Long-staying wintering birds, of which there were several in the early 2000s, allowed British birders to visit them at their leisure, which contributed to the widespread understanding of the species.
Whether or not the increase in wintering Yellow-browed Warblers leads to complacency remains to be seen. Despite the improvement in our collective knowledge of the identification features of the species pair, it would still be all too easy to dismiss a Hume's as 'just another Yellow-browed' in areas where Yellow-browed Warblers now winter regularly, eg sites in southwest England.
American Herring Gull
We might like to think we know what Hume's Warblers look like, but most people tend to lose their swagger when the topic turns to American Herring Gulls. Aside from those dedicated to the cause, most birders are reluctant to tackle a smiths – and that's including 1st-cycle birds, supposedly the 'easiest' age to nail. Older birds send the mind swirling into a state of confusion, disillusion or indifference.
So with all that said, I doff my cap to Fionn Moore, who found and identified what, to all intents and purposes, appears to be a near-adult American Herring Gull at Black Ball harbour in Co Cork on 13th. I'm not going to go into identification features here, mainly because I'm out of my depth with these and I'd be doing a bad job of rehashing this go-to treatment of American Herring Gulls by Pat Lonergan and Killian Mullarney.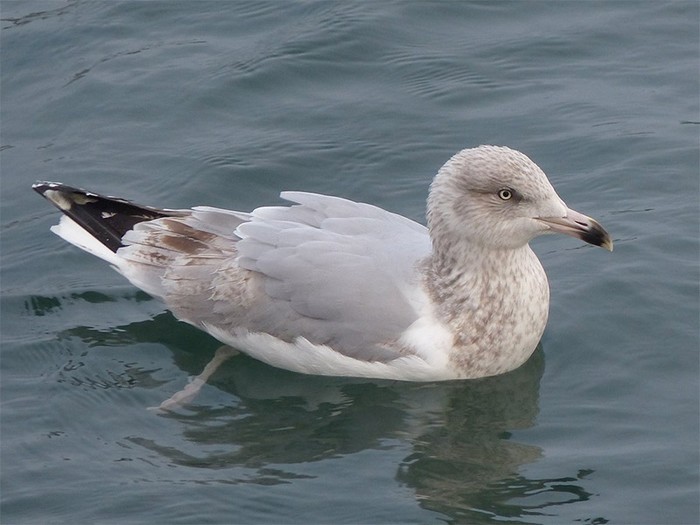 Fionn, Black Bull harbour and American Herring Gulls have got form. Fionn found 1st-cycle birds in March 2015 and April 2016, with the 2015 individual also possibly returning as a 2nd-cycle in 2016. It is tempting to believe that this week's sighting is a returning friend, one of the two previous youngsters returning as a (nearly) grown-up.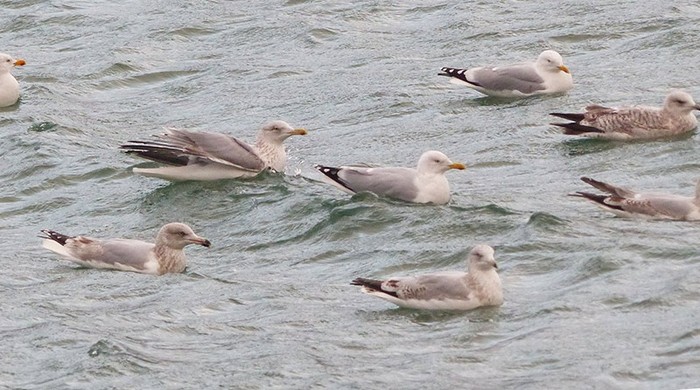 Long-lived returners are well documented in the gull world, particularly with American gulls- there are some well-known examples of Ring-billed Gulls returning to the same site seemingly forever, for instance. There is also a famous example of a returning smiths, to Nimmo's Pier, Galway City (Co Galway). First discovered as a 1st-cycle bird on (coincidentally) 13th January 2004, the bird remained in the area until 9th May the following year, a stay of almost 16 months. Later in 2005 it returned to Galway as a 3rd-cycle bird, before returning annually until at least the winter of 2010/11.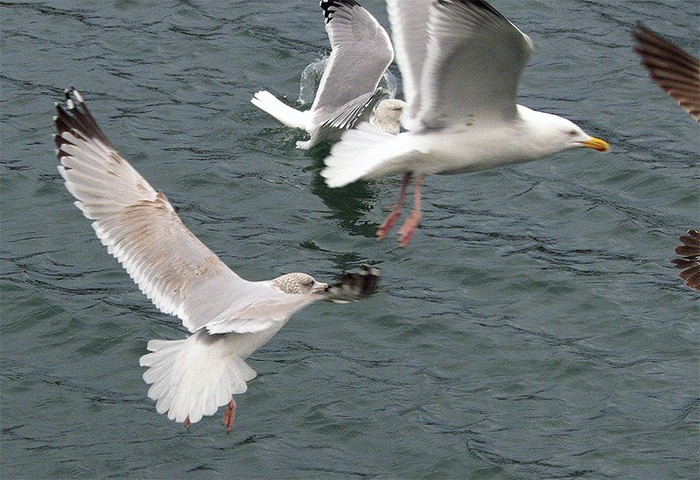 Divers made up the lion's share of the 'seabird' records during the week 9th-15th January, not an unexpected result at this time of year. Pacific Divers remained in Cornwall (Gerrans Bay on 9th and Mount's Bay on 10th, 13th and 15th) and Co Cork (at Crookhaven until at least 14th) and White-billed Divers were logged off the coasts of Mainland Shetland (9th), Unst, Shetland (11th), Barra, Western Isles (until at least 10th) and Little Loch Broom, Highland (14th).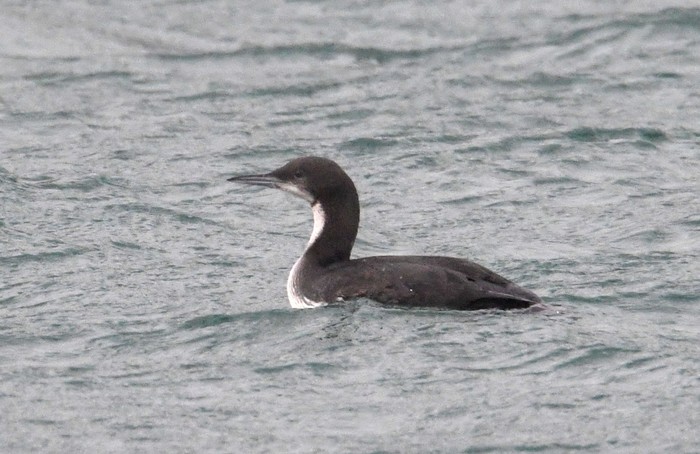 Little Auks were few and far between, perhaps a little surprising given the blast of northerly winds over the North Sea at the weekend – two flew past Lamba Ness (Unst, Shetland) on 13th with another past there on 14th, and a lone bird was at Skateraw (Lothian) on 13th.
White Storks were at large in Hertfordshire (Tyttenhanger Gravel Pits on 9th then over Maple Lodge Nature Reserve and at Stocker's Lake on 10th) and Surrey (over Henley Park Farm and Ash Ranges on 11th, Frensham Common on 12th and Frensham Great Pond on 13th). The Frensham Great Pond bird was a red-ringed escapee, which presumably kills the other listed Surrey records. As for the Hertfordshire bird – who knows? White Storks – what a mess!
Cattle Egrets remained at status: plague. Groups in the single-figures were widespread across southern England and Wales, but the highest counts were made in the core Somerset/Dorset range: Sharpham, Somerset (102), Tadham Moor, Somerset (60+), Westhay Moor, Somerset (42), Portesham, Dorset (40), Aller Moor, Somerset (21), Abbotsbury, Dorset (20+), Puncknowle, Dorset (15) and Wadebridge, Cornwall (12)
The wandering flock of eight Glossy Ibises continued to frequent Isles of Scilly until at least 14th, whilst in Co Cork 12 were at Clonakilty on 15th and three were at Bandon on 12th. Singles were logged at Marazion, Helston, The Lizard and Newquay (Cornwall), Fremington Pill (Devon), Westhay Moor (Somerset), Cobh (Co Cork) and near Forfar (Angus). Another landed on a boat at sea 20 miles off the Cork coastline.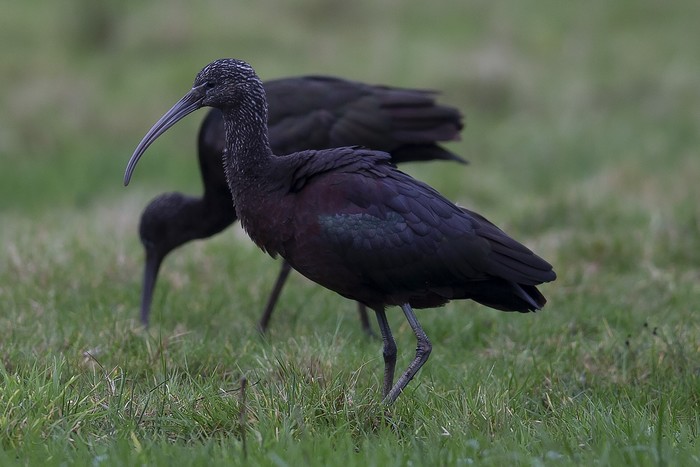 Last week's highlight, the Lesser White-fronted Goose in Cumbria, jumped bail and failed to show up to attempt to prove its innocence/wild credentials on 9th. Whatever its provenance, it'll be somewhere amongst Pink-footed Geese waiting to be refound.
Other goose species did, however, make an appearance. Todd's Canada Geese were reported with the full suite of potential carrier species; with Greenland White-fronted Geese on Tiree (Argyll), with Barnacle Geese at Cardurnock (Cumbria) and with Pink-footed Geese near Slamannan (Forth). On Barra (Western Isles) the Canada Goose continued to accompany Barnacle Geese at Borve.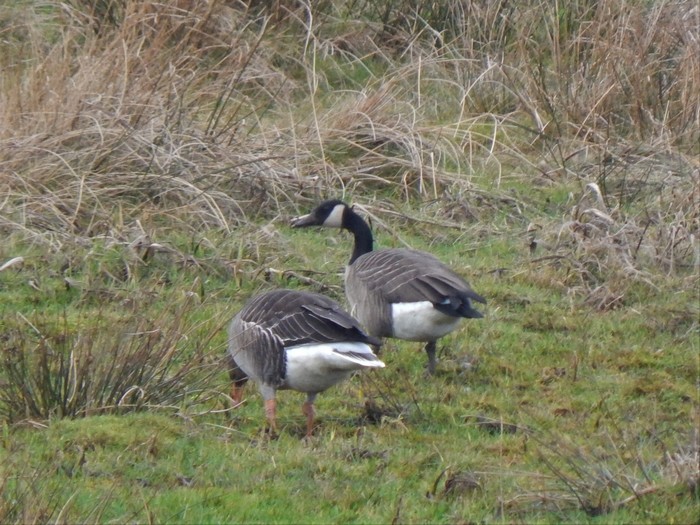 Adult intermediate morph Lesser Snow Geese were amongst Pink-footed Geese in Aberdeenshire and Highland and a blue morph joined Greylag Geese on Warton Marsh (Lancashire). The latter, rightly or wrongly, is far less inspiring than the Scottish birds.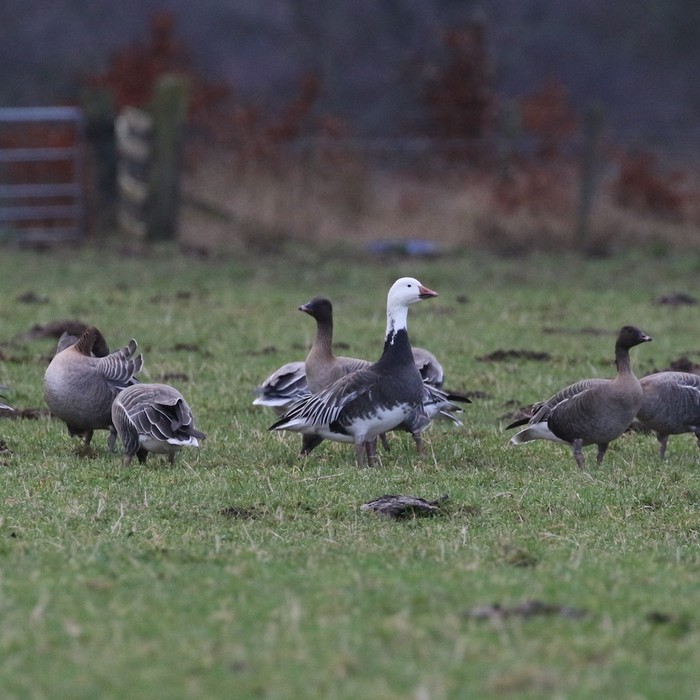 Six Black Brants were logged - in Cumbria, Dorset, Essex Isle of Wight, Lincolnshire and Norfolk - but the long-standing hybrid issue remains a problem in the latter county.
The Yare Valley Taiga Bean Goose flock has had a shocker of a winter, but at least a handful – up to 15 in fact – were on show this week. You have to wonder how many years this wintering population has got left... Elsewhere four Taigas were at Newham (Northumberland) and the flock of six remained at Seaton Common (Cleveland). Three were at Loch of Strathbeg RSPB (Aberdeenshire) and a lone bird flew over Shotts Nature Park (Clyde). Approximately 39 Tundra Bean Geese were reported, including a flock of 11 in Suffolk.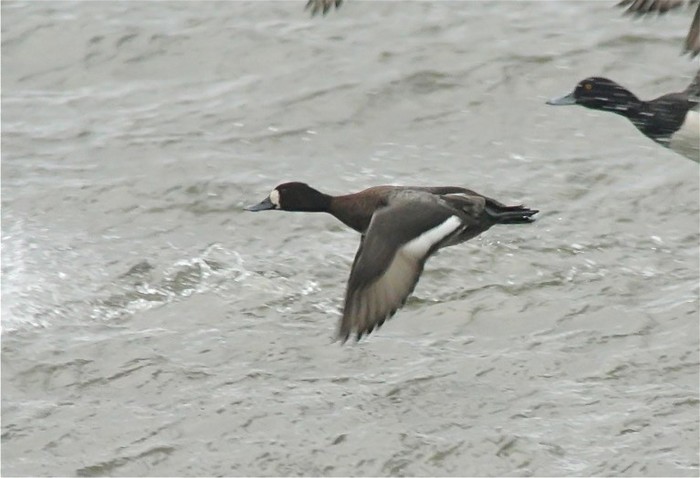 Lesser Scaup remained at Blithfield Reservoir (Staffordshire) and Chew Valley Lake (Somerset), whilst a Ferruginous Duck remained at Blashford Lake (Hampshire). The commoner review-worthy Aythya, Ring-necked Duck, was again well represented; 23 were recorded from 13 sites, all singles bar a flock of eight at Garranes Lake (Co Cork) and three on Tiree (Argyll).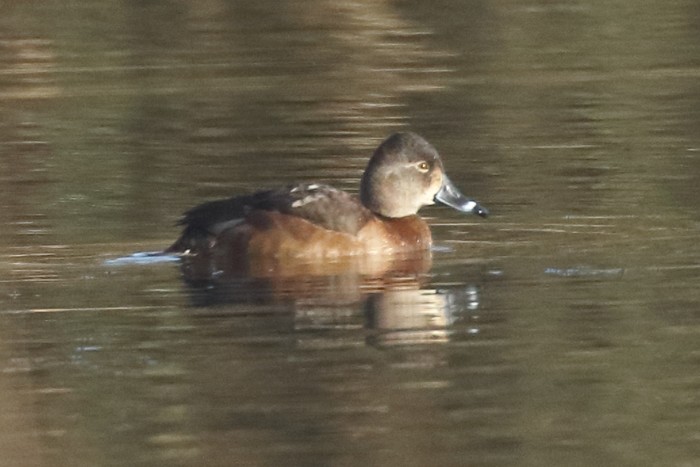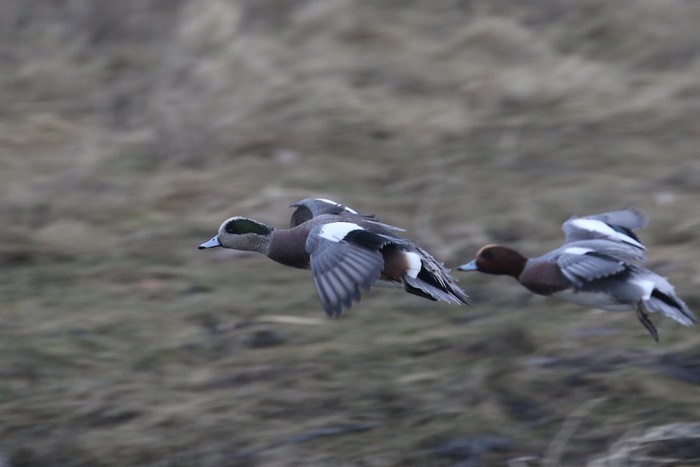 The long-staying queen King Eider remained at Ynyslas (Ceredigion) and Surf Scoters were logged in Fife (2), Co Meath (2) and Lothian. Finally, twelve American Wigeons (including three on Isles of Scilly) and five Green-winged Teals complete the week's wildfowl.
In Shetland the Pied-billed Grebe continued its long visit to Loch of Spiggie, Mainland.
Like the wildfowl above, most of this week's oddity waders were of American origin. Two Lesser Yellowlegs - at Devoran Quay (Cornwall) and Lodmoor RSPB (Dorset), a part-of-the-furniture-nowadays Long-billed Dowitcher at Frampton Marsh RSPB (Lincolnshire) and Spotted Sandpiper at Wexford Harbour (Co Wexford) all lingered.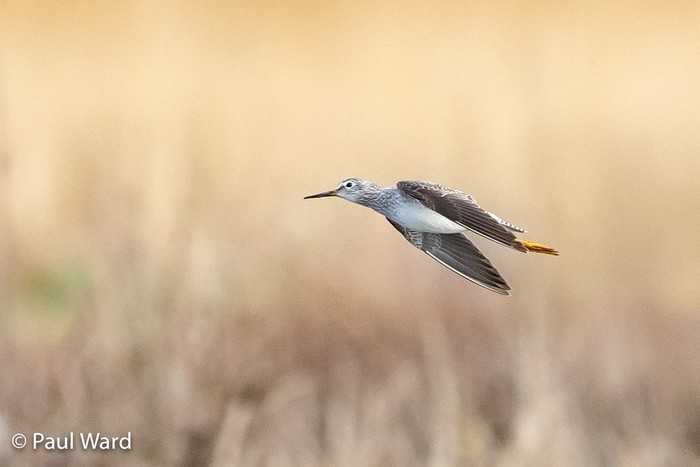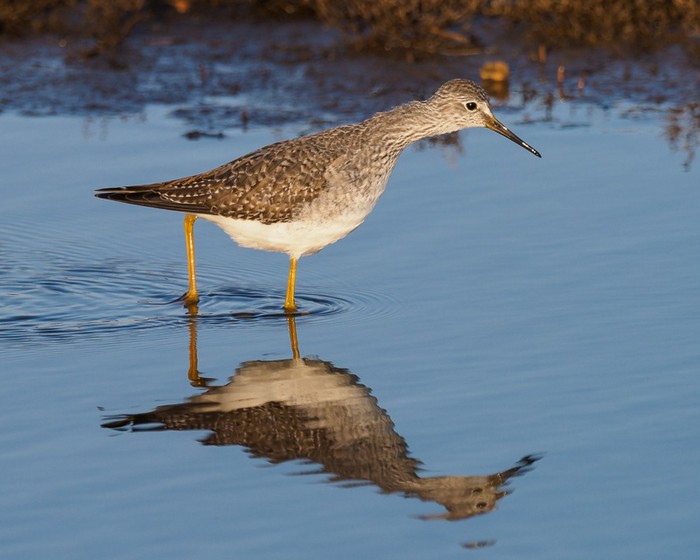 Of European origin was the Temminck's Stint, which remained a Chapel Amble (Cornwall) throughout the period.
A Bonaparte's Gull near Furbo (Co Clare) on 9th played second fiddle to Co Cork's aforementioned American Herring Gull in the rarity stakes, but it was the only other new discovery this week. Eight Ring-billed Gulls were all birds reported from known sites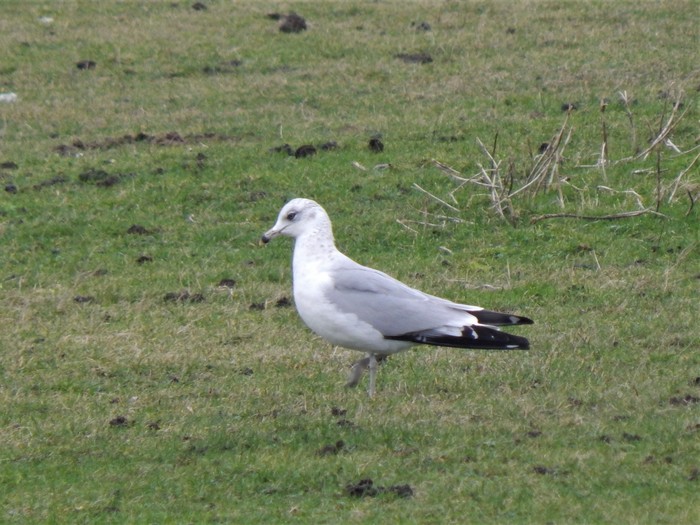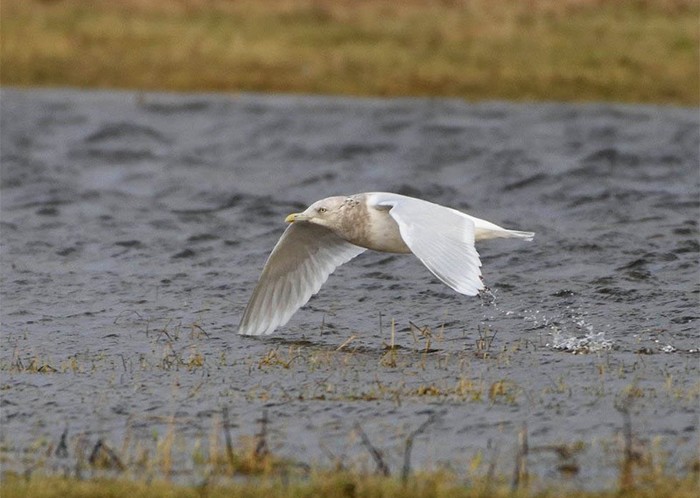 A juvenile Kumlien's Gull continued to show up at Pugneys Country Park (West Yorkshire), and an adult was on North Uist (Western Isles). The former bird has generated a bit of discussion, but the identification of Kumlien's seems to be sound – the bird's dark outer webs and pale inner webs to the outer primaries, which show as a dark subterminal portion with pale tip when the bird is at rest, and the bird's plumage lacking the coarse markings that darker Iceland Gulls tend to show, all point towards Kumlien's. I was originally in the Iceland camp, but I've been convinced otherwise, and when you factor in the knowledge that birds such as this have turned into this, it seems like a fair shout to call the Pugneys bird a Kumien's.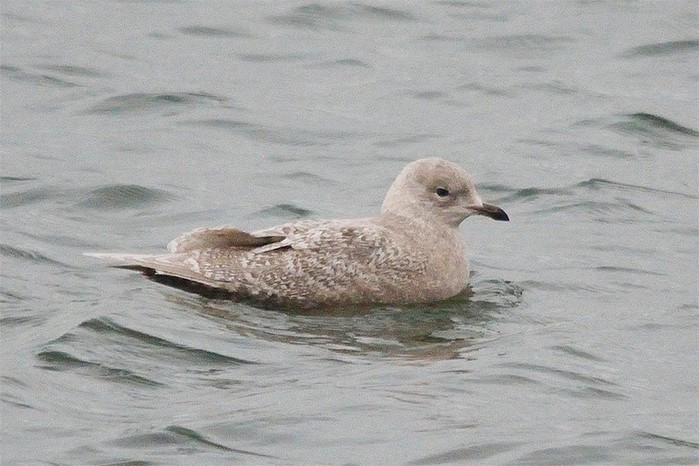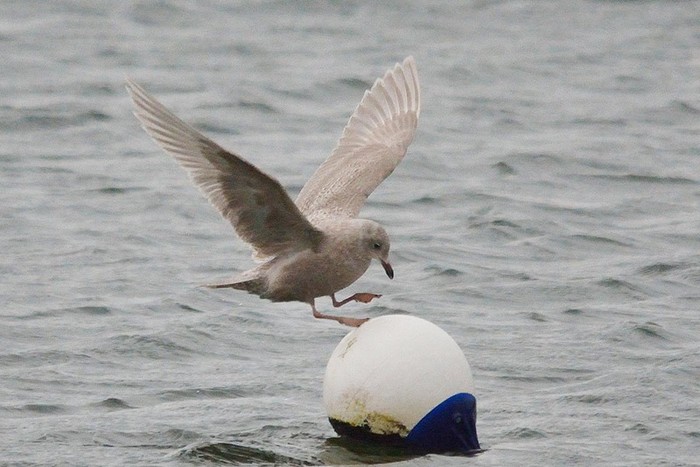 Somewhere in the region of 50 Iceland Gulls and 45 Glaucous Gulls were recorded during the week.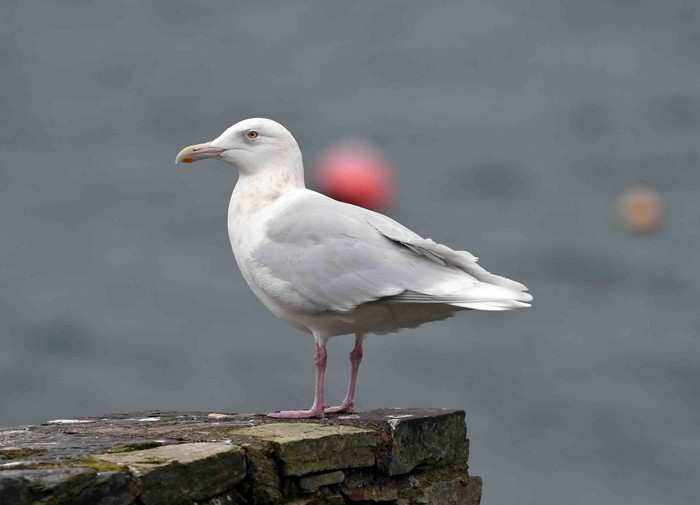 The White-tailed Eagle remained in the New Forest until at least 11th and an excellent number of Rough-legged Buzzards were logged during the week; four in Norfolk, two singles in Suffolk, two together in Cleveland and Kent and singles in Cambridgeshire and Isles of Scilly.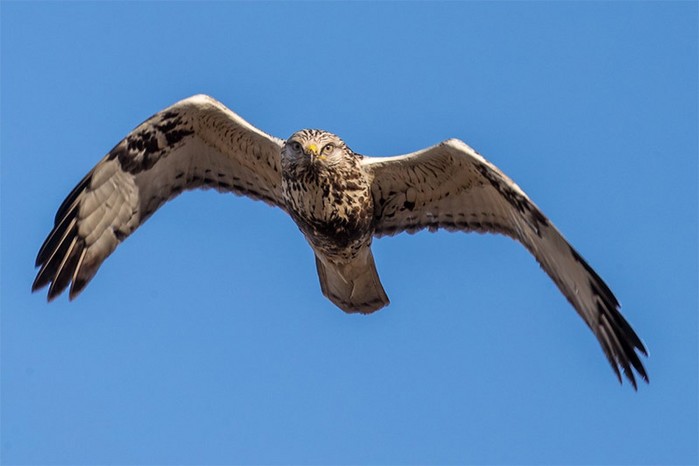 Isles of Scilly continued to host two of the best landbirds currently on show; the Desert Wheatear on St Agnes and the mobile Eastern Yellow Wagtail on St Mary's. If the wagtail hangs around long enough it will be interesting to see what it looks like as a 1st-summer. Yellow Wagtails typically moult into an adult-like plumage during their first pre-nuptial moult, so hopefully it will stick until the spring. There isn't a precedent for an autumn-arriving Eastern Yellow Wagtail lingering into the winter, but the tropical(ish) qualities of the Isles of Scilly are clearly proving favourable for this outcast. Fingers crossed.
Wintering Dusky Warblers continued to show at East Fleet (Dorset), Huttoft Bank (Lincolnshire) and Kingsbury Water Park (Warwickshire). A much commoner phyllosc was Yellow-browed Warbler, with 28 wintering almost exclusively in south and southwest England (although birds in Derbyshire and Hertfordshire broke the mould).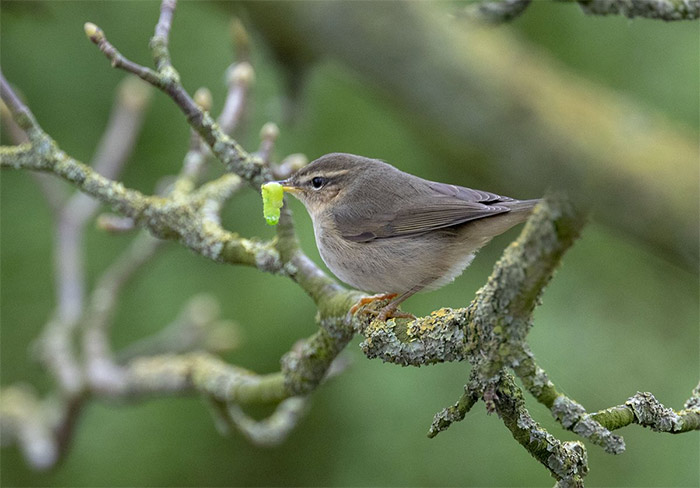 A Hoopoe at Loughgall (Co Armargh) was the third to be unearthed in Ireland this winter, following birds in Co Tyrone on 13th December-2nd January and Co Wexford on 29th December.
Reports of Great Grey Shrikes were thin on the ground – seven singles (in East Sussex, Hampshire, Glamorgan, Lancashire, Powys, Shropshire and Staffordshire) was all this week could muster.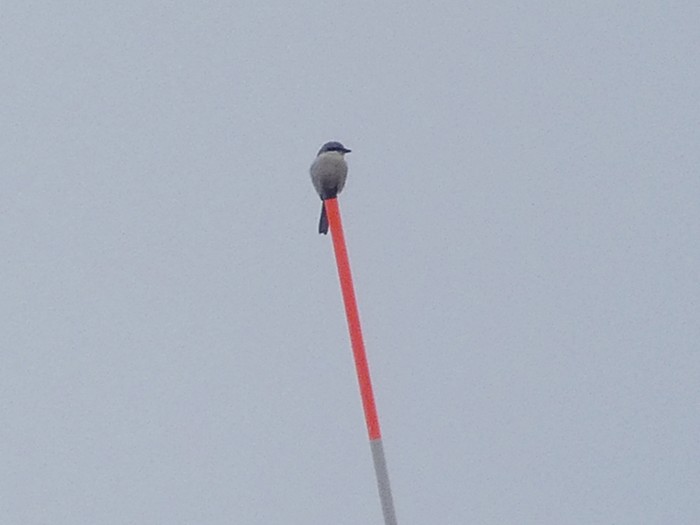 Waxwings were again well represented; the largest English gatherings comprised at least c40 in Sheffield (South Yorkshire), 30 in Fartown (West Yorkshire), 30 in Farnham (North Yorkshire), 25 in Huddersfield (West Yorkshire), 25 in Ordsall (Greater Manchester), 20 in Salford (Greater Manchester), 18 in Chester-le-Street (Co Durham) and 17 in Woodbridge (Suffolk), whilst a ton in Edinburgh, 50 in West Barns and 40+ in Edinburgh (Lothian) was the best Scotland had to offer.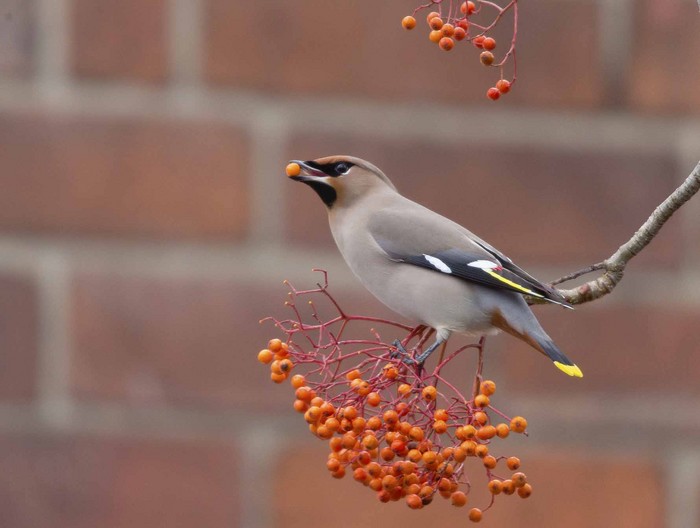 A total of 43 Shorelarks remained in their wintering spots, all along the east coast between Lothian in the north and Suffolk in the south.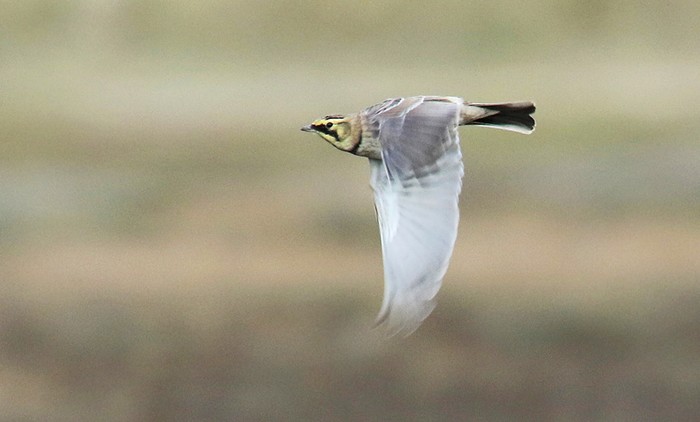 Rose-coloured Starlings remained in Conwy, Oxfordshire and Suffolk, whilst a Richard's Pipit lingered at South Shields (Co Durham) until 9th and a Common Rosefinch lingered at Cunningsburgh, Mainland Shetland.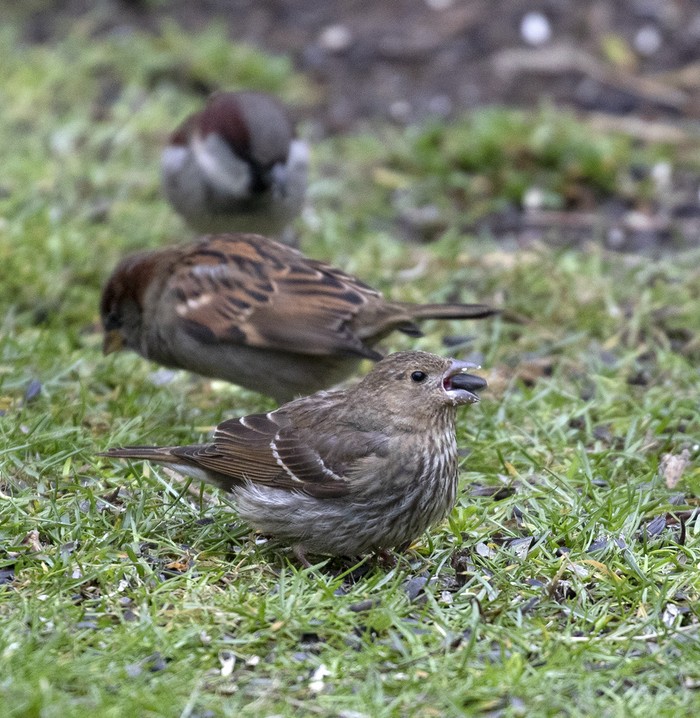 Coues's Arctic Redpolls were located amongst Lesser Redpoll flocks at The Bell (Borders), Allerthorpe Common (East Yorkshire), Hopes Reservoir (Lothian), Wells Woods (Norfolk) and Baltasound (Unst, Shetland). A candidate redpoll, thought most likely to be a Coues's, was at Dunecht House (Aberdeenshire).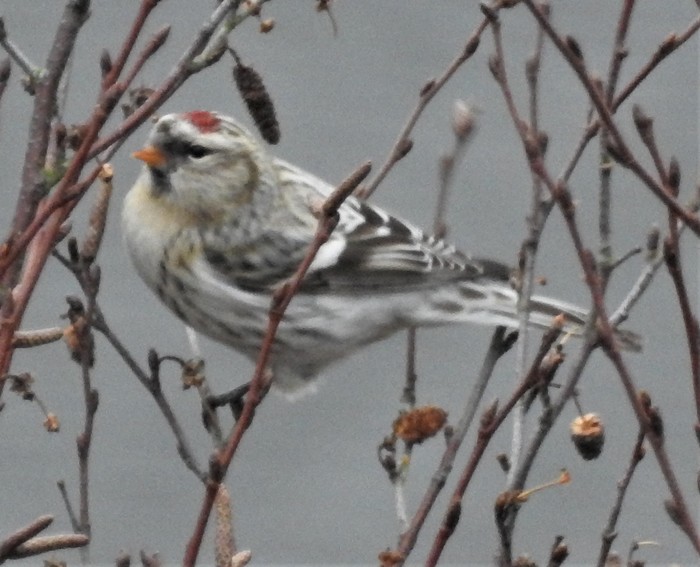 Lapland Buntings are hard to come by this winter, but pairs at South Gare (Cleveland) and Blakeney Point (Norfolk), and singles at Gibraltar Point (Lincolnshire), Winterton and Holkham (Norfolk) were recorded during the period
Up to two Serins were to be found at Gulval (Cornwall) throughout the week.
You wouldn't have known it from stepping out in the UK over the past week, but much of continental Europe has been experiencing particularly cold weather and heavy snowfall. Like a 21st Century Nutcracker, the snow didn't want to cross the North Sea. But that might change over the next week or two (more on that later...). Talking of Nutcrackers, let's start this section with the popular – and extremely tame - Nutcracker at Wageningen (Netherlands).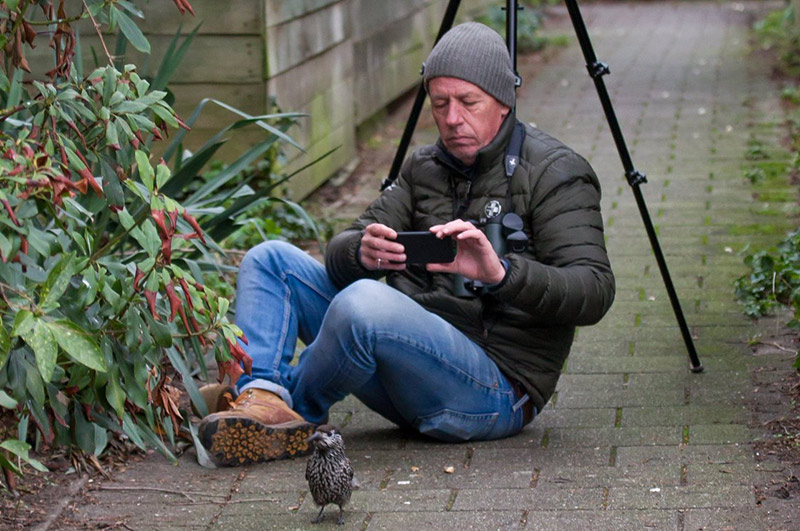 Other rarities on the near-continent included Long-legged Buzzard and long-staying Pygmy Cormorant in Belgium, Siberian Buff-bellied Pipit in France, Cretzschmar's Bunting in Sweden and Steppe Grey Shrike and Sociable Plover in Spain.
In warmer climes, the adult Dwarf Bittern remained on Fuerteventura whilst on Gran Canaria a first-winter bird was found and taken into care. The Allen's Gallinule remained on Fuerteventura as did the the African Crake was still on Cape Verde.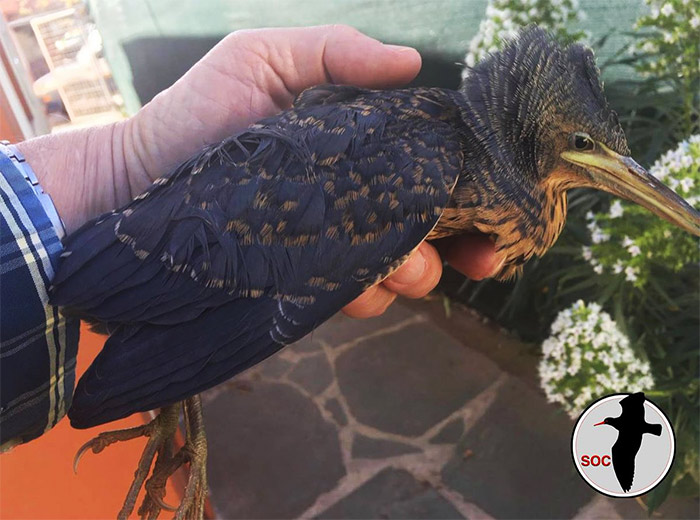 And so we return to the weather. Things could get quite interesting over the coming seven days, and beyond. The Met Office are still unsure of the exact details, but we can be pretty sure of one thing; it's time to reach for the hat and gloves – it's going to get significantly colder. No heavy snowfall is predicted for the remainder of this week, but depending on the ultimate position of a low pressure system currently to the west of the UK, from early next week onwards we could be seeing a similar setup to last winter's 'Beast from the East'. Albeit without the extremely cold air waiting to flow into Britain, on this occasion.
But what does this mean for the birds? We'll remain in the mid-winter doldrums for a few weeks yet, so there's unlikely to be a massive shift in the birding scene, no matter how dramatic the weather becomes. If the cold air sets in for long enough, perhaps we'll see another Hume's Warbler move into view. Or even better, a rare thrush might join a garden list (19th January 1990 brought the arrival of Britain's first Naumann's Thrush). It's not unheard of for American landbirds to show their face in January – the Golden-winged Warbler was discovered in January 1989, for instance. And when am I going to get my hands on a Double-crested Cormorant?! I was just three years old when the 1989 bird was found on 11th January. We're due another.
Stuart Piner
16 January 2019
Share this story
Tweet