Weekly birding round-up: 2-8 Jan
The week at a glance
Scilly starts the year strongly with an array of scarce and rare birds
And Cumbria scores a Lesser White-fronted Goose
Quiet times during the first week of 2019... Was this the birding equivalent of the morning after the night before? Or just the legacy that comes with generally settled conditions across Britain and Ireland at this time of year…
For the most part, the new year began where the old one left off – and birders on Scilly, at least, had plenty of variety to go at.
Scilly's golden New Year
If one could have picked anywhere in Britain and Ireland to see the New Year in, and to spend a few days birding to kick off 2019, I think that one could have done a lot worse than Scilly. Great pubs aside, the birding wasn't half bad at all this past week…
Starting on St Agnes, the Desert Wheatear that's been haunting Periglis stuck around a little longer, being last reported from there on 3rd. Meanwhile, an even longer-staying visitor re-emerged from the woodwork once more back on St Mary's on 4th – the first-winter Eastern Yellow Wagtail being noted again. More than a few birders have been given the run around by this cryptic 'new' species in Britain this past autumn, though I'm quietly confident that it's set to become if not an annual feature of years to come then certainly more regularly reported than hitherto – it's now firmly on everyone's radar.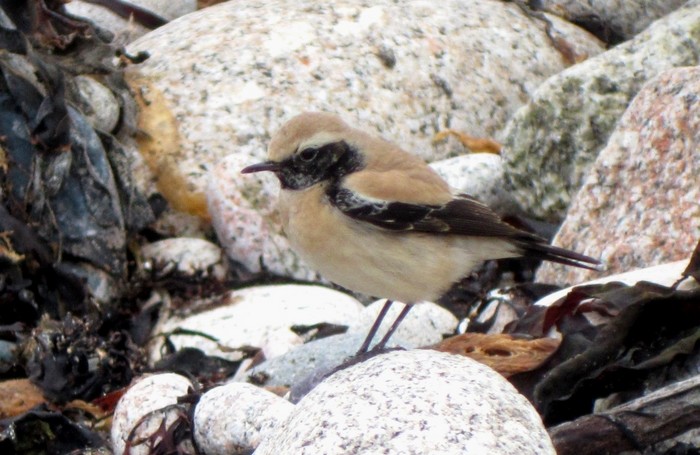 This particular individual has been less than obliging lately, with days passing between sightings and, indeed, the bird was absent again this week until 8th when it was heard once more. That somewhat uncooperative tone was echoed by the mobile flock of Glossy Ibis that bounced around the archipelago on 2nd, being seen that day over St Mary's, Bryher, St Martin's and St Agnes. Happily, the magnificent seven settled on St Mary's on 3rd-7th, constituting the joint largest flock ever seen on Scilly – alongside a flock of seven that spent the latter half of October 1940 on Tresco – and then, on 8th, with the addition of an eighth bird, they took the record.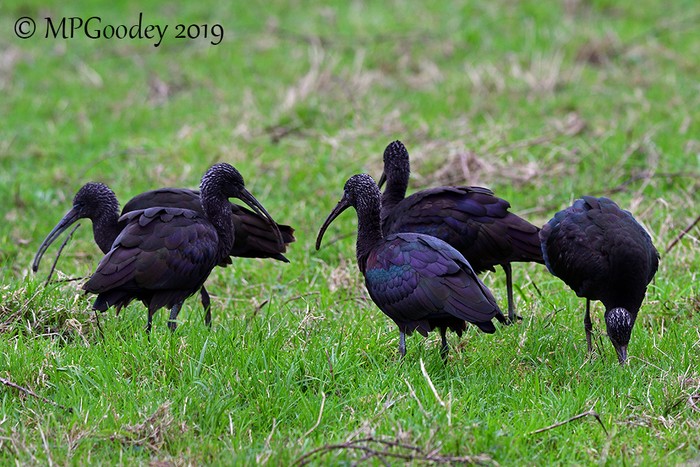 (Speaking of Tresco, it got in on the action this week with at least one American Wigeon noted on there on 5th-7th).
Finally, rather less glamorous than funky ducks or prehistoric-looking ibises, but still rather remarkable in its own right, the Common Rosefinch was still to the fore in a St Mary's garden on 2nd-6th. This is, apparently, only the third January record of the species in Britain - which would, of course, make the bird found in Cunningsburgh (Shetland) this week on 6th-7th Britain's fourth – the latter is certainly Shetland's first January record, anyway.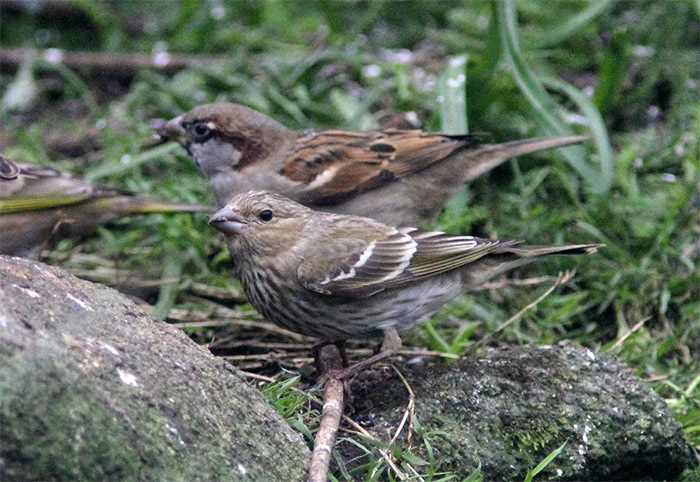 Speaking of which… Shetland vs. Scilly? On the basis of the past week, my home's got some catching up to do in 2019!
Lesser White-fronted Goose
In a week when, at times, we seemed beset with ducks of dubious origins, not least a bevy of Ferruginous Ducks in Powys and Surrey that may or may not have escaped and/or been released into the wild deliberately, the finding of a larger form of rare wildfowl with a potentially similarly compromised past makes me feel a little funny in my tummy. And no, not entirely in a good way.
I like my rarities to be clear-cut, of unassailable provenance. Though I'm a romantic at heart too and, like Fox Mulder, I want to believe…
Thing is though, while news of a Lesser White-fronted Goose at Burgh-by-Sands (Cumbria) on 8th makes my little heart skip a beat, and January is historically the peak month for arrivals… that's all tempered by the fact that it's an extremely rare breeding bird in a European context and, being an attractive little goose, it's one that the wildfowl fanciers count amongst their breeding stock – the going rate for a pair seems to be in the region of £150, judging by a quick outing on Google.
1w Lesser WFG Burgh-by-sands, Cumbria at dusk. Close briefly, then at distance.
Photos non-diagnostic but a dark bird much smaller than PFG, short all-pink bill, obvious yellow eye ring.
With 3000 PFG just E of village from layby NY333591. Couldn't tell if ringed.@cumbriabirds pic.twitter.com/wqKeLsP0yy

— B steel (@benjsteel) January 8, 2019
(And then, just to further muddy the waters, there's the reintroduction scheme run by (and I'm not making this up) the Swedish Association for Hunting and Wildlife Management that released a few hundred Lesser White-fronted Geese into Swedish Lapland between 1981 and 1999, some of which went on to form a small breeding population. A number of which birds, it later transpired, actually had some White-fronted Goose genes swirling around in them for good measure. Turns out - and who saw this coming - that the Swedish Association for Hunting and Wildlife Management is a voluntary body that exists primarily to look after the interests of hunting and hunters and were not, perhaps, best qualified to undertake restorative ecological work).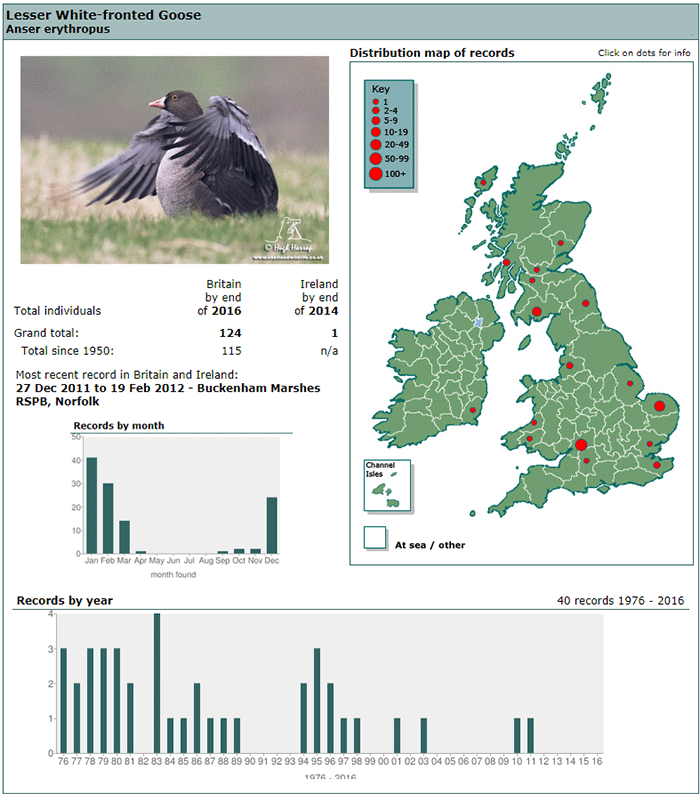 Meanwhile, back in Britain, the species was once a lot more frequent as a winter rarity than of late. From 1950 to 1990 barely a year passed without at least one bird being recorded. They began to misfire in the 1990s and then, by the turn of the century, they were into proper mega territory – in fact, we've just four accepted records, probably relating to just three birds, since 2000.
Absolutely none of which is to say that this bird in Cumbria isn't the real deal – it could well be, and in the absence of any incriminating bling or tatty wings, we should surely be giving it the benefit of the doubt. A perfectly reasonable time of year and location, though whether the 3,000 Pink-footed Geese it's hanging out with are an ideal carrier species is moot. And, if nothing damns it, it'll be a county first for Cumbria.
But as the salutary unfolding tale this week of the hitherto wild-appearing Ferruginous Duck at Llan Bwch-llyn (Powys) goes to show, there's many a slip twixt duck (or goose) and tick.
This was, predictably, a quiet week once more where seabirds were concerned, though yearlisters in Britain and Ireland both had something to aim for – namely both countries' respective returning examples of Pacific Diver. In Ireland, the adult was once again noted at Crookhaven (Co.Cork) on 3rd-8th; while in Cornwall, the adult was once more seen in Gerrans Bay on 5th.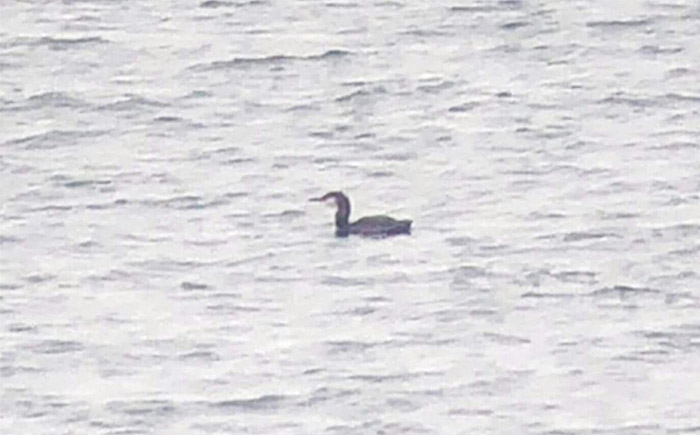 Five of the recent flock of White-billed Divers remained in Orkney off Papa Westray on 2nd. Shetland's regular wintering individual was still to be seen in the large bay off Kirkabister on 2nd-4th; and the settled bird was still off Barra (Western Isles) on 4th-5th.
With no Pomarine Skuas and just three Little Auks noted (at Aird (Argyll & Bute) on 7th), that's our seabird section done and dusted for another week. Which is good news, as it means that we're a little closer to our wildfowl winter warmer…
…but first, there's the small matter of our long-legged beasties. Though who are we kidding? There was nothing small this past week about the sightings of Cattle Egrets across the region… On 2nd alone, some 240 birds were logged nationwide – and, by the end of the week, perhaps as many as 100 more birds had been reported. This comes, of course, with the usual caveats about just how fluid and mobile our wintering population of Cattle Egrets actually is. The week's peak count came, after a period of Dorset dominance, from back in the Somerset heartland where 79 were noted at Sharpham Park alone on 6th.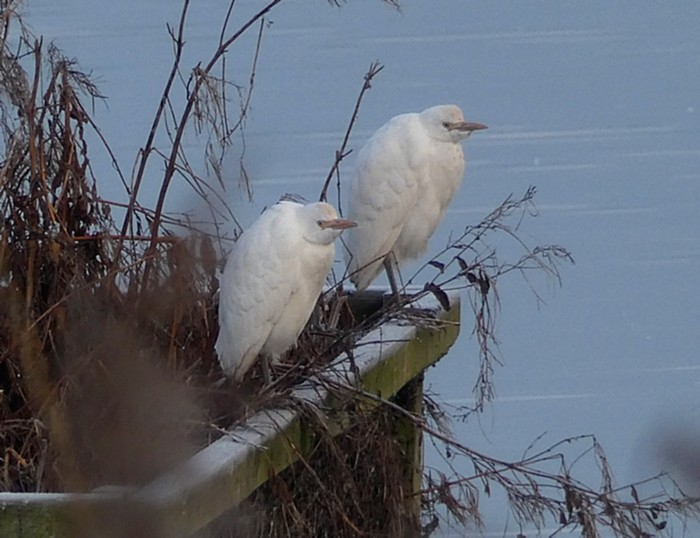 We've already touched upon Scilly's mobile flock of Glossy Ibises, but there were more besides this week in Britain and Ireland alike. The long-staying bird in Devon remained at Fremington Quay on 2nd, with new birds seen in Essex on 3rd at Coryton and in Cornwall on 3rd-4th at Marazion RSPB; a further probable was seen in a tree at Llangorse Lake (Powys) on 4th. Ireland meanwhile could boast the settled individual at Rosslare (Co.Wexford) still on 2nd-4th, with a flock of three seen near Wexford itself on 4th; and a further example at Dingle (Co.Kerry) on 2nd-8th.
Co.Kerry also provided perhaps the less contentious of two White Stork sightings this week – mainly by virtue of distance from the epicentre of releases in Sussex – this being the bird reported over Kells on 3rd. Another seen over Lower Test Marshes HWT (Hampshire) on 6th is maybe best qualified as of unknown origin…
(Really not feeling the love for White Storks at the moment).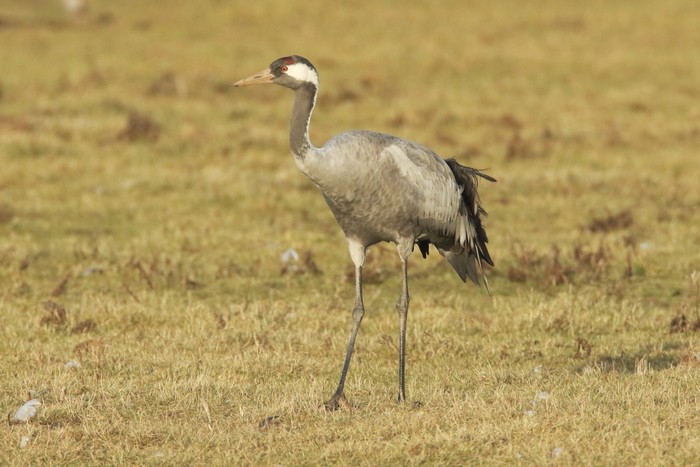 Cambridgeshire remained the reliable stronghold for non-Norfolk Common Crane sightings again this week, with a peak count of 47 birds at March on 5th. Elsewhere, the settled first-winter bird remained in Borders at Coldstreams until 8th; another was seen down in Cornwall at Walmsley Sanctuary CBWPS on 3rd; and, on 8th, one was noted in Dorset at Hartland Moor.
And now we're onto the week's main event… and that's our regular paddle around the RBA rarity duckpond. Plenty to get our teeth into, too…
Starting as usual with the The Goose Formerly Known As Canada, the small Canada-type remained on Barra (Western Isles) on 2nd-5th, with another on North Uist at Balranald RSPB still on 4th-8th the latter site also boasted an hutchinsii Richardson's Cackling Goose on 4th-8th again. In Cumbria, the interior Todd's Canada Goose was once more seen at Anthorn on 5th, while another remained on Tiree (Argyll & Bute) on 2nd still.
An intermediate morph Snow Goose was present on 6th at Munlochy Bay (Highland).
An adult Black Brant (or a hybrid) teased birders in the Holkham and Wells area of north Norfolk on 2nd-4th; less trying birds were noted this week at Ryde (Isle of Wight) still on 3rd, Mersea (Essex) still on 4th, Kilnsea (East Yorkshire) again on 5th, and Walney (Cumbria) again on 8th.
Once again, where our quackers are concerned, it was Ring-necked Ducks that dominated the news for another week, making up with volume what they lack in sheer rarity. (Though I defy anyone finding a Ring-necked Duck to not feel the old pulse quicken at the sight of a transatlantic vagrant).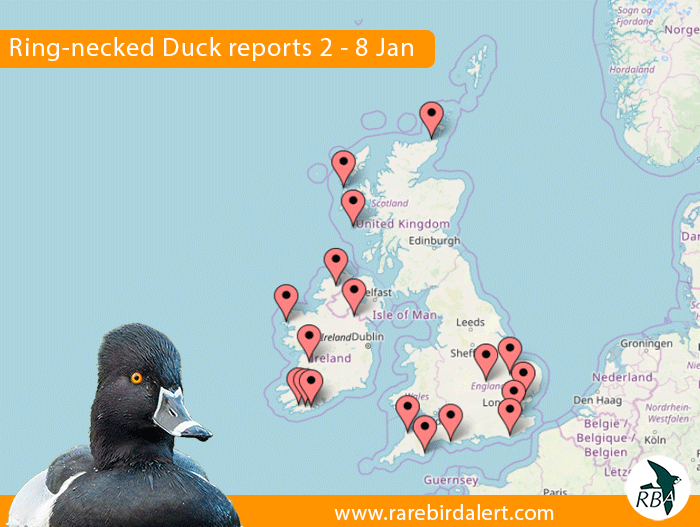 Ireland was still enjoying the lion's share of records, with five still at Garranes Lake (Co.Cork) on 6th overshadowed only by a tally of nine birds once more at Ballinacarriga Lough on 7th and back at Garranes Lake on 8th for the biggest single site counts; elsewhere, a drake was seen at Ballyalia Lake (Co.Clare) on 2nd; another drake was present in Co.Cork at Ballylickey Bay on 3rd-5th still; a female was present on Achill Island (Co.Mayo) on 4th; a female remained on Lough Fern (Co.Donegal) on 8th; and two females were present still on Lough Morne (Co.Monaghan) on 8th also.
Scotland wasn't doing too badly for them either, with three birds still on Tiree (Argyll & Bute) on 2nd-6th the stand-out record; other birds were noted in Highland at St John's Loch again on 2nd-6th, and Benbecula (Western Isles) still on 6th.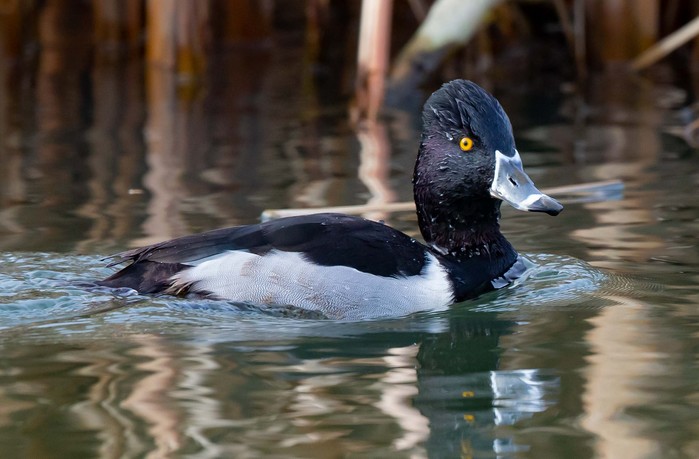 All of which just leaves England, where a goodly scatter of settled birds and a couple of new faces were to be had this week: a female was present on Lower Tamar Lake (Devon/Cornwall) on 2nd-7th; drakes remained on Pitsford reservoir (Northamptonshire) on 2nd-8th, Slapton Ley (Devon) on 2nd-8th, New Hythe GPs (Kent) on 3rd-8th, and Abberton reservoir (Essex) on 3rd-6th; the first-winter drake was still at Radipole Lake RSPB (Dorset) on 2nd-8th; while a fresh drake was found at Welney WWT (Norfolk) on 3rd-8th and a first-winter female was uncovered on 8th at West Langney Lake (East Sussex).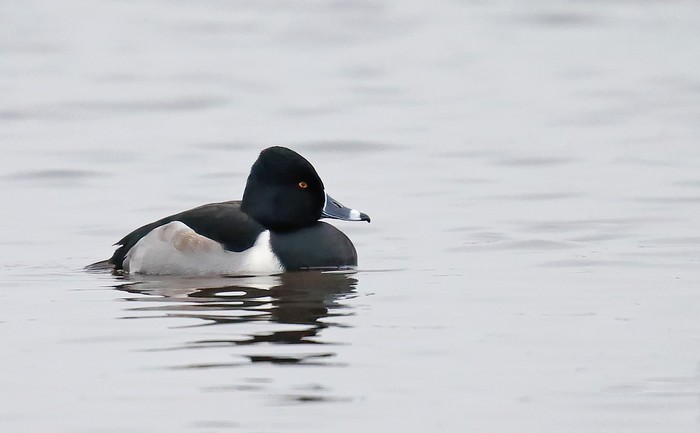 The drake Lesser Scaup was still present in Somerset at Chew Valley Lake this week on 2nd-7th, augmented by a fresh female at Blithfield reservoir (Staffordshire) on 6th. In one of those neat coincidences that rarities seem to revel in, Staffordshire's only previous female Lesser Scaup was also a one-day bird at Blithfield, present there on 3rd November 2006.
The juvenile Ferruginous Duck remained at Bedhampton (Hampshire) on 2nd-8th; the recent drake at Llan Bwch-llyn (Powys) was seen again on 4th, though was noted to be wearing a colour ring of shame… so that's another one that, after being presumed wild for much of 2018, can't be given the benefit of the doubt any more.
American Wigeons had another good week, starting in Highland where birds remained at Tain Links on 2nd-8th and Loch Eye on 6th still; in the Western Isles drakes were noted on North Uist at Loch Aileodair on 4th still and on South Uist's Loch Bornish on 4th-5th. In England, birds remained at Rutland Water (Leicestershire) on 2nd-8th and Hesketh Out Marsh RSPB (Lancashire) on 3rd-6th; sightings from North Yorkshire came from Wheldrake Ings YWT on 3rd and North Duffield Carrs NNR on 5th; while in the southwest a drake and a probable female were seen on Tresco (Scilly) on 5th with the drake still present on 7th, and a further bird was reported from Ham Wall RSPB (Somerset) on 6th; on 7th-8th a drake was found at Kirkby on Bain GPs (Lincolnshire). The female was still present at Grimley (Worcestershire) on 5th-8th.
Green-winged Teals remained largely the preserve of Scotland once more this week – birds being recorded on 2nd at Loch Flemington (Highland) still and on Tiree (Argyll & Bute) again too, with another at the traditional winter station of Caerlaverock WWT (Dumfries & Galloway); and on 5th-8th again on North Uist (Western Isles) at Loch Sandary. English records came from Dorman's Pool (Cleveland) again on 2nd, and Dunwich (Suffolk) on 4th-7th.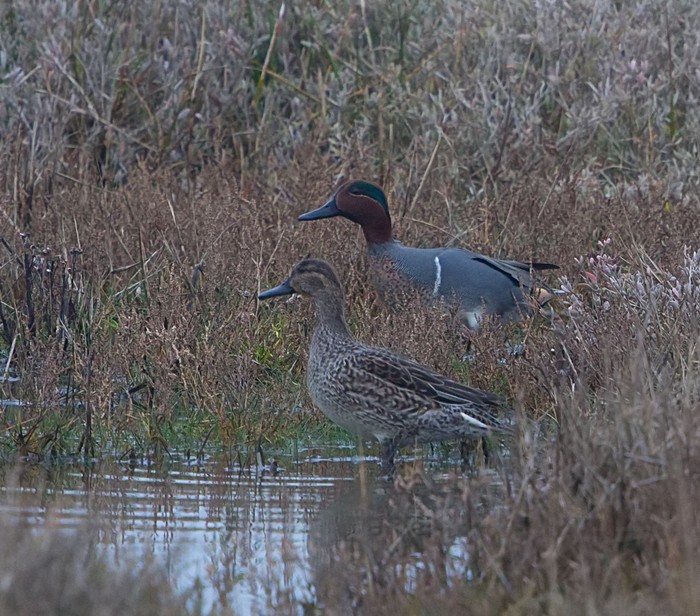 Our weekly tally of Surf Scoters lifted into double figures this week, with Lothian alone accounting for sightings from Musselburgh on 2nd-6th, Gullane Point on 2nd-6th, and Aberlady Bay on 2nd; further Scottish records came from Fife, where the two drakes remained in St Andrews Bay on 2nd-8th; and Qanterness (Orkney), where two drakes were noted on 2nd-3rd. In Ireland, Co.Meath provided sightings from Gormanstown still on 2nd-7th and Ben Head again on 5th; a drake was once more seen off Ballyvaughan (Co.Clare) on 3rd-5th; and a juvenile was logged from Mountcharles (Co.Donegal) on 5th-6th still. A possible female/juvenile drake was reported from last winter's reliable site in Cornwall, Lower Porthpean, on 2nd.
The female King Eider was still present at Ynyslas (Ceredigion) on 6th.
All of which brings us to an irregular feature of the weekly honkers and quackers – one that seems appropriate just after the traditional annual screening of The Great Escape. Yes, it's a gentle reminder of just what appears to be at large on the wrong side of the fence… This week a White-headed Duck found on 5th at Roxton GPs (Bedfordshire) briefly caught our attention when early news suggested it was un-ringed… though closer subsequent inspection later that day revealed it was wearing a ring of shame after all. Meanwhile this week the escaped female Bufflehead was still tootling around Rutland Water (Leicestershire); the drake Hooded Merganser was lounging at Drakelow (Derbyshire); and for added spice a drake Cinammon Teal of unknown origin showed up in Essex at Heybridge GPs on 7th-8th. Given these birds change hands for a decent few quid you'd think wildfowl fanciers would take better care not to lose them in the first place...
Moving away from those murky waters, we close back in Shetland where, on Loch of Spiggie, our honorary wildfowl the Pied-billed Grebe was once again to be seen on 2nd.
From feast to famine now where, after a glut of geese and ducks, we've precious few shorebirds of interest seen this past week.
The faithful adult Long-billed Dowitcher was still hanging around Frampton Marsh RSPB (Lincolnshire) on 2nd-8th.
Lesser Yellowlegs remained in Dorset at Lodmoor RSPB on 2nd-8th and in Cornwall at Devoran Quay on 2nd-6th also.
While in Ireland, the juvenile Spotted Sandpiper was still to be seen at Ferrybank (Co.Wexford) on 3rd-8th.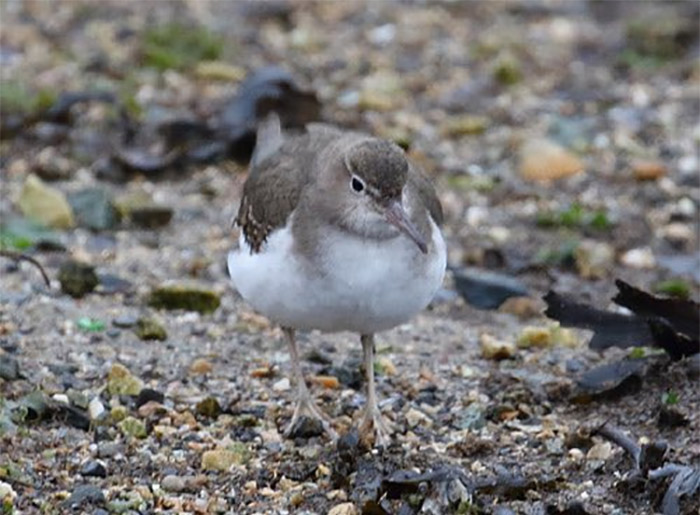 Finally, back in Cornwall the unseasonal Temminck's Stint was still at Chapel Amble on 2nd-8th.
The variety of the Christmas period where gulls and terns were concerned was a thing of the past this week, with comparatively little to go at, apart from a small upturn in white-wingers in the north on the back of northerly gales as the week drew to a close. More of which in just a moment…
…but first, in the absence of rarer Nearctic gulls, we've a handful of Ring-billed Gulls - and numbers of even these in Ireland seem a shadow of those weekly tallies we've enjoyed in previous winters. This past week birds were seen at Tralee Bay Wetlands Centre (Co.Kerry), where two adults were noted on 5th; at Cobh (Co.Cork), an adult also on 5th; at Blennerville (Co.Kerry), where a first-winter individual was seen on 5th; at Bray (Co.Wickow) again on 5th; at Dundalk (Co.Louth) still on 6th; and at Drimnagh (Co.Dublin) again on 8th. Scotland provides our final birds, a second-winter present on Tiree (Argyll & Bute) at Loch a' Phuill on 4th, and the adult still at Strathclyde Loch (Clyde) on 7th-8th.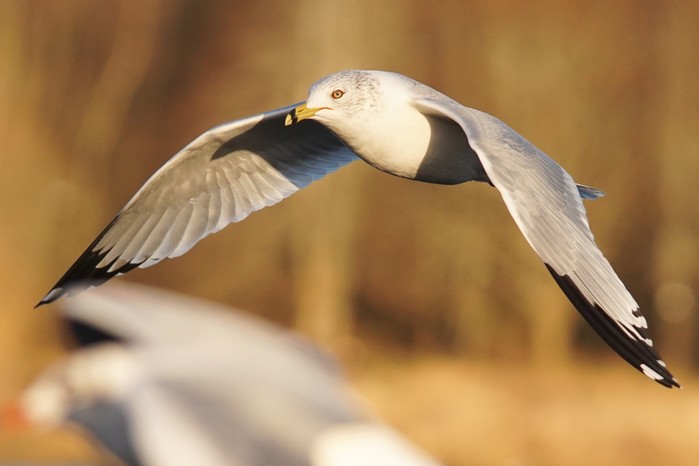 Sightings of Kumlien's Gulls this week were restricted to a juvenile bird that was either this or an Iceland Gull at Pugney's CP (West Yorkshire) on 3rd-6th.
Iceland Gulls themselves were fairly thin on the ground once more this week, with some 40 birds in all seen nationally as the days wore on. Most of these were single birds, but single site duos were noted at Scrabster (Highland) on 4th, Unst (Shetland) on 5thand 7th, Boddam (Shetland) on 7th and nearby Scatness (Shetland) on 8th; Unst's tally had risen to three birds by 8th; and four birds were seen on 2nd on Eday (Orkney).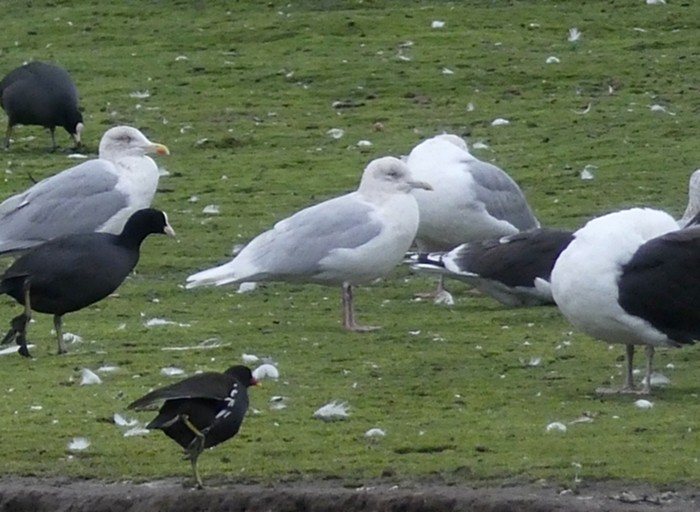 Glaucous Gulls were in shorter supply still, with around 25 birds in all recorded. Again, these were for the most part singletons but a few duos were logged too – on Unst (Shetland) on 2nd and again on 8th; on Eday (Orkney) on 2nd; at Shawell Sandpits (Leicestershire) on 3rd-5th; and at Draycote Water (Warwickshire) on 4th; and five birds were logged on Fair Isle (Shetland) on 8th. Of the single birds, a settled juvenile in Norfolk at Wells on 2nd-8th was to prove as popular as a big young gull with a face only a mother could love ever can.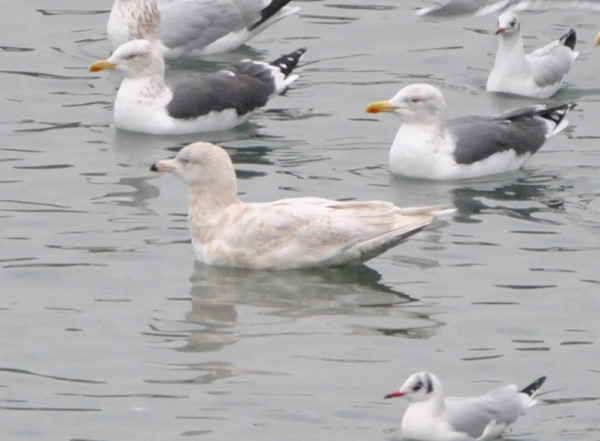 We'll finish this section of proceedings with a rare tern – no, not that royally rare tern that's gone AWOL again (for now) – this was, instead, the more reliable regular adult Forster's Tern in Co.Galway, seen on 2nd at Ballynacloghy, on 5th, at Newtownlynch and Kinvarra – remaining at Kinvarra still on 8th.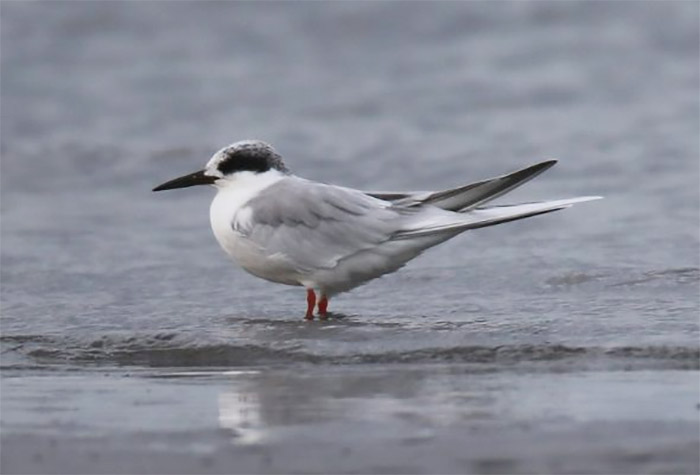 Back to the top of the pecking order, metaphorically and literally, is the juvenile White-tailed Eagle still haunting Hampshire this week – seen initially on 2nd over Backley Plain and then, latterly, back in the vicinity of Milkham and Roe Inclosures on 5th-8th. A massive Hampshire bird in every sense of the word, and getting more than a few county yearlists off to a flyer, I suspect.
Wintering Rough-legged Buzzards were still a welcome feature in the east, for the most part, with just the errant bird still on Bryher (Scilly) on 2nd-7th bucking the trend. Kent, meanwhile, was where the heart of the action was to be found, with the settled individual at Funton Creek on 2nd-8th joined, on 6th-7th, by a second bird; this followed reports of two birds on the Isle of Sheppey on 2nd at Harty Marshes, and one at Capel on 4th; with a confirmed bird at Manston on 4th also.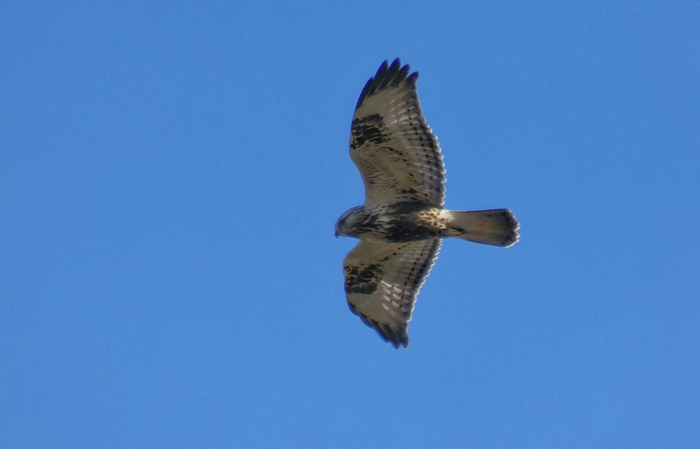 Working our way up the country, further birds were seen this week at Old Hall Marshes RSPB (Essex) on 2nd; at Orford Ness (Suffolk) again on 6th-7th, with one seen in Suffolk over Minsmere RSPB on 7th; in Cambridgeshire again in the Holme Fen NNR area on 2nd-8th and Thorney Toll on 6th; in Norfolk at Welney WWT on 4th, Docking on 5th, Halvergate on 7th and Choseley drying barns on 8th; and on the Cleveland / North Yorkshire border around Commondale on 2nd-6th.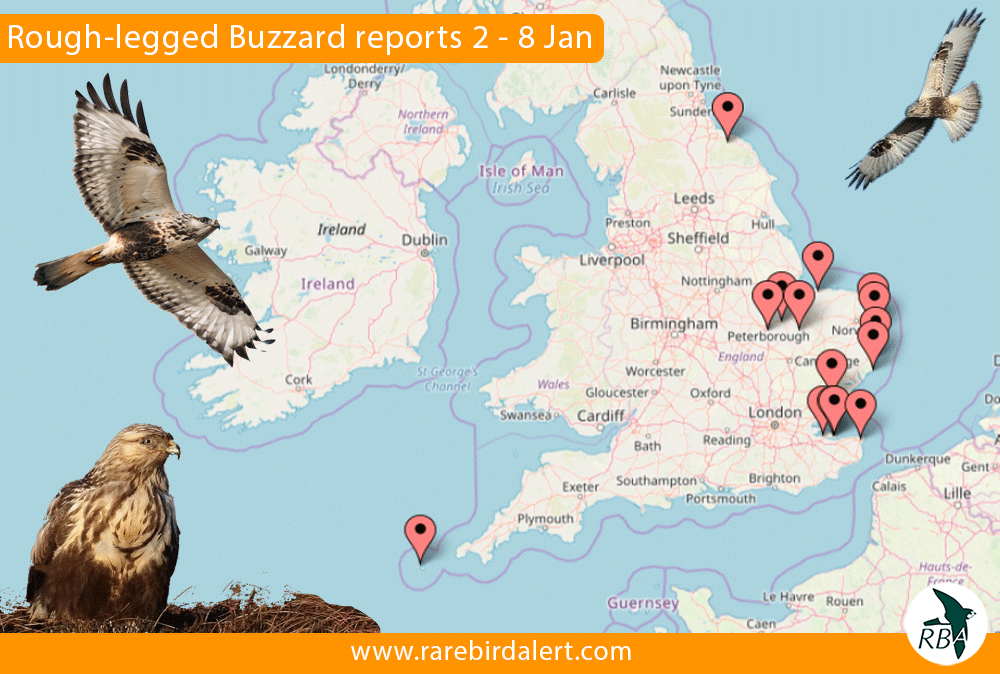 There was a modest triumph amongst the passerines this week for your own correspondent, in the form of a successful prediction of a new Dusky Warbler being found – what I didn't foresee was that this would be a second bird at one of the recent established sites – but that's just what happened at Kingsbury Water Park (Warwickshire) on 3rd when two birds were noted there; at least one of which remained until 8th.
Other recent Dusky Warblers remained at Huttoft Bank (Lincolnshire) on 2nd-8th and East Fleet (Dorset) still on 2nd-6th. I bet there's at least one more out there, somewhere…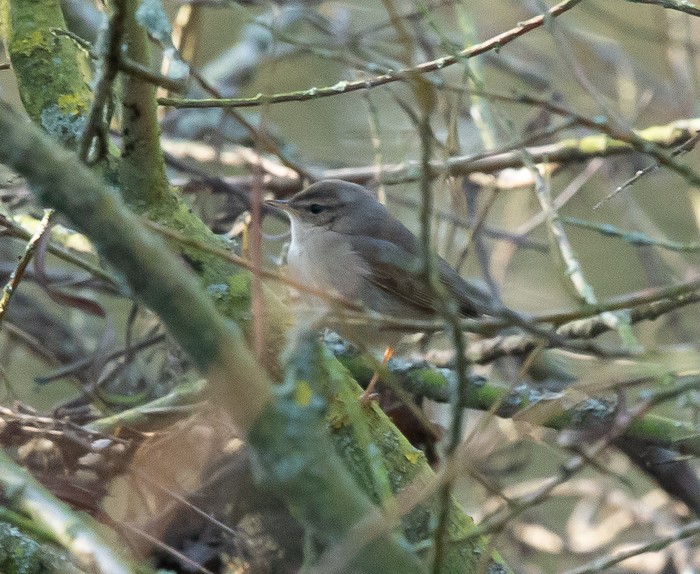 Certainly there must be more Yellow-browed Warblers waiting to be found, for new birds were uncovered again this week, and they weren't all even in the balmy southwest – one was found up in Derbyshire at Sinfin on 5th-8th, and another was trapped and ringed in Norfolk on 6th at Burgh Castle. While I'm surprised one isn't still kicking around on St Mary's (Scilly), Cornwall is proving ever reliable for the species – sightings this week came from Coverack on 3rd-4th still, with a second bird present on 4th-6th; in Falmouth on 3rd and 6th; at Helston sewage works on 3rd-5th; and at Helston Loe Pool on 5th.
Devon was looking busy too, with single birds logged this week at Broadsands still on 2nd-8th and two birds present there on 7th; at Slapton Ley on 2nd-8th; at Powderham Sawmills still on 3rd-5th; at Bowling Green Marsh RSPB on 6th; and at Tipton St.John on 7th again. Dorset's RSPB regulars remained at large in Weymouth, with birds still present at Radipole Lake RSPB on 2nd-6th and at Lodmoor RSPB on 3rd-8th; north in the county one was found at Sherborne sewage works on 7th-8th – an unthinkable bird for me as I used to walk past the site most days on my way to my teenage local patch at Sherborne Lake, and could only dream of the likes of a winter Yellow-browed; one was found at Wyke Regis on 8th, and an unconfirmed report of a final bird at Trent came through on 8th also.
Somerset's first sighting this week was at Bruton on 6th, with at least two still noted at Pen Mill in Yeovil on 8th; while the individual in Gloucestershire was still present at Ashleworth Ham NR on 6th-8th, and another Gloucestershire bird was found at Slimbridge WWT on 7th-8th. Finally, Hampshire landed a bird at Blashford Lakes HWT on 8th, with a probable that day also at nearby Ibsley. That's over 20 confirmed Yellow-browed Warblers present in Britain in the first week of January - surely there's a Hume's Warbler out there somewhere?
Now present for almost a month in Co.Durham, the Richard's Pipit at South Shields was still to be found this week on 2nd-7th, with a second bird joining it there on 7th; the other recent bird, at Tehidy CP (Cornwall), was last reported from there on 2nd.
In Ireland, the Hoopoe was once more noted at Dungannon (Co.Tyrone) on 2nd.
Norfolk's recent Black-bellied Dipper was last seen at North Walsham on 2nd, but not reported thereafter.
Back to Dorset's Radipole Lake RSPB, we find the Penduline Tit emerging once more from the reedbeds on 4th.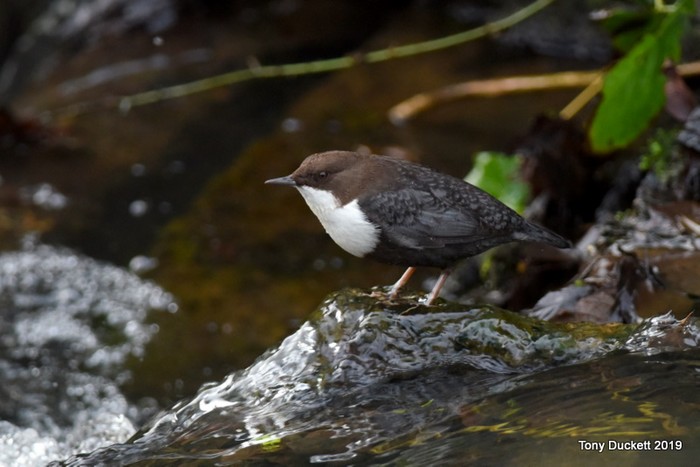 Numbers of Great Grey Shrikes crept, just, into double figures this week. On 2nd birds were noted in North Yorkshire at Dalby Forest and Langdale Forest; in Crab Tree Bog (Hampshire) still on 2nd; at Leighton Moss RSPB (Lancashire) still on 2nd; at Hatfield Moors NNR (South Yorkshire) still on 2nd-6th; in Garwnant Forest (Glamorgan) still on 2nd-8th; in Cannock Chase (Staffordshire) still on 5th; at Clumber Park (Nottinghamshire) again on 6th; at Needingworth (Cambridgeshire) again on 7th; and in Ashdown Forest (East Sussex) again on 8th. Additional sightings this week came from Rhinefield (Hampshire) on 3rd and Clunton (Shropshire) on 6th; with a further bird reported on 3rd from Congleton (Cheshire).
I think it's fair to say we are now, definitely, in the throes of a modest Waxwing winter, as birds continued to crop up here and there nationwide in small parties and, occasionally, rather larger flocks too. It's usually a good sign once stragglers make it to Devon and Cornwall – entire years can pass without a Cornish record - and sure enough that happened this week with single birds seen in Plymouth and Truro respectively. At a conservative estimate, over 1,000 birds were logged nationally this week, with the largest flock coming once again from Edinburgh (Lothian) where, on 3rd, 140 birds were seen in Pilrig Park.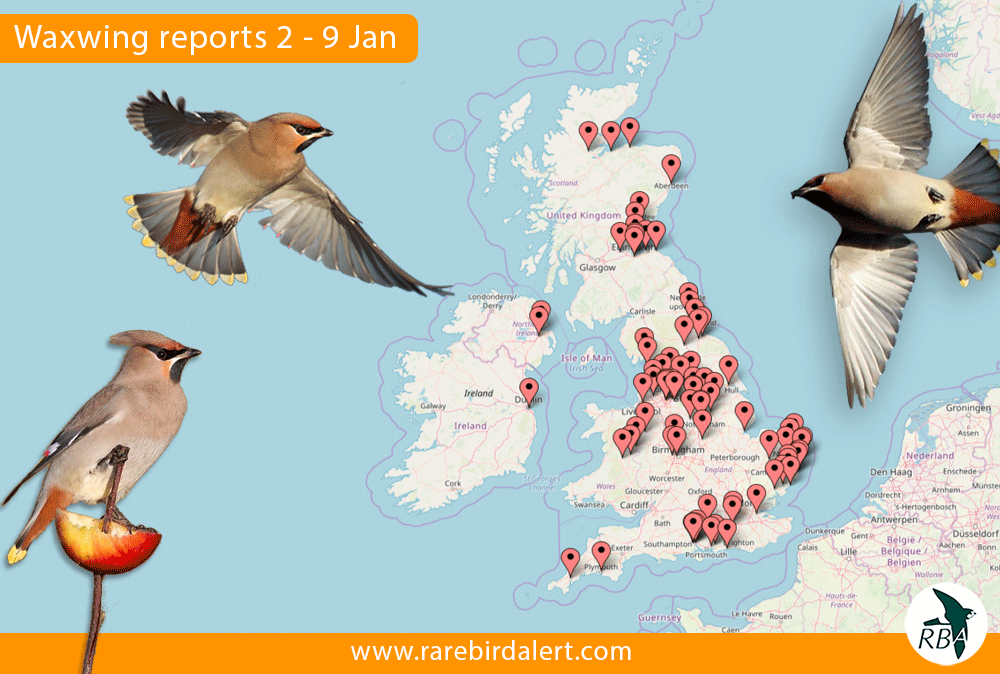 A quartet of wintering Rose-coloured Starlings remain hanging in there this week – the juvenile still present at Kesgrave (Suffolk) on 2nd-8th; the adult again in Oxfordshire at Botley on 2nd-3rd; a bird still in Scarborough (North Yorkshire) on 3rd; and the young bird again in Lladudno (Conwy) once more on 7th-8th.
Speaking of Yorkshire, the Pied Crow was still present this week at Flamborough (East Yorkshire) on 3rd-6th. Having come all this way – wherever home originally was – it's still showing no signs of moving on now it's found Flamborough. Wise bird!
A Serin was found in Cornwall on 8th at Gulval.
We've already covered the unseasonal Common Rosefinches in Scilly and Shetland in this week's headlines, so it's to Arctic Redpolls that we turn for a more wintery final offering in the passerines. Exilipes Coue's Arctic Redpolls were logged this week at Allerthorpe Common (East Yorkshire) on 3rd-6th; Wells Woods (Norfolk) again on 5th-6th; at The Bell near Whiteadder reservoir (Borders) again on 6th; and at Hopes reservoir (Lothian) on 3rd-6th, with two birds at the latter site on 4th. A further Norfolk bird was found on 7th at Barton Broad.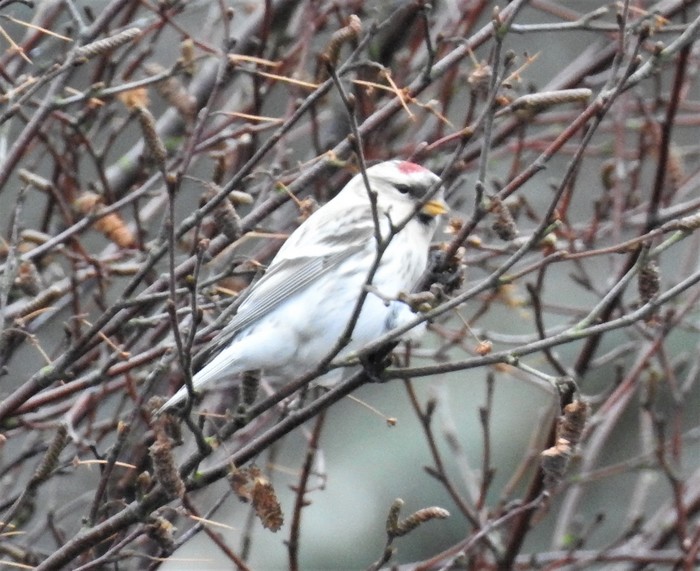 More distant shores, this week, held relatively slim pickings – though what they lacked in quantity was amply made up for in terms of quality.
Close to home, then, the Nutcracker at Wageningen (Holland) remained a daily fixture of the news until 8th. I can't really imagine just how popular such a settled and confiding bird would be in Britain. We're pushing on for 30 years since the bird that spent a month in Stoke-on-Trent (Staffordshire) in 1991. It's a species that's starting to have blocker written all over it for a new generation of birders.
Sweden continued to enjoy an embarrassment of riches this week, headed up by the male Cretzschmar's Bunting still present at Skutskar on 2nd-7th, but with a supporting cast of Oriental Turtle Dove still at Halland Ian on 3rd-4th and Eastern Imperial Eagle at Skurup on 3rd-4th also.
Spain's settled Sociable Plover was still present in Andalucia at La Janda on 3rd, while in Portugal the Green Heron remained at Quinta do Lago on 2nd.
A Isabelline Shrike was found in Morocco on 2nd at the Tamri estuary.
Heading offshore, the Dwarf Bittern remained on the Canary Islands on Fuerteventura on 3rd; and the Allen's Gallinule was also still to be seen on Fuerteventura on 5th-8th.
Meanwhile, on Cape Verde, the African Crake was still present on 6th.
Amongst all these familiar recent faces, it was good to see news of something, well, new this week – and for that we finish up in Iceland where, on 6th-7th a Great Blue Heron was seen near Kirkjubaejarklaustur; and on 5th, an American White-winged Scoter was at Keflavik.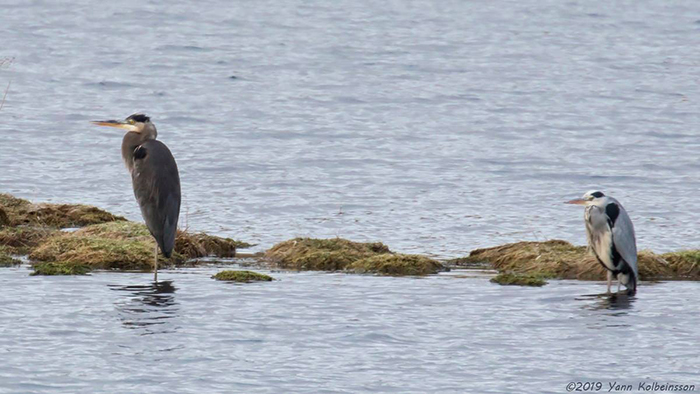 I hesitate to describe this time of year as the doldrums, but there is an undeniably quiet element about early January. One's instinct says that it's now time to dig in for the long late winter haul into spring, to start to spend more time checking out flocks of gulls loafing around local fields, parks and landfills…
As, who knows, it could be you that finds our next Slaty-backed Gull. Historically, after all, the coming week boasts Britain's one and only accepted record, that found at Rainham landfill (London) on 13th January 2011. And failing a gull of that stellar quality, there's always a fair chance of something a little commoner – any one of Bonaparte's, Franklin's or Laughing Gulls are attainable prizes for the dedicated gull-sifter at this time of year. (Though, on the back of the northerlies that finished the week, I'd still say we were in with a decent shot for an Ivory or a Ross's).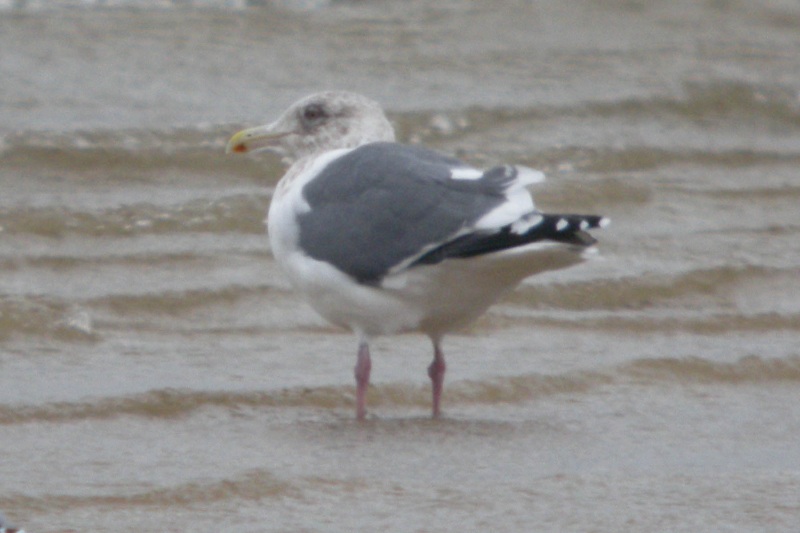 And there's the rub – it's often an unglamorous case of working through the outwardly unremarkable in January looking for the wholly gobsmacking. Take Little Egrets… they're so relatively commonplace now that I bet, hand on heart, more than a few of us barely spare them a second, closer glance. But we really should because, one of these days, one of them's going to be our next Snowy Egret.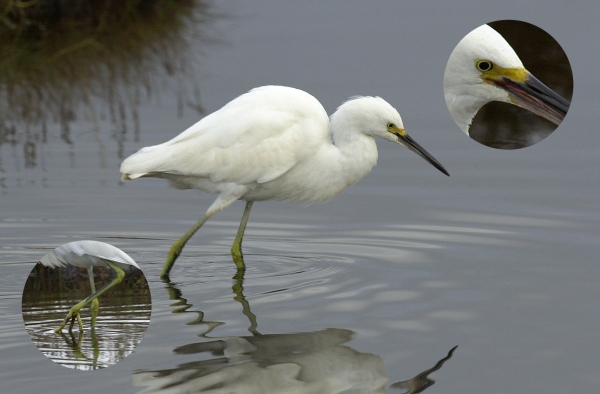 So after a week in which Iceland scored a Great Blue Heron, I'd love to exhort everyone to look a bit harder at the local Little Egrets in the coming days. You've got the Snowy Egret (re)found on Arran (Argyll & Bute) on 13th January 2002 for your inspiration…
Jon Dunn
9 January 2019
Share this story
Tweet